Using IKEA Cabinetry to Create Your Home Office
Posted by admin on
Advice on Creating an IKEA Home Office that Suits Any Lifestyle
Whether it's an IKEA kitchen, bathroom or wardrobe area, the idea is simple: Build a space that works.
But, it can't simply work – it has to work for you. That's where IKD comes in. We know how important the right design is to making the entire home function well.
Perhaps nowhere is this more evident than with an IKEA home office, a space that allows you to work at peak performance from home.
So design-wise, what does that mean?
It means that by combining IKEA SEKTION cabinetry framework with your choice of IKEA fronts – say IKEA's AXSTAD, VEDDINGE or VOXTORP, for example – you can create a space suited for your needs.
We here at IKD know how to design for any space, and the home office is no different. We take the entire space into account, especially when space is limited. When there's not enough space for a wall cabinet, for instance, the best alternative is to use open shelving.
We can guide your design choices to fit your needs, whether for occasional projects or if you work at home full time.
You may need storage for paperwork, or want to create a designated homework area for the kids. We've also customized home offices with IKEA cabinetry that work seamlessly with technology.
And remember that home offices can be stylish too!
We've designed many home offices to fit the style – and layout – of our customer's homes – ranging from classic and timeless to modern and minimalistic. With that in mind, here are some design concepts we can create with IKEA cabinetry that will definitely make your IKEA home office work for you.
Nice And Neat
Obviously, one of the keys to an efficient home office is having everything organized.
IKEA's VOXTORP high gloss beige doors and IKEA's BESTA LAPPVIKEN storage combination provide many organization solutions.
Set the BESTA LAPPIVIKEN behind your desk and you'll have year-round access to important documents and files. The light beige VOXTORP cabinetry will provide clean lines and a professional look – while freeing up the space for a separate desk/work area.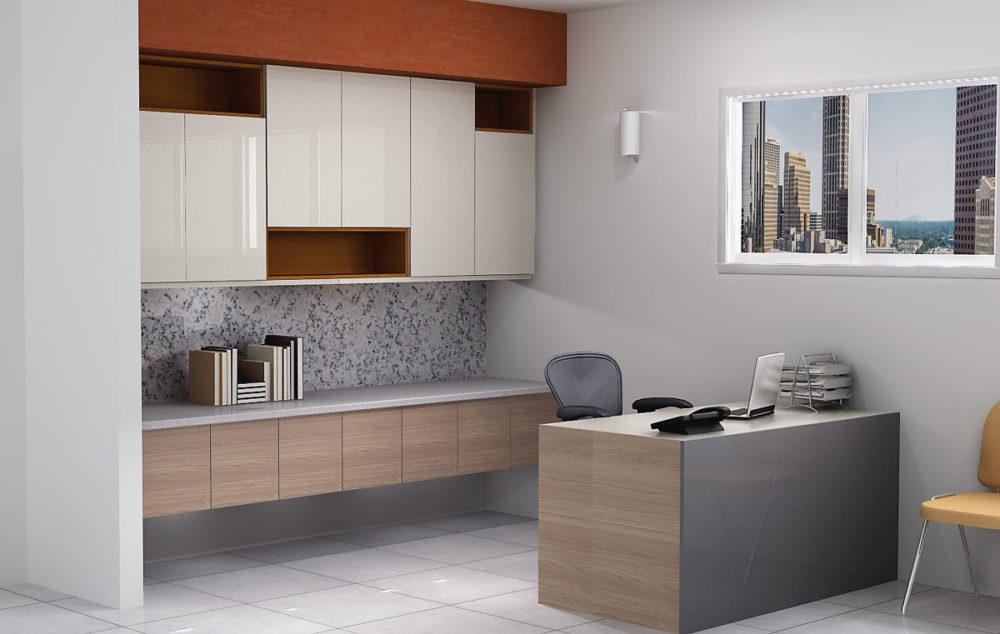 We'll Design Your Ideal IKEA Home Office Easily, Affordably, and Online
Our IKEA Home Office Design Package is everything you need to complete your new home office with confidence.
GET STARTED TODAY
His And Hers
One thing we know at IKD, is that much like wardrobe areas, the home office often requires accommodations for him and her. And for a space pulling double duty, how about using SEKTION cabinetry with IKEA's RINGHULT high gloss white fronts for both upper and lower storage?
Wrapping open shelving between the two workspaces can provide a proper divider and create a sense of balance. Meanwhile a darker wood countertop will add warmth to the white cabinetry.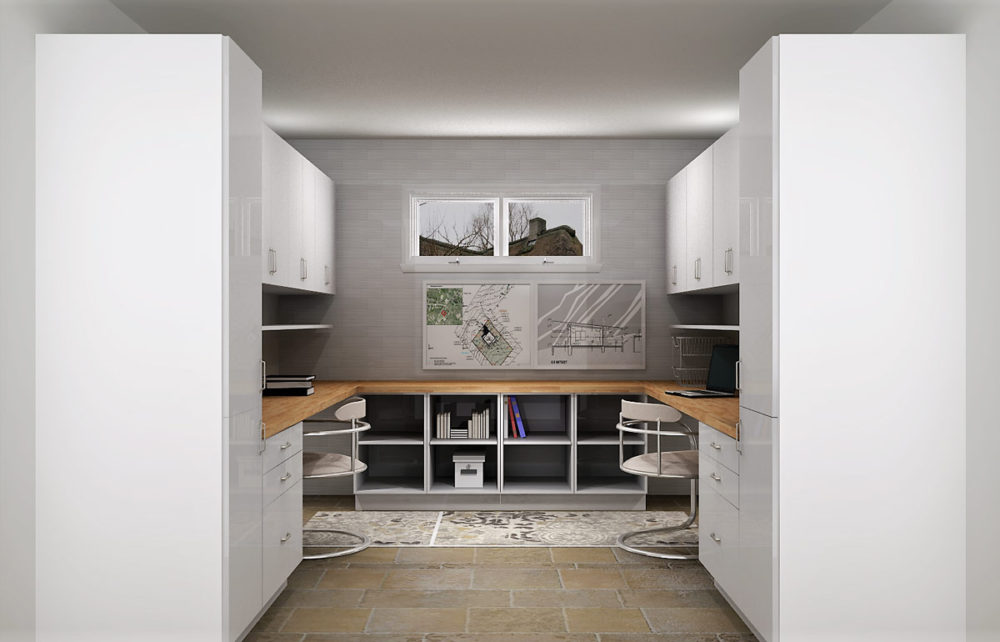 IKEA's VOXTORP cabinet in walnut can be an ideal solution for smaller his-and-hers home offices. With integrated handles on the door fronts, it makes base cabinet applications easy; leaving all your important documents within arms reach!
Add open shelving up top and under cabinet lighting and you'll have a modern and efficient workspace.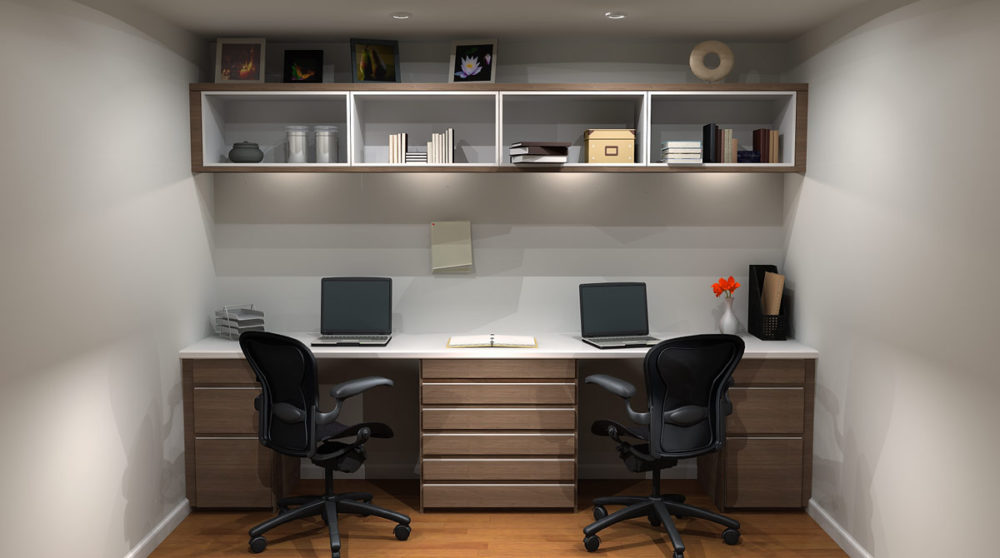 Timeless Style
For customers with a larger office space, our designers have equally big ideas.
How about customizing SEKTION cabinetry framework with white AXSTAD fronts?
Combine open shelving with the IKEA AXSTAD cabinet fronts, to create plenty of upper and lower storage space for files and other office supplies. This approach will provide plenty of workspace to accommodate laptops, printers and stand-up file systems.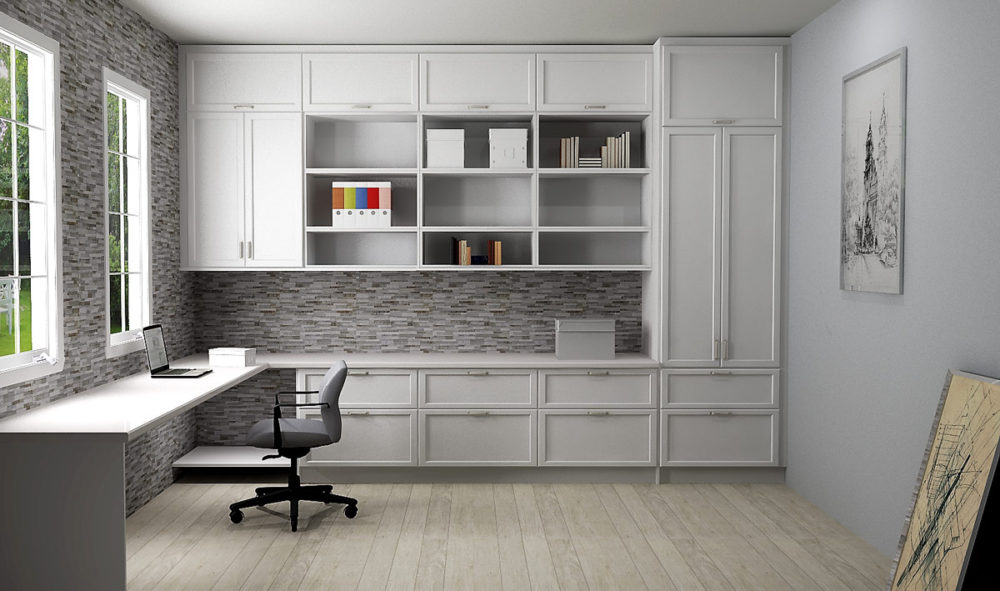 Small Wonder
Smaller home offices (and smaller budgets) can pack a punch too.
When space is at a premium, IKEA's SEKTION framework paired with IKEA's EKET in white allows you to go vertical.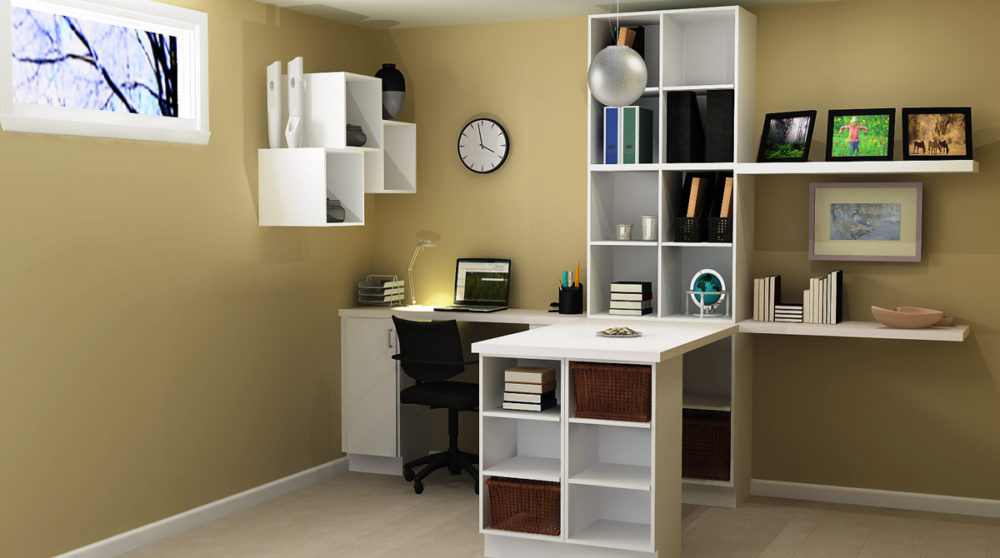 The storage cubbies of the EKET can be combined with floating storage shelves for books and knick-knacks, and tall applications to hold file folders and other office supplies.
This gives it a very open feel. Mixed with other floating shelving and ample desktop space, it creates a sparse yet efficient workspace with a very modern vibe.
Simple Style
Looking for a more straightforward and simple home office design? Try IKEA's SEKTION customized with IKEA's white VEDDINGE fronts. The two-piece door and base cabinet set gives a smooth, sleek look to create a very stylish design.
The VEDDINGE doors can hide the storage for computers, cords, and wardrobe items and combined with some clever corner shelving, can maximize the space.
Eclectic Tastes
For those with more eclectic tastes, designing a custom home office with SEKTION framework and IKEA's TINGSRYD cabinetry might be your preference.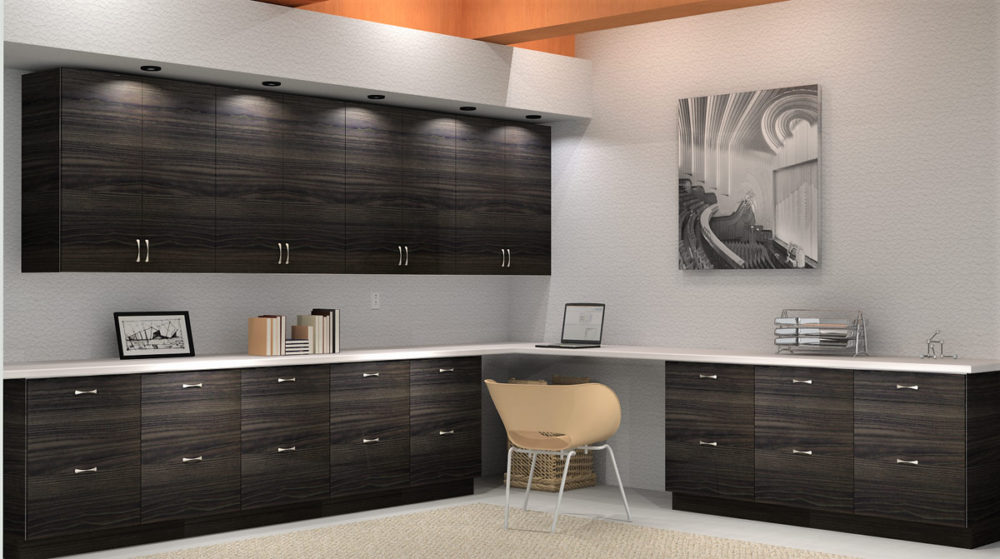 Of course in larger spaces the two-piece door and corner base cabinet set would provide ample storage space along with a lot of counter workspace; for books, files or even objects d'art to really give the space personality!
Office Space
Sometimes, incorporating a home office into another part of the home – like the living room – is what our customers want.
Therefore, combining SEKTION with custom door fronts is the way to go.
This design can create clever storage and style options that you may not otherwise consider. In a small self-contained work area, you can hang a large flat screen under the upper cabinetry to free up the desk area.
Or add custom glass fronts to see what's inside. And if you want to create a home office area in your kitchen for paying bills, or other small tasks, we've done that too.
Cutting Corners
Our designers know how to cut corners in more ways than one. We designed the IKEA SEKTION framework with IKEA's RINGHULT high gloss white and JARSTA high-gloss black and blue cabinetry as a great option for an L-shaped home office.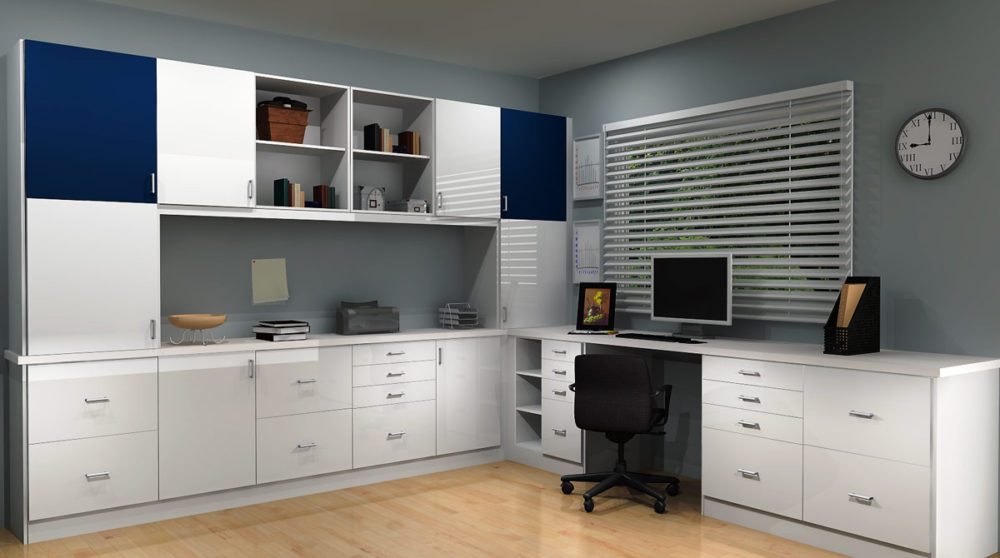 The beauty of this concept is you can utilize cabinetry with drawers and door fronts and open cabinetry to satisfy your storage needs.
You can also mix and match the style here with splashes of color! Storage possibilities are endless too, with the corner design creating extra space for electronics and more.
Get a Professional IKEA Home Office Design – All Online
Work with our certified designers to get a personalized home office designed around your needs and vision. If you're interested in learning more about our service, make sure to check out our IKEA Home Office Design Services.
---
Share this post
---
---