Treat Yourself to a Spa Style Bathroom
Posted by admin on
This year is seeing a huge emphasis on bath designs that make a statement in your home and for your lifestyle. One of the most popular looks for today's bathroom remodels embodies luxury and the feeling of relaxing at a coastal spa.  A bath design should be highly functional but it's also important to create a space where you can retreat after a busy day.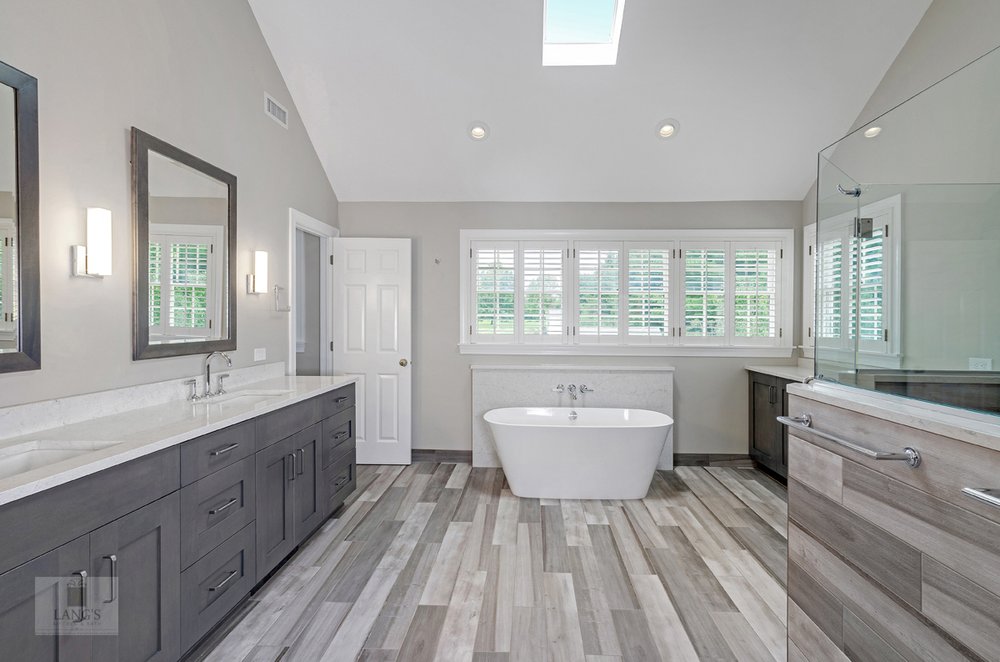 High-end materials and finishes, large soaking tubs, and natural influences are some of the ways you can achieve a spa style bath remodel. With more expansive layouts and larger shower enclosures, spa style bathrooms are ideal for universal or aging-in-place designs too. Lighting and color choices also influence your spa-style remodel and let you set the mood for relaxation.
With the right materials, layout, and storage, you can remodel and accessorize your bathroom to get the feeling of being in a spa. Here are our top ways to treat yourself to a spa style bathroom design.
Plan Effective Storage
A streamlined, calming bath design must be organized. This calls for decluttering your space and including custom storage to keep it that way.
The first step towards planning tailor-made storage is to assess what you have and what you want to keep. By clearing out your current bath design you can decide what is essential and how you'd like to store it.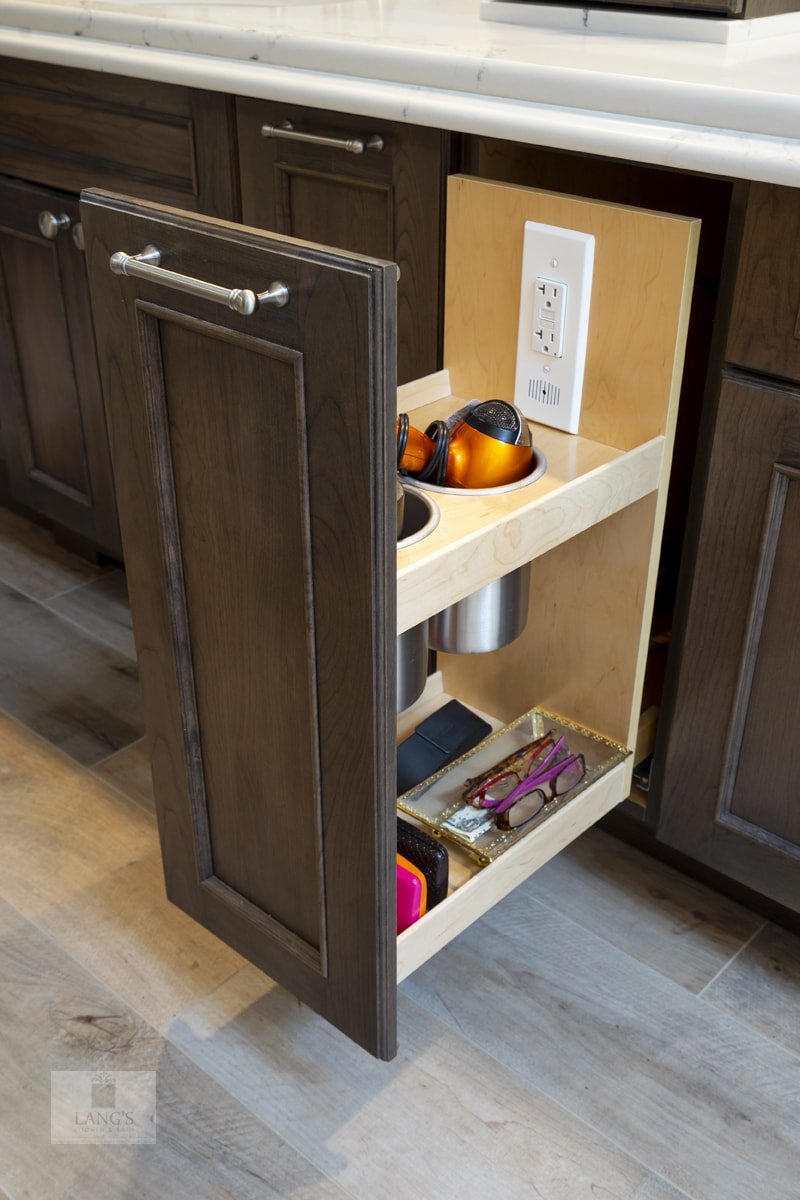 Then create a vanity cabinet design with internal compartments that are ideal for organizing the contents of your bathroom. Styling tools can be neatly hidden and available at a moment's notice, even being powered in situ by internal outlets. Mirrored medicine cabinets can also double as clever storage units.
Keep countertop items stored in containers and dispensers to match your style. Glass containers are usually a safe bet, but make sure their shape is in keeping with the bathroom's style. Bring in texture with baskets or crates to store larger items such as toilet paper.  Shelving can accommodate a collection of essentials on a tray to bring glamor and cohesion and this could be tied in with your choice of hardware material. Storage should embrace both form and function in a high-end spa style bath design.
Embrace Nature
Nature is an essential element in a spa style bath remodel. Natural materials such as wood and stone transform your design into a luxurious retreat. From your vanity through to your shower enclosure, ensure that materials are as natural as your budget and functionality requirements allow.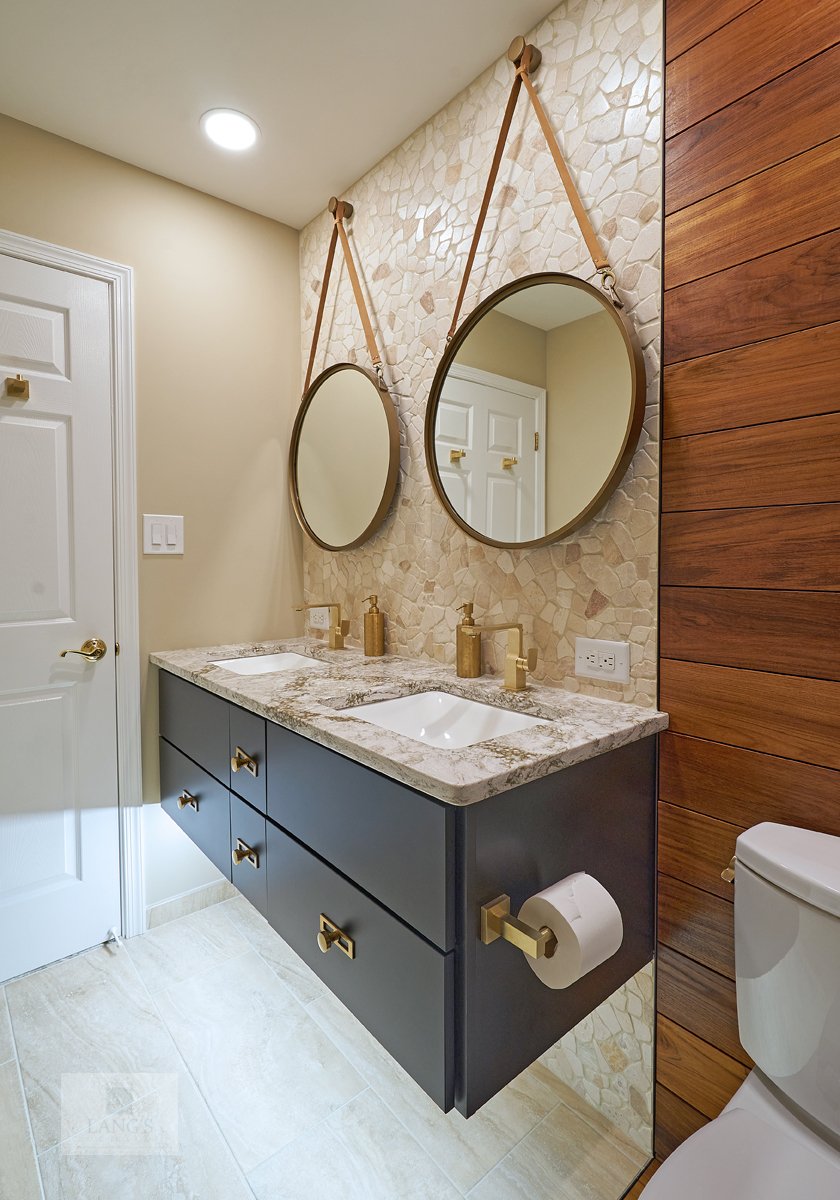 If you can't stretch to a material such as hardwood everywhere then prioritize and look at faux wood for certain places. This is especially good in very humid areas. Natural stone can be used anywhere in your bathroom but there are also excellent substitutes available that give you the look of stone. 
Spa-style bathrooms love lush plants to soften their minimalism. Hang plants or place them on the floor, countertop, and shelving to bring warmth and character to your bath remodel. They also act as air purifiers and most thrive in humidity.
If you have a view outside, then frame it with large windows to let natural beauty and light into your design. Position your tub to enjoy this view and to create a truly soothing space for a soak in the tub.
Choose a Relaxing Palette
Color is key to setting the tone of a spa-inspired bathroom. Keep your colors to a minimum and choose white and neutrals for a crisp and calming palette. Fixtures should be white in a spa-style bath design and then balance it with warm wood and natural stone varying from delicate cream to deep brown with beige, greige, or taupe shades in between.
If you want to introduce accents of color, restrict the number of shades so your bath design retains its feeling of Zen. Towels, rugs, and art are all great ways to bring in another color. Wallpaper can enliven a wall with a clean, graphic pattern.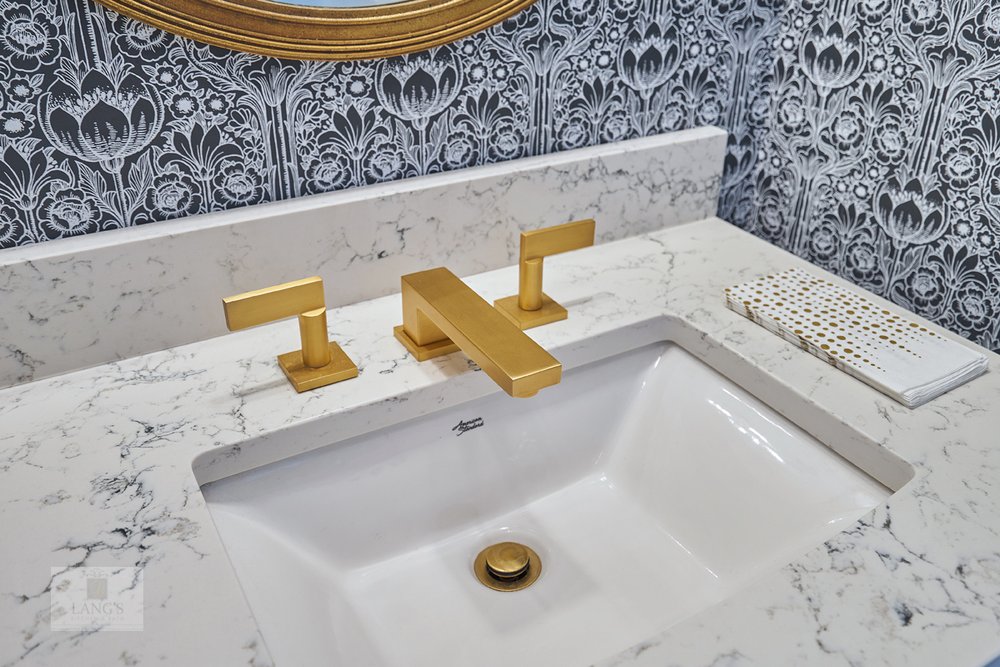 Metallics bring subtle glamor and shine to your bath remodel. This year's trend of mixed metals is increasing in popularity. Feel free to mix finishes such as unlacquered brass, copper, gold, or stainless steel, pewter, and matte black. The key to mixing metals is that you keep to either cool or warm tones for a cohesive design.
Consider Your Fixtures
Mixing metals makes for a high-end look in faucets, lighting, and cabinet hardware. The largest components of a bathroom remodel are the toilet, sink, tub, and shower so they should be carefully considered if you want a definitive spa style look. Wall-hung toilets and vanities function well from a practical cleaning viewpoint, but also streamline your design and open up the floor space.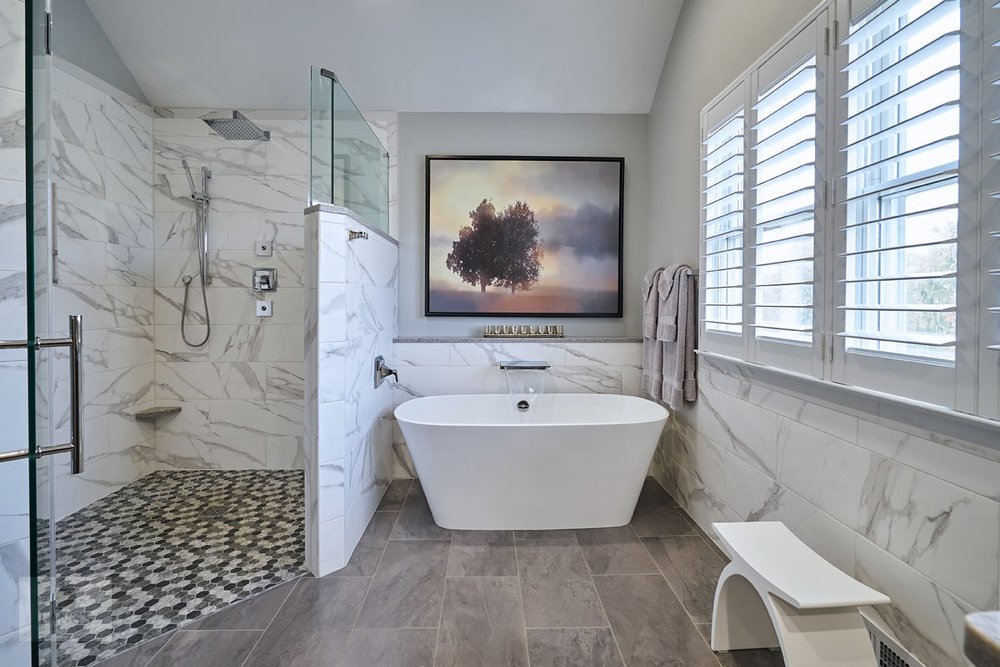 Freestanding bathtubs are the most popular option, and a flat-bottomed soaking tub keeps clean lines in a minimalist spa-style design and retains a sense of luxury. Including massage jets takes your tub to the next level for indulgent baths.
Shower enclosures are becoming larger, often accommodating two people or even an open shower style that acts as a wet room. Why not include steam showers or rainfall shower heads with massage options and voice-activated music, lighting, and temperature controls? LED color indicators on faucets are also a small way to upgrade the standard of your bath design. When the main elements of your spa style bathroom are effortlessly elegant but high performing, you have achieved a space that you will want to retreat to.
Soften The Aesthetic
A spa style bath design has strong, clean lines and sleek storage. This needs to be counterbalanced with plush, soft textures for a luxurious and inviting atmosphere.
Don't keep any towels, robes, or rugs that have seen better days. Invest in good quality ones that will enhance your bath design and make it feel more high-end. A towel warmer or warming drawer makes sure that you are enveloped in warmth after your bath or shower. Roll or fold your towels and arrange them attractively in a basket or on a shelf. You can do the same with washcloths or hand towels used to dry hands. Hang a fluffy bathrobe on a door hook that compliments the rest of your hardware. Thick, soft bathmats add texture and color but also prevent you from slipping on a wet floor.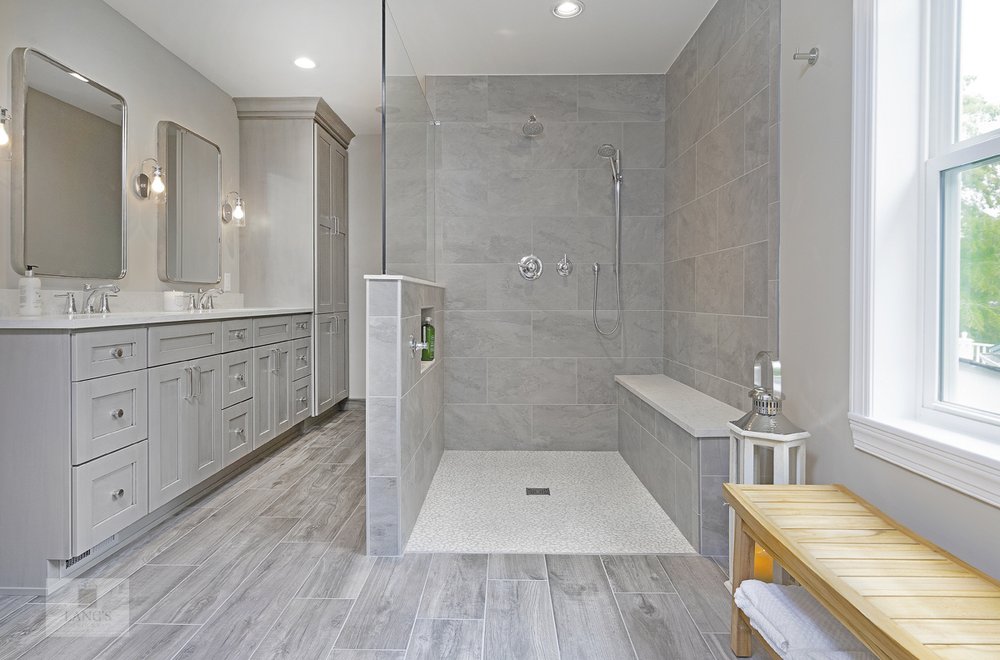 A storage bench can hide away several bathroom essentials but is a good place to sit when applying products, grooming, or just resting. A seat that's upholstered with a soft fabric such as velvet, ups the ante in your spa-style bathroom. Drapes or blinds in similar fabrics, textures, or tones can also bring softness and warmth to a minimalist bath remodel. Or stick to natural materials like the wooden bench pictured here.
A Layered Lighting Plan
Day-to-day requirements mean that strong task lighting must be present in your bath remodel, but if you want to feel like you're in a spa, the lighting should be set low when you are relaxing. The design of your lighting fixtures should also be consistent with each other and the style of your bathroom design's color scheme, fixtures, and accessories.
How can you achieve so much without overwhelming your bath design? The key is to layer your lighting plan by taking time to focus on it at the design stage. Recessed lighting in the ceiling, for example, needs to be installed early on. Sconces give extra illumination at wall height. Backlit mirrors give a floating effect, which is perfect for a relaxing bath design. A chandelier or eye-catching pendant adds a touch of drama and luxury to your spa style design.
Dimmer switches give you the flexibility to increase or decrease light where required. Voice-controlled lighting means you can do this from the comfort of your bath or shower. A layered lighting plan, in conjunction with skylights and windows, ensures that you can create the right mood and illuminate any task at any time.
Indulge Your Senses
When you have taken care of lighting, materials, textures, colors, and accessories, it's time to transform your bath design into a full sensory experience.
Install bathroom speakers to enjoy your favorite music when getting ready or unwinding.

Choose candles in your favorite scents and place them strategically around the design. Citrus scents might make you feel invigorated in the morning and florals could be perfect as you bathe in the evening.

Diffusers give a more constant layer of aromatherapy.

Oil burners let you enjoy the benefits of essential oils, and you can choose different ones for the mood you want to create.

Invest in quality lotions and soaps either with high-end packaging or placed in beautiful containers or dishes. The richer a formula is, the longer it will last, so think before you buy cheap products that are a false economy.
It's essential to ensure that even the finer details are up to standard in your spa-style bath design to make it a luxurious oasis of calm.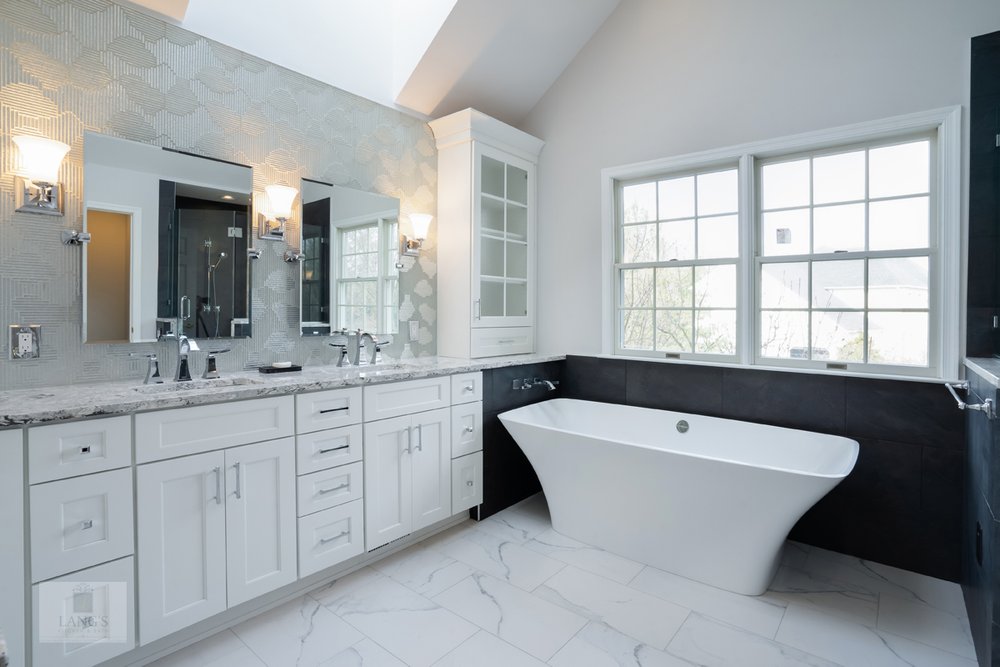 Treating yourself to a spa-style bathroom is an investment that pays off in many ways. Homeowners are increasingly moving walls to enlarge the footprint of their bathrooms and connect them to dressing areas. An enlarged space that has been transformed into a luxury bathroom with spa style elements will bring your bath design right up to date and serve as a universal bathroom design. Including technology, from heated flooring to voice-controlled lighting, gives you the extra comfort you deserve. Custom storage makes for a streamlined design and natural materials provide durability and luxury. The minimalist approach means your spa-style remodel will be as low maintenance as possible, giving you more time to relax there.
Browse our style gallery to get inspired for your new bathroom design. Then contact us today to discuss a spa style bath remodel to suit your home and lifestyle.
---
Share this post
---
---