Transform Your Home with These 10 Unique Accents
Posted by admin on
Home renovations are a polarizing subject – you either love the process of updating your home or you hate it. Thankfully, not every renovation project has to mean knocking down walls. If you're tired of your decor, there are several simple changes you can make to change up your living space.
Freshening up your house also doesn't have to cost an arm and a leg. With some planning and a little elbow grease, you can transform the look of your home quickly and inexpensively. Here are ten unique accents you can add to spice up your living space this summer.
1. Paint an Accent Wall
Paint is inexpensive and can totally transform the look of your home. Consider picking up a small can and adding an accent wall to your living room or bedroom. Some homeowners paint arched shapes on their walls to frame furniture and add height to the room.
Alternatively, you could try painting the ceiling of a room or changing the color of your trim. Before you start, make sure to test your new color on the wall. Because paint is easily changed, it won't take long to repaint if you're dissatisfied with your first choice.
2. Replace Your Sink
Your sink is the center of your kitchen and is used for cooking, housework, and sometimes even baths for babies and small pets. Old sinks may be stained, chipped, or clogged with mineral deposits. Give your kitchen a facelift by replacing this hard-working part of your home.
Choose a sink that's different but still suits your home decor. Alternatively, you can try to find a similar replacement if you absolutely love your sink. Many homeowners prefer farmhouse sinks because they offer better reach for washing dishes.
3. Refresh Your Backsplash
If your kitchen needs a refresh, consider changing out your backsplash. If you want to completely transform this space, choose something that's completely different from what you had before. For example, switch out a soft neutral for a bold checker pattern.
Some homeowners use tin or brick to create a dramatic backsplash. You can also find ceramic tiles with painted details in a variety of colors. Make sure to look at samples in your kitchen before making your final purchase – colors often look different in your home than they do at the store.
4. Install Crown Molding
Crown molding is another beautiful detail you can add to your home. This decorative accent makes rooms feel fully finished and gives a sense of history to your space. You can choose wide molding with more detail to add grandeur to a room.
This home accent comes in a variety of materials, ranging from wood to medium-density fiberboard and plaster. Because it's made of natural materials, wood is more expensive than the other options. However, once the molding is painted and put on the ceiling, it's difficult to tell these materials apart.
5. Lay New Flooring
Although flooring often goes unnoticed, it works with paint and lighting to set the tone for your space. If replacing the flooring in your home would exceed your budget, consider replacing the floor in a single room – like your kitchen or a bathroom.
In 2021, homeowners chose to renovate with vinyl flooring almost as much as they installed hardwood. Vinyl or resilient floors are much cheaper than ceramic and hardwood flooring. Because interest in vinyl flooring has grown, its quality has improved, and it's become a wonderful option for homeowners.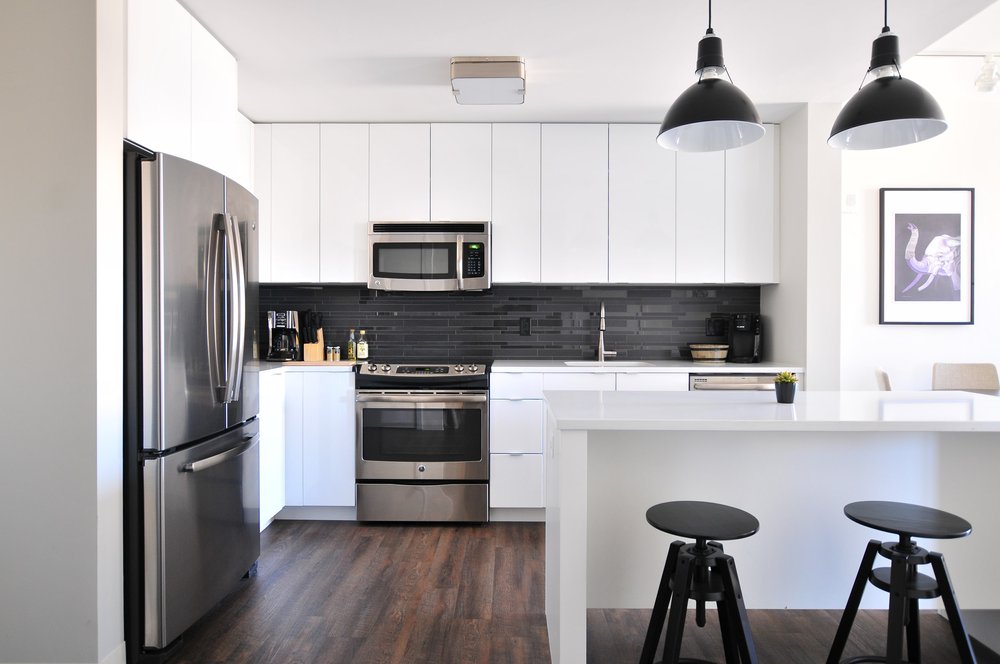 6. Service the Fireplace
If you already have a fireplace, get it serviced so you can use it. Your chimney should be cleaned once a year. Homeowners with small children or pets can install an electric fireplace so they can enjoy its glow without worrying about injury.
If your home doesn't have a fireplace or a chimney, consider creating the illusion of one. You can construct a simple mantle and frame, add tile to the floor, and fill the hearth with an electric fireplace. This project is relatively inexpensive to make and will give your space a new focal point.
7. Hang a Chandelier
To instantly elevate any room, simply hang a chandelier. These light fixtures come in a wide range, from scintillating crystals to colored beads. There are many inexpensive models to choose from, so you won't have to break the bank for this purchase.
Although the most popular place to hang a chandelier is the dining room, don't be afraid to branch out and install this lighting solution all over your house. Chandeliers can add a note of luxury to your bedroom, living space, and even your bathroom. If you do hang a chandelier over your dining table, make sure it's low enough to be enjoyed when you're sitting down.
8. Design a Built-In
Nothing says "character" like a built-in bookcase or cabinet. You can design a built-in that fits perfectly in your home and meshes with other details like crown molding. Many people add built-ins to their dining or living room to showcase glassware, photos, and travel mementos.
You could also build a built-in bookcase to house the mini-library you're storing in your office space. Some homeowners even create built-ins in their kitchens for food storage. Once you start adding custom updates to your home, you may find it difficult to stop. Built-ins provide solutions for home-specific problems, and they look gorgeous.
9. Update Kitchen Cabinets
Kitchen cabinets can quickly become shabby from overuse, but they're expensive to replace. Thankfully, you have other options. Consider taking the fronts off your cabinetry and repainting them. Before you get started, make sure your new color goes well with your backsplash and countertop.
You can repaint your cabinets their original color or switch it up for a totally new look. Using a dark color can help paint last longer without signs of wear. Some trendy color options include dark navy, emerald green, and dark gray. Changing the cabinet color in your kitchen will completely transform this space on a low budget.
10. Decorate the Ceiling
Another way to warm up your space is with ceiling beams. Adding latticing to your ceiling will bring texture and architectural depth to your home. You can stain wooden beams for a natural look or paint beams to match the color of your ceiling. Beams create leading lines that can make your home feel larger and add intentionality to a space.
Ceiling beams work well in open floor plans because they can accent the exposed support beam that runs the length of your living space. If your ceilings are already low, this design tip may not be the best option for you. However, in most standard homes, ceiling beams can add beauty to a room without sacrificing too much height.
Time for a Refresh
Updating your home shouldn't be exhausting or expensive. Look around your space and find one room you'd like to change. Then, use one of these ten tips to transform your area quickly and inexpensively. If you're feeling overwhelmed by your renovation plans, remember that the best way to start is to just get started.
---
Share this post
---
---