The Upcycled Bedroom Sink
Posted by admin on
One of the small but mighty features I was most excited to include in the design of our new cottage is the sink in our primary bedroom.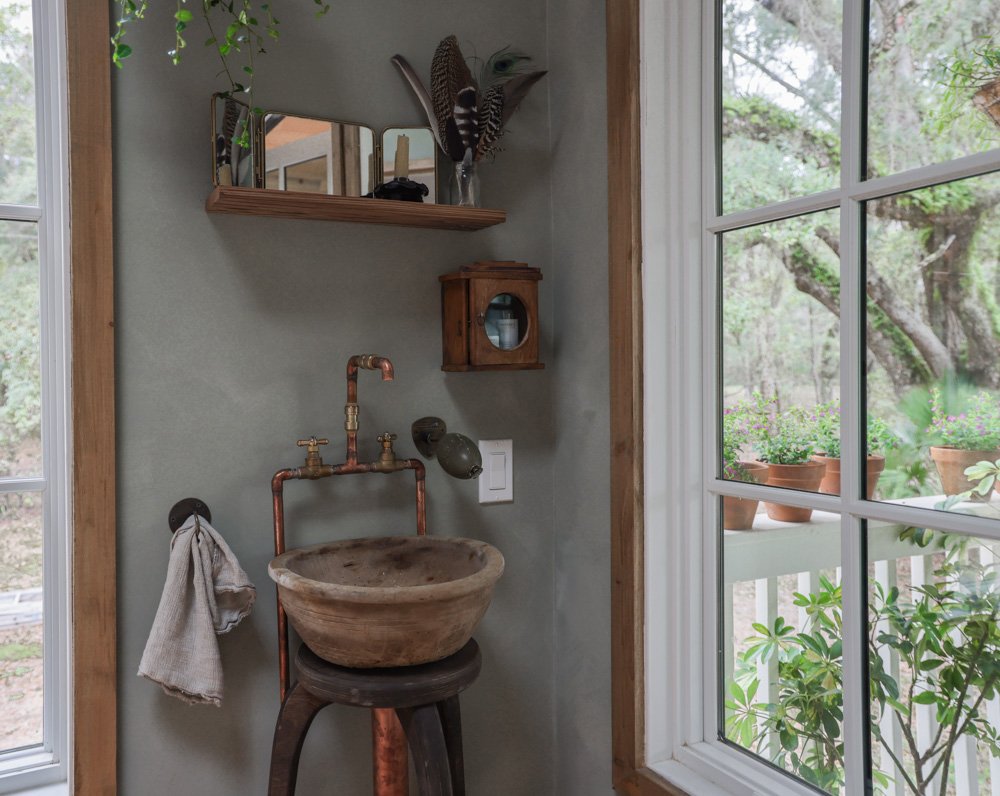 Our ~900 sqft home has one bathroom for the four of us, which we believe is enough since the kids' grandparents' home, which has multiple bathrooms, is a lovely one-minute stroll away. Plus, a key concept behind this "ADU" cottage and our French Farmhouse is to live with less stuff by sharing more resources.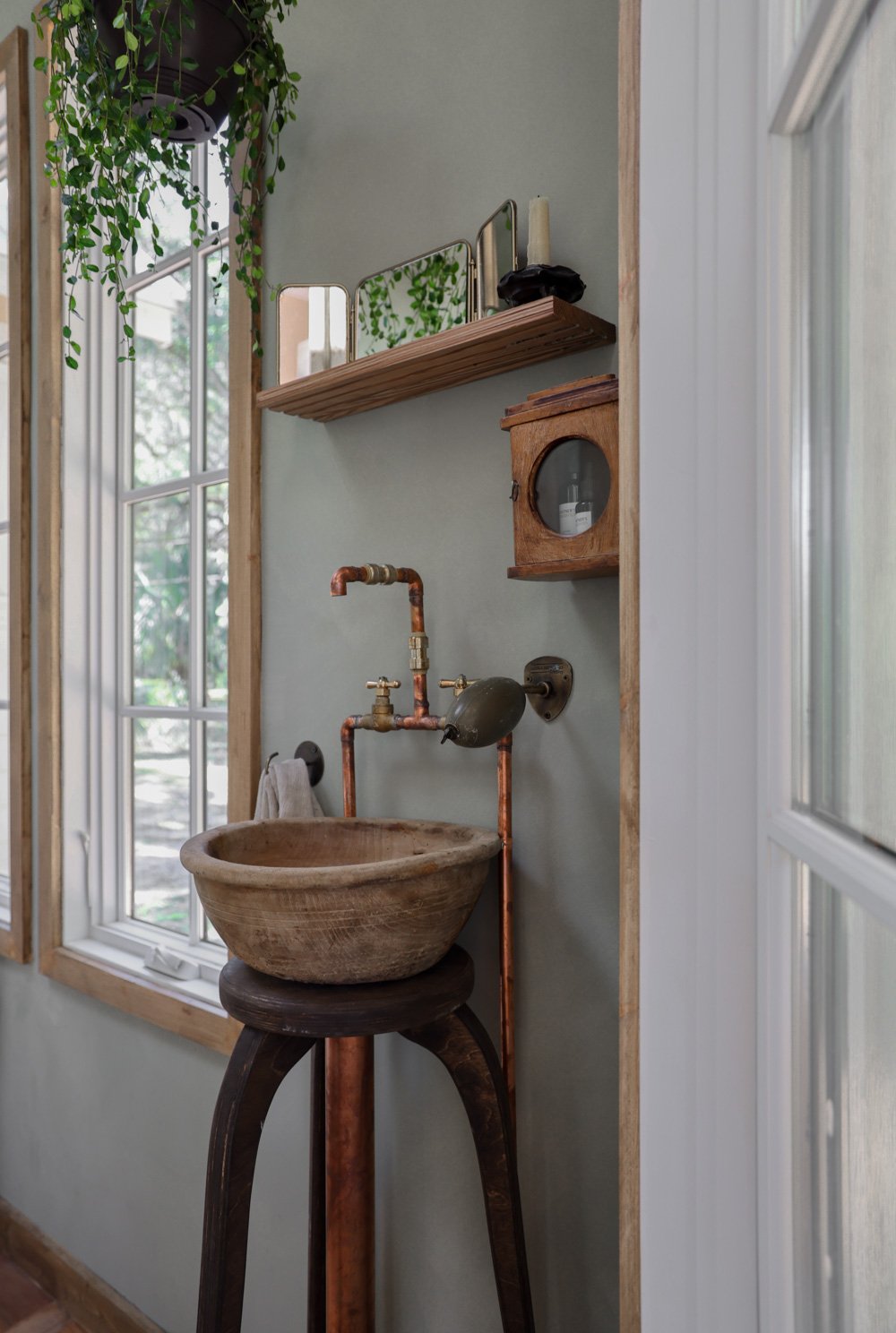 One of my clients overseas has a sink in her bedroom, and it's a design feature I enjoyed often when staying at her home. I found the opportunity to keep select self-care routines within the intimate cocoon of the bedroom to be beneficial in terms of both logistics and mental wellbeing.
I personally don't function well when I'm rushed, and having (wonderful) children tugging on my clothes while I attempt to capture two minutes for myself at the bathroom sink to be stressful, but not reason enough to add a costly and largely unnecessary second bathroom.
Per usual, our aim behind the design of this sink was to use up as many existing items as possible, rather than sourcing newly-manufactured goods. However, I do intend to acquire a decorative switch plate cover and electrical outlet plate via Buster & Punch, as those standard white plastic ones make me cringe.
The sink is an antique, wooden French bowl (via Elsie Green). It's coated / waterproofed inside with Rove & Dwell finish coat.

Much of the copper piping was salvaged from local, small business that was modernizing their interior.

The pedestal is a handmade plant stand I found on Etsy,

The mini cabinet was a second-hand find.

The ledge is a spare, river-recovered pine floorboard from The Goodwin Company.

The hooks and folding mirror were leftover from a previous project.

Clay candleholder is vintage via SSS Atelier.

Lime paint in "Cobblestone" by Color Atelier.

Vintage-style rotating soap holder via Vivi et Margot.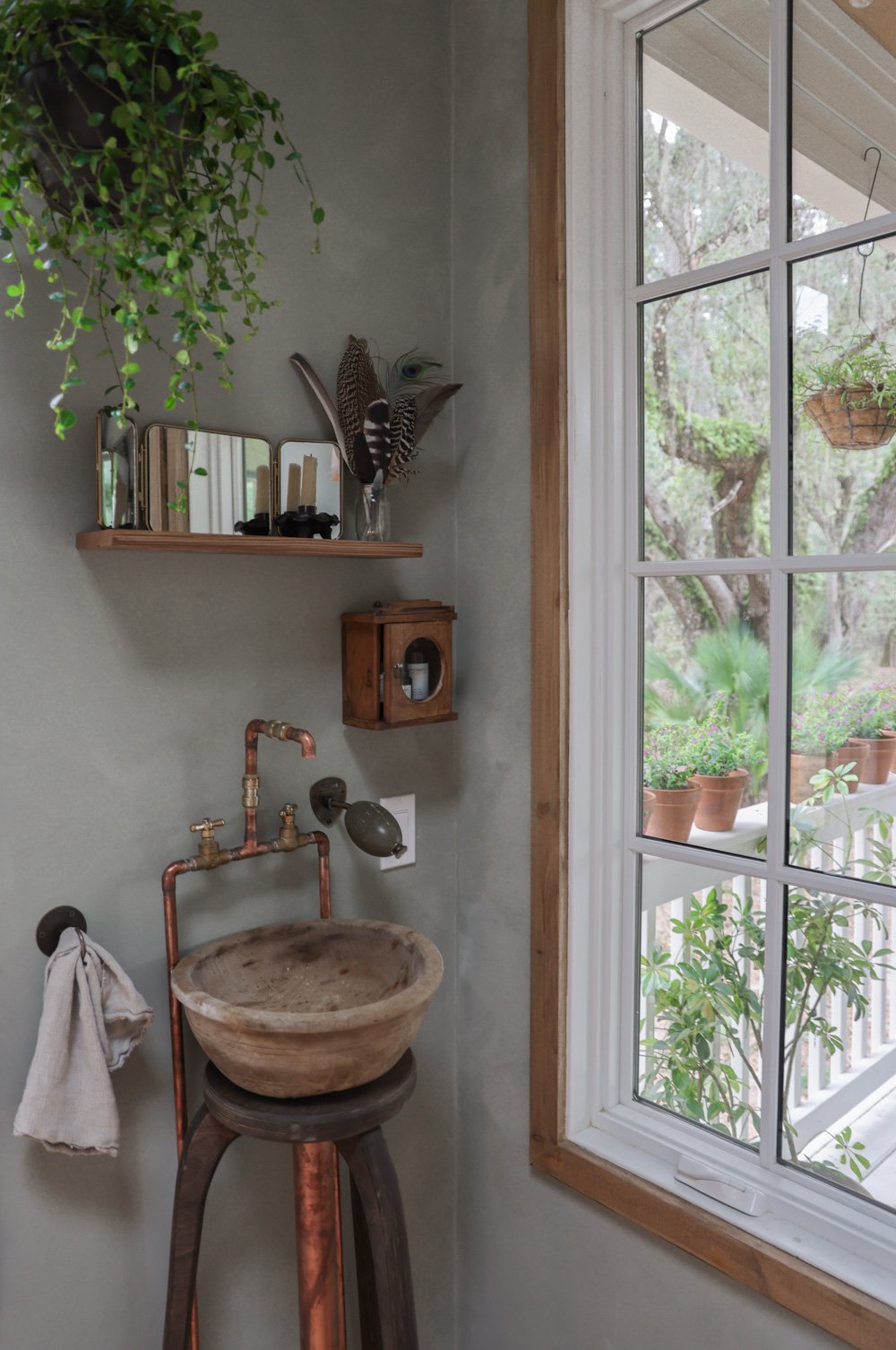 Our friend Danny helped us bring this to life, and we're thrilled with how it turned out. It's one-of-a-kind, meaningful, and ever-useful.
---
Share this post
---
---