Life-Changing Organization Hacks For Busy Moms
Posted by admin on
A good organization system makes all the difference for busy moms. Find inspiration for organizing every area of your home with this collection of simple, yet effective, organization hacks and tricks!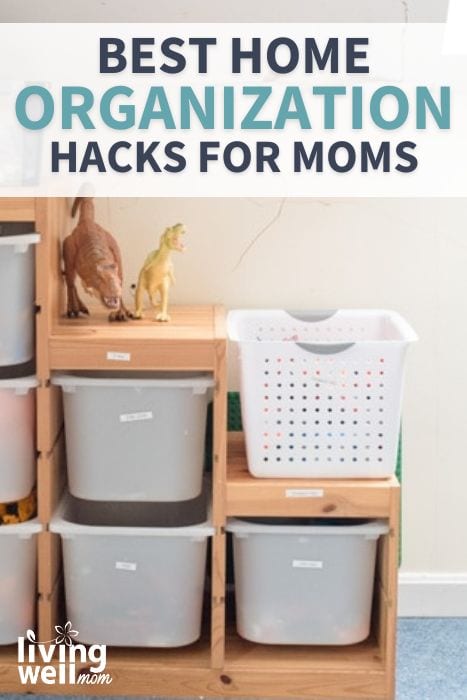 Whether it's the start of a new year, the start of a school year, or just a good old-fashioned spring cleaning, many of us have set lofty goals of getting more organized. 
If you got revved up and ready to start attacking the clutter, you need to put some systems in place so that all that hard work doesn't go right back to the initial chaos.
I am sharing some much-needed and uber-helpful simple home organization hacks that really work. Check out this quick guide to organizing ideas for busy moms, where you'll find some amazing tried and true methods to organize every small space (and big one, too!) in your home.
I've divided this list of ideas into sections according to the area of the house to help you quickly find the tips and tricks that you need most.
General home organization tips and tricks
These ideas aren't limited to one area of the house but instead will help with organizing in general.
1. Use free printable labels
Labels are a simple and easy way to take the guesswork out of organizing because they let you (and the rest of the family) know exactly where your stuff belongs. That helps to get the entire family on the same page putting items away and (most importantly) finding them again later.
Using free printable labels is one of the simplest and most satisfying organizing ideas because it helps keep any area tidy!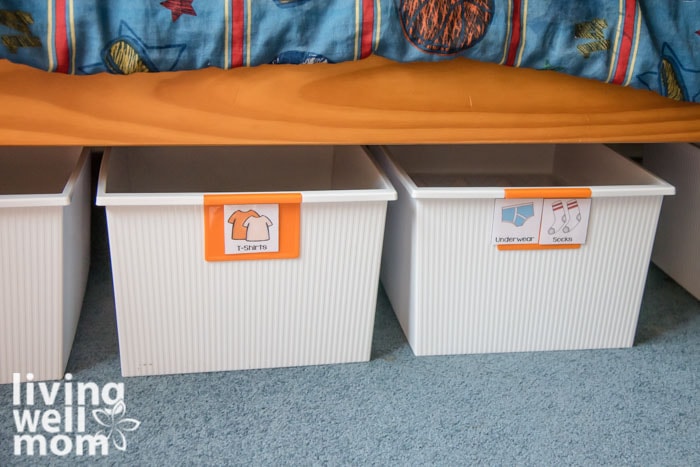 2. Create a family command center
Keeping a family organized and a household running smoothly aren't simple tasks! A DIY command center is a centralized place to hold and display your family's schedule, bills, and other kinds of information you need to access quickly in order to run your home.
Create a simple command center to keep everyone's schedule organized.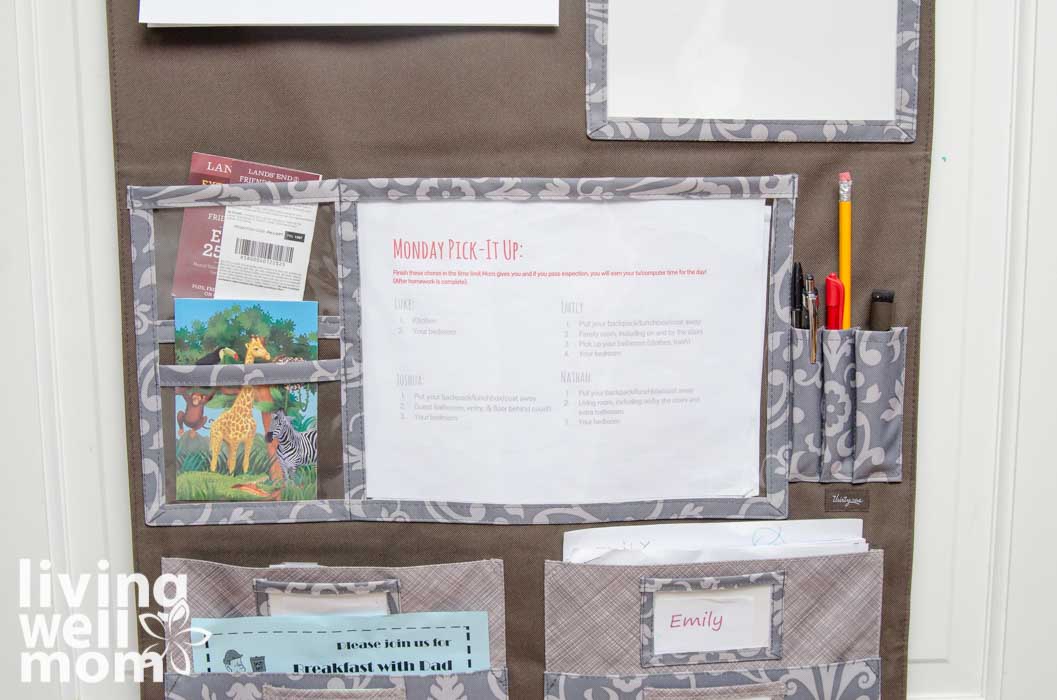 3. Make a simple shoe cubby organizer
Inexpensive cubicle storage units work great for keeping shoes nice and neat. This DIY shoe rack is economical, a breeze to set up, and works REALLY well for organizing kids' shoes to keep the house neater and make shoes easier to find on the way out the door.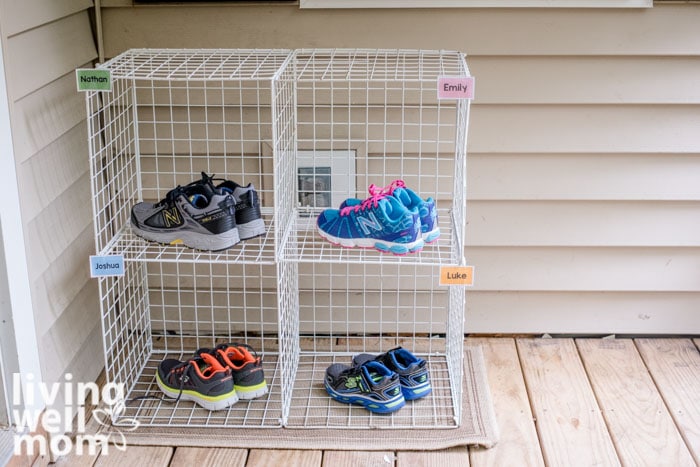 4. Declutter room by room
So many people try to tackle a whole house decluttering job all at once and bite off way more than they can chew. Then what happens? Most people think it's too hard and give up. They don't get to enjoy the fruits of their labor!
Decluttering in sections, as Living on a Dime describes, is a must to avoid burnout.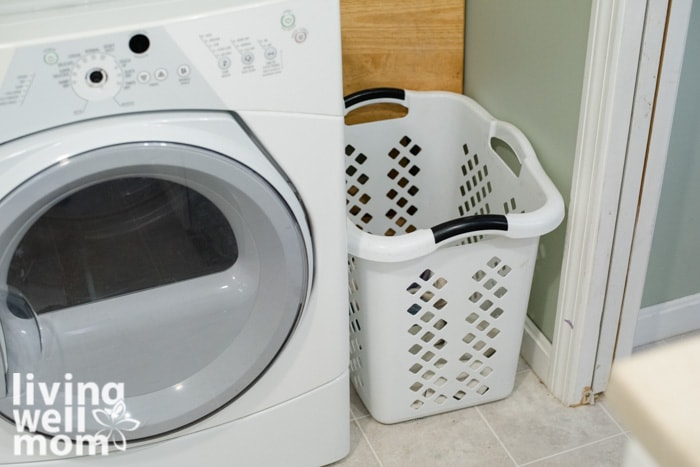 5. Set up a DIY swim gear organizer
Summertime should be fun, relaxed, and filled with pool and beach time. Busy moms don't need to spend all their time finding wet swimsuits strewn all over the floor or the counter. Plus, there are other supplies, such as goggles, sunscreen, and swim diapers, that you (and the kids) need to be able to easily grab and pack up.
Keep your beach gear organized to avoid wet floors throughout the house.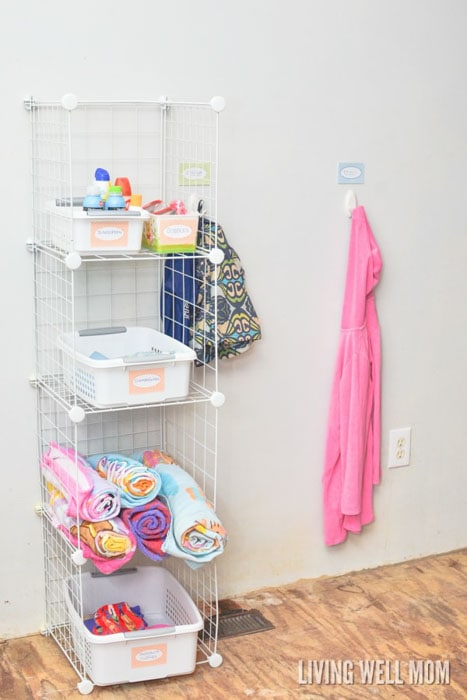 6. Organize DVD and Blu-Ray collection
Try this simple method for organizing your movie collection and fit a lot of DVDs and Blu-Rays into a small organized space. If you have a lot of movies like we do, this method will free up a ton of storage space!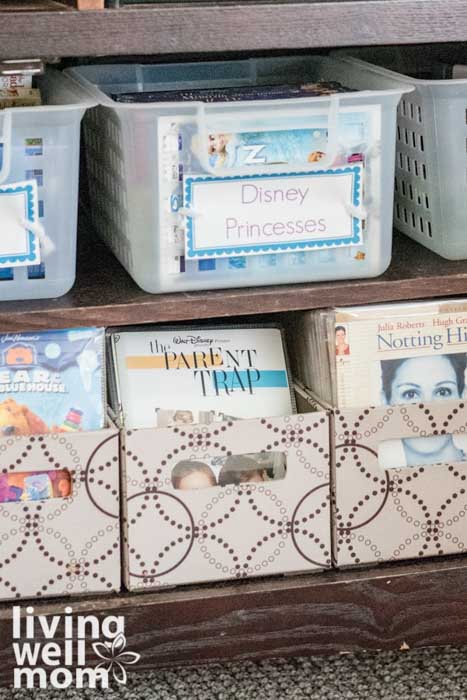 Bed and bath organization hacks
Bedrooms and bathrooms always seem to need some help in the decluttering department! Here are some tips and tricks that have worked wonders for us.
7. Up your kids' closet organization
Closet space can be a premium, so make the most of it with these simple but effective tips from Two Twenty One. Who knew you could do so much with cubbies, hangers, and bins?
8. Use storage bins instead of dressers
Opt for bins, with this easy under-bed storage method for putting away kids' clothes, instead of a traditional dresser. It'll save space in the bedroom (which is super helpful if kids share a room!) and leave extra floor space to store toys, books, or other items.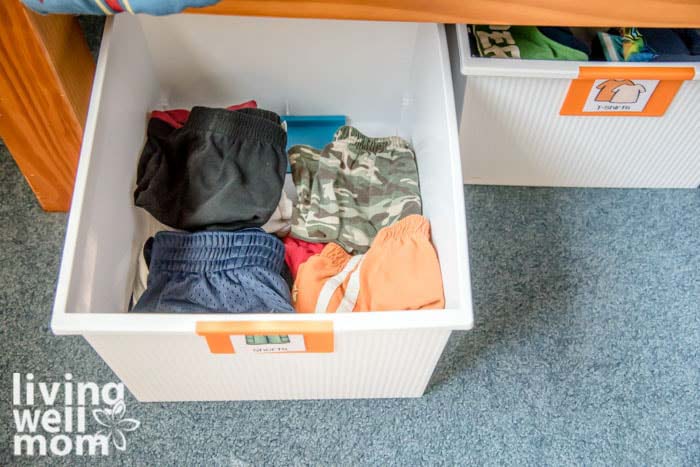 9. Free up bathroom counter space
Declutter the bathroom countertops with this simple organizing solution for kids' toothbrushes! Instead of trying to dedicate cups for each family member by the bathroom sink, clear off the counters and store things like toothbrushes in cups attached inside a cabinet door.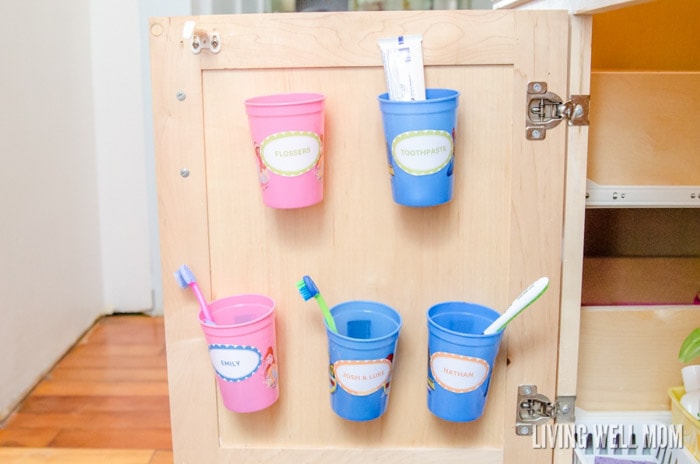 10. Maximize bathroom vanity storage space
Get the most of your vertical space in your bathroom vanity by using storage containers & sliding baskets to store toiletries and toilet paper out of the way (and out of sight).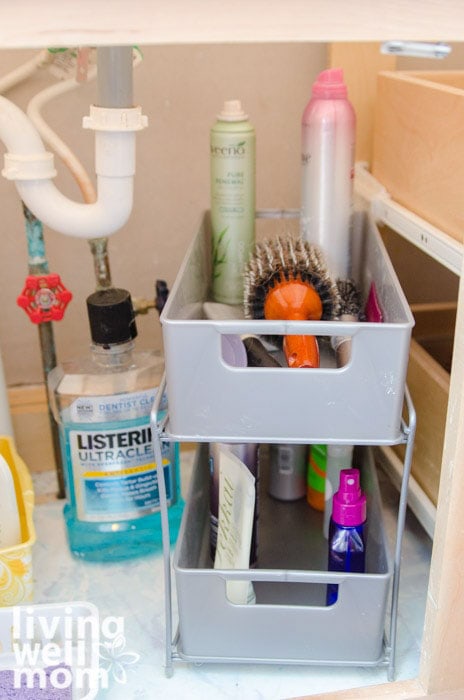 Kitchen organization hacks
The kitchen is the heart of the home – and often the area that looks like a tornado hit it! Use these tips and tricks to keep it looking clean and clutter-free.
11. Quickly find your favorite recipes
Stop wasting time by searching for recipes! Make your own recipe binders to organize all your favorite recipes so you can find what you need quickly.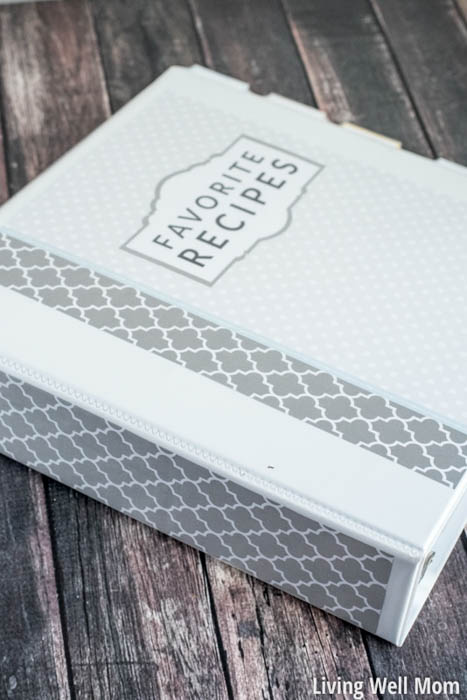 12. Try this kitchen drawer organization hack
If your drawers look more like junk drawers than the place where you can find eating or cooking utensils, use drawer organizers to make it easier to find what you need in a flash.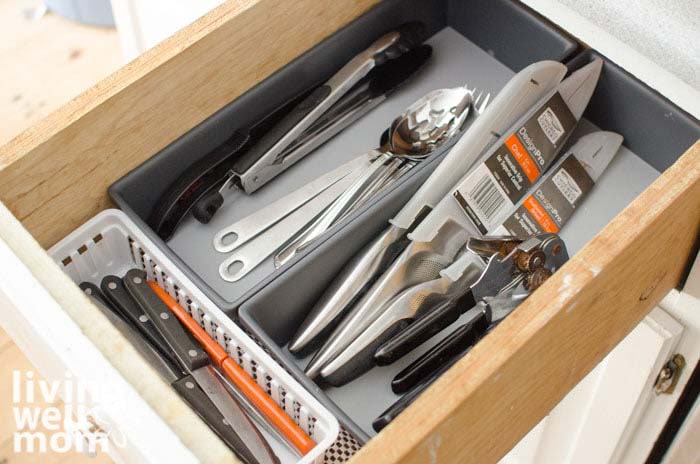 13. Say goodbye to loose items in cupboards
This is the perfect frugal solution to tidying up all those boxes of tea bags, which will work for just about any packet-type items in your pantry.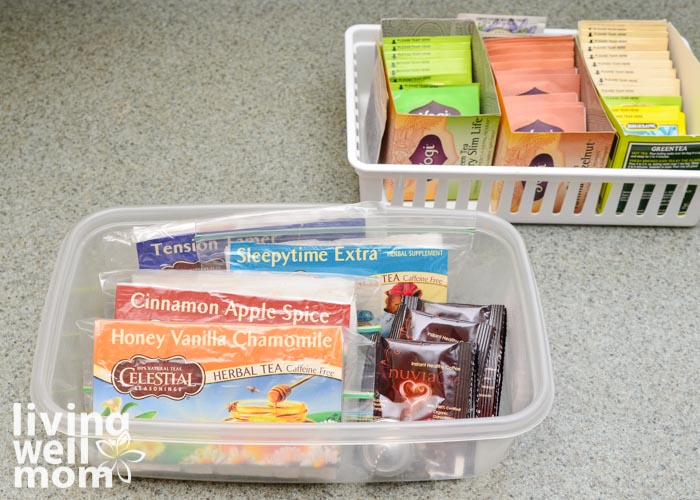 14. Use a spice rack
Instead of having loose jars of spices floating all around, organize them in a container with DIY labels on the top. Store in a cabinet, pantry, or drawer – no matter where you keep them, the labels will be visible.
Alternatively, you could use a countertop spice rack (or one mounted to the underside of your cabinets), and you'll quickly be able to find the spices you need as you cook.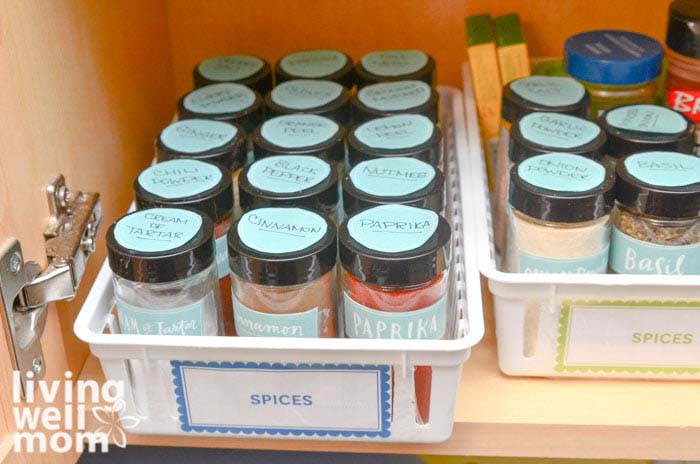 Organization hacks for kids' spaces
This section covers playrooms, homeschool areas, and more!
15. Tame those school papers
Are you overrun with homework and school papers? Try this simple method for organizing school papers – it's worked well for me (with 4 kids) for a couple of years now.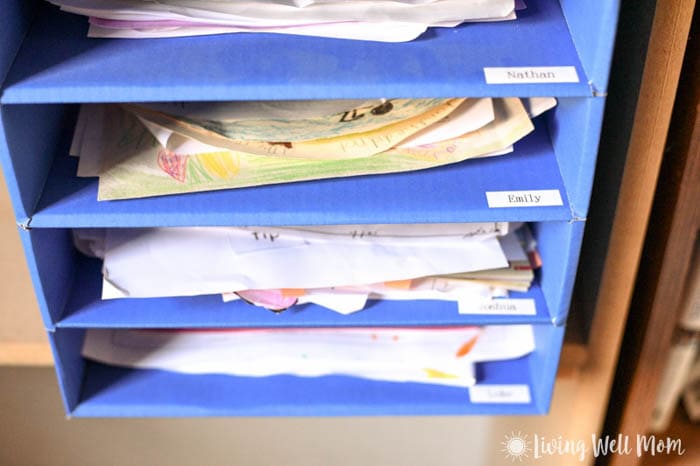 16. Make a home for craft supplies
If you love doing crafts with your kids but feel as though all the craft supplies are starting to take over the house, I figured out an easy way to contain them (but still have them accessible). Organize craft supplies using budget-friendly cube organizers, bins, and trays.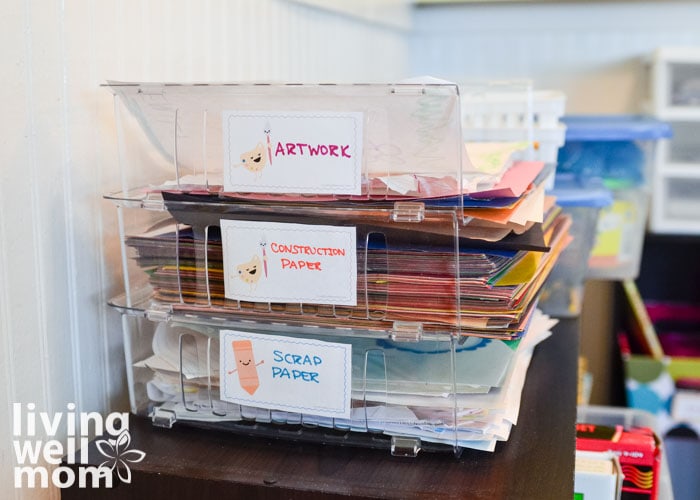 17. Create a clutter-free homeschool space
Homeschooling involves a lot of clutter! From papers to books, curriculum materials, and more, it used to fill our homeschool space with stuff. Then I devised this method using storage units, shelving, and bins to organize the homeschool area.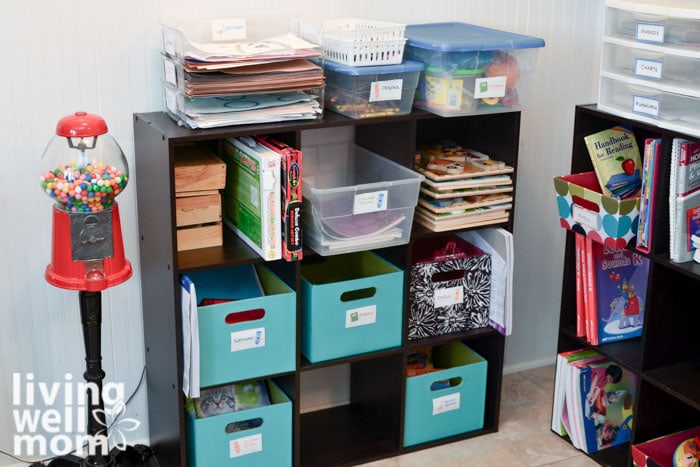 18. Create easy and effective toy containment
Are you tired of stepping on (or tripping over) toys? This system of organizing all of the toys is simple enough for young children to be able to use and a cinch to maintain!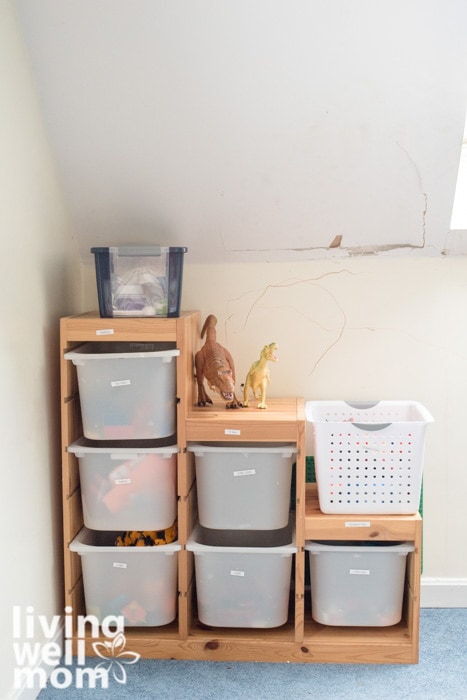 19. DIY affordable baskets for storage
If you want to step away from plastic bins and create effective storage that's also stylish (on a budget), make your own baskets! Try this simple DIY idea and turn a cardboard box into a pretty basket!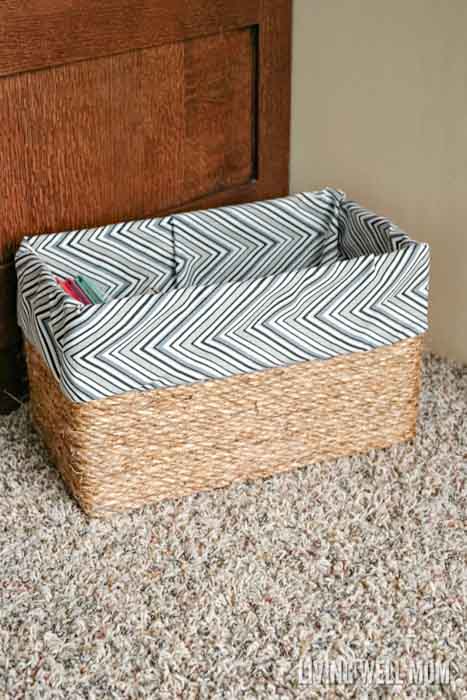 Home office tips and tricks
If you're anything like me, working from home with kids underfoot all day and managing a household usually involves the home office becoming a dumping ground for clutter.
Here are some easy ways to get it organized (and keep it that way):
20. Keep shelf space clutter-free
I love utilizing shelves for storage, but I hate it when they look messy and disorganized. The idea to repurpose empty cereal boxes into organizers like One Good Thing by Jillee did is genius and effective!
21. Say goodbye to paper clutter
There's always an unending stream of paperwork coming into the house. End paperwork clutter for good with these 3 simple steps.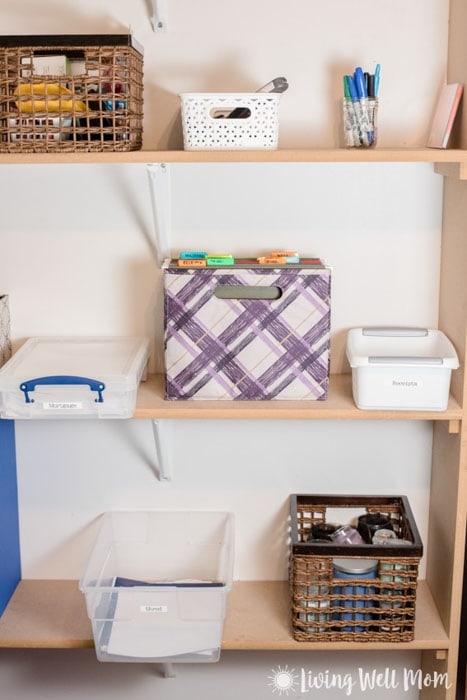 When you declutter your home, you'll save time, money, and your sanity. But don't feel like you have to do everything at once. Choose your biggest problem area and tackle that first, using some of these simple organization hacks as inspiration.
Once you figure out what works, maintaining your home will be much simpler!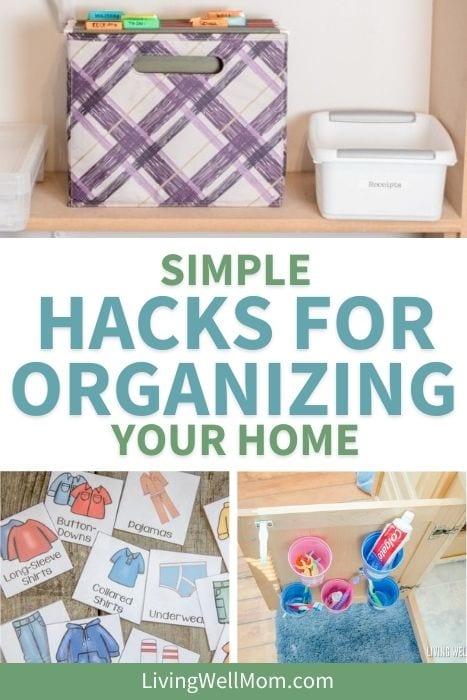 The post Life-Changing Organization Hacks For Busy Moms appeared first on Living Well Mom.
---
Share this post
---
---