Laundry Room Drying Rack and Storage Solutions
Posted by admin on
What type of storage solutions do you have or wish you had in your laundry room? For me, it was a laundry room drying rack and storage solutions for my tablecloths.
Pant rack to laundry hack!
I've always folded my tablecloths and stored them in our hallway linen closet. I knew that hanging the tablecloths would help with fewer creases so I created this cabinet for wrinkle-free storage for tablecloths. The last thing I want to do is to iron tablecloths! I placed tablecloths and some lightweight blankets on this rack. I haven't quite unpacked all my linens yet and am looking forward to getting all my tablecloths organized. So how did I create this laundry hack?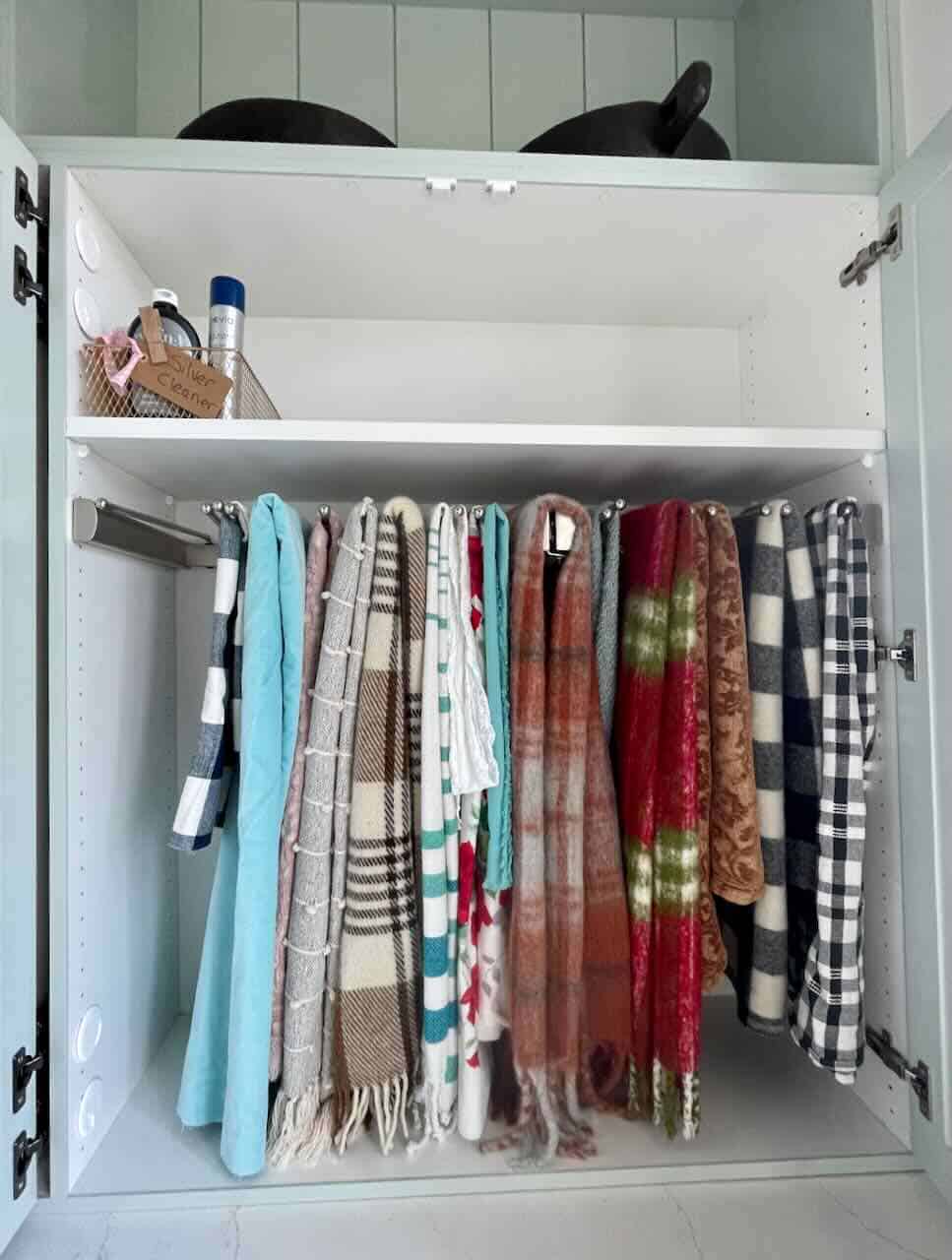 Two pant rack pullouts from Rev-A-Shelf were used to create one long wide hanging rack. The rods move so you can easily hang or remove the tablecloths. The whole rack can also slide out if needed. Pant rack to laundry hack! Check the details at the bottom of the post on where to purchase.
Check out my video below to see all the details on this pant rack hack and drying rack drawer.
The laundry cabinet is approximately 42″ wide so two pants racks (24″ and 18″) were used. My cabinet maker is very talented and did an amazing job on all our cabinets (kitchen, bathroom, pantry, and kitchen). However, he did install this area rather quickly and had to get back to his workshop out of state.
He traveled several times (14 hours roundtrip) to get our cabinets looking fabulous. I'm so grateful he took on this job for us. He used a white shelf bracket and would have made a wood bracket if he had more time.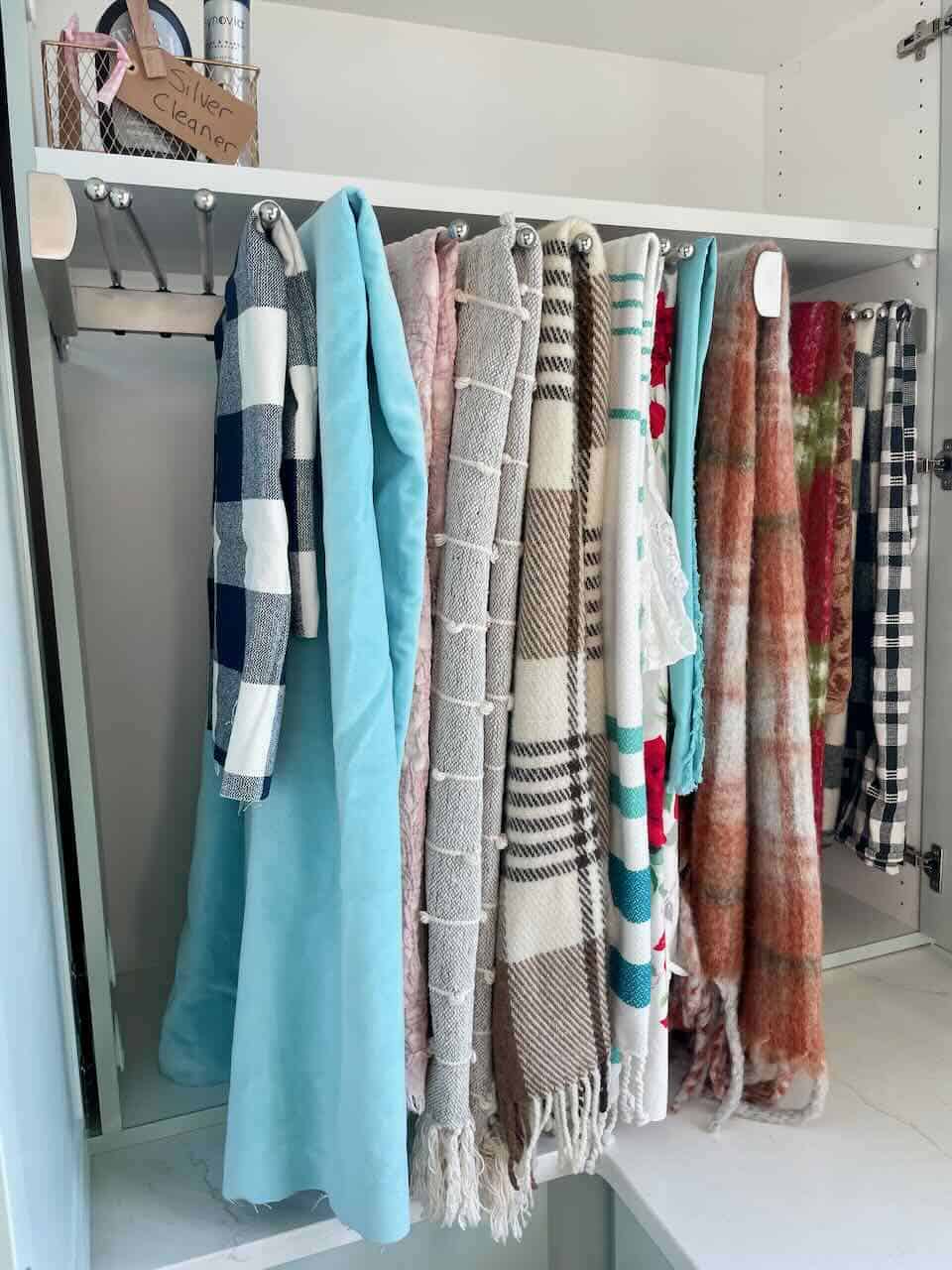 The image above shows the pullout rack pulled out on the left. There are two pullout racks attached in the middle and this shows one side pulled out. The linens are easy for me to get since they're above eye level so I don't think I really need to pull it out. Although I can see how awesome this feature is in certain situations. I have a pant pullout rack in my closet and I love that I can pull that out because it sits lower and is not at eye level.
In my previous home, I had a collapsible wall-mounted drying rack. It was inexpensive and did what it needed to do which was to hang my hubby's gym clothes to dry. He comes home from the gym and washes his workout clothes in the washing machine and then hangs them to dry. He works out several times a week so there were always gym clothes hanging in my laundry room.
This time around, I decided to create a drawer for his gym clothes. It has several hanging rods to hang clothes and you can close the drawer so there is no need to see them all the time (which I love!).
I bent down to take a picture so you can see the clothes hanging down.
Check out below to see the inside of the drawer. 
The drawer was made without a bottom. Closet rods were cut down to the width of the cabinet. End supports were added to hold the closet rods in place. Five closet rods seemed to fit this drawer and tie enough room for clothes to dry. As with all the drawers, soft close hinges were used.
I love both of these laundry room solutions.
DETAILS:
Pant Rack Pullouts from Rev-A-Shelf
Pant Rack Pullouts from Rev-A-Shelf on Amazon
Closet Rod cut to size with end supports for drying rack.
If you want a simple inexpensive solution here is what I used in my previous laundry room, Wall Mount Retractable Clothes Drying Rack
MORE IDEAS FROM MY LAUNDRY ROOM:
Do you have a favorite laundry room storage solution? Let me know in the comments below.
The post Laundry Room Drying Rack and Storage Solutions appeared first on Design Dazzle.
---
Share this post
---
---