DIY Butterfly Pea Flower + Witch Hazel Skin Toner
Posted by admin on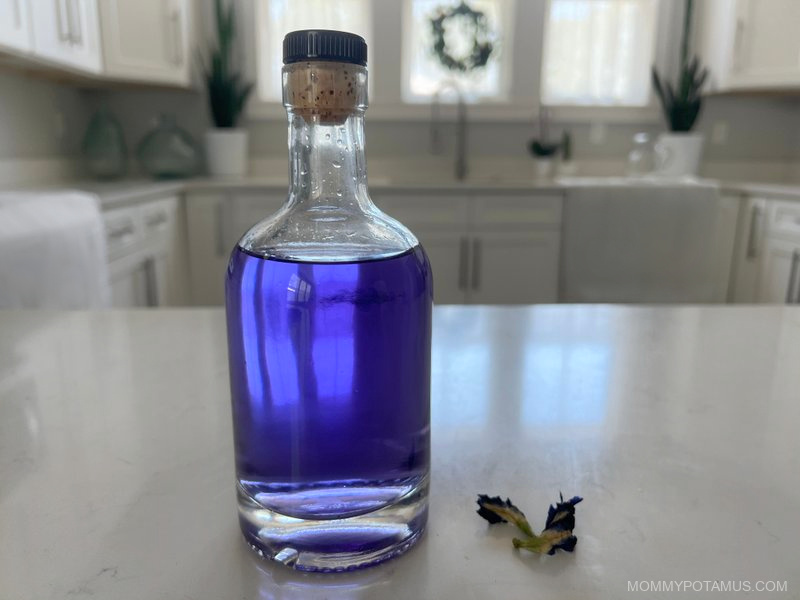 Infused with the botanical goodness of butterfly pea flowers and double-distilled witch hazel, this three-ingredient skin toner is one of my favorite skincare discoveries . . . ever. It's easy to make, feels so refreshing, and contains a wide variety of potent antioxidants that nourish, hydrate and protect skin.
Now, you may be thinking, "Is skin toner really beneficial? Why is this one purple? And what am I going to do with all my leftover butterfly pea flowers?"
The short answers are:
Absolutely.
Butterfly pea flower is rich in antioxidants that create this stunning color naturally.
Make color changing tea or lemonade! Check out the video below to see what I mean.
Now, before we get to the benefits of butterfly pea and witch hazel specifically, here's a general overview of why skin toner is totally worth incorporating into your skincare routine.
Why your skin needs acid, even if it isn't oily
As I explain in this article, healthy skin has an acid mantle that's "like an invisible veil that keeps the good stuff (lipids, moisture) in and the bad stuff (pollution, bacteria) out. As the name indicates, the acid mantle is at its strongest—and therefore most naturally balanced—when the skin is slightly acidic, with an optimum pH of about 5.5." (1)
That's important to know because when we cleanse our skin with soap, two things happen . . .
1. We remove debris and transient bacteria. However, we also rinse away some of the more established good bacteria that's part of our natural microbiome. Fortunately, those guys also live in the deeper layers of our skin and therefore quickly repopulate.
2. Soap also changes the skin's pH from acid to alkaline and washes off the "protective film" part of the mantle. Witch hazel extract has a naturally low (slightly acidic) pH, so this formula helps restore skin to its optimal pH after cleansing.
Botanical-infused toners contain antioxidants that can also help brighten skin, support healthy collagen levels, and more. Let's take a look at the benefits of butterfly pea and witch hazel specifically.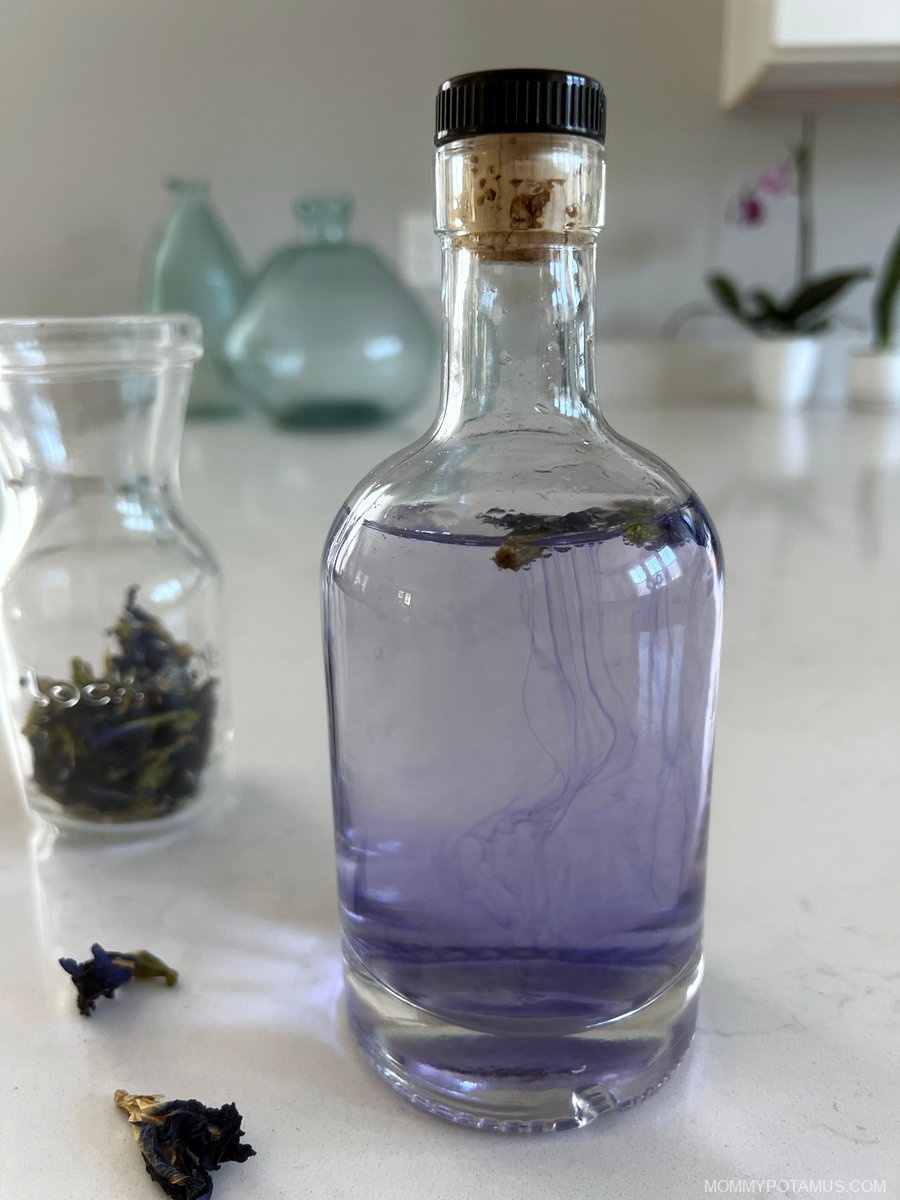 Benefits of Butterfly Pea Flower + Witch Hazel for Skin
You may already know about butterfly pea's nootropic (brain tonic) and adaptogenic (stress supporting) properties when taken internally. However, its skincare benefits have also been revered for centuries throughout Southeast Asia.
These indigo flowers contain anthocyanin, epigallocatechin gallate (one of the main catechins found in green tea), p-Coumaric acid, quercetin and other valuable antioxidants that have research-backed skin benefits.
Witch hazel twigs and bark are likewise renowned for their skincare properties. Sometimes called the Queen of Winter, witch hazel blooms in the late winter/early spring and has a long history of use for soothing wounds, sprains, burns and more.
Rich in tannins and flavonoids, it's both nourishing and astringent, making it a great for choice for all skin types (sensitive, acne prone, normal and mature).
There's one big caveat, though: I recommend choosing a formulation similar to the one Thomas Dickinson used when he built his historic witch hazel distillery in 1866. Local Native American tribes, including the Cherokee and the Iroquois, taught him about the properties of witch hazel and how to use it.
His preparation method, which was based on traditional use, used a double distillation process and only a small amount of alcohol (14%) to preserve the formula. (2)
Unfortunately, modern formulations are often much higher in alcohol (which can be drying) or single extracted (less potent). The one I use is double-extracted and only contains the small amount of alcohol used in Dickinson's version, which is enough to keep it shelf stable for about six months without making it drying or harsh.
In skincare formulations, research suggests that the application of these two botanicals:
1. Supports Collagen & Elastin Levels
Butterfly pea flower helps maintain healthy collagen levels by reducing the activity of collagenase (the enzyme that breaks down collagen). Collagen is the main protein that contributes to skin suppleness, while elastin is the main protein that contributes to elasticity. (3)
On the subject of elasticity, one study found that witch hazel improves skin firmness by supporting the repair of UV-damaged elastin fibers. (4)
Also, in addition to reducing the activity of collagenase, researchers believe butterfly pea may directly support the production of collagen and elastin via its positive effect on fibroblasts. Other plants that act via the same mechanism – gotu kola, for example – are known to support collagen and elastin formation. (5)
2. Hydrates Skin
Butterfly pea flower has been shown to increase skin hydration by as much as 70% within an hour of application. It contains compounds that form a hydrogen bond with the water in our skin, which slows down transepidermal water loss (aka our skin drying out). (5)
The hydrating effect of this toner is something that can be felt – it creates a light, dewy layer of moisture over the skin as it absorbs. It's also the reason that it's suitable for all skin types, even sensitive skin.
3. Soothes Irritation
Both butterfly pea and witch hazel soothe skin irritation by reducing oxidative stress (the process that causes skin damage) via the infusion of potent antioxidants. (6)
4. Supports Skin Clarity & The Appearance of Pores
Witch hazel is a gentle astringent, which means it has a clarifying, toning effect on skin. (6) (7) As I mentioned above, extractions that contain a high percentage of alcohol can be overly drying, so opt for a low-alcohol extraction if at all possible.
Also, because the beneficial constituents in butterfly pea flower are better extracted in water than alcohol, opting for a low-alcohol formula ensures you're getting the best out of both botanicals.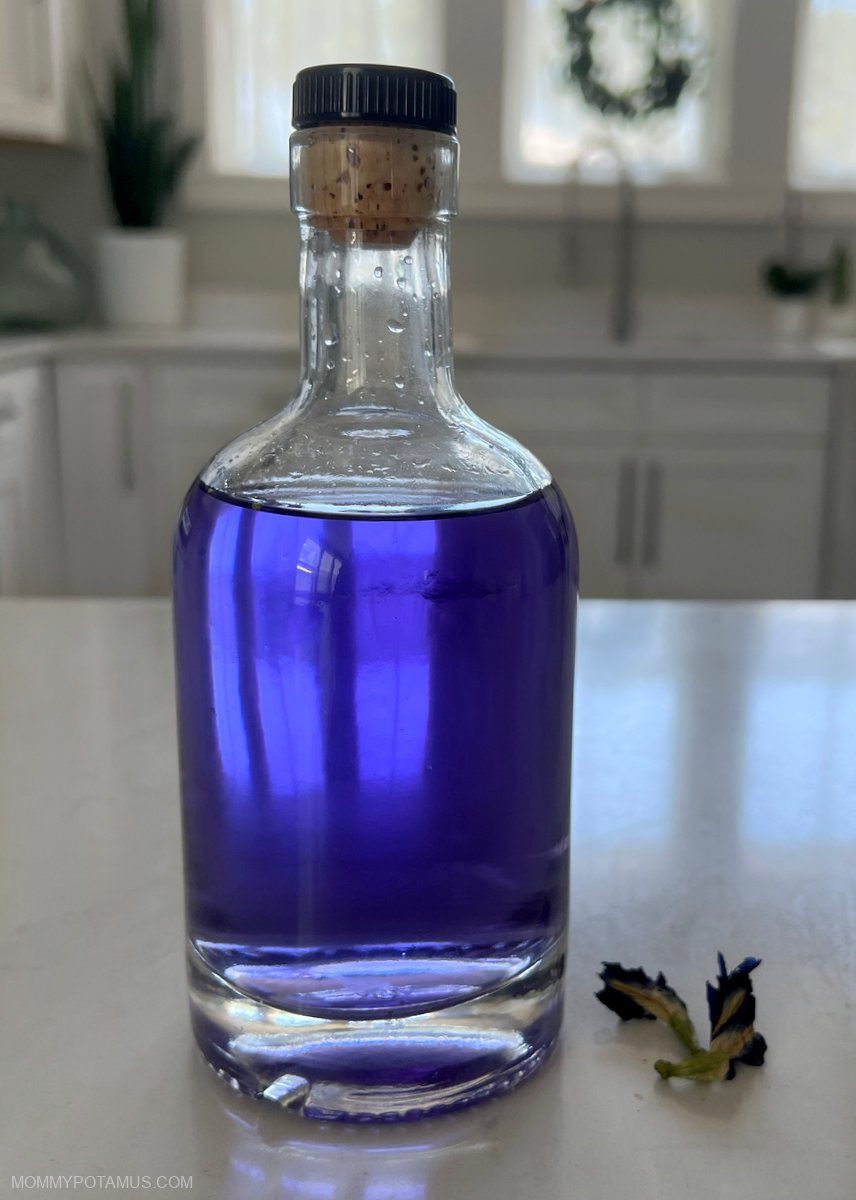 How To Add This Toner Into Your Skincare Routine
Adding this toner to your daily routine is as simple as 1-2-3. 
1. Cleanse – Using activated charcoal soap or your favorite cleansing bar, gently wash your face and neck area. If you'd prefer to skip soap altogether, try the oil cleansing method or a honey face wash instead.
2. Tone – Moisten a reusable cotton round or cotton ball with your facial toner and sweep it over your skin. 
3. Moisturize – After application, apply a water-based serum (like this hyaluronic acid serum) if desired, then follow with a moisturizer and you're done! I recommend this this hydrating skin repair face serum recipe or homemade tallow balm, which is uniquely compatible with our skin's biology due to its similarity to the sebum that makes up our protective layer.
Storage Tip
I photographed this toner in a clear glass bottle so that you could see it's lovely color, but there's one thing you need to know about antioxidant-rich skincare products – they're almost all sensitive to light. I actually use the bottle you see pictured to store many of my skincare products, but I keep them in a cabinet so that they're not exposed to UV light.
If you're keeping your toner on your bathroom counter, I recommend using a dark amber bottle like this to protect your formula.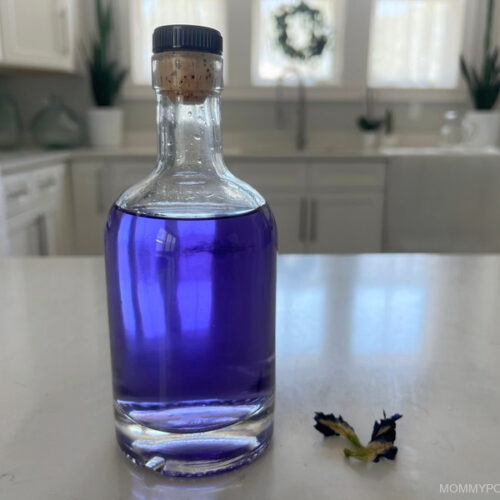 Print
DIY Butterfly Pea Flower Skin Toner
This 3-ingredient botanical toner is easy to make, feels so refreshing, and contains a wide variety of potent antioxidants that nourish, hydrate and protect skin. Store in a dark cabinet or amber bottle to protect from UV light.
Instructions
To Make
Place witch hazel in a clean glass jar or bottle and add the butterfly pea flowers. I use 1 pea flower for every 1/2 cup of witch hazel, but you can use more if you'd like.

Allow to infuse for 24 hours away from direct sunlight, then remove the pea flowers.

Add the glycerin and stir or shake well to combine. If you're using a clear glass container, store the toner in a dark cabinet to protect it from UV light. If you plan to store your toner on your bathroom counter, store it in a dark amber bottle.
To Use
Cleanse your skin as usual. Shake your toner bottle, then moisten a reusable cotton round or cotton ball with the toner and sweep it over your skin. 

Apply an optional water-based serum (like this hyaluronic acid serum) if desired. Complete your routine with a moisturizer and you're done!
Notes
Shelf Life: 4-6 months
Cautions: Do a patch test on a small area of skin before applying to your whole face. According to The Botanical Safety Handbook, witch hazel is a Safety Class 1A herb – the safest rating possible. However, it may cause allergic reactions in individuals who are sensitive to the chamomile family (Asteraceae).
Butterfly pea flower is also considered safe for skin, but may cause allergic reactions in individuals who are sensitive to the Fabaceae family.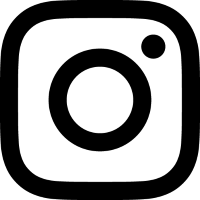 Tried this recipe?
Mention @mommypotamus or tag #mommypotamus!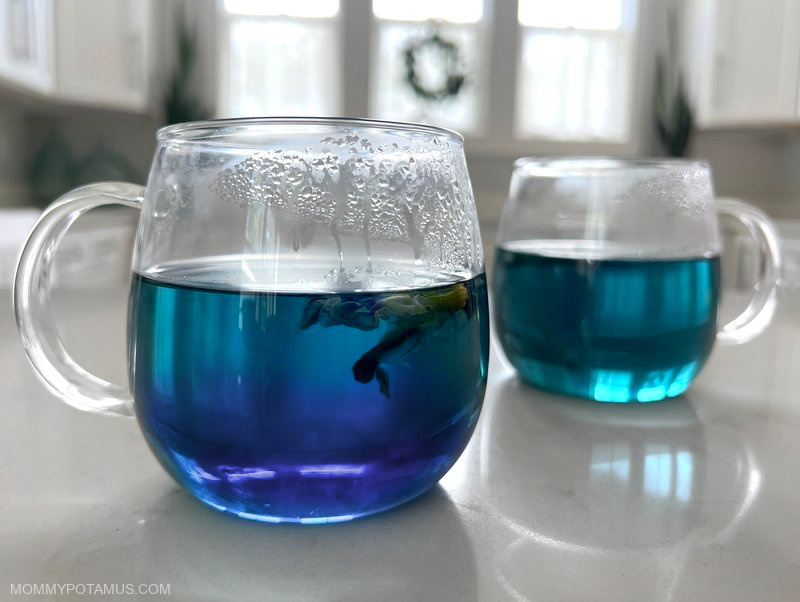 Frequently Asked Questions
What can I do with my leftover butterfly pea flowers?
Use them to make this beautiful color-changing tea. (Pictured above)
Can I add essential oils to this toner?
Essential oils are hydrophobic, which means they don't mix with water. If added to this toner, they will sit on the top of the liquid instead of becoming evenly distributed throughout the bottle. Though it's possible to properly disperse essential oils via the use of a solubiser like Solubol, I don't think this recipe needs it.
Can I use a different witch hazel extract?
Yes, but there are a few important things to be aware of. First, as I mentioned above, some witch hazel extracts contain more alcohol than witch hazel, which is less than ideal for two reasons:
It can dry out and irritate skin, which is the opposite of what this toner is intended to do
The constituents in butterfly pea flowers are better extracted in water, so you're not going to get as many of the skin benefits with a toner that is mostly alcohol
There are alcohol-free extracts available that may be worth considering. However, the small amount of alcohol in my preferred option acts as a preservative – without it, the shelf life could be significantly shorter. Sometimes glycerin is used to extend shelf life and that can work, too. Just make sure that you check the shelf life of the product you choose and use it within the recommended time frame.
Also, most of the options on the market are single extracts, which are less potent than the double-extract I use.
Sources
Elle.com (2011) How To Get Balanced Skin
Wunsch, Alexander et. al. (2014) A controlled trial to determine the efficacy of red and near-infrared light treatment in patient satisfaction, reduction of fine lines, wrinkles, skin roughness, and intradermal collagen density increase
Pain, Sabine et. al. (2018) Understanding Solar Skin Elastosis-Cause and Treatment
Zagórska-Dziok, Martyna et. al. (2021) Cosmetic and Dermatological Properties of Selected Ayurvedic Plant Extracts
Hoffman, David (2003) Medical Herbalism: The Science Principles and Practices of Herbal Medicine
Thomas Easley and Steven Horne (2016) The Modern Herbal Dispensatory
Continue reading DIY Butterfly Pea Flower + Witch Hazel Skin Toner...
---
Share this post
---
---