Charcoal Gray for Classic Style and Elegance in Your Interior Design
Posted by admin on
Charcoal gray is a timeless look for any interior space. Though some may consider it a color that is too dark for common usage, it has become a popular choice as a foundation and accent color in every interior room of the house. 
Many interior designers and homeowners alike love charcoal gray and moody vibes.
In addition, it adds instant sophistication in whatever room you use it.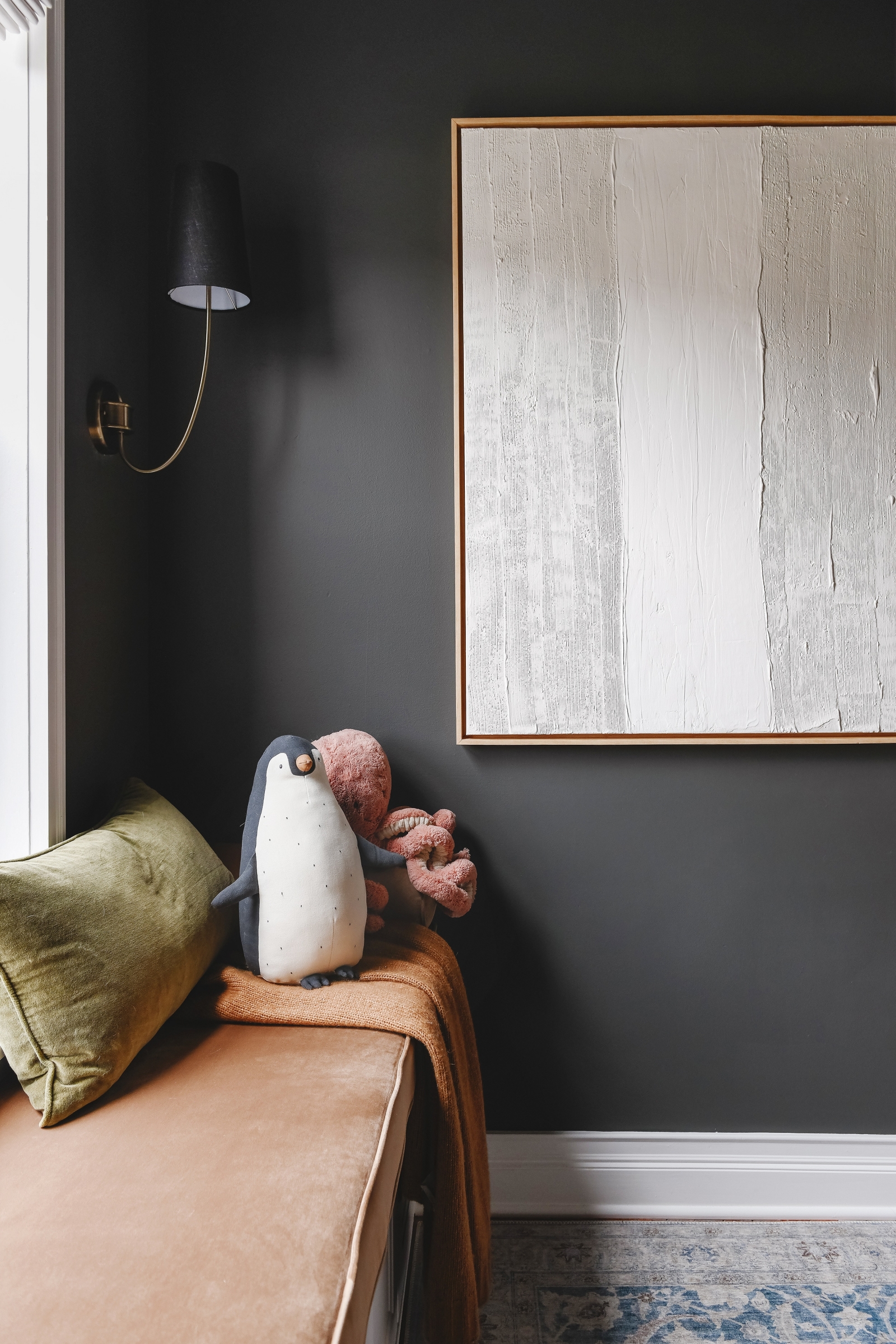 However, it is a color with great complexity, and understanding this depth will help you use it and pair it with other colors to create a look that is unparalleled.
Charcoal Gray: What is it?
The idea of charcoal gray brings to mind dark pewter or a classy charcoal gray suit, but many people are confused about the nuances of this complex color.
Of course, the name of the color comes from the word "charcoal" which is wood that has been turned into carbon from exposure to heat.
This produces a dark gray, almost black, substance that is used for creating fires. Charcoal gray, like gray, is a mixture of black and white, but charcoal gray has a dark hue that is almost black.
Charcoal Gray Undertones
Just like standard gray, charcoal gray has undertones that make it difficult to create a color palette that works with a variety of colors and to get the look that you want to achieve.
When you are not sure about the undertones, the best way to determine the dominant undertones is to hold a paint color chip up to true black or true white. The undertones will be more visible this way.
Neutral charcoal gray – All charcoal gray colors have undertones, so it is hard to find a neutral hue. The best option if you are looking for a neutral charcoal gray is to find one with a slight hint of green or brown undertone. These create a look that is neither too warm or cool and complements a variety of other colors.
Warm charcoal gray – Warm charcoal gray features violet, taupe, or reddish undertones. These colors will pair well with other warm hues like beige, red, pink, yellow, violet, and orange.
Cool charcoal gray – Charcoal gray featuring purple or blue undertones work better with other cool colors like blue, purple, and bright white.
Remember to test the paint before you buy it because paint colors and undertones vary by location and light.
Here are our favorite picks!
Steel Wool (2121-20) from Benjamin Moore – Steel Wool is a medium dark toned color that has cool undertones that lean toward purple.
Graphic Charcoal (N500-06) from Behr – This is a dark gray tone with blue undertones to lighten the color.
Thunder Gray (SW 7645) from Sherwin Williams – This is a deep gray almost black color with strong, warm undertones that make it look brown in some lights.
Kendall Charcoal (HC-166) from Benjamin Moore – This is a dark charcoal gray that is one of the more neutral hues on the list. This paint has a hint of green, but it is subtle.
Down Pipe (No. 26) from Farrow and Ball – This is a dark charcoal gray that has a blue base and cool undertones. This color varies in different lights ranging from deep gray to blue.
Grizzle Gray (SW 7068) from Sherwin Williams – Grizzle Gray is a dark charcoal with cool green undertones, so it looks more blue green than the warmer olive green undertones of warm colors.
Chelsea Gray (HC – 168) from Benjamin Moore – This is one of the most popular charcoal gray paint colors in the Benjamin Moore arsenal. This dark gray leans toward green/brown making it a good choice for a warm charcoal gray.
Peppercorn (SW 7674) from Sherwin Williams – This is a dark gray tone that is a good balance between warm and cool undertones. This makes it a good choice if you are looking for a more neutral charcoal gray.
Colors That Go With Charcoal Gray
Bold Contemporary – Pair charcoal gray with a deep orange or canary yellow to create a striking contemporary style.
Modern Minimalist – Charcoal is wonderful in a minimalist style. Pair with neutrals like beige, tan, and black.
Classic Traditional – Dark gray works well with traditional style. Use colors like blush pink, soft burgundy, soft green, and navy blue as accents with charcoal gray.
Mid-Century – Charcoal gray looks perfect with mid-century style. Choose a color palette with charcoal gray, teal, ochre yellow, and bright orange.
Modern Farmhouse – While farmhouse style uses soft traditional tones, modern farmhouse uses tones with higher contrast. Pair charcoal gray with bright white shades, tan leather, and deep green.
Charcoal Gray Inspiration
Charcoal gray has a distinctive appearance. However, it takes a different look when paired with different colors and design styles.
We have gathered some lovely inspiration pictures for you to peruse. When you are finished, you will be sure to want to add this amazing color to your own interior spaces.
Modern Minimalist with Charcoal Gray
Dark gray walls with light color accents are the perfect way to create a modern minimalist style. Notice how this room has ample natural light to keep it from looking gloomy.
Also, there are various textures in the room to keep it from looking one-dimensional.
Charcoal Gray Cabinets
The visual weight that this charcoal gray color cabinet creates in this bathroom is striking against the light accents of the white walls and gold fixtures.
This is a perfect look if you want to design a bathroom with classic elegance while remaining unfussy,
Charcoal Gray Tile
These charcoal tiles for the foundation counterbalance this otherwise pure white bathroom. A dark color like charcoal works well for bathroom tile as it hides dirt and stains well.
While you might hesitate to put these in a small space, it works well with the overall light room.
Sophisticated Traditional Style
These dark walls with the deep earthy accent color palette gives the room a cozy and timeless look. If you are interested in this look, find a neutral to warm charcoal gray paint color like Peppercorn from Sherwin Williams or Kendall Charcoal from Benjamin Moore.
Add color in your home decor by using earthy warm tones like deep orange and yellow ochre. Also, try adding depth and texture with camel tan leather accents.
Charcoal Gray Siding
We love the sophisticated style of charcoal gray siding on exterior walls. Notice however, the extra textural and color elements that make this work as an exterior color.
This charcoal color is paired with rustic wood on the door and the porch column. Also, the owners used a light color brick for the porch floor and added vibrant greenery to enliven the space.
These light and textural elements help to lighten the effect of dark colors like charcoal gray.
Relaxed Traditional Style
Charcoal gray doesn't always look dark and moody. When paired with bright colors like ivory and yellow, charcoal gray works well as a base color for a light living room.
This room has lighter charcoal gray walls. This shade creates a beautiful backdrop as a contrast for the light furniture to stand out.
Mid-Century Modern Charcoal Gray Sofa
The mid-century modern style is a popular style that is simple and chic. Notice this stunning charcoal color on the sofa. It creates a lovely focal point in the room and a good foundation for the deep green and russet accents.
Blush Pink and Charcoal Gray
The charcoal color is a good way to balance a contrasting color to create a different look. Some people consider blush pink a color for young children.
However, in this room blush pink paired with charcoal, beige, ivory, and gold, it looks all grown-up. Likewise, there is depth and texture to this look that the charcoal color accents well.
Eclectic Elegance
This charcoal gray sofa pairs with this deep violet floral room to create a rich look. If you like this look, find dark gray velvet furniture with dark but bright walls.
Don't forget to include some even darker touches like the black lampshade and botanical wall art.
Charcoal Gray Doors
If you want to create a different look in your home, try charcoal gray doors. This is a popular look in modern farmhouse and traditional design styles.
In addition, painting your interior trim and doors a dark color allows you to mask the look of builder's grade materials and create a look that is more custom.
Charcoal Gray Paneled Wall
If you want to add interest to your sheetrock walls consider adding wood paneling and painting it an elegant shade of charcoal. Also, this wall has textural interest that minimizes the need for wall art.
Charcoal Gray Accent Wall
Modern traditional style pairs modern and traditional design together. This common area pairs the dark gray accent wall with modern wall art with a traditional and colorful style rug.
These contrast to create a little bit of drama in this room. The charcoal wall color supports the few black accents throughout the room.
Ceiling in Charcoal Gray
If you have an all white room and you want to heighten the visual interest, try a charcoal ceiling. This room does this well with the paneled walls for textural interest and the black accents to add contrast.
In addition, the interior design has used a pair of fiddle leaf fig plants to create symmetry and balance.
Charcoal Gray Exterior House Paint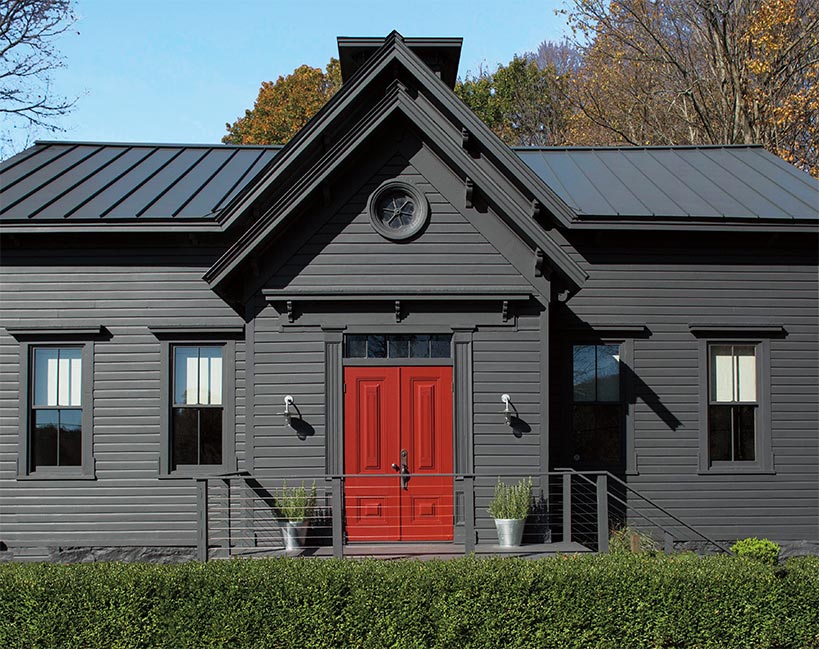 Gray paint on the exterior is effective and timeless. Benjamin Moore has created a color palette that is reminesicent of Williamsburg. Amherst Gray (CW-685) is a deep gray that works well for exteriors.
Pair a deep charcoal with a bright red door for added visual appeal. Like this home, you can paint your trim to match the siding or choose a white or ivory trim to contrast with the siding.
Textured Charcoal Gray Walls
If you love the charcoal color but want a softer and more textured look, paint the walls with a concrete effect using charcoal gray as a base color. Also, the lighter tone works well with the deep green and browns to create a cozy room.
Frequently Asked Questions (FAQ)
FAQ
Is it grey or gray?
Both spellings are correct. Gray is the standard spelling for American English. Grey is the standard spelling in British English.
What color goes well with charcoal gray?
Charcoal gray is a complex color but it goes well with many colors. Charcoal looks amazing with many reds, blush pink, plum purple, ochre yellow, pale yellow, light blue, navy blue, sage green, forest green, olive green, deep orange, and a variety of neutrals like white, beige, ivory, and black.
Is charcoal gray warm or cool?
Charcoal gray can be warm or cool depending on the undertones. Charcoal with undertones of green, brown, and violet are warm. Dark gray with purple and blue undertones are cool.
What does the color gray make you feel?
Some people find the color gray depressing, and this may be more true with dark versions of the color like charcoal. However, many people find it soothing and cozy. When combined with other soothing colors like neutrals or blues and greens, gray evokes the idea of the sea and nature. This makes it a relaxing color.
Why is gray the best color?
Many colors of gray, including charcoal, have been a popular interior and exterior in home decor for the past decade. Gray is a good neutral tone because it strikes a balance between light and dark. Because of this, it can help color blend together well.
What colors do you mix to make gray?
The easiest way to make gray is to mix black and white. However, if you want to create a gray with more depth there are other color combinations. To create a gray with depth, mix blue, red, and yellow. An easier way to do this is to mix purple and yellow together.
Conclusion
Charcoal gray is a popular shade in home decor for both walls and furniture. It has a depth and complexity that is rich while still remaining a color that works well with other shades.
If you like this shade but are afraid that it is too dark, add pops of charcoal gray in furniture and accent decor.
It is such a lovely tone, you are sure to find ways to use it to bring just a bit more sophistication to your interior spaces.
The post Charcoal Gray for Classic Style and Elegance in Your Interior Design appeared first on Home Decorating Trends - Homedit.
---
Share this post
---
---