A Virginia IKEA Kitchen Installer's Insights: Costs and Designs
Posted by admin on
He also shares some clever cabinet hacks most homeowners don't know about.
For IKEA customers, a kitchen remodel project can be an overwhelming experience – especially when starting the cabinet installation process. That's why our design team highly suggests finding certified IKEA cabinet installers, in your area. There are simply too many details involved with IKEA cabinet installation that only experts will notice. This includes taking proper measurements; keeping track of inventory and dealing with IKEA's supply chain delays, plus many more. Understanding this is crucial to the success, timeliness and ease of the installation (for your family as well as for the professionals designing and installing your kitchen!)

These are the sentiments of Neil, co-owner of Virginia Kitchens based in Virginia Beach, VA, who recently spoke with IKD about the IKEA cabinet installation process; working with custom doors; the importance of high-quality kitchen design plans and how IKEA customers can better collaborate with design professionals during the kitchen renovation process.
So whether you're a new IKEA customer or an experienced DIYer, the following information will definitely help you keep your kitchen remodel on track, within budget and stress-free.
We provide clarity for your IKEA Kitchen design journey
GET STARTED
Let's hear from Neil!
IKD: Can you share a brief history of your company?
Neil: We started with IKEA kitchen installation about four or five years ago. It was kind of a side gig as my business partner and I had very different jobs in marketing. We were not even general contractors at that point. But we did our own kitchen with IKEA and we saw the potential. We understood that there are customers who need help. They may have decided they want IKEA cabinets but they just cannot do it on their own. When IKEA announced that they were building a store in Norfolk, VA, business just exploded for us. From the start we decided that we're only doing IKEA kitchen cabinet installation.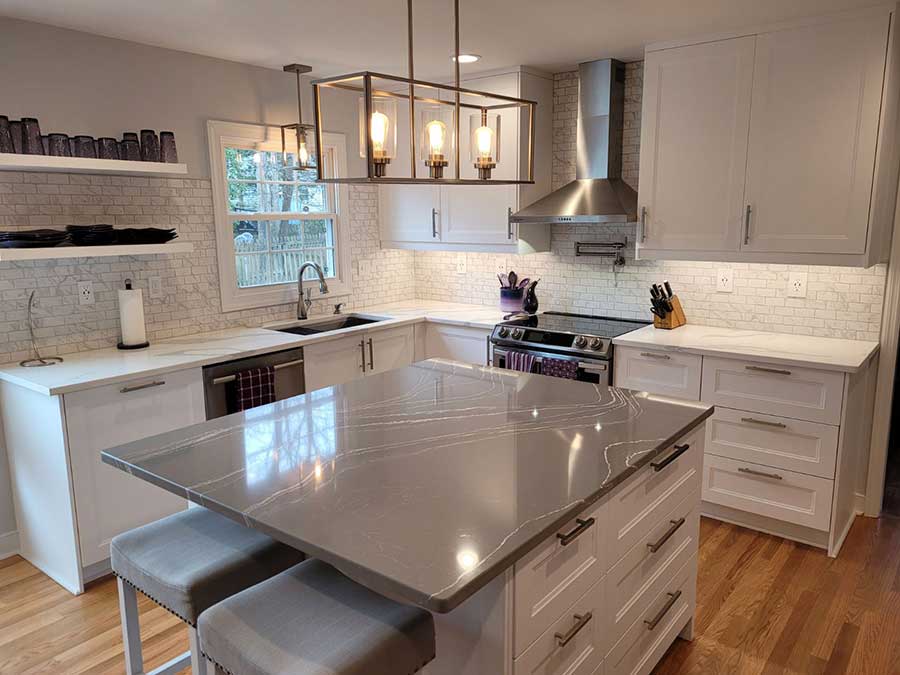 I think our evolution was to add other services, not just the installation of the cabinets, but also appliance installation. We also have subcontractors for countertops and we've worked with other general contractors for framing that we cannot do. Overall, we give the customer the design dream, budget it, and then execute it A to Z.

IKD: What is the radius that your company serves?
Neil: I would say about 25 miles radius. But we would go as far as the Outer Banks, which is about 45 minutes away. Over there, we would strictly do only the cabinets installation because our subcontractors wouldn't do drywall or electrical plumbing in the Outer Banks.
IKD: How did customers typically find you?
Neil: About 90% of the leads come through our Web site. In our area, if you type in IKEA installer, we're going to be right at the very top. The other 10% would be repeat business or IKEA directly recommending us.
IKD: So let's talk about the installation process. Can you share what that looks like with Virginia Kitchens?
Neil: A typical kitchen project, of course, starts with a meeting. We need to go to the customer's home and see the current kitchen. I want to see their vision of the new kitchen. Sometimes people are very detailed and they know exactly what they want because they've done their homework. They know what doors they want. They know about third-party custom front companies like Semihandmade or Swedish door. And in other cases, they really have no idea what they want. Their budget will usually tell me if they're ready for a major kitchen renovation or just the same kitchen footprint.
During that first meeting we'll provide a rough estimate for the materials and labor. If we're on the same page then I will measure and work on the design. I will give them a very good draft design. This way they can still make changes. The budget associated with the work has a break down and includes all the services needed. At that point, it's up to the customer to approve it. We'll can go back and forth with different subcontractors about the inventory of the different pieces, discuss different materials and different design options.
Once it's approved, I just need a down payment. Usually it's a few hundred dollars. I give them the order list and they go to IKEA and place the order for the materials. I then put them on the schedule. We're about two to three months out booked right now. By that time, they should have the materials at their house. When we start the project, the first day is all demo. If we uncover something then we address it, then we proceed with any electrical and plumbing that needs to be done. Then there's drywall and painting, then floors, then the IKEA cabinets. The countertops are up to the customer. Some customers work directly with IKEA. Once the countertops are in, we come back and do the plumbing; sink install; heat wrap and faucet installation. If the customer wants a backsplash and tiling, we do that too.
We want the customer to have his downtime without a kitchen as small amount of time as possible. That's why they need to have the materials. Once we demo, within a week or so, we have all the drywalling and painting done, then in another week, the cabinets are installed. In another week, the countertops are in. So it will be no more than two or three weeks for the whole renovation.
IKD: So what's the average budget for your projects, generally?
Neil: Just cabinets, for a small kitchen, around $4,000. For a bigger one its $6,000 or $7,000. This is the installation of the cabinets alone with fillers, crown molding, handles, drawers, islands and so on.

IKD: Can you speak about the value of a well-presented design plan? What does that do to improve the cabinet installation process? And what are the challenges of a poor design plan?
Neil: The most important thing is the design. There's no doubt about it. A good design pretty much sets the pace for the installation moving in a proper direction. A bad design really results in a lot of headaches, including delays, costs increased and so on. If the customer has already done the design themselves and says they have the materials, I automatically think there's problems. Why? I don't know if they measured properly. I don't know if they used the best configuration or if they used the right corner cabinets, etc. So I tell them I can give a price but I still need to come and measure and double check everything before I can confirm the project on my end.
However if I know the design is coming from IKD, I know it's going to be perfect. If it's coming from the IKEA store the design is somewhat 50-50. Sometimes they have inexperienced designers or sometimes the measurements are not correct. But yes, the design is really fundamental. Probably because it's the first step, right? If step one starts in the wrong direction, how could you arrive at the right point?
IKD: How have you been able to manage IKEA's supply chain issues? And how do you manage expectations for the customer, especially when you're scheduling out a couple of months?
Neil: I just need to be frank and open with the customers. I tell them exactly what the situation is. The problems with the supply chain were really bad maybe up to six months ago. The delays have been getting a lot better. I tell my customers when they go to their IKEA store and you place the order for materials hopefully everything will be available. The chance is that there will be some back ordered items. And IKEA will print or email you a separate list of the back order items. I tell the customer to go to the IKEA Web site every other day and check if it's available. When it's available, you pay for it for store pickup or delivery until you complete that back order. But let's say you're missing two 24″ frames. Maybe I have them in my storage unit and I'll help you out. We've had to prepare for customers that have almost everything, but are missing two or three frames. So whenever we had the ability to buy some frames at the store, we would buy them, and we have them in our storage unit. But we can't have two or three of every size cabinet. So we learned how to customize frames. So let's say we have a 30″ frame, but we need an 18″ frame. So we cut the bottom, we cut the back of the cabinet, and the sides stay the same. We just custom cut the cabinet from 30" down to 18" and move forward.
IKD: Are you getting a lot of calls for customization and cabinet hacks?
Neil: It's entirely out of necessity and entirely for kitchen renovation projects. I never had a call of somebody that would say, you know what, can you come and custom cut one frame for me.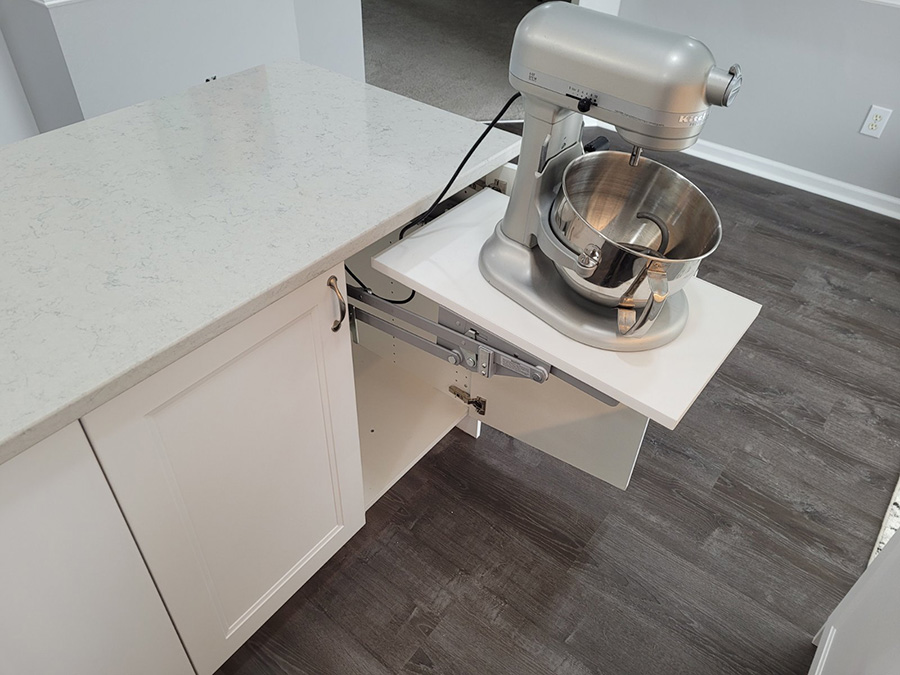 IKD: How do you charge for those hacks?
Neil: It's a little bit extra, maybe like 50 bucks extra per custom frame. In some cases, the design requires customization, right? IKEA used to have a cabinet above the fridge that was 10" high. I think they discontinued it. But I still have the need for this kind of frame that is only 10″ high. So we take a refrigerator frame that is 36″ (w) x 24″ (h) and we custom cut it so it's only 10″ (h). And we put a drawer front 36″ (w) x 10″ (h) with horizontal door hinges. Sometimes it's because the parts are missing, that we custom cut a frame, and sometimes the design requires it. Or I may have a customer that doesn't have much space in the kitchen and they really want a pantry. We have 13″ available, so we just take a 15″ pantry, we cut it down to 12″ and use a 12″ door.
IKD: When your customers come to you, are they typically using the IKEA Home Planner to submit their designs?
Neil: If they have done the design on their own, yes, typically they use the IKEA 3-D planning tool. On our end, we use the IKEA 3-D planning tool. It's not perfect, but it's pretty good.
IKD: What do you find are some of the limits and challenges when you're using the IHP?
Neil: Well, the challenges are that it's hard to portray a custom piece. If the software doesn't have a certain frame, like the pantry I just described, then I have to put a 15″. Then I need to use another kind of software or I need to draw on it and explain to the customer that it's 15″, but it's actually going to be 12". This is one of the drawbacks of the IKEA planning tool. It cannot put custom pieces.
IKD: Is there anything that home owners can do leading up to the project or during the installation process that will make it go easier?
Neil: IKEA delivers the parts and I don't ask them to do full inventory because I know it's a lot of work, but I ask them to at least visually inspect some of the boxes. If the boxes are damaged, they consider the product damaged. So I ask them to call IKEA and ask for a replacement. If I discover this on day one, it's going to take another week, or longer, until the part is delivered. So if the box is ripped, the customer can tell and see if the product is damaged. I ask them to either do full inventory, if they can, but at a minimum to visually inspect the bigger boxes to see if they're damaged.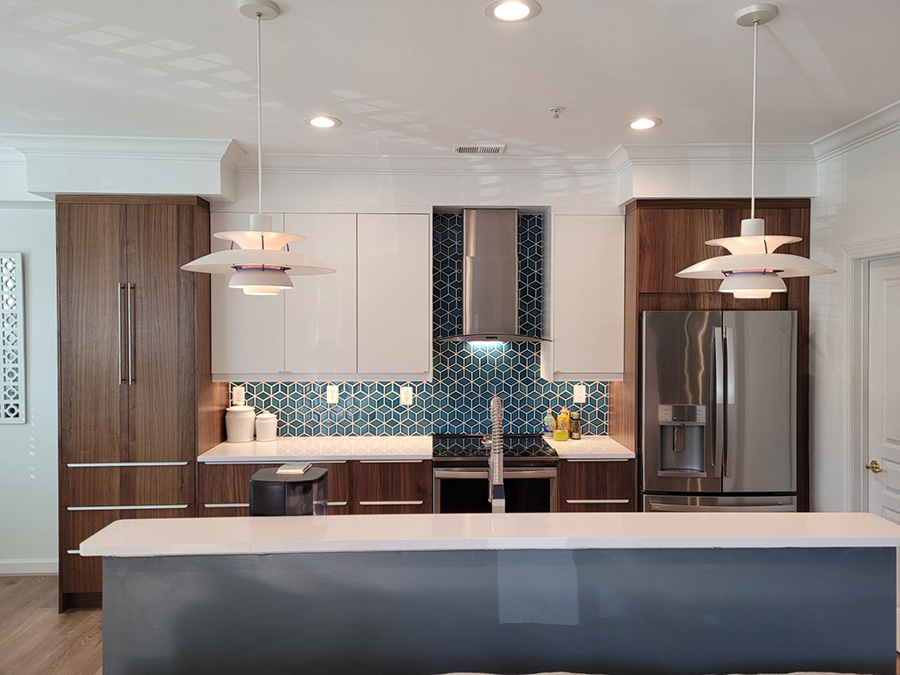 IKD: Have you installed with IKD designs? Can you talk a little bit about that?
Neil: From my experience with IKD the designs are pretty much flawless, especially including all the extra parts [Extra Items List] that are needed for this particular project with everything listed. The customers know exactly what they're going to get. As installers, our job is just to follow the instructions and the design plan and to install it.
IKD: So what do you think are some of the qualities of an outstanding IKEA kitchen design?
Neil: The most important aspect, of course, is to fit in the space. It could be the most beautiful design, but if it doesn't fit in the space, there's no use for it. The second most important thing is to be user friendly for the homeowners. I usually ask the homeowners if they have specific requests. If the customer says they want a cooktop and want a single oven and even if the single oven is on the other side I'll say no problem. The ergonomics of the design are the second most important part. It also needs to be feasible because I have seen some really crazy designs out there. I often have to remind customers that we're in the IKEA world with some limitations so I cannot do a pullout spice rack that is 7.5″ (w). It just doesn't exist.
IKD: So what do you think are the kind of the advantages of having a professional install these versus the homeowner doing it?
Neil: I think the homeowner can do it but it's going to take a lot longer to install it. Not all home owners have really good power tools, such as table saws that have proper blades or miter saws. Sometimes they don't understand the need for fillers or how to put in the IKEA LED lights. Any homeowner can probably do it but it's going to take a lot longer and not going to be perfect. Sometimes they end up calling a professional to finish it and it ends up costing them more money.
IKD: Do you think that the IKEA cabinet options are as good or better than some of the higher price brands?
Neil: I think probably the only kitchen's that are better than IKEA are some other European brands that cost two or three times more. Or, some custom-made kitchens that can provide a better solution for the space — especially for small kitchens.
IKD: Do many of your customers add internal organizers, such as Rev-a-Shelf, to their IKEA kitchens?
Neil: Yes. Many do. On the occasions that I met a past customer, they said they were very happy with the kitchen. Sometimes the customers are the ones that will request a specific solution with organizers. I had a customer who had a very big kitchen robot and wanted to install this product where you just open the door of the cabinet where it pulls out the kitchen robot and creates like a stand for it. We installed it.
IKD: Can you talk a little bit more about the services you provide in bathrooms and with vanities? Do you do installations for any other rooms, like media centers?
Neil: We will use the SEKTION system in bathrooms. It usually has to do with the vanities, the countertop and maybe a pantry, but not usually a full-scale bathroom remodel with tiling and shower. Specifically, we work with vanities and high cabinets in the bathroom. Yes, we do bath systems. It is about two or three percent of our work but we will do bath systems, wardrobes and walking closets. We also use SEKTION kitchen cabinets with media centers because the customers wanted to match the kitchen cabinets with the living room – maybe in a different color, but they still wanted it to have the same feel like in the kitchen.
IKD: So what is your favorite part of your job?
Neil: Well, there are a few milestones we like. One is closing the customer, which, of course, brings business. At that point, I know that people like me or our designs or our presentation. So, this is one part that I really like when the customer says where do I sign? Then when it's completed, most customers are pleasantly surprised. It gives me satisfaction when I see how they're super happy about their product.
IKD: In regard to installation price, do you charge by cabinet box?
Neil: We have kind of a formula. We charge per frame, per drawer, per handle, per linear toe kick, and so on. But there is also a piece that is variable based on the project complexity or the size of the kitchen. What I tell the customer is that the cabinet installation is not optional. But all the other pieces are optional, such as countertops. Installation is optional, the demo is optional. I don't mind if they want to hire a general contractor. It's a formula, but for the actual installation, it's more how much time we think it's going to take. Will it take a week plus? Is it a humongous kitchen? Is there any travel time involved? Is it on the second story? Is there a place where we can park? All of these things need to be considered, because it's going to cost us more time and many hours to do this kitchen. It's $79 for all the frames that are up to 42″ (w). For the high cabinets, it's $169 and for the corner cabinets it's $129. Then for the drawers, it's $25 each. It doesn't matter if it's a pullout or drawer or basket. Things such as a toe kick and decorative strip are like $5 to $7 per linear foot. One of the most expensive pieces is the spread molding, which is $17 per linear foot. The installation costs for smaller kitchens is around $1,800, and it can go up to $3,000 to $4,000 for really big kitchens. We tell customers the $79 is for the assembly of the frame. So $79 is to assemble it and put the hinges in the door. But to hang it, the installation costs is this much. Sometimes we have customers that have already assembled the products and they want us to only install. This part is not optional. We need to assemble all the parts and we need to install it. They typically do a bad job, and we find scattered parts. It becomes hard to make sense of all the parts. Usually if they've already assembled the frames, this means that they've done the design, and usually there are mistakes there.
IKD: How about appliances? Do they need to have their appliances on the project when you install to confirm measurements?
Neil: They don't have to. But I would ask them the size of their dishwasher, etc. If it's going to be 24″ (w) then I'm good with it. If later they bring in an 18″ (w) I'll say it's supposed to be a 24″ (w) not an 18″ (w). Same with the refrigerator. Suppose I ask if this is going to be 36″ (w) and they say, yes. I tell them it doesn't have to be here, but it has to be a 36″ (w) refrigerator — it's going to be entirely on you if you bring a 30″ (w) and not 36″ (w).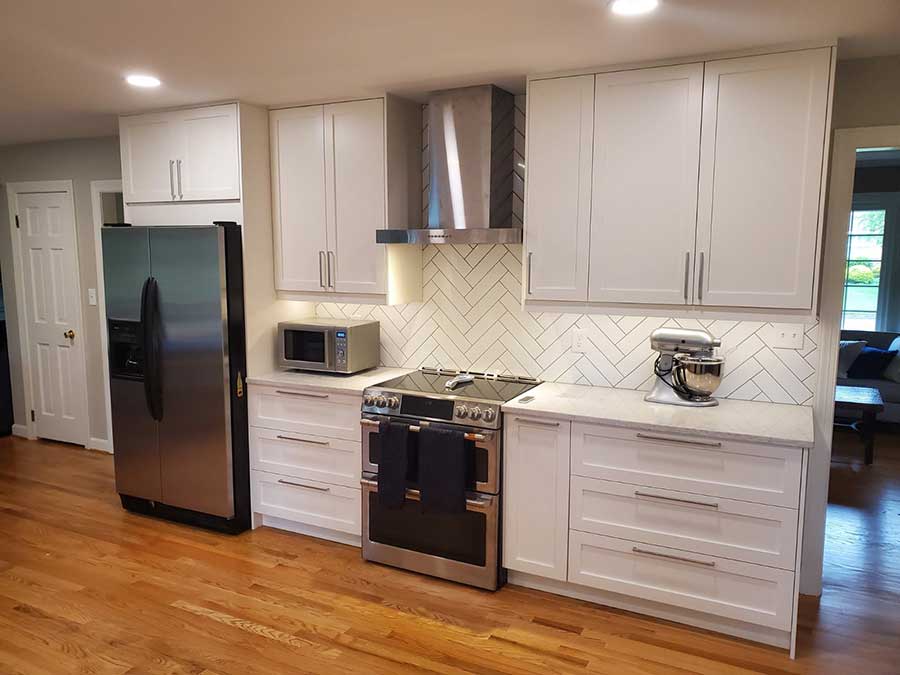 IKD: What are the top three hacks you do? The first main one must be reducing cabinet widths.
Neil: Yes, this is probably the first one. I sometimes have customers that their kitchen is 108″ high rather than 96″ high and they want stacked cabinets. So we do 30″ (w) on the bottom plus 20″ (w) on the top. But if they have a microwave and to keep the line with 20″ (w) cabinets on top, the cabinet right above the microwave needs to be only 10″ high. So I would take a microwave cabinet, which is 30″ (w) x 15″ (h), I'm going to custom-cut it to 10″ (h). We use this a lot.
The third hack we use in some kitchens is when they have the sink at a 45-degree angle in the corner. The framing is there and the plumbing too. Customers don't want to pay for this to be redesigned. So we just have to do the sink at an angle. This is really difficult to execute with fillers. Plus usually the dishwasher is right next to it. So we need to create like half walls and lots of fillers at angles. This is very hard to do.
IKD: Do you work with custom doors as well?
Neil: We work with Seminhandmade and even more with Swedish Door based in Canada.
IKD: Do you charge extra to install custom doors or the same as IKEA doors?
Neil: There's a little bit of upcharge. It's not much at all. Because the customers are paying a lot more in materials. And honestly for me, it doesn't matter if I'm putting in a $20 door or $120 door. So if it's Semi-handmade or Swedish Door, maybe there will be a little bit of extra cost. But usually it's because the toe kick from these third-party manufacturers is not ready so I need to custom cut it. That will be the extra labor.
IKD: So what is your worst customer experiences?
Neil: Not understanding what they're getting . When I go through the effort to design this space; to send them pictures; to organize meetings; to put in a contract; to describe the best I can and then when I install it they say they didn't know it was going to look like that. Or they flip and flop, which delays the process. They try to understand it as we go instead of learning about it beforehand and make decisions. So basically when customers change the plan as we go. Indecisiveness is not good!
Get a Professional IKEA Kitchen Design – All Online
Work with our certified kitchen designers to get a personalized kitchen designed around your needs and vision. If you're interested in learning more about our service, make sure to check out our IKEA Kitchen Design Services.
---
Share this post
---
---