17 Brilliant Over the Toilet Storage Ideas
Posted by admin on
Other than the kitchen, what's the one place where storage is most coveted? The bathroom! In my experience, not matter the size, while you might have cute bath towels that don't hurt the eyes when displayed, some might find it rather awkward to walk into a bathroom with toilet paper, or worse, feminine products, staring them in the face. But what are you to do when you have very limited storage space in which to hide all the "eyesore" toiletries? Well, I'm sure, if you continue to read, you will find at least one of these 17 bathroom storage ideas that will be the perfect solution to you problem. And while you're here, check out our toilet cleaning tips, too. You might just find yourself looking for an excuse to hang out in your bathroom.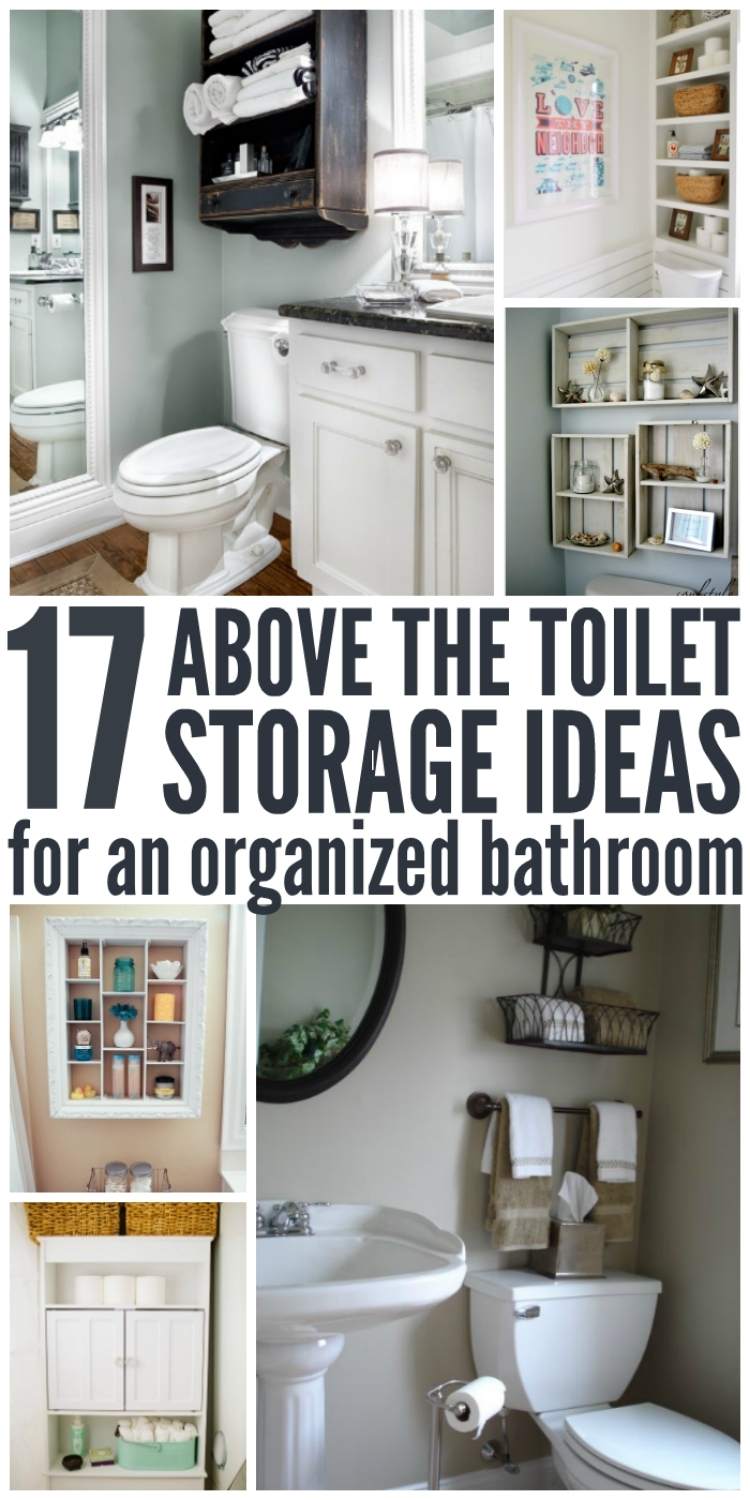 Over the Toilet Storage Ideas for an Organized Bathroom
Storage doesn't have to be ugly, it can be attractive and functional.  The best ideas usually have some of the same elements including:
Shelves or Floating Shelves
Towel Bars
Baskets
Jars
Cubbies and Caddies
Crates
Rolled or Folded Towels
Candles
Tissues
1.  DIY Shelves for Toilet Storage Ideas
Rustic wood shelves always seem to add warmth to a space and when you stain them dark and put white towels, cotton balls, toilet paper, Q-tips and lotions on them, the contrast is beautiful.  These DIY shelves are super simple to make. Cut some boards in matching lengths, stain them to the color of your choice, and put them on simple white brackets. Lovely!
2. Basket & Shelf Toilet Storage Ideas
A stylish basket and simple shelf make this bathroom just a little bit cozier.  The basket here is being used as a magazine holder, but you could just as easily store roles of toilet paper in it. Then just placing one shelf above is an easy touch that fills up a wall.   We love the decorations they chose here..  The large gold framed picture and a plant keep it interesting and add touches that give it a clean classic feel.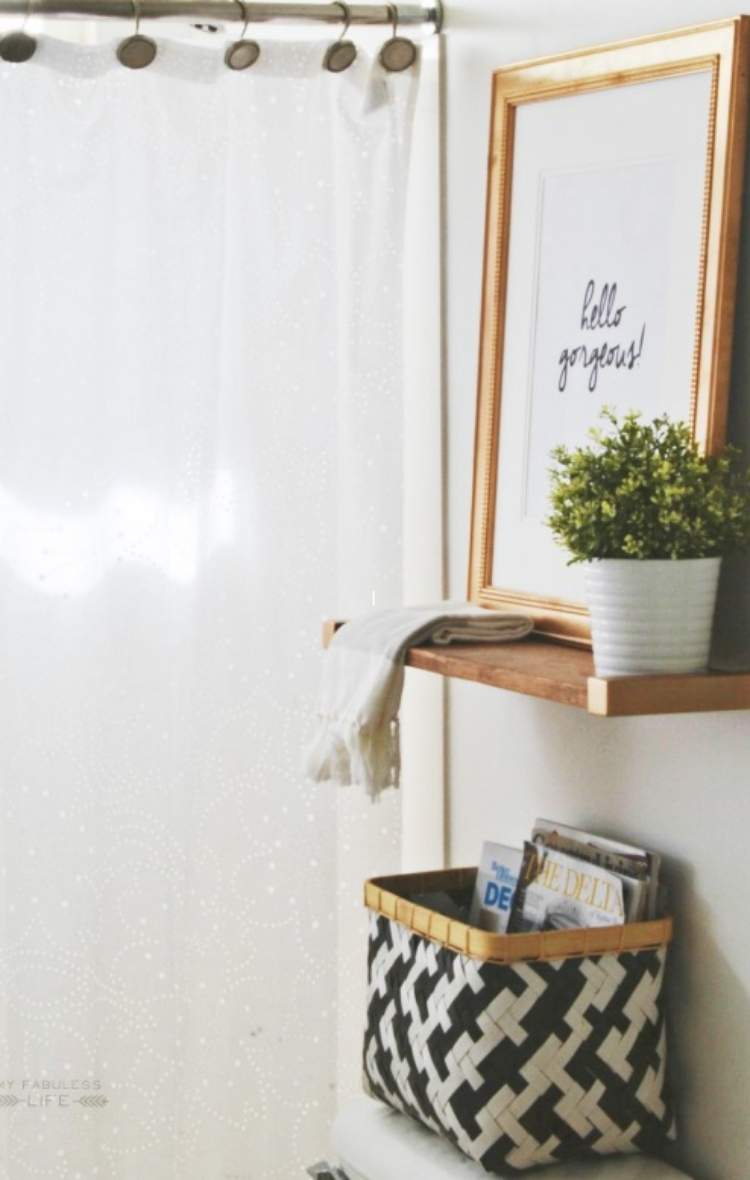 3. Above the Toilet Cabinet
This above the toilet cabinet is a gorgeous option! It adds a warm, rustic tough and plenty of storage room.  Matching the color of the cabinet to the countertop creates appeal for your eye.  Rolled up towels are the rage because you can store so many in a small space.  But they look great too.  But them alongside the folded towels to balance out the look.
The drawer in this cabinet is a great place to keep discreet toiletries.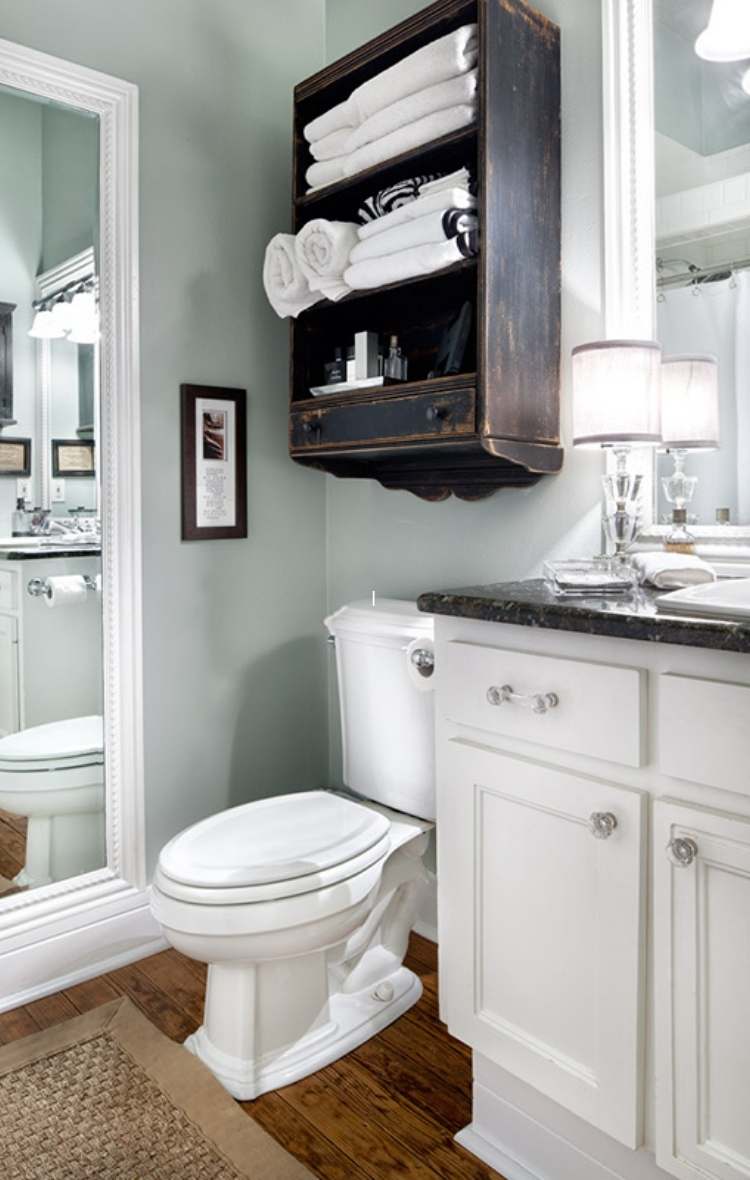 4. Toilet storage ideas for a small space
You'd never believe that this is in a mobile home! The toilet storage unit is narrow and complements the space well. It is perfect for small bathrooms because it provides lots of storage without looking too bulky or taking up a lot of space. With two shelves, and cabinet doors there is plenty of space for bathroom necessities. Placing baskets on top to catch the things you don't use often but still need to store.  The mint green bucket adds some interest to this space, but we especially love having the rolled up hand towels in the bucket.  There is so much you can do in small spaces and keep it looking cute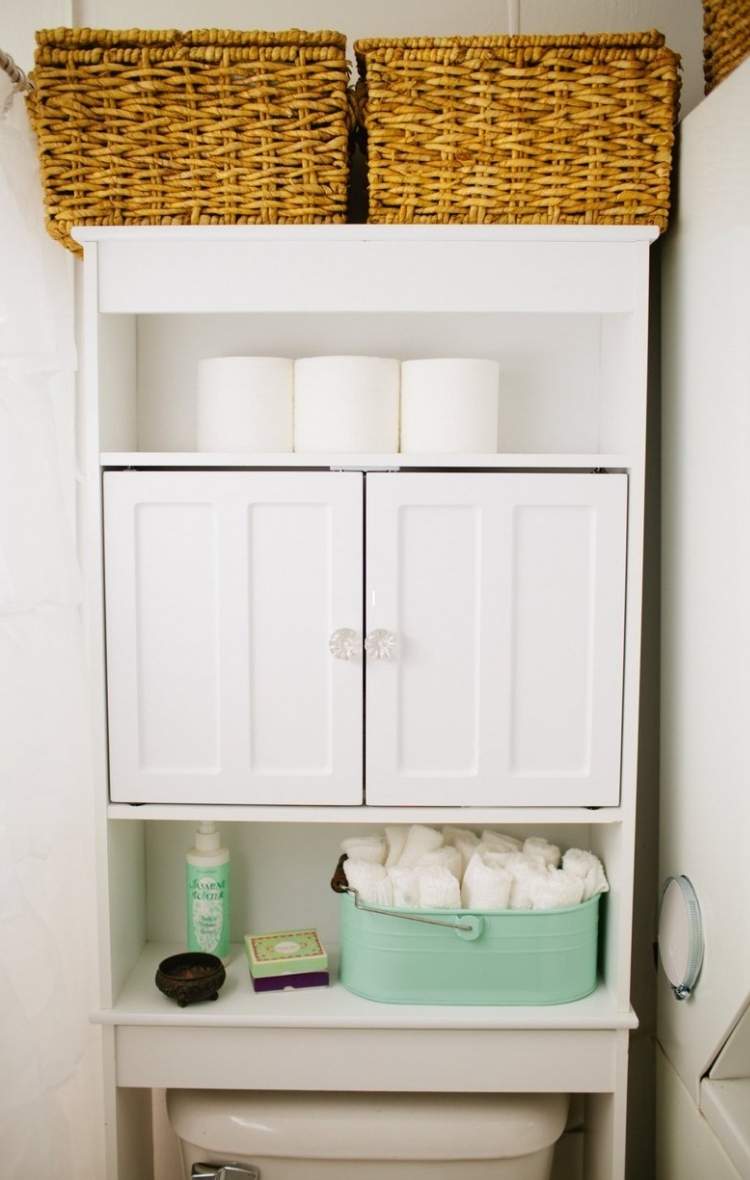 5. Over the Toilet Storage Shelves
Shelves and deep baskets are pretty and practical. You can easily hide things like toilet paper and personal care products, but they're still within easy reach. Great idea for a small bathroom.  Placing glass jars on top of the toilet for items like cotton balls and Q-tips is brilliant.  Your bathroom looks clean and has all of the necessities and more.  You know how we love rolled towels?  You could stick some of them in the top baskets and the extra color would look great in this space!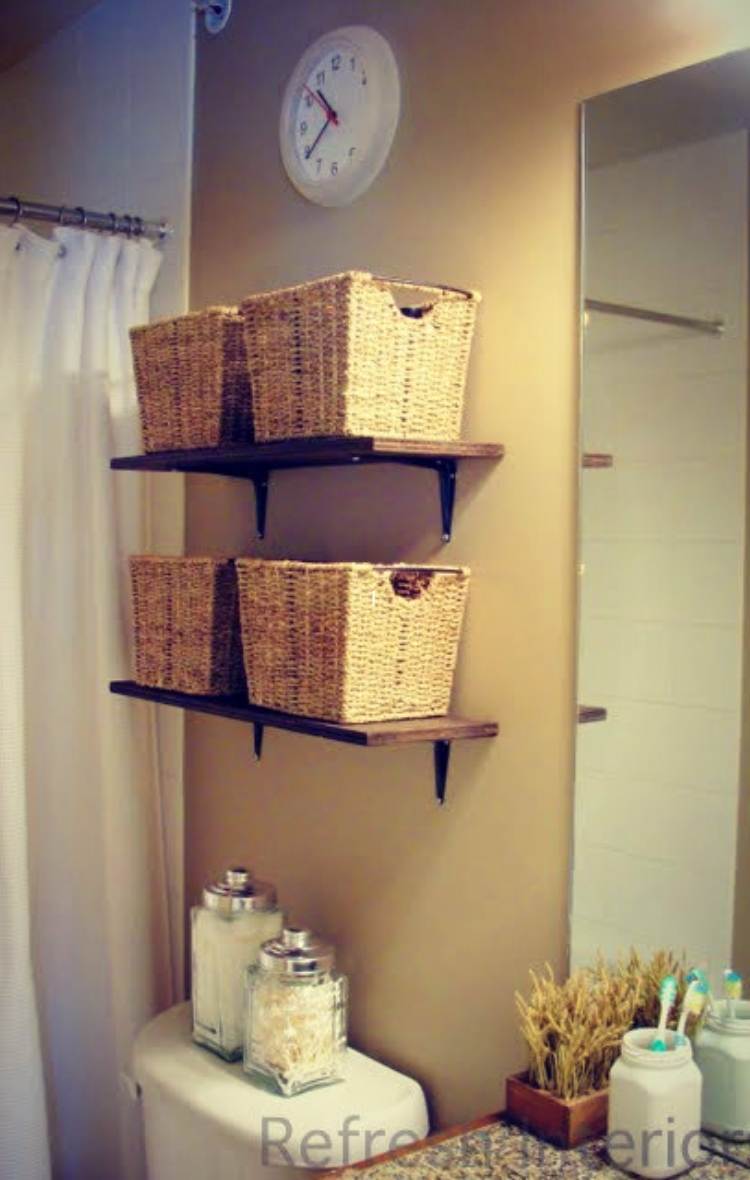 6. Creative Storage Space
This is such a good idea!  Don't you love things that are just a little bit different from the norm, but still look great?  These wicker baskets turned on their sides and attached to the wall are just the thing!  And the mesh on the outside still shows the color from the towels.  We love how the caddie on the shelf goes with the baskets. These are all great ways to break up a more solid look that solid shelving can sometimes project. A degree of separation can bring a more distinctive and individualized look to an over the toilet area.  Did you see how the shelf is attached with jute?  Love that also!  What a great look!
7. Above the Toilet Storage Ideas
Depending on how your space is laid out you might be able to do recessed shelving behind the toilet.  This creates so much space for storage that would otherwise be wasted.  Decorate with trio's of toilet paper, baskets, photos and towels.  The toilet plumbing will have to be moved to the side if you plan to do this one, though.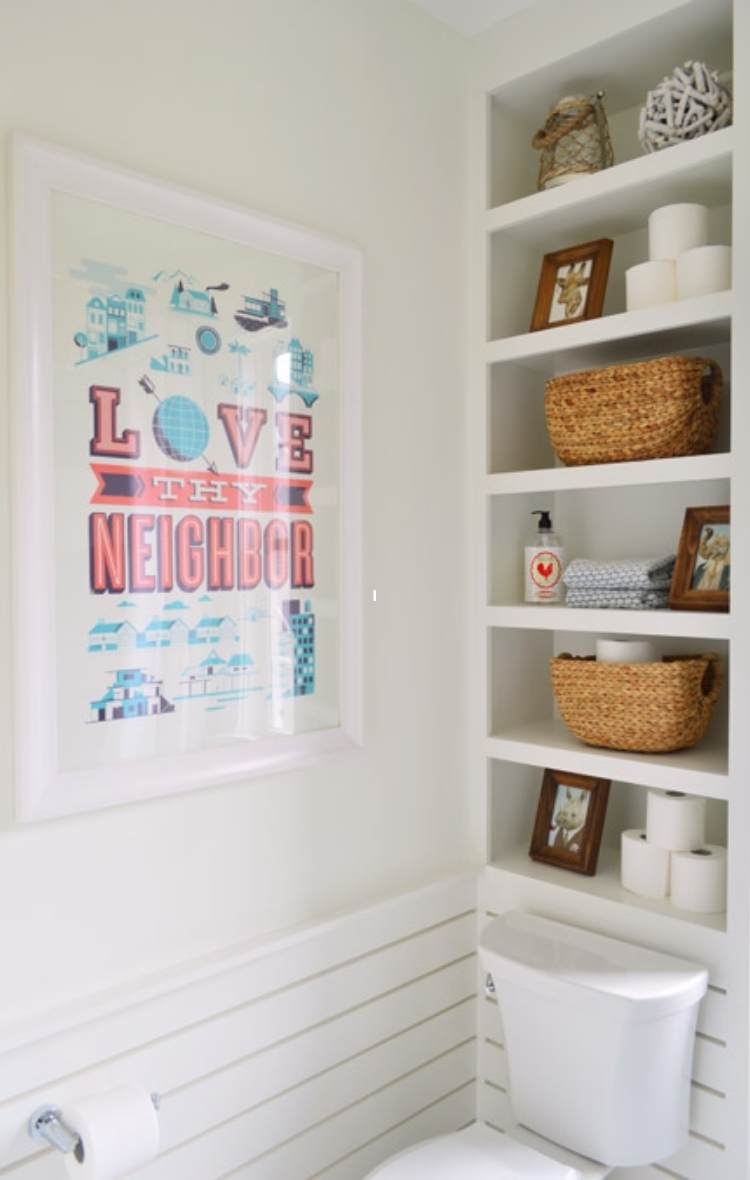 8. Towel Rack and Baskets
Small spaces don't always have room for towel racks.  But you can easily add one above the toilet and it looks great!  Add a towel rack and put some baskets for decorations to fill the space above it and make your bathroom look cozier.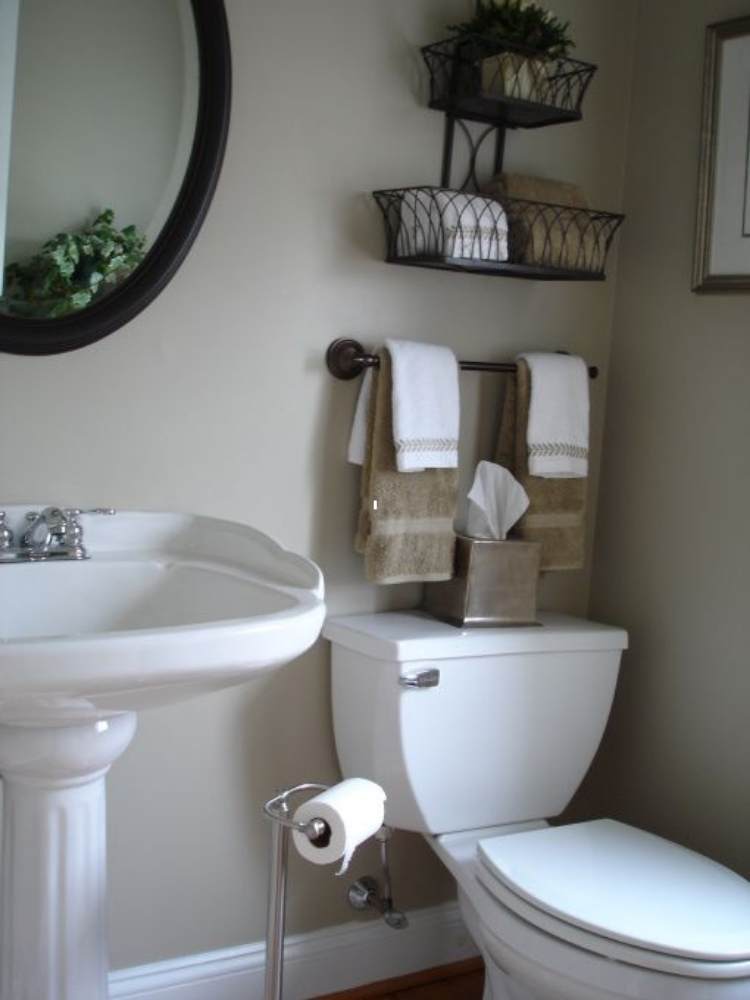 9. Toilet Storage Shelf
Shelving doesn't have to be used for storage only, it can also add tons of esthetic appeal. Look how wonderfully this shelf adds to the aesthetics of the room.  These shelves look nice in their natural wood color but would also look great if painted.  You could paint this shelf blue or red and add some towels to match and it would totally change the space again when you are ready.
10. Toilet Storage Crates
Don't you just love crates?  There are so many uses for them when it comes to storage and they add so much charm and personality to your space Buy some crates or make your own to recreate this neat shelving idea and adorn those shelves with your favorite items.  This beach theme works great here.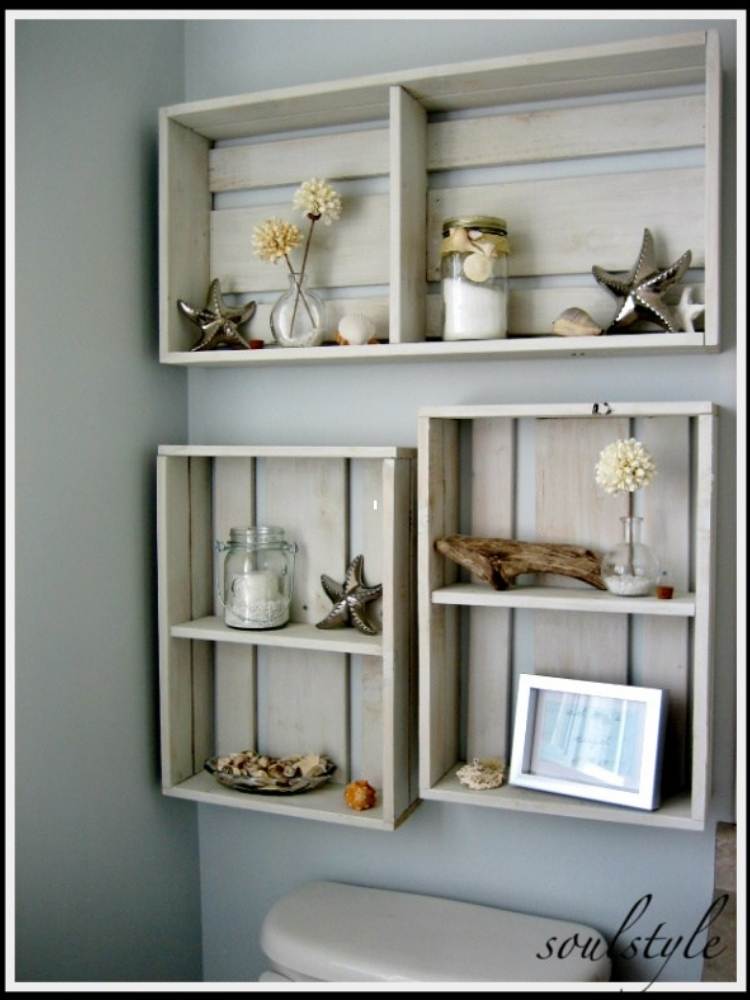 11. DIY Floating Shelves
Make some DIY floating shelves to go above the toilet for tissue and toiletries.  The ones shown here are above the tub which is nice if you don't have a shower/tub combo.  These solid and hefty shelves give you lots of room for baskets to store towels, jars for cotton balls and candles.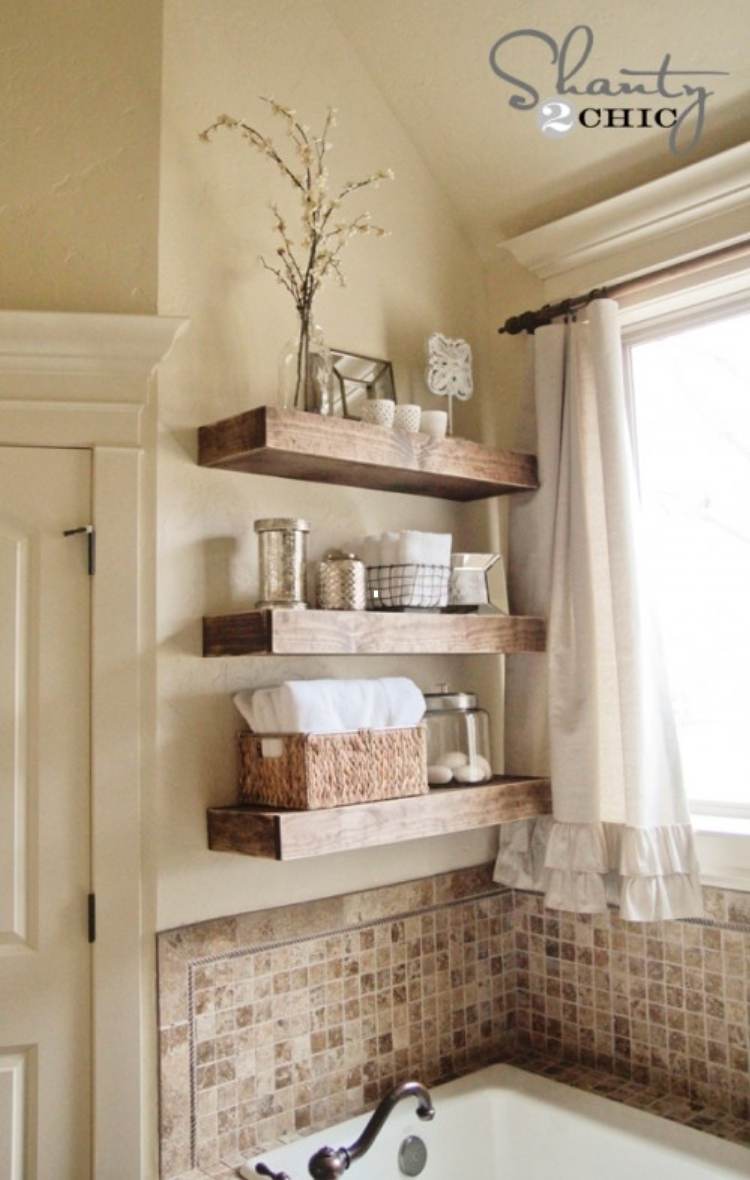 12. Toilet
Simple bins with labels keep toiletries, makeup and hair products in their place.  These bins are easy to grab when you need them and easy to put back when you are done.  This will cut back on a lot of mess and clutter.  There is so much stuff that we need to keep in our bathrooms and having it labeled and handy helps everyone!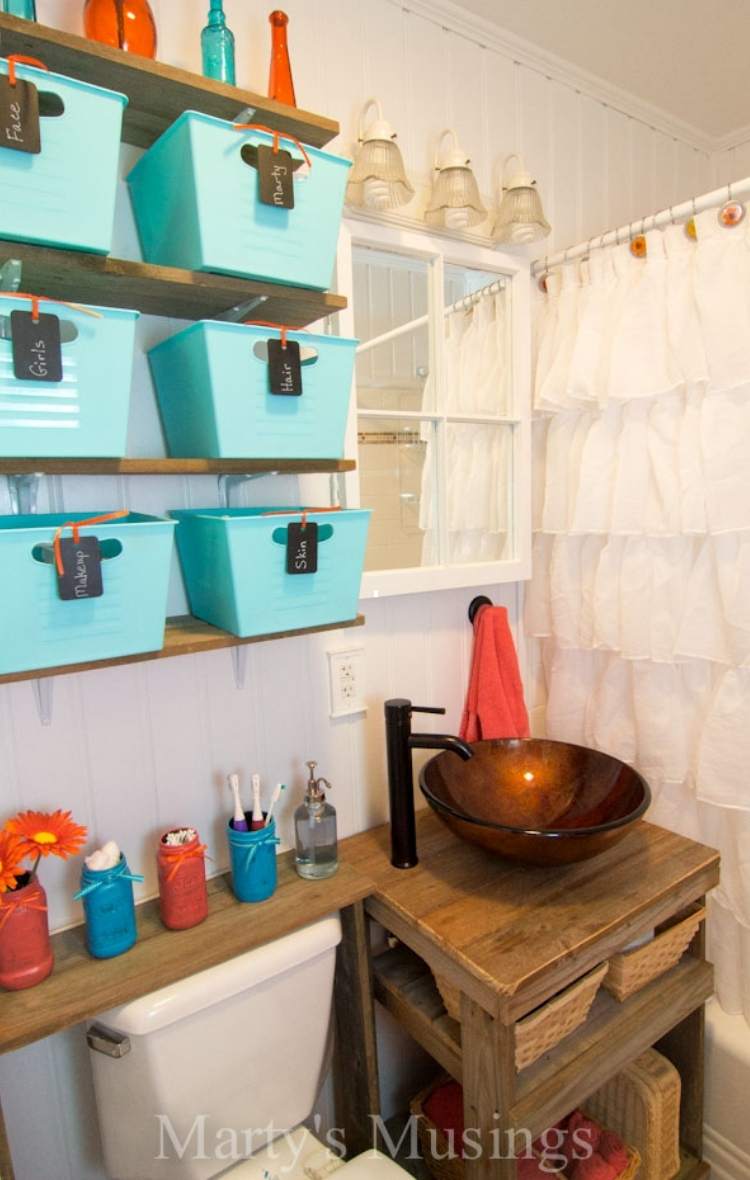 13. Toilet Storage Wire Cube
This wire cube is a simple solution and perfect for almost any bathroom space. It provides lots of open storage while still looking neat and tidy.  Extra rolled up wash cloths and hand towels look great in their own compartments and you still have the space on top to store toilet paper.Putting a clock in the bathroom is a great idea!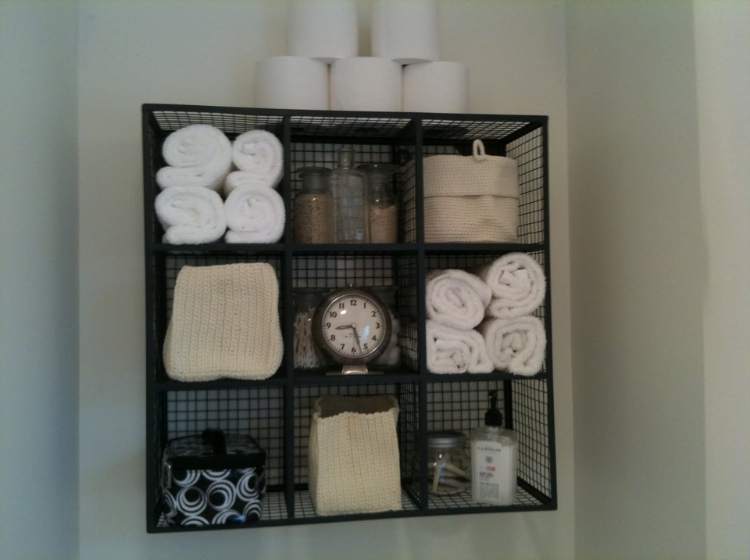 14. Ladder Shelf Behind the Toilet
A DIY ladder is the perfect, inexpensive solution to fill the space above a toilet without adding a lot of bulk. A simple ladder shelf is a unique idea for a rustic bathroom and it looks amazing over the toilet! You can hang towels or baskets for storage and decorations.  I love the rustic look of this ladder, but you could whitewash it and it would look awesome that way too! A great storage option for a farmhouse look.
15. Toilet Storage Solution
The Fintorp system from IKEA makes a great storage solution for just about anywhere in your home. Here's how to set it up for above-the-toilet storage.  You can add a little or a lot.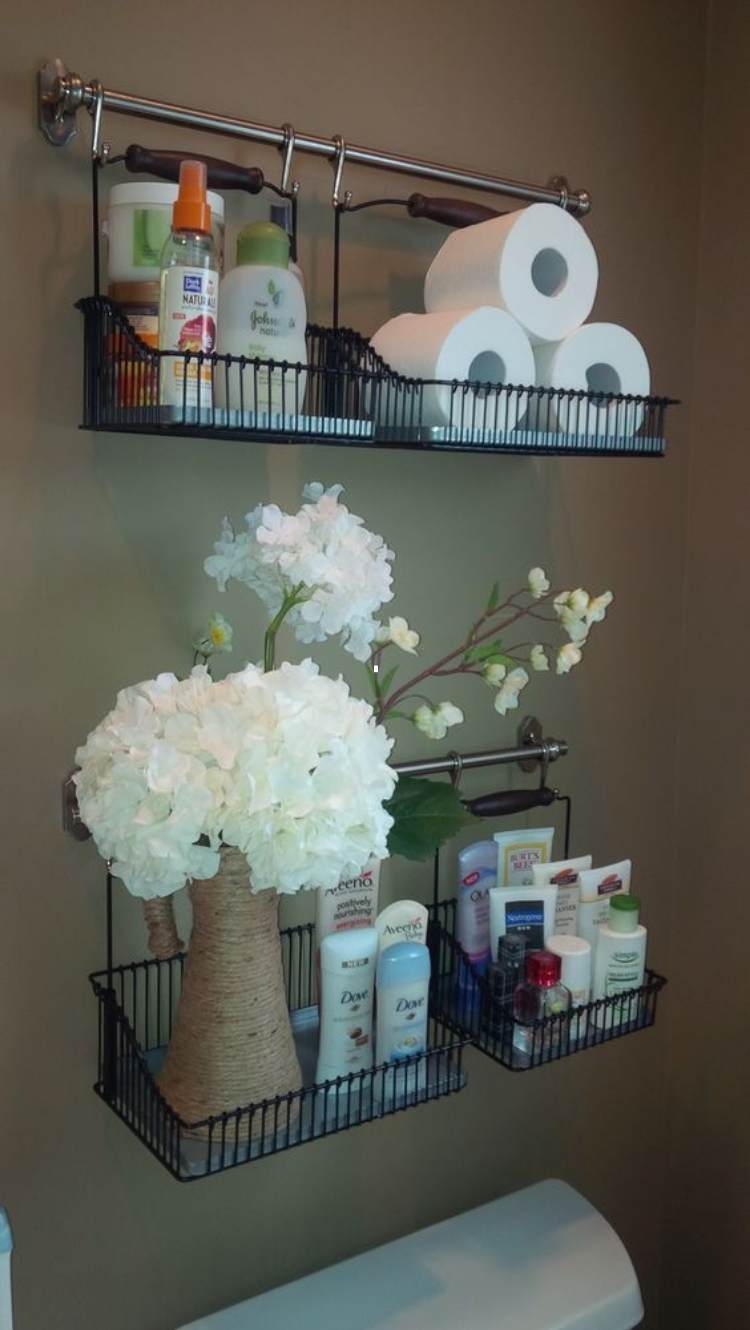 16.  Cubby Storage Ideas
Turn a large frame into cubby storage. What a great idea for the kids' bathroom or a guest bathroom.  Decorate with your favorite ornaments and don't forget to keep the bathroom spray handy!  You could easily paint this frame and change the whole look if you wanted to!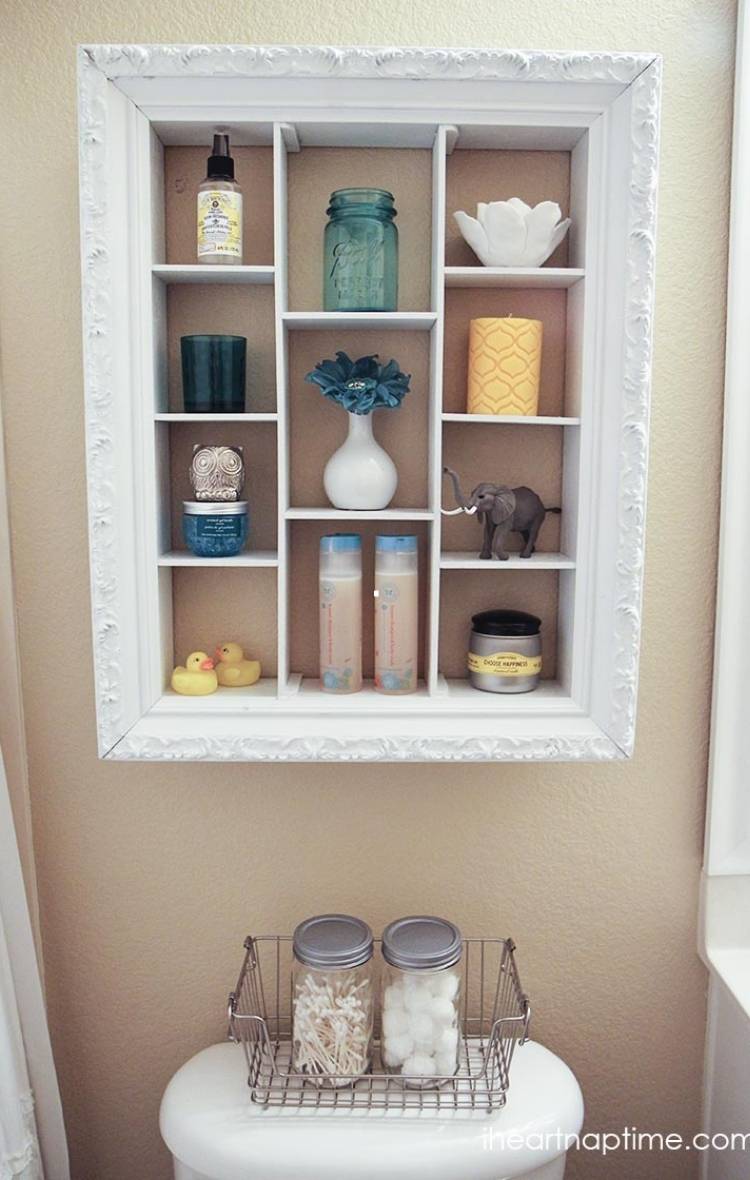 17. Industrial basket over the toilet
An industrial basket makes lovely storage above the toilet. You could stack 3 of them on top of each other for even more storage.  The open glass jars in this basket fit perfectly and hold your cotton balls and Q-tips.  Wrap up a couple of extra hand towels, add a large beautiful dahlia or other flower and you have a super cute display that is practical too!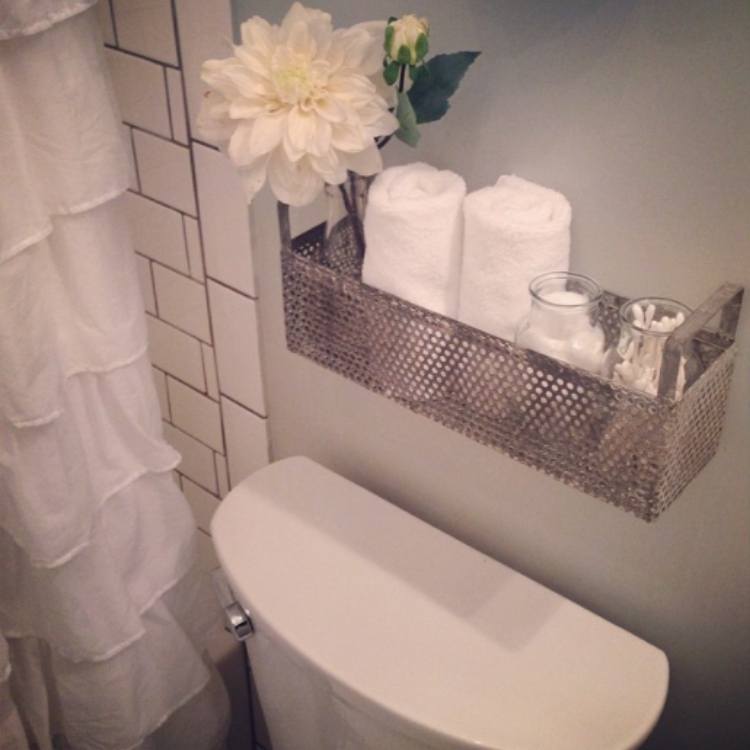 A photo posted by Joanna Stevens Gaines (@joannagaines) on May 12, 2014 at 10:33am PDT
Whether your bathroom is average size with limited storage space, or it's extremely small room with no space at all, there is always some hope with a little time and inspiration. Did you find your storage solution here? With so many incredible ideas, we hope you did!
If you liked these storage ideas, check out these other posts: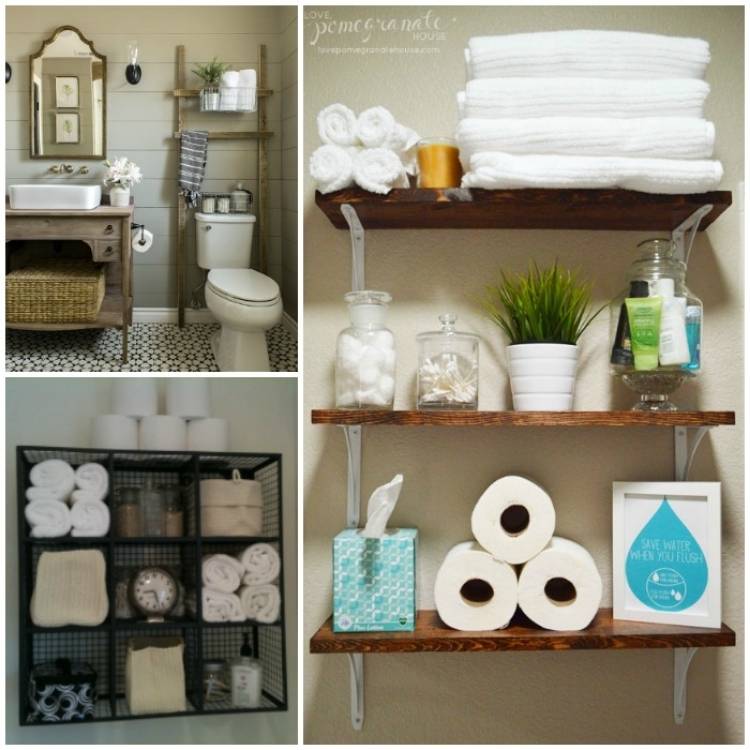 The post 17 Brilliant Over the Toilet Storage Ideas appeared first on DIY House Hacks - One Crazy House.
---
Share this post
---
---