Free Travel I Spy Printable For Road Trips
Posted by admin on
This easy travel-themed I Spy printable game for pre-k, kindergarten, and older children is a fun (and free) boredom buster for road trips and quiet time activities. The book ring makes this set easy for kids of all ages to do in the car.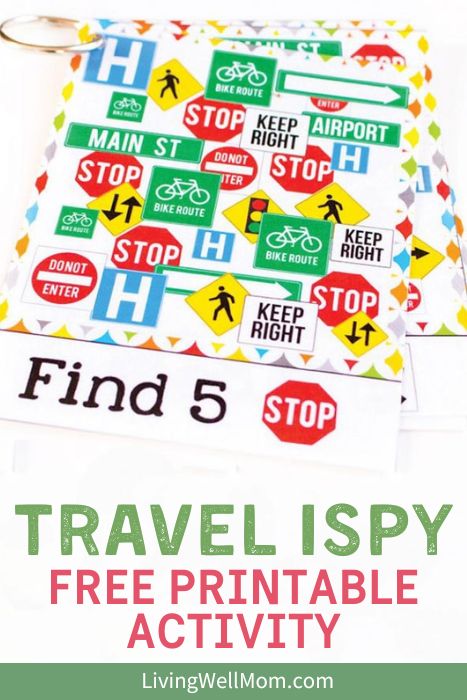 As a family, we have traveled to 46 states, 3 Canadian provinces, and 7 countries. As you can tell from those stats, we love traveling and exploring new places! 
And being an experienced traveler, I know firsthand how important it is to have fun things to keep the kids occupied while you are on a long journey.
A couple of years ago, I developed this simple road signs travel I Spy printable for my own kids as I was preparing for a road trip. It's similar to the other I Spy resources that I've shared before, such as my Valentine's Day I Spy, Winter I Spy, and Christmas I Spy games. 
But this one has a fun road trip theme and pairs well with my Travel Game Bundle to keep kids entertained as you're rolling down the road. And today, I'm sharing it with you so you can reap the benefits too!
What are the benefits of I Spy?
Although keeping my kids occupied and happy on a road trip is one of the (major) benefits of this I Spy printable, playing good, ol' fashioned I Spy has several other benefits too! Just a few of them are:
Growing patience skills
Developing visual discrimination
Building language skills
Boosting concentration
Developing basic math (counting) skills
Increasing memory skills
Building visual learning skills
This free printable travel I Spy for kids is a perfect way to keep the kids busy when you don't want to use electronics. In fact, three of my kids recently survived a weekend trip driving ten hours in each direction with no electronics. 
Printable travel games and other fun car activities really DO come in handy!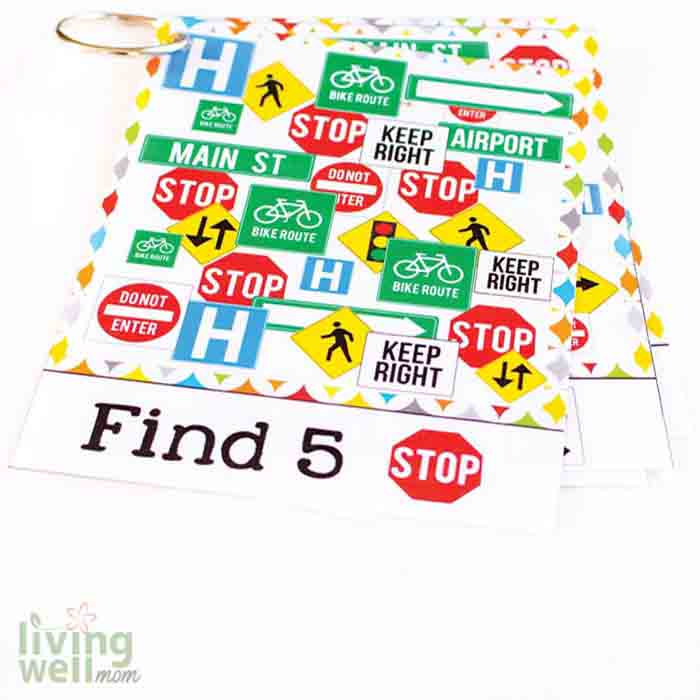 Travel I Spy printable materials needed 
Here's what you'll need to prepare this travel game for your trip.
First, grab the free iSpy game here:
Then, grab the rest of the supplies: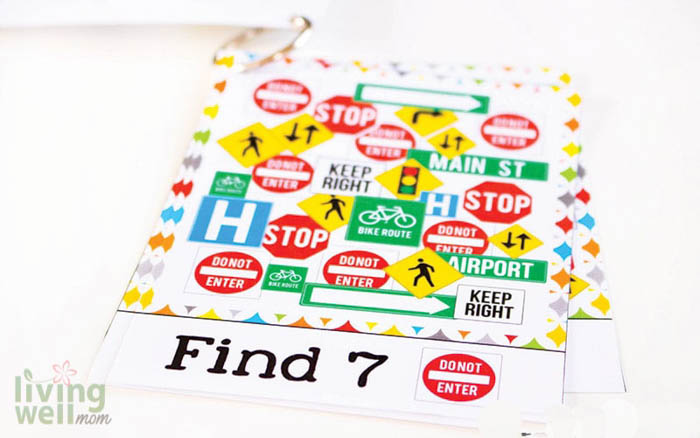 How to prepare this I Spy printable game for travel
In order to make this activity road-ready, there are just a few minutes of easy prep to do. Follow these simple instructions, and you'll be ready to enjoy your next road trip in peace!
Step 1
Download the Travel I Spy printable worksheets PDF by entering your email address here. Then print, laminate, and cut out the cards.
Step 2
Next, take the hole punch and punch a small hole in the left upper corner of your cards. Then, thread them on a 1/2″ book ring, and that's it!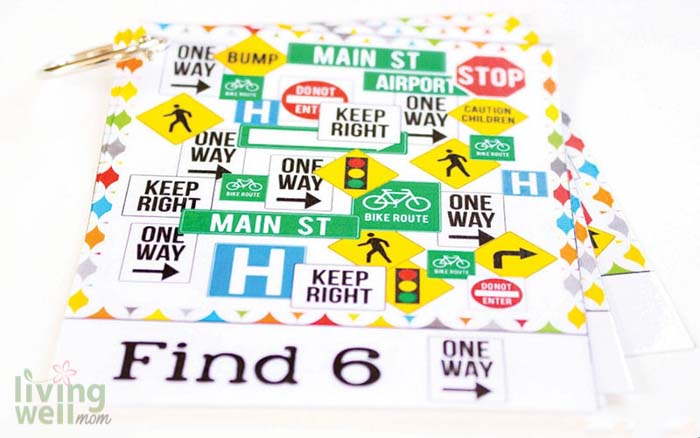 Notes and tips
There are four cards in total, so there will be plenty of I Spy fun to enjoy with the kids!
Each card specifies a certain number of the target object to be found, so this I Spy preschool game is also perfect for working on counting skills with a preschooler or kindergartner while traveling.
You can play this game without laminating the cards, but if you do laminate them, you can reuse this game over and over again. And the kids have lots of fun every time they play it!
Ideas to extend the activity
To extend the activity, play I Spy with the scenery as you are driving. This makes it more fun for kids of all ages – even my tweens have a blast. They find it incredibly amusing to try to stump each other by picking obscure objects along the way.
Take the signs your kids just found on the pages and challenge them to find them as you drive around!
Also, after they find the main picture on each card, you can further the activity by asking your child how many times they can find another object on the cards. Or ask them to count all pictures of a specific color they can find on each card!
Grab the Ultimate Travel Games Bundle to get 30 incredible printables!
You'll receive:
7 iSpy games – including highway signs, restaurants, car models and colors, license plates, and more
9 bingo pages
2 scavenger hunts
4 classic games – tic-tac-toe, hangman, battleship, dot-connecting
2 travel journal pages
5 drawing prompt pages
1 reward coupons page
Free I Spy printable FAQs
Here are a few questions I often receive from readers about this I Spy printable game.
Are kids supposed to play this game together or individually?
I designed this game so that your kids can play it either way. If you want some quiet time in the car, this game is already set up so kids can do it individually.
Or, if your kids enjoy playing together, have them take turns – or work together to find all the signs.
Can students do this activity in the classroom?
Yes! This is a great activity for the classroom to work on all the same skills that benefit kids outside the classroom, too (but especially math counting skills)!
Keep your kids occupied on the go with these free printable I Spy cards. This easy game is a fun, thematic activity for summer road trips, especially for preschoolers practicing their counting skills. Simply print, laminate & you're ready to play!
And when you need to, you can always "spy" a rest stop!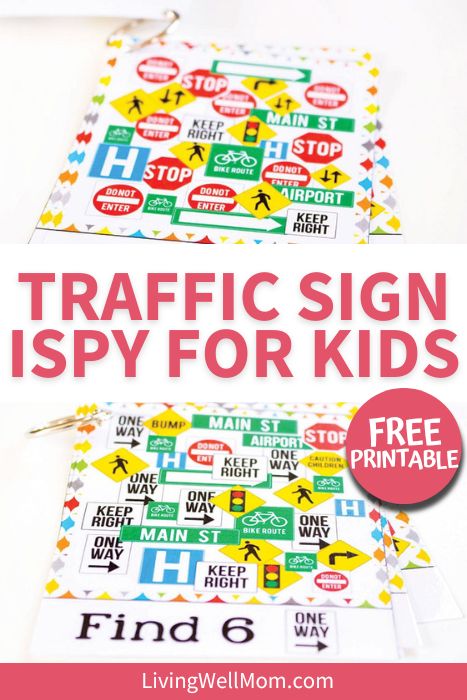 More Road Trip Ideas to Try:
The post Free Travel I Spy Printable For Road Trips appeared first on Living Well Mom.
---
Share this post
---
---