Going Wild at the Kalahari Poconos: Review
Posted by admin on
The Kalahari Resort in the Pocono Mountains of Pennsylvania is the best waterpark hotel that we have visited. If you are considering a stay, read on for our full Kalahari Poconos review!
Walking into the Kalahari Resort and waterpark in the Pocono Mountains in Pennsylvania is a bit like stepping into an African-themed Disney hotel, or a gigantic version of the Rainforest Cafe. I kept waiting for the animals scattered throughout the massive lobby to come to life (but they don't.)
In this ultimate theme resort for families, they don't miss an opportunity to carry forward the African theme, or a chance to help you part with a little more money. But don't worry, it is a cashless resort and everything is charged to your account using your handy-dandy wristband so you won't feel the pain until check out. Even a cynic like me couldn't help but be impressed.
We stopped at the Kalahari for a day of "rest and relaxation" after a very busy two-week road trip through Virginia. I use the term rest and relaxation very loosely since while this was a day of fun for the little one, I don't find supervising a waterpark visit or visiting this type of Vegas-like resort at all relaxing. But I felt that after all the history and activities we jammed packed into our road trip, a day of pure kid fun would make a perfect pitstop to break up the last leg of our trip.
Kalahari Poconos Review
Note: Our stay was hosted by Kalahari Resorts to facilitate our review, all opinions are our own.
Right away I was blown away by the size of the Kalahari Poconos resort, especially when dragging our bags down the long corridor to our room. When we have stayed at the Great Wolf Lodge in the past, I always felt like one or two nights was more than enough, but I could easily see keeping busy longer than that at the Kalahari.
The Kalahari also feels like it has more to appeal to teens and adults…from the spa to the swim up bar to the outdoor treetop adventure course. But read on as I break down the dining, activities, accommodations, and, of course, the water park.
Kalahari Resort Dining & Shops
The Kalahari Resort has everything you need to keep you entertained, fed, clothed, and even pampered. When it comes to family friendly dining, there are a wide array of options. For casual snacks, there is The Last Bite ice cream and candy shop, the Java Manjaro coffee shop, and Mandazi Donuts, which serves up hot, fresh mini donuts.
Casual dining includes the Cafe Mirage food court, Great Karoo Marketplace Buffet, Pizza Pub, B-Lux Grill & Bar, and the waterpark snack bars, including the swim-up Thirsty Turtle bar.
The signature dining experience is at Double Cut Steakhouse, which offers steak and seafood and even live entertainment. For more options, there is also Sortino's Italian Kitchen and Cinco Niños Mexican restaurant.
We opted for Italian and I have to say that my chicken piccata was underwhelming, as was Hannah's mediocre cavatappi pasta marinara. I see why many families bring their own coolers of food and microwave something in the room when staying at the resort. But if you choose this route, just keep in mind that no outside food or drink is allowed into the waterpark.
If you are looking to purchase a souvenir or swimsuit, there are plenty of options. We had fun poking through the Kalahari Outpost and Indigo Swimwear for high-quality clothing options, simple t-shirts, and stuffed animal souvenirs. It is good to know that even if you forget something, you will be able to find what you need without leaving the resort.
Kalahari Poconos Activities
It is nice that the Kalahari isn't all about the waterpark. The Spa Kalahari and Salon provides body treatments, massages, skin care, nail care and hair services. It also offers a wet therapy room with a dry sauna, a Chromotherapy Steam Room, Halotherapy Salt Room, whirlpool, spa-specific outdoor pool, brow & lash bar, and relaxing lounge space. 
We didn't have time to utilize the spa, but it was nice to see that they do have some "junior" services too, like manicures, pedicures, and facials. If we had more time, this would have been a nice way to unwind after the waterpark. My husband would have been happy that the Kalahari has a 24-hour fitness room.
Of course, we couldn't avoid a visit to the Big Game Room — since you have to walk right through the arcade to get to the waterpark. The Kalahari arcade was very similar to what we experienced at the Great Wolf Lodge. They use a cashless system to make it easy to load and go (and keep on spending!)
In addition to the many arcade games, there is a mini bowling alley, blacklight mini golf, a 7-D Motion Theater, and now, even two Escape Rooms.
In the summer, Kalahari brings some of the fun outside at the Gorilla Grove Treetop Adventures. Open seasonally, the ropes course offers 87 elements including tightropes, swinging log steps, moving platforms, rope net climbs, tunnels, hanging posts, and zip lines. There is also a quad zip line, where four friends or family members can race against each other. You can combine the ropes course and the zip line or just do one or the other.
Keep in mind that the ropes course, zip lines, and new outdoor Legends of the Lost Jungle mini golf are available for an additional fee. Also, participants of the ropes course and zip lines must be at least 4 – 7 years old and 36″ to 44″ tall for the children's course, and 7 years old and 44″ tall for the adult courses and dual zip lines. 
Kalahari Resort Review: Accommodations
The African theme continues into the Kalahari guest rooms, with the liberal use of African prints and art. The rooms themselves are fairly simple since the main action is downstairs, but still comfortably appointed.
While the Kalahari offers one- and two-bedroom suites, and even a room with bunk beds, we stayed in the standard Desert Room with two queen beds and a queen-sized sleeper sofa. The room included a small fridge and microwave, for those that want to keep drinks and snacks in the room. One of my favorite features was the free WiFi throughout the hotel (even the water park!)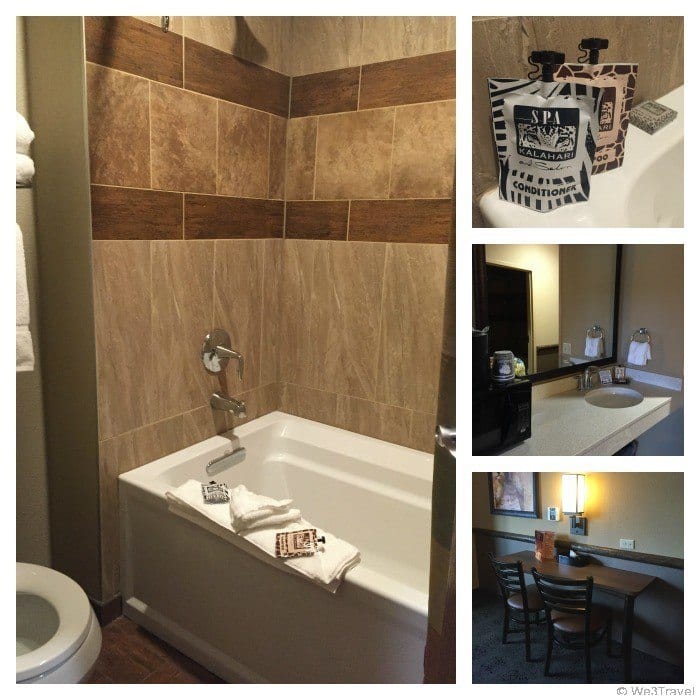 The only thing I didn't like about the room was the bath layout. I'm generally not a fan of bathrooms where the sink and vanity is outside of the bathroom, but usually, these are at least behind a wall to minimize noise and light for sleeping kids. In our room, the sink and vanity were connected to the counter with the microwave in the main room. It was much more disruptive than a standard set up and I'd like to keep bathroom germs away from my food prep area.
Kalahari Waterpark Review
Of course, the main reason to come to the Kalahari Resort is the indoor water park. After recent trips to the Great Wolf Lodge, Kahuna Laguna at the Red Jacket Resort, and Water Country USA, Hannah was psyched to visit the Kalahari and see the largest indoor water park. Since I'm not as thrilled about water slides, I was a bit more trepidatious. When walking in I was relieved to see a very large "Splash Down Safari" area with slides that were fun, but not scary…along with dumping buckets and other splash areas.
Families with toddlers will also be thrilled with the toddler and preschool areas. For all the water parks we've been to, I've never seen a little kid area as cute or as large. There are welcoming giraffes, elephants spurting water, tiny slides, a large splash pad, and even toddler swings.
Of course, there are also enough "big" slides to satisfy the older kids and thrill seekers — and then some! The Anaconda twists and turns up high, before splashing down. On the other side of the park are slides like the Wild Wildebeest, the Rippling Rhino, Zimbabwe Zipper, and the Barreling Baboon.
We gave the Rippling Rhino a few tries and Hannah loved it, but its early fast acceleration made my heart race. I definitely was NOT up for the Tanzanian Twister, which culminates in a vortex before flushing you out into a pool below.
Judging by the people we watched, you are usually dumped out head first so that was a big "no thank you" for me! If Hannah had a braver friend along, I'm sure she would have happily tried most of the slides but she didn't like going it alone.
Instead, she spent most of the time in the Splashdown Safari, relaxing in the lazy river, and soaking in the giant indoor/outdoor hot tub. There is so much to do in the waterpark it was hard to leave. There is the water basketball area, the FlowRider, the outdoor pools, and even swim-up bars. The size of the drink glasses at the swim-up bar is a bit concerning as I'm not sure giant drinks and supervising kids in a waterpark is really a great combo.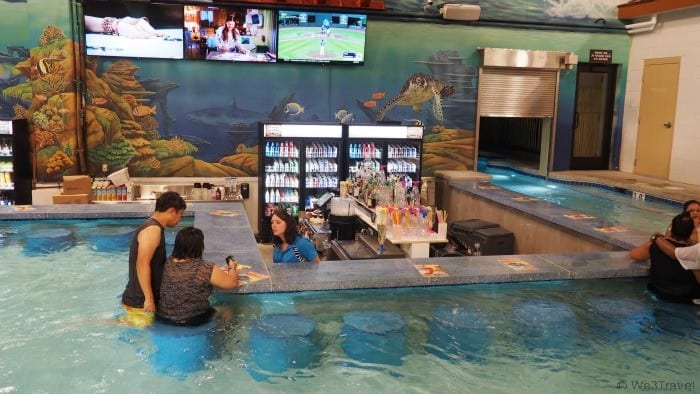 We were there mid-week and it wasn't crowded at all, but if you want a little more privacy they do offer cabana rentals. There are also plenty of rental lockers available to safely stow your stuff while on the rides.
Since you have full access to the waterpark until it closes, even after you have checked out, you can spend the whole day at the waterpark. They have large locker rooms for changing before you leave. The only downside is that the shower room is wide open, with no privacy curtains.
It wasn't at all what we were expecting, especially when a mom with a young boy came in. So we quickly showered in our suits and used the curtained changing rooms to get into our street clothes for the drive home.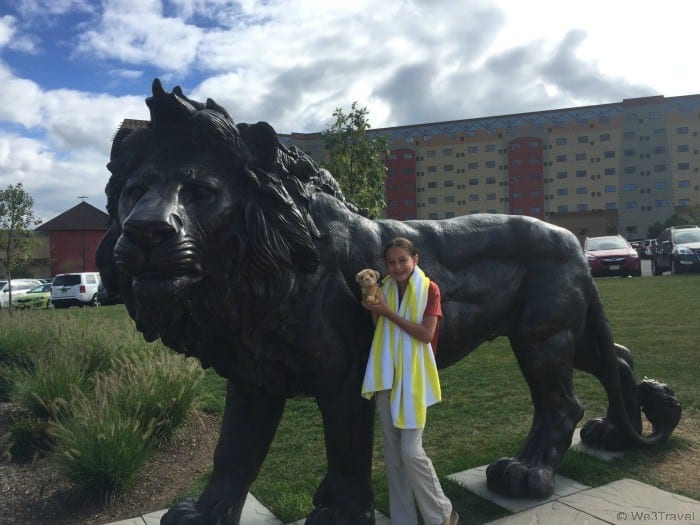 We had a blast and I was very impressed. If your family likes waterparks or resorts like the Great Wolf Lodge, I'd recommend giving the Kalahari Resort in the Poconos a try.
Get an inside look at the Kalahari Poconos:
PIN THIS FOR LATER
The post Going Wild at the Kalahari Poconos: Review appeared first on We3Travel.
---
Share this post
---
---