Why Sourcing Props For American Psycho Was A Major Struggle
Posted by admin on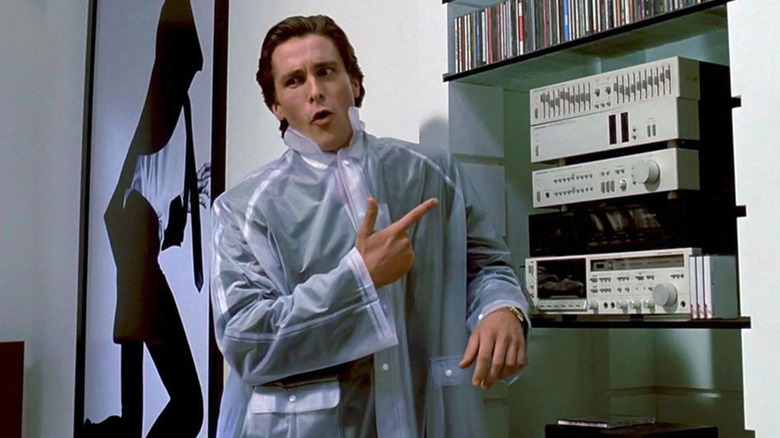 Over 20 years ago, "American Psycho" changed the way we looked at Phil Collins, Huey Lewis and the News, plastic rain macs, and business cards. Is it even possible now to hear "Sussudio" on the radio without picturing Patrick Bateman (Christian Bale) giving himself a gun show in the mirror while engaged in a threesome?
Canadian director Mary Harron ("I Shot Andy Warhol"), who also co-wrote the screenplay, toned down the gut-churning violence of Bret Easton Ellis's controversial novel to create a black comedy takedown of hollow consumerism. It served as an astute companion piece to "Fight Club" from the previous year, with both films tapping into the western culture's ennui and angst just before 9/11 changed everything.
Two decades on, "American Psycho" has aged far better than its contemporary. I remember strutting out of "Fight Club" at the local cineplex at the time; energized by the movie, I flipped off the usher, trashed a popcorn machine, and chucked a brick through the foyer window, all before realizing the irony of buying into an anti-consumerist, anti-corporate, anti-capitalist call-to-arms by a major Hollywood studio, all wrapped up in a glossy $60 million package... original motion picture soundtrack also available wherever records are sold.
As a result, David Fincher's gung-ho exercise in pop-anarchic posturing has dated far more than "American Psycho," largely because Harron's film wasn't trying to make such an aggressive in-yer-face statement in the first place. It just calmly observed and let the viewer make the connections to its themes and concerns.
Of course, audiences without their satirical hat on could just view "American Psycho" as a horror, but both the novel and movie were always pitch-black comedies, although the appallingly violent content of the book sometimes distracted from that fact. As a result, its detractors were too busy lambasting the author for writing such sadistic filth rather than putting their outrage to one side and consider what he was actually saying about modern society.
So while Harron and her co-screenwriter Guinevere Turner (who has a small role in the film) considerably stripped back the sex and violence, the novel's horrifying reputation still preceded the production when it came to working out costumes and props.
So What Happens In American Psycho Again?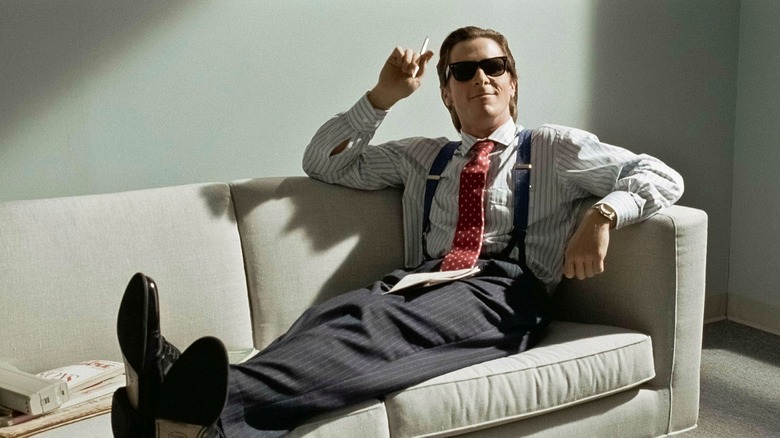 It's the late '80s, and we are introduced to our unreliable narrator for the evening: Patrick Bateman (Bale) is a slick, wealthy, impeccably groomed associate working for a Wall Street investment banking company. We're never really sure what his job entails, because he spends most of his time returning video tapes, eating at fancy restaurants, and trying to get suspicious cranberry juice stains out of his expensive bed linen.
Bateman is also a complete psychopath. At night, he trawls the streets of Manhattan looking for victims, or picking up prostitutes to maim back in the comfort of his swanky apartment. Things begin seriously unraveling when Bateman becomes murderously jealous of Paul Allen (Jared Leto), a colleague with a better business card than his, who has no problem getting reservations at the hottest new eatery, Dorsia. He kills him with an ax before assuming his identity to commit more murders.
The strain of keeping up appearances with his friends, juggling his fiancé (Reese Witherspoon) and his over-medicated lover (Samantha Mathis), and satisfying his nightly bloodlust becomes too much for Bateman to handle, and he becomes increasingly distanced from reality. To make matters worse, a private eye (Willem Dafoe) is sniffing around over Allen's disappearance.
"American Psycho" looks a treat. Harron and her production team invest in the clean lines, bare modernist interiors, and muted colors of a late '80s yuppie lifestyle mag, providing a suitably anonymous environment for Bale to cut loose with his incredible performance as Bateman. I usually find Bale quite a dull actor, but he doesn't hold anything back here and he's hilarious. His portrayal isn't just a caricature, though, as he really teases out Bateman's intense insecurities and desperation to fit in.
As with the novel, Harron is ambiguous about whether Bateman is actually committing these brutal murders or if they are just a series of morbid, frustrated daydreams. I think she tips her hand a little heavily towards the latter, but that is beside the point. Bateman's fantasies are a product of his environment: in his dog-eat-dog world of aggressive capitalism, the logical (if extreme) end game is murdering those around you.
How The Novel's Reputation Caused Problems Sourcing Props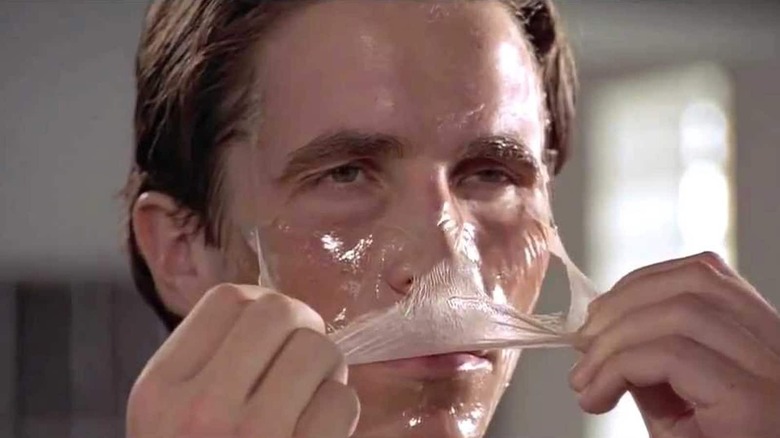 Bateman gives us an exhaustive rundown of his morning cleansing routine at the start of "American Psycho," stating "I believe in taking care of myself." Bateman uses a whole bunch of cleansers, moisturizers, gels, oils, and exfoliating scrubs to keep him looking pristine. He takes it very seriously, so it's a small but important detail that all the products in his shower and bathroom cabinet are real brands, the kind of reassuringly pricey-but-mainstream names that Bateman would choose. 
The problem was that the reputation of "American Psycho" preceded it, making it sometimes tricky to get approval to use certain manufacturer's products in the film. In many cases, Harron had to look further afield (via The Guardian):
"'We were able to use French cosmetics,' Harron says, referring to her uphill battle to get product approvals. 'European companies were much more open to us.' Most of the film's clothing, for instance, came from Cerruti and Vivienne Westwood, because American designers like Calvin Klein and Ralph Lauren 'didn't want to be associated with anything so horrible.' In an ironic marketing strategy, ['American Psycho'] German distributor will use this image of a taut-bodied, well-groomed, and somewhat homoerotic Bale to sell the actor as a sex symbol. Go figure."
That's why you see French brands like L'Occitane if you look closely enough in Bateman's bathroom. Another notable item in the opening scene is Bateman's underwear; Calvin Klein were originally onboard to supply his tighty-whities, but pulled out at the last minute before Perry Ellis stepped in.
It wasn't just American brands that were wary of their products getting tainted by association with a psychopath. Cerruti were okay with Bateman wearing their threads, just not when he was hacking people up. Commes des Garcons weren't happy with Bateman using one of their overnight bags to get rid of a corpse, so he ended up using a Jean Paul Gaultier one instead. The famous watchmakers Rolex were cool with all characters other than Bateman wearing their time pieces, resulting in the line "Don't touch the Rolex" changing to "Don't touch the watch" (via 3oneseven).
The attention to authenticity obviously struck a chord. You can find many articles which positively appraise Bateman's morning routine, for guys who presumably want to attain that certain yuppie psycho look. Even 20 years on, Patrick Bateman is still a man for our times.
Read this next: 16 Horror Movies That Ruined Everyday Activities
The post Why Sourcing Props For American Psycho Was a Major Struggle appeared first on /Film.
---
Share this post
---
---