Vista cruise ship review: What to expect on Oceania's first Allura-class ship
Posted by admin on
Editor's note: TPG's Erica Silverstein accepted a free trip from Oceania Cruises to attend the unveiling of Vista. The opinions expressed below are entirely hers and weren't subject to review by the line.
"Is this a luxury cruise ship?" That was the question on everyone's lips during the maiden sailing of Oceania Cruises' Vista, the first new Allura-class vessel to debut for the upscale cruise brand.
We gawked at the beautifully designed public spaces, with their detail-oriented accents, eye-catching light fixtures and highly textured materials. (Yes, I petted the walls of the elevators and stroked every chair.) We luxuriated in enormous standard cabin bathrooms and sumptuous Tranquility Beds. We dined on exquisite freshly made pasta, perfectly cooked fish and decadent desserts. We ordered smoked, bubbled, herbed and ice-balled cocktails at the ship's craft cocktail bar and took photos of each creative concoction.
Vista is clearly a ship for travelers who love to explore new destinations, prioritize fine dining and premium beverages and immerse themselves in chic surroundings. However, in the cruise space, this ship is clearly in the upscale category and not true luxury.
Then again, when you're curled up on a circular day bed, drink in hand, on a resort-style pool deck in the Mediterranean, Vista might just provide all the luxury you need.
Overview of Vista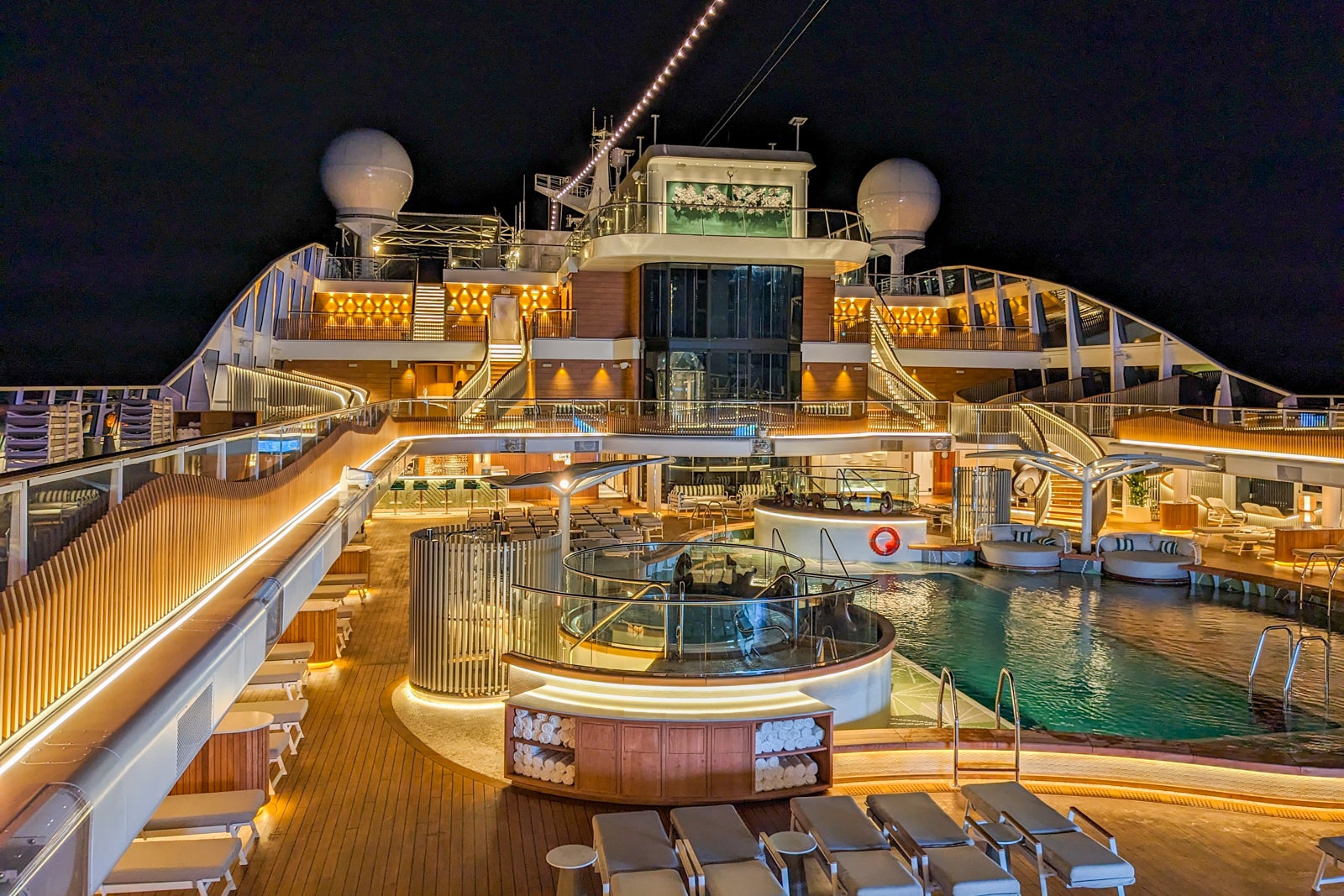 Vista debuted in May 2023, the first new ship for Oceania Cruises in a decade and the flagship of the line's new Allura class. It carries 1,200 passengers in cabins and suites that all have either a true balcony or a French veranda (meaning you can open doors to the fresh air but can't step outside).
The ship's target demographic is well-off, mature couples who are looking for destination-focused itineraries on a ship with elevated dining. For a small, 67,000-ton ship, Vista wows with eight restaurants, plus a bakery and private dining rooms for wine-paired meals. It also stands out for its expanded Culinary Center, for cooking classes and demos, and Artist Loft, where passengers can get crafty under the tutelage of resident artists.
For cruise news, reviews and tips, sign up for TPG's cruise newsletter.
Fans of the line will appreciate that Vista is modeled from sister ships Marina and Riviera, and the layout is strikingly similar.
Vista is not an all-inclusive ship, but it's more inclusive than lines such as Celebrity Cruises or Holland America. Its fares cover all dining (except for private, wine-paired dinners), fitness classes, nonalcoholic beverages and in-port shuttles. Its booking promotions may offer additional inclusions, like free Wi-Fi, airfare, excursions, beverage package or shipboard credit.
What I loved about Vista
Dining choice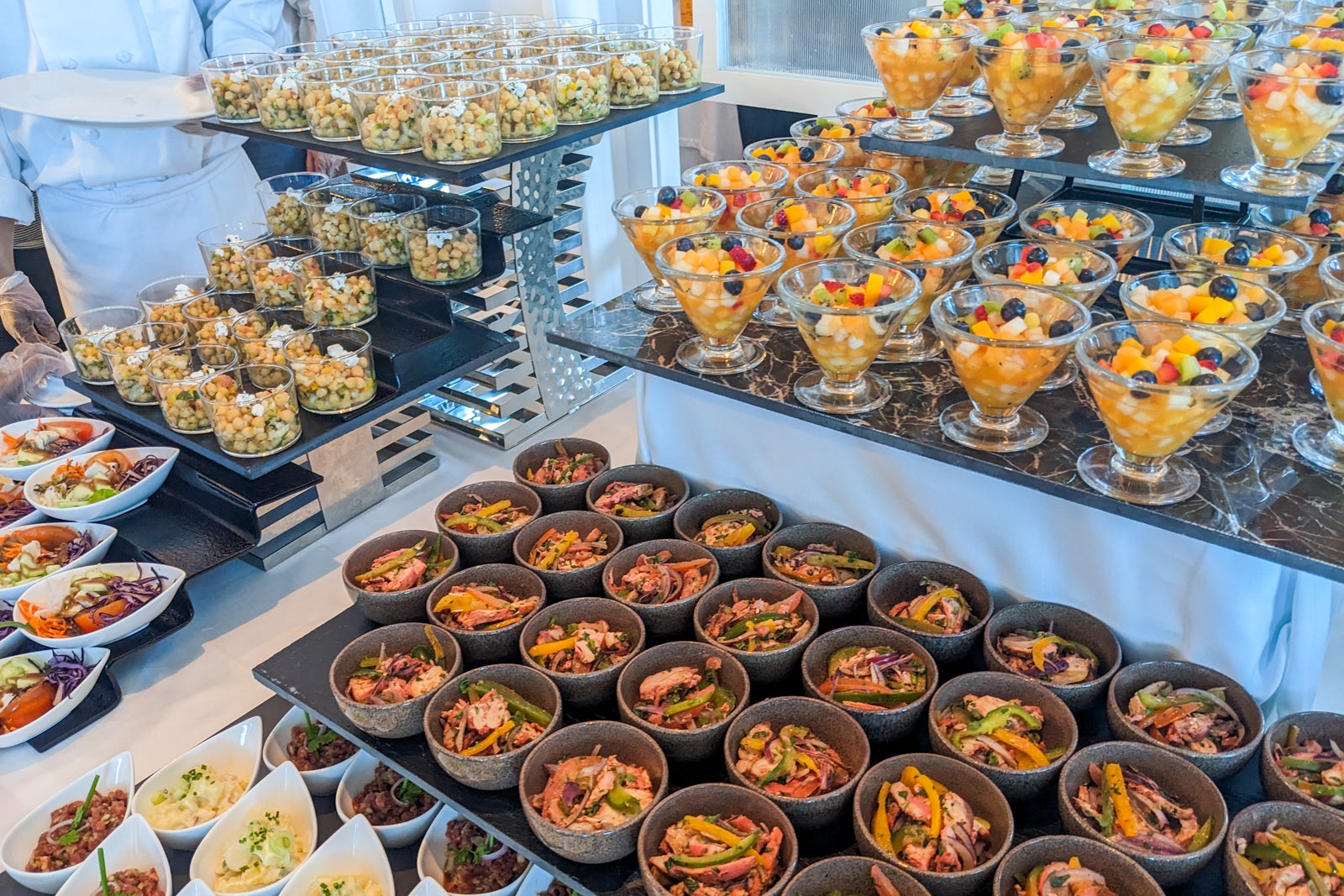 Some people love to return again and again to their favorite restaurants; others prefer to try a new venue every time. I fall into the latter category, so I loved that I could eat at a different restaurant each night of my cruise on Vista.
I could get dolled up and go to a steakhouse or Italian restaurant, or I could play it casual and eat on the buffet's outdoor terrace or at the pizzeria. I could enjoy a multi-course sit-down lunch or take my pick of eight burgers at the grill. Vista also had plenty of options for between-meal grazing – a quiche from the Bakery, a scone at Horizons' afternoon tea, or a cookie from the Concierge Lounge.
Not only did Vista's large selection of eateries keep my meals interesting, but there wasn't a bad option in the bunch. Sure, sometimes I didn't order the right dish, but I enjoyed every meal I ate on board.
Design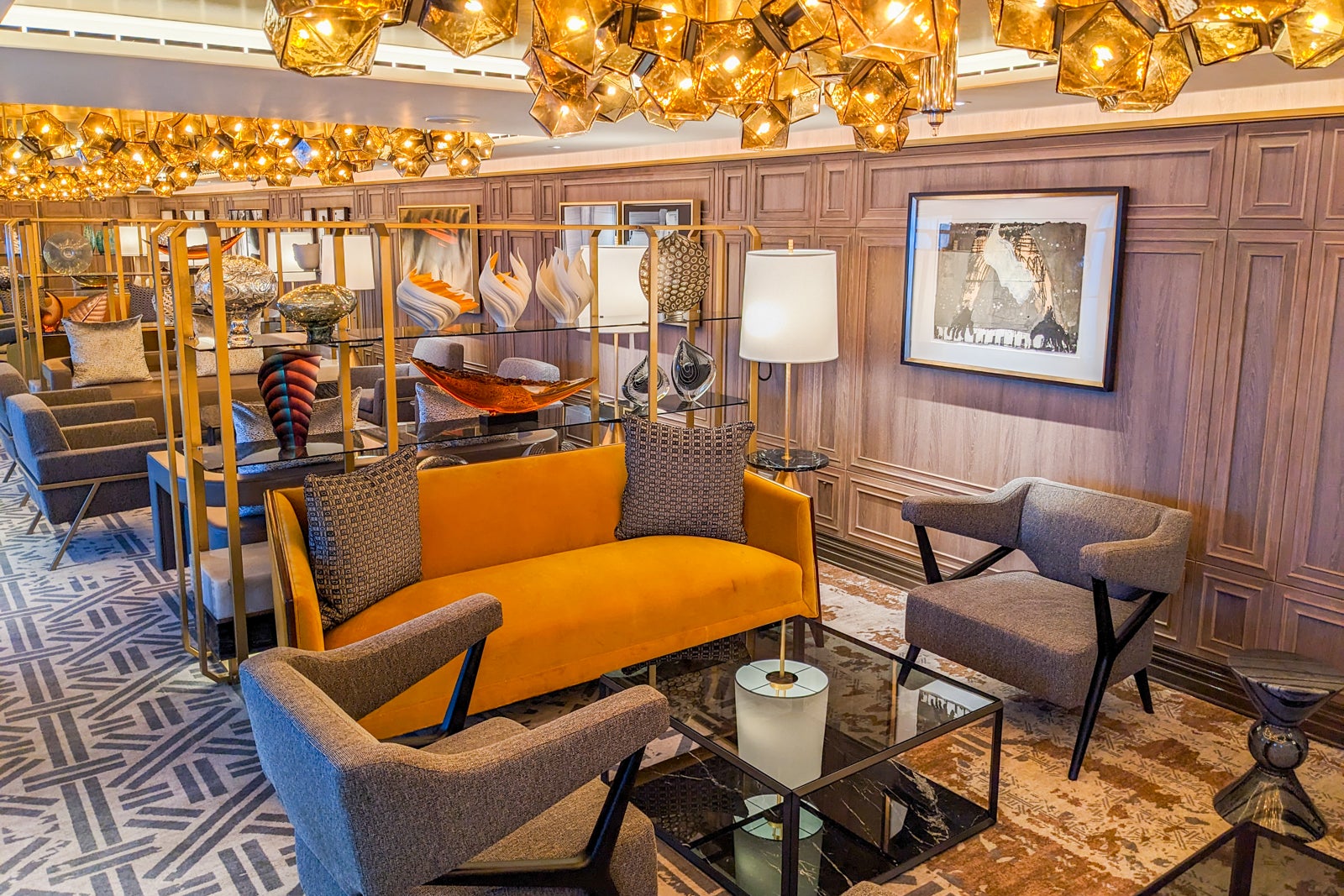 Vista will wow you with its gorgeous looks from the moment you step on board. The atrium gives a knockout first impression with its stunning floor-to-ceiling sculpture with a changing light display.
The bold center archway of the Grand Dining Room will immediately catch your eye, as will the ceiling design of the intimate Privee dining room. Each specialty restaurant has been designed with care, from the brick oven-inspired ceilings of Ember to the pagoda-style floor lamps in Red Ginger.
The noteworthy Grand Lounge sports geometric chandeliers and glass shelves of vases and glass sculptures, while the faux wood paneling on the pool deck sets it apart from any cruise ship Lido you've ever seen. The glam settings make you feel like you're a movie star and add to the decadent feeling of being on vacation.
Cocktails and mixology program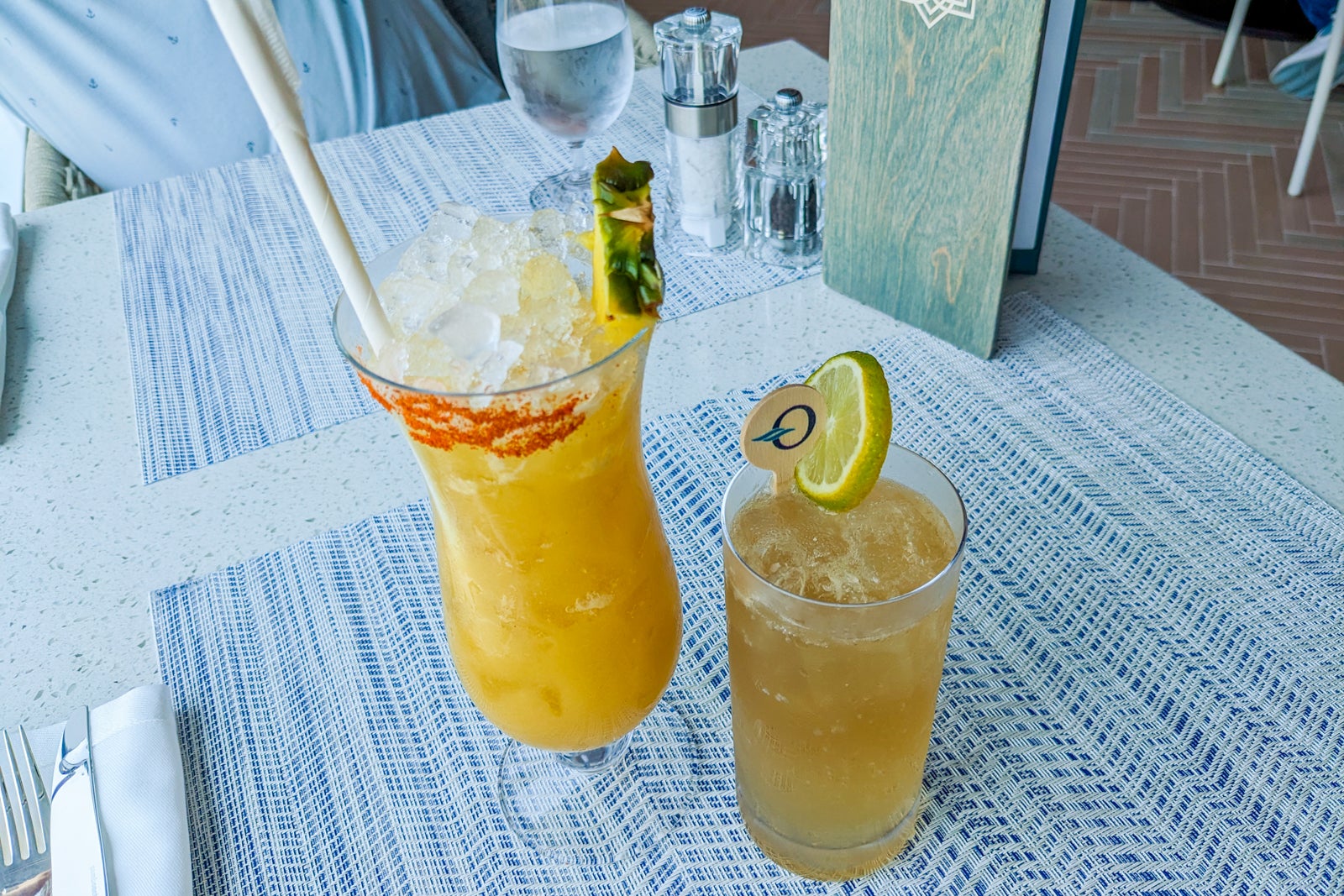 The new mixology program on Vista is one of its standout features. I happily ordered cocktail after craft cocktail at the Founders Bar in the name of research, trying drinks with smoke bubbles on top, frozen fruit balls in their center and unique ingredients (like tea) in their centers. The concept turns your standard pre-dinner drink into a playful and exciting event. It also makes a ship carrying mainly retirees feel hip and trendy.
Vista also carries a line of nonalcoholic "liquors" to make zero-proof cocktails that taste like the real deal, as well as nonalcoholic beer. It's a fabulous option for sober cruisers or travelers who need to rest their livers after a lively evening. Unfortunately, not all bars carry nonalcoholic cocktails. On my cruise, I found them on the menu at the new Aquamar restaurant and Horizons observation lounge.
What I didn't love about Vista
Nightlife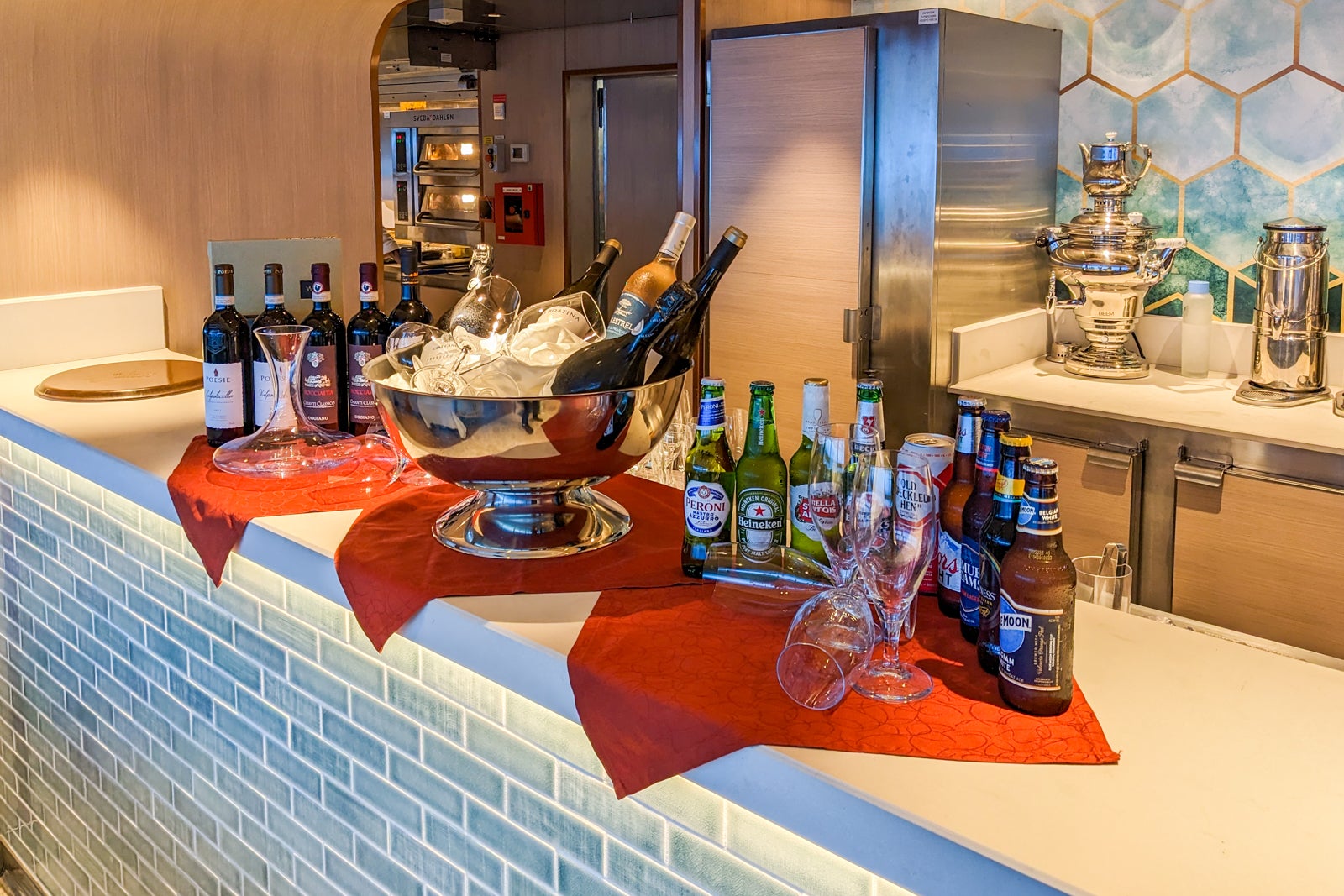 I failed to find anything serious to critique about Vista, so what I didn't love about the ship is more about my personality than any real failing of the cruise line.
Evenings on Vista do not offer a variety of pursuits. You can go to a bar, with or without music. You can try your luck at the casino. You can attend the one show each evening, but only if your dinner time allows for it. That's pretty much it.
My cruise did not offer karaoke night, evening trivia and games, or a pool deck party. I missed the two special-guest acts, a pianist and a guitarist, and the song-and-dance performances by the onboard cast failed to impress. The ship didn't offer any secondary shows at night — no comedians or musical acts you came to listen to and not talk over.
To be fair, small-ship upscale cruising isn't about nightlife, and most travelers on Oceania are perfectly content with a long dinner, an evening dancing or drinking in Horizons and an early bedtime. The library does have some board games you can borrow, so consider that as an alternative activity.
Service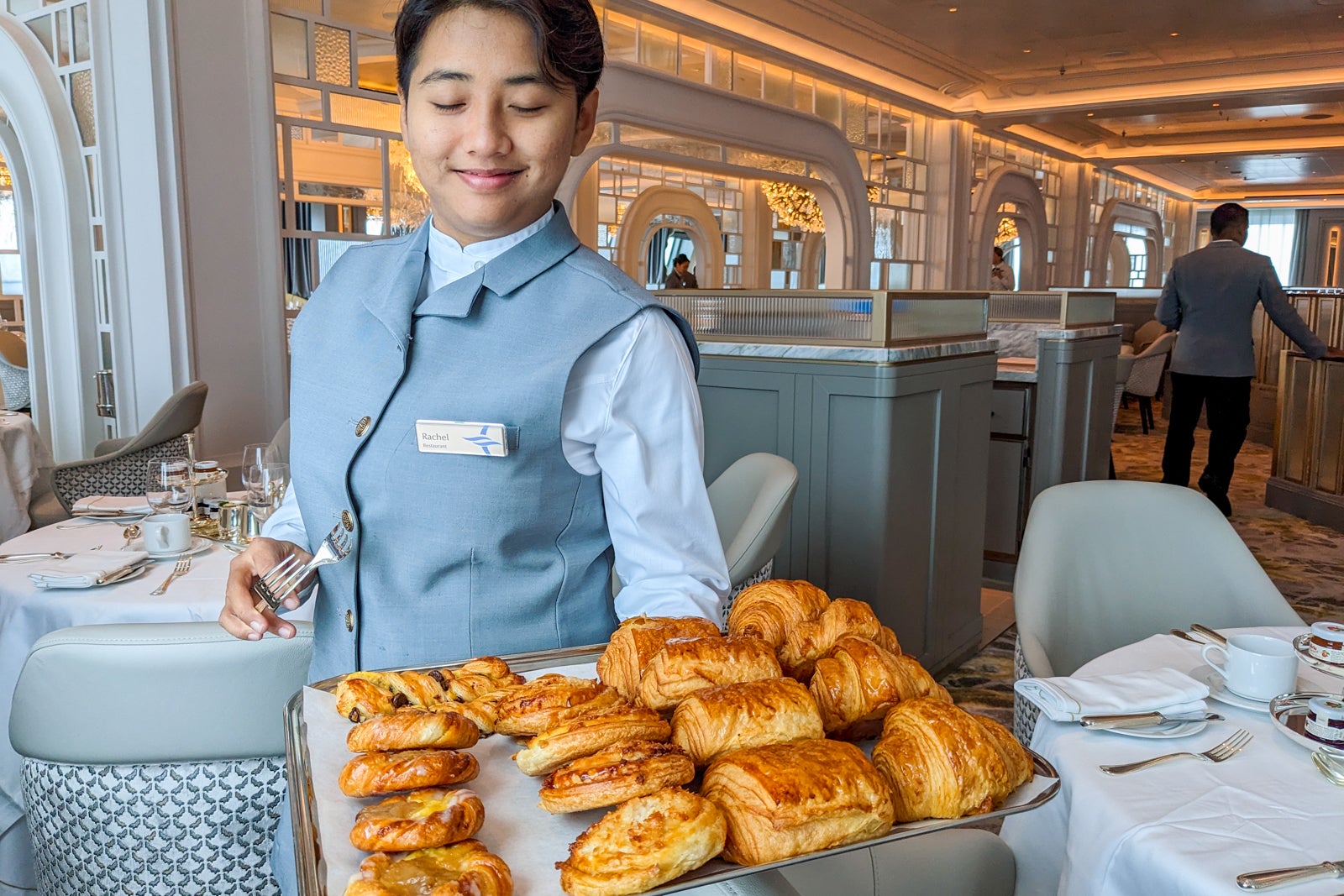 One should never judge a ship's service based on its first sailings when the crew is still getting used to each other and the layout and procedures of a new ship. I mention service solely to answer the question of why Vista isn't considered a luxury ship.
In terms of hardware, Vista is one fine ship, which rivals the vessels belonging to luxury lines like Silversea Cruises and Seabourn, even nipping at the heels of over-the-top sister line Regent Seven Seas Cruises. It's in the "software," so to speak, where the line relegates itself to the upscale sector. And that's fine.
In addition to not offering truly all-inclusive fares, Vista doesn't offer the personal, often fawning service you find on true luxury lines. I barely met my room steward. No one offered to carry my plate at the buffet. The chefs weren't offering to make me dishes off-menu, and on occasion, I had to work to flag down a waiter to bring me a drink. Personally, I'm fine with this level of service, but it does not put Vista in competition with ultra-luxury ships.
The few service issues will improve over time. But Vista, by nature, will never offer the crew-to-guest ratio or over-the-top service levels you'd expect to find on a more expensive cruise line.
Vista cabins and suites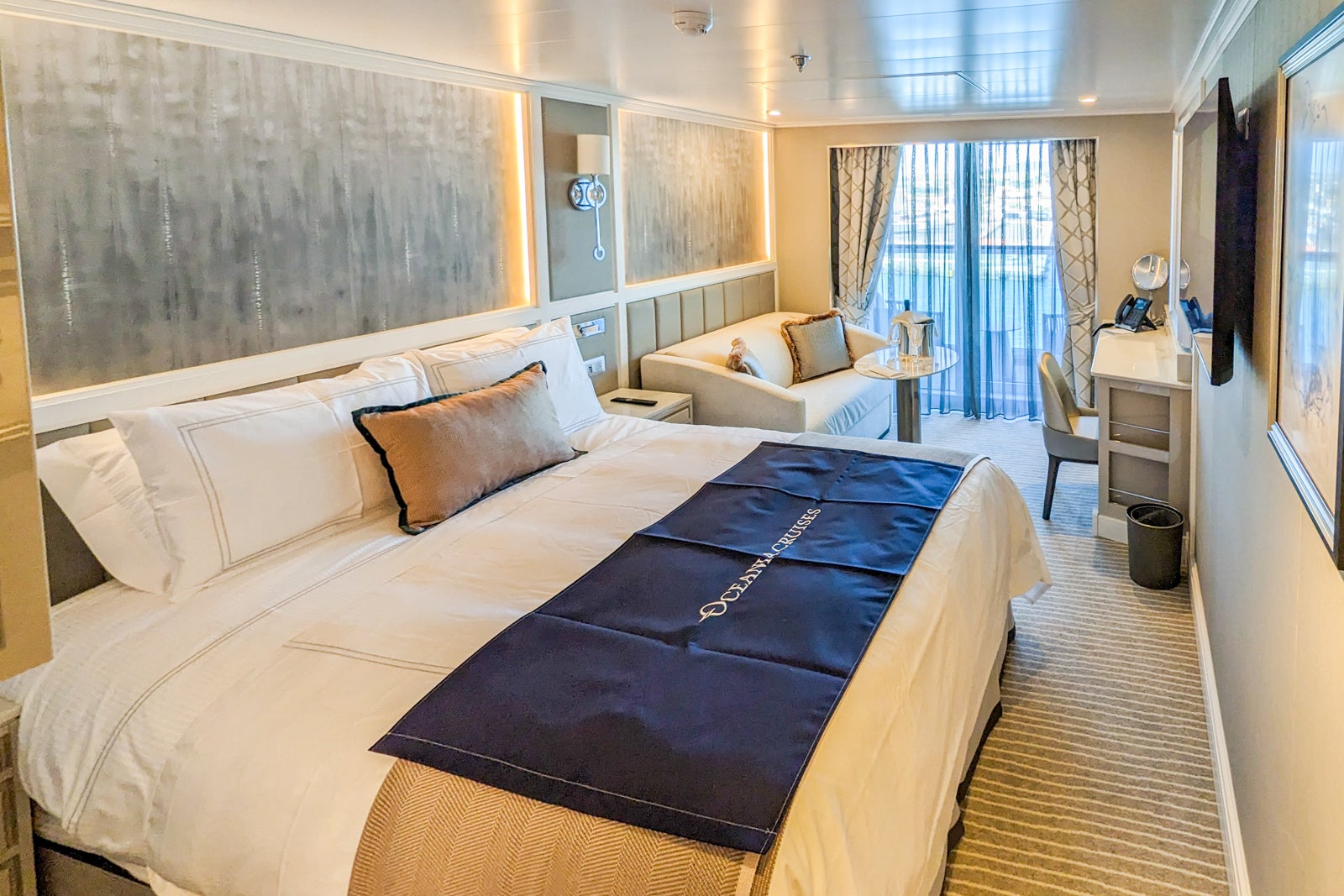 Vista has only eight major cabin and suite types, making cabin selection a relatively straightforward process. Its three main non-suite cabin types – French Veranda, Veranda and Concierge Level staterooms – have identical interior layouts, so you're really only choosing between perks and exterior space.
New and noteworthy on Vista are Oceania's first dedicated solo cabins, 270-square-foot balcony cabins with a twin bed, smaller bathroom and slightly narrower design than a regular veranda room. They're Concierge Level rooms, so solo travelers get extra benefits, such as access to the Concierge Lounge and Aquamar Spa Terrace.
My cabin was a regular Concierge Level room with a private veranda. At 291 square feet, it was the same size as a Veranda room, but with a slightly nicer interior design. (French Veranda rooms are identical to Veranda rooms in design, but where the Veranda cabins have a private balcony, French Veranda rooms have floor-to-ceiling glass doors that open to a railing; you can get fresh air but you can't step out.)
I was very happy in my Concierge Level room on Vista. Oceania's Tranquility Beds are some of the best in the business, and I loved falling asleep between a snuggly duvet and 1,000-thread-count sheets. Even better, the bed is flanked by three-drawer nightstands, 100V plugs and USB ports and reading lights.
Storage is decent with a two-door closet, two deep drawers in the desk, two coat hooks on the wall and a few additional shelves. It was the perfect amount of space for me, but I could see how a couple might fight over the drawer space.
The room had a mostly forgettable love seat, other than it looked nice and pulled out into an extra bed. The oval marble table was a perfect size for room service breakfast.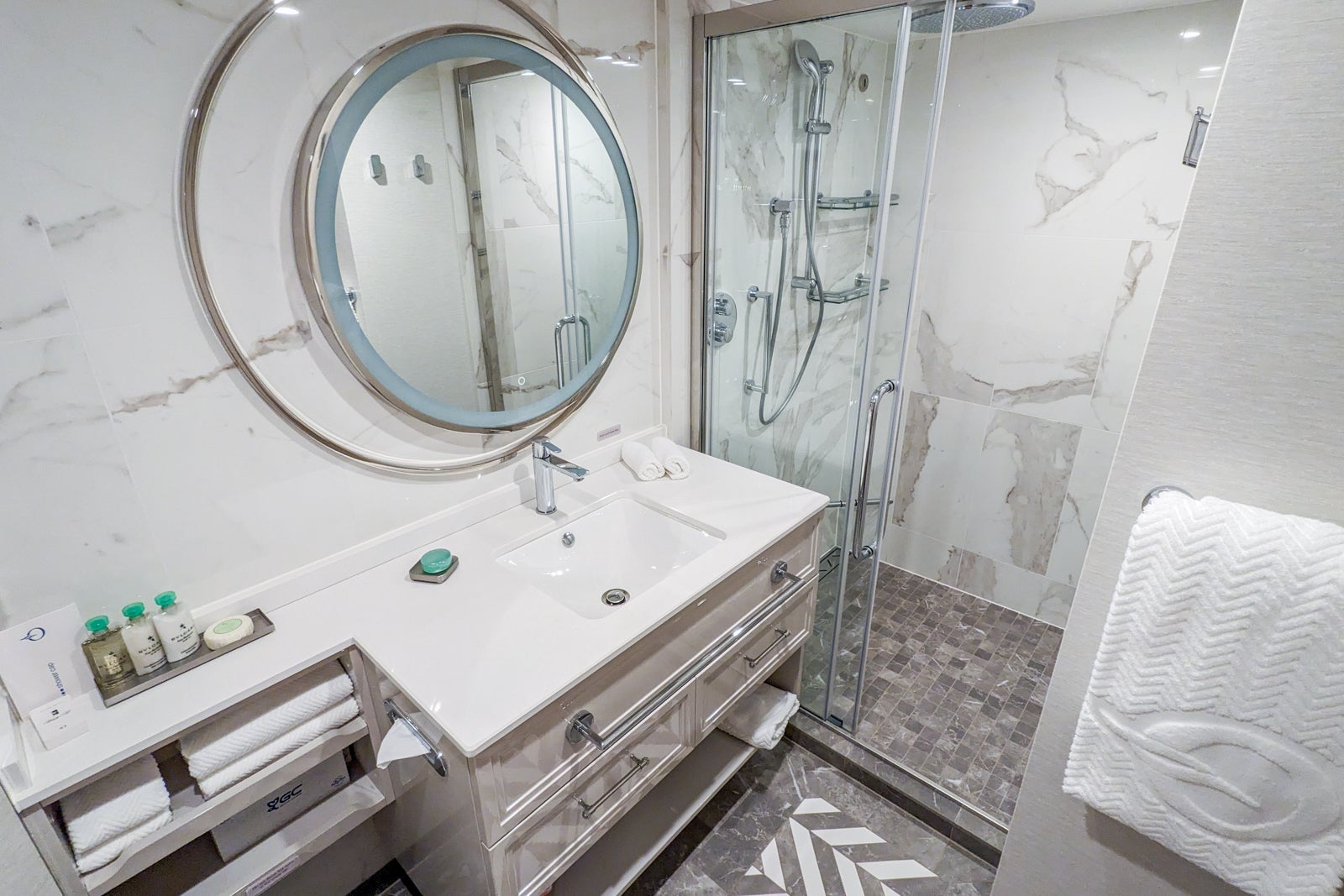 The highlight of the room, in my opinion, was the spacious, marble-tiled bathroom. Here, there was storage in spades: two glass shelves in the large shower, one large drawer and shelf space in the vanity and a corner unit with four deep drawers and three shelves in a mirrored cabinet. The shower had a rain head and a wand on an adjustable mount. The large no-fog mirror lit up at the touch of a button, perfect for putting on makeup.
I also appreciated the comfortable, padded balcony furniture. Standard balconies on Vista come with two upright chairs and a round drinks table, but the cushions made the seating comfier than the mesh-and-metal versions you find on many big-ship cruise lines.
Other thoughtful touches in the room include an electronic thermometer and do not disturb sign touchpad, quiet-close drawers, wooden hangers and carafes of Vero water, plus reusable water bottles to take on tour (to reduce single-use plastic water bottles). The mini fridge was stocked with soft drinks, though my cabin attendant didn't seem to notice that I was drinking exclusively club soda. You'll also find the requisite safe and hair dryer (neither of which I used), an umbrella and a shoehorn.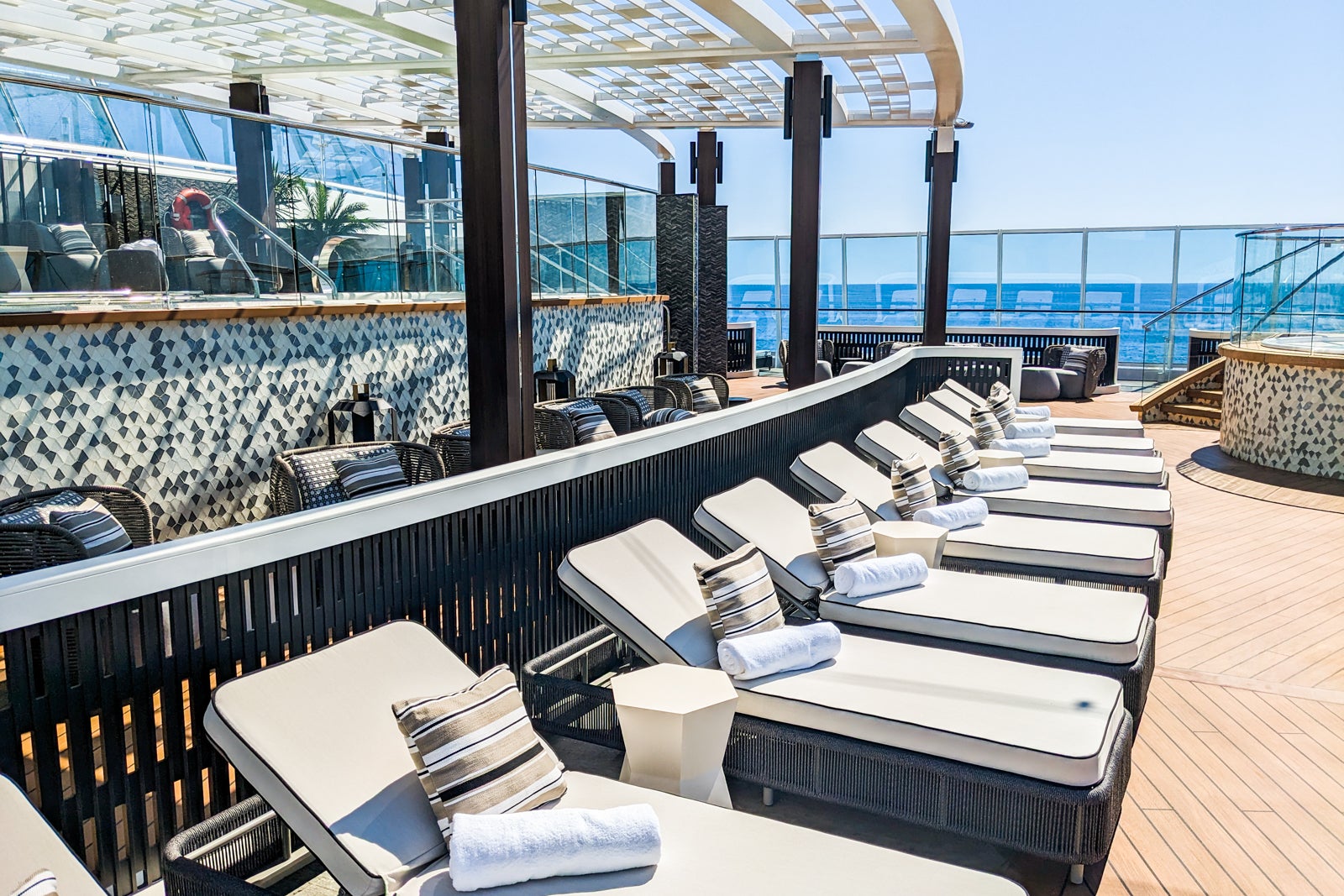 Concierge Level rooms come with extra perks, most of which are useful but not necessary. You get access to the lovely Aquamar Spa Terrace, with its hot tubs, day beds and thalassotherapy pool. You also get access to the Concierge Lounge on Deck 9; I don't know why you'd want to watch TV in this windowless lounge, but I appreciated the 24/7 drinks and snacks and access to a concierge.
Other amenities include a welcome bottle of Champagne, pashmina-style cashmere lap blankets for use in your cabin and a tote bag. Perks include priority embarkation, lunch and dinner room service from the Grand Dining Room menu (I totally missed this one), priority specialty restaurant reservations, and complimentary laundry (up to three bags), pressing (on embarkation day) and shoeshine service.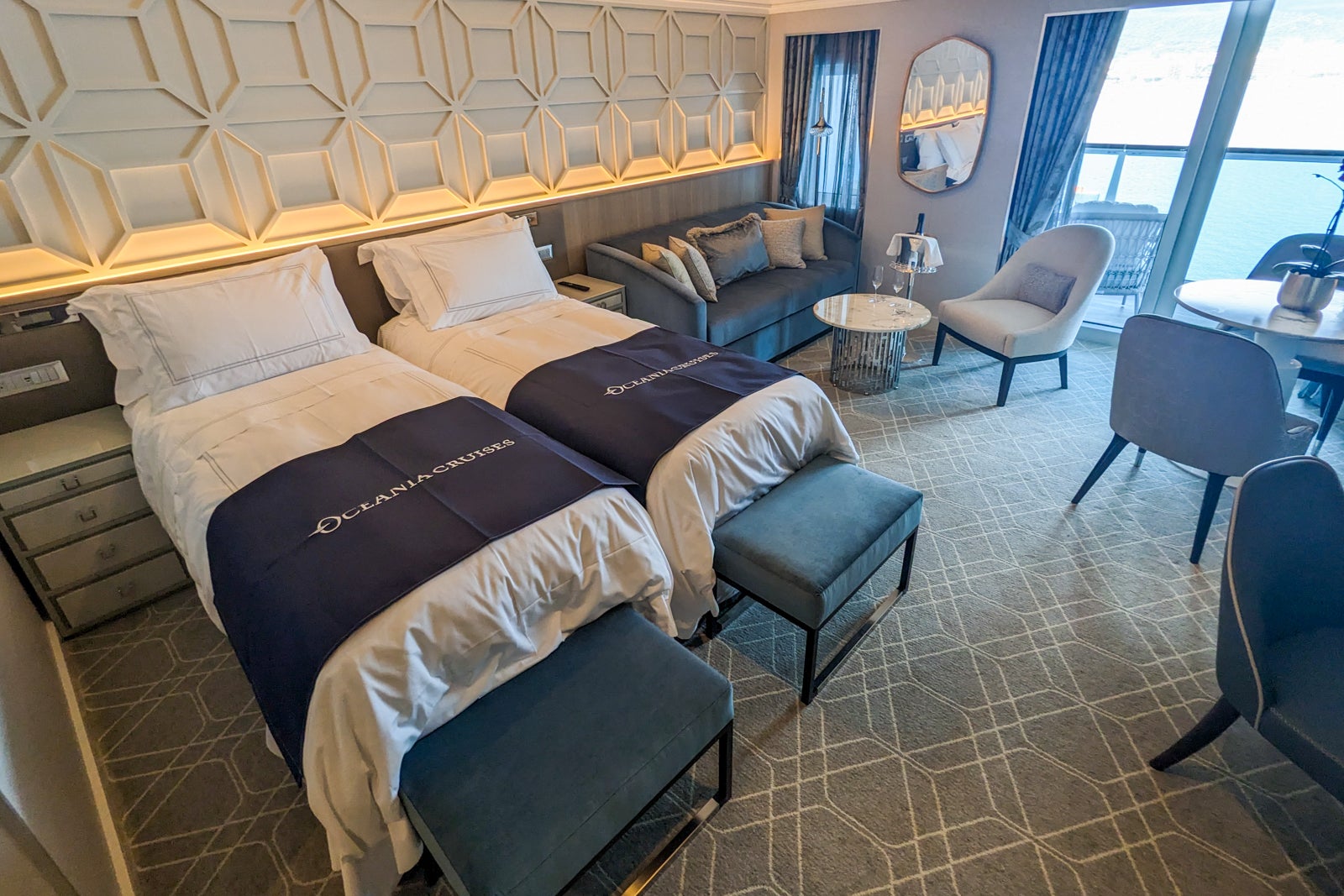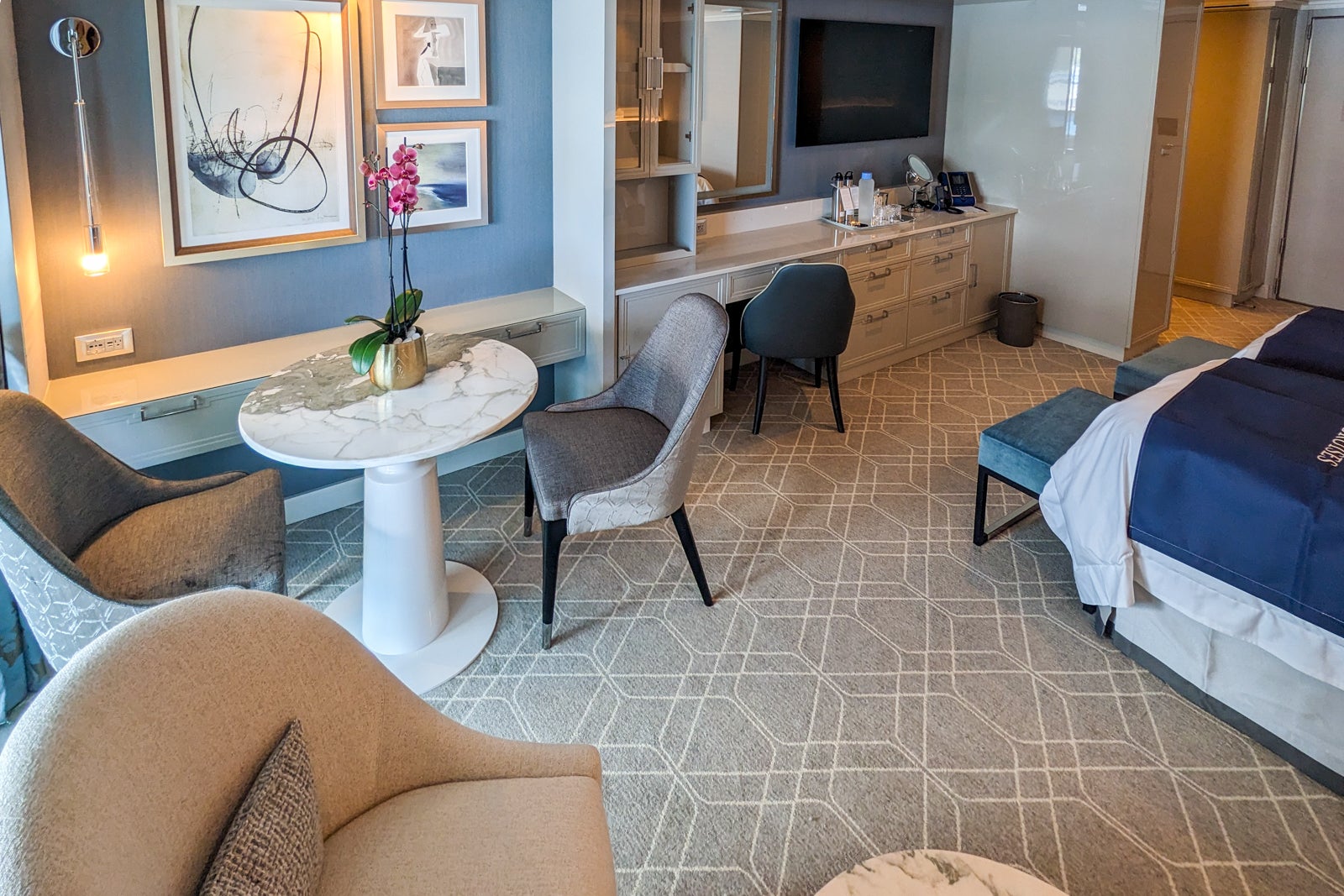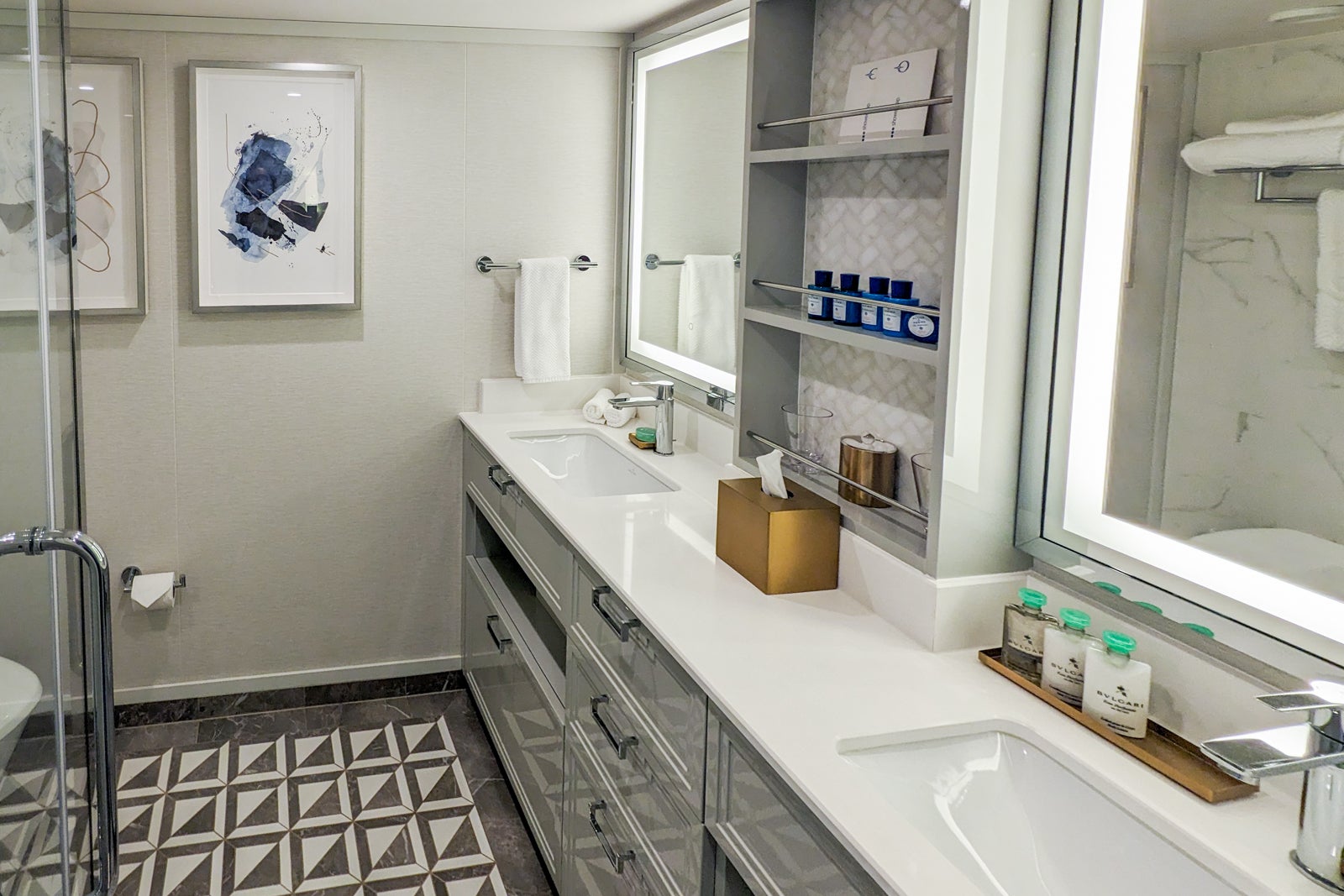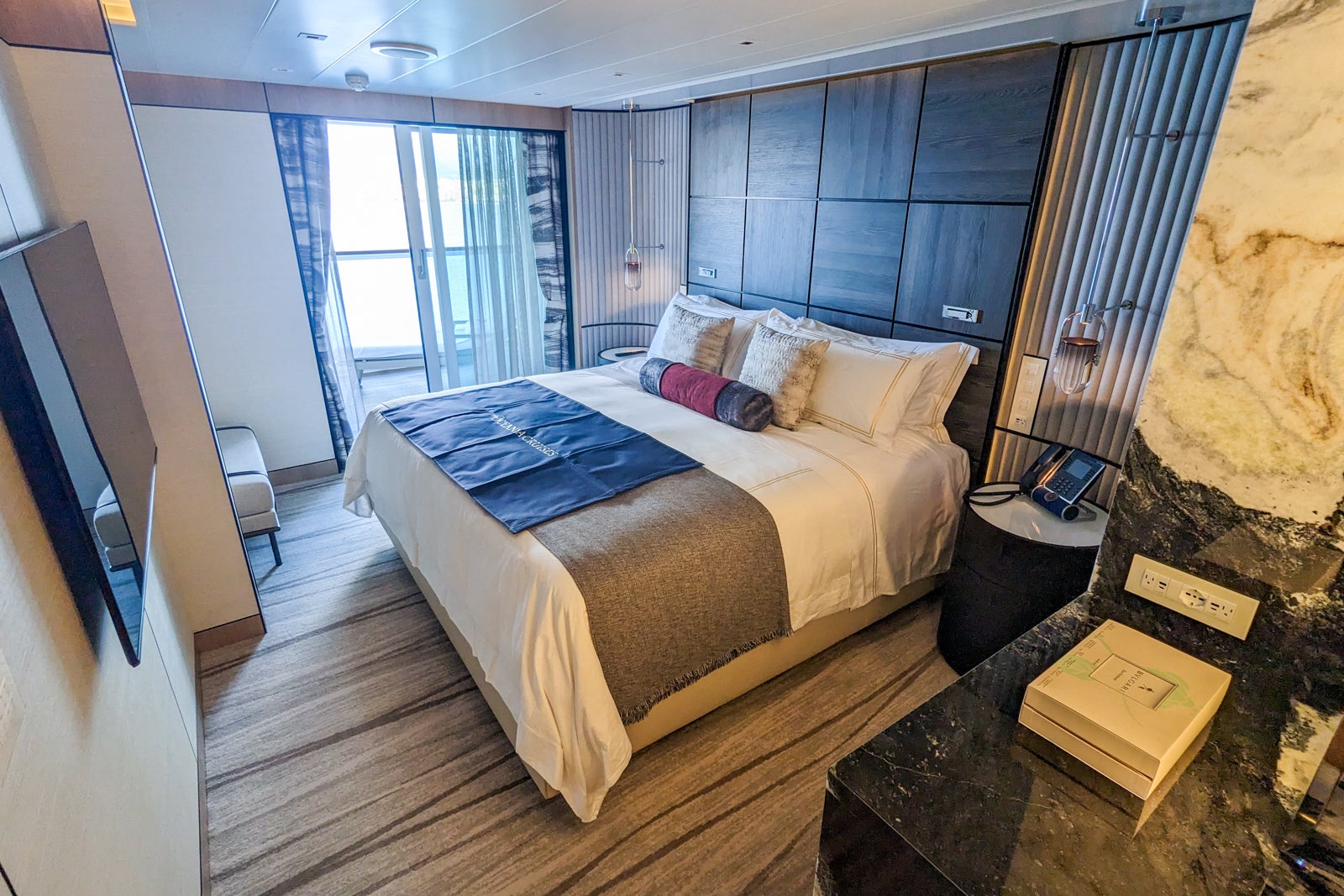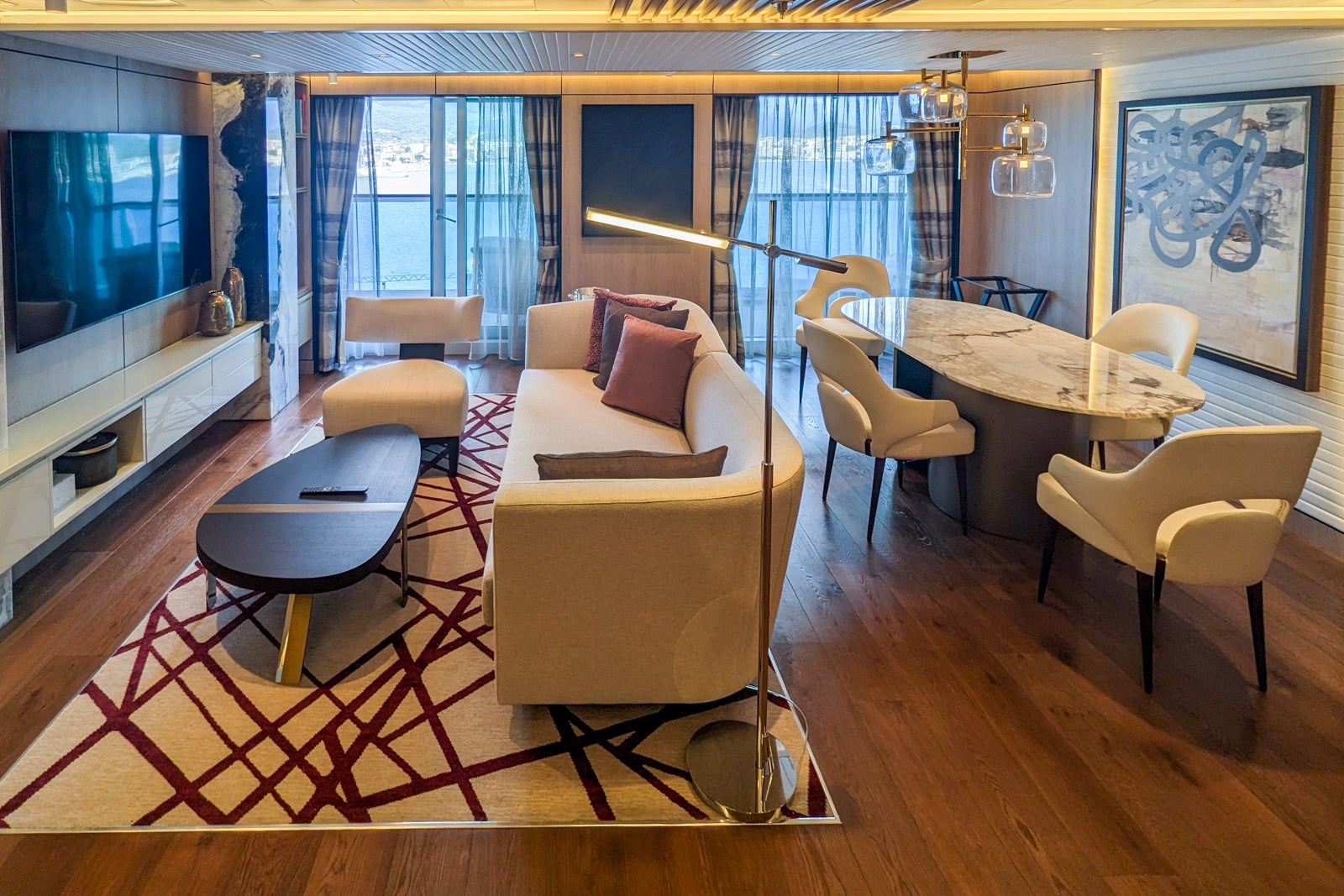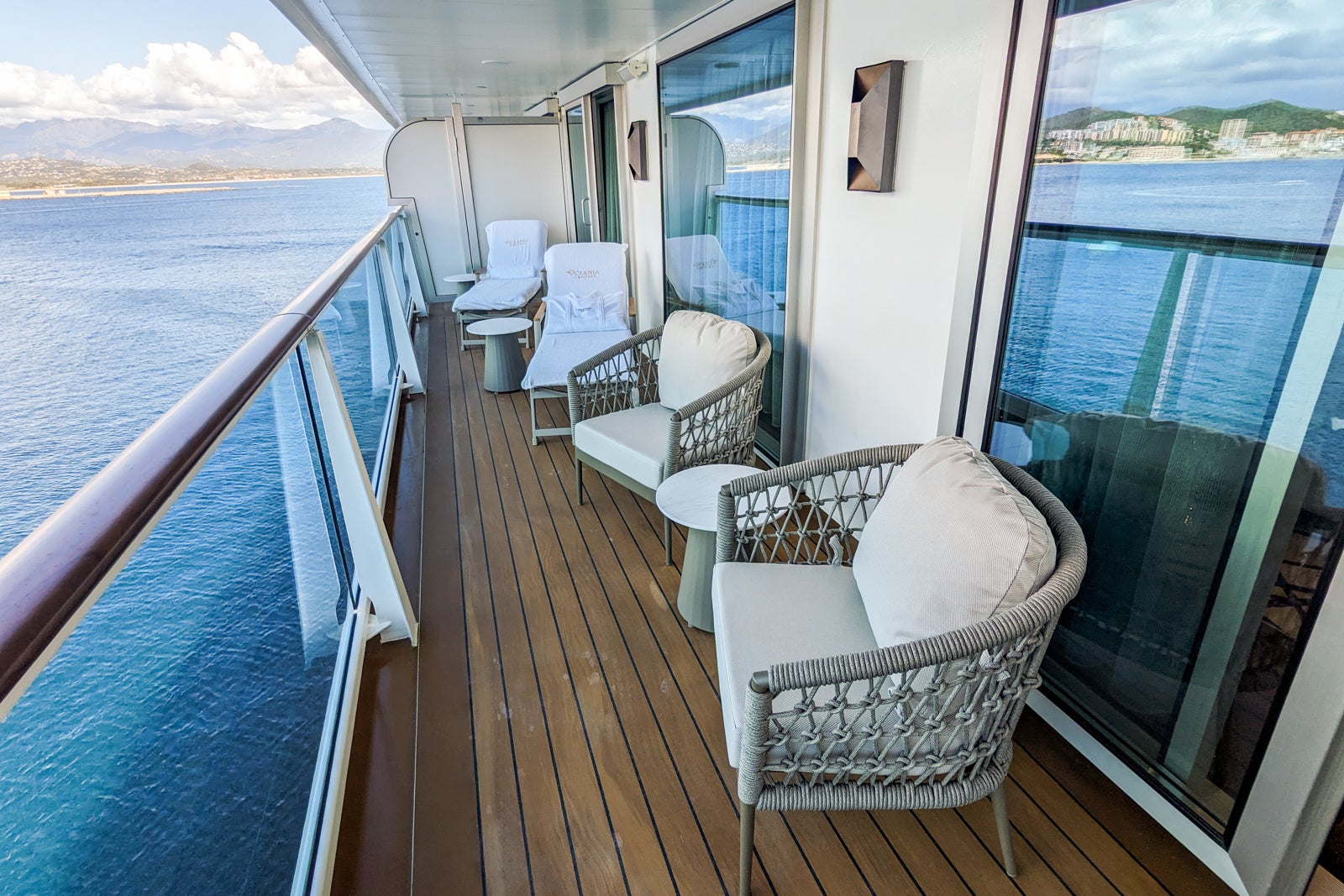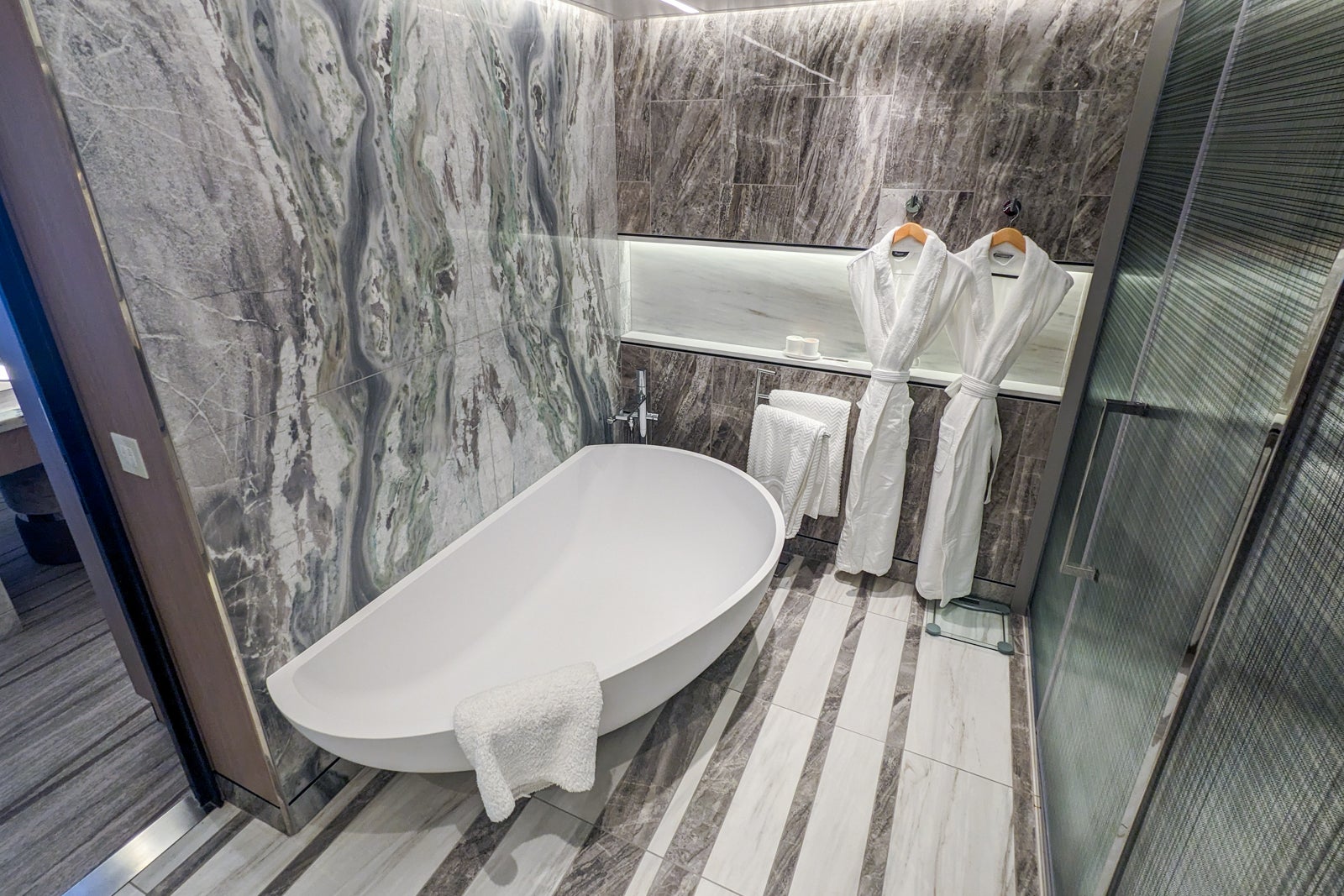 For those with an urge to splurge, Oceania has four additional suite categories, each with butler service and access to an Executive Lounge. The Penthouse Suites are simply an expanded version of the balcony rooms, with additional closet and seating areas. The Oceania Suites have a full living and dining room, a separate guest or TV room, large balcony, guest bathroom and marble-clad master bath and dressing area. They are mostly found on Deck 12, but two on Deck 11 aft have wraparound corner balconies.
The eight Vista Suites, which I didn't see, are even bigger than the Oceania Suites and located at the front of the ship, so they have extra-long wraparound balconies. The three Owner's Suites span the entire aft width of the ship, with two balconies, and are designed by Ralph Lauren Home. A light-filled grand foyer opens onto the living, dining and bar area on one side and the enormous master bedroom with king-sized bed, walk-in closet and generous bathroom with soaking tub and ocean-view shower.
Vista restaurants and bars
Oceania prides itself on being a foodie cruise line, and Vista carries on the line's tradition with six major dining venues included in the cruise fare, over-the-top extra-fee wine-paired private dinners and a new mixology program that goes above and beyond what its competitors are offering.
It's hard not to nitpick a line that brags it has "the finest cuisine at sea" (and has even trademarked that tagline). Each meal may not be the best you've ever had on a cruise ship, but each meal you have will be solid, with plenty of choice of both where to dine and what to select from the menu. Vista is certainly a ship foodies will appreciate.
Restaurants
I made a point to try every restaurant on board during my weeklong cruise, and it actually took some scheduling to make it happen. It's a good thing most of Vista's sailings are 10 days or longer, so you have ample time to sample all the dining venues and even make repeat visits to your favorites.
You are allowed to make at least one advance reservation for each of Vista's four specialty restaurants — possibly more depending on the length of the cruise and the type of cabin or suite you book. Once on board, you can ask if there's walk-in availability for additional meals.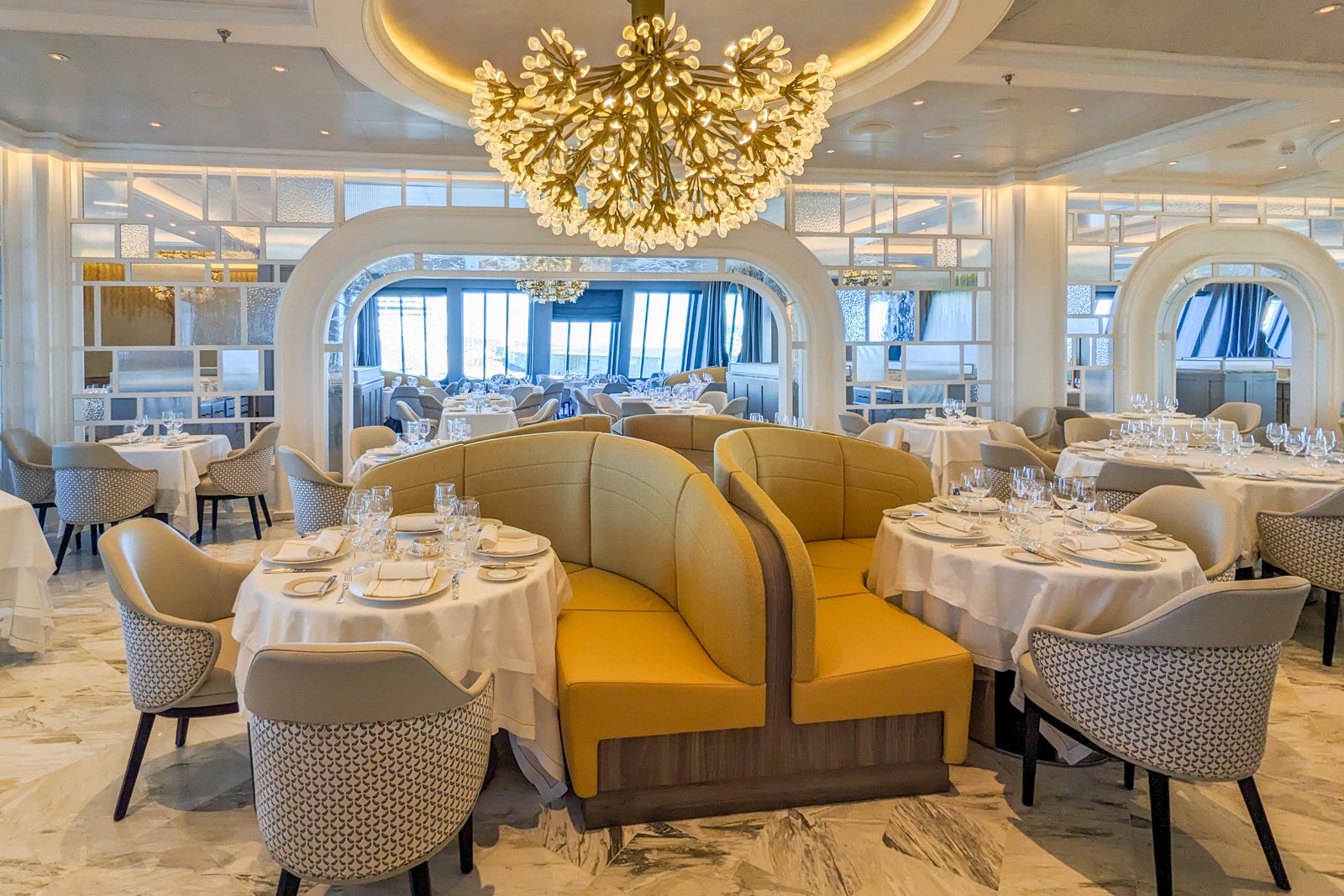 The Grand Dining Room is perhaps the most gorgeous main restaurant I've ever seen on a cruise ship. The design, with white archways in the center of the room, is also functional; it separates the giant venue into nooks, so it doesn't have that hotel ballroom feel.
At breakfast, you can order everything from grilled lamb chops and broiled kippers to omelets, pancakes and lighter fare, such as yogurt parfaits. The highlight of the lunch menu is the "Taste of the World" sampler platter themed around a different country each day.
The dinner menu makes three suggestions for themed meals: selections from Jacques Pepin's namesake French restaurant on Vista's sister ships, global cuisine and Aquamar Vitality cuisine (ie lighter dishes). Don't miss the creative Humphry Slocombe ice cream for dessert, with flavors like Elvis the Fat Years and Harvey Milk & Honey Graham.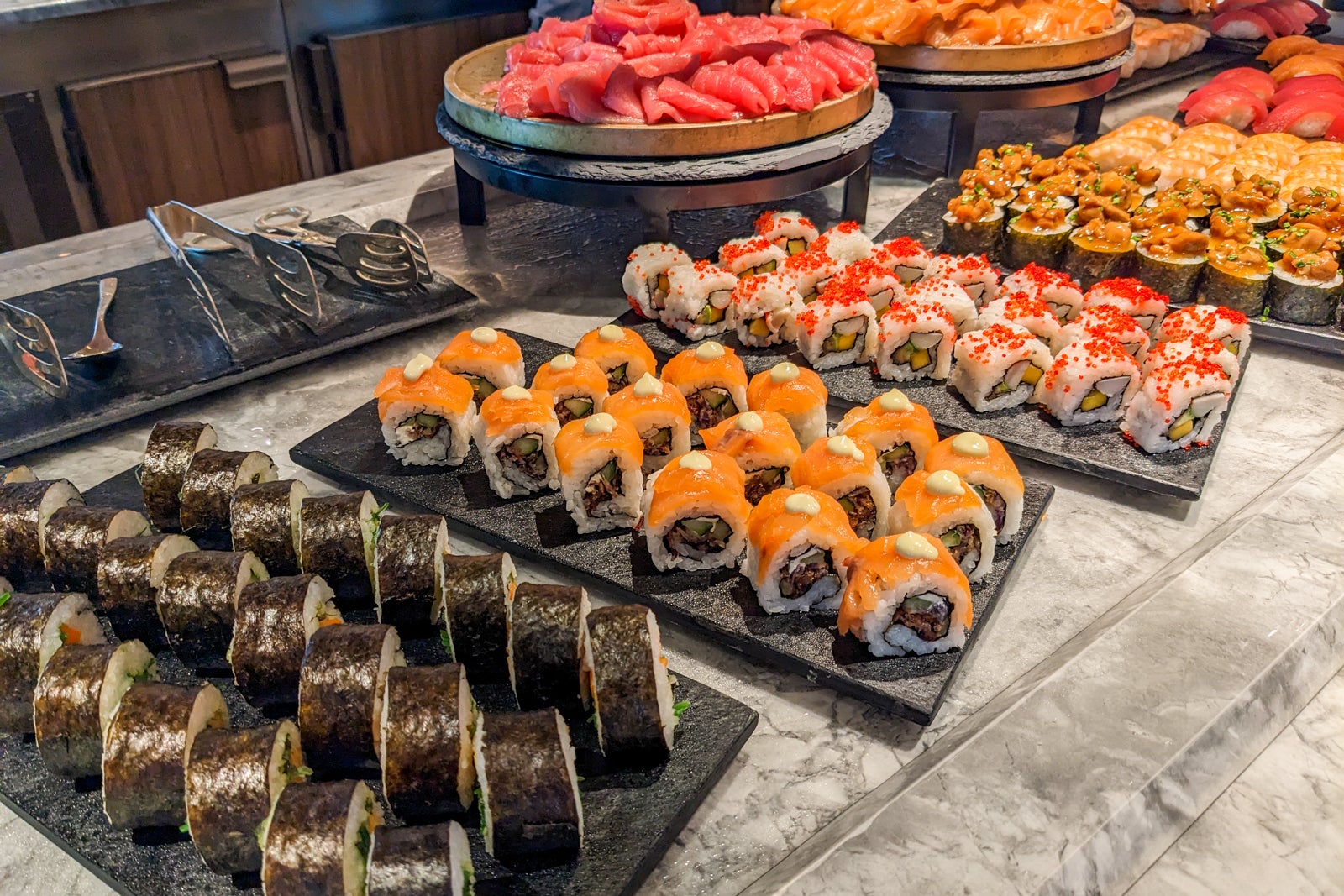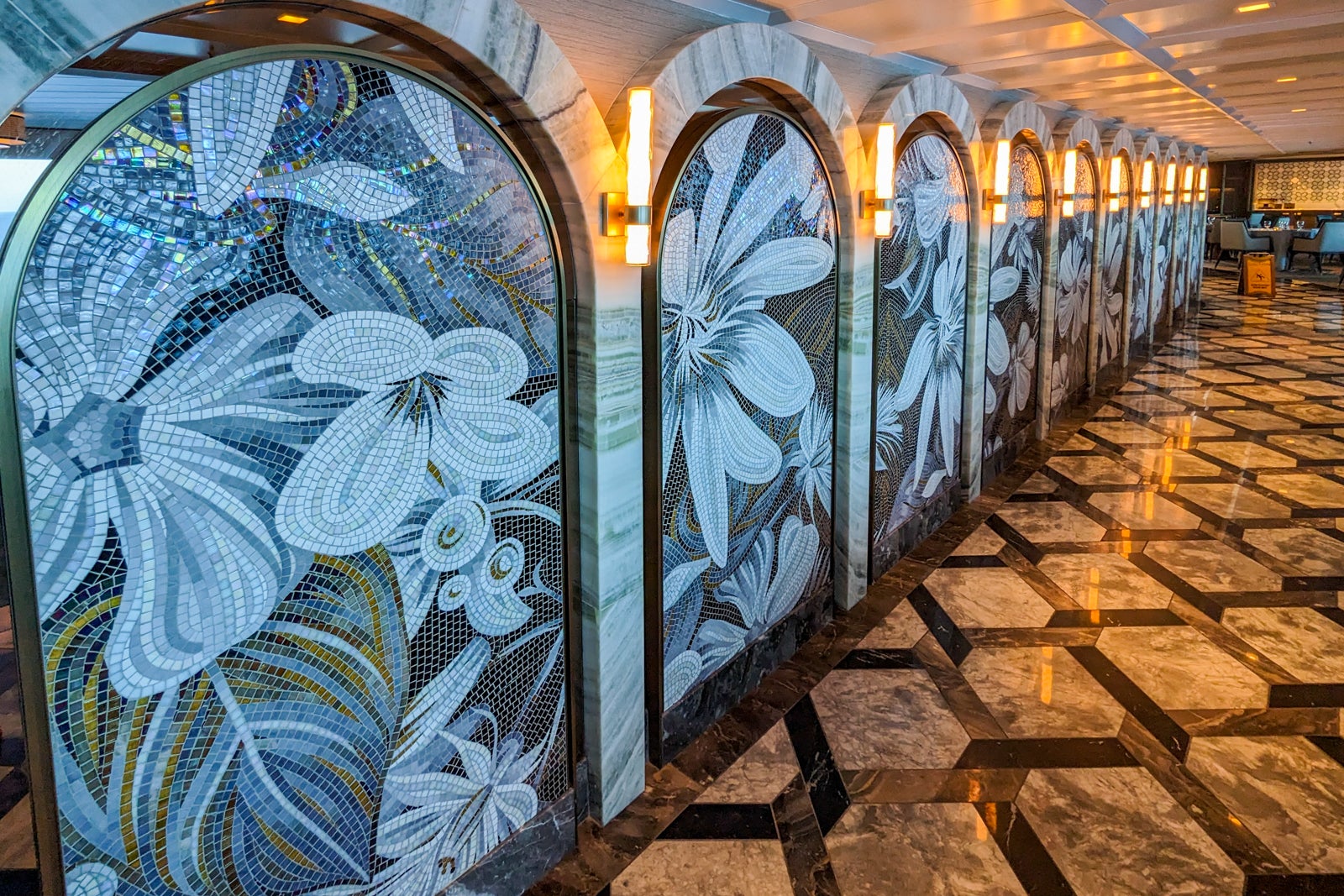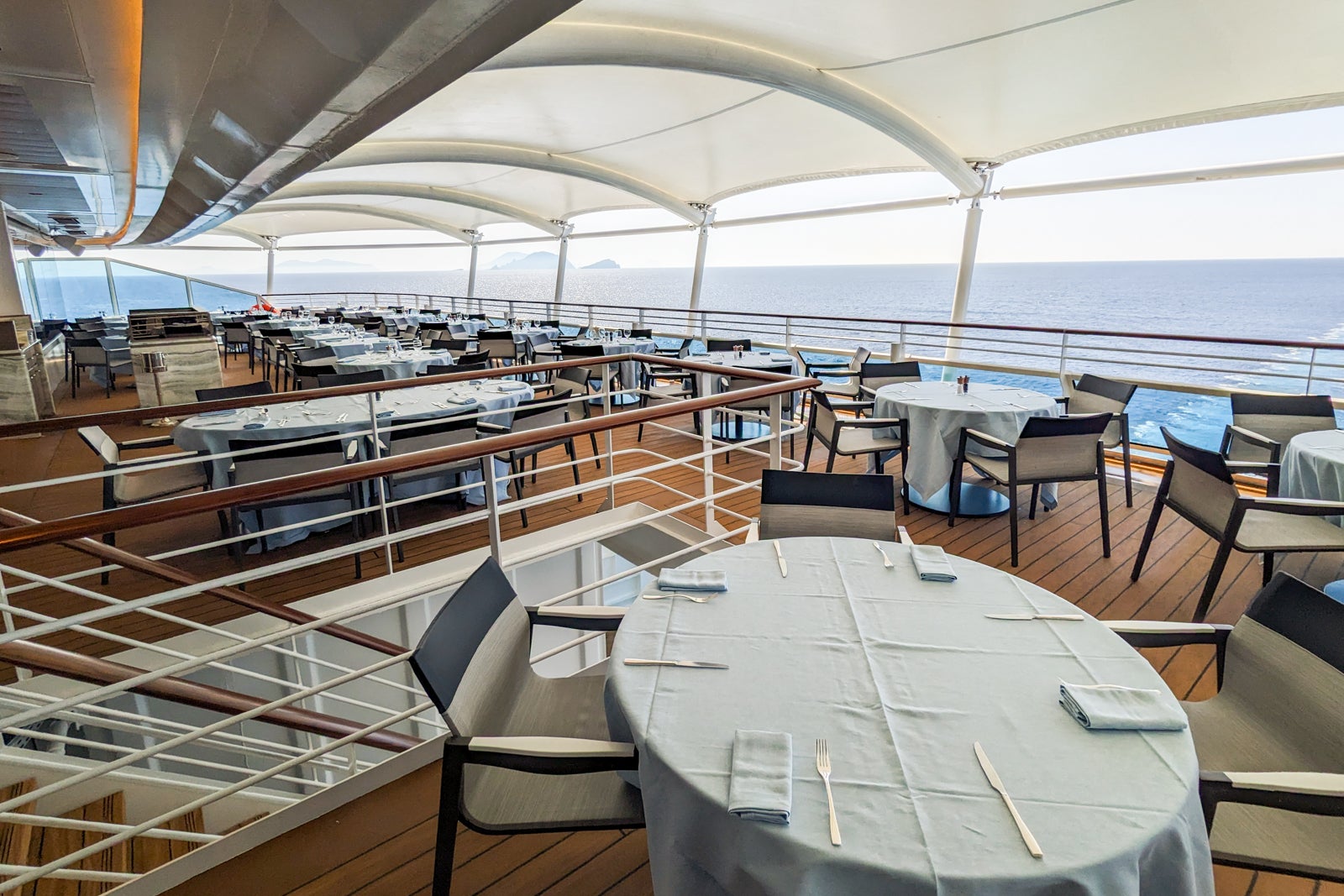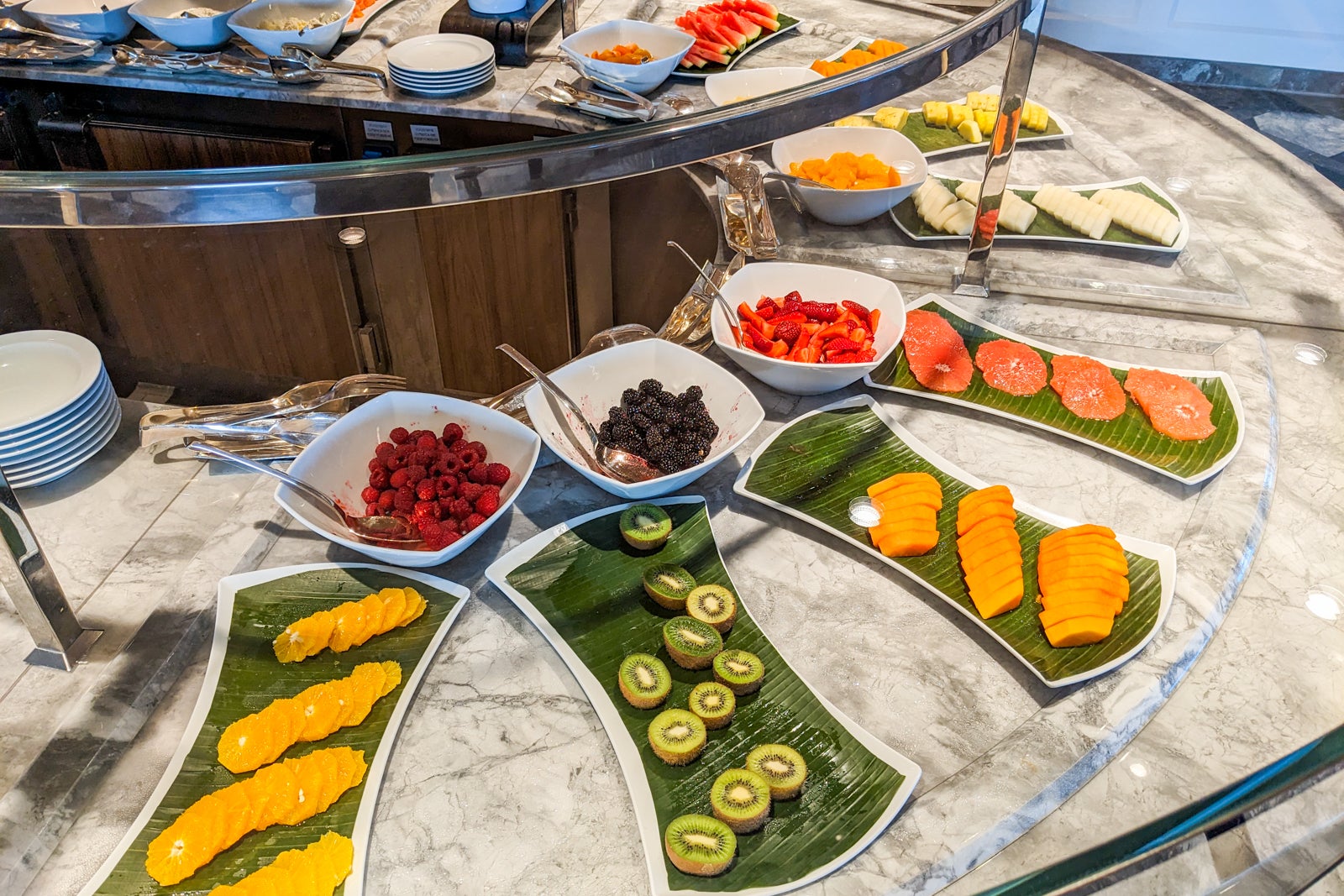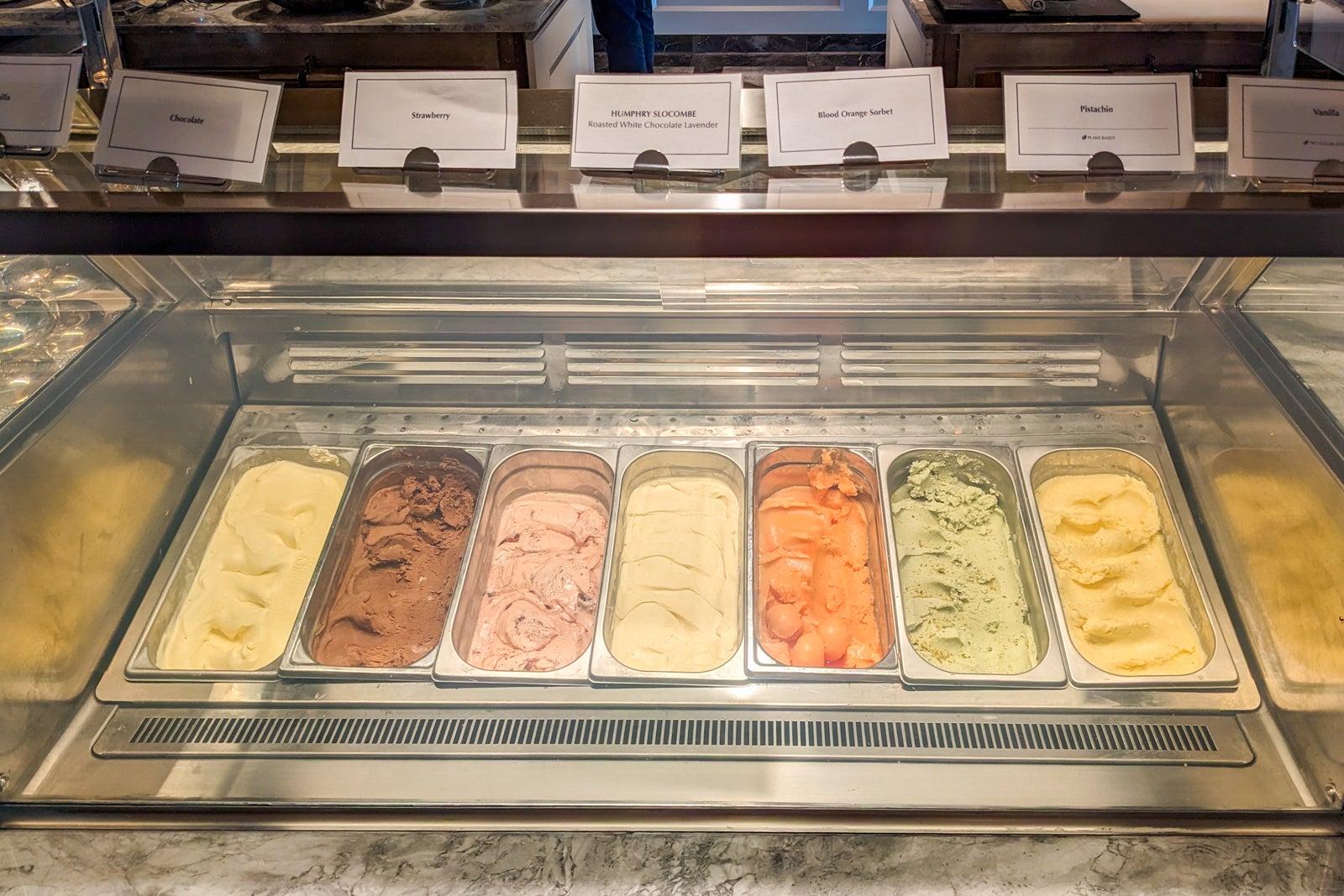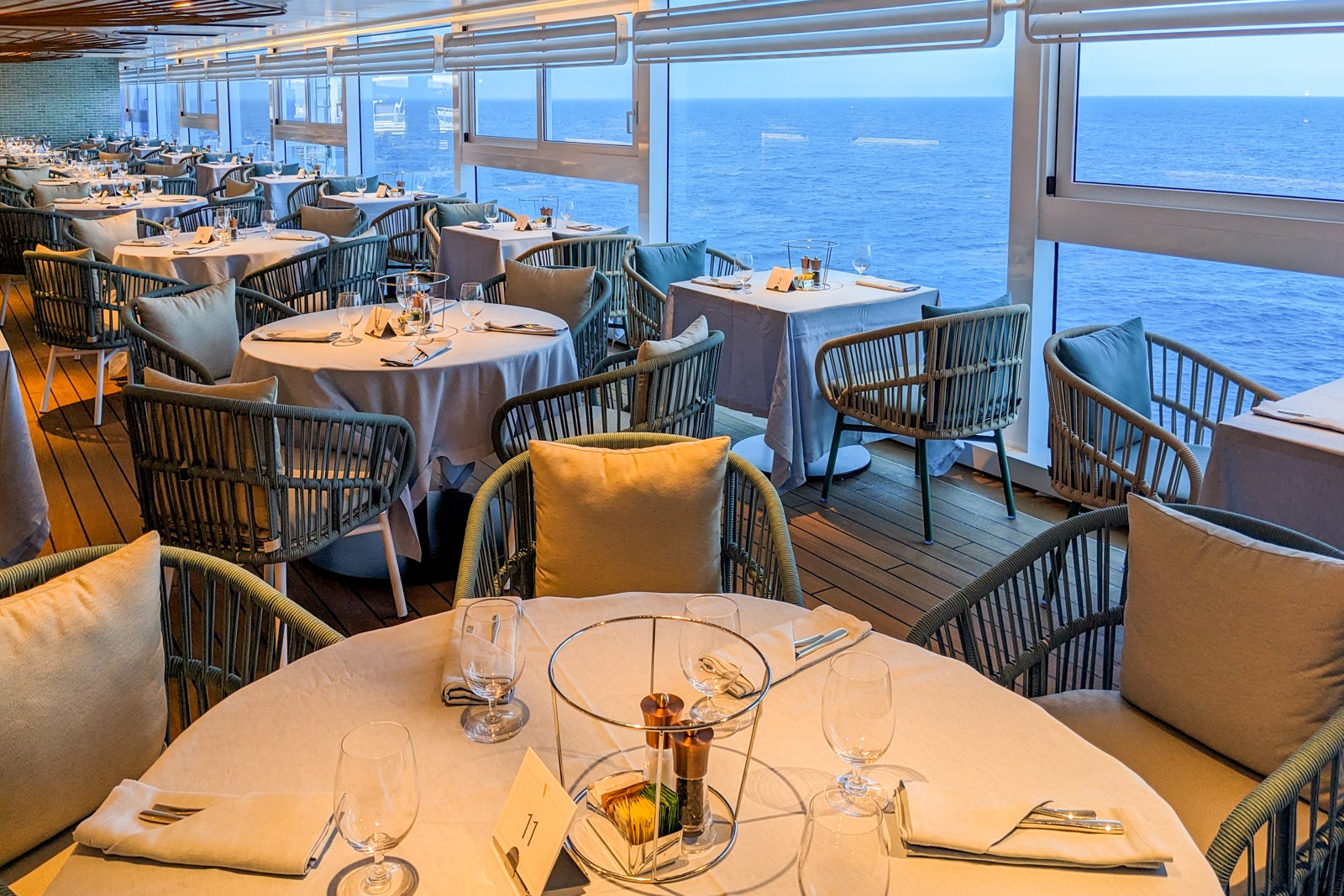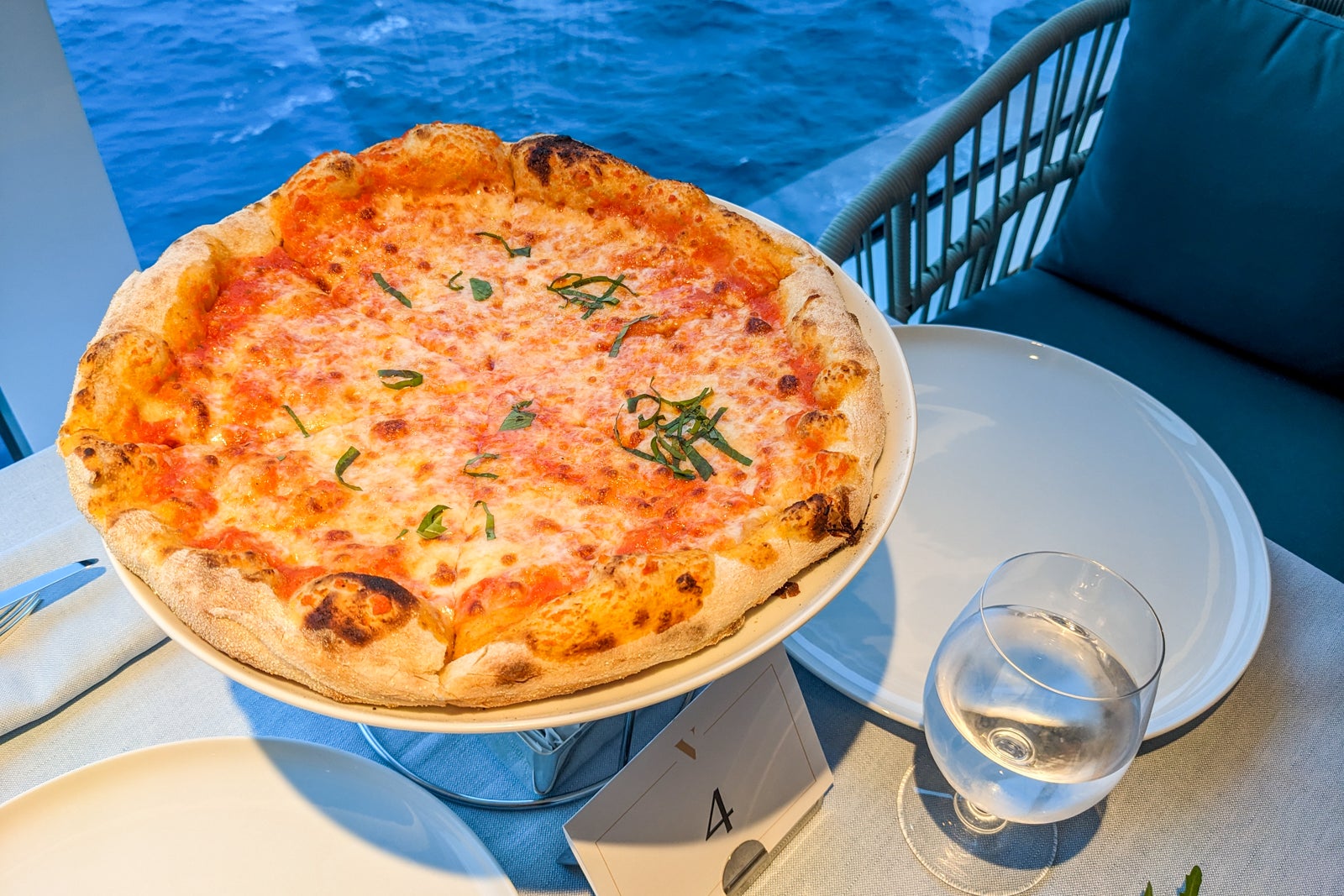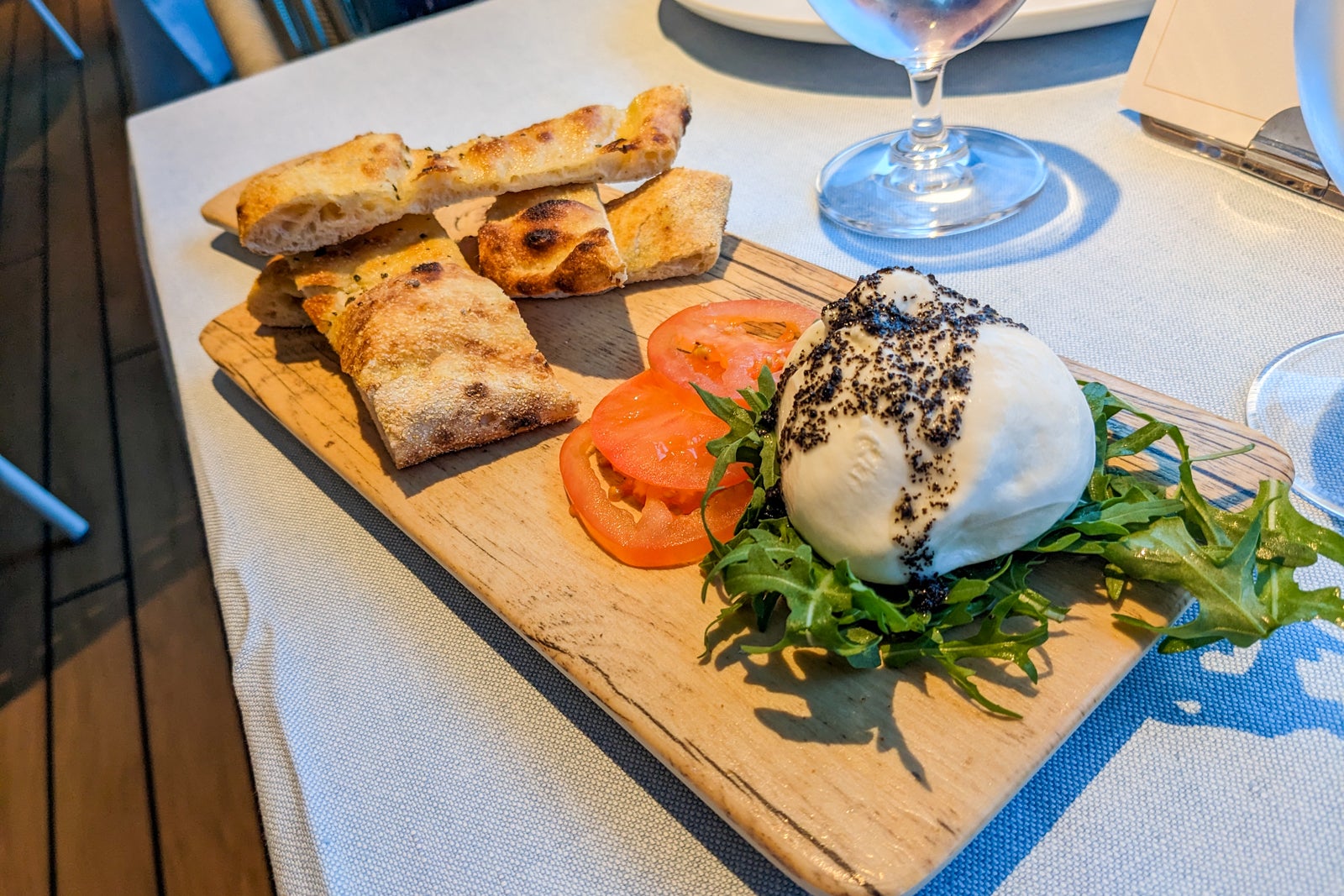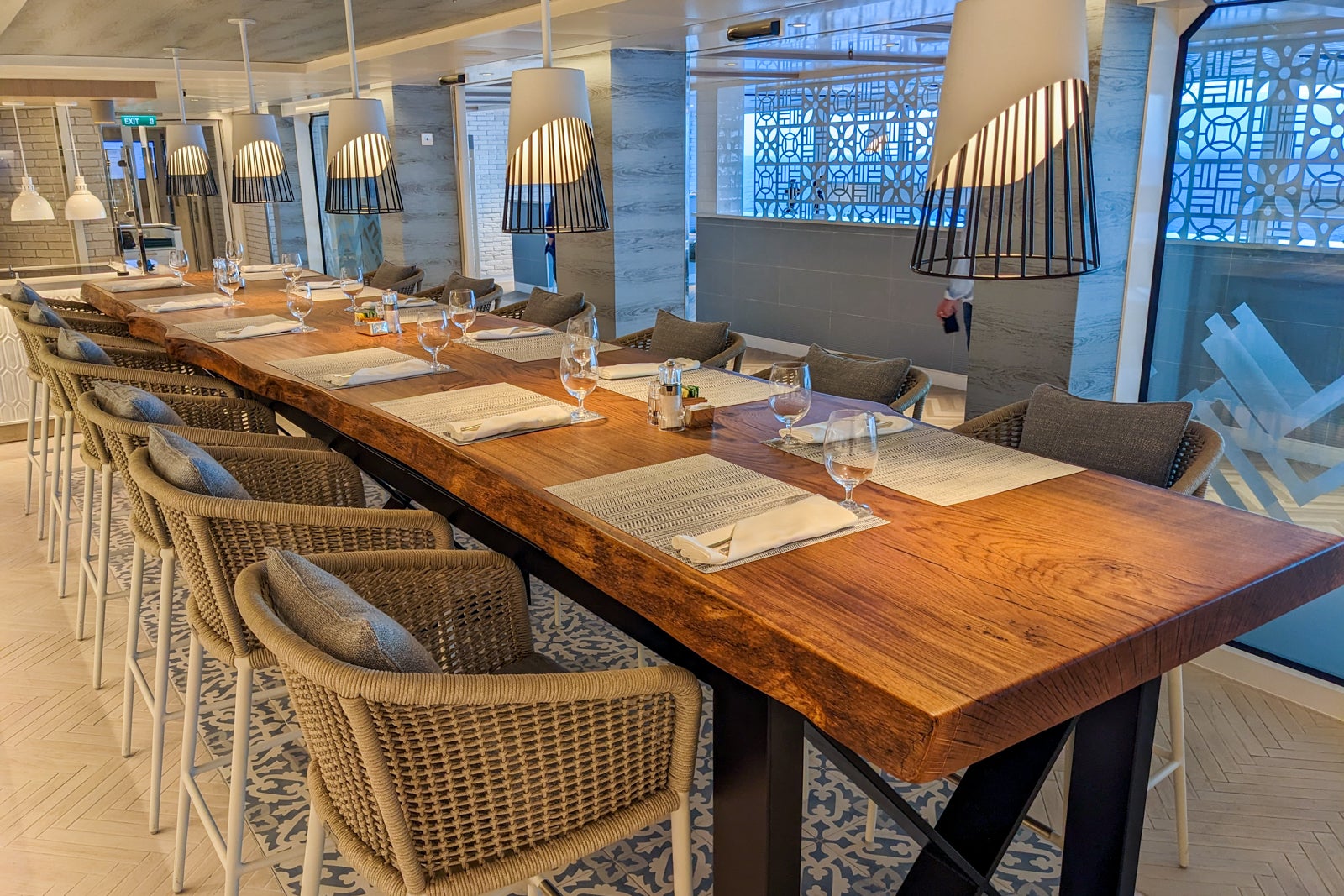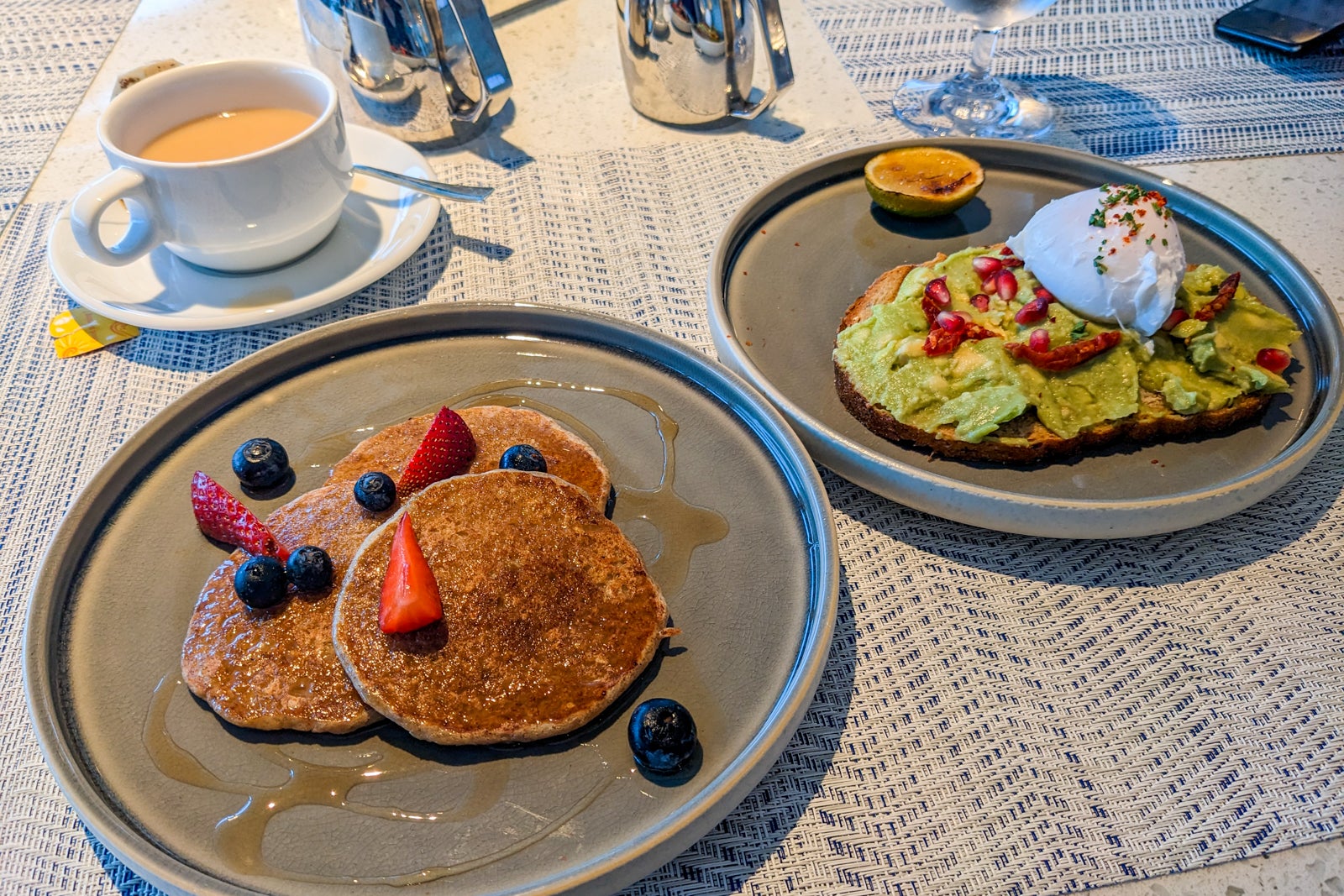 The Terrace Café is Vista's buffet venue with indoor and outdoor seating. The stunning wall mosaics set the tone for the sophisticated spread you can sample here. Think daily sushi, an array of fine cheeses, made-to-order omelets, pasta and steaks and premium ice cream (including one Humphry Slocombe flavor at lunch and dinner). The vegetarian options weren't always the best at the Terrace Café, though it often had gluten-free pasta.
On either side of the Terrace Café are several new and returning casual dining venues that should not be overlooked.
Waves Grill has always been one of my favorite grill venues at sea. Midday, it serves sandwiches, hot dogs, grilled entrees (mahi mahi, cajun chicken) and a huge selection of burgers, including Wagyu, veggie and salmon, in addition to the classic cheeseburger.
In the morning, it offers a downsized breakfast buffet with made-to-order omelets. At night, it transforms into a pizzeria with Italian-style pizza, a burrata menu (do not miss the burrata and tartufo dish) and a sinful Nutella pizza dessert. Pro tip: You can place an order at Waves and ask for your dish to be delivered to your table at the Terrace Café, so you don't have to choose between the options.
Past Oceania cruisers might wonder where Waves' famous smoothies and power bowls got to. The answer is Vista's new "healthy" dining venue, Aquamar, set up on the opposite side of the Terrace Café from the Waves Grill.
In the morning, don't miss Aquamar's selection of avocado toast or its freshly made juices, unusual lattes and smoothies. (You haven't lived until you've spiked your morning OJ with turmeric and cayenne pepper.) Energy bowls, banana pancakes and omelets round out the breakfast menu.
The lunch menu at Aquamar is vast. You can order poke-style bowls or compose your own, do a breakfast repeat with omelets and avocado toast, or order sandwiches from around the world, including tuna tacos, falafel pita, a Mexican chicken wrap or an Impossible burger. Wash it all down with a nonalcoholic cocktail that will have you convinced you're drinking the real thing.
All the previously mentioned restaurants allow you to dine at will, but Vista has four reservations-required dinner spots that are the stars of the show. Three return from sister ships Marina and Riviera, while one is new, replacing French restaurant Jacques.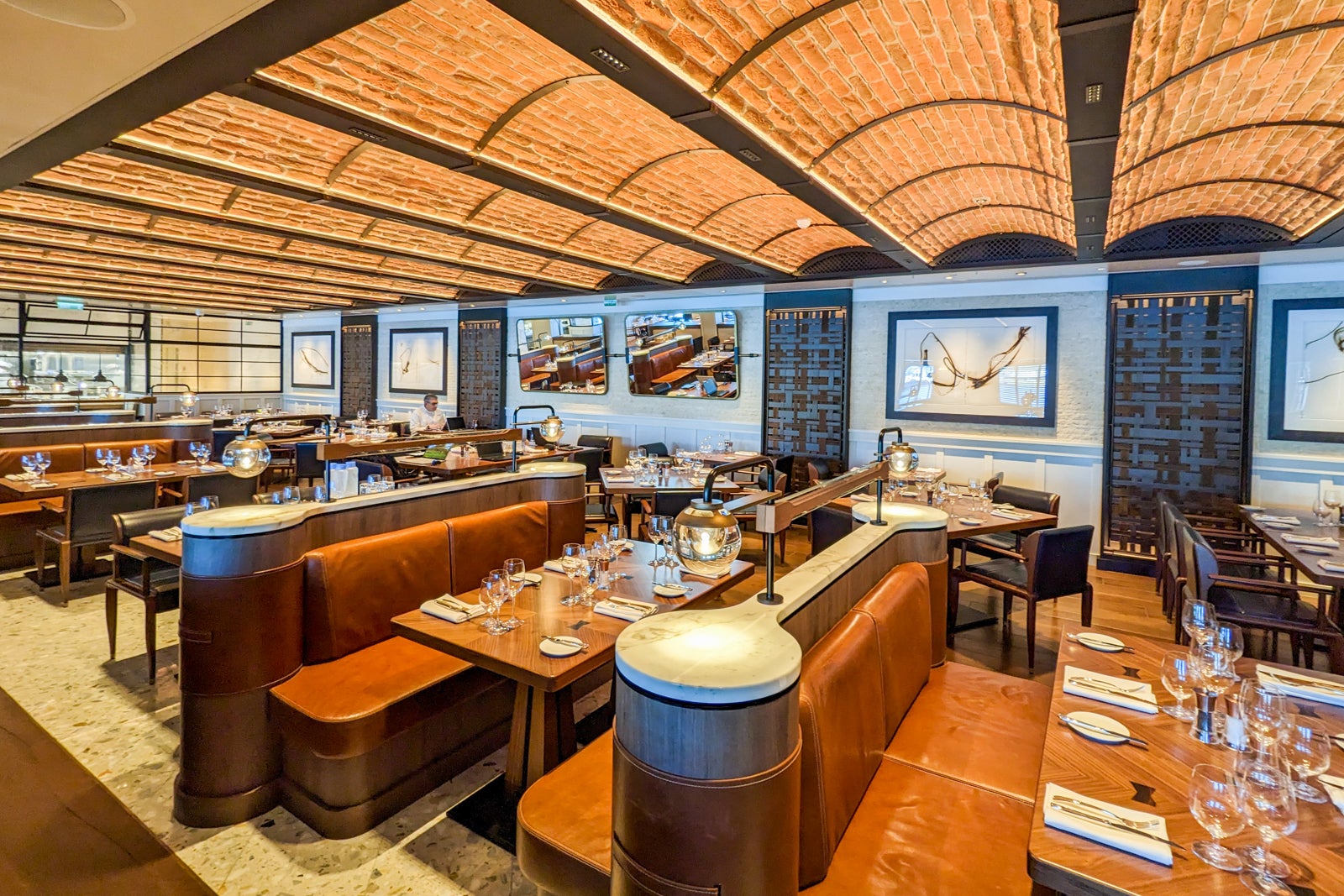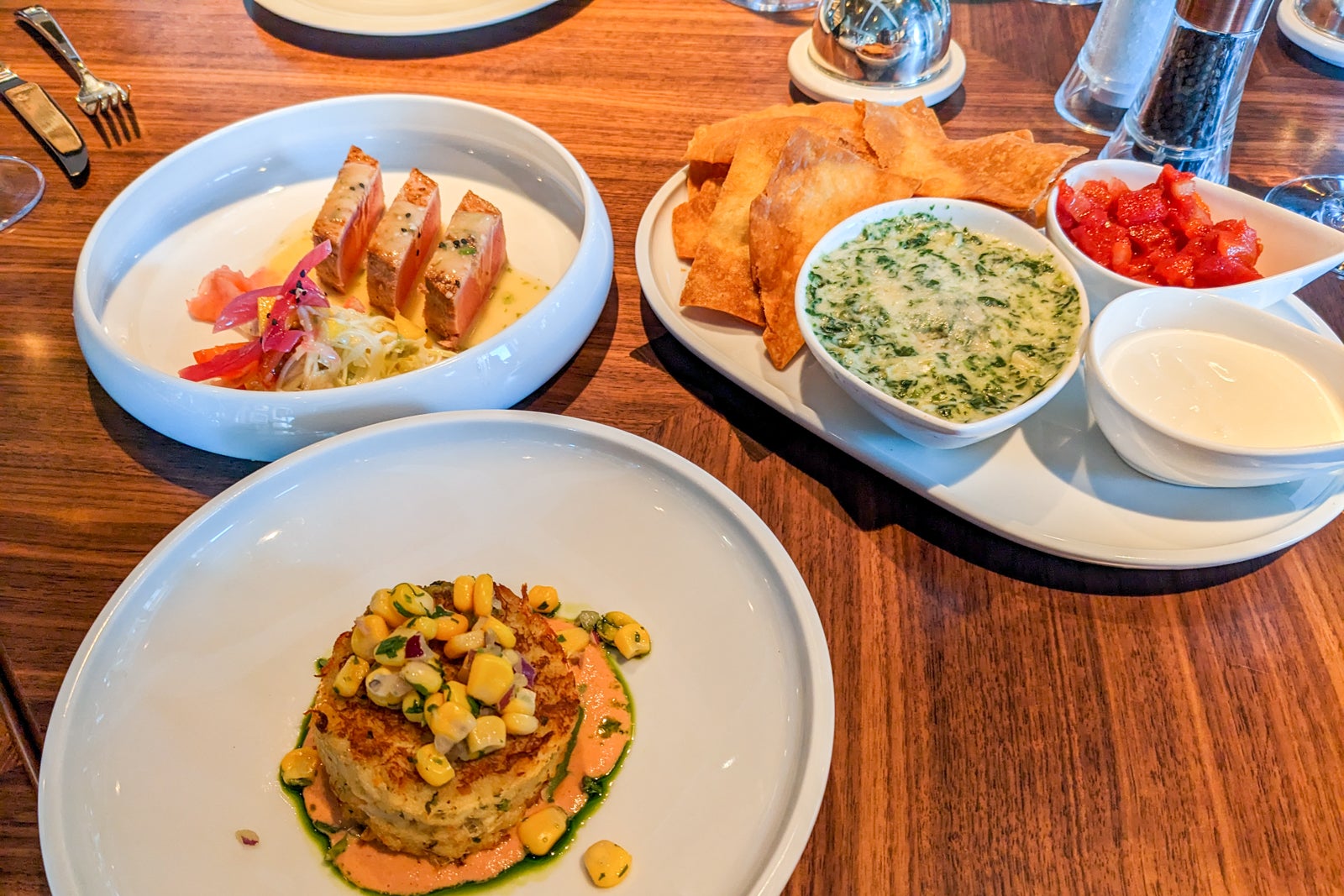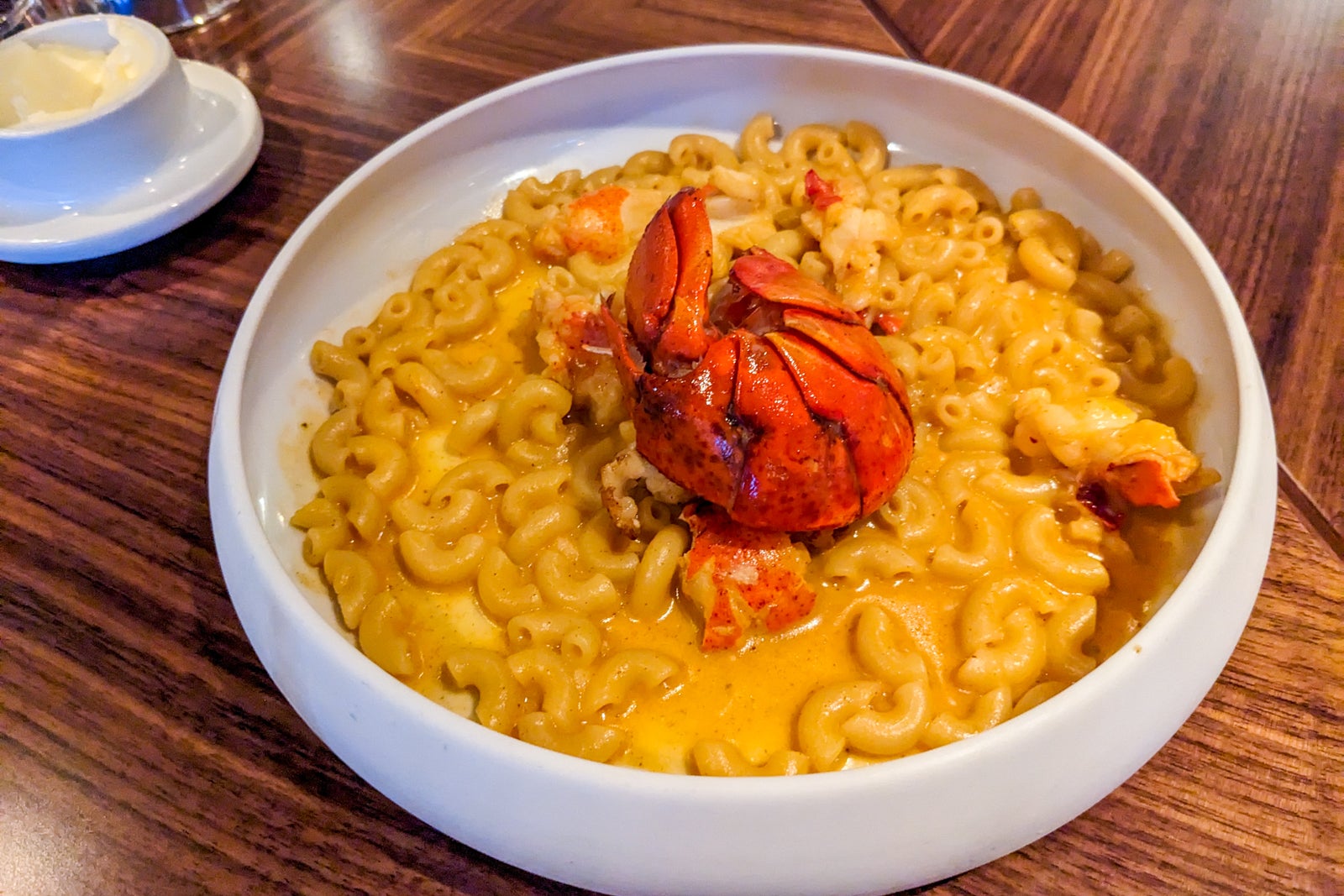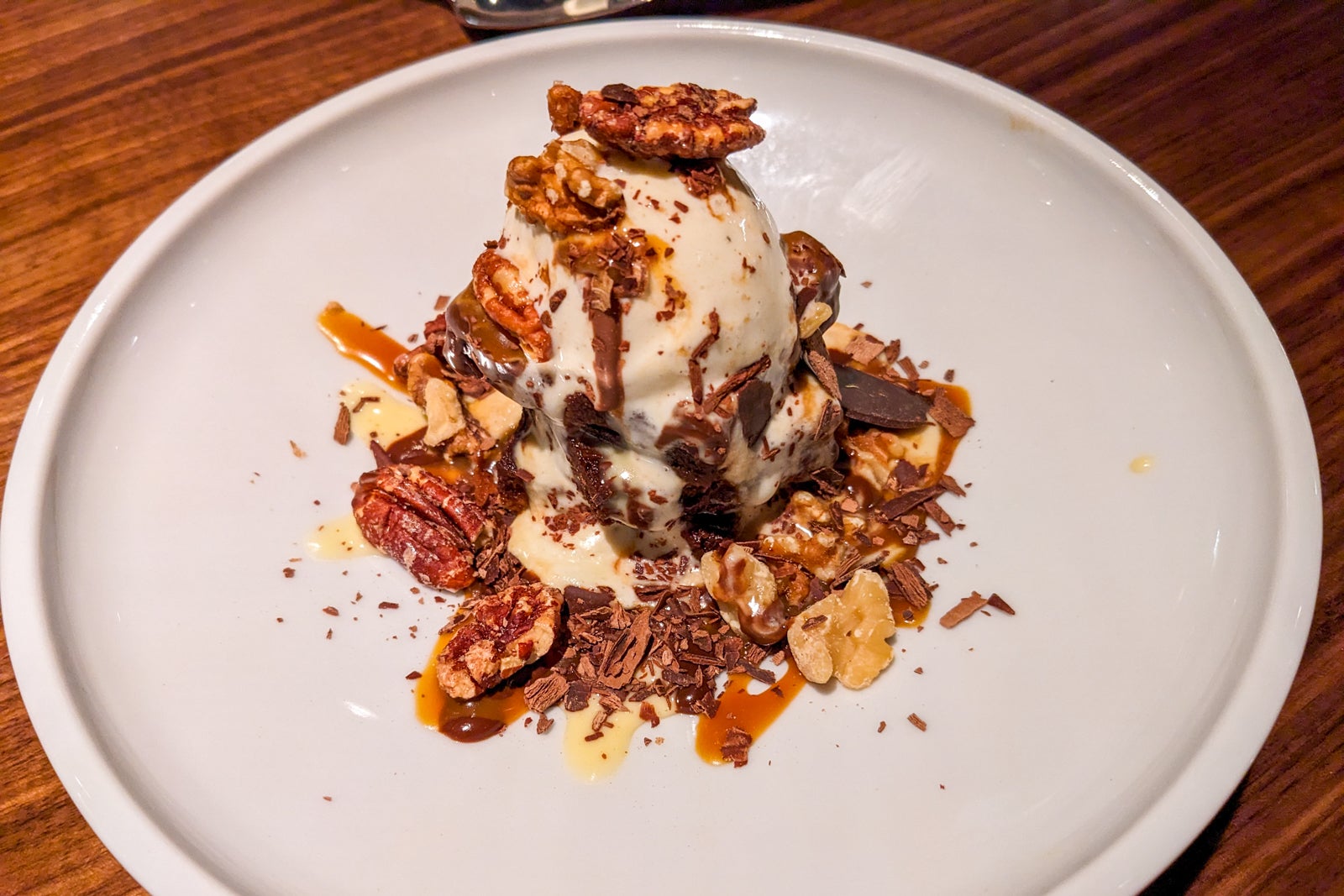 The new entrant to Oceania's food scene is Ember, serving inventive American fare. Though the venue is one of Vista's signature restaurants, it has a more casual vibe than the others, and meals here don't take quite as long. Consensus on my sailing is the standout dishes are the spinach and artichoke dip, lobster mac and cheese (with an actual hunk of lobster-in-the-shell on top) and the triple chocolate brownie sundae.
On the opposite end of the spectrum is Polo Grill, Vista's fanciest restaurant, where dinners can take hours. It's a classic steakhouse in a dimly lit setting with an enormous menu where protein is the star.
While it was perhaps not my favorite dining venue on board, the salmon I ordered was cooked perfectly, so moist and tender that I raved about it for the rest of the cruise. Folks at my table ordered everything from filet mignon to a whole Maine lobster, and everyone was satisfied with their choices.
Also, you may be understandably tempted to order the Polo Quartet of four desserts to finish your meal. I will save you the trouble by telling you the key lime pie is hands down the best of the bunch, and you should order the full-size version and skip the tasting plate.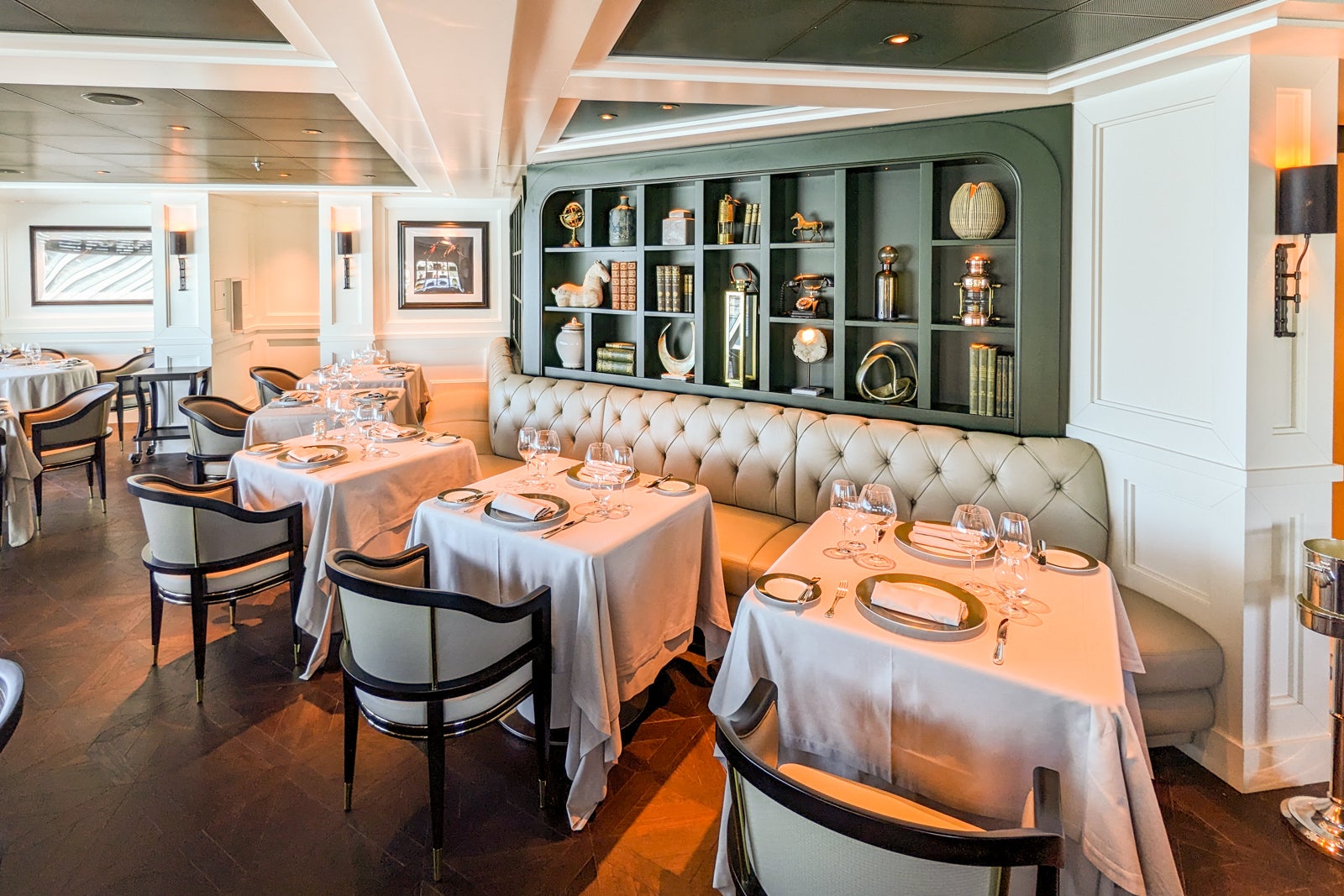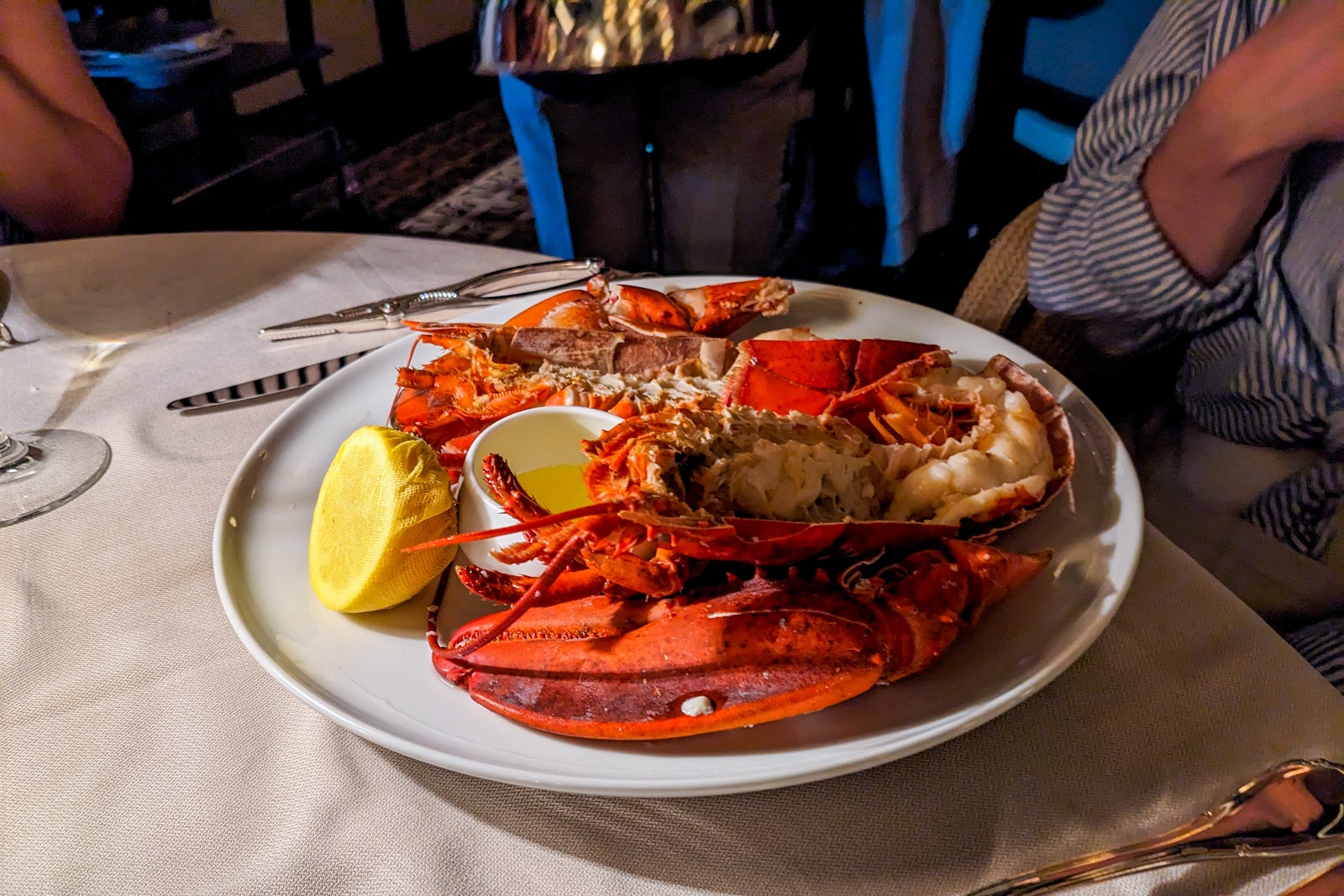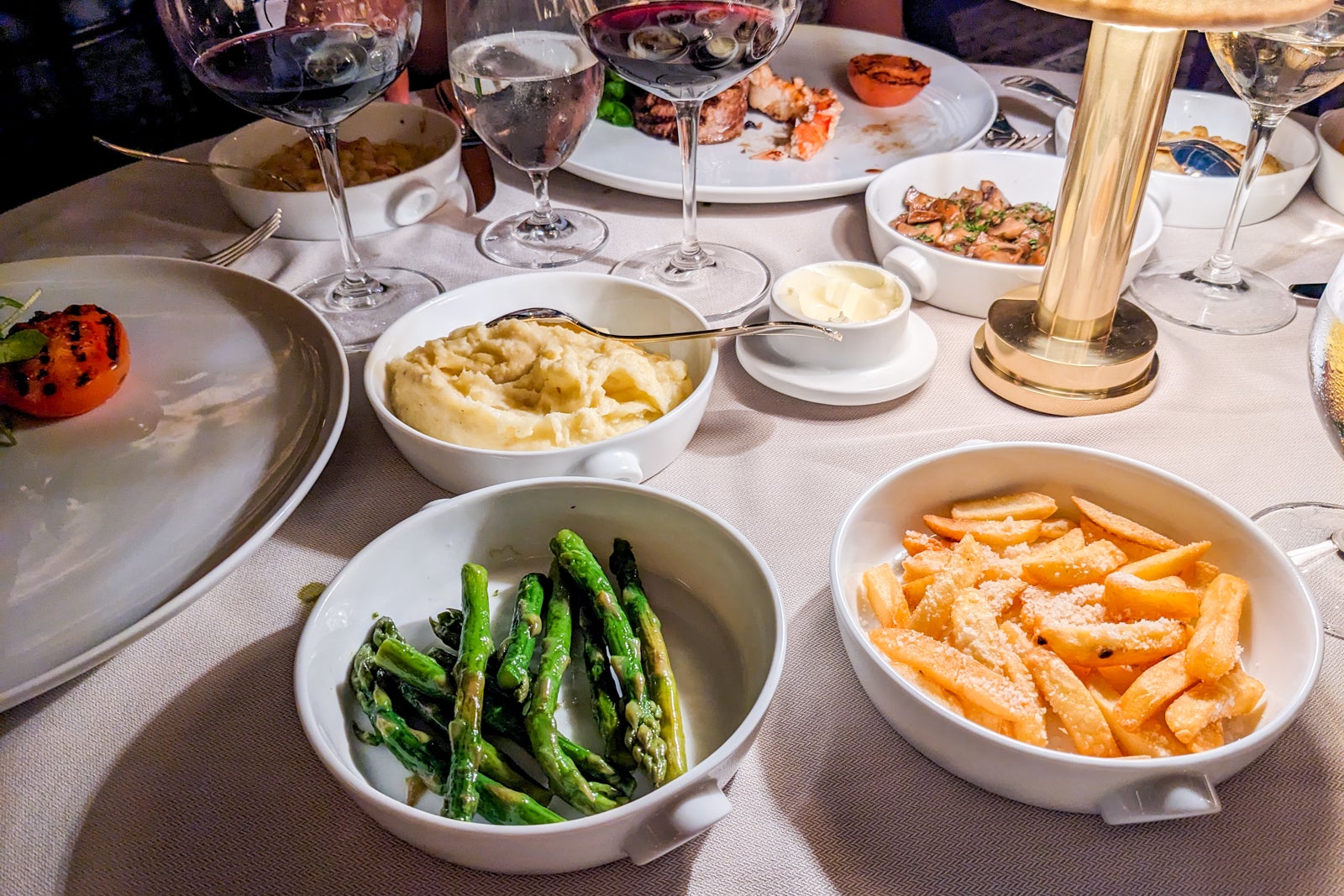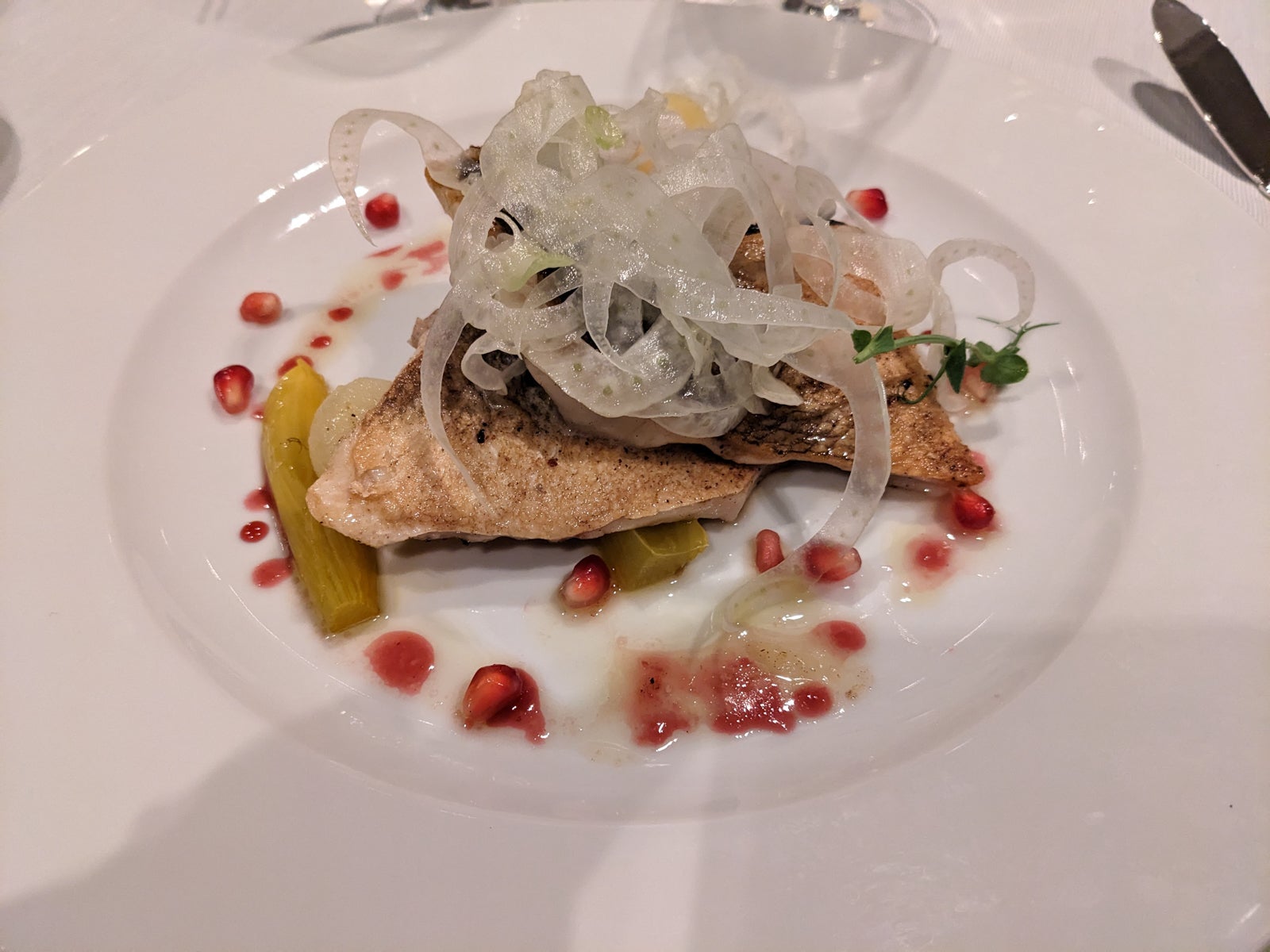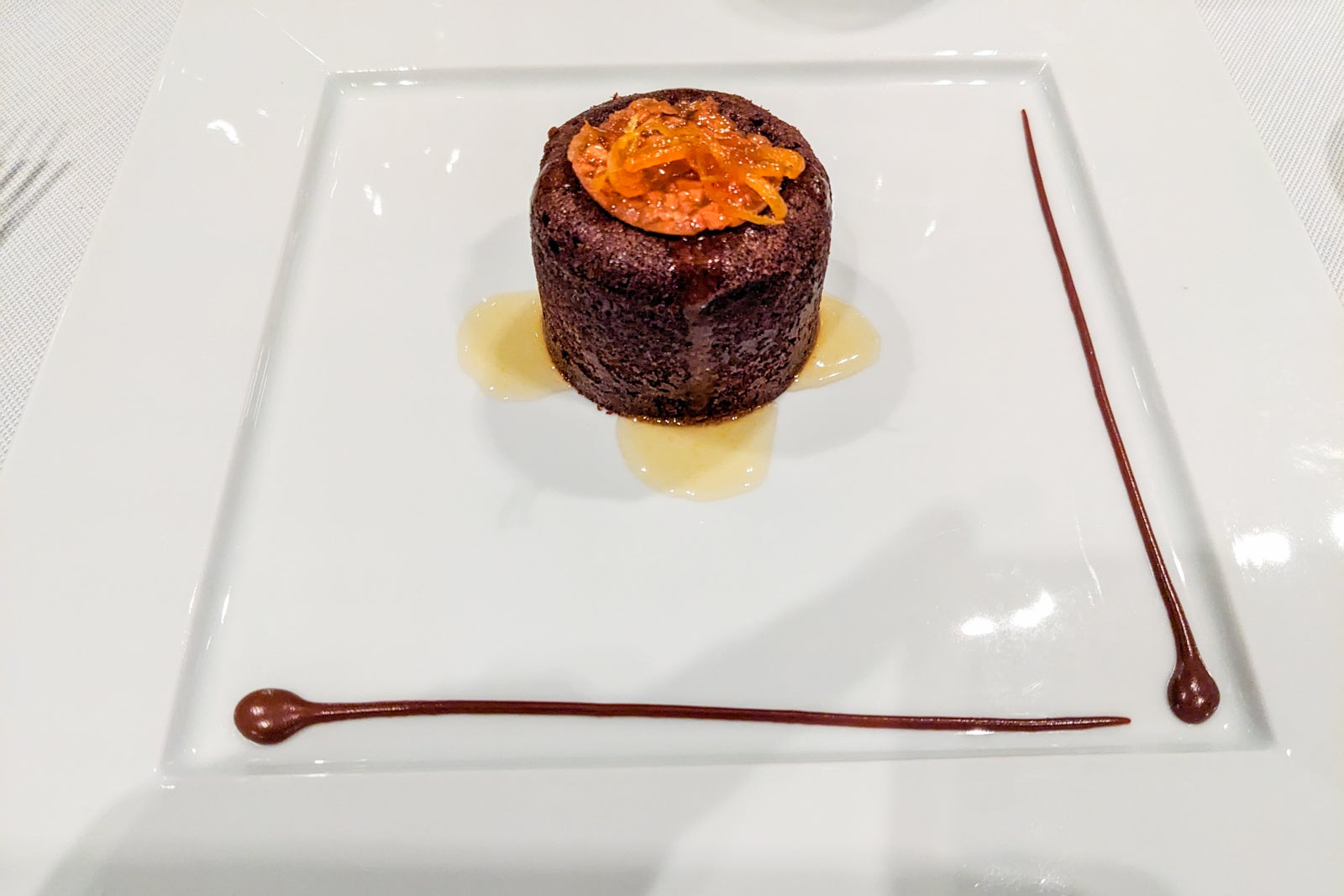 Toscana is Oceania's long-standing Italian restaurant, but on Vista, it's newly enhanced with dishes created by the ship's godmother, Italian food star Giada De Laurentiis. If you enjoy veal, this is your spot; nearly half of the secondi menu consists of veal dishes (you can also order lamb and roast suckling pig here). I tried Giada's branzino and wasn't wowed.
Whatever you order, make sure to order at least one pasta dish with Toscana's incredible ship-made pasta. You can't go wrong with Giada's lemon spaghetti or the pesto gnocchi. If you need to skip dessert at one specialty restaurant, this is where I'd pass … unless you are a die-hard tiramisu fan.
The final specialty restaurant is Red Ginger, a pan-Asian dining experience. Perhaps it's because I love Asian food, but I have a hard time choosing what to eat at Red Ginger because everything looks so good. You could make a meal on appetizers alone.
To start, try the sushi, duck and watermelon salad or summer rolls. For your main, consider the miso-glazed sea bass, lobster pad thai, bulgogi ribeye steak or red curry chicken. You might think dessert is a non-starter, but the caramel tapioca was tasty, and the soft ice cream with Japanese togarashi is a fun mix of sweet and spicy.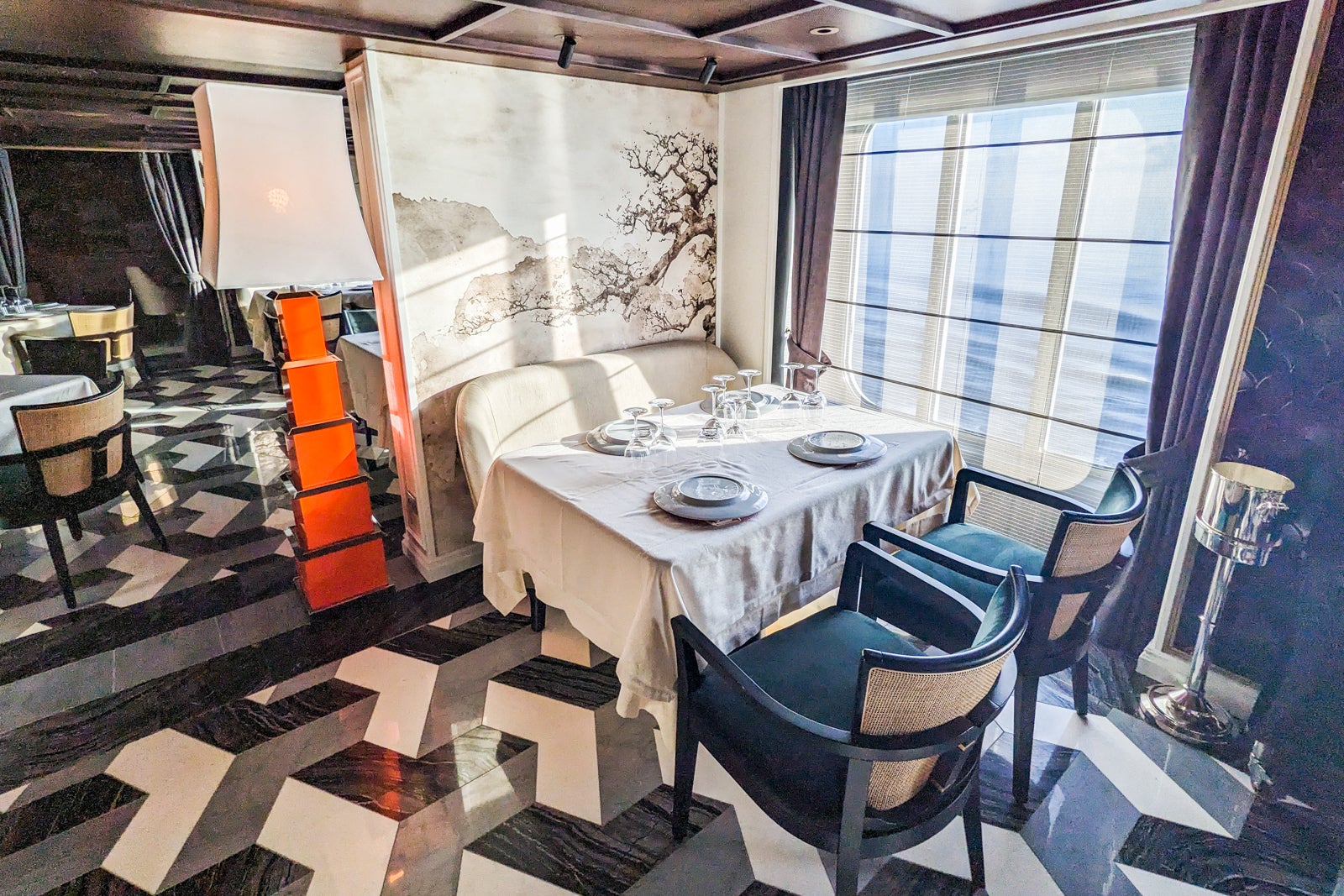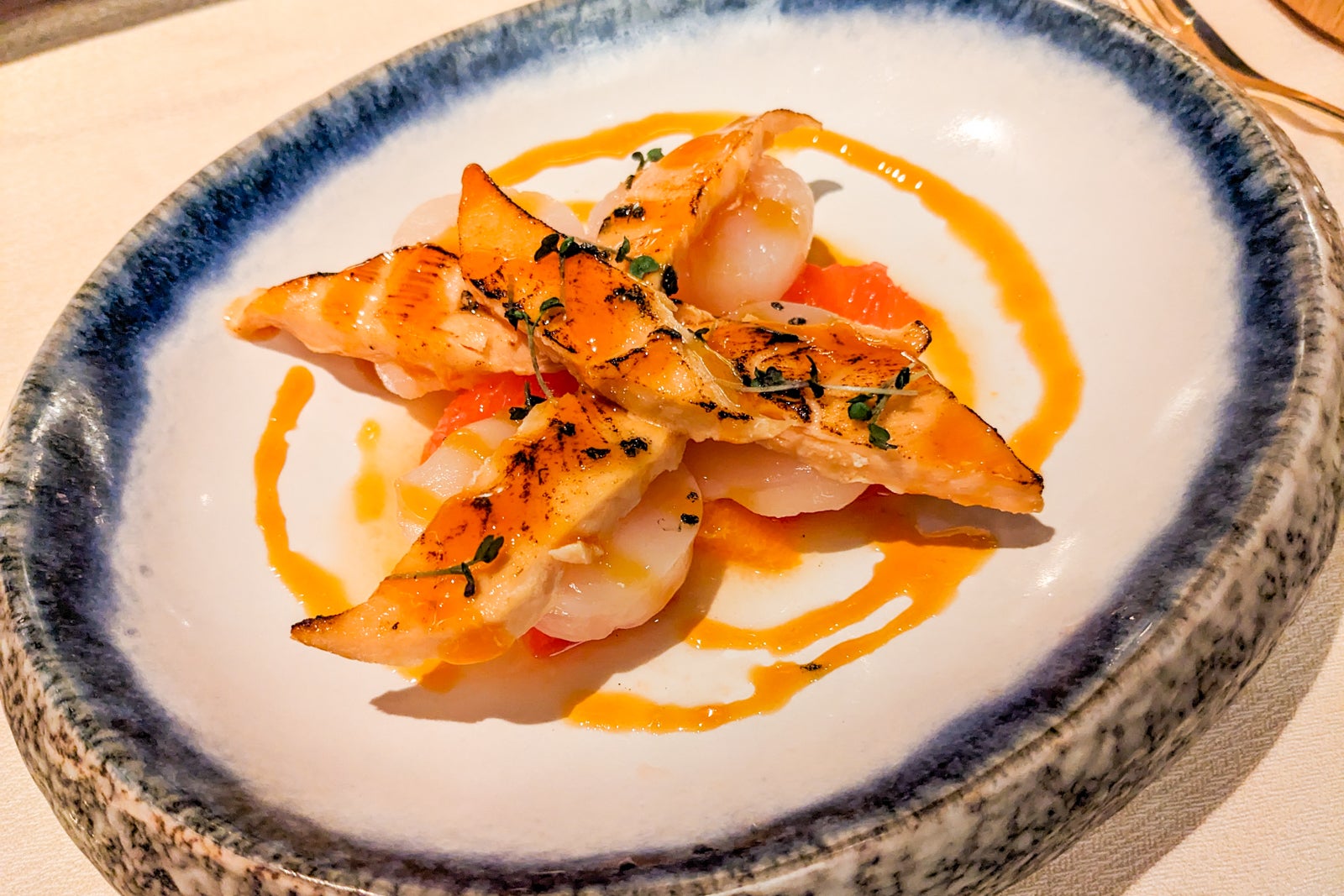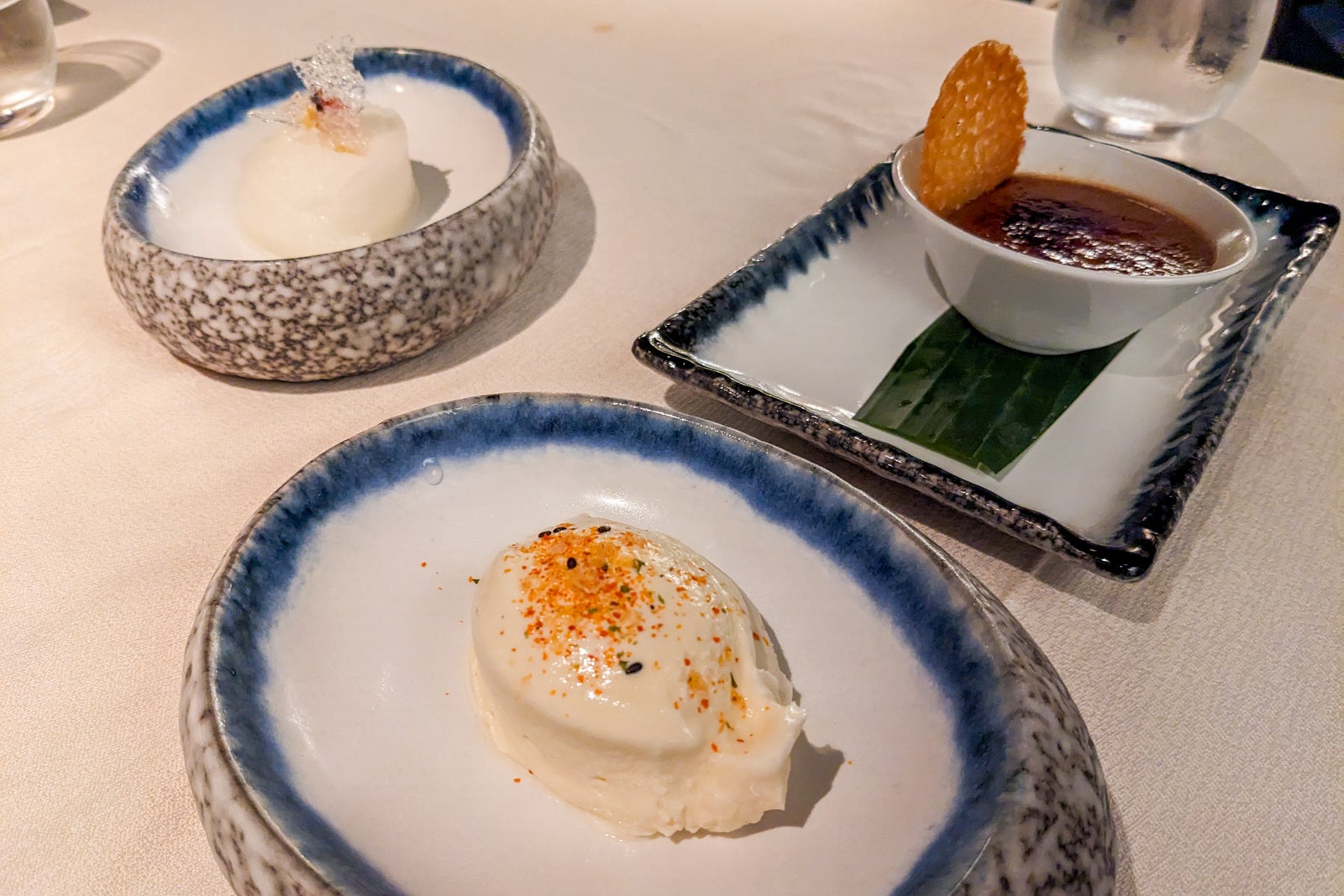 Vista also offers multiple options for intimate or private wine-pairing lunches and dinners on board. They include a wine-pairing lunch at Ember and wine-themed dinners in private dining rooms attached to Toscana and Polo Grill. Hidden between those two restaurants is Privee, another intimate dining room where two special dinners are held: Odyssey (described as a "gustatory journey for the senses") and the Dom Perignon Experience that pairs special Champagnes with equally special dishes.
But the food options don't end with the restaurants. The Bakery by Baristas was a popular spot for daily beignets, quiches and pastries. Afternoon tea in Horizons is an Oceania specialty, with your choice of Twinings tea, scones with jam and clotted cream, tea sandwiches and cakes and petits fours all wheeled around in glass carts by formally dressed waiters.
Bars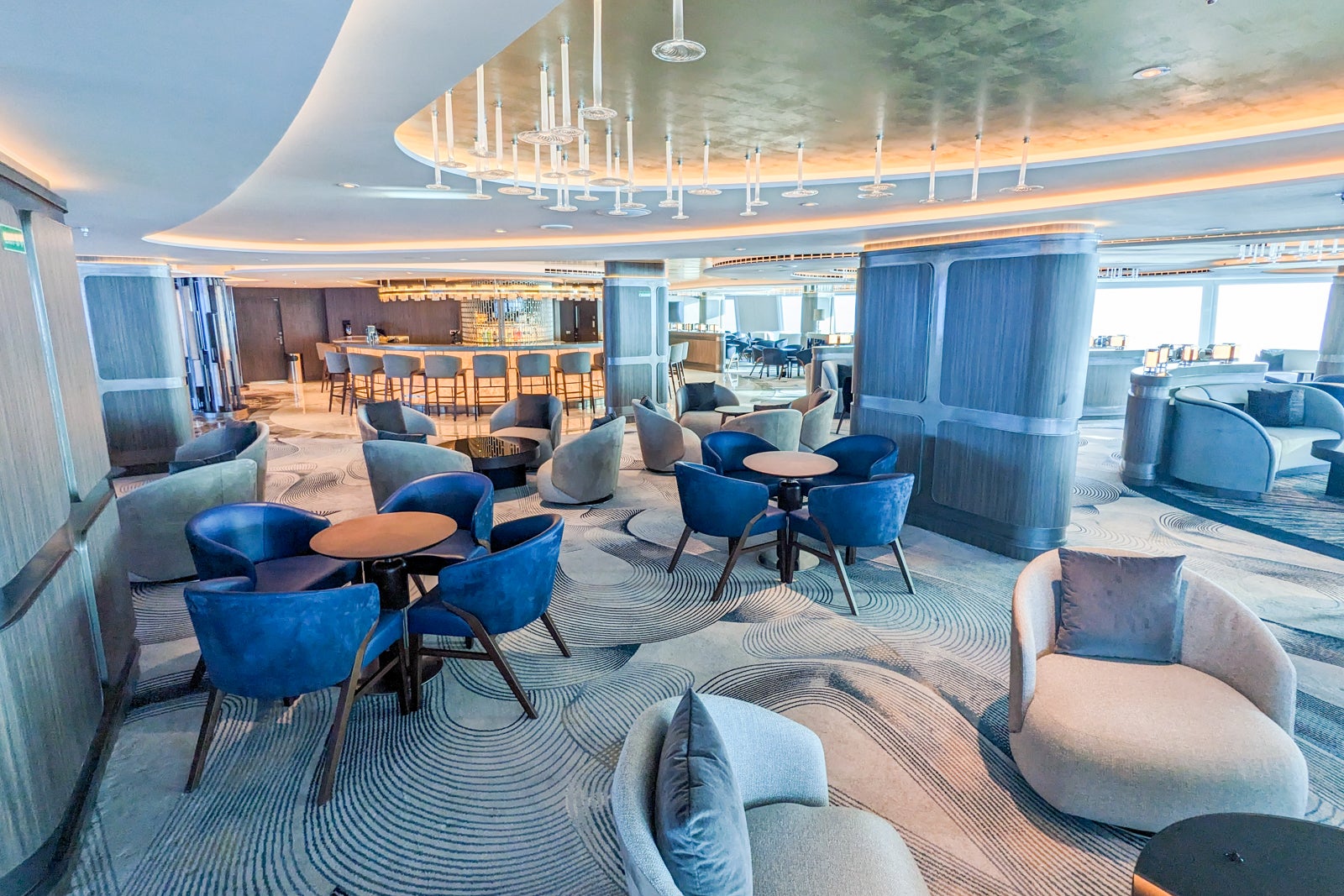 Vista's bars are hopping before and after dinner because there's not much else to do on board at night.
The Martini Bar is the most happening lounge, located near the Grand Dining Room, several specialty restaurants and the casino. A pianist performs here on and off throughout the evening. You can find all your standard mixed drinks here, as well as a special martini menu. At peak times, you might not be able to find a seat.
On the other side of the casino is the Founders Bar, a new concept for Oceania, dedicated to creative craft cocktails. If you like your drinks topped with smoke bubbles, frozen balls of fruit or sprigs of herb or dried fruit slices, this is your spot. Seating is limited, but you can request your drink be delivered around the corner to the Grand Lounge, a stunning scenery area where a classical string quartet plays in the evening.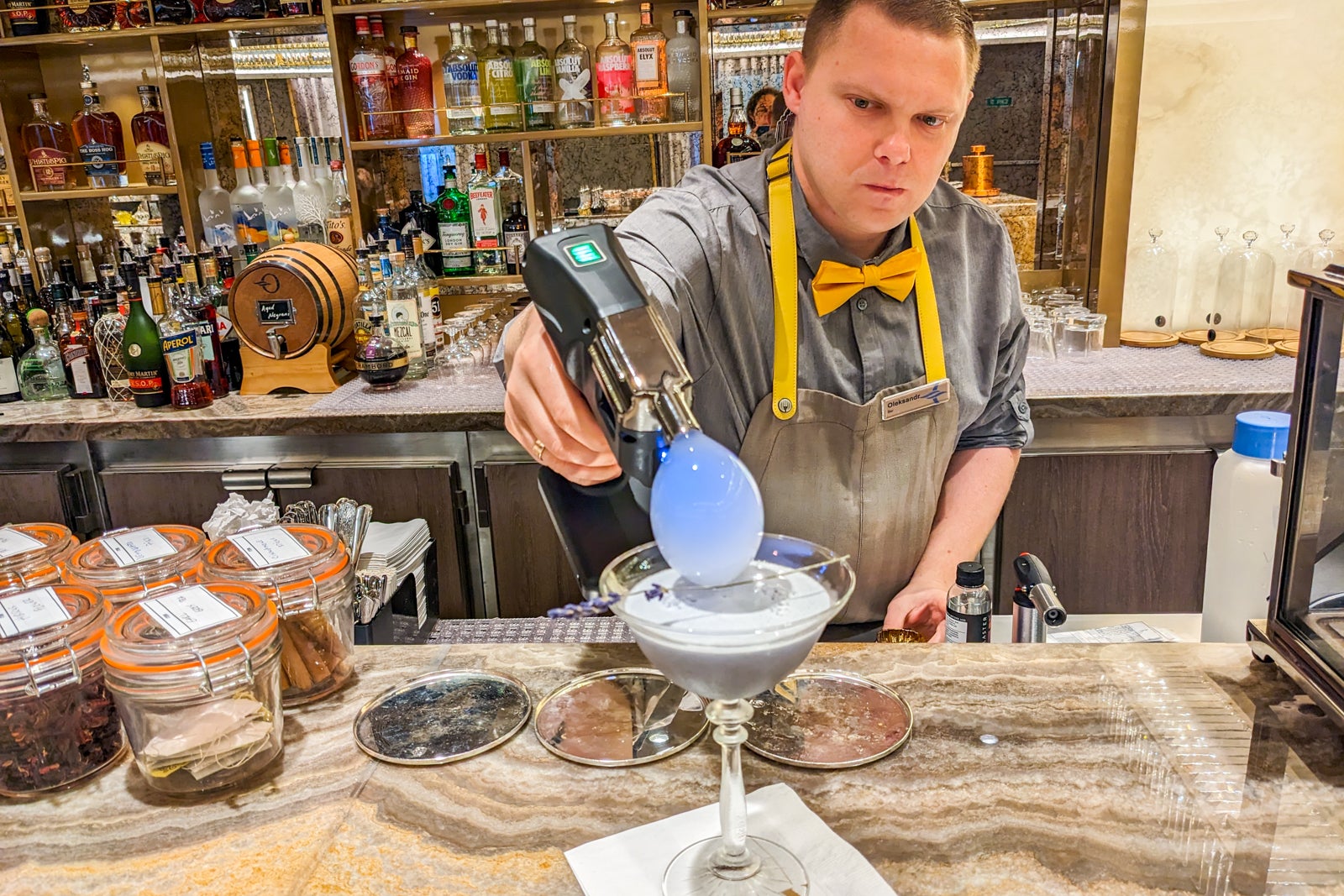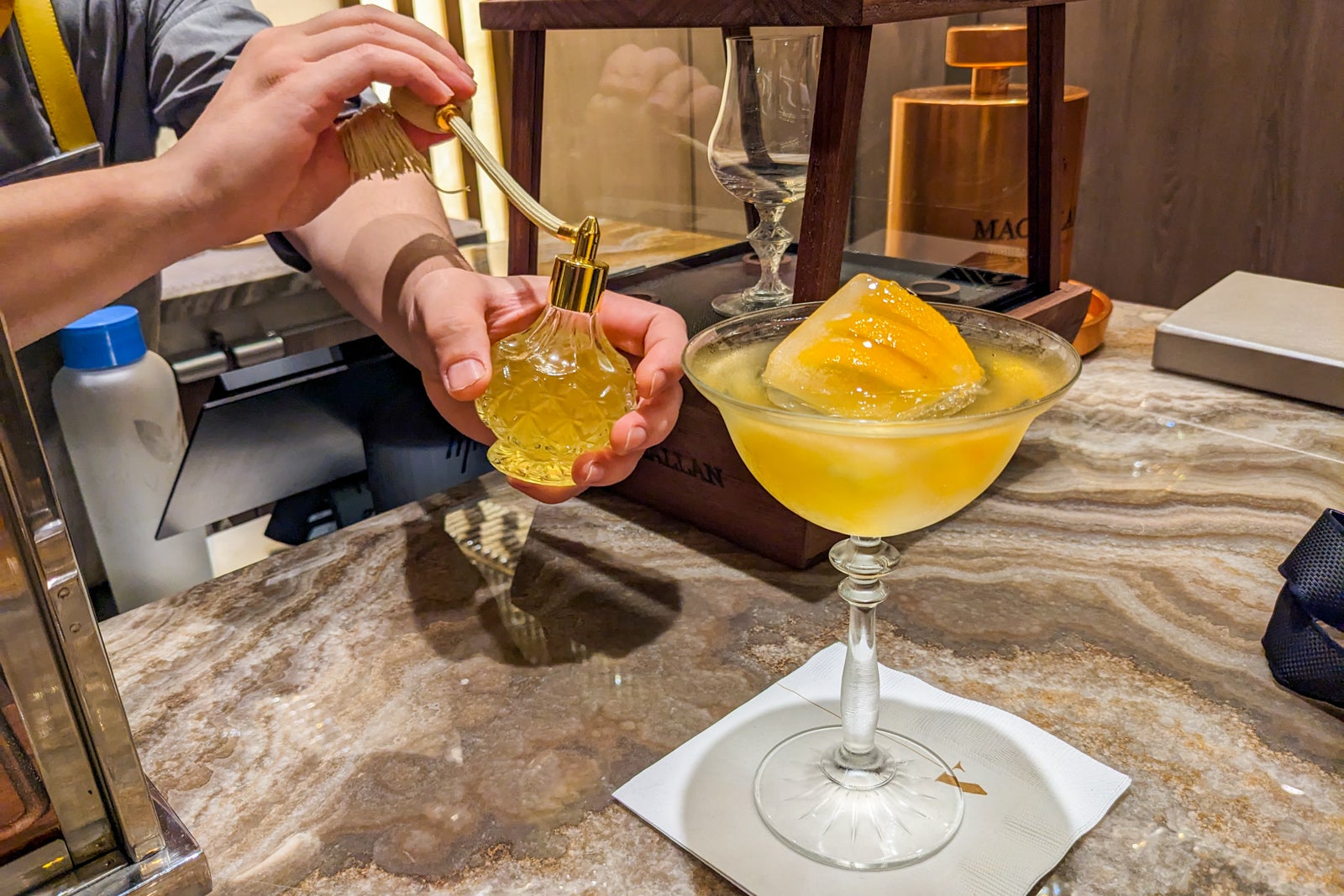 Be careful — it's so fun trying out all the crazy concoctions that you might bust your drink budget if you haven't upgraded to the premium beverage package.
Horizons is the observation lounge at the top of the ship, looking forward. We heard rave reviews of the live band here and some choice words about the resident DJ, but if you want to watch the sunset or get your groove on after deck, Horizons is the bar for you.
Baristas is the coffee bar by day and aperitif bar by night. Get your daytime caffeine fix with Illy espresso, macchiatos, cremas and more, including coffees spiked with booze. After 6 p.m., you'll find an Italian-influenced list of aperitifs and digestifs (amaretto, Campari, limoncello), as well as wines and cocktails (such as an Aperol spritz or negroni).
The pool bar serves all the daiquiris and coladas you can drink while lounging on Vista's gorgeous, resort-style pool deck. You can also order drinks at any of the restaurants. Aquamar has a lovely menu of nonalcoholic cocktails, fresh juices, lattes and smoothies.
Vista is also introducing new immersive cocktail experiences for the cruise line, which unfortunately had not yet debuted on my sailing. These will include a customizable Bubbly Bar in Baristas, a Bloody Mary Bar at lunch in the Terrace Café, a Macallan whisky and chocolate pairing, and cocktail-making seminars pairing Brugal 1888 rum with ice cream or tea.
Vista activities and shows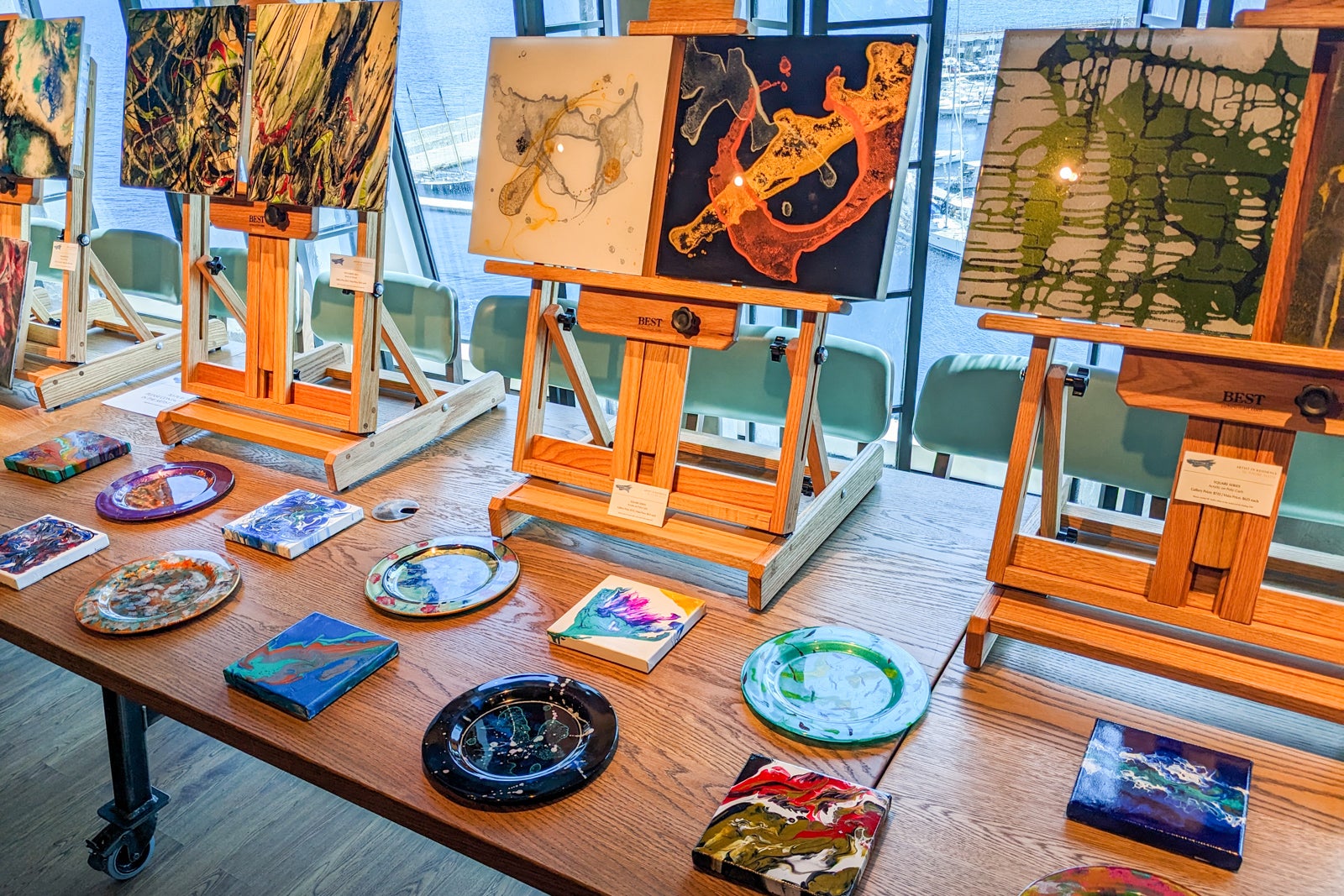 An Oceania cruise is a destination-focused trip, so onboard activities are kept to a minimum. You'll find trivia contests, spa seminars, casino tournaments and technology classes at the LYNC Digital Center, such as travel photography and photo editing for social media.
Where Oceania excels in onboard activities are with cooking classes and demos in the Culinary Center and art classes at the Artist Loft. Oceania brings on real chefs and working artists to lead the workshops. Sign up as soon as you get on board because these popular classes fill up quickly.
I tried a "drip technique" painting class where we decorated glass plates, and it was a far cry from the watercolor or needlepoint classes you might find on other ships. The two-part class explored a unique technique, and even though I'm not experienced in crafting and my plate looked pretty bad after the first class, the artist knew what he was doing, and my final product was surprisingly good. It's also a fun way to socialize with other passengers and the artists in residence.
Vista's culinary center is three times larger than the versions found on sister ships Marina and Riviera. In addition to the test kitchen with 24 individual cooking stations, a second room can be arranged for lectures or even dinners. Classes are themed, often related to the ship's destination, and yes, you can eat what you cook. They do cost extra; fees start at $79.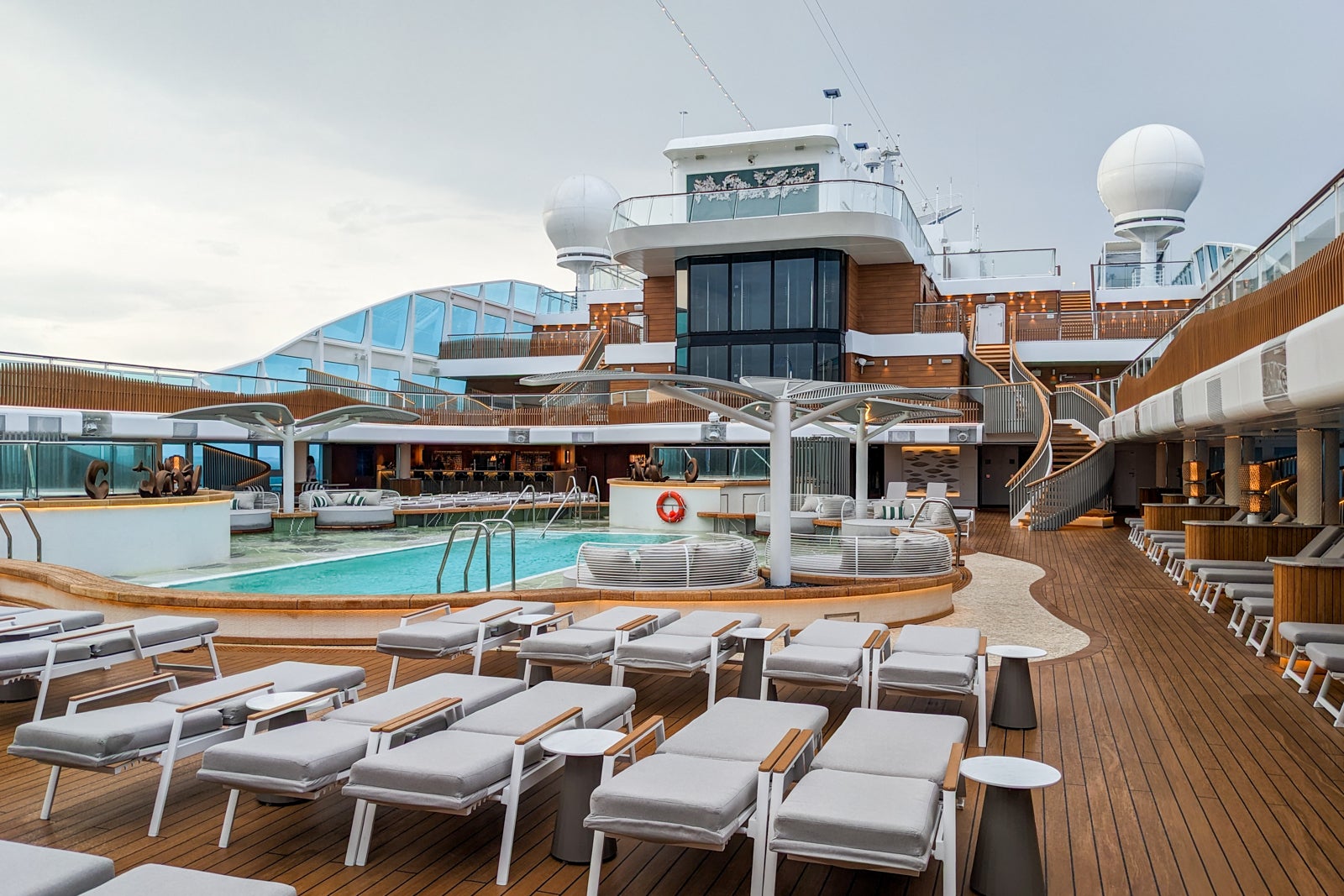 On a warm, sunny day, Oceania's gorgeous resort-style pool deck is the place to be with padded loungers and day beds, a main pool with a wading area around it and a couple of hot tubs. Sporty types should head to the ship's topmost half decks for an outdoor running track, shuffleboard, croquet/bocce, pickleball, mini-golf and a golf-driving cage.
The Aquamar Spa on Deck 15 offers a barber shop, salon, fitness center with aerobics studio and sauna and steam rooms in the men's and women's locker rooms. Concierge Level and suite guests receive complimentary access to the Aquamar Spa Terrace at the front of the ship, with two hot tubs and a thalassotherapy pool.
If it's cool and rainy, consider decamping to the nook- and book-filled library, where you can borrow games, settle in with your laptop or peruse guidebooks. Baristas is right around the corner. The ship also has the requisite shops selling fine jewelry and logo items.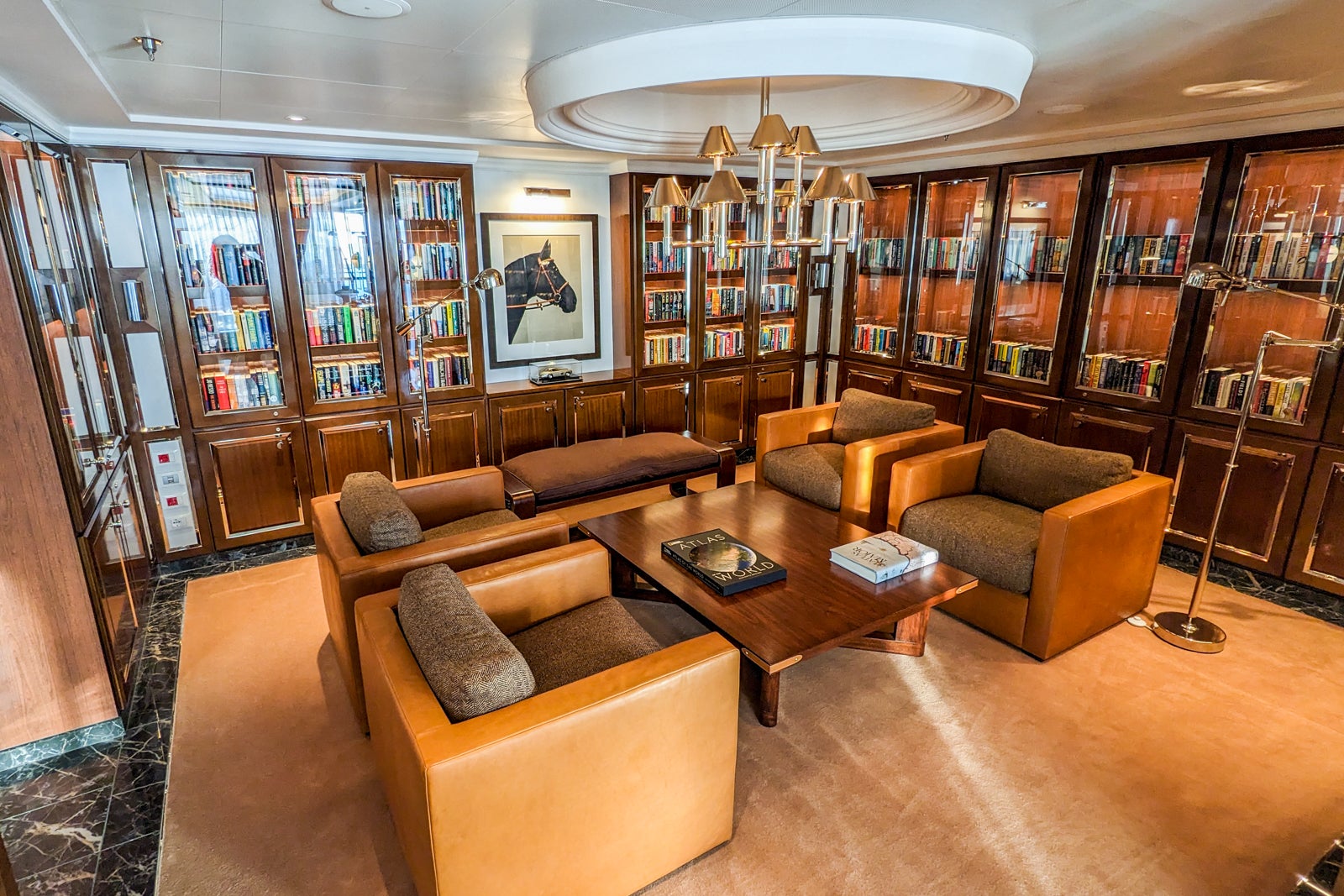 In the evenings, you can find a singer-pianist in Martinis, a string quartet in the Grand Lounge and a band followed by a DJ in Horizons. I heard great things about Vista's Music Station Band, but somehow I was always eating dinner when they were performing.
Each night, there's a show in the Vista Lounge, either a guest performer or a typical cruise ship song and dance show by the onboard performers. One of the new shows on Vista was choreographed by Britt Stewart, a professional dancer who's worked with "Dancing with the Stars."
Vista itineraries and pricing
Vista will spend its summers in the Mediterranean and winters in the Caribbean. In fall 2023, the ship will also visit Canada and New England and transit the Panama Canal twice. Cruises range in length from seven to 90 days, but most are one to three weeks in length.
Cruise-only prices start from $1,799 for a French Veranda cabin or $2,049 for the lowest-category balcony room on a seven-night Caribbean cruise. Alternatively, you can choose Oceania's more inclusive and expensive OLife fares; these start from $2,599 for the French Veranda cabin or $2,849 for a regular balcony room.
The current OLife promotion runs through June 30 and includes round-trip airfare and transfers, plus your choice of four shore excursions, a beverage package or $400 onboard credit per cabin. Starting in July, the line will offer a set of included perks, without the need to choose, but the actual inclusions may change during promotional periods.
What to know before you go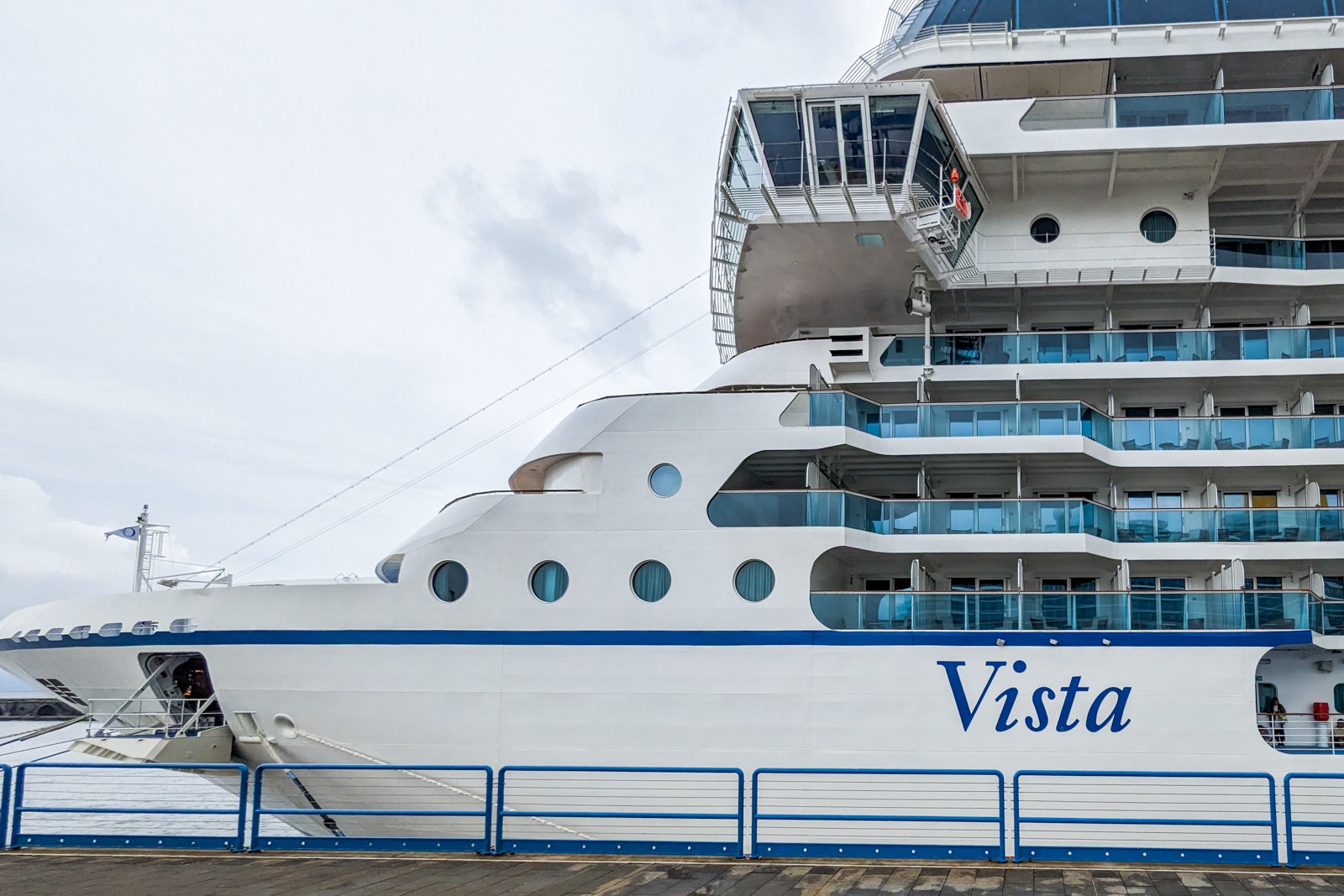 Required documents
The travel documents you need for your Vista cruise are determined by your itinerary and homeports. For most cruises, you will need a passport that is valid for six months after your trip ends. For round-trip sailings out of U.S. homeports, a birth certificate and government photo ID will suffice. It's up to each passenger to determine if any of the ports of call require additional visas.
When you finish checking in online for your cruise, Oceania will email you a boarding pass that you should print out and bring with you to the terminal.
Gratuities
Crew gratuities are added to your onboard bill and amount to $18 per person, per day, in Concierge-class rooms and below, or $23 per person, per day, in upper-level suites. Gratuities can be prepaid. You are always welcome to tip above the auto-gratuity for exceptional service. All tour guides should be tipped in cash at the end of a tour.
A 20% gratuity is added to onboard bar and spa bills.
Wi-Fi
Vista is one of the first Oceania cruise ships to use Starlink high-speed internet. I can attest to the speed of Oceania's premium plan after attending a 90-minute Zoom meeting with only the slightest of lag.
Every cabin comes with one free Wi-Fi login (for one device at a time), or you can pay to add additional devices or for the premium plan that accommodates music and video streaming.
Carry-on drinks policy
Passengers can bring up to six bottles of wine per cabin for consumption in their room. If you wish to drink your own wine in a restaurant or public area of the ship, you will need to pay a $25 per bottle corkage fee.
Smoking policy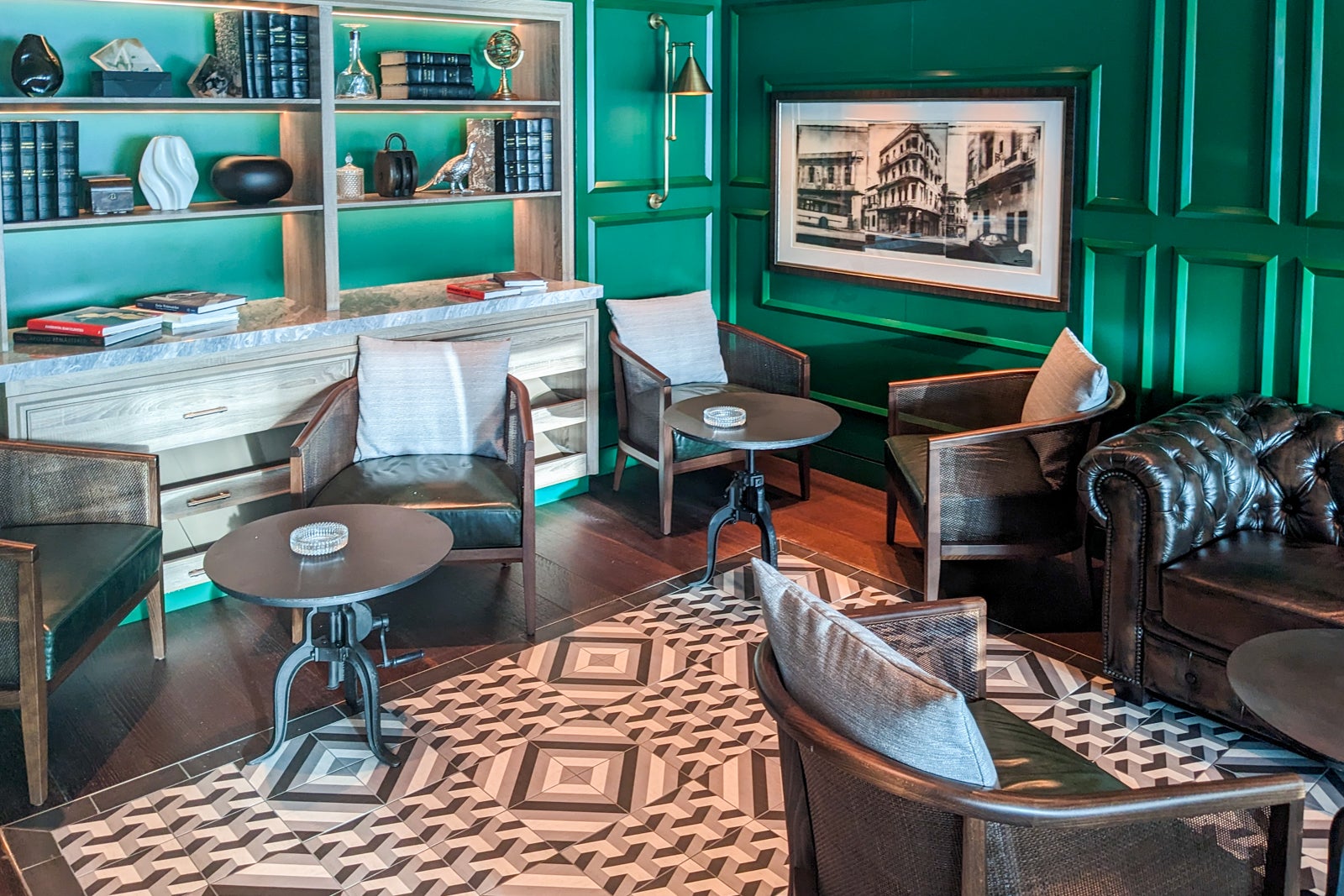 Vista offers designated areas on the Deck 12 pool deck (forward, starboard corner) and in the smoking lounge on Deck 14 forward, outside Horizons. The latter is a gorgeous space with forest-green walls, but it is entirely indoors. This policy applies to e-cigarettes, pipes and cigars, in addition to regular cigarettes.
Smoking is forbidden everywhere else on board, including in cabins and on private balconies. Passengers who are caught in violation of the smoking policy will be disembarked at the next port of call and may also be required to pay additional fees to cover costs for cleaning or replacing damaged furniture or decking.
Laundry
Vista has complimentary self-service launderettes on decks 7, 8, 9, 10 and 11. Each is outfitted with a detergent dispenser, washers and dryers, an ironing board and a seating area with a TV if you choose to wait for your load to finish. You can walk away while your load runs, but set a timer because folks will remove your clothes if you don't pick them up in a timely fashion.
Alternatively, you can pay to send out your clothes to have them washed and/or pressed.
Electrical outlets
Vista's cabins and suites offer electrical outlets and USB ports on both sides of the bed and by the desk. You'll find both U.S. 110V and European 220V outlets. Americans may want to bring an adapter for charging devices in public rooms where the outlets are all European-style.
Currency
The onboard currency is the U.S. dollar. The reception desk can change dollars for the local currency.
Drinking age
You must be 21+ to drink alcohol onboard all Oceania cruises. When the ship is in international waters, young adults ages 18 to 20 may purchase and drink beer or wine (as well as the House Select beverage package).
Dress code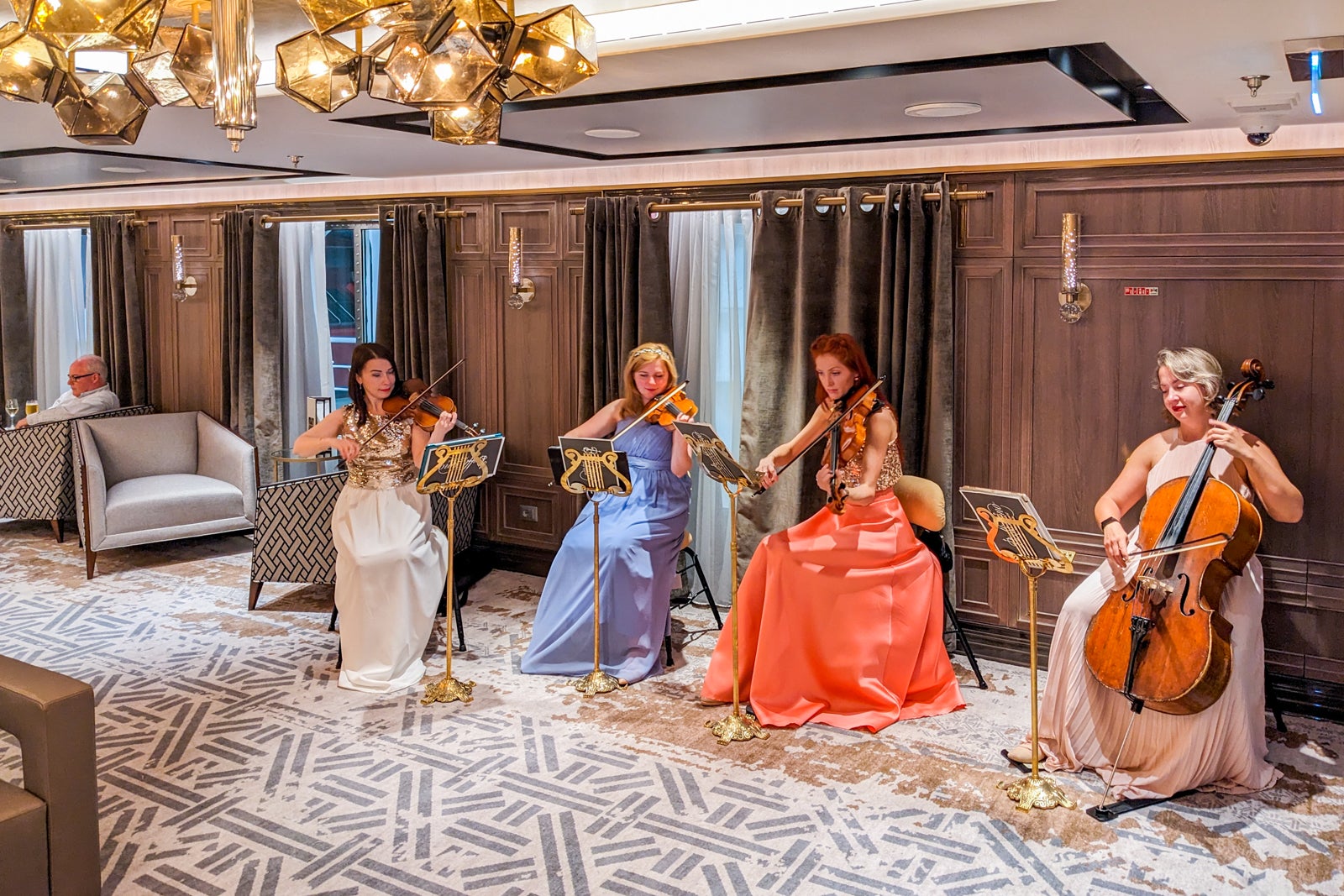 Oceania does not have a complicated dress code with specific attire required on certain evenings. Instead, the line suggests "elegant casual resort wear" for evenings and requests that guests do not wear casual jeans, shorts, T-shirts, baseball caps, casual sandals or sneakers in the restaurants after 6 p.m.
For casual dining, choose the Pizzeria or Terrace Café for your evening meal. Shorts and baseball caps are allowed; athletic wear is not.
Elegant casual resort wear translates into date-night dresses (but not full-on cocktail attire), skirts and blouses or dressy pants and tops for women, and collared shirts and slacks for men. Jackets and ties are not required.
During the day, casual attire is fine, but please don't wear swimwear, bathrobes or pajamas in public areas. You'll need footwear if you leave the pool deck.
Bottom line
Vista is an elegant mid-size cruise ship that's the perfect home base for travelers who appreciate dining variety, enjoy interesting cocktails and fine wines and wish to explore the Mediterranean and the Caribbean.
Cabins and suites are thoughtfully designed, though, for longer voyages, you might need to take advantage of onboard launderettes as cabin storage might be tight.
Vista offers a high-end experience on a beautifully designed ship, but you'll have a choice in how you spend your vacation budget rather than paying upfront for all-inclusive fares.
Planning a cruise? Start with these stories:
---
Share this post
---
---