Upcycling Tips for the Home
Posted by admin on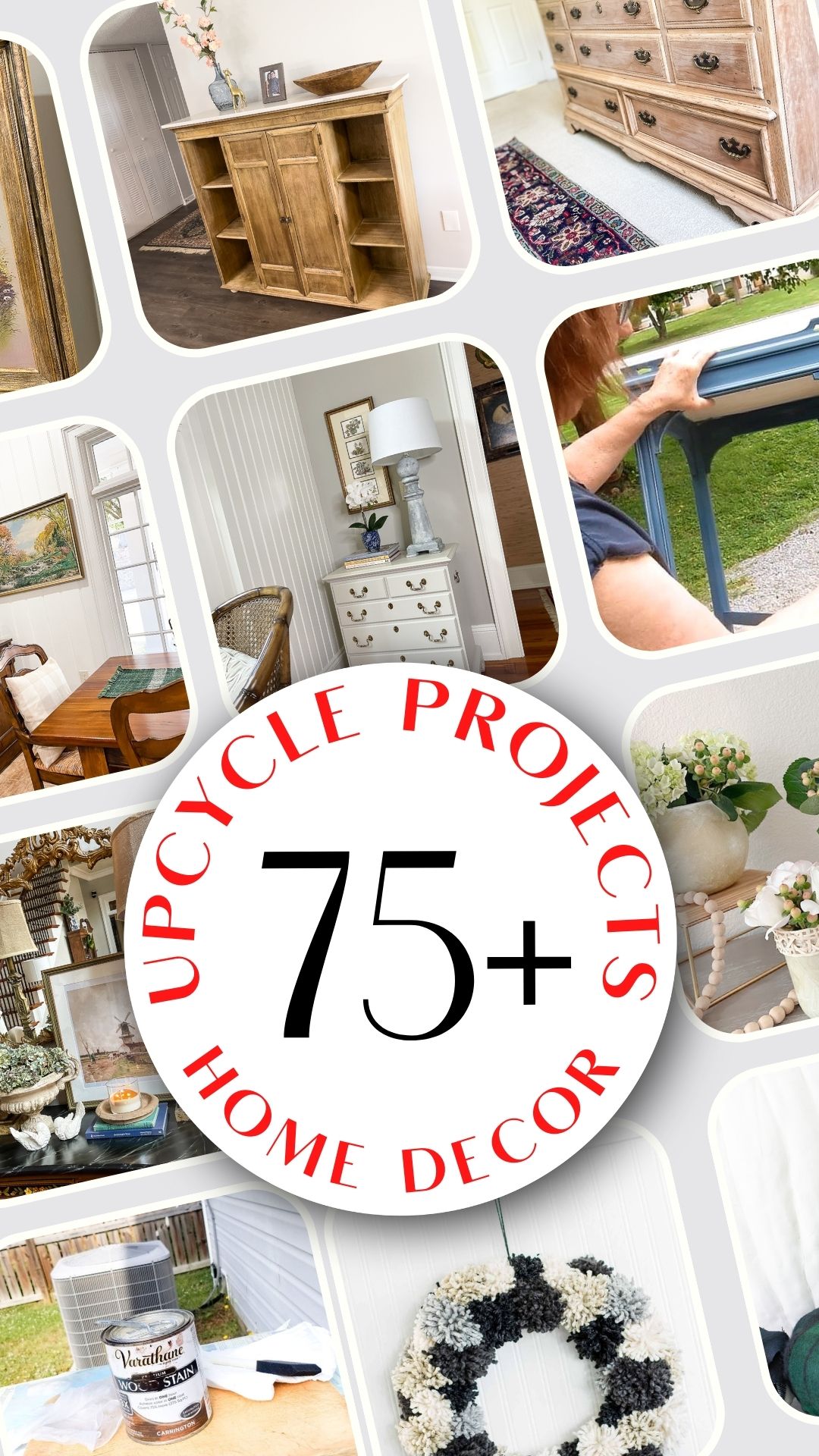 Learn valuable upcycling tips for the home to decorate your home on a budget from bloggers that have been DIYing for years.
Latest from OSH
Upcycling Tips for the Home
Are you looking for unique and creative ways to decorate your home without breaking the bank? Upcycling is the perfect solution! Upcycling allows you to turn pre-owned items into something new and beautiful. These preowned items may be from the thrift store, salvage yards, charity shops, flea markets, and your own home just to name a few!
With the right tools and imagination, you can upcycle furniture and decor for your home and create a one-of-a-kind look. Today a few of the ladies from the thrift store team will be giving you tips on how to upcycle decor and furniture for your home. With these tips, you'll be able to create a unique, stylish, and budget-friendly look for your home. Let's get started!
If you are not familiar with the thrift store decor team, be sure to subscribe here so you never miss a new post. Each month we give new life to items for our homes. I'm sure you will be inspired.
Why should you upcycle?
Webster's Dictionary defines upcycle (verb)
to recycle (something) in such a way that the resulting product is of a higher value than the original item : to create an object of greater value from (a discarded object of lesser value)
This can apply to things that you already own or items that you find when out thrifting, junking, yard sale shopping, or antiquing.
Nothing is more satisfying than giving new life to those discarded pieces of furniture and decor.
I'll admit that when I was much younger, I thought it was utterly stupid when my mom went to the thrift store. Yes, I've had to eat those words.
Nothing gives me more satisfaction than getting a compliment on our home to be able to say that it was a thrift store find. It can get a bit addictive once you start DIYing and transforming the treasures.
It is true that one person's junk is another's treasure!
What should you look for when upcycling?
I've been thrifting for years now. Luckily both of my kids enjoy it as well. My daughter even spent the year before her wedding making over items for her first home.
It can be very easy to grab up everything that you see when thrift store shopping. Believe me…I know! I have quite the stash in our attic and garage. I've really been getting it dwindled down between our home, the kids, and our Airbnb.
I've become much more selective in recent years when thrifting for our home. I don't have a shop to sell upcycles in, but it can be a profitable endeavor if that is of interest to you.
Make sure you purchase items that work with your design style.
Regardless, upcycling is a great way to breathe new life into decor pieces.
Here are a few of my favorite things to be on the look for when shopping:
lamps
stools
frames
artwork
candlesticks
baskets
boxes
small occasional tables
trays
Occasionally, you will come across a unicorn! That item needs no work, just a little cleaning.
Tips for upcycling in the home
Always inspect the object to make sure it is structurally sound or can you fix that? Wobbly furniture legs can usually be repaired with wood glue.
Does the object have good bones?
Will paint make it look 110% better? Paint is your upcycling friend.
Can you easily change out the fabric on a stool or small chair with a staple gun? If it requires serious upholstery, I usually pass because I am looking for simple. There are many great upholstery tutorials out there that can really work wonders if you have the skill and patience to sew. Miss Mustard Seed has some amazing tutorials.
Lamps
I always check out the lamps section. Some paint and a new shade can work wonders. Lamps can be very expensive and you can really find some great gems!
Art Work, Frames, and Mirrors
Frames and art are also a must for me. This recent makeover had me removing art that I liked from a thrift store piece and using a found frame to complete the look.
I love finding art that I love. Did you know that you can paint the mats white? Wow! You've got a totally new look!
Mirrors are so versatile in home decorating. Many times a little Rub 'n Buff can work miracles. Sometimes a fun painting technique can totally transform the look.
Furniture
I have bought all kinds of used furniture to use in our home, for staging, and for the Airbnb. Most of my staging inventory from years ago was thrift store makeovers!
Always carefully inspect your furniture purchases. I love to look for dovetailed drawers. These are going to be sturdier and usually a higher-quality piece.
Sometimes you can take just part of a thrift store piece. This fabulous bar makeover came from the top part of a china hutch.
Perhaps my favorite furniture finds in recent years is stools. They are so versatile. They can work as a stool for your feet, to sit, or even work as a little side table.
Coffee tables are also great candidates for upcycling projects. Sometimes it's as simple as a fresh coat of paint. Don't be afraid to put a little elbow grease into a project. It is so satisfying.
Boxes and Baskets
Boxes and baskets are other items that I like to check out. They are typically very simple makeovers, but can look like a million bucks!
Favorite Supplies for Upcycling
scissors
flat white paint for frame mats
I hope you've been inspired to give a new lease on life to some fabulous finds. Sometimes it's as simple as a fresh coat of paint.
My Favorites from the team!
You are in for a treat. Below you will find a grid with numerous tips (over 75!) on upcycling home decor. Just simply click on the thumbnails below to visit the tips and projects. 
Here are a few of my favorites from the team!
Applying wax to furniture can be a learning curve when just getting started. It gives a gorgeous finish to chalk-painted furniture. Be sure to check out Kathy's tips on applying wax to furniture and decor. 
Kristen totally knocked this project out of the ballpark! I had honestly never heard of this technique, hydro-dipping. Think of all those clear vases and jars that you see at the thrift store. With a bucket of water and spray paint you can create this gorgeous marble look for a fraction of the cost. These would be so great for gifting spring flowers in your garden. 
I have always wanted to build a bench like this. In fact, I have a bed in the attic that I purchased for this very project! Gail has numerous tips in this one informative blog post from creating pocket holes to keeping screws from squeaking!
First of all, you've got to check out the finished project from Sarah. She is one talented gal! I am always amazed by her projects. Wooden cutting boards are typically plentiful at the thrift store. They can look pretty yucky and you know they've retained odors. She is sharing this simple way to remove the odors. Be sure to check it out! 
Suzanne totally transformed this bath with her secret weapon! I just can't get over the transformation of this bathroom from the mirror makeover to the light fixture! She is giving you all the tips on painting your existing metal light fixtures. What a lovely space!
Frequently, you can find bags of yard at the thrift store or even on Facebook marketplace. If you knit or crochet, it's a great way to use up yarn from old projects. Maryann has a great tutorial on how to make pom-poms from yarn. These are great on an entire wreath like in the above photo. You can also use them to make adorable buntings to hang on your mantel for holidays or even to use on wrapped presents!
Visit the other projects below!

The post Upcycling Tips for the Home appeared first on Our Southern Home.
---
Share this post
---
---