Transitional-Style IKEA Mudroom Fits Neatly into Colonial Home
Posted by admin on
Overlooked areas in your home can be transformed into mudrooms with IKEA's AXSTAD cabinets.
You've recently moved into a new home and are very eager to remodel using IKEA cabinets. Great. Maybe you've already renovated your master bathroom using IKEA materials and were pleased with the results. Now you've set your sights on building an IKEA mudroom in the only underused room in your home. However while you know you want the mudroom to complement the aesthetics of the home (especially the abutting kitchen), you also need time to acclimate to the mudroom space and make sure you understand all of your storage needs.
This was the main challenge facing customer Michelle from West Hartford, CT, who selected IKEA's SEKTION kitchen system and IKEA's AXSTAD Matte White wall cabinets — along with some clever cabinet modifications to create a warm, welcoming (and highly functional) IKEA mudroom.
"The mudroom is adjacent to the kitchen so we wanted it to blend as much as possible. We also knew we wanted to paint the existing cabinets white as they're in excellent shape. We're avid hikers so we wanted a coat closet; to maximize shoe and other storage space; to add a new charging station (or two); to include a bench and to have shoe cubbies on the floor for muddy shoes and boots," Michelle describes.
After doing research of IKEA kitchens, Michelle found IKD designer Frank online to design the mudroom which she describes as a "transitional-style mudroom that fits with the rest of our typical New England colonial house." Along with IKEA AXSTAD cabinets, the 53-square-foot mudroom features IKEA's BARKABODA walnut veneer countertops (featured in the cabinet cubby as well as on the custom 15″ (d ) x 50″ (w) bench); IKEA BAGGANAS black knobs (measuring 13/16″) as well as extra items such as a matte white IKEA FORBATTRA toe kick; a matte white IKEA FORBATTRA cover panel; a galvanized IKEA FIXA countertop support fixture and an orange IKEA FIXA drill template. Combining these materials cohesively was key as the ceiling height in the mudroom ranges from 86″ in the back to 102″ throughout the remainder of the room — ensuring that every possible inch of storage was used. Even more impressive is that the total IKEA cabinet cost was $2,359 and the Extra Items list costed $1,489 – for a total cost of only $3,848 !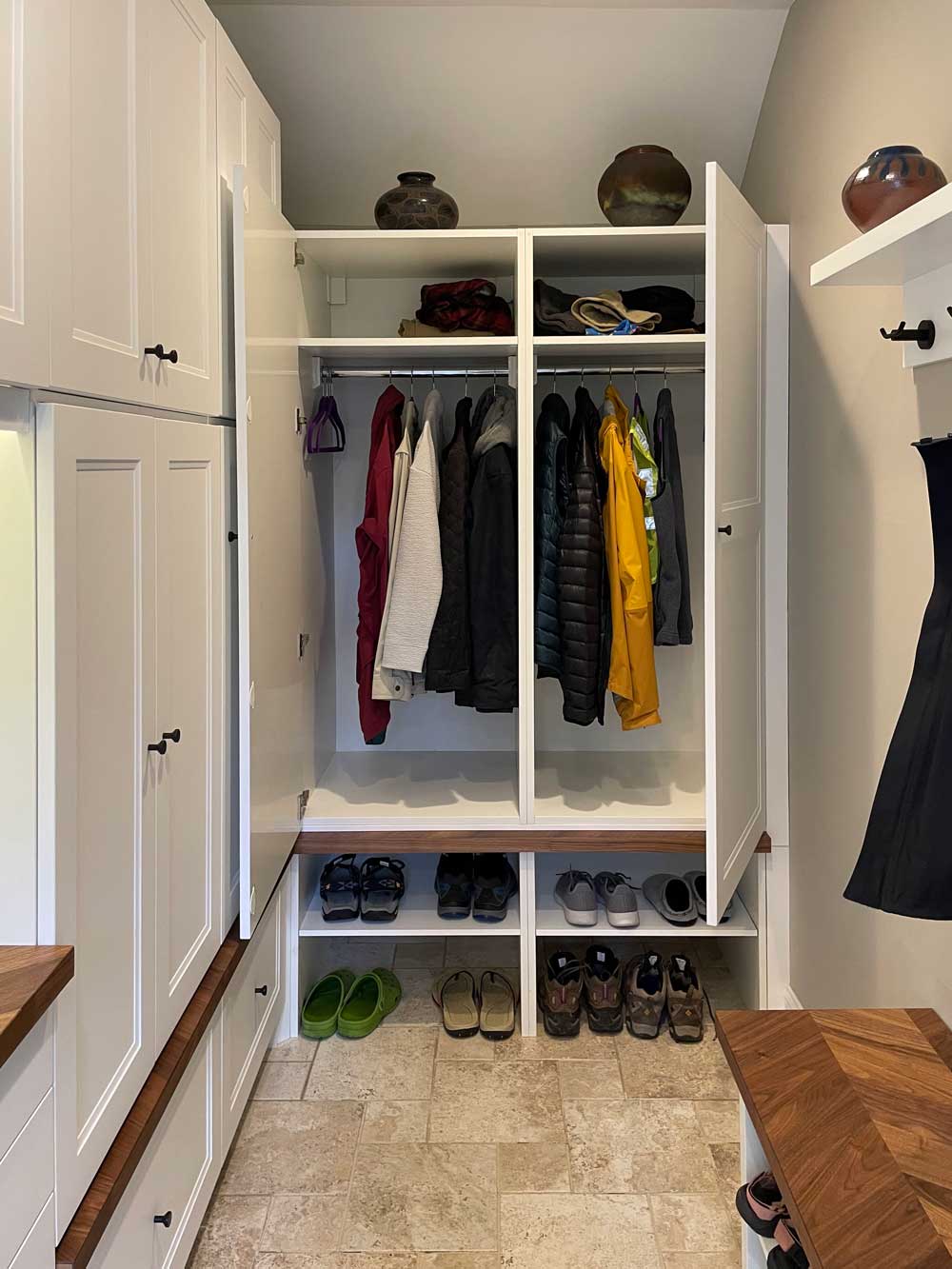 The mudroom also includes several IKEA cabinet "hack" modifications. One custom cubby/bench, custom cut cabinets and stacked wall cabinets on the left side of the mudroom, provides a dynamic built-in look and extra storage options. The back cabinets feature 80″ tall IKEA AXSTAD cabinets custom cut to 60″ and a custom bench was built on the right side by a local carpenter, ideal for getting ready for a long day on the trails.
Let's see how Michelle's IKEA mudroom came together!
Personalized IKEA Mudroom Designs
Created by Certified Designers
Our IKEA Mudroom Design Package is everything you need
to complete your new mudroom with confidence.
GET STARTED
Installed With Ease
Michelle had previous DIY experience after remodeling her master bathroom when she and her husband first moved. So it wasn't hard when they opted to assemble and install the IKEA cabinets for her mudroom. (They even did the electrical themselves!)
"That bathroom project included a new vanity, toilet, storage closet, lighting, mirror and tiling around the sink. For this mudroom, we started planning in October, 2022 and completed the work in April, 2023. The installation took approximately two weeks and there were no delays by IKEA or by contractors. With regard to IKEA back orders our designer simply substituted in-stock materials so it was smooth sailing," Michelle explains.
To support the project, Michelle also hired a local carpenter who specializes in fine woodworking to do the cutting of large cabinet pieces as well as the countertop and to translate IKD's design plan to make the bench and wall shelf. She adds that she decided to work with IKD because "we liked the ability to mix and match IKEA products in creative ways that go beyond what the IKEA store designers do".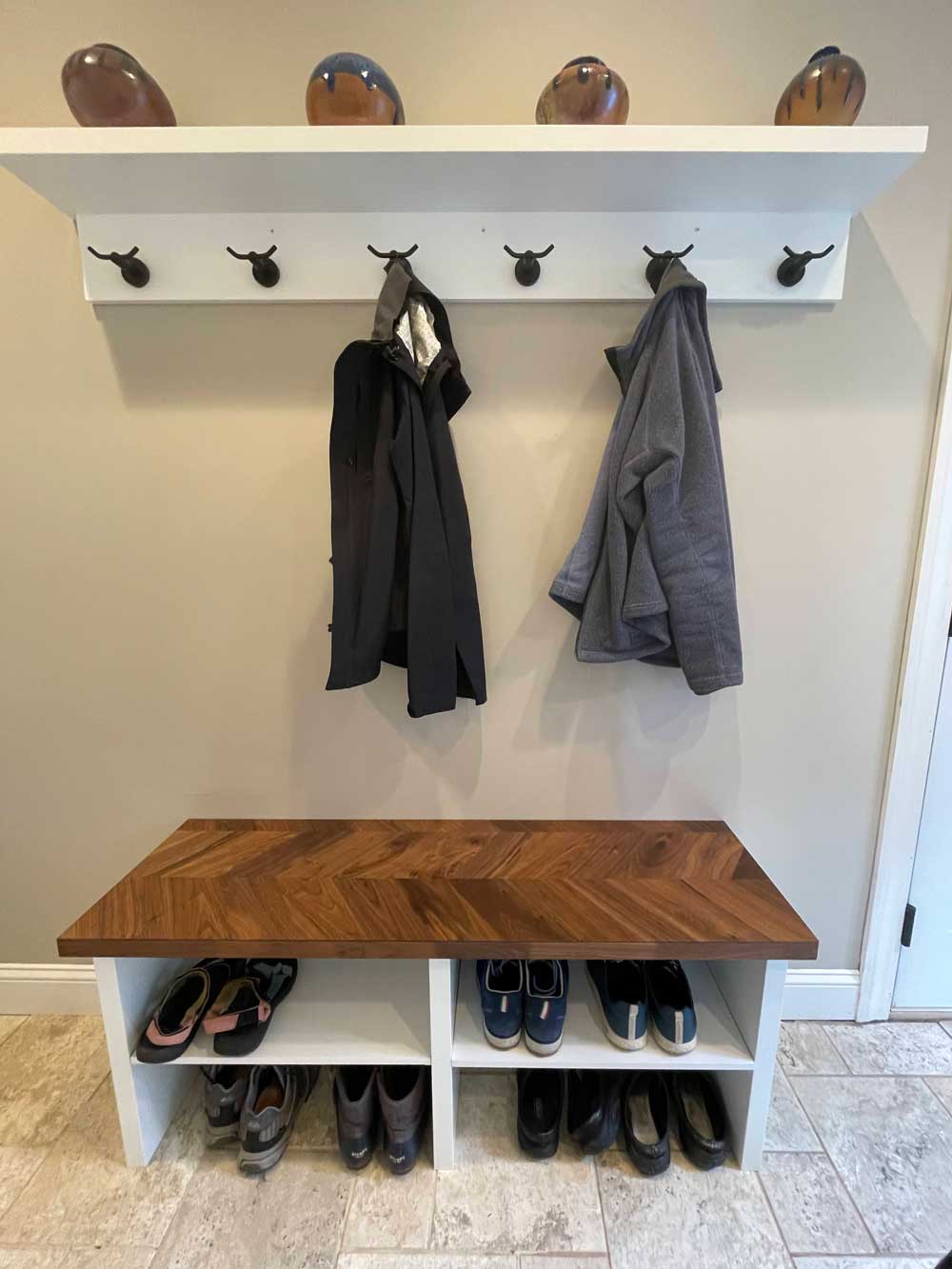 No Mud, No Lotus
Since the mudroom was the remaining unfinished room in their home, Michelle and her husband wanted to make sure it worked functionally and aesthetically with the rest of the home.
"We had explored semi-custom cabinets but availability was iffy and the price was significantly higher than IKEA. Plus, we liked the look of IKEA cabinets. Our IKD designer suggested AXSTAD matte white cabinets to best match the abutting kitchen and we're glad they did!"
This was key as functionally there were concerns about the corner cabinet doors hitting each other, which would have rendered the space inefficient. To address this, they devised a unique corner brace to connect and support the L-shaped structure of cabinets. This also allowed them to maximize storage without having to eliminate other wish list items, such as the custom bench.
The couple also requested cabinets with drawers instead of doors; tall cabinet shelves; wall corner shelves; wall cabinets to ceiling; coat hooks; an enclosed coat closet as large as possible; a computer and charging station; two drawers for office supplies and the maximum amount of shoe storage (including open shoe cubbies) yet still easily accessible for hats and gloves; a bench with cabinets above; display spaces (made from plywood by their carpenter) for pottery and a narrow cabinet to keep cutting boards and serving trays upright.
They selected IKEA MAXIMERA medium drawers to complement the IKEA AXSTAD wall cabinets (including a two-outlet charging station in the cubby cutout) to easily hold seasonal clothes, backpacks and other sports equipment and make getting ready and unpacking of gear smooth. The charging is an IKEA AXSTAD base cabinet with drawers that measure 24″ (w) x 30″ (h). And they now display their pottery collection on the shelving over the bench as well as on top of the back tall cabinets, adding a punch of color to the neutral tones of the space.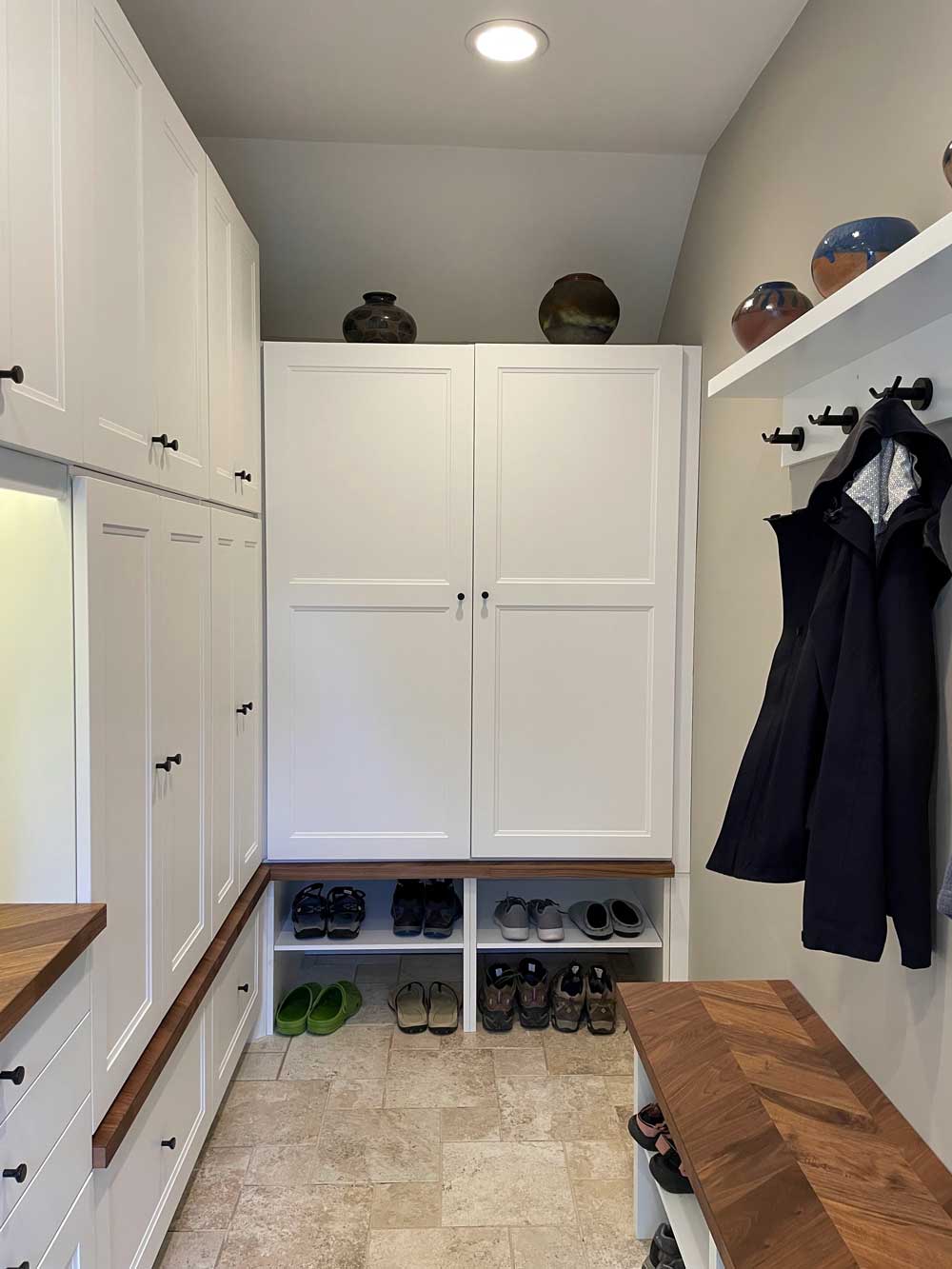 Modified Mudroom
One of the other keys are the design modifications (or cabinet "hacks") done in the space.
"The main challenge was devising and installing the brace for the L-shaped corner structure, but it worked very well. We also custom cut the height and depth of the coat closets and made shoe cubicles out of extra shelving that we purchased. We had our carpenter use the remaining piece of butcher block to make a bench out of furniture-grade plywood as well as the 60″ (l) by 9″ (w) pottery/hook shelf above it," Michelle offers.
Specifically for the coat closet area in the back, the couple chose to custom cut the tall 80″ units to 24″ (w) x 24″ (d) x 60″ (h) with the doors 24″ (w) x 60″ (h). The closet area also features one interior shelf and one suspension rod.
Meanwhile the adjacent section features a custom configuration of 24″ (w) x 15″ (d) x 15″ (h) with the drawer front 24″ (w) x 15″ (h) and the medium MAXIMERA drawer measuring 24″ (w) x 15″ (d).
When asked what her favorite part of the mudroom design was, she pointed to the uniqueness these custom touches created.
"We now essentially have a beautiful built-in pantry/mudroom/coat room that didn't exist before. It's as if we added a new room to the house — and it matches the rest of the house beautifully," Michelle concludes.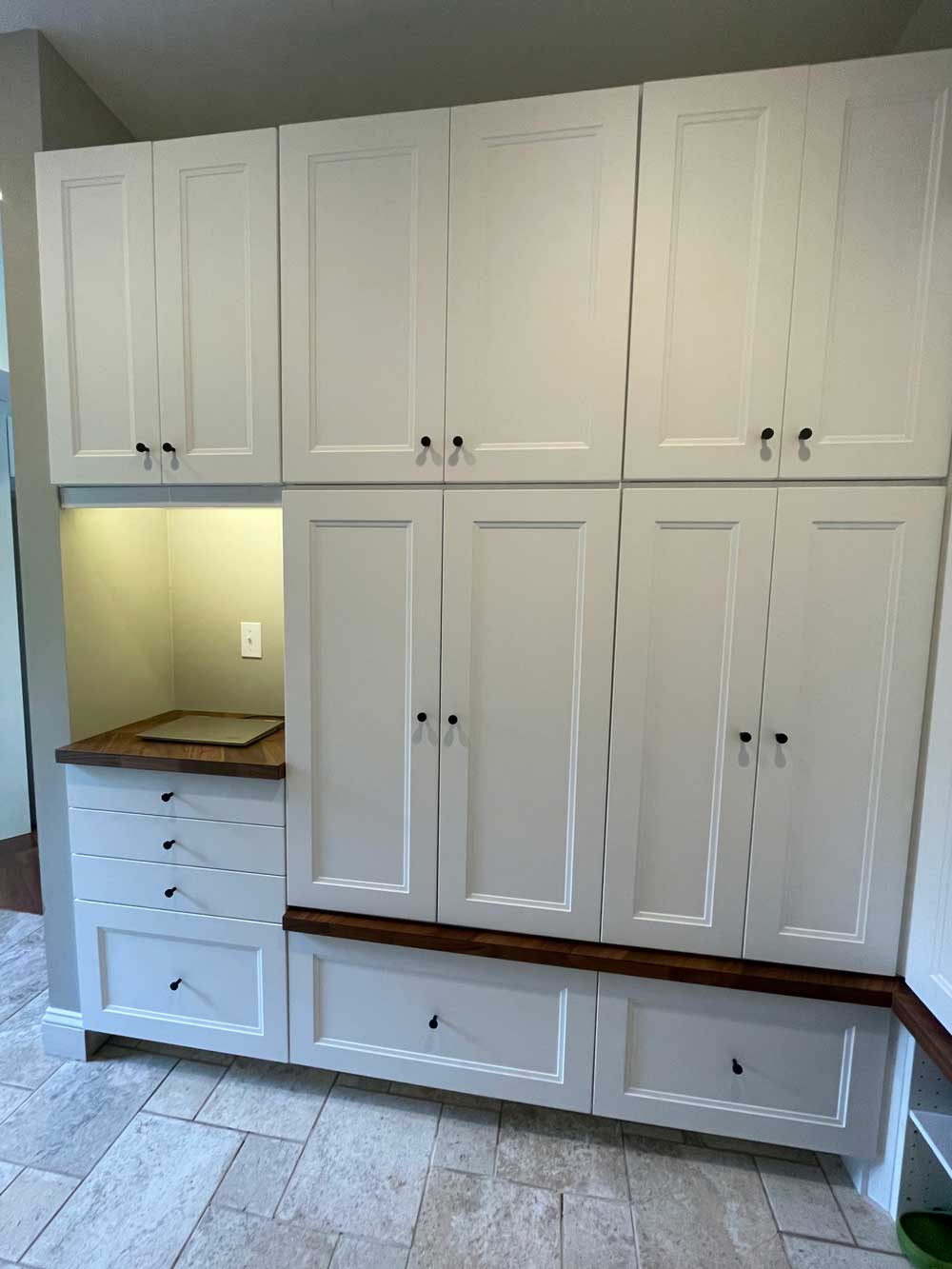 Good Advice
With her DIY mudroom project completed (and a success), Michelle offers some advice for other IKEA remodelers (https://inspiredkitchendesign.com/5-customer-tips-for-a-successful-ikea-kitchen-remodel/).
"I think our strategy of doing all the cabinet assembly and most of the installation ourselves made a lot of sense and was incredibly cost effective. It also helped that we hired a specialty woodworker for the beautiful finishing touches. Overall, IKEA has significantly improved the quality of their cabinets as well as the ease of assembly. We couldn't be happier!"
Michelle's transitional-style mudroom really shows how even previously overlooked areas in your home can be transformed with IKEA's AXSTAD cabinets. In fact, IKEA cabinets will create one-of-a-kind style — and function — options you may have never considered, much like how Michelle was able to incorporate additional kitchen storage into her mudroom design. Our design team is here to do the same for you. All you need is a design vision for your IKEA project as well. Let's get started!
Get a Professional IKEA Mudroom Design – All Online
Work with our certified designers to get a personalized mudroom designed around your needs and vision. If you're interested in learning more about our service, make sure to check out our IKEA Mudroom Design Services.
---
Share this post
---
---