Tiny House On Wheels Accelerates Easy Living For 2022
Posted by admin on
The tiny house on wheels (THOWs) lifestyle is more than a fad. As people embrace tiny living, many have discovered the added benefits that wheels offer. You can custom build. a tiny living unit with wheels, which offers more flexibility, among other things.
As remote work conditions become the standard, many people are combining work with travel, THOWs make this concept possible. If you're thinking about buying a mini house, and don't know where to begin, we can help. Here, we'll show you different custom tiny home designs and what makes them unique. 
So, now that you've joined us, consider this your first step toward a new way of living. We'll answer important questions and provide you with enough information so you'll be prepared to buy your first tiny domicile.
However, before we show you the best tiny living spaces on wheels, we thought it would be imperative to address a few common questions about the homes. 
Is It Legal To Live In A Tiny House On Wheels?
This is might be the most popular question among newcomers curious about tiny living units. To answer the question, yes, it's legal to live in a tiny unit on wheels, but there isn't a nationwide protocol that covers this issue. What that mean is, it depends on which state you're in and local zoning laws.
California, for example, is considered one of the best states for mini houses. In many counties throughout the central and southern regions, small houses on wheels are classified as "caregiver dwellings," which are legal in the backyards of those who require living assistance.  
Amazing Ideas For Tiny Houses On Wheels
Here are the best ideas on how you can transform your micro house with wheels.
This example has all the amenities of a traditional home. With small living spaces, less is more. 
Mini Art Deco 
The bright colors and clean lines make this mini home on wheels more than small home but also a functional and serious work of art. 
More visually stunning than the average ultra-small home, this angular and colorful version includes interior innovations that make the most of the small space.
With a rear sliding door and kitchen window, there isn't much this petite home doesn't have. 
Custom Interior Design

Inside, the light, warm wood gives the house an airy feeling. The structure is insulated with blown-in blanket insulation and radiant floor heating.
The tiny home interior design offers as many beautiful details as there are on the outside.
Modular Furniture
Modular furniture keeps the living area versatile and the kitchen has a good amount of work space, and a cool-looking row of small bins under the window that is as much décor as it is storage.
Tiny Home Bed
Tiny homes utilize modular furniture styles that also double as storage spaces.  This multi-purpose furniture piece is a couch, storage container, and bed.
A fold-down table can be used for dining or as a desk, and the concealed pantry keeps the design lines clean. Surprisingly, the bedroom loft is big enough to accommodate a king-size bed.
Tiny Loft
Tiny homes have tiny living spaces. What would you expect? Here is an example of how efficient micro homes are. The loft is above the kitchen space, and compact idea that you wouldn't find with any other home design.
Tiny Office Space
If you work remotely, you don't need a lot of space. A small desk for your laptop computer and a reliable WiFi connection is all you need.
Tiny Kitchen
With small living, you'll never have to worry about cooking for more than one or two people. Small kitchens make cooking easier as there's less to clean up after a meal. 
Tiny Living Room
The large door and small windows provide plenty of fresh air for this cozy interior space.
Custom Tiny Bathroom

The bathroom, with just 20 square feet, includes a mirror, small closet with a 20-gallon water heater, sink, shower, and toilet. It makes innovative use of a low-flow faucet that is used on boats and which can be hung to serve as a shower.
Japanese Aesthetic 
Tiny houses mean less furniture but this Japanese-style home makes the most of the tatami room concept. Pure minimalism at its cleanest and most serene, this tiny dwelling has all the amenities and without the clutter. The upper windows provide a fresh air source for this durable custom build design.
Stylish Interior Design
A tearoom, kitchen, loft, and bathroom make up the home. The décor is in line with Japanese traditions featuring tatami mats, a tea serving chest hidden in the floor and a soaking tub in the bathroom.
Nearly a dozen windows and skylights honor nature by bringing views into every part of the space. Next to the tearoom is the kitchen, with plenty of workspace on the 5-foot- butcher block counter. 
The compact kitchen includes a sink, fridge, freezer, storage, and a two-burner gas range.
Solar Energy Source

Tiny homes rely on renewable energy provided by solar panels. You'll never have to worry about a generator power source.
Wood Flooring
Japanese style carries into the sleeping loft that is above the kitchen, where three traditional two-and-a-half-inch-thick tatami mats serve as bedding. This is a beautiful tiny space that should appeal to those who feel at home with minimalism.
Gothic Living On Wheels
Here's a piece traditional American home architecture wheels. 
Renewable Energy Power Source
Some enthusiasts decide to make downsizing a complete DIY project, as Christopher and Melissa Tack did. The couple crafted a unique design that fits their life and work styles.
The home they designed accommodates both her career as a 3D artist and his work as a photographer – and their two cats. Storage space for his gear doubles as seating or a sleeping space.
Custom Tiny Interior
Modern Farmhouse Interior
Slightly larger than some tiny houses, the couple was able to create something that serves their priorities – even including a larger fridge. 
Cabin Style
Tiny house living doesn't need to be a complete lifestyle change. For some, it's more a retreat and recharge experience. Through Getaway, a Harvard start-up, you can book a tiny house in the woods, unplug, and completely relax – or focus on a project, whichever you choose.
Using tiny houses that were designed by students at the Harvard Graduate School of Design, the company books tiny houses in the woods that are close enough to Boston to be accessible, but far away enough to provide an unplugged experience.
While tiny, the stylish homes provide a queen bed, a stove, a toilet and shower, and classic books and board games.
Clean and minimalist, the homes have plenty of windows for wooded views, and have the comforts you need with plenty of floor space left over. While perhaps not designed for long-term, daily life, these retreats are reminiscent of old-fashioned cabins.
Recycled Materials On Wheels
In what perhaps might be the ultimate in upcycling, this tiny house is a salvaged trailer. In just three weeks, an Oregon man salvaged, renovated and sold this 200-square-foot cottage…for more than $36,000!
Unlike many tiny dwellings, this one looks more "residential" than many, both inside and out. The portico and windowed door look like they belong in a suburban neighborhood. The deck is removable should you want to move your home to a new location.
Inside, the home has a range and oven, a large refrigerator, sink that has a pull-out faucet, and traditional cabinet storage. The space is light and airy thanks to the  windows and interior glass doors.
The living space includes a seating area and a sleeping loft. Amazingly, the bathroom includes a 32-inch shower.
Off-Grid Luxury Living
It might look like a trailer, but this sophisticated looking tiny home is stunning inside and out and it's off the grid. The 8.5-foot wide, 221-square foot home is deceptively spacious.
The design creates a living space filled with beautiful details. Tiny houses aren't known to have two bedrooms, making this design a read standout. 
The main bedroom is accessed by stairs that double as storage space. The second room is accessible by a ladder.
The living area features a cozy window seat area and a dining or work table, separated by a wall divider of storage space.
Downstairs, the home has a true cook's kitchen complete with ample counter space, a range and stove and even a wine cooler and full-size fridge.
The bathroom has a sink area and a composting toilet. If you have to go off the grid, this is an example of how to do it in style and comfort.
The Ultimate Vacation Home
For some people – like Designer Hristina Hristova, a tiny house on wheels is the ultimate vacation house. Her 9-square-meter vacation house can drive down any road and provide her family with an affordable beach retreat.
The most striking feature of this tiny, portable home is the floor-to-ceiling windows on half of the home. These let in ample light and allow for fantastic views of the beach – or wherever the family makes their vacation. Inside, seating converts to a sleeping area and a sink, storage and microwave make up the spare but functional kitchen area. That and a WC is all you need when you're spending all your time outdoors, which is aided by a retractable canopy.
This vacation home may be a low-budget investment but it has a high return in functionality and vacation enjoyment.
Ulta Tiny Homes
Truly very tiny, this 75-square-foot house is rustic and spare. The fully insulated home stays cozy with radiant floor heating. The windowed loft provides sleeping space. A custom fold-out table and bench seats feature in the living area, which includes a serviceable kitchen. A mini-fridge, space for a cooktop, and water dispenser make up the kitchen amenities.
Unique and quirky, this one might be a little too rustic for some homeowners….no toilet or bathroom!
More Windows than Walls
More windows than wall space make up this tiny home on wheels that is only 8 feet by 20 feet. Airy and light-filled, the house was a weekend DIY project for owner. It turned out to be a very functional and comfortable house that has plenty of storage space.
The sleeping loft has an amazing amount of space – enough to accommodate a closet, shelving and headboard/nightstand combo that incorporates storage.
The kitchen has all the basic amenities and the bathroom includes a sink, toilet and shower.
In addition to a seating are, the home features two work dining tables and plenty of shelving for display and storage. 
Cider Box Tiny Homes
This "cider box" tiny house has cozy, rustic charm galore. The warm wood exterior carries through to the interior, letting the wood's natural charm be the focus.
While there are numerous windows, including the expansive double glass doors, the use of dark wood necessitates plenty of light fixtures to keep the space well-lit and functional.
The kitchen in particular, highlights the wood and its beautiful grain on the walls, the floors, and the cabinetry. In fact, the stepped drawers serve as the first few rings of the ladder to the sleeping loft. The bathroom has all you need, including a sink, toilet and shower.
Efficient bathroom space is all you need to stay clean. 
The sleeping space might be tight, but at least it's warm. 
Whether it serves as a getaway home or a full-time living space, this micro home has everything you need.
Classic Living On Wheels
Not all tiny homes are rustic, minimalist or bare bones. You probably didn't know that tiny houses could have dormer windows. In case you were wondering, this is what luxury on wheels look like.
Rather than a multifunctional micro-home, this model is a mini-version of a suburban home, complete with premium woodwork and a stylish entryway.
The Oregon-based manufacturer can build you the luxury house on wheels of your dreams…starting at a base price of $75,000.
The exterior is wood-sided and resembles a saltbox style home, trimmed in white. Inside, the entryway space doubles as a seating and work area.
The kitchen has wood cabinetry and flooring.
In addition to a heater, the home includes a washer and dryer and a more-than-functional kitchen, highlighted by a tiled backsplash.
The sleeping loft is above the bedroom and features open shelving that can be used for display or storage.
College Dorm Alternative
Freedom and lifestyle are often motivating factors for moving into a mini-home on wheels, but in this case, it was debt-reduction. College student Joel Weber built his own 145 square foot home on the base of a flatbed trailer over the course of the year and will live in it during college to save on room and board.
In addition to the standard sleeping loft, the house includes a comfortable seating area and work desk surrounded by storage cubes. The top of the cubes serve as the stairs to the loft. The house has a small kitchen – what college student has time to cook anyway – and a good-sized bathroom, featuring a cool art-glass sink.
Weber may have built his dwelling on wheels to save money, but as a result, he will be living better than most college students in his cozy, quiet and comfortable place.
Romantic Cottage Replica
Styled after famed vacation cottages in Wisconsin, these romantic homes are truly an elegant getaway. Only 269-square-feet in size, they are smaller than many hotel rooms but can still accommodate up to six people.
The bright and light home tiny cottage features light-colored wood, which enhances the atmosphere. Large windows not only let in plenty of light but also provide stunning views of whatever scenery you are visiting.
The amazing kitchen is fully equipped with a large stainless steel full size range, 30″ refrigerator, a microwave, and plenty of counter space and cabinets. Both sleeping lofts can fit a queen size bed and the daybed sleeps two more people. The seating area includes a full-size flat screen TV.
The most luxurious room is the bathroom. Much like bathroom found in a large home, it has a high-end toilet, sink, tub/shower combo and washer/dryer.
From the warm-wood exterior to the amenity-laden interior, this small dwelling on wheels is truly a luxury get-away.
One Floor Wonder
A steel box on the outside and a sunny beach-bright on the inside – Tumbleweed Tiny House Company can build you a model than ranges from 170 to 220 square feet.
The modern industrial exterior gives no hint to how sunny and happy the interior is. Sliding doors let in lots of light and the bright blue, yellow and white paint amplify the bright space.
Pastel Interior Design
All one floor, the main bedroom is a closed off space, and a second sleeping area can be had from the seating space. A dining are and full service kitchen round out the home. 
Mobile Home offices
Being "off the grid" doesn't mean unplugging for some people. This mini-home on on wheels is an environmentally friendly home office. Built by a company in Amsterdam, the design is solar powered and sustainable. 
Solar panels power your laptop and phone, the LED lights, and last but not least, the espresso machine. Tired of working or strolling in the woods? Take a nap on the bed. When you're ready to go back and face civilization, pack up and drive back into the city.
If you decide to go the DIY route, there are also many tiny house plans you can view or purchase.. 
Colonial Style Living
This beachfront tiny home in Olympia, Washington is an A-frame style that has plenty of vacation style. Nestled in the woods near the Puget Sound, it is stylish, light and bright.
It has all the micro home amenities you would expect, including multipurpose table, sitting are and kitchen equipped with micro appliances. The mini gas fireplace is a cozy extra for any chilly nights.
Tiny Home Attic Loft
The galley-style kitchen is equipped and even has a unique porcelain sink, showing that a small and functional space doesn't have to include boring or plain fixtures. 
The Maiden Mansion
Listed as a rental, this small home on wheels has everything you need for full-time life. Perfect for a test run, the home, called "Maiden Mansion," has some amenities that even larger homes don't such as a laundry chute. The micro home has real stairs a dining table, ample seating space, washer/dryer and a fireplace.
Master Bedroom
There more space in tiny homes than most people realize. You can custom build extra rooms with space you never knew you had.
Cozy and functional, the sleeping loft is a lounging dream, and we can just imagine reading there for hours. The extra storage and display space around the eaves allows for plenty of books and belongings.
You can also convert the downstairs dining area into another bed. The design touches around the house make for a delightfully eccentric and interesting home.
Country Music Living
Planning a trip to Nashville? You can do more than just visit the land of Elvis — you can sample tiny house living in this charming Music City House.
Built by a couple who hope to entice more people to the tiny house movement, it sports all the amenities you will need.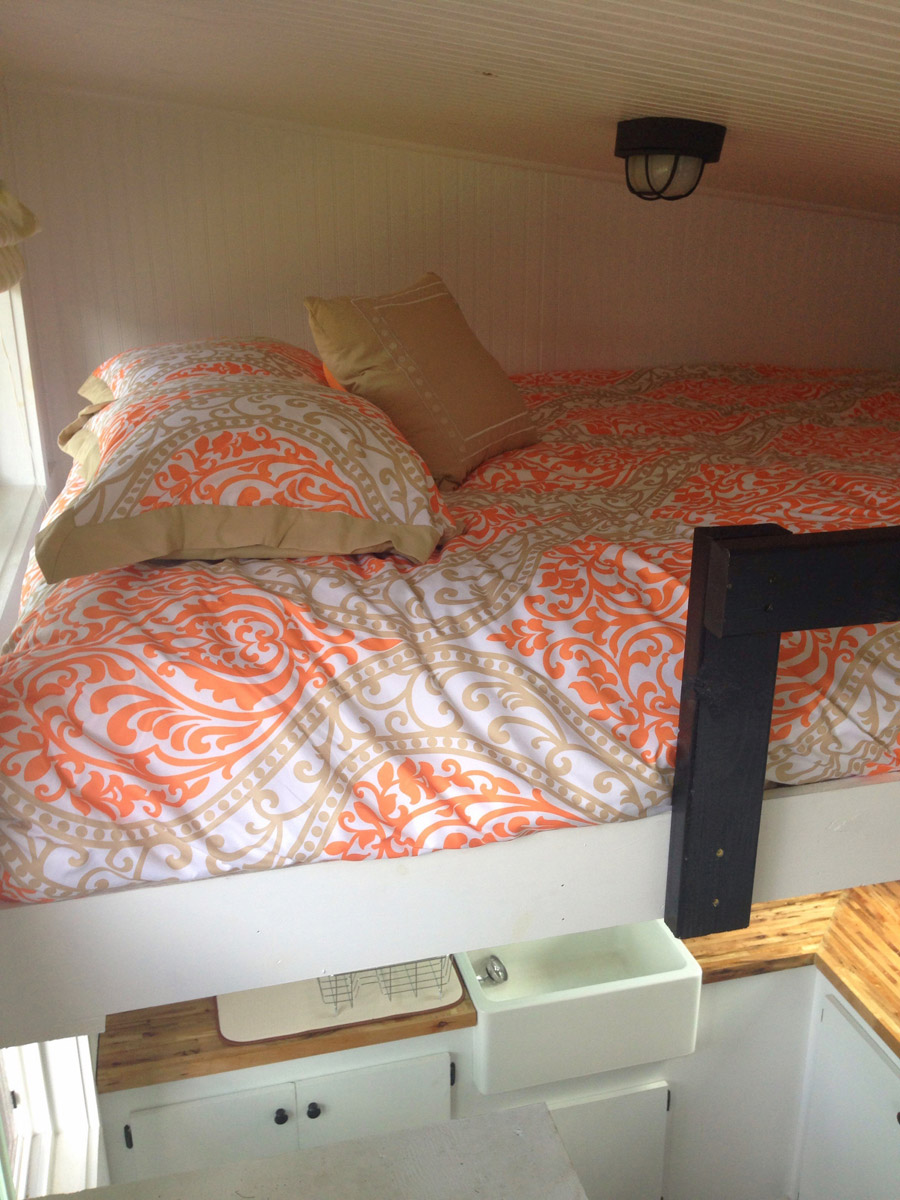 A roomy bathroom with a shower, two sleeping lofts and plenty of storage under the real stairs, it's truly a miniature house.
The kitchen also has a sizable oven with cooktop and tall fridge.  
If you're comfortable with the design of the average suburban home, then this interior will definitely appeal to you.
Old School Mobile Home
Not all people start from scratch when building a micro home. This gentleman decided to convert a truck into a very stylish, comfortable and portable home, powered by solar panels.
While it cost as much to create as a traditional home would — about $225,000 — it's more like a mobile home than a micro house. And, because it's all on one level, this makes it suitable for those with mobility issues.
The roomy living area is done in a warm, light wood, which keeps the house from being dark and feeling claustrophobic. The ample kitchen has plenty of work space and full-size appliances.  
The built-in dining booth can easily accommodate four people. Unlike most loft arrangements, the bedroom of the converted truck can be closed off with the drapes for complete privacy. 
Vintage Home 
Fresh AirLiving
This truck-powered  Tonke Fieldsleeper mobile home is a vacation on wheels. The unusual exterior of warm wood gives it a retro feel, which carries through to the inside decor.
The accent of bright blue against the rich, polished wood enhances the retro feeling. A small sleeping loft and basic kitchen complete the amenities. While it may not be perfect for full-time living, it's a stylish choice for vacations on the go.
Geodesic Inspiration
Maybe not quite a full Geodesic dome home on wheels, but the rectangular shapes are a homage to the futuristic design. 
Space Odyssey Interior
This looks like a photo from the set of Stanley Kubrick's "2001: Space Odyssey." Either way, you wouldn't know it was the interior of a futuristic mobile home.
White Interior
Far from rectangular, this tiny house on wheels is futuristic and angular — an attention-getter no matter where you decide to take it. On the inside, the angular, minimalist design is enhance by the modern kitchen appliances and lack of clutter.
While it might be suited for full-time living, this mobile home is a perfect unit for a vacation getaway at a moment's notice, or for glamping in style. 
Bus Conversion
It's hard to believe that this charming shake-shingled home was once a big yellow school bus. The owners of this home invested four years of sweat equity in building out a converted bus home and used lots of salvage materials in the process.
Tiny Cottage
Inside, the decor is equally charming, from the old-fashioned wood stove and tin wall, to the wainscot walls and rounded doorway that mimics the rounded ends of the building.
The main bed is inside an alcove that has a moroccan-style shaped entry and the space above it is more living space that can also sleep more people if necessary.
The kitchen and bathroom are fully equipped and exude the same charm. Storage abounds as do windows of every shape and size. 
Tiny H

ouse On Wheels: Pros And Cons
If you're interested in learning more about mini-home living, there are countless websites and blogs that provide all sorts of information. 
Pros:
Thrift. structures can be had for far less than a traditional house, saving tens of thousands of dollars on a mortgage or on rent.
Environmental friendliness. Tiny houses are much easier on the environment than large homes and McMansions and are energy and resource efficient.
Size. Micro houses eliminate unnecessary and inefficient space, making the most of every square foot. The homeowner can live comfortably without excess belongings.
Less maintenance and easy to clean. In a small house the interior mess never truly gets out of hand.  Most house cleaning takes a matter of minutes and not hours. Think of the time and effort you can save.
Much cheaper to heat and cool. Think of all the unused space you pay to keep a comfortable temperature. 
Cons:
Some bloggers glamorize small house living, glossing over the details that can be difficult for some people to handle. Tinyhouselisitngs and clotheslinetinyhomes identify the top disadvantages that homeowners may encounter when trying to switch to living in a micro house.
Illness or Injury. If you become sick or injured, life can be uncomfortable even impossible.
Building codes. Every community or area has its own building codes and local zoning rules, and in most cases, the laws have not caught up with the tiny house movement. 
 Claustrophobia. 

If you  have a problem with confined spaces, living in a structure that's less than 500 square feet would not be a good idea.  

Hard work. No matter how you slice it, quant living is hard work. here are always little projects that need finishing or fixing.
No home office space.  If you work for yourself, this can become a serious issue.
No personal space. This isn't a problem if you live alone, but for couples who go the tiny dwelling can be difficult.
Small kitchen. A confined kitchen can make cooking from scratch regularly difficult.
Bathroom woes. Composting toilets are not for everyone. Neither are very basic flush models.
Storage space. It's an issue for everyday items and bulk purchases.
Frequently Asked Questions (FAQ)
FAQ
Can I Park My Tiny House On Wheels In My Backyard?
It depends on the state. Most US states consider THOWs as RVs, which come with regulations and must follow strict zoning laws. More than anything, whether you can park your THOW in your backyard to will hinge on your neighborhood. Before you do anything, check your HOA bylaws.
Can I Put A Tiny House On Wheels On My Property?
In depends on the state. There are a few states where THOWs are not legal. For states where THOWs are legal, you'll need to follow rules and regulations that apply to recreational vehicles. 
Is A Tiny House On Wheels Considered A Mobile Home?
No, it isn't. The reason why is because the homes are between 100 sq st and 400 sq ft, whereas mobile homes are between 600 sq st and 1,300 sq st. 
What Size Wheels Can I Put On A Tiny House?
A THOW cannot be more than 13.5 feet high and 8.3 feet in width. If you require something bigger, you can build a mobile park model. After it's complete, you'll need to have it towed to your desired location by a professional service.
Tiny House On Wheels Conclusion
Just as it is with traditional homes, there are many tiny home styles on wheels as there are homeowners. If you decide to go the micro home route, there's a way to accommodate your specific needs and desires.  
The post Tiny House On Wheels Accelerates Easy Living For 2022 appeared first on Home Decorating Trends - Homedit.
---
Share this post
---
---