Target Home Decor For the New Year
Posted by admin on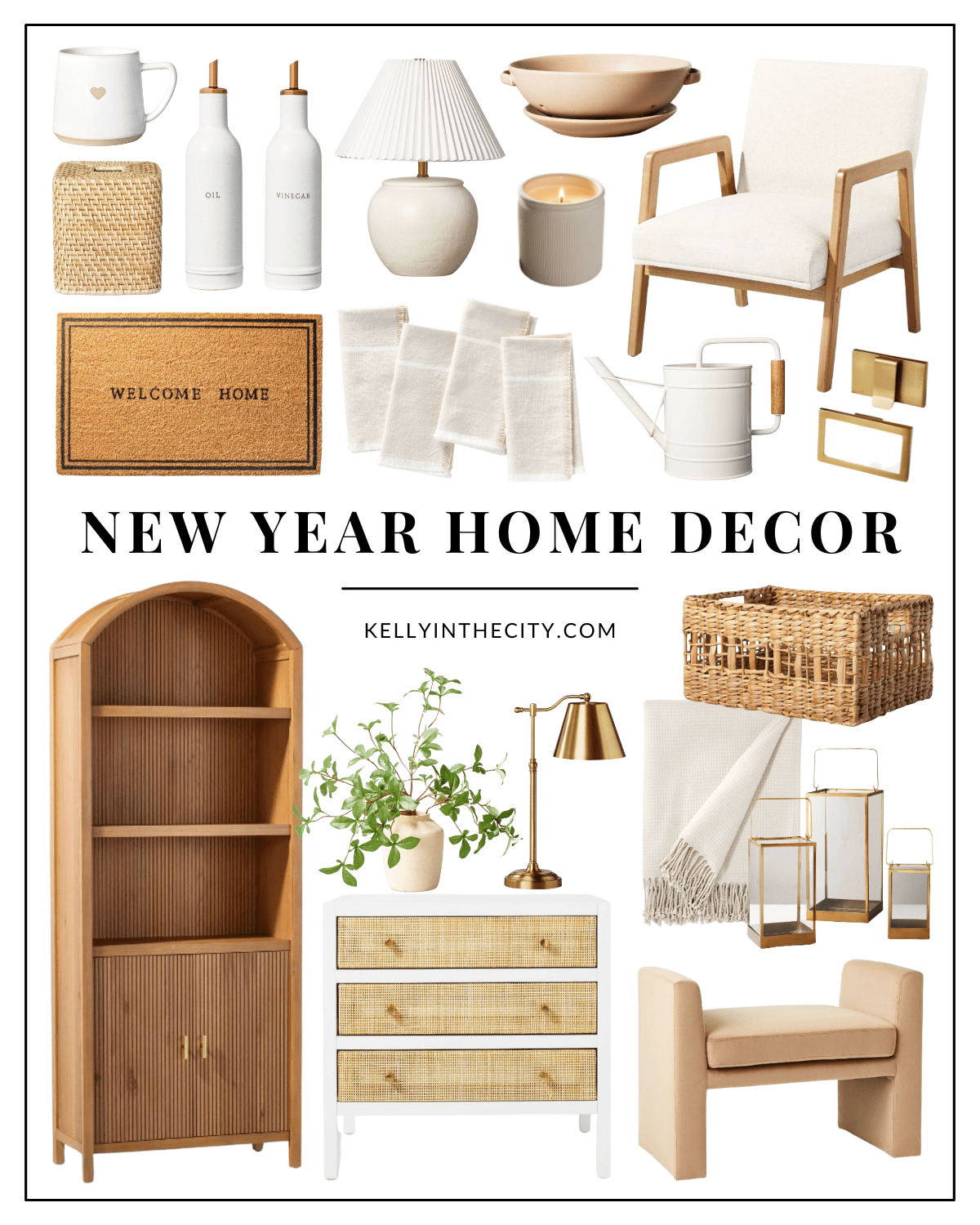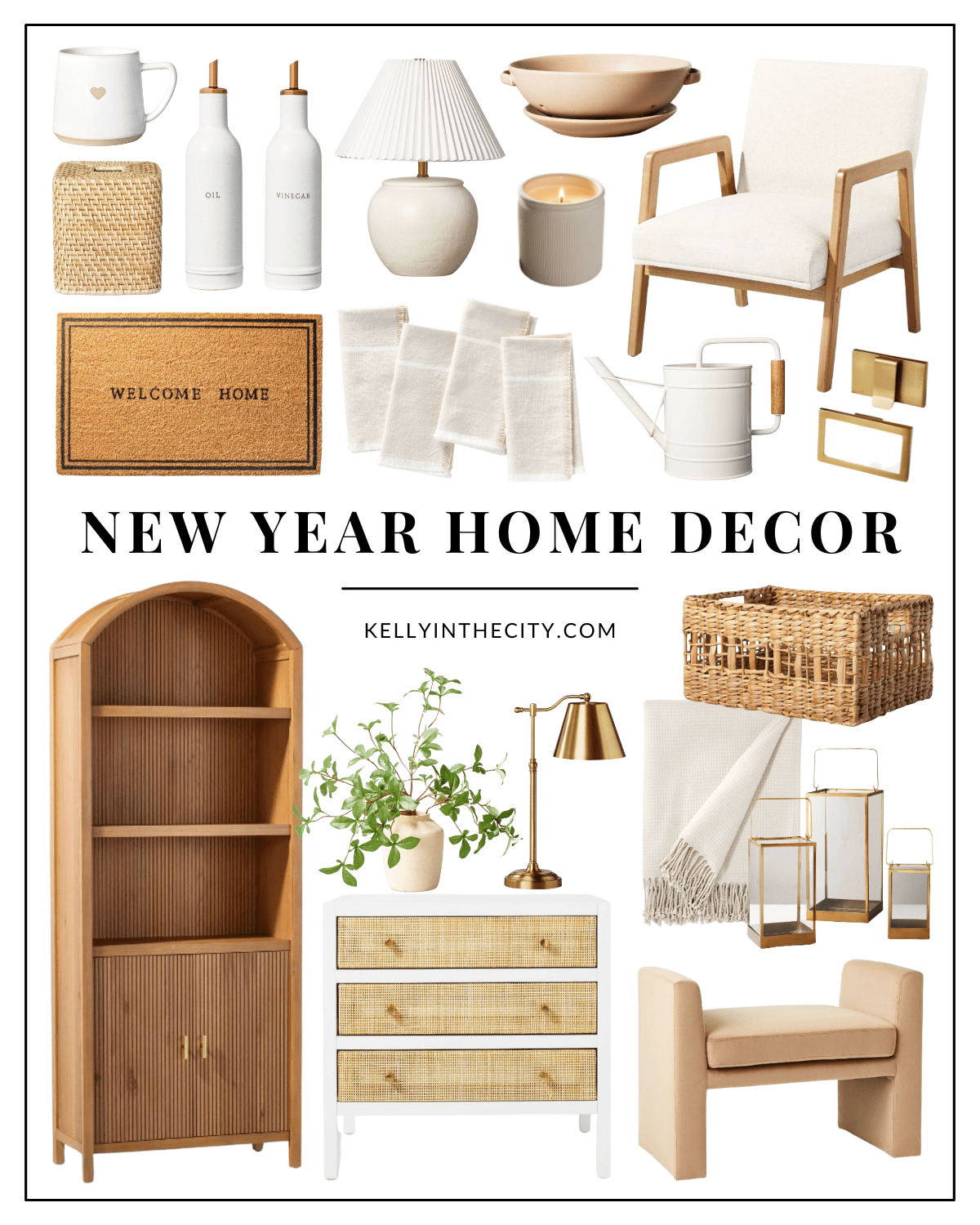 Heart Mug / Rattan Tissue Box Cover / Oil and Vinegar Stoneware Bottle Set / Welcome Home Doormat / Ceramic Table Lamp with Fluted Shade / Beige Napkin Set / Berry Bowl with Saucer / Oak and Lavender Ribbed Ceramic Candle / Upholstered Arm Chair / Metal Watering Can / Metal Label Set / Grooved Wood Arch Bookcase Cabinet / Faux Leaf Arrangement / Gold Table Lamp / White Rattan Nightstand / Woven Storage Bin / Taupe Throw Blanket / Square Lantern Pillar Candles / Beige Velvet Ottoman
Here are a few of my favorite pieces of Target Home Decor for the new year, from bookcases and armchairs to throw blankets and table lamps.
Heart Mug: How cute is this ceramic mug?! And it's under $5!
Rattan Tissue Box Cover: A simple and practical piece of decor to add to a bathroom counter or nightstand. 
Oil and Vinegar Stoneware Bottle Set: Another practical piece of Target home decor that would also look lovely sitting out on your kitchen counter.
Welcome Home Doormat: Love this sweet doormat.
Ceramic Table Lamp with Fluted Shade: This ceramic table lamp would look gorgeous on a living room side table.
Beige Napkin Set: A great set of napkins that are under $12 if you're looking to refresh your table linens in the new year.
Berry Bowl with Saucer: Target did it again! This berry bowl colander comes with a saucer, so after you finish washing your berries for breakfast, they can go straight on the table.
Oak and Lavender Ribbed Ceramic Candle: This sounds like it would smell incredible, and bonus points for the cute ribbed ceramic jar.
Upholstered Arm Chair: A cute armchair for the living room or bedroom.
Metal Watering Can: It's the dead of winter, but possibly for future gardens, ha?
Metal Label Set: Love these metal labels. They're great for organizing everything, from pantries to kids' toys.
Grooved Wood Arch Bookcase Cabinet: I have a feeling this will sell out fast – it is gorgeous.
Faux Leaf Arrangement: This faux leaf arrangement would be a lovely piece of decor on a console table.
Gold Table Lamp: Another amazing Target home decor find, and it's under $60.
White Rattan Nightstand: I love this rattan nightstand. The gold knobs are such a cute detail.
Woven Storage Bin: A cute storage option for all of your organizing endeavors in the new year.
Taupe Throw Blanket: This gorgeous throw is under $30!
Square Lantern Pillar Candles: A cute piece of decor to spruce up the porch for winter.
Beige Velvet Ottoman: This wonderful ottoman is under $150.
The post Target Home Decor For the New Year appeared first on Kelly in the City.
---
Share this post
---
---