Soon-to-be Marriott: A review of the all-inclusive Royalton Blue Waters in Jamaica
Posted by admin on
Marriott Bonvoy has been pushing to add more all-inclusive resorts under its umbrella. In February, it announced a partnership with Blue Diamond Resorts to add 19 all-inclusive resorts to its Autograph Collection portfolio by mid-2021. Once the rebrand is complete, Bonvoy members will be able to earn and redeem points as they would at any other Marriott property, and elite members will be entitled to their usual perks.
Blue Diamond Resorts has a presence in Mexico, Central America and the Caribbean, including brands like Royalton, Royalton CHIC, Hideaway at Royalton and Planet Hollywood. A recent trip to Jamaica was the perfect chance to check out the Royalton Blue Waters Montego Bay and see what's in store for Bonvoy members. To experience the resort to the fullest, I enhanced my stay with the Diamond Club upgrade.
For more TPG news delivered each morning to your inbox, sign up for our daily newsletter.
Booking
Although the upcoming all-inclusive resort additions already appear on Marriott's site, it's not yet possible to book them through Marriott. Rather, you'll be directed to book directly through the resort.

Cash rates at the Royalton Blue Waters start around $320 per night, based on double occupancy, but can be higher during busier periods. To get the most out of my stay, I splurged on the "Diamond Club" add-on, which usually costs around $60 extra per night. While the rooms are the same, the add-on gets you butler service, a private check-in area and a dedicated beach area with waiter service. According to the resort's website, other inclusions should include daily hydrotherapy, nightly turndown service, access to a private pool, robes and slippers in the room, but none of those were offered during my stay (more on that later).
I paid for my stay using my Chase Sapphire Reserve card, which allowed me to earn 3x Ultimate Rewards points per dollar for the travel purchase. Starting later this year, cobranded Marriott credit cardholders will be able to start earning bonus points here.
At this point, it's still unknown what category the property will be classified as under the Marriott Bonvoy award chart. However, as with other Bonvoy award stays, you should get every fifth night free when paying entirely with points.
Related: The best hotel credit cards
Location
Although the Royalton Blue Waters advertises itself as being in Montego Bay, it's actually just outside of Falmouth, which is a popular cruise ship port. It's a roughly 35-minute drive from the Montego Bay airport (MBJ) and just under an hour away from the famous Dunn's River Falls.
The resort shares a beachfront property with the Royalton White Sands and guests of both resorts have access to the entire complex. So, while Blue Waters has newer and nicer rooms, the amenities and restaurants are the same. The stretch of beach here is terrific but didn't feel entirely private with locals vendors constantly trying to sell you something.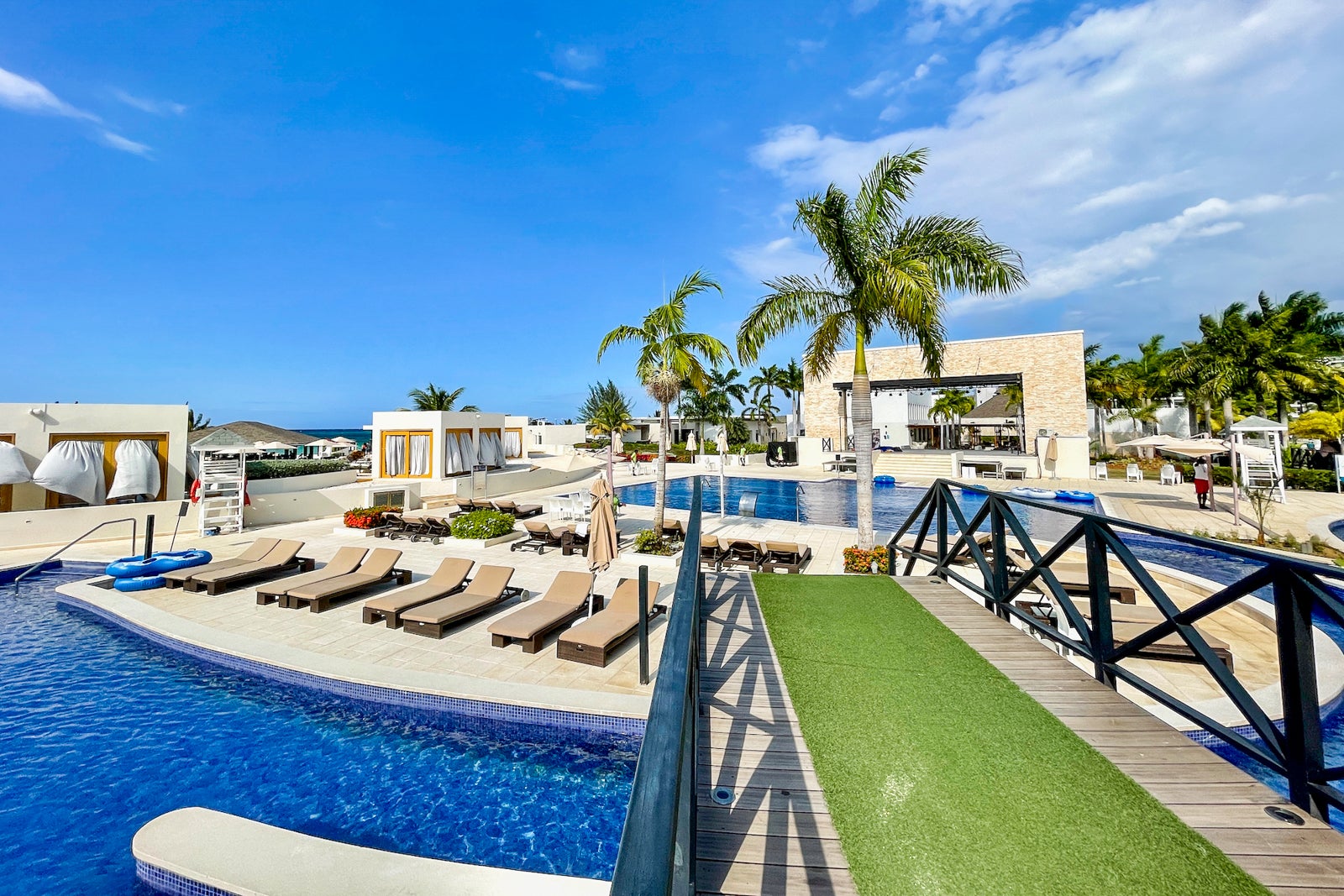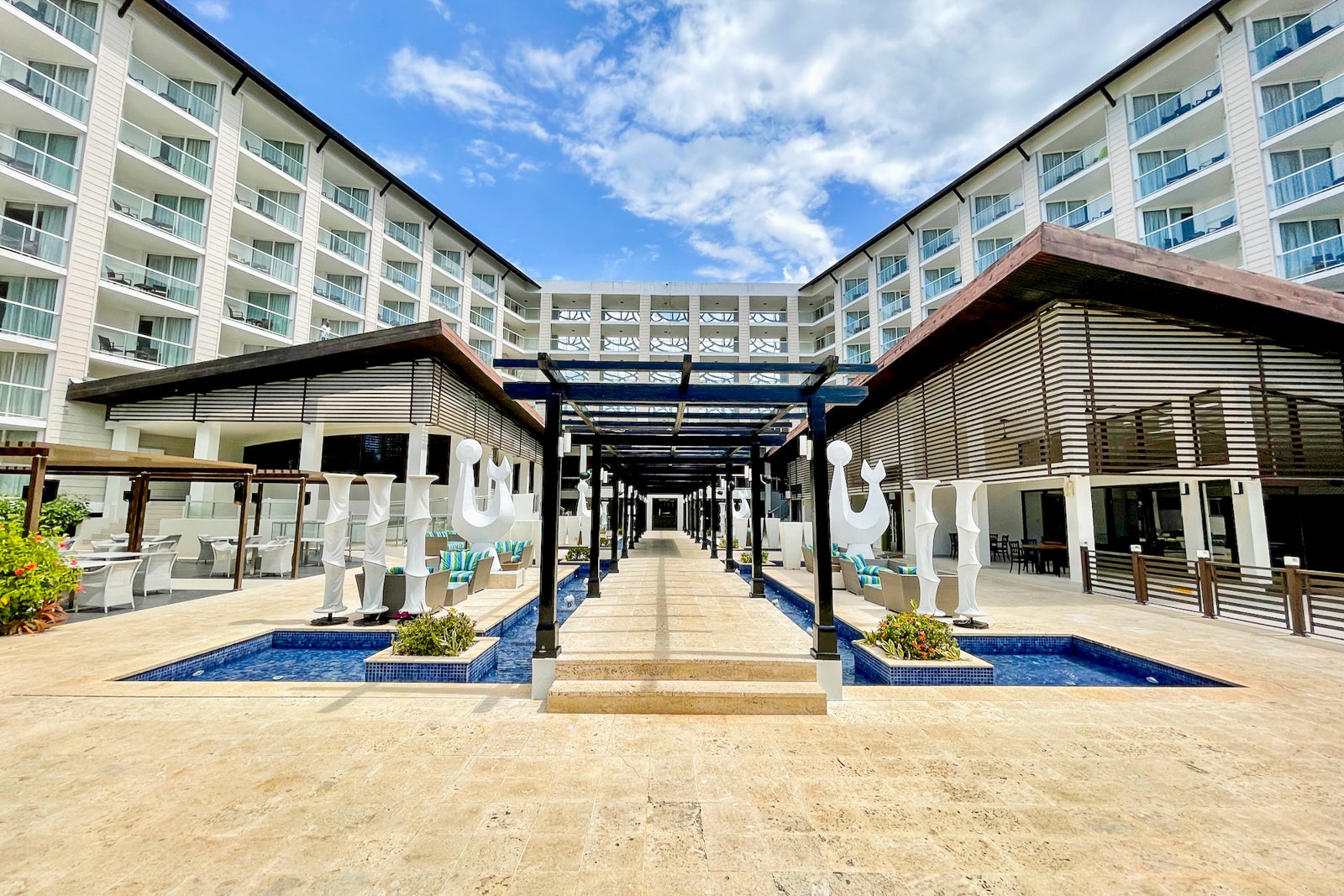 Check-in
As with my other recent Jamaican resort experiences, upon arriving at the property, my temperature was taken and my hands, shoes and bags were sanitized.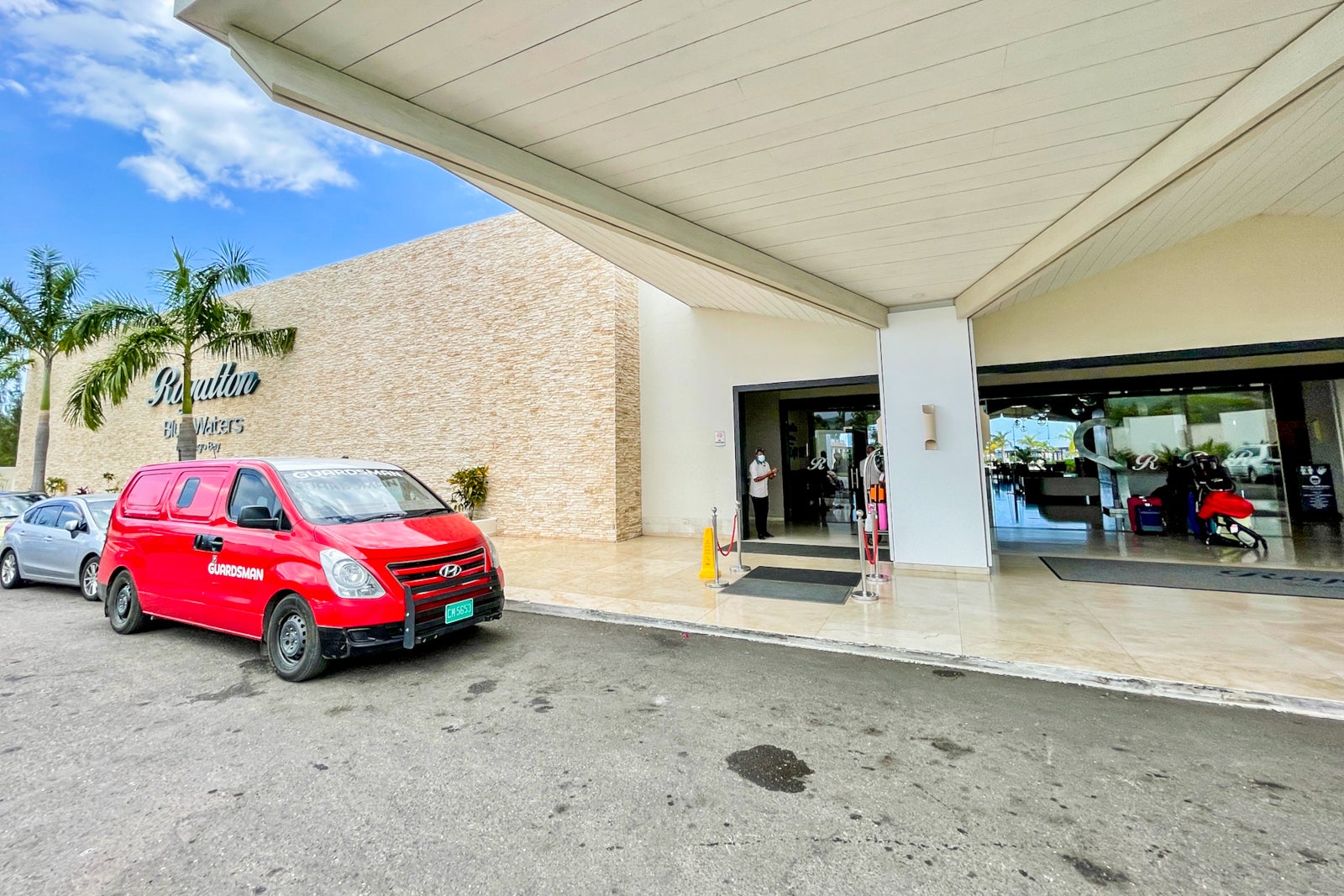 I was then directed toward the dedicated Diamond Club check-in desk tucked off in the corner of the lobby. Ironically, the Diamond Club check-in area was much busier than the standard one. There was just one agent trying to check multiple groups in at once, so the entire process felt slow and inefficient. Luckily, there were welcome drinks to make the experience a bit more enjoyable.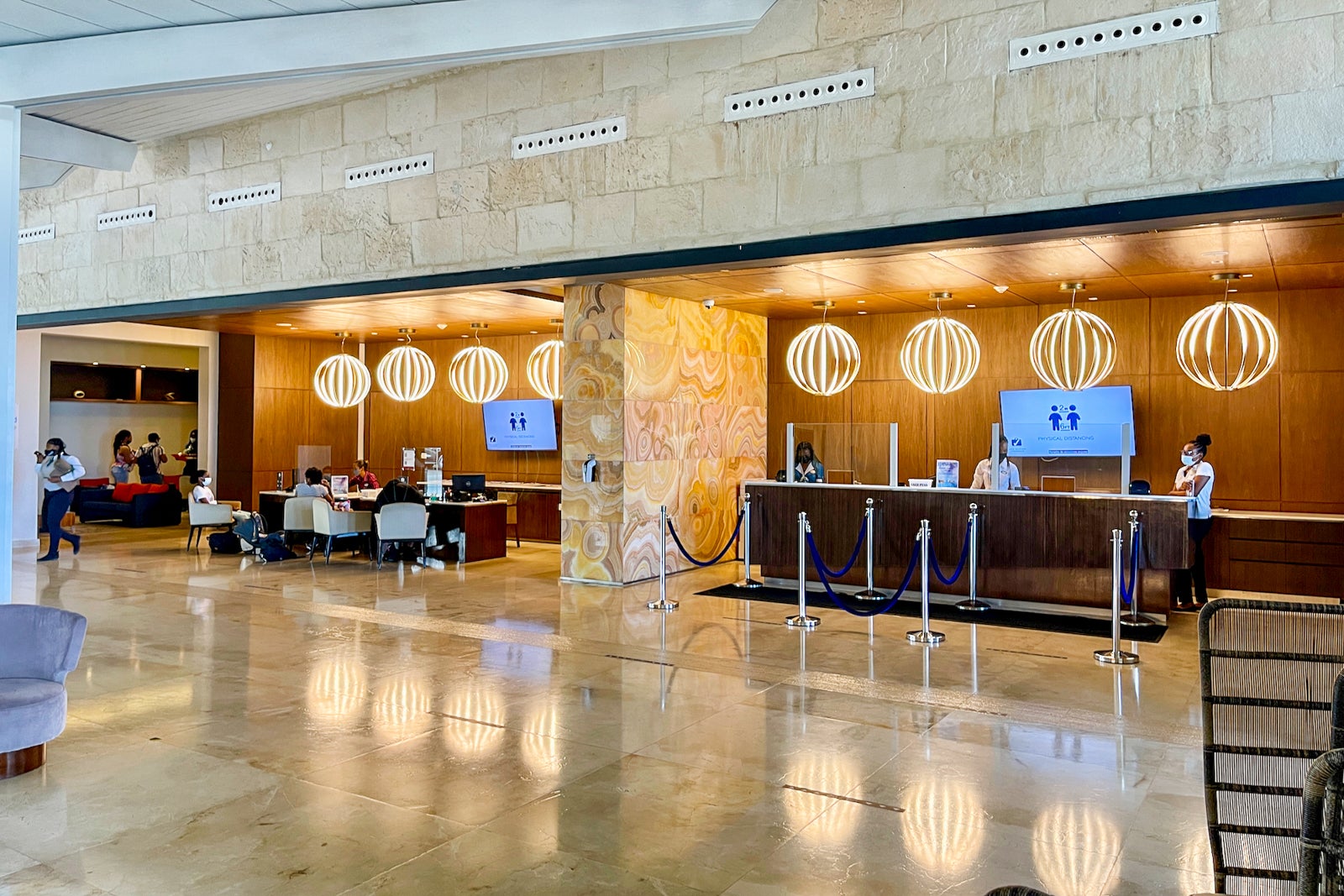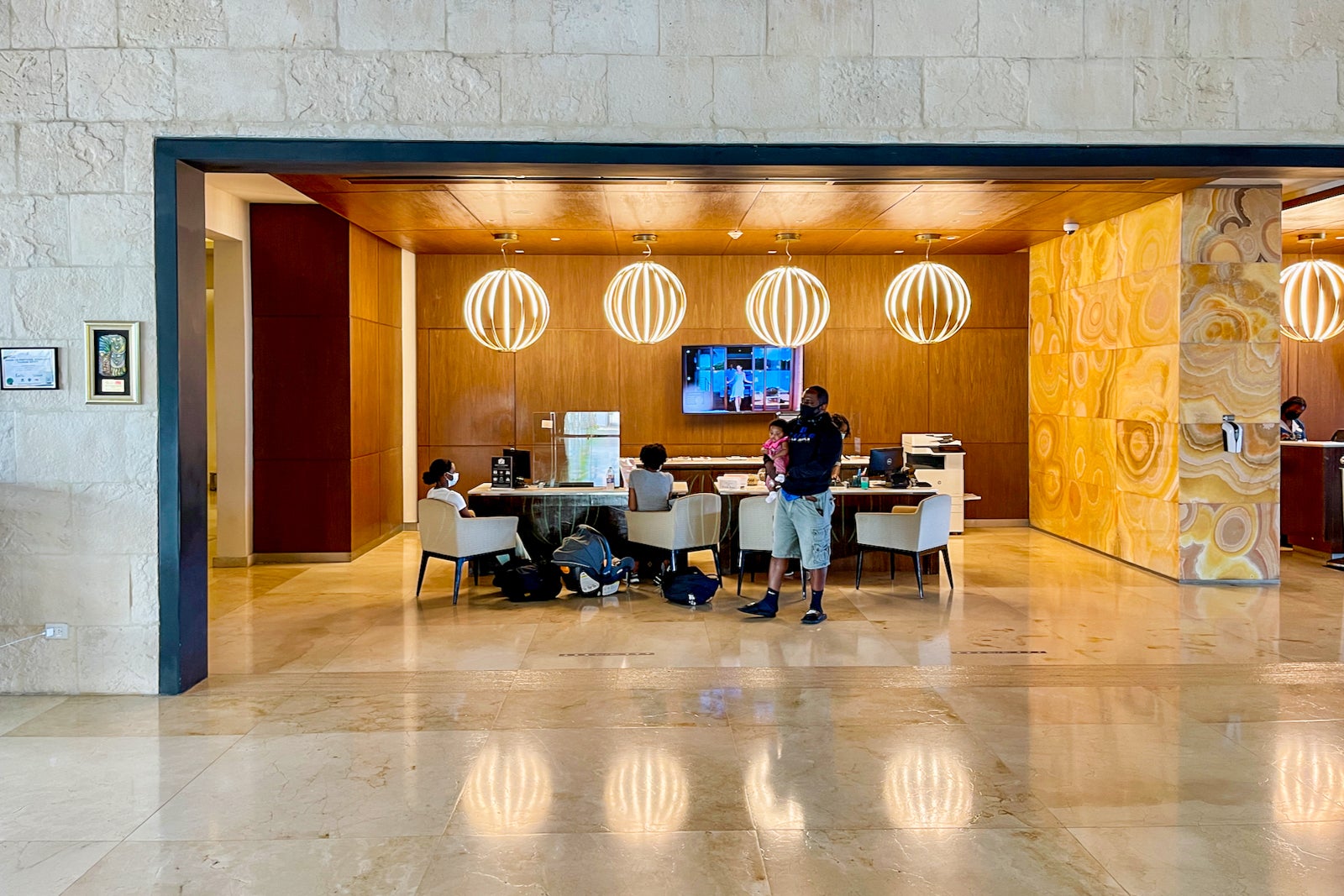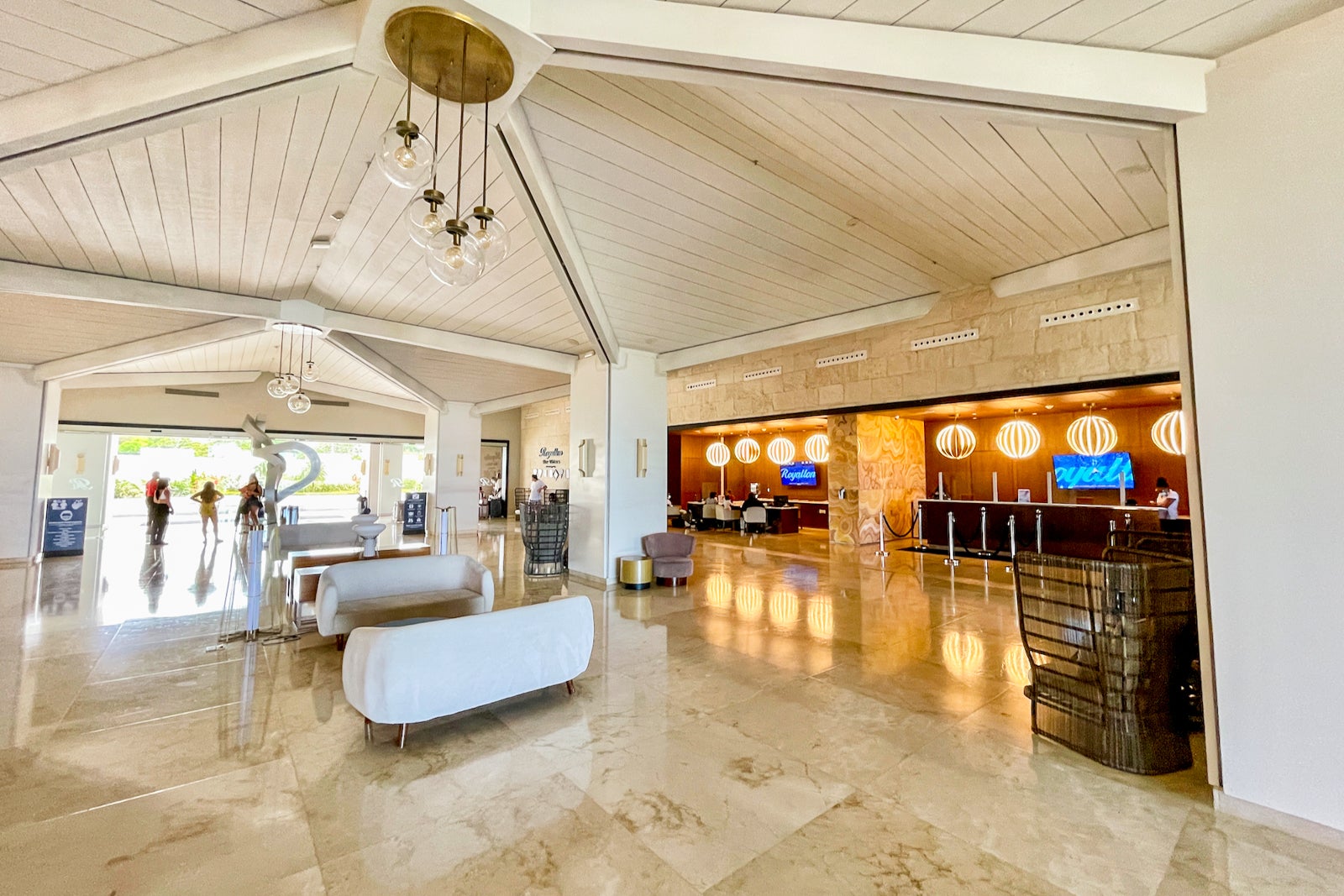 Diamond Club guests could also help themselves to a selection of snacks and drinks from a private lounge.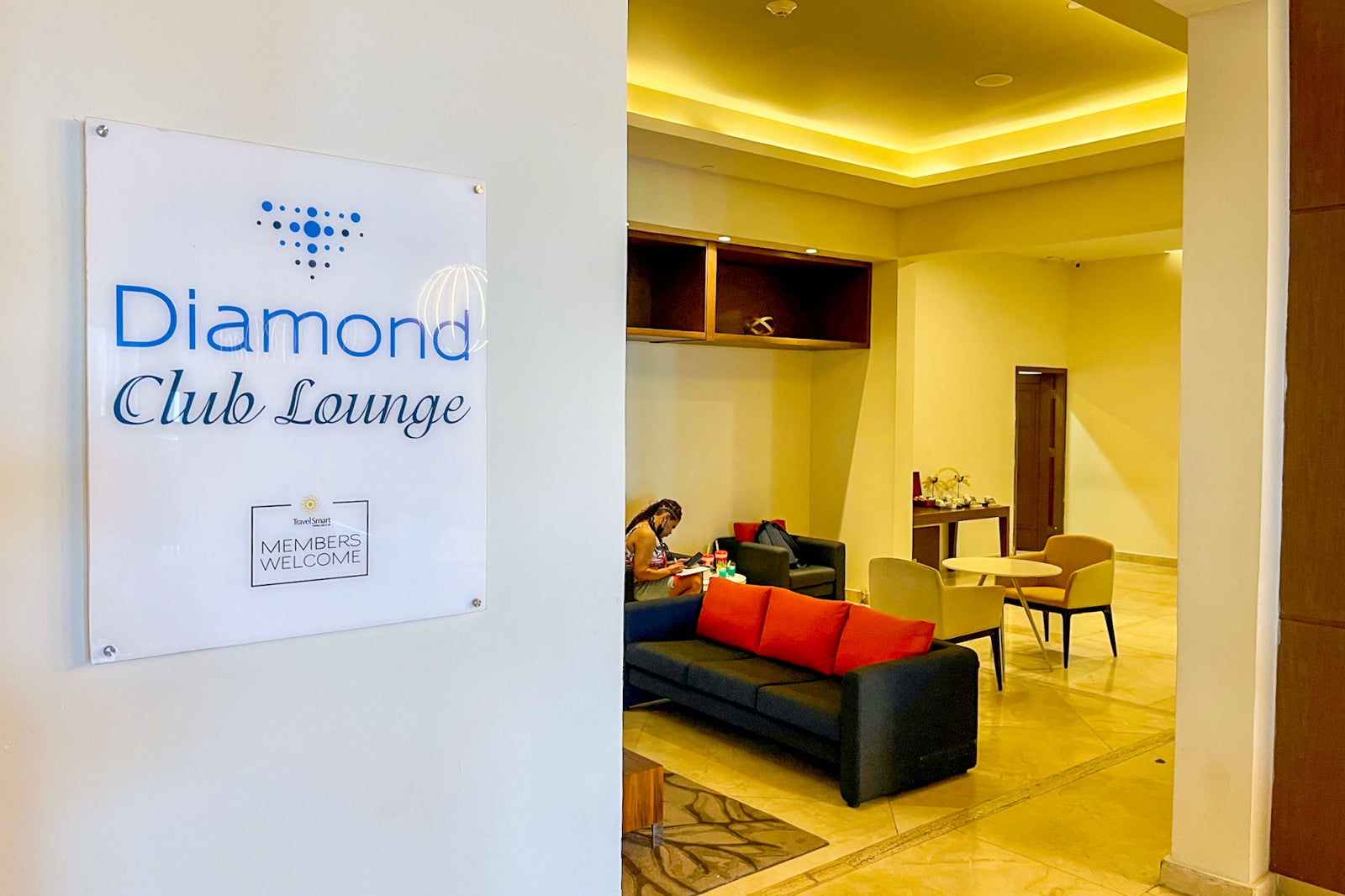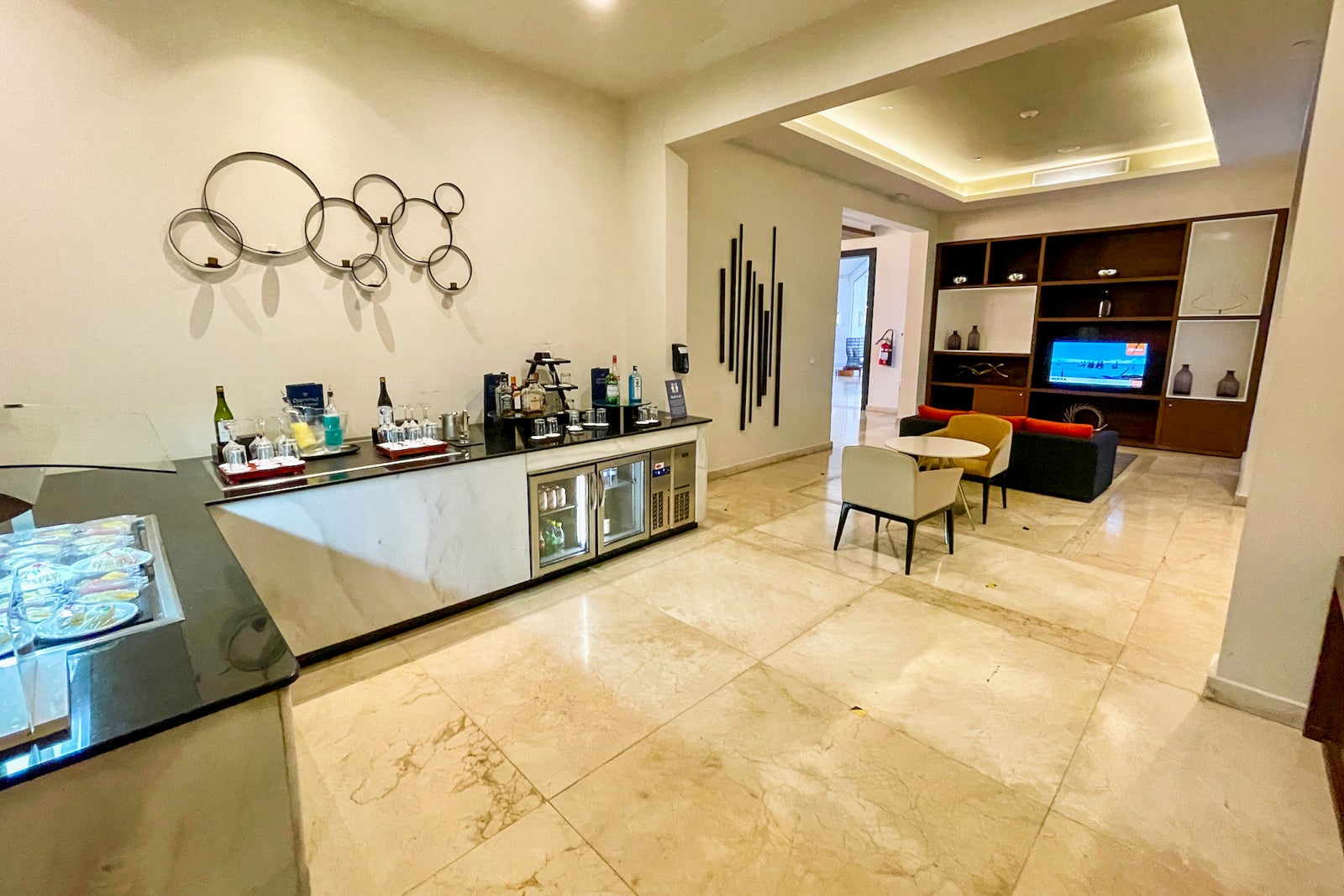 Although Diamond Club guests should get early check-in, my room wasn't ready yet (check-in was at 3 p.m., and I had arrived about an hour early), so my butler led me to the buffet. On our way there, we exchanged numbers and connected on WhatsApp so that we could quickly reach each other.
When I was done eating, I headed back to the Diamond Club desk and was informed that my room was ready. I was given my room number, but that was it. There was no one to show me to my room and I didn't get a map of the resort either — not exactly the "personalized" check-in experience I was expecting. An explanation of all of the Diamond Club privileges would have also been helpful.
Room
I was assigned an ocean view "Luxury Junior Suite" on the corner of the second floor. Don't let the name fool you — this was what the resort called its standard rooms.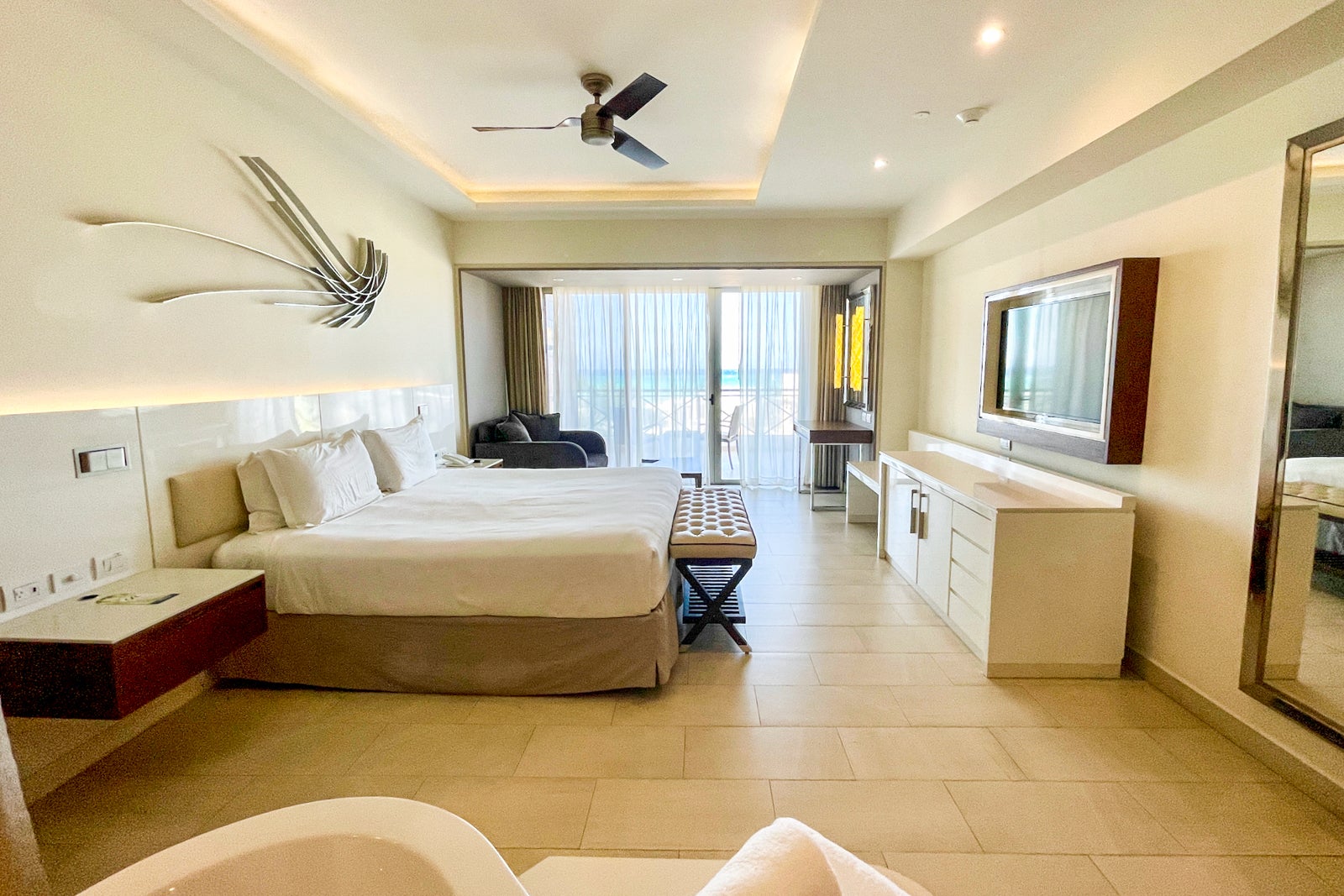 Although Diamond Club guests are supposed to get preferred room locations, I found the location right by the stairs and elevator to be very loud. The thin walls didn't help either.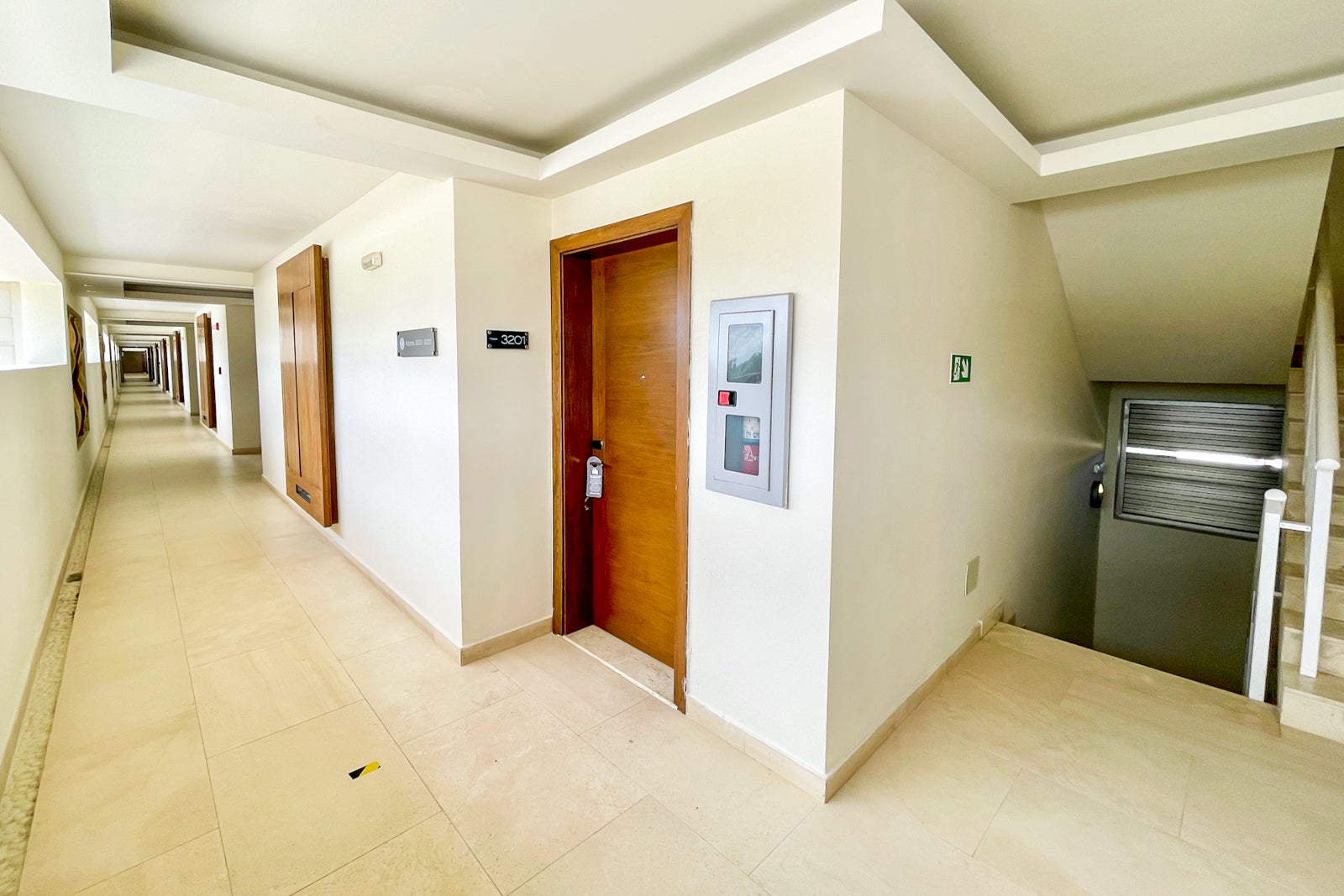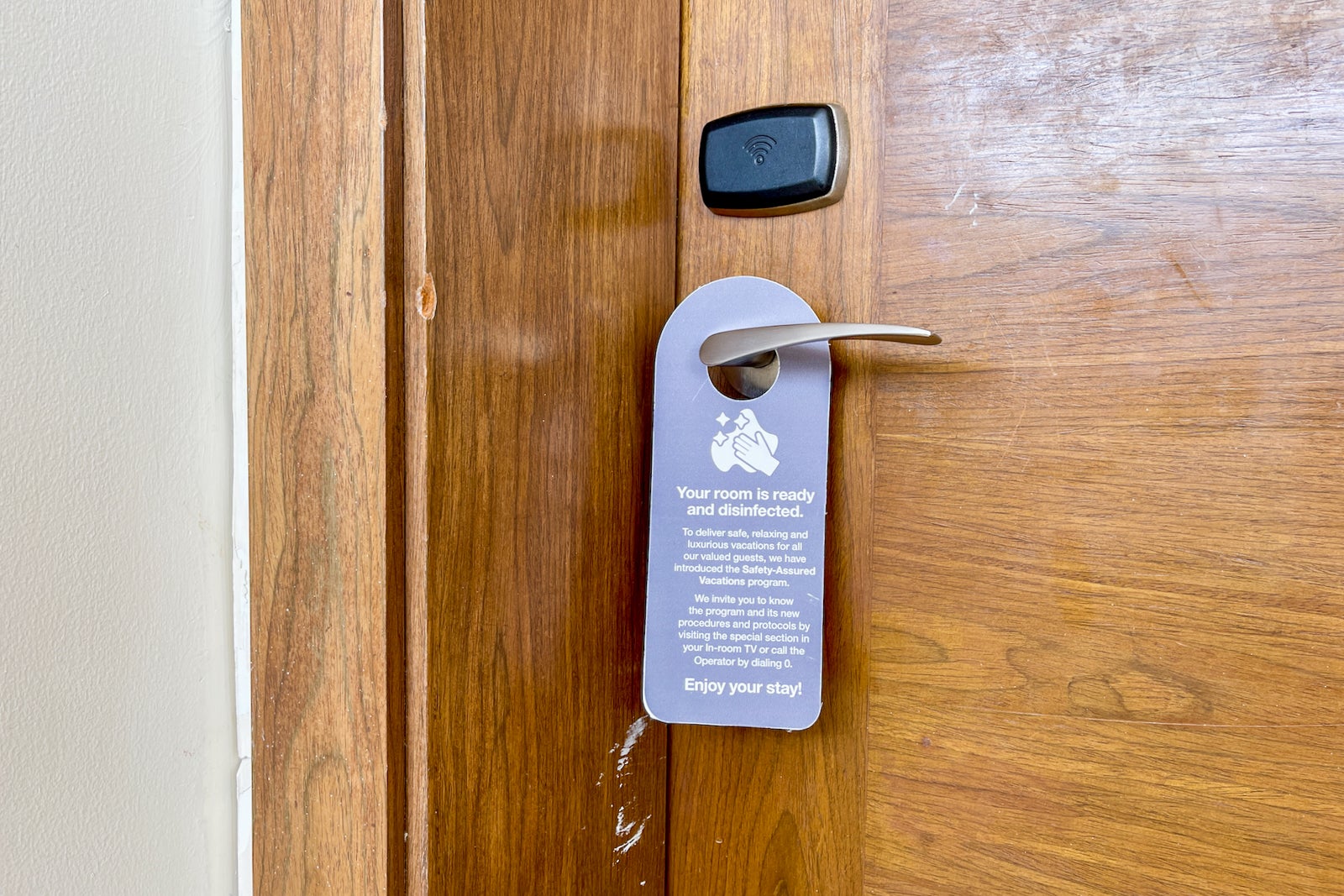 Instead of the traditional key card, I accessed my room using a bracelet that was attached to my wrist. If you're concerned about privacy, don't worry, these aren't the tracking bracelets found in some resorts.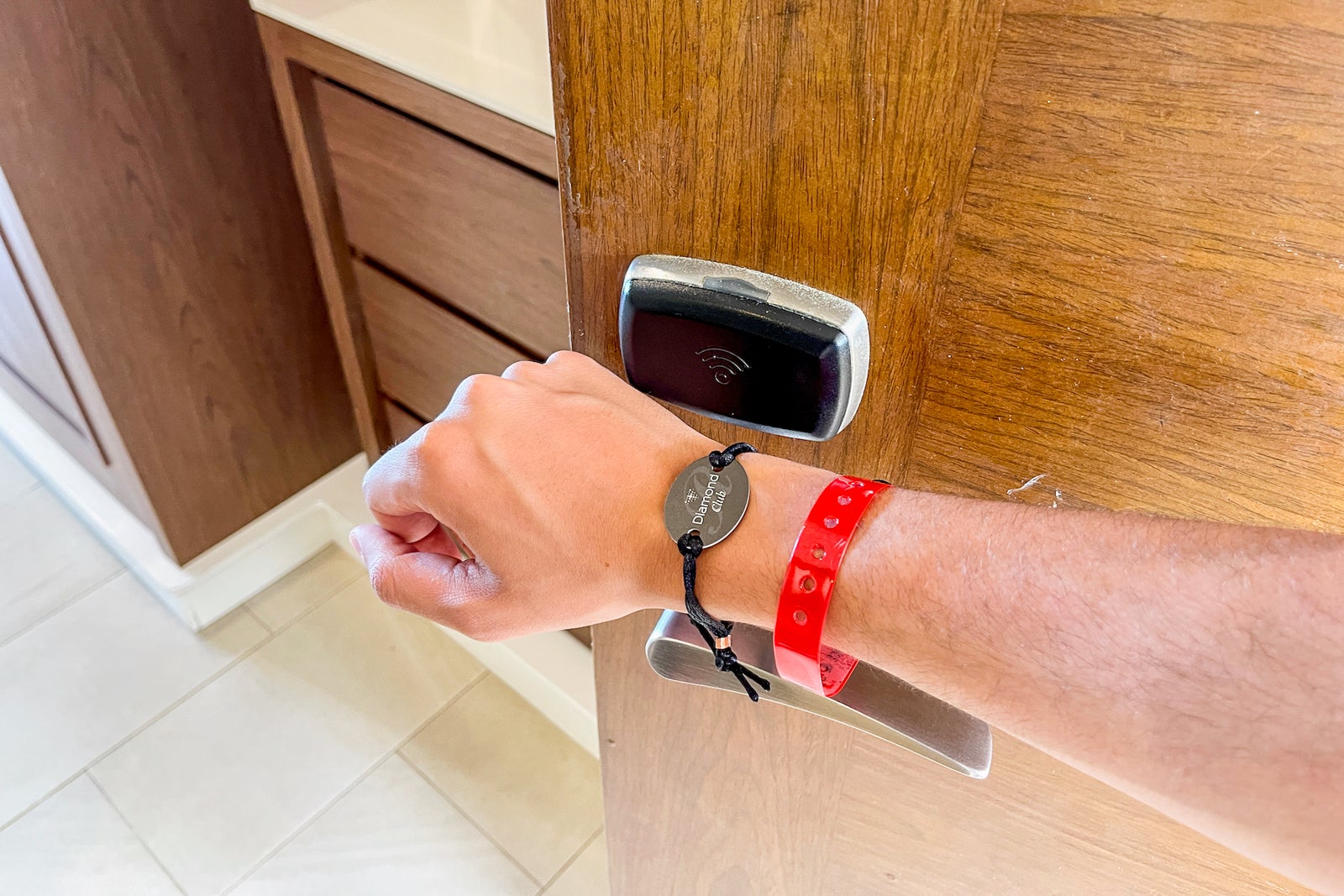 The wearable room key was great in theory. It could be worn in the shower, pool and ocean and I didn't need to worry about losing it. However, it wasn't without issues. I got locked out of my room several times and, at one point, security even needed to come up to reprogram the lock on the door.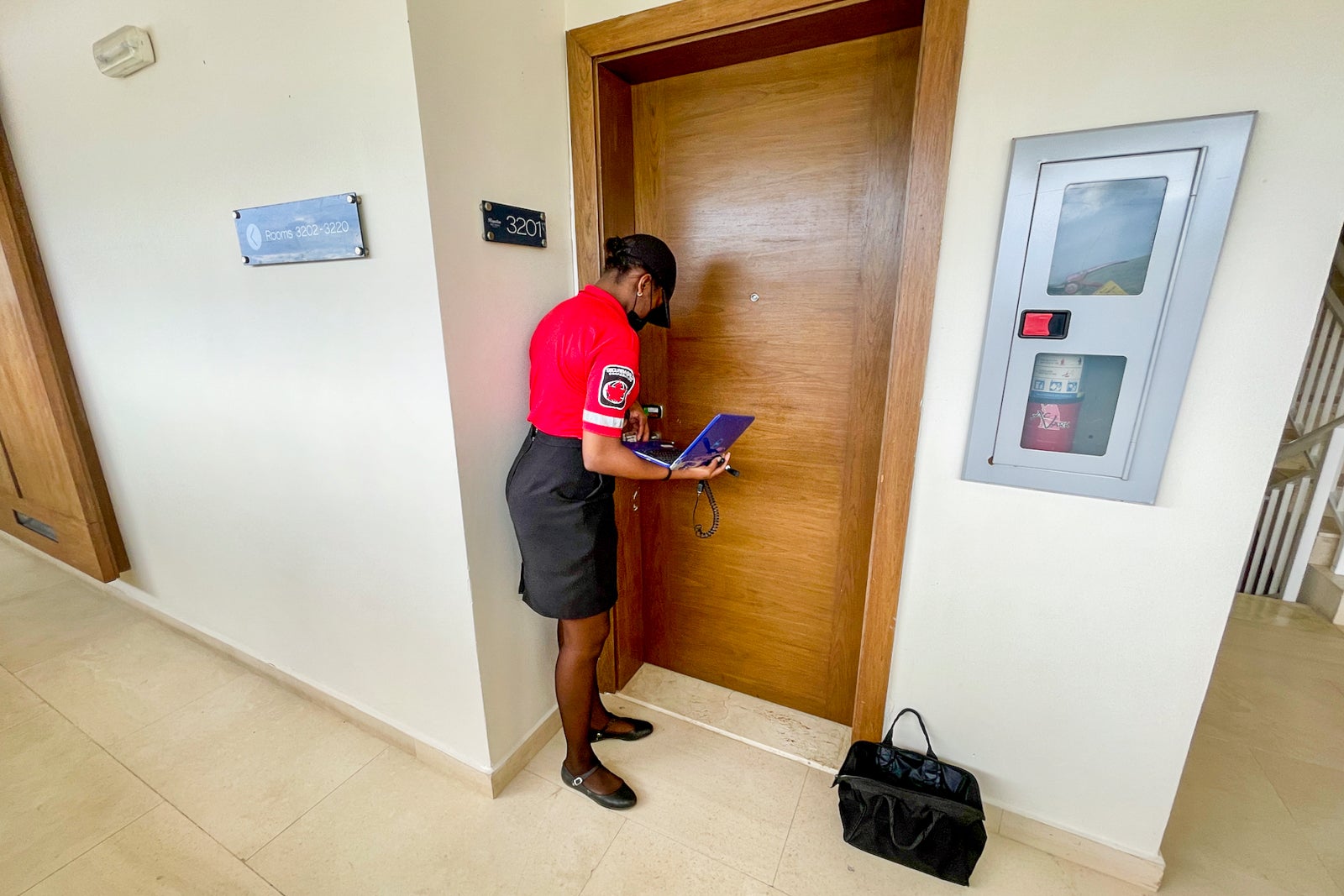 My immediate impression was that the room looked great. While it didn't scream Jamaica, it was modern, airy and stylishly furnished.
The first thing you noticed when you entered the room was a freestanding whirlpool tub.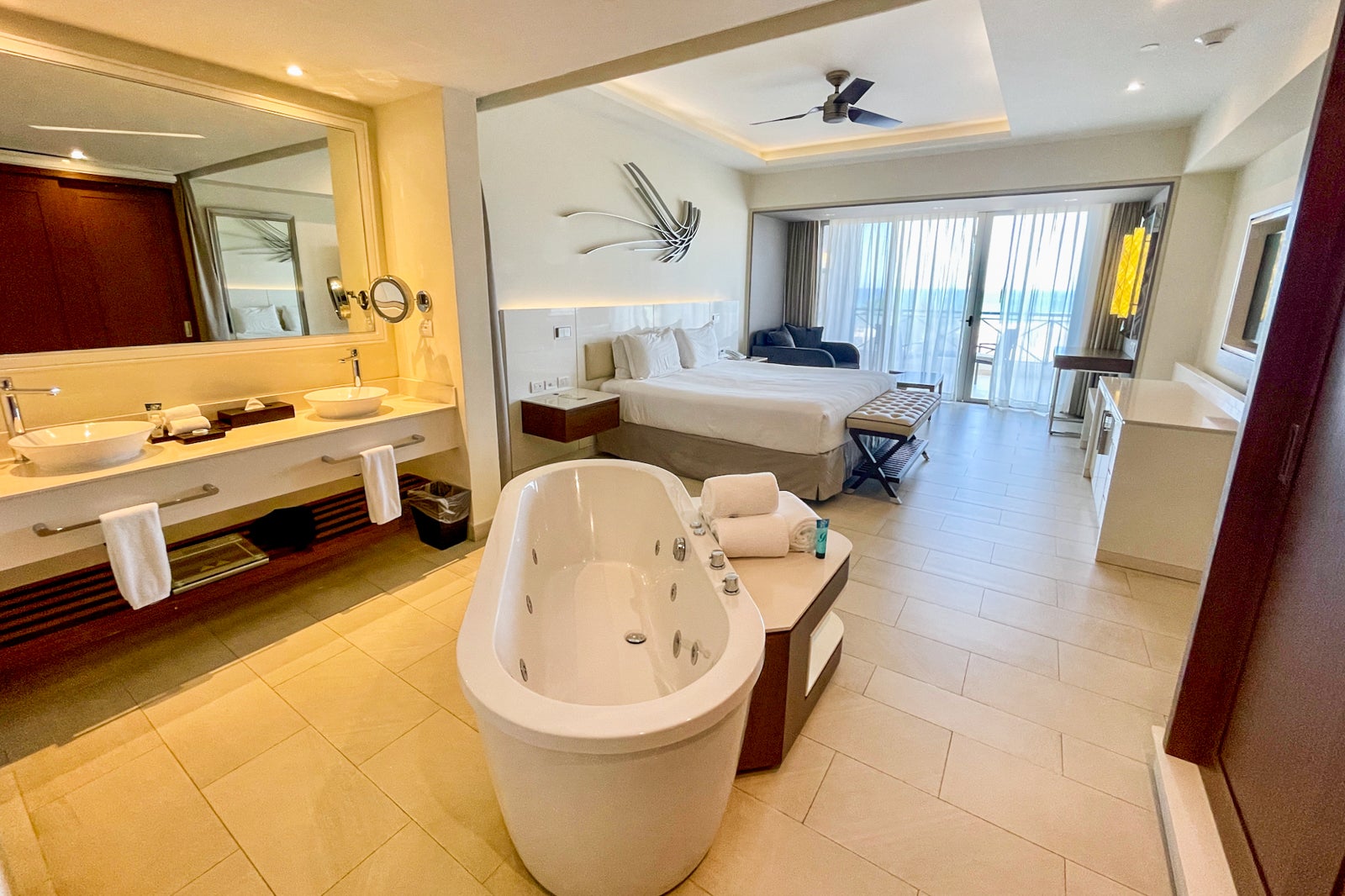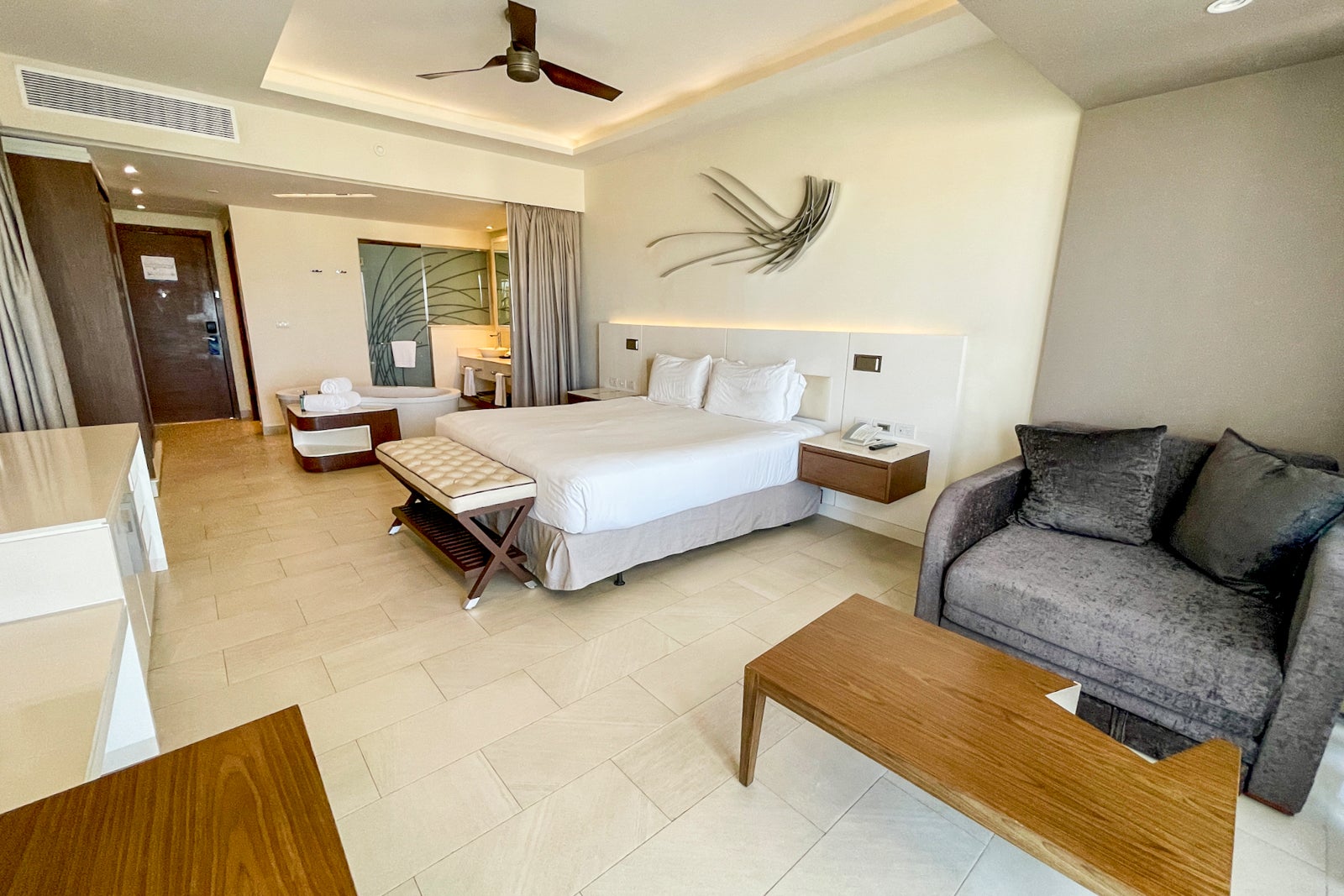 The room and bathroom had an open concept, but there was a curtain you could close to separate the two. Still, that's something to consider if you aren't traveling with someone you know well.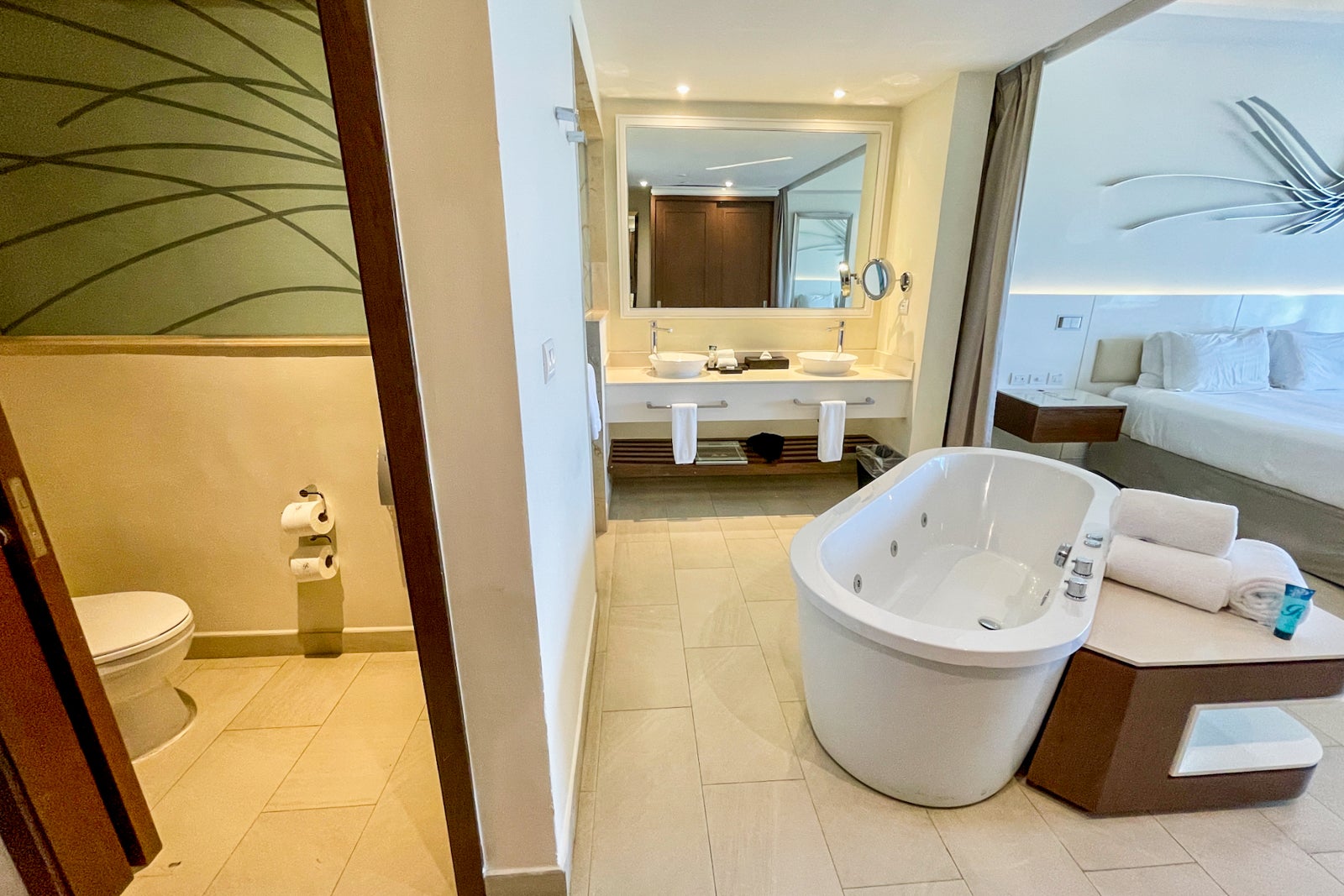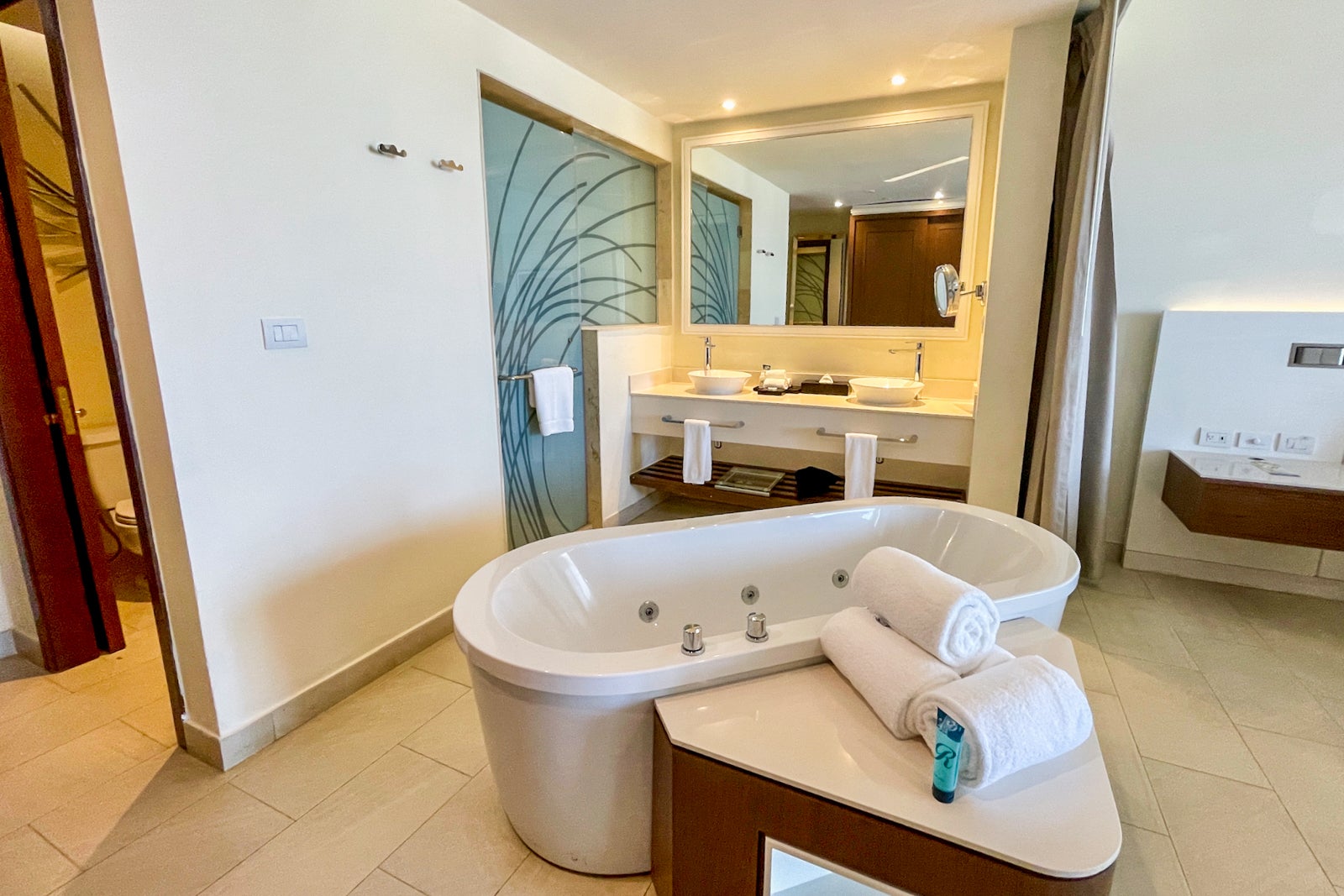 Clearly, though, the room was meant for couples. The walk-in shower featured two rainfall showerheads, plus a handheld one. This was the case in both king and double queen rooms. In addition to the standard body wash, shampoo and conditioner, the room was stocked with a small bottle of hand sanitizer. Bath salts would've been a nice addition, considering the tub was a focal point of the room.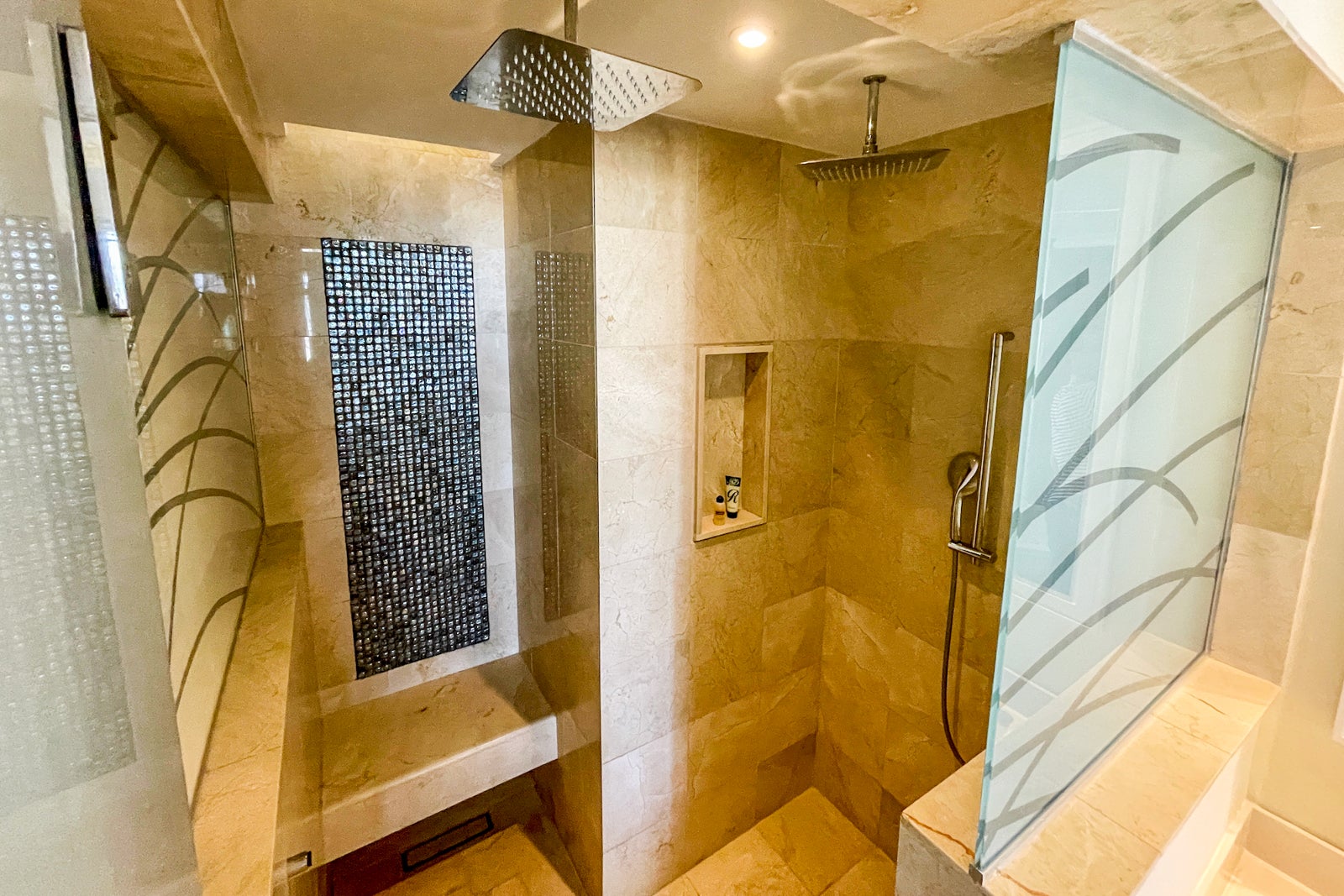 Across the bathroom was a closet and chest of drawers, though unfortunately, they weren't very practical since housekeeping stuffed them with extra linens. Inside the closet was an iron, ironing board and safe, but no robe or slippers, as was advertised for Diamond Club guests.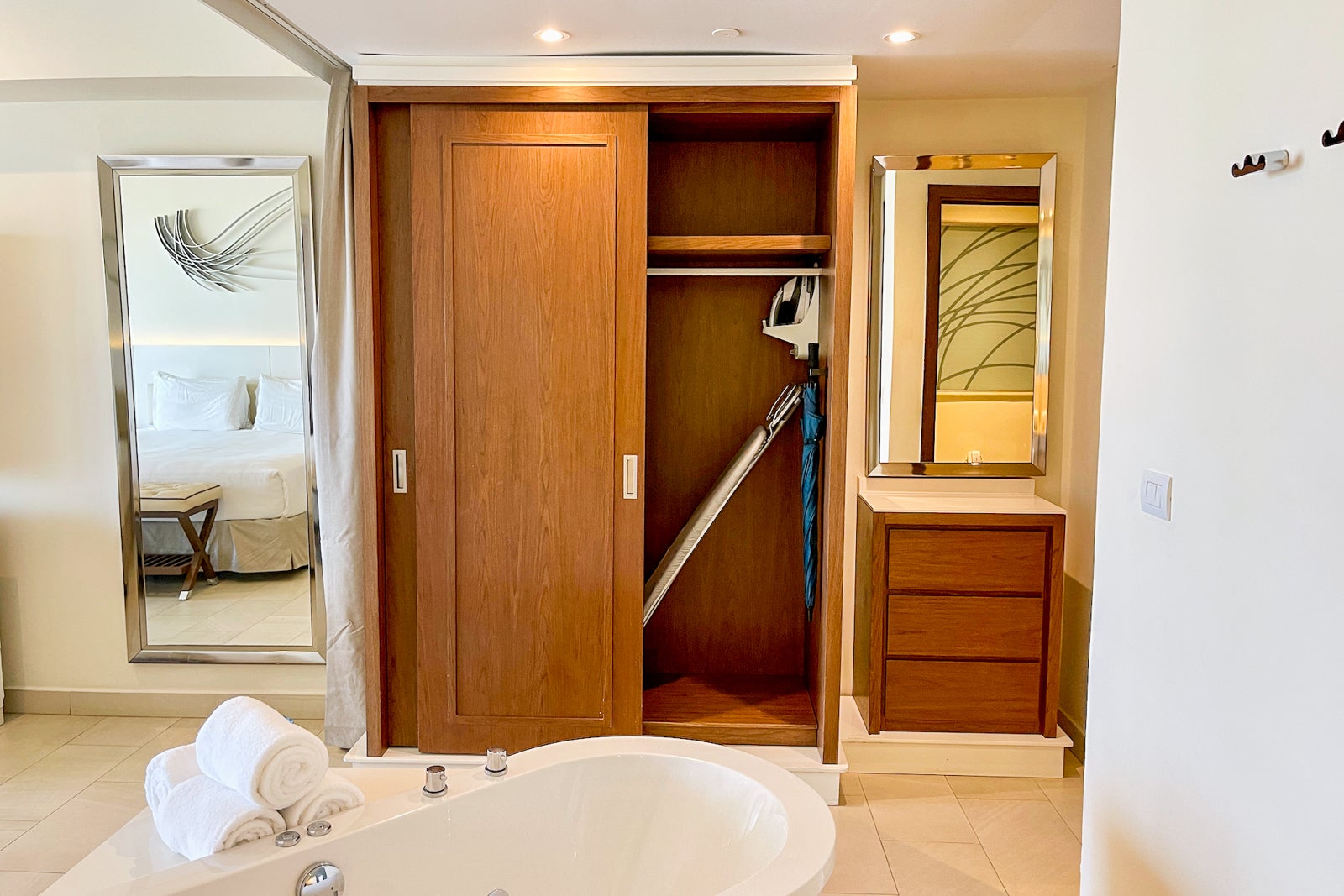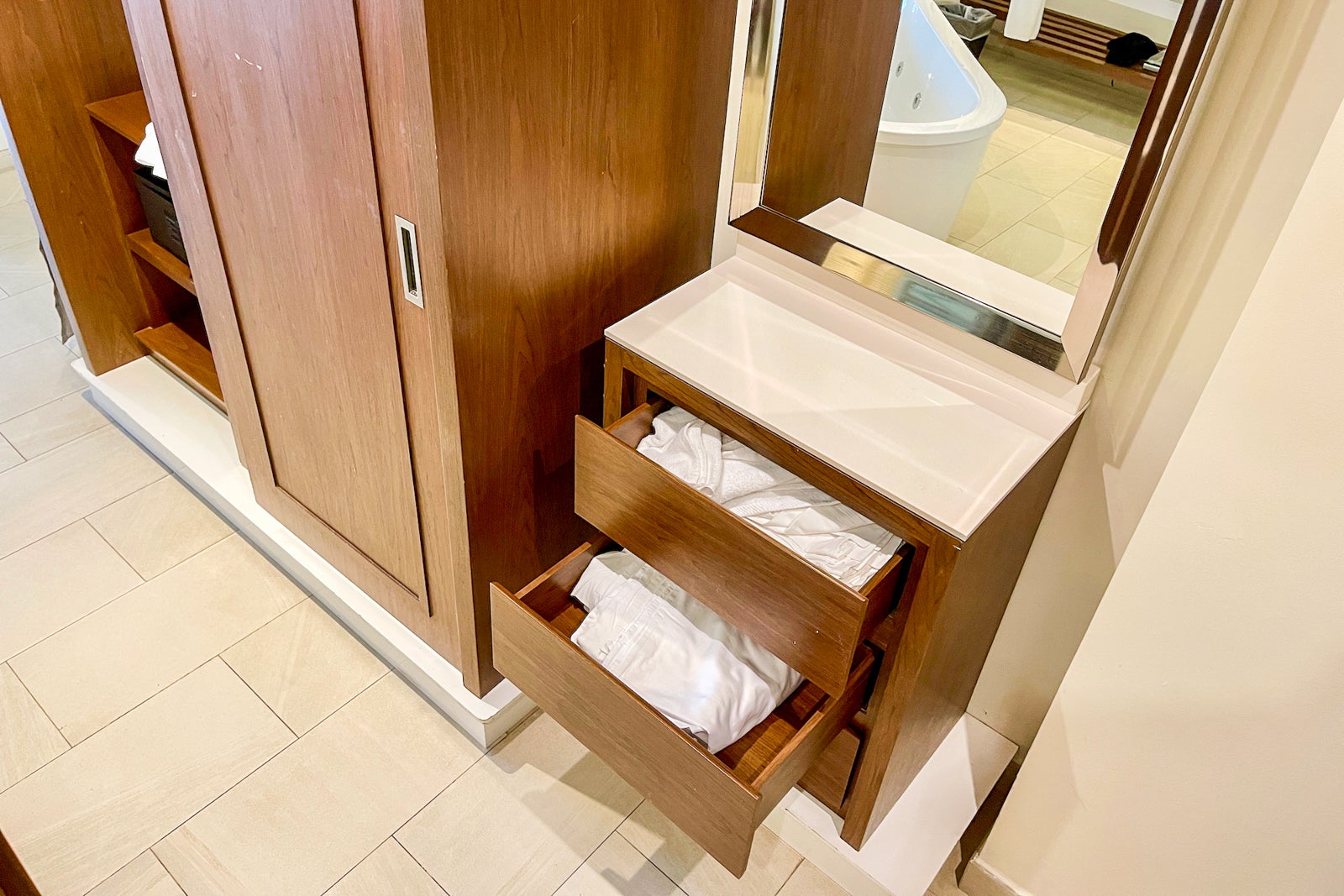 The bed was comfortable and had four full-size pillows. There were flip-out reading lights on either side of the bed, as well as — perhaps the most important amenity for me — bedside U.S. power outlets and USB ports. I never needed an adapter in my room.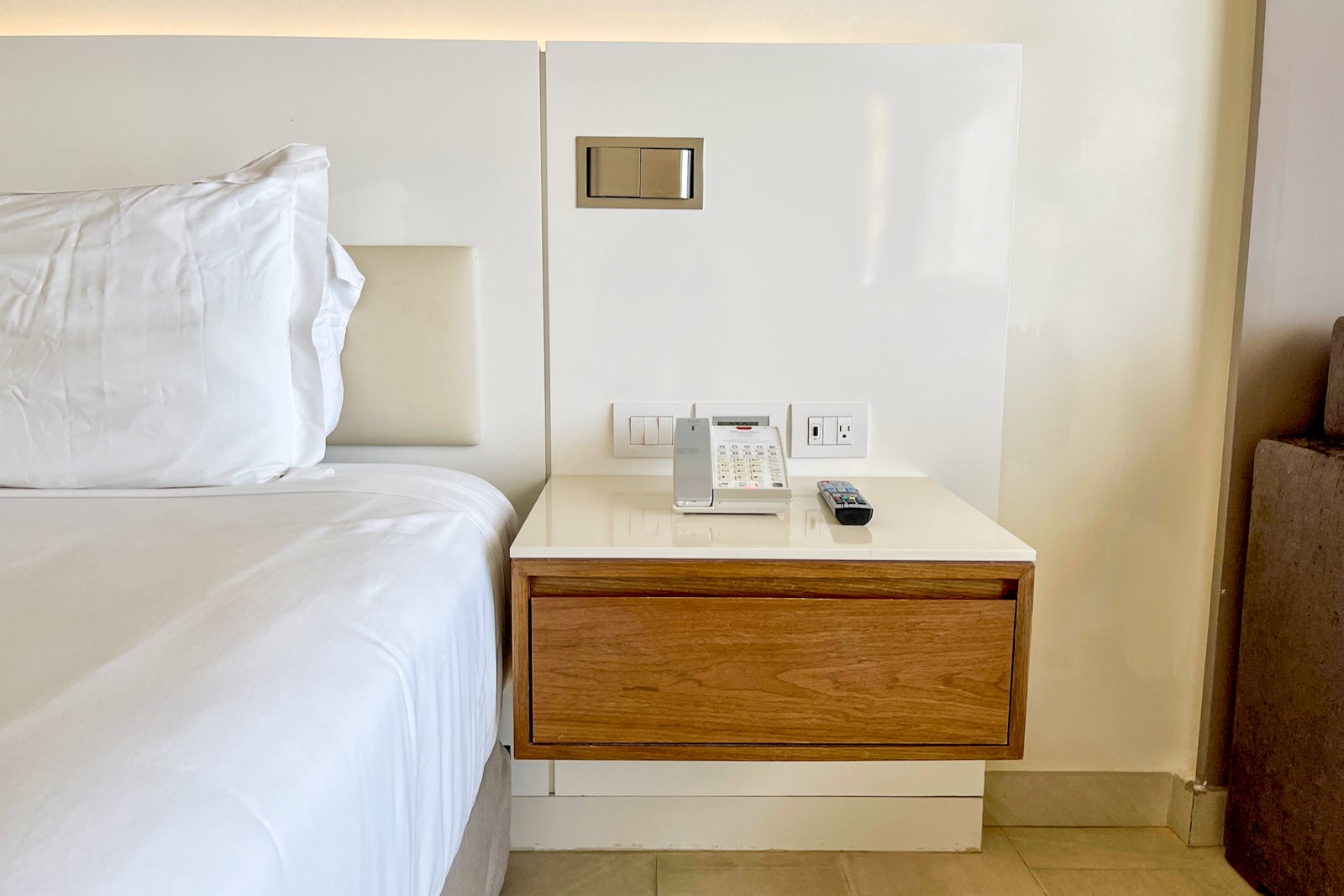 Across from the bed, inside the cabinet below the TV, was a mini-fridge and coffee maker. Complimentary in-room soft drinks were available but only stocked upon request. At a minimum, it would've been nice if water bottles were automatically provided.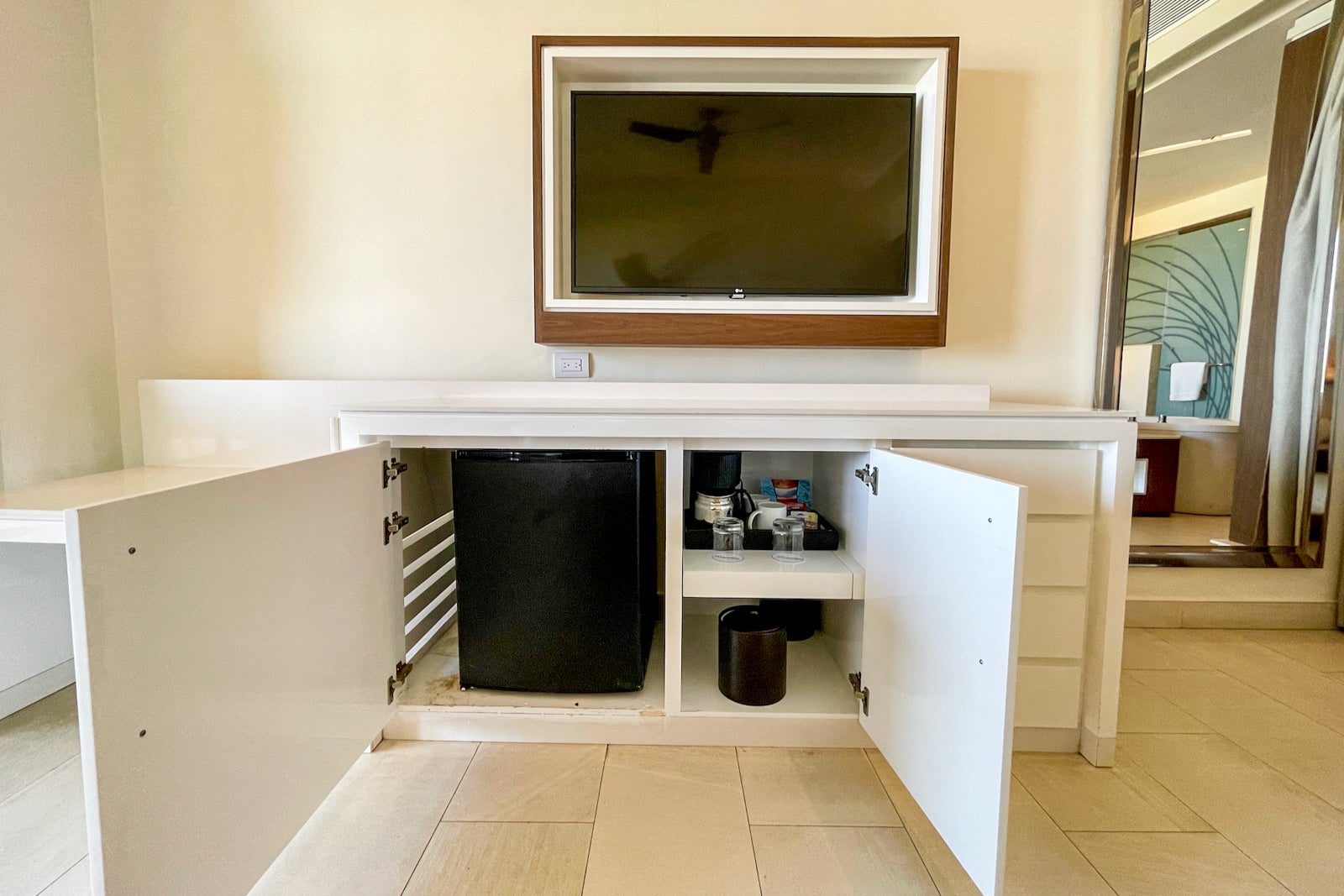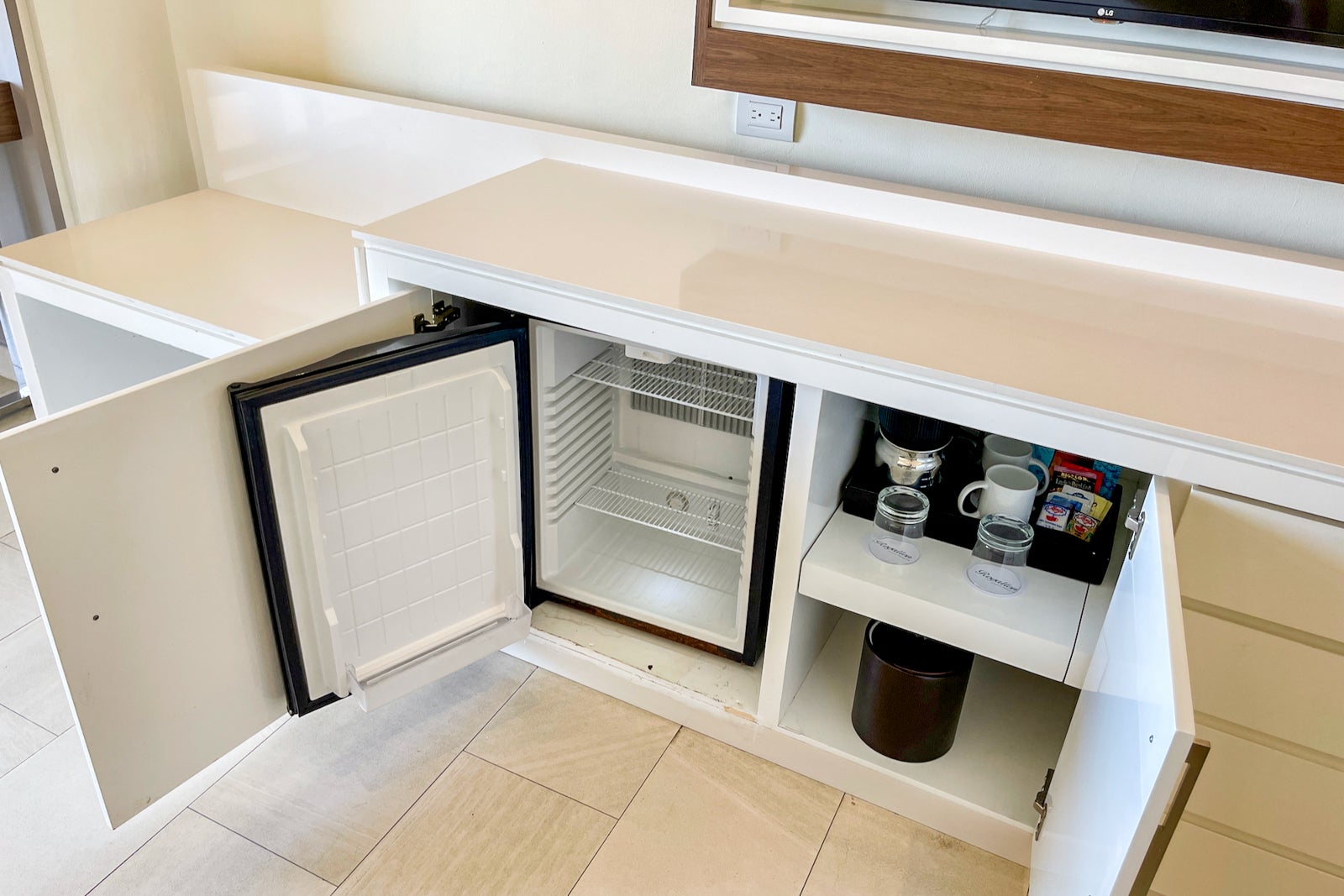 There was also a sitting area with a sofabed, as well as a desk. While I appreciated that there were power outlets beside the desk, they weren't very helpful considering my desk was missing a chair.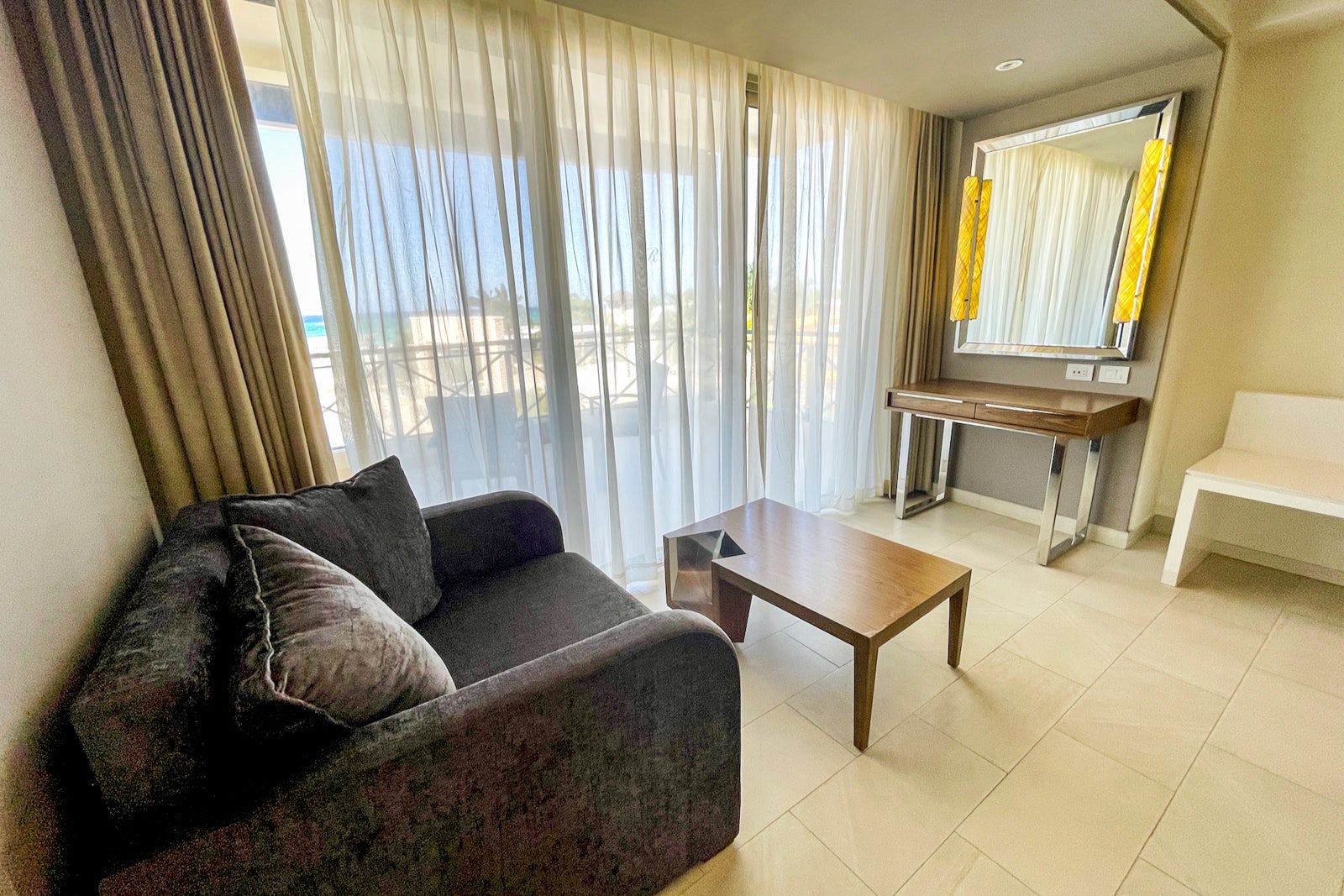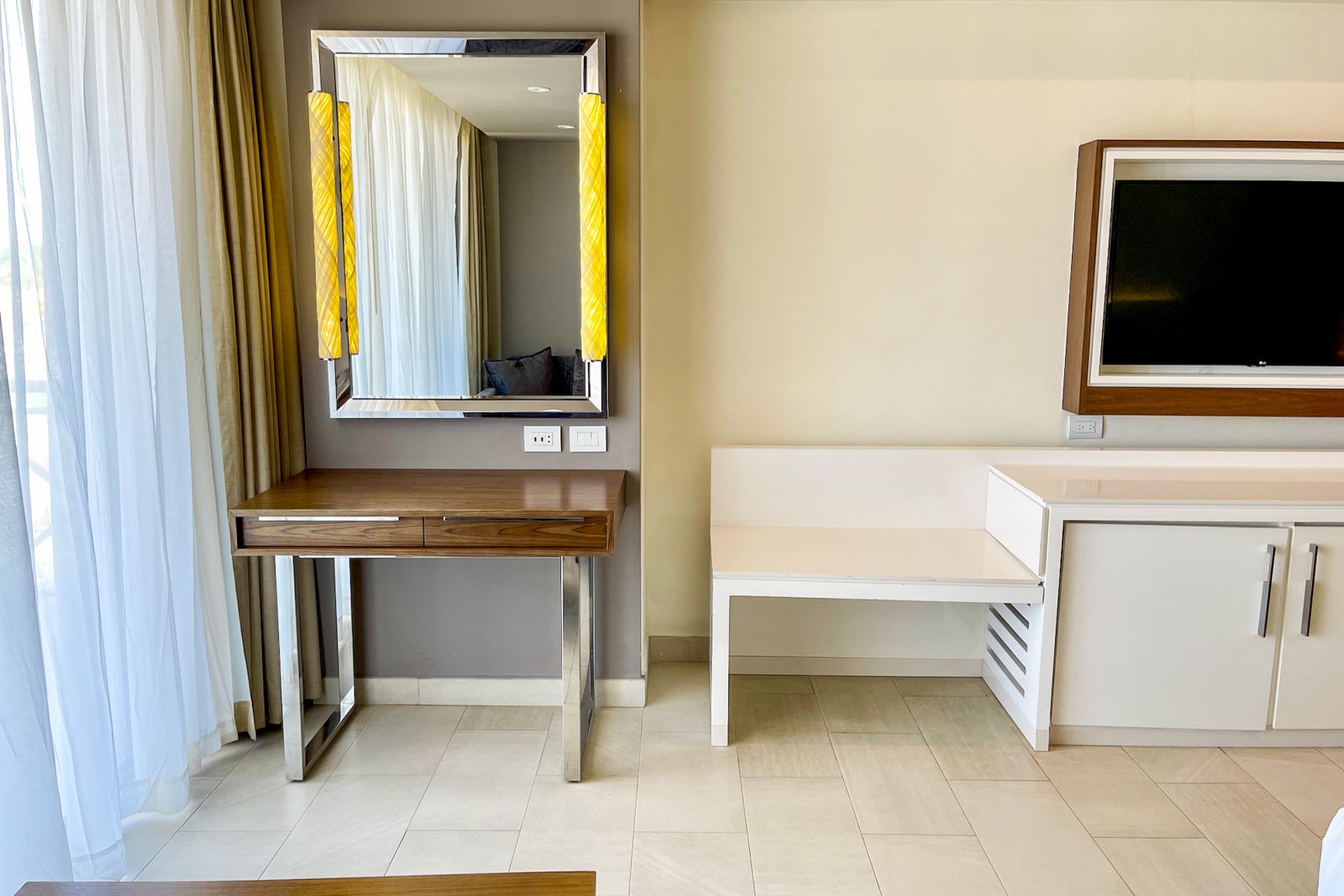 But why sit at a desk when you have a balcony with two chairs and a table? It was extremely large and offered views of the waterpark, pools and ocean.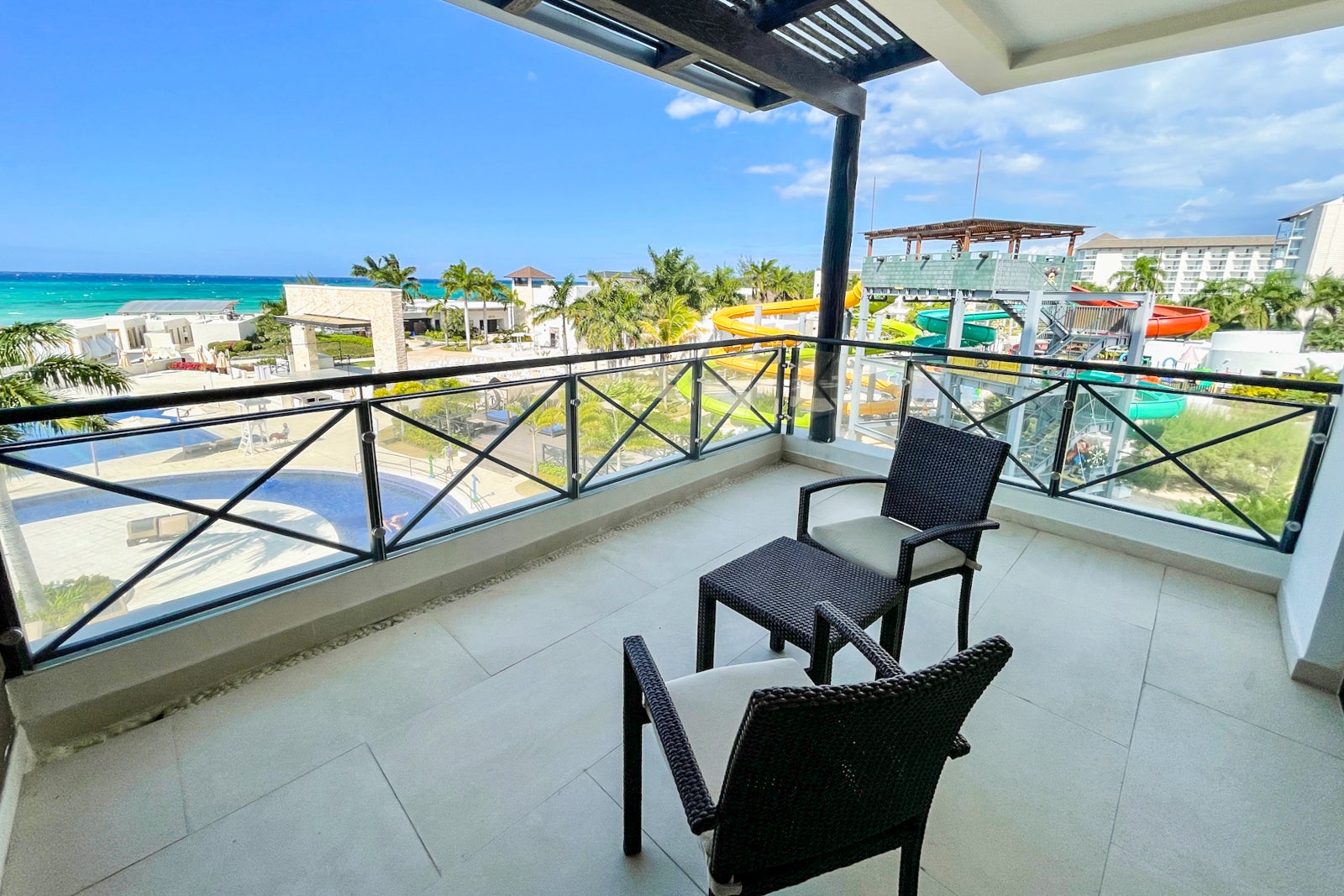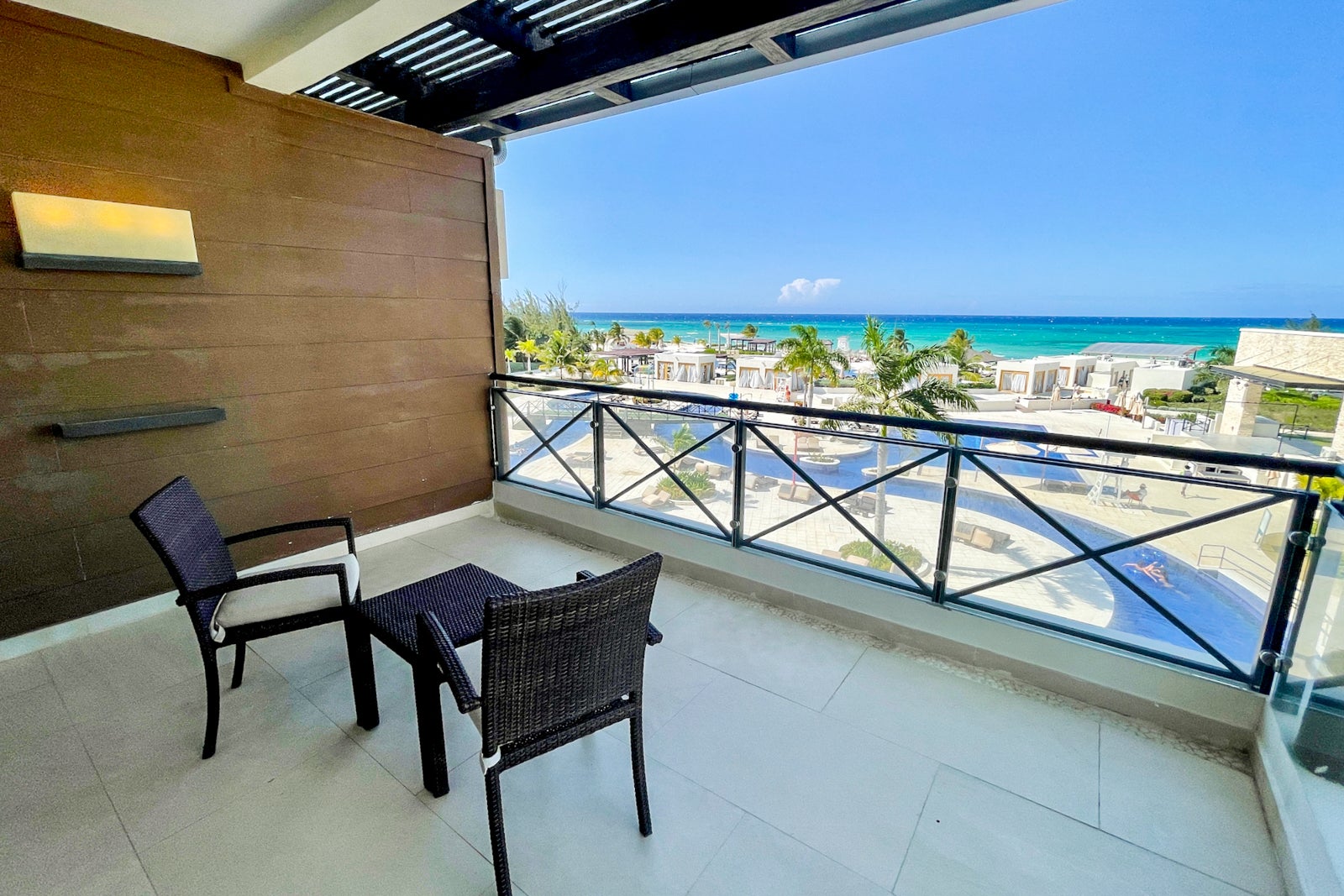 While the room looked nice, it had some problems. In addition to the aforementioned negatives, my room was infested with mosquitos and one of the light bulbs kept flickering. But these should be easy fixes.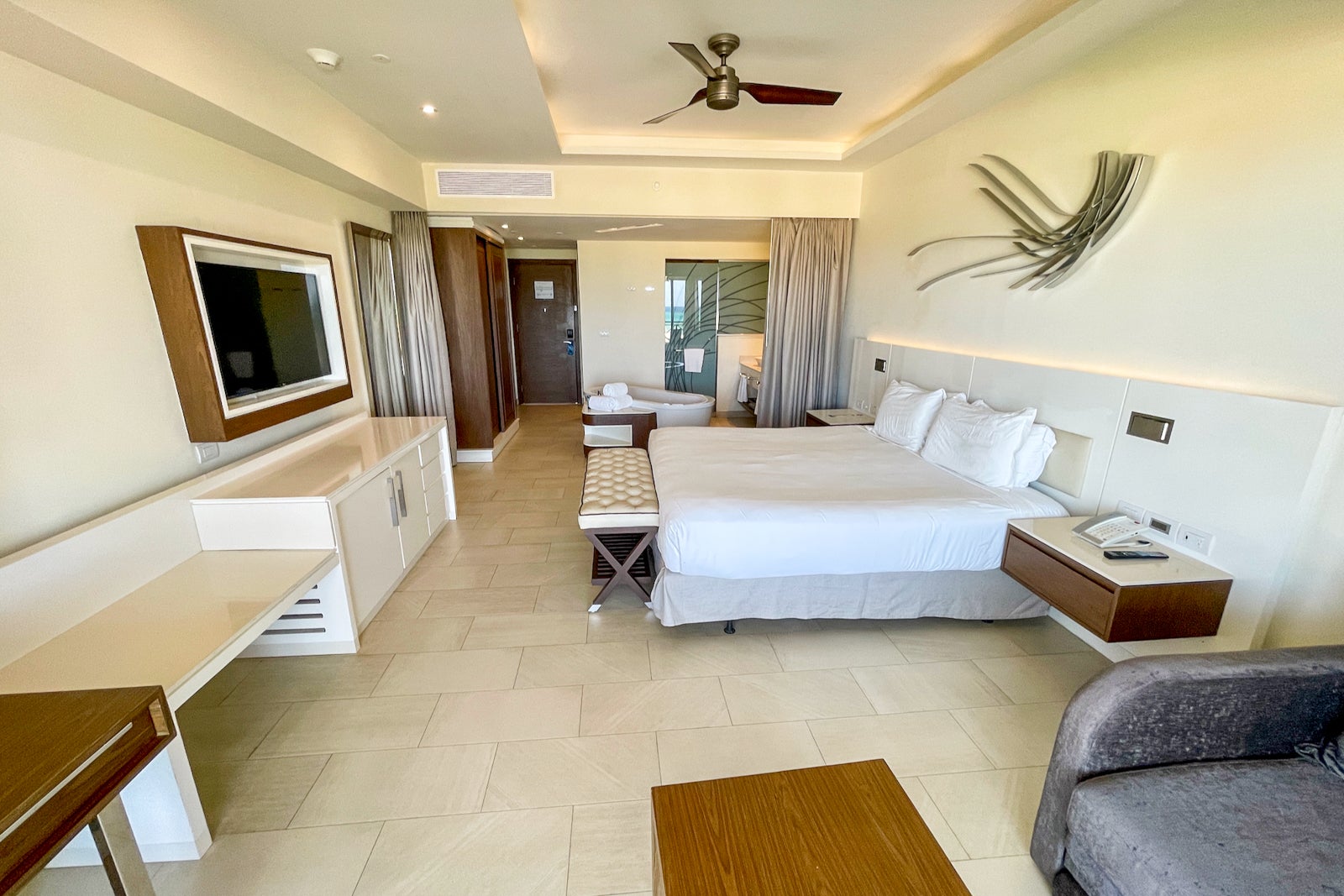 Amenities
While I had some issues with check-in and my room, the hotel made up for it with its amenities. As mentioned above, all facilities were shared with guests of the Royalton White Sands.
The main attraction was the array of pools spread across the property, two of which had swim-up bars. Although they didn't get much sun, there were more private pools for those staying in swim-up suites.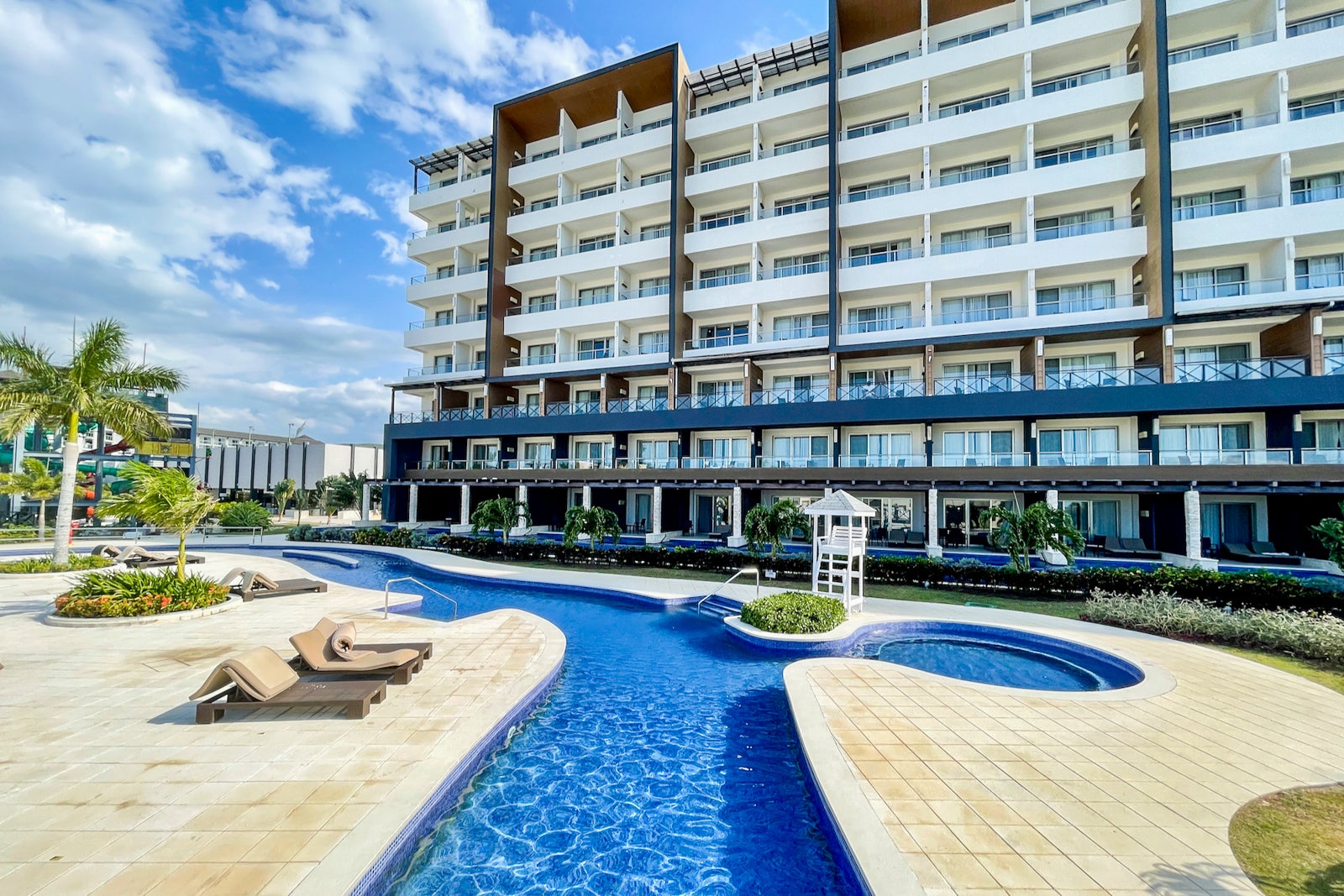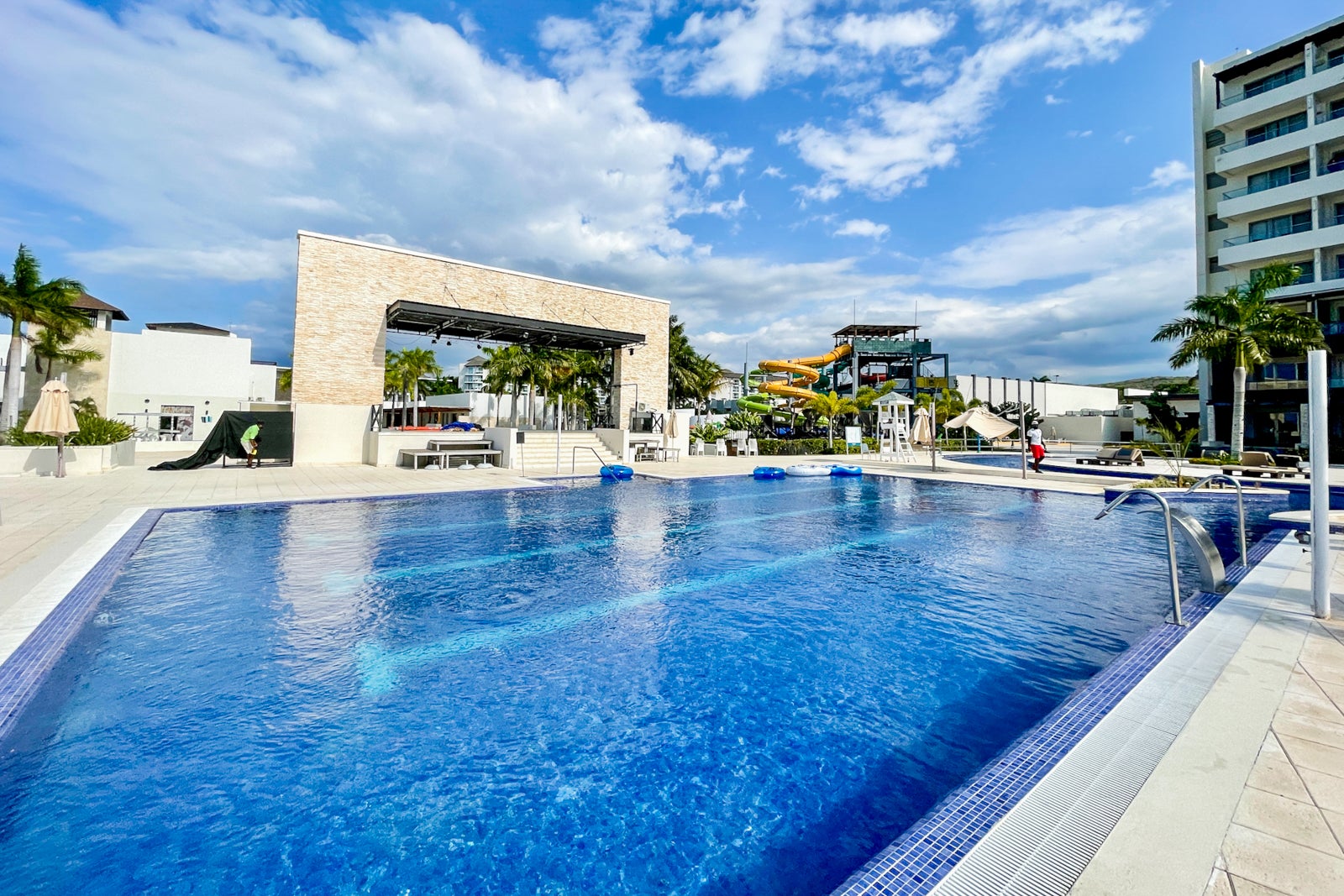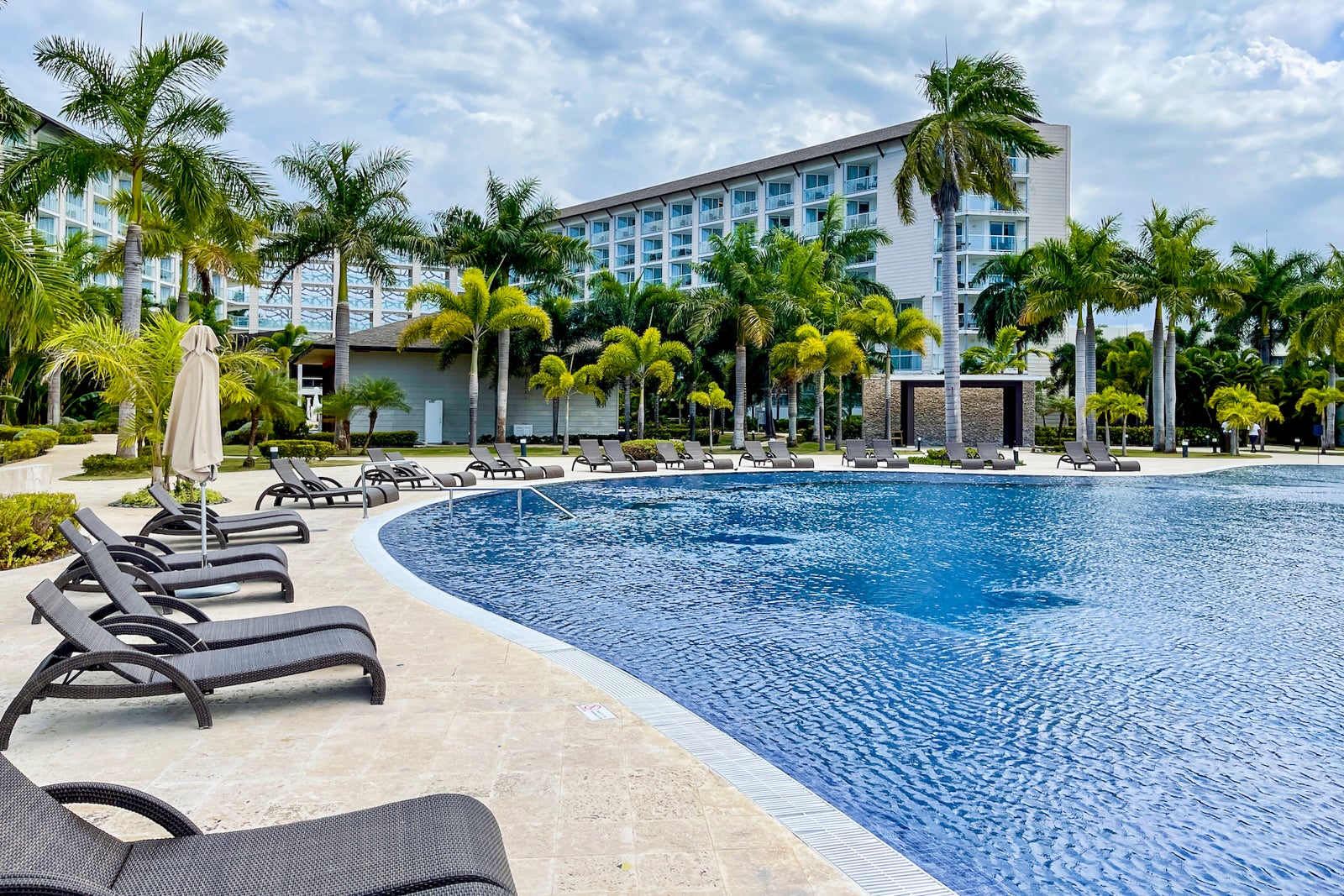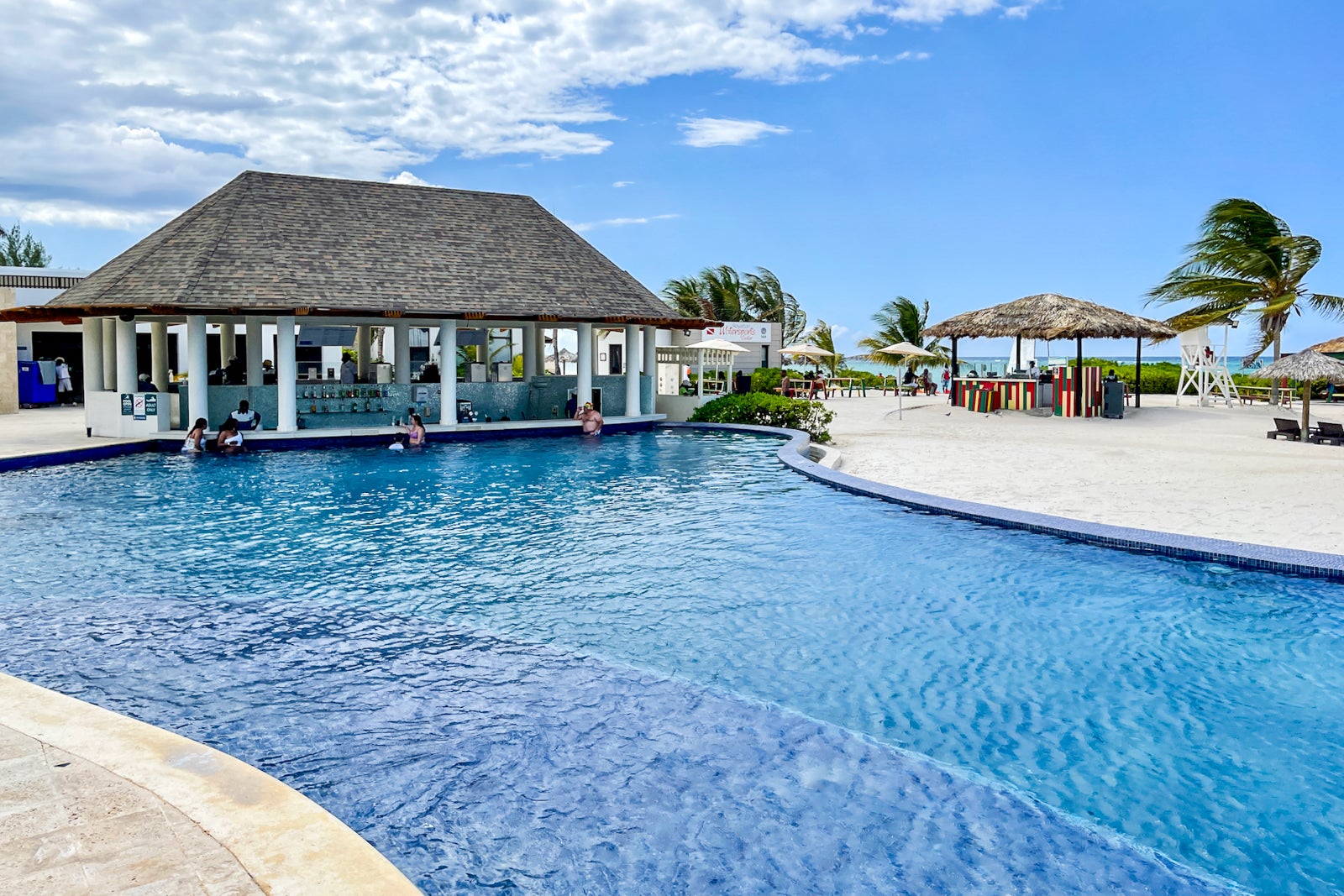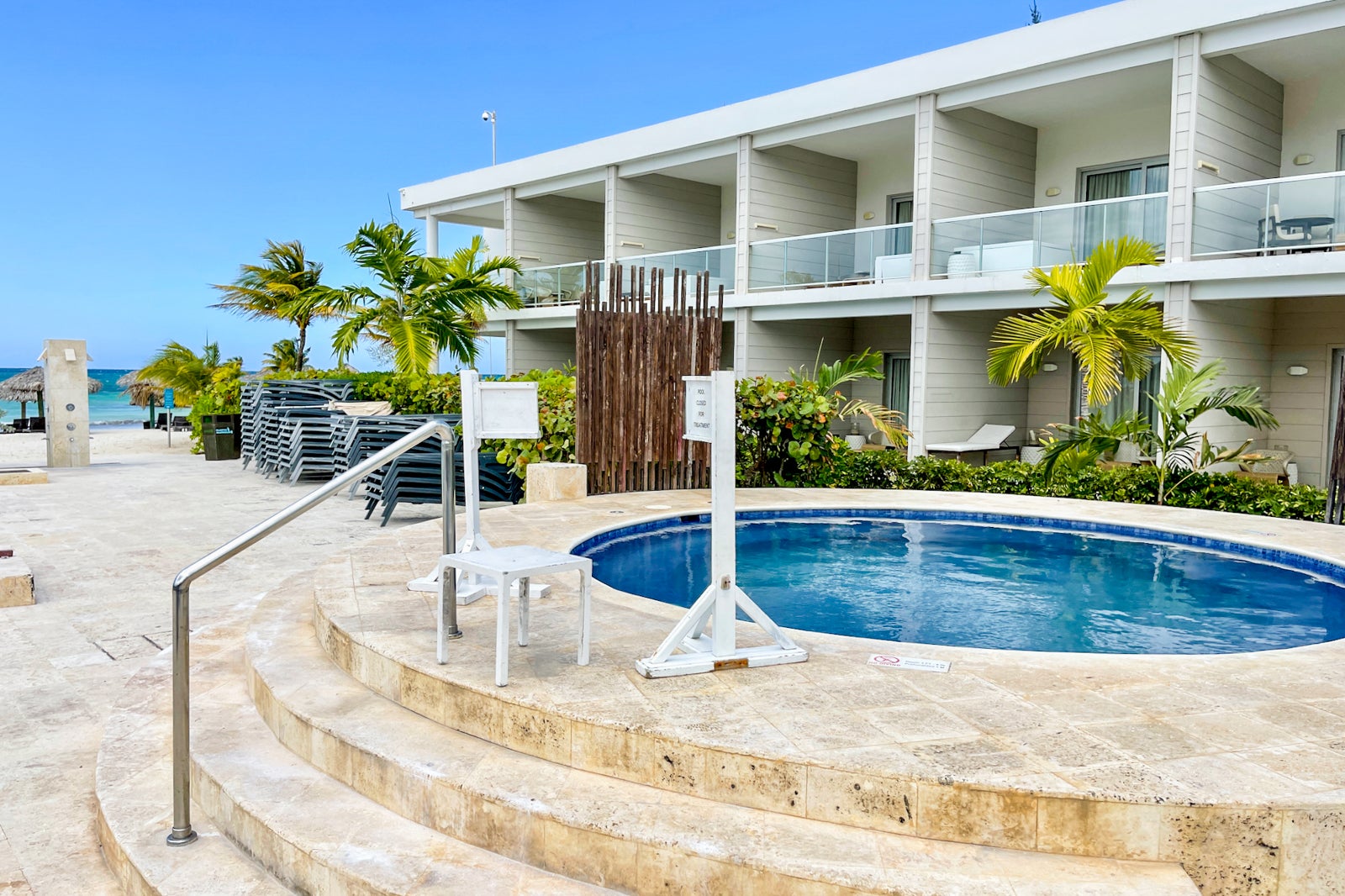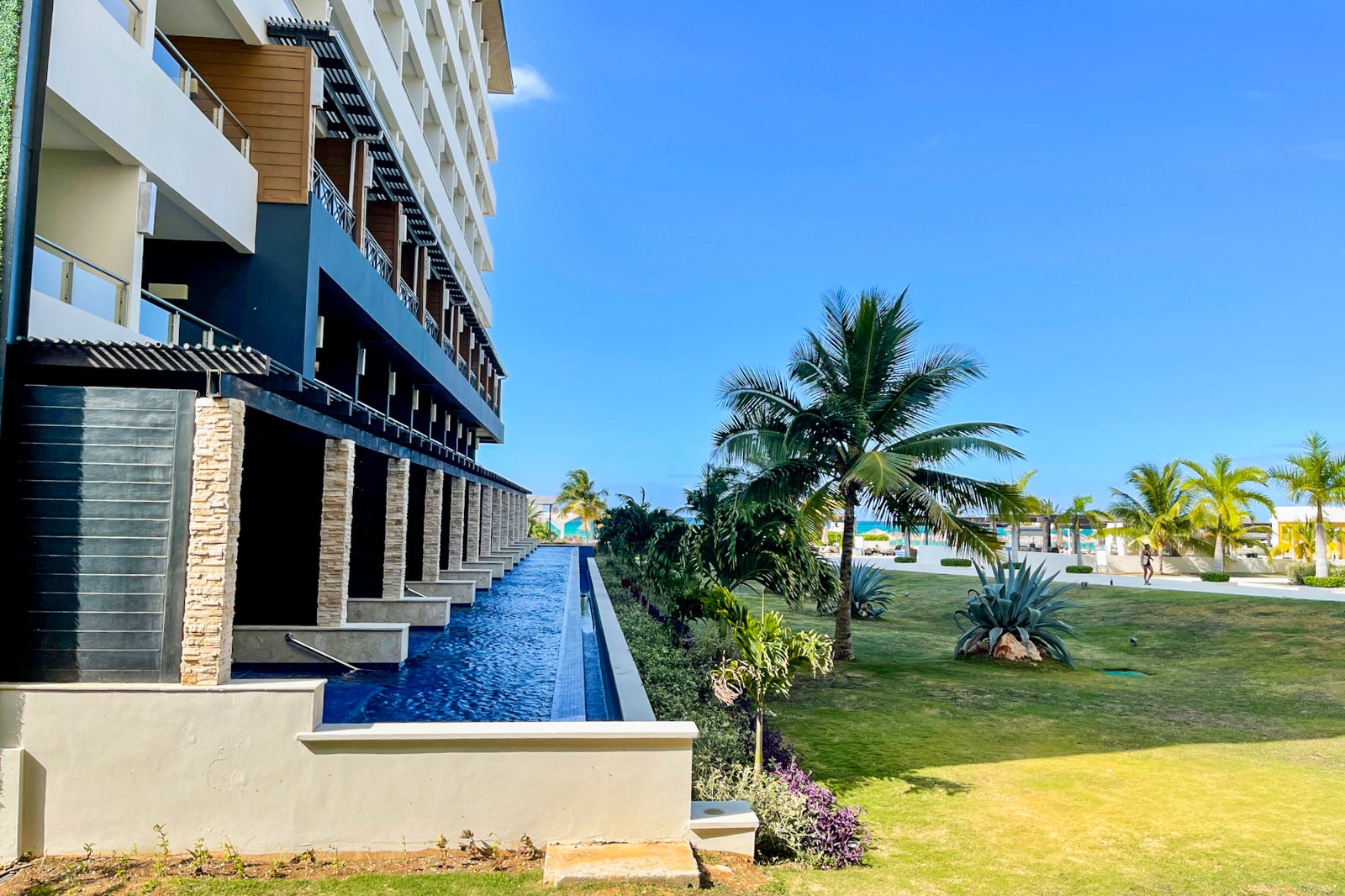 There was also a lazy river that meandered through the resort. However, I never found the Diamond Club-only pool that was listed online and didn't see one on the resort map either.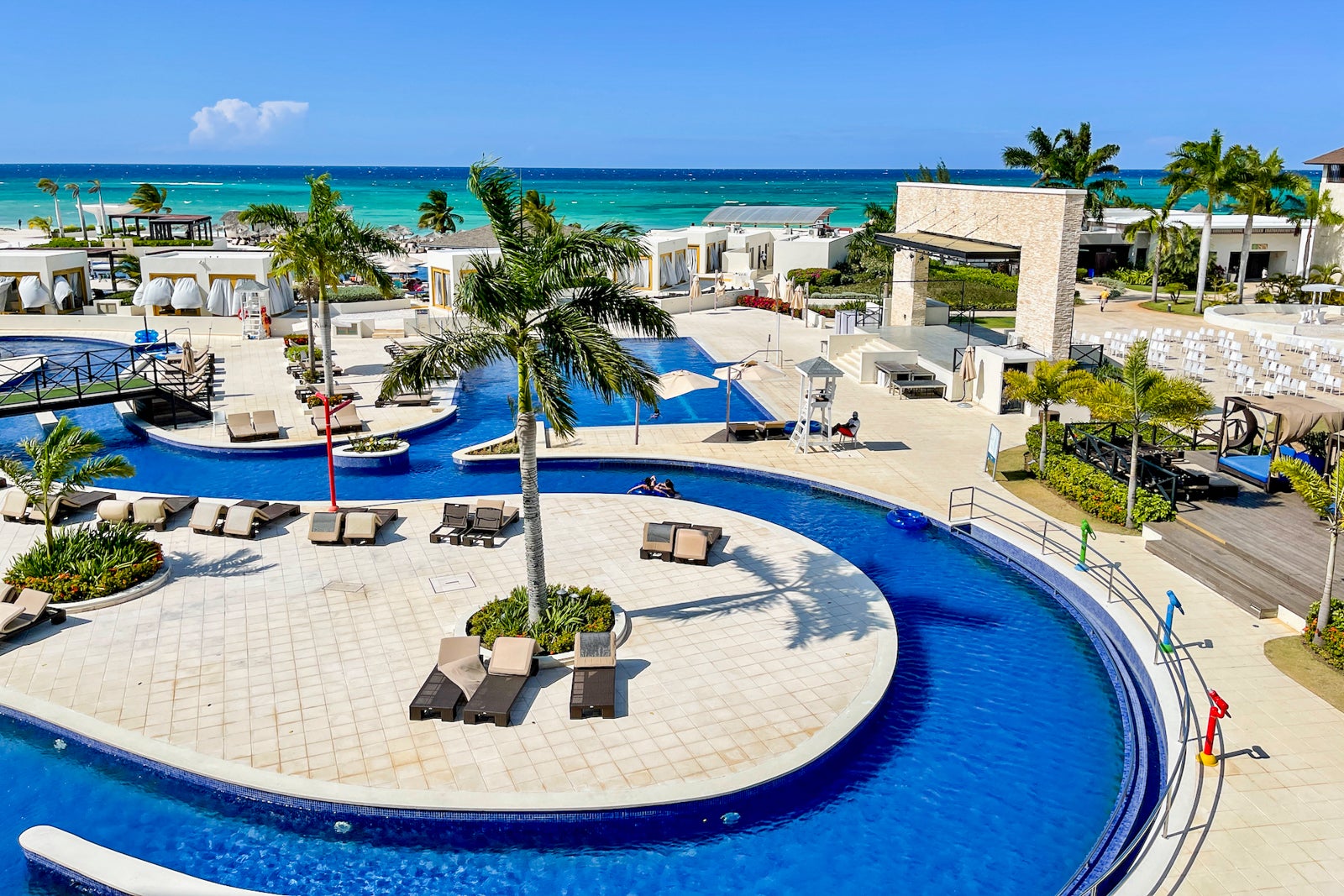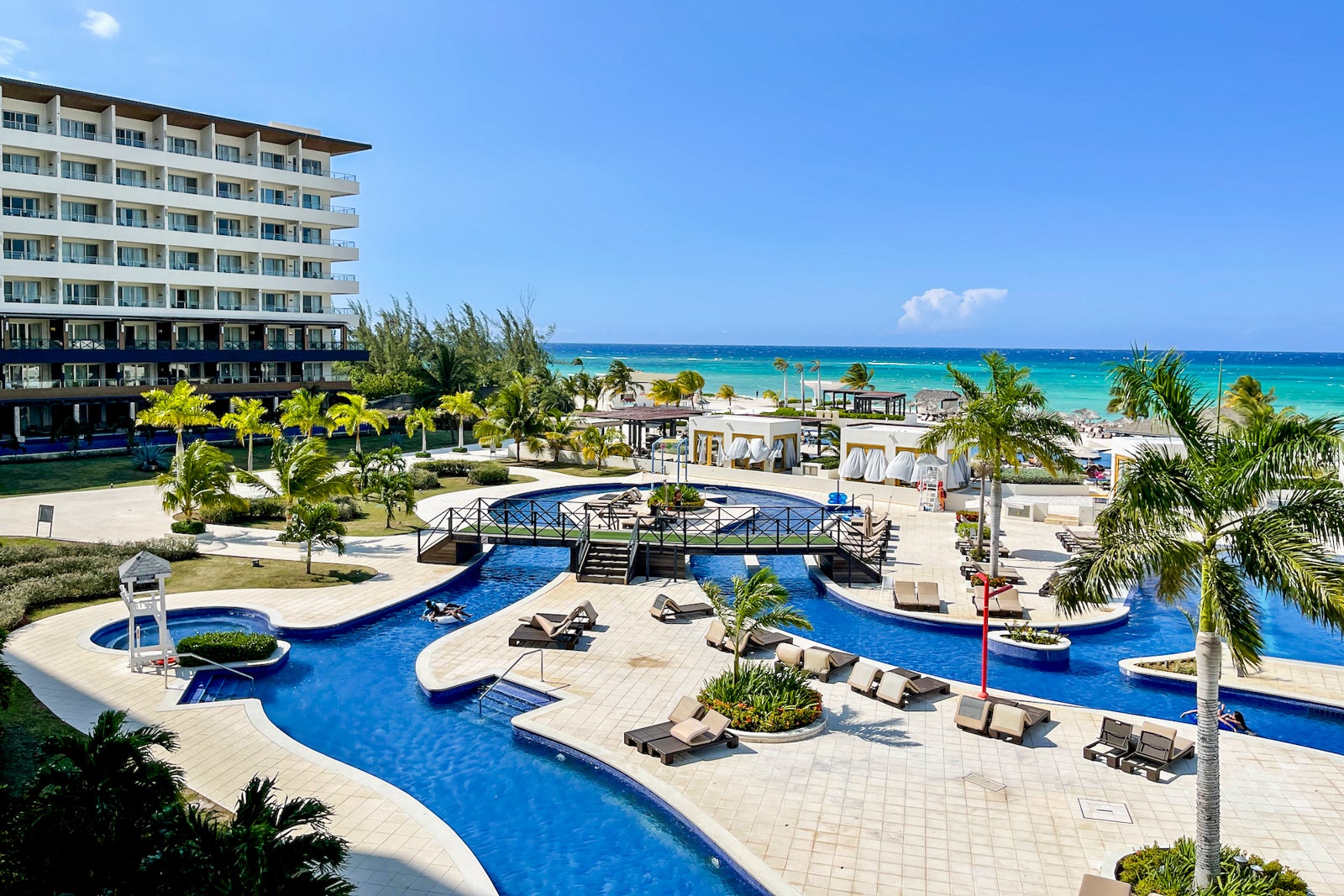 The pool on the Blue Waters side was the livelier one. It offered panoramic ocean views and loungers that sat directly in the water. Throughout the day, there were various activities hosted here, such as pool yoga and water aerobics.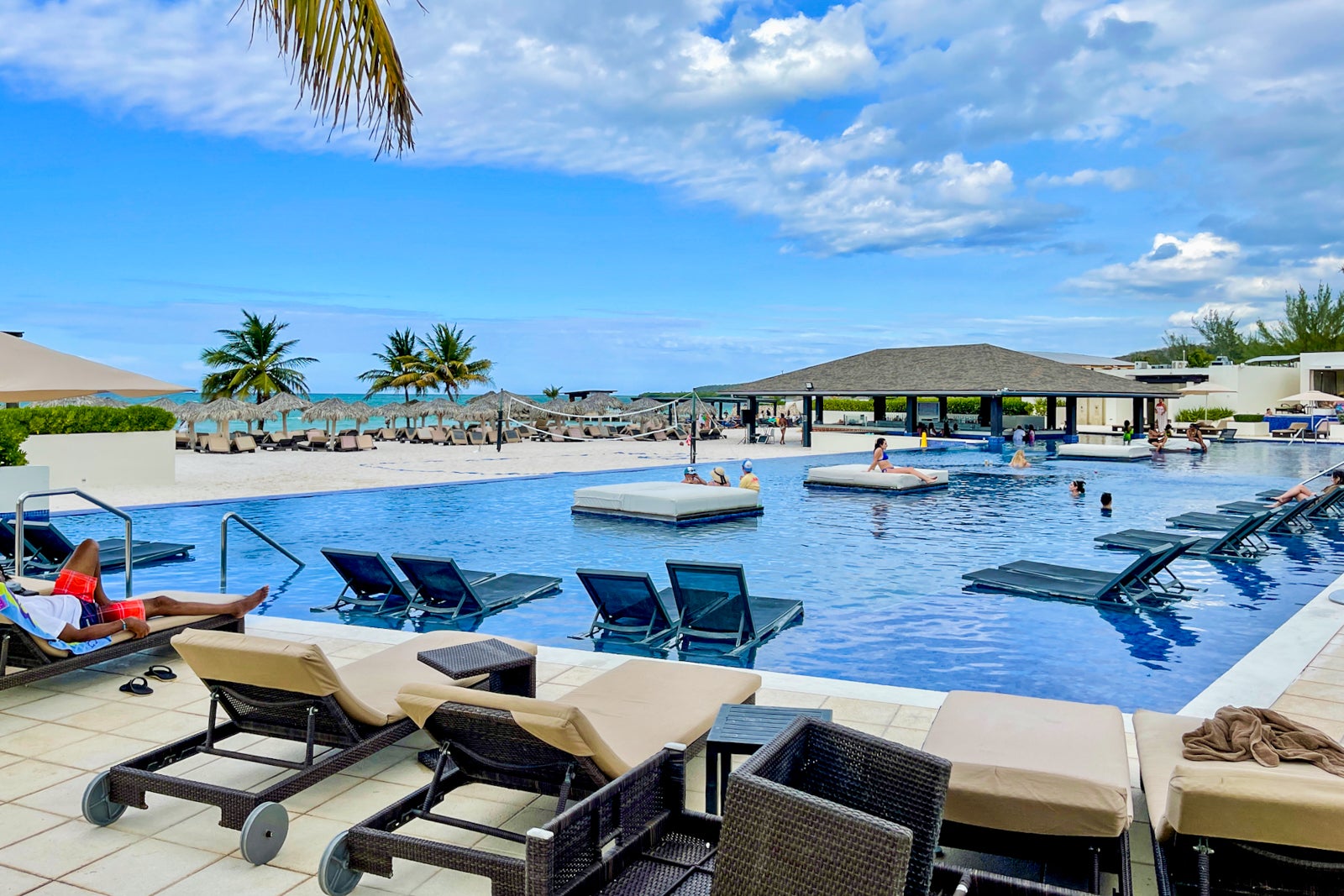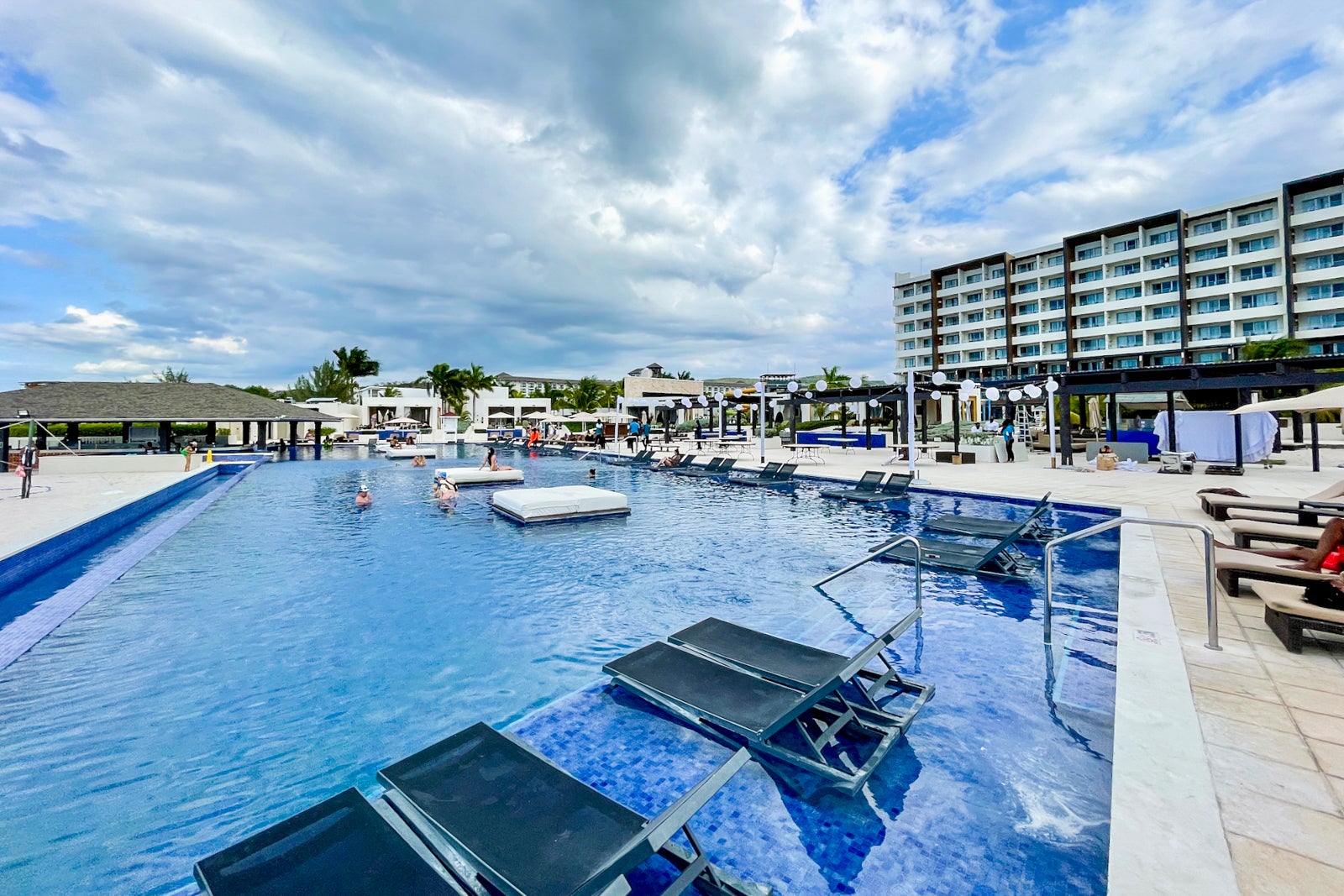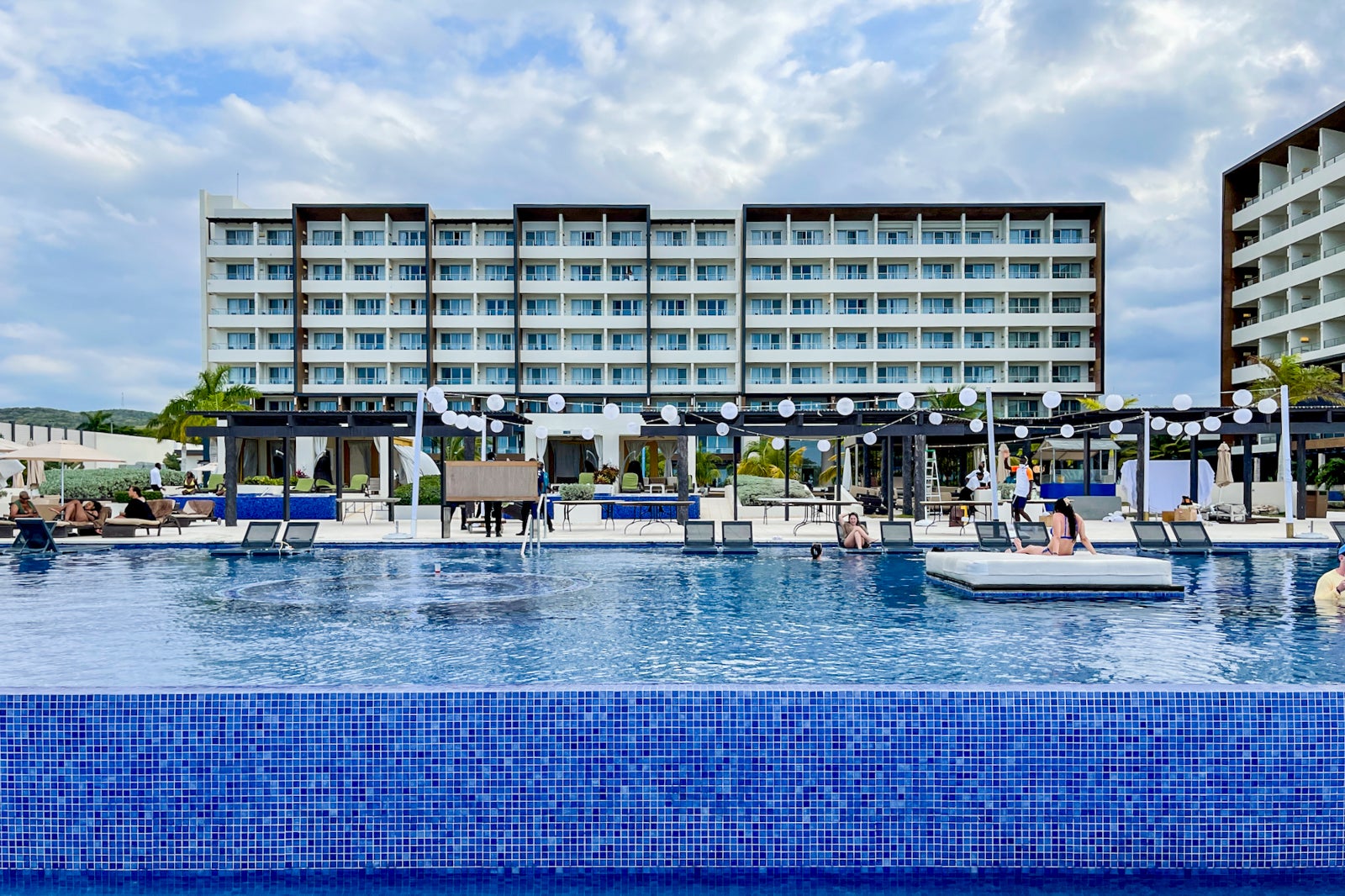 That said, like the room, it looked like it could use more upkeep as there was some rubbish floating in the corners.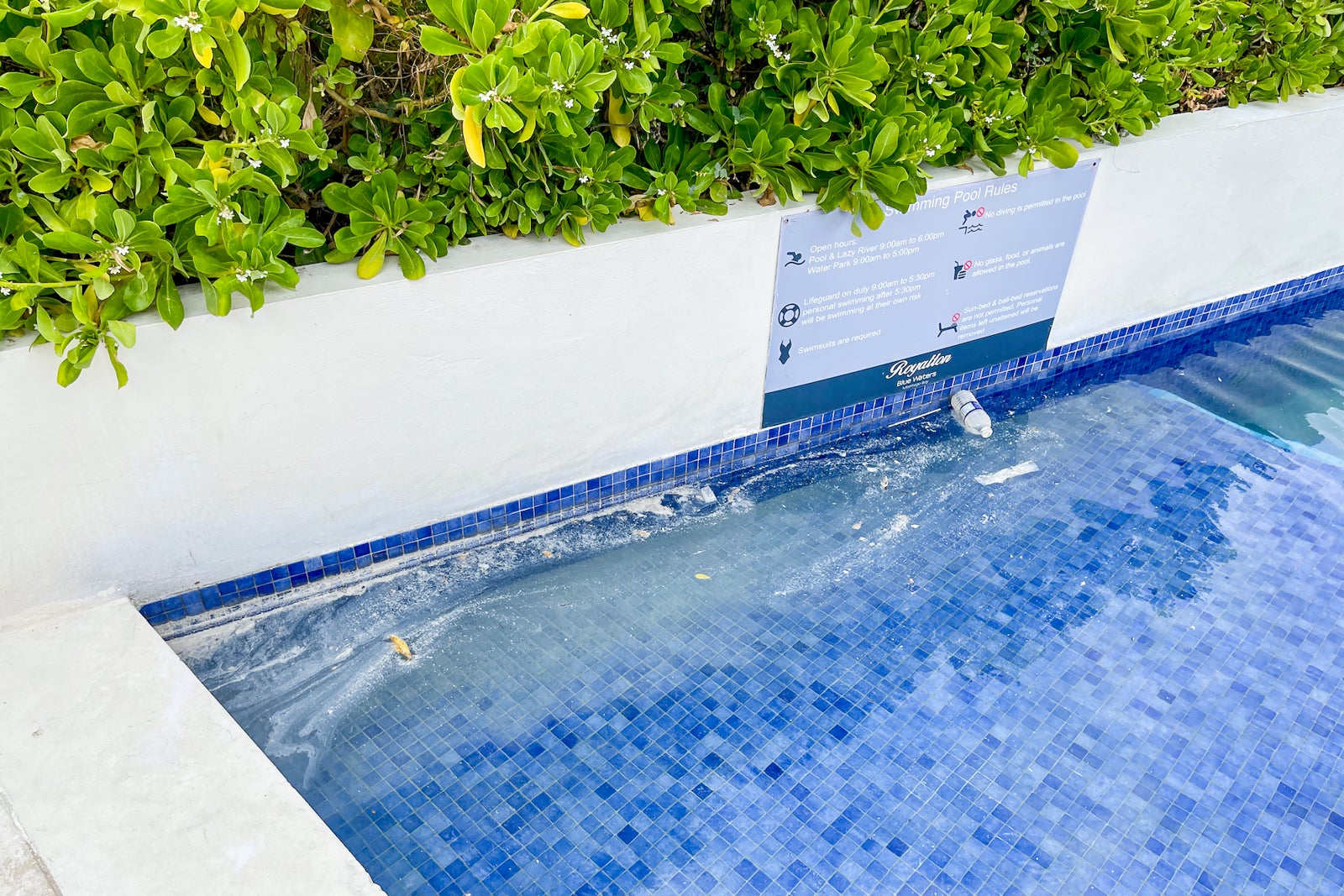 The pools were surrounded by an abundance of chaise loungers. That said, there were also private cabanas available to rent at an additional cost, which came with individual plunge pools.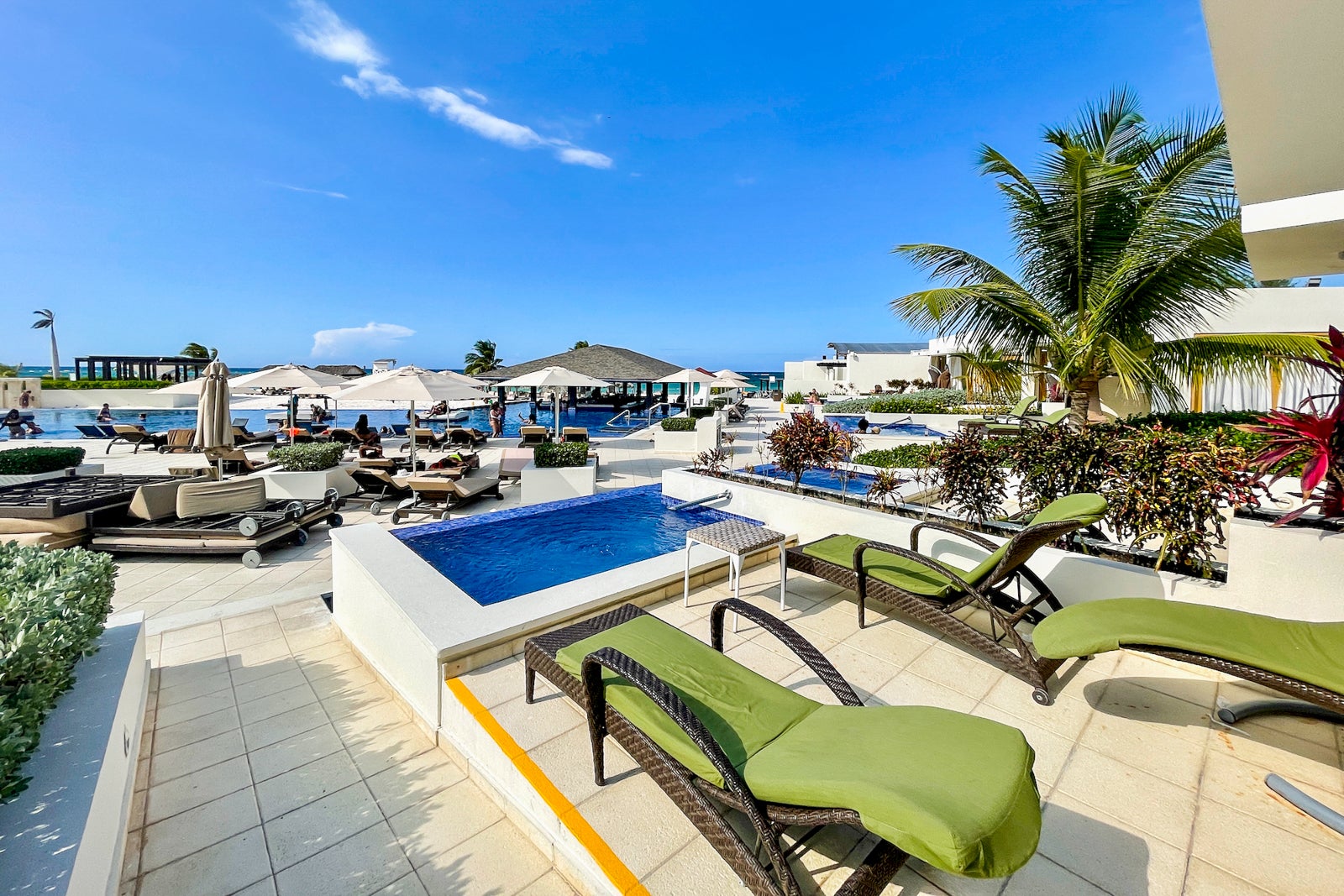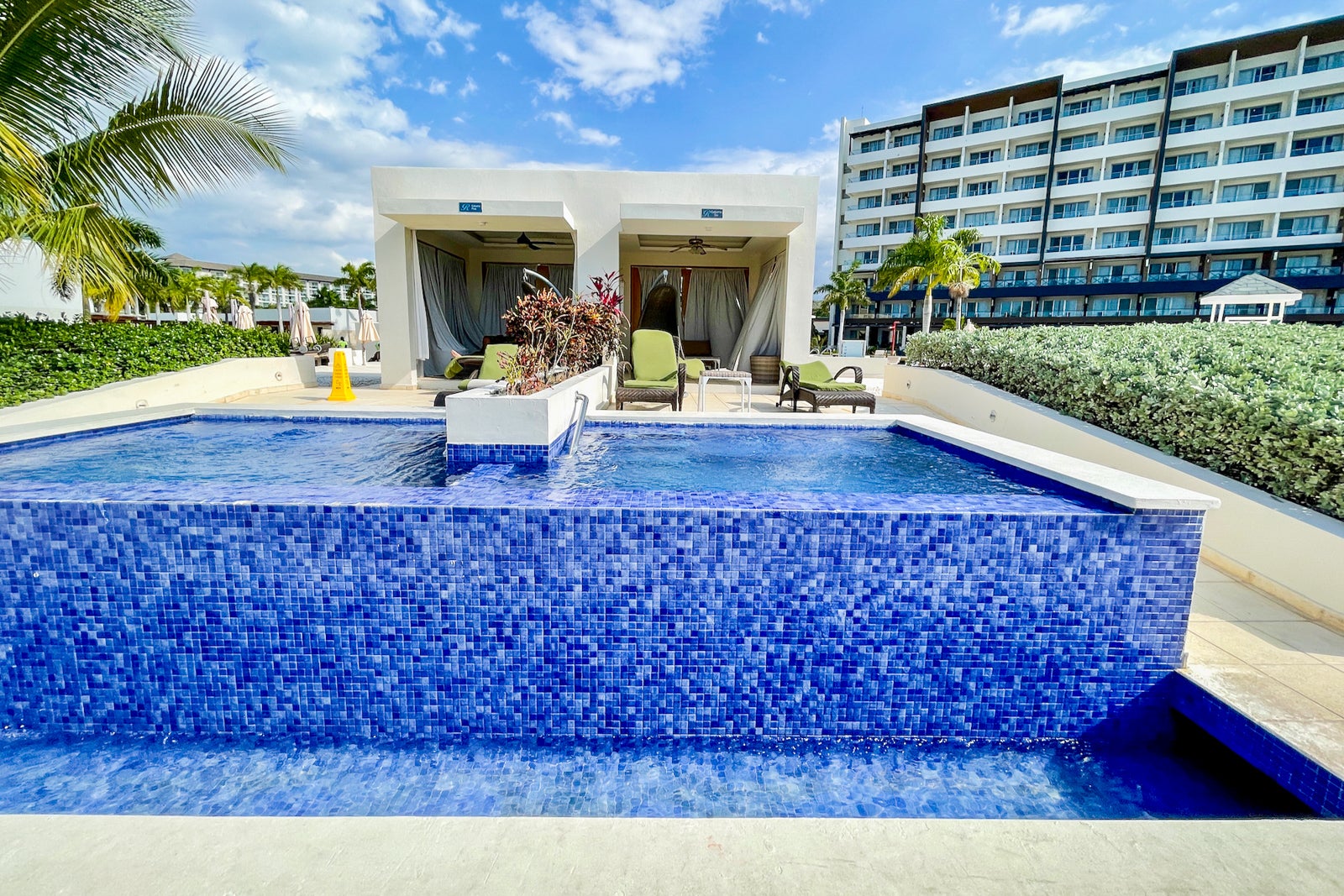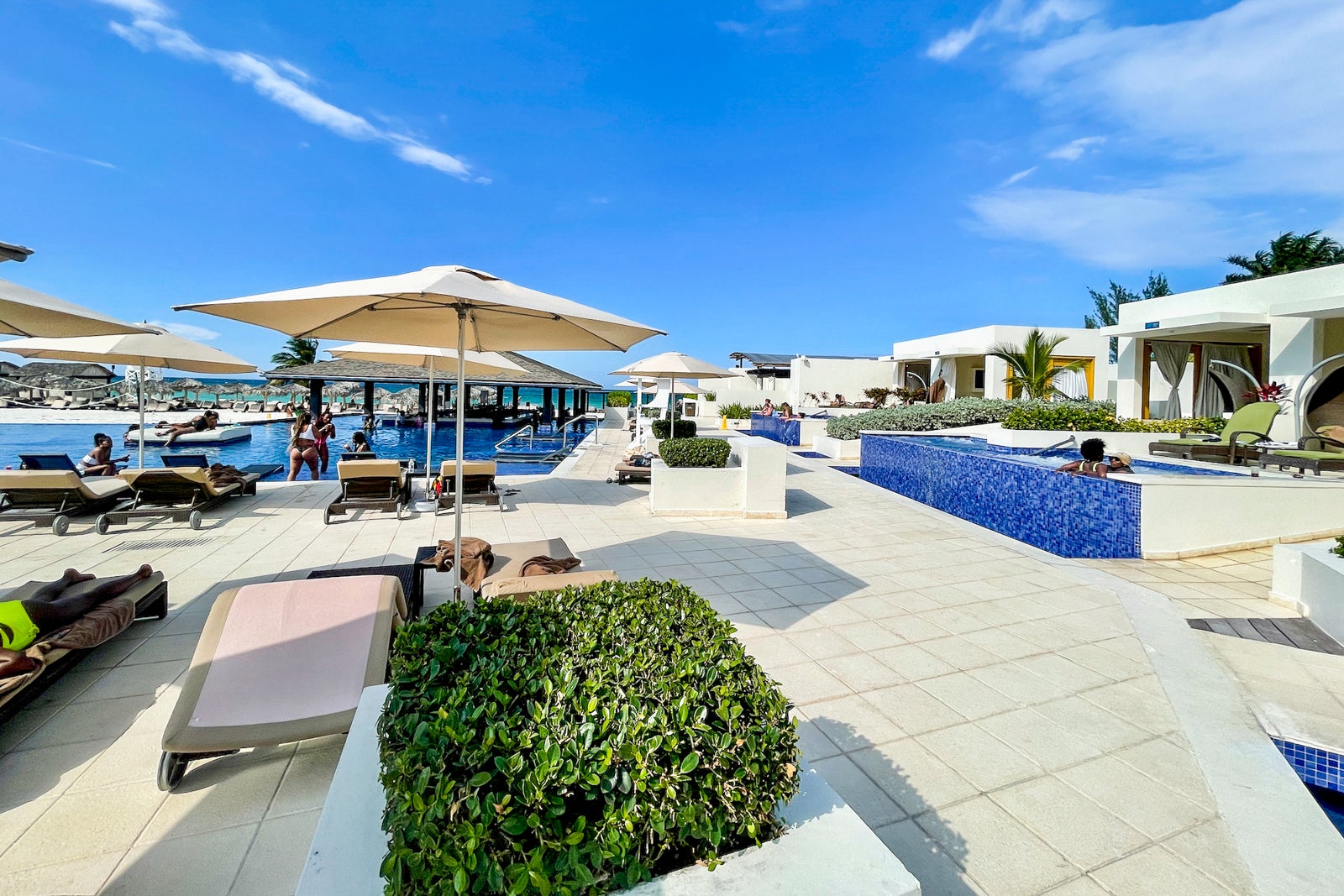 For the younger guests (and young at heart), there was a small pirate-themed water park. It featured several waterslides of varying thrill levels and a splash pad.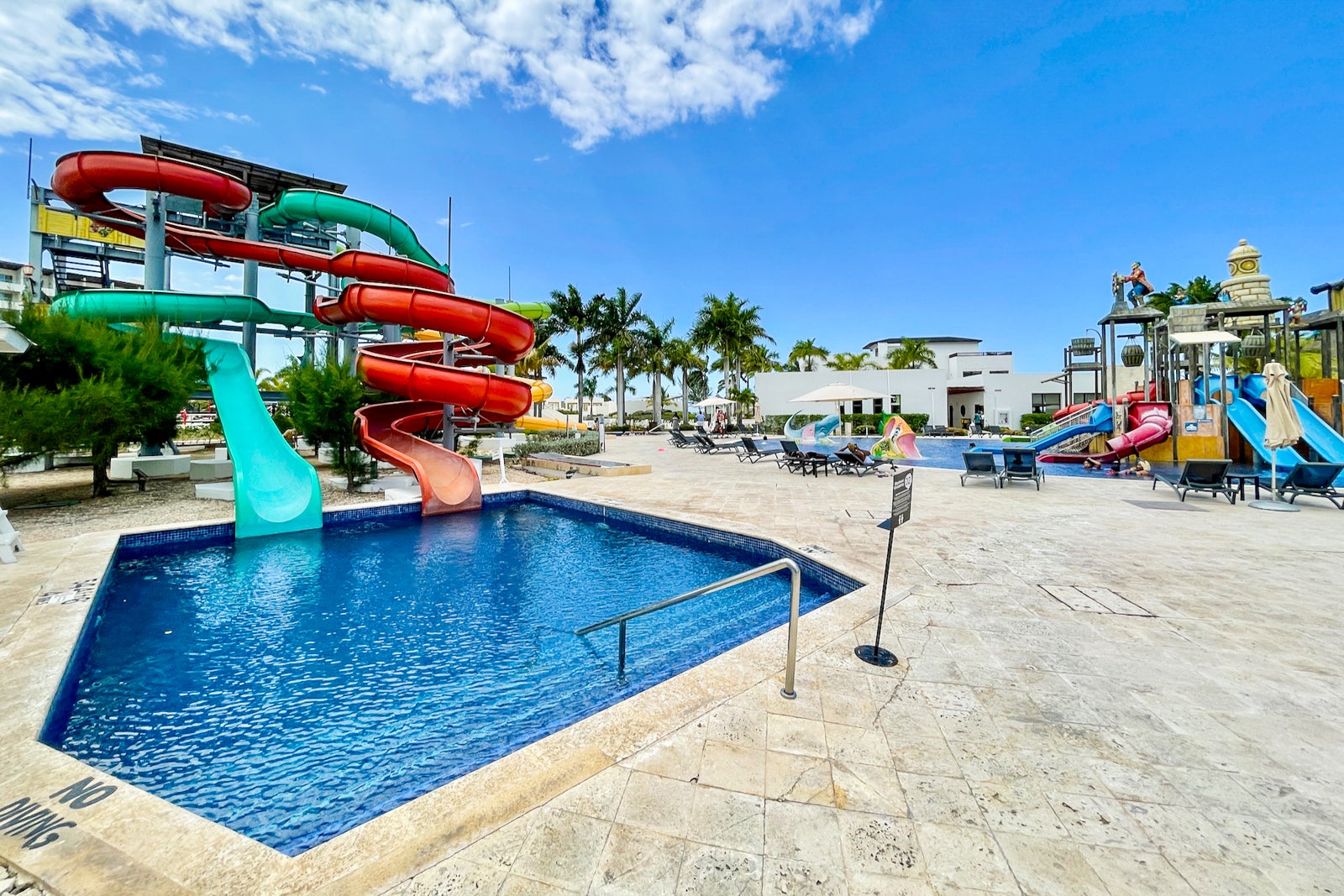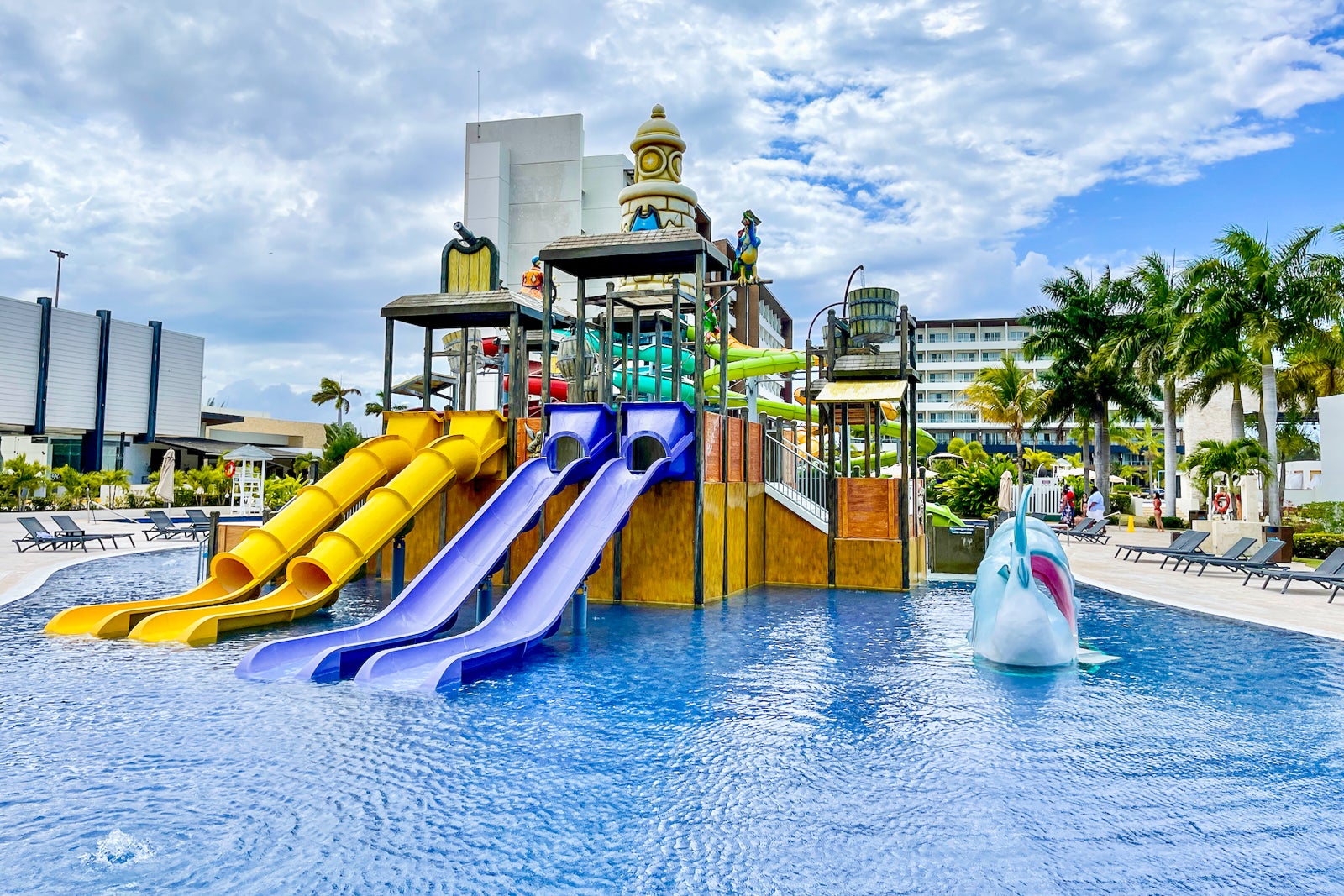 Alternatively, you could drop the kiddos off at the supervised kids club or teens lounge.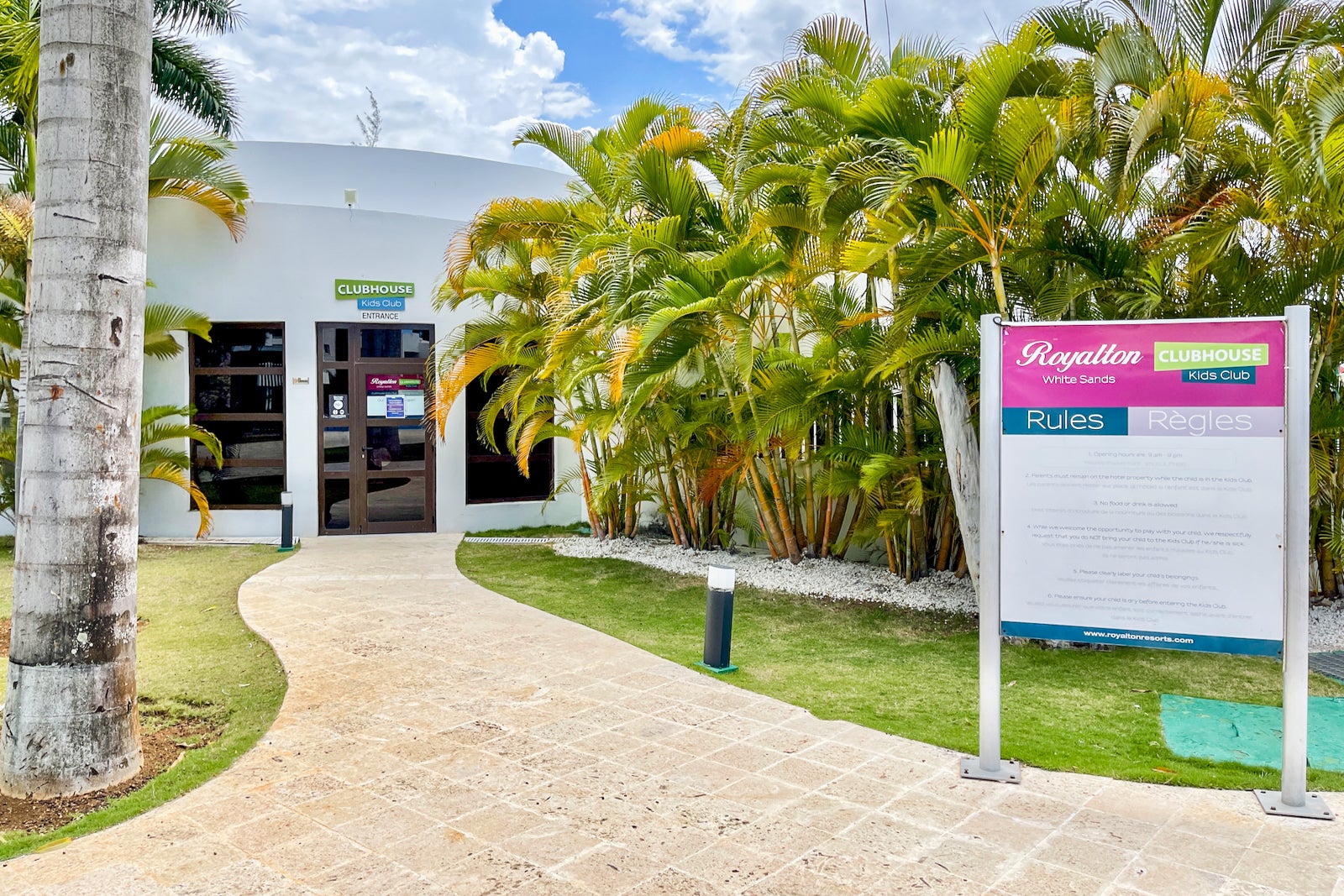 My go-to spot was the beach. There was an area reserved for Diamond Club guests, but overall, there were plenty of lounge chairs. Whether it was late in the morning or early afternoon, I had no trouble finding a chair under an umbrella. The main difference was that there were free cabanas available on the Diamond Club side.
The beach itself was beautiful but definitely not private as I was often approached by locals trying to sell me souvenirs. And although not the fastest, I did appreciate that the free Wi-Fi reached the beach.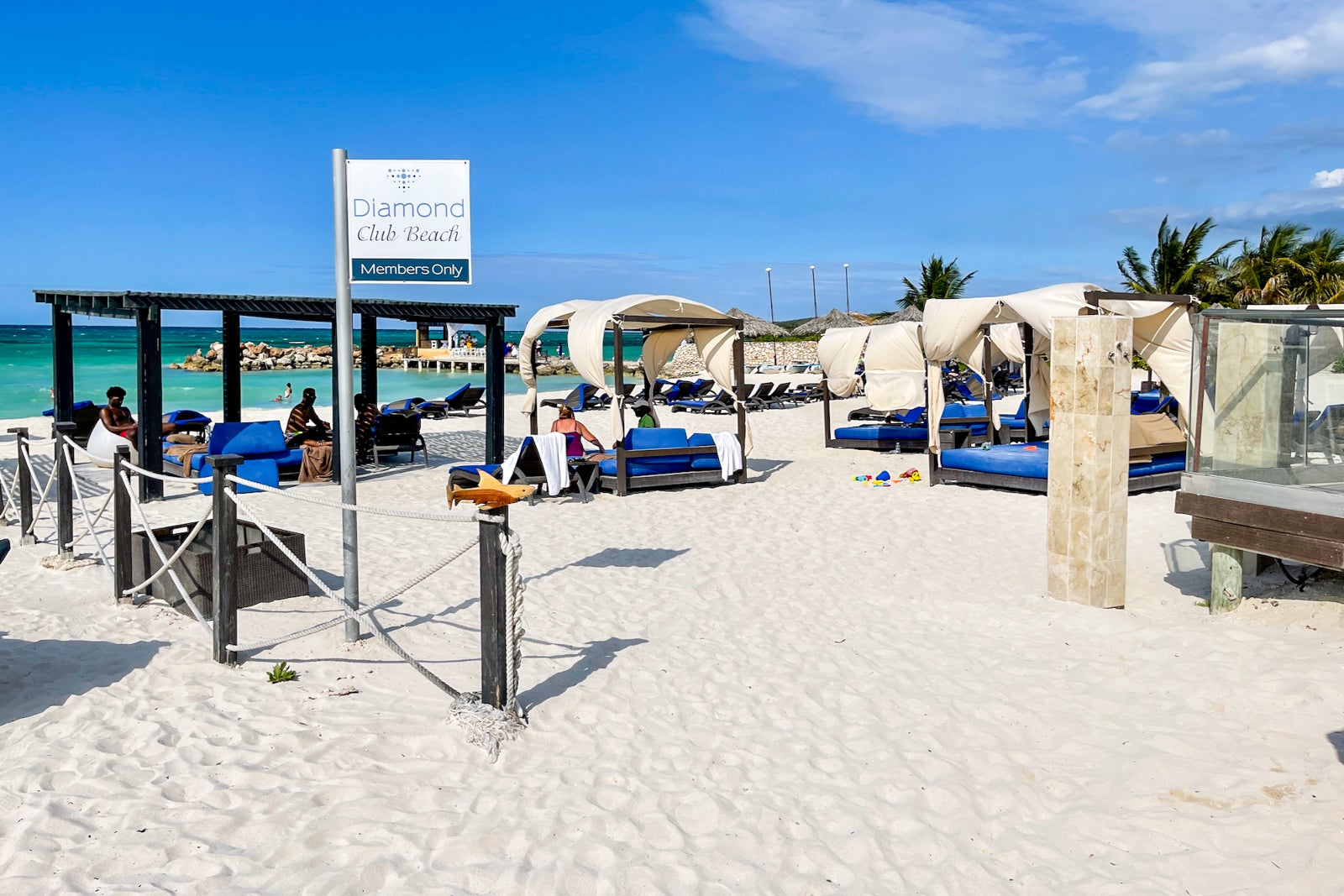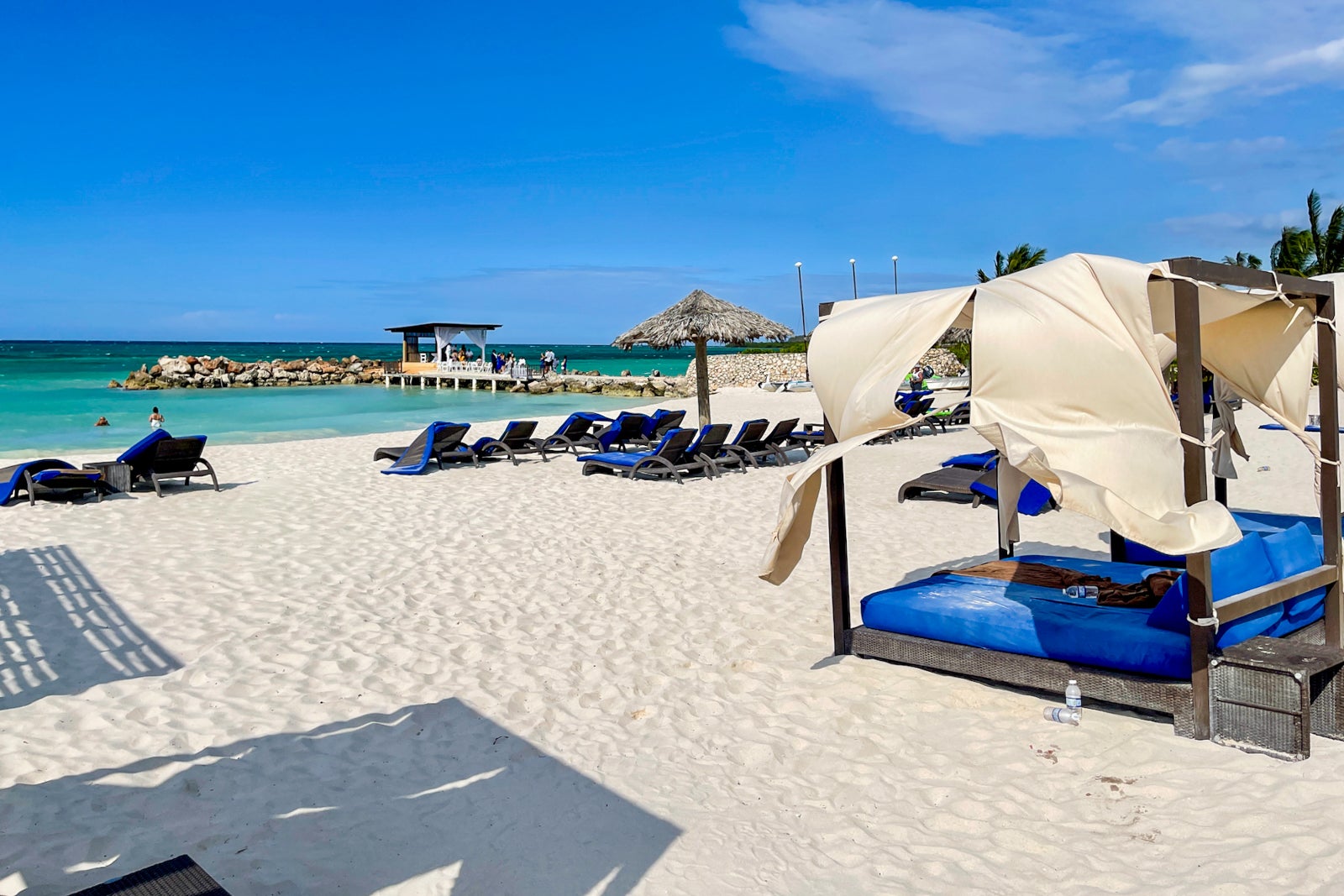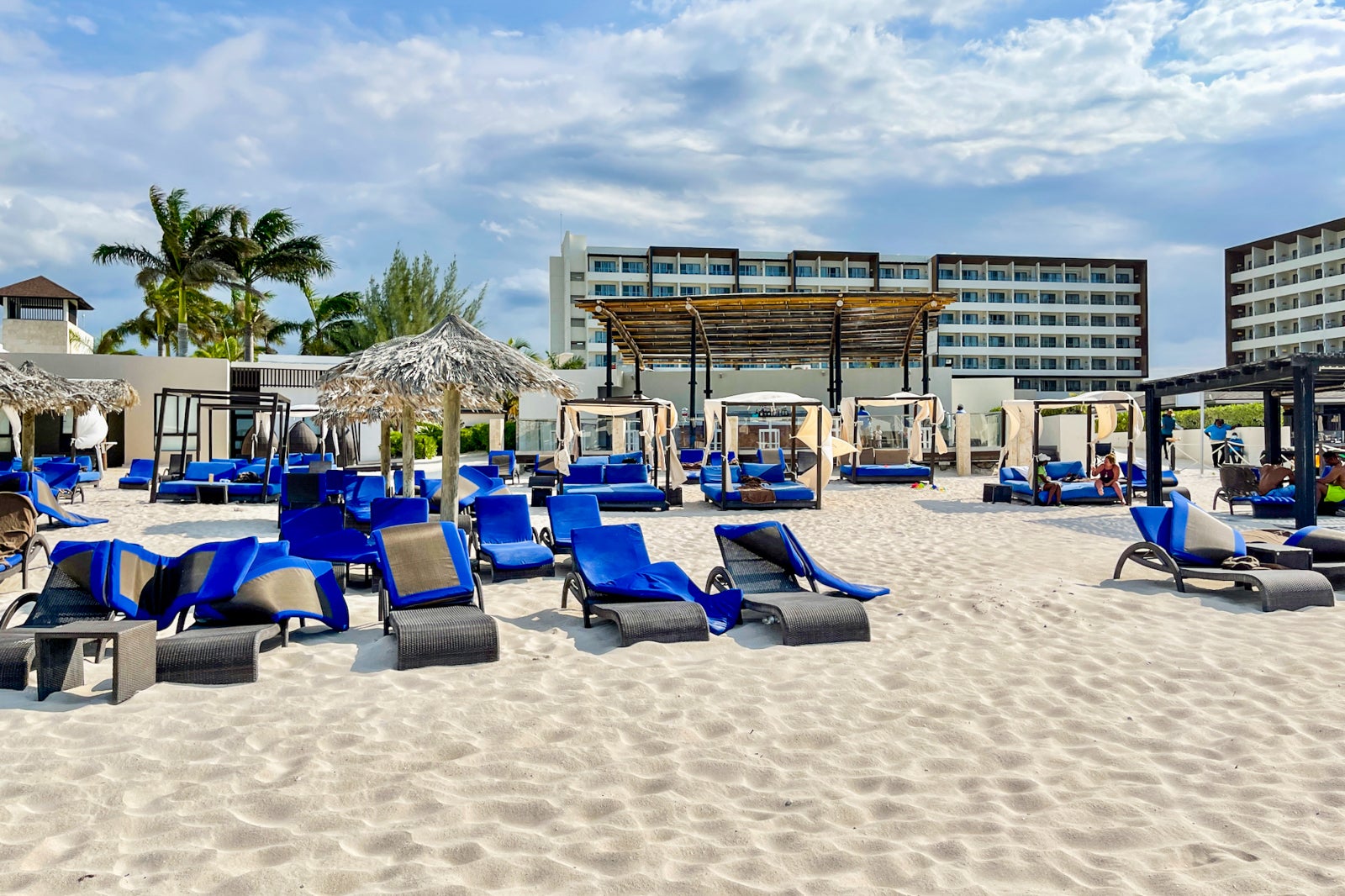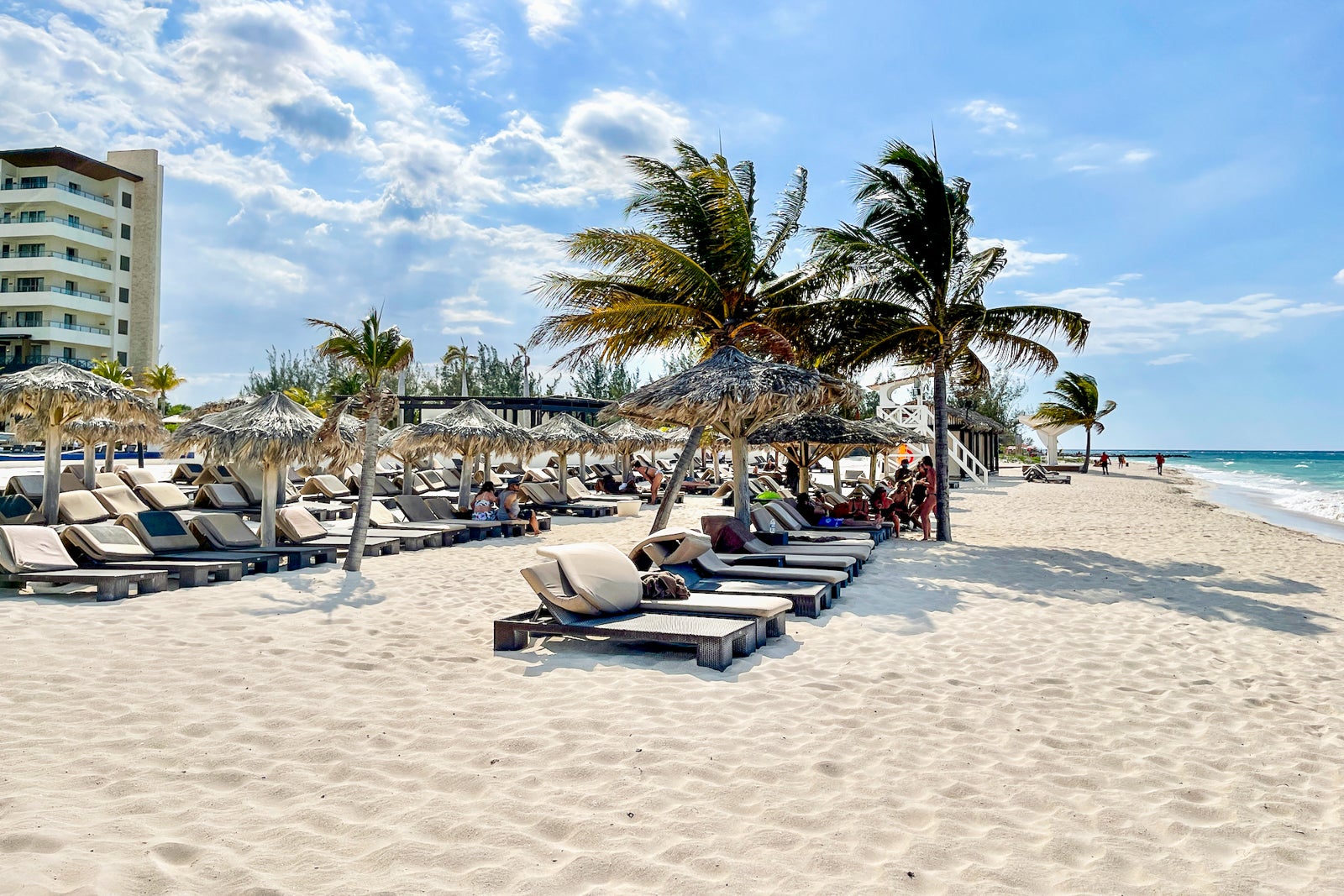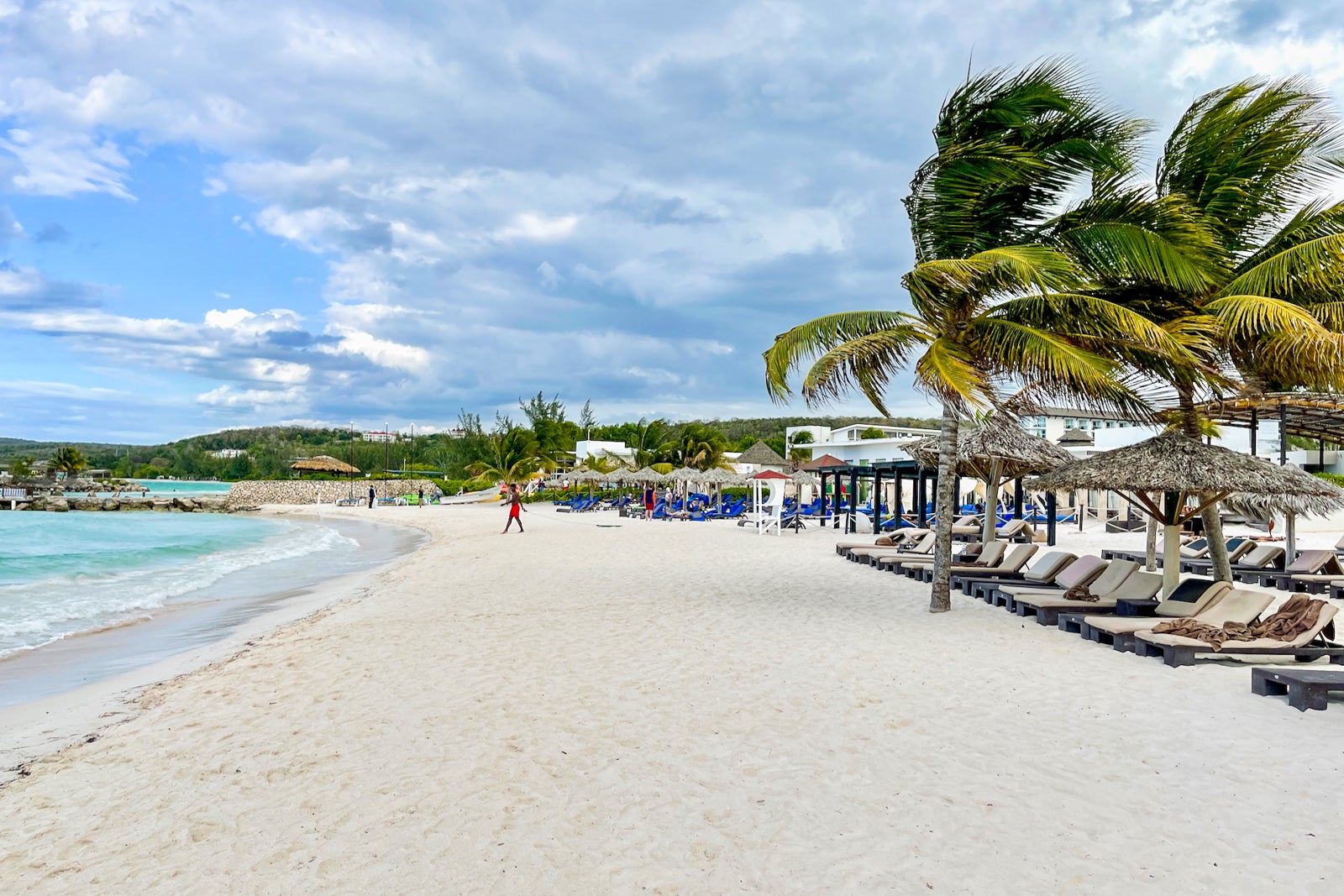 In the Diamond Club section, there were waiters walking around to take food and drink orders. They also sometimes came around with fresh fruit plates.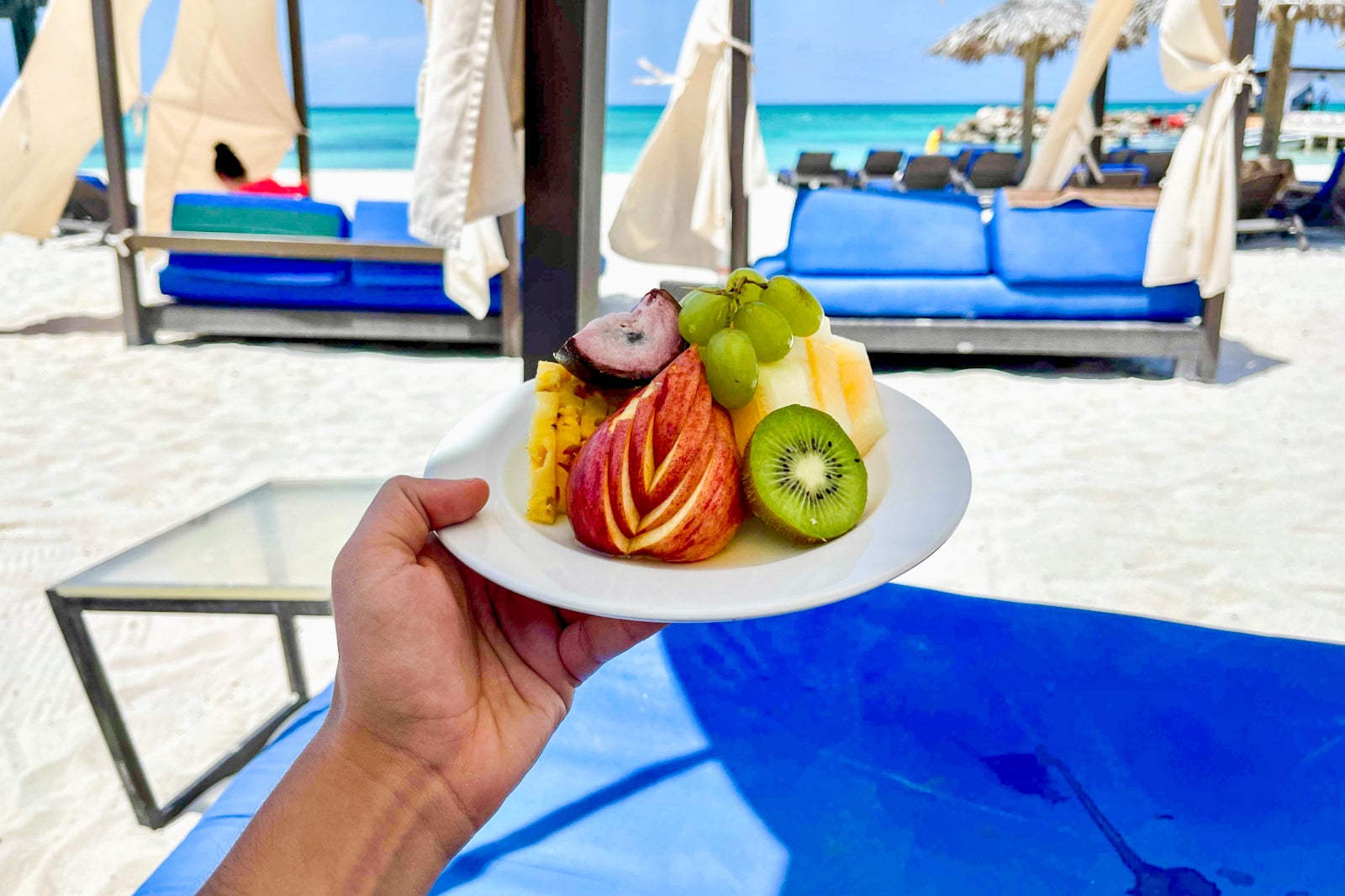 While my stay was too short to partake, there were complimentary non-motorized watercraft, such as kayaks and catamarans, that guests could borrow.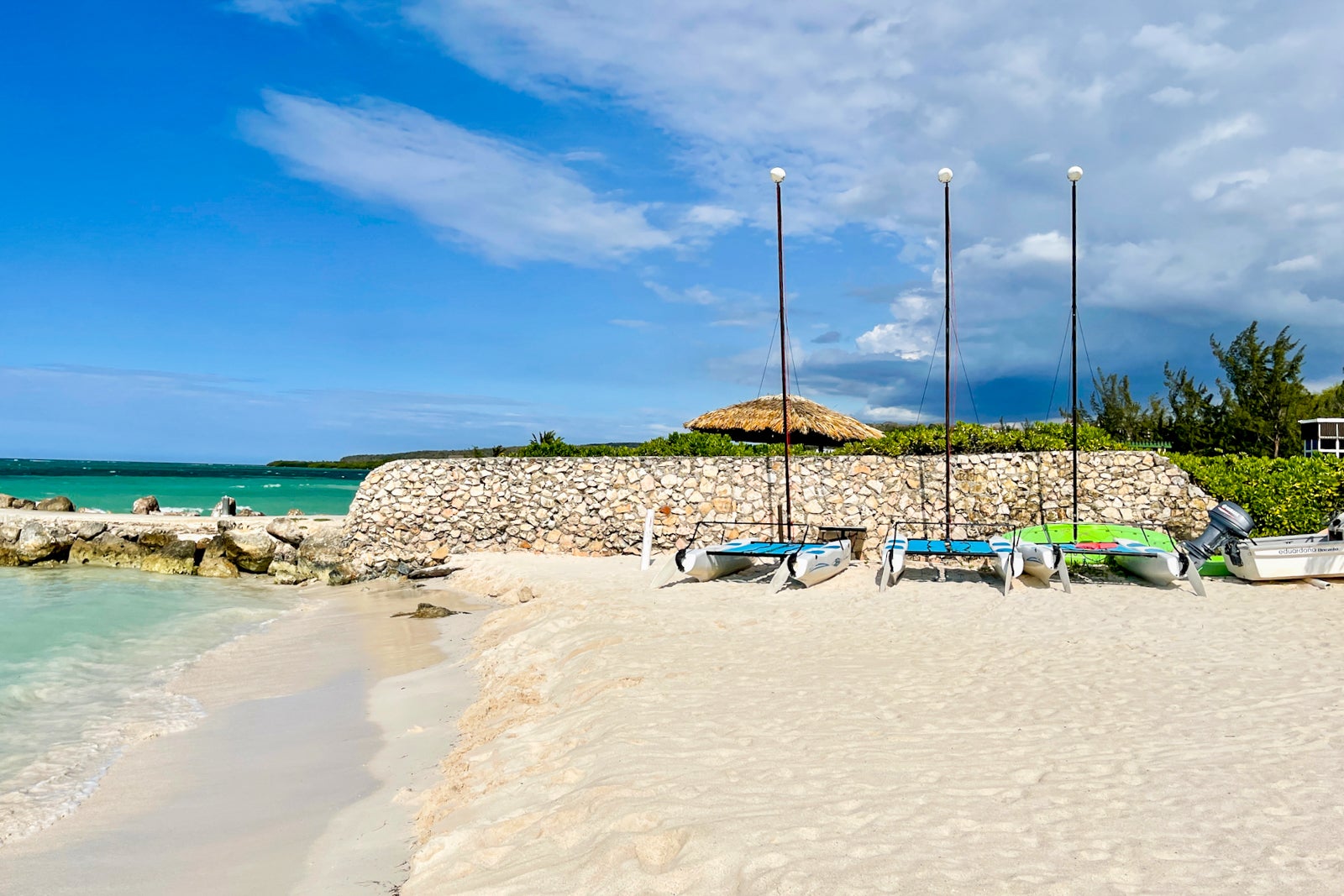 Or, for those looking to work off the drinks and big meals, there was also a gym located just off the lobby.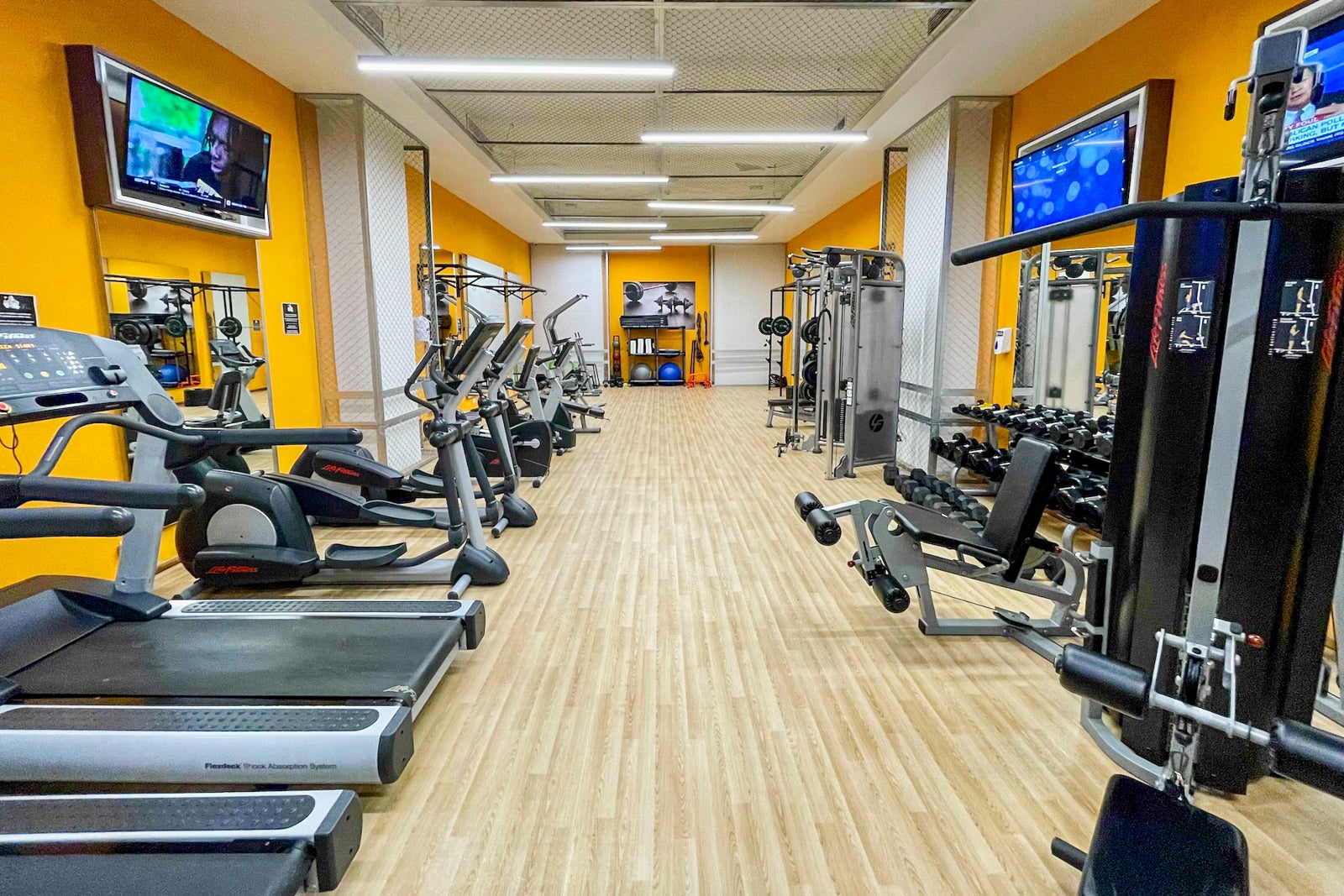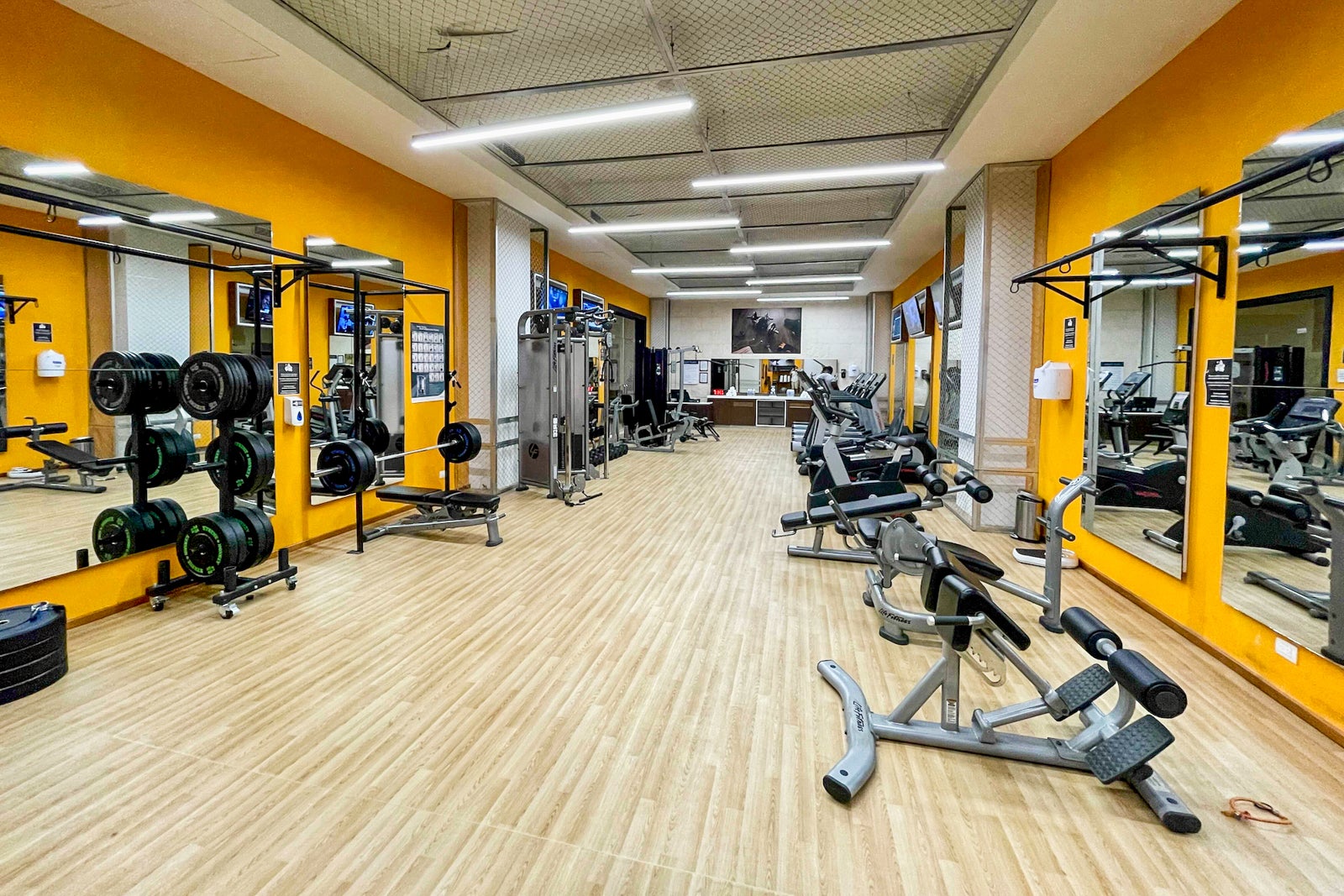 Each night, there was entertainment on the poolside stage. There was also supposed to be a beach party on my second night, but unfortunately, it got canceled due to rain.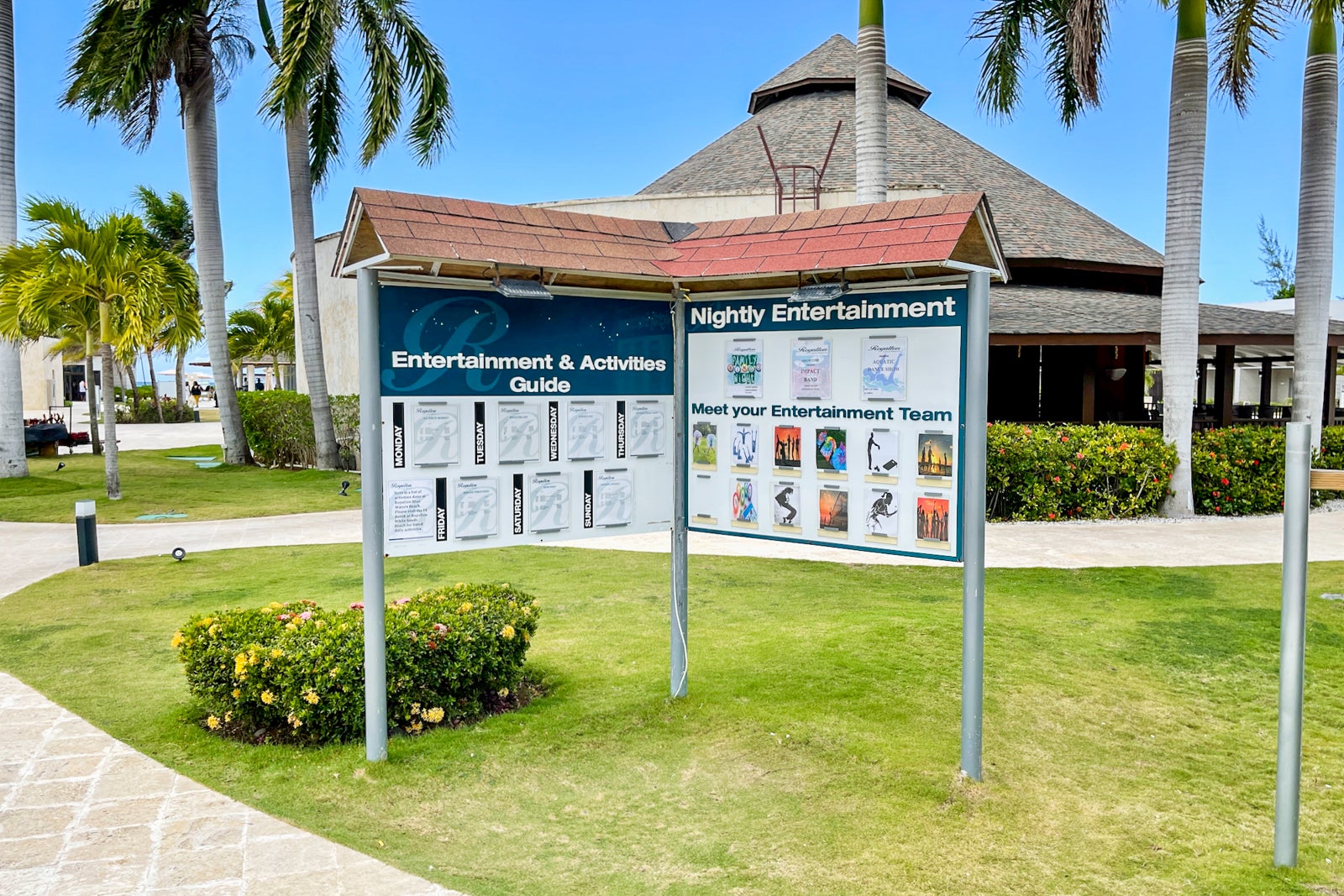 On-site COVID-19 testing
The one "amenity" that really let me down was the on-site COVID-19 testing. Ever since the U.S. started requiring negative COVID-19 PCR or rapid antigen test results for entry, hotels — primarily the Caribbean and Mexico — started offering on-site testing, including this resort. Tests were free for all guests staying three or more nights or $45 for everyone else.
I made an appointment at check-in but quickly learned that it didn't mean anything. When I arrived at the lobby of the White Sands hotel (as that's where the tests are administered), there were at least 50 other guests with the same "appointment" time. There was a bit of a first-come, first-serve line, but overall it was a free-for-all.
Luckily, after roughly two hours of waiting, my butler found me and was able to move me up in the line. It was at that point that I learned that there was just one nurse administering the tests for the entire property. Remember, the complex houses two resorts with more than 550 rooms.
Despite the long wait to get tested, I was pleased to get my result the next morning — quicker than some labs back home.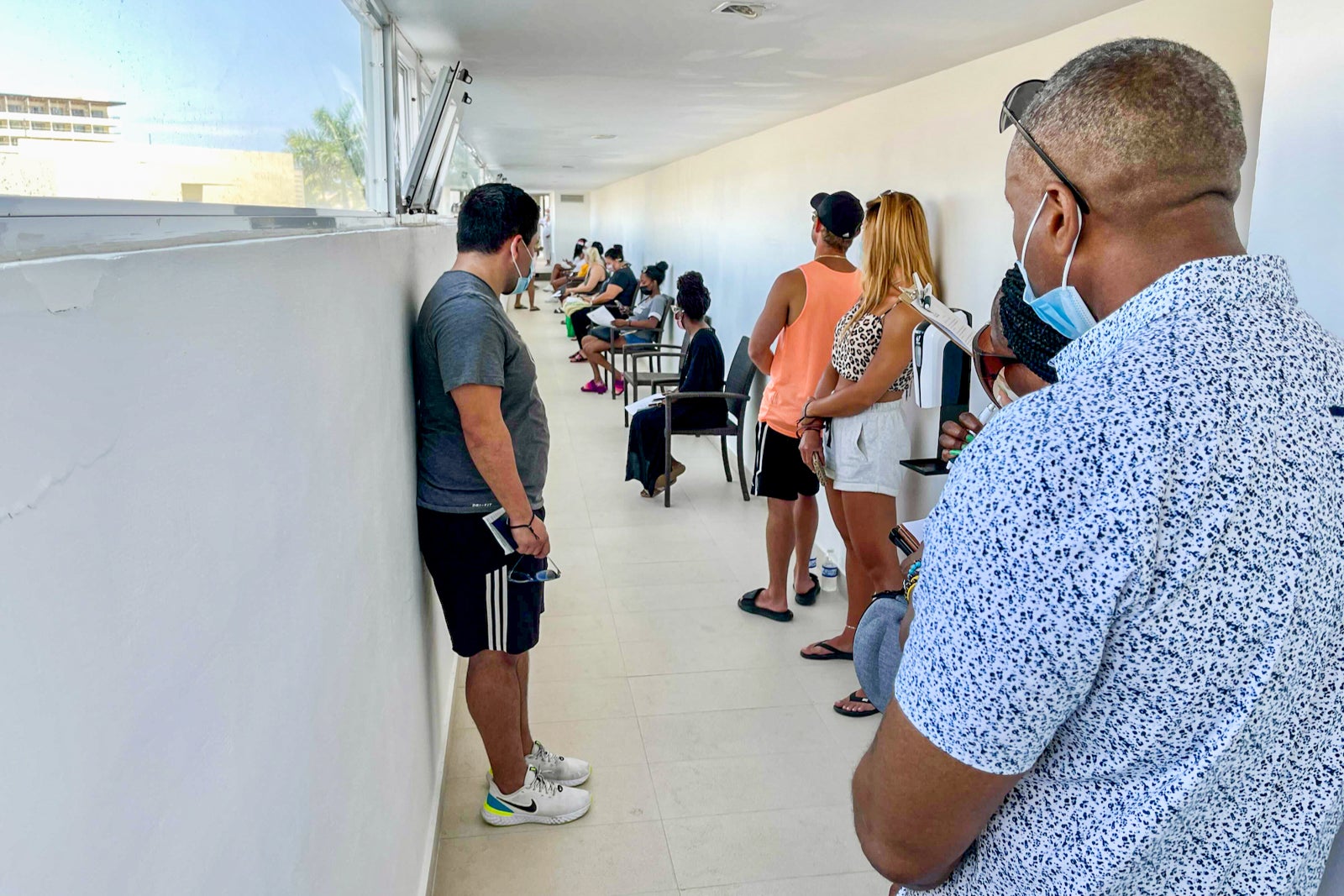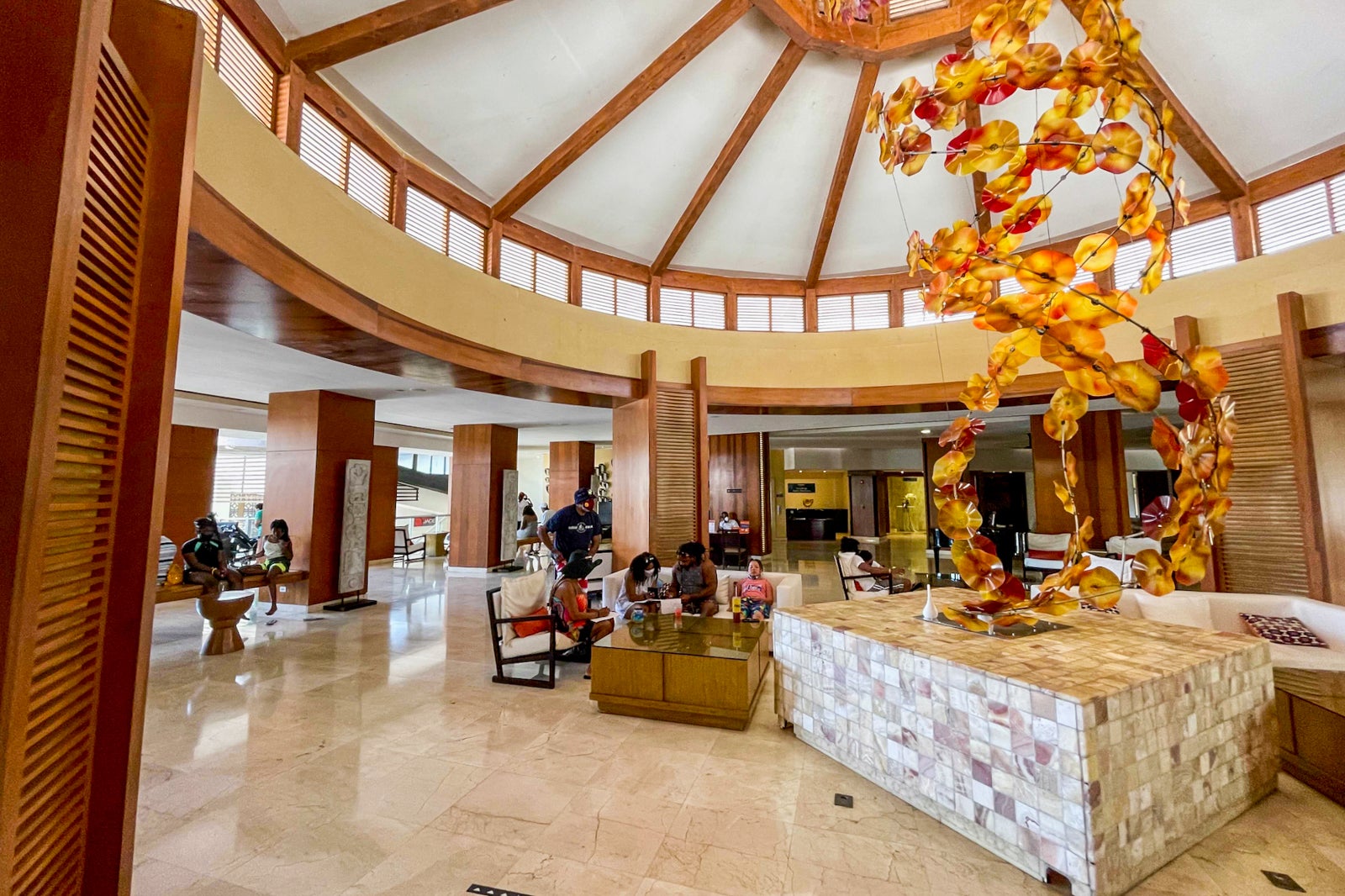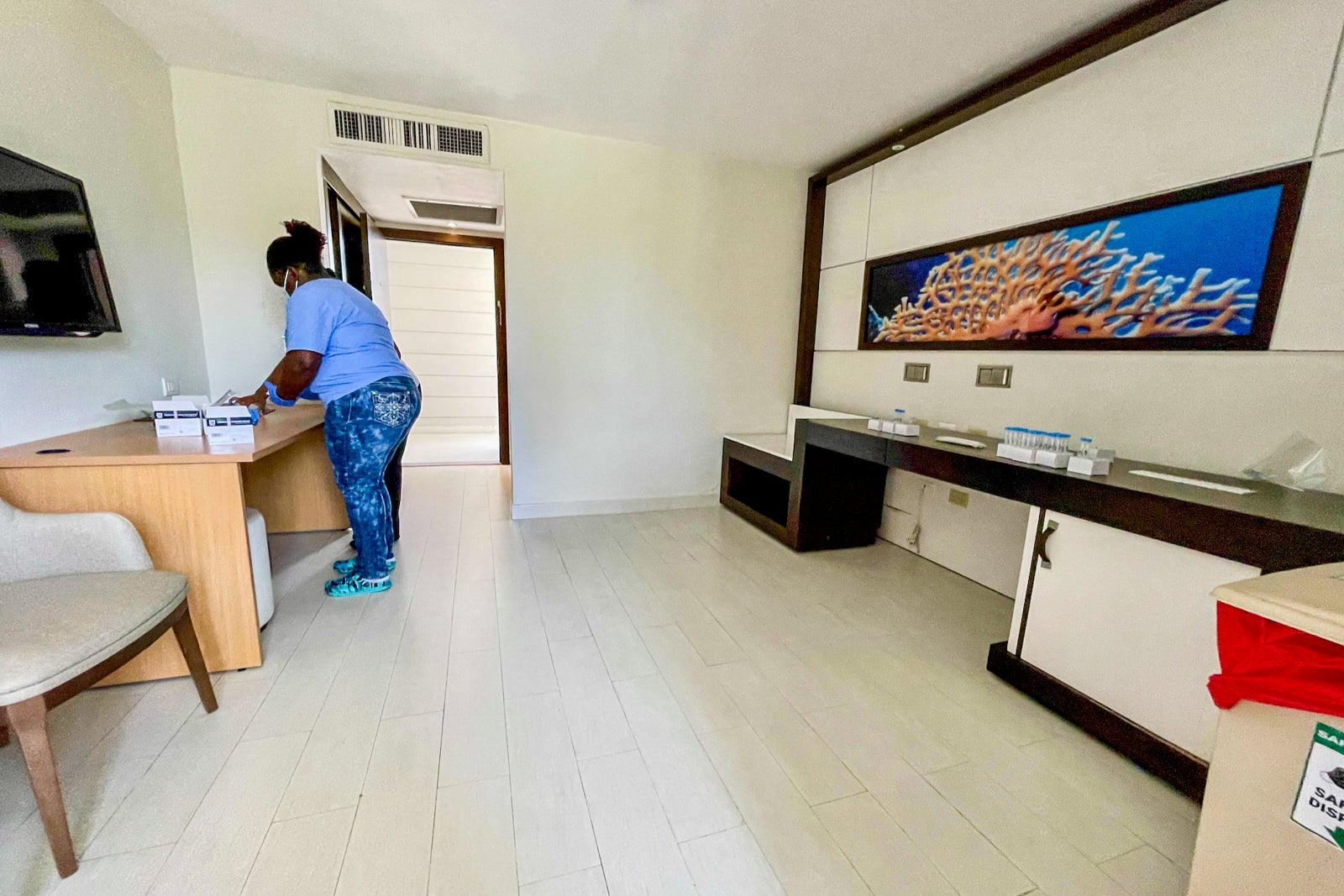 Food and beverage
Unfortunately, the resort didn't fare as well in the food and beverage department. There were 11 restaurants on-site, including one that cost extra. The selection ranged from your typical buffet to Asian options, Italian, Tex-Mex and Jamaican, but the plentiful choices didn't make up for the forgettable flavor.
I ate breakfast and lunch each day at the buffet, Gourmet Marche. There was lots of seating — both indoors and outdoors — but that was needed considering it catered to both resorts. There was also a dedicated seating area for Diamond Club guests.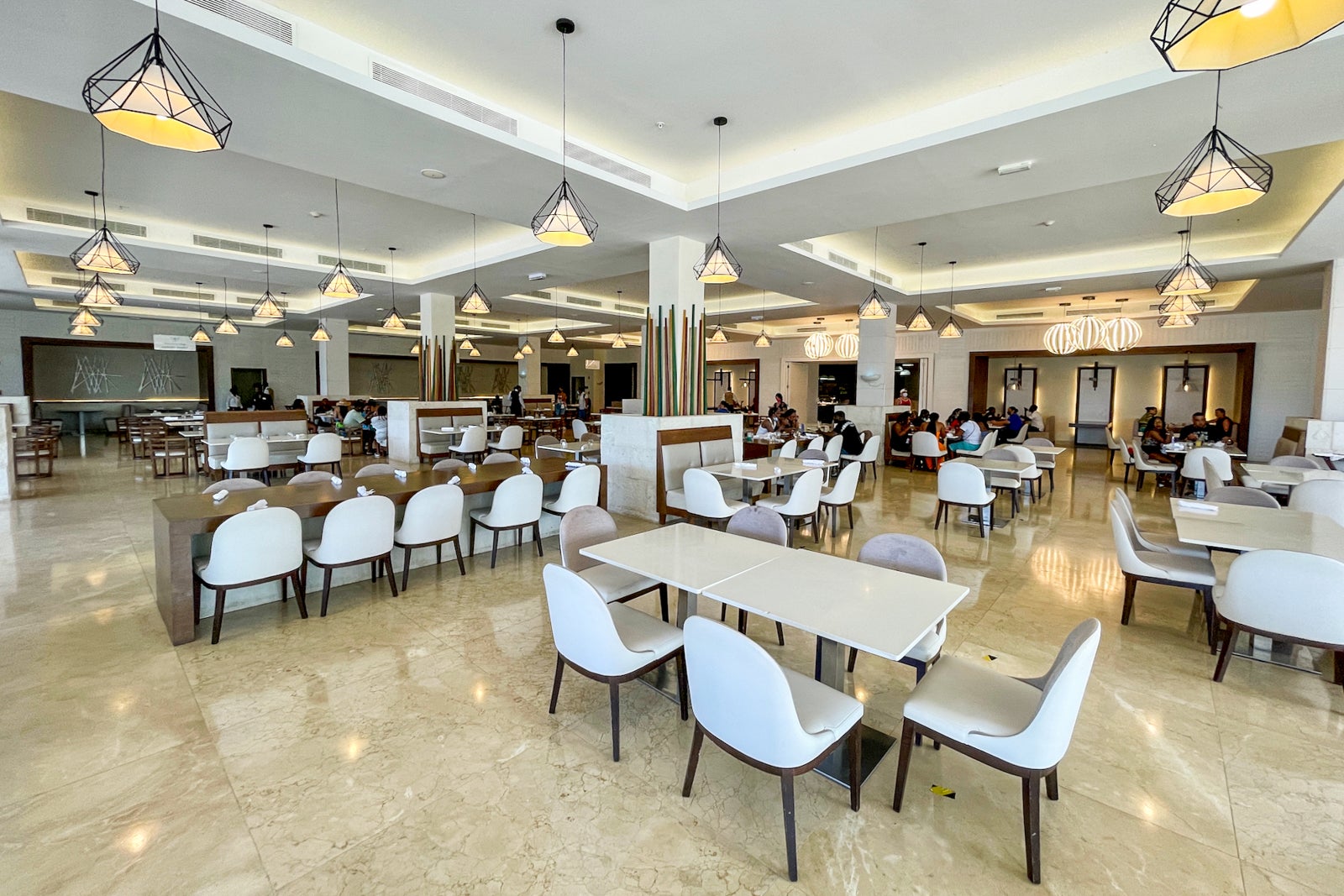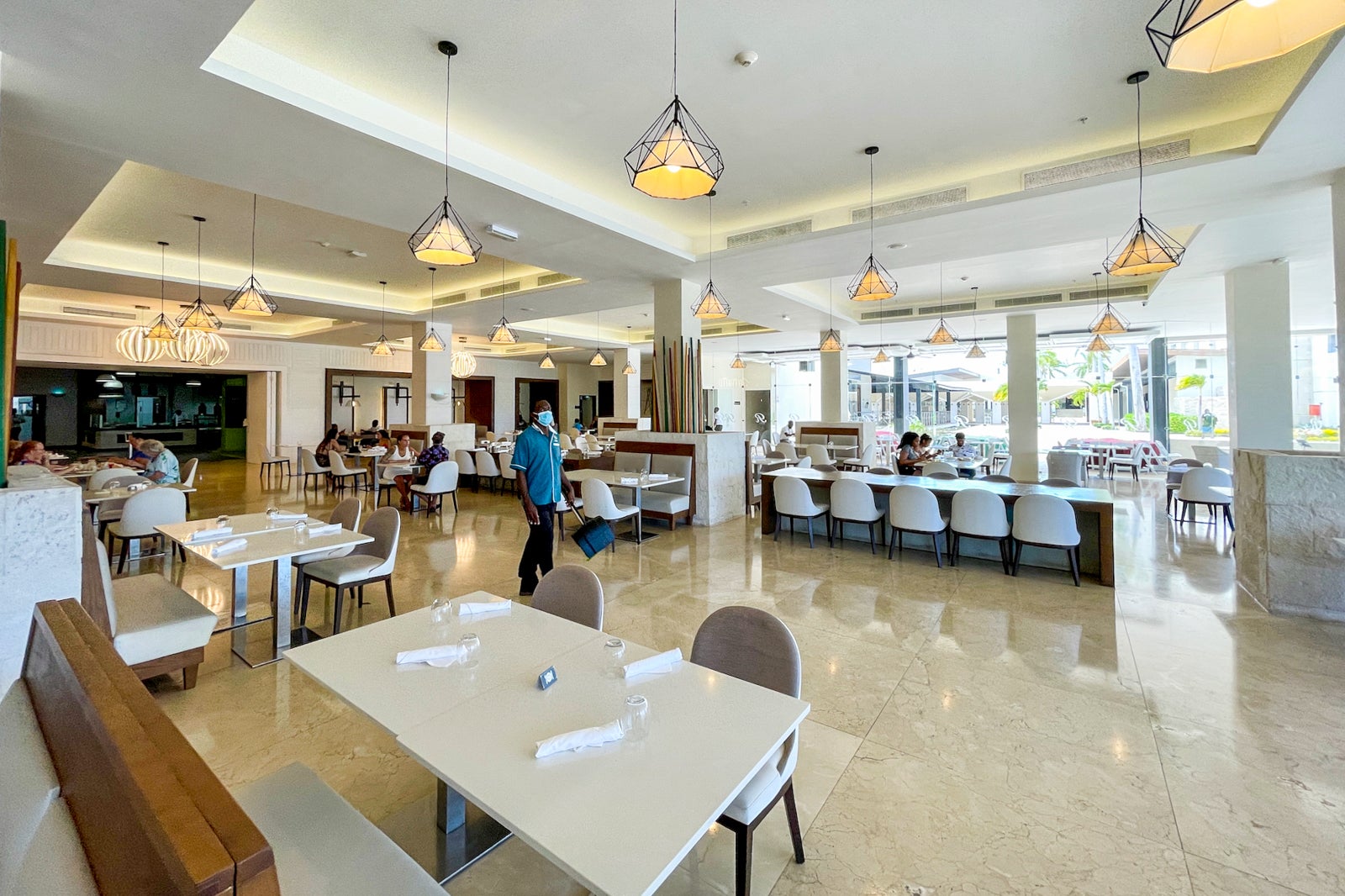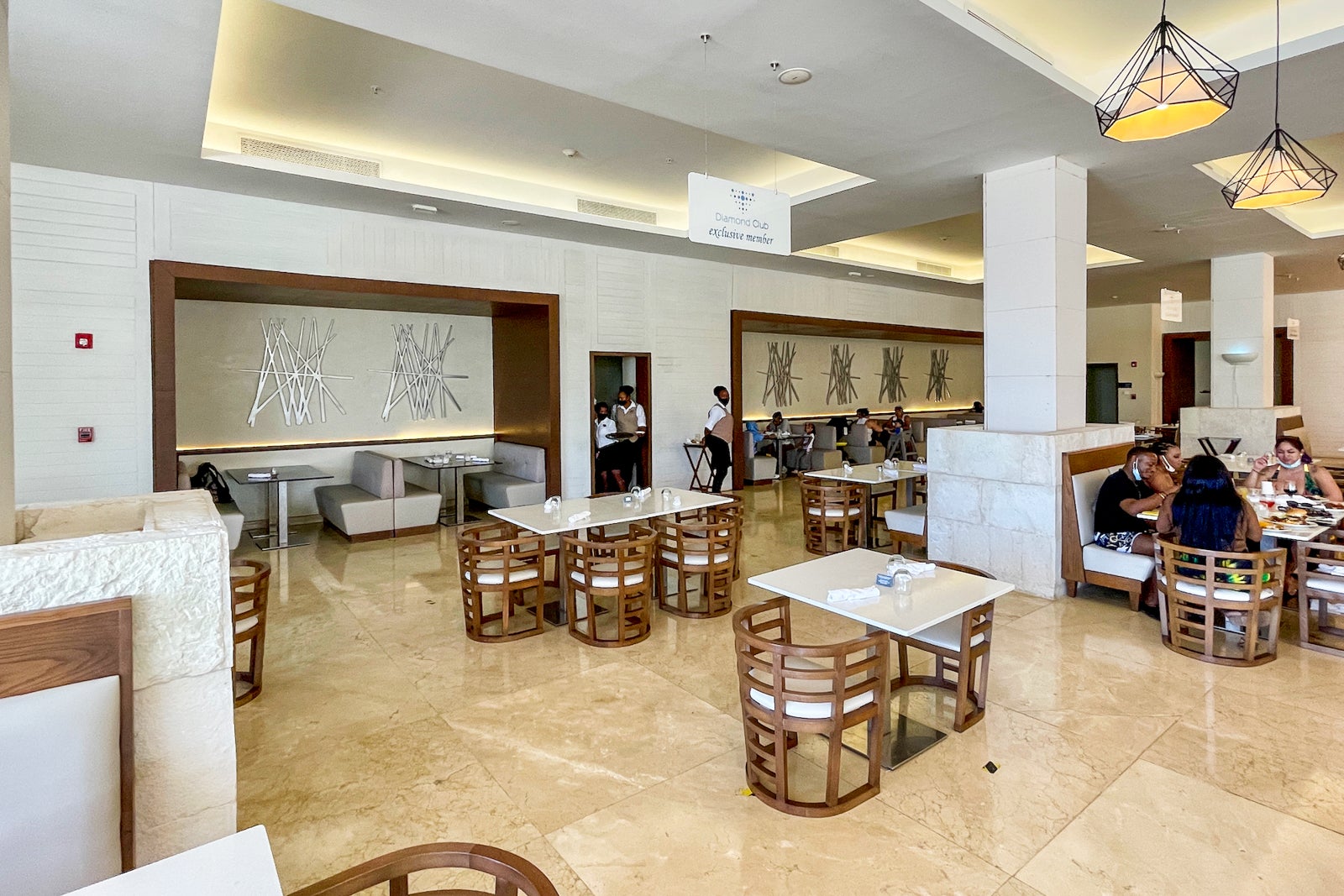 All food was served to guests by the staff due to COVID-19 precautions. The selection was fairly consistent day-to-day — there was always a Jamaican station, vegetarian options, pizza/pasta, some comfort food, Asian station, salad bar and dessert area. I tried to stick to the action stations, like the made-to-order omelet bar, wok-style station and salad bar, because those tasted the freshest.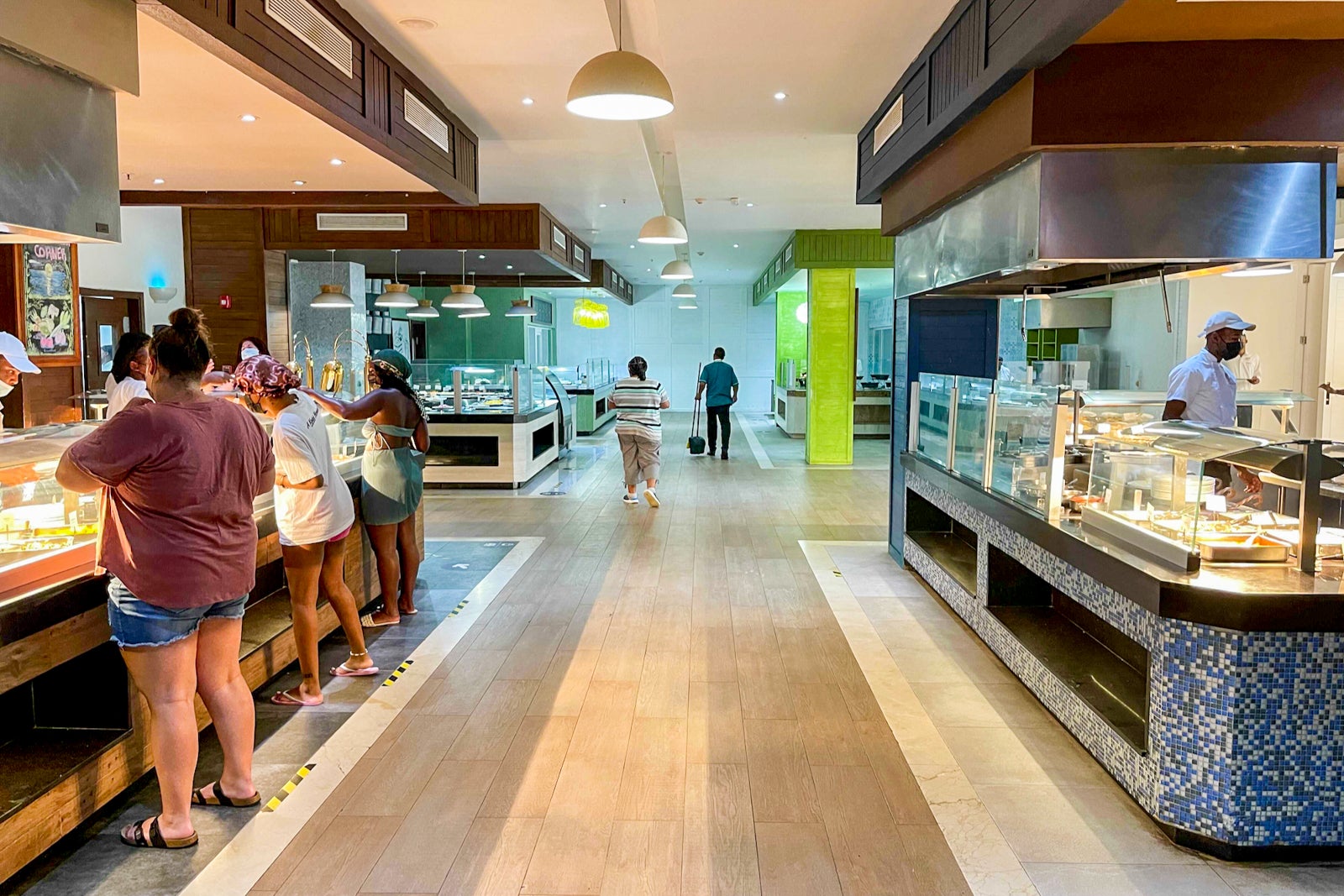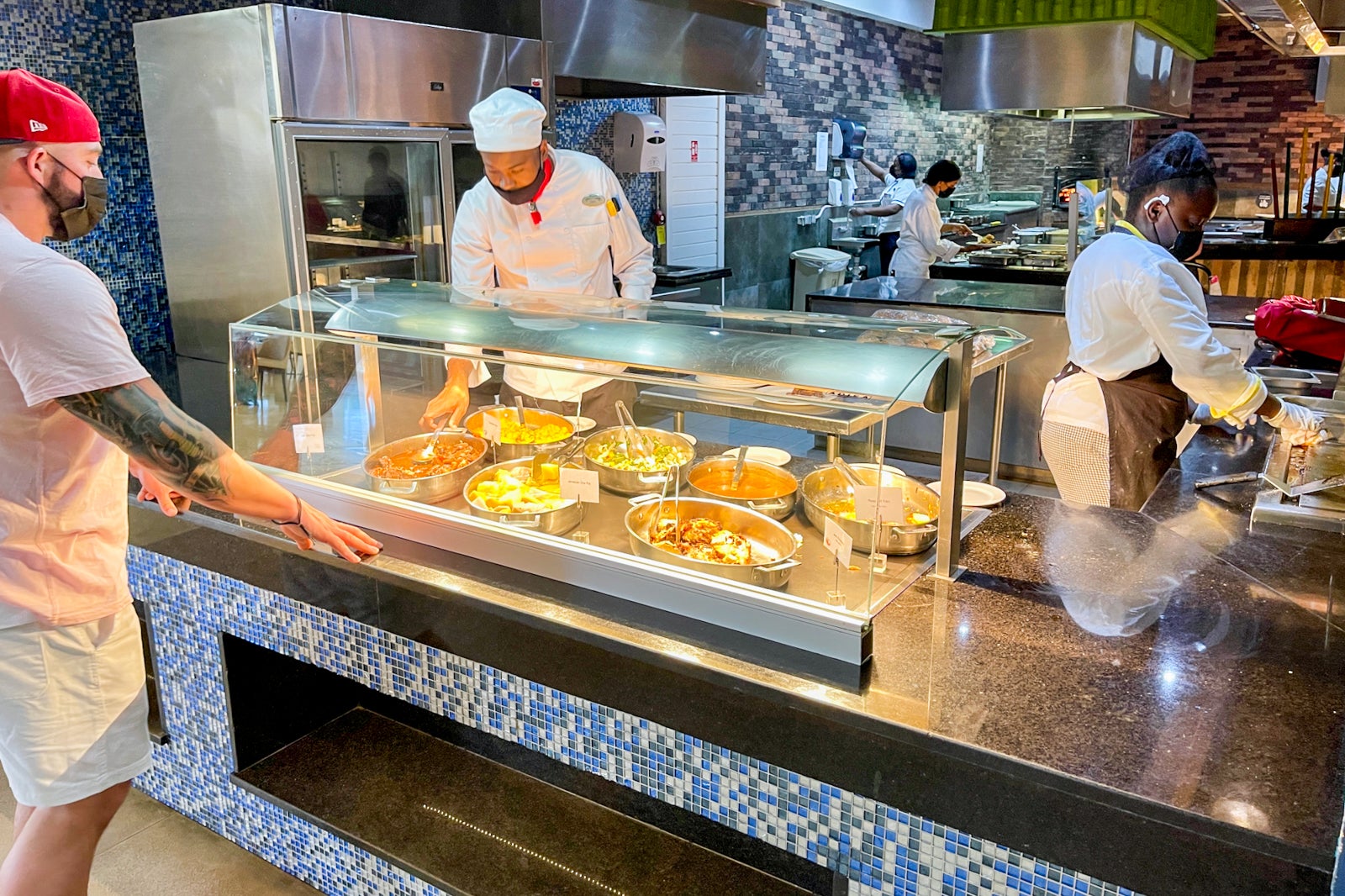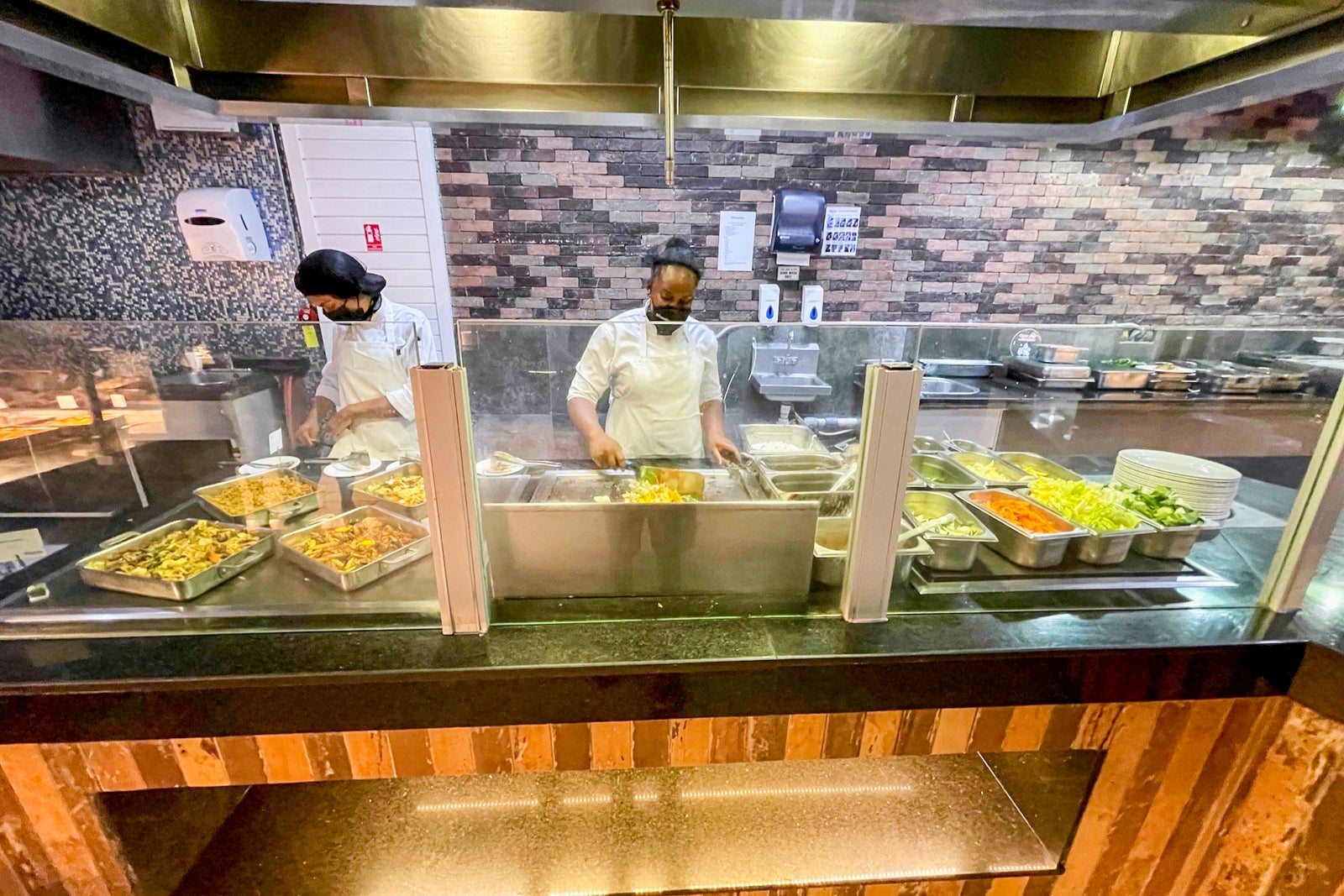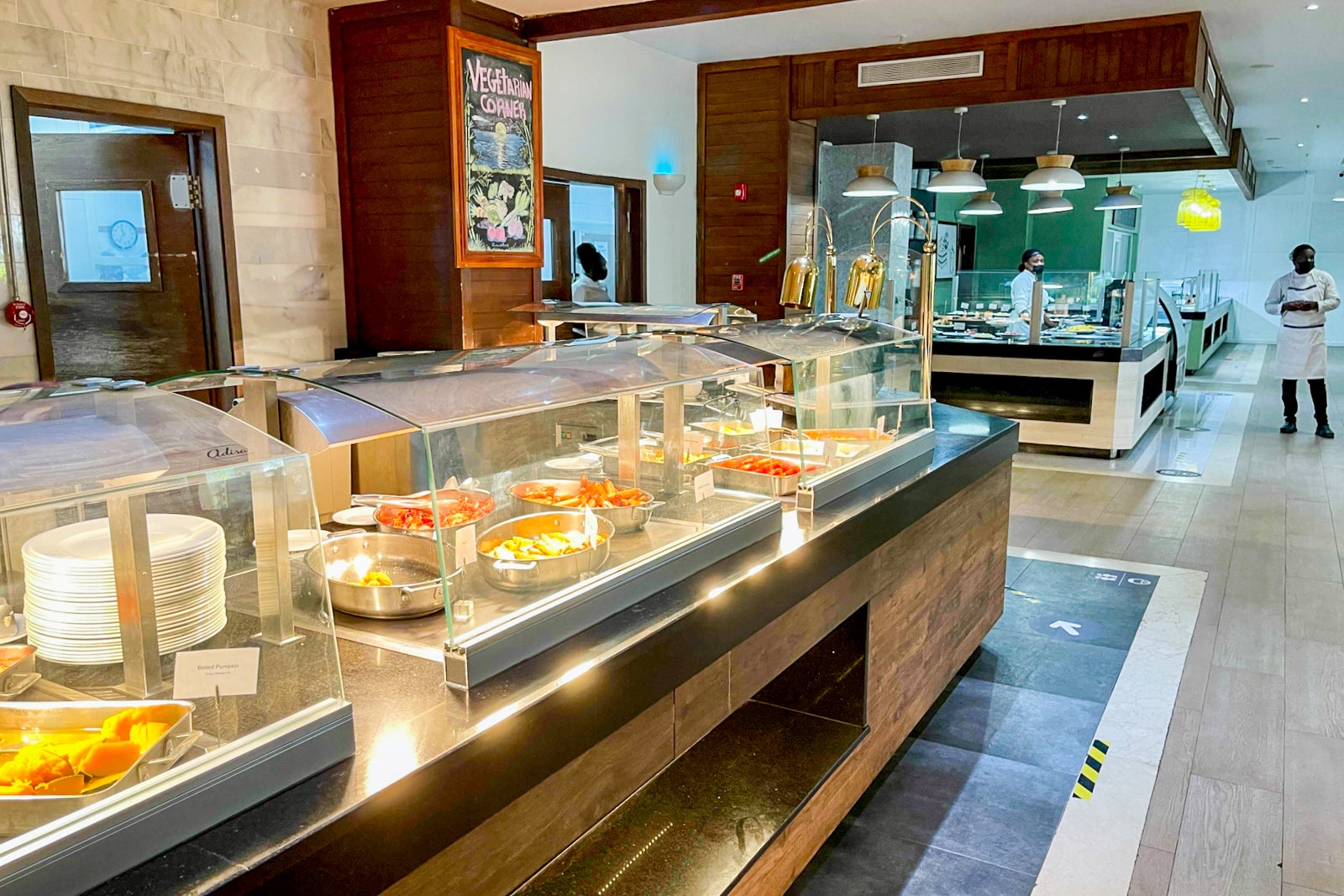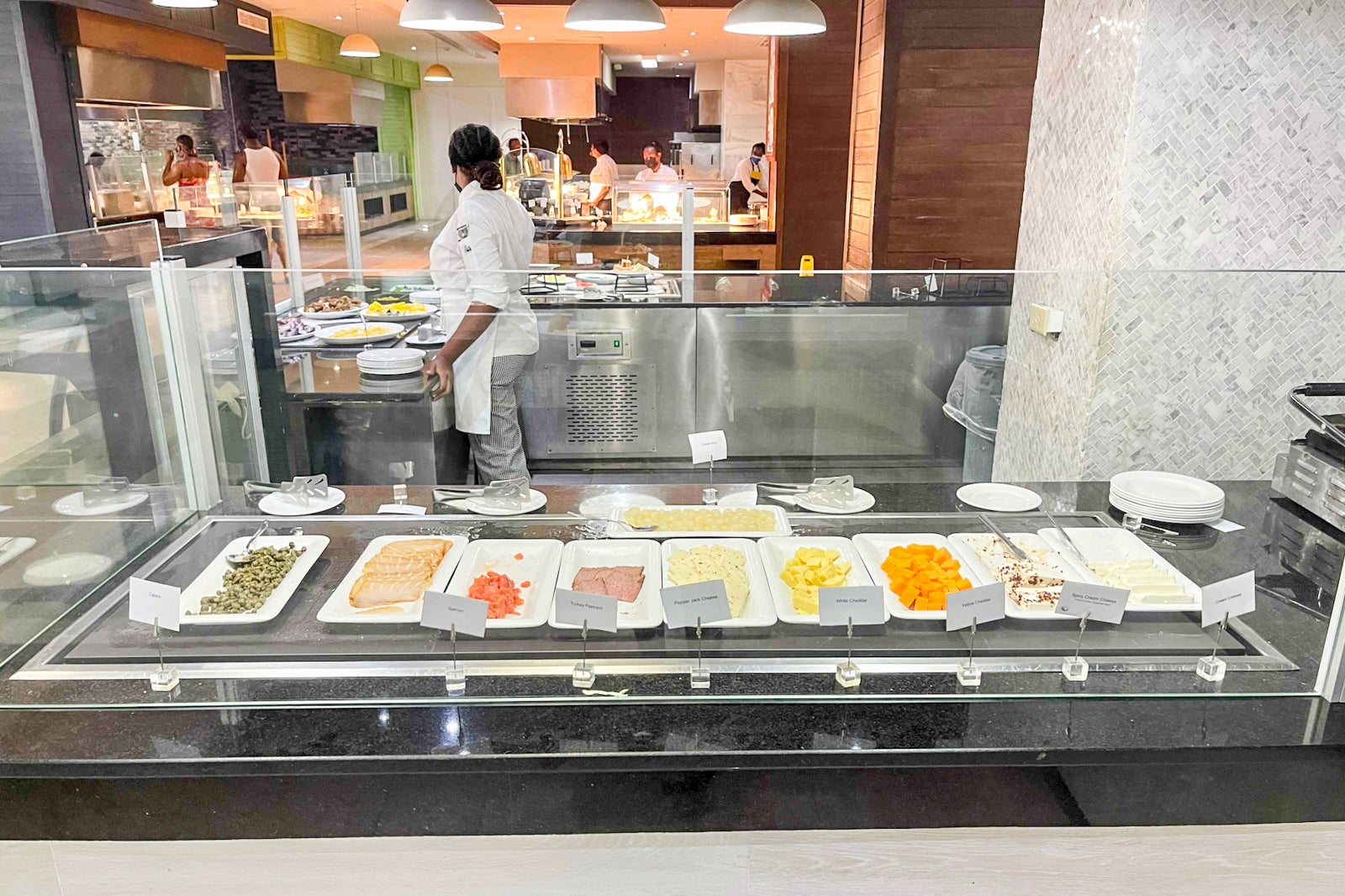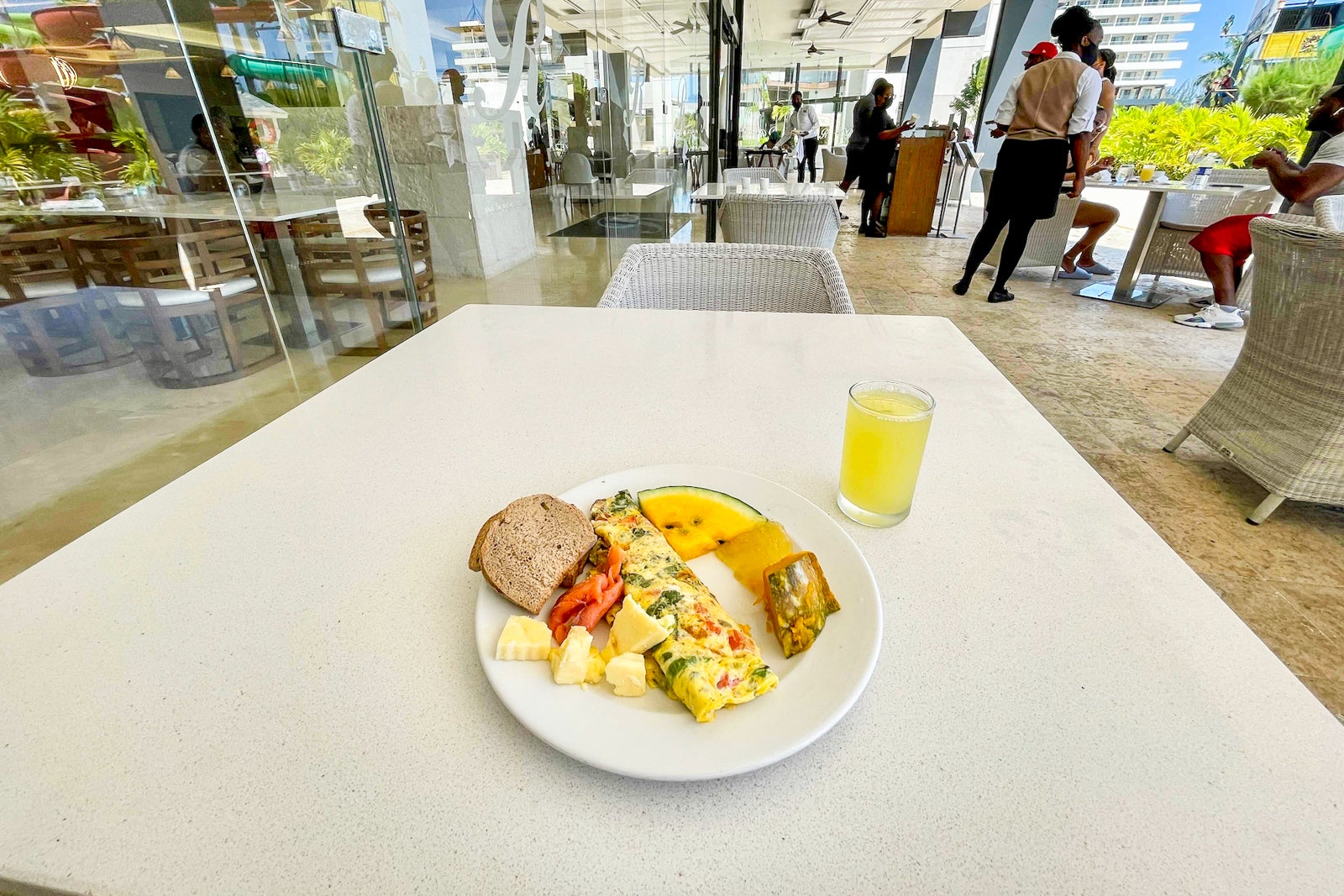 The other main lunch option was the Jamaican jerk hut located on the beach. It served things like jerk chicken, Jamaican rice and peas, and festival (a deep-fried bread).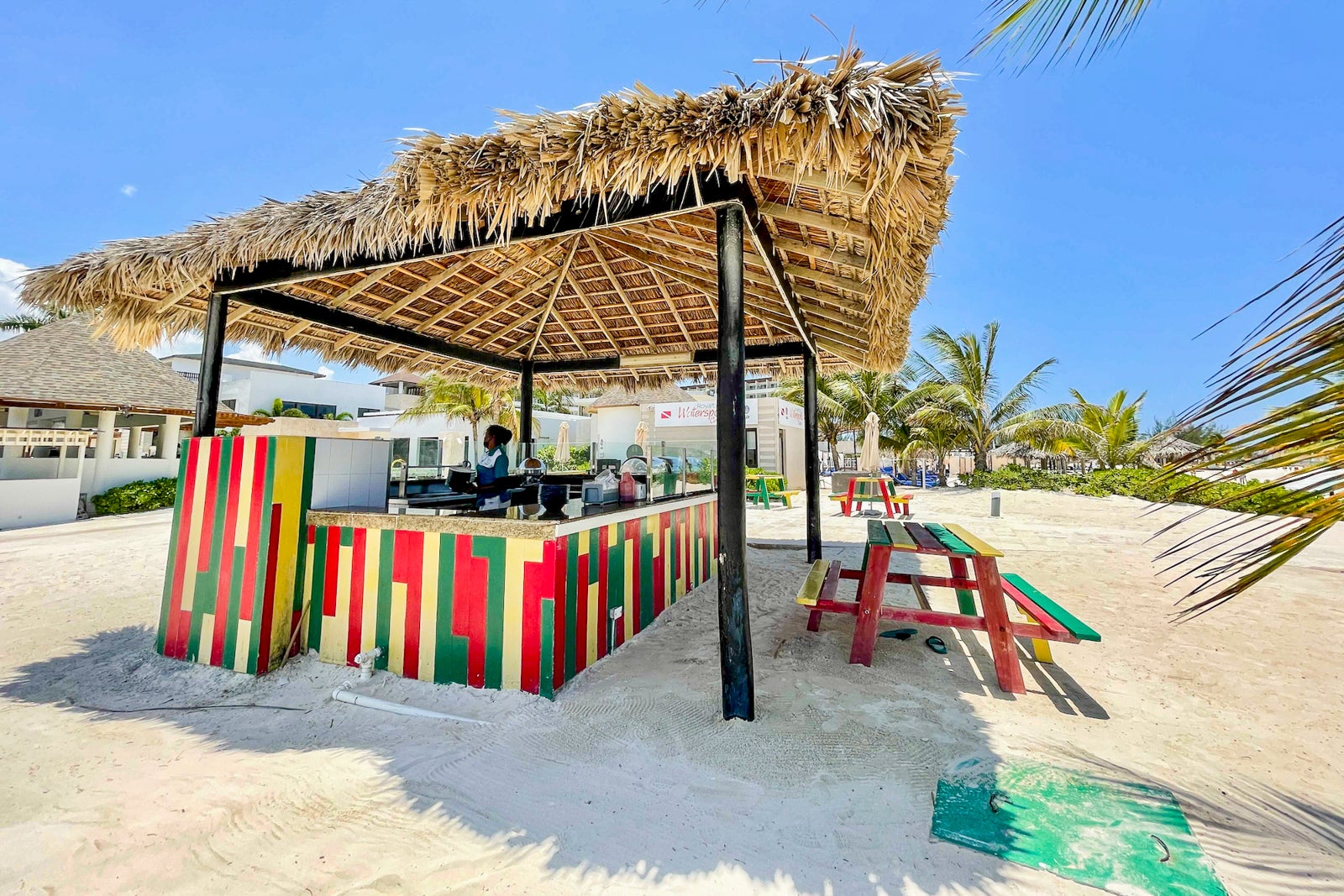 Only some of the a la carte restaurants were open during my stay and they all required reservations. On my first night, I hoped to try out the teppanyaki restaurant Zen but couldn't get a spot. Apparently, this was the most popular restaurant at the resort. It offered guests a set meal, which started off with sushi and miso soup, followed by a main dish from the teppanyaki grill.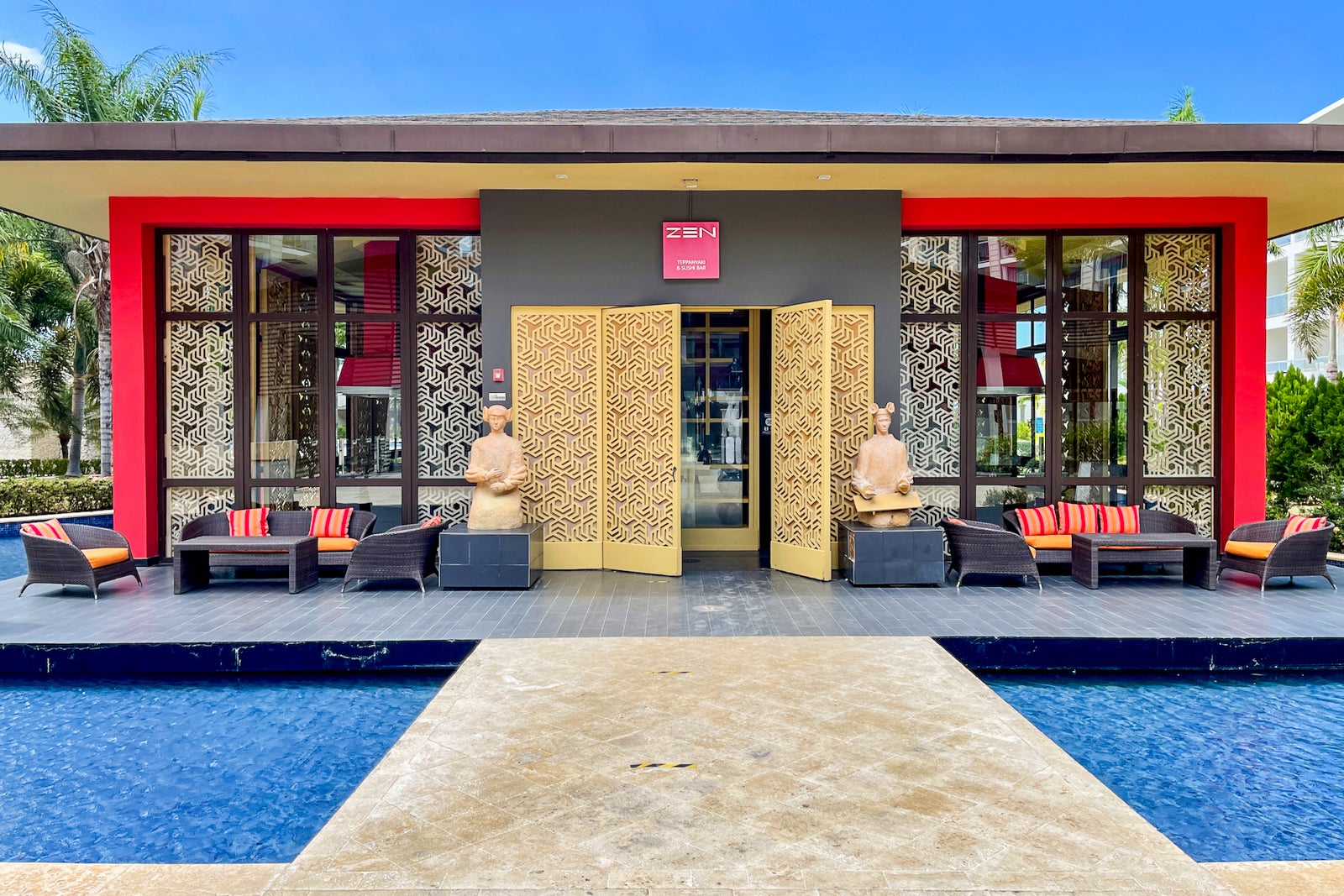 Instead, I went to the Indian restaurant Taj. Or so I thought. Much to my surprise, the cuisine ended up being Tex-Mex. While fairly simple, I really enjoyed my fish tacos, though I was quite disappointed when my "sizzling" fajitas came out cold. Worth mentioning, although dishes are supposed to be made to order, it wasn't really possible to make any substitutions.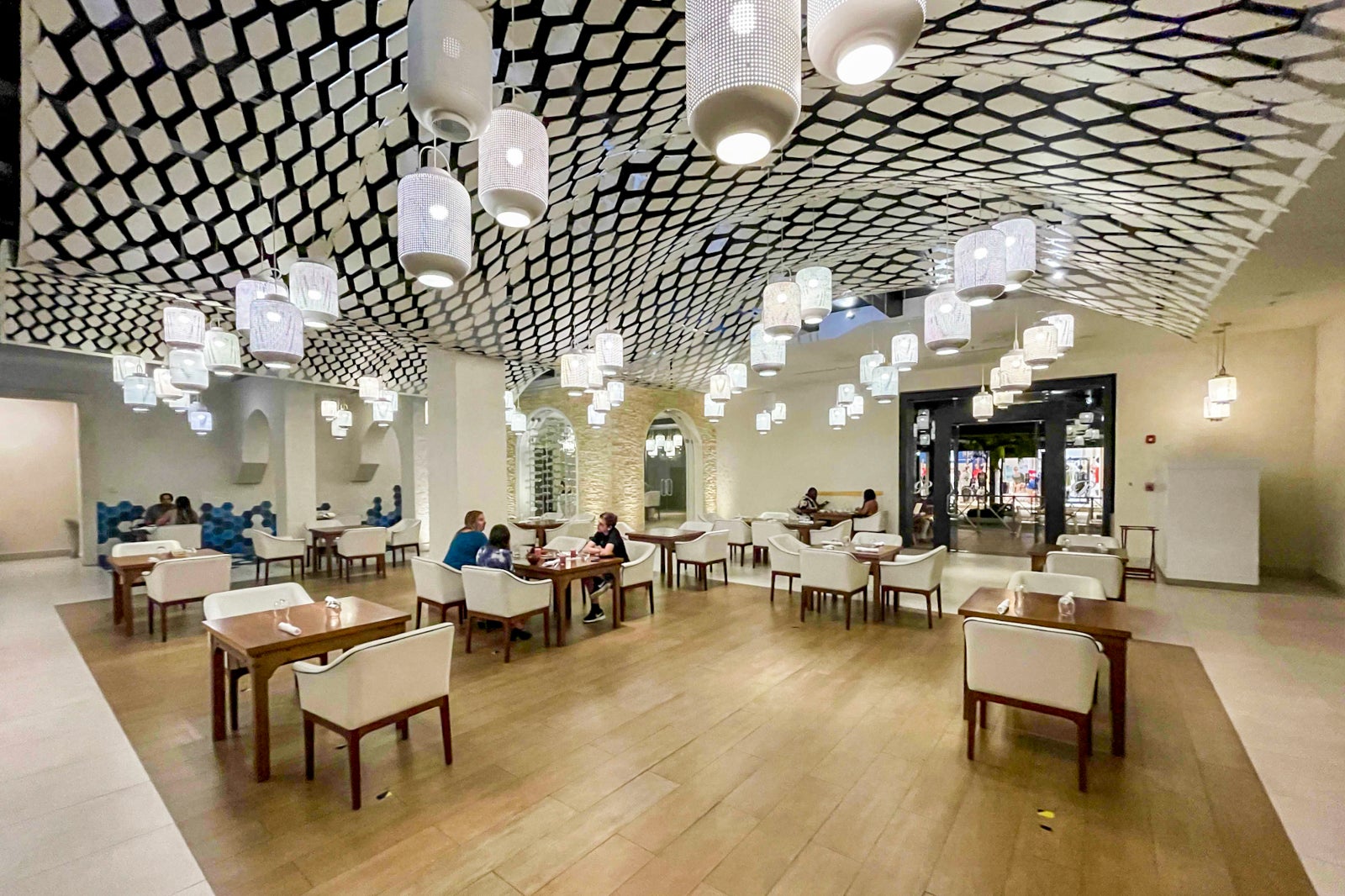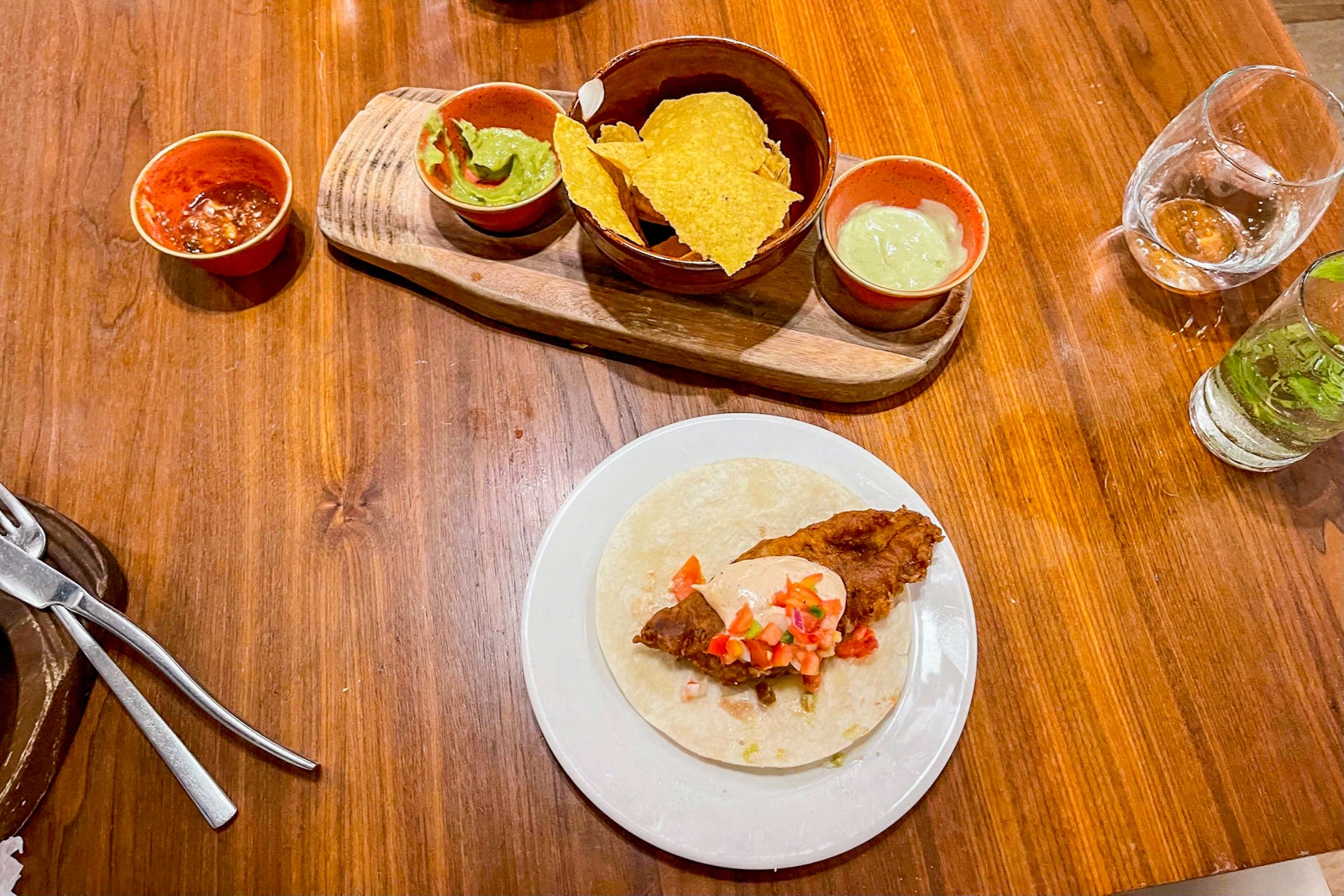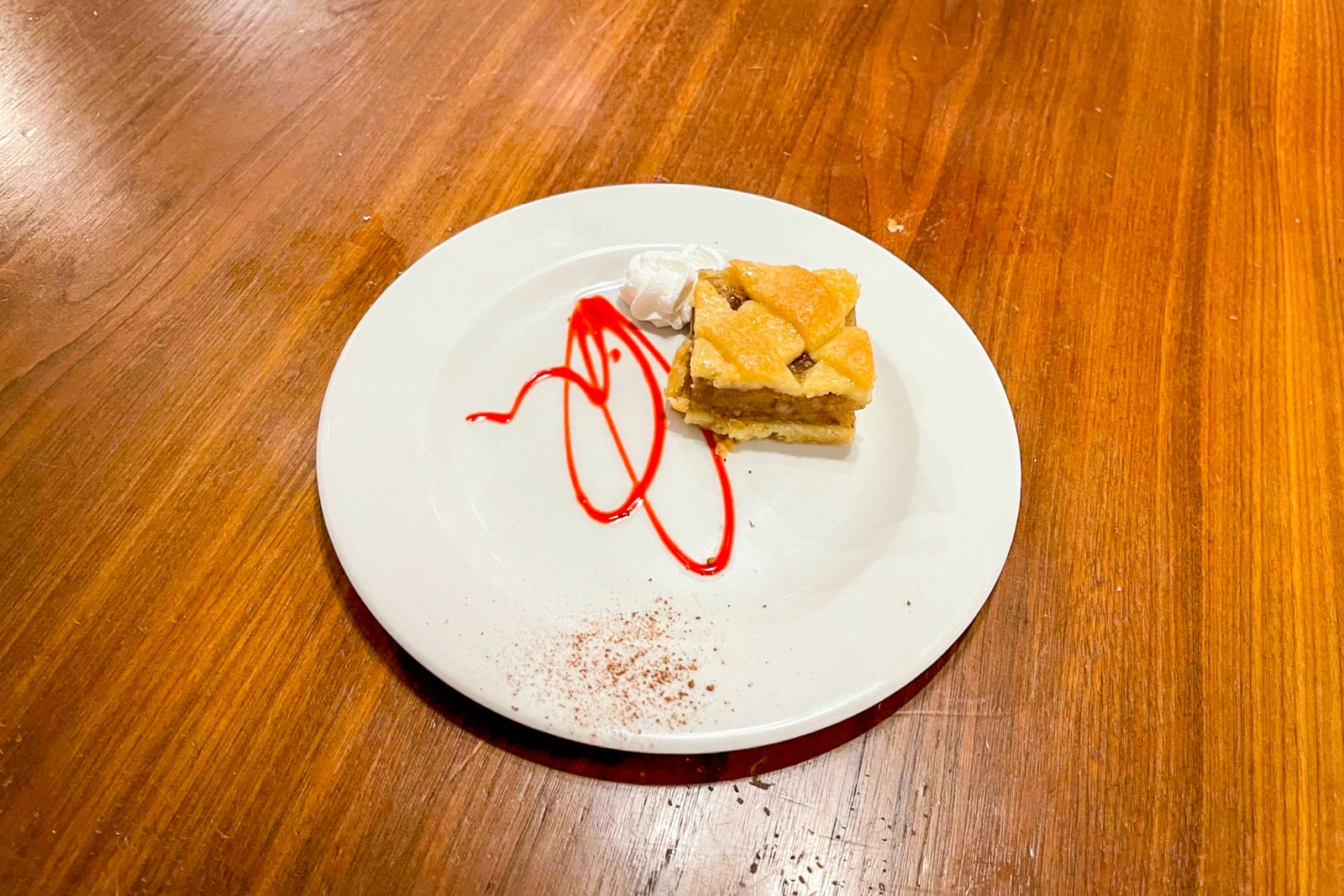 The hotel had an actual Tex-Mex restaurant, Armadillo, but it wasn't open during my stay. I'd imagine the menu would be very similar to what was offered at Taj.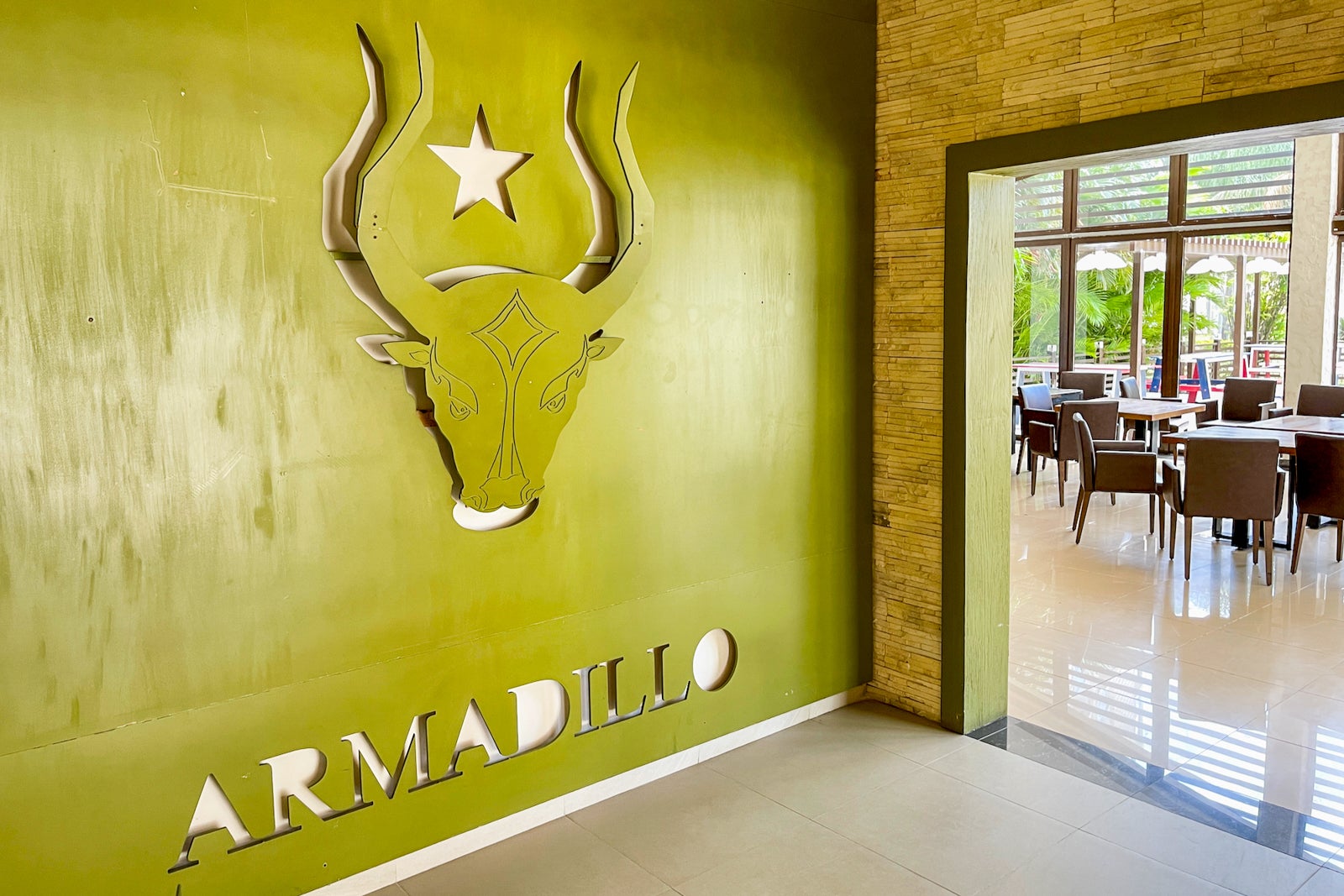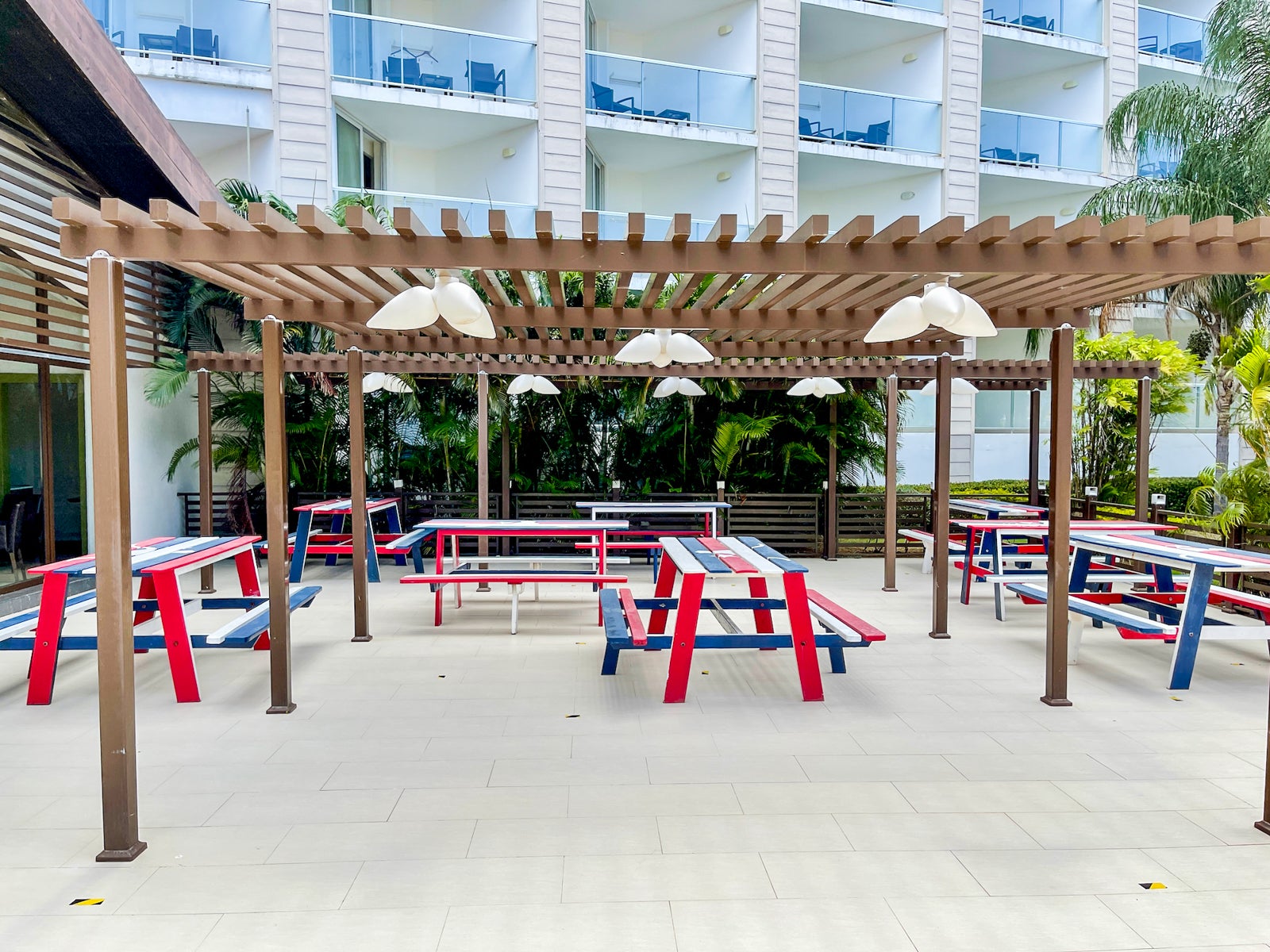 On my second night, I ate dinner at the Grazie Italian Trattoria. I ordered a pizza with mushrooms, which came from a can. While I wasn't expecting Neapolitan-quality, I've had frozen pizzas that were better.
It's clear that the resort wants to cater to all tastes and preferences, but I would've much preferred it offered fewer restaurants and focused on improving the quality.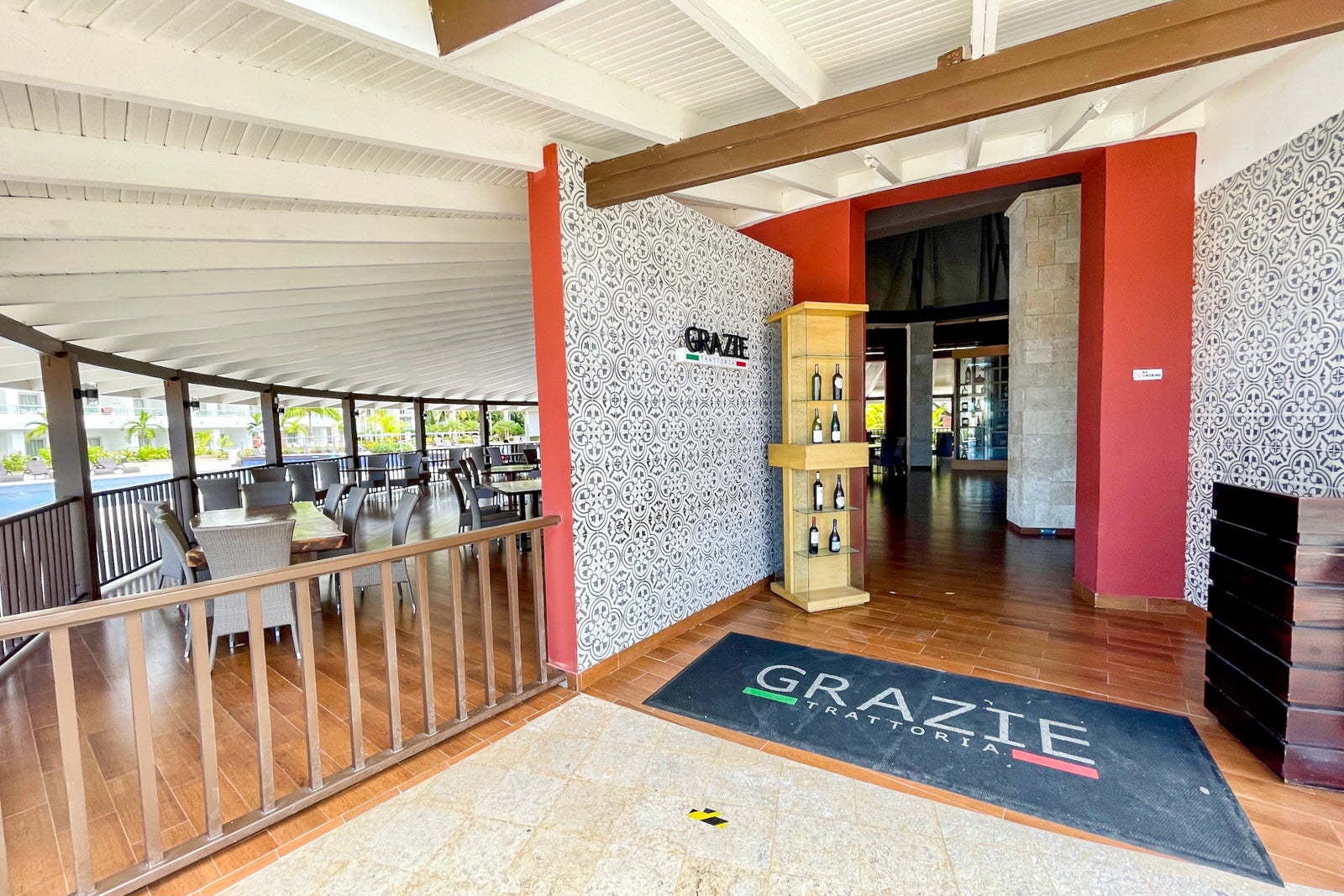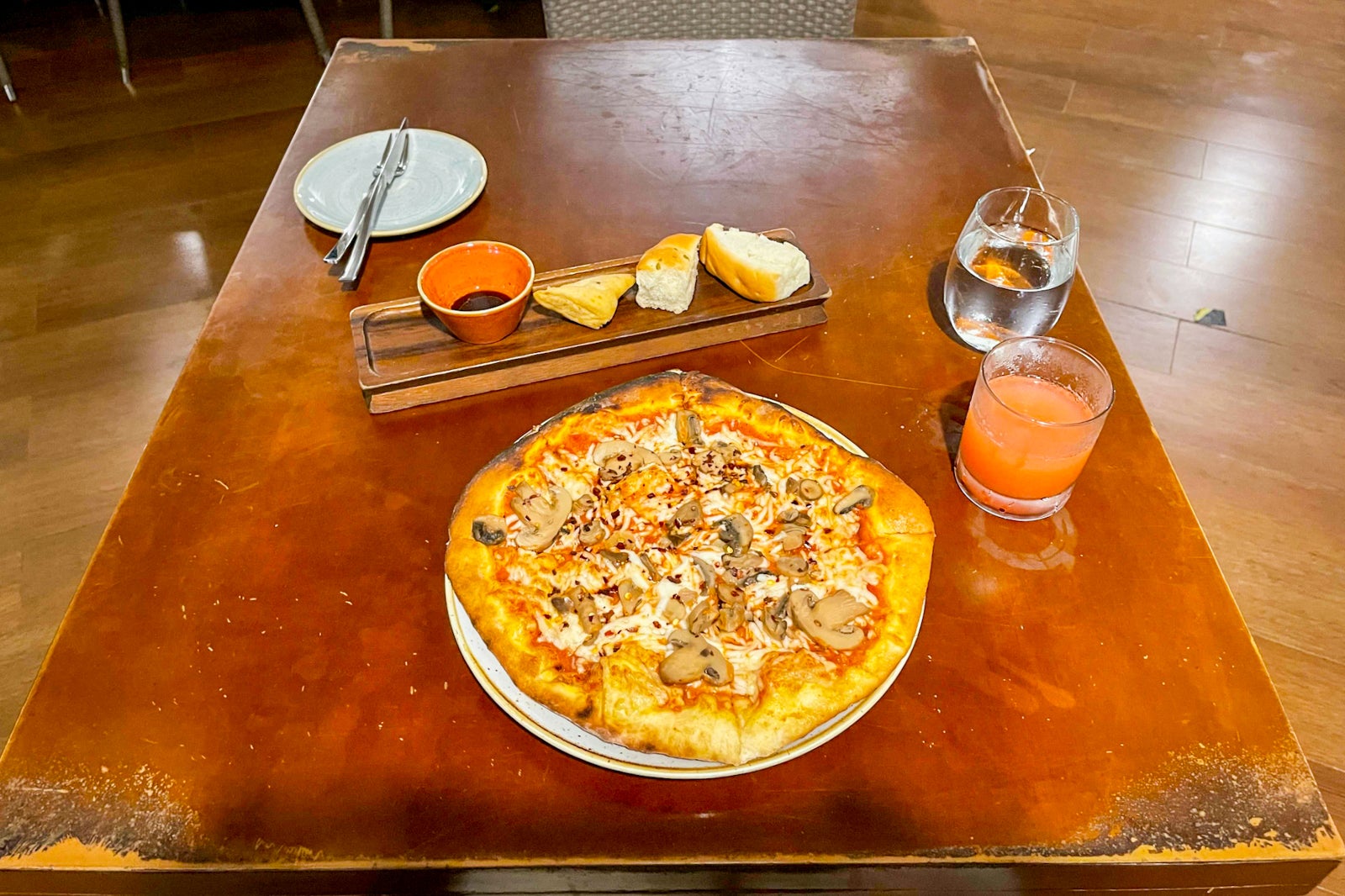 Although I didn't get a chance to try them, other restaurants included a steakhouse, a West Indies-style restaurant and another Asian fusion restaurant.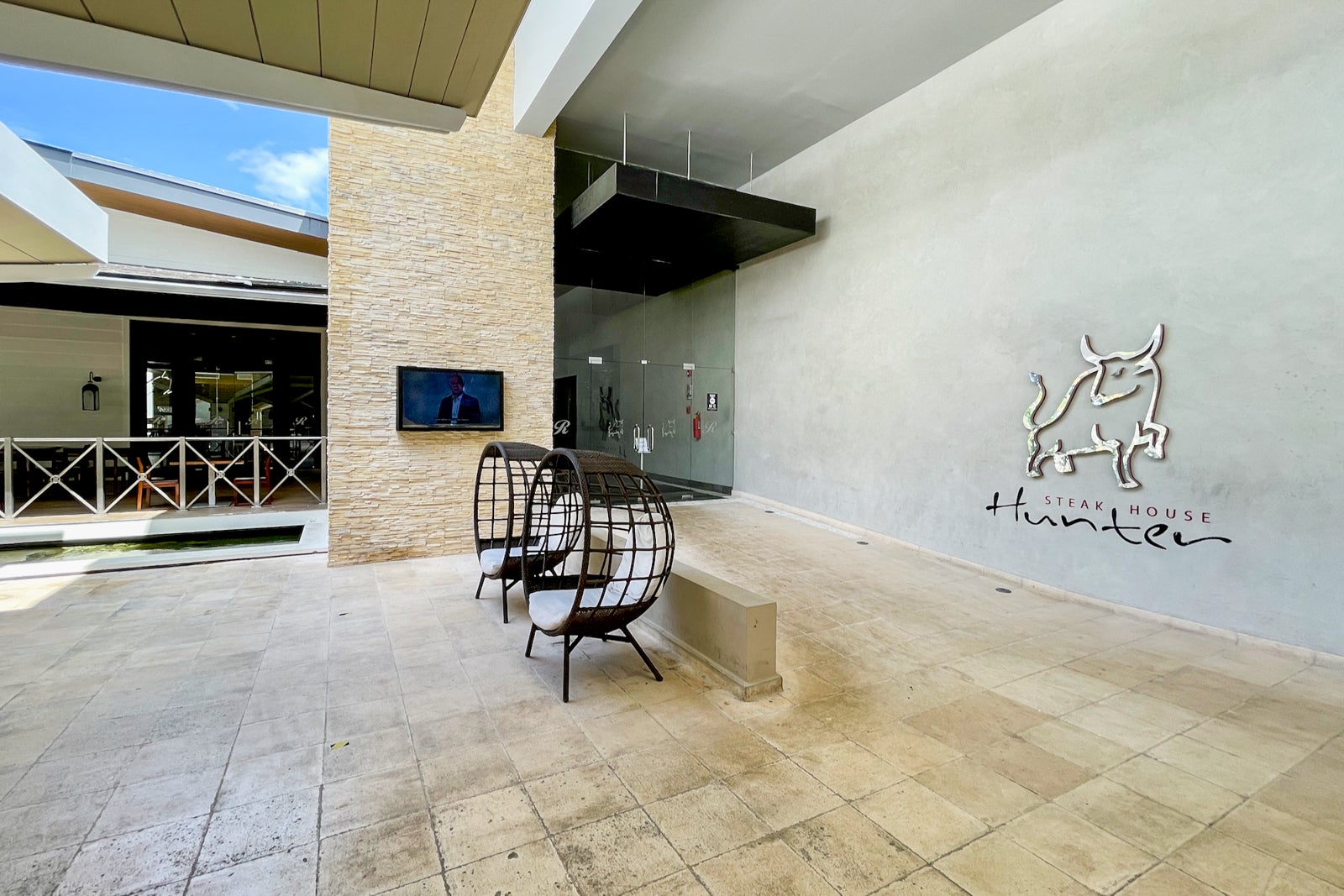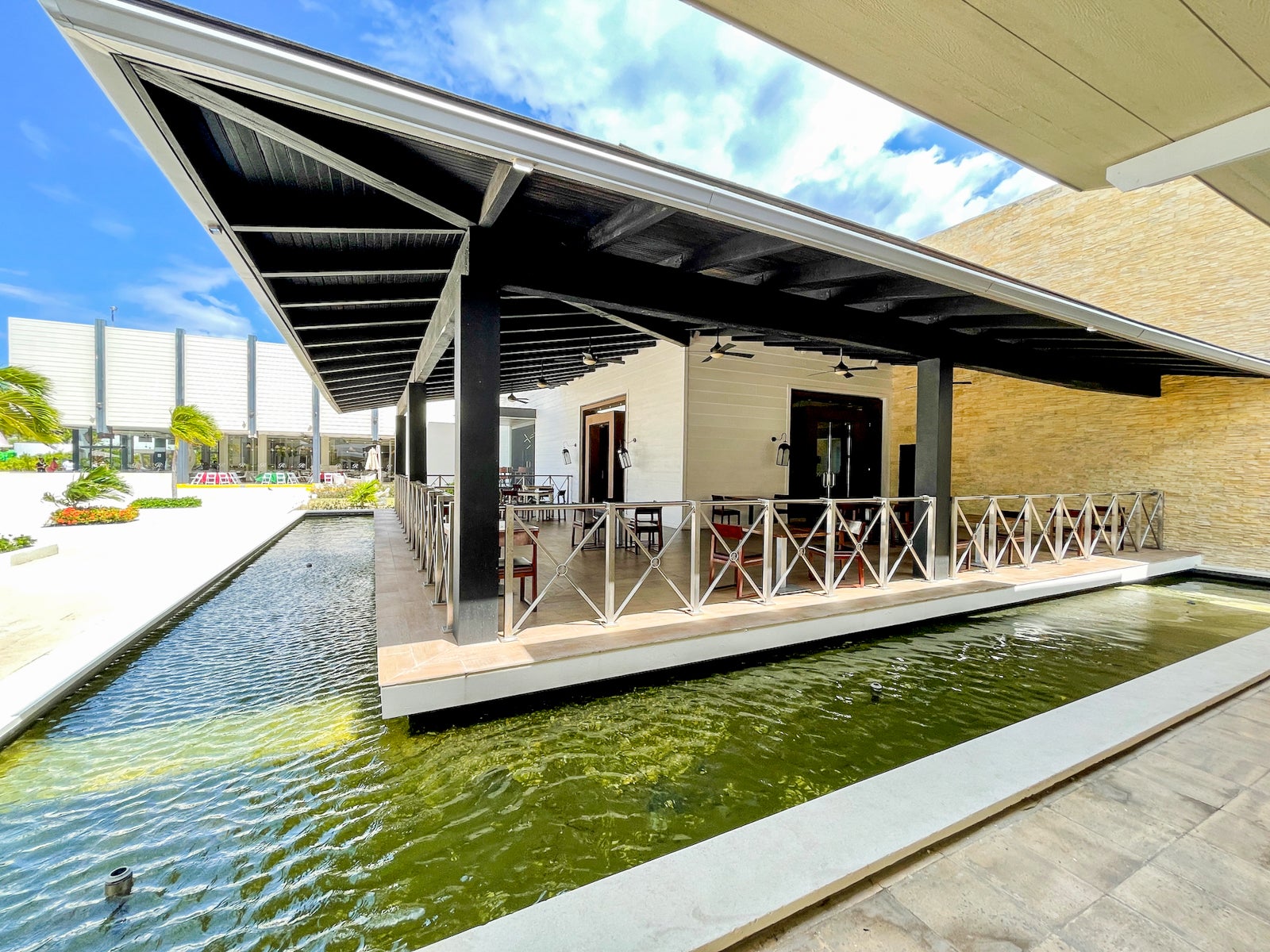 In between meals, guests could pick up snacks, pastries and ice cream from the coffee shop. It was open from 6:30 a.m. to 10:00 p.m. daily.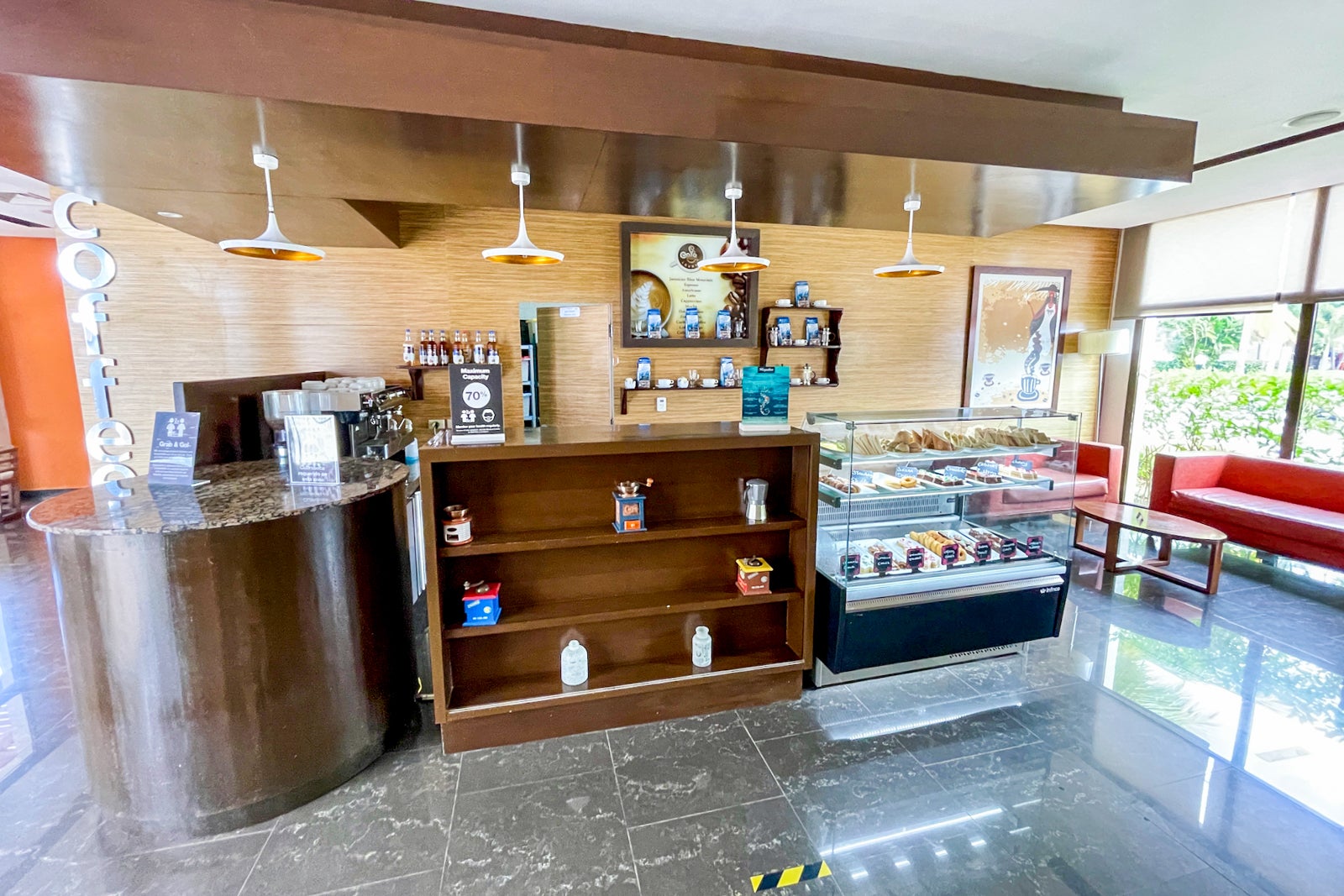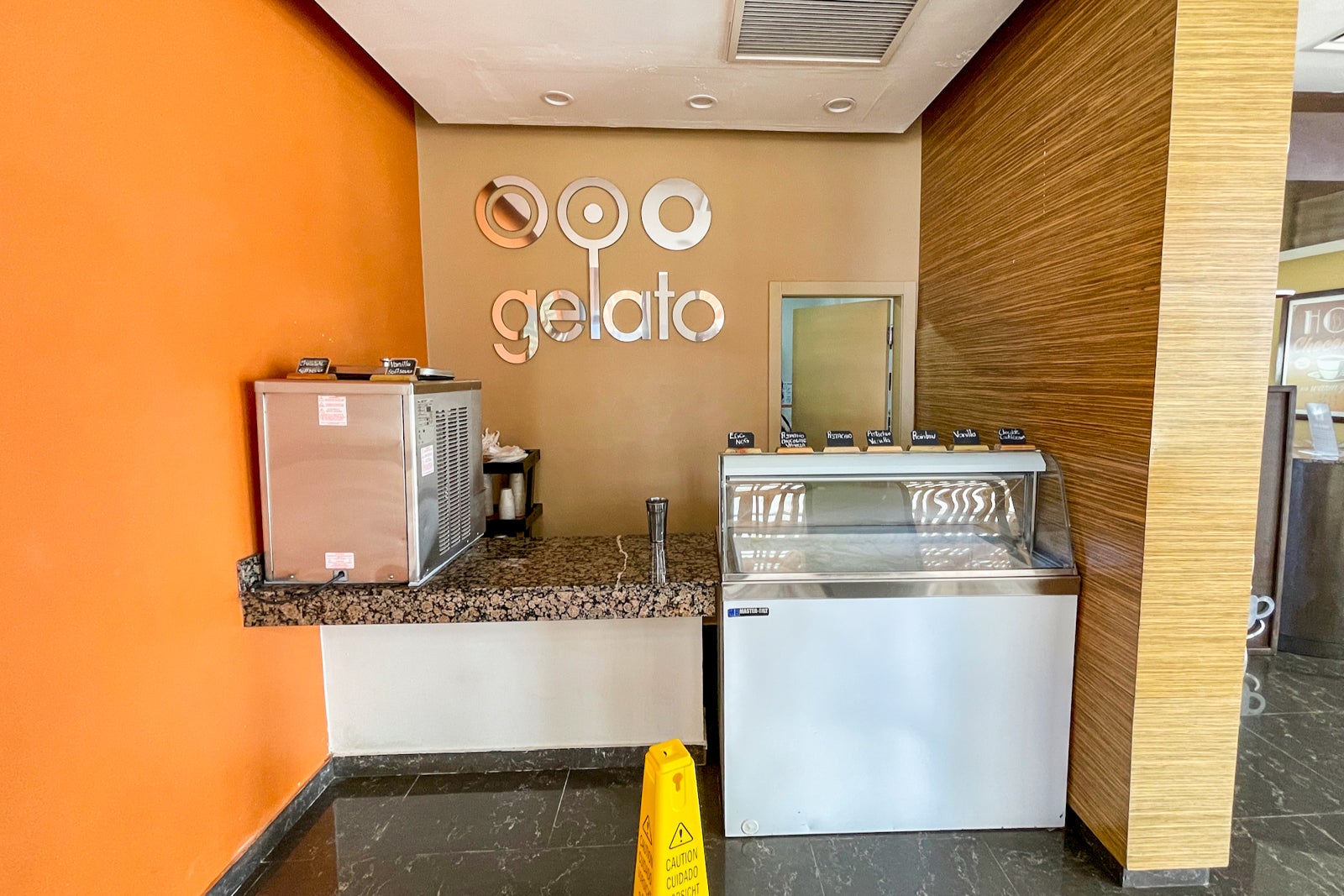 There were a number of bars throughout the property, including two swim-up ones. Alcoholic options were mostly limited to local brands. Also, the type of drinks you could order was somewhat limited at night. Once the sun went down, most bartenders weren't willing to make drinks that required a bit more effort, such as mojitos and blended drinks like piña coladas.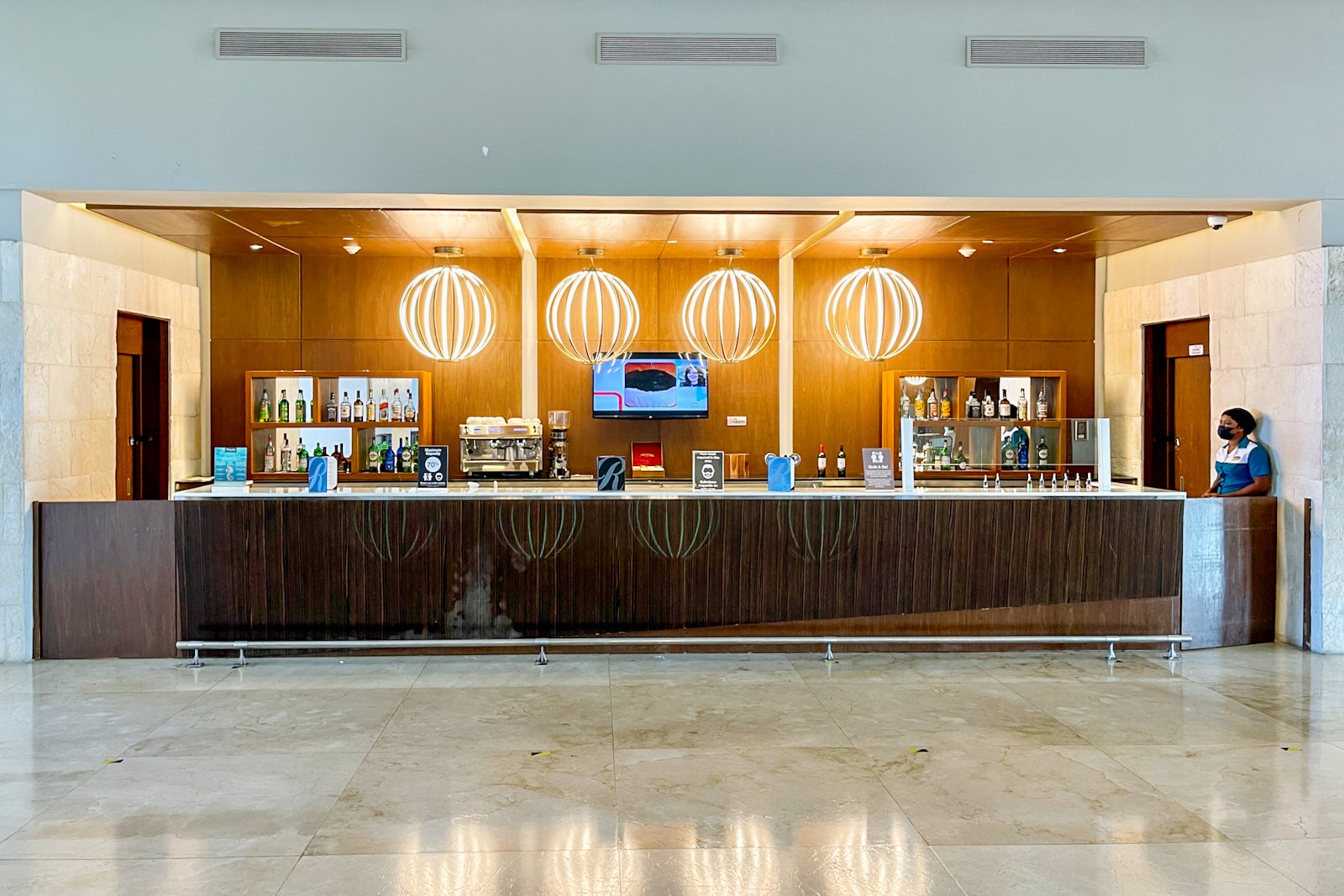 For late-night snacks and drinks, your main option was the Score Sports Bar and Lounge. There also was a DJ spinning here nightly from 10 p.m.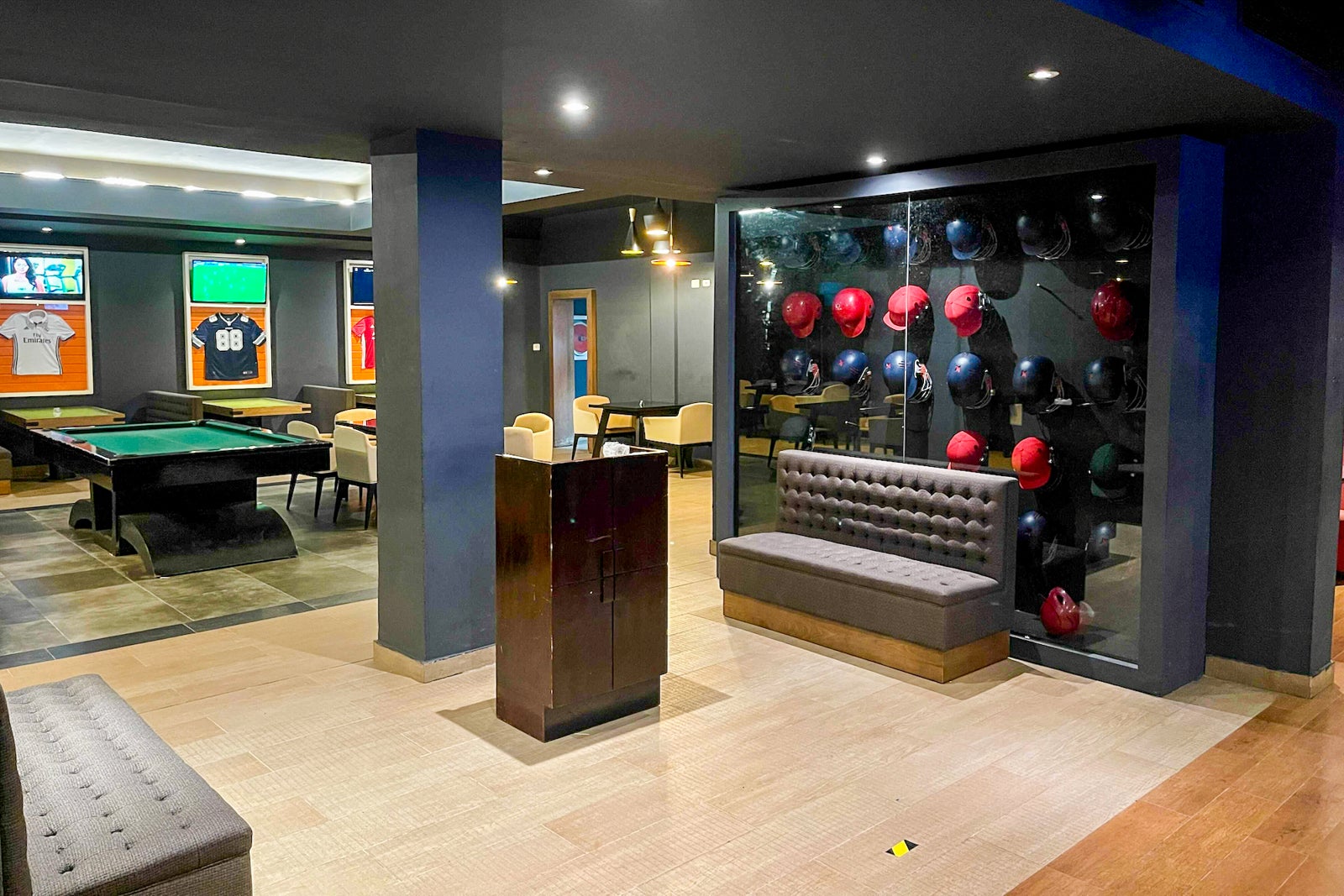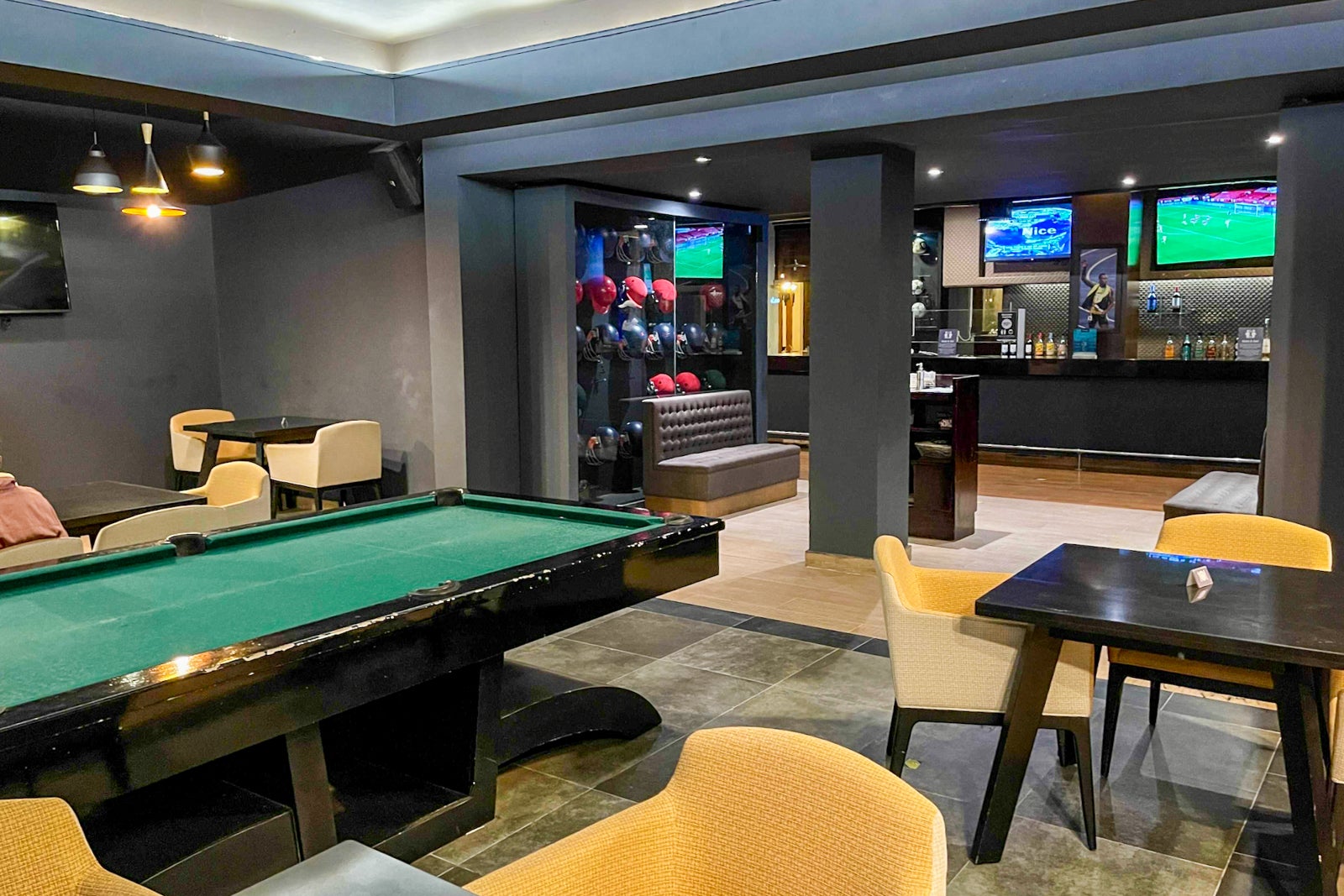 As a Diamond Club guest, I had access to an exclusive beach bar. From what I could tell, it offered the same liquor selection as the other bars, though it did also offer some food options like burgers and salads.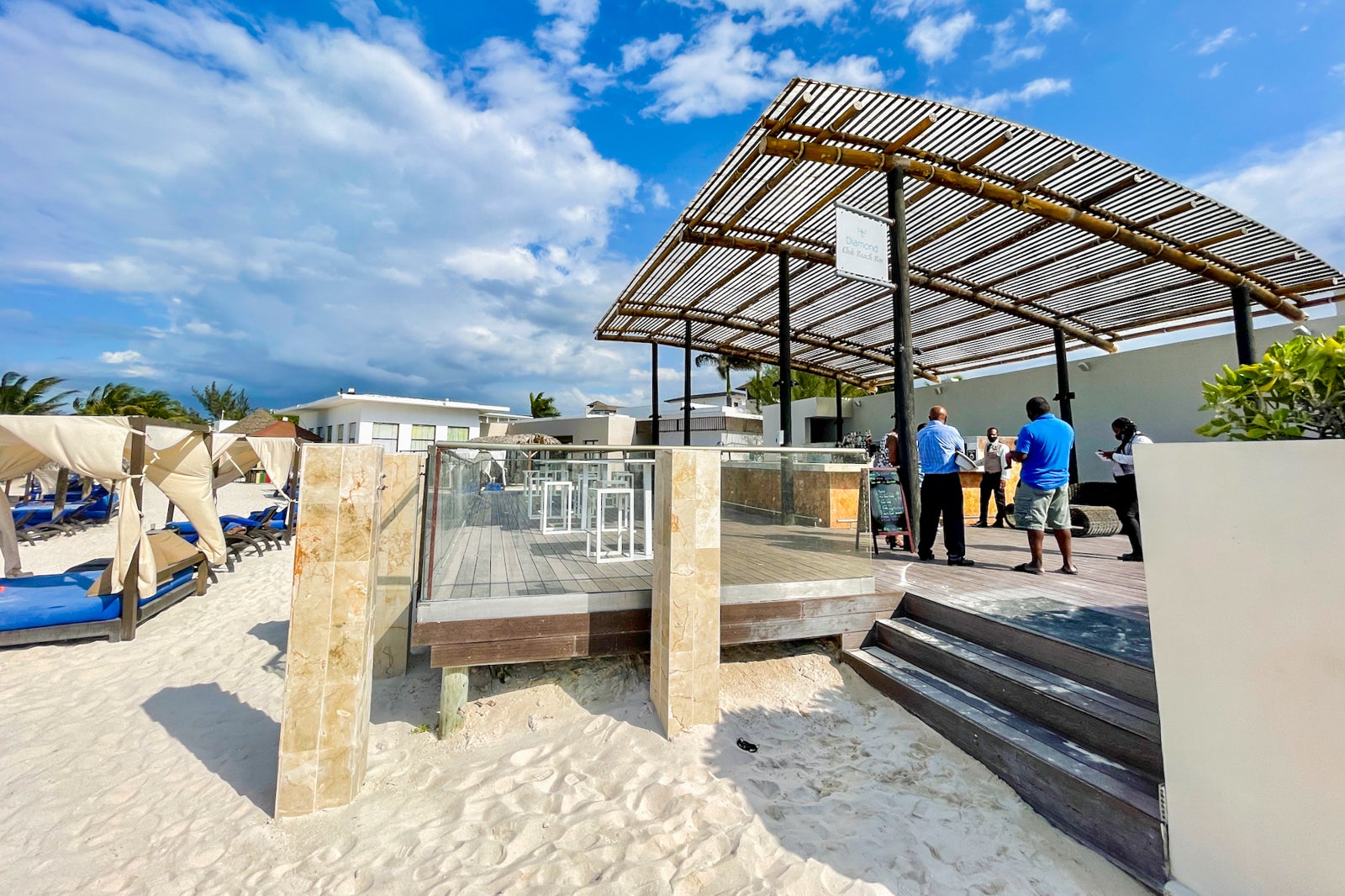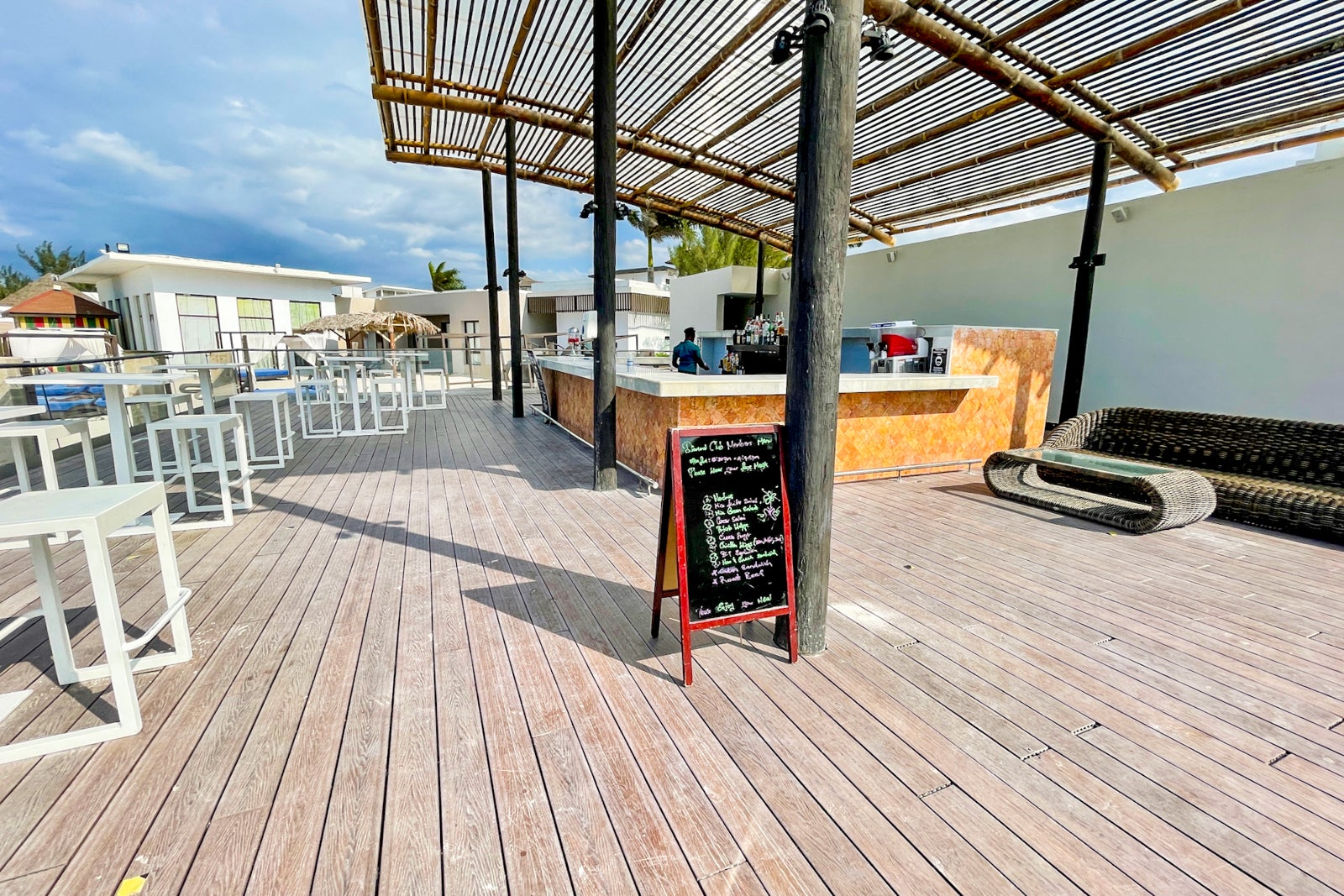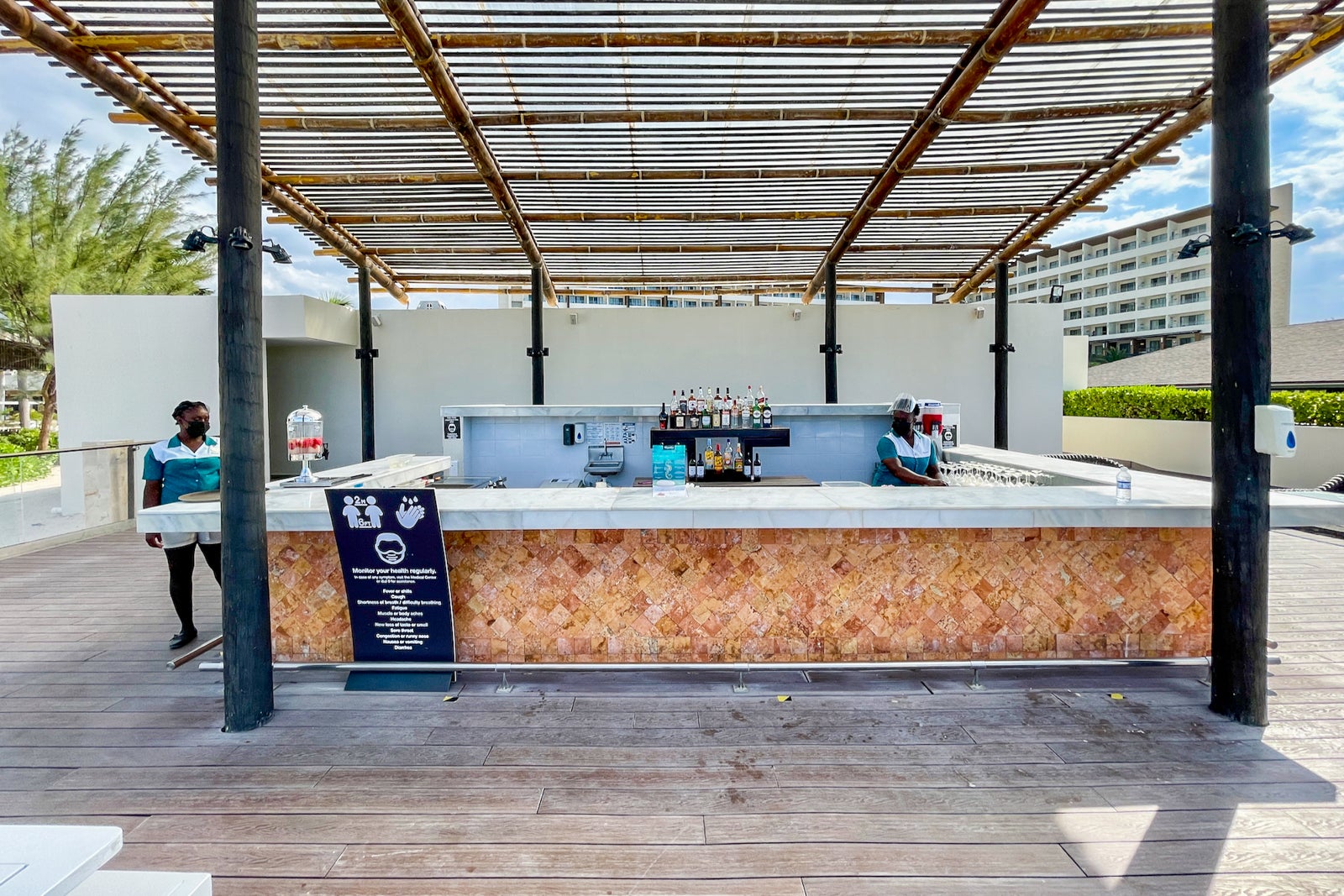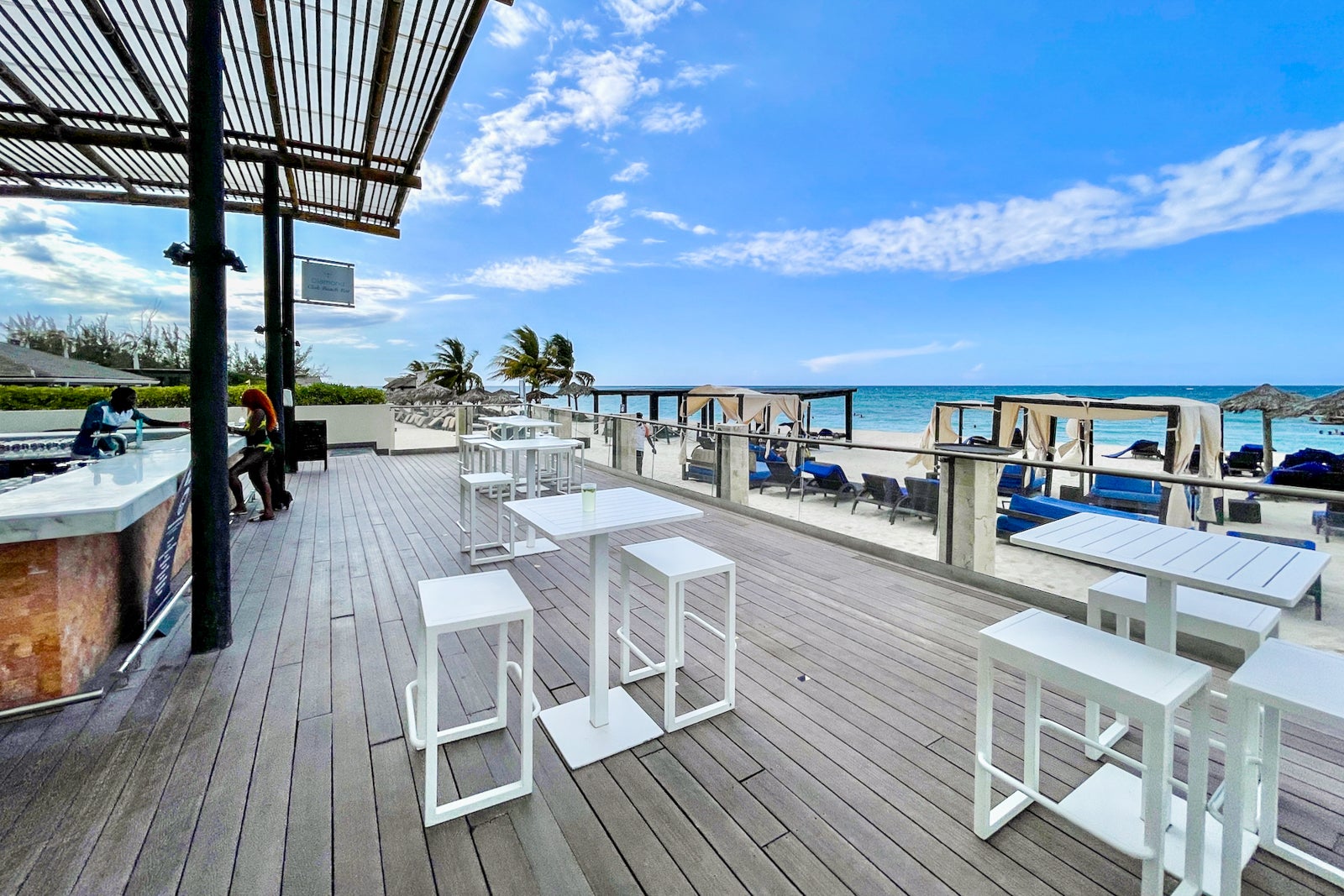 I ordered a Caesar salad here one day, but unfortunately, the flavor was overpowered by the mountain of parmesan cheese that came on it.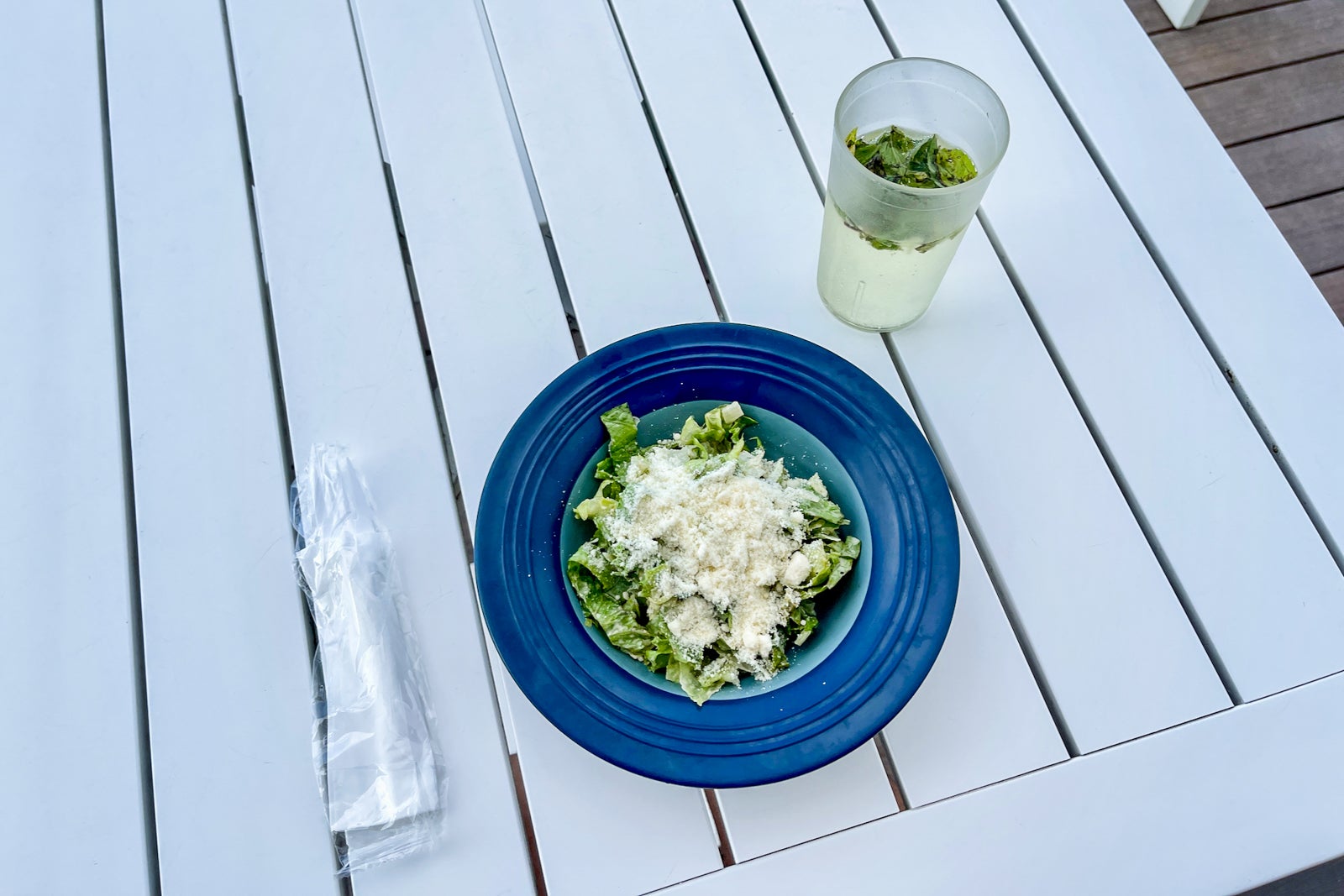 Despite having access to unlimited food and drinks, given the somewhat disappointing options, there were times where I came back to my room hungry. Luckily, there was room service to the rescue — all free of charge. One evening, I ordered a cheese plate and fruit plate, which were delivered in just over an hour. Room service orders were placed via the TV and then someone would call your room to confirm it.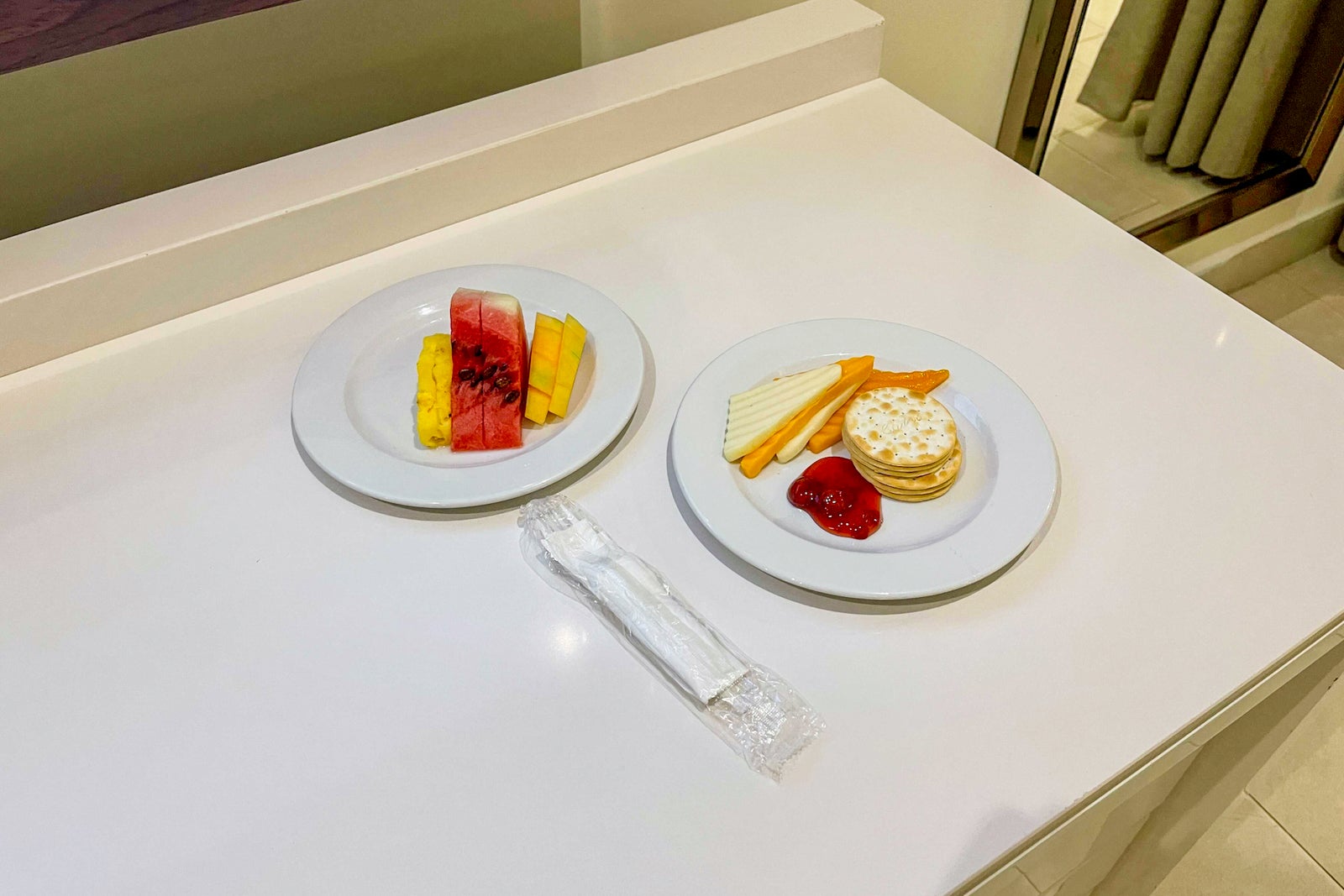 Service
While I don't like to complain about service, it definitely had room for improvement — especially considering I was a Diamond Club guest.
For starters, check-in took much longer than it needed to and I wish I would've gotten some more information about the resort, such as a map to find my room and list of the Diamond Club inclusions. As mentioned earlier, perks like the free daily hydrotherapy, nightly turndown service and access to a private pool were never offered. That said, while nowhere near St. Regis quality, I was glad I had the butler service because they were much easier to reach than the front desk when I had issues with my room.
Related: So your hotel room comes with a butler: Here's what you need to know
My other main qualm was with the tipping culture. Aside from resorts like Sandals, which prohibit staff from accepting gratuities, it's normal to tip at all-inclusives. That said, guests shouldn't feel an obligation to do so at every encounter and that definitely was the case here.
I also thought that 8:30 a.m. was a little too early for housekeeping to be knocking on the door.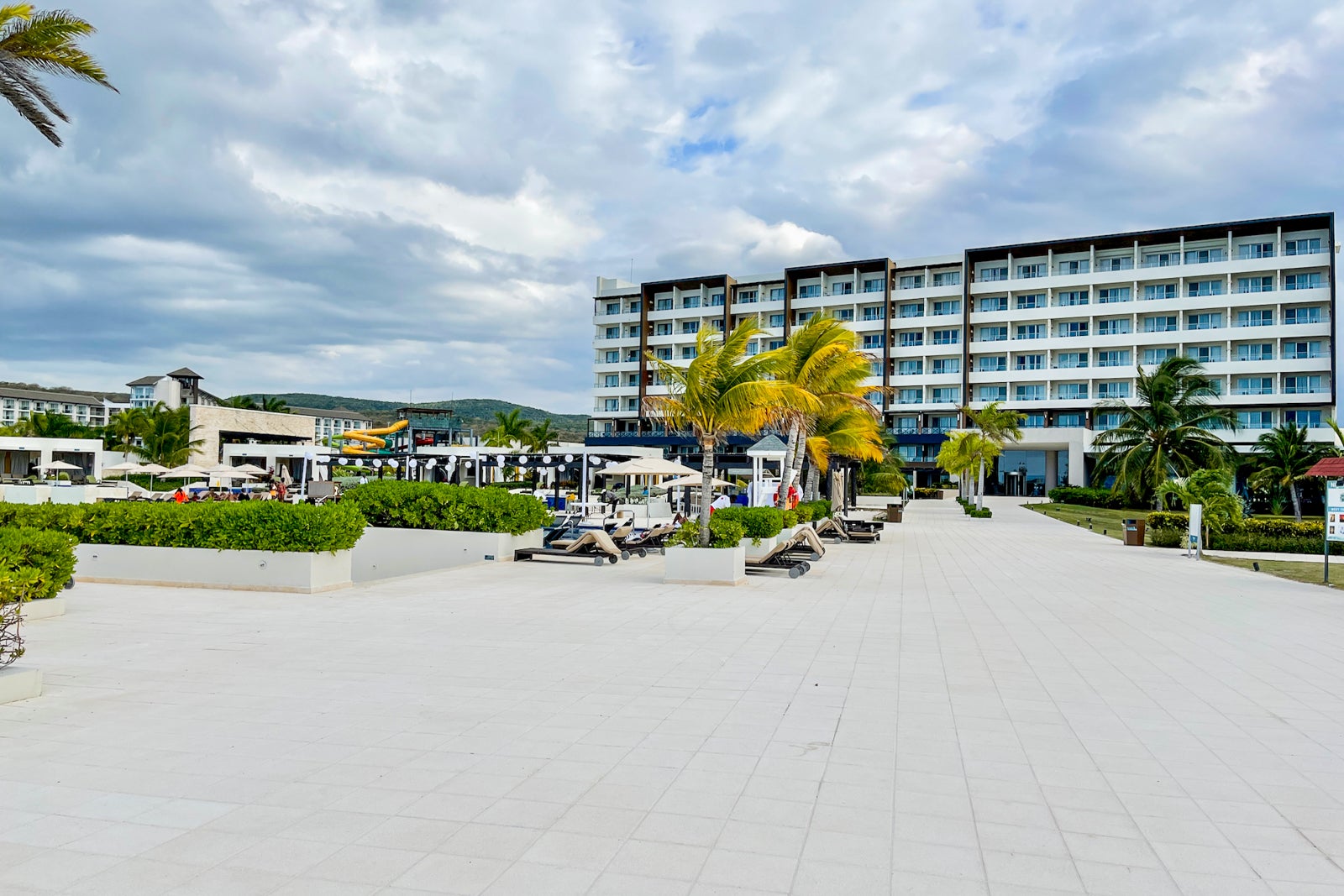 Overall impression
My stay at the Royalton Blue Waters was a real mixed bag. On one hand, the room was stylish, the pools were plentiful and the beach was idyllic. However, the food wasn't great and the service was spotty. There were also some other issues like the mosquitos in the room, flickering lights and missing chair. Luckily, many of these problems seem like easy fixes, so depending on what the award rates will be, I may be willing to give the property another chance once it officially joins Marriott Bonvoy. For now, however, there are plenty of other great resorts on the island that I'd rather spend my hard-earned dollars at.
All photos by Benji Stawski/The Points Guy
---
Share this post
---
---