My near-perfect stay in a rustic Thai resort: A review of the Six Senses Yao Noi
Posted by admin on
"It doesn't get better than this" kept running through my head during my stay at Six Senses Yao Noi near Phuket, Thailand.
Six Senses' style of rustic, sustainability-friendly luxury isn't for everyone. But I enjoy it and appreciate that IHG is continuing to integrate more Six Senses properties into IHG One Rewards. InterContinental Ambassadors also get extra perks at Six Senses properties participating in IHG One Rewards.
After loving my stay at Six Senses Laamu in the Maldives, I was eager to stay at a different Six Senses resort to see if the magic lay with Six Senses Laamu or the broader Six Senses brand.
Here's my take after staying at Six Senses Yao Noi in Thailand.
Booking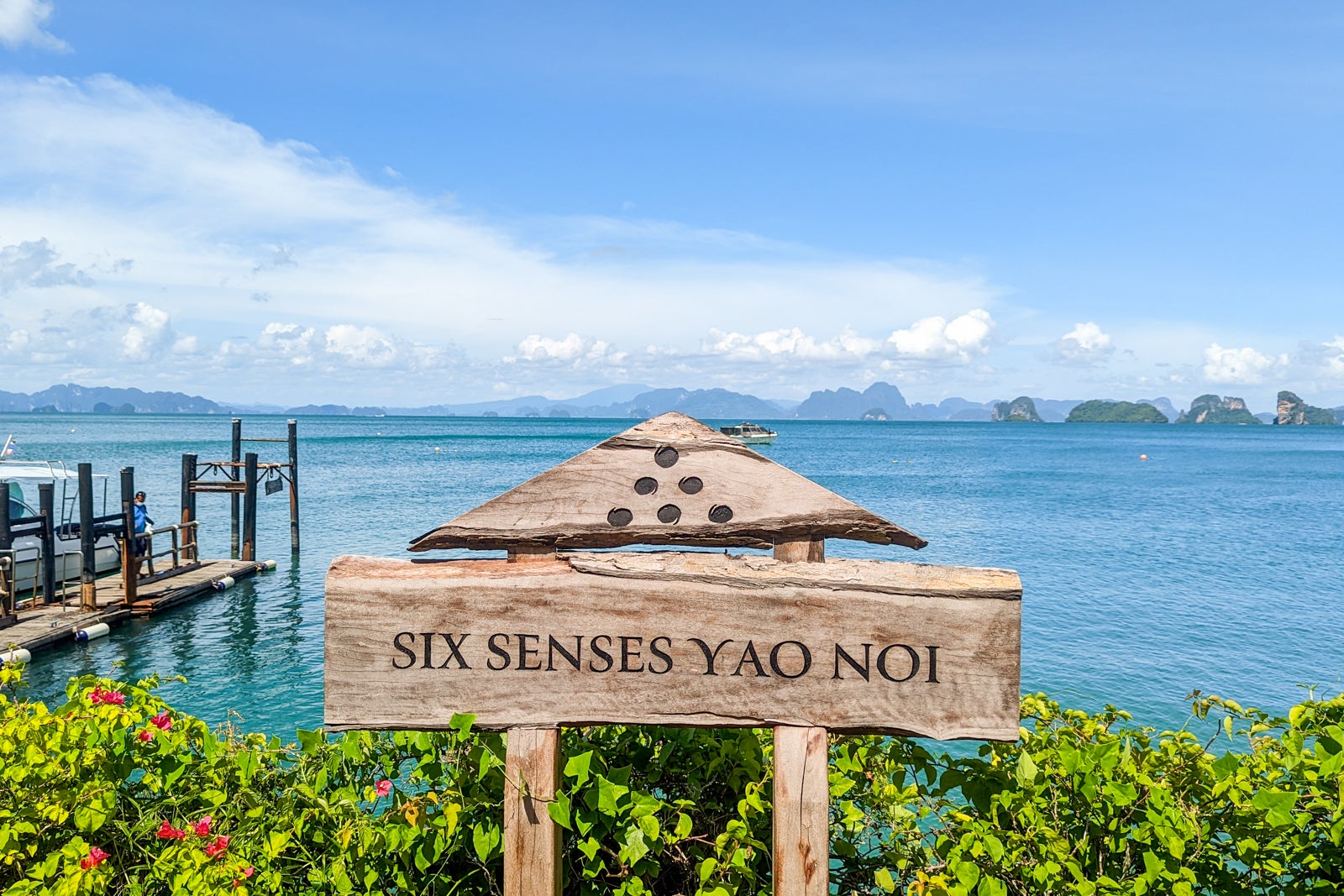 As with all resorts, there are several ways to book a stay at Six Senses Yao Noi. For example, you could book a stay through Amex's Fine Hotels + Resorts program and get guaranteed perks like a $100 property credit, daily breakfast for two people and 4 p.m. late checkout.
Or, you could book through a credit card travel portal. You might want to do so to redeem credit card points for your stay.
If you have the Citi Prestige® Card (no longer open for new applications), you might want to book through the Citi ThankYou travel portal to use one of the two complimentary fourth-night hotel benefits that you can use each calendar year.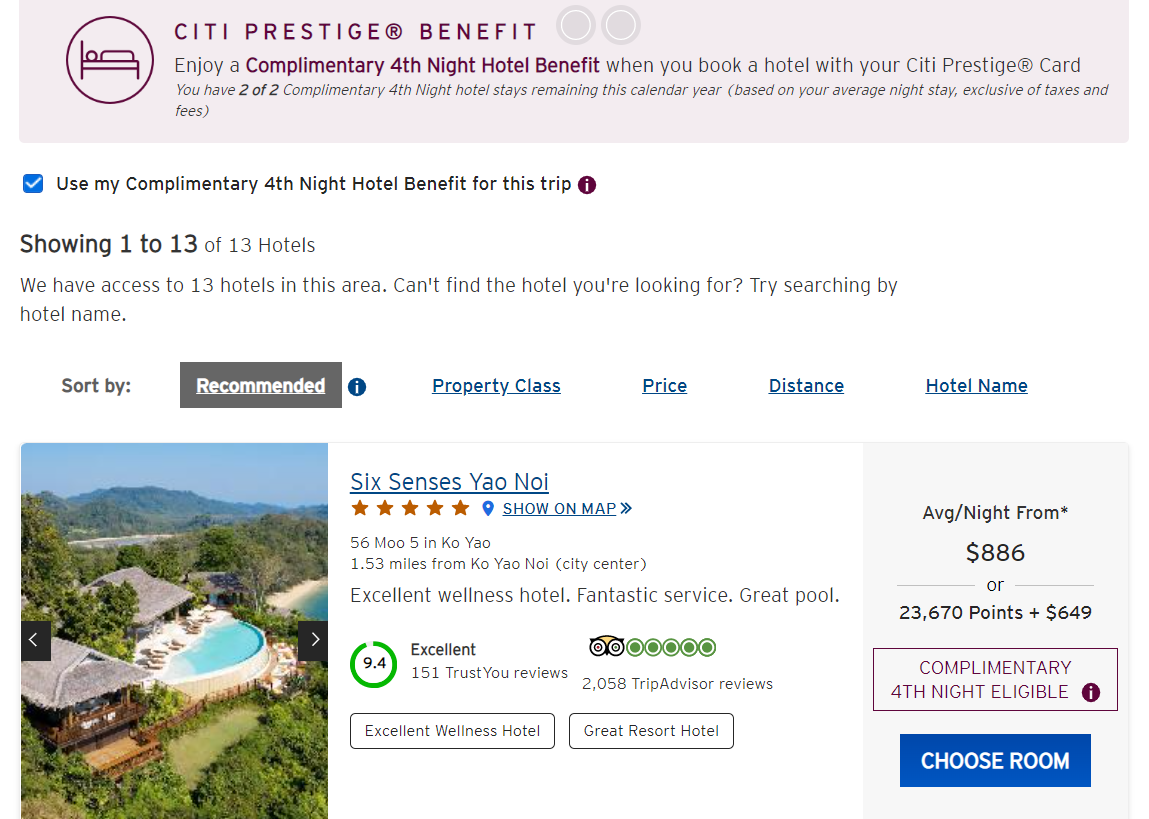 The information for the Citi Prestige has been collected independently by The Points Guy. The card details on this page have not been reviewed or provided by the card issuer.
I usually book directly to ensure I get elite benefits and earnings. For my two-night stay, booking directly through IHG would have cost $1,275 or 202,000 IHG points. After all, Six Senses Yao Noi is one of the Six Senses properties you can book with IHG points.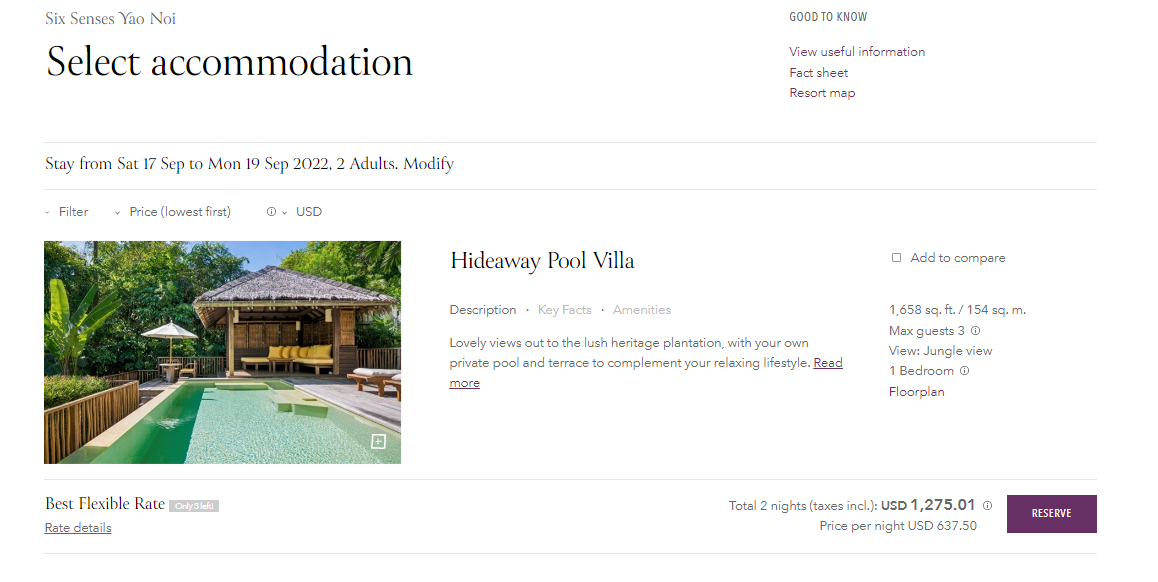 TPG's executive editor, Scott Mayerowitz, used IHG points from a TPG company account tied to his name to book a two-night award stay for me.
Based on IHG's website, members can book an award stay for another guest by adding their name as a second guest.
However, multiple IHG hotels in Thailand — including Six Senses Yao Noi — said I couldn't stay on Scott's reservation when listed as a second guest if he wasn't also staying. Scott asked IHG corporate to step in, which it did. So, although the resort staff may not have known I was reviewing the resort, IHG corporate certainly did.
If I hadn't been on a review stay booked with TPG's points, I would have booked a four-night award stay to benefit from the fourth-night reward perk on the IHG® Rewards Premier Credit Card.
On my dates, I could have redeemed 303,000 IHG points for four nights (instead of the 202,000 points TPG redeemed for two nights) thanks to this perk.
Related: I paid $200 for Ambassador even though I rarely stay with InterContinental: Here's why
Location
Six Senses Yao Noi is located between Phuket and Krabi in Thailand on the island of Yao Noi. Most guests visiting the resort fly into Phuket and book a transfer with the resort to and from the airport.
The resort is a destination; it's not quick or cost-efficient to visit Phuket or Krabi from the resort. As such, expect to remain on Yao Noi or take Six Senses' arranged tours during your stay.
Check-in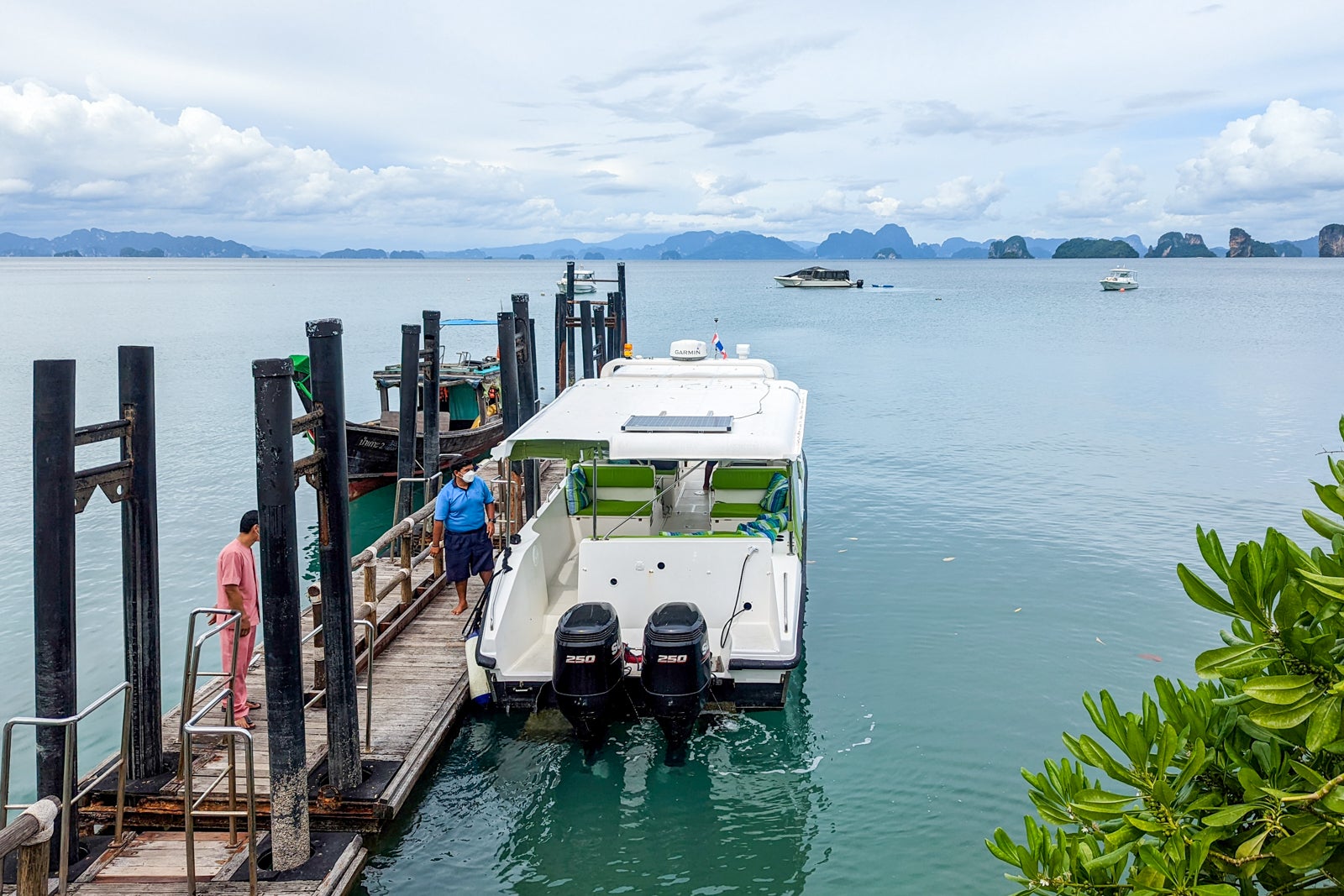 Six Senses Yao Noi offered the following transport options to and from the resort for my stay:
Shared land and shared scheduled speed boat transfer from/to Phuket International Airport: 1,600 Thai baht (about $43) per adult, per way.
Private land and shared scheduled speed boat transfer from/to Phuket International Airport or other resorts in Phuket: 2,250 Thai baht (about $61) per adult, per way.
Private land and speed boat transfer from/to Phuket International Airport or other resorts in Phuket: 12,500 Thai baht (about $338) for two persons traveling together.
Private land and speed boat transfer from/to Krabi Airport: 12,600 Thai baht (about $340) for two persons traveling together.
The options and pricing may be different for your stay. But here's the schedule of shared land and speedboat transfers that Six Senses Yao Noi used during my stay:

As we were staying at a different hotel in Phuket before heading to Six Senses Yao Noi, we went with the second transfer option for our arrival and arranged for a noon pick-up to meet the 2 p.m. shared boat.
A driver with a Mercedes sedan was waiting when we checked out shortly before noon.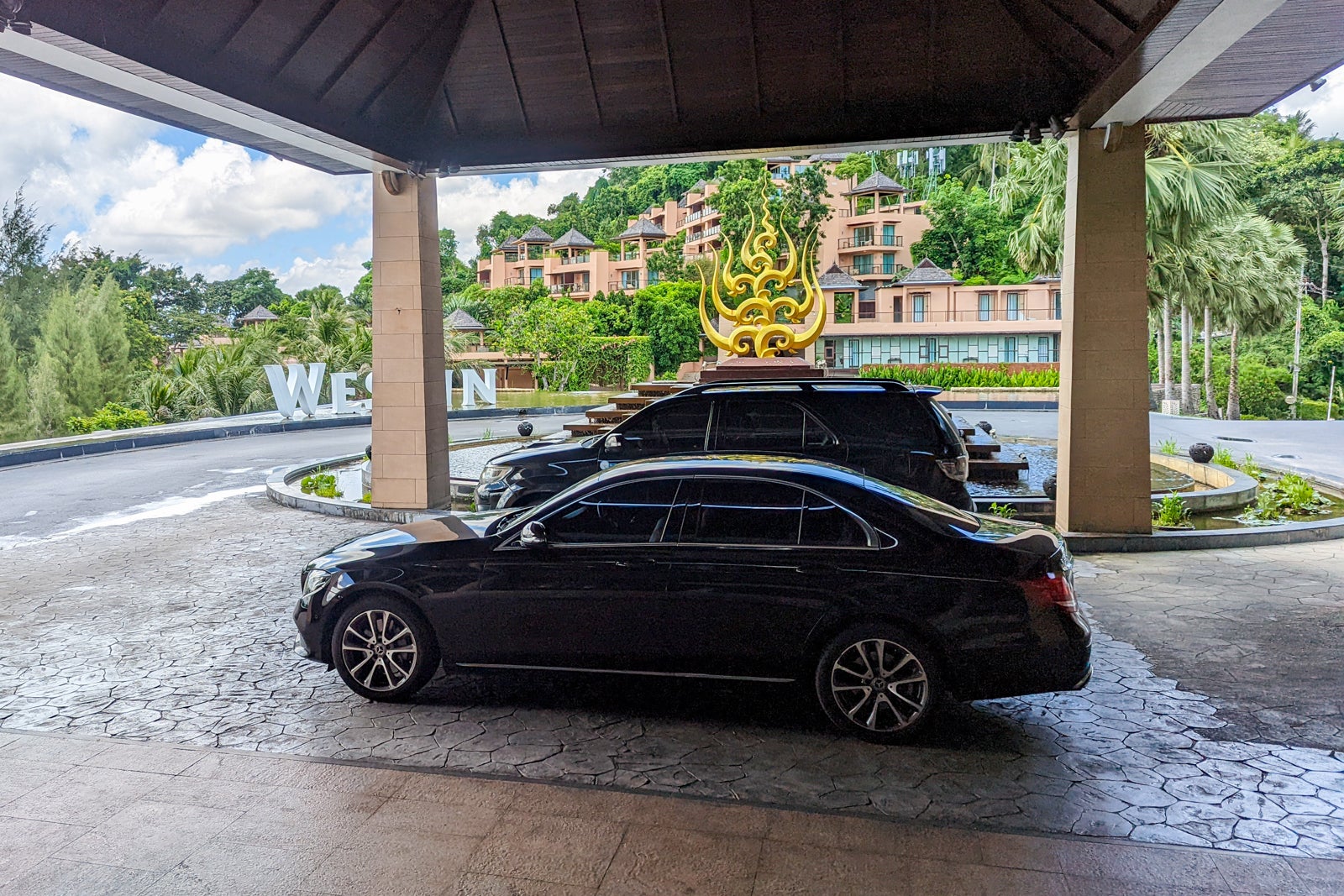 When we arrived at the marina, a Six Senses representative was waiting for us at the taxi stand. She tagged our larger bags and said someone would take them directly to the boat.
Then she led us to the Port of Call bar and restaurant in the marina, where four other Six Senses guests were already waiting on the outdoor patio for our shared boat. She said we could each order a non-alcoholic beverage from the menu while we waited. She also advised us to use the restroom inside, noting the boat wouldn't have one.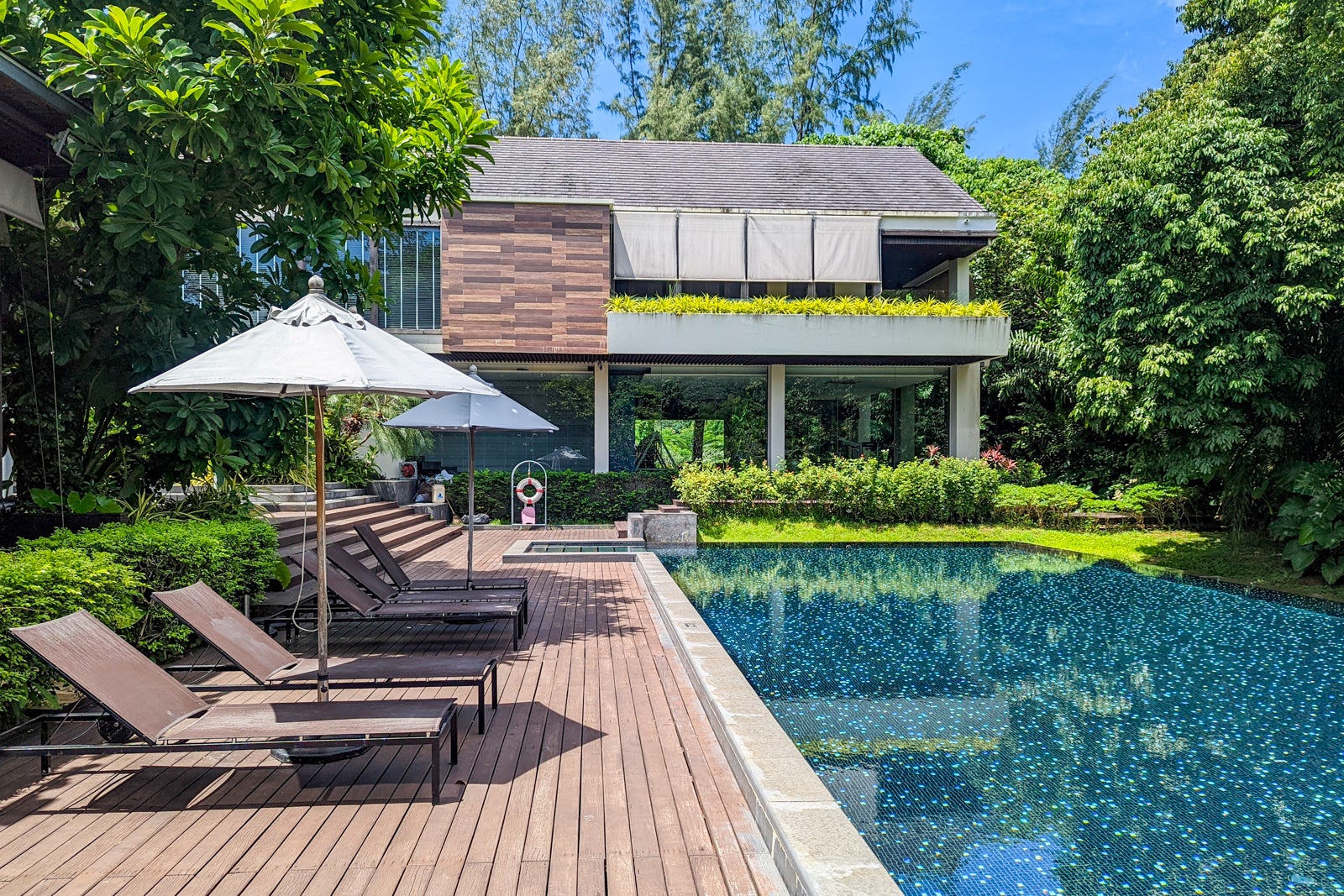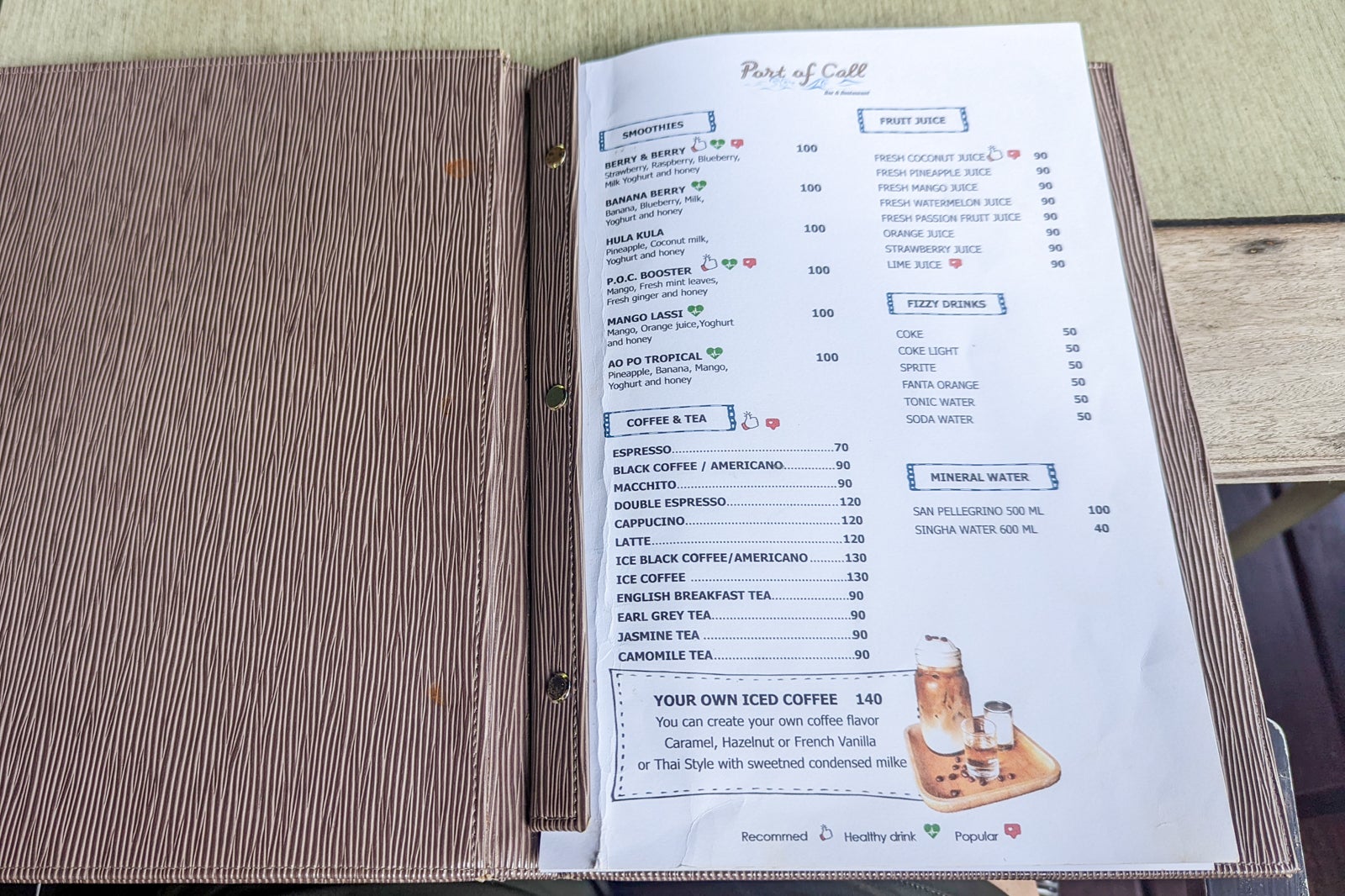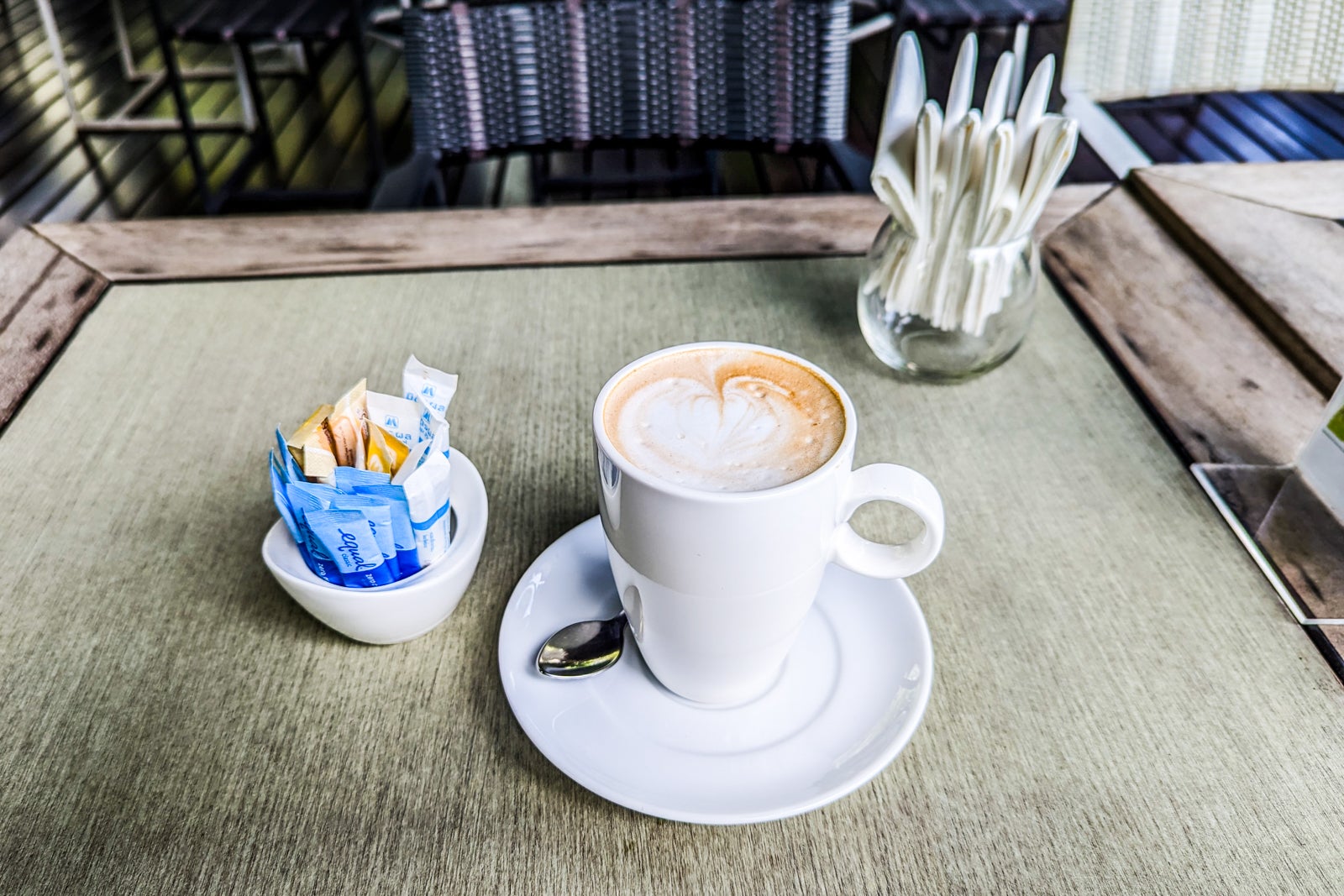 Shortly before 2 p.m., the Six Senses representative came to tell us we'd be leaving soon. Once it was time to go, we walked down to a 20-passenger Six Senses boat staffed by a captain and host.
The 40-minute ride from the marina to Yao Noi was smooth and offered excellent views. Before we knew it, the host said we were approaching the resort.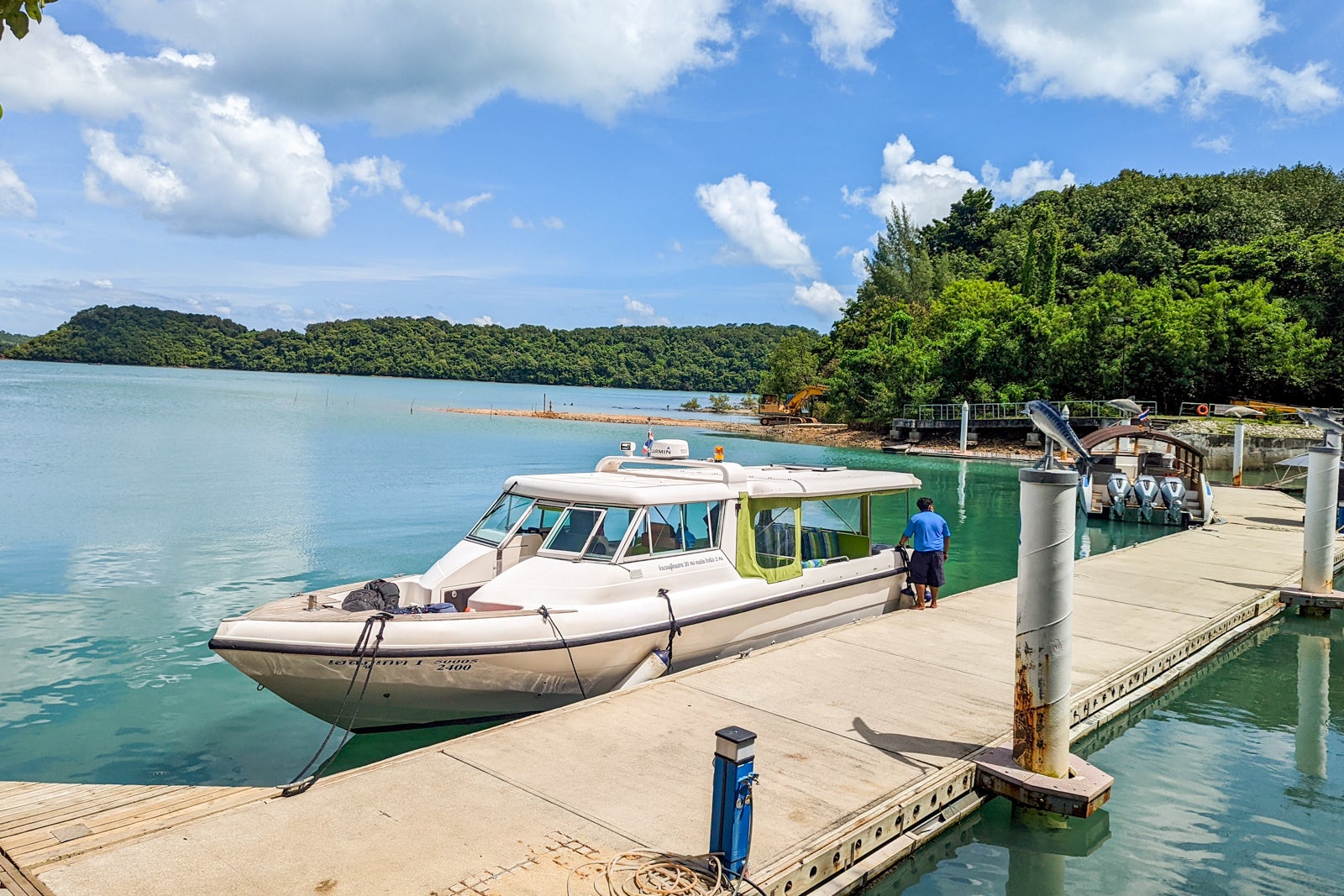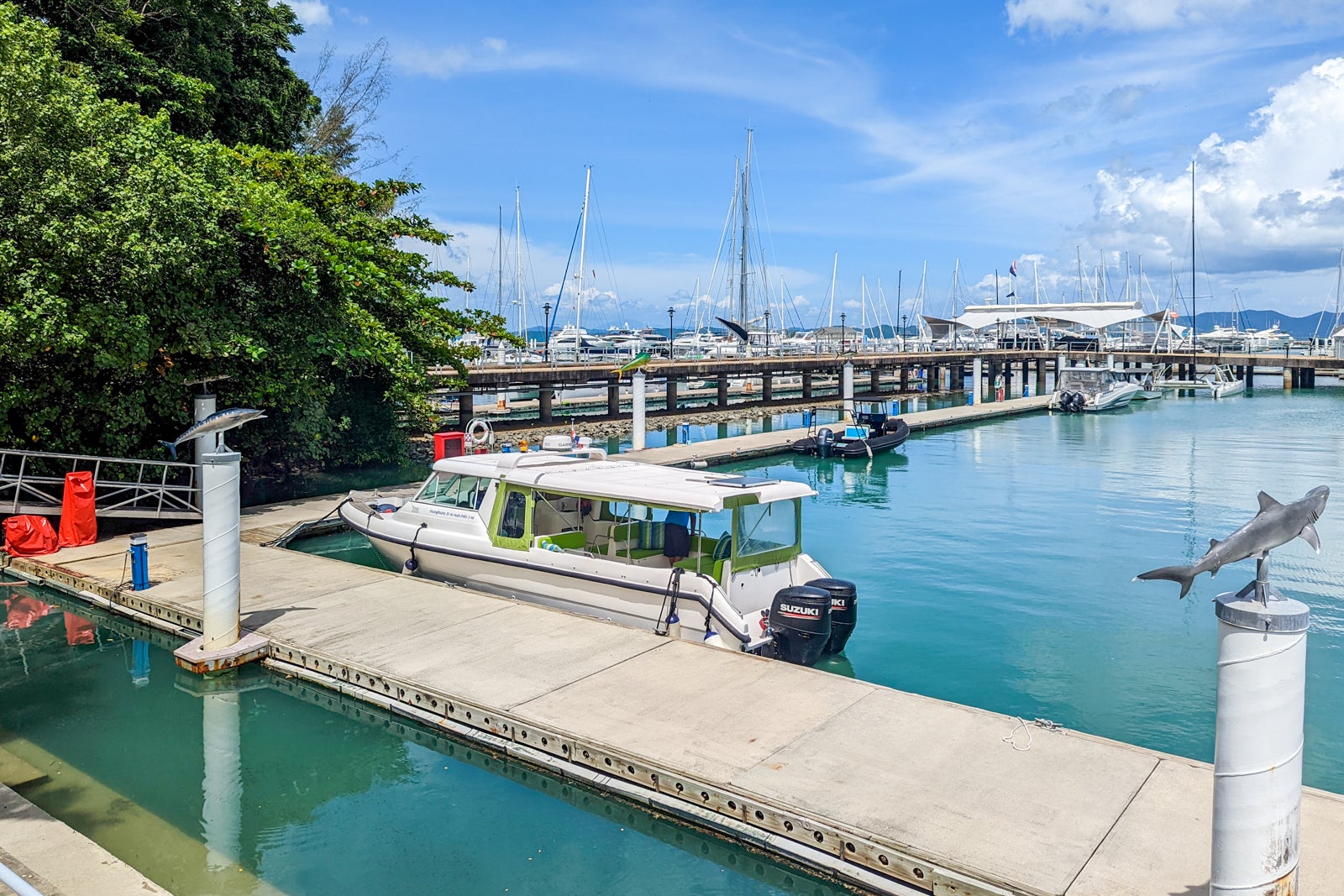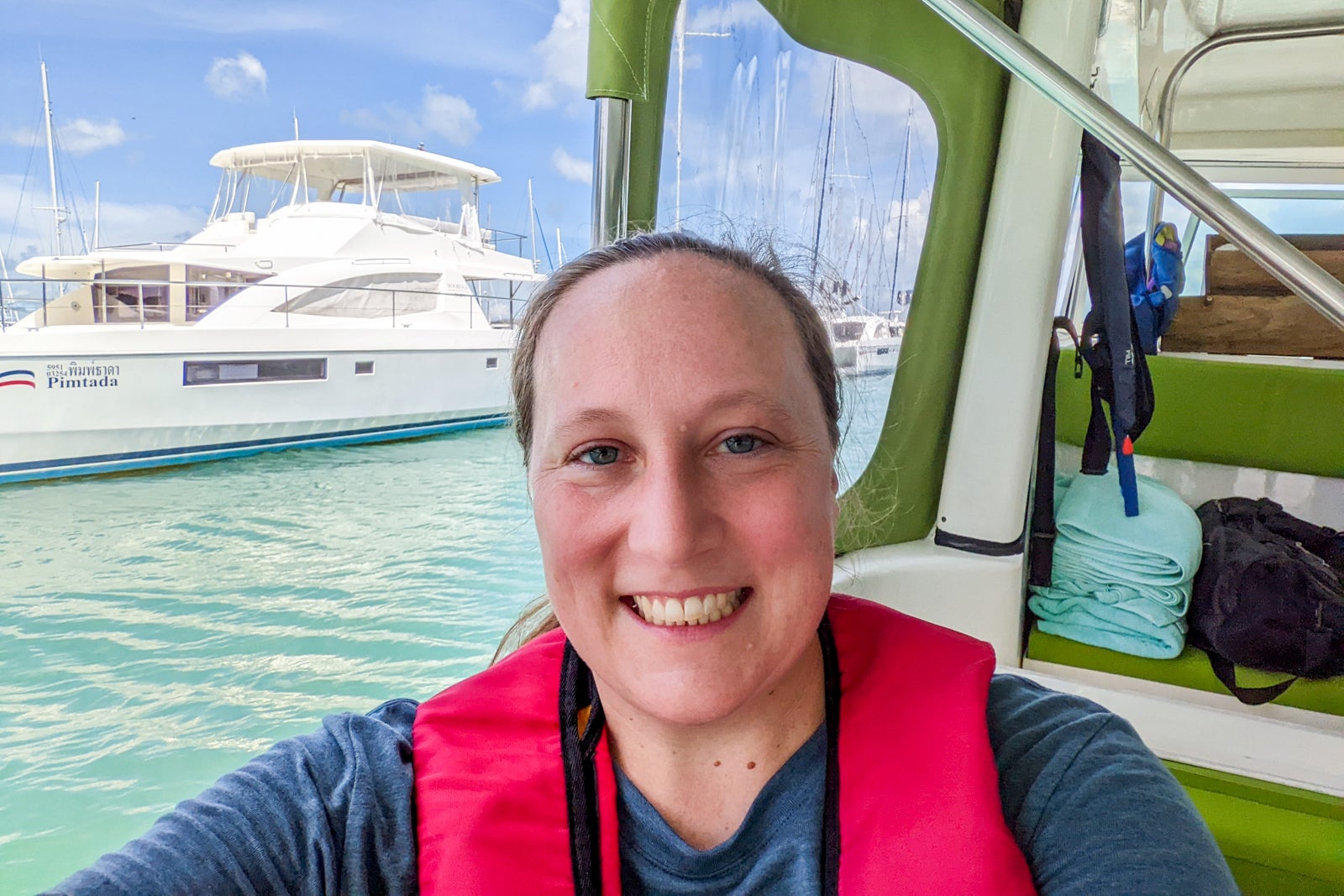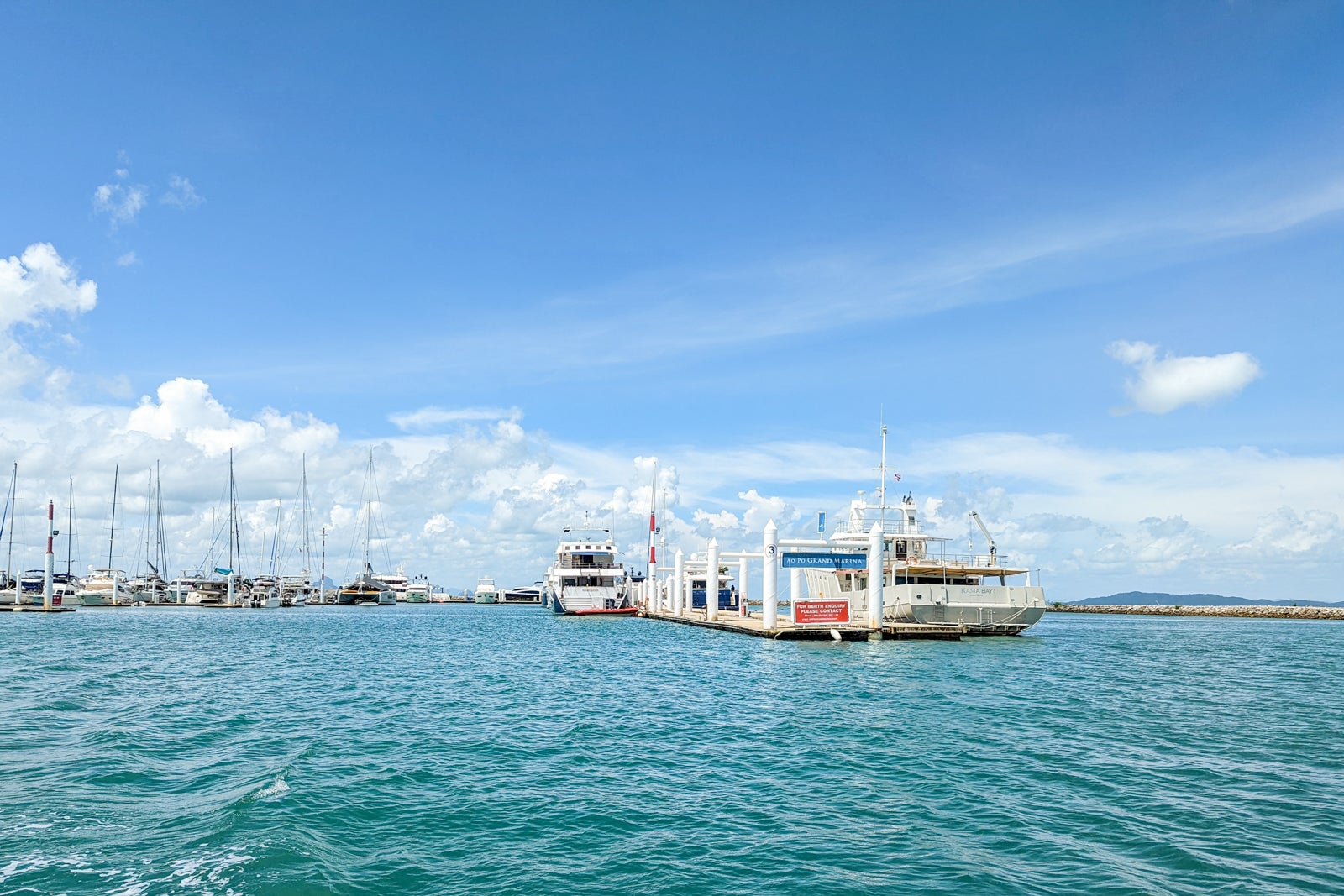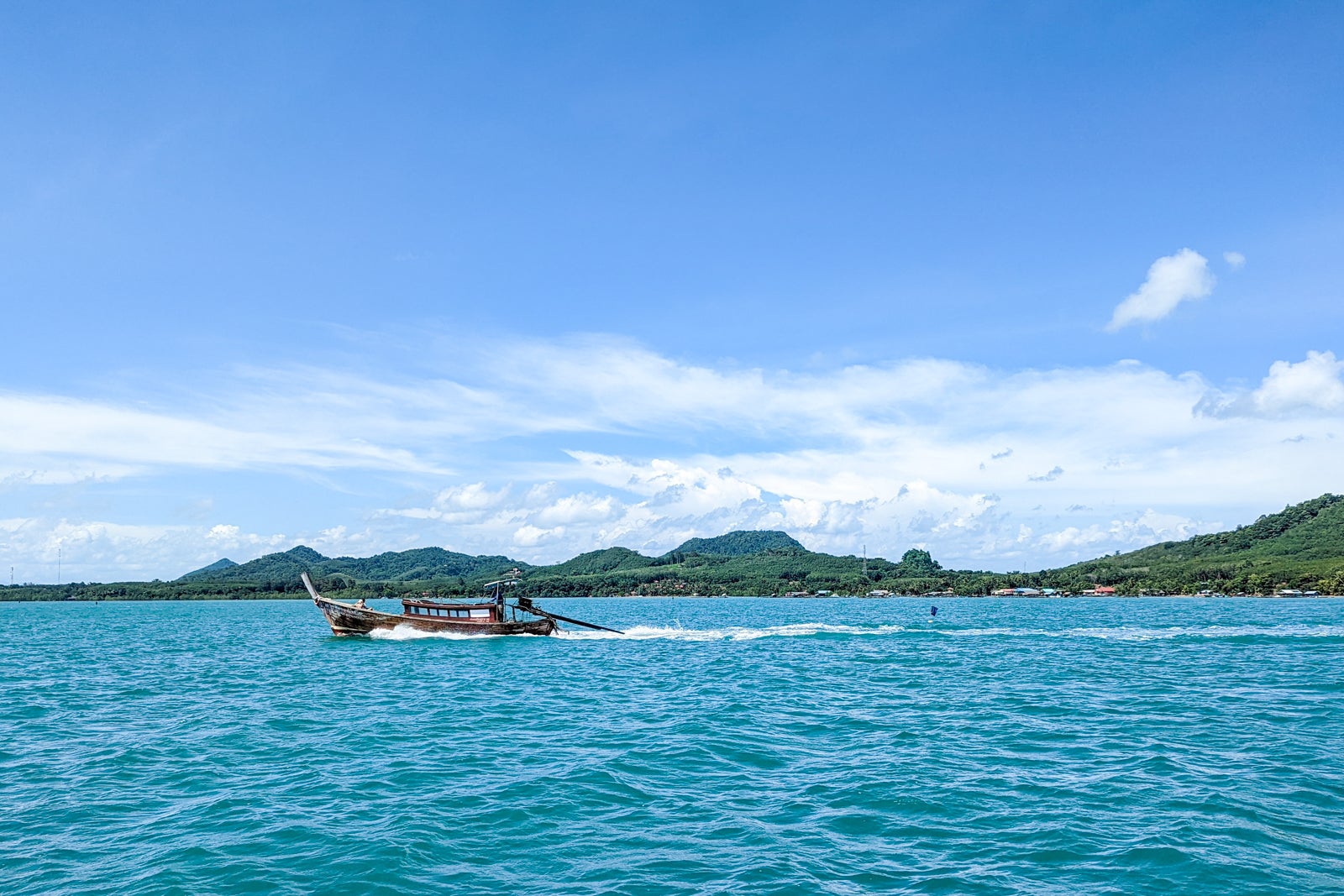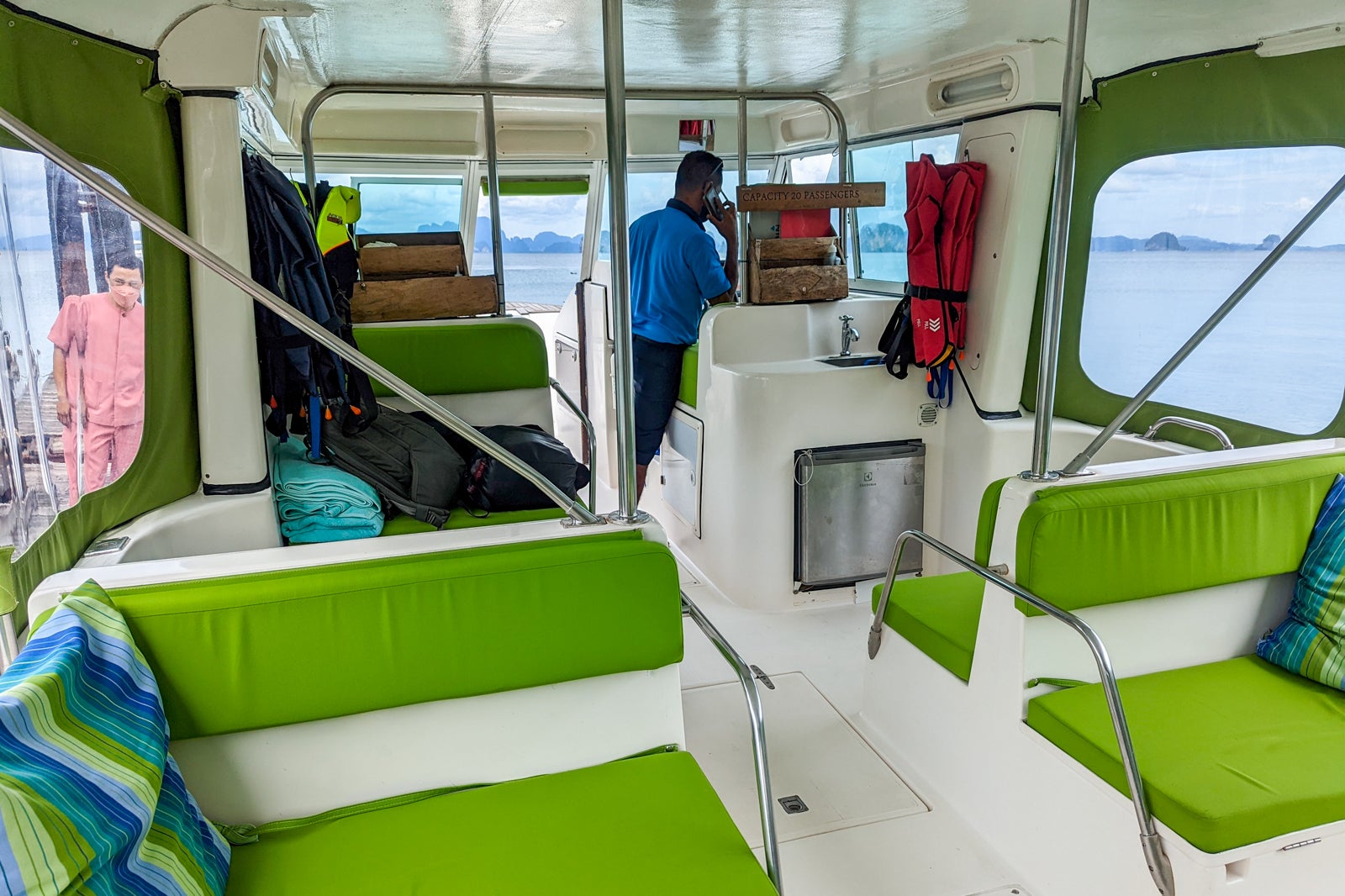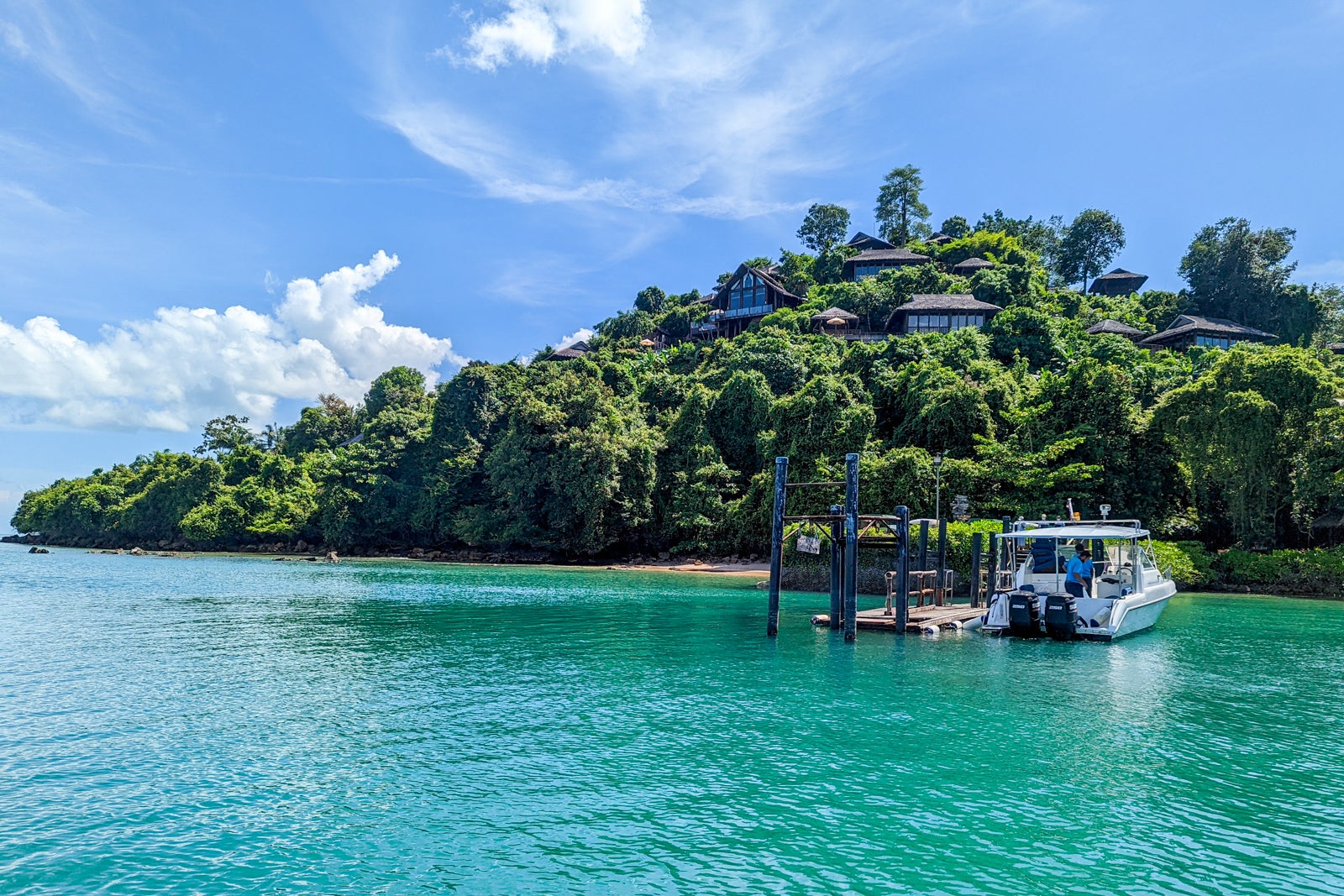 The resort manager and GEMs (guest experience makers) for each group of guests awaited our boat's arrival. Each GEM had driven a golf cart with their guests' names written on a chalkboard, so we found our cart and met our GEM.
The resort manager also spoke with each group individually; he welcomed us to the resort and thanked us for our award redemption.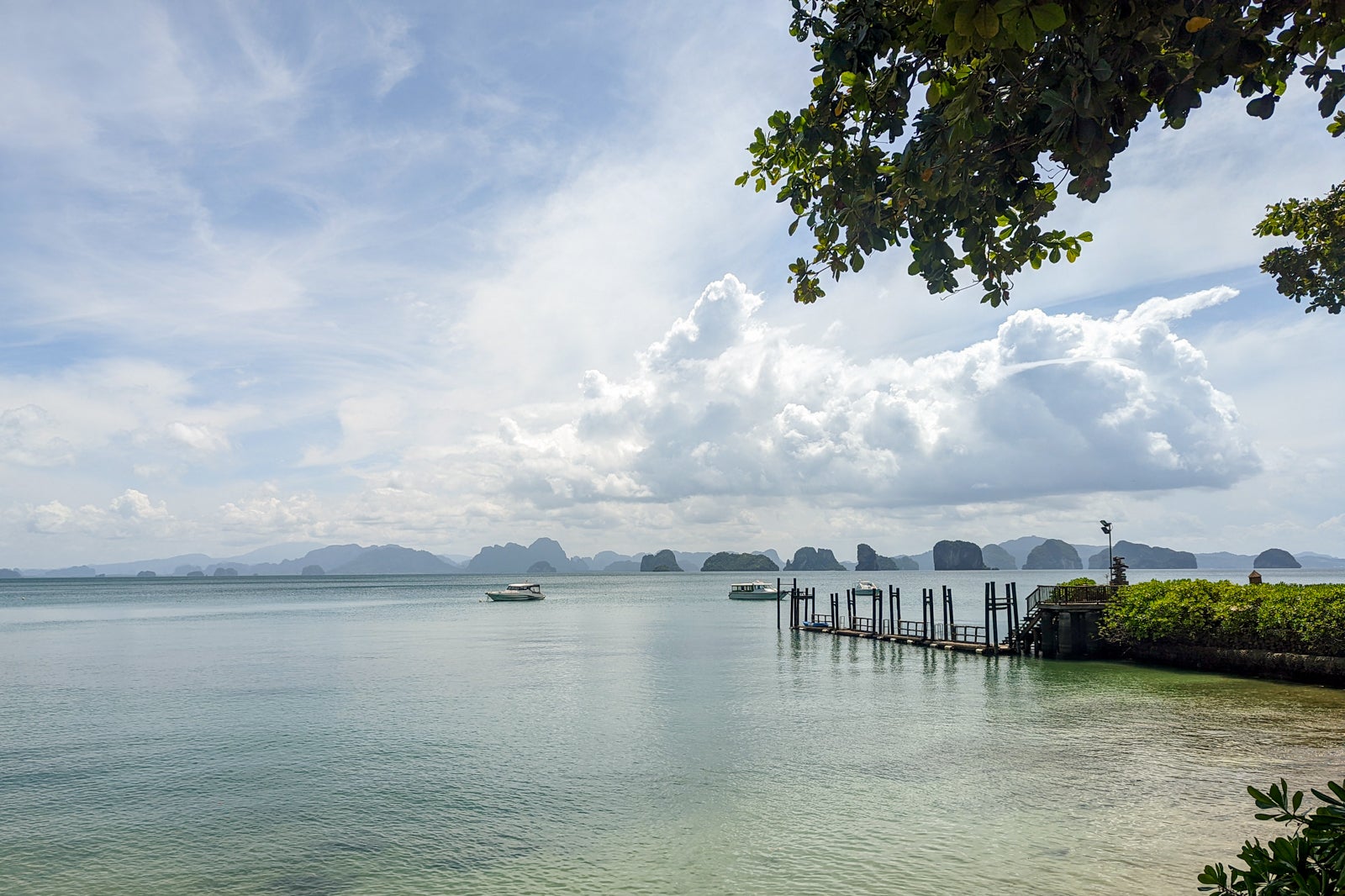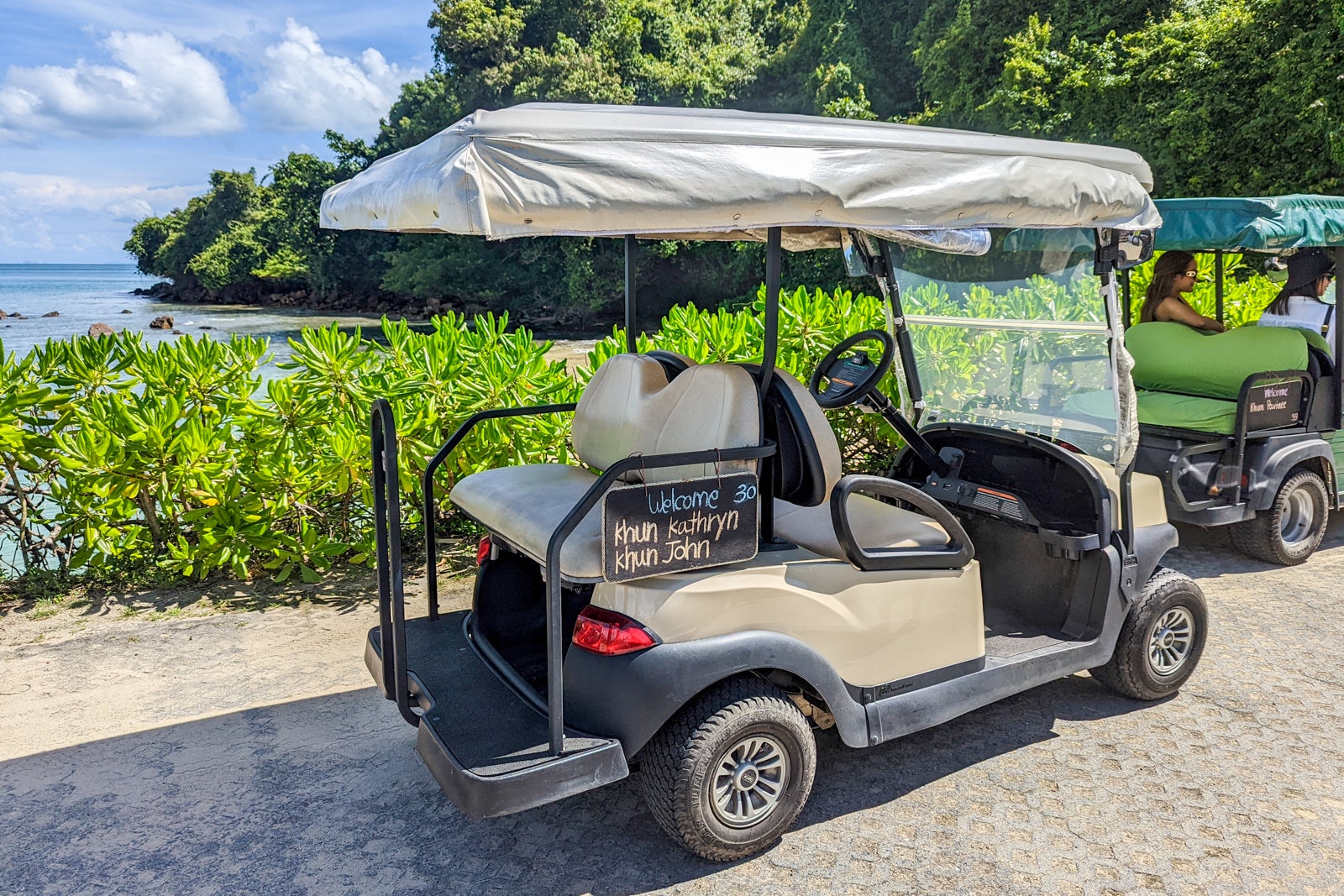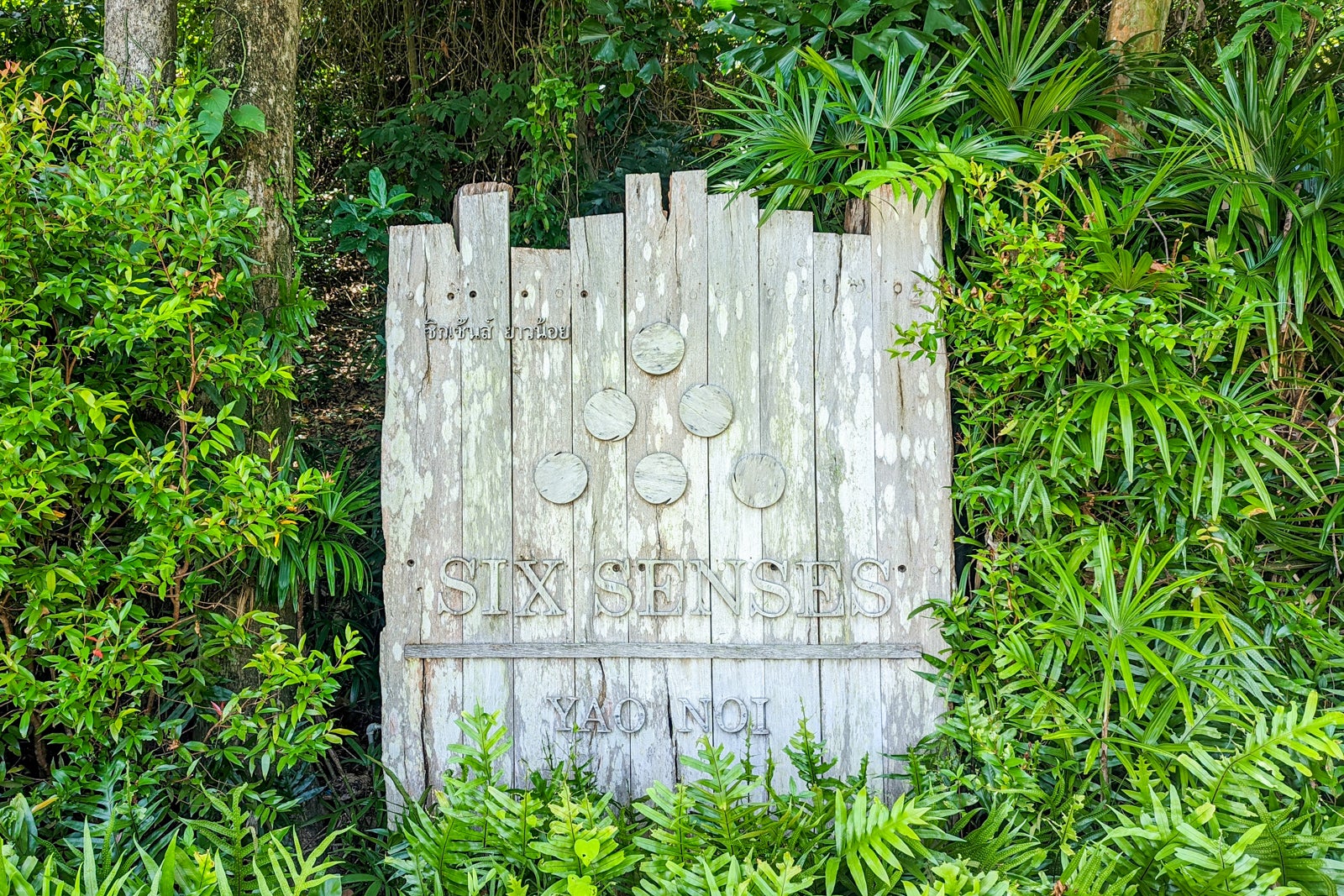 Our GEM offered a resort tour by golf cart on the way to our villa. I'm glad we accepted the tour, as it provided a good overview of the property.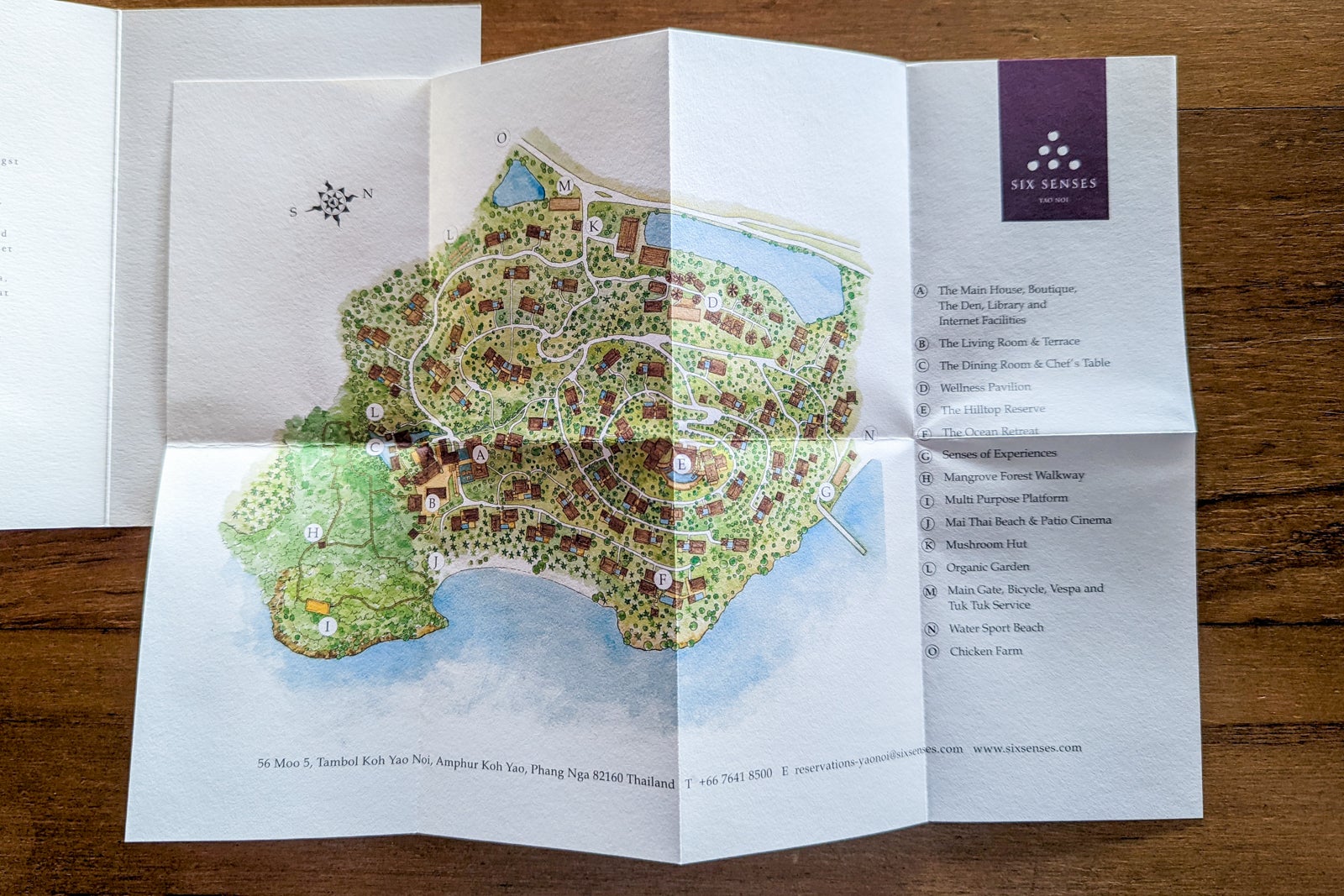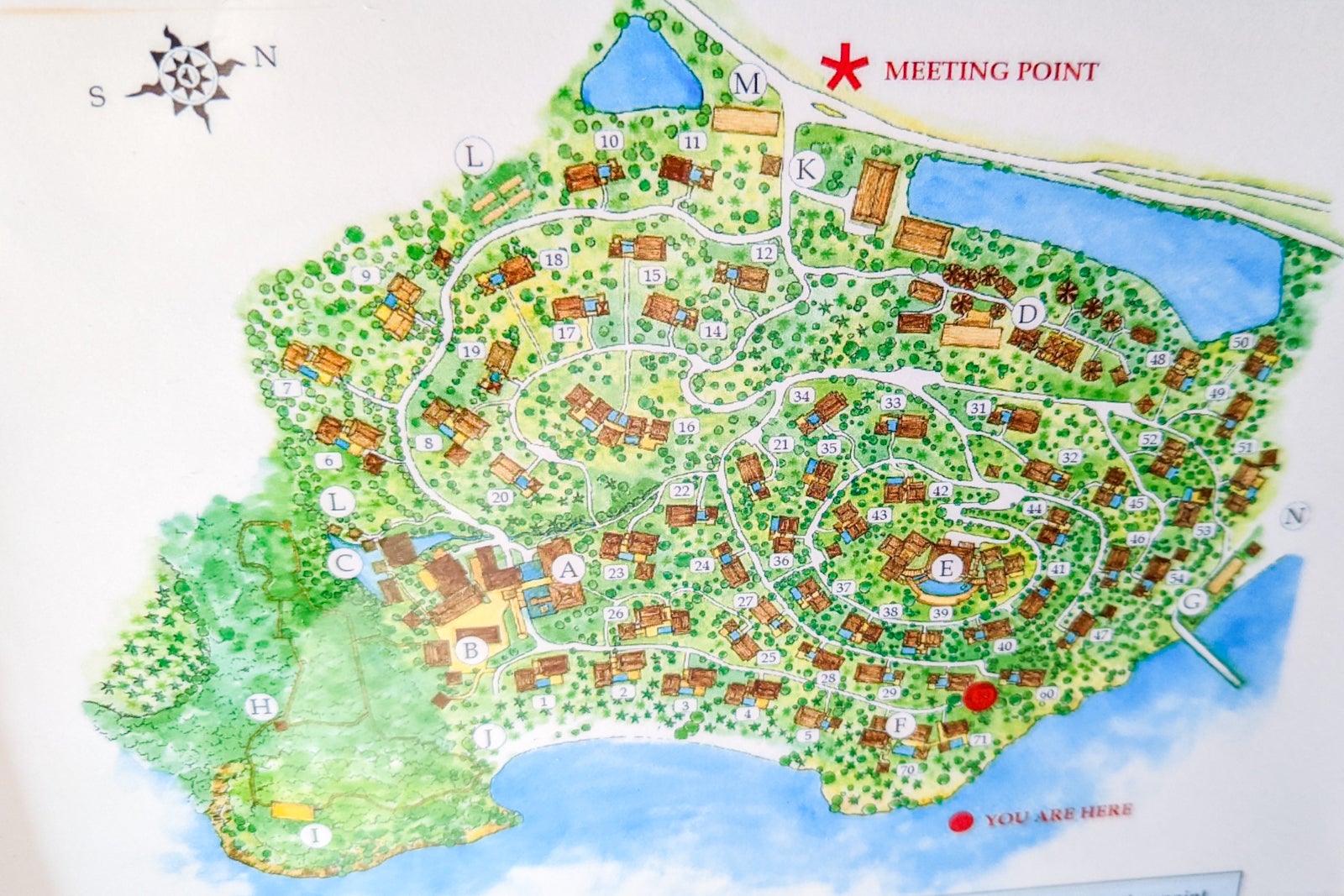 Once at our villa, our GEM introduced us to the villa's features and completed check-in. During check-in, we selected activities based on the activity sheet for the week.
Although we could also message our GEM later, we wanted to ensure we booked the activities we wanted while there was availability.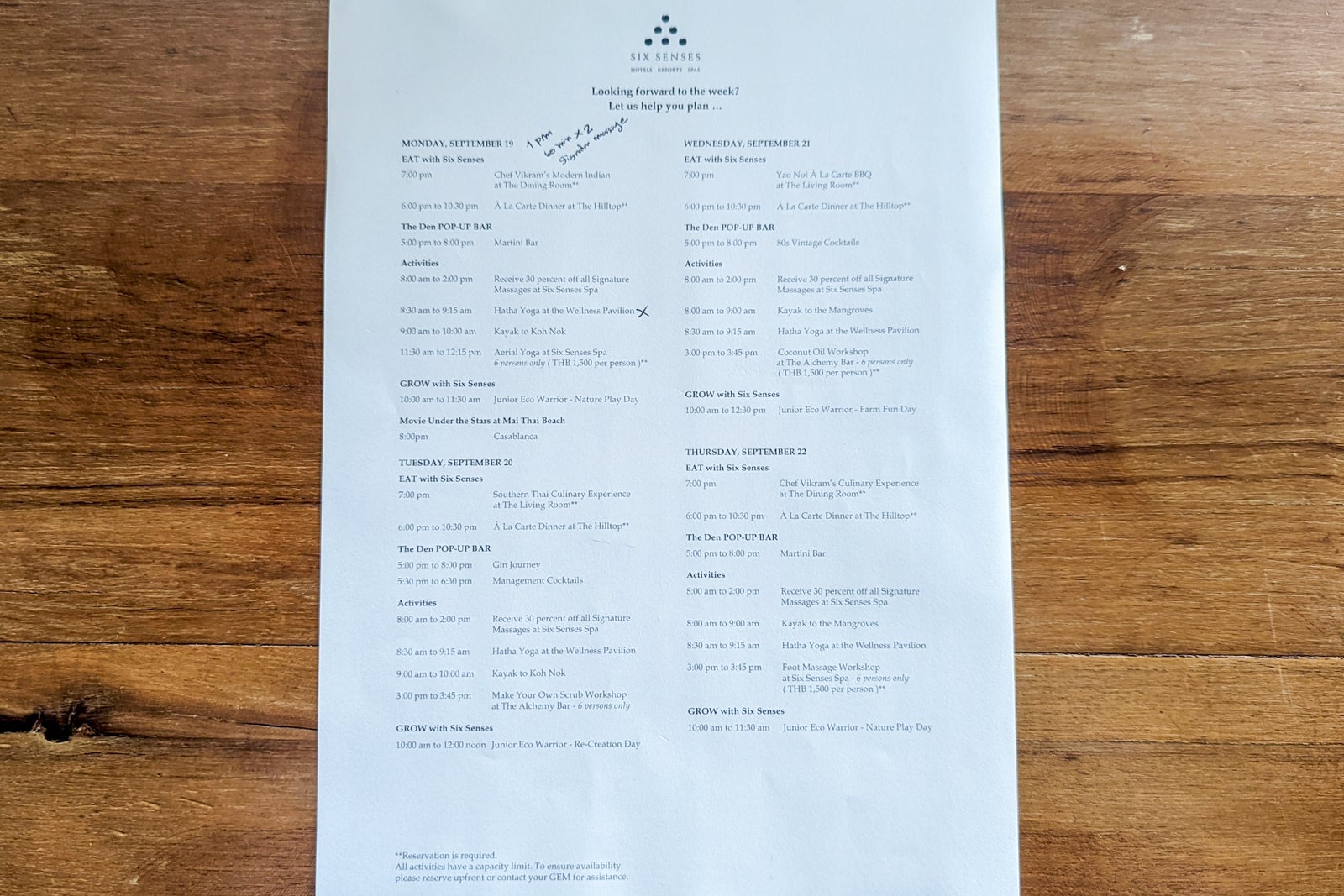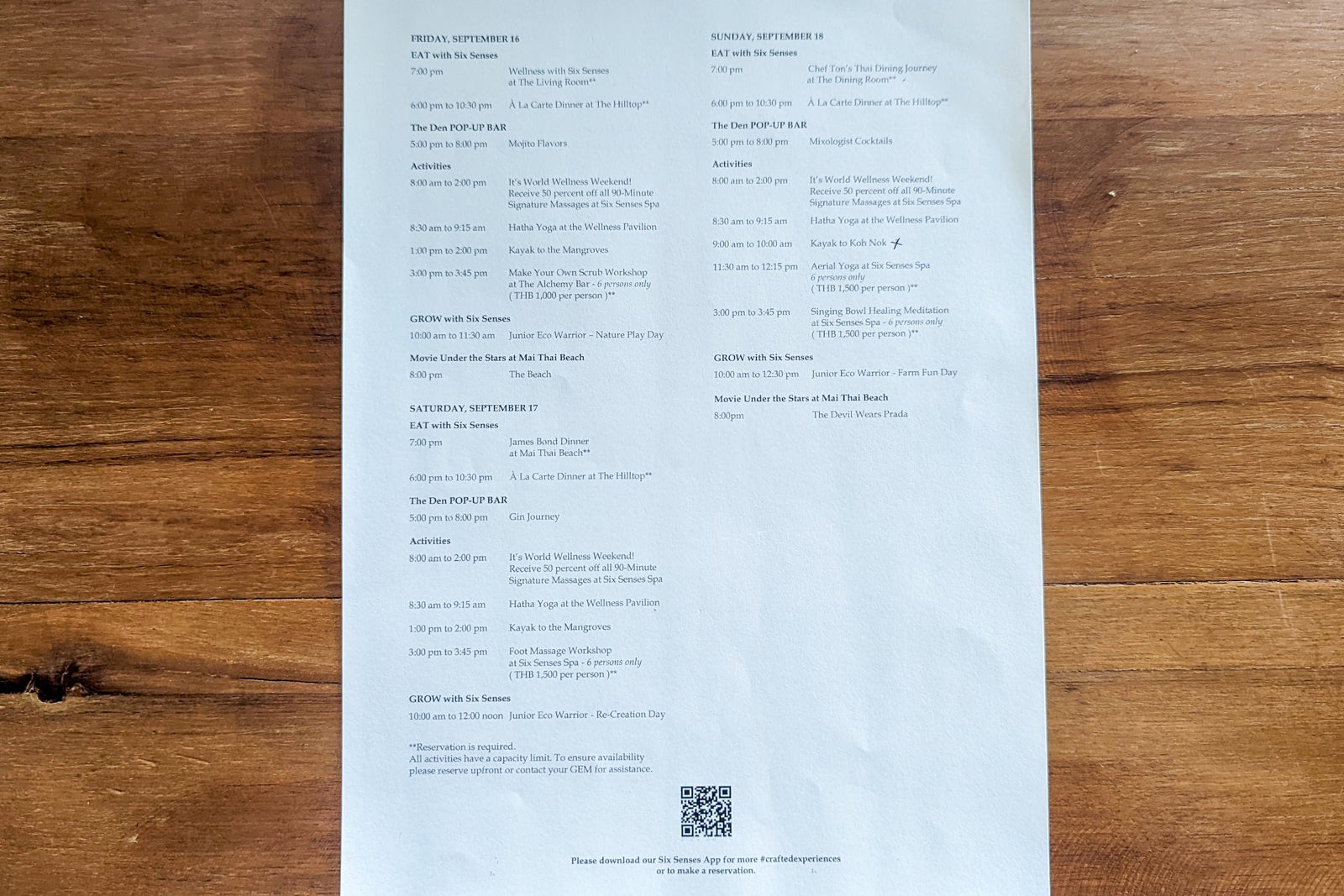 We also selected two perks from the following list as a benefit of my Diamond Elite status with IHG:
A wellness book.
Coconut oil.
IHG cocktails for two (composed of strawberry puree, soda water, vodka and lime juice).
Cookies.
And we selected my InterContinental Ambassador perk from the following list:
A village tour for two.
60-minute Six Senses massage for two.
$100 food and beverage credit.
We selected the IHG cocktails, cookies and 60-minute massages. We enjoyed our IHG cocktails during dinner at the Hilltop restaurant on our first night and found the drinks refreshing and fruity. Meanwhile, soft oatmeal raisin cookies arrived on our second night during the turndown service.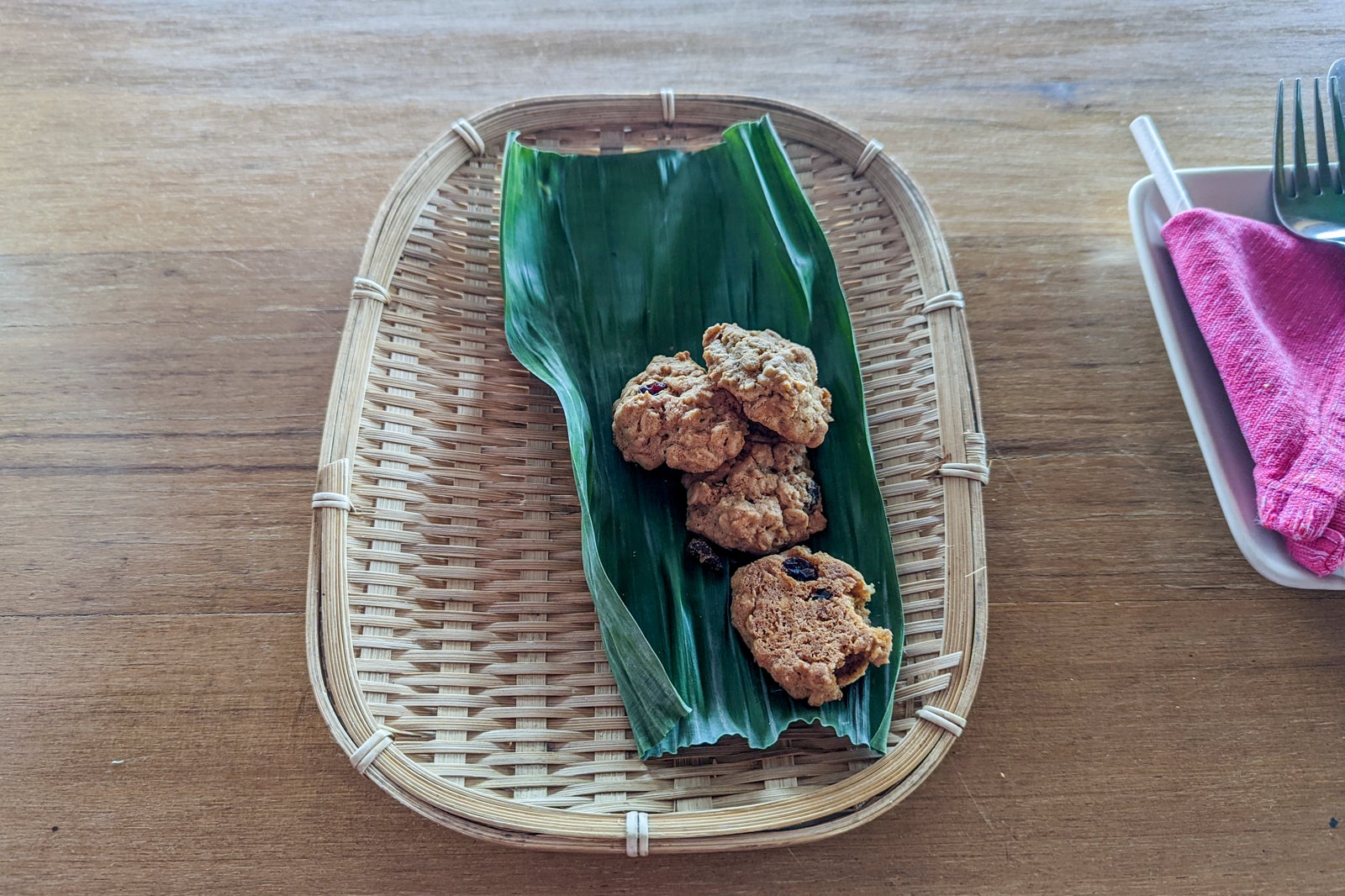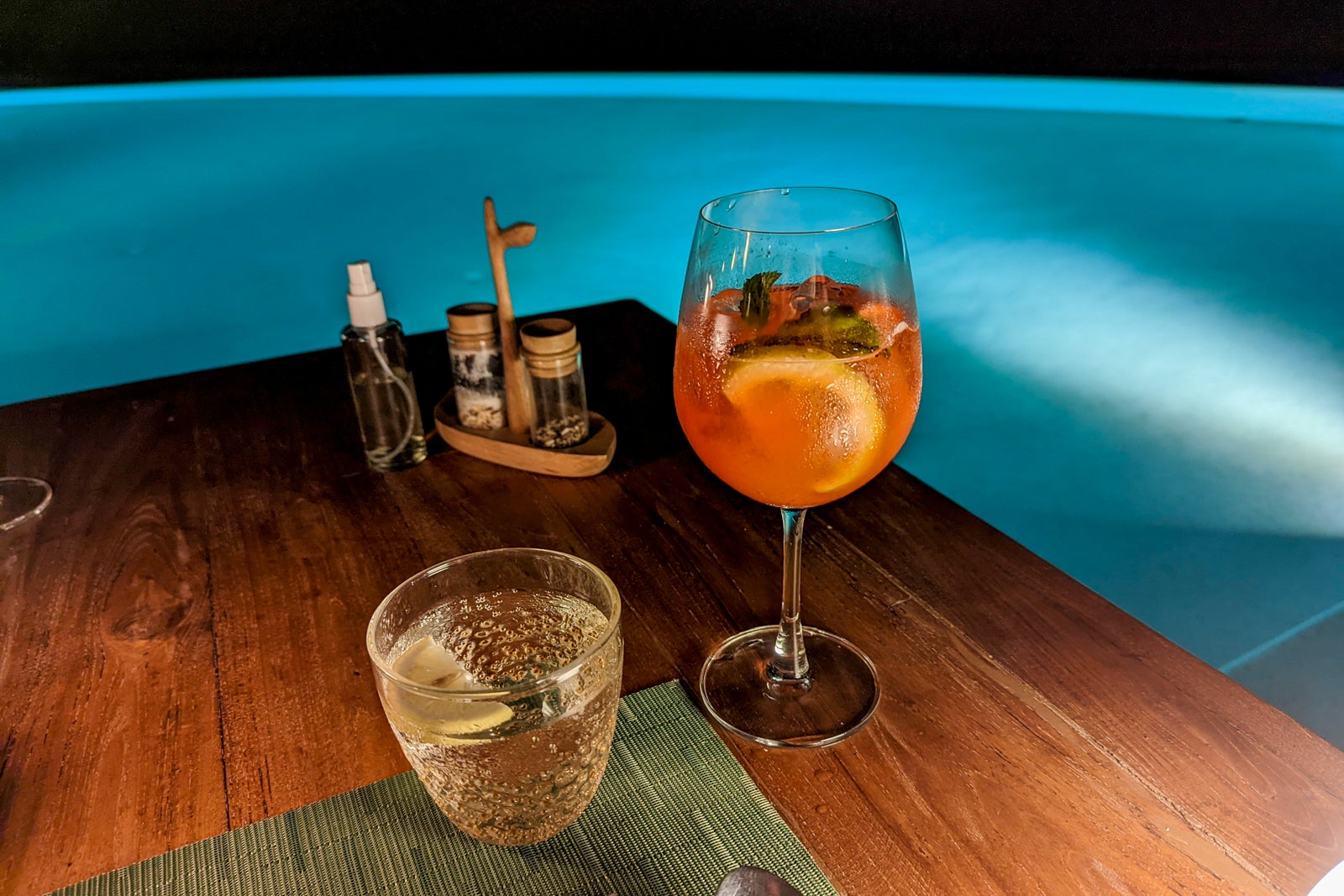 Although the village tour would have been interesting, getting a 60-minute Six Senses massage as an Ambassador perk is an amazing value.
As a 60-minute Six Senses massage typically costs 5,200 Thai baht (about $141) per person at Six Senses Yao Noi, the massage choice alone is worth more than the $200 annual fee for Ambassador membership.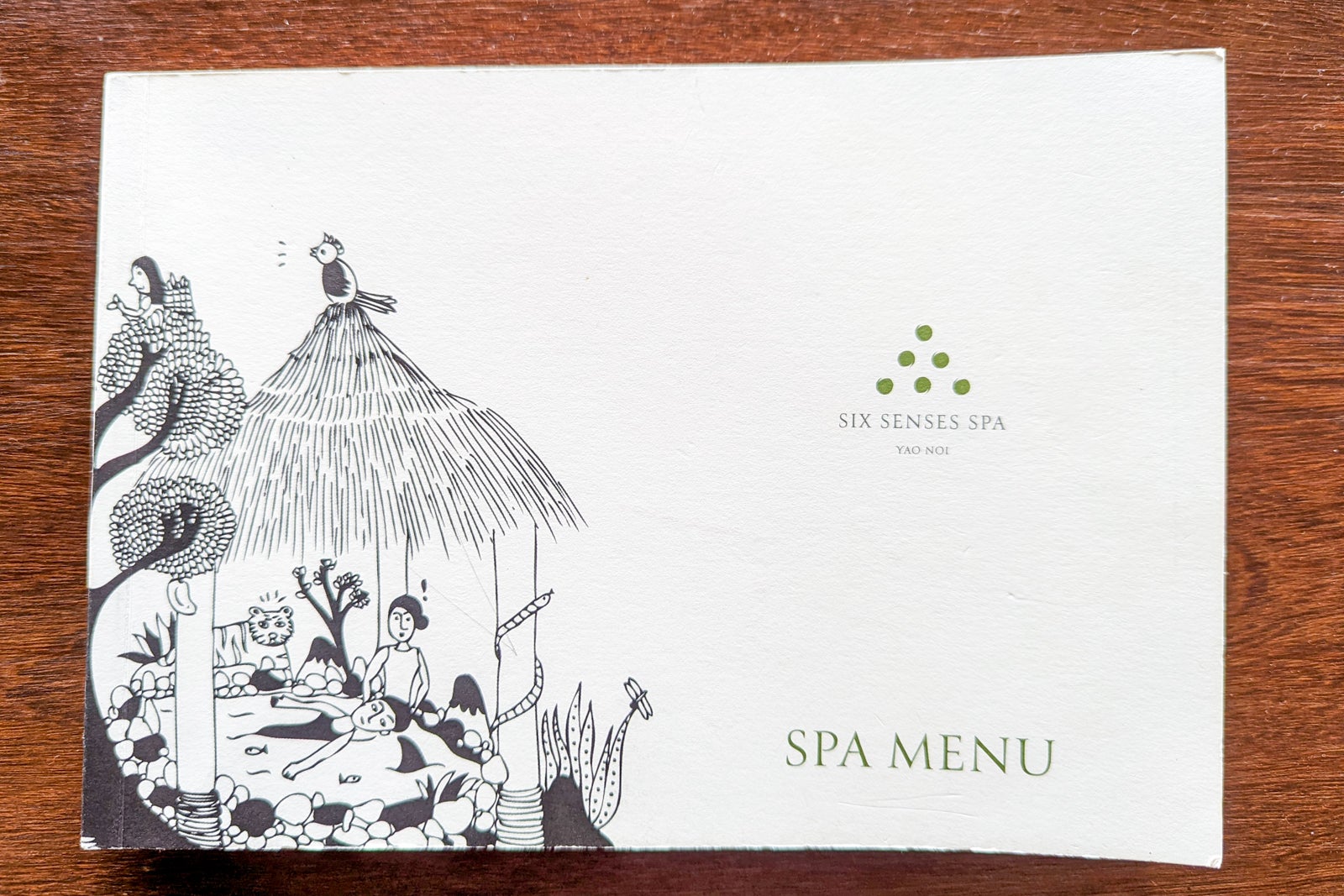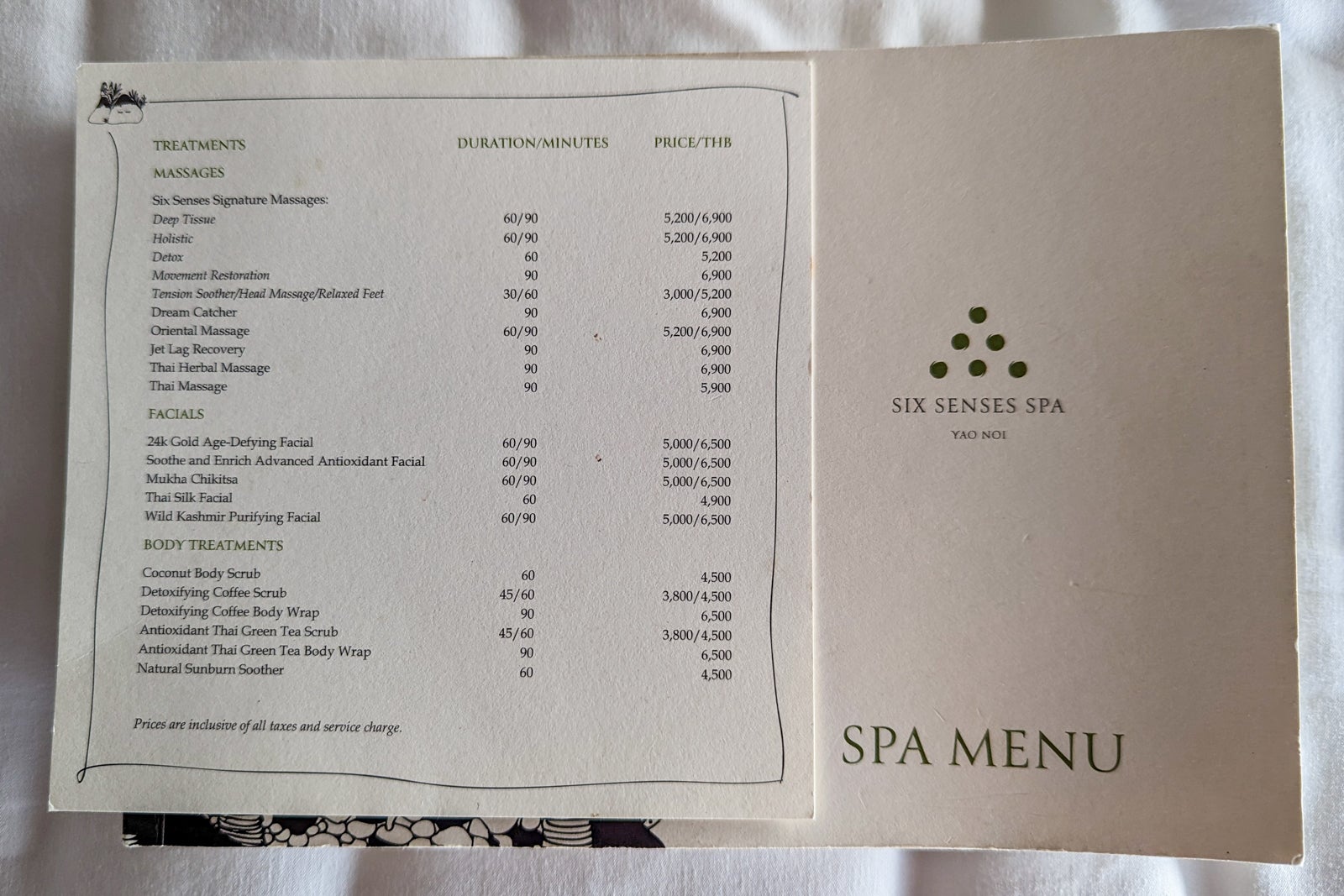 Villa
Upon arrival, our GEM said we'd been upgraded two categories from the base-level hideaway pool villa (yes, the base-level villa has a private pool) to an ocean panorama pool villa.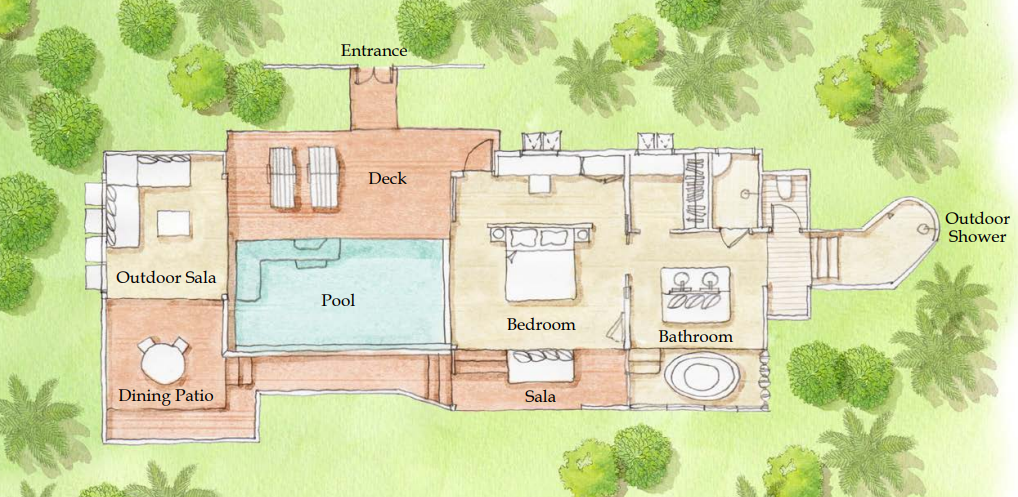 The resort assigned us villa 30, which offers an amazing panoramic view as soon as you open the villa gates.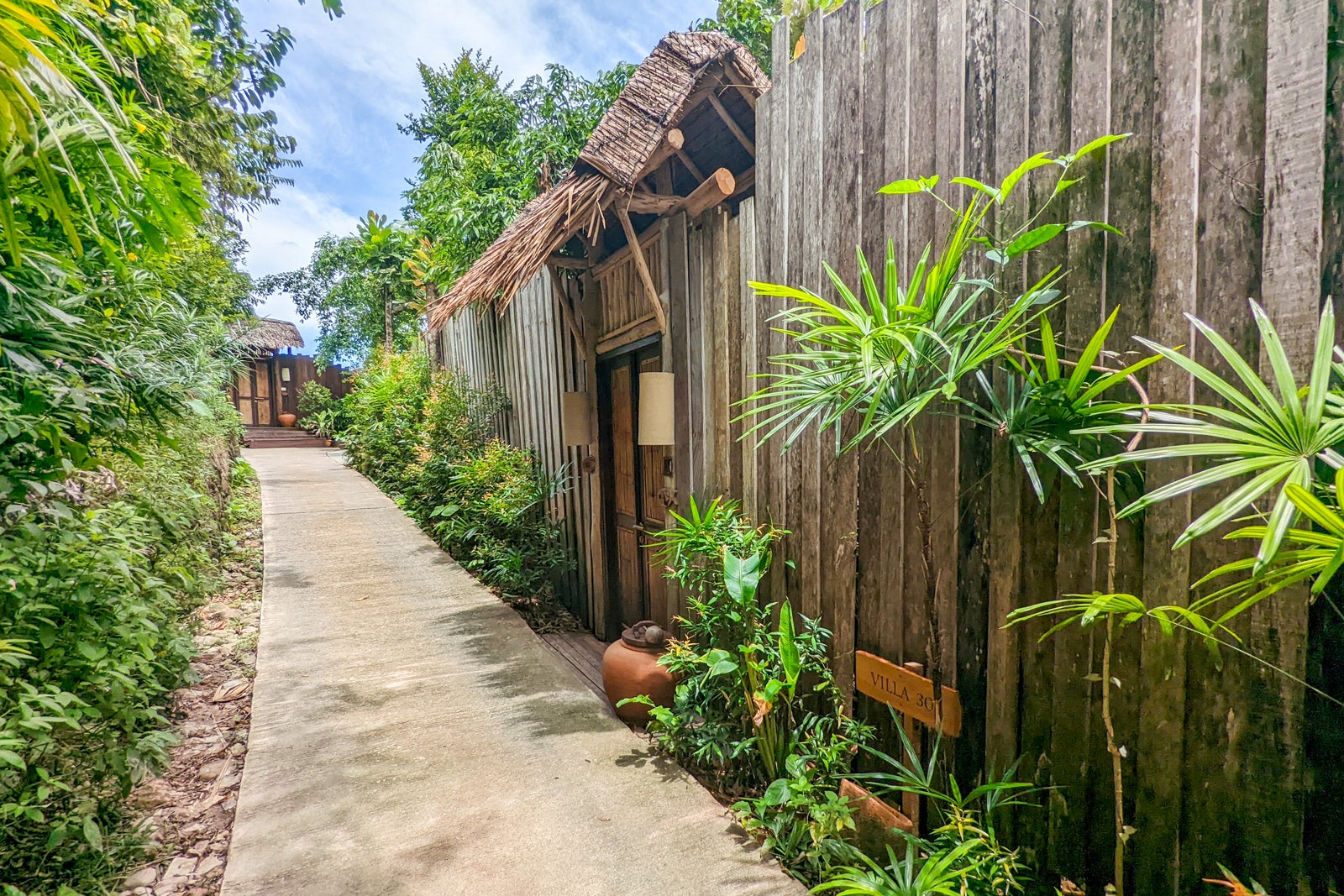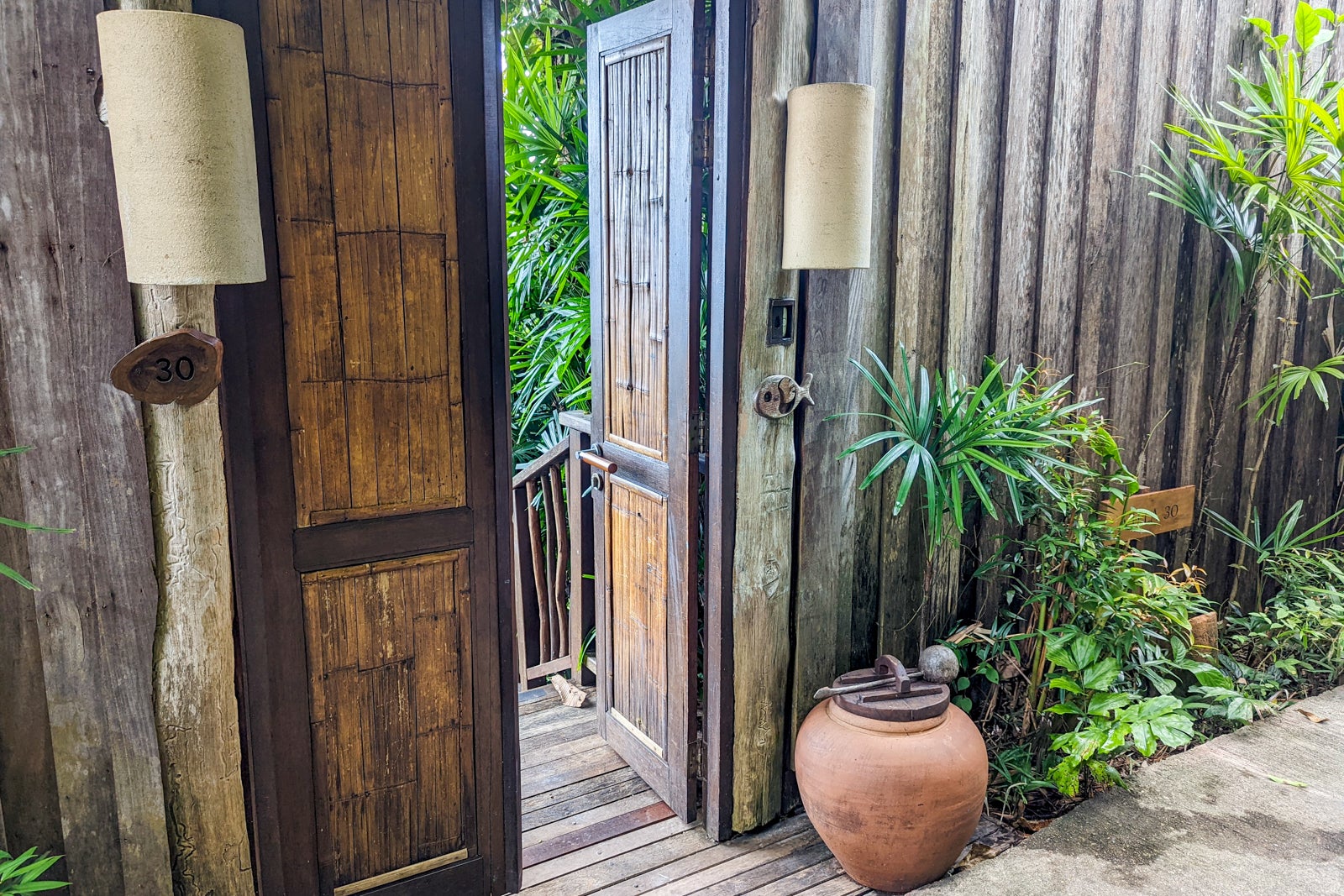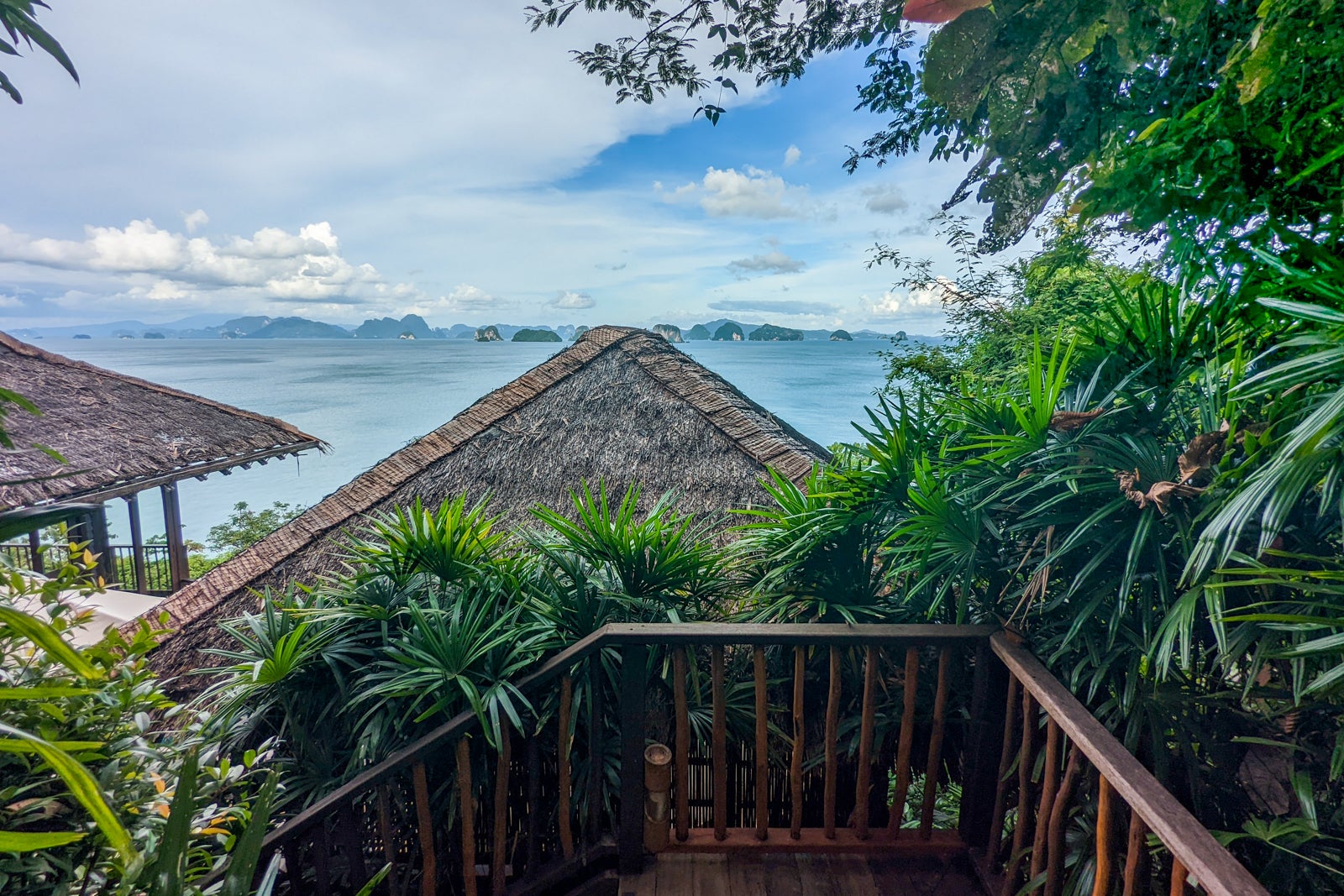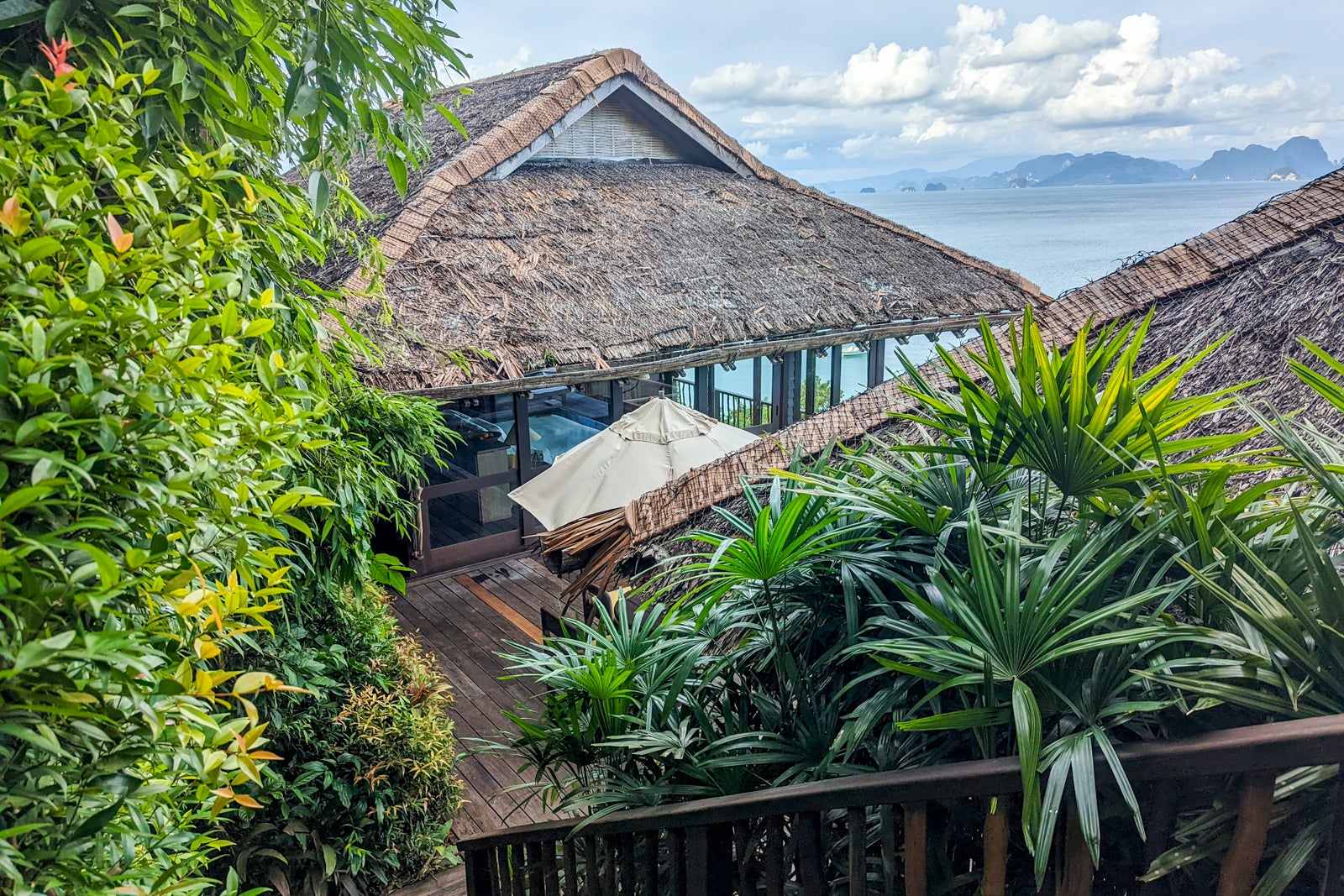 After enjoying the view, walk down the stairs to your outdoor living area. You'll first see a two-person table and your private plunge pool. Off to the side, there's a large sofa area with pillows and a table with a checkerboard. This area has a fan overhead and is a great shaded place to sit and enjoy the views.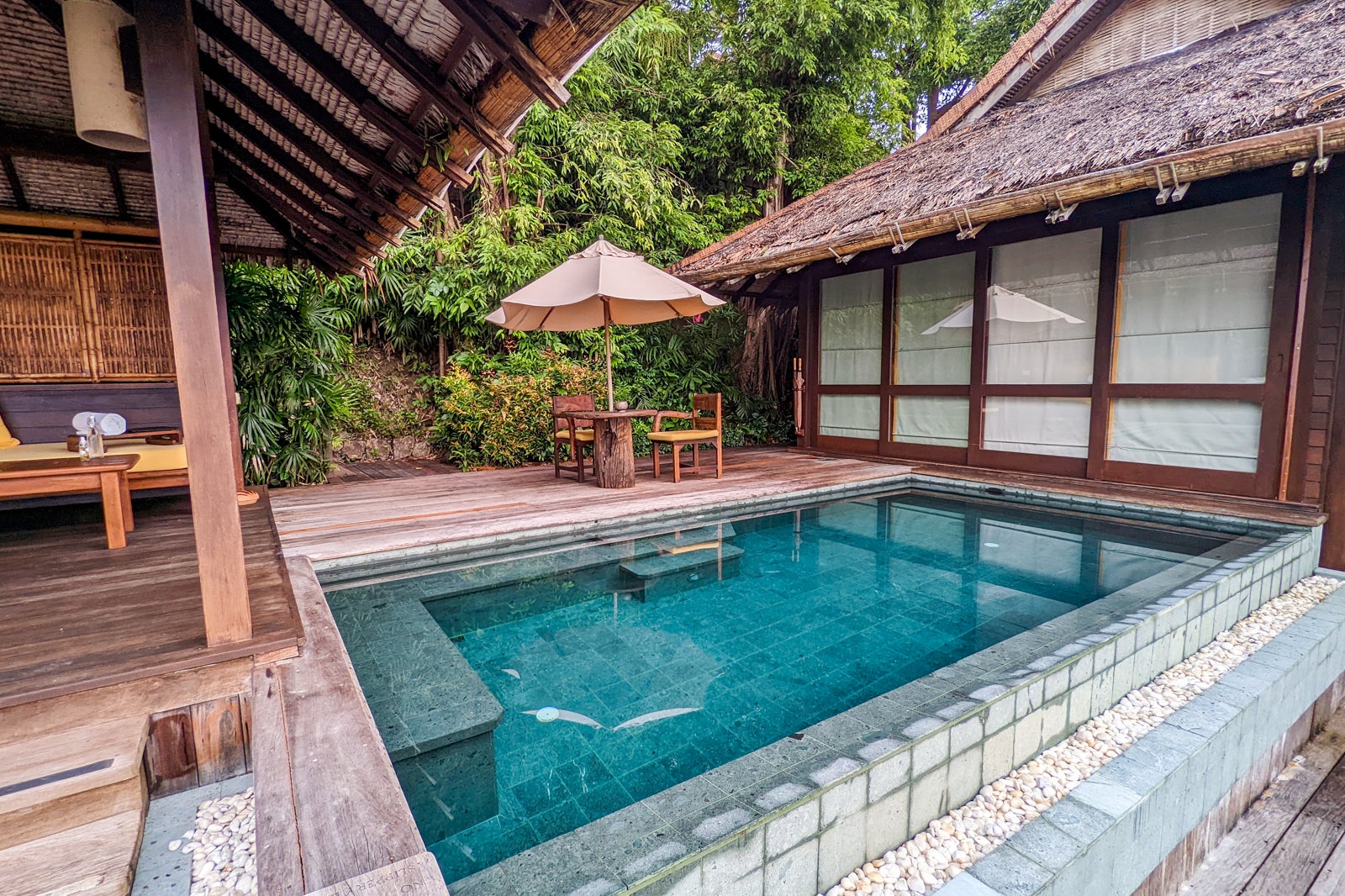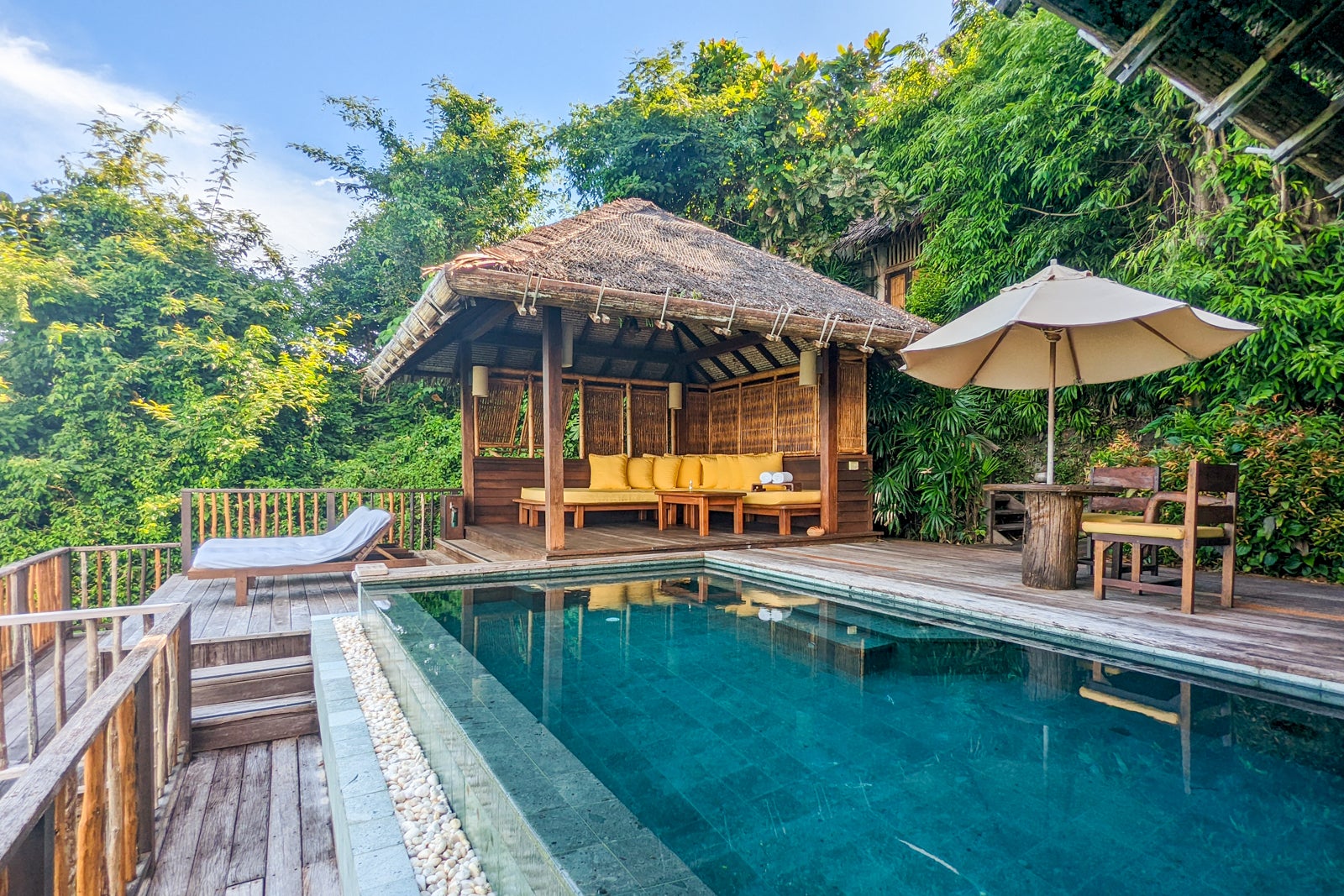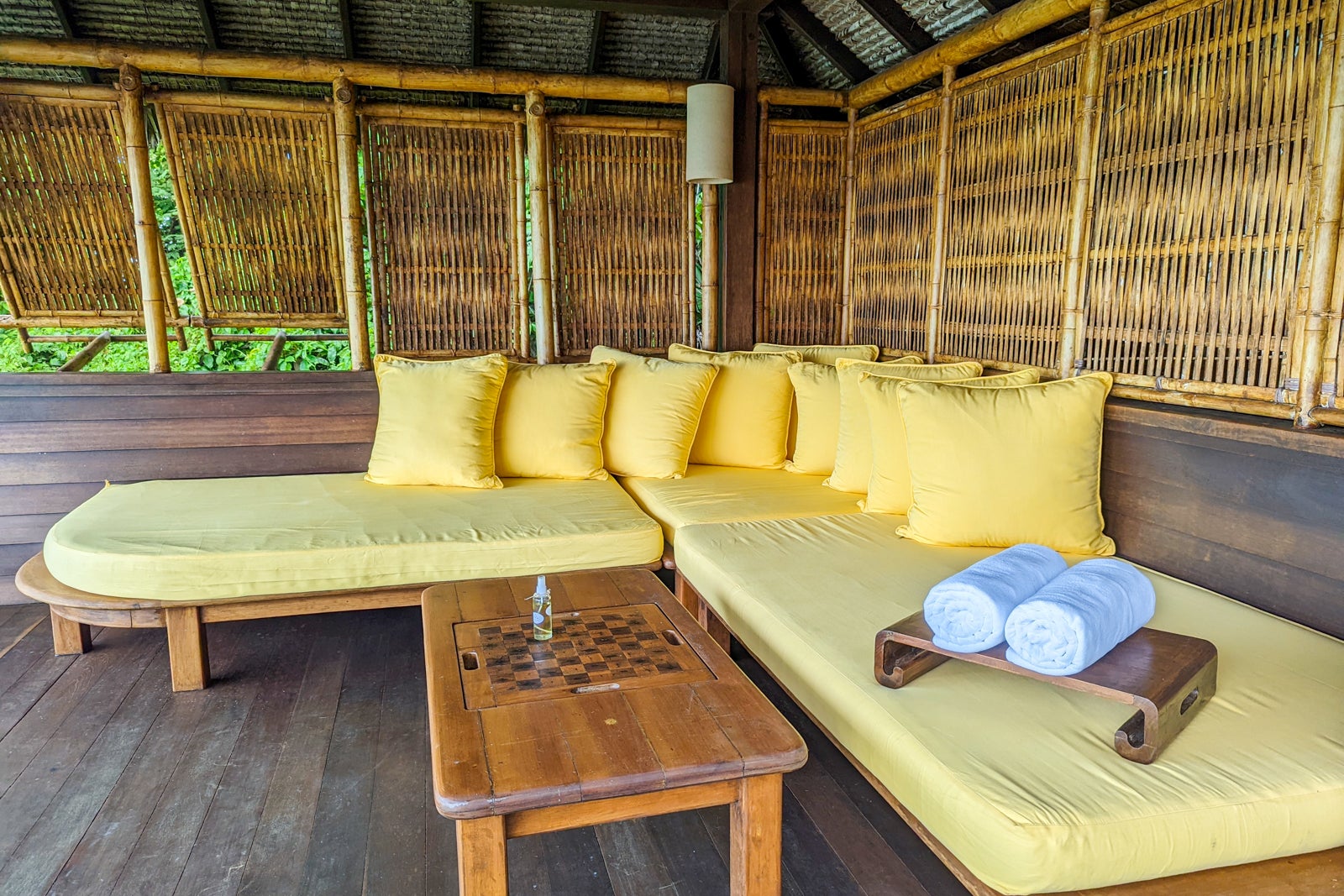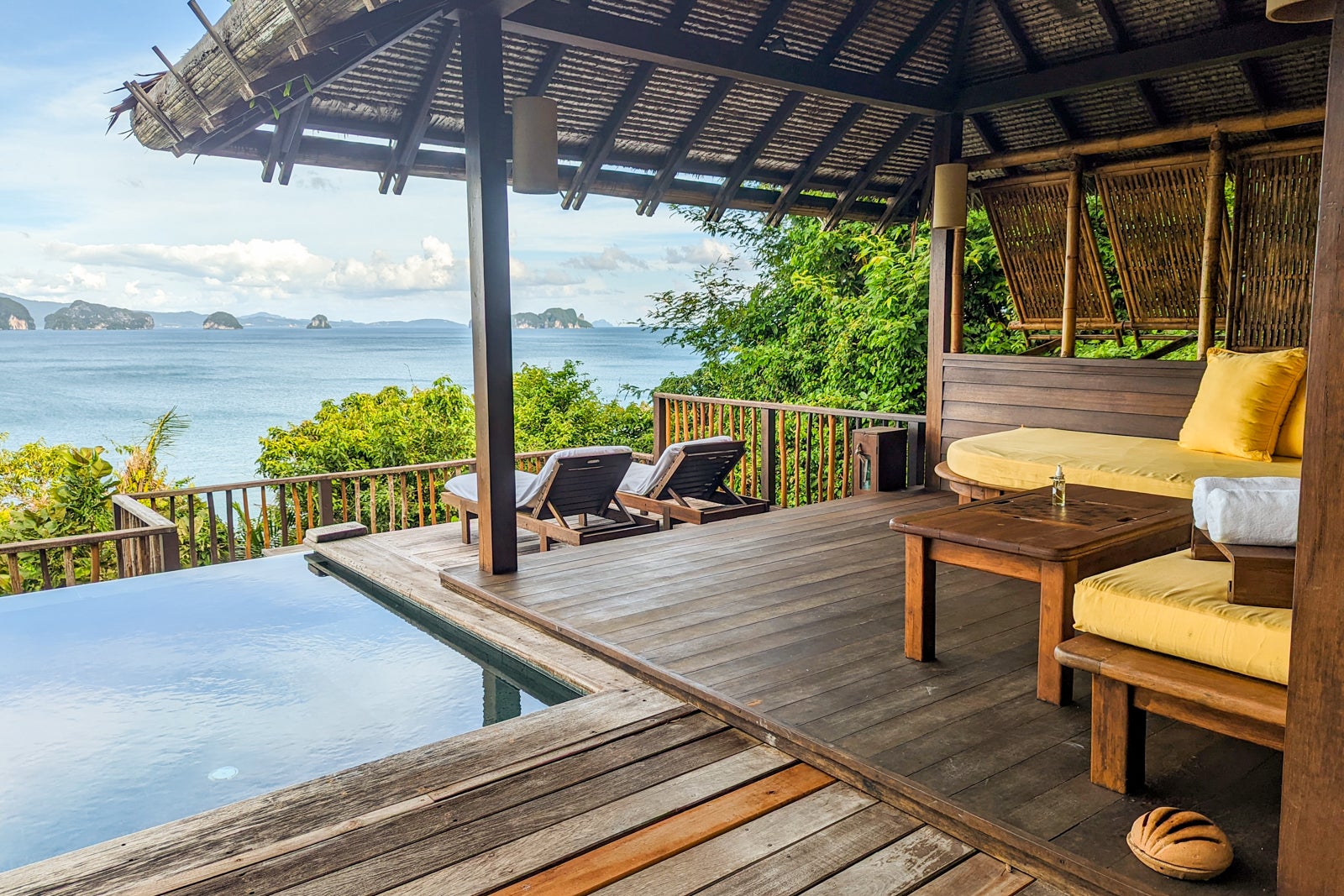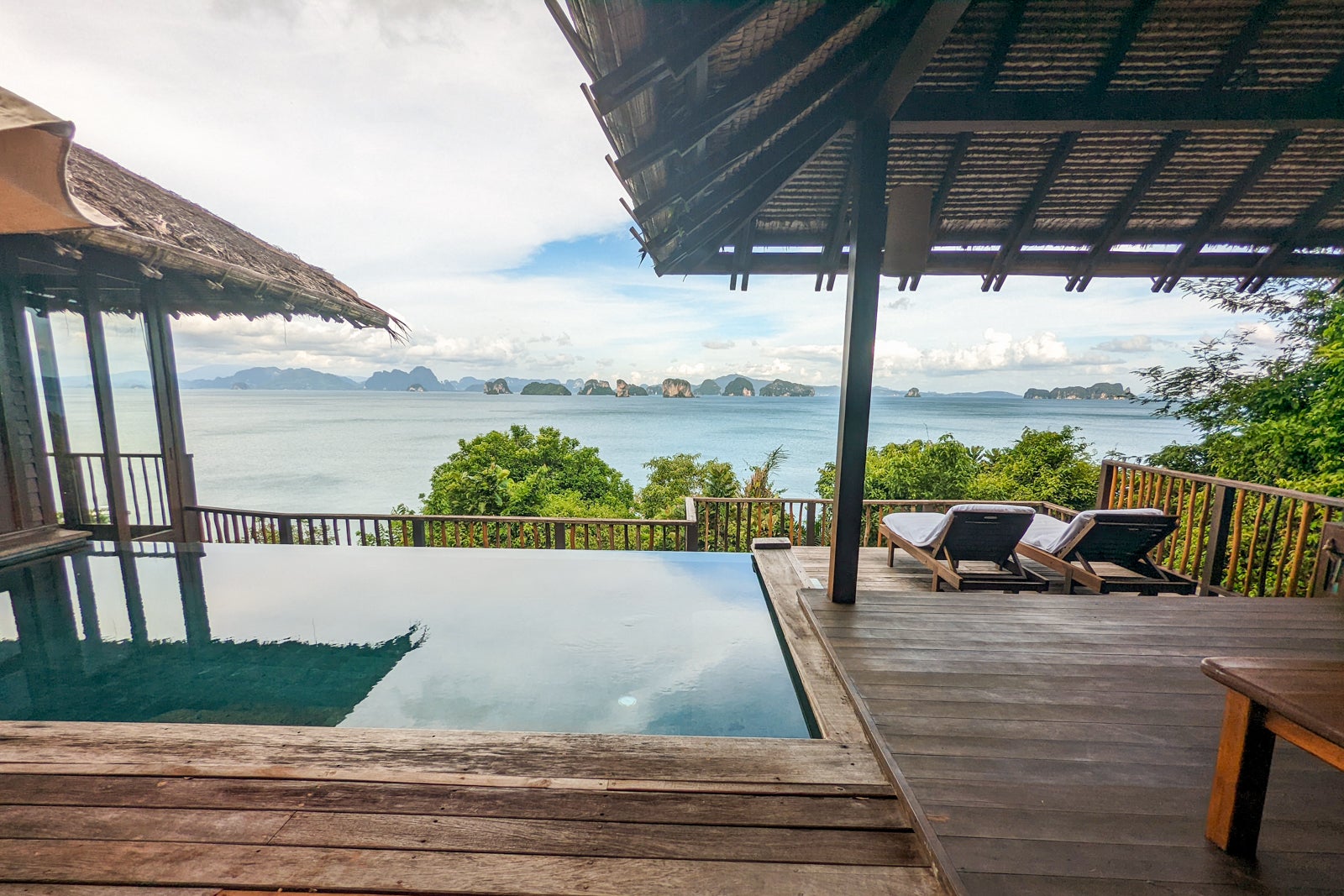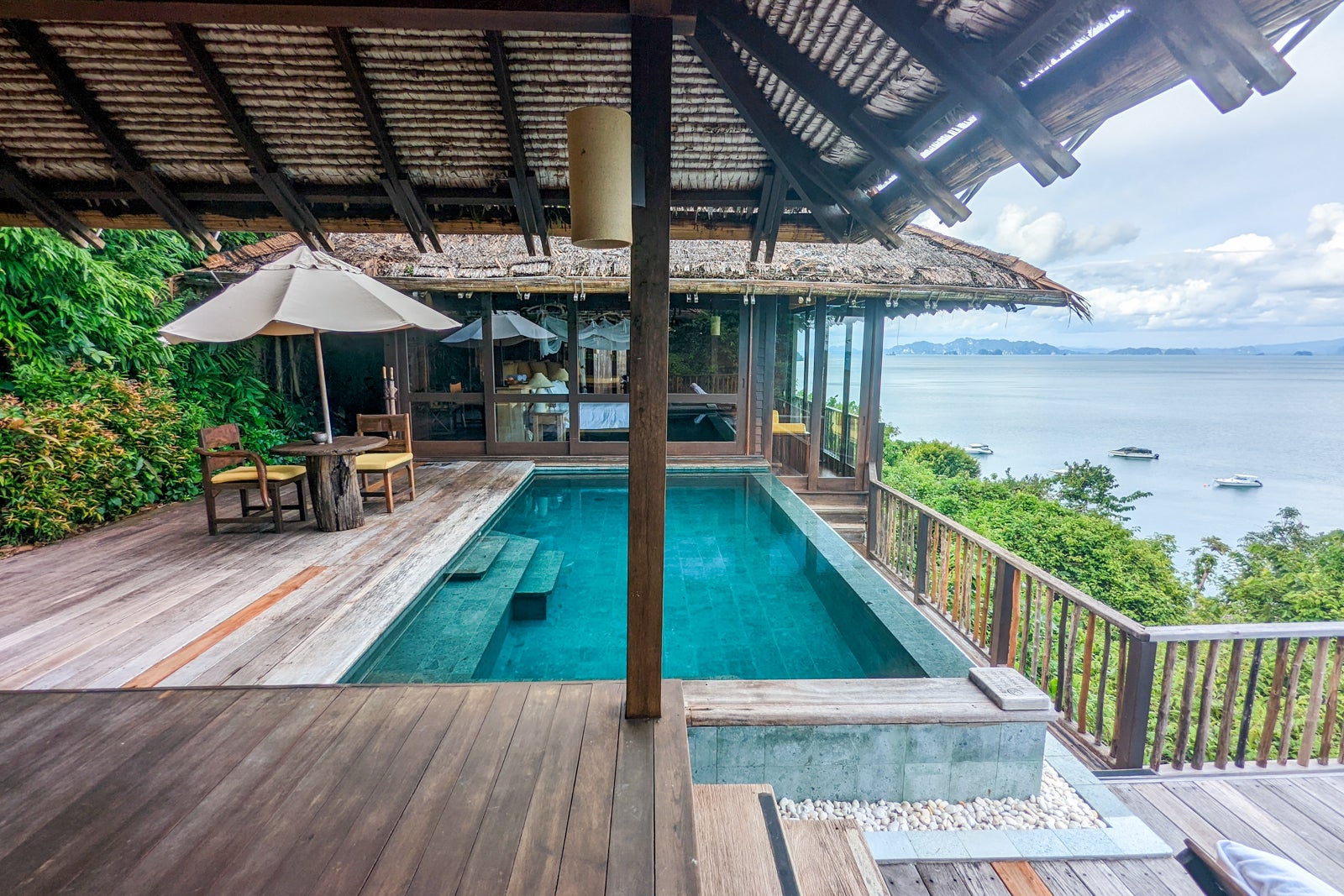 In front of this seating area are two lounge chairs with plush cushions and towels that housekeeping removes each night and returns each morning. I didn't enjoy these chairs much during the day due to the sun, but I loved lying out at night to look at the stars.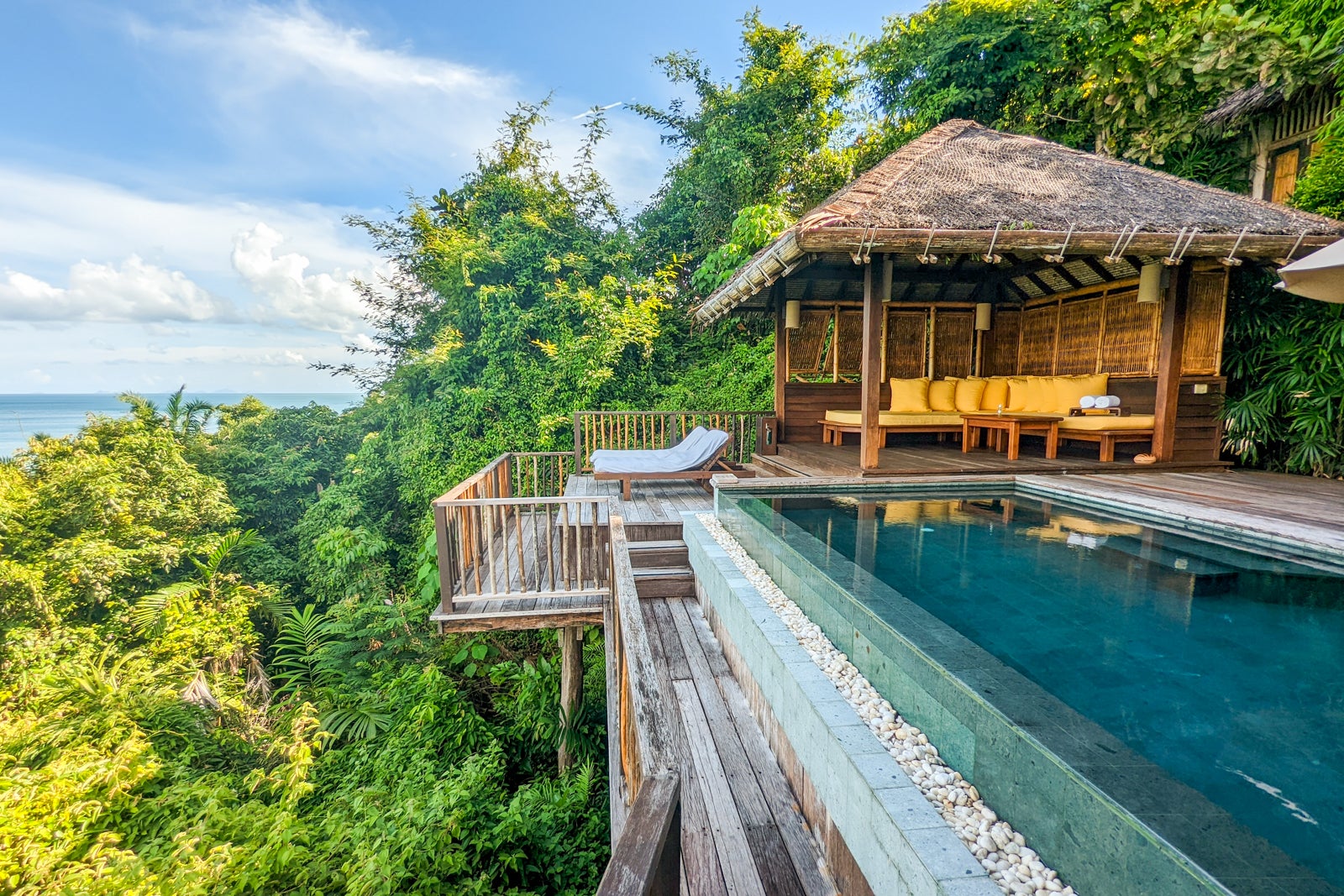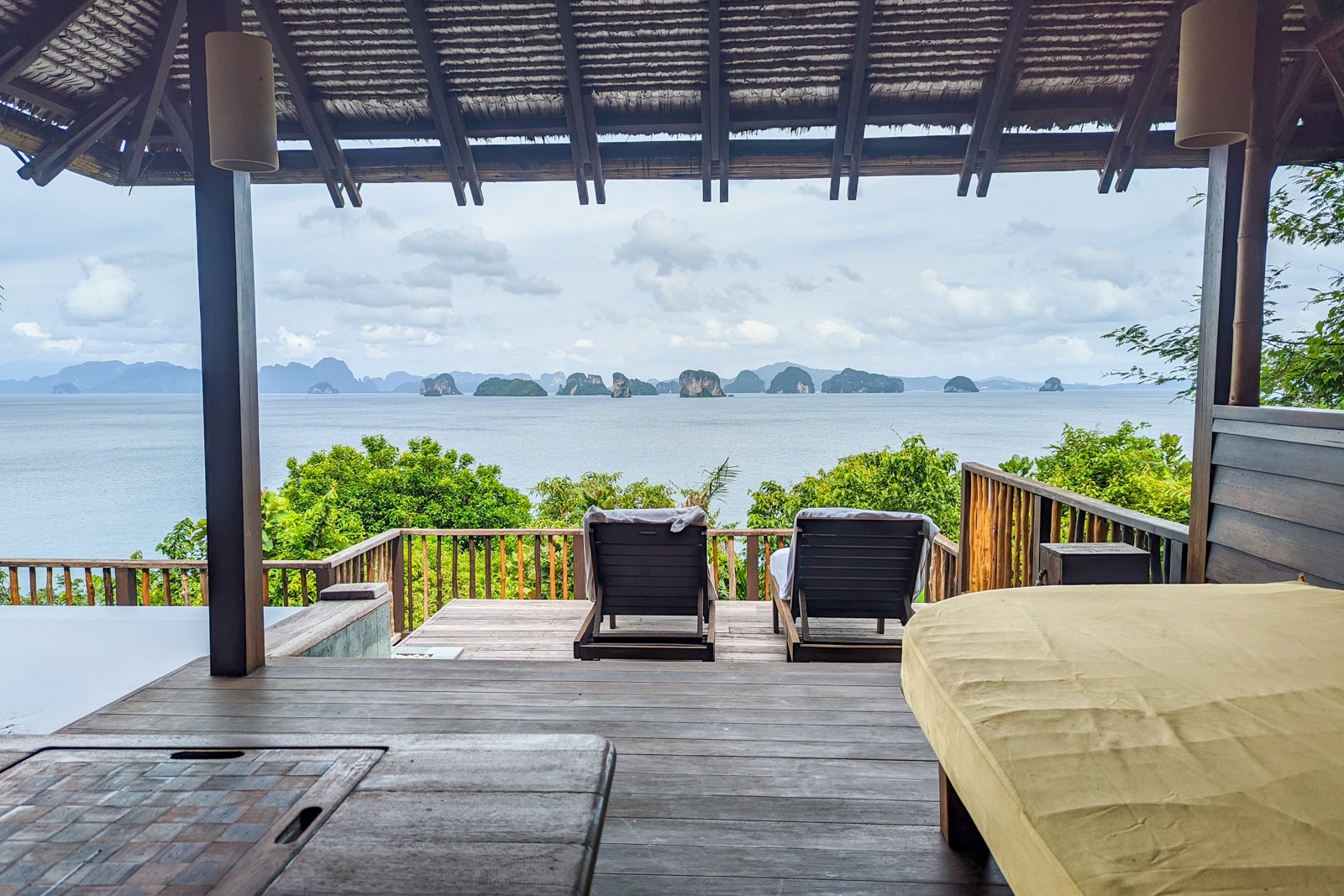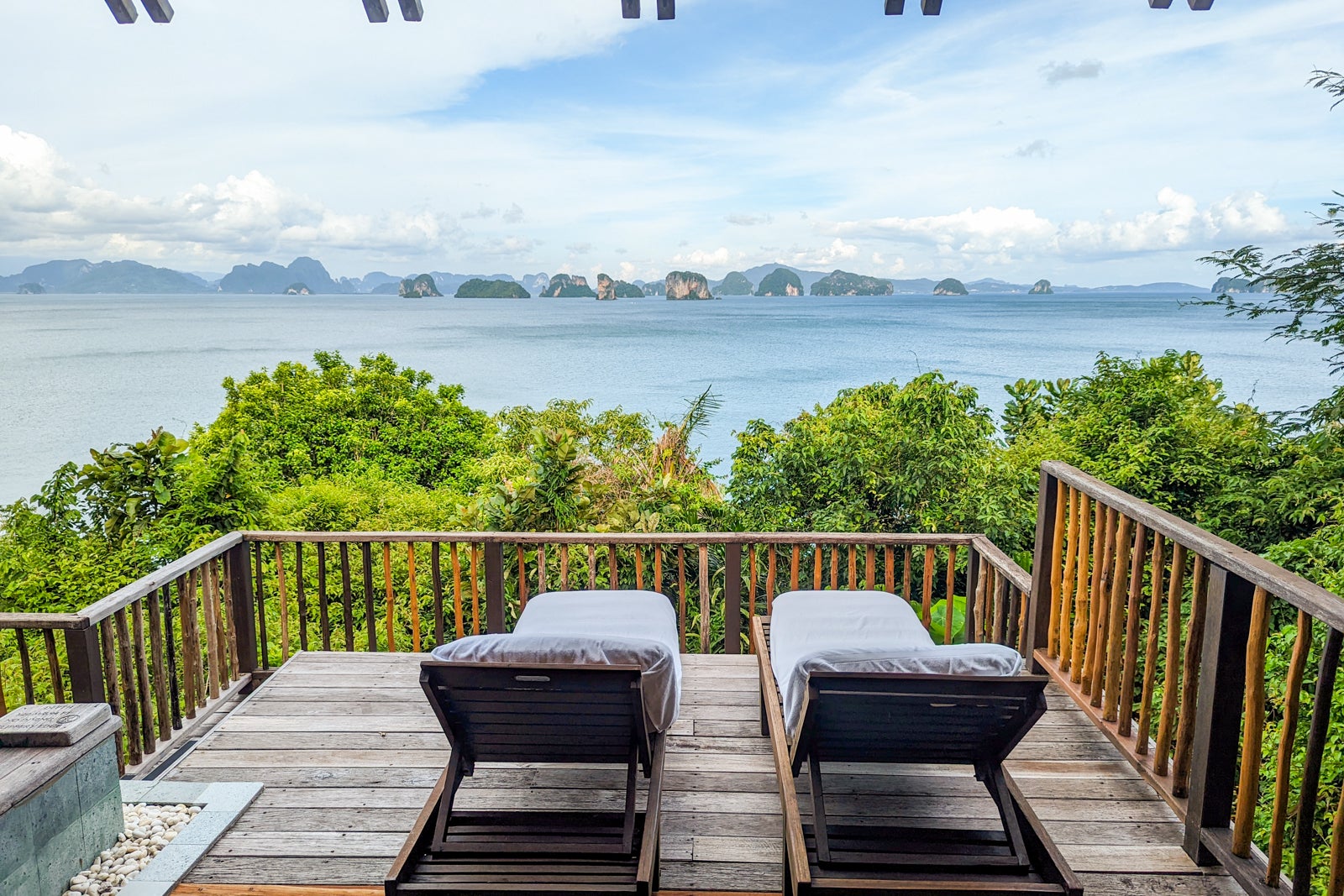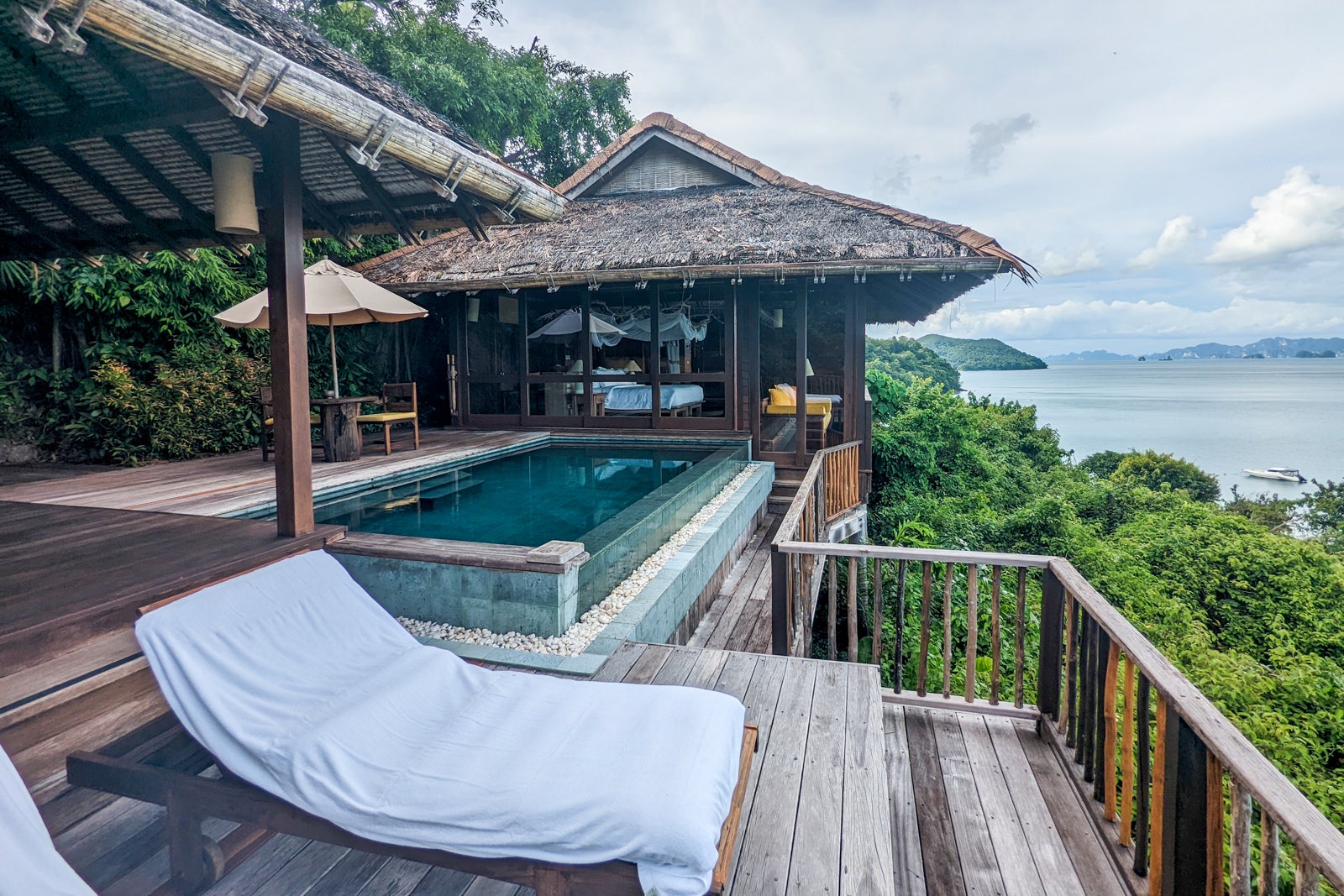 Now, for the rest of the villa. You'll see two large umbrellas by the entrance to the indoor part of your villa.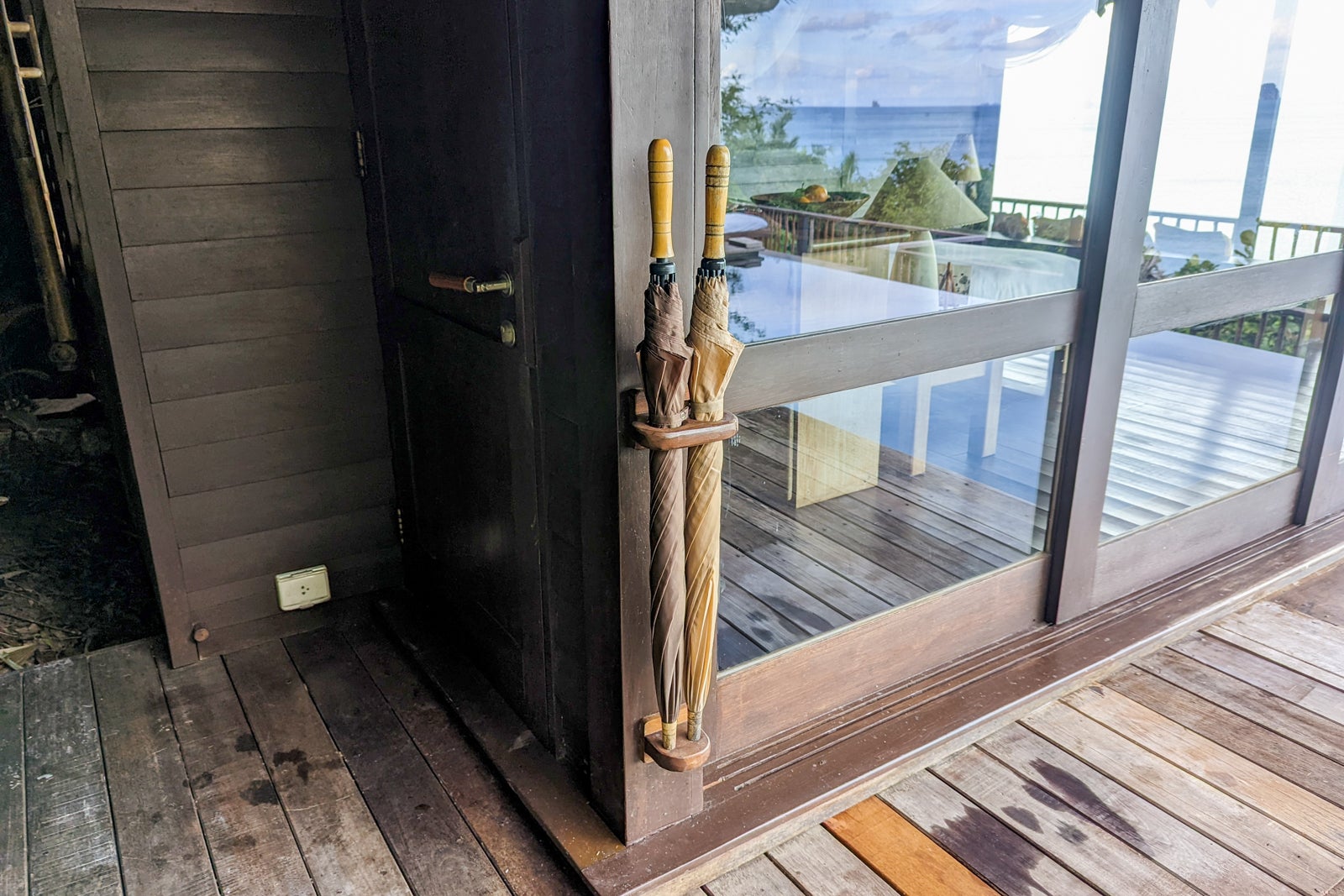 Walking in, you'll enter your bedroom. I loved the bed and bedding at Six Senses Yao Noi; I slept excellently. The Naturalmat organic Emperor mattress was comfortable yet supportive, and the comforter was plush and soft.
There's a mosquito net over the bed, but as we slept with the windows closed and the air conditioner on, we never asked housekeeping to deploy the nets. There's a powerful fan above the bed that you can set to various speeds.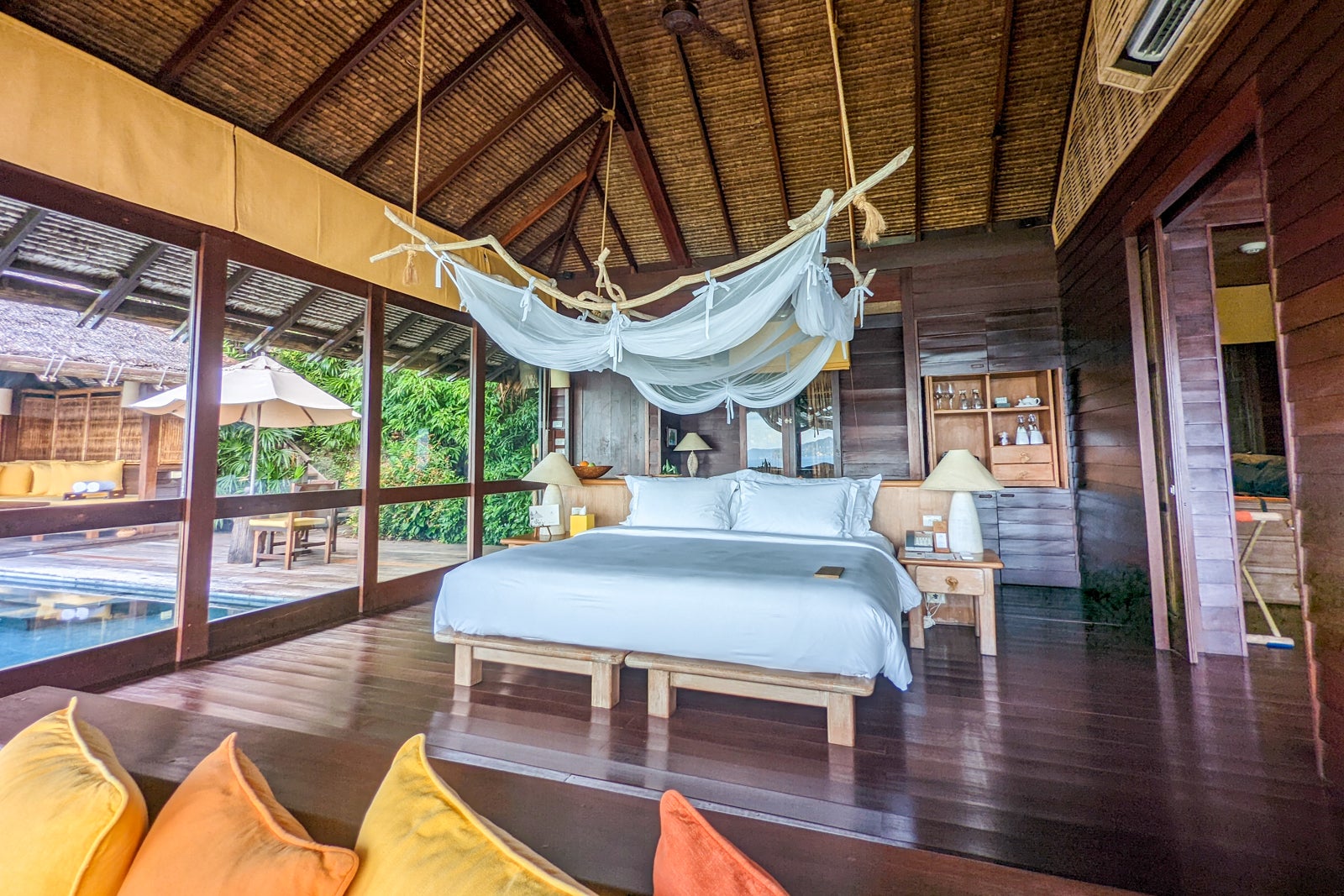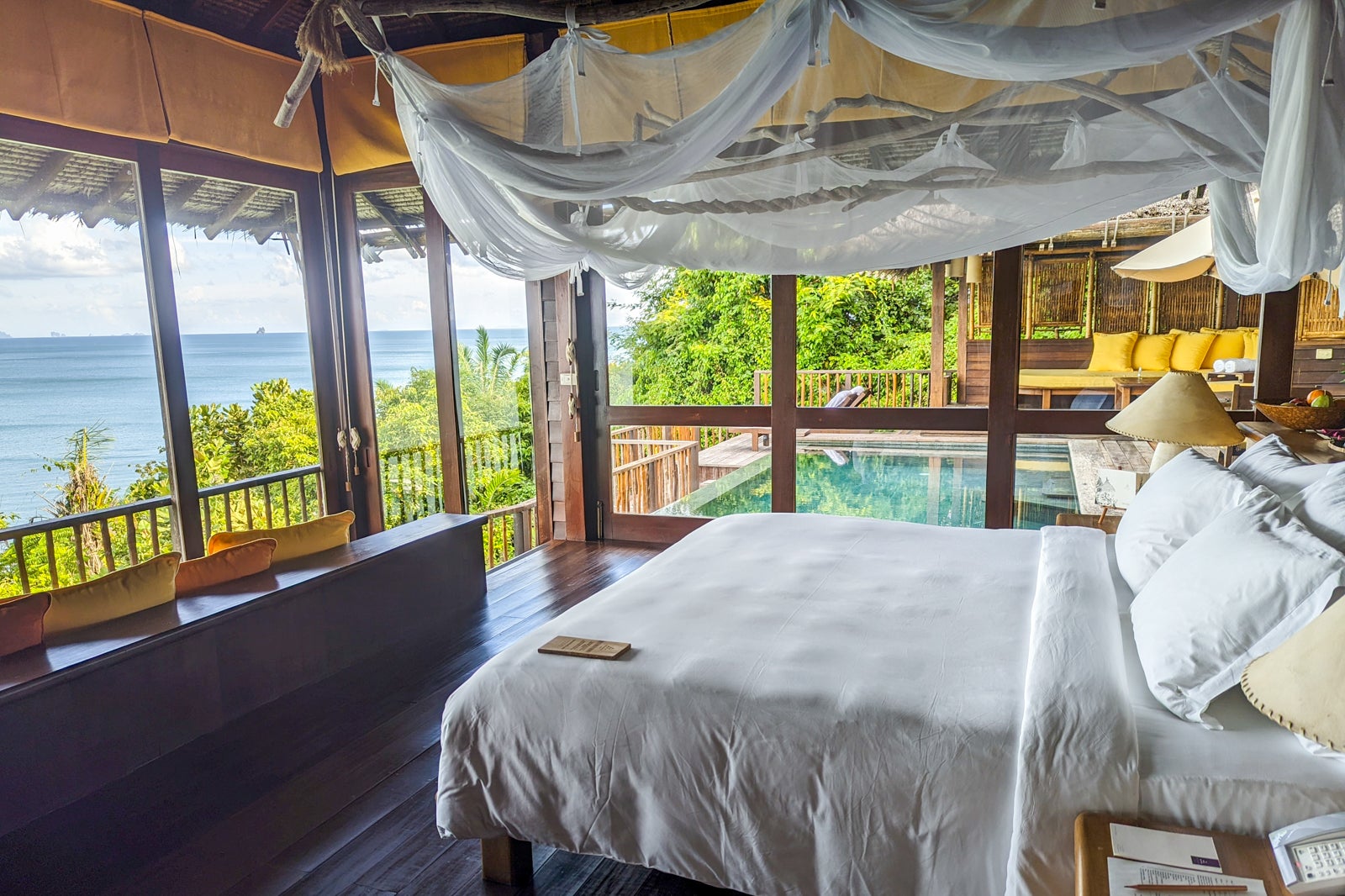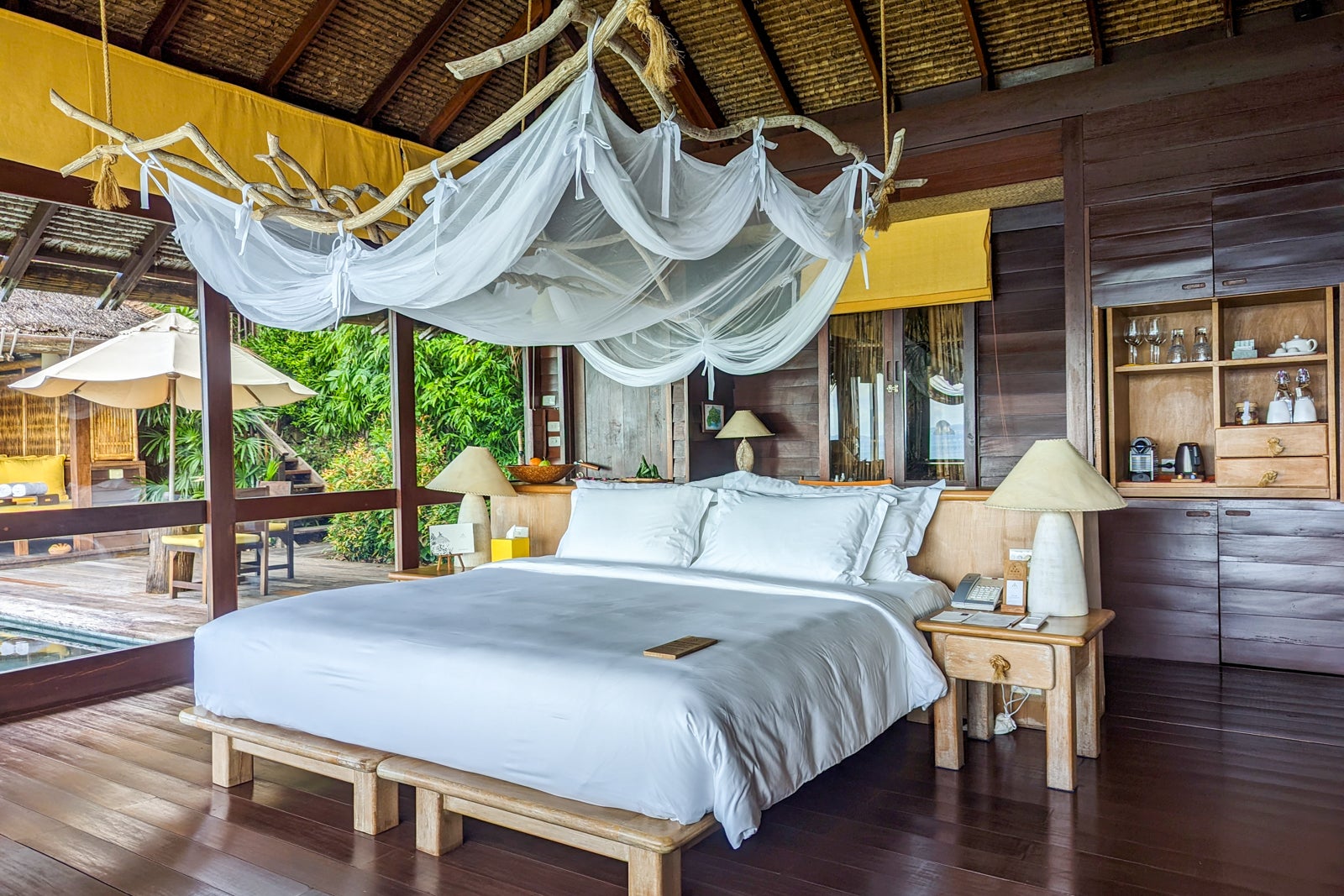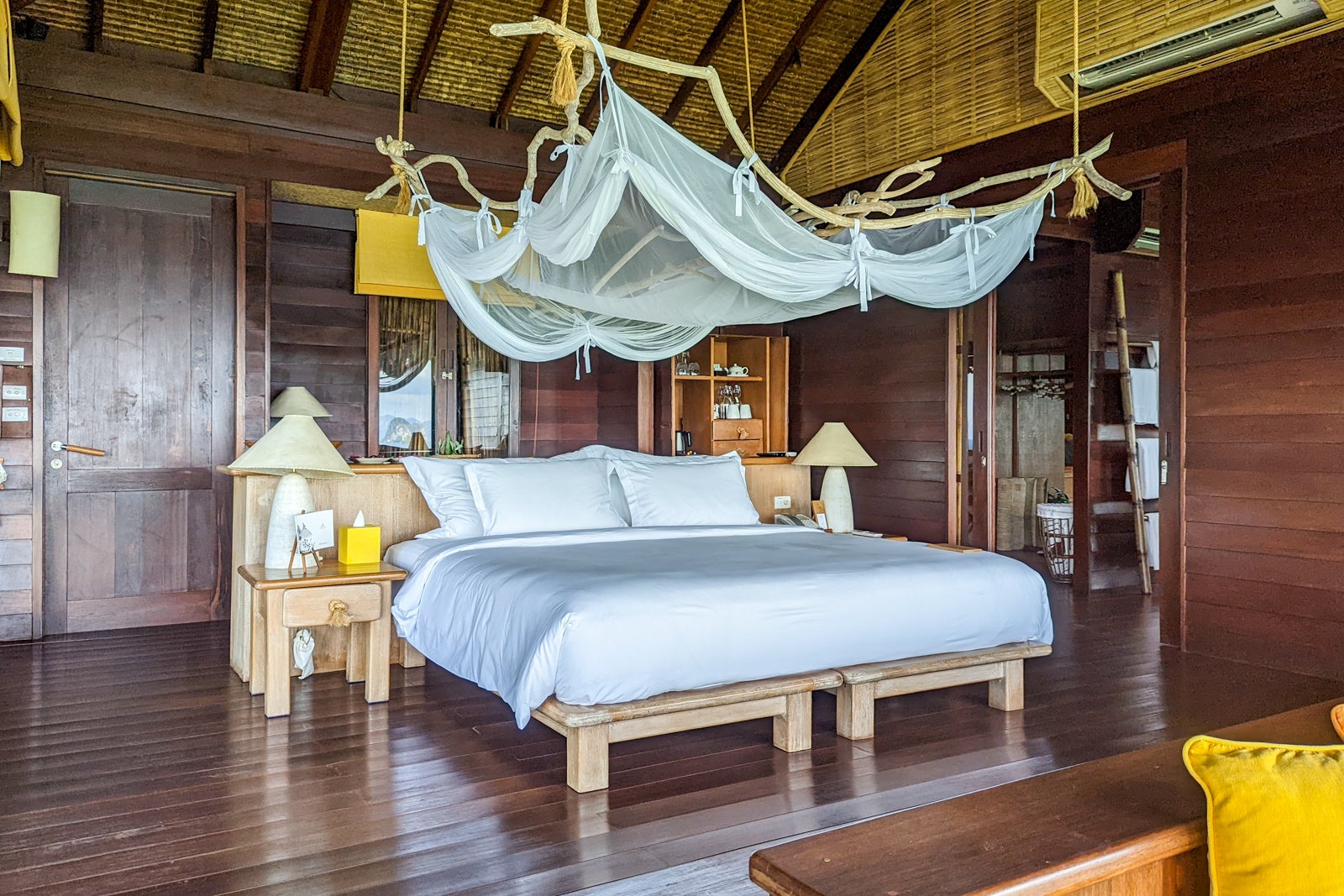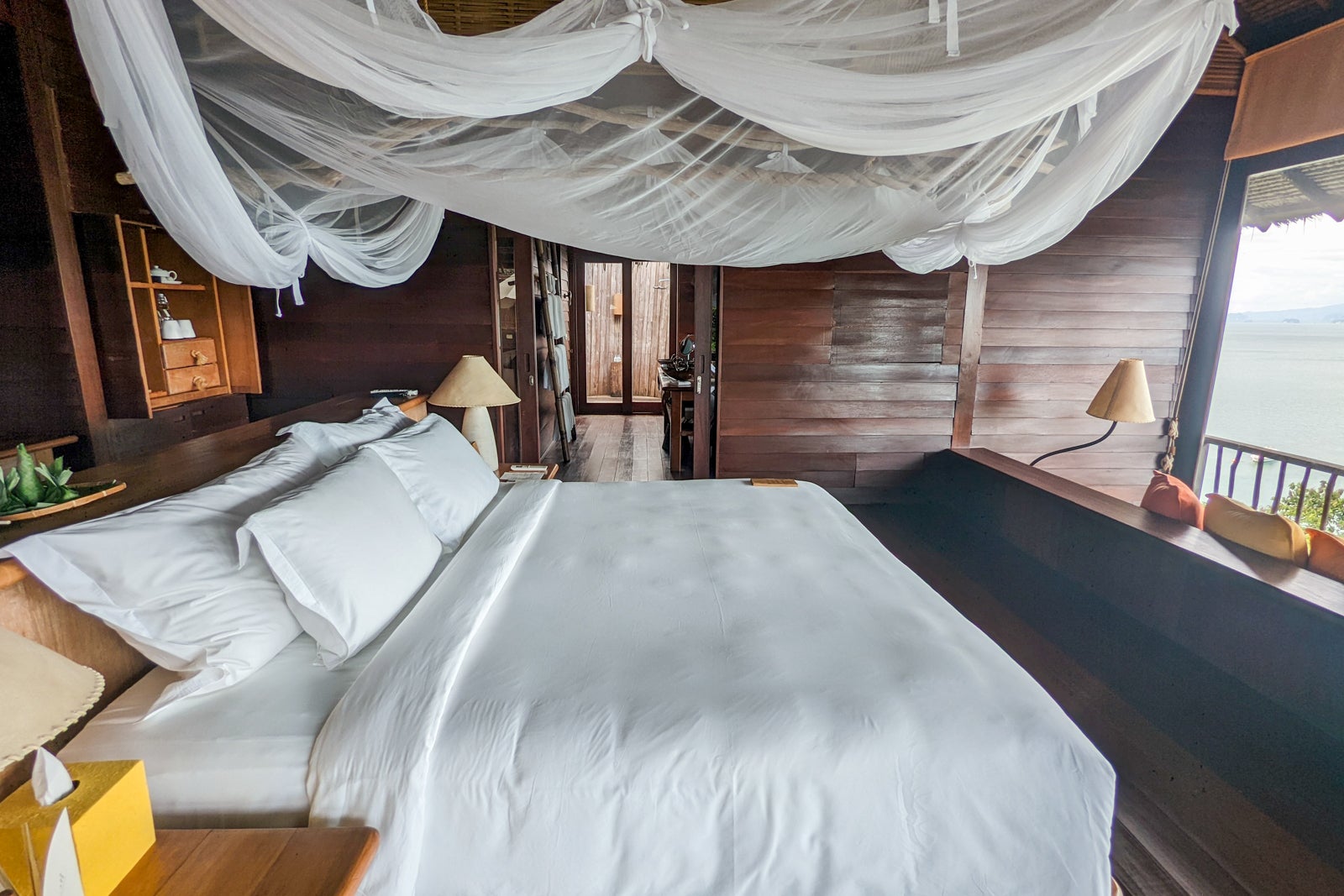 Both nightstands include a lamp with a switch on its cable, making it easy for these to be the last lights to turn off each night. There's a card on one nightstand where you can select your housekeeping preferences, including pillow scent, extra amenities and service times.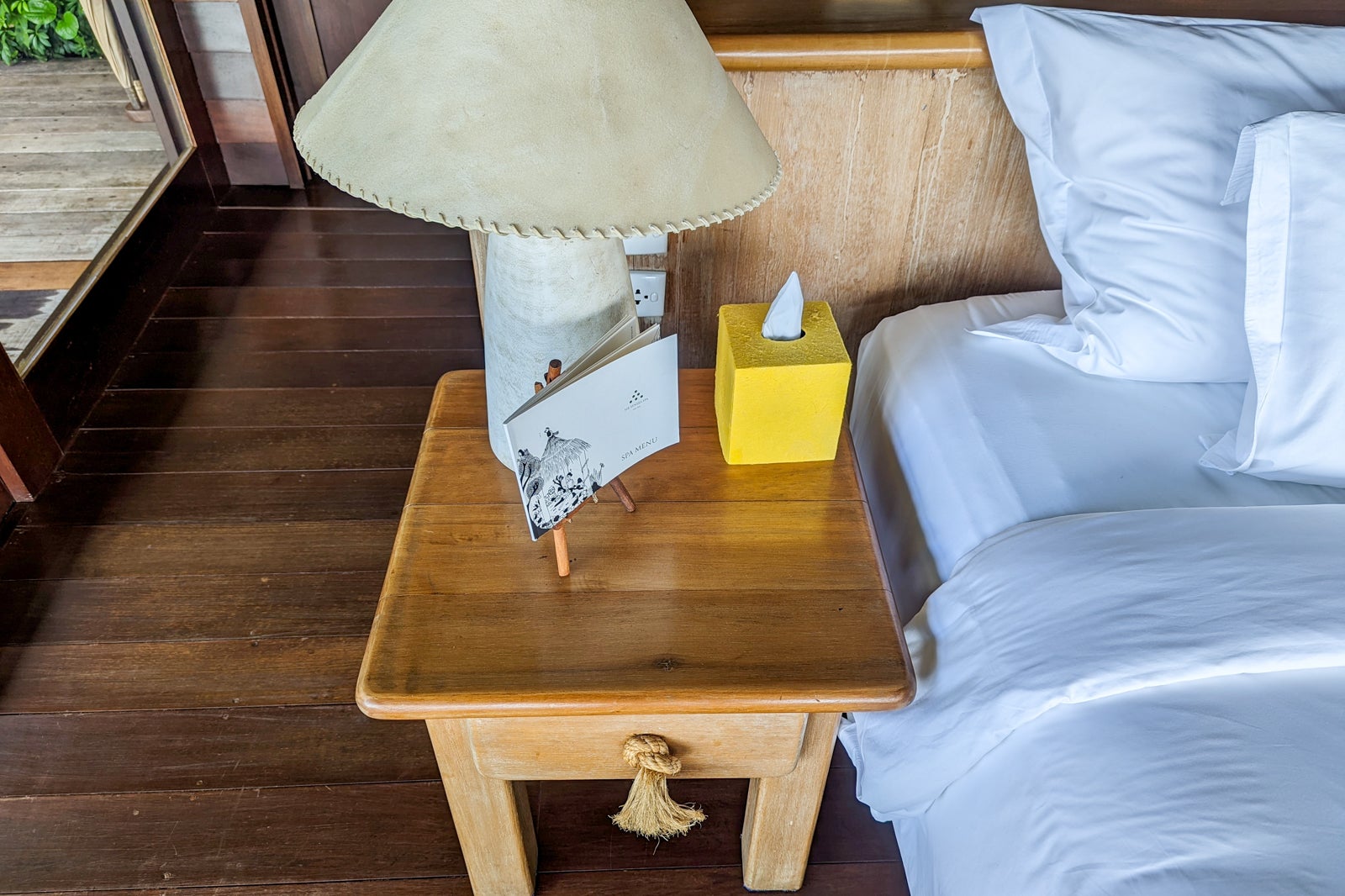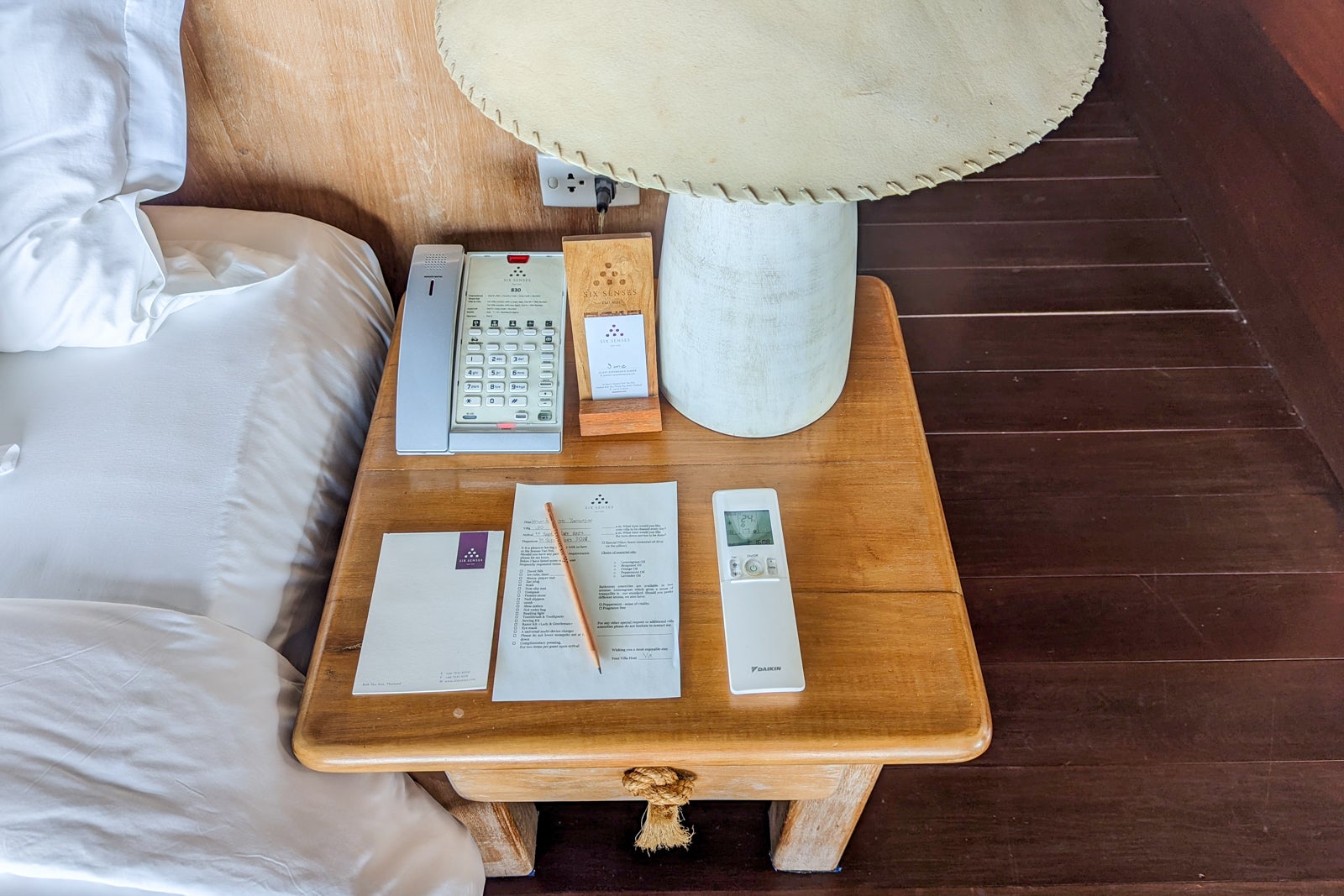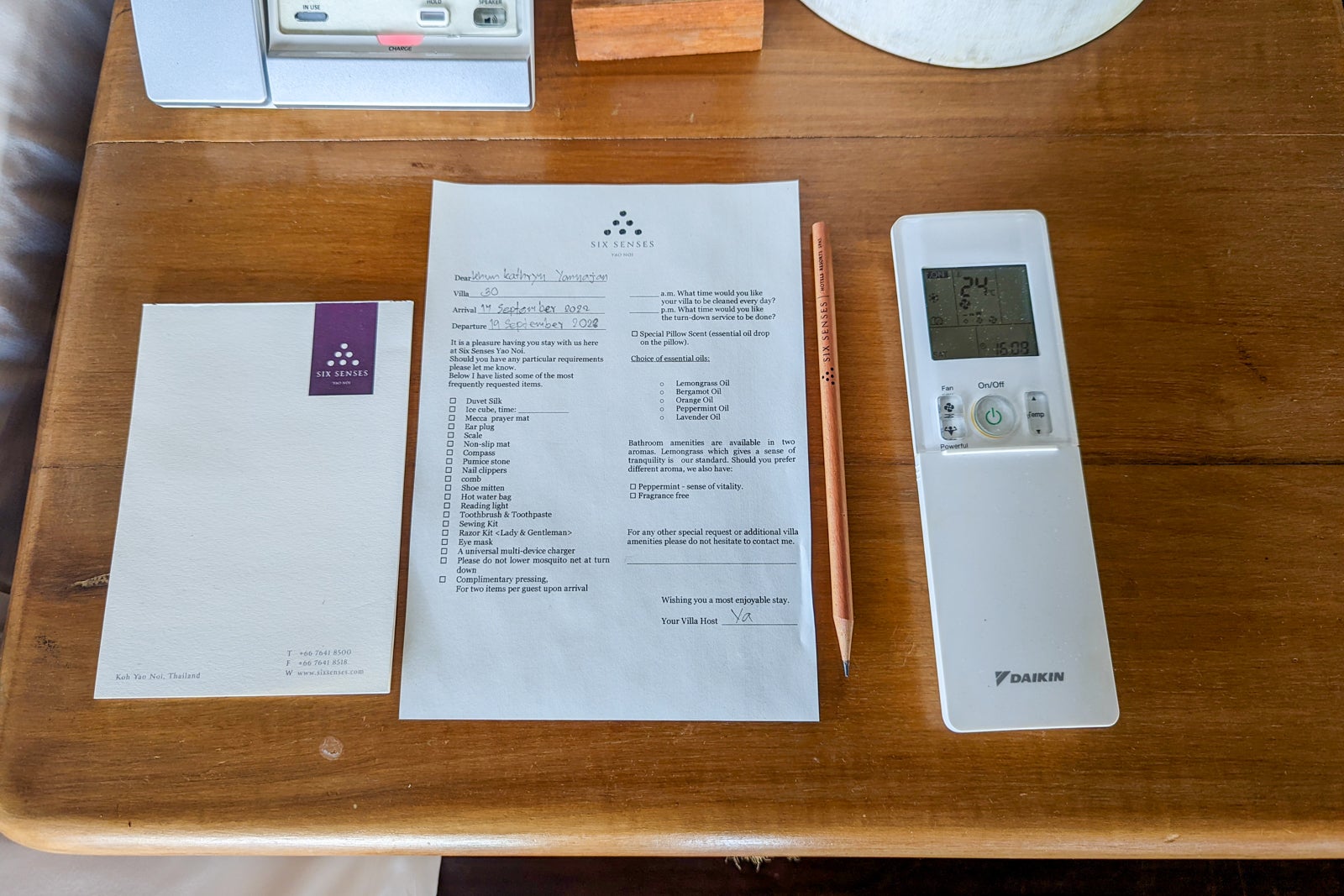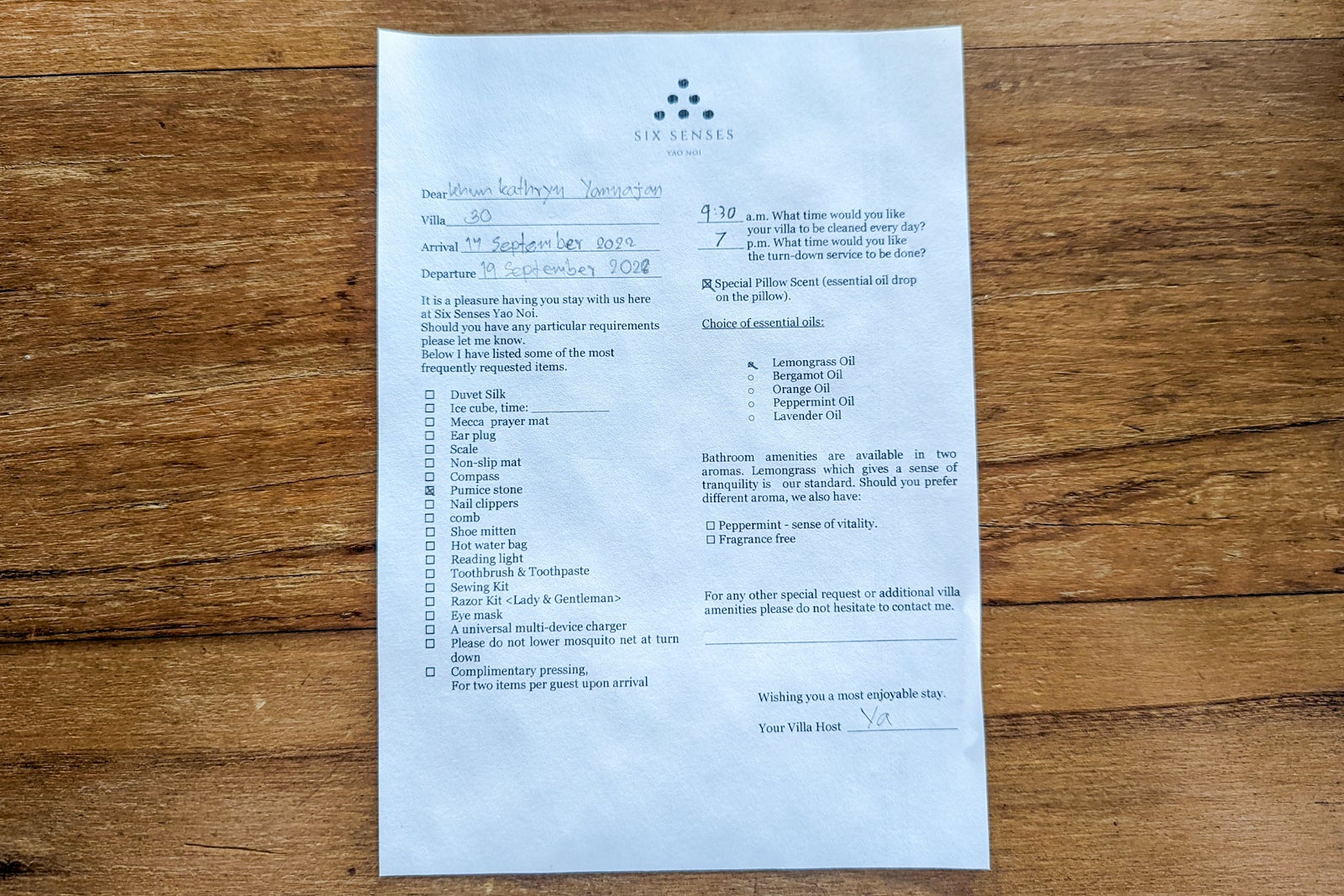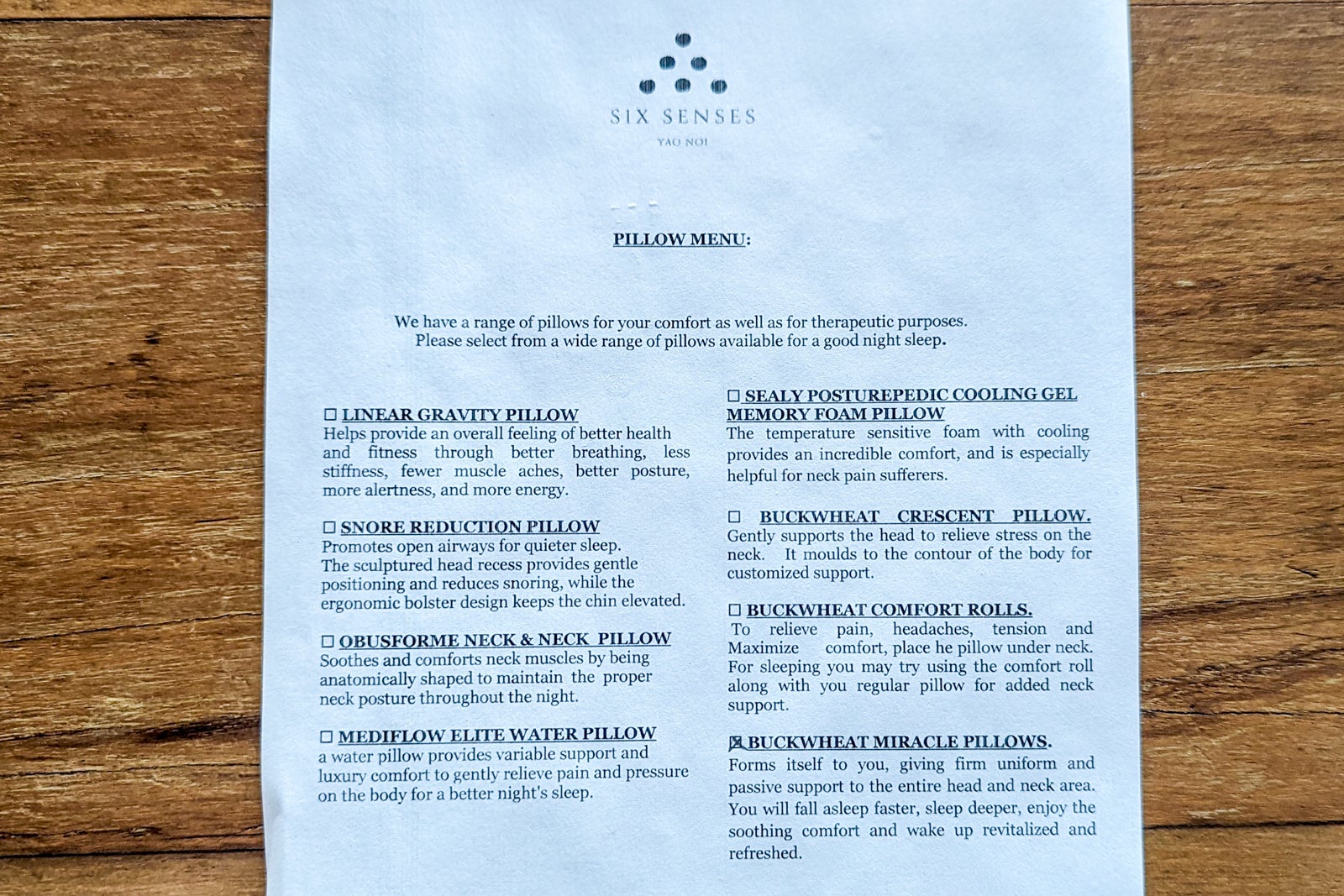 We left the two curtains that housekeeping left open at turn-down service open all night. Doing so let the sun come in around sunrise, and we wanted to wake up to watch the sunrise in a setting like this.
We closed the shades to go back to sleep one morning, and they did a decent job of blocking out light.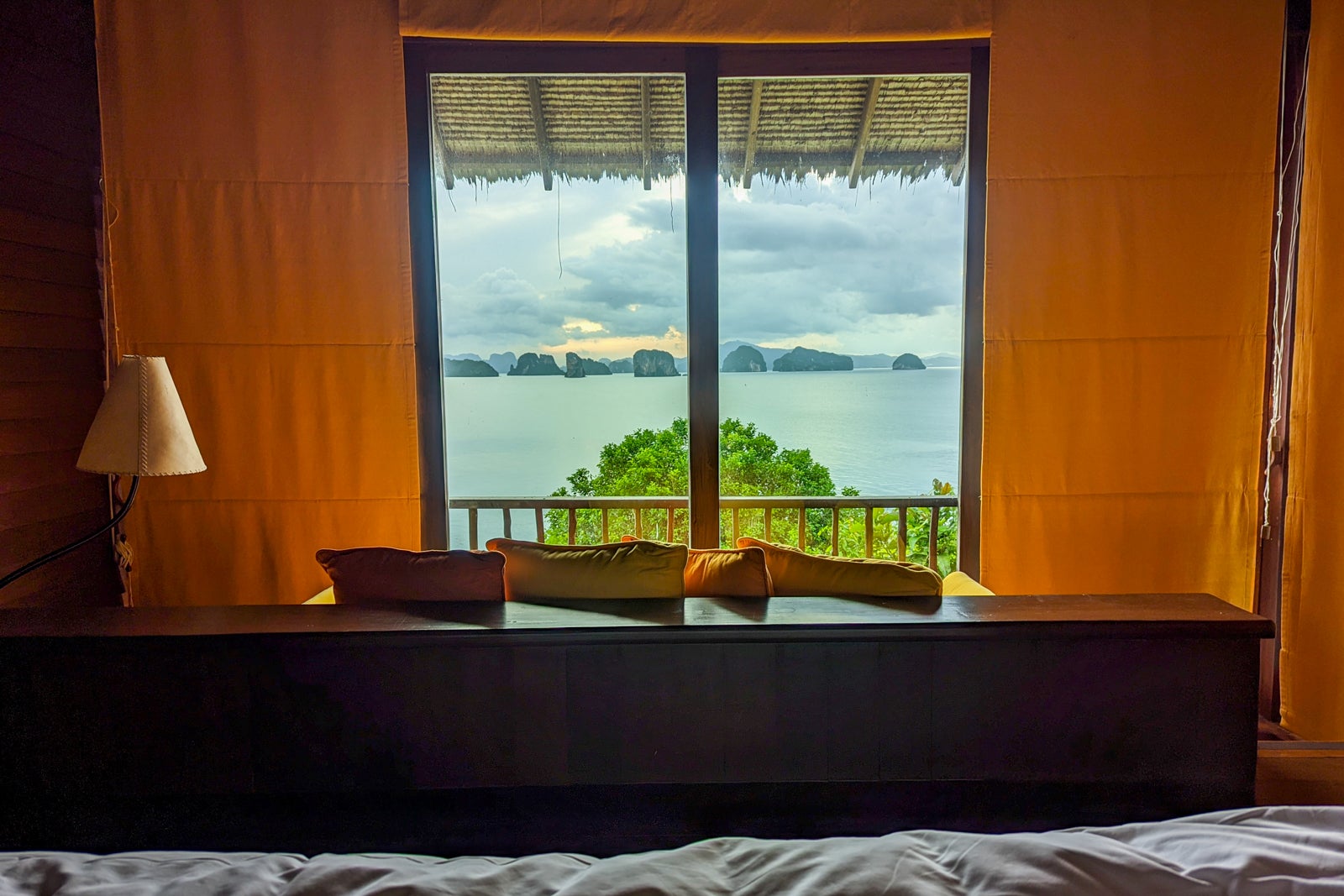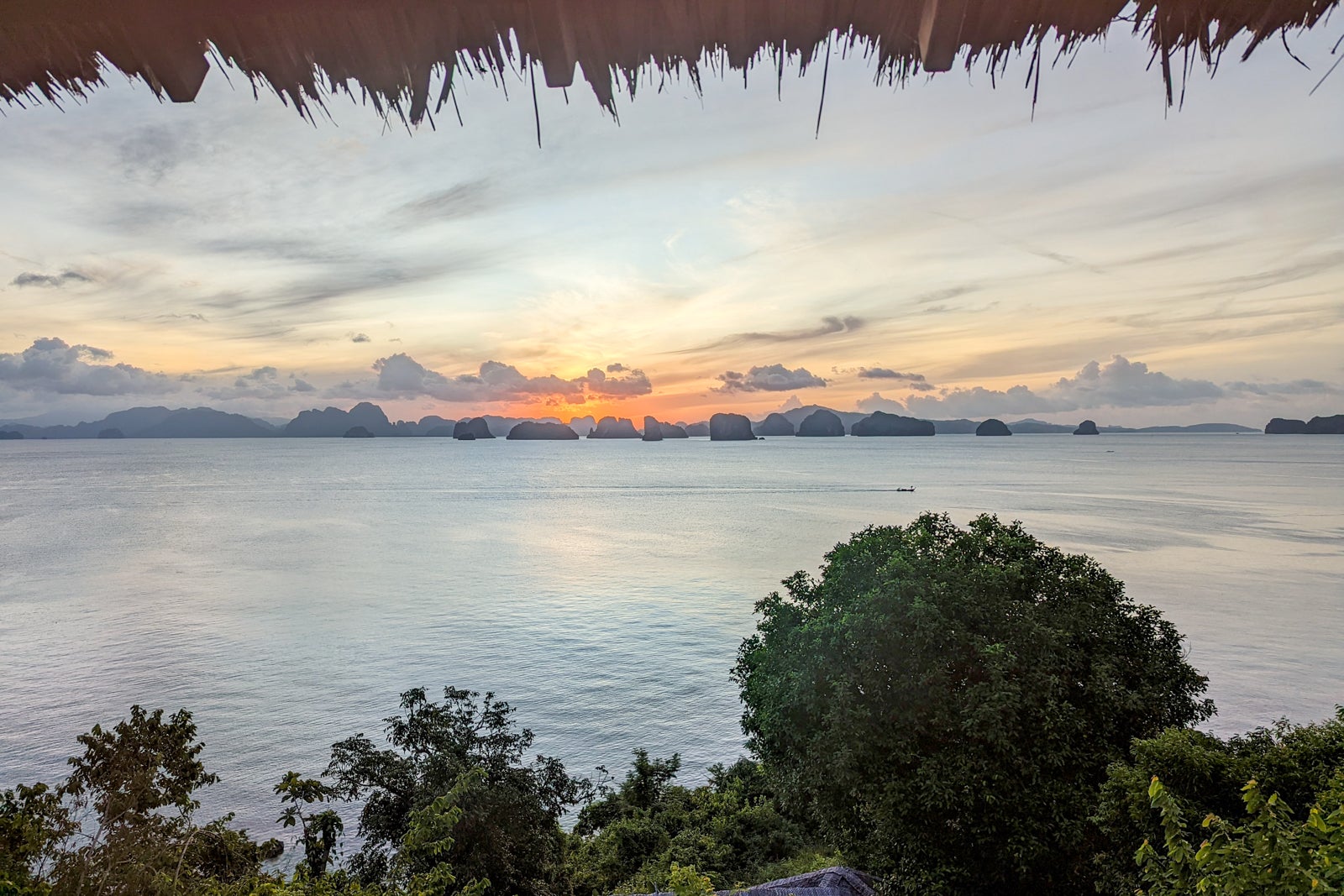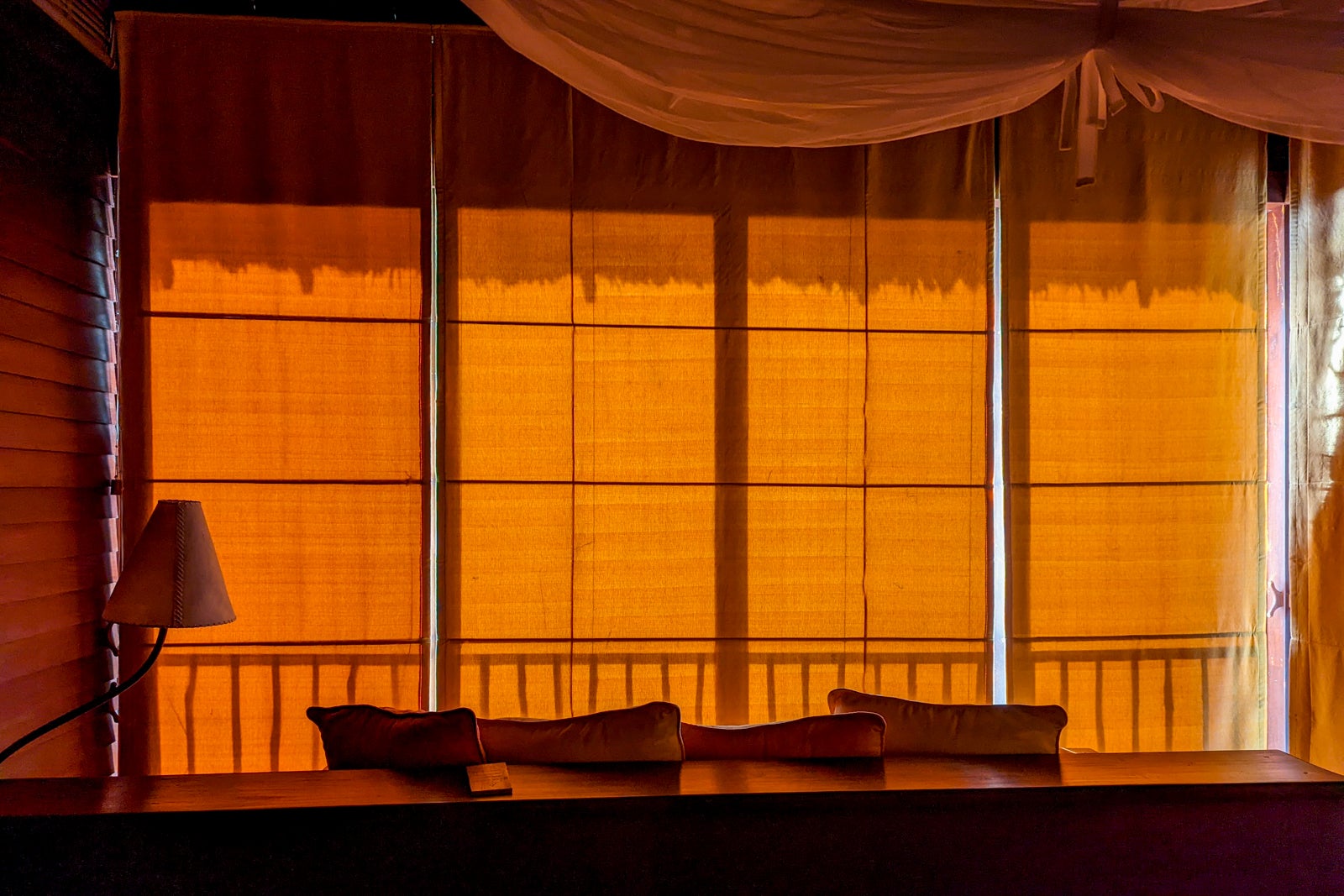 Behind the bed is a long counter that we used as our place to put things when we returned to the room. Under the counter are two cabinets. The one on the right contains an ice bucket and a basket for eggs (more on this in the food and beverage section).
The cabinet on the left contains audio equipment, including a cable you can use to play music throughout the villa. But I loved the Six Senses soundtrack that was playing at check-in (I'm still a bit hooked on some of the songs).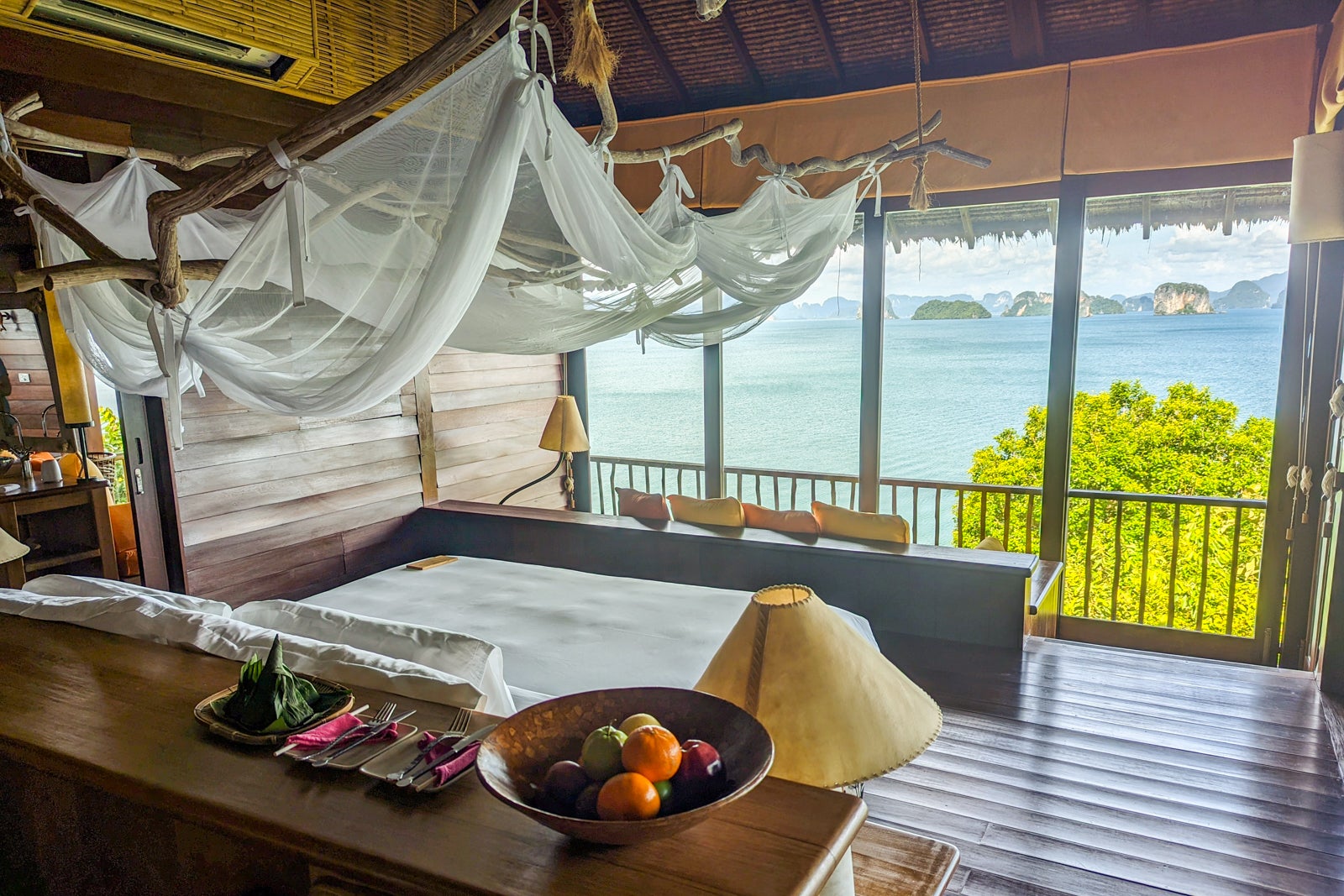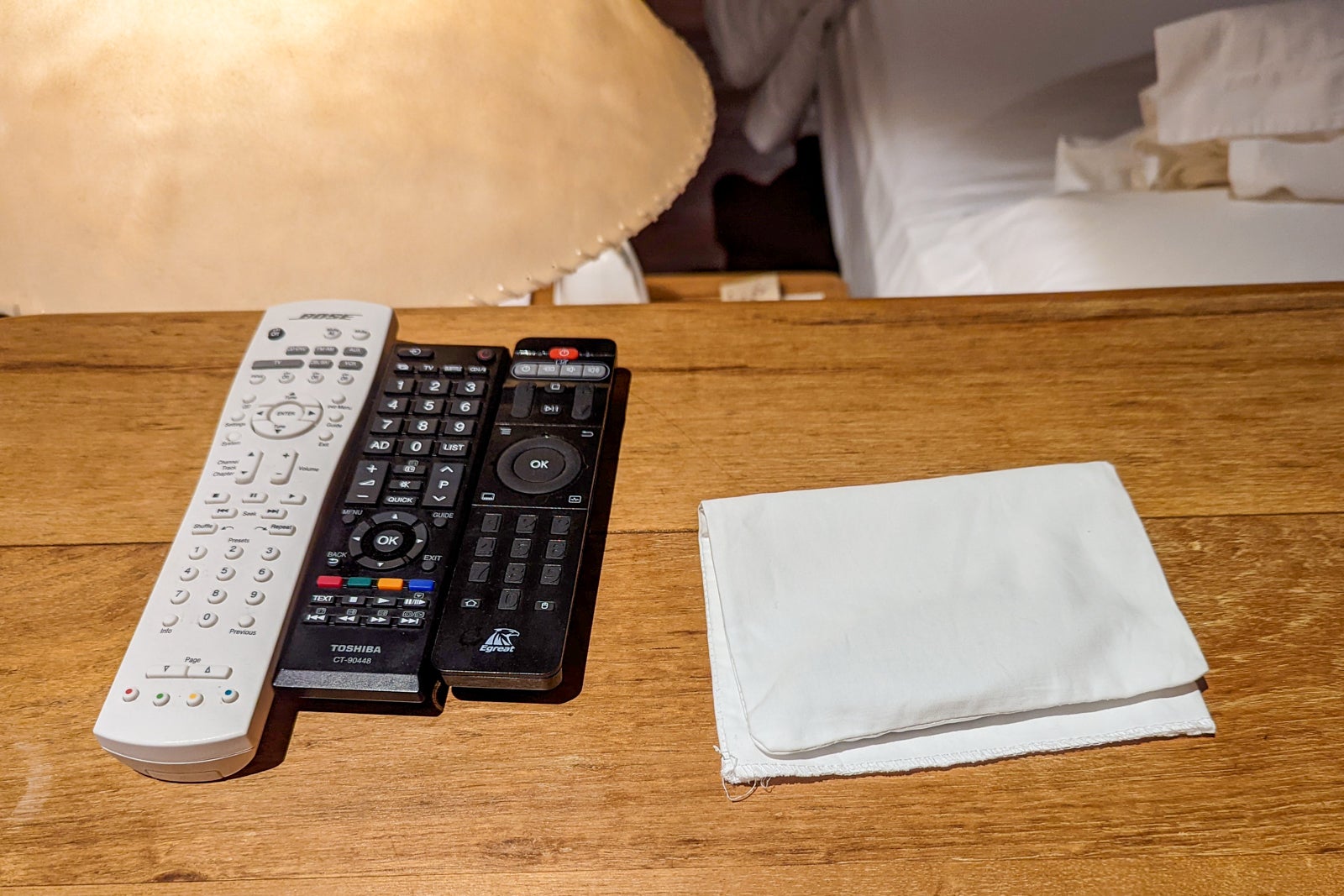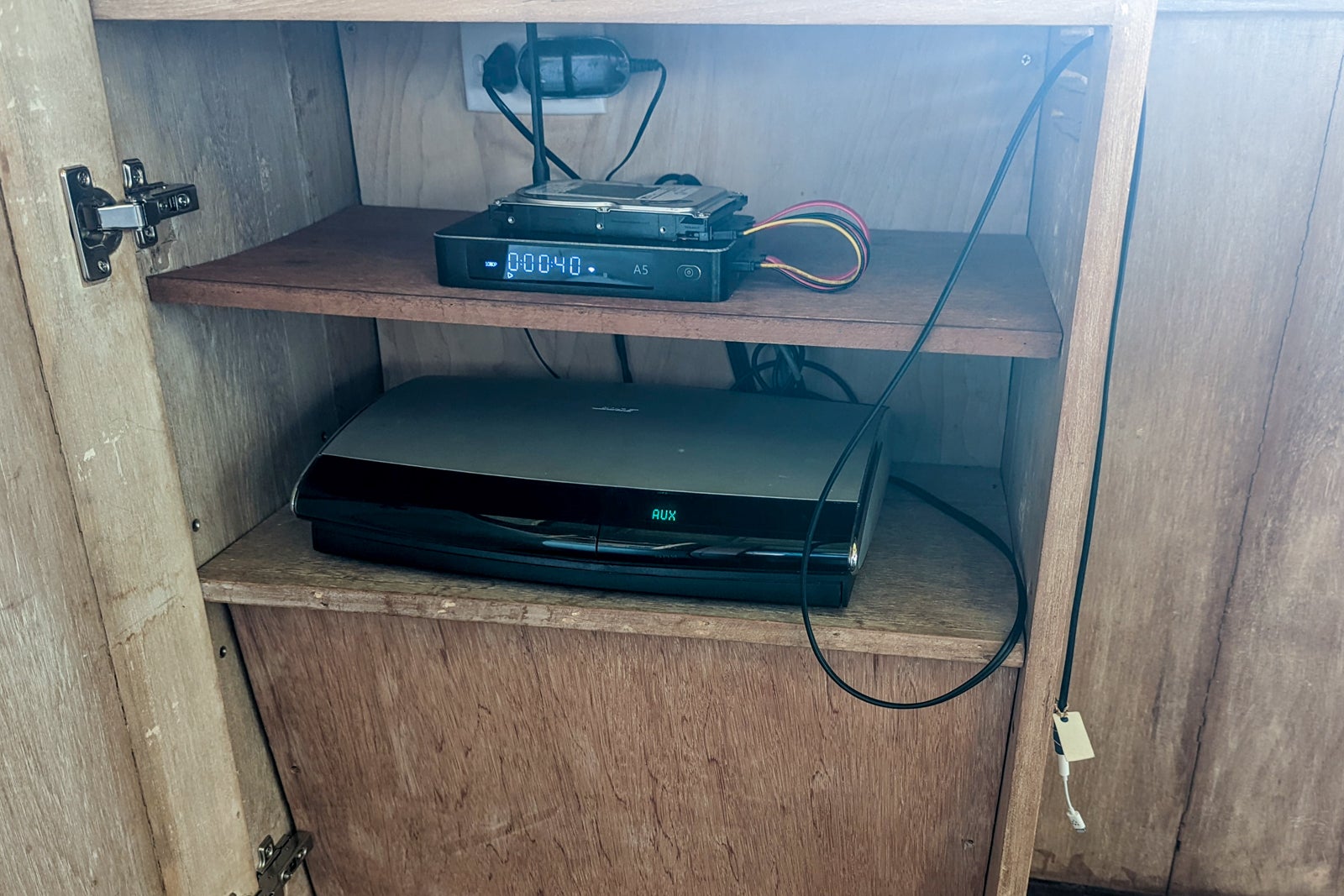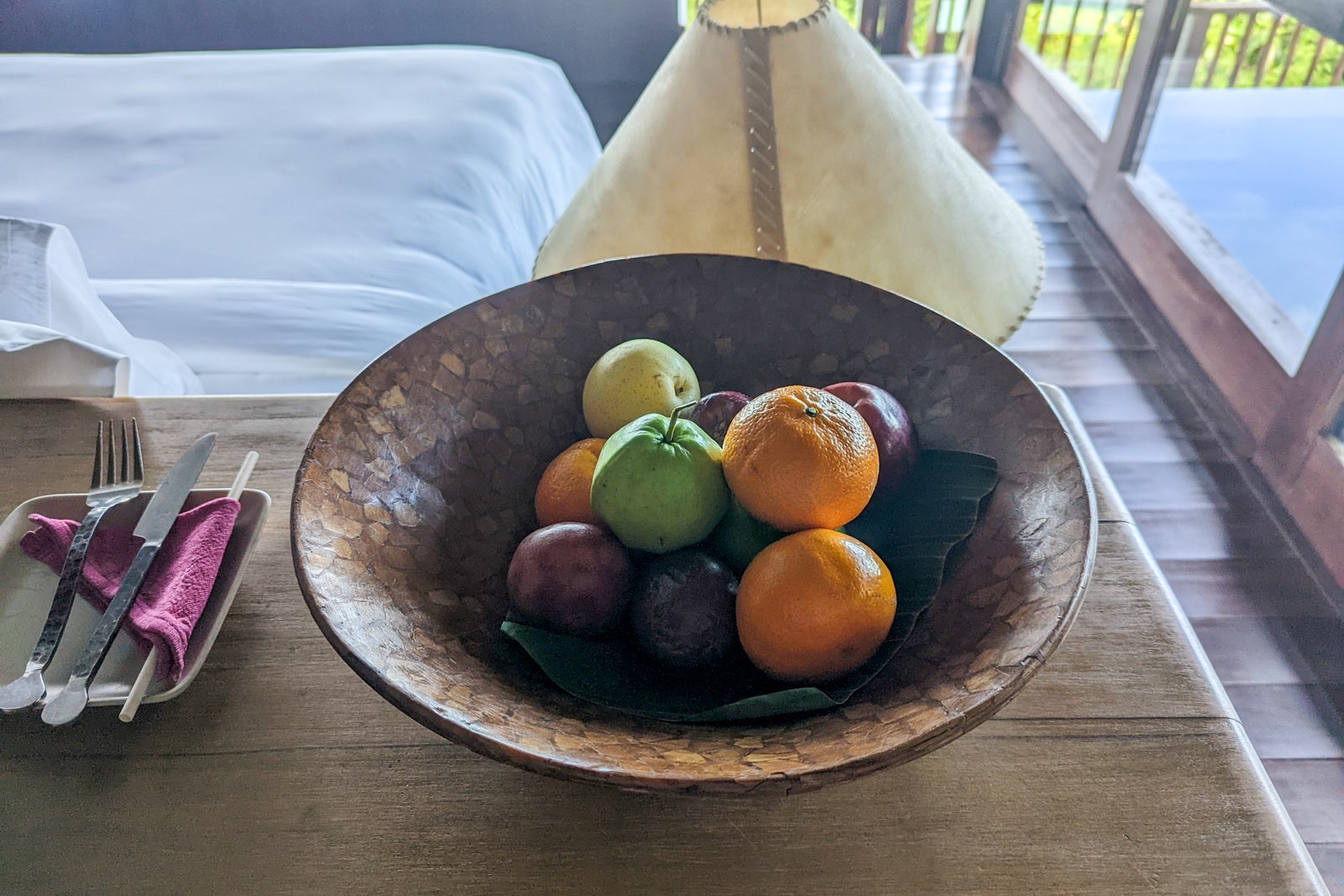 Behind the counter is a long desk. On the desk are a lamp, a glass bottle of mosquito spray, a glass bottle of hand sanitizer and three books:
A price list for the wine fridge.
A book about "the fun and tasty stuff" with the in-room dining menu and activities list.
A book about "the good stuff" detailing Six Senses sustainability initiatives and projects (both on the international and property levels).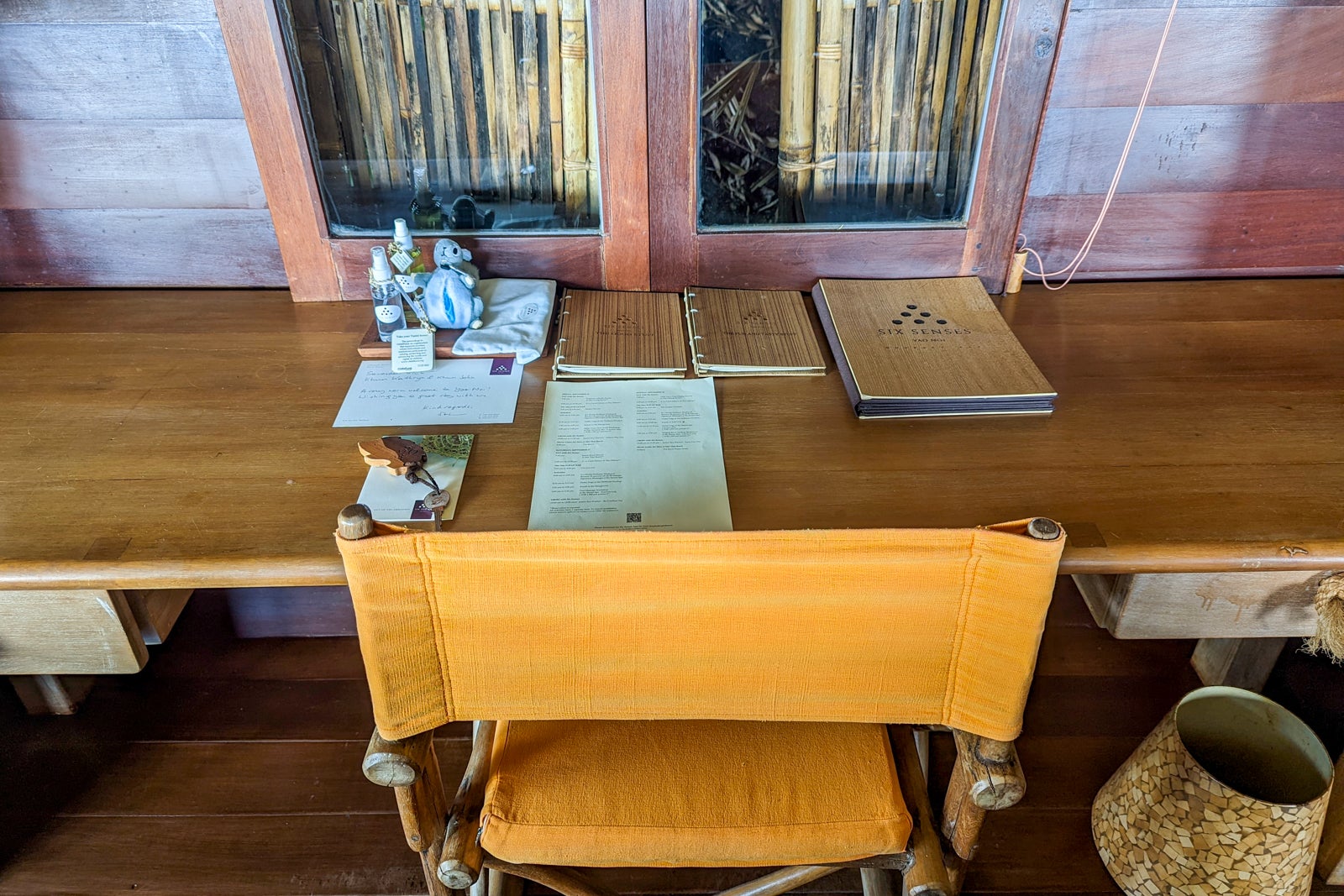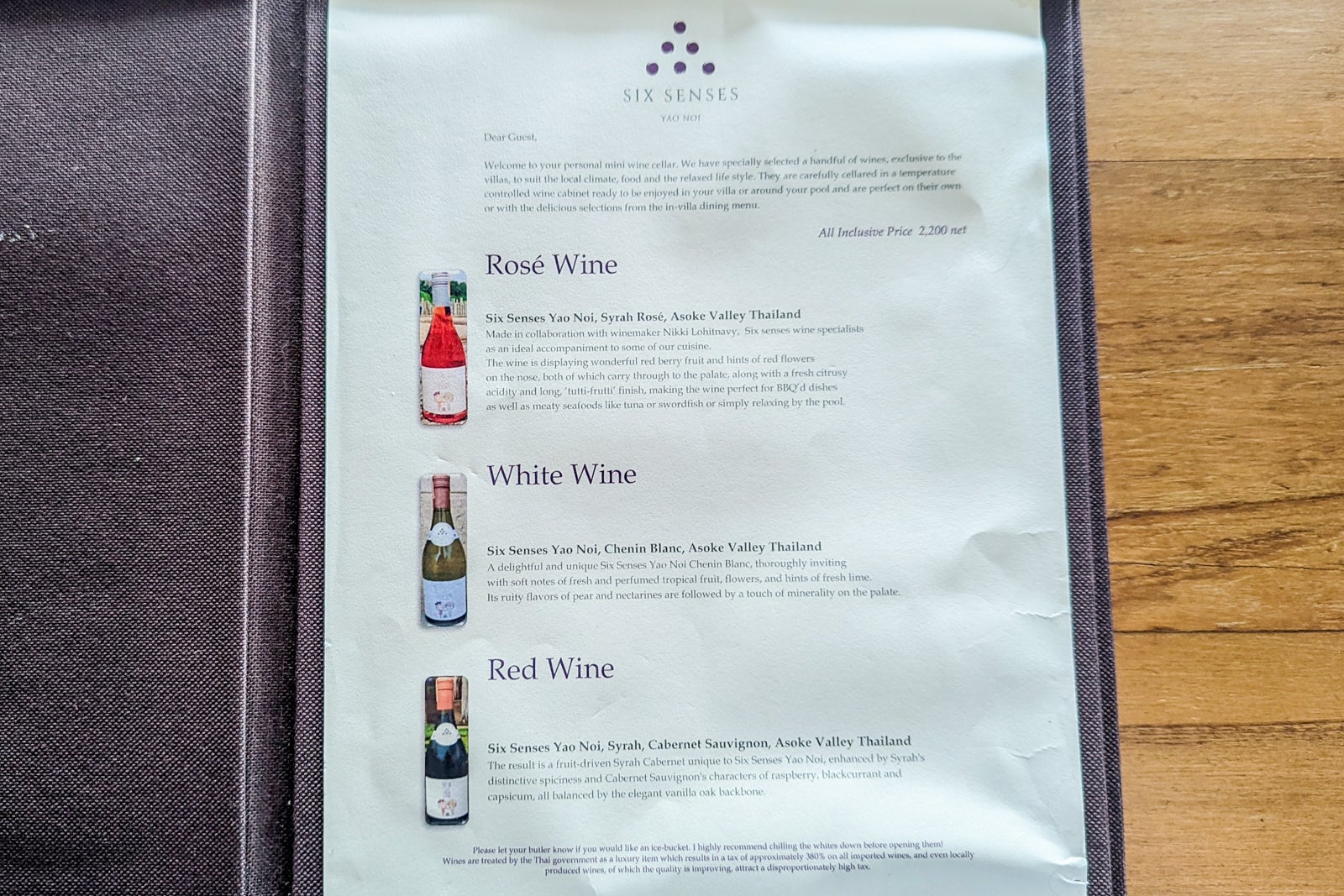 The desk has two drawers — one with two postcards and the other with anti-mosquito devices and a universal adaptor. The resort will stamp and mail the two postcards if you write and address them.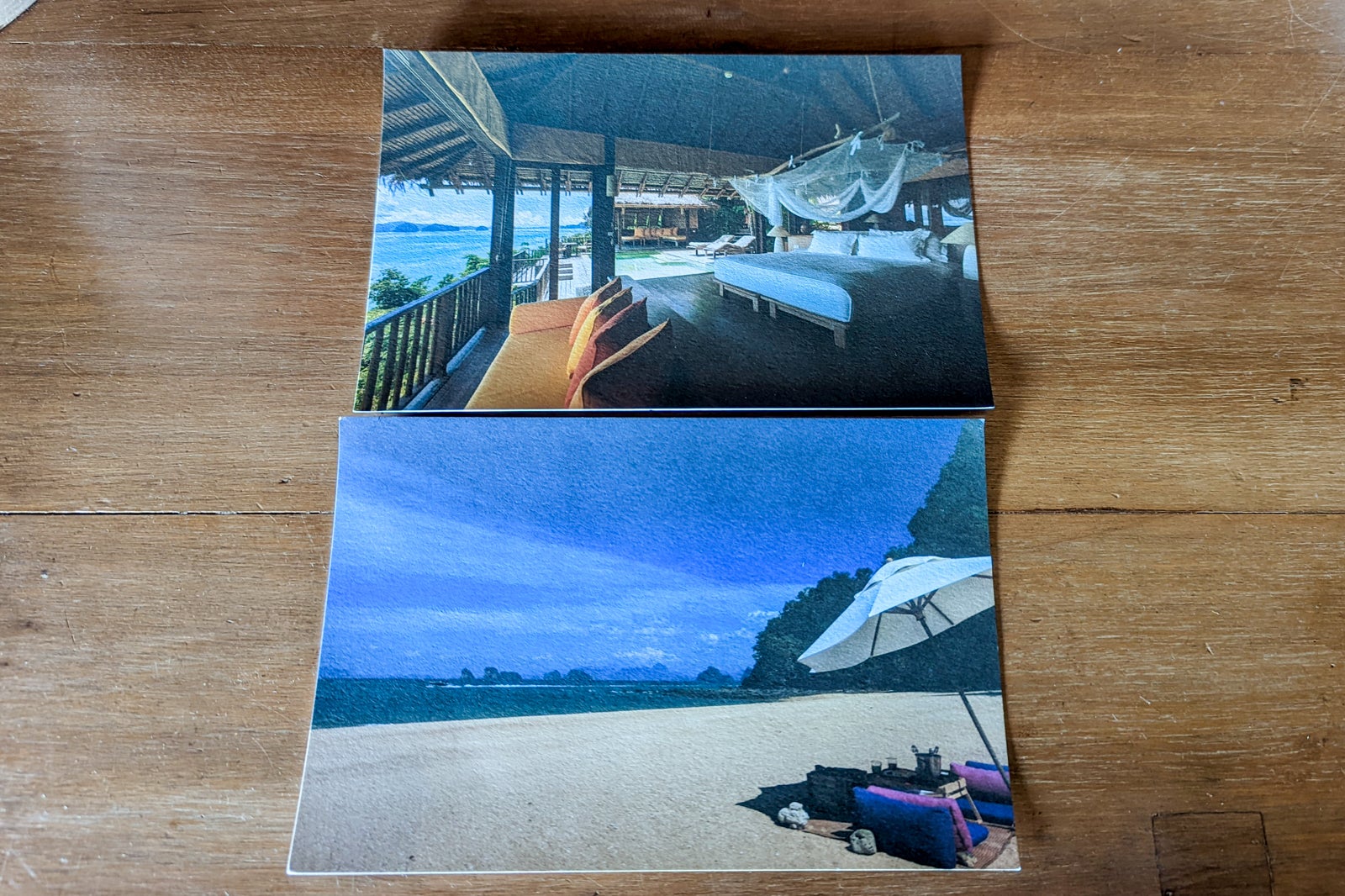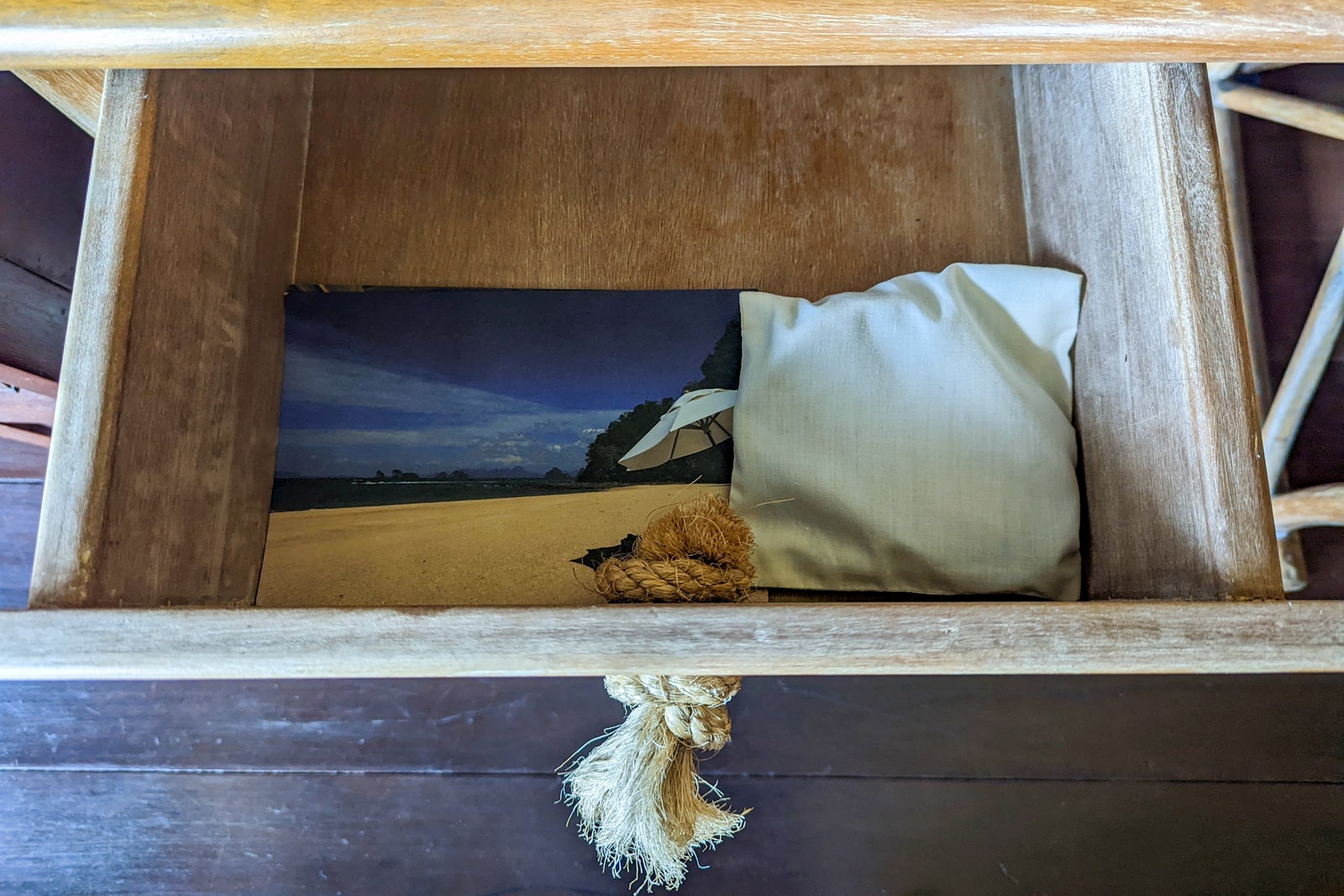 Next to the desk is the mini-bar and beverage station. There's a Nespresso machine, four coffee pods, a water kettle, a teapot, two coffee cups and an assortment of glasses.
There's also ample complimentary Six Senses water (bottled on-site) in still and sparkling form. You'll find a wine opener, a wine fridge with three wines (2,200 Thai baht, or about $60, each) and a mini-fridge with welcome coconuts and cold Six Senses water.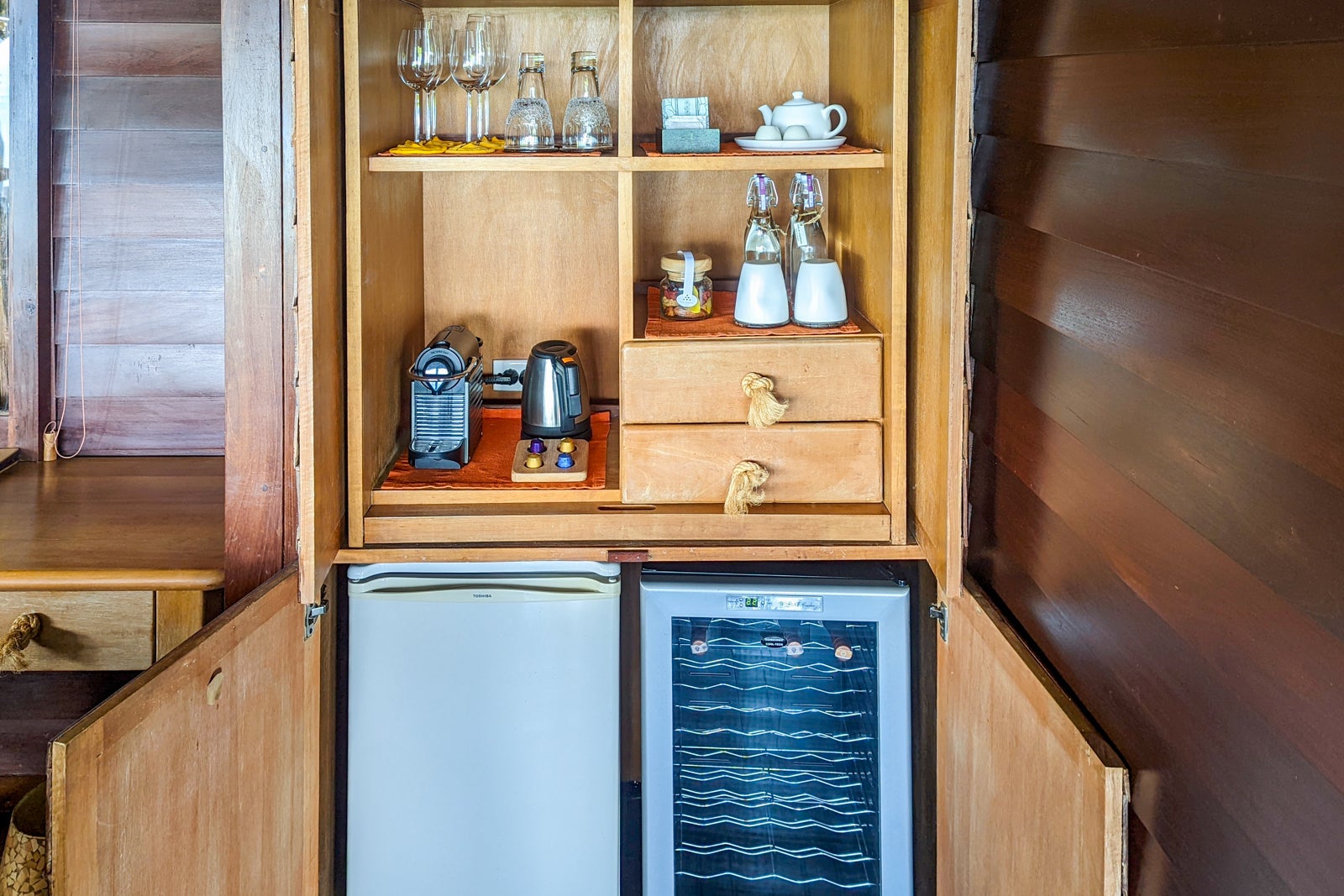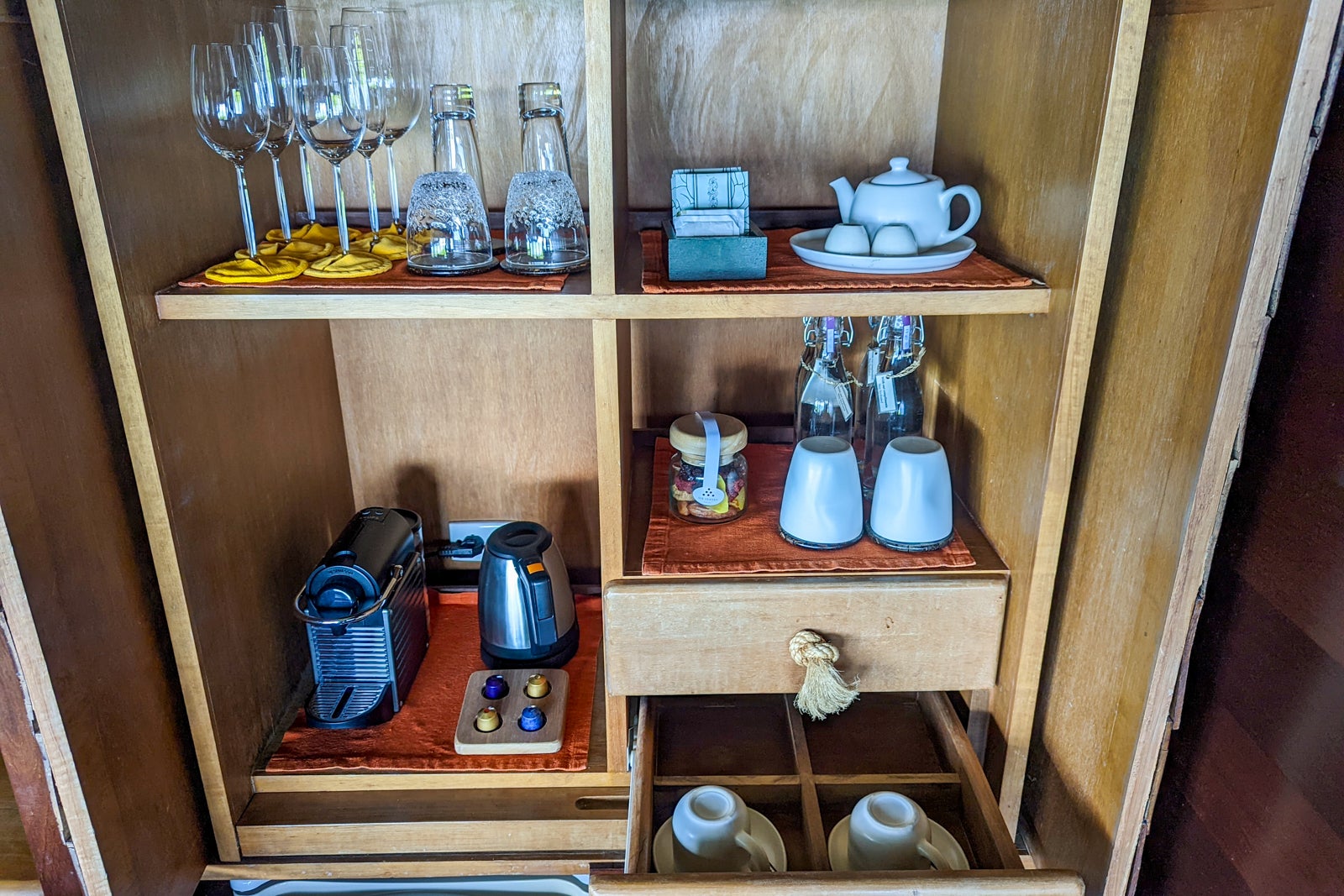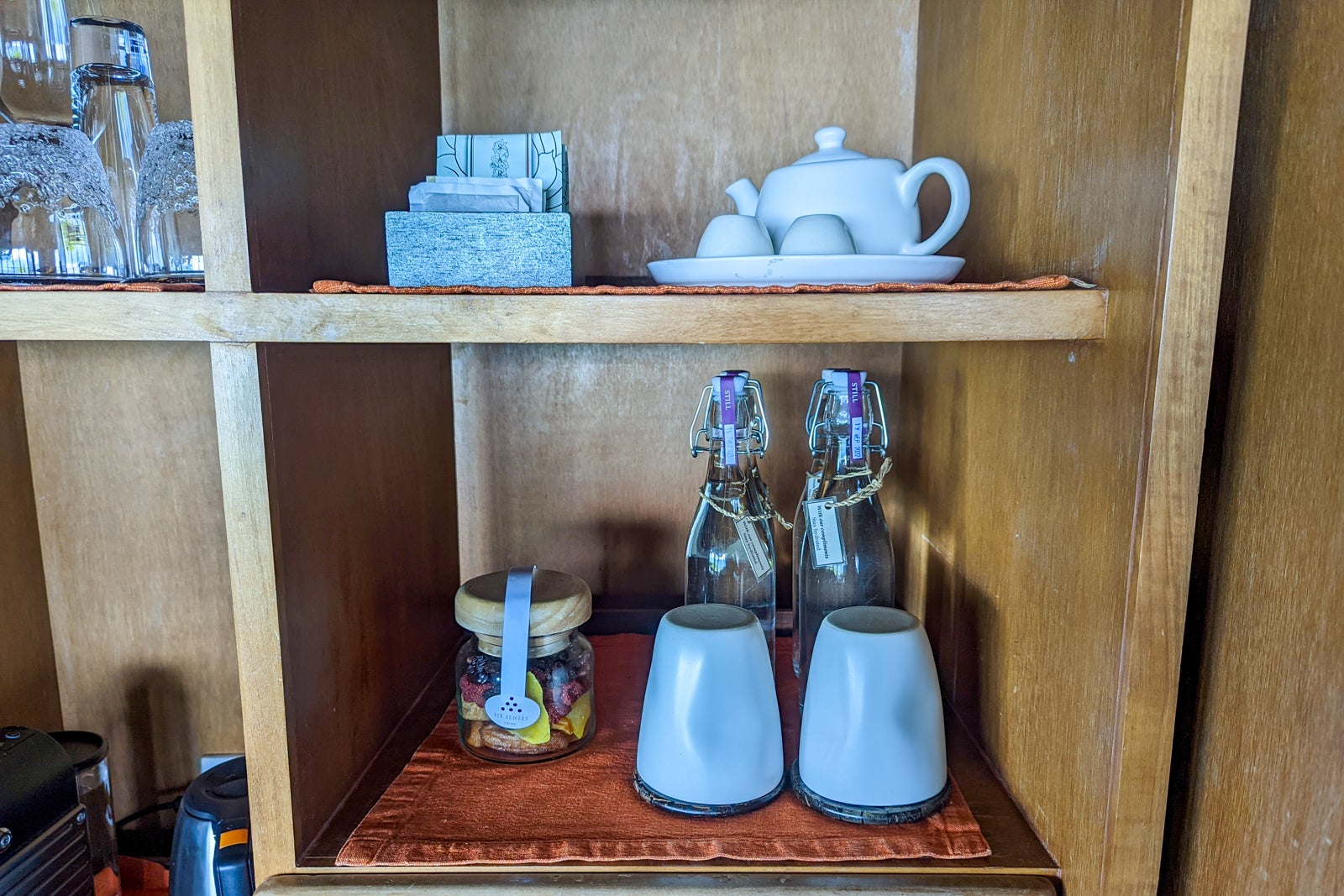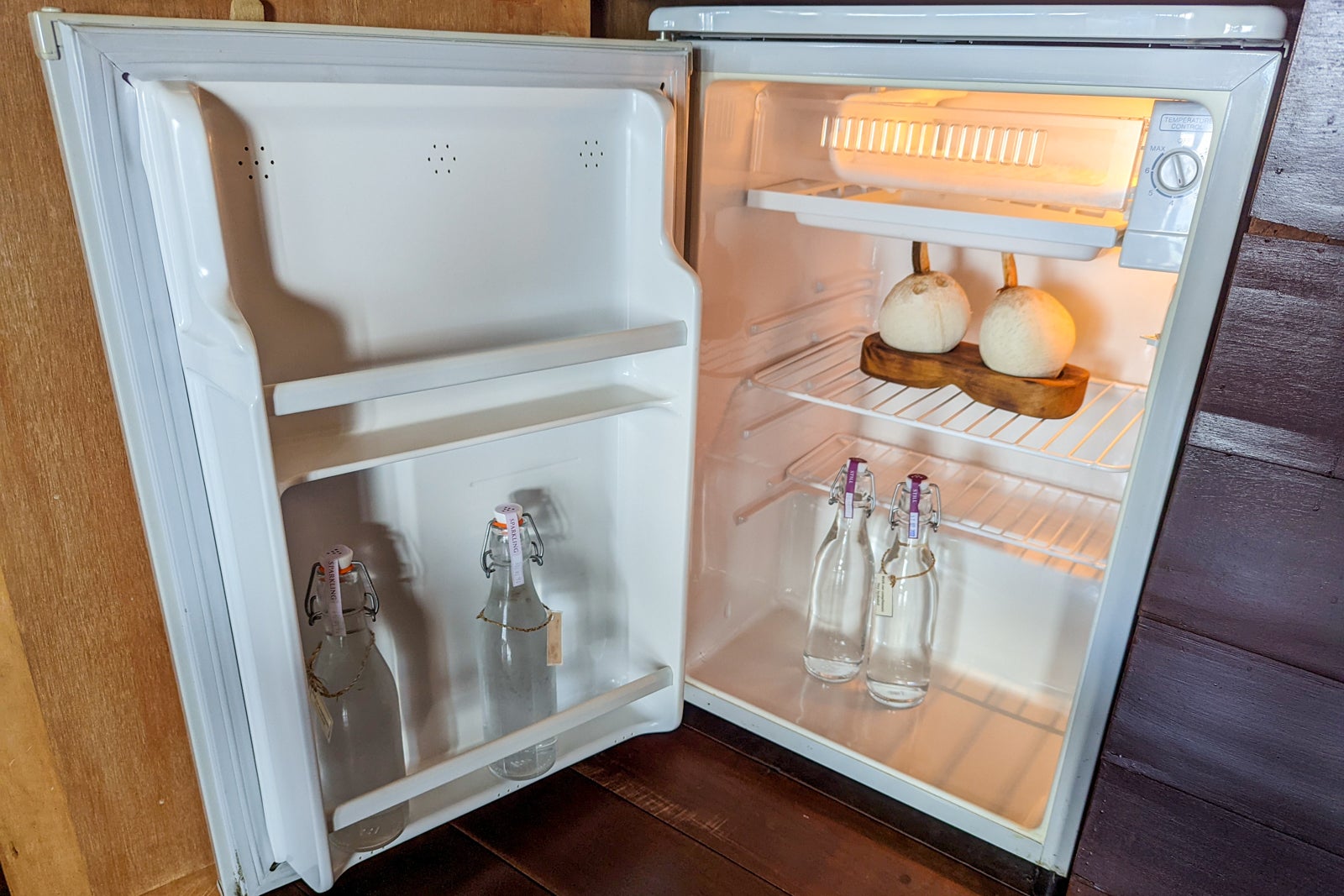 In front of the bed, along the windows, is a sunken plush couch with four pillows. I loved sitting on the couch and enjoying the ocean views inside the air-conditioned villa.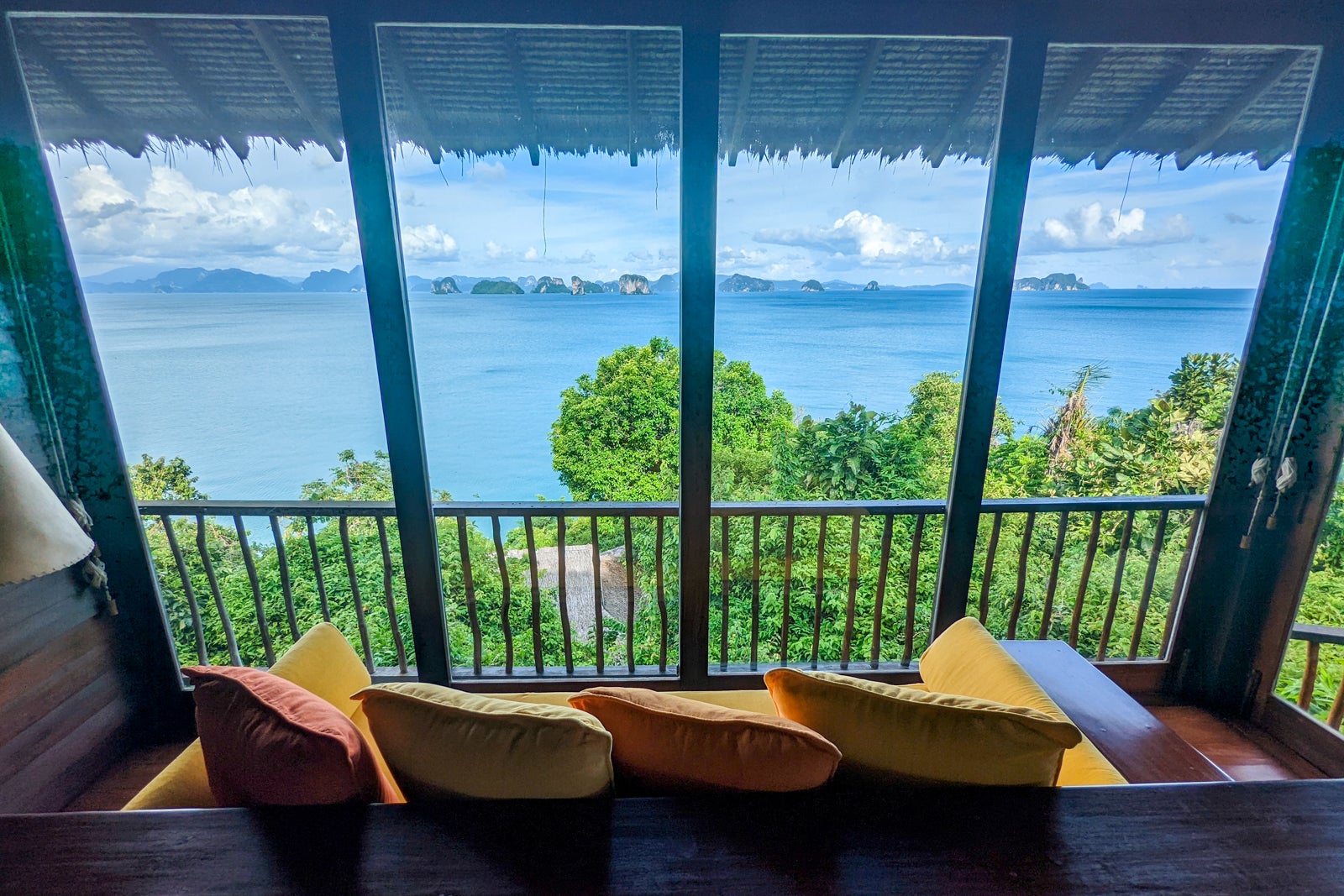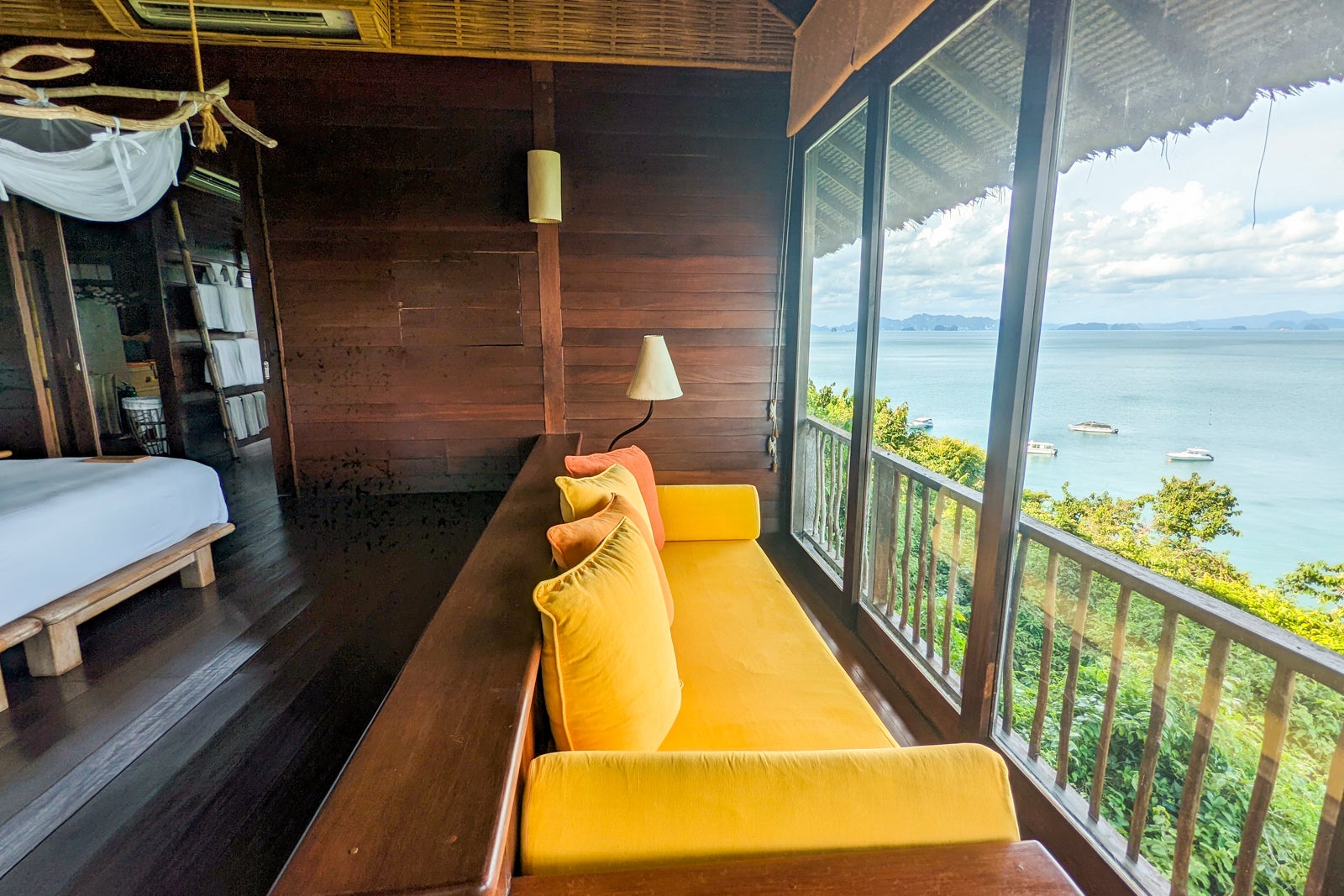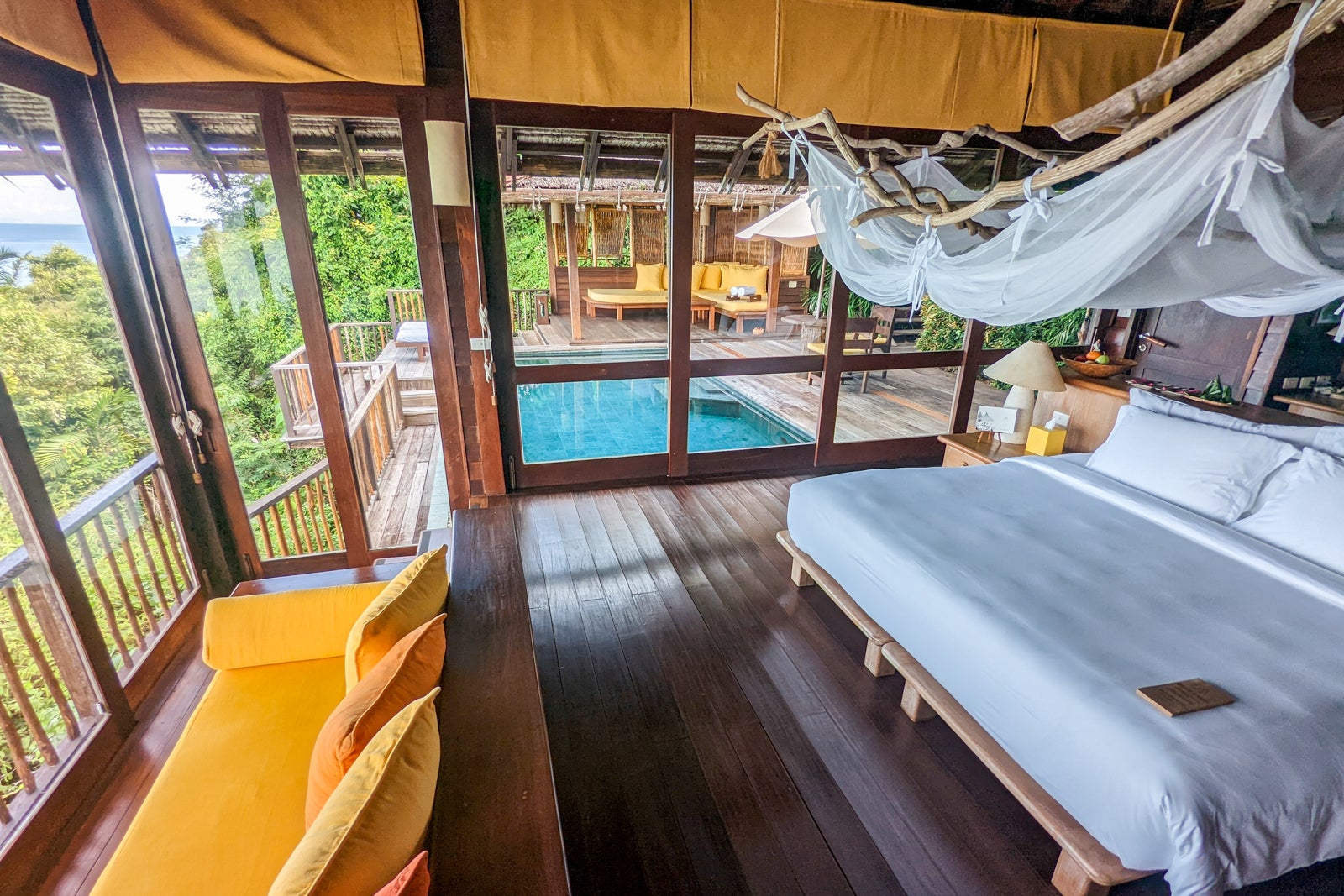 Many guests at Six Senses likely won't watch TV during their stay. But, there is a 26-inch TV hidden behind doors between the bedroom area and the bathroom. Depending on which door you open and how you position the TV, you could watch in bed or the bath.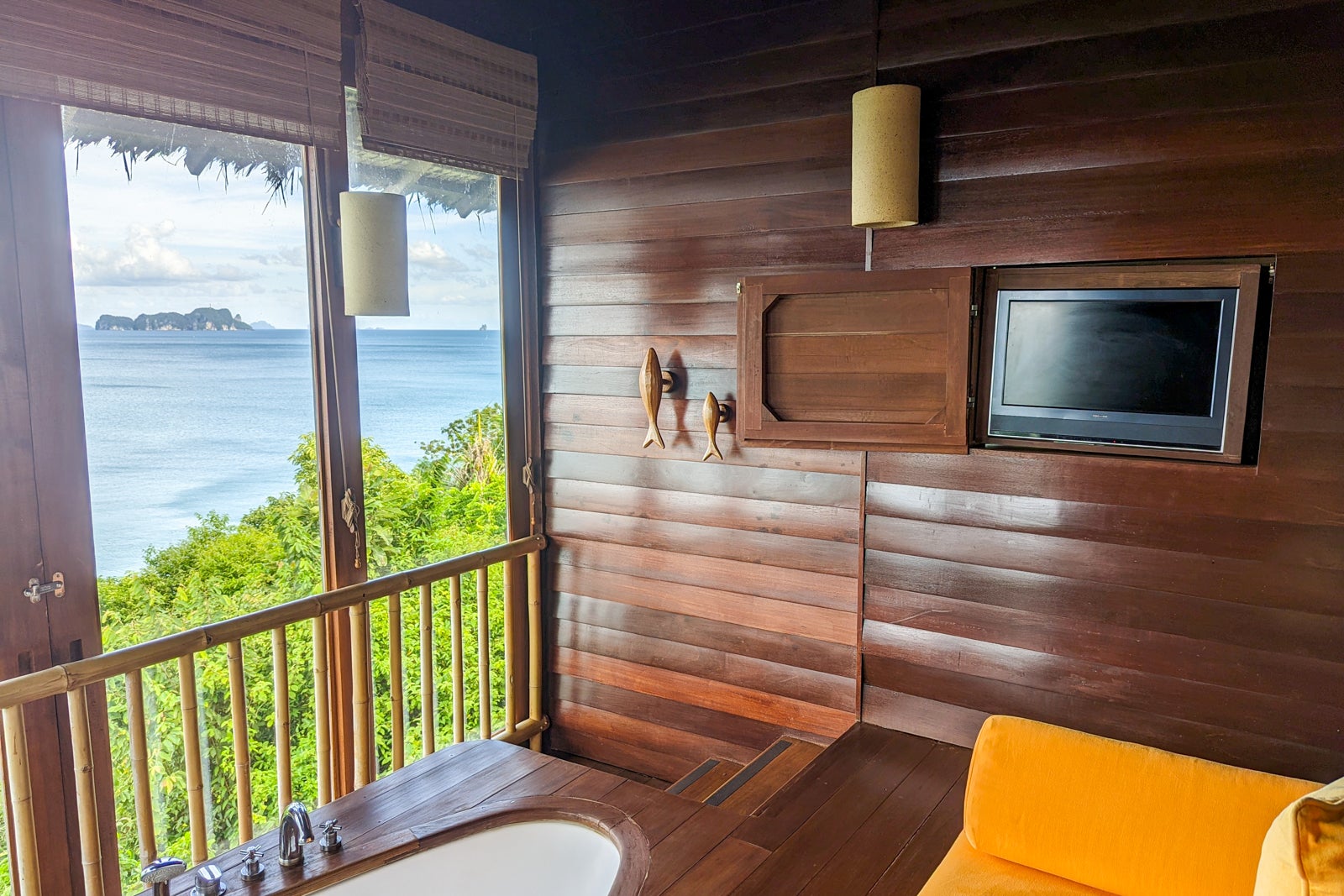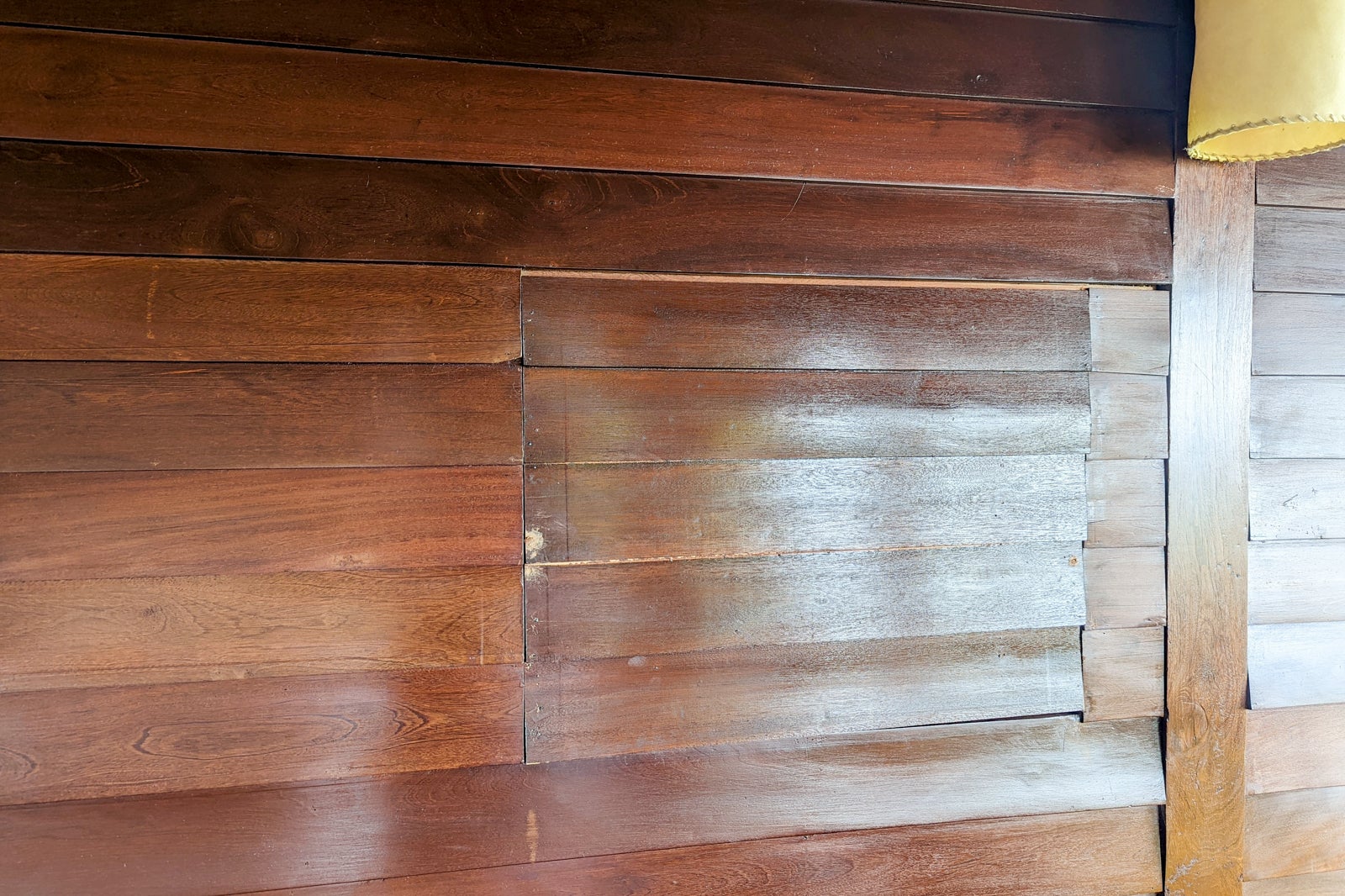 Two sets of doors separate the bedroom from the bathroom: one is woven and designed to block out light and provide privacy, while the other keeps the air conditioning in the bedroom.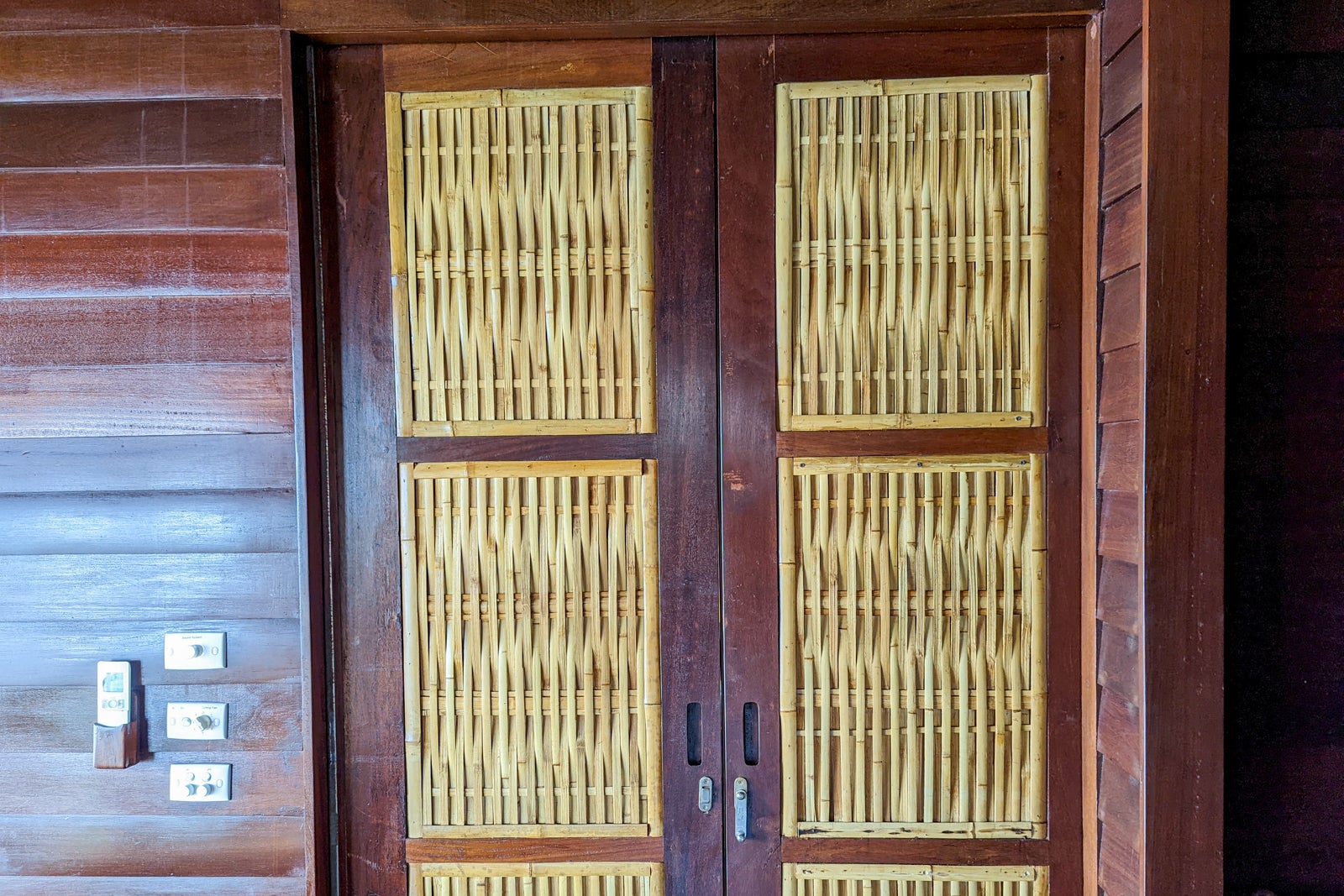 You'll see two sinks on a long counter when you walk into the bathroom. There's a light-up magnifying mirror and Six Senses-branded liquid soap, lemongrass bar soap and body lotion on the counter.
Under the counter is a tray with a 1,800-watt Panasonic hair dryer and a tray of Six Senses-branded amenities. Above the sinks are two hanging mirrors.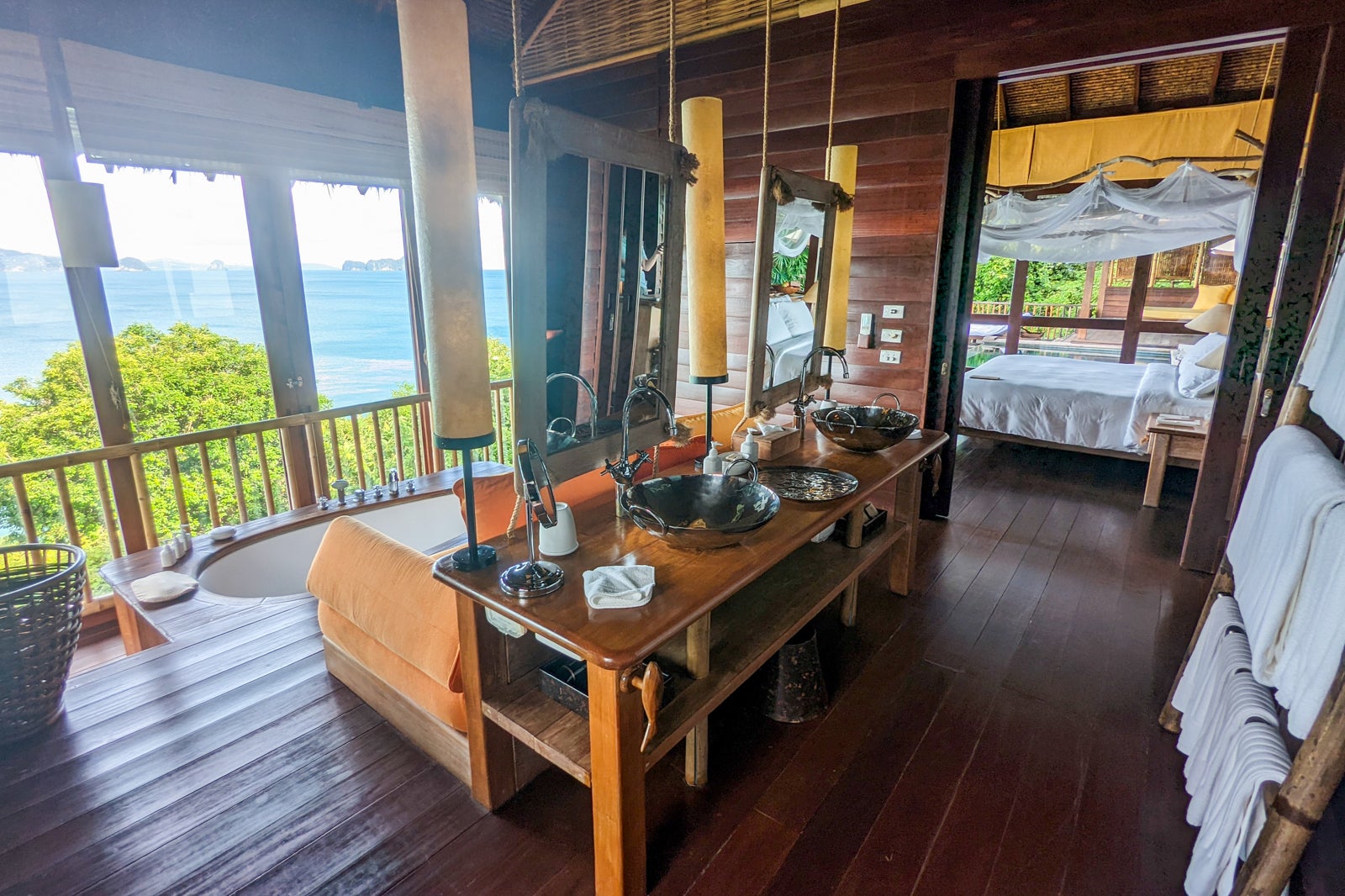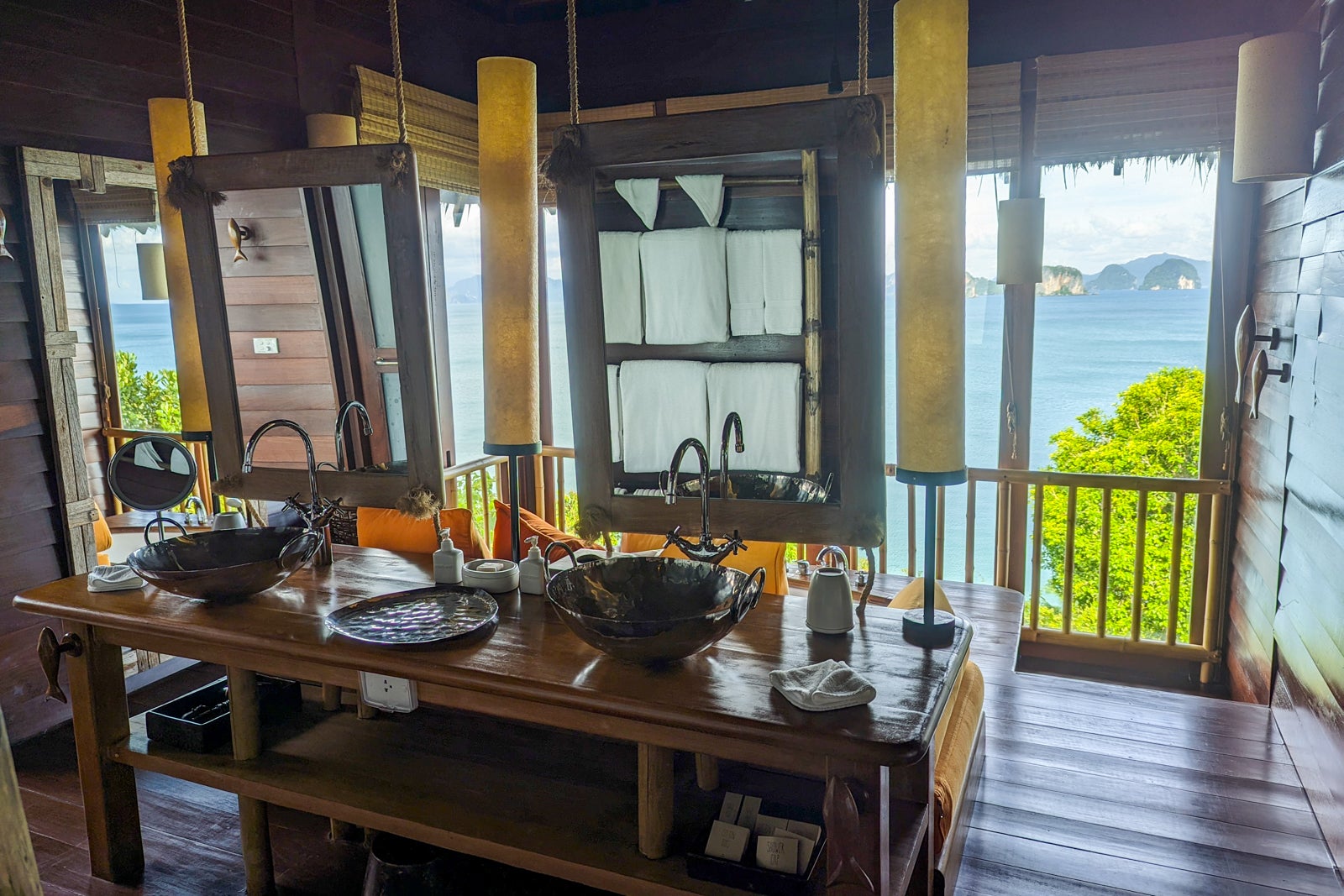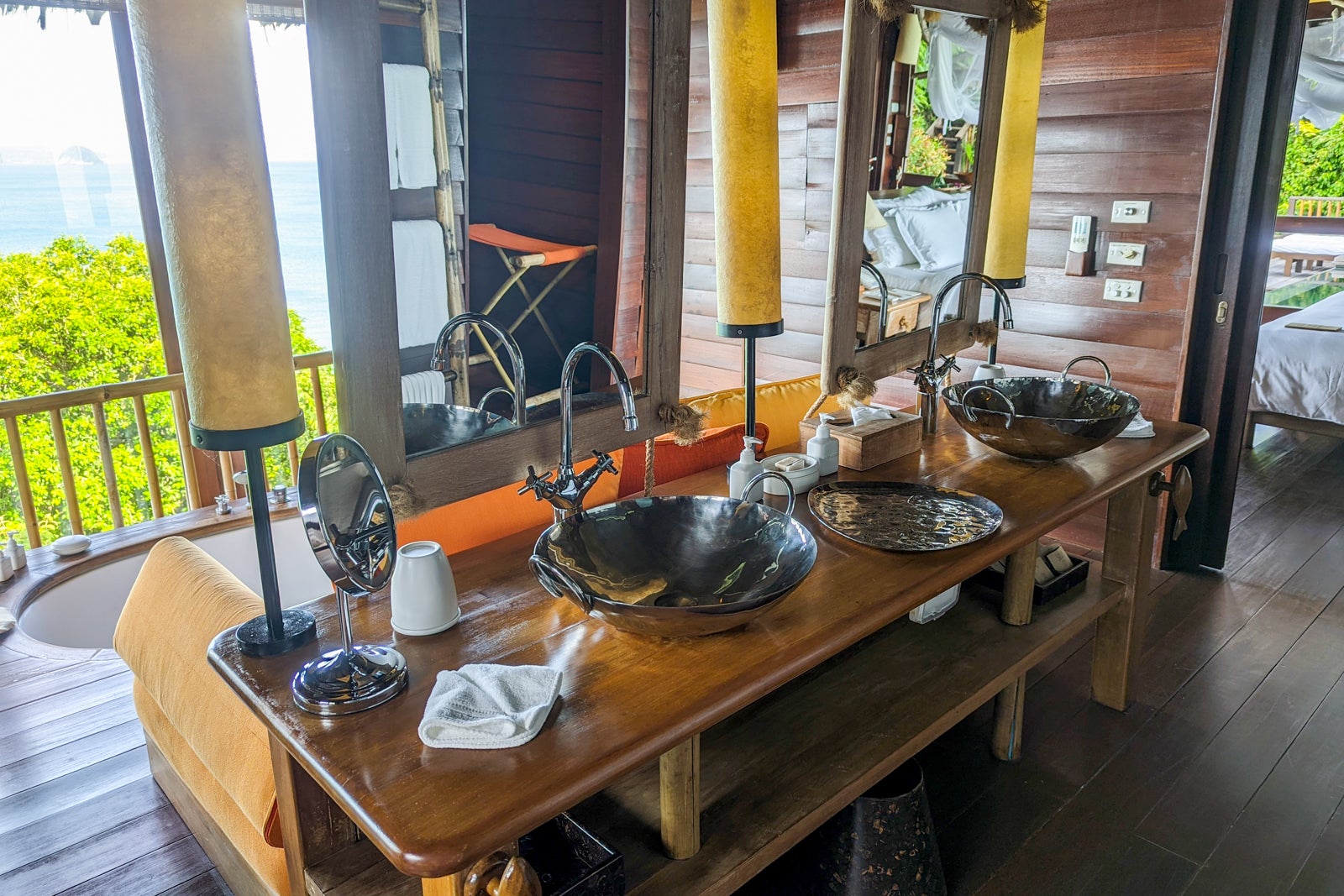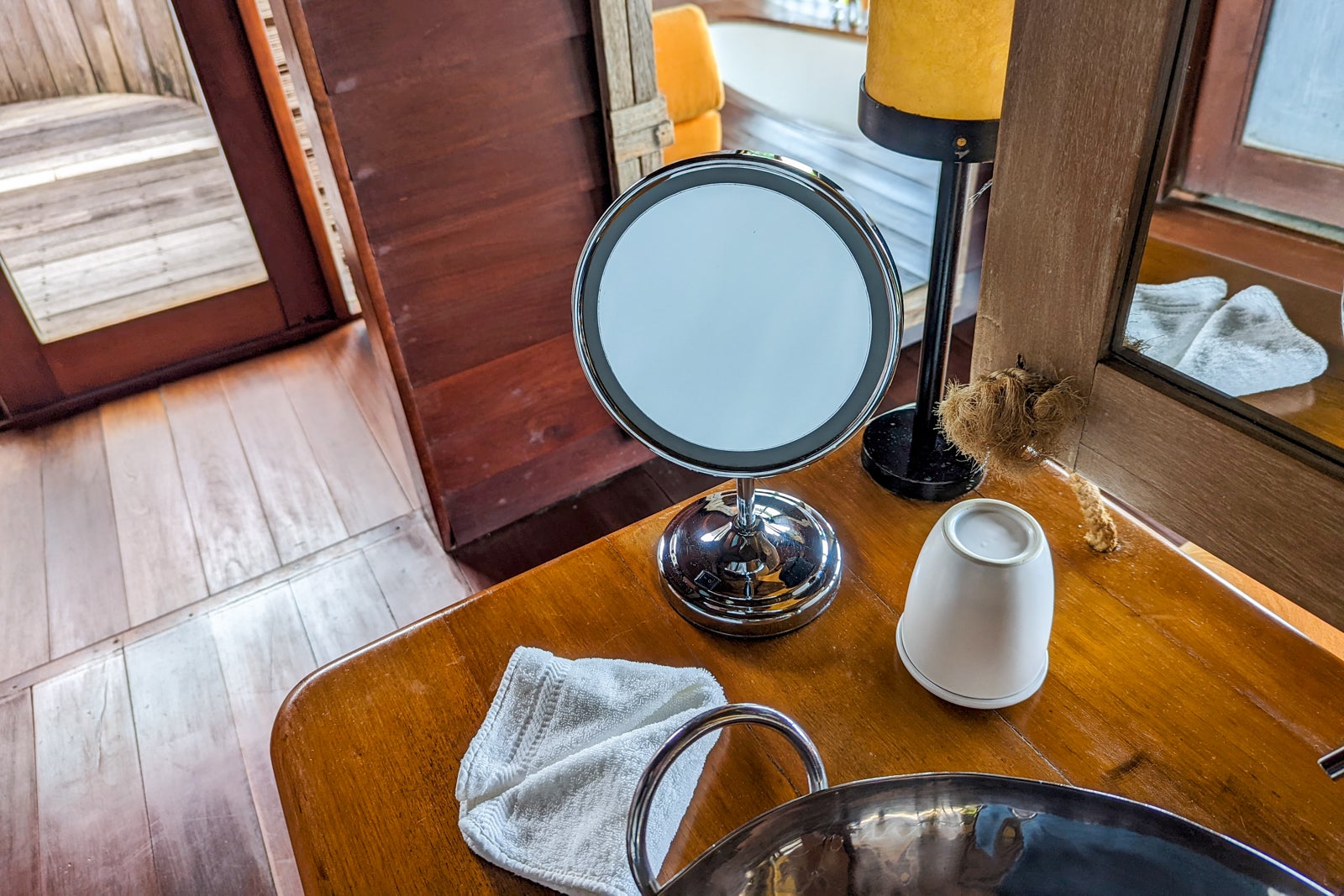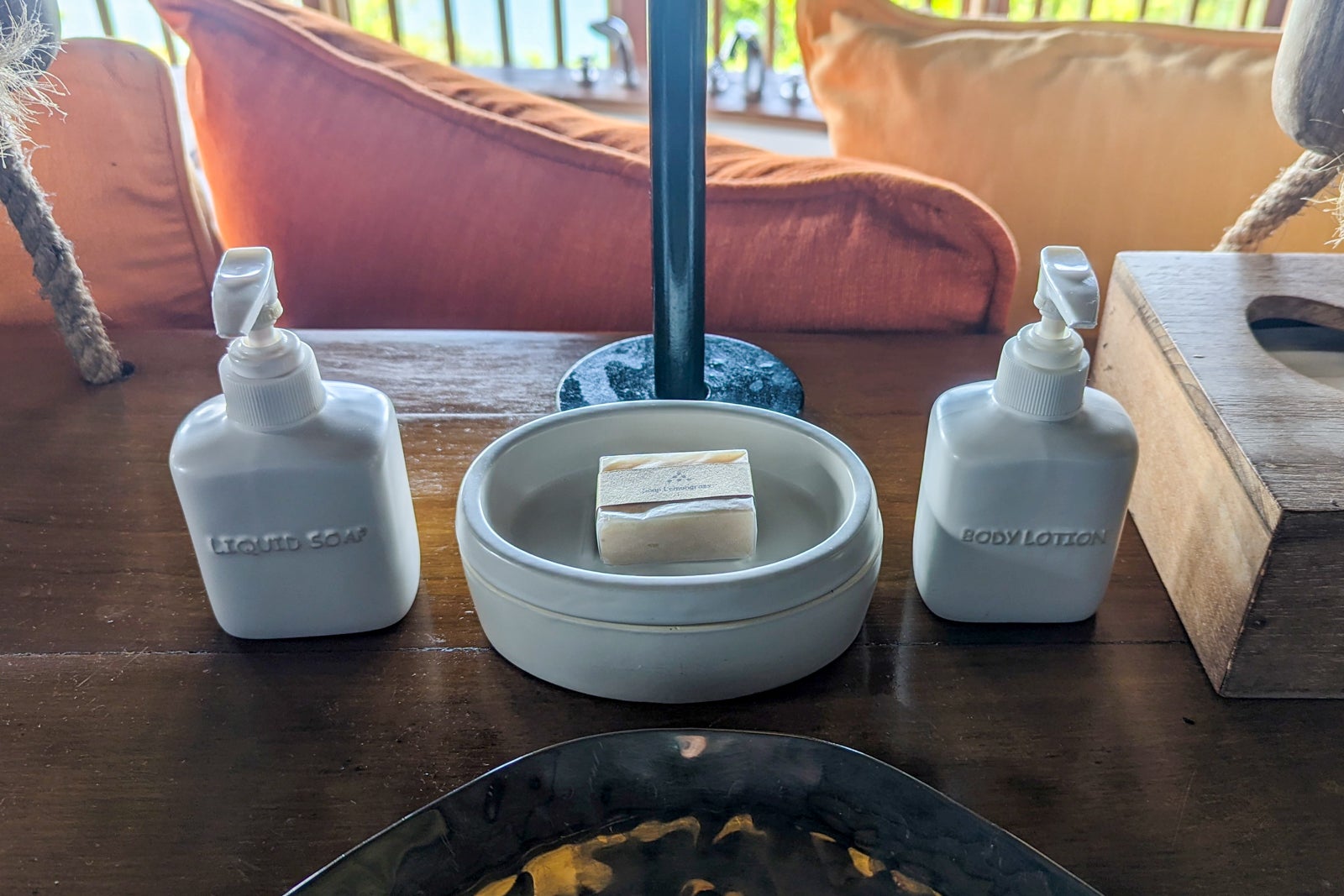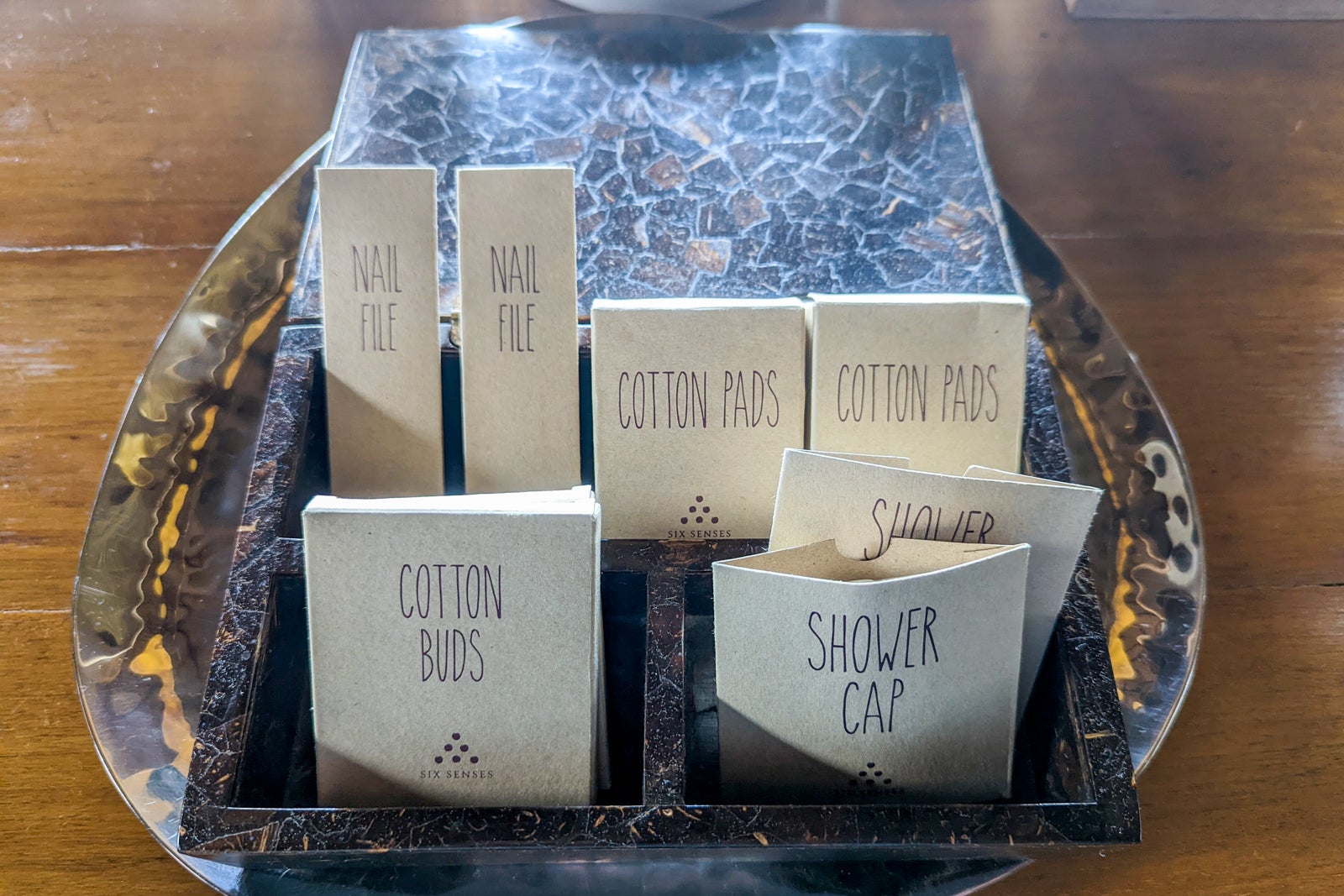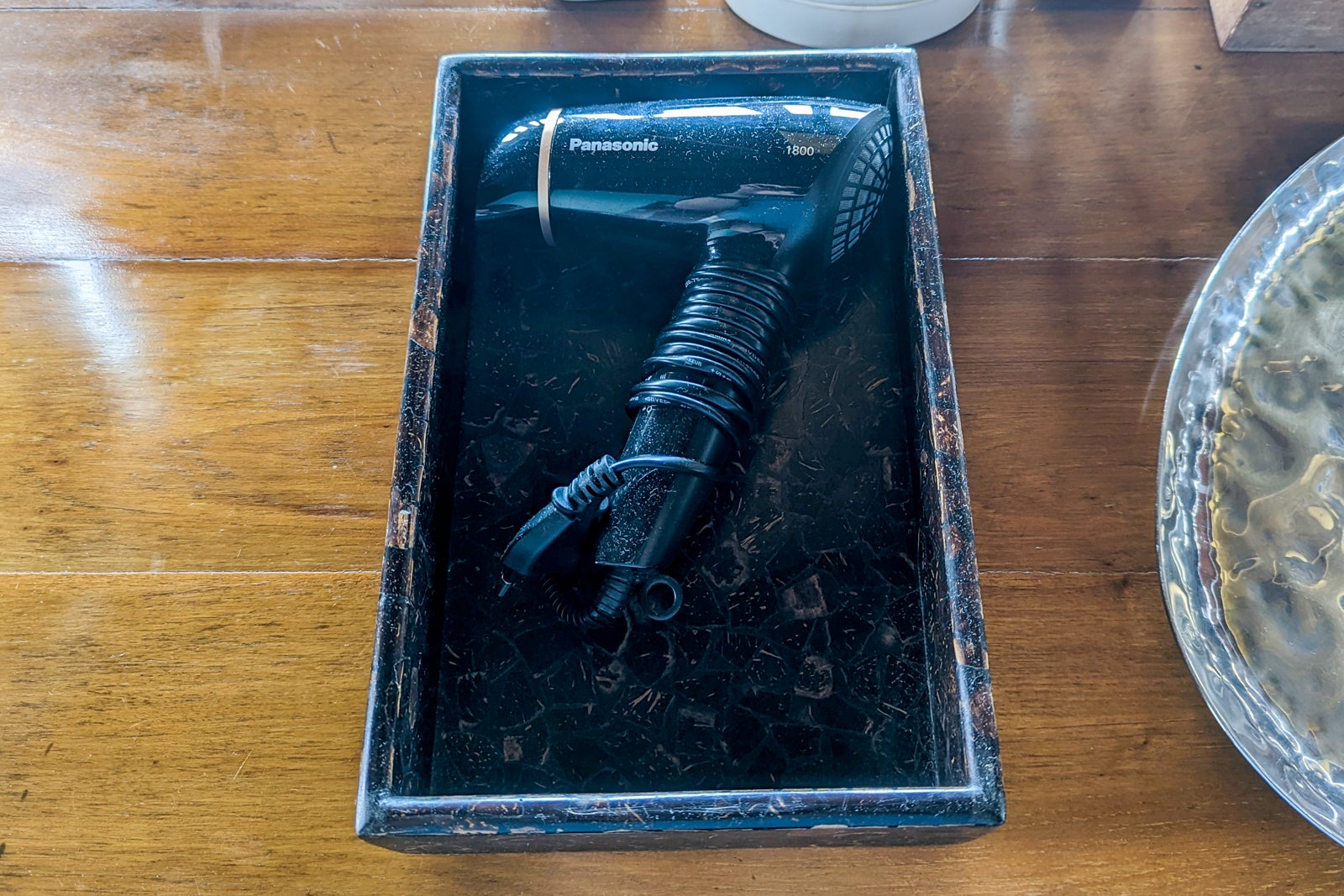 Behind the sinks is a large wooden rack with towels. On one side of the rack is a large walk-in closet with plenty of storage, ample hangers, two robes, a safe, two yoga mats, a dirty clothes basket, six drawers, an emergency flashlight and Six Senses-branded after-sun shampoo and conditioner, insect repellent and aloe vera.
Note that there isn't an iron and ironing board, but guests can get two items pressed for free upon arrival.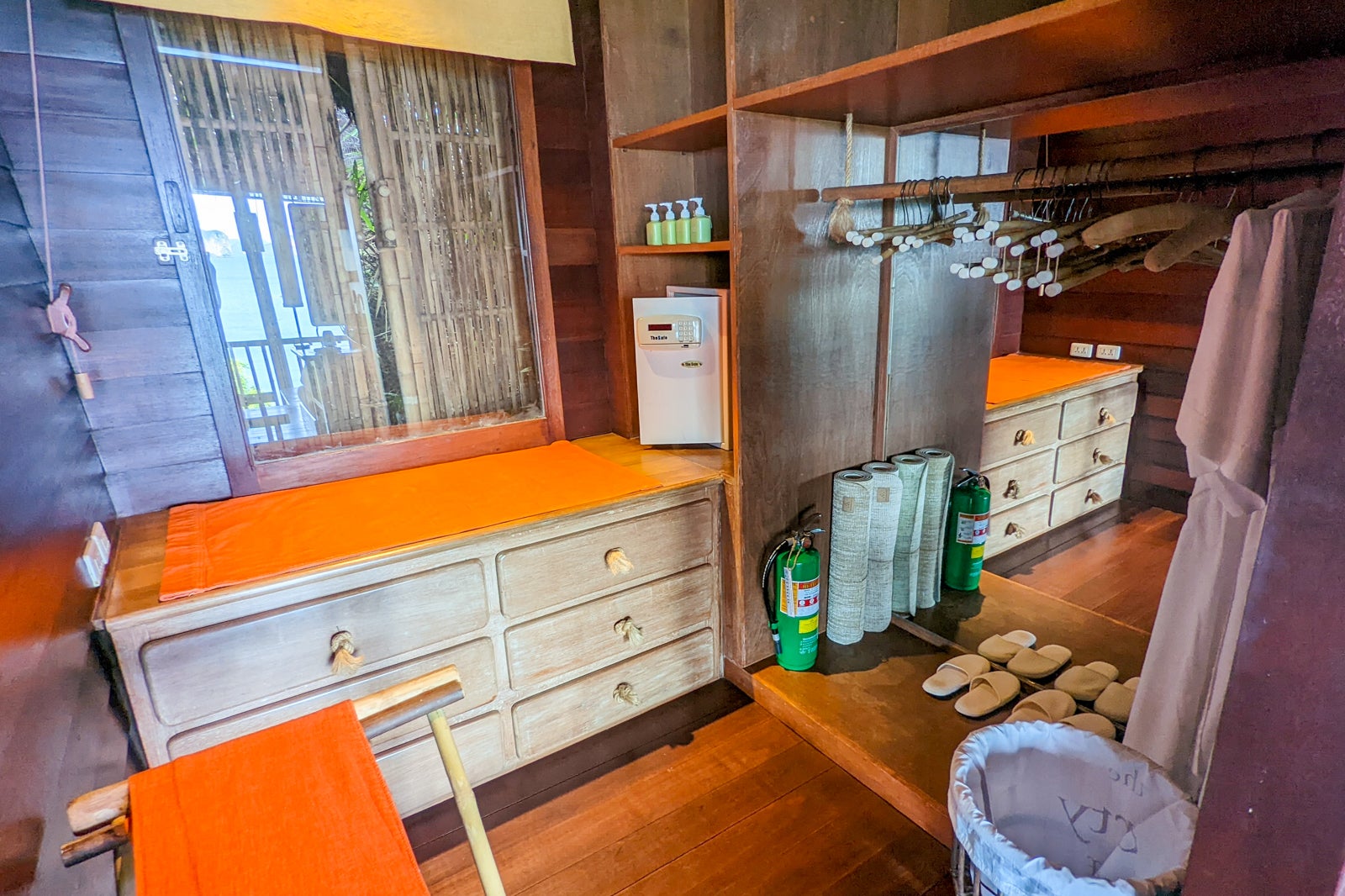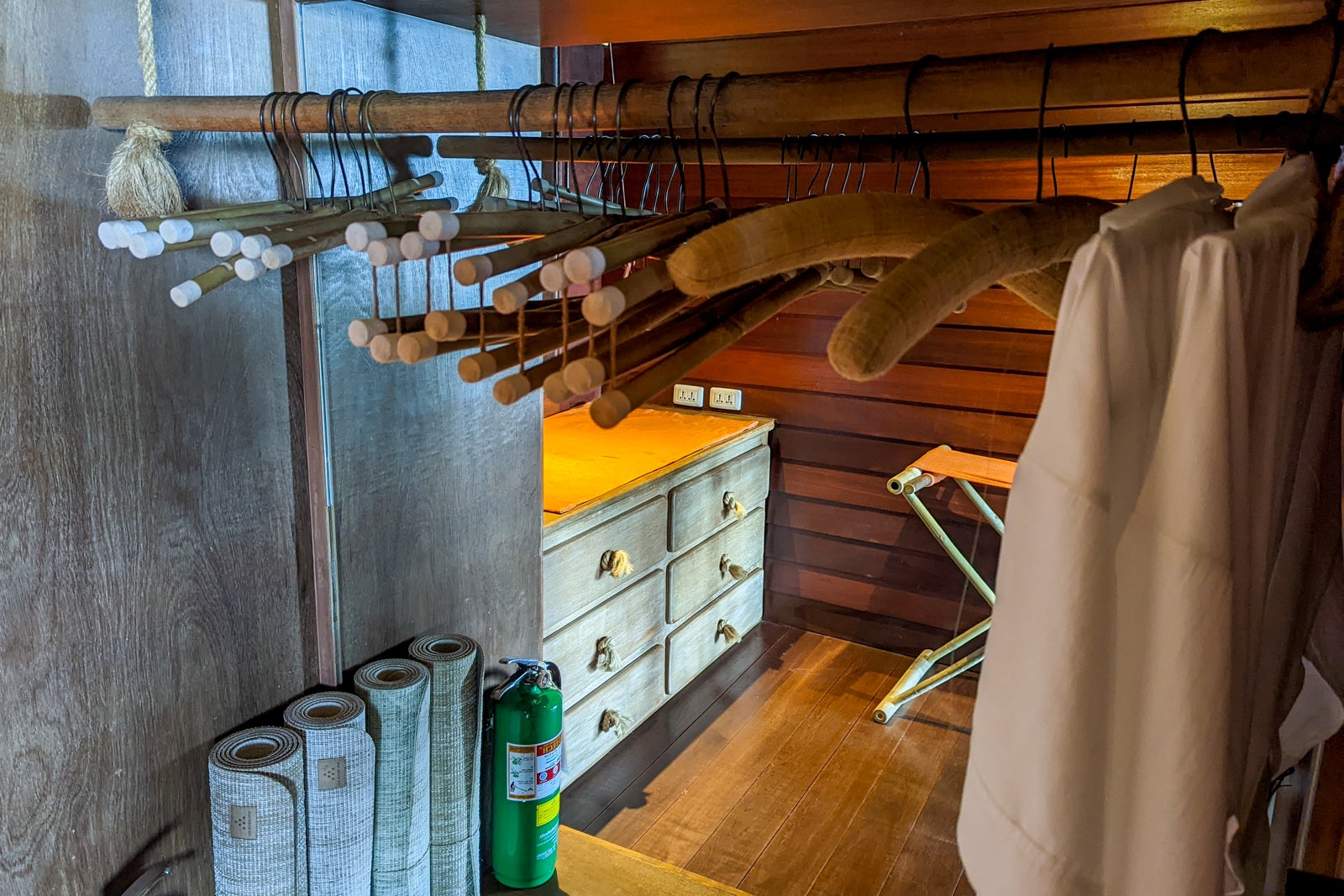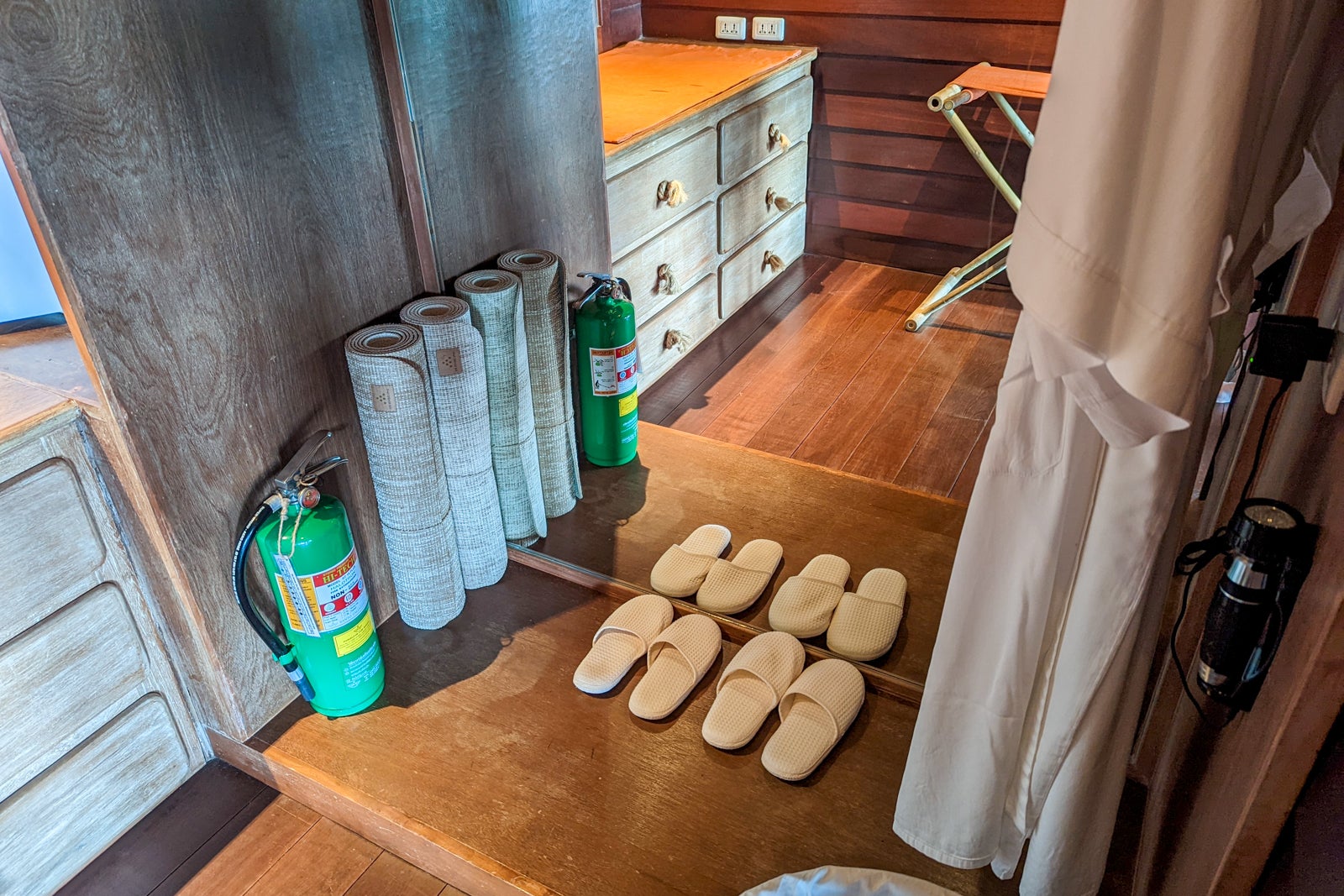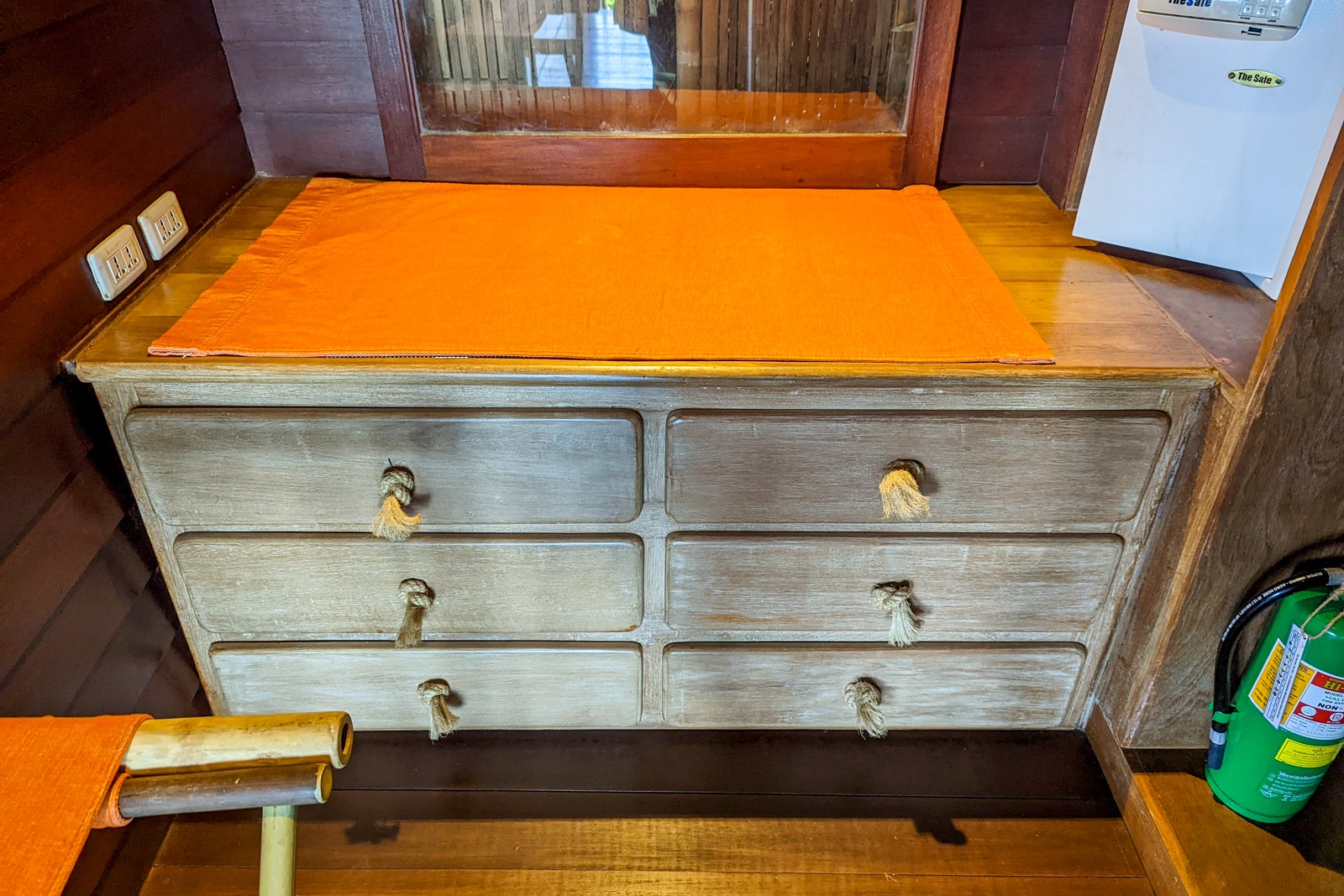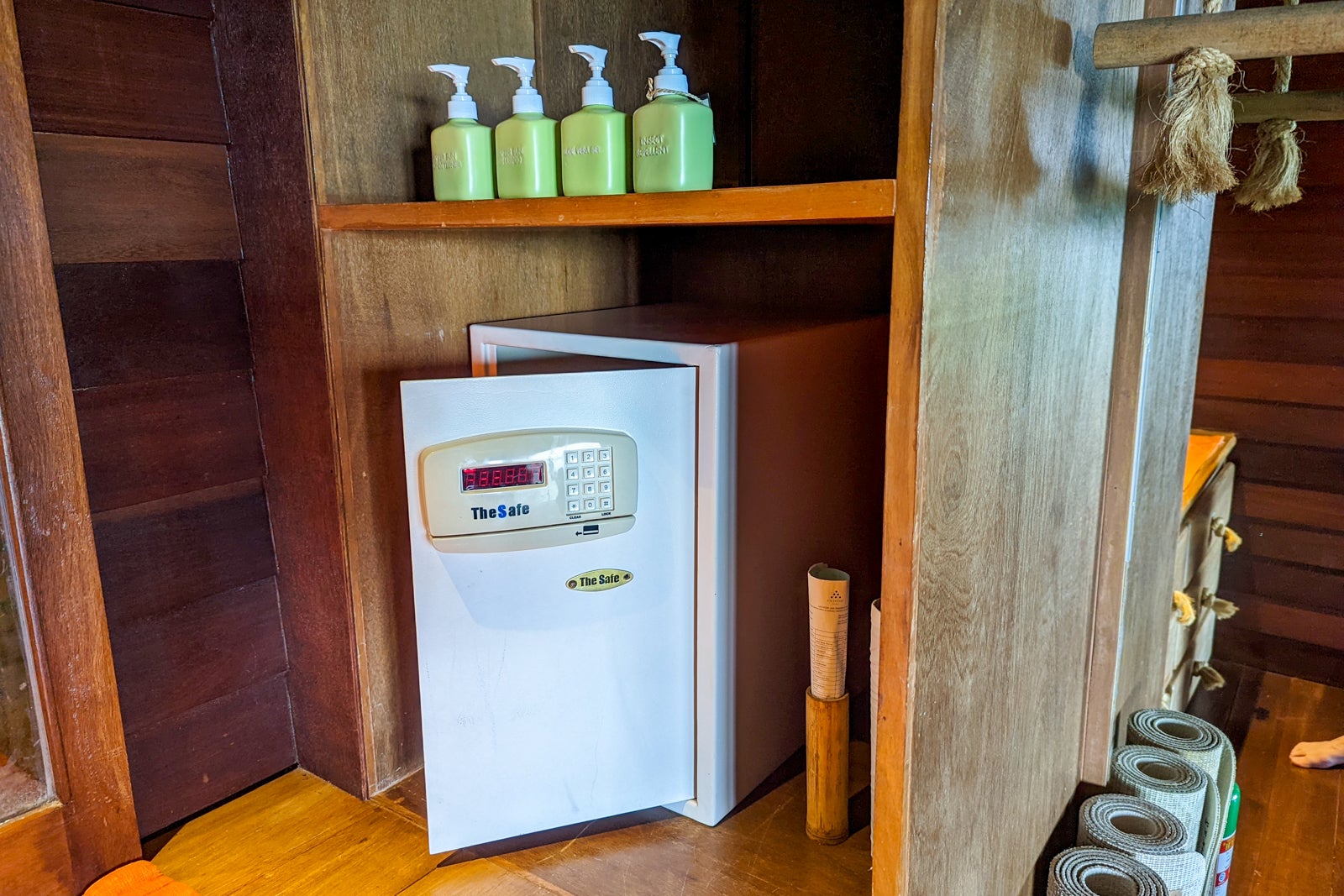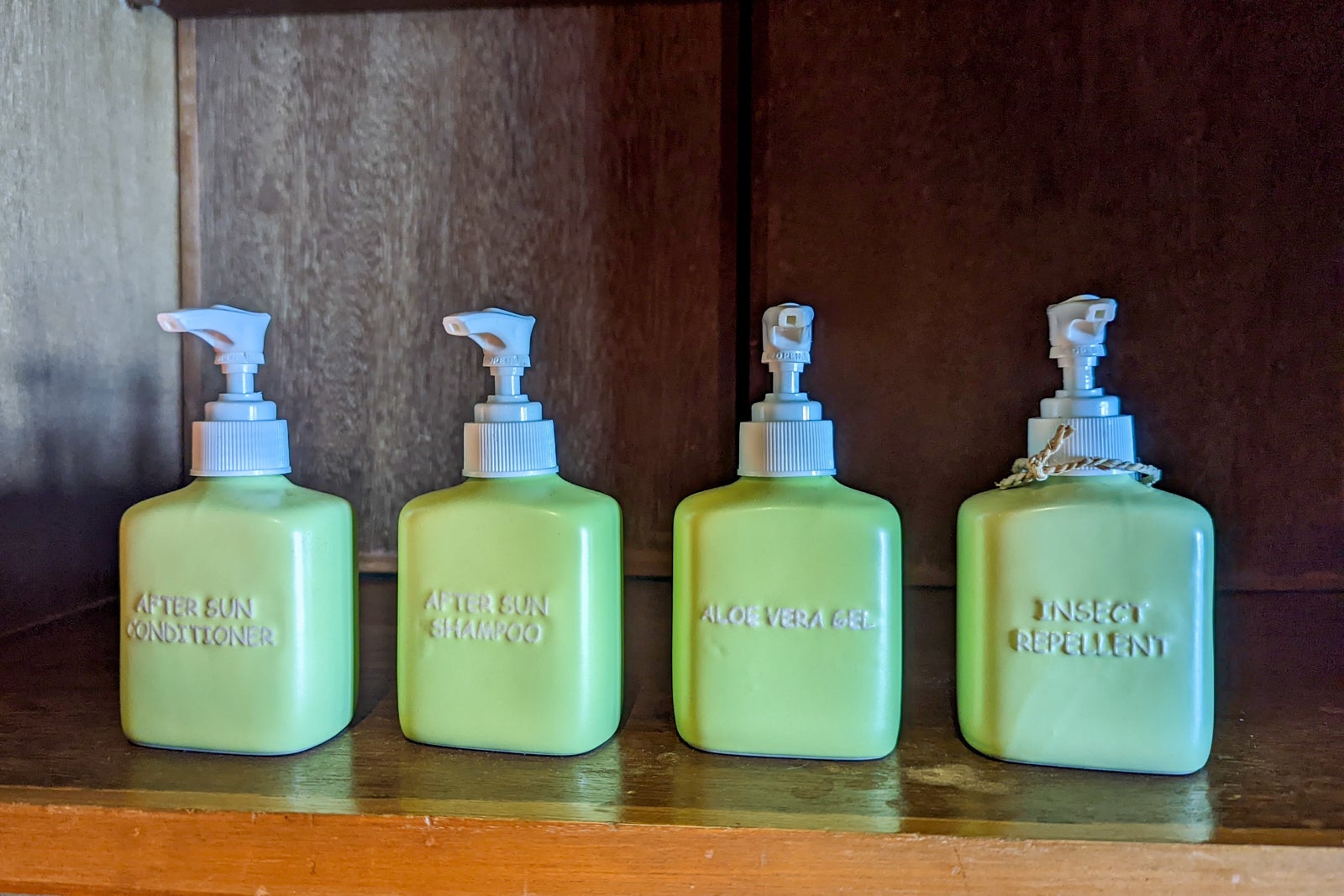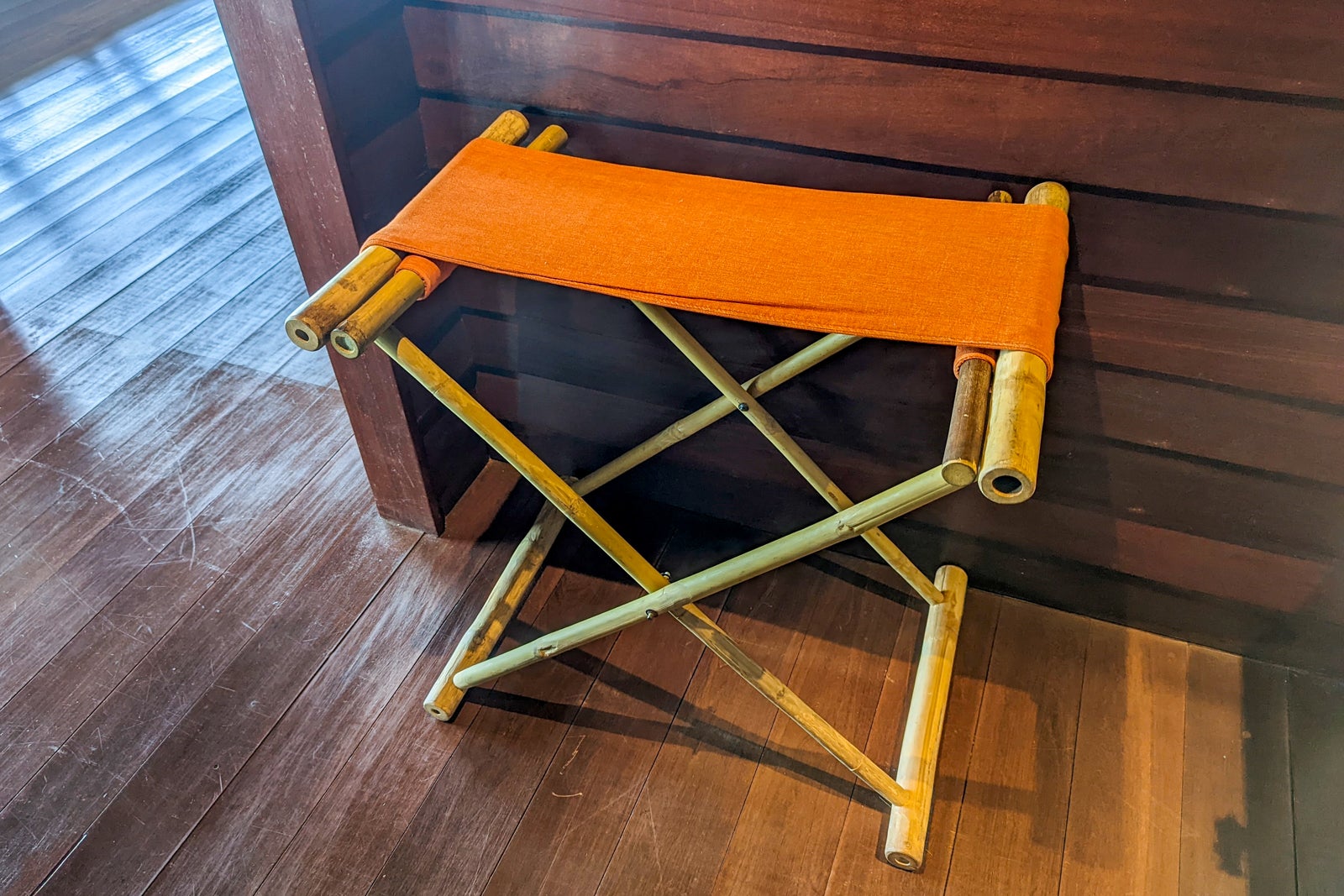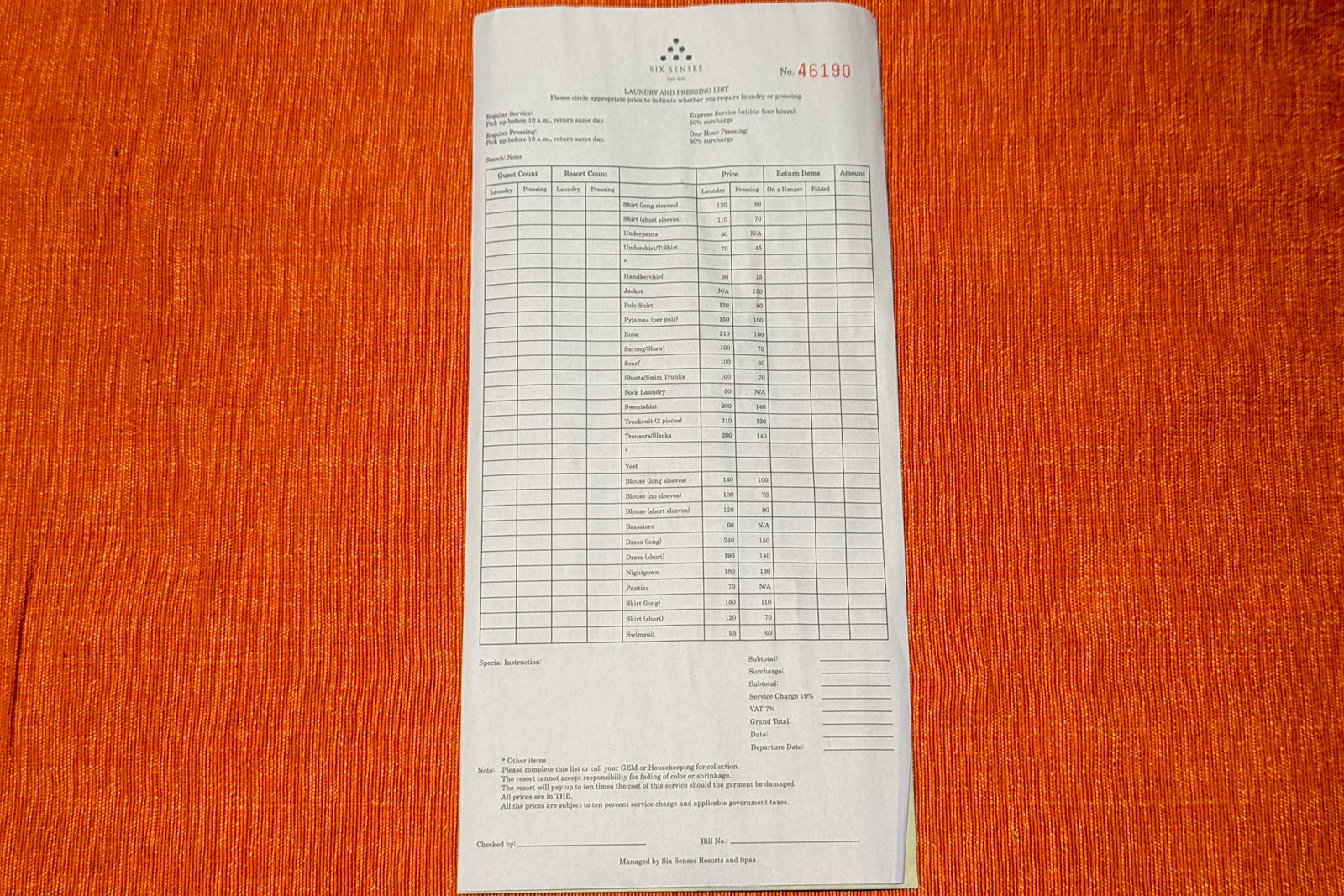 On the other side of the towel rack are two small rooms. The first contains the indoor shower, which feels cave-like until you close the door and turn on the light.
There's a long bench in the shower with Six Senses-branded shampoo, conditioner and shower gel. I loved the fresh lemongrass scent of all the Six Senses toiletries (although you can also request other scents).
The indoor shower offers an overhead shower head and a hand-held shower head with a wall mount.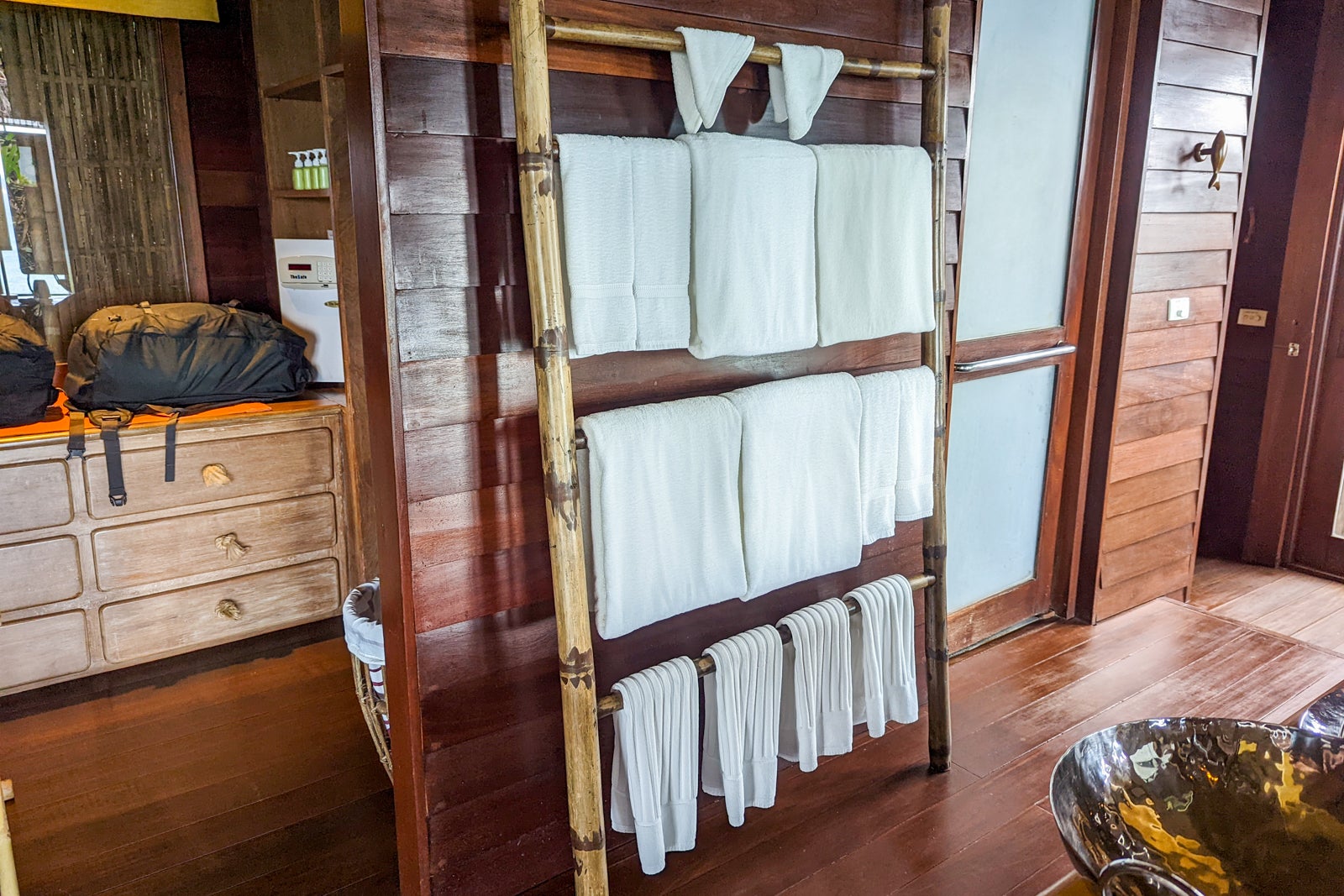 Next to the shower room is a small toilet room. I appreciated the small touch of peppermint scent when turning on the fan in this room. Across from the toilet room is a drying rack perfect for swimsuits and other wet clothing.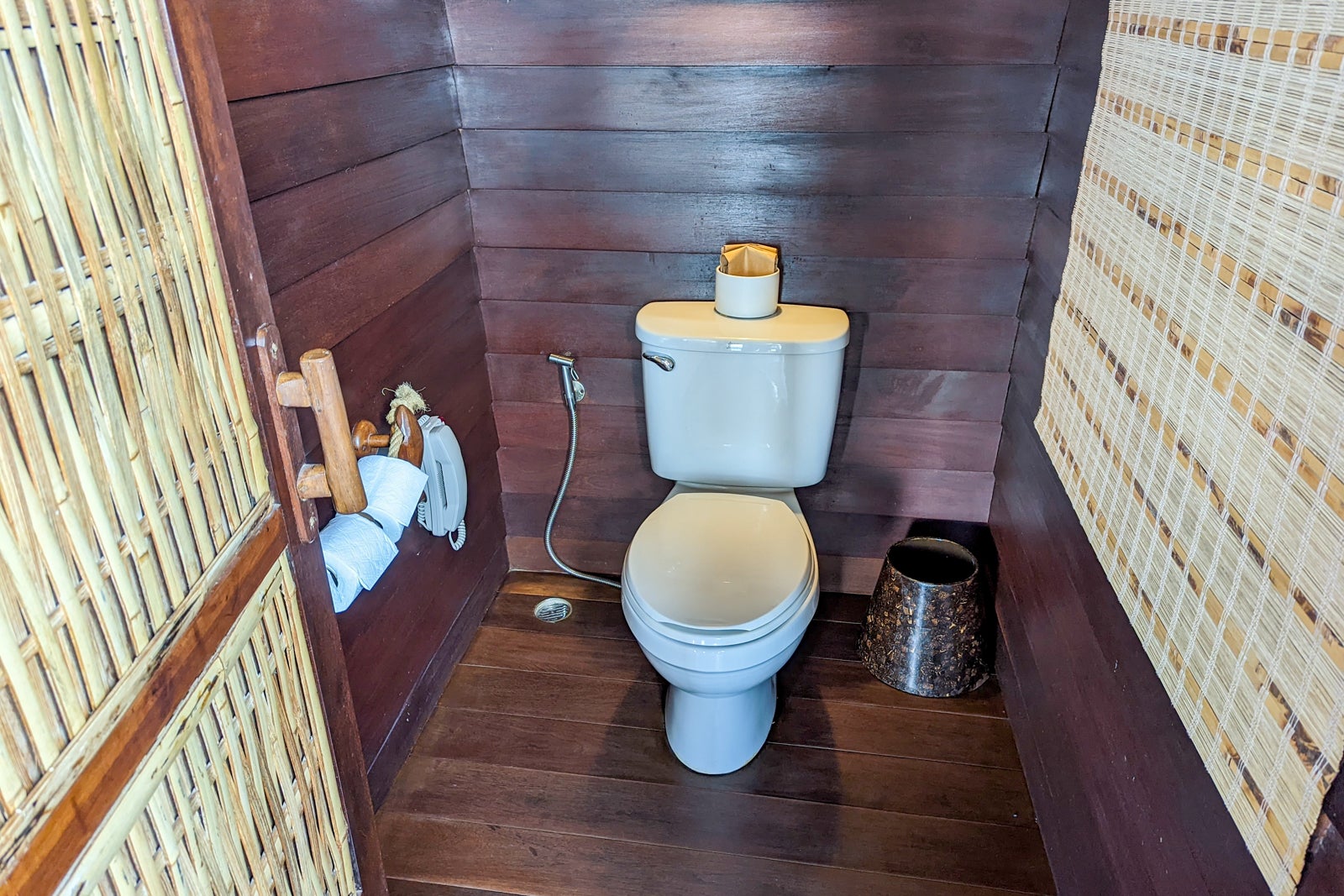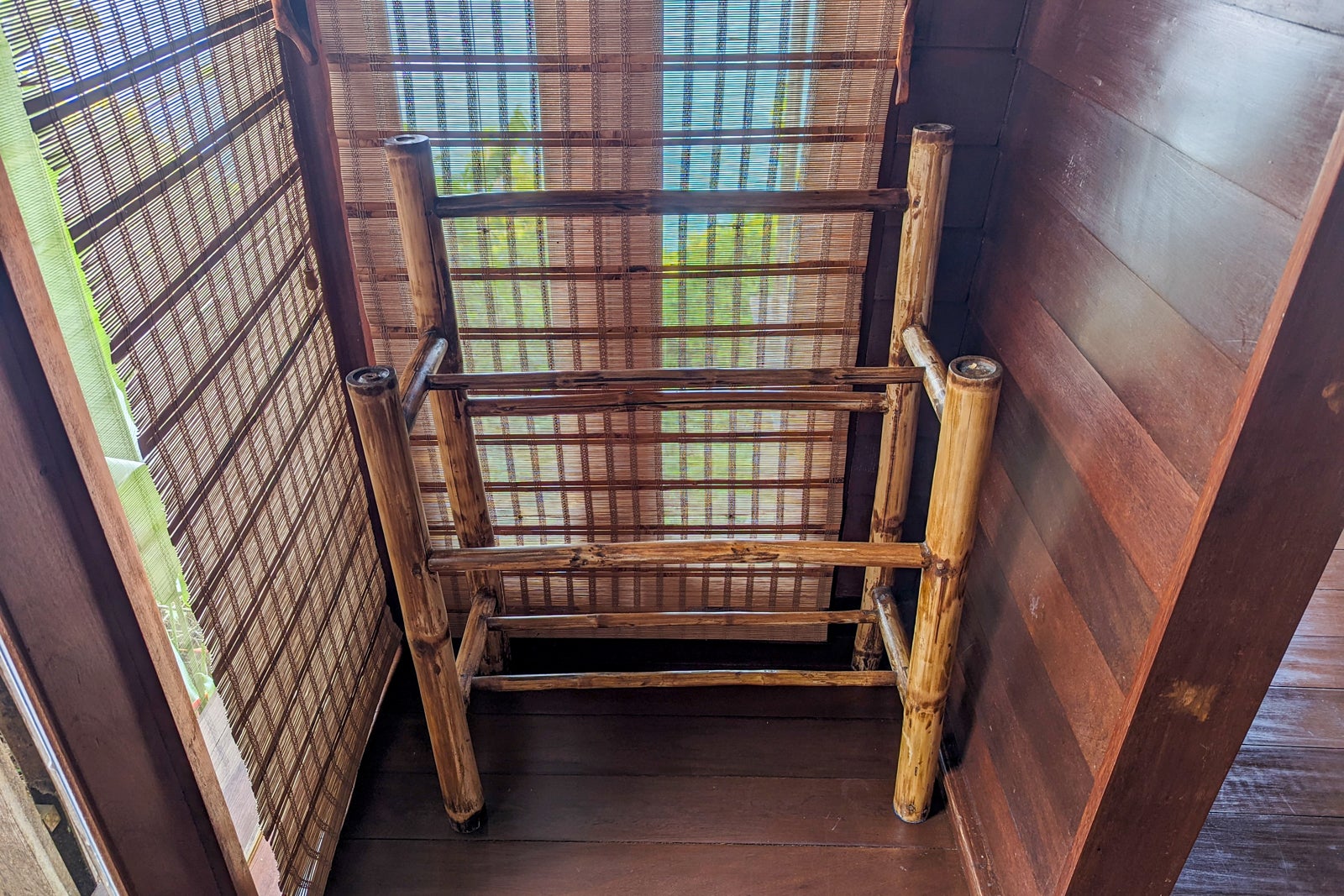 On the other side of the counter with the sinks is a large couch and deep tub. Especially considering our villa's beautiful panoramic ocean view, our bathtub offered excellent views. I also loved the small touch of a neck pillow, bath salts and organic body scrub next to the bathtub.
There's also more Six Senses-branded shower gel, shampoo and conditioner stocked by the tub. The one downside of the tub: it filled very slowly.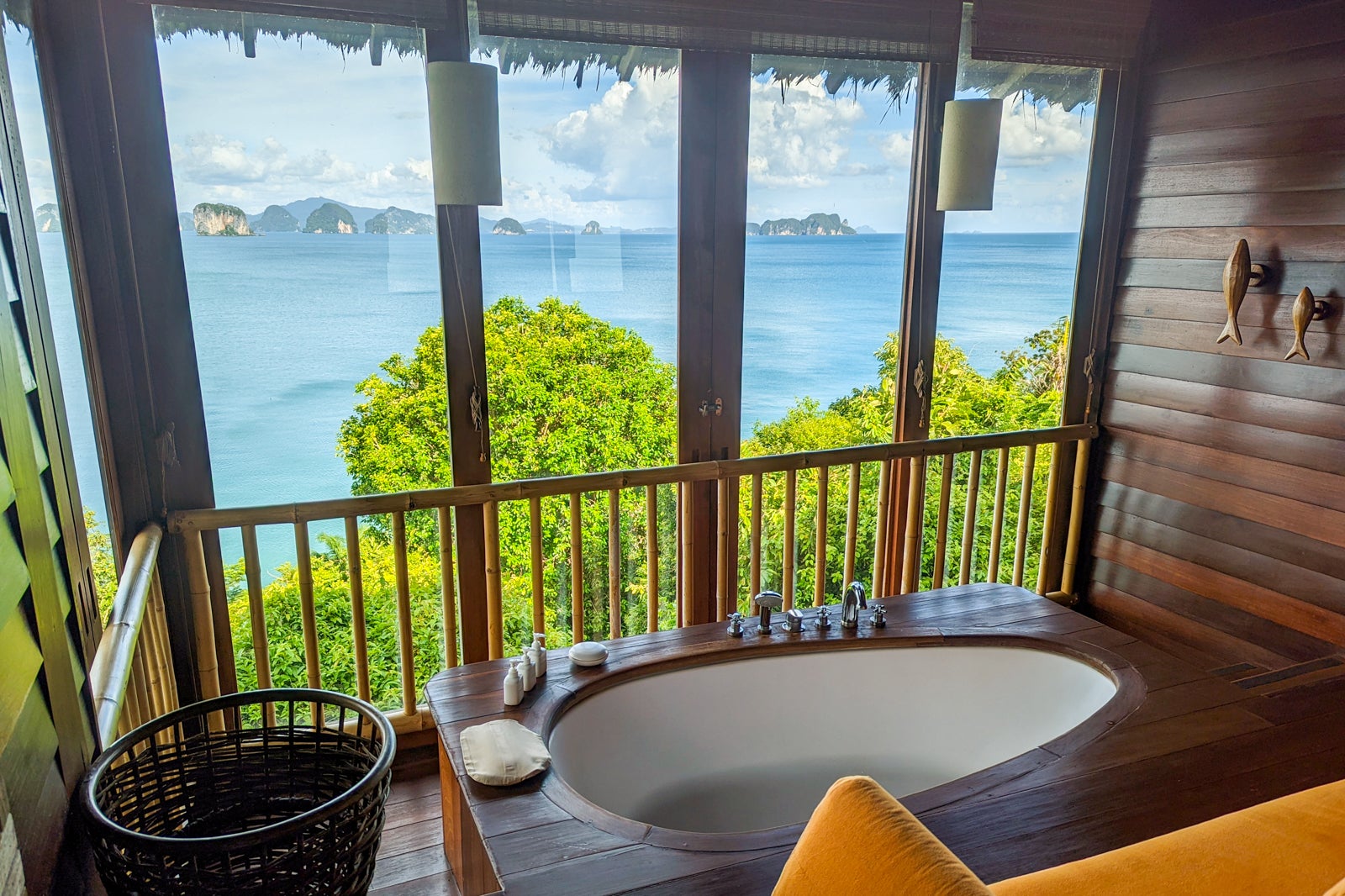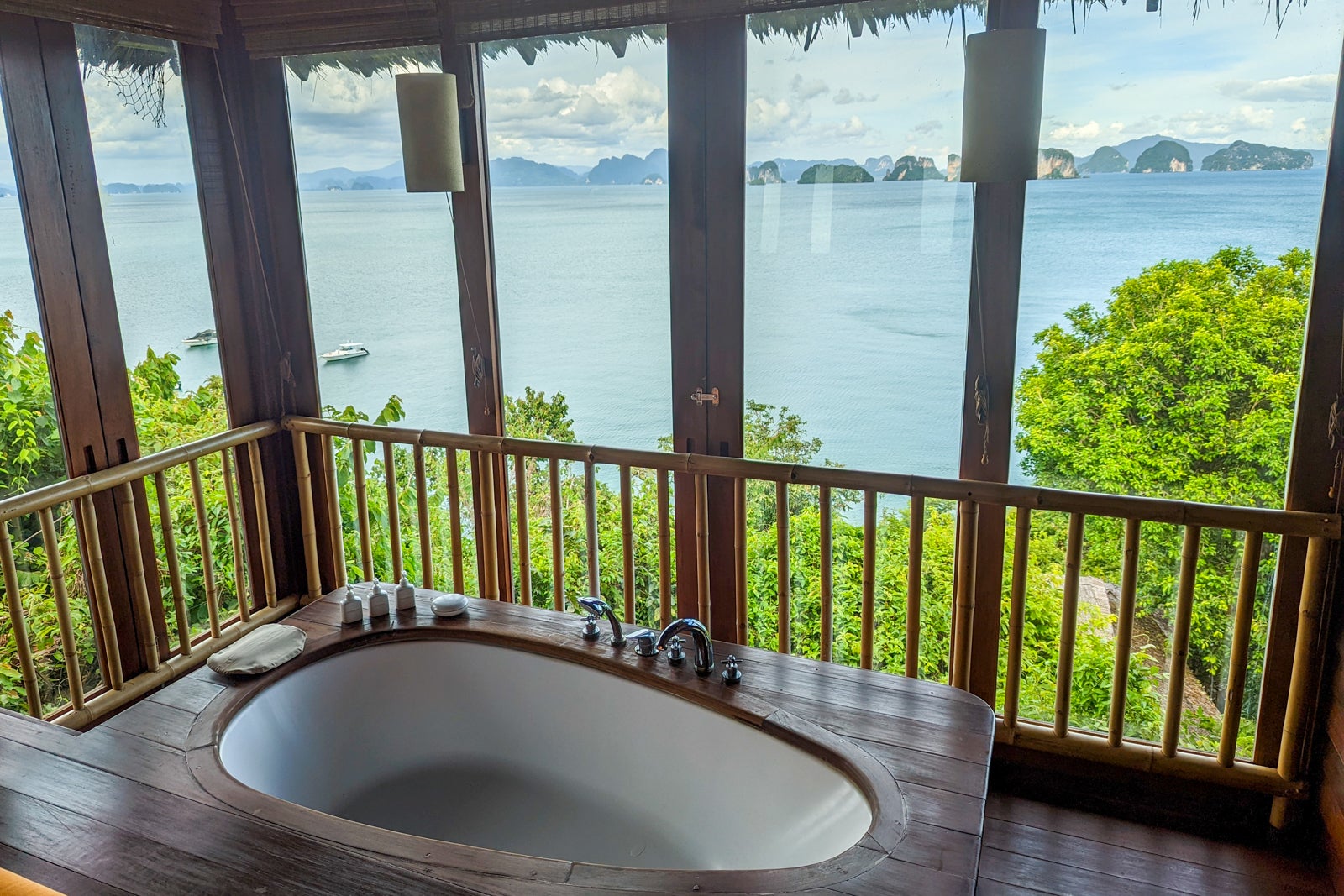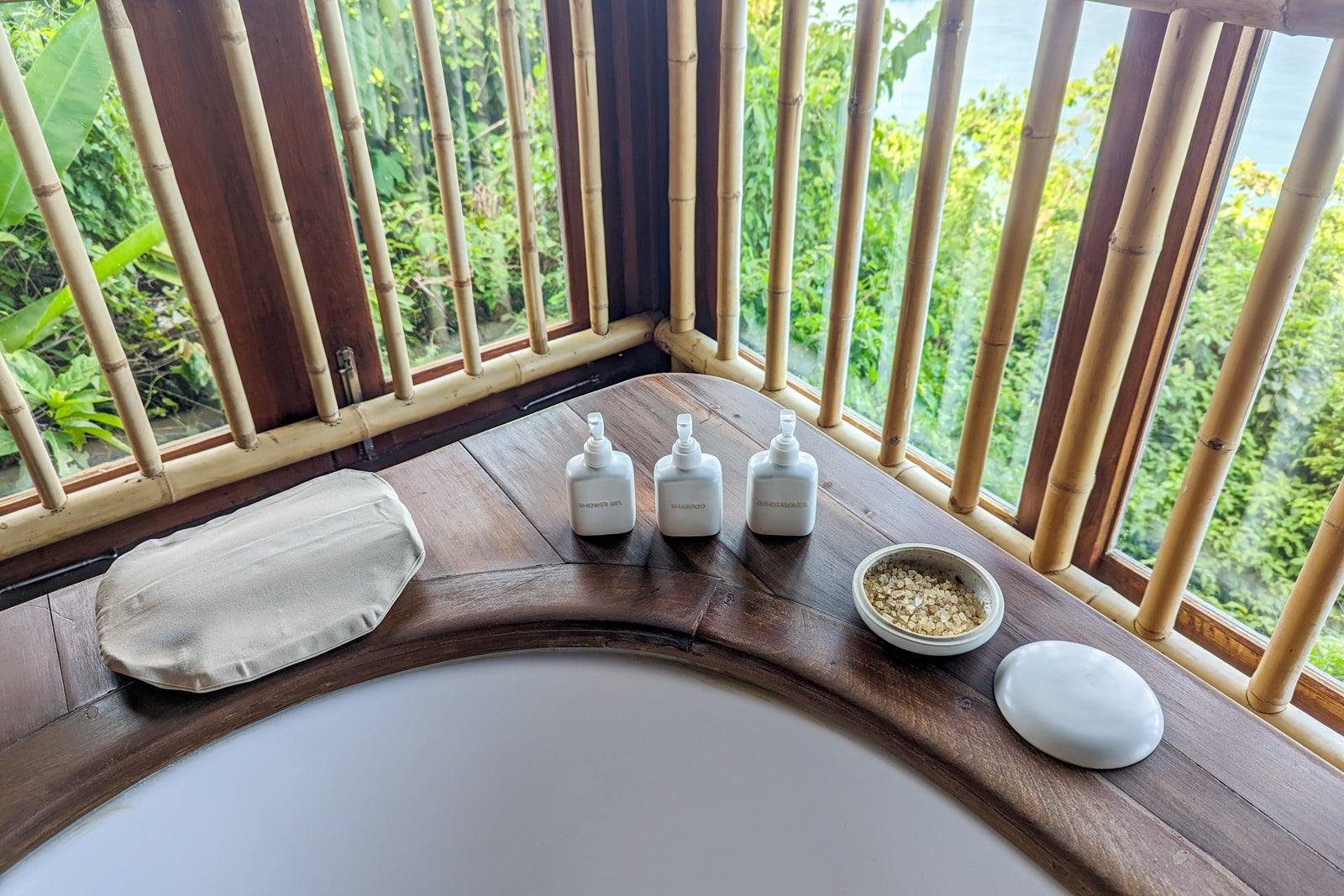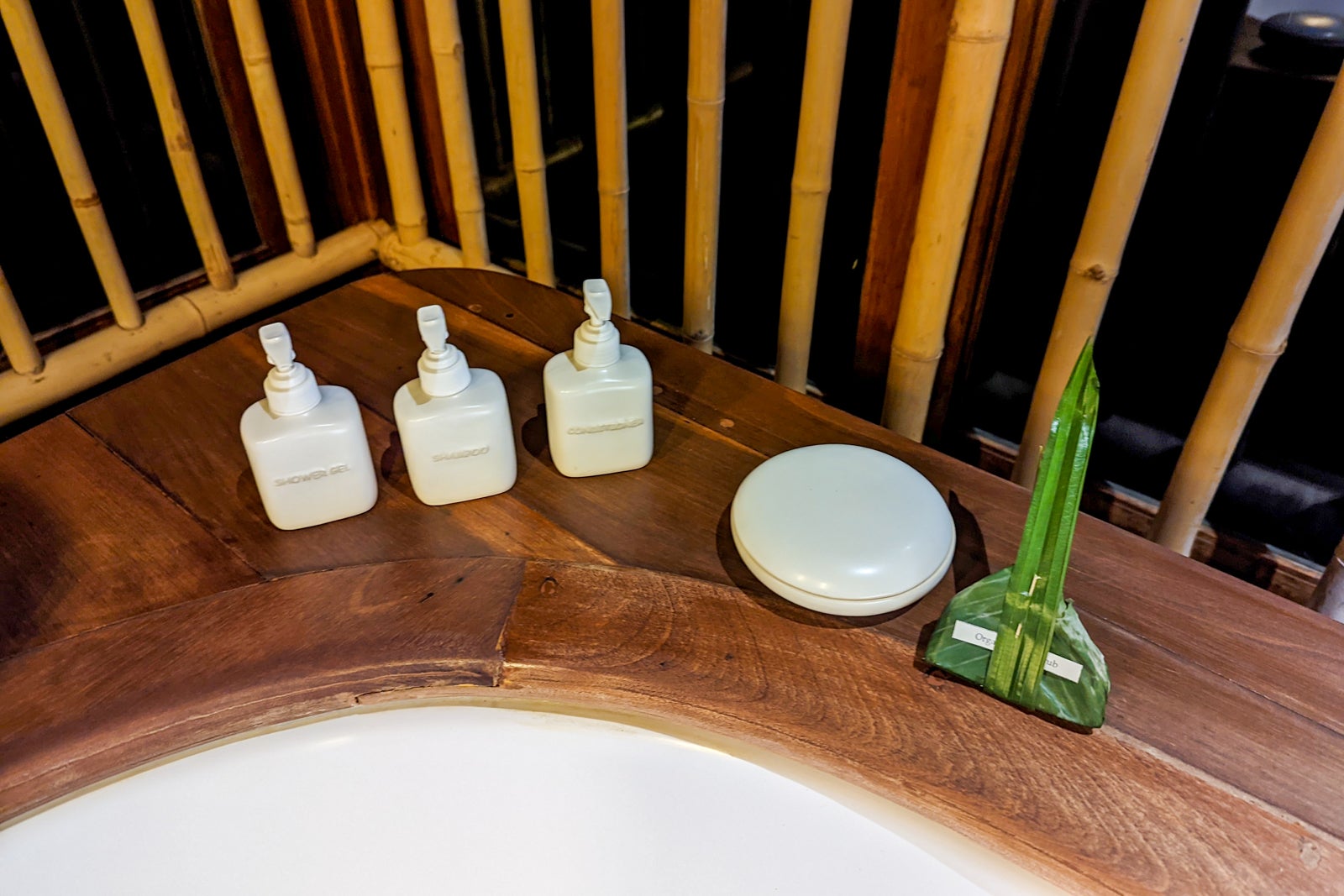 Finally, a sliding door next to the toilet room leads to an outdoor shower. This door was swollen from humidity, so it wasn't easy to open. There are two outdoor showers, but I preferred the one on the right with the larger shower head as the one on the left didn't provide a good water spray.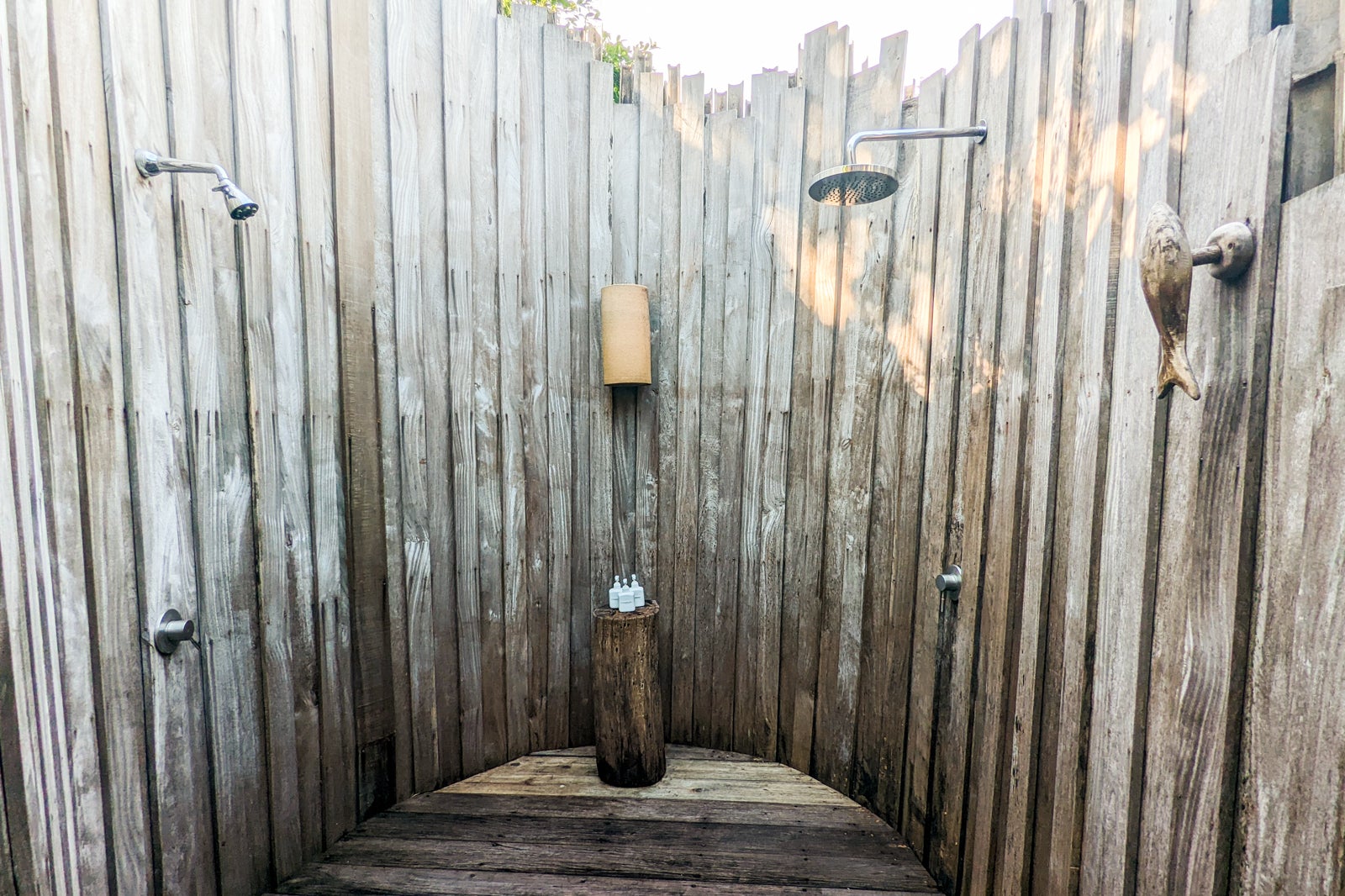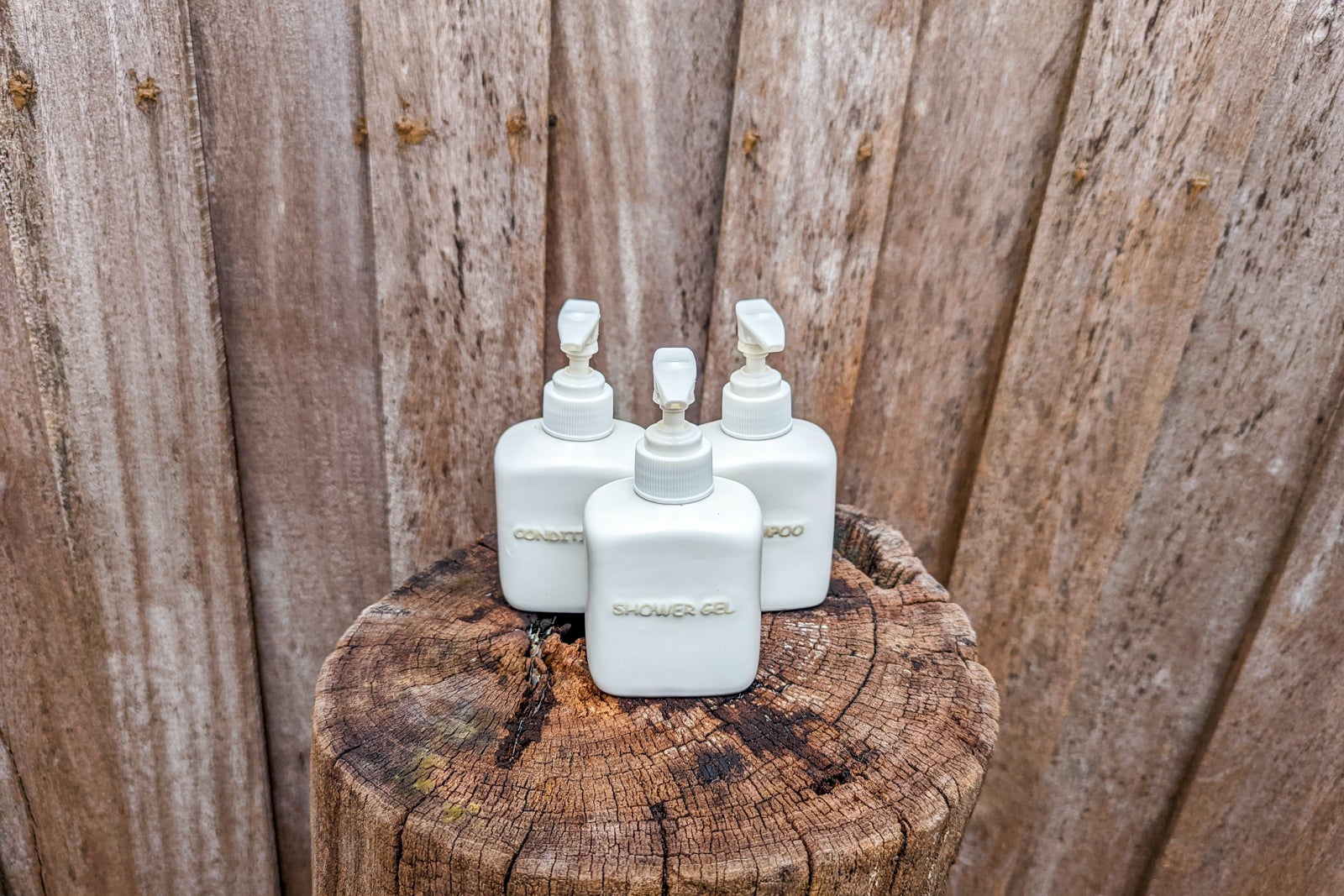 The bathroom has air conditioning, but you're encouraged to close the door and only use the bedroom air conditioning at night. As with the bedroom, there's a powerful fan above the bathtub area that you can set to various speeds.
I appreciated the ample fish-shaped hooks throughout the bathroom, which were useful for hanging towels and clothing. There's also a basket for dirty towels next to the bathtub — housekeeping will leave towels you hang up but replace towels you put in the basket.
Note that Six Senses Yao Noi uses physical keys, so you'll only get one for your villa. You can lock the entrance gate by the path as well as the door to the indoor section of your villa.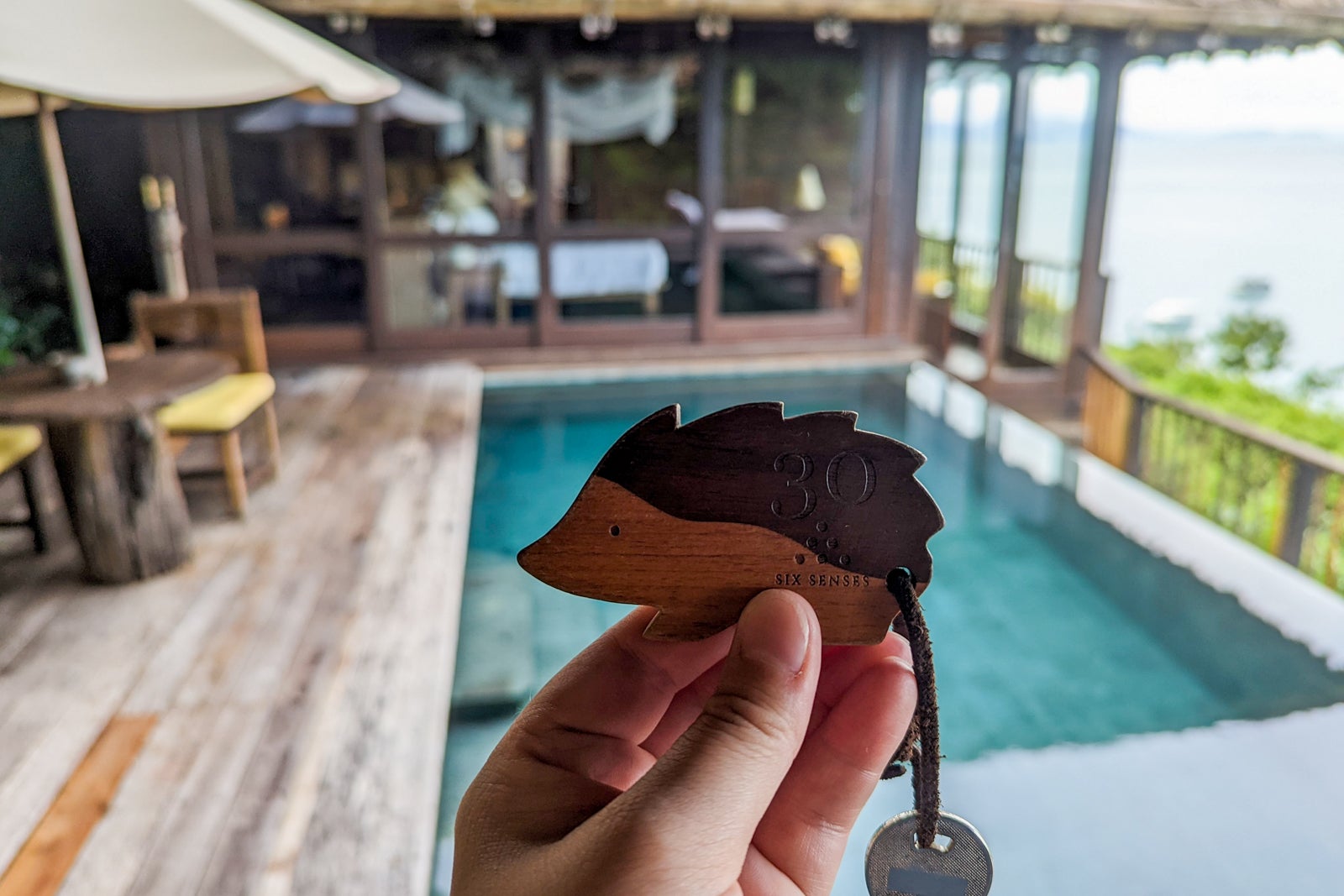 You can indicate a do-not-disturb preference by switching the fish eye outside your villa gate from open to closed. Even when the fish eye is open, staff members will ring the doorbell and call out before entering your villa.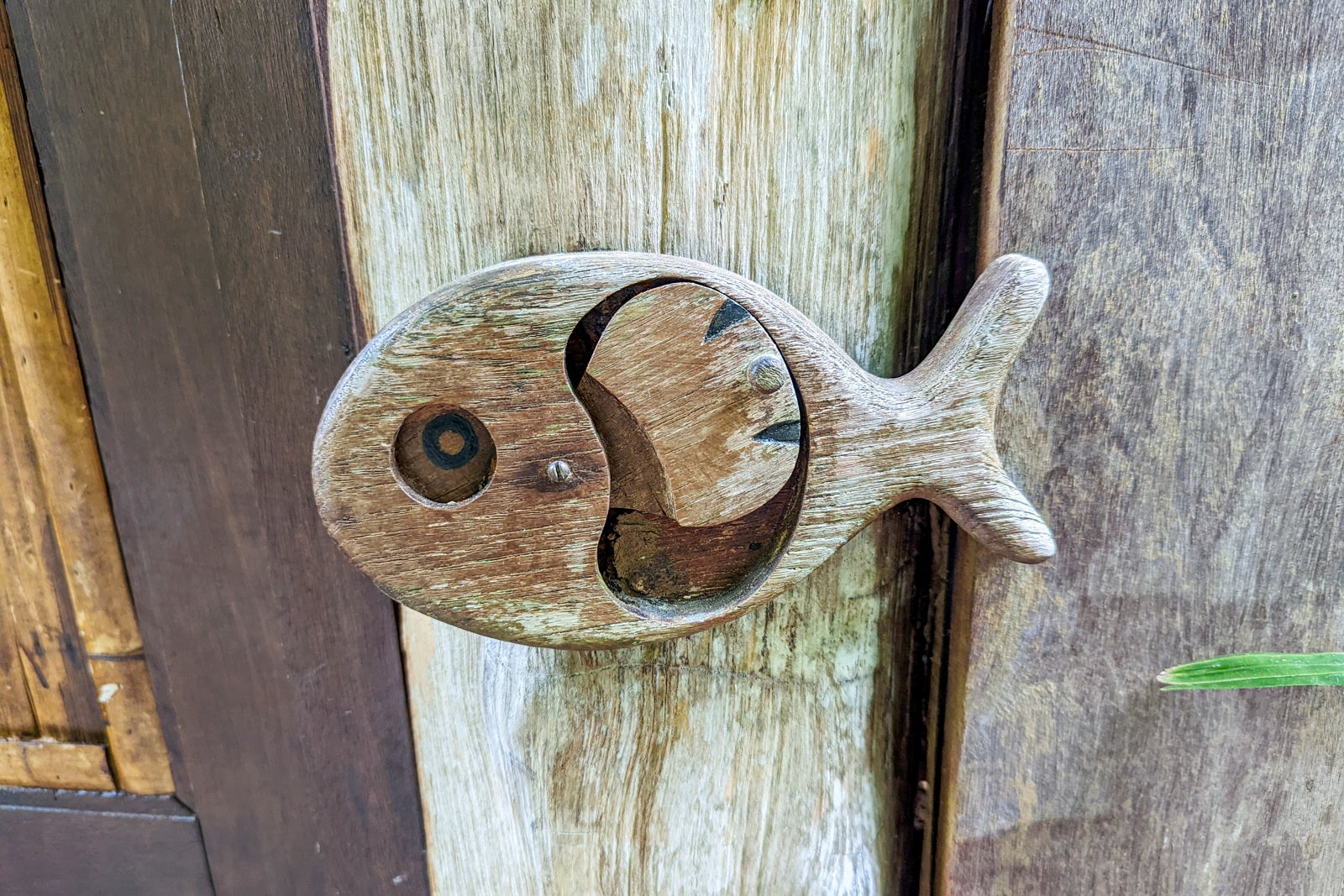 Note about accessibility
Guests with limited mobility likely won't find Six Senses Yao Noi a good fit. There are plenty of steps around the resort, including some that are steep or uneven.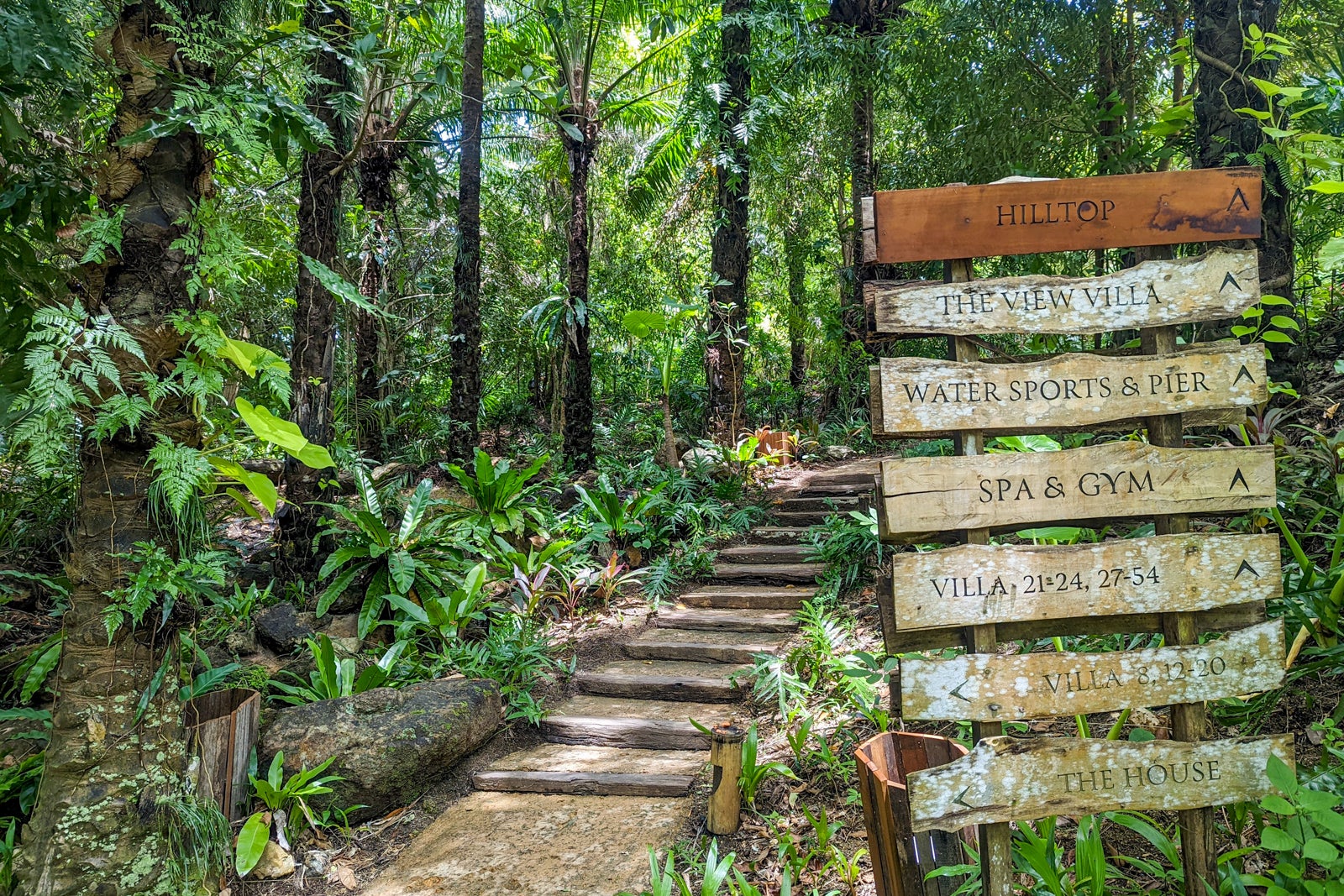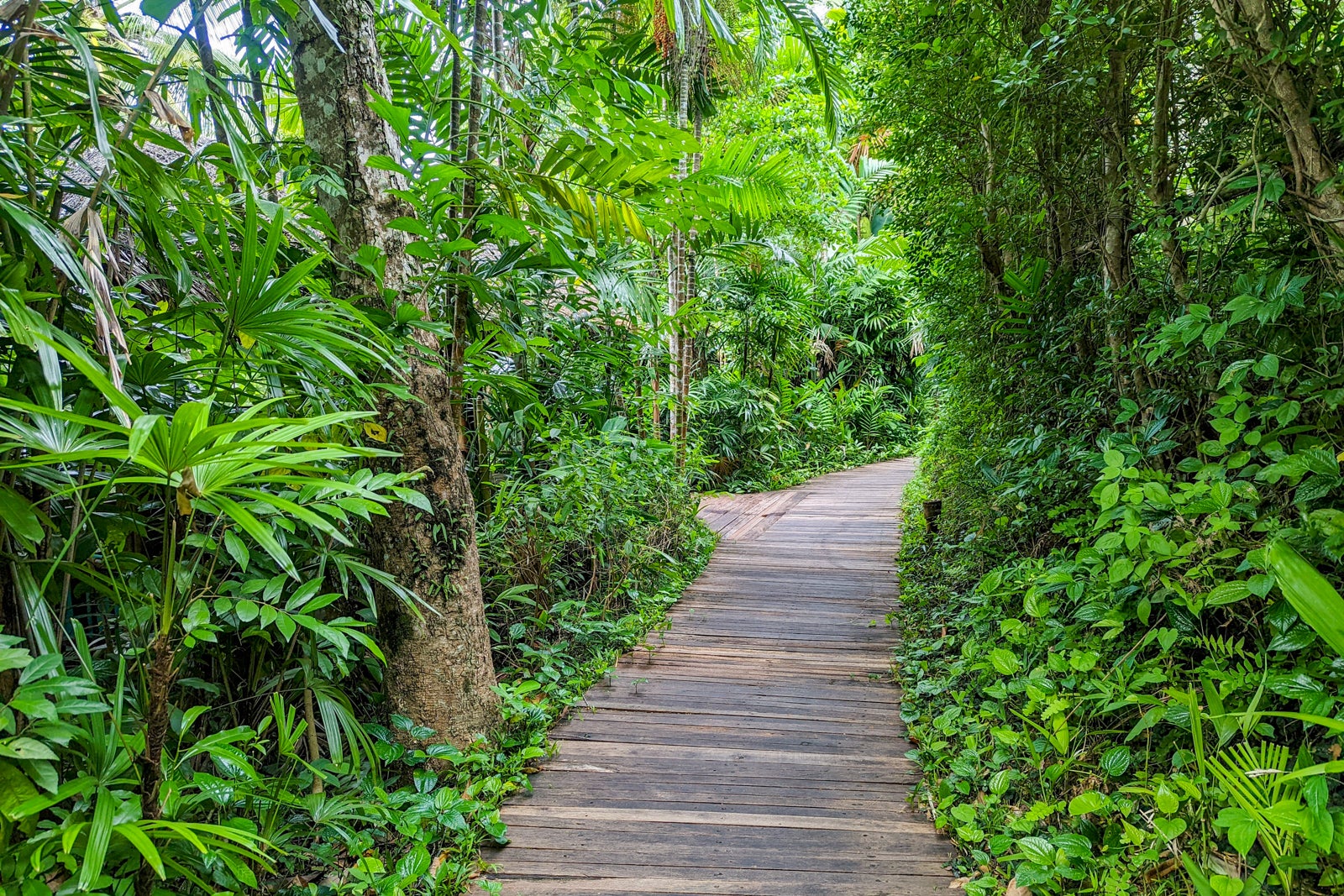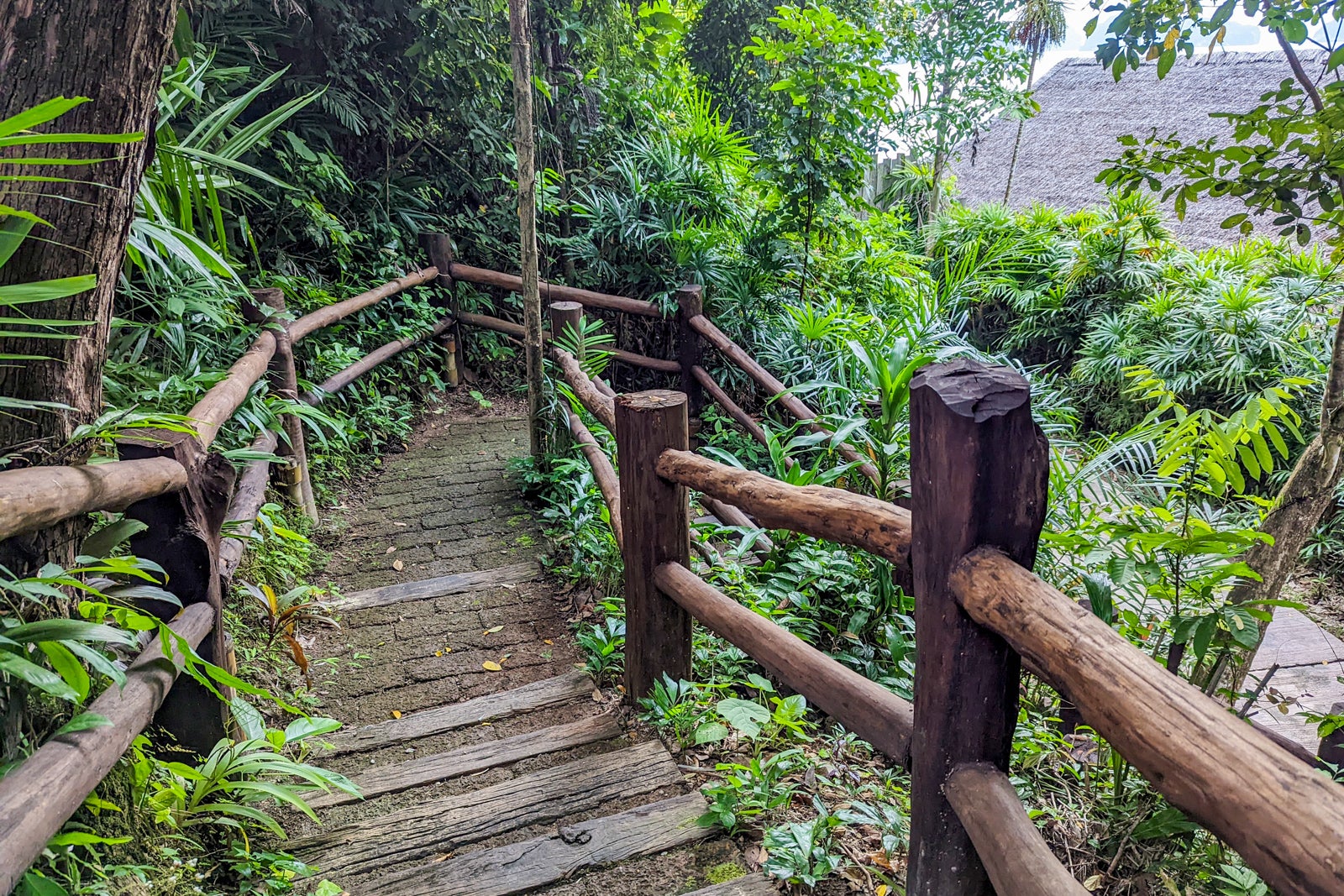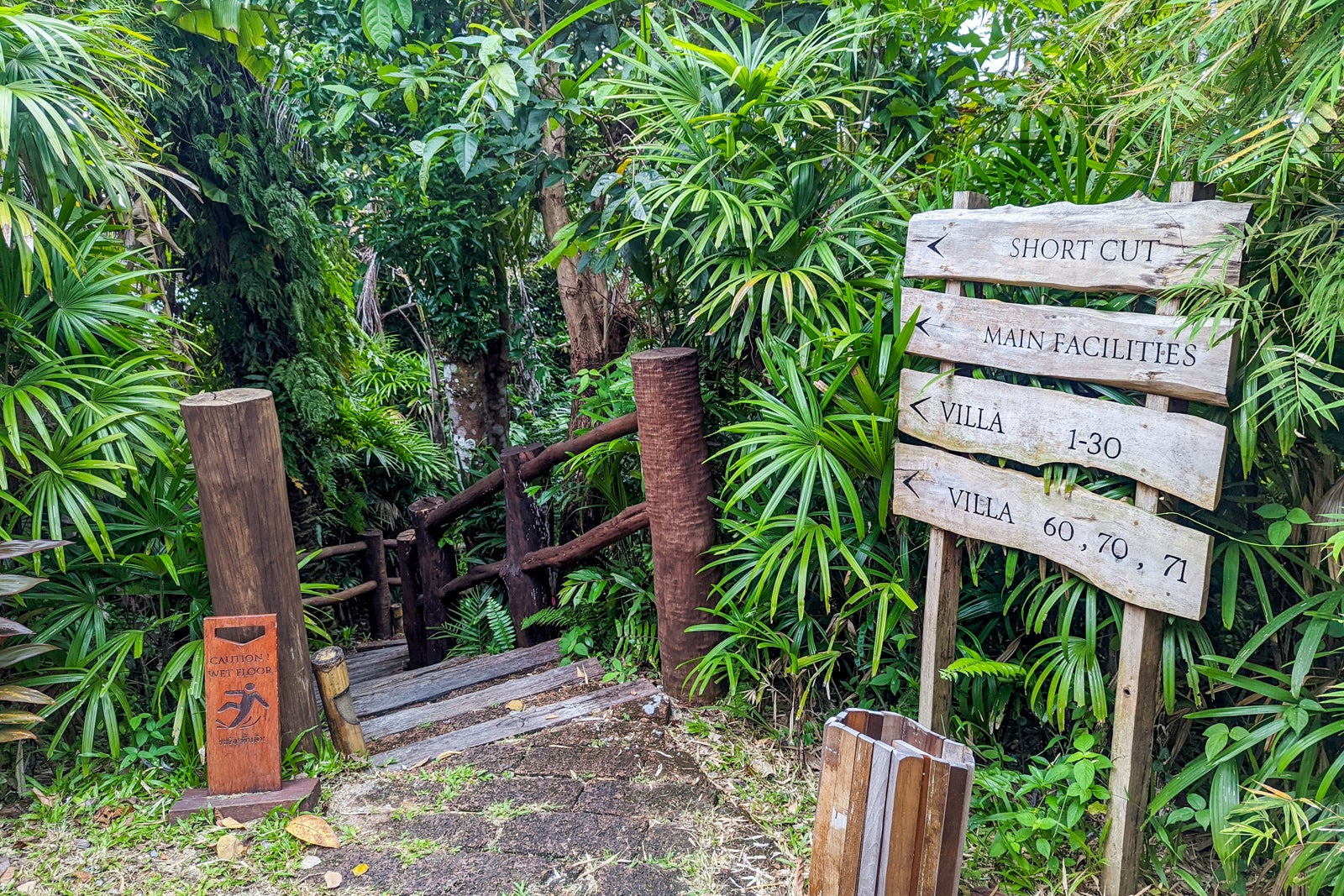 Most villas also have steps, and ours included some difficult-to-open doors and cabinets. For example, the door to our villa's outdoor shower required quite a bit of strength to open.
But, the service at Six Senses Yao Noi is excellent. So, I expect the resort will attempt to accommodate any guest who wants to stay. The top of the bed's mattress is 23 inches above the ground, and there's a 4 3/4-inch clearance between the floor and a bed frame support beam.
It may be difficult to get accurate information out of the resort ahead of time regarding accessibility, though. As you'll read in the service section, my interactions with the resort by email were the most disappointing part of my Six Senses Yao Noi stay.
Related: A nearly perfect desert oasis: The Six Senses Shaharut in Israel
Food and beverage
Six Senses provides options for guests to eat and drink healthily. However, if you don't want to be overly healthy, that's fine too. For example, in the Living Room, you can enjoy complimentary ice cream and sorbet from 11:30 a.m. to 10 p.m. daily.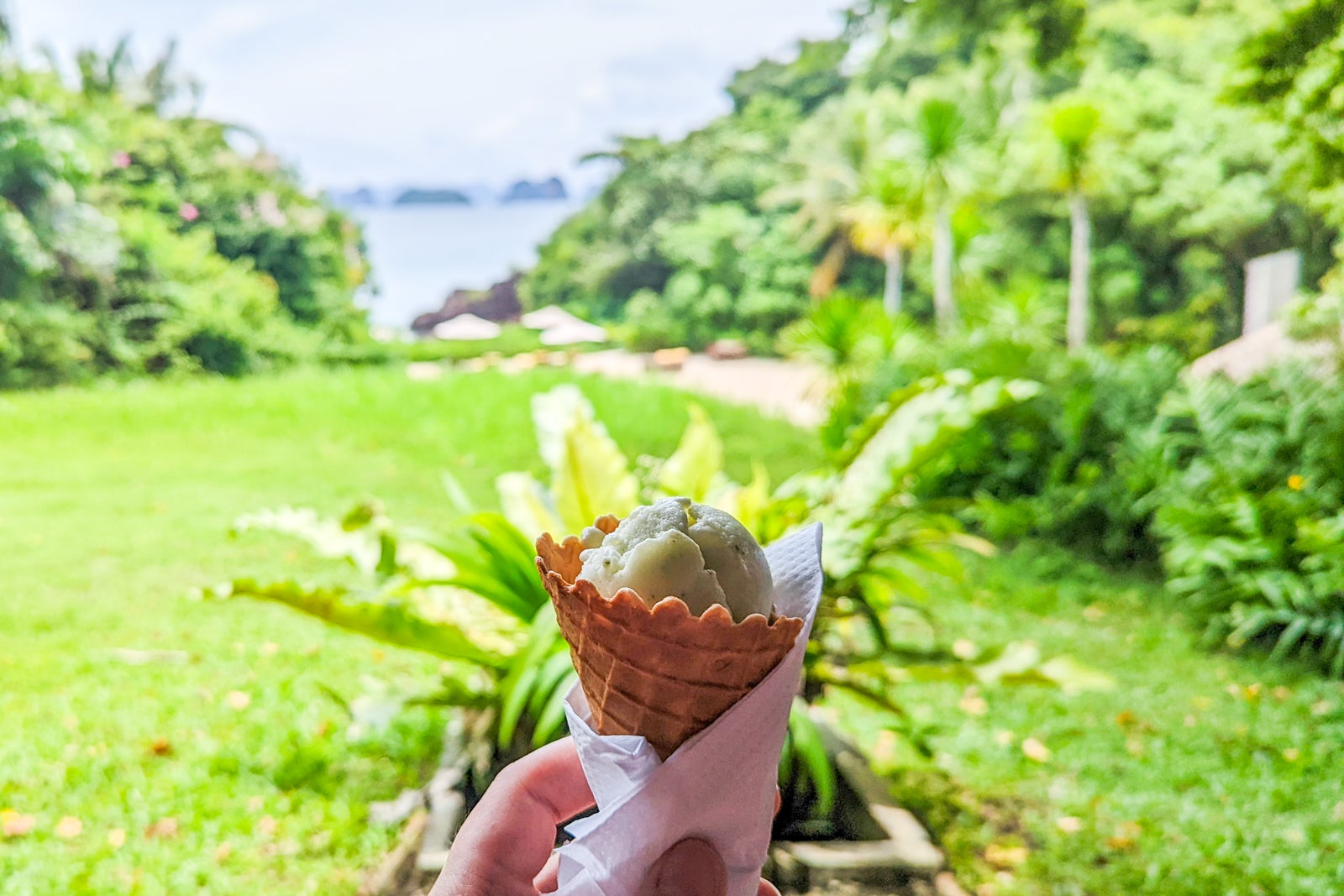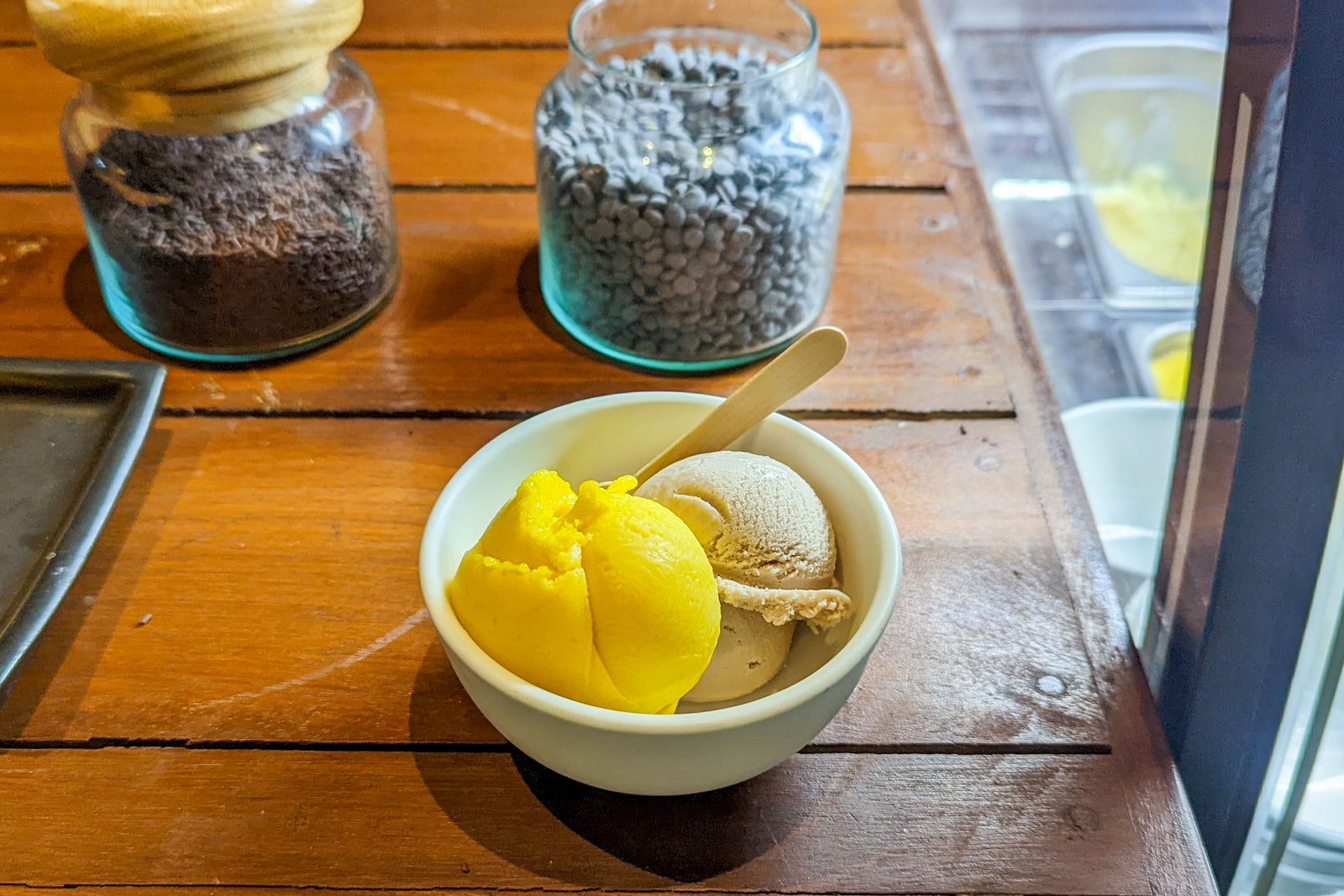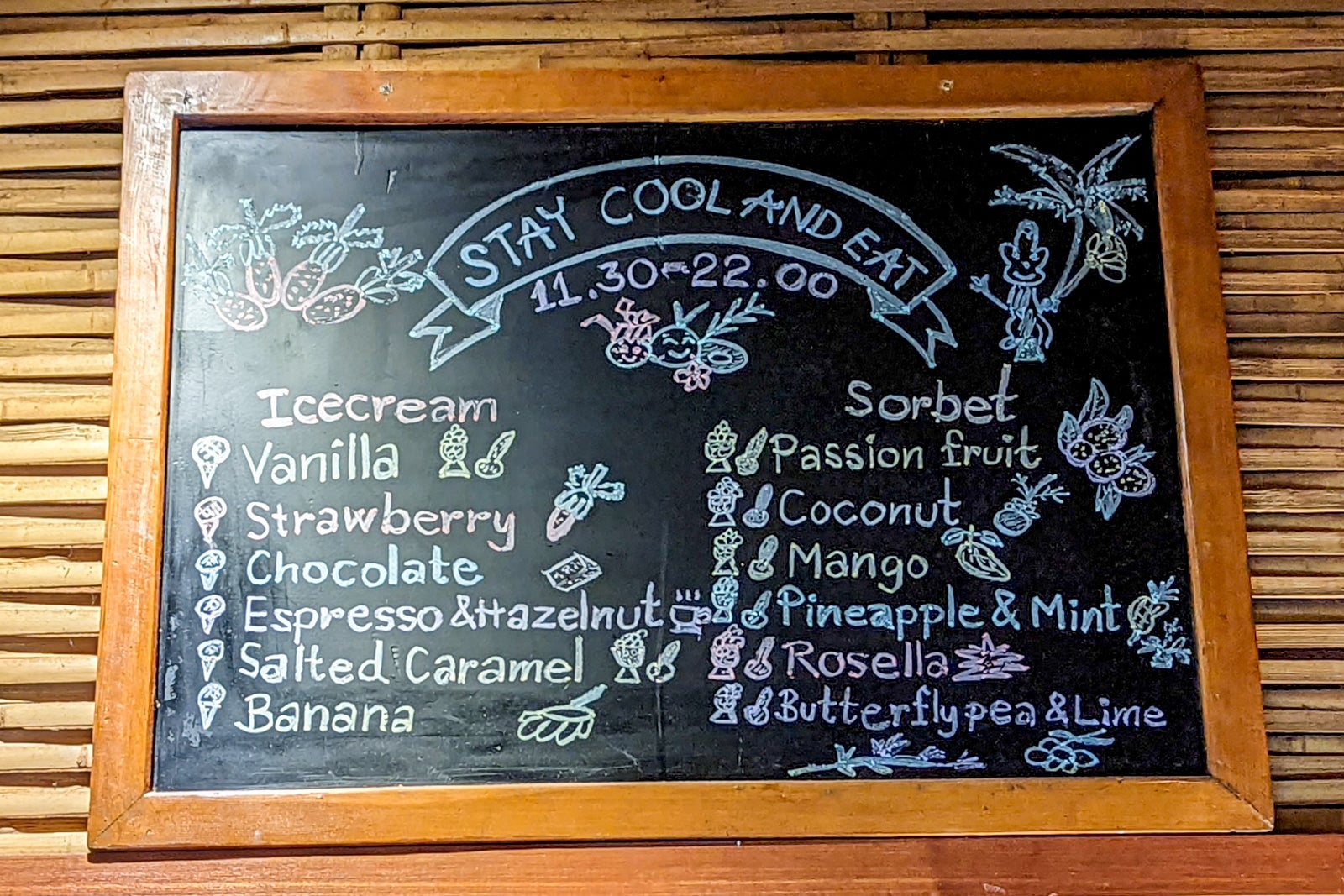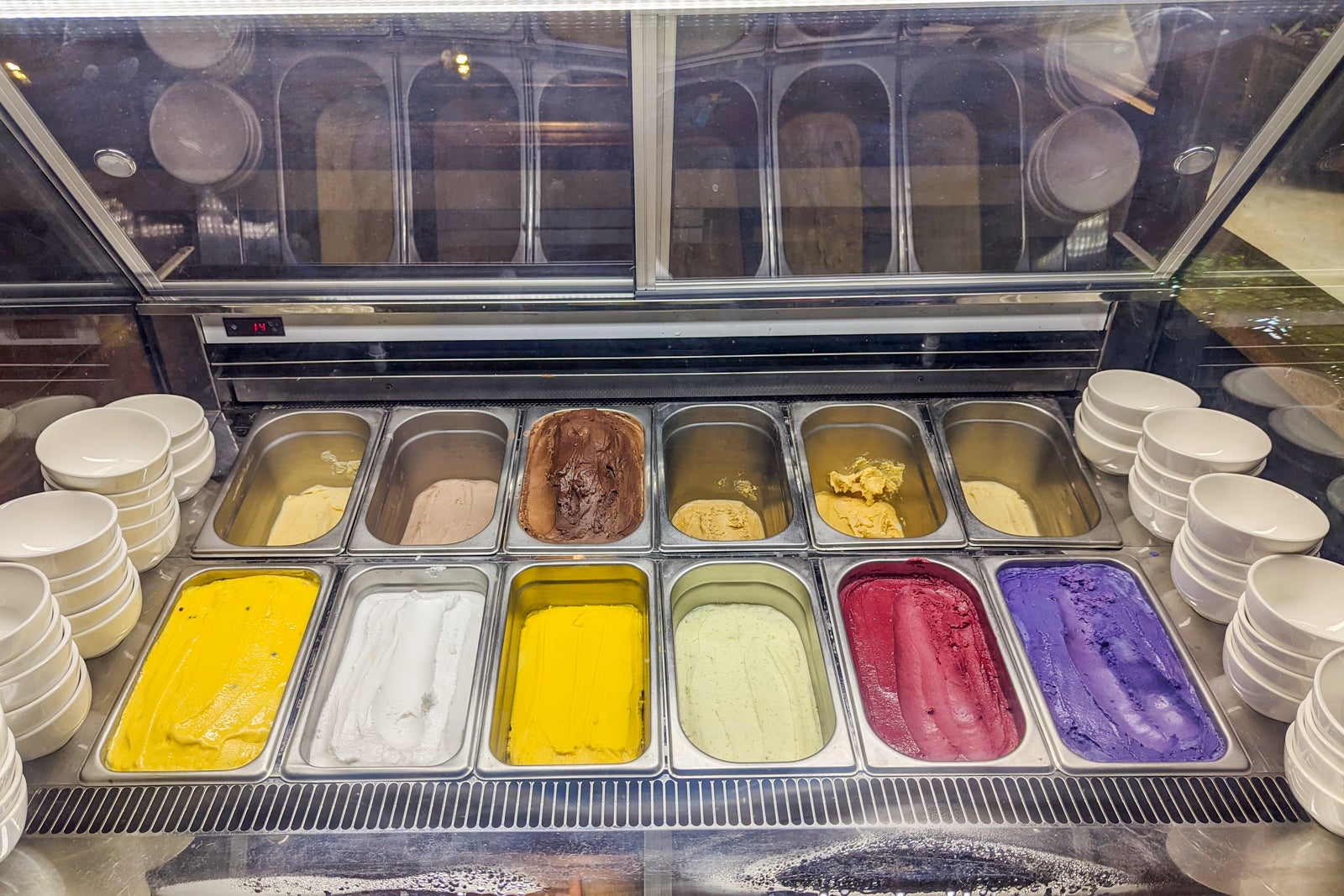 Note that although Six Senses water is complimentary in your villa, during breakfast and at many locations around the resort, you'll need to pay a modest fee for still or sparkling water at lunch and dinner.
Don't grumble too much, though, as 50% of water sales go toward the property's sustainability fund.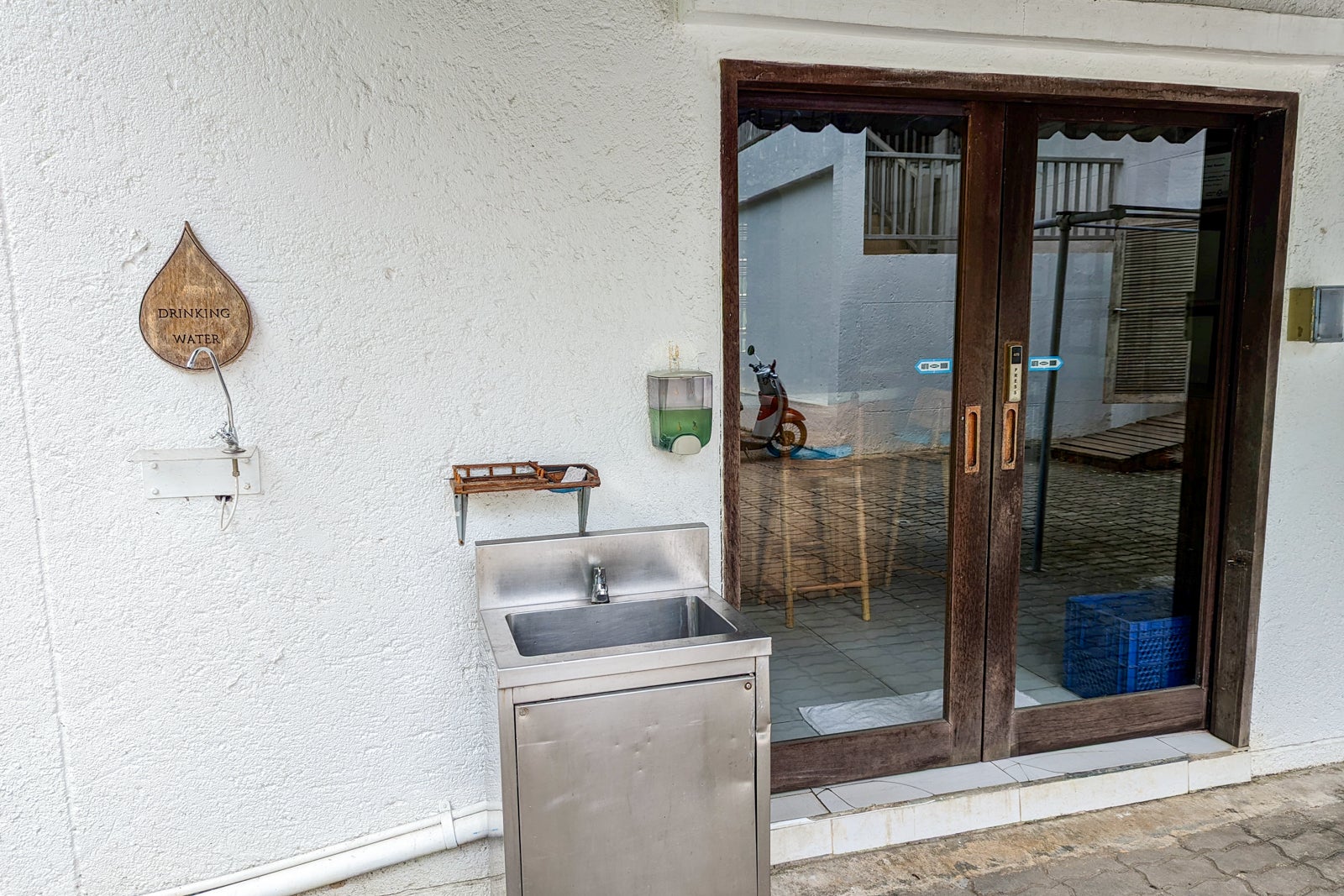 Here's a look at the dining options I tried during my stay.
Breakfast in the Living Room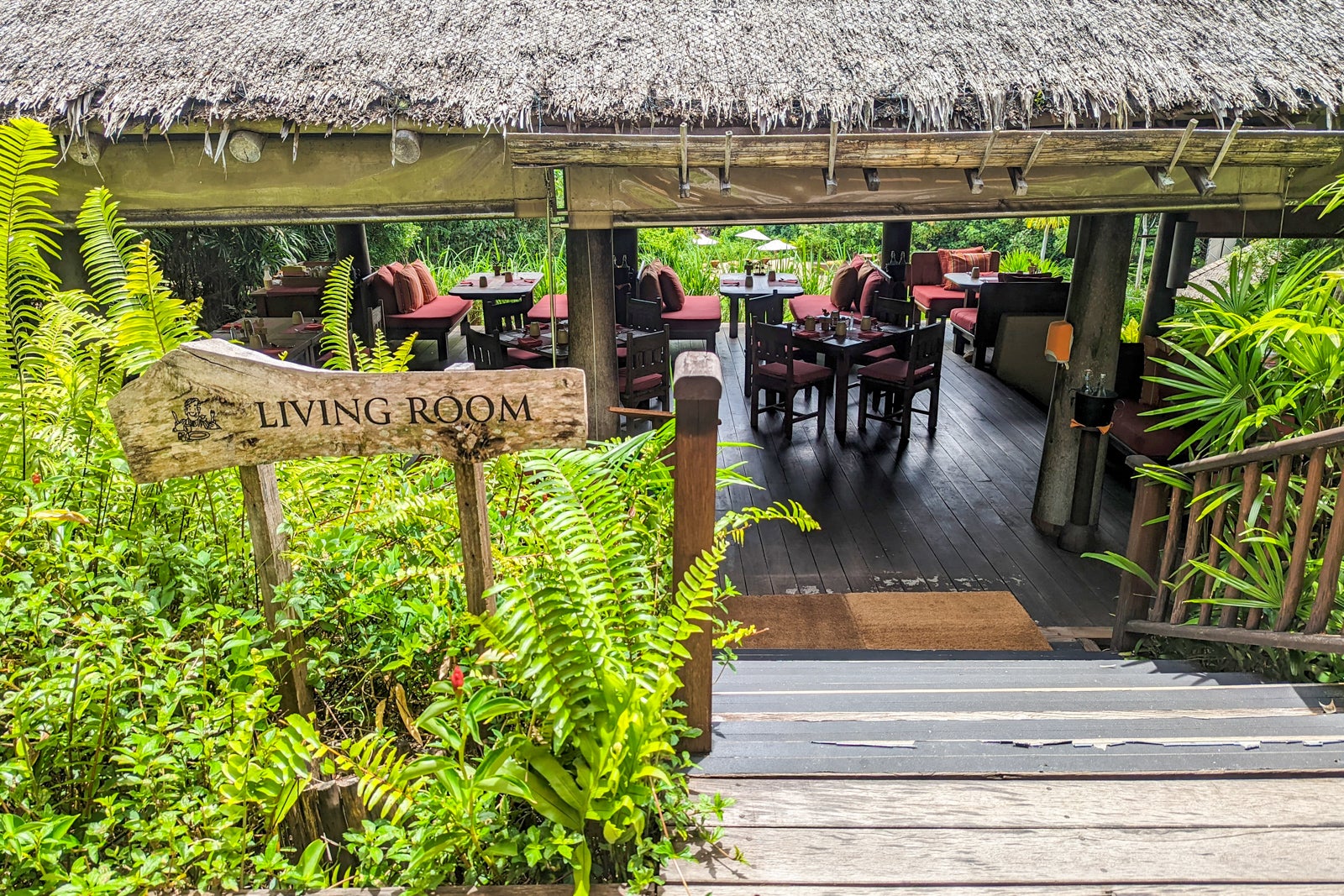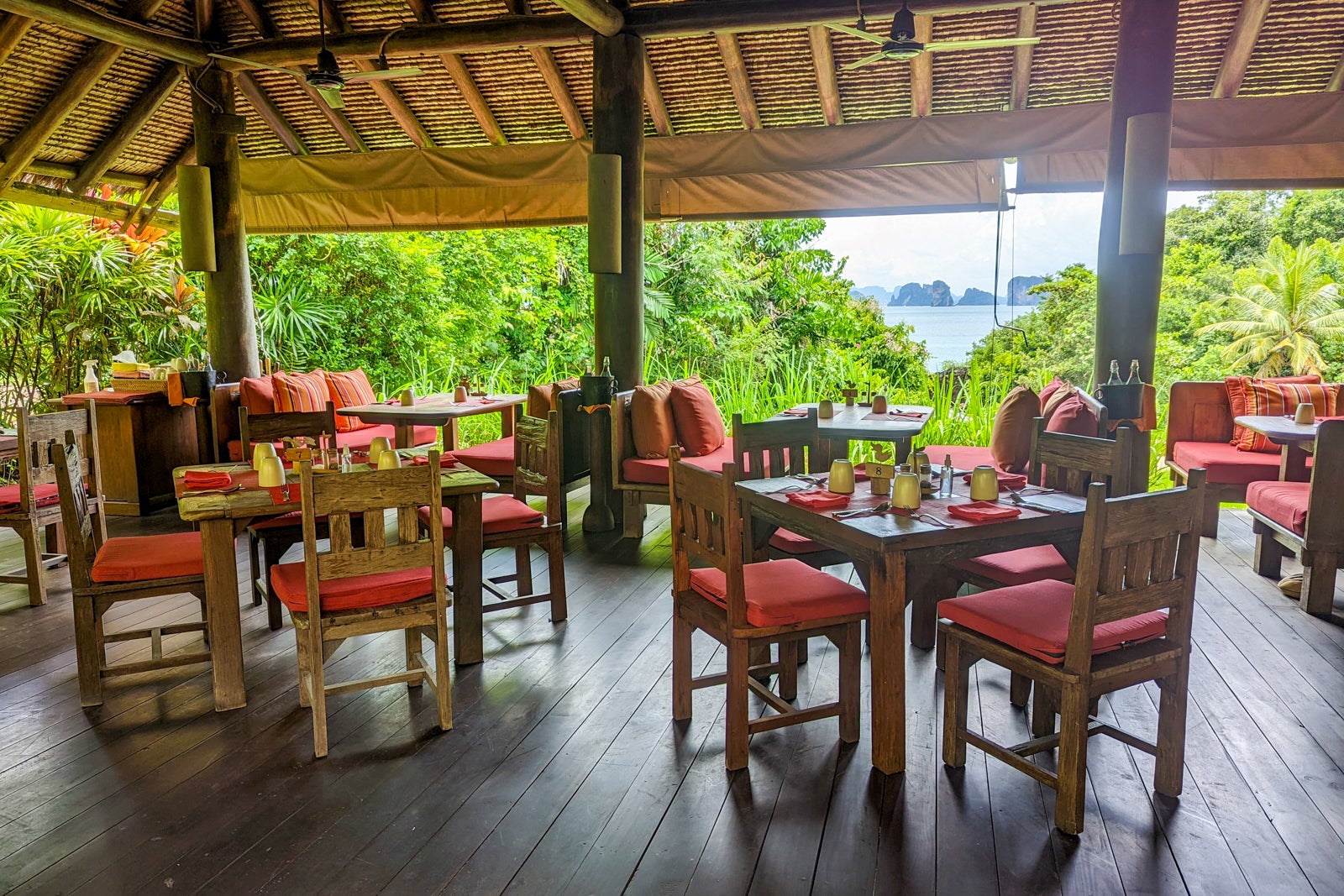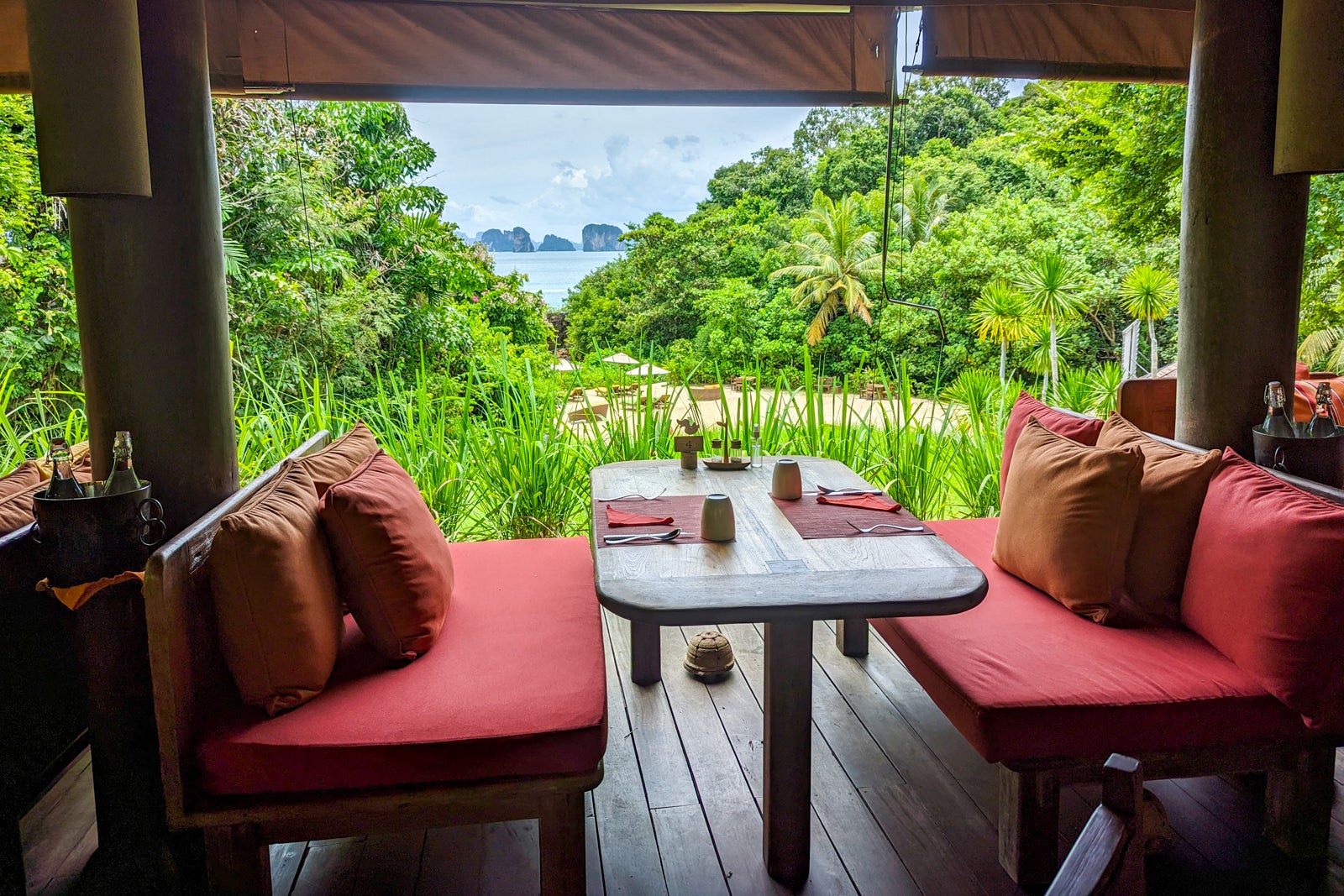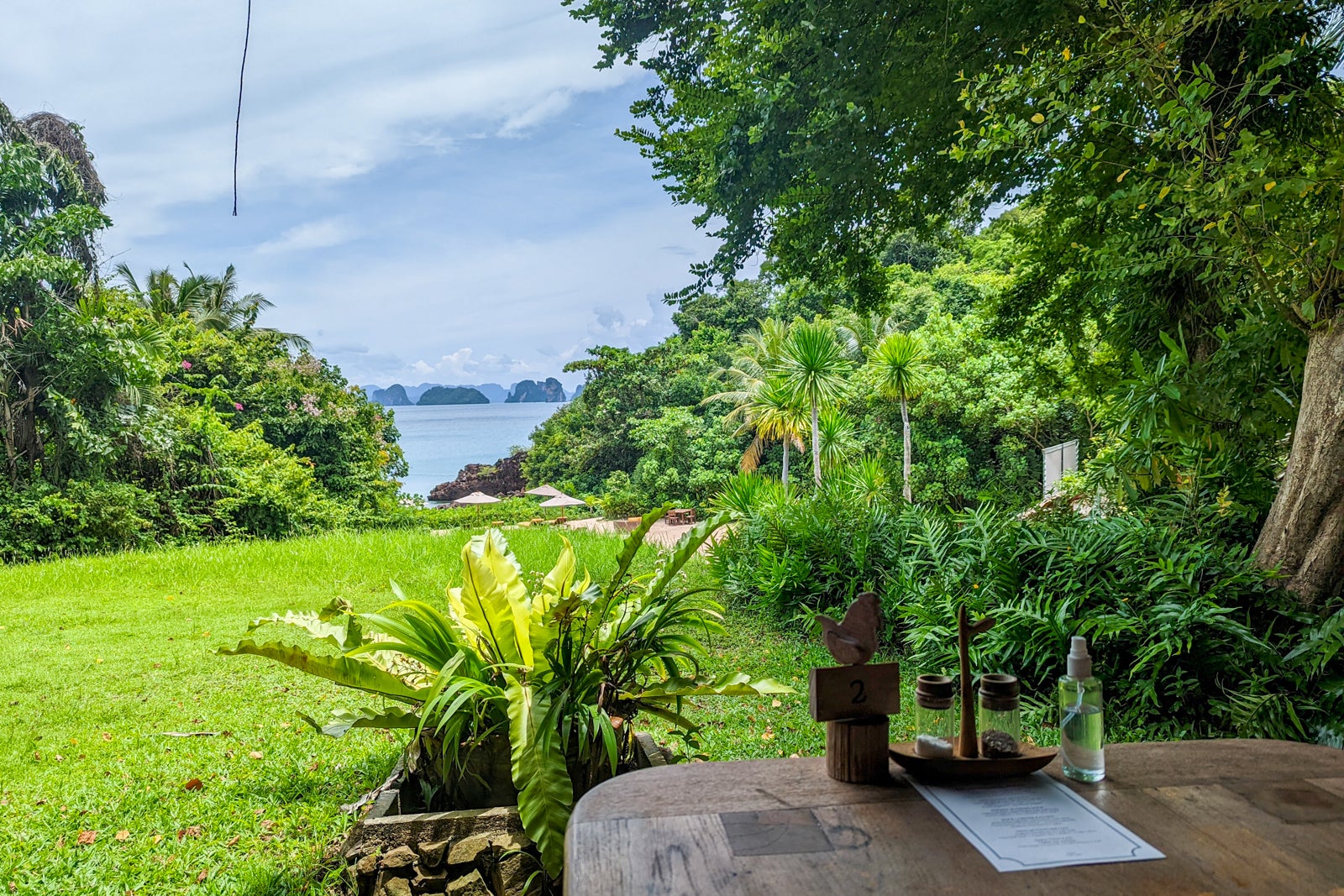 During our stay, breakfast was served in the Living Room each morning from 7 a.m. to 10:30 a.m. Most rates, including IHG One Rewards award nights, include breakfast.
Breakfast consists of an extensive buffet with a staffed egg station, noodle bar and crepe, and a pancake and waffle station.
Also, there are assorted hot foods (including bacon, potatoes, beans, dim sum, curries and stir fries), bread, cold cuts, cheeses and cereals on the self-serve buffet.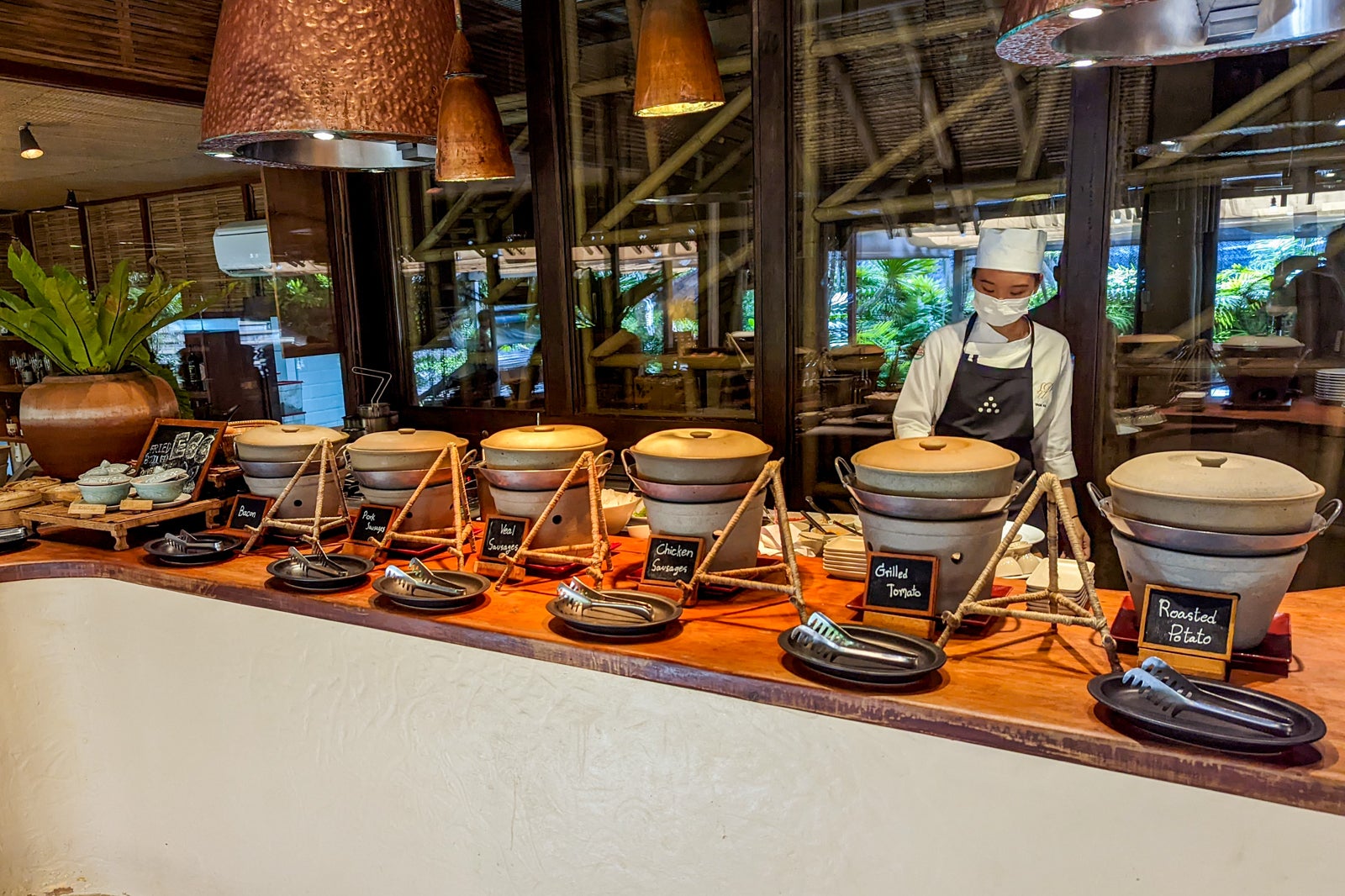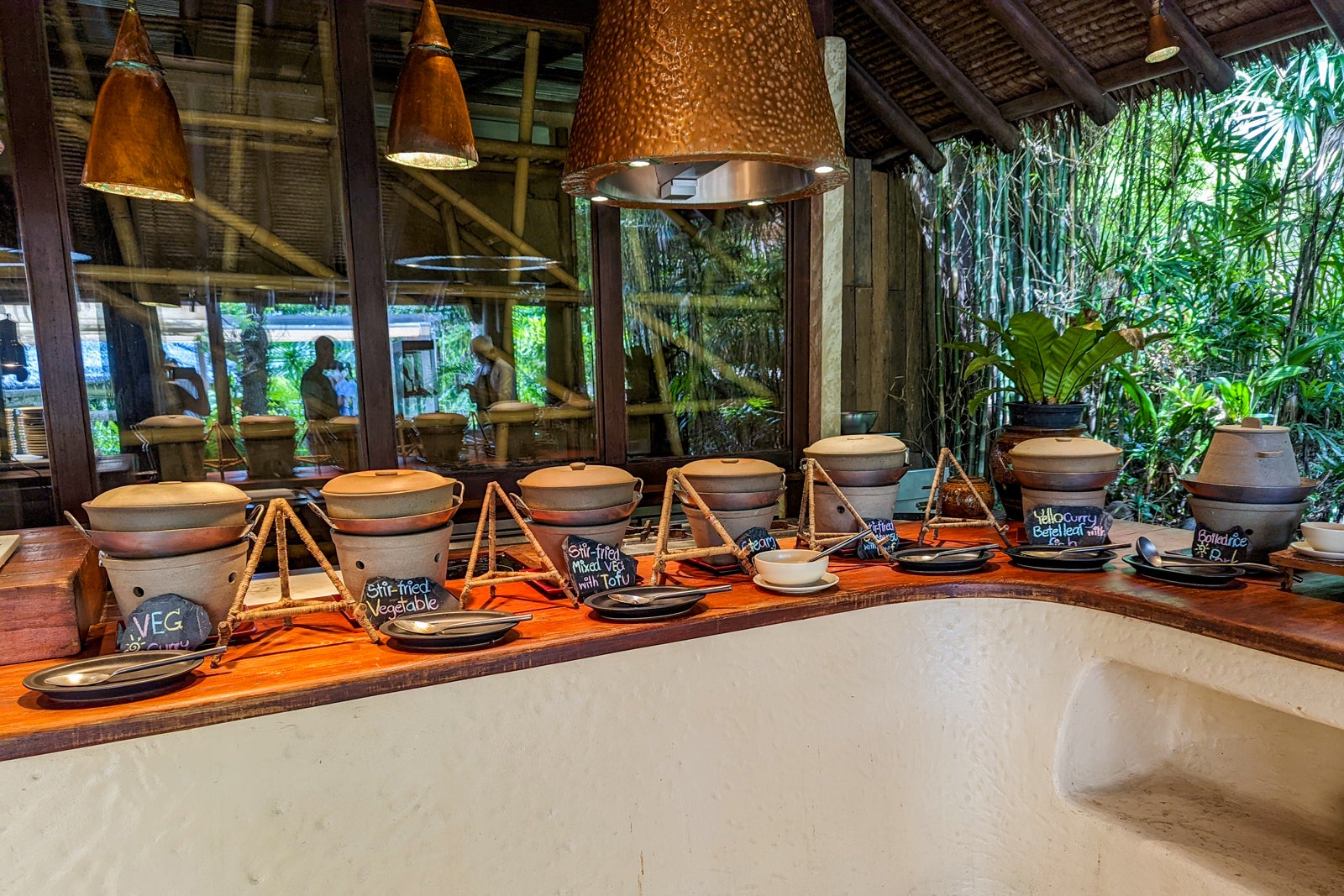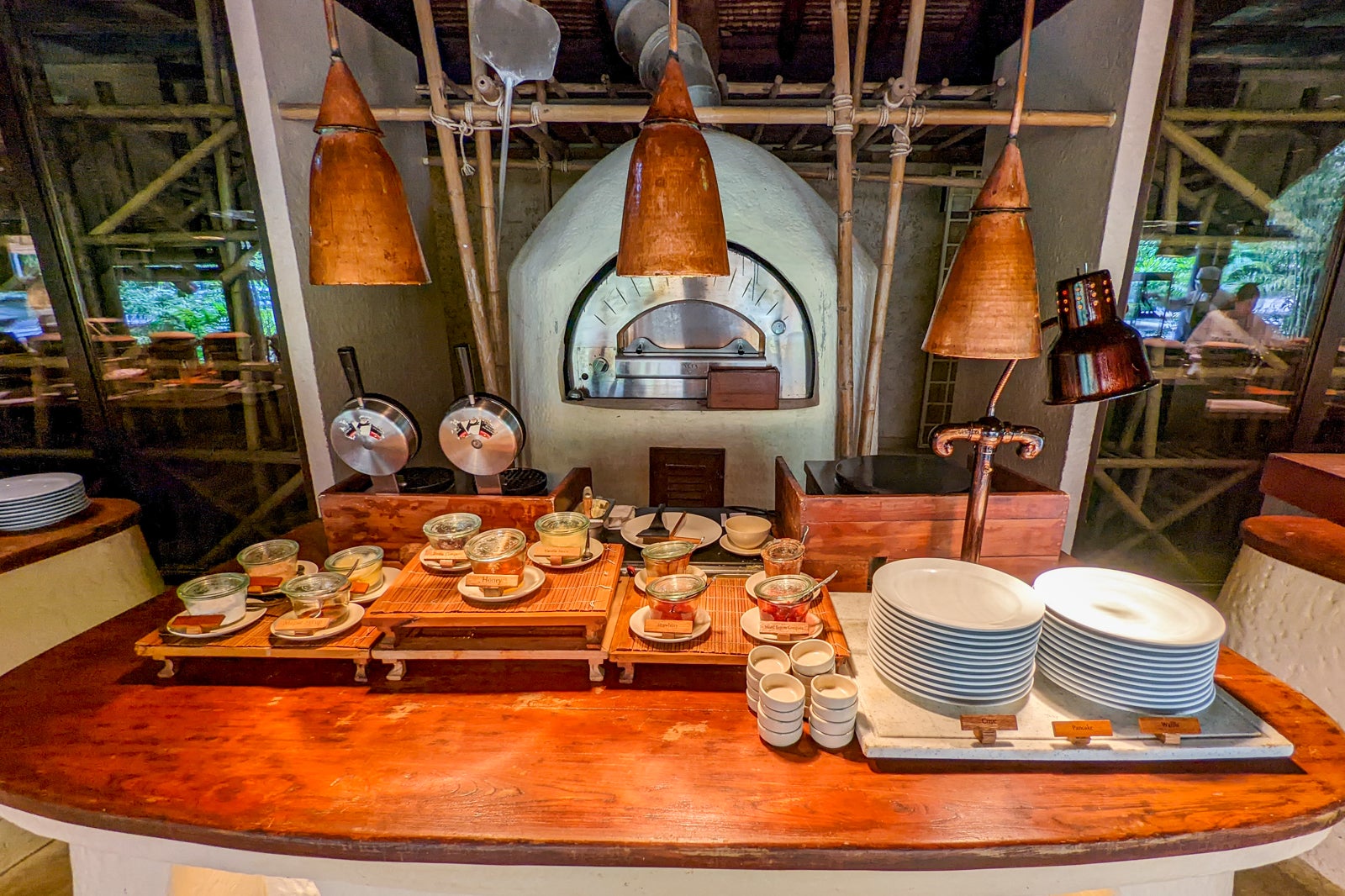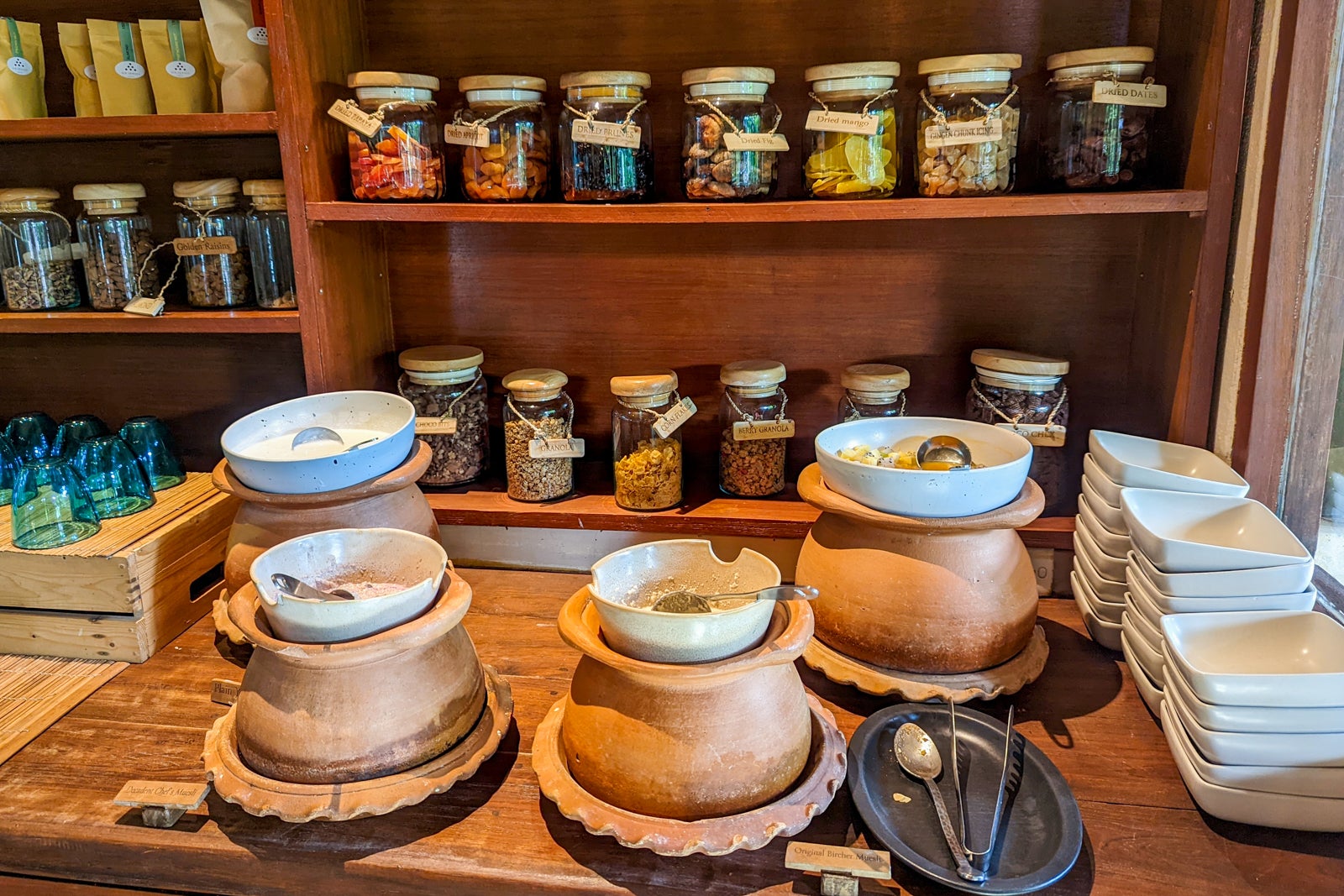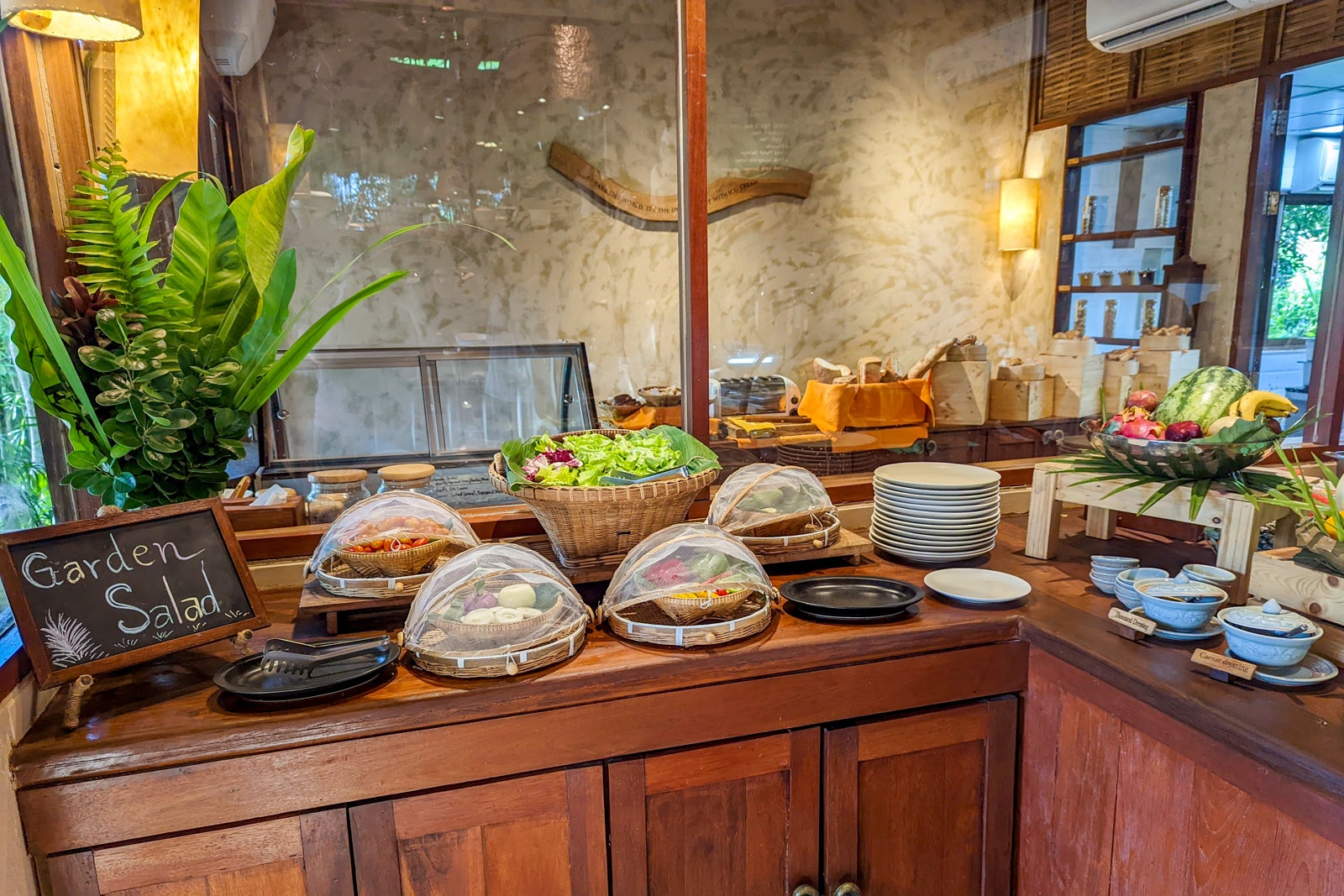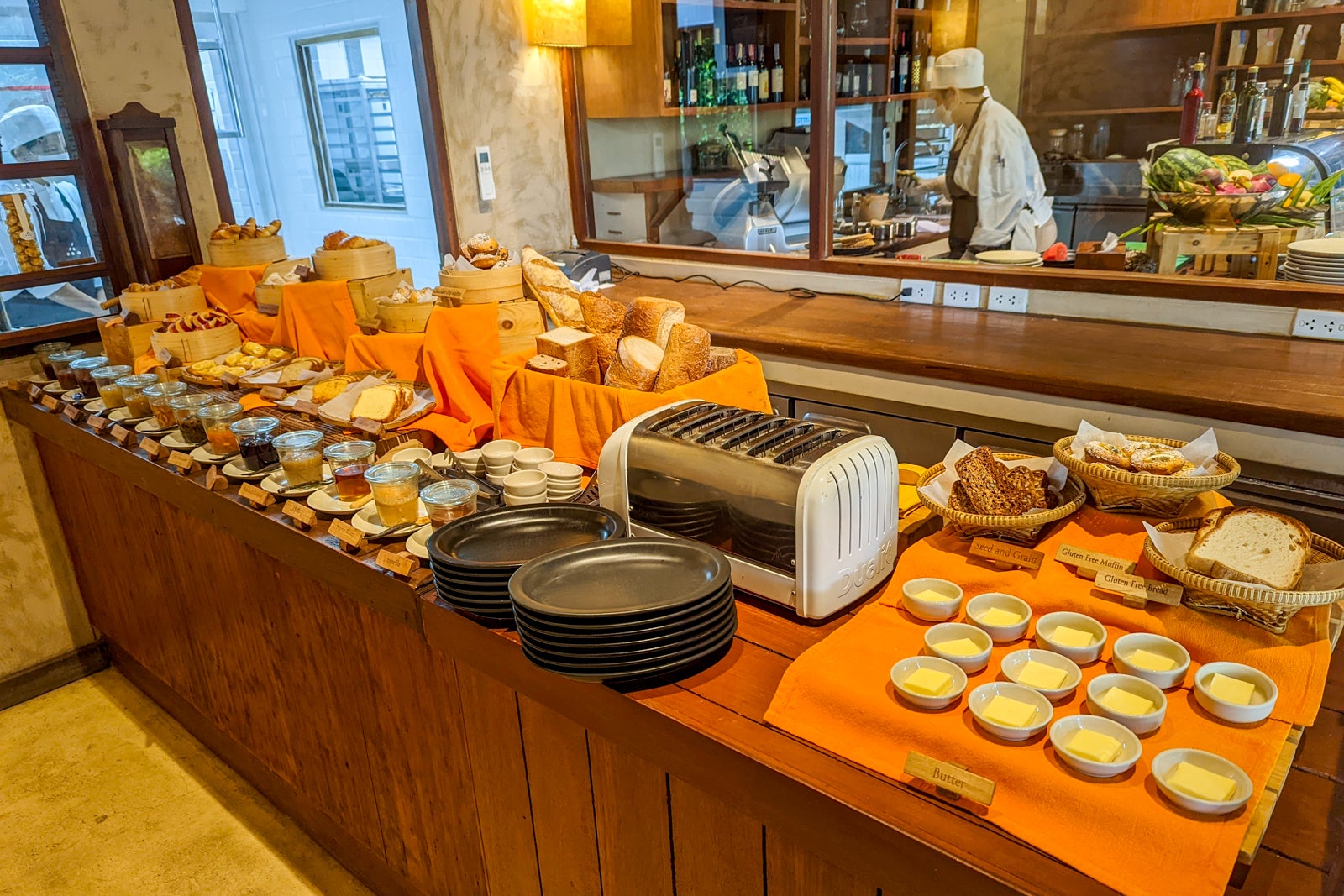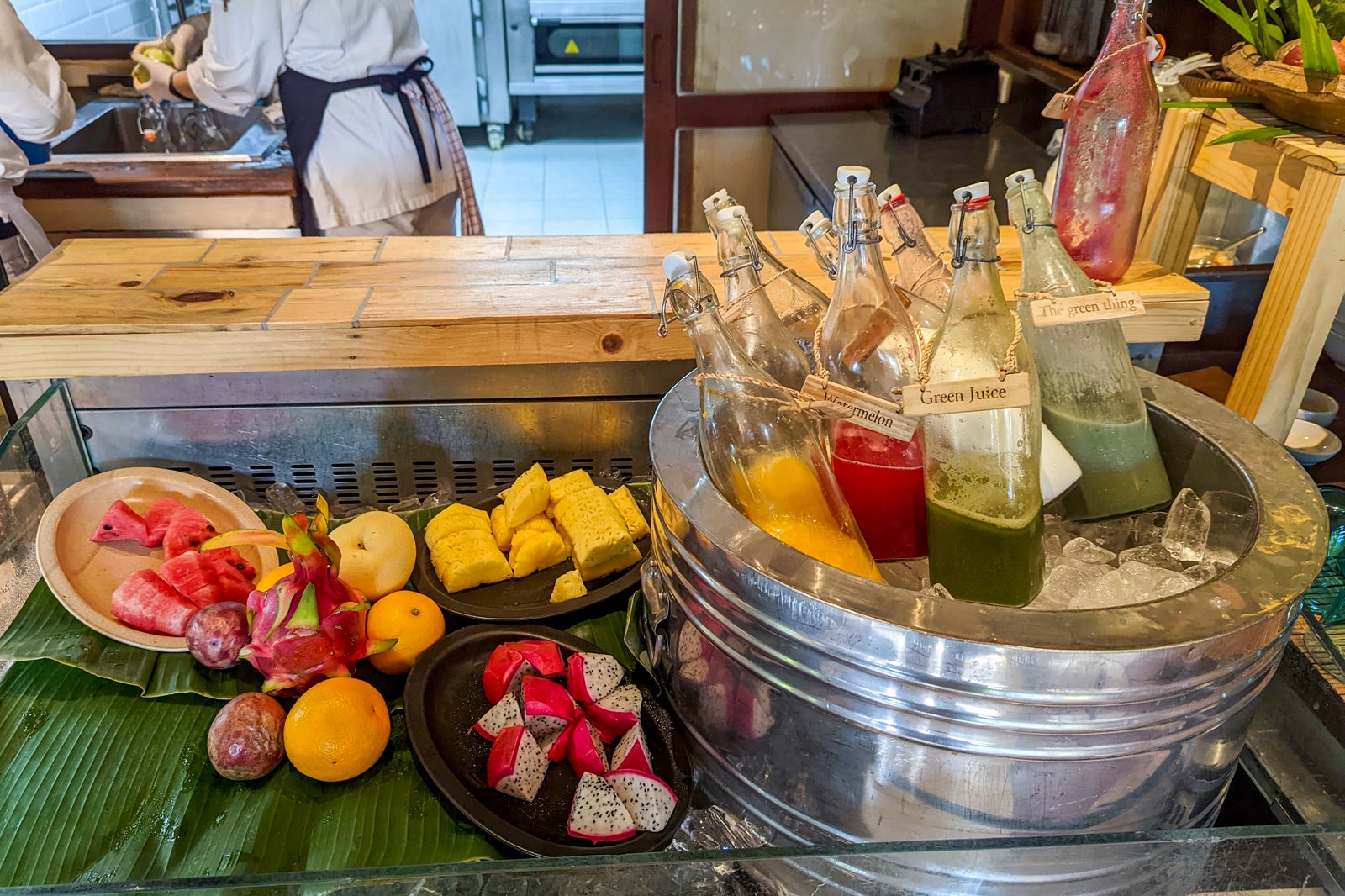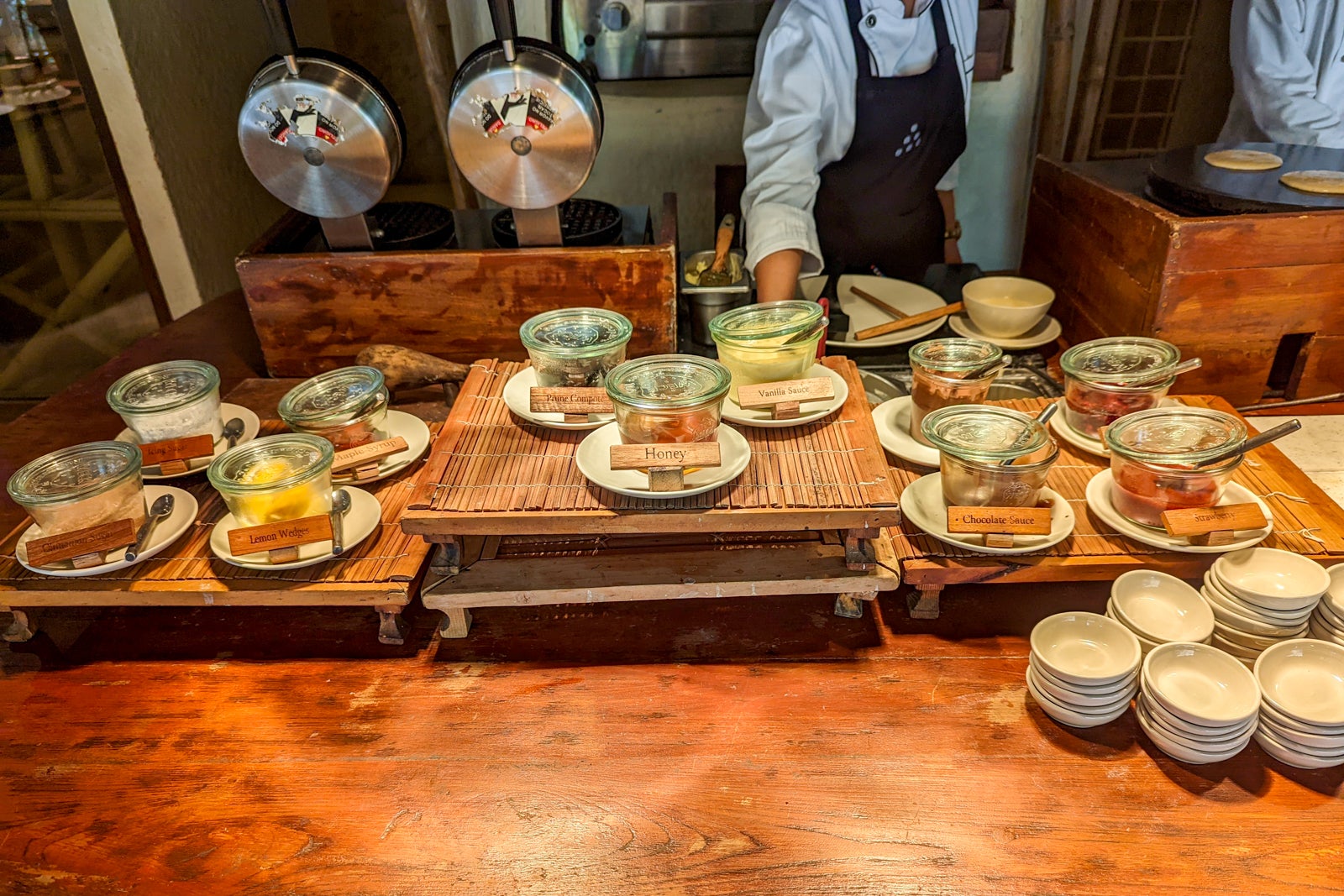 Everything I tried from the buffet was tasty, but I particularly enjoyed the coconut tofu and mushrooms stir fry, the made-to-order noodle soup and the fresh crepes.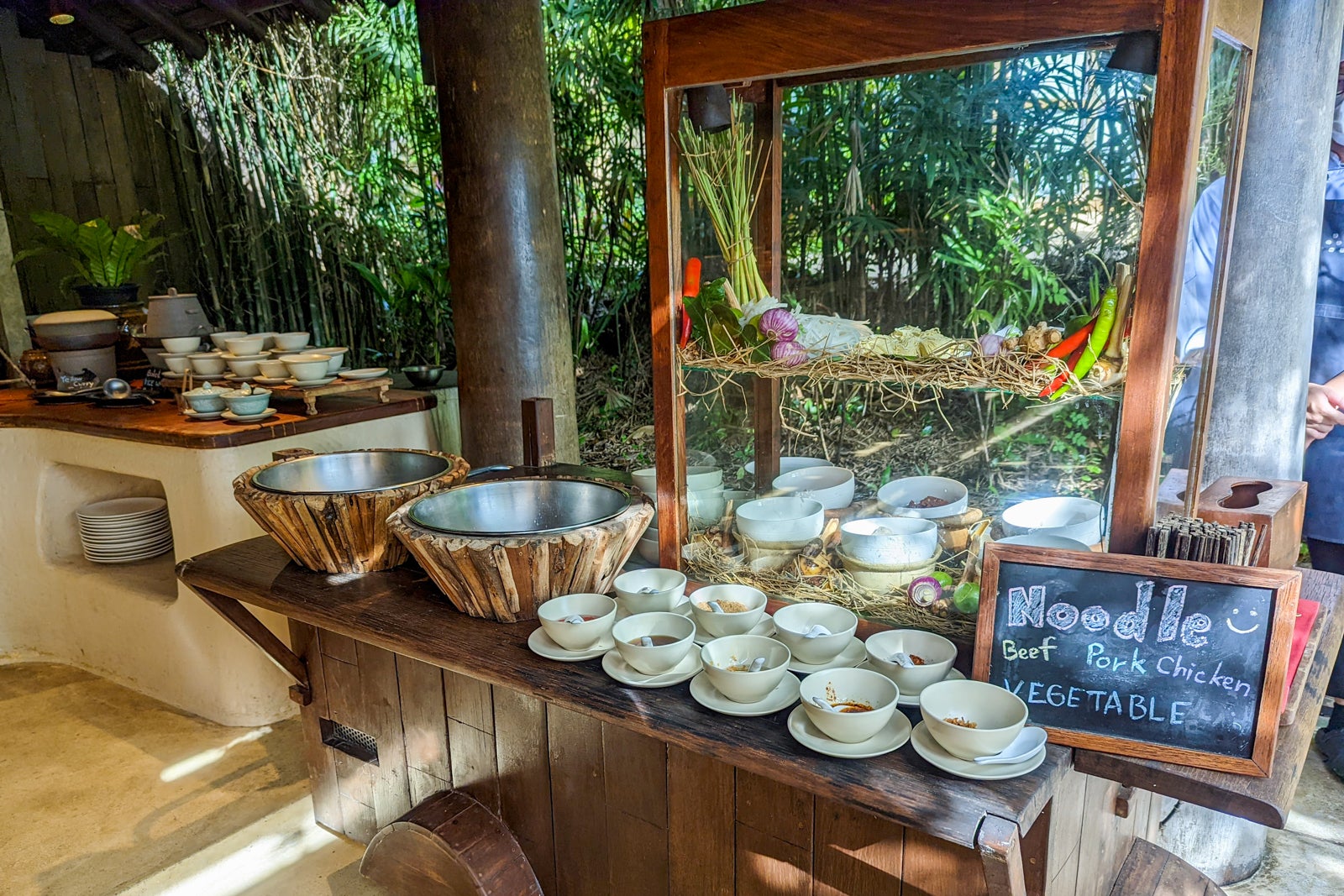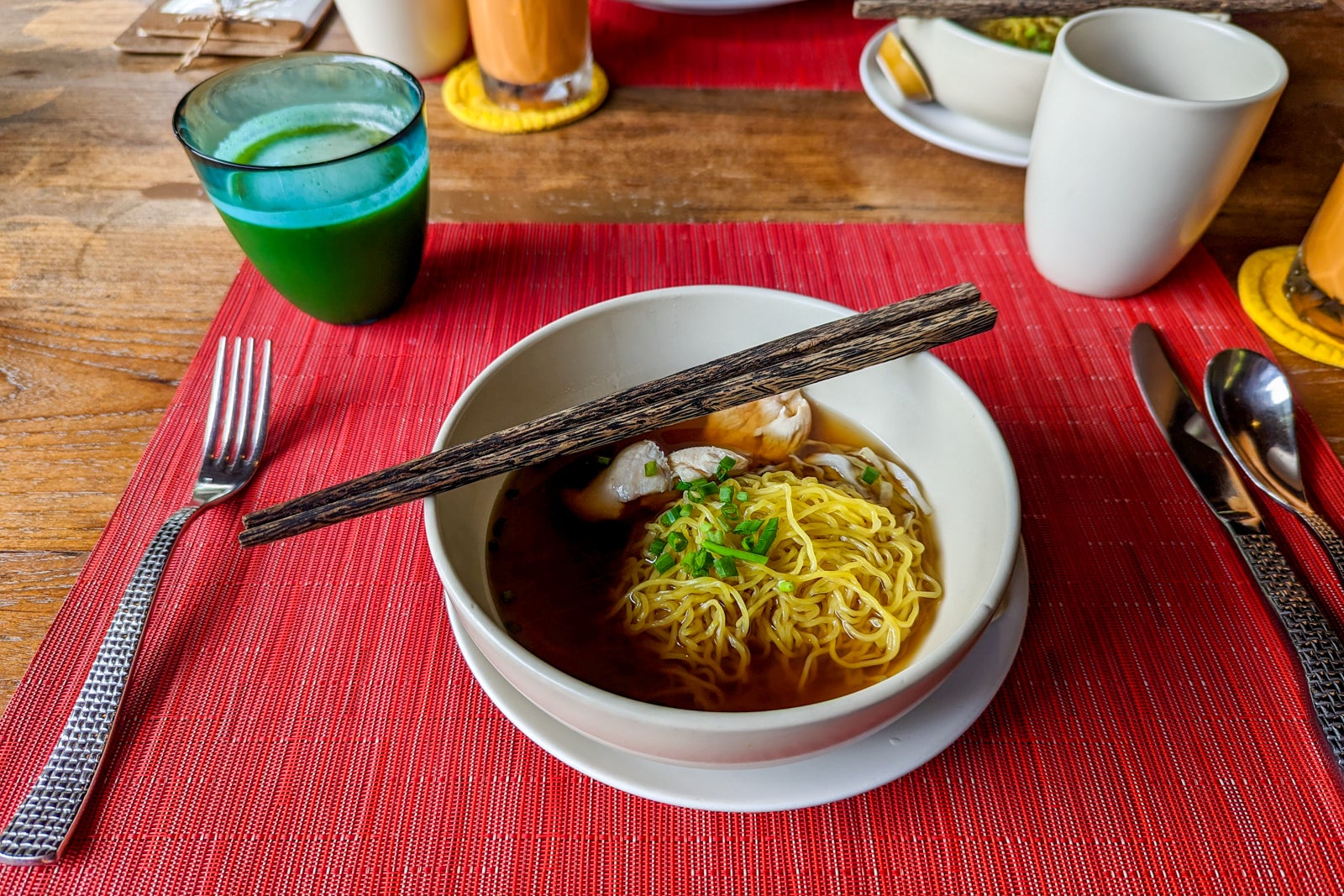 You can order additional dishes and drinks from a menu; these extra items are included in the standard breakfast cost.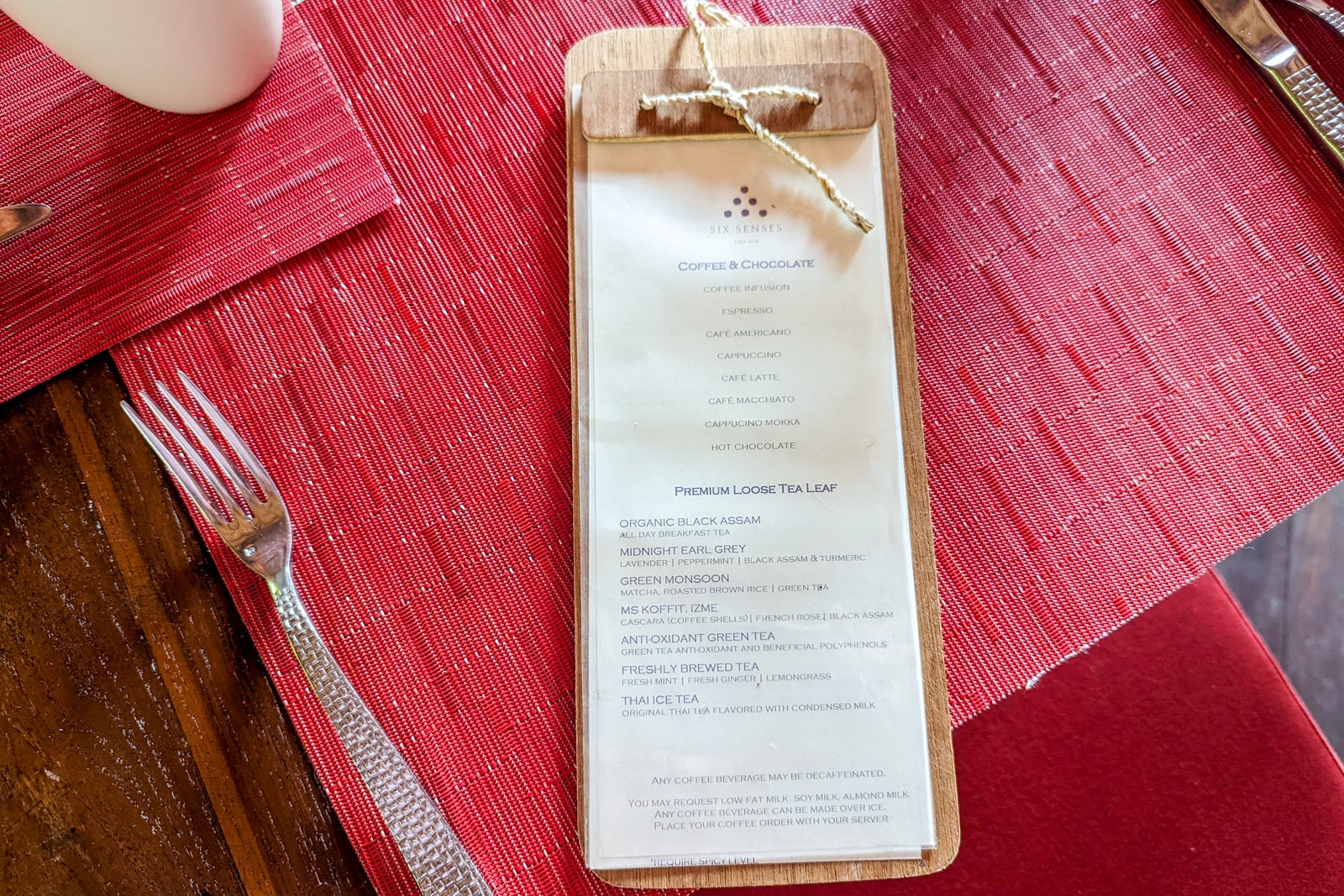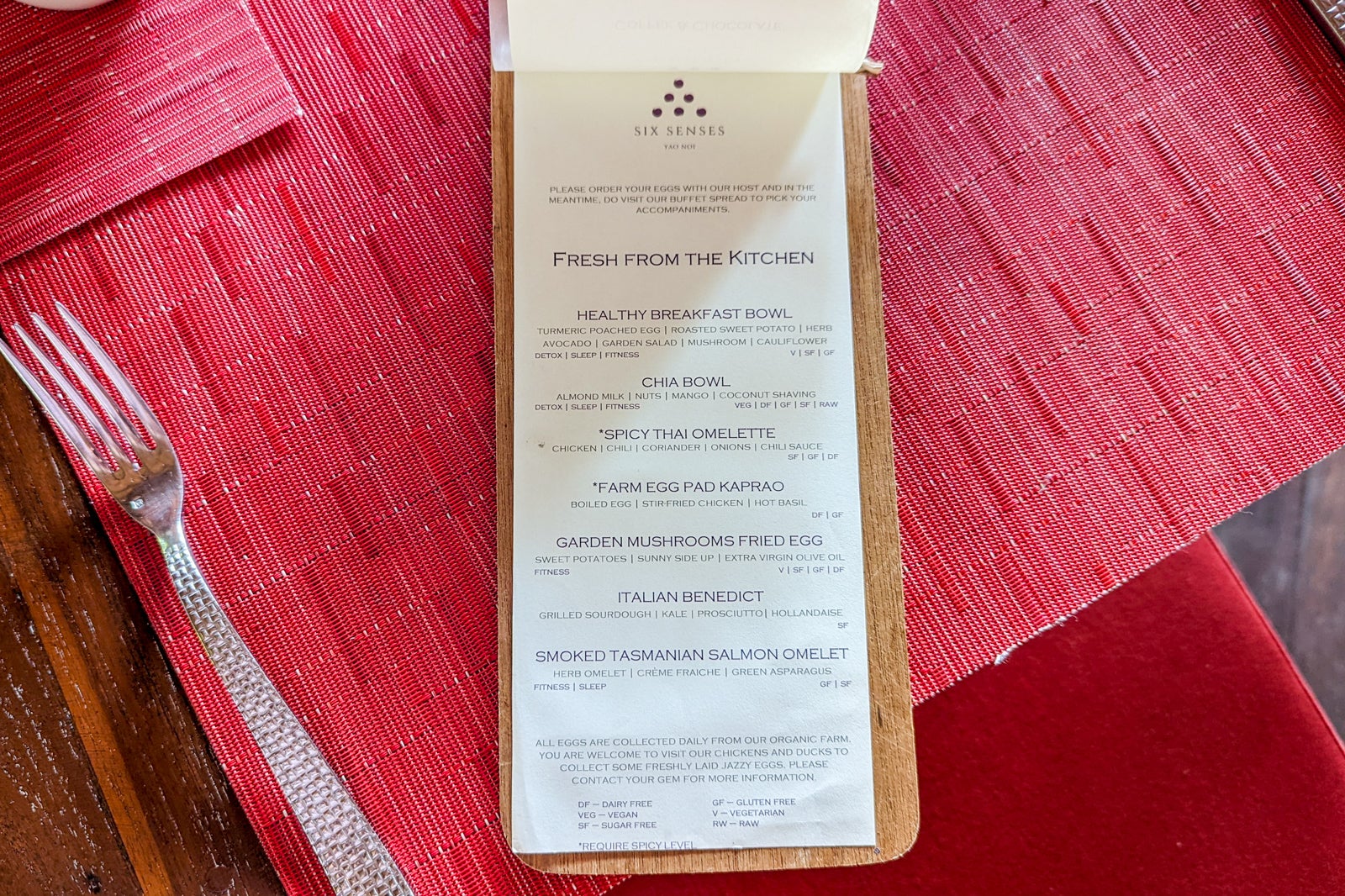 Before breakfast, you can go to the organic chicken farm on-site and pick eggs for the chef to prepare for your breakfast. If you don't want to pick your own eggs, the chef also has some eggs that the staff collected earlier.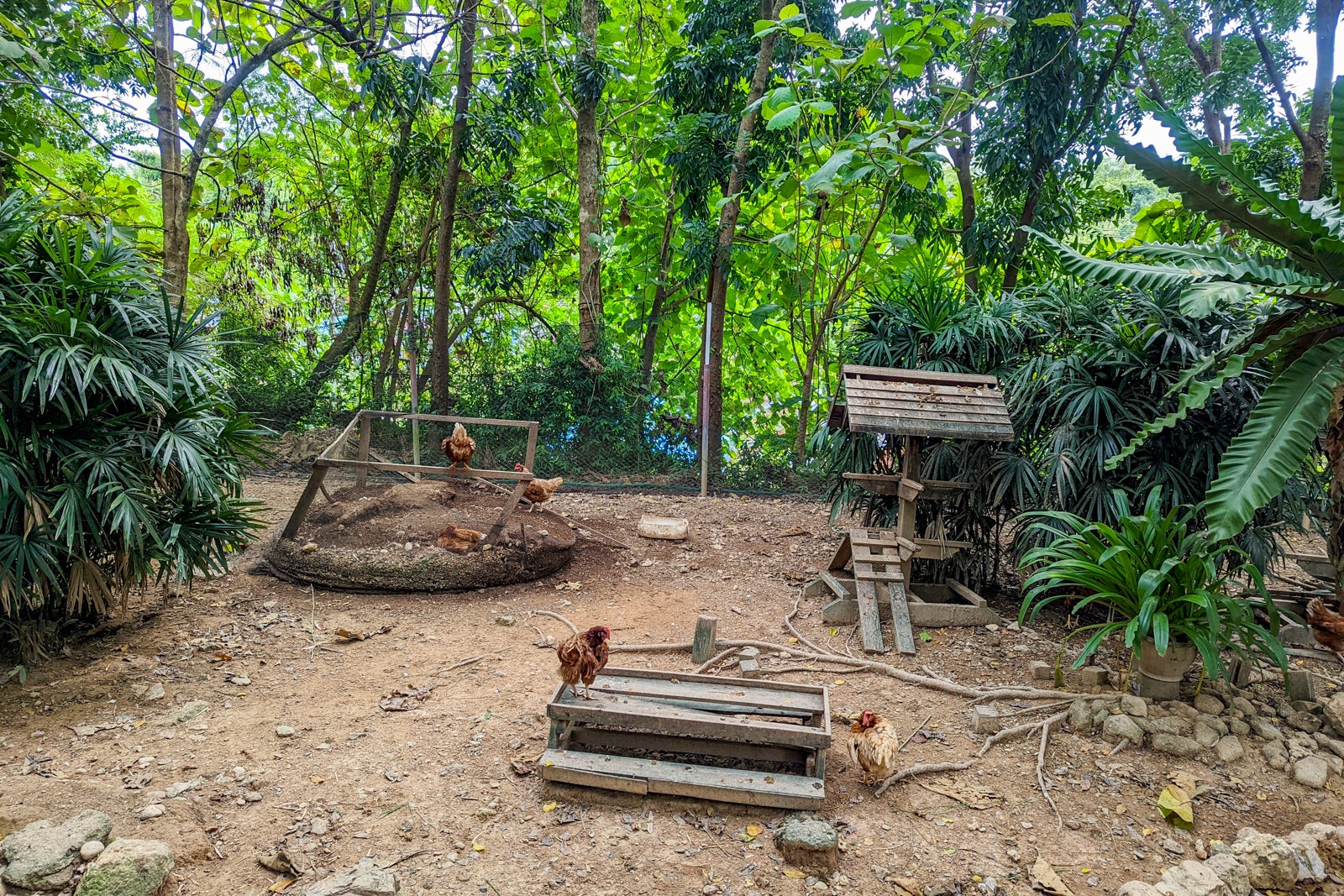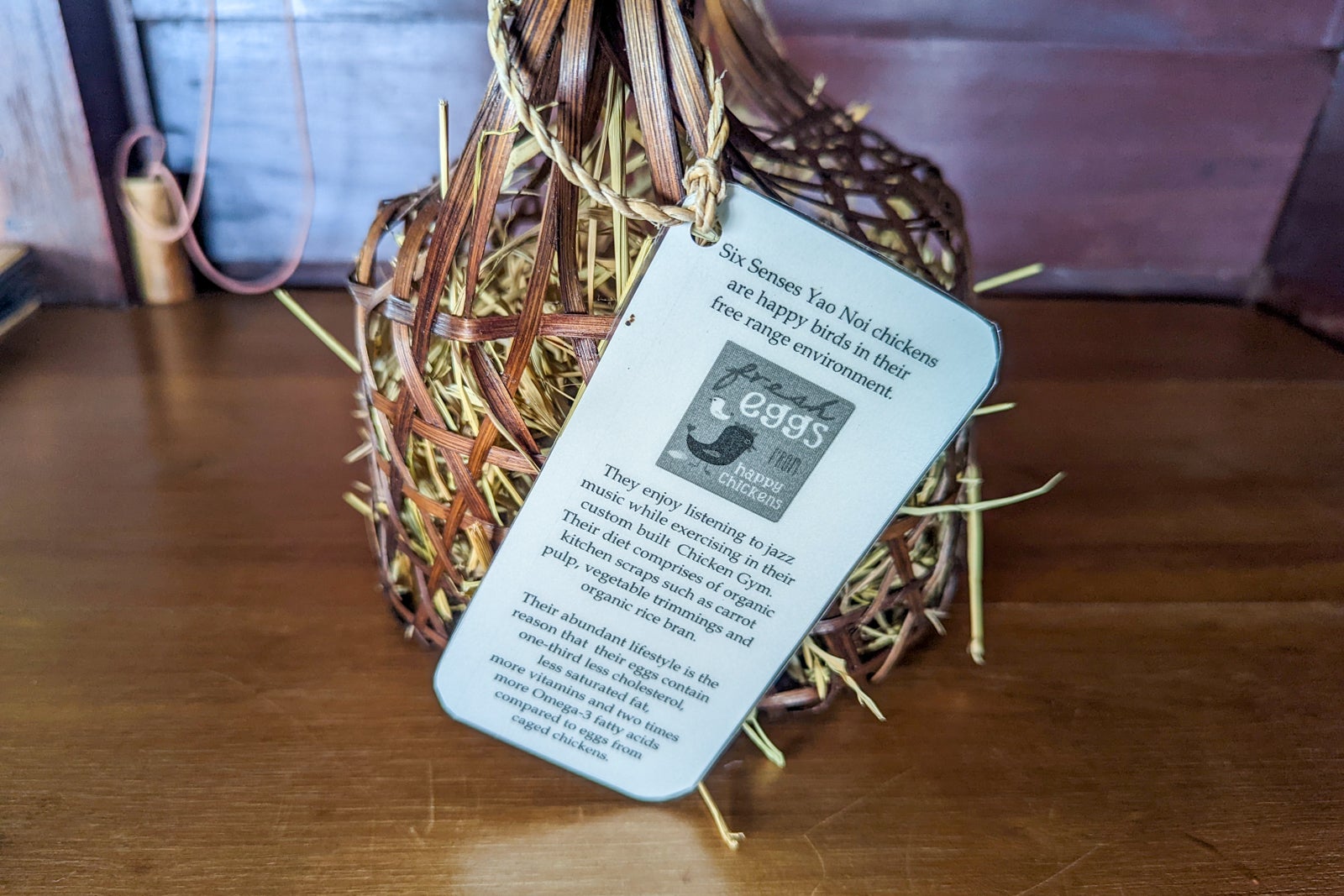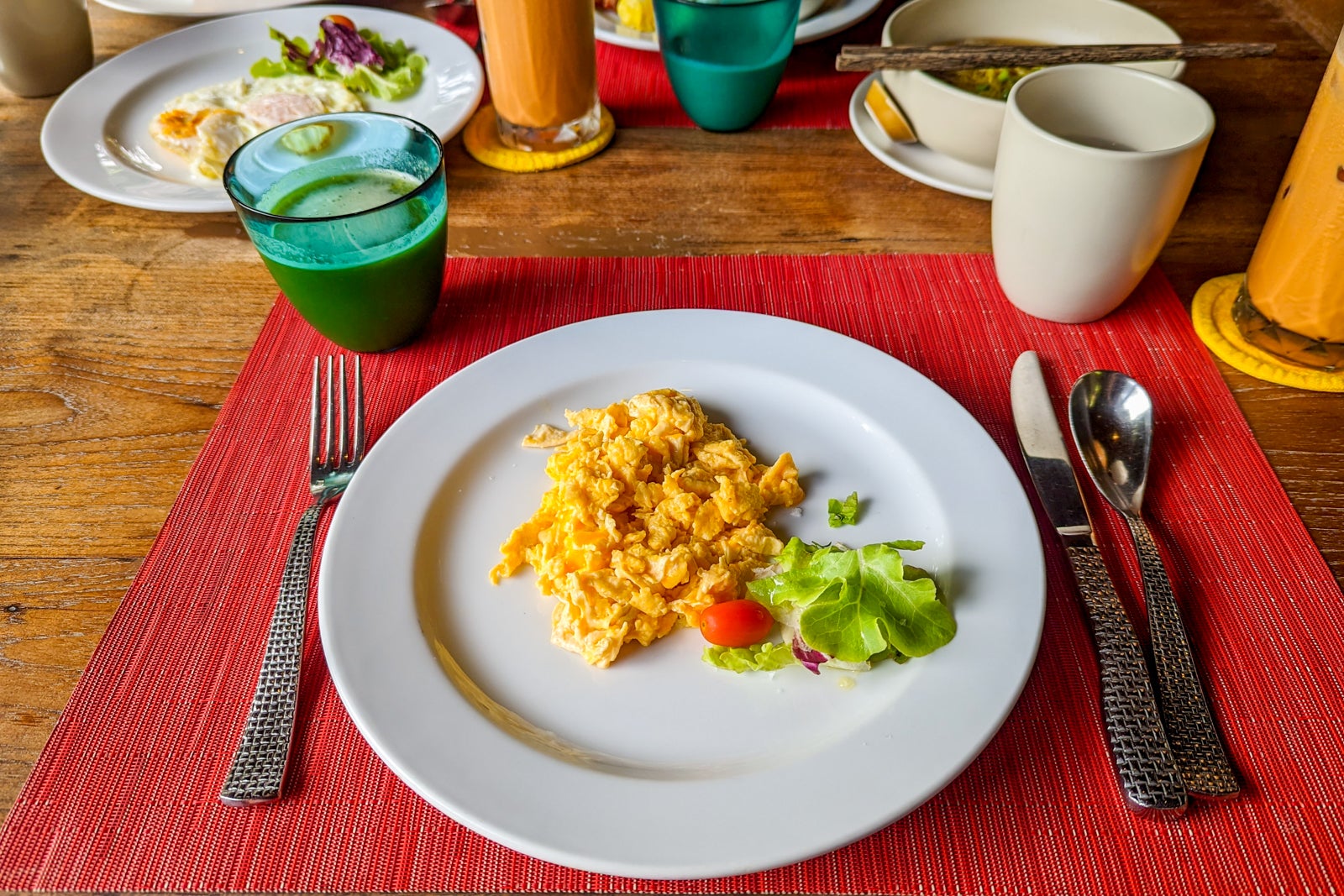 It was fun to walk over to the chicken farm and see the numerous hens who seemed interested in our presence. It was only on our second morning that we noticed the basket of greens to feed the hens; then we understood why they'd been so excited to see us.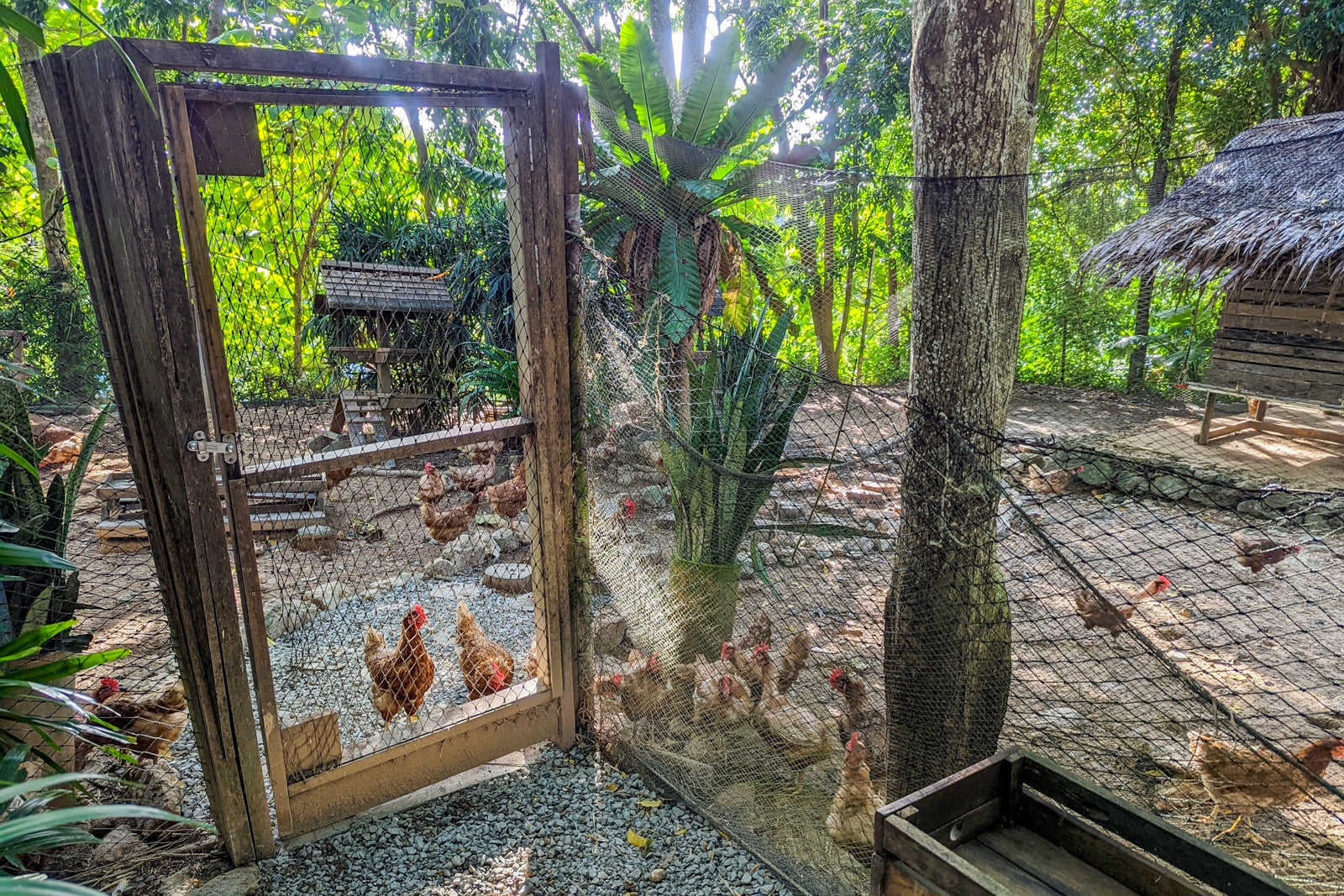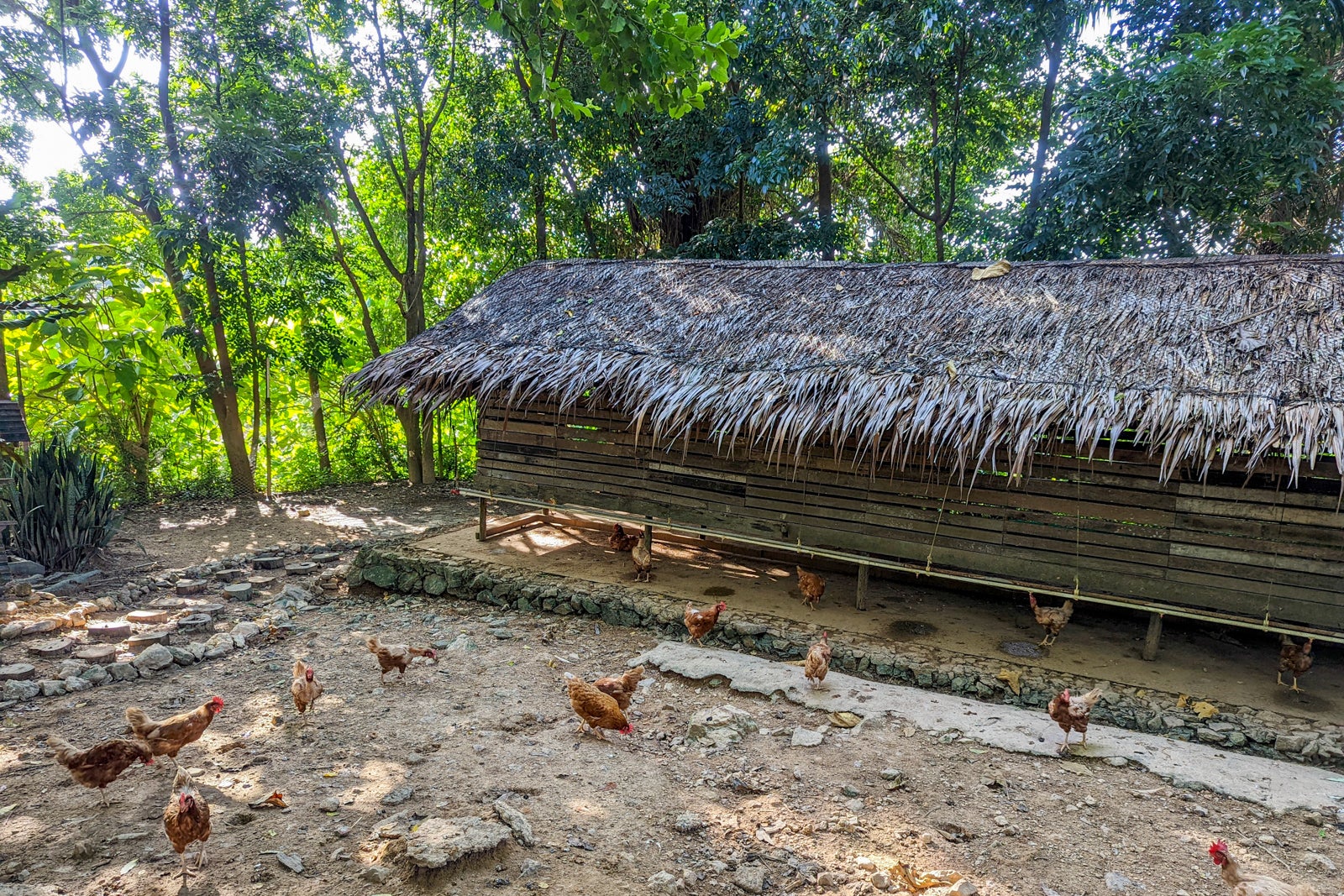 Dinner at the Hilltop
While giving us a tour of the resort on our first day, our GEM noted that we could either make an 8 p.m. reservation for dinner at the Hilltop or order room service that night. So, we snagged the 8 p.m. Hilltop reservation for our first dinner.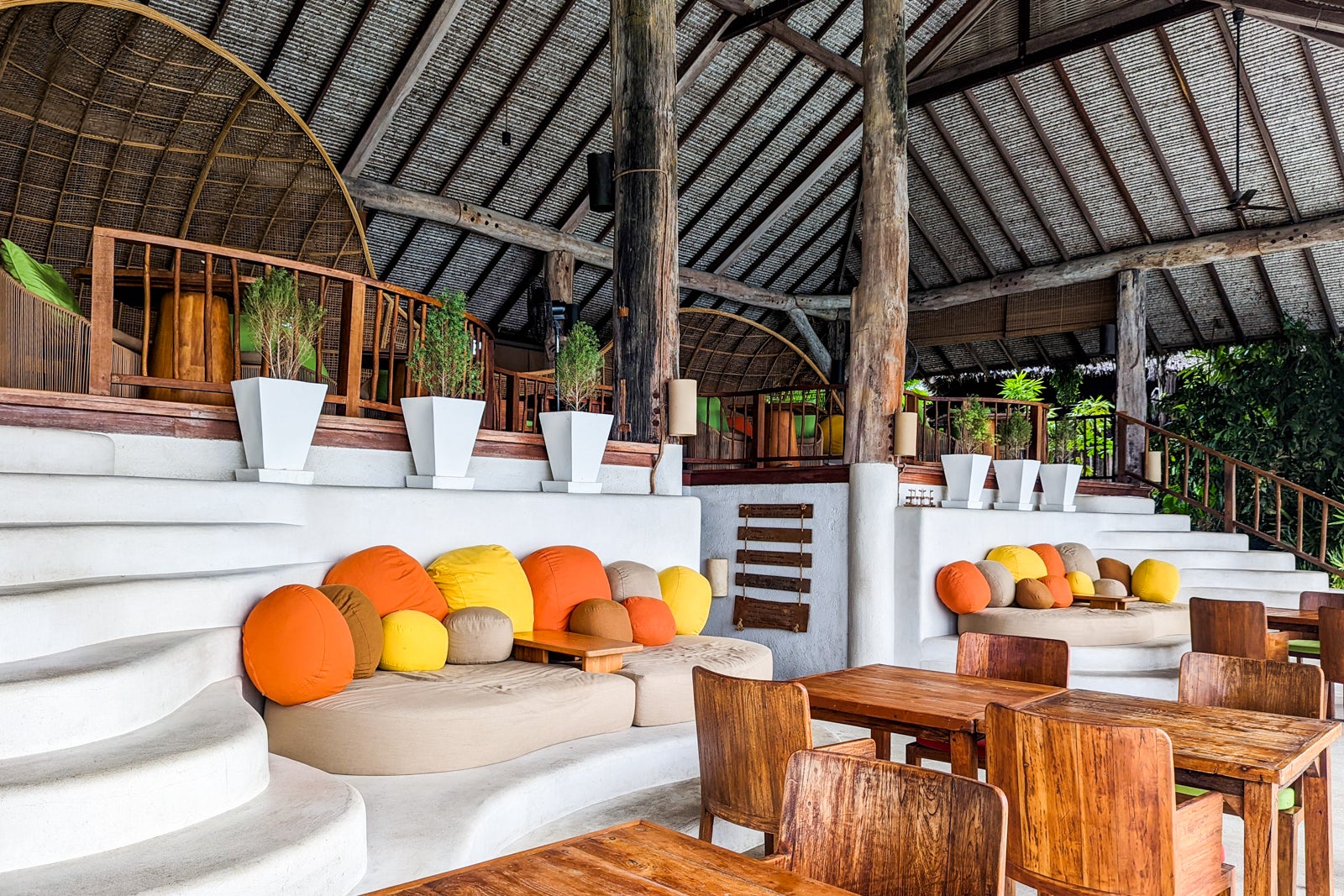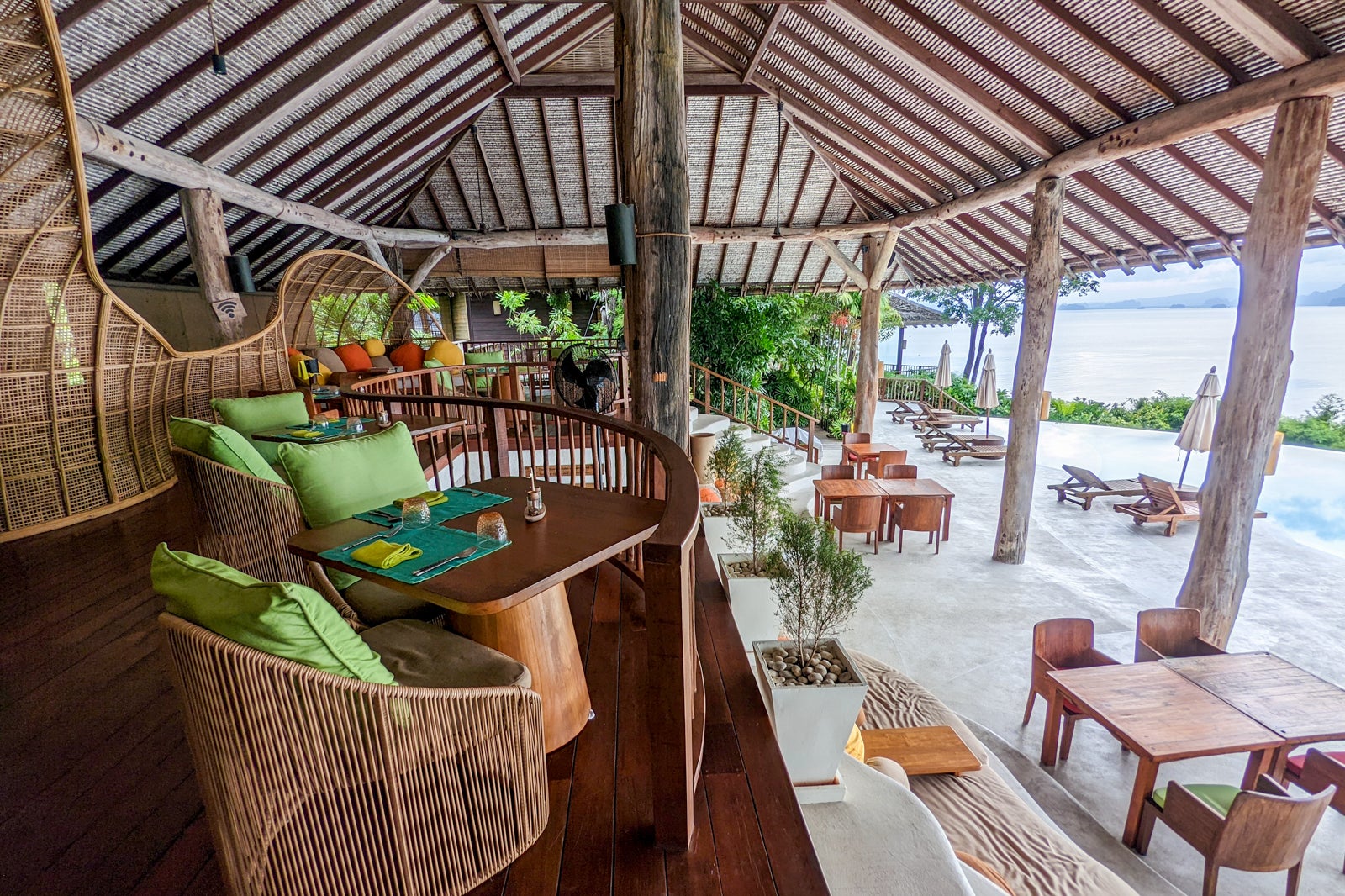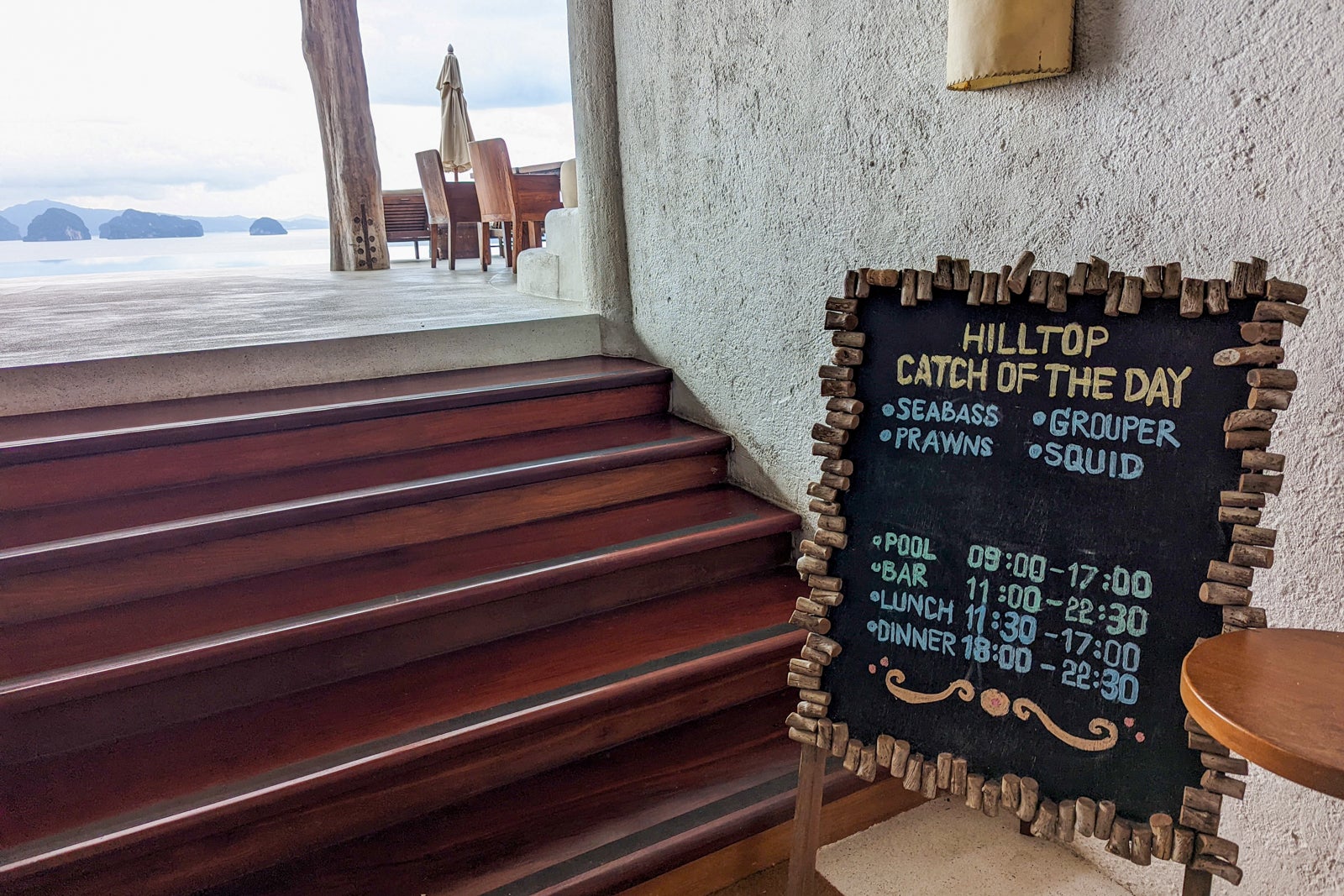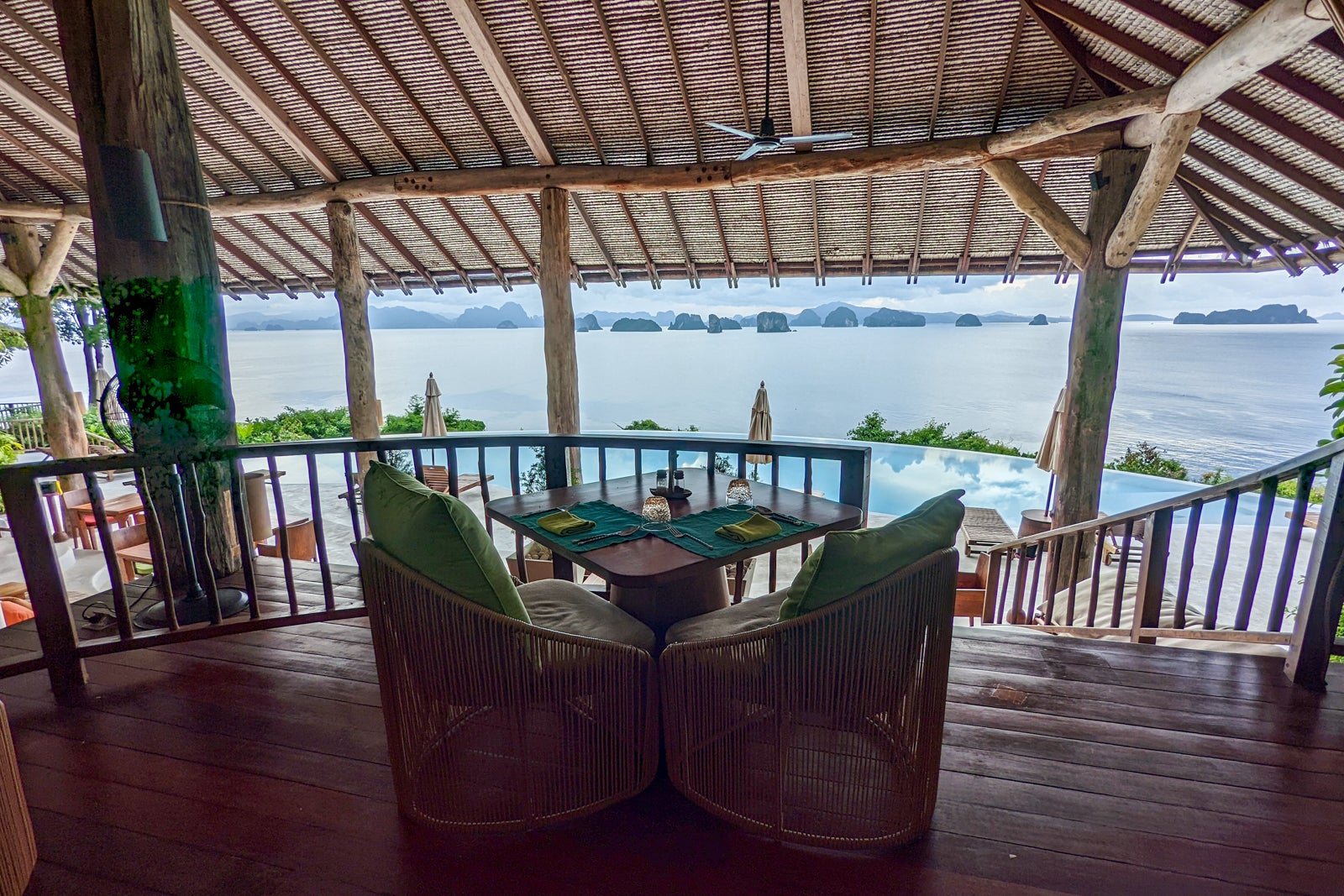 The Hilltop is at the top of the resort, offering excellent views over Phang Nga Bay and its limestone karst pinnacles. We were seated at one of the tables set along the pool edge and started with our IHG cocktails, an amuse-bouche and a basket of warm bread.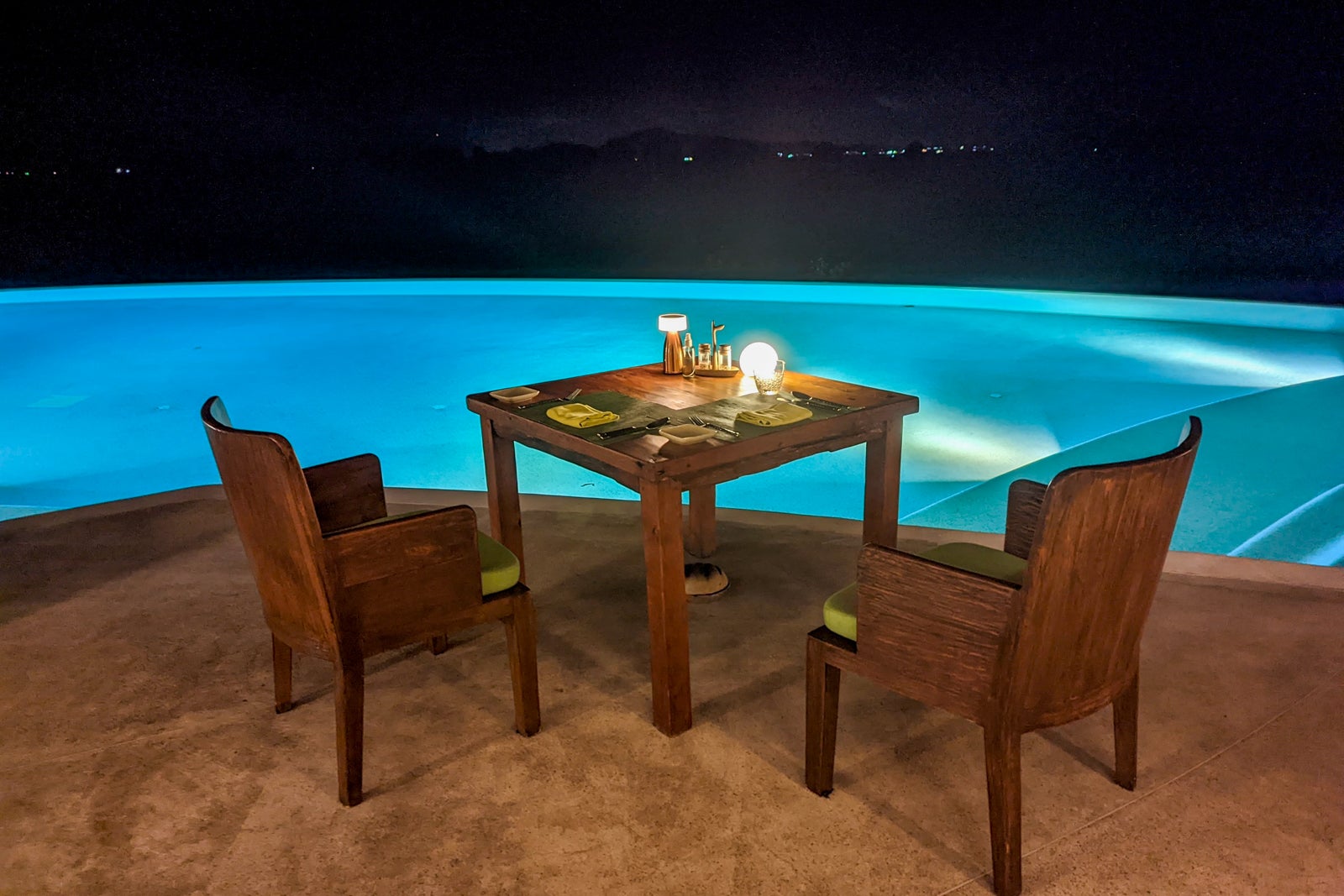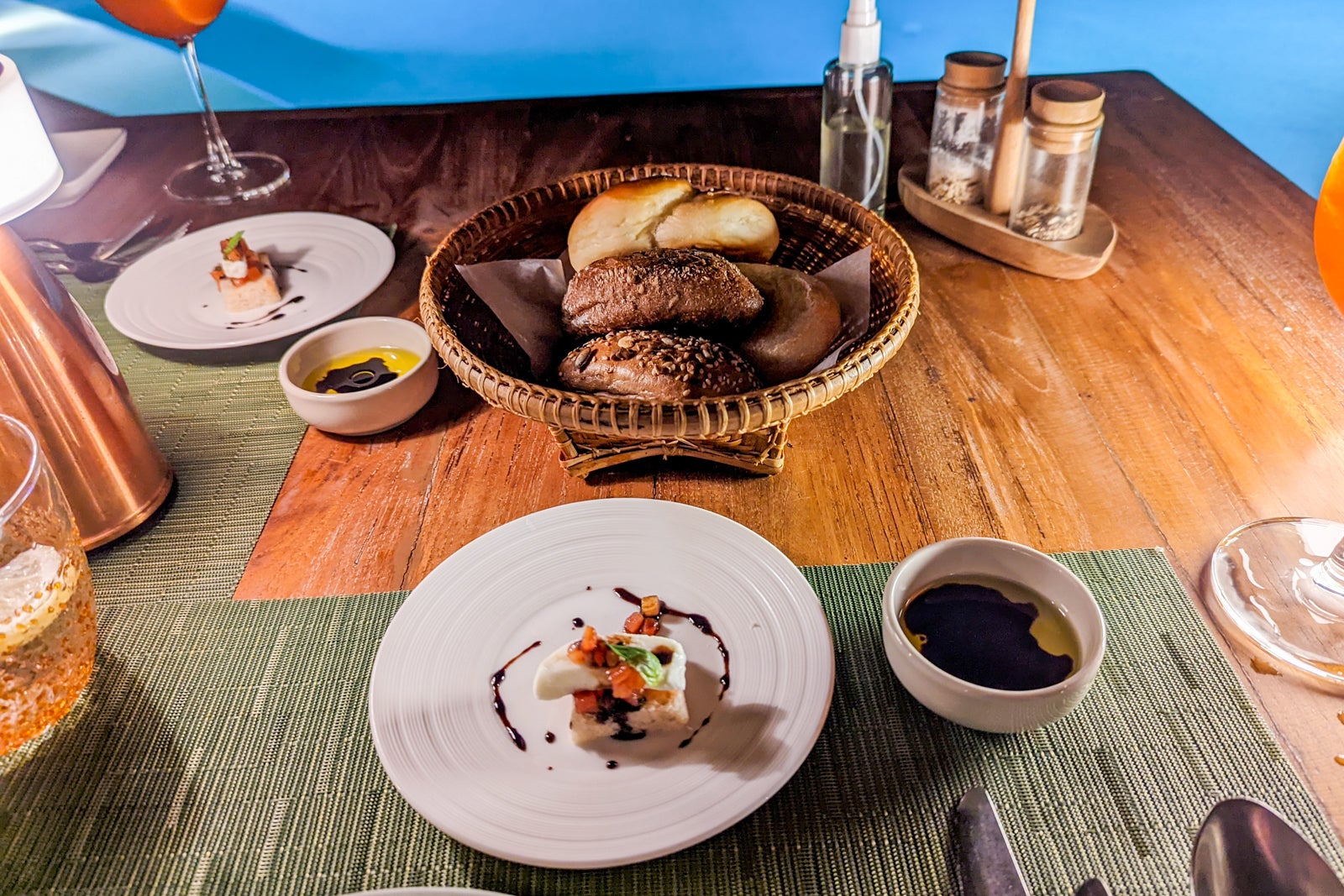 Then our appetizers arrived: pla pla spicy tuna tartar (590 Thai baht or about $16) and pad hed ruam wok tossed homegrown mushroom (450 Thai baht or about $12).
The pla pla spicy tuna tartar was perhaps my favorite dish of my stay, as the tuna was nicely marinated and almost melted in my mouth. I also enjoyed eating the mushrooms, especially since I knew some had been grown in the resort's mushroom hut.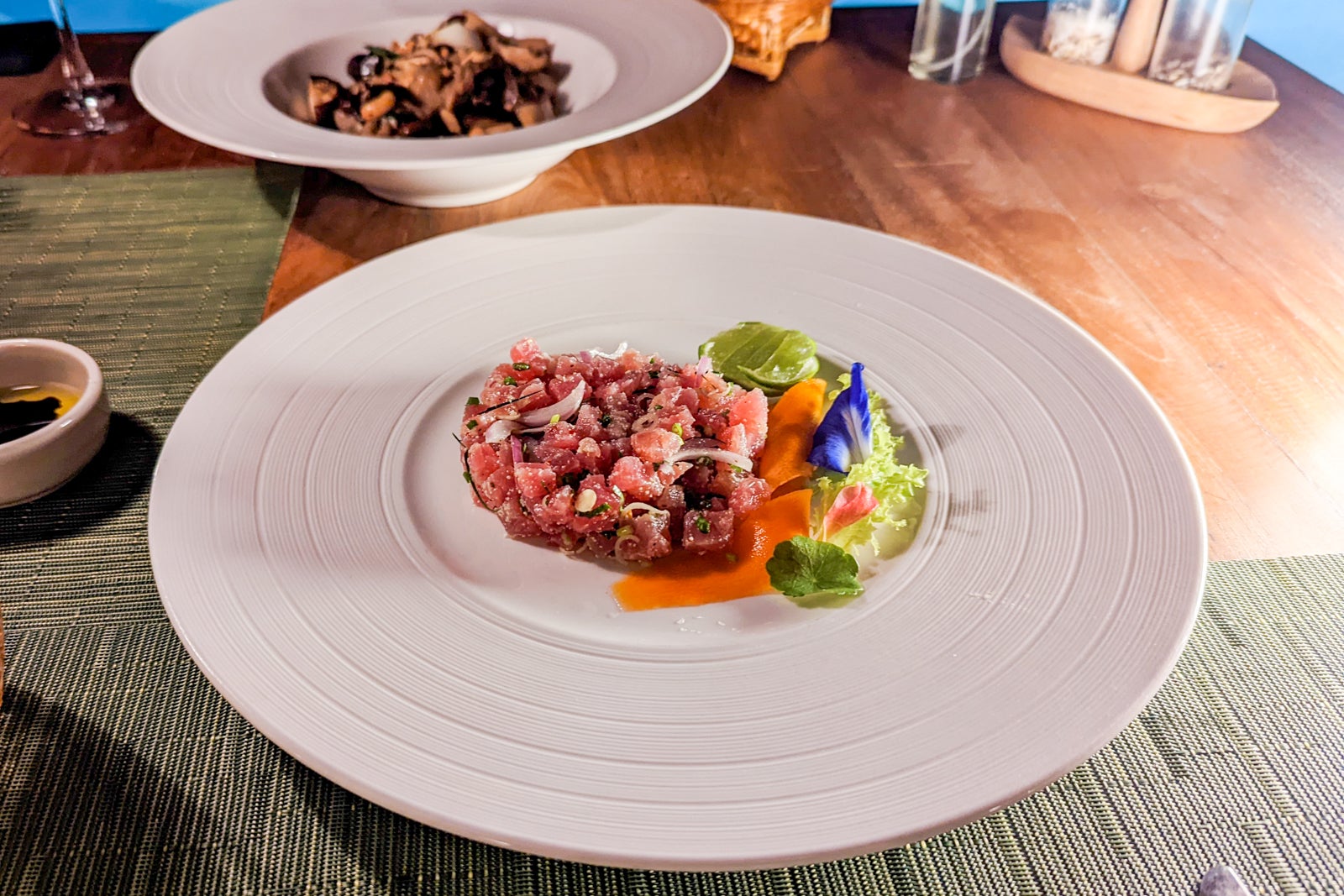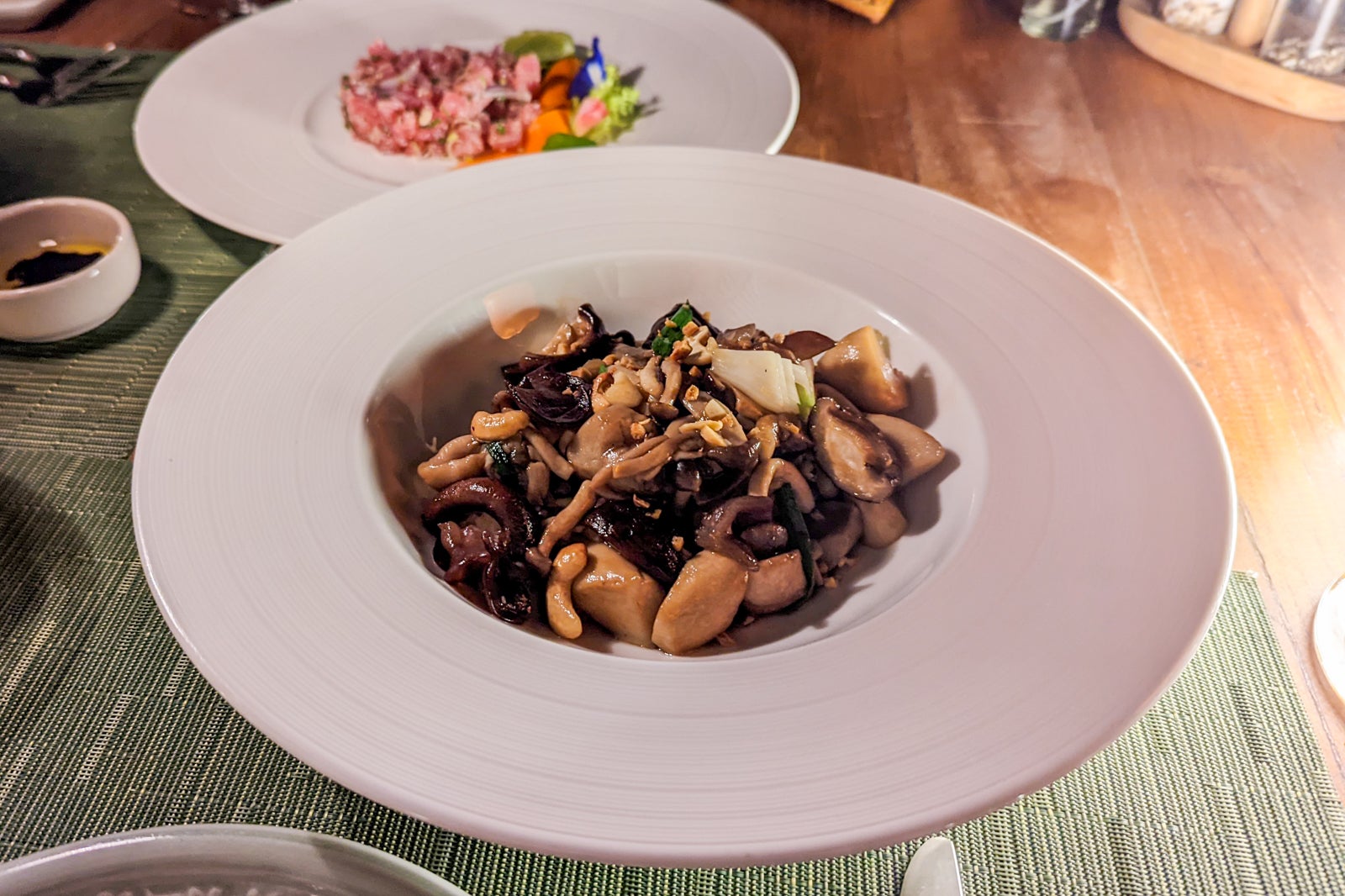 For my main, I ordered the Klong Phai Farm organic free-range chicken (750 Thai baht or about $20), which came with spinach, cauliflower puree, mushroom and thyme. I loved the creamy cauliflower puree and the chicken moist and flavorful.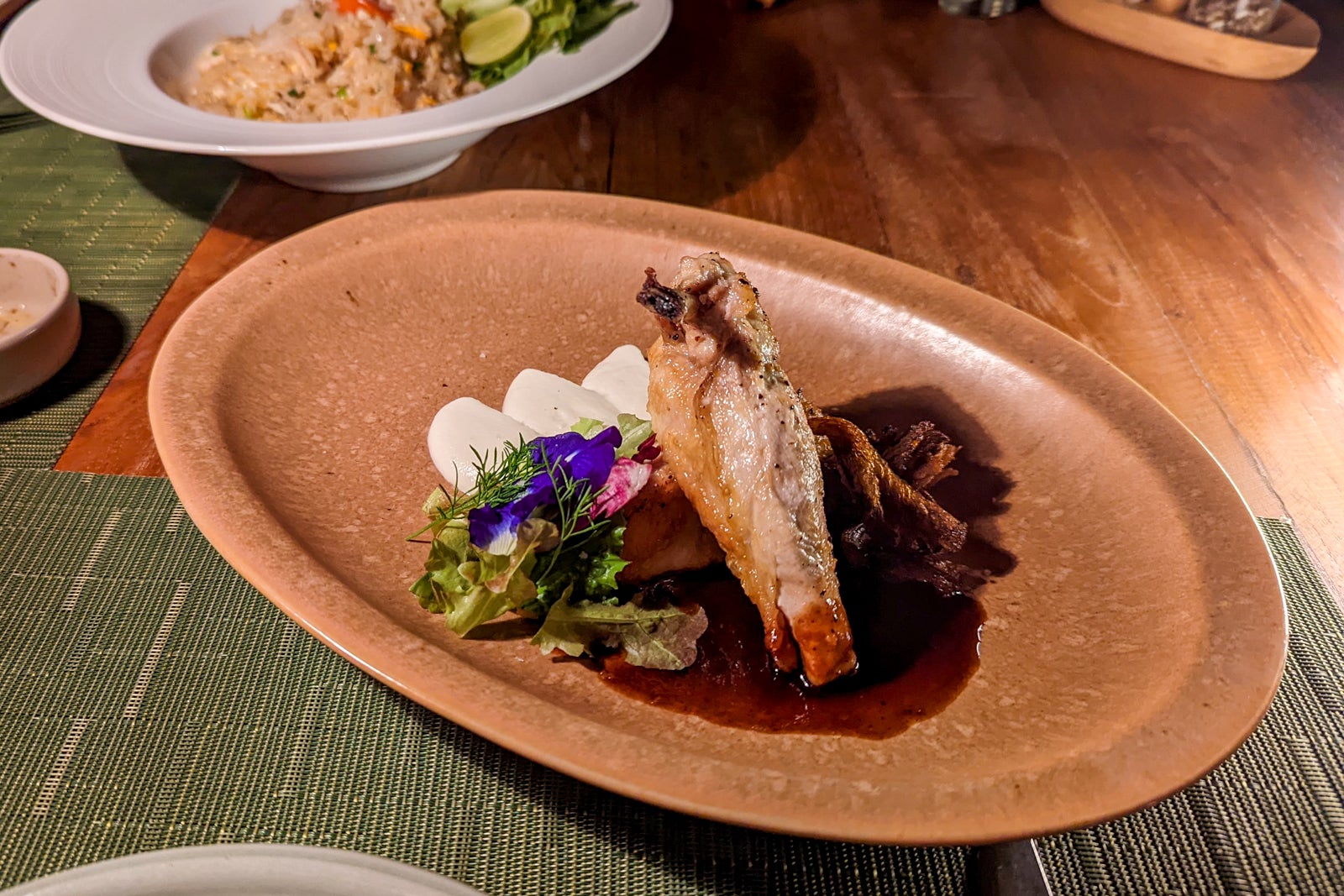 The Hilltop also offers a well-stocked bar.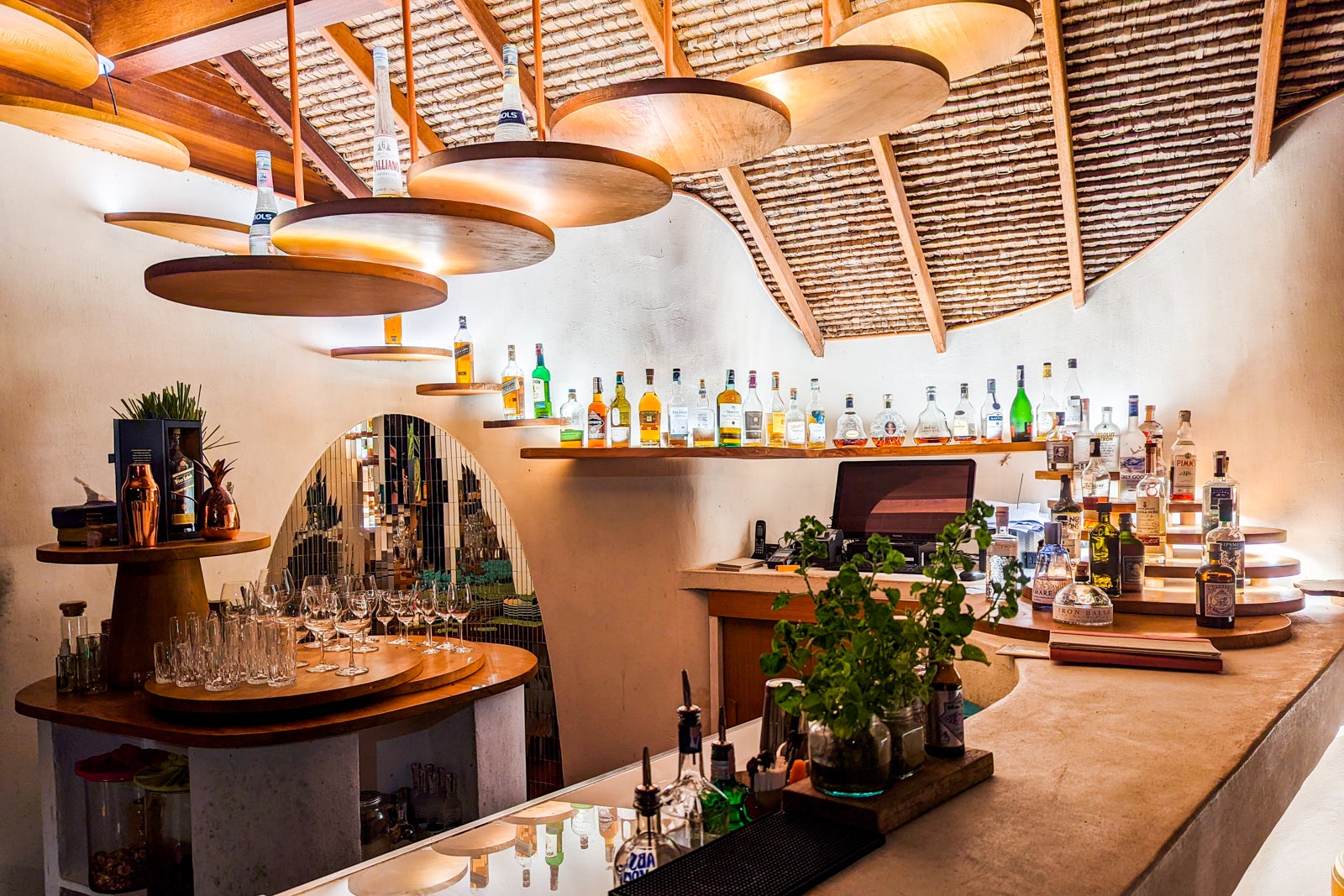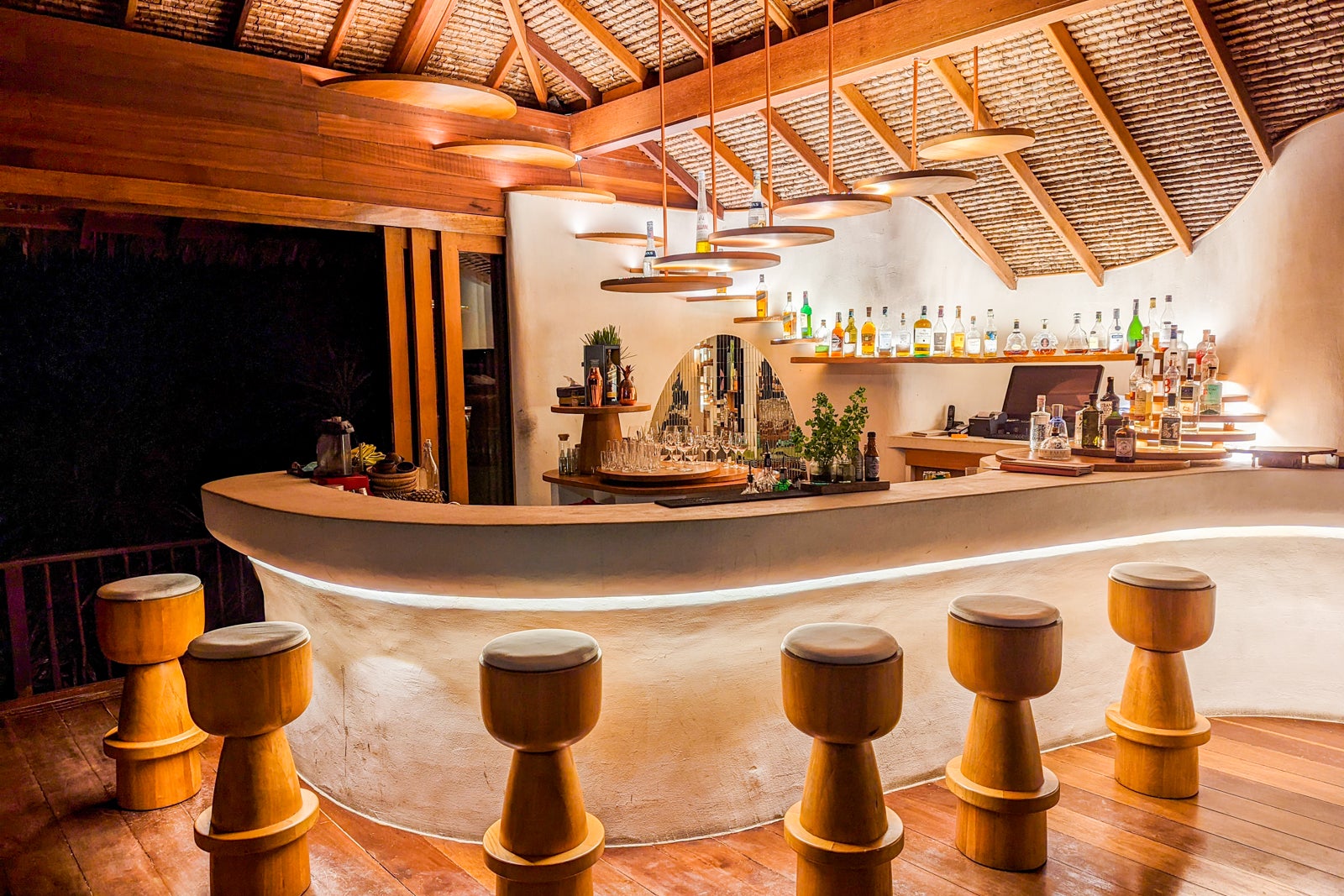 Thai dining journey at the Dining Room
Most nights, Six Senses Yao Noi offers a themed set meal option. On our second night, we tried the six-course Thai Dining Journey for 2,800 Thai baht (about $76) per person. We were assigned a secluded booth to the side of the Dining Room restaurant for our meal.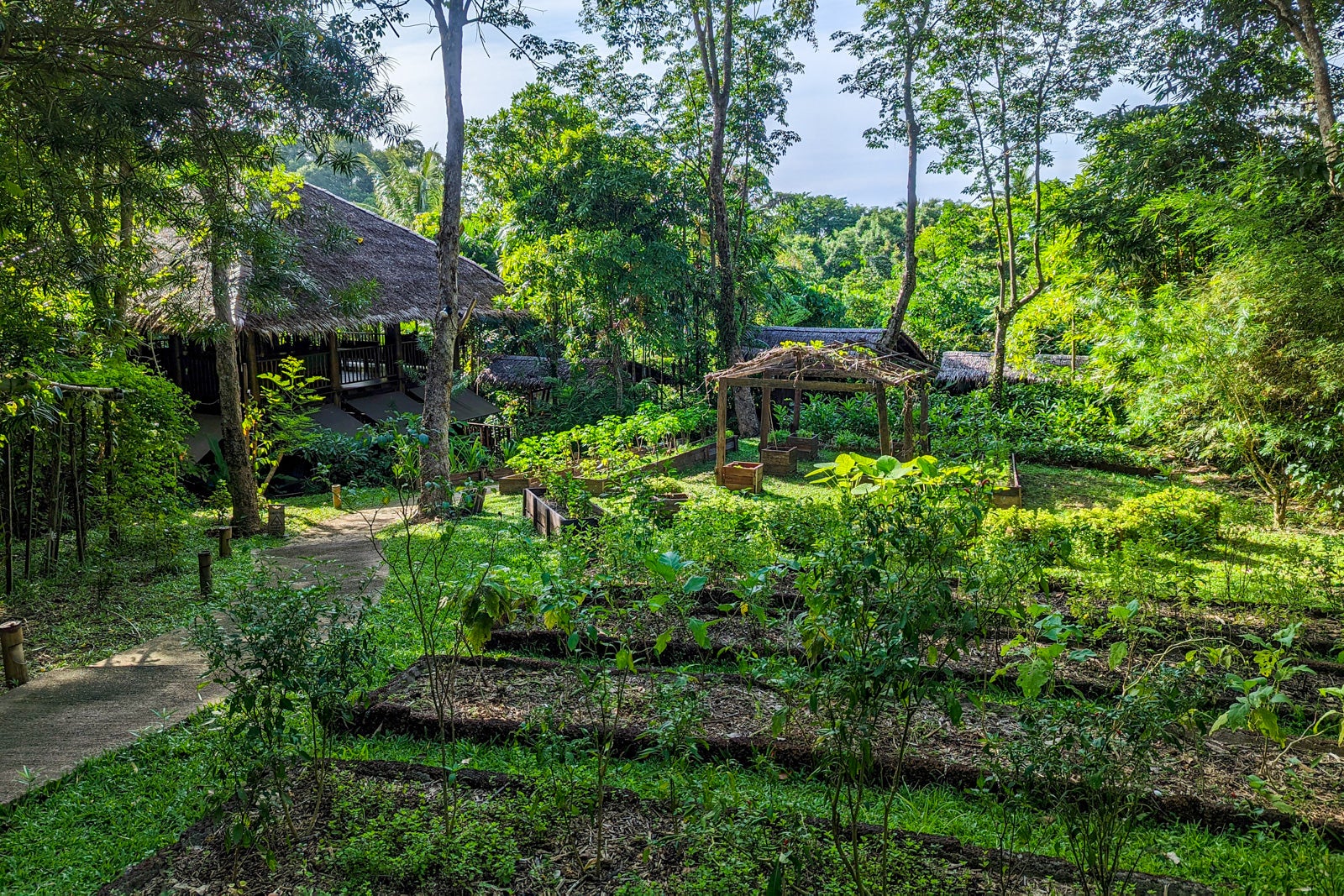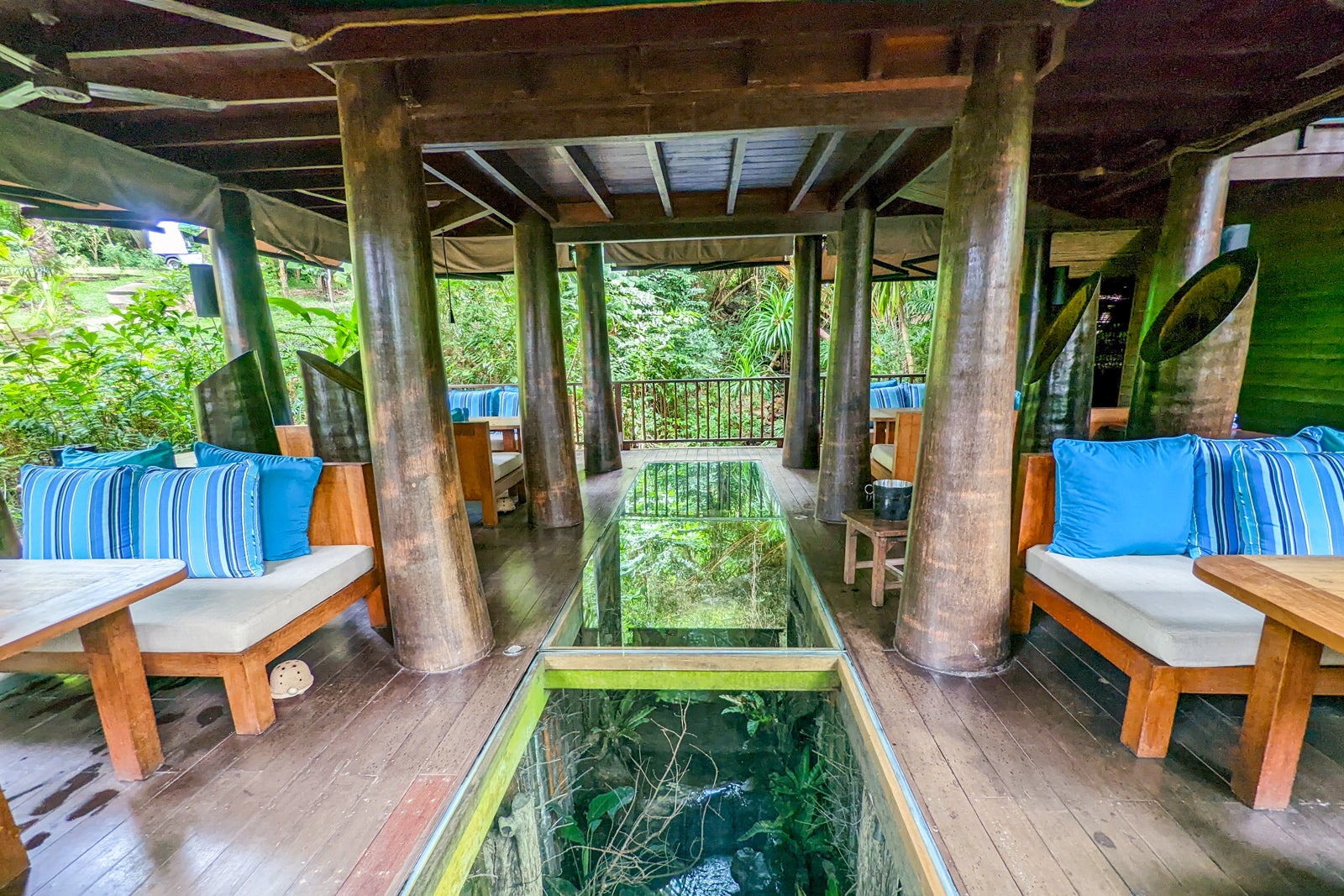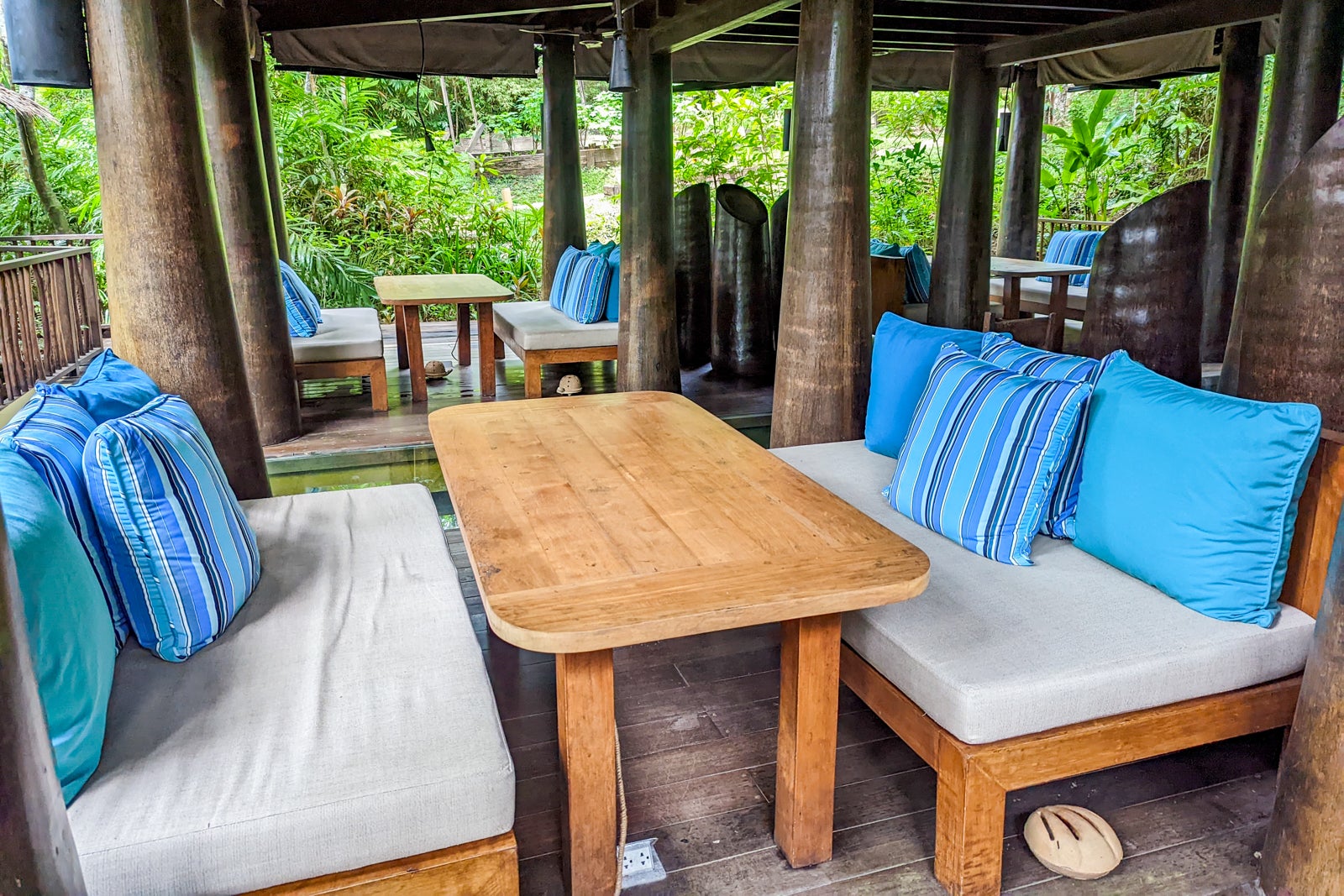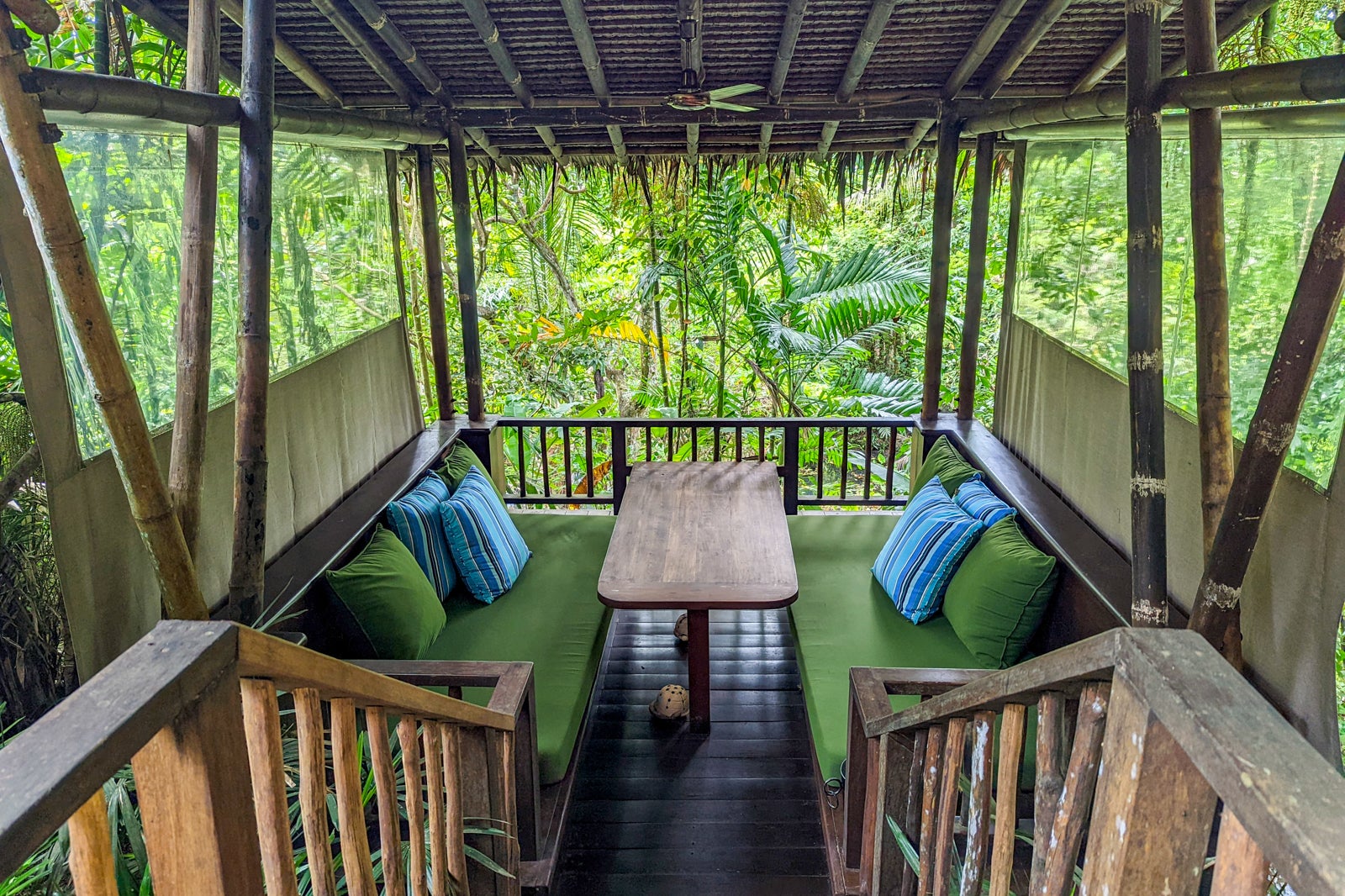 We were surprised no one asked about our preferred spice level as a few dishes (the gambas tom yum herbs and the Thai mutton biryani, in particular) were spicier than I would have preferred.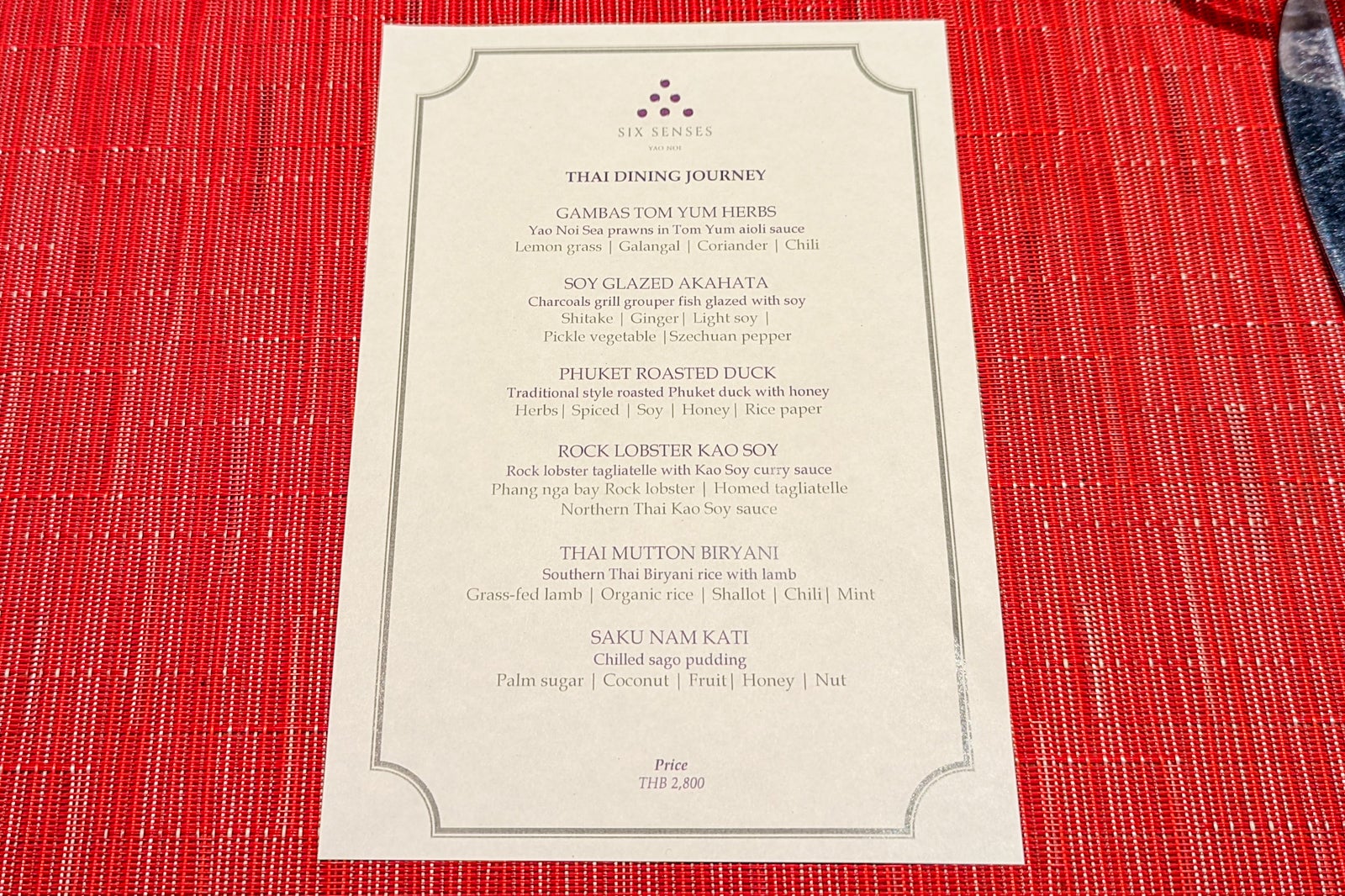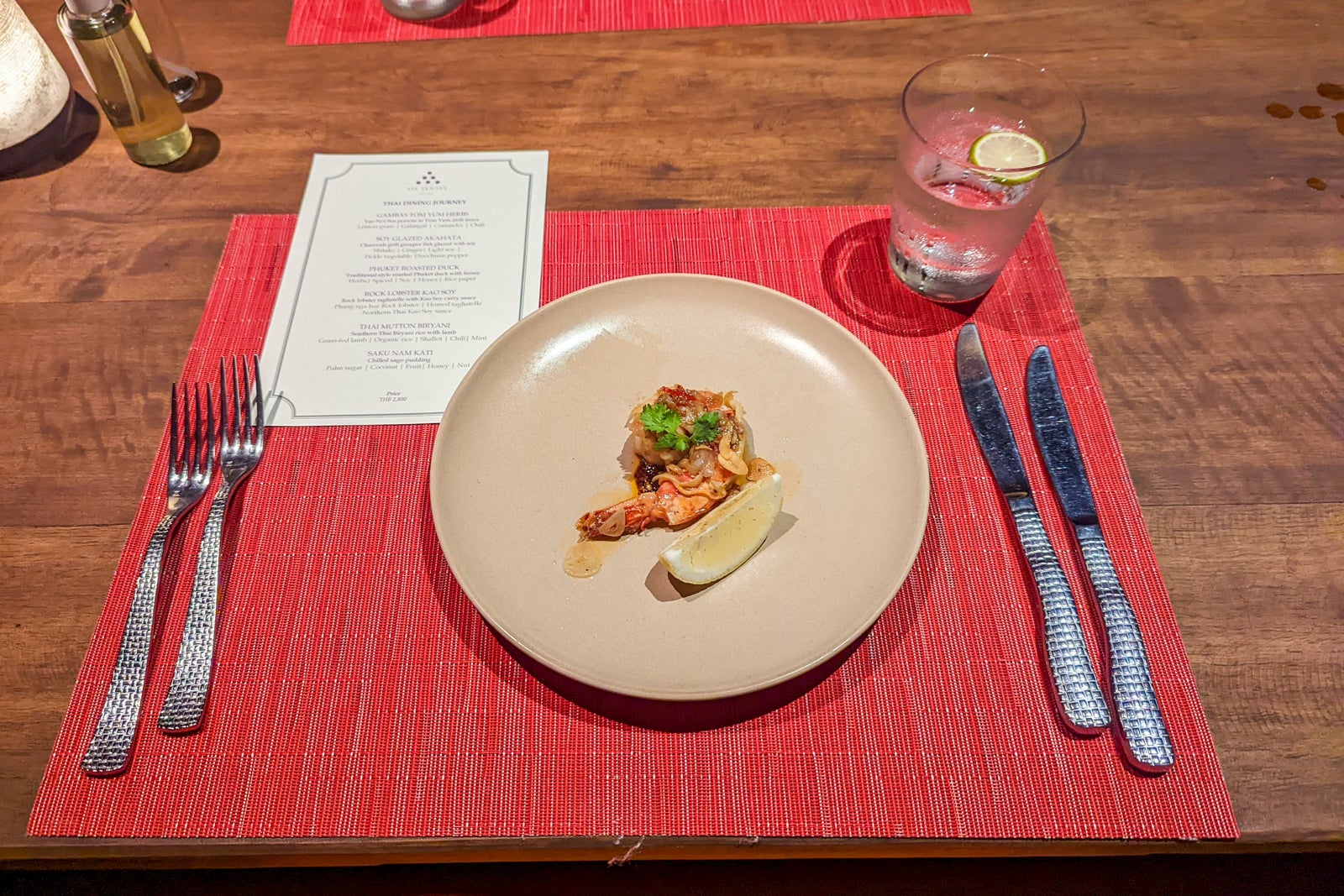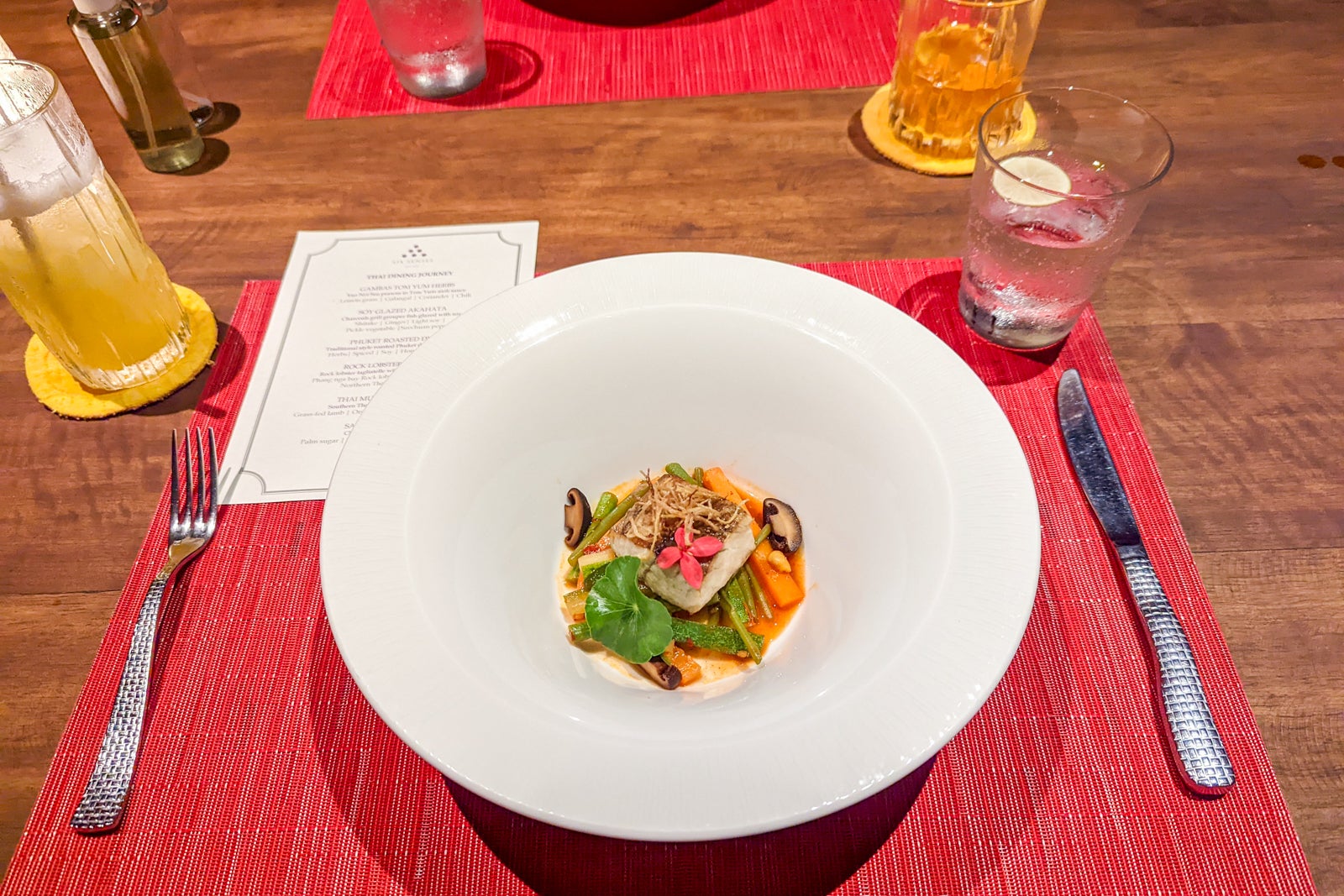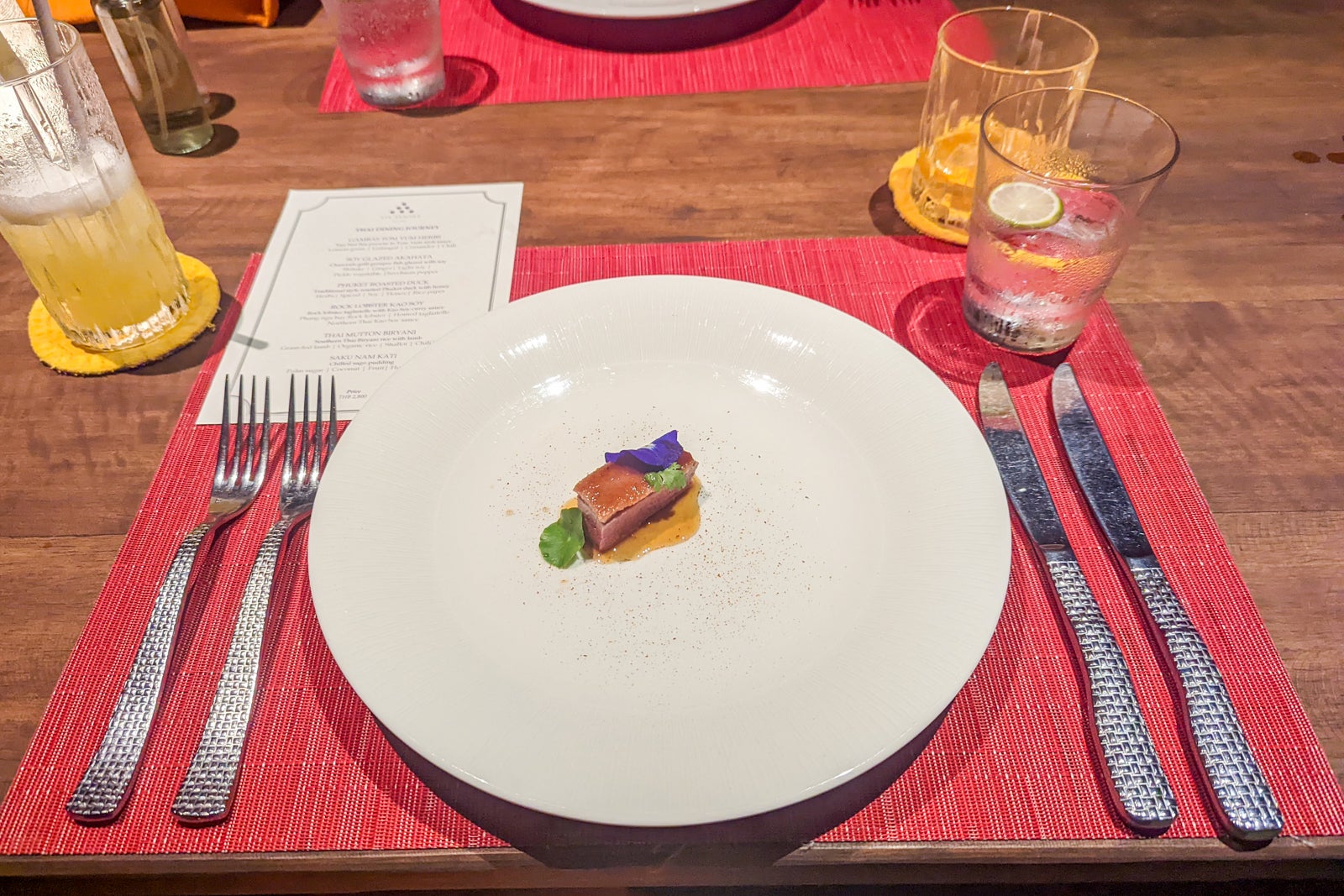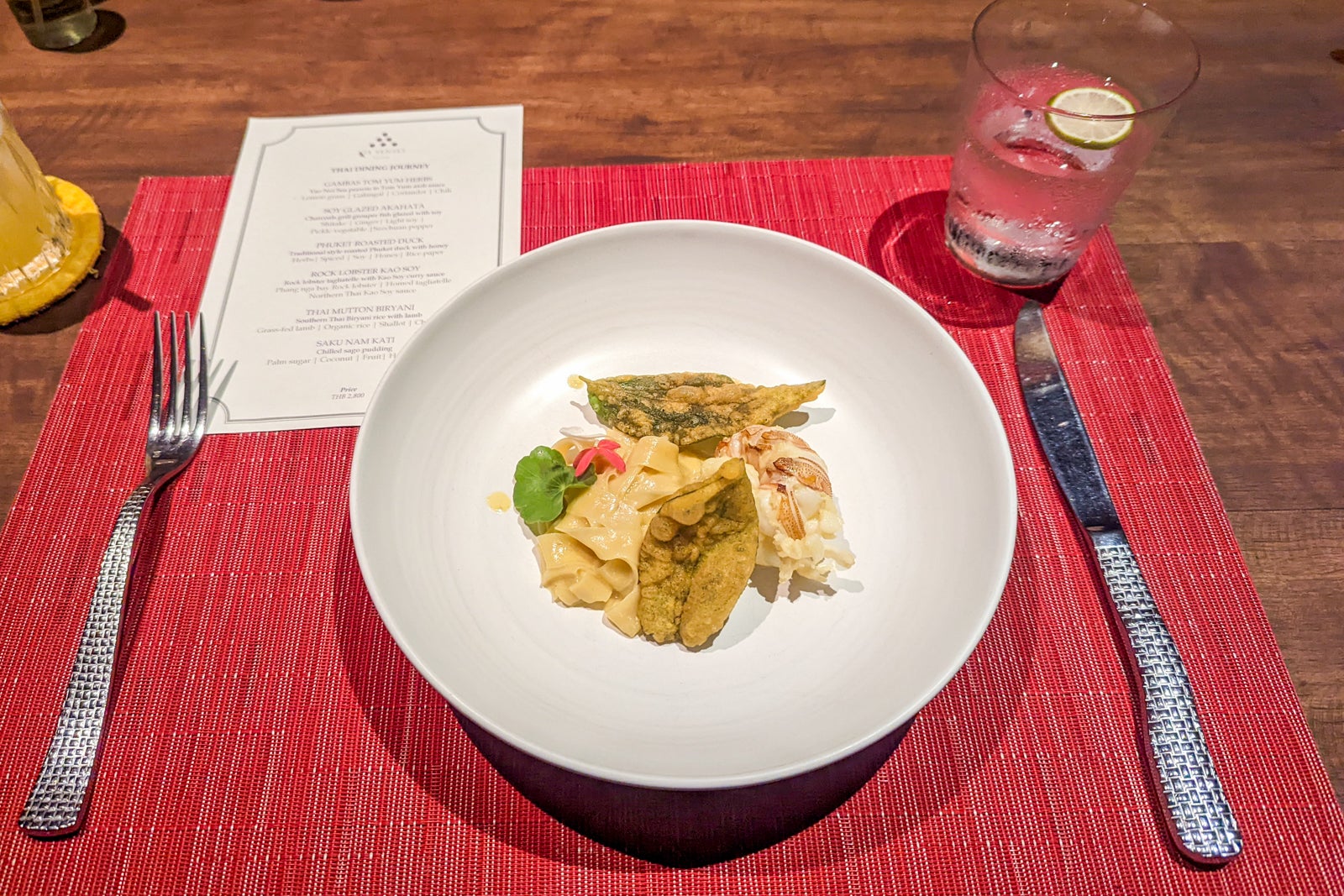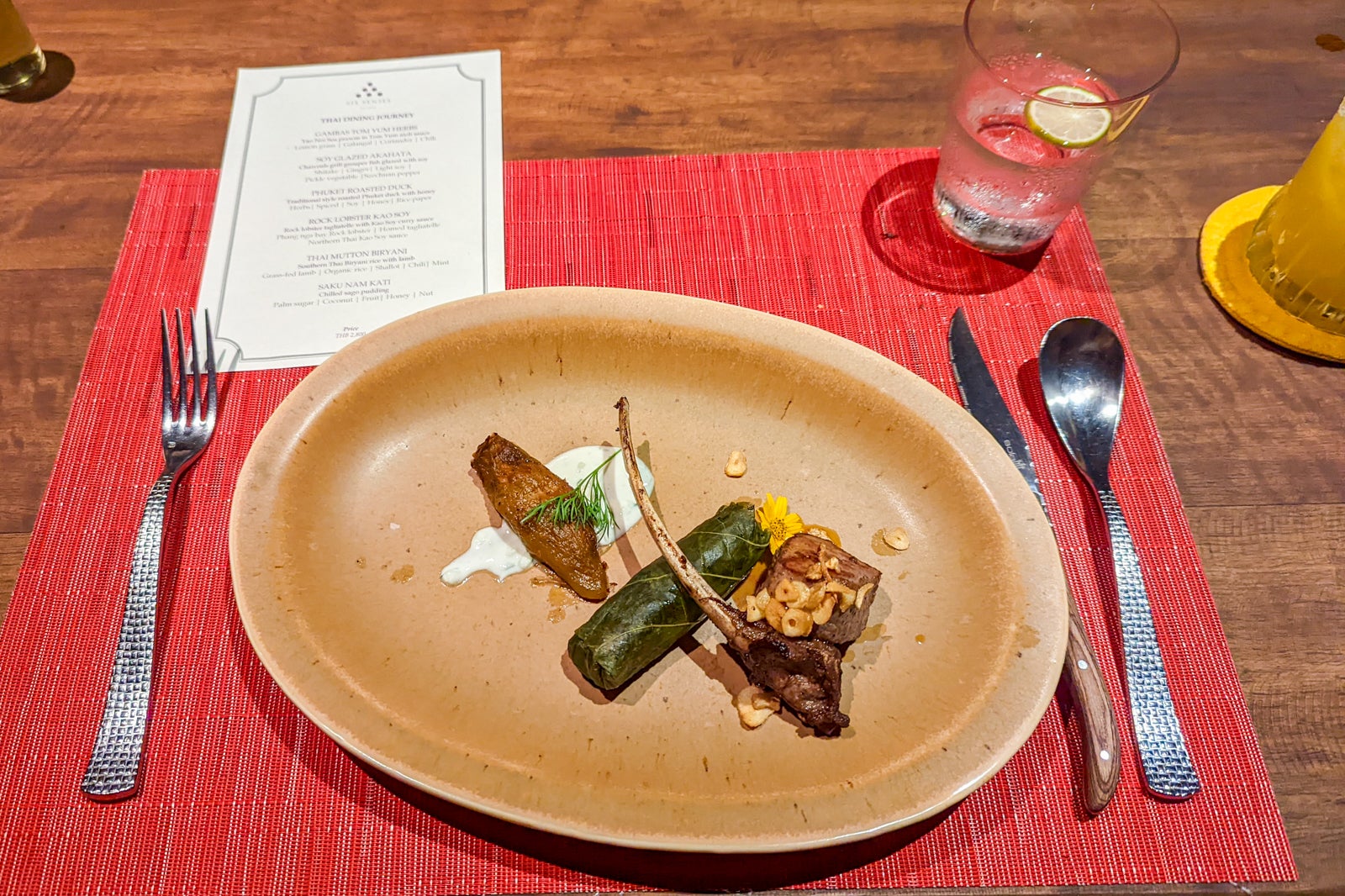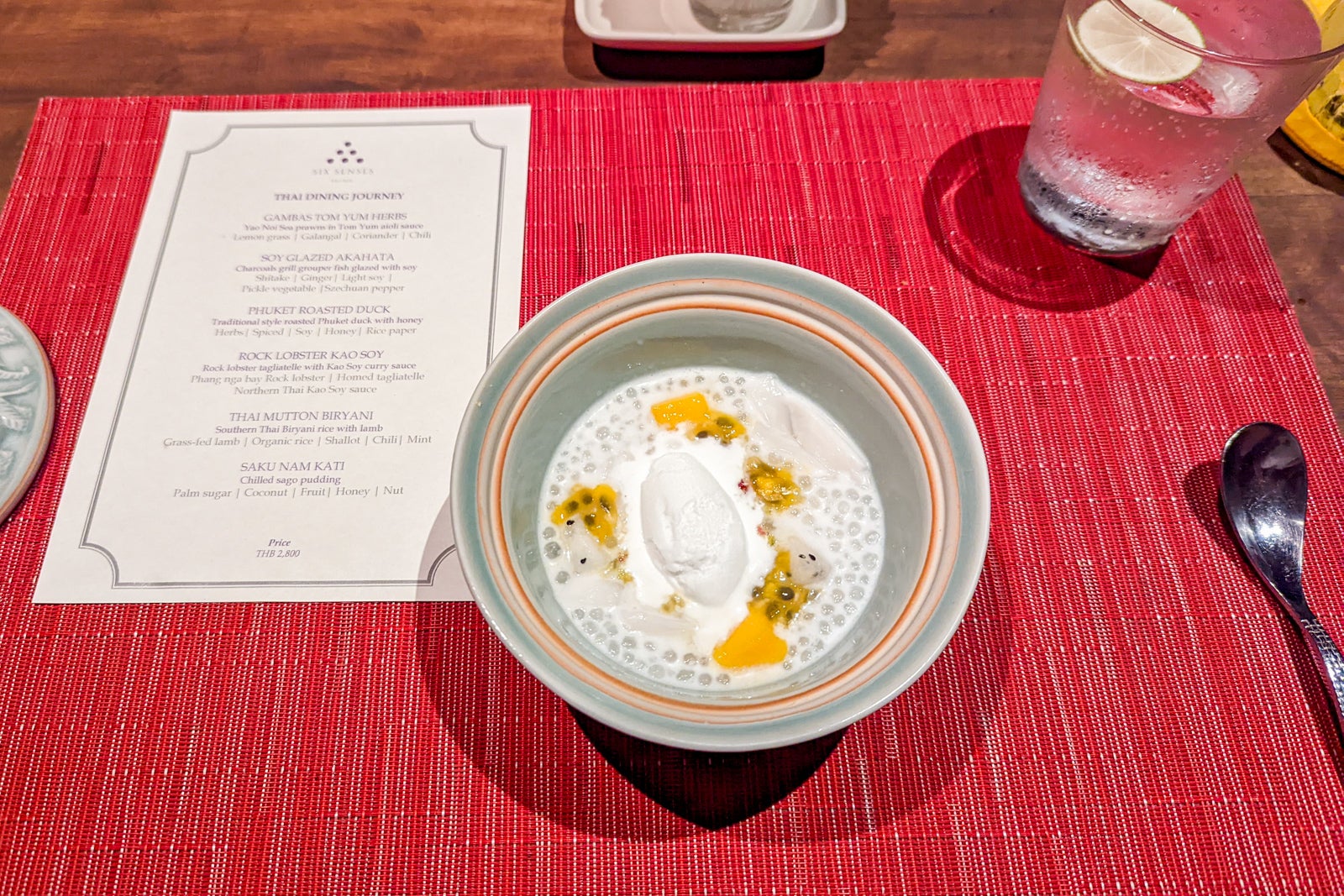 Overall, I enjoyed the meal. I particularly liked the rock lobster kao soy, including the delicious homemade pasta and breaded leaves that came with it. The saku num kati was also delicious and nicely presented. But considering the cost, I'd recommend skipping the dining journeys unless you find the themed set menu particularly appealing.
Room service lunch
We ordered room service lunch one afternoon and were impressed that our food arrived just 20 minutes after we placed our order — a full 10 minutes ahead of the estimated time of arrival given when we ordered by phone.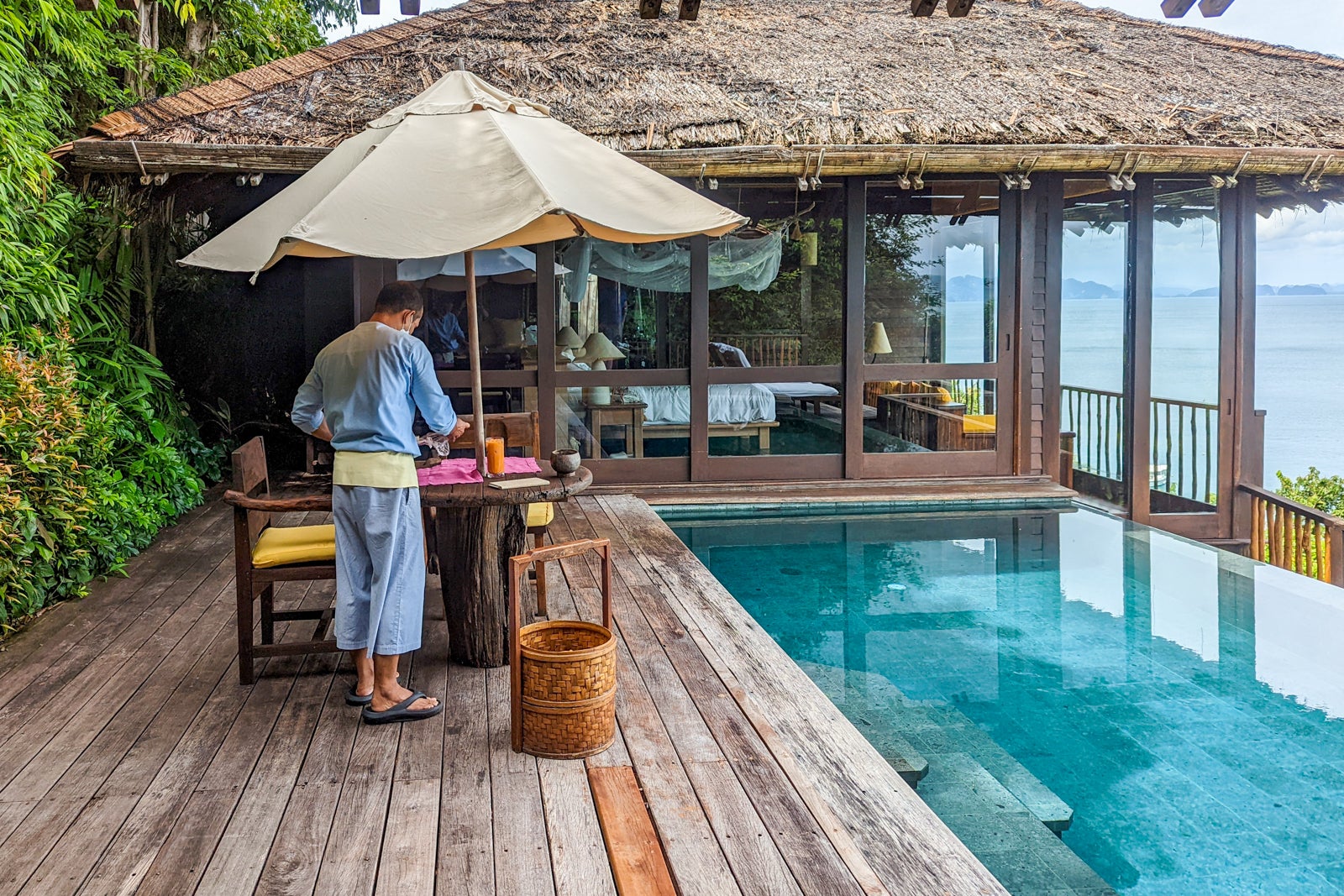 We tried the Six Senses Super Wellness Salad (460 Thai baht or about $12), vegetarian rice paper rolls (450 Thai baht or about $12) and Thai iced tea (250 Thai baht or about $7) — all of which were nicely presented, fresh and tasty.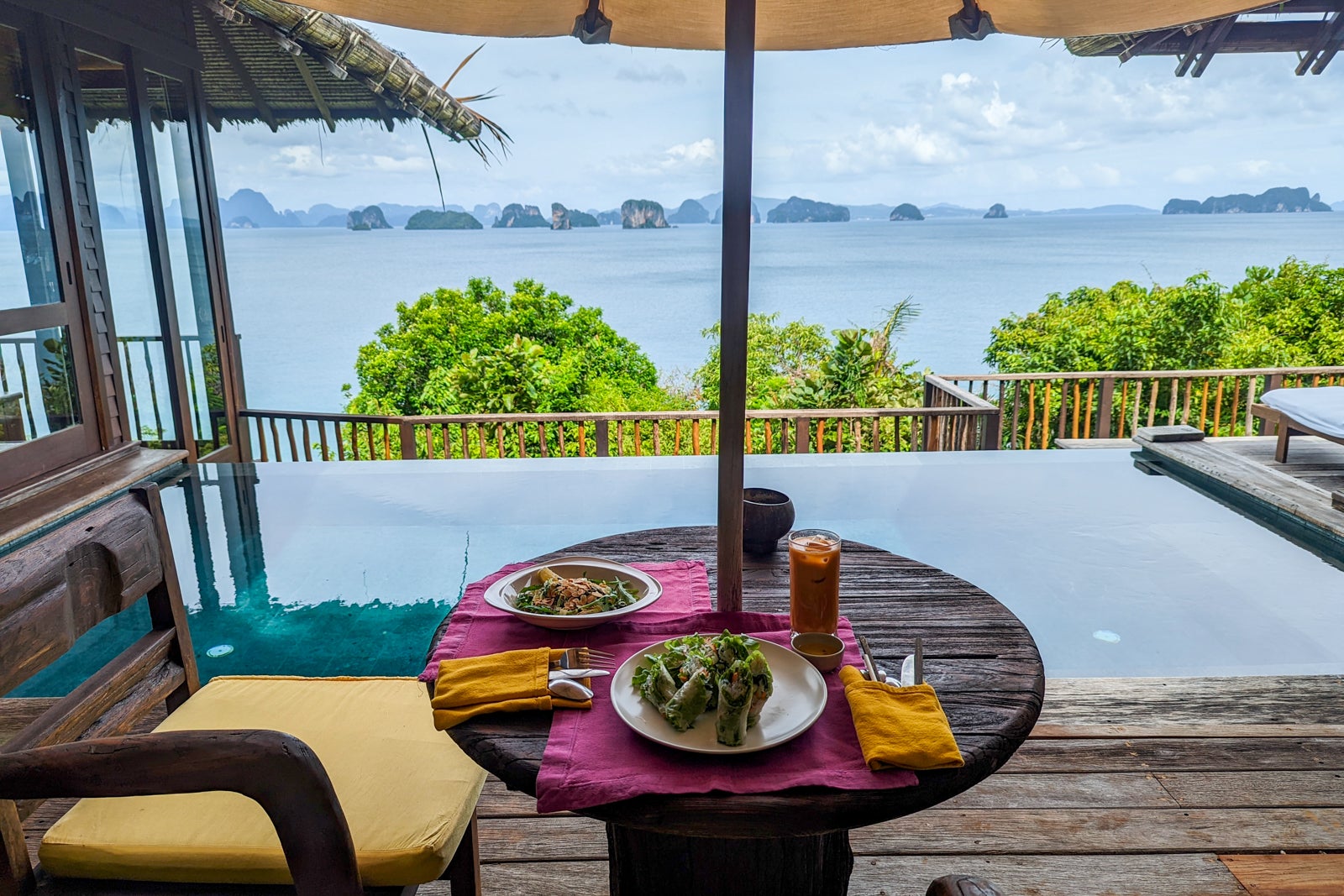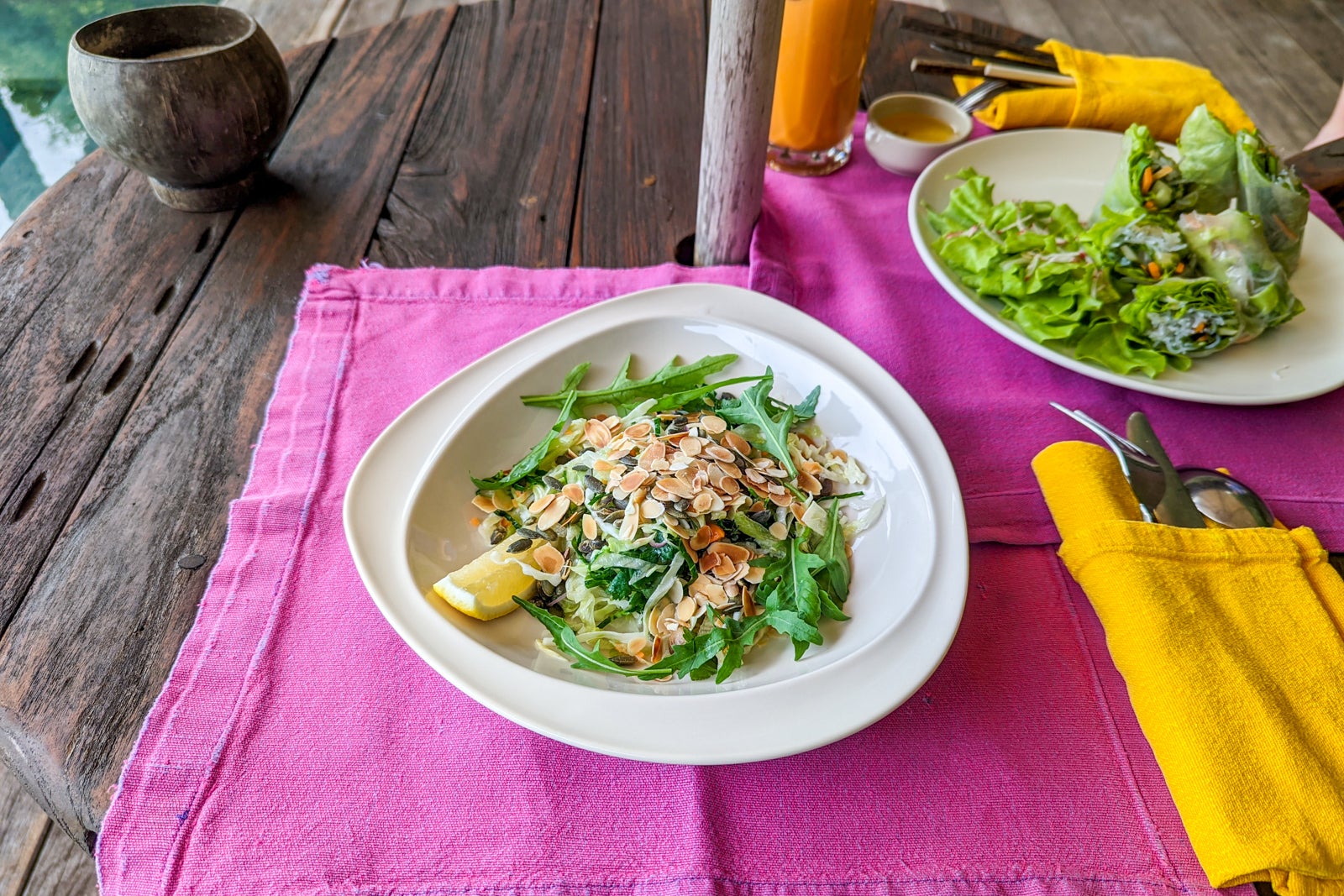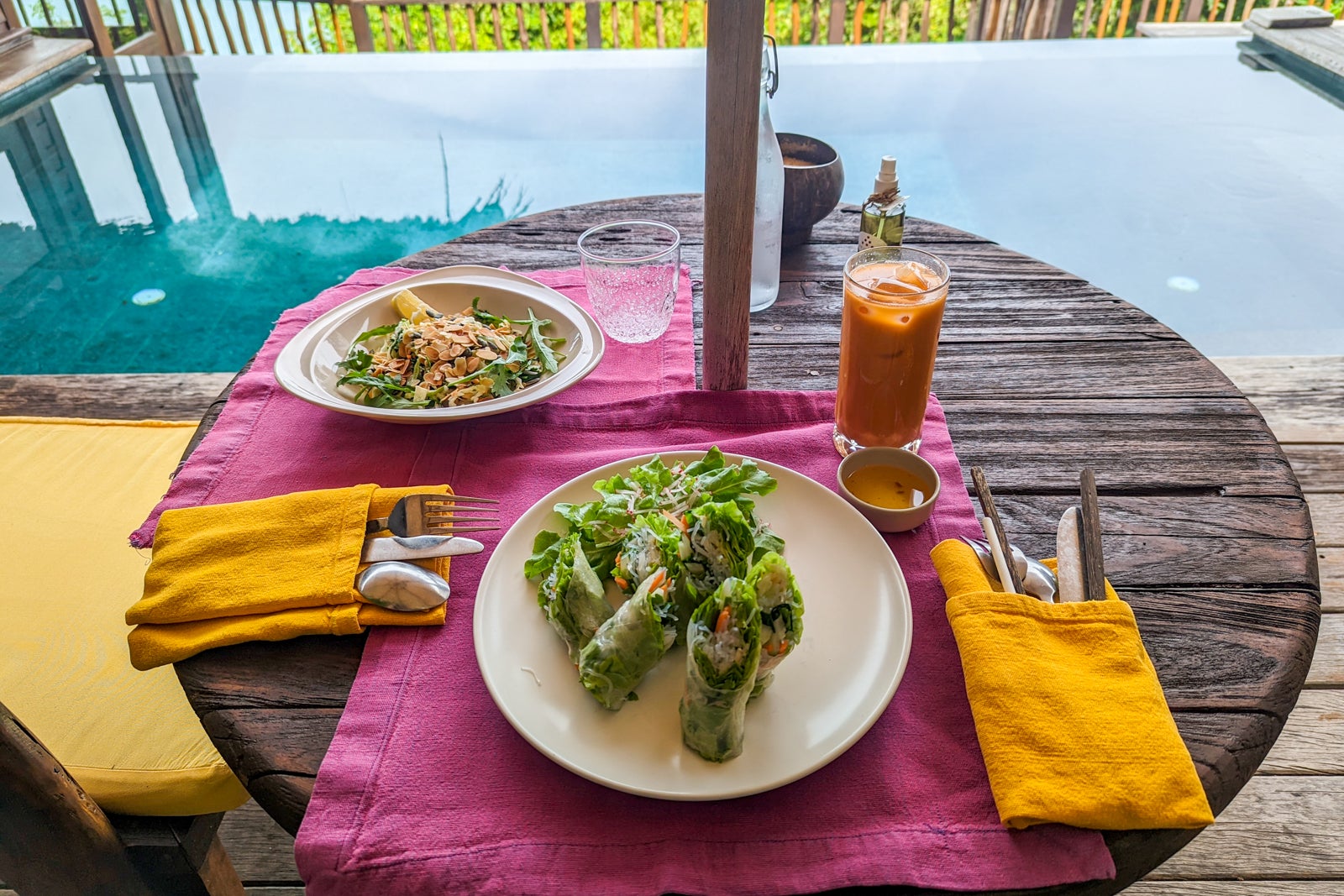 Our meal choices felt particularly healthy, and I loved the plum dipping sauce for the vegetable rolls and the light, refreshing dressing for the salad. Plus, the view from our villa's patio was wonderful.
Amenities
Six Senses Yao Noi offers a wide variety of amenities and activities, especially considering it hosts just 56 villas.
When you first reach your villa to check-in, you'll find an activities list for the week. But you can also book other activities for an additional cost by speaking with your GEM. For example, you could sign up for Thai boxing lessons.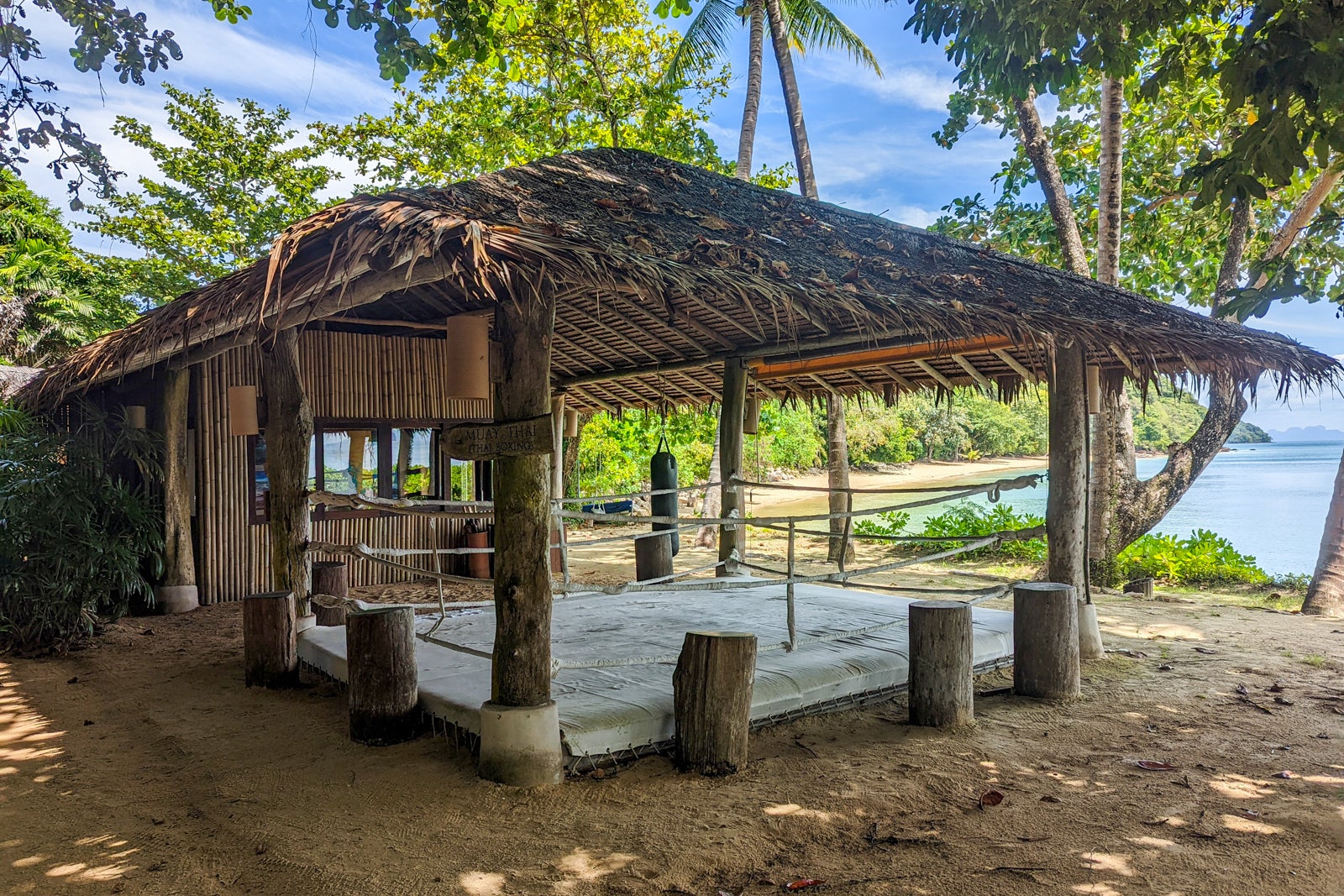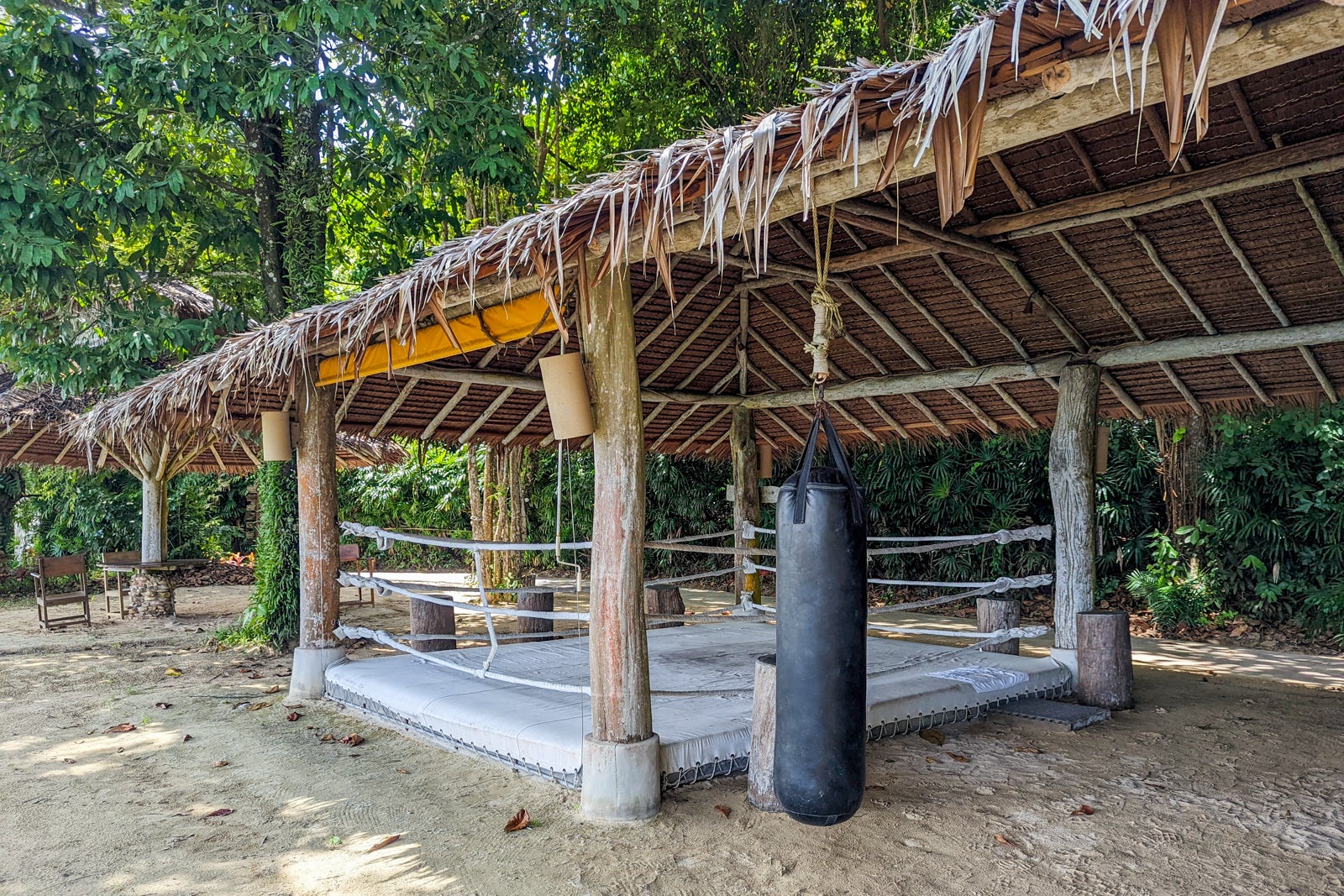 My husband and I reserved spots on the complimentary 9 a.m. kayak activity heading to Koh Nok our first morning. We joined one other couple and a guide on our approximately 90-minute outing to Koh Nok and nearby mangroves.
The scenery was excellent, but what I enjoyed most about this activity was chatting with our guide, who had grown up on the island of Yao Noi.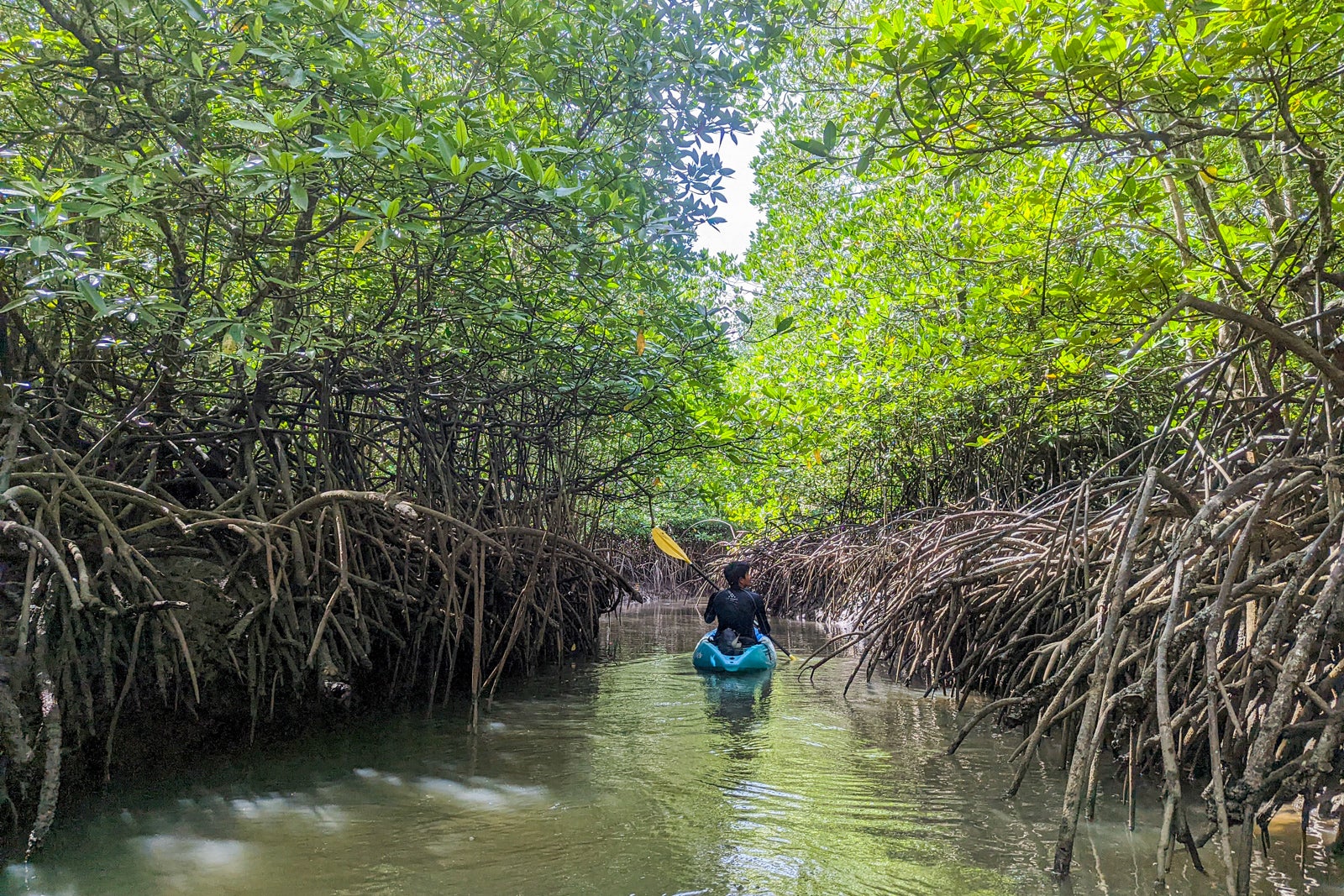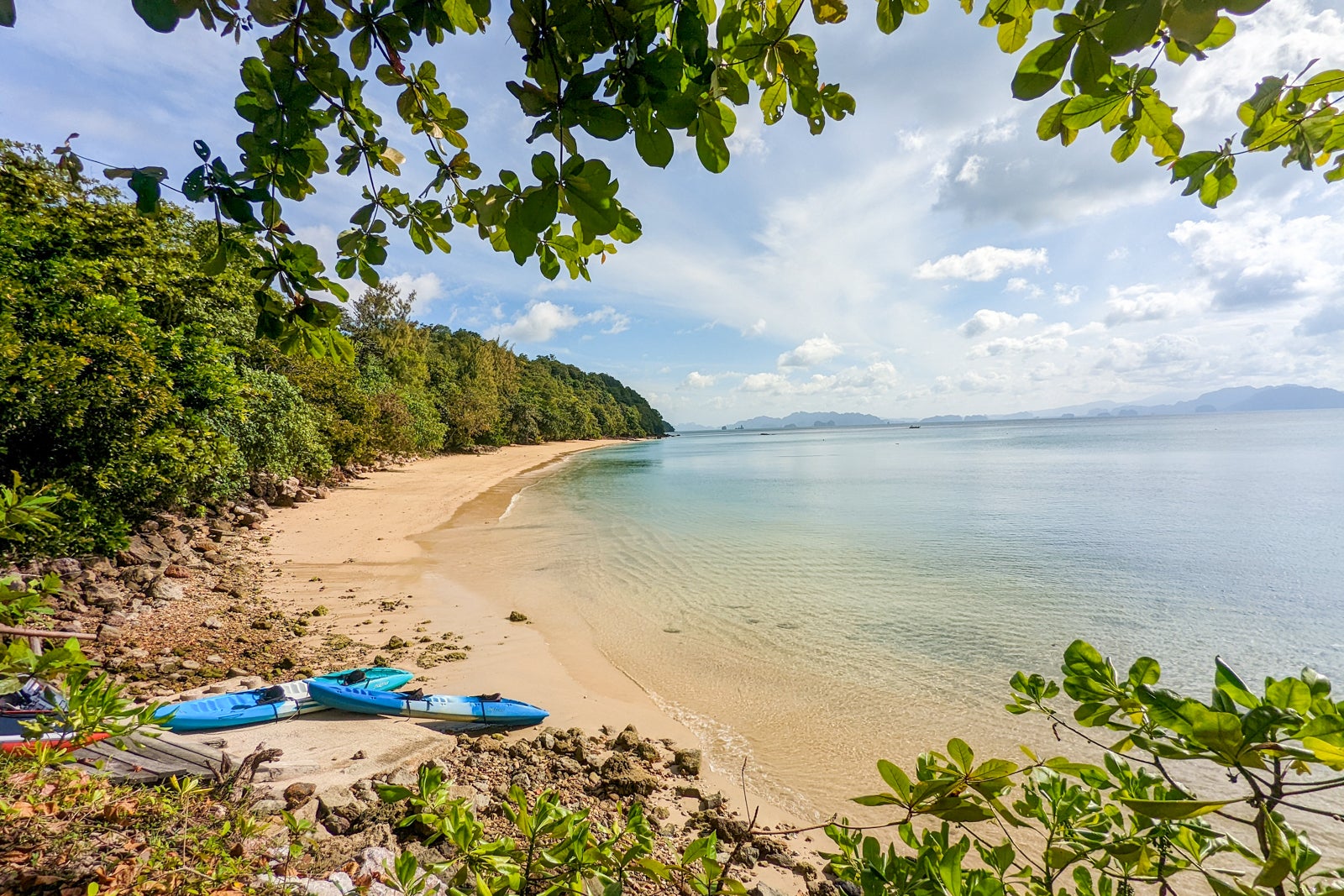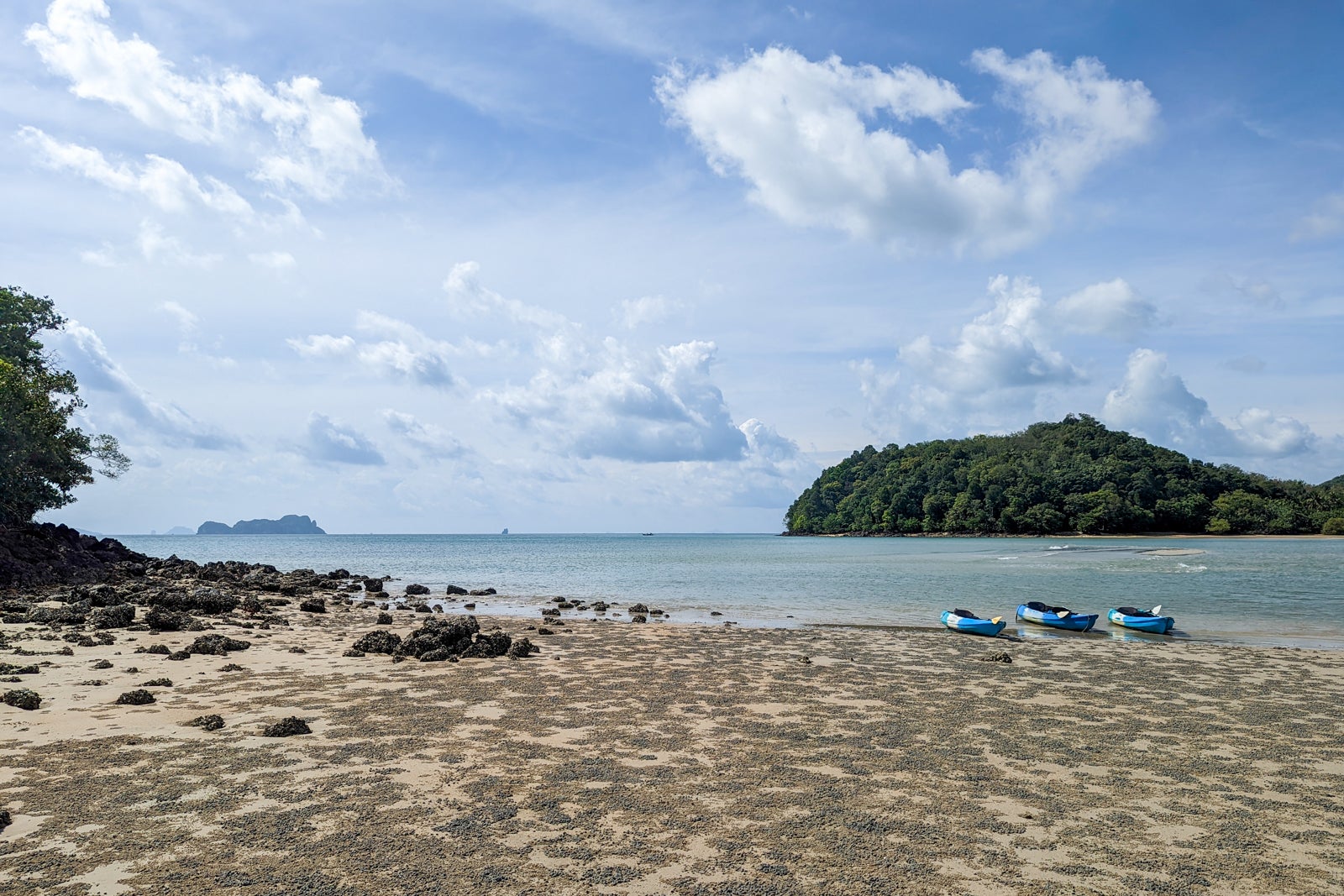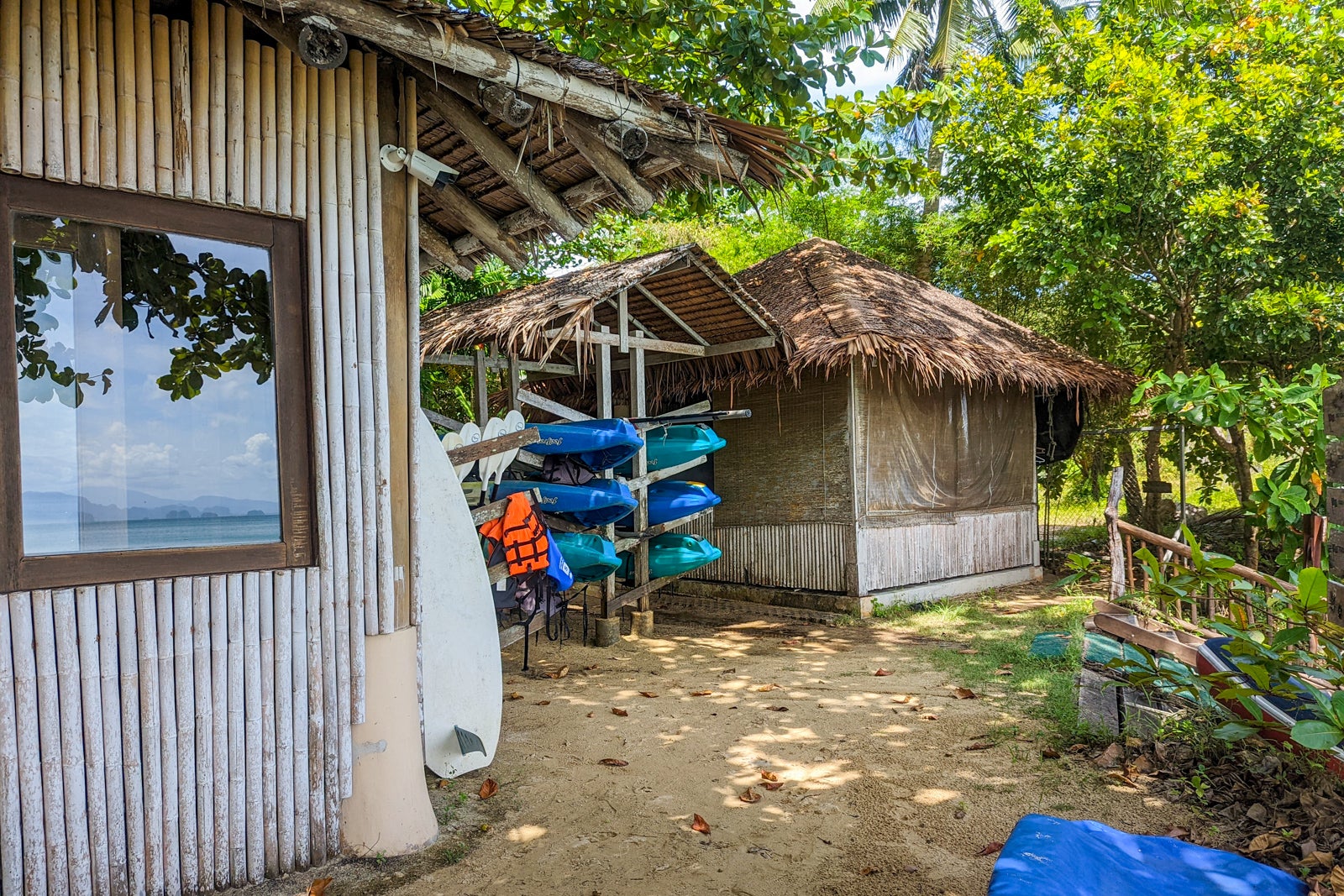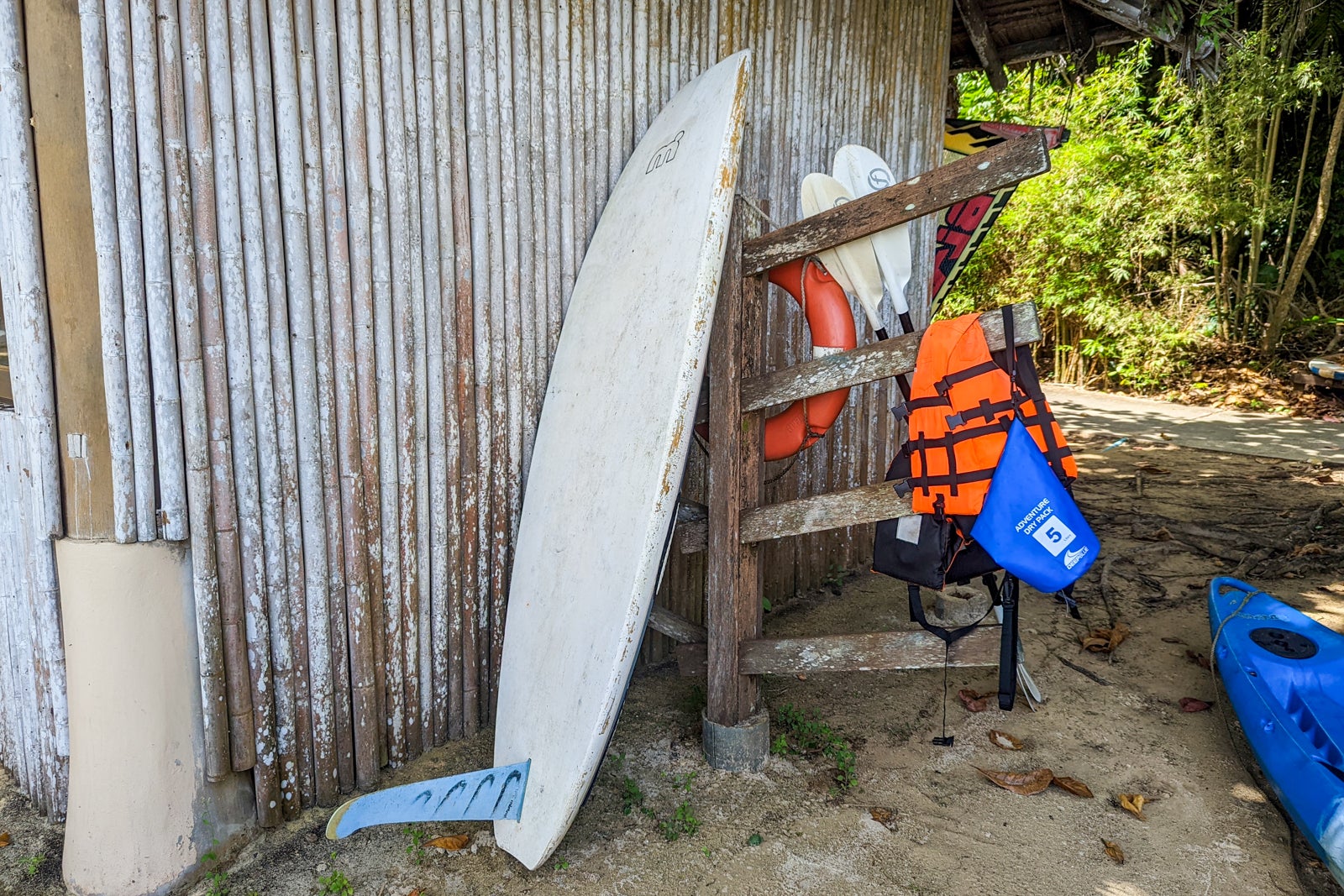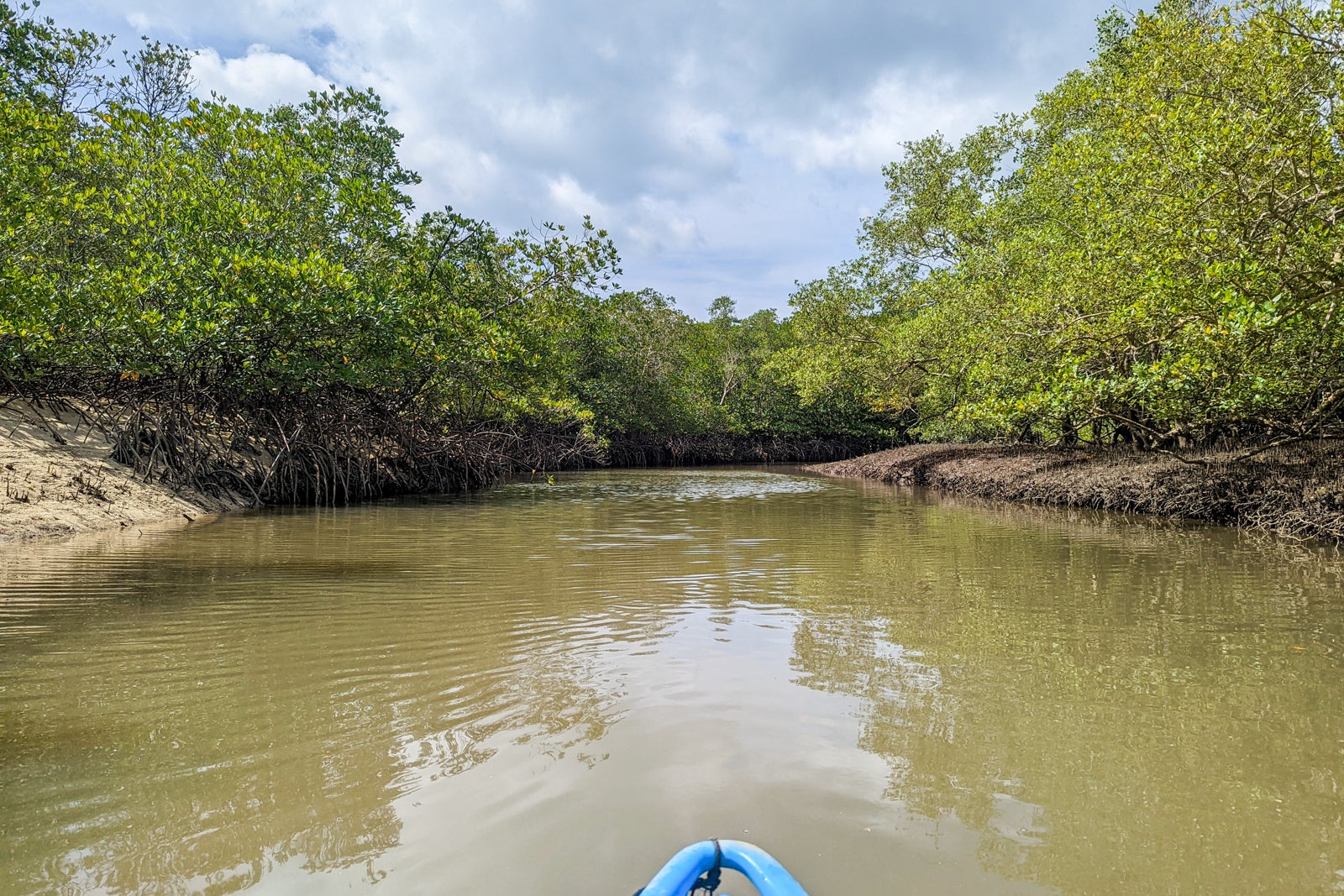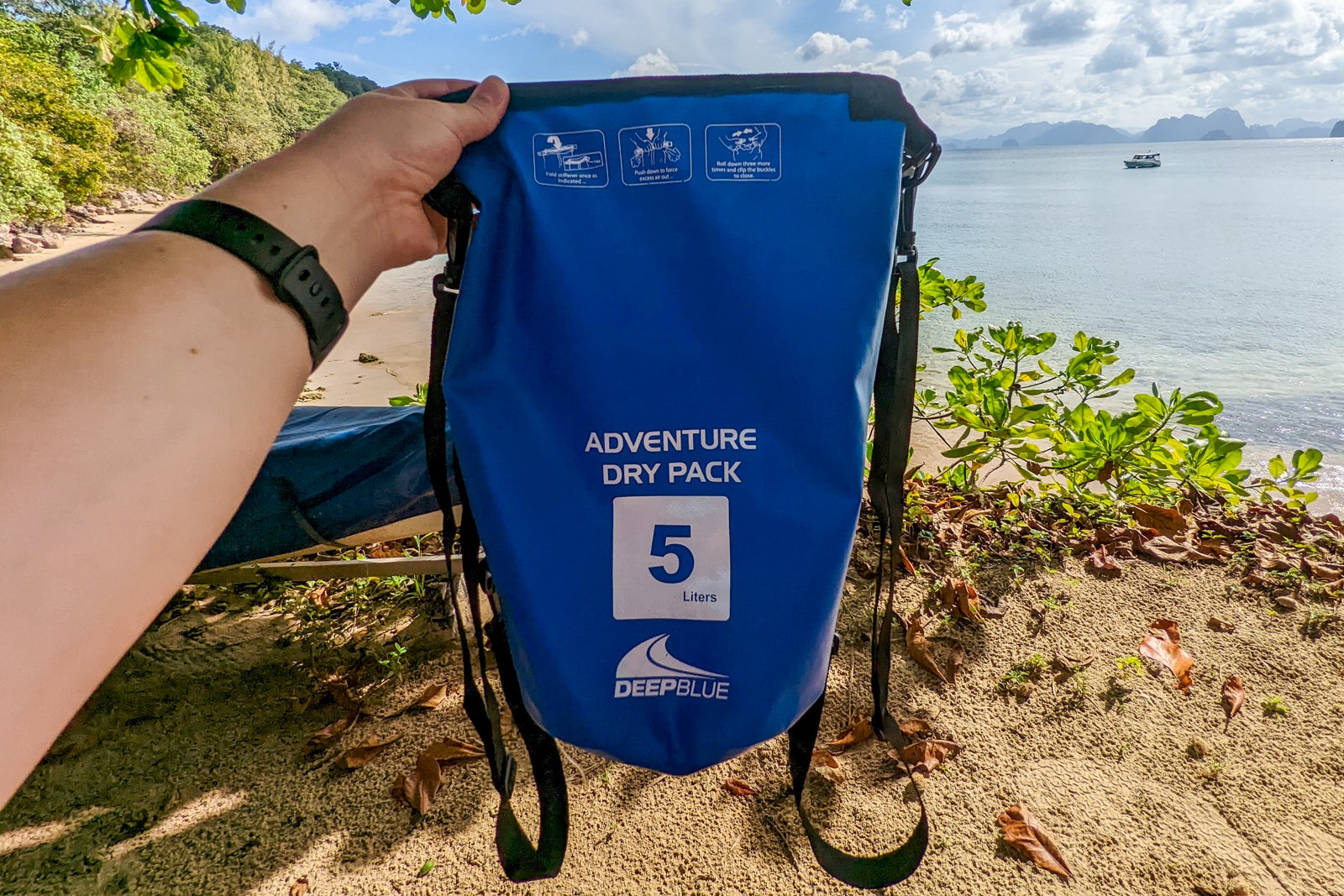 We also reserved spots in our second morning's complimentary 8:30 a.m. yoga class. Three other guests joined the class, which a spa staff member held on the yoga platform.
I particularly appreciated how our instructor chose positions that could challenge advanced guests while also being beginner friendly.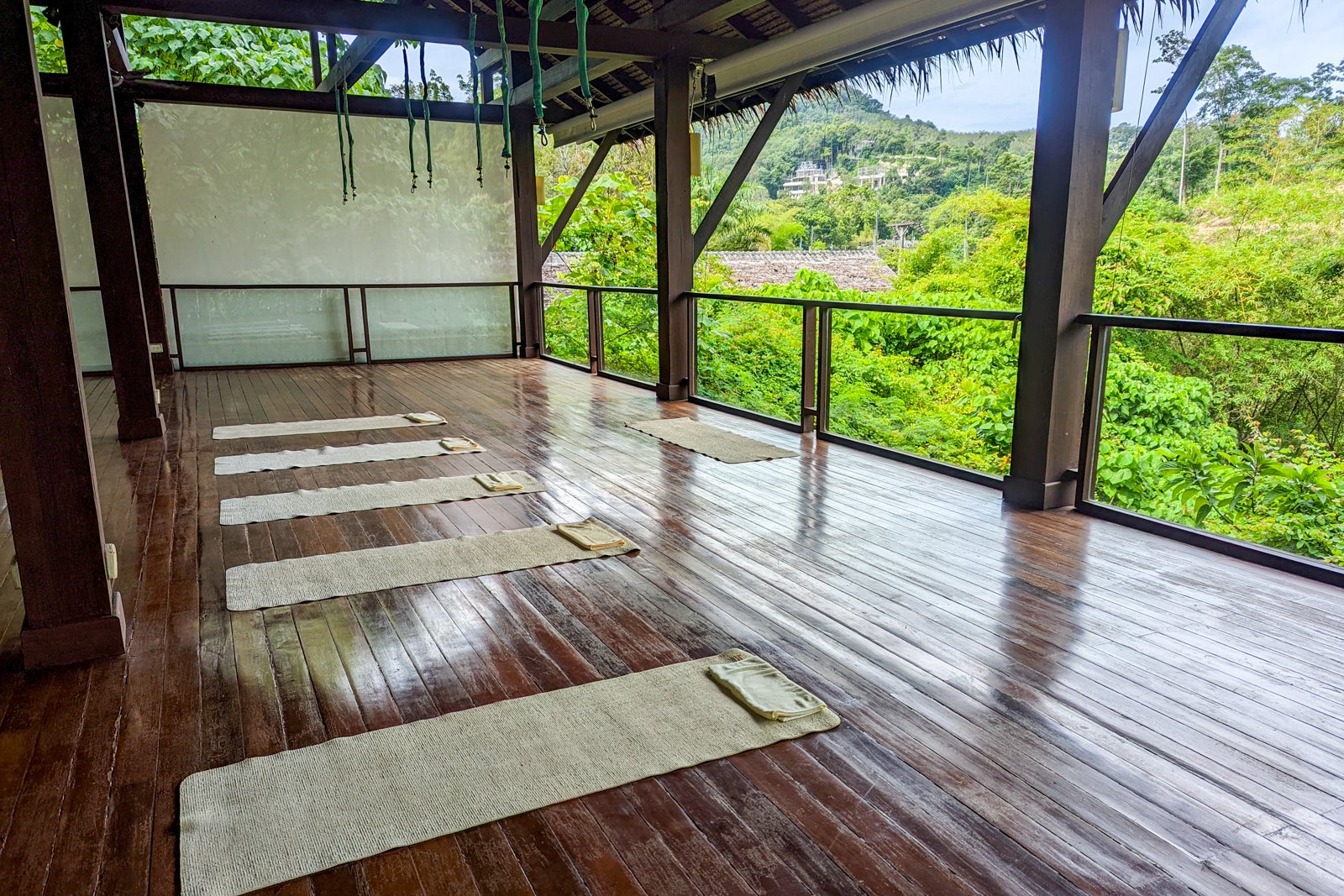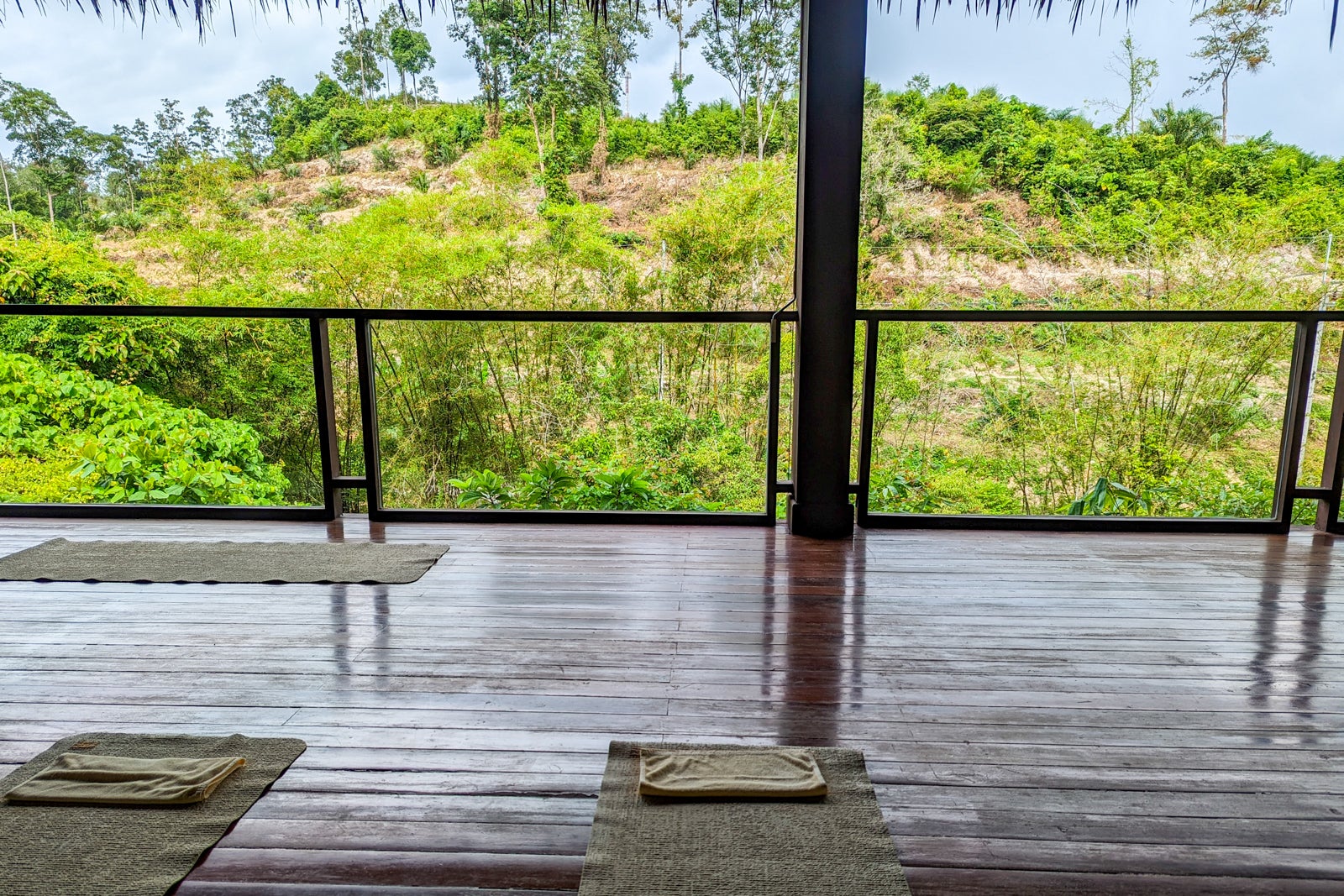 Below the yoga platform is the fitness center. I got plenty of exercise walking around the resort, but I stopped by the fitness center for photos.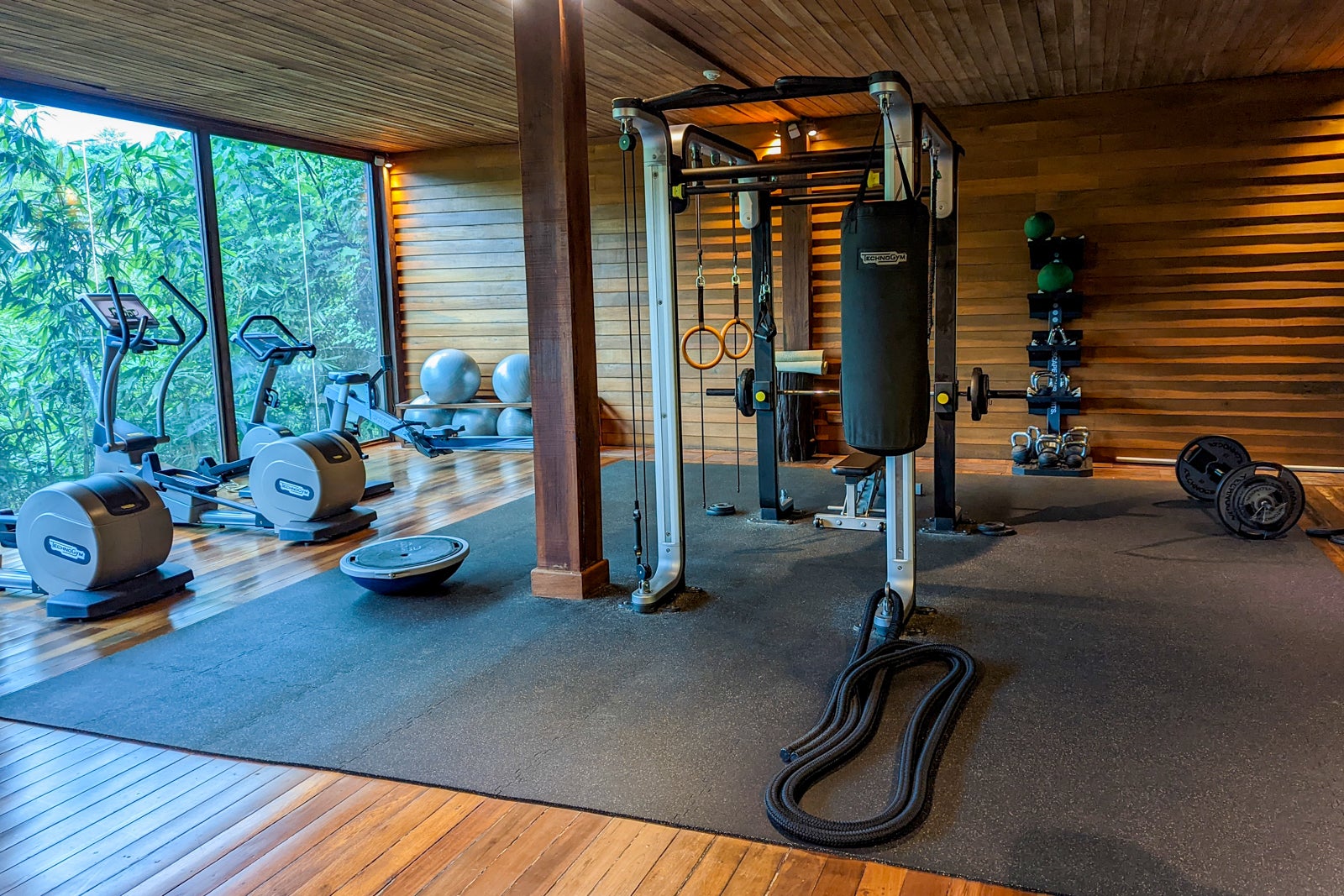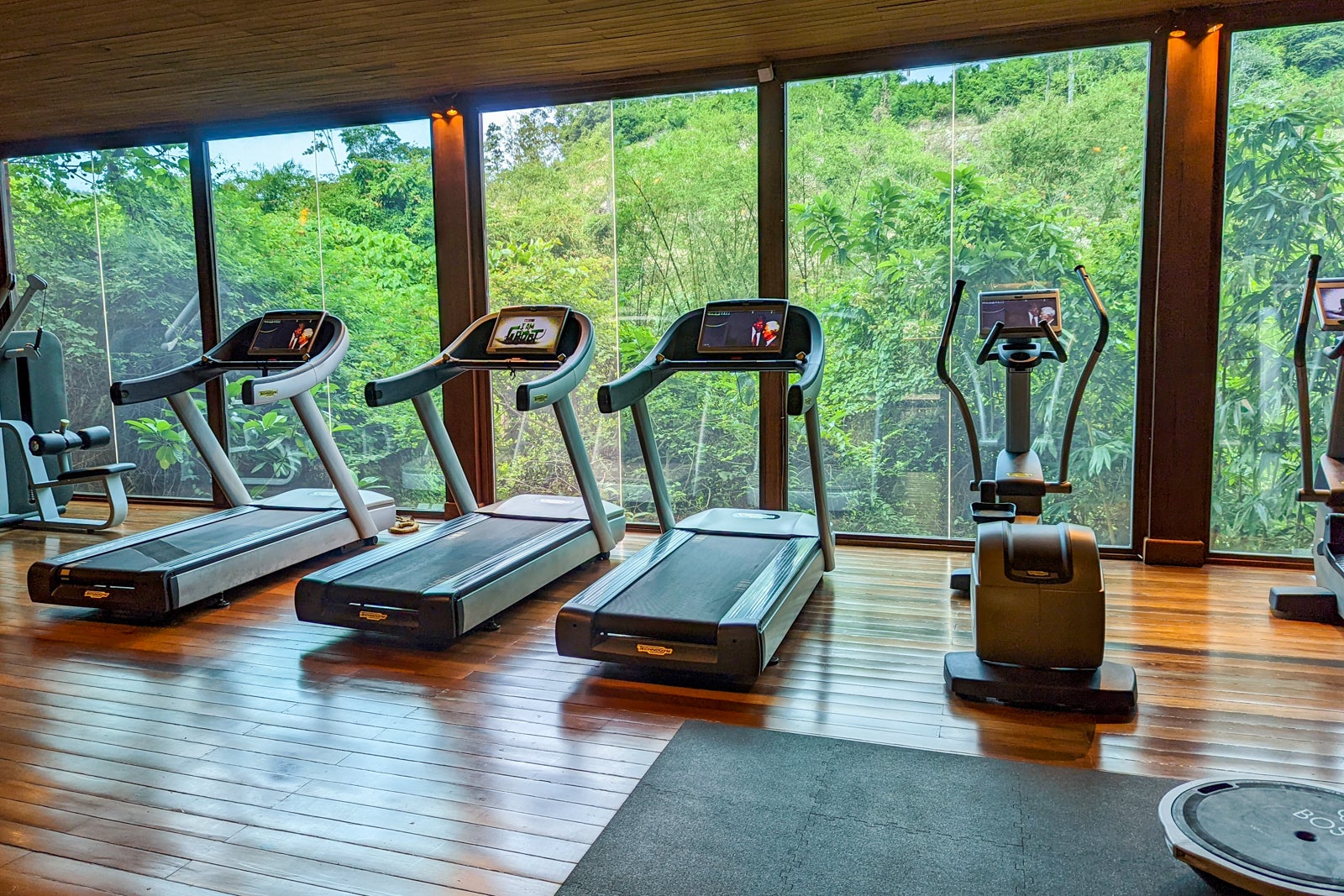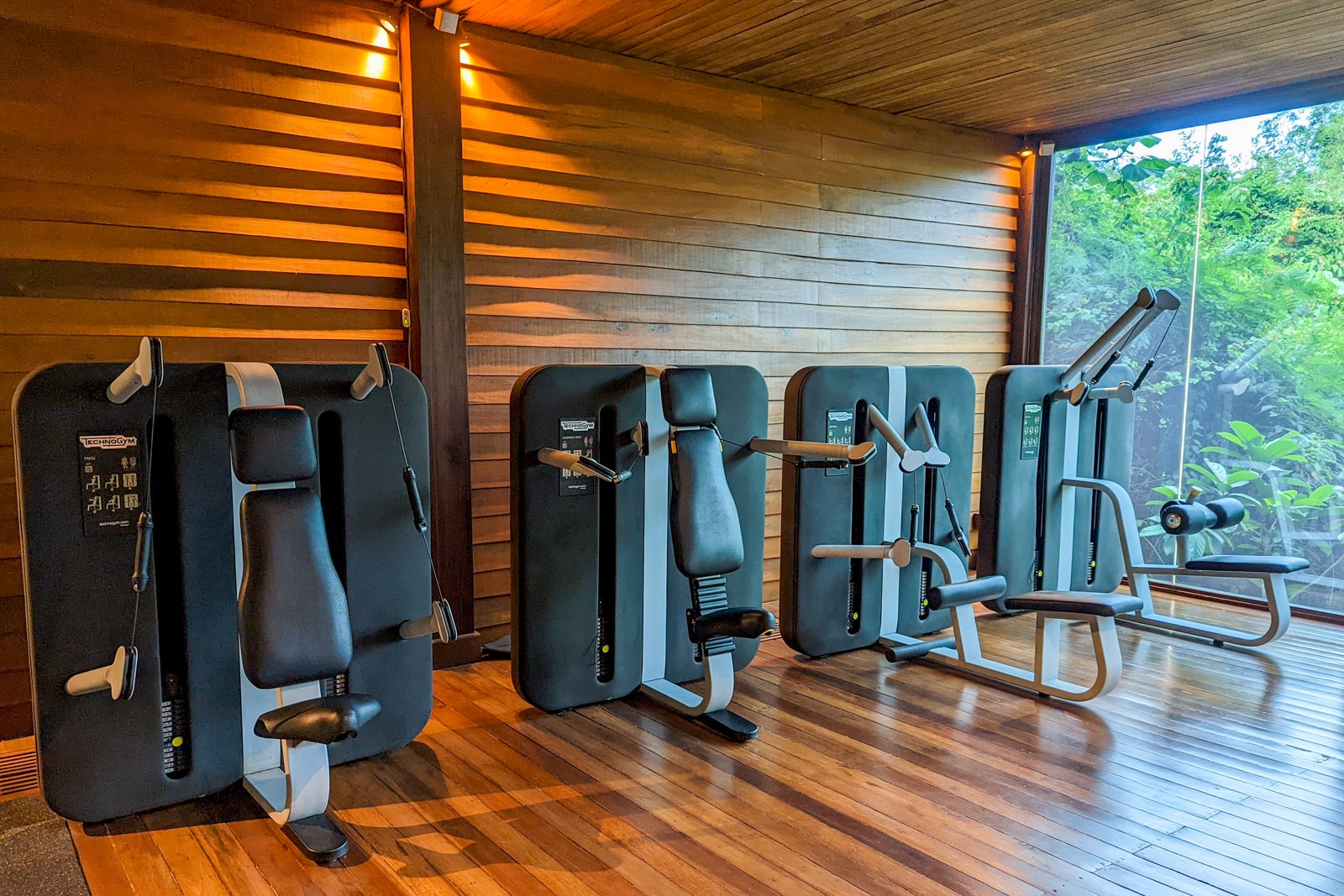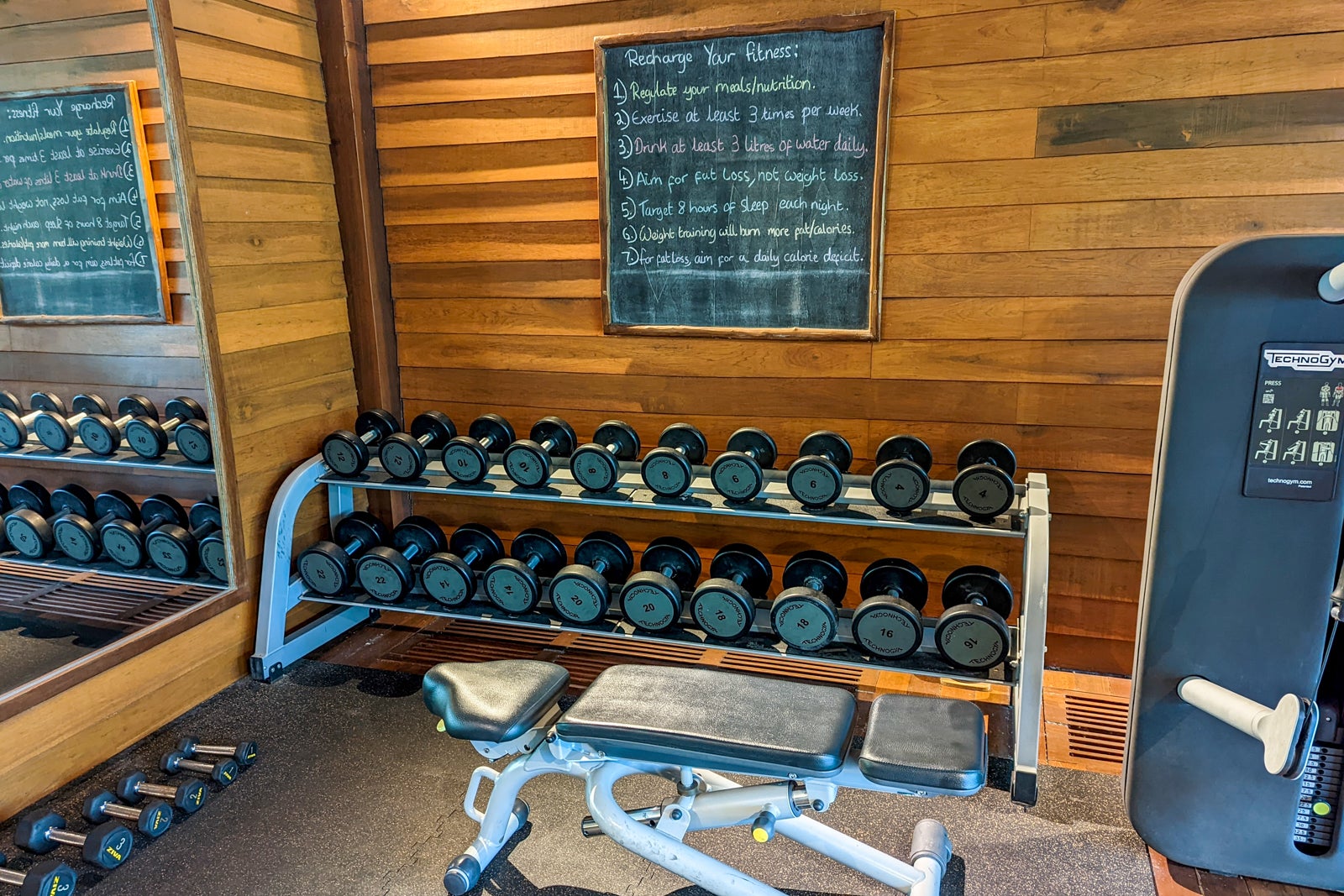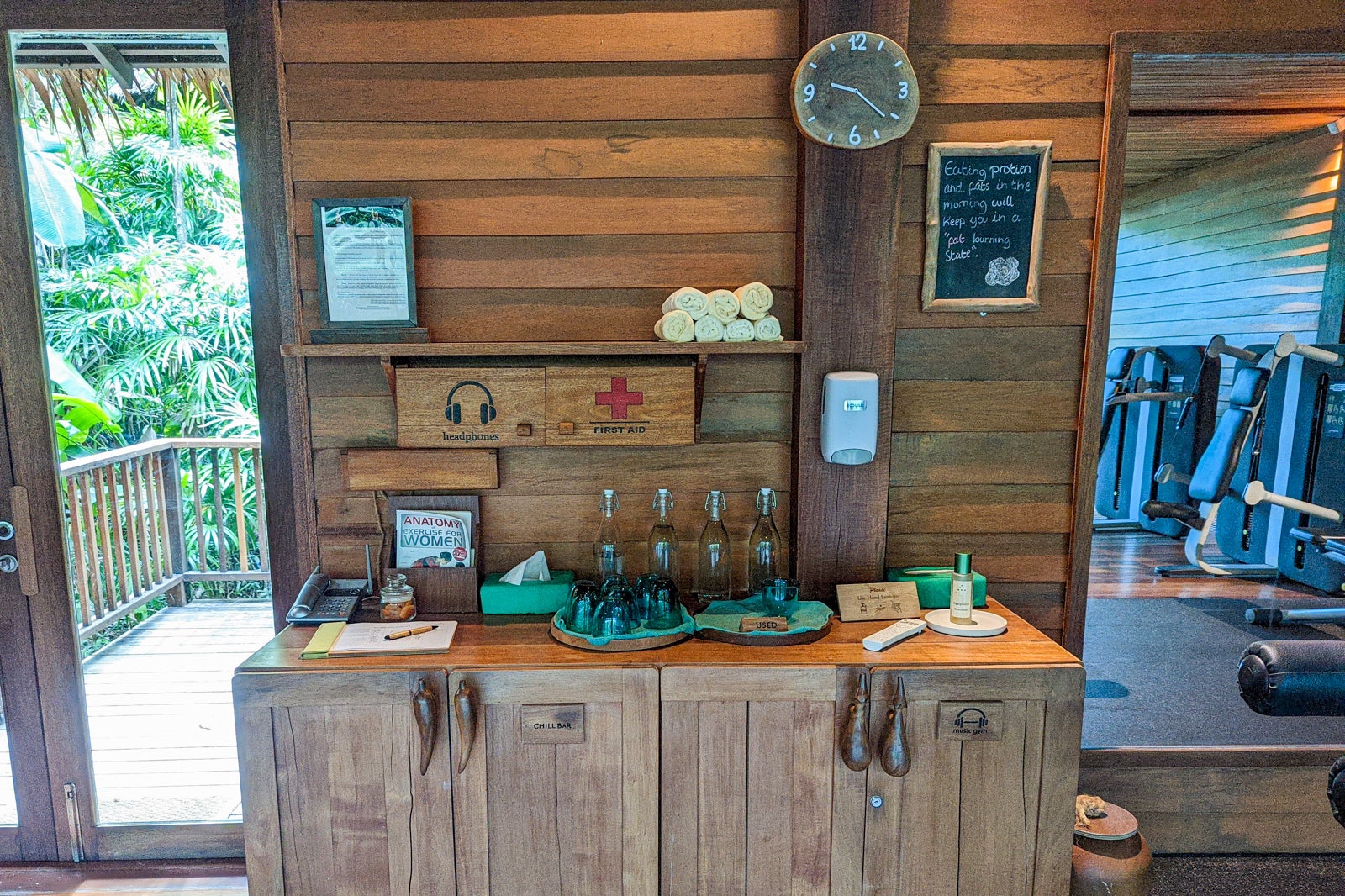 As you might expect at a Six Senses resort, there's an impressive spa complete with a juice bar, Alchemy bar and 10 spa treatment rooms.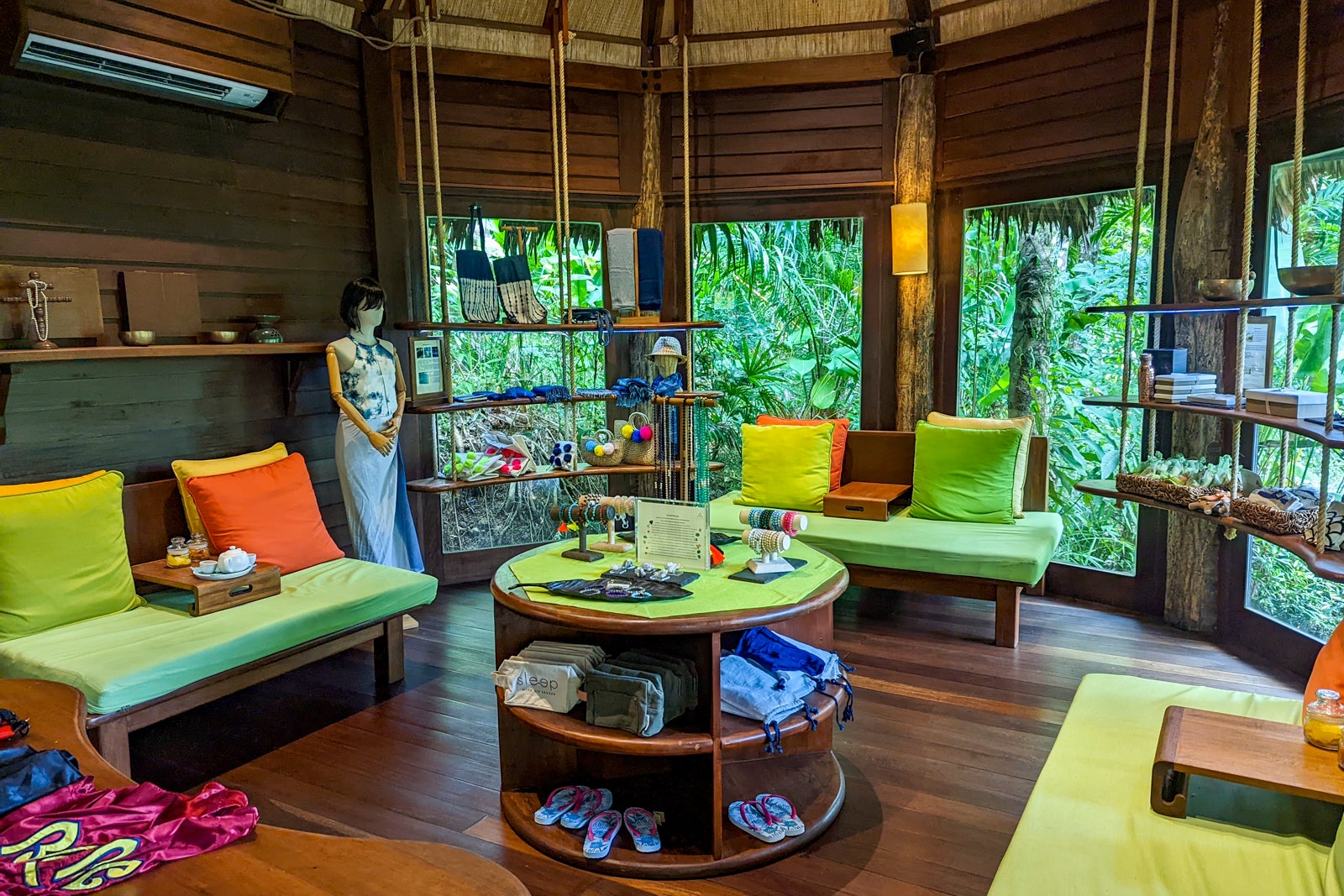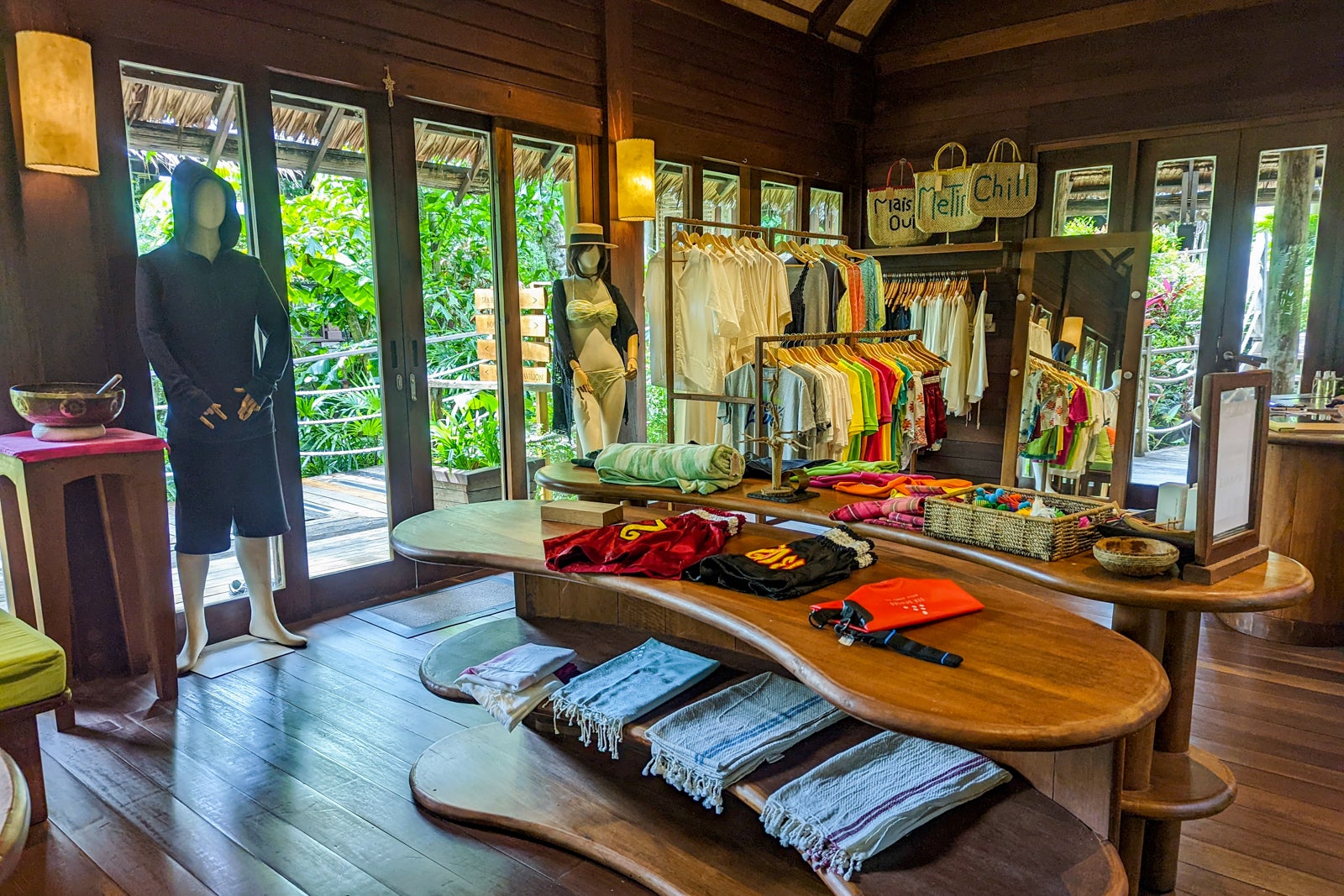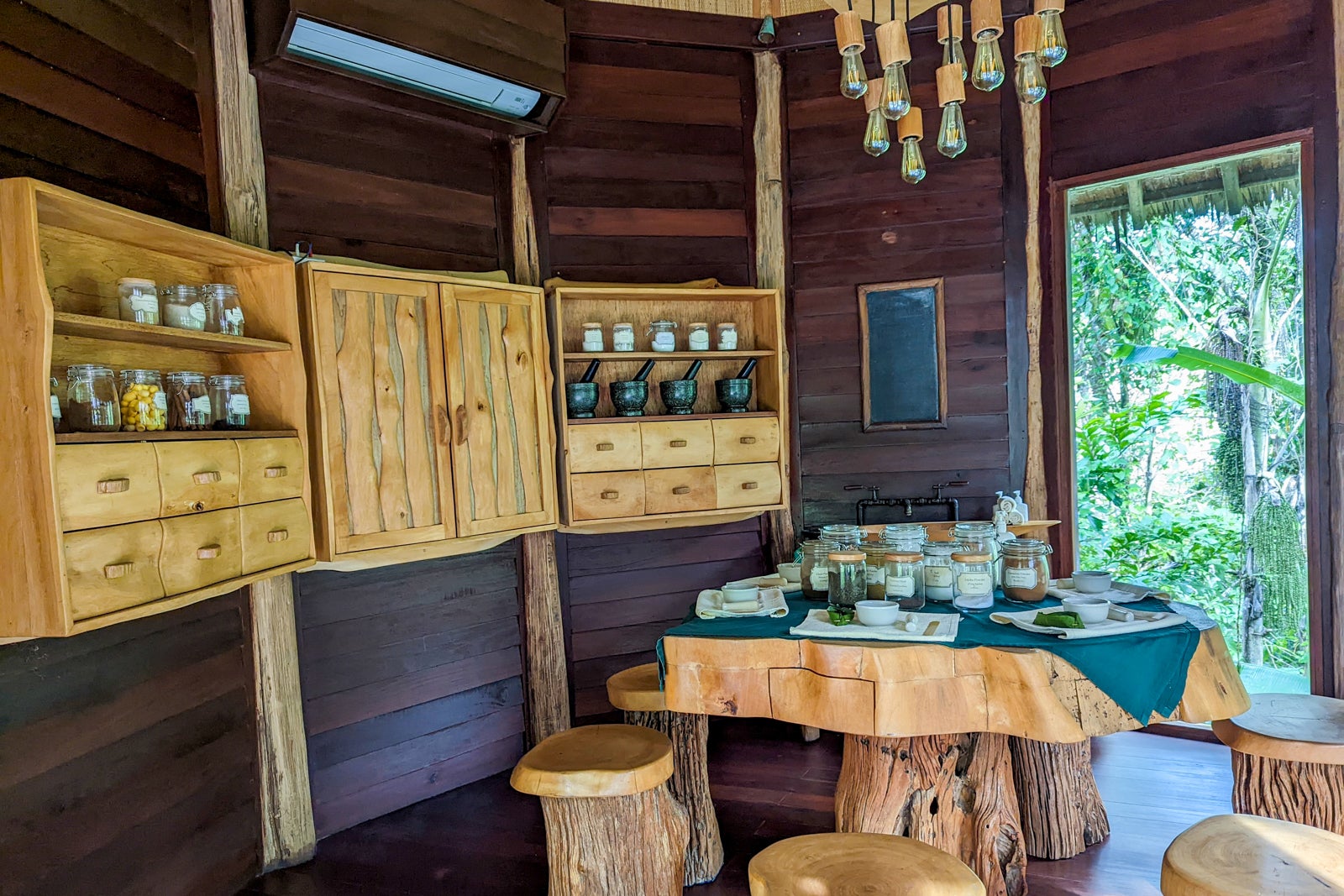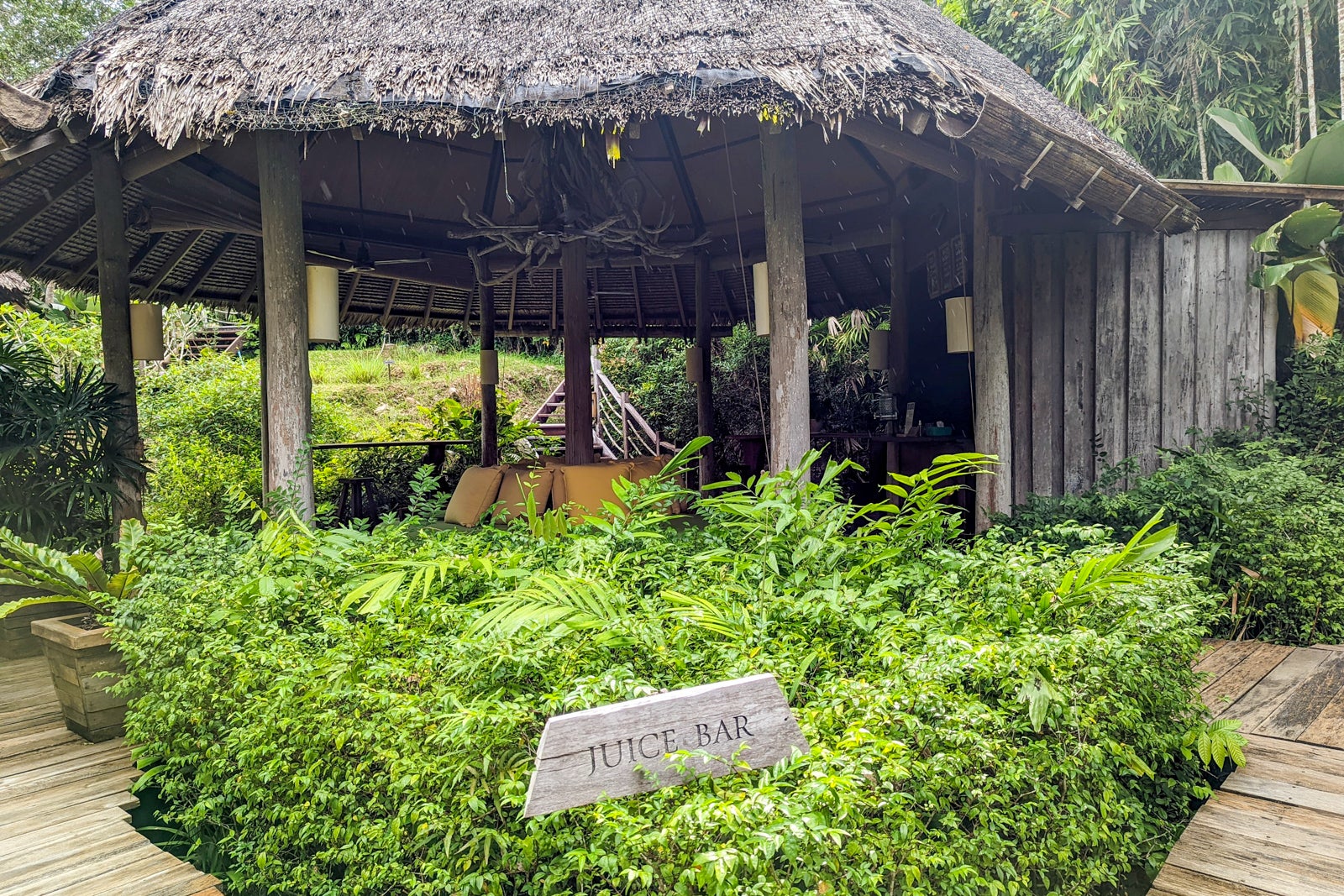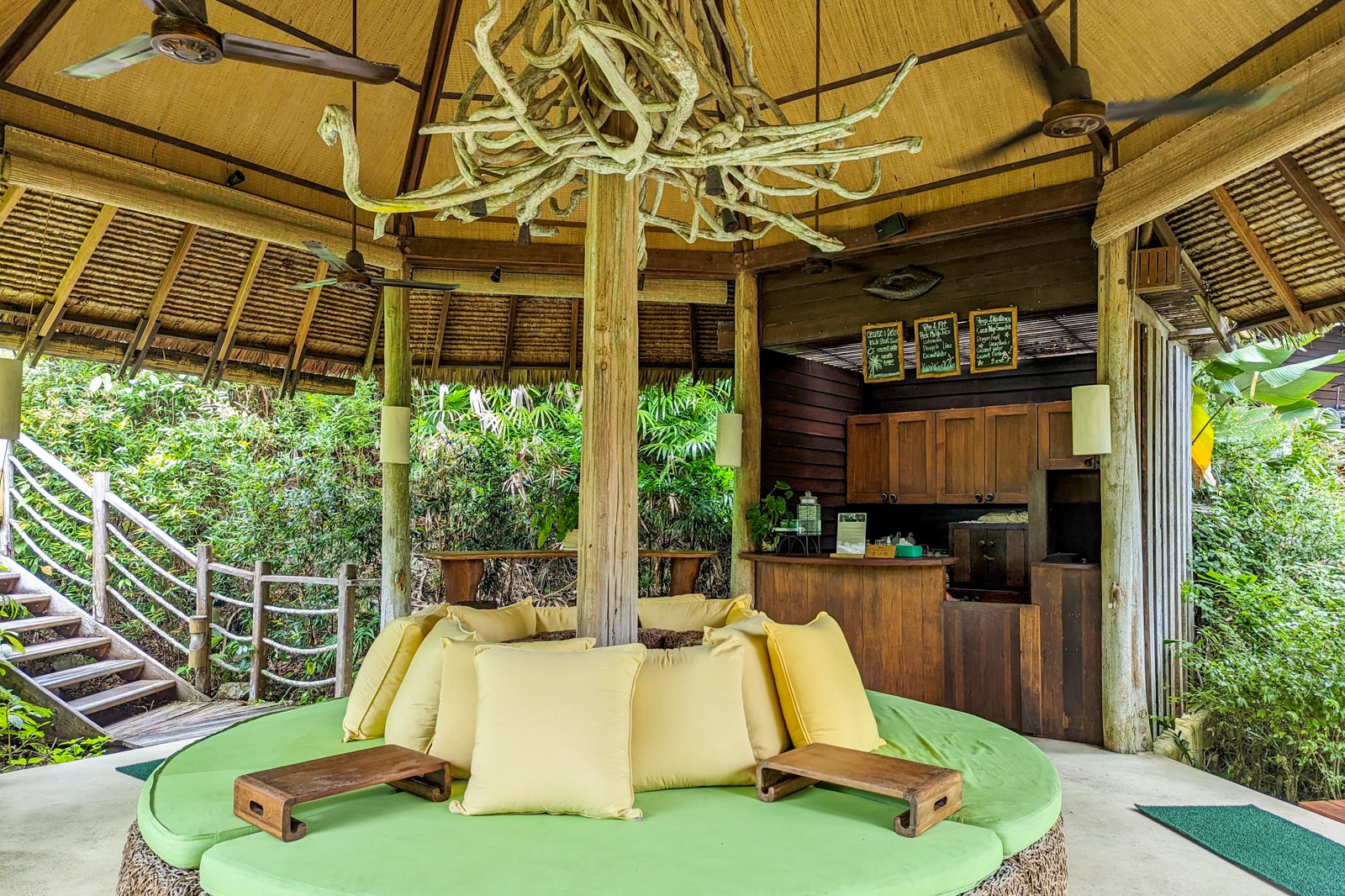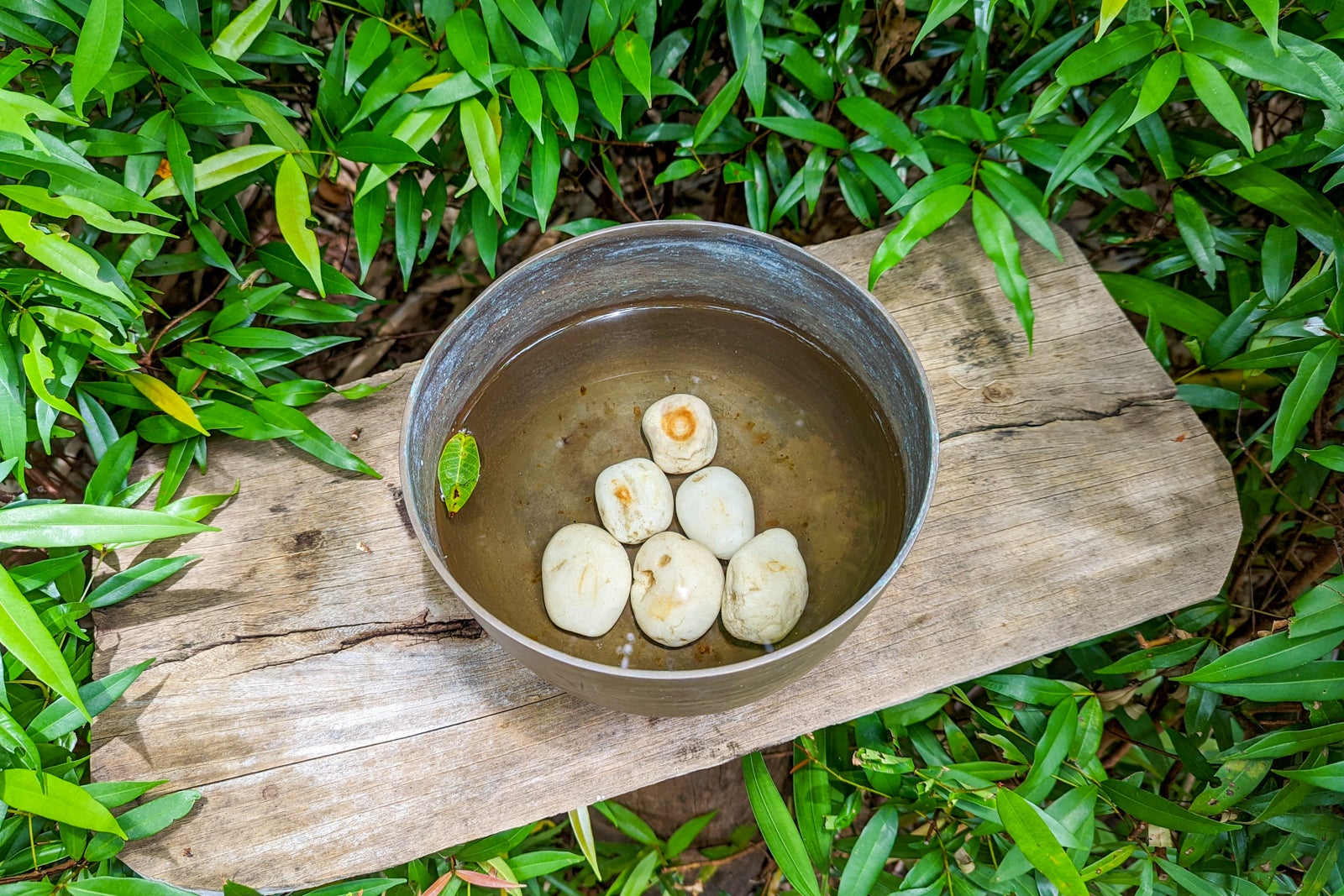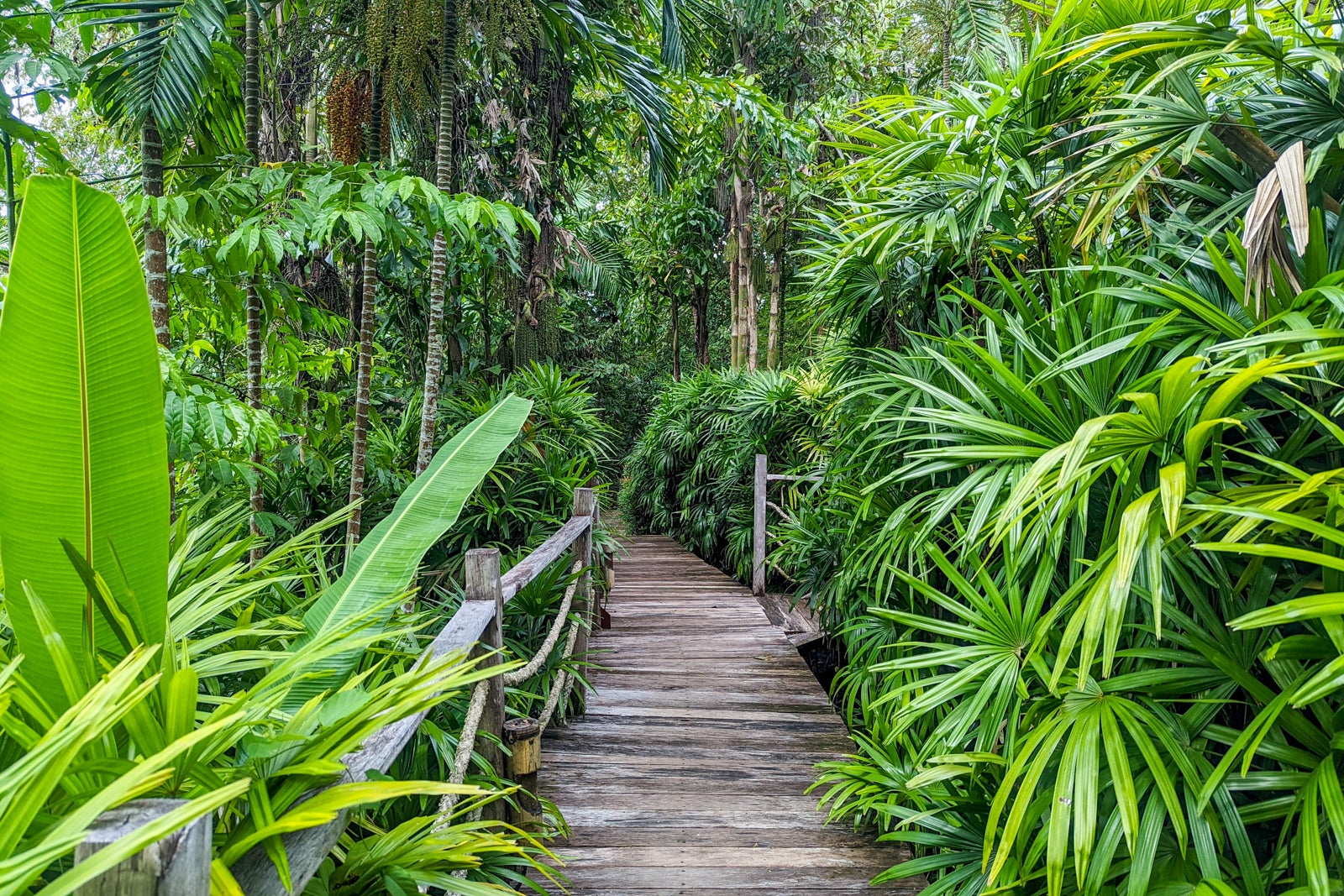 We enjoyed a 60-minute massage for two on our last day shortly before checking out, as there were no other spa slots available for two guests during our stay.
My holistic massage was relaxing, and the therapist seemed skilled based on how she expertly manipulated my body.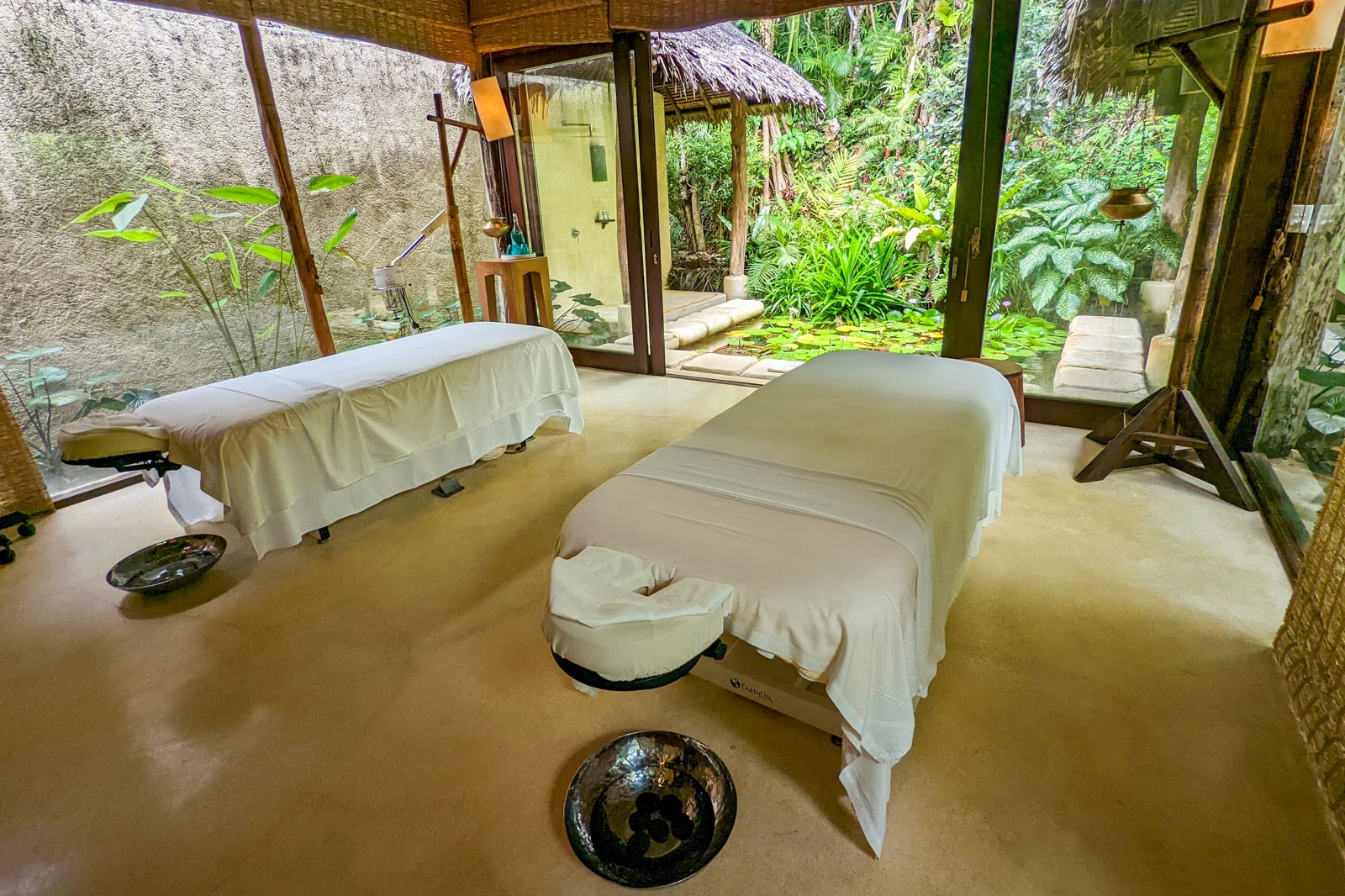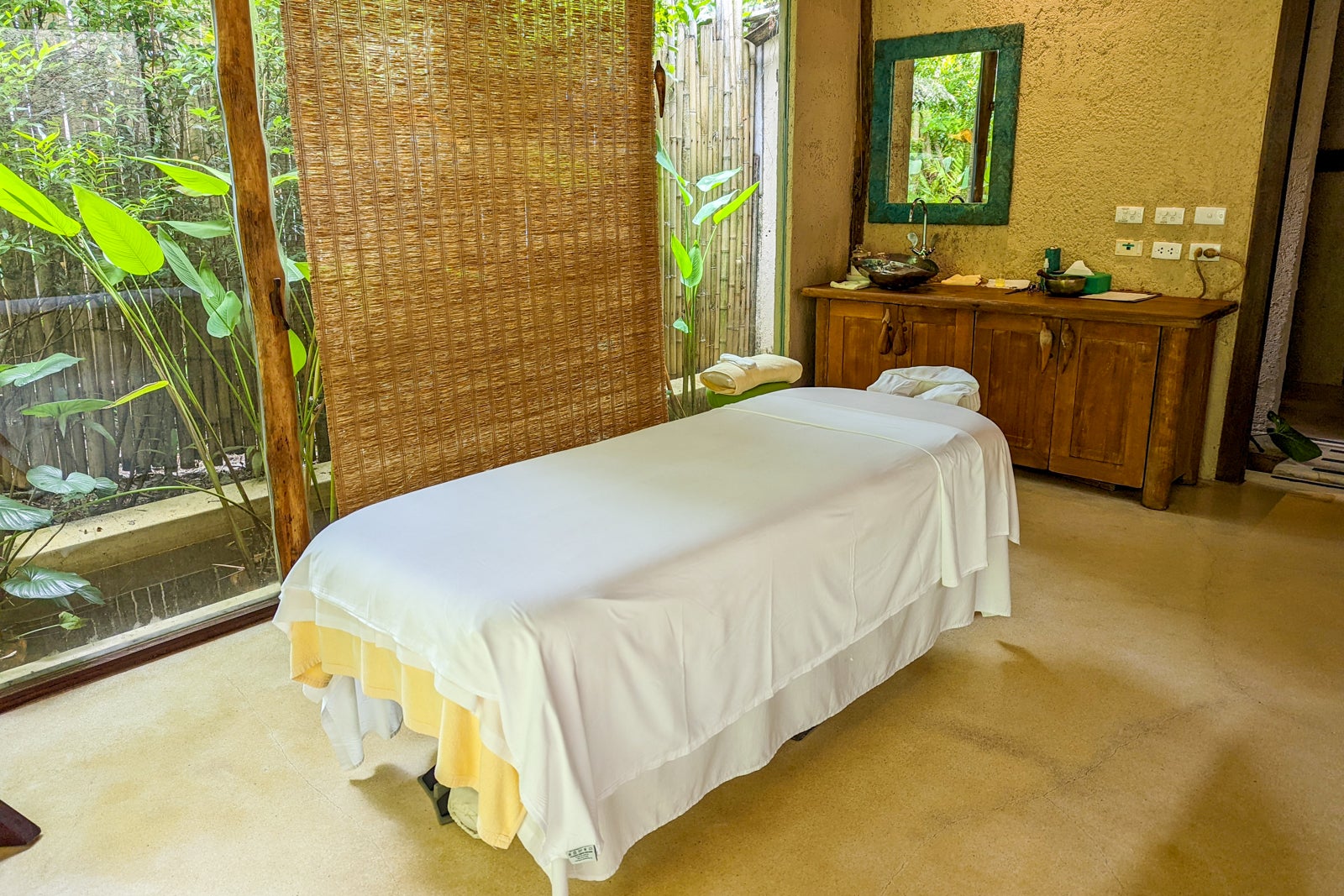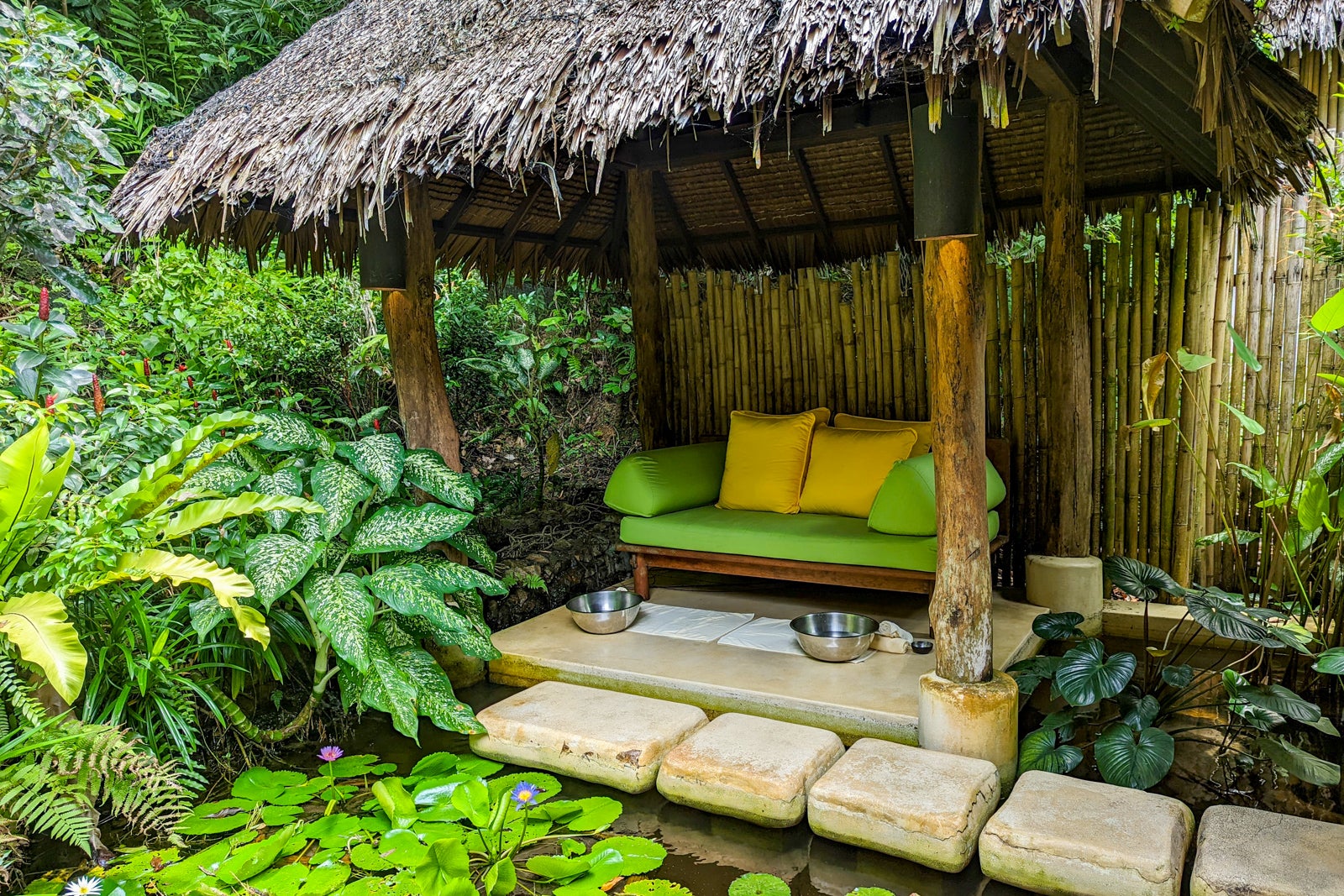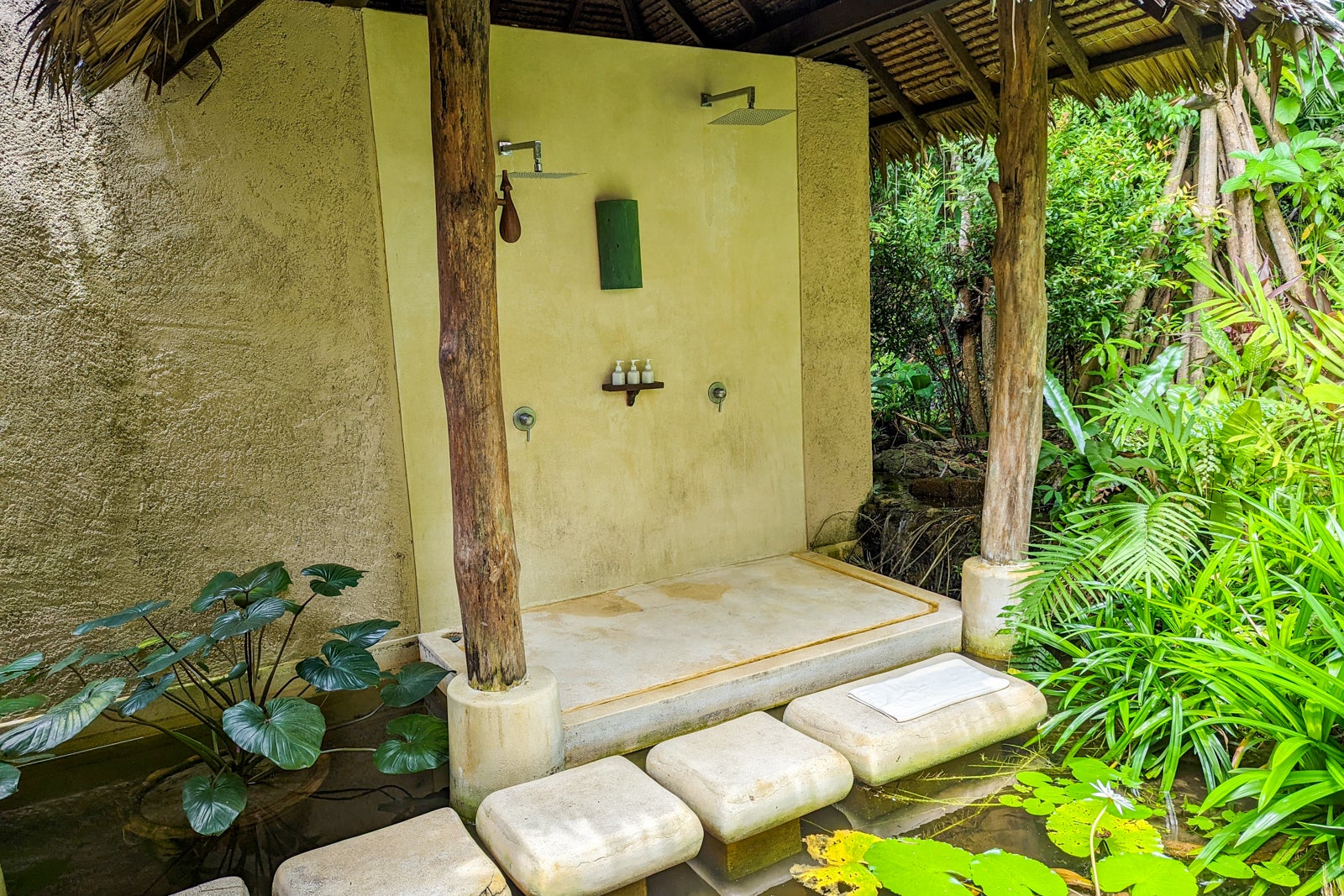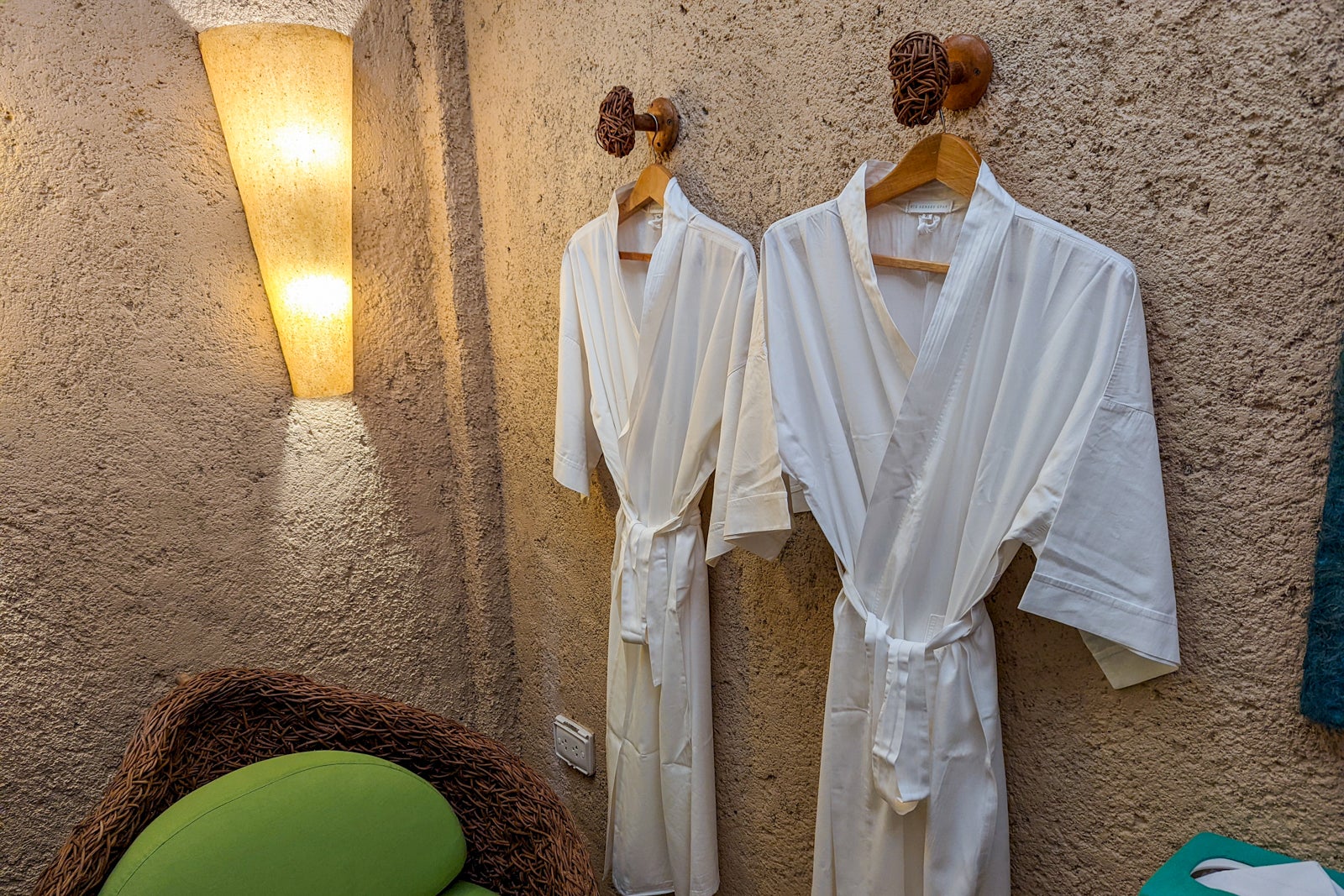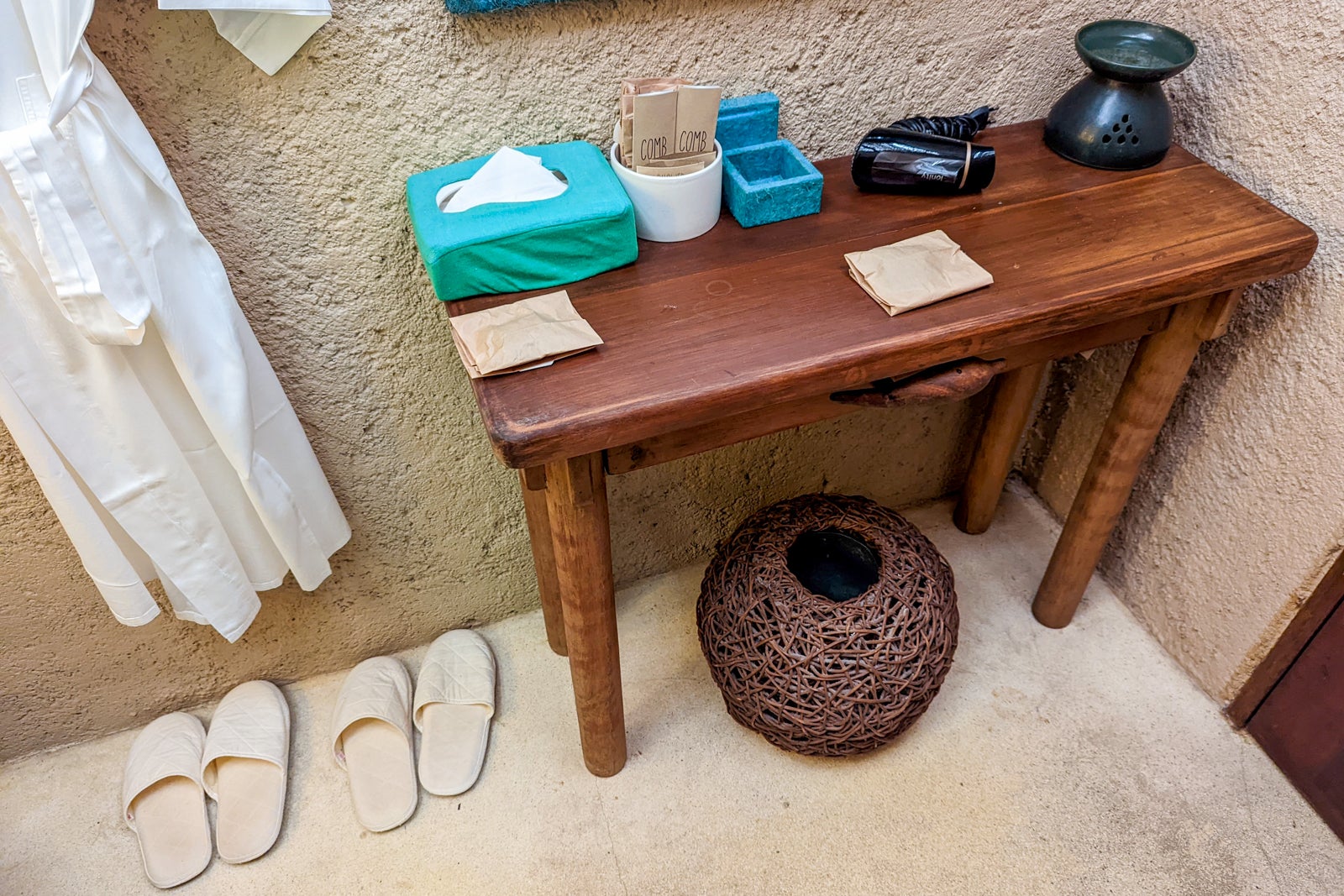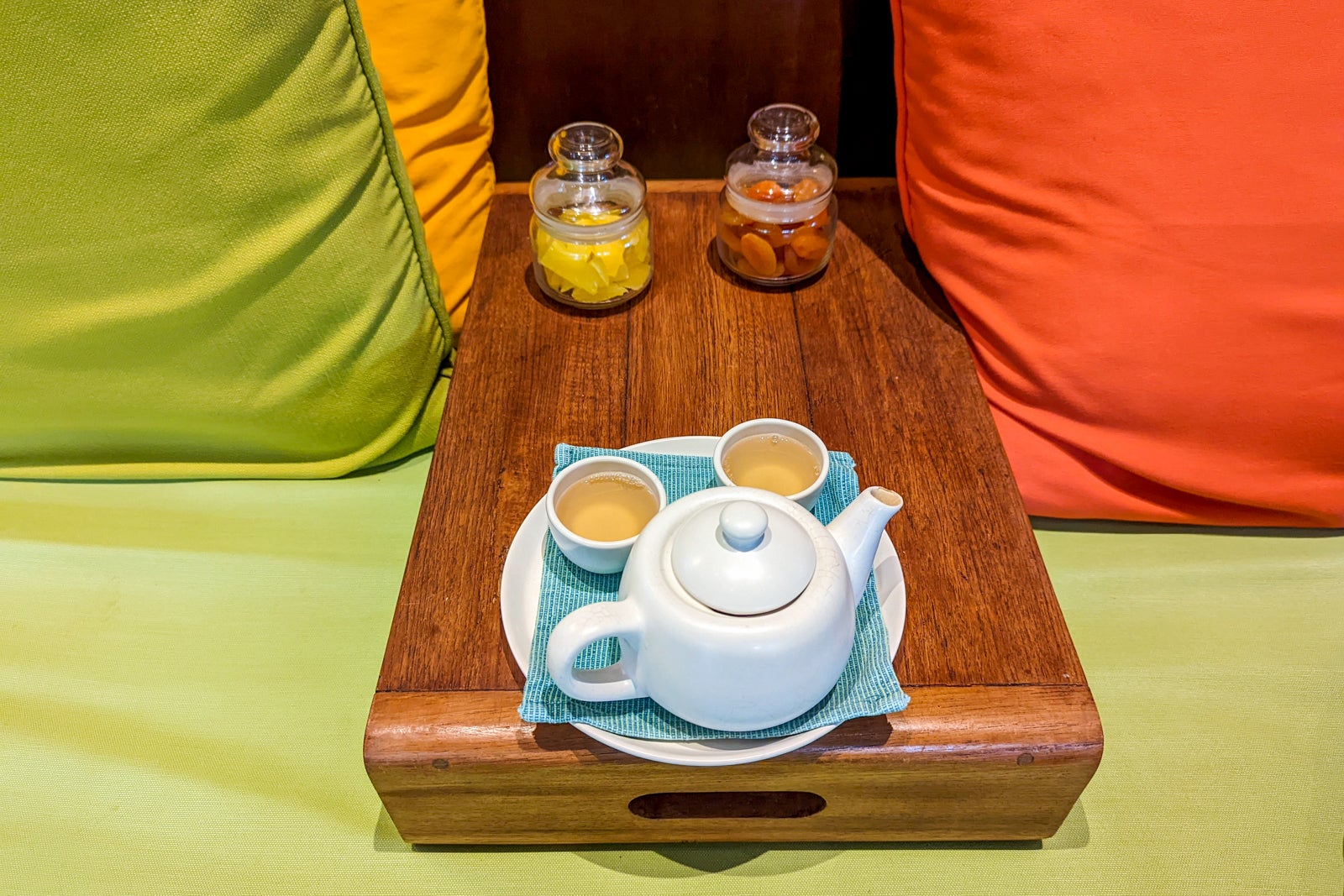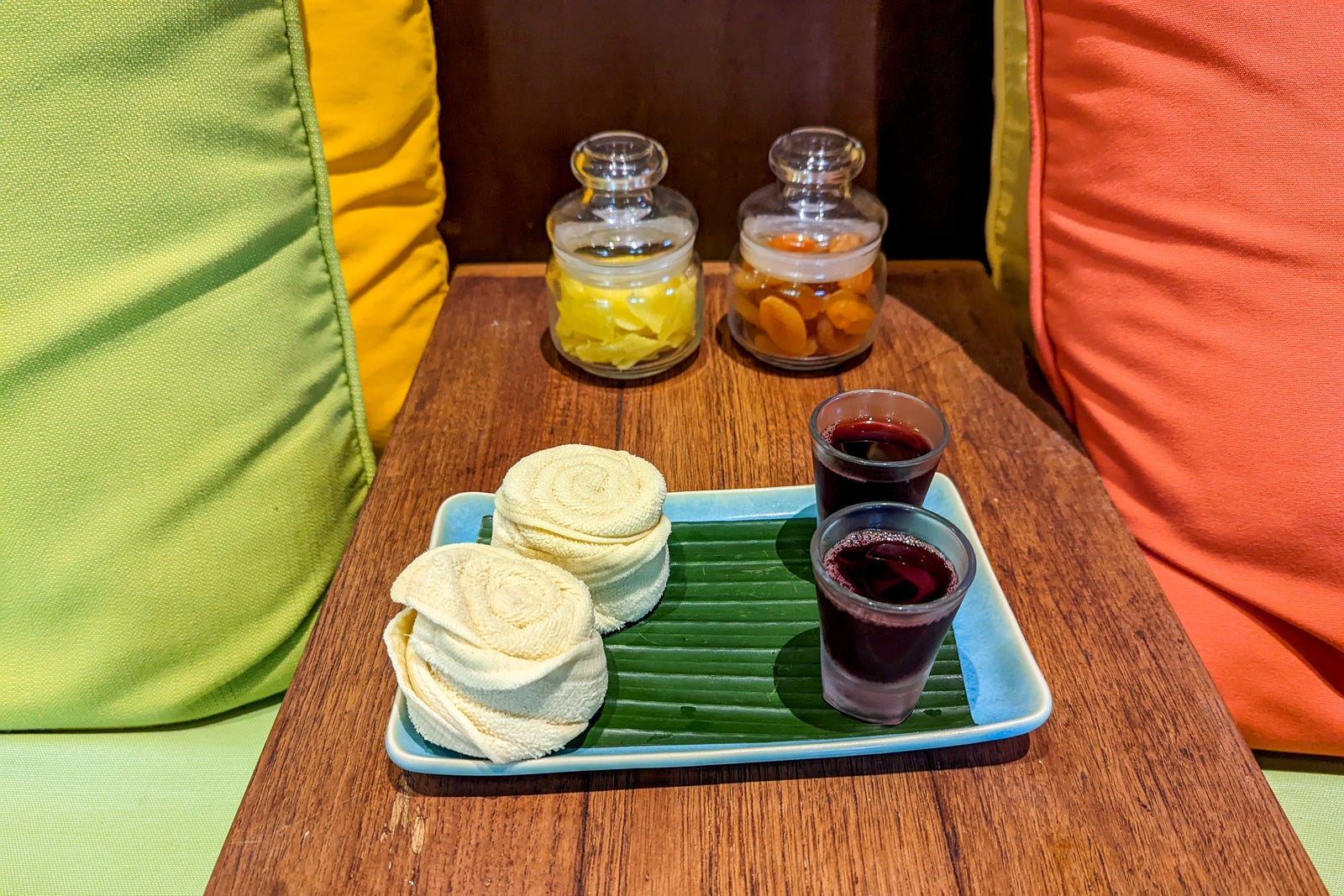 The resort offers a complimentary beach-side movie with lounge chairs and popcorn several nights a week. But, as the movie is near the Living Room, you can also grab some ice cream or sorbet on your way to the movie if you wish.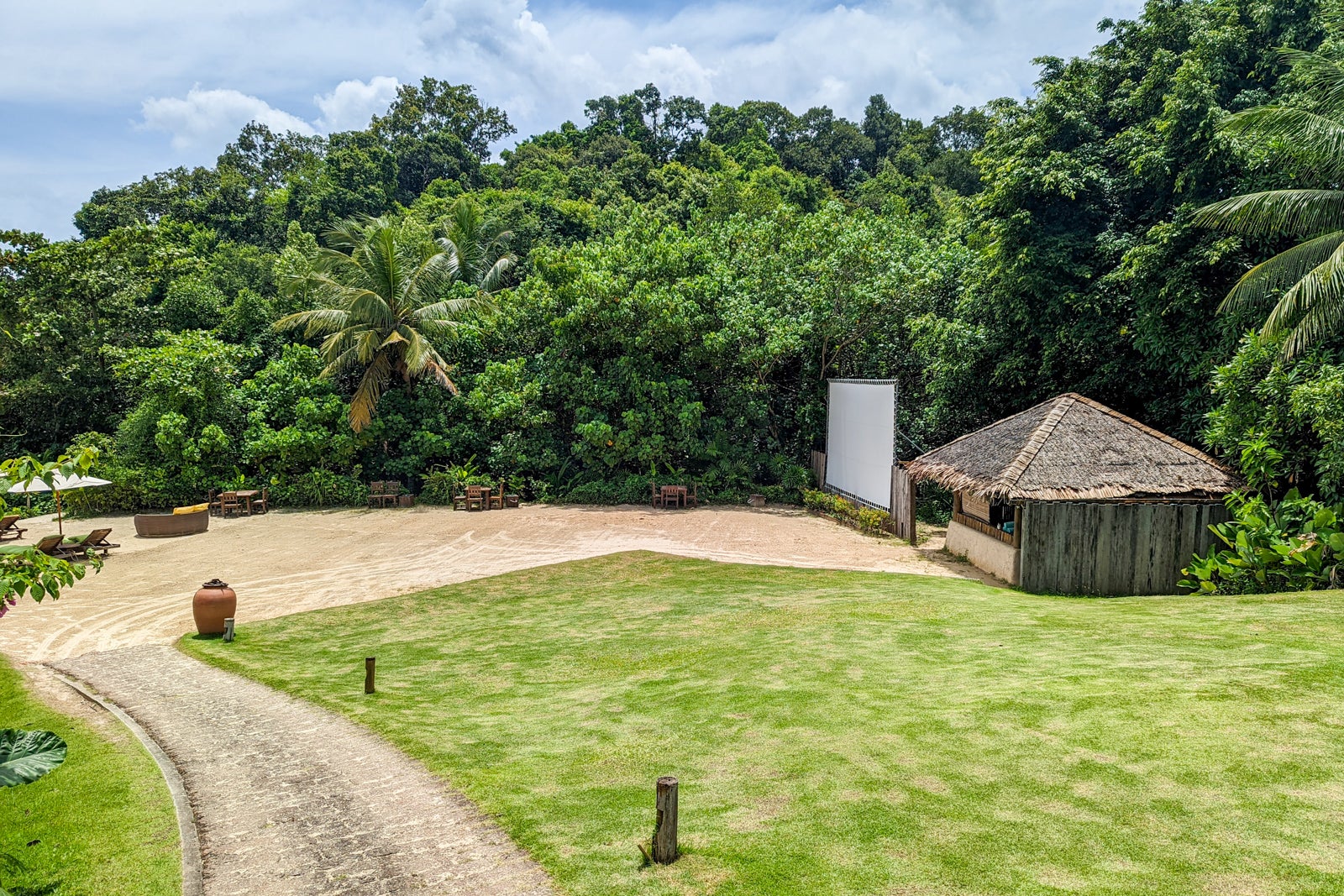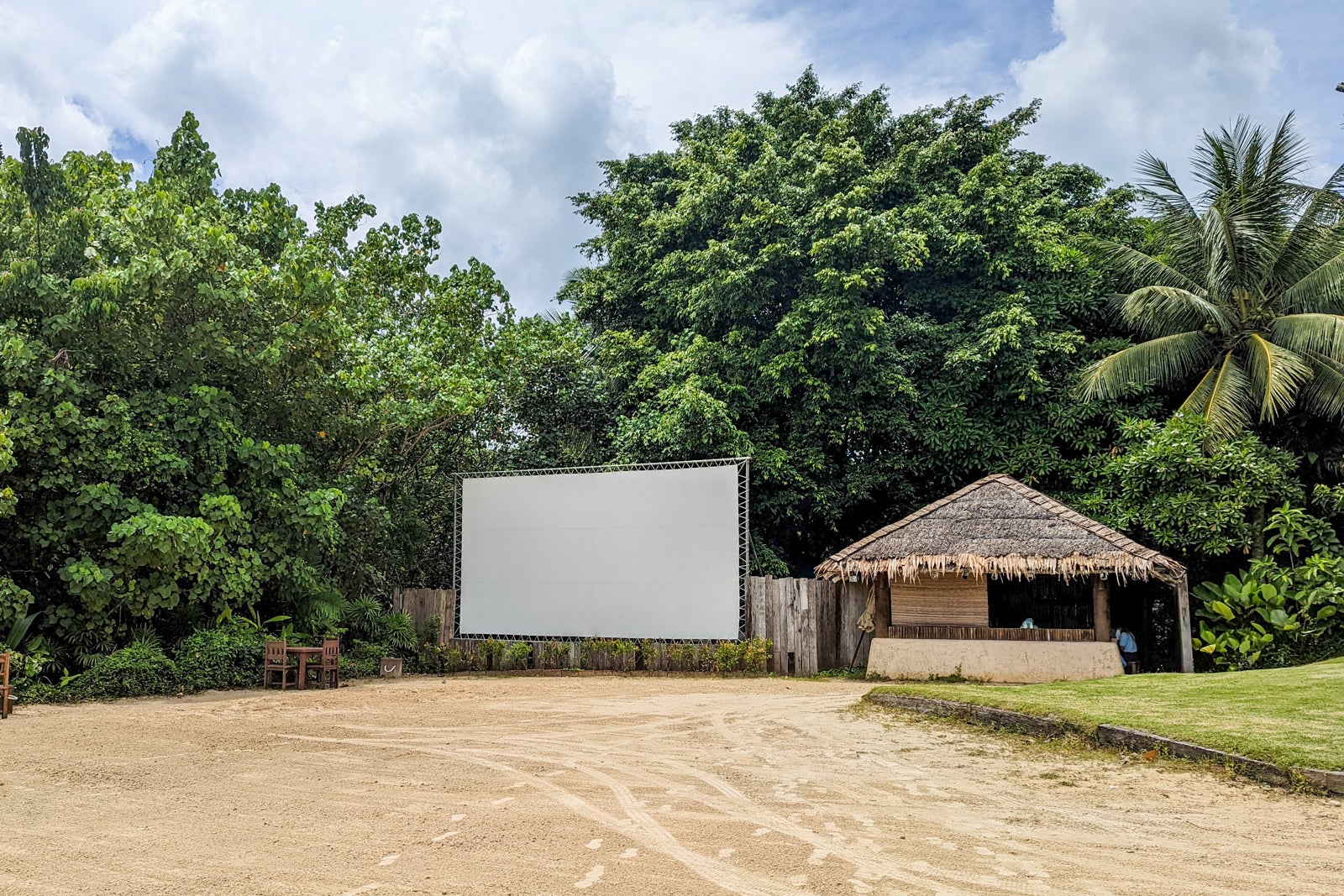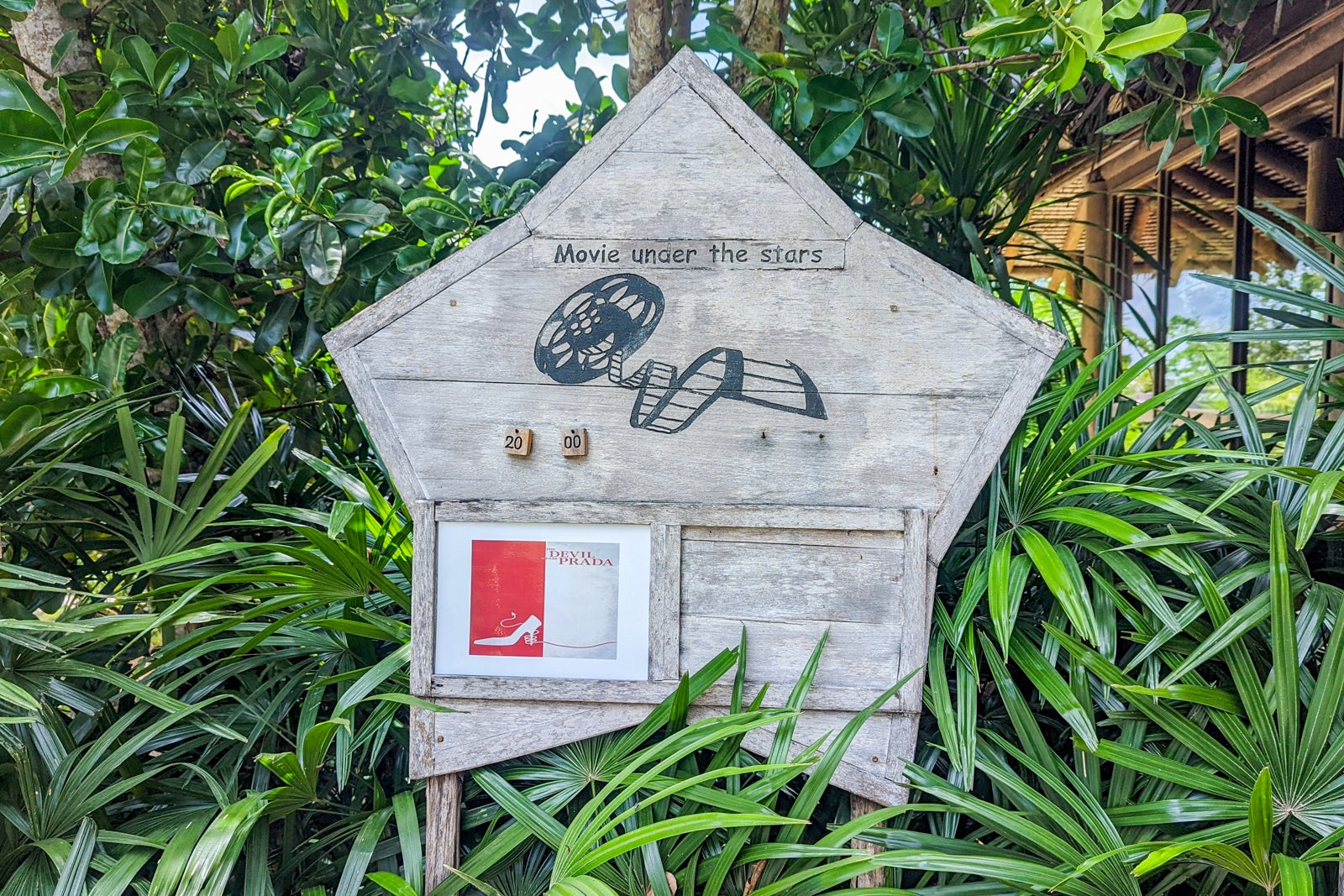 You can also go swimming with excellent views at the Hilltop.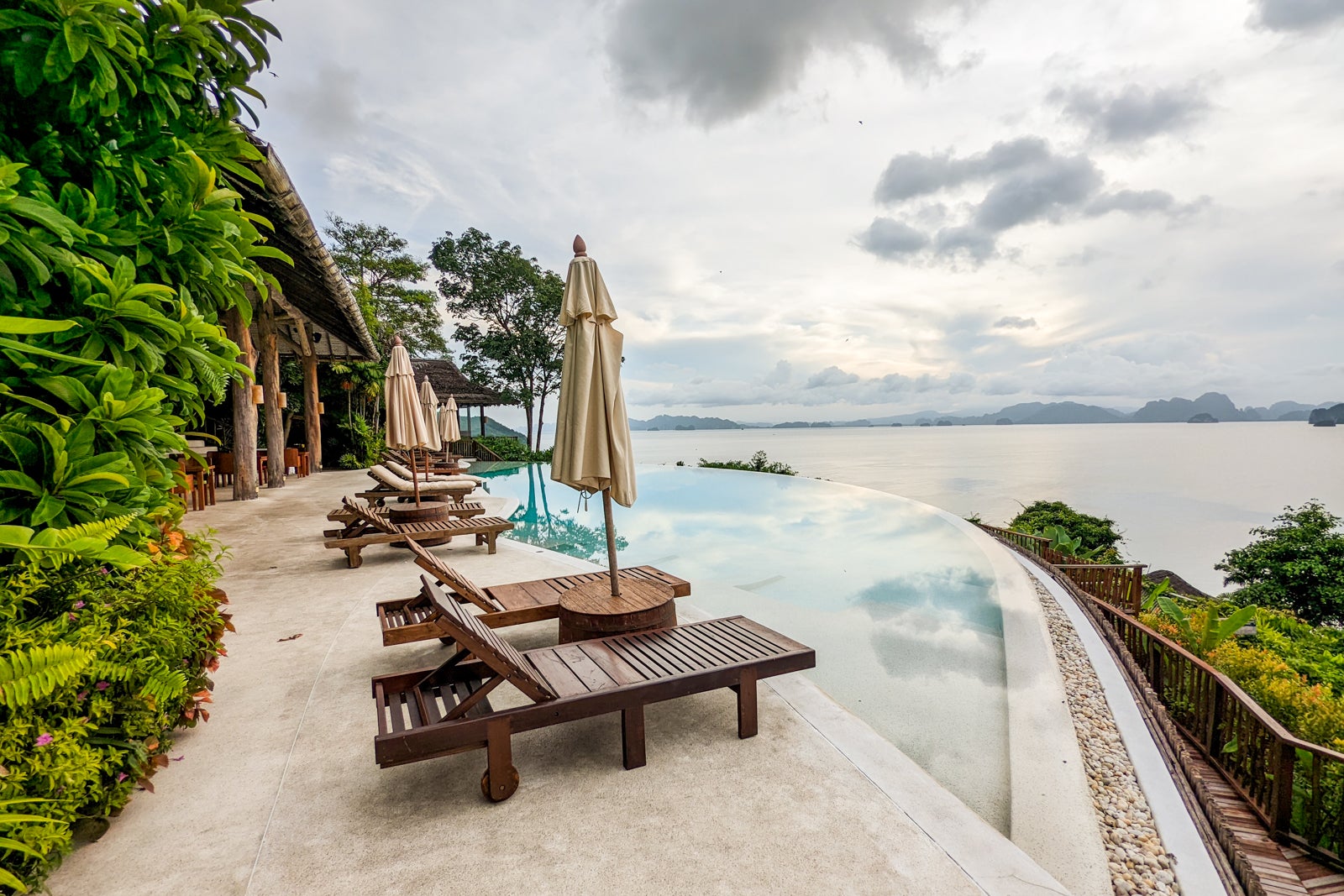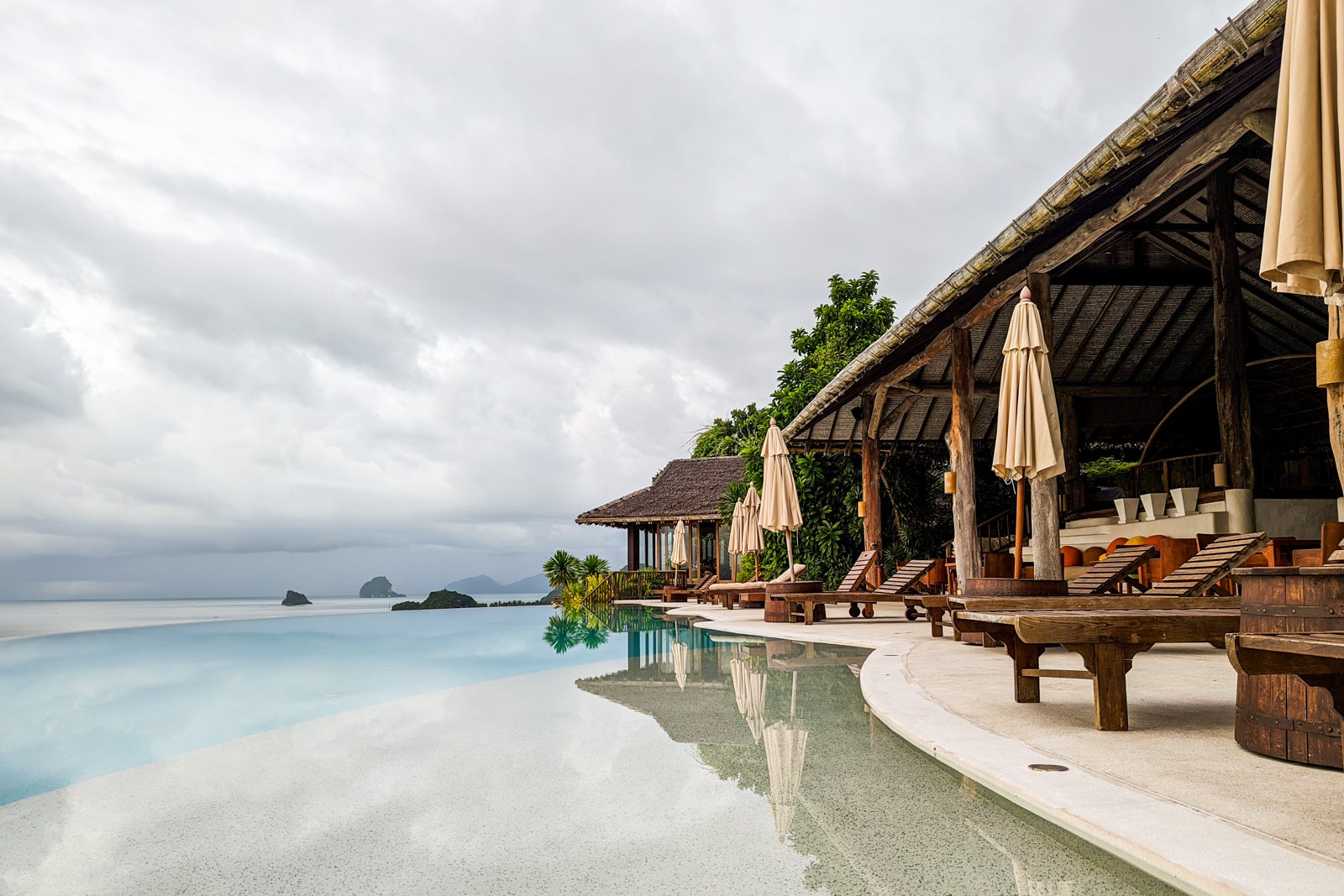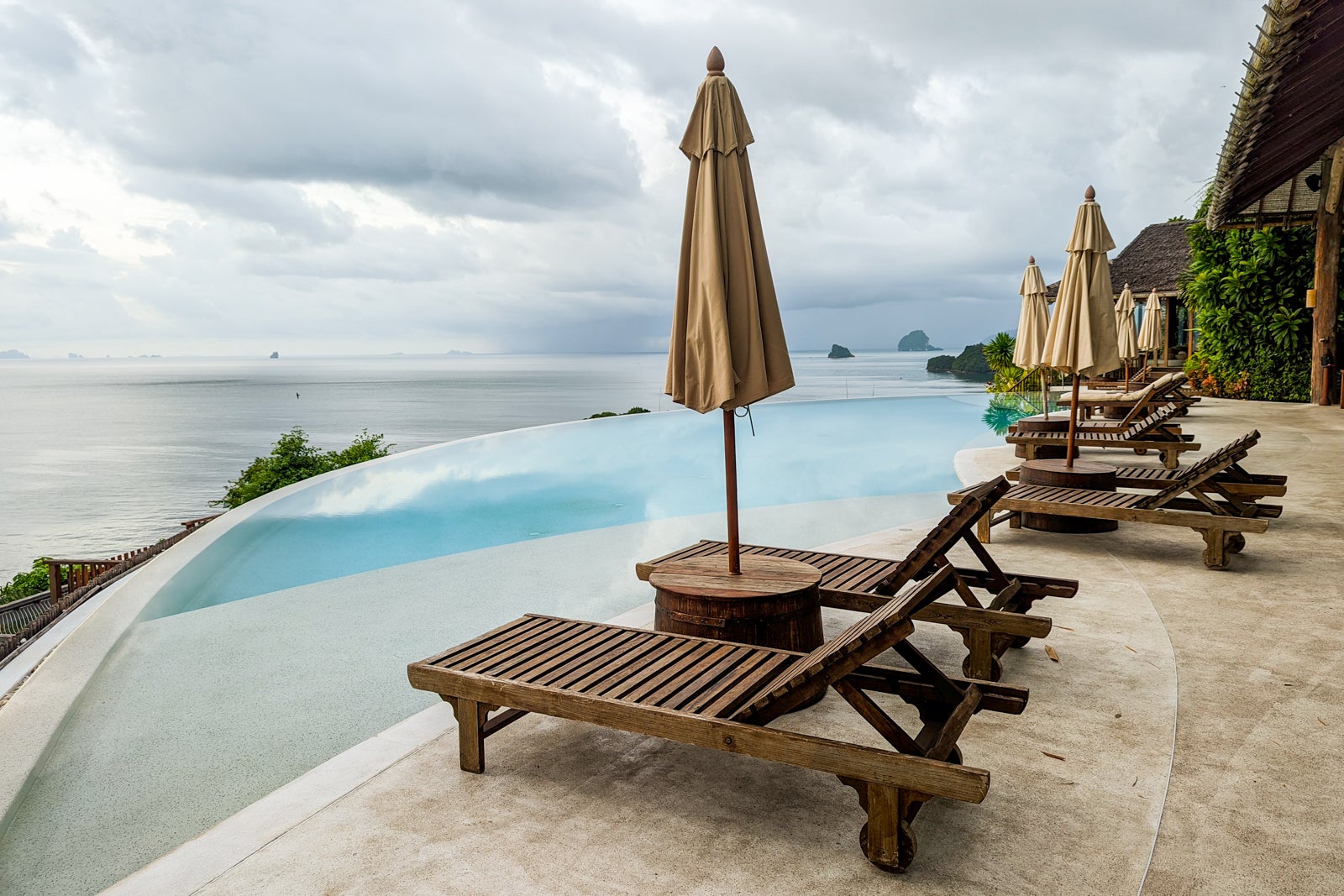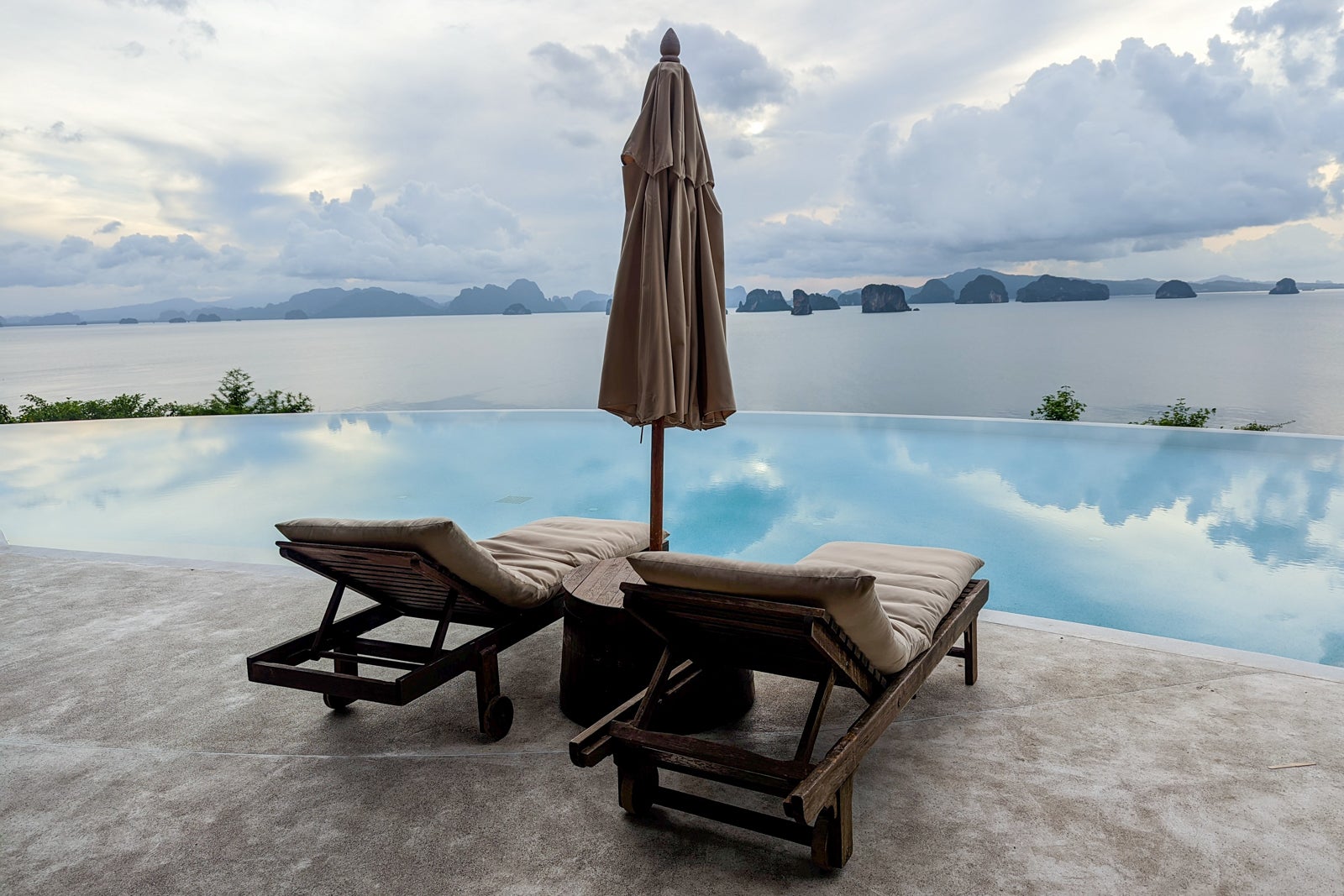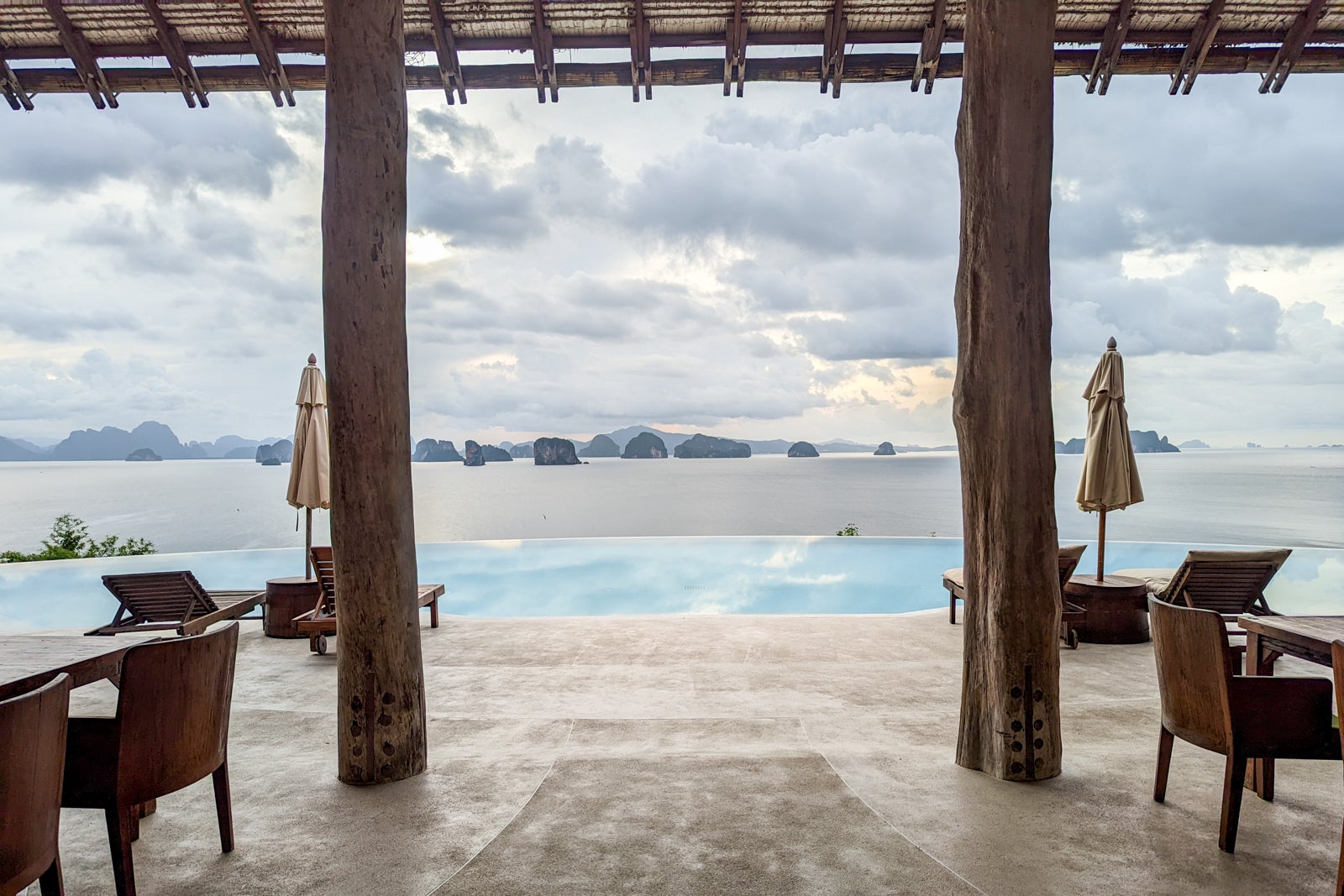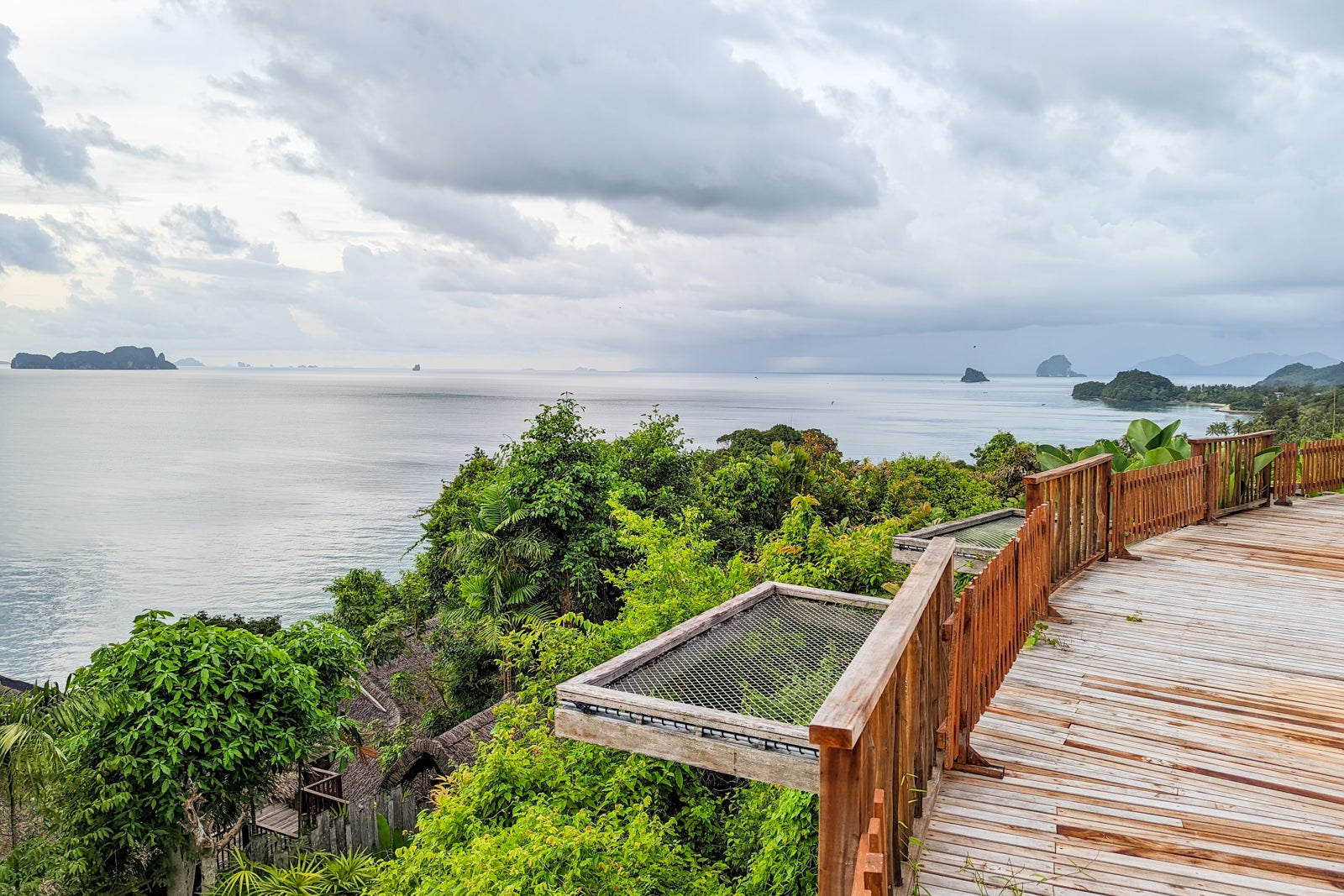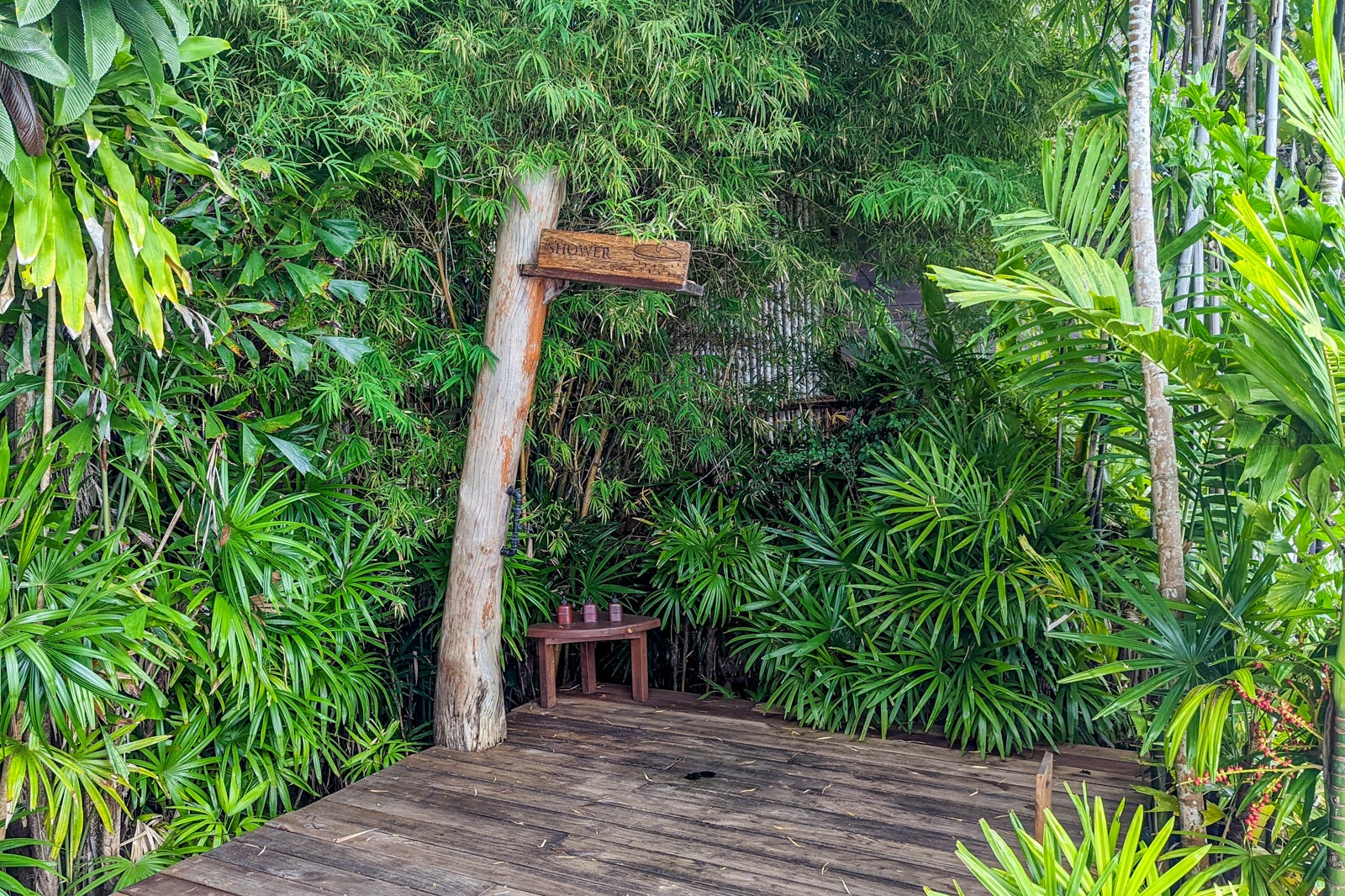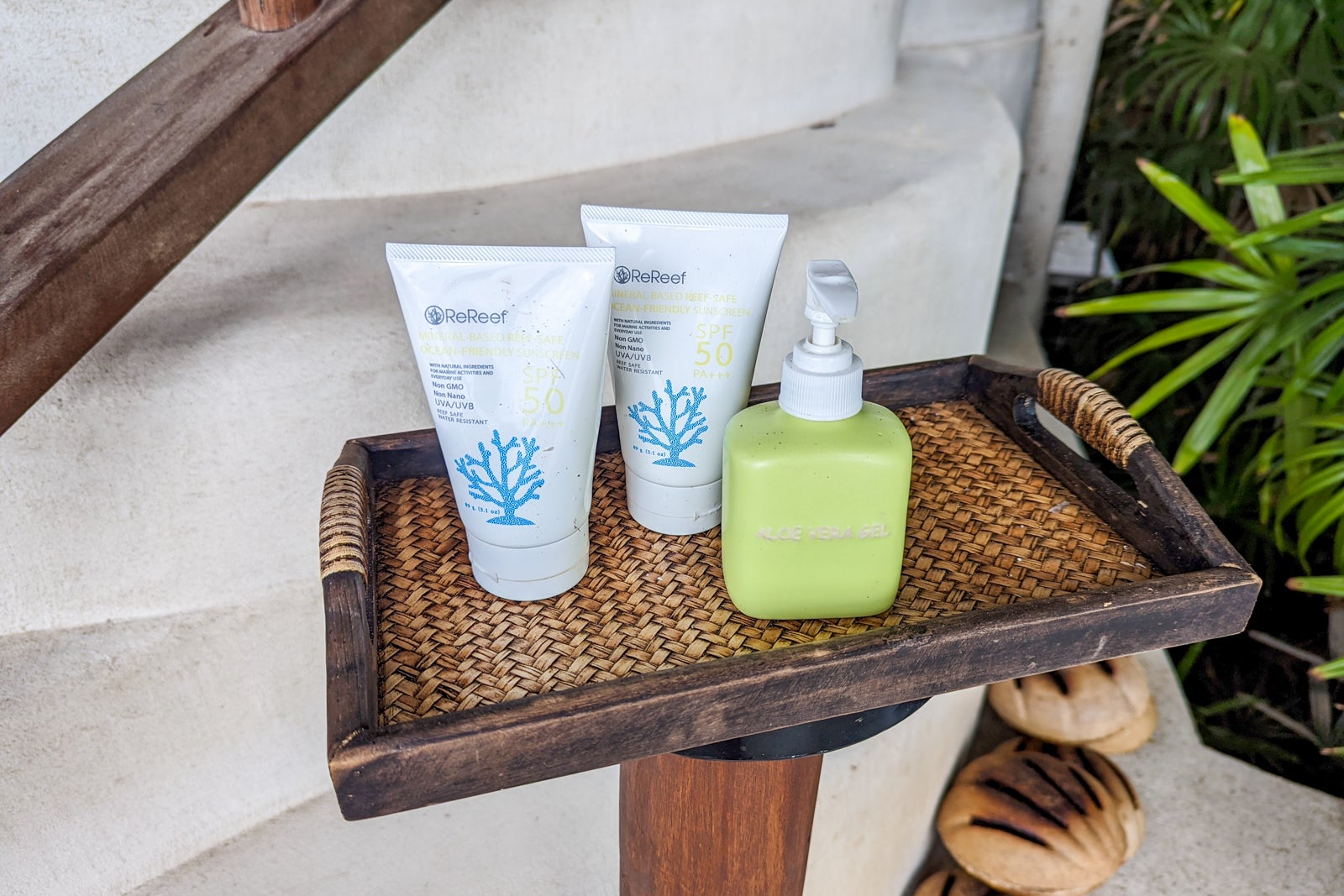 You can borrow bikes from a stand near the road entrance to the resort for complimentary use outside the resort between 6 a.m. and 6 p.m.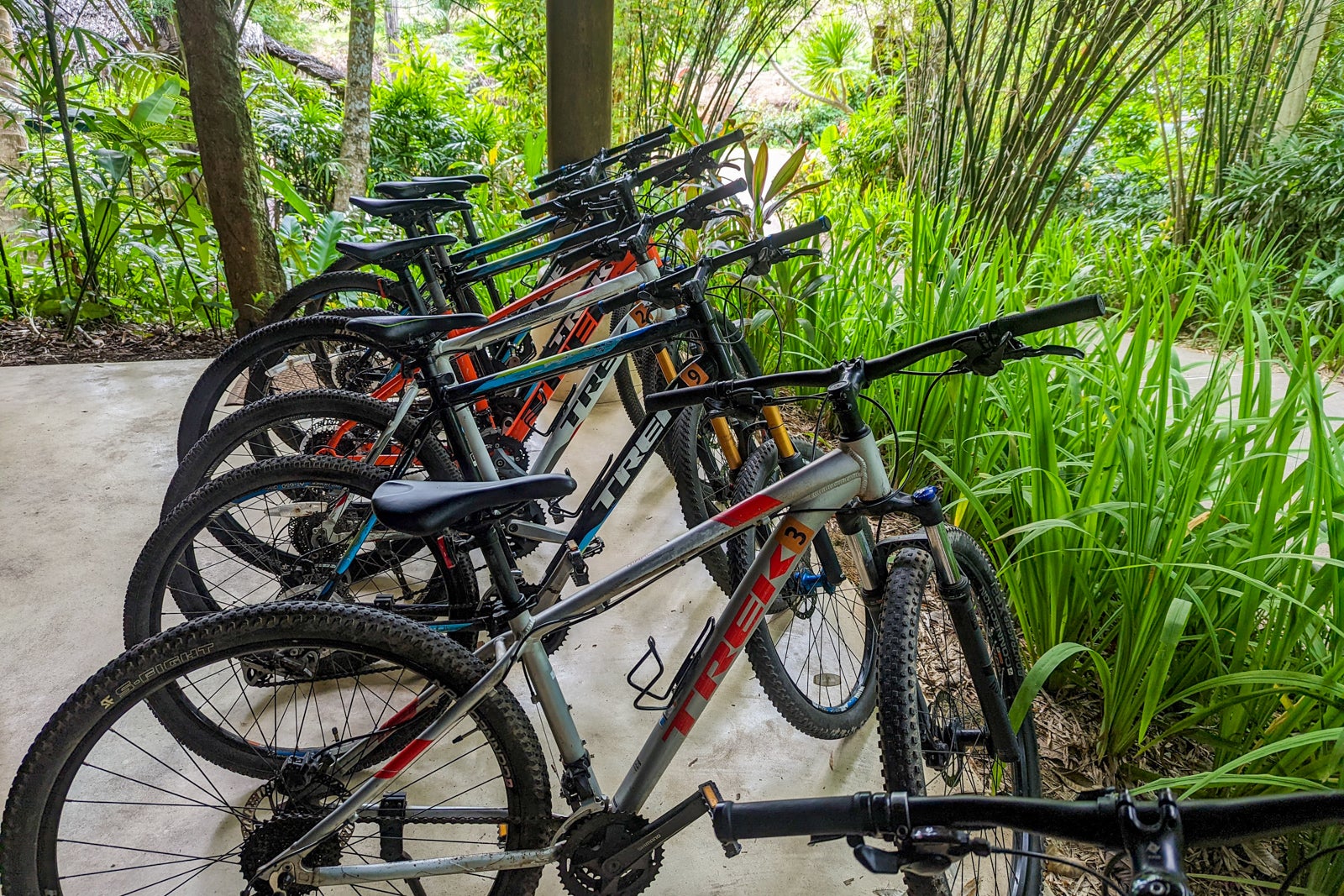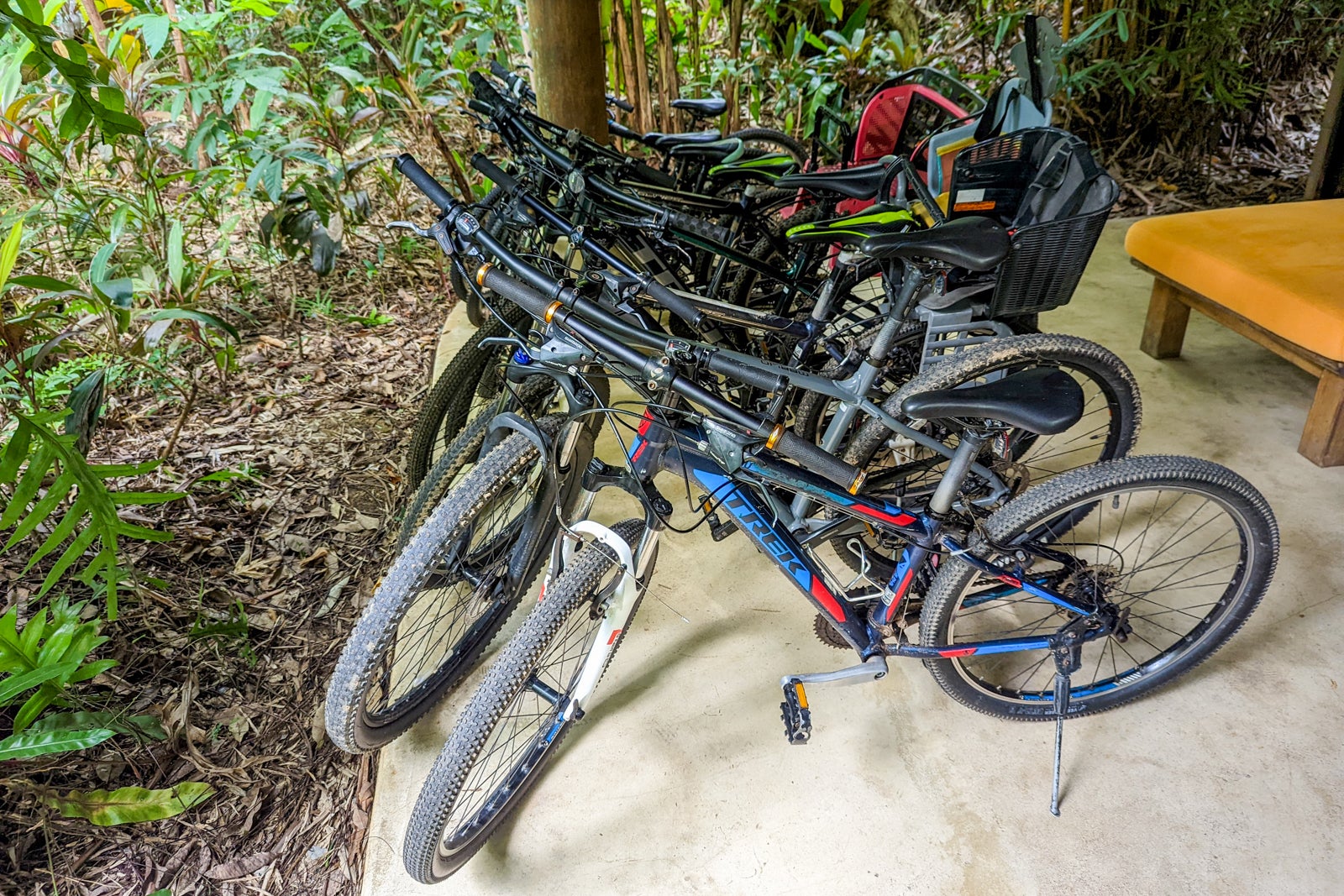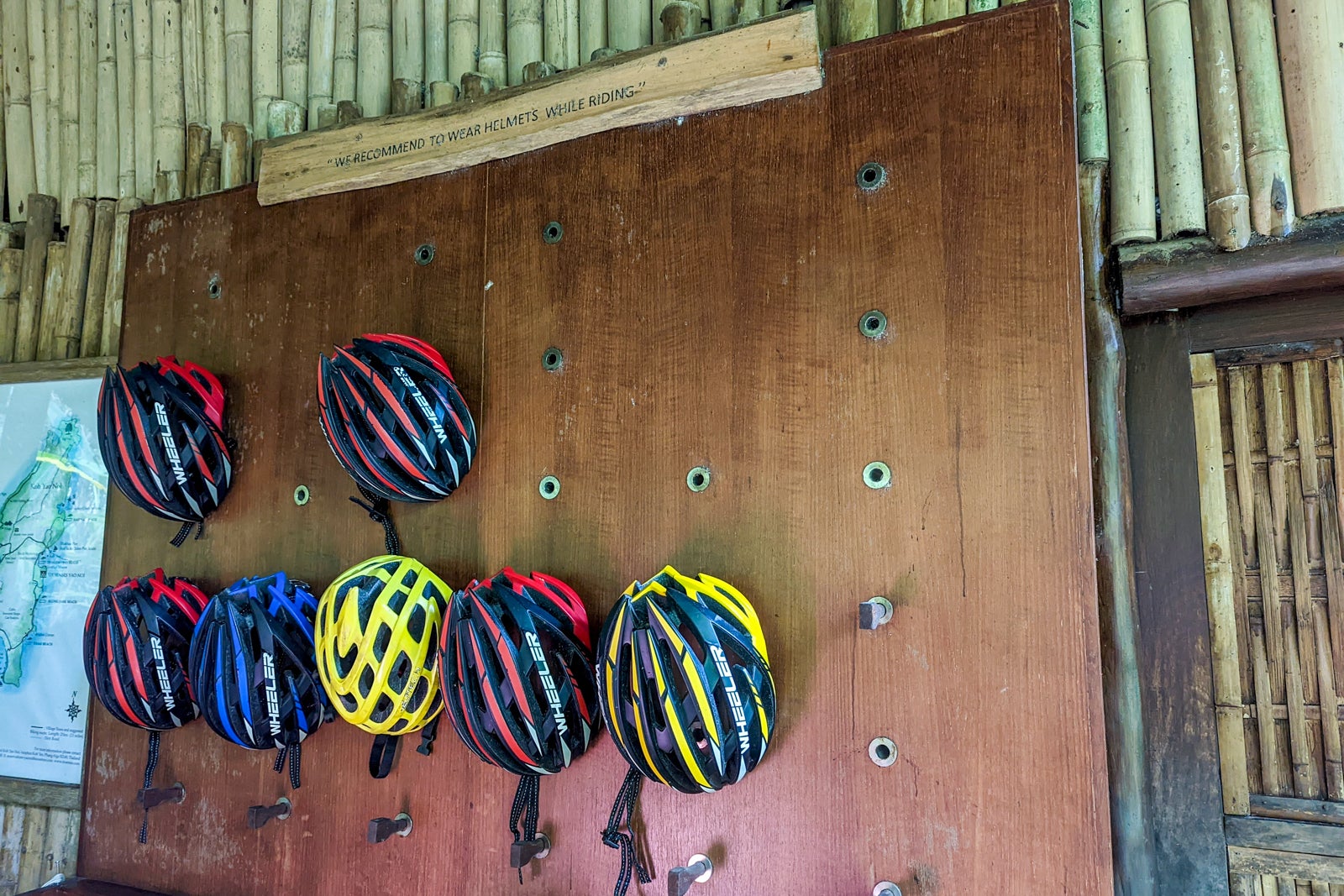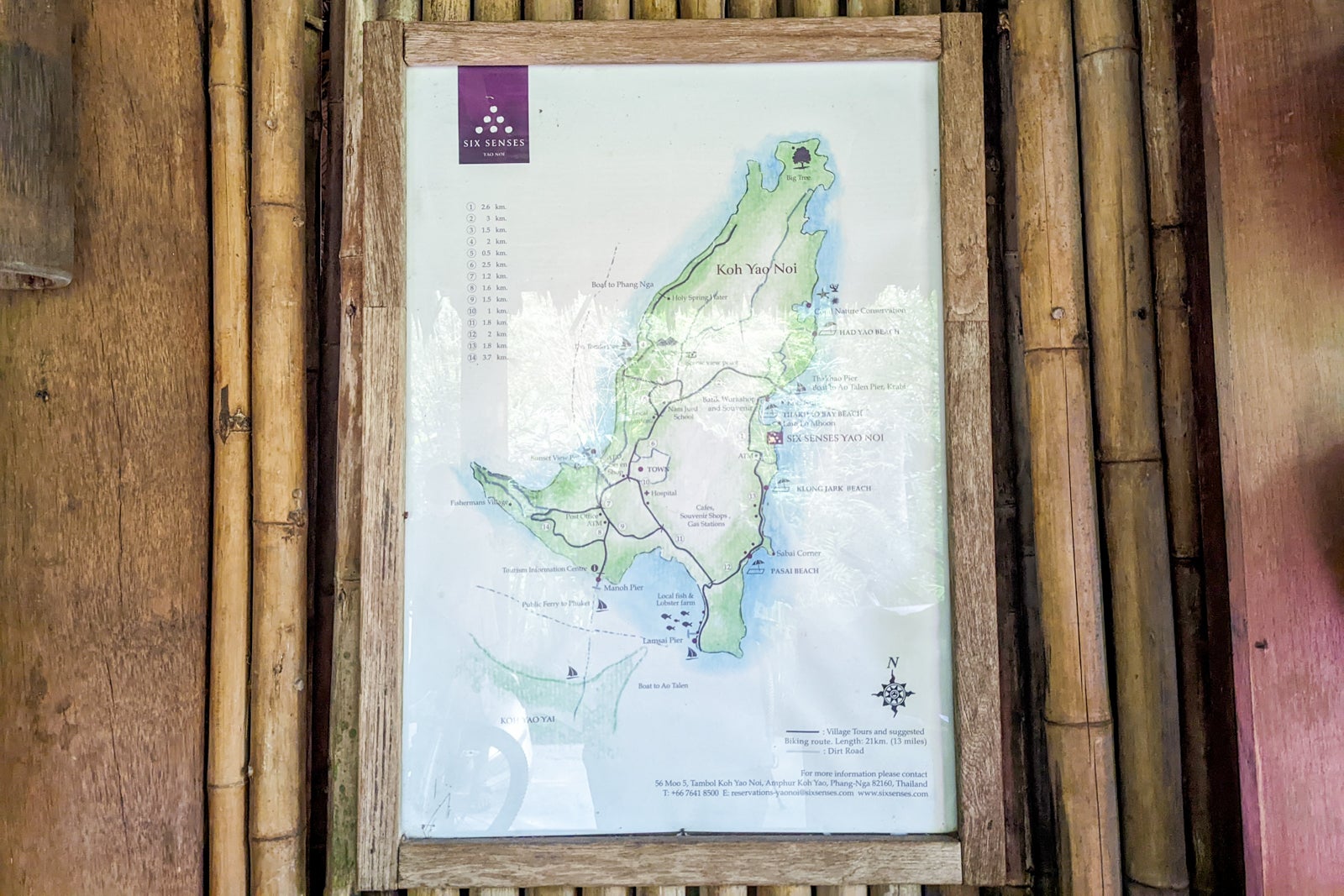 We borrowed bikes for about 90 minutes one afternoon, using them to ride into the main village about 4 1/2 miles away.
The ride uncovered a completely different side of the island, as we saw many houses, beach-side massage stands and a few local hotels and resorts.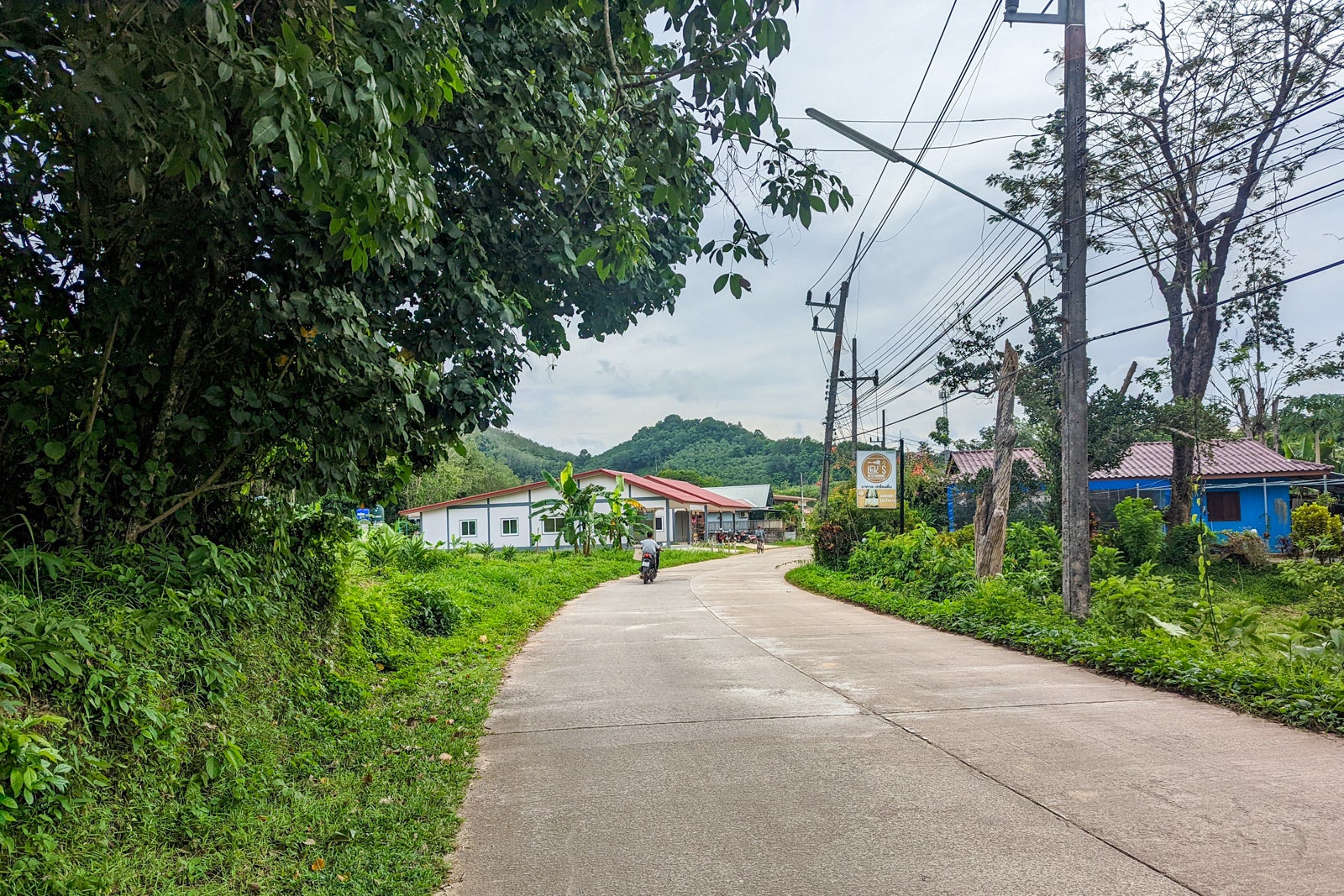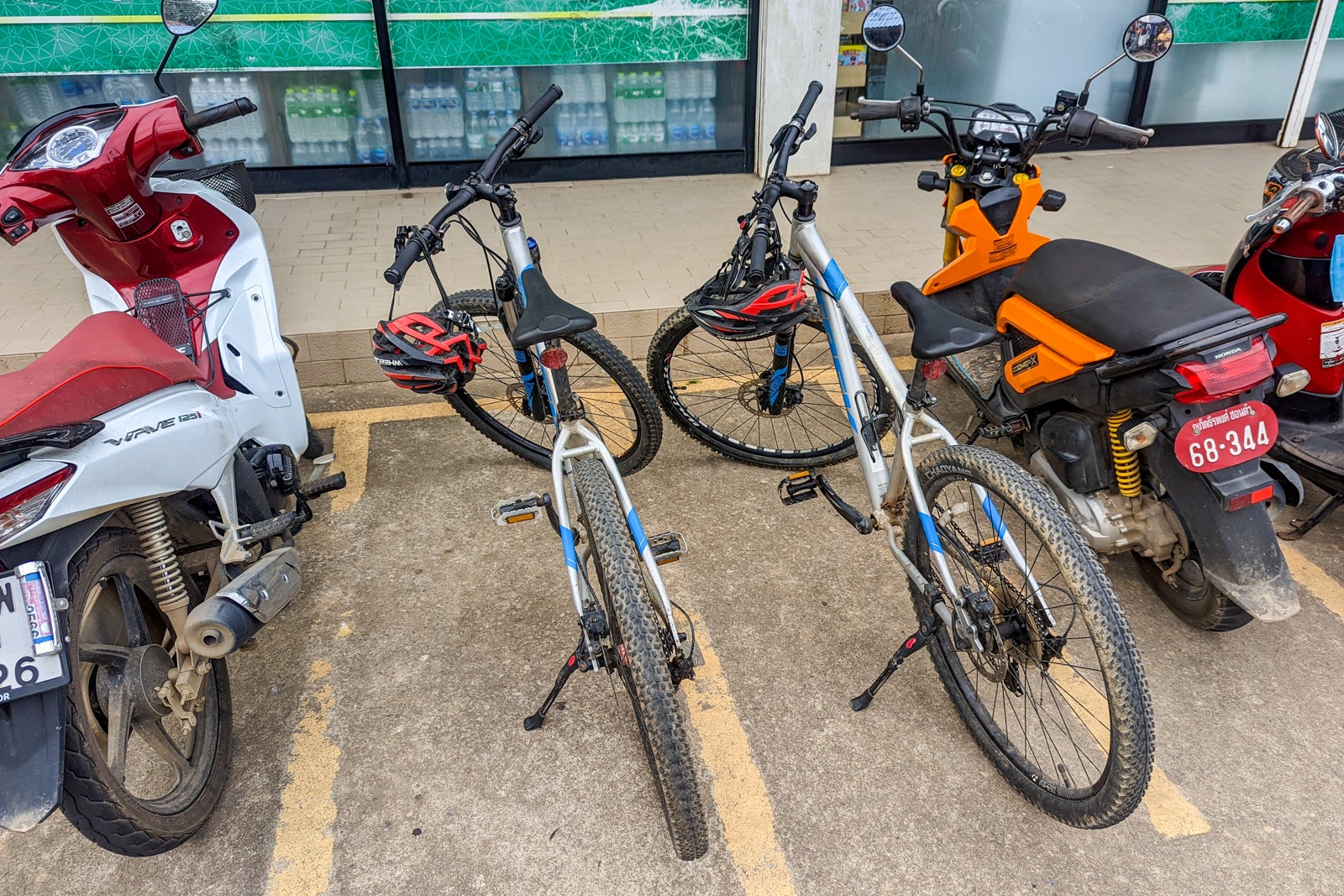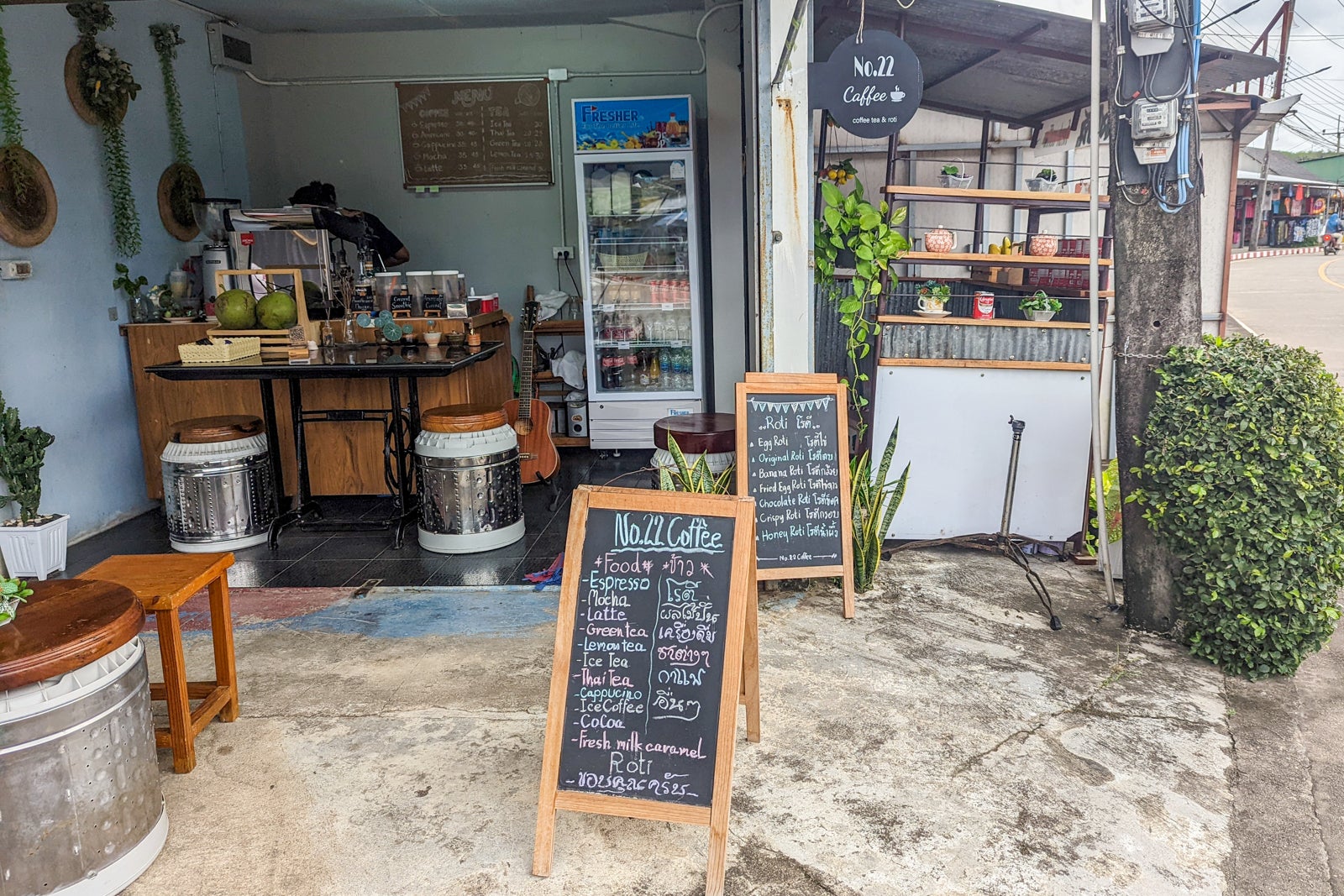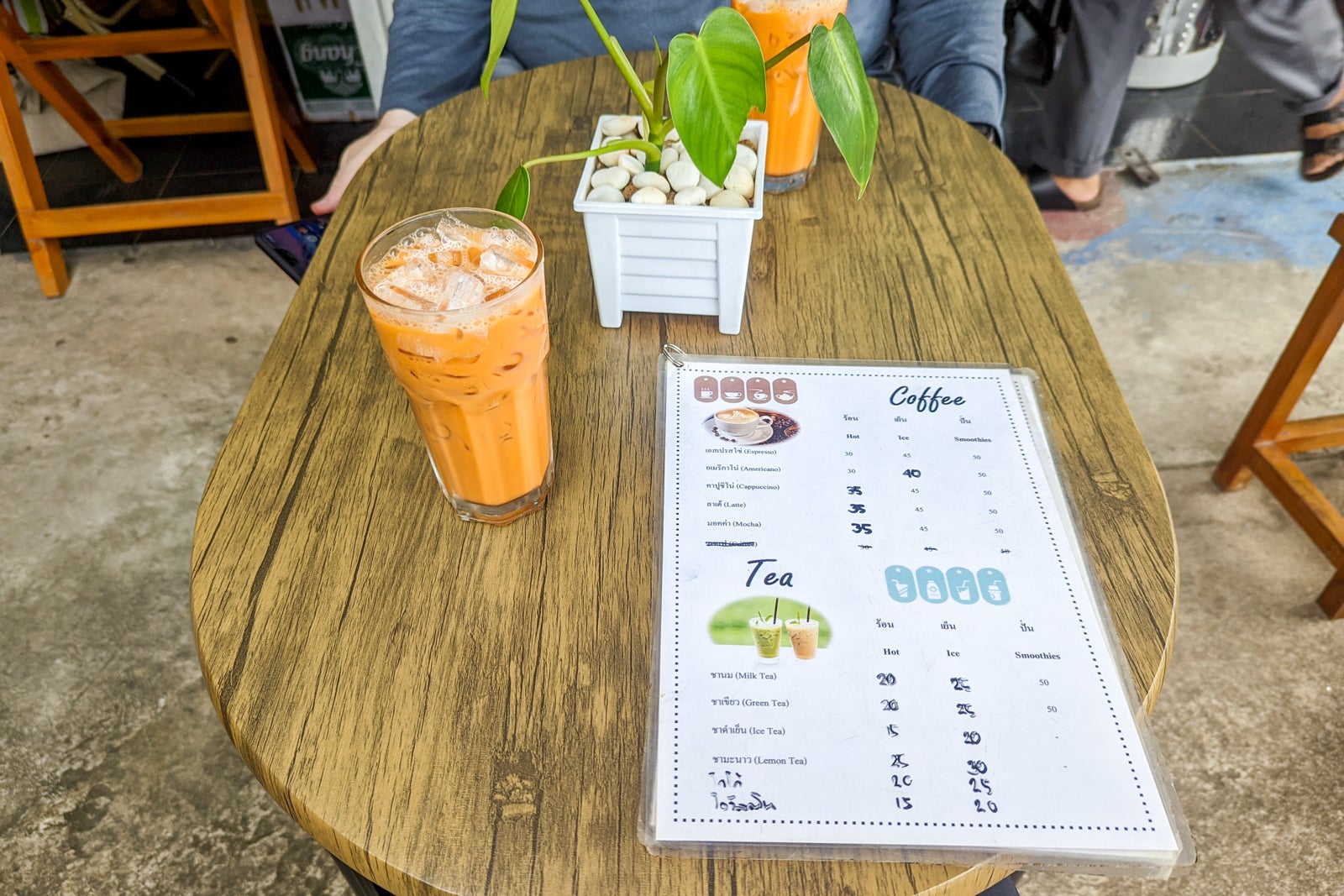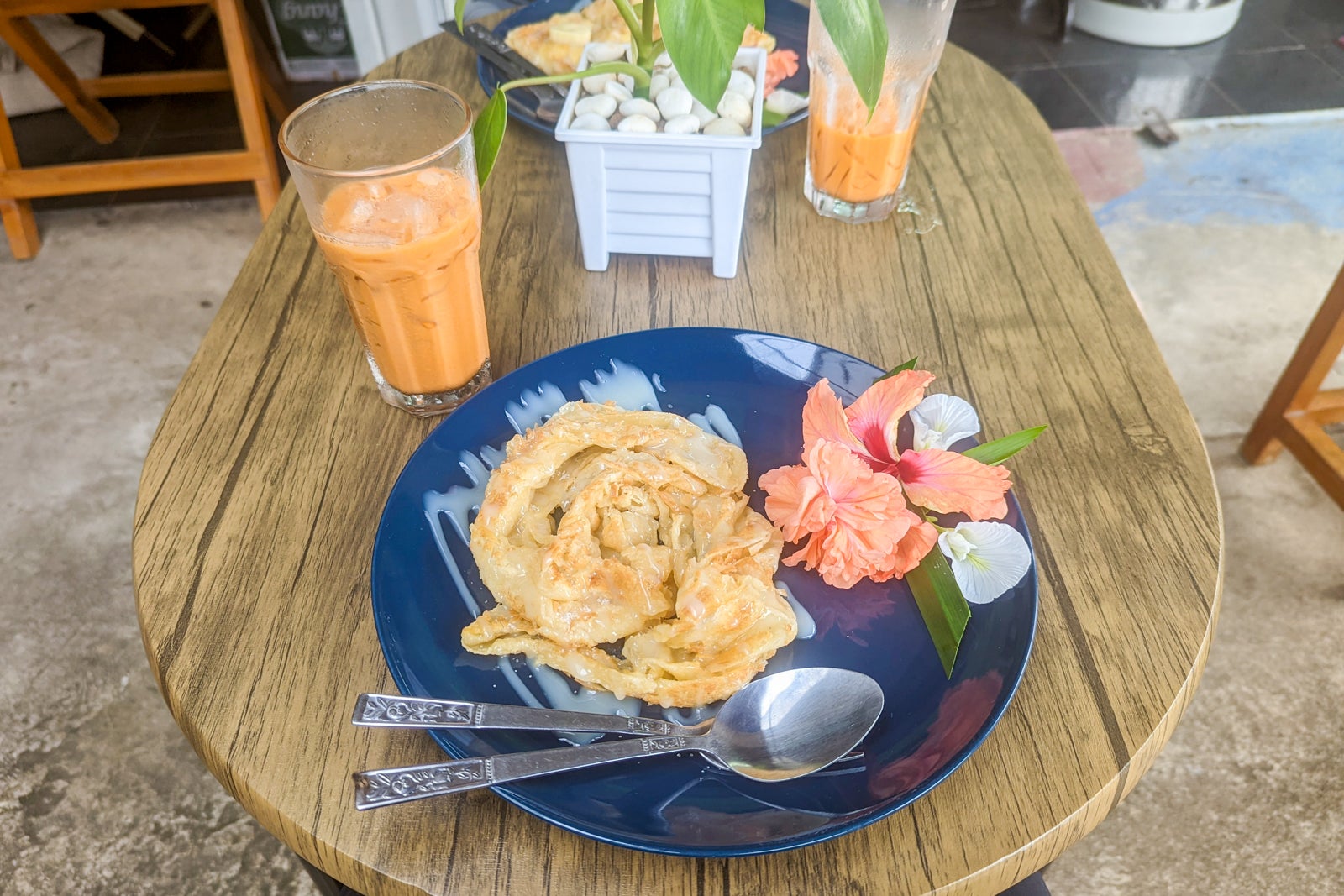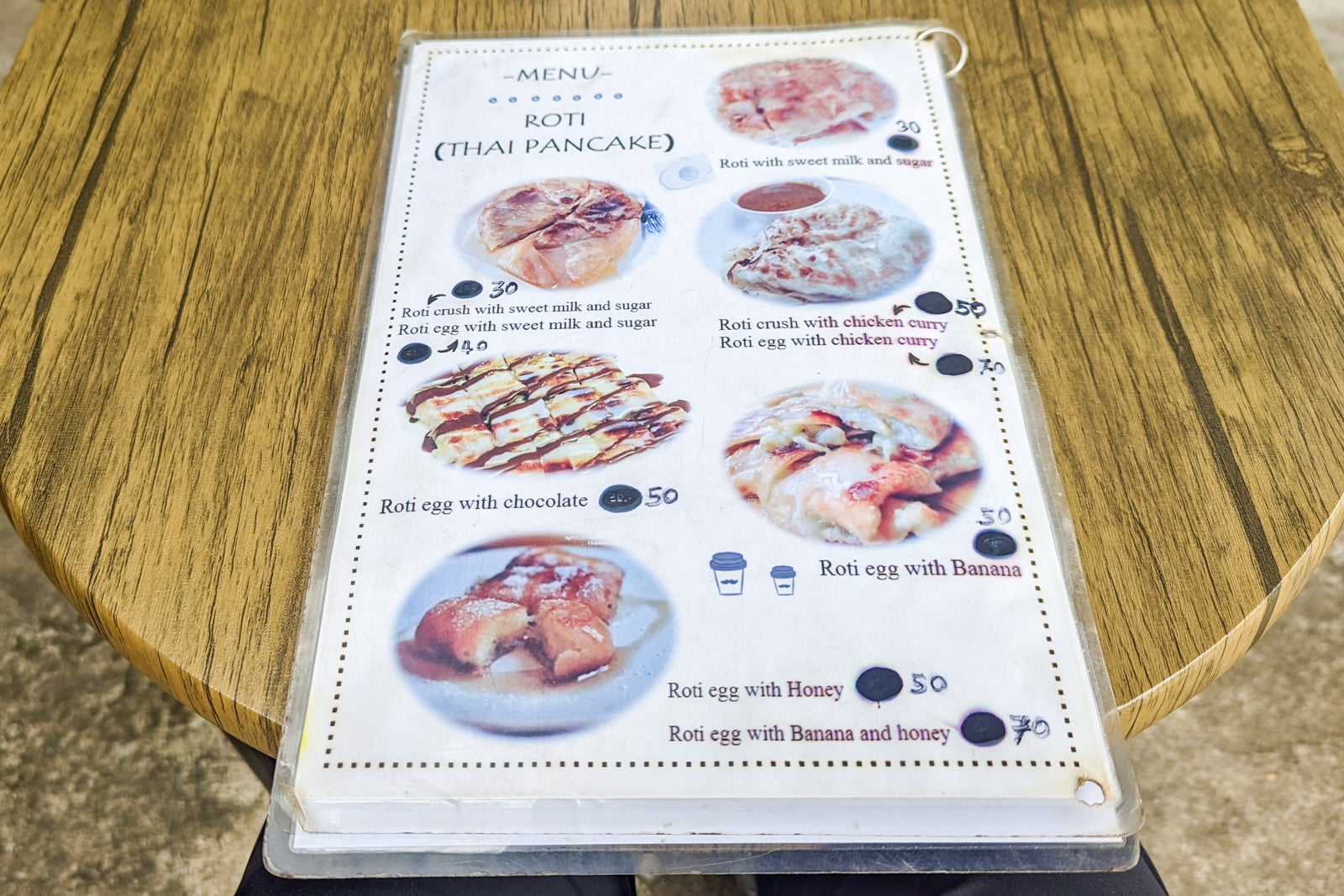 However, the quality of the bikes was disappointing. Both of our bikes only offered a few well-functioning gears. And the seats weren't comfortable at all, leaving both my husband and me sore after our ride.
I loved walking around the resort. The paths were relaxing, and I enjoyed listening to the frogs in a pond one night.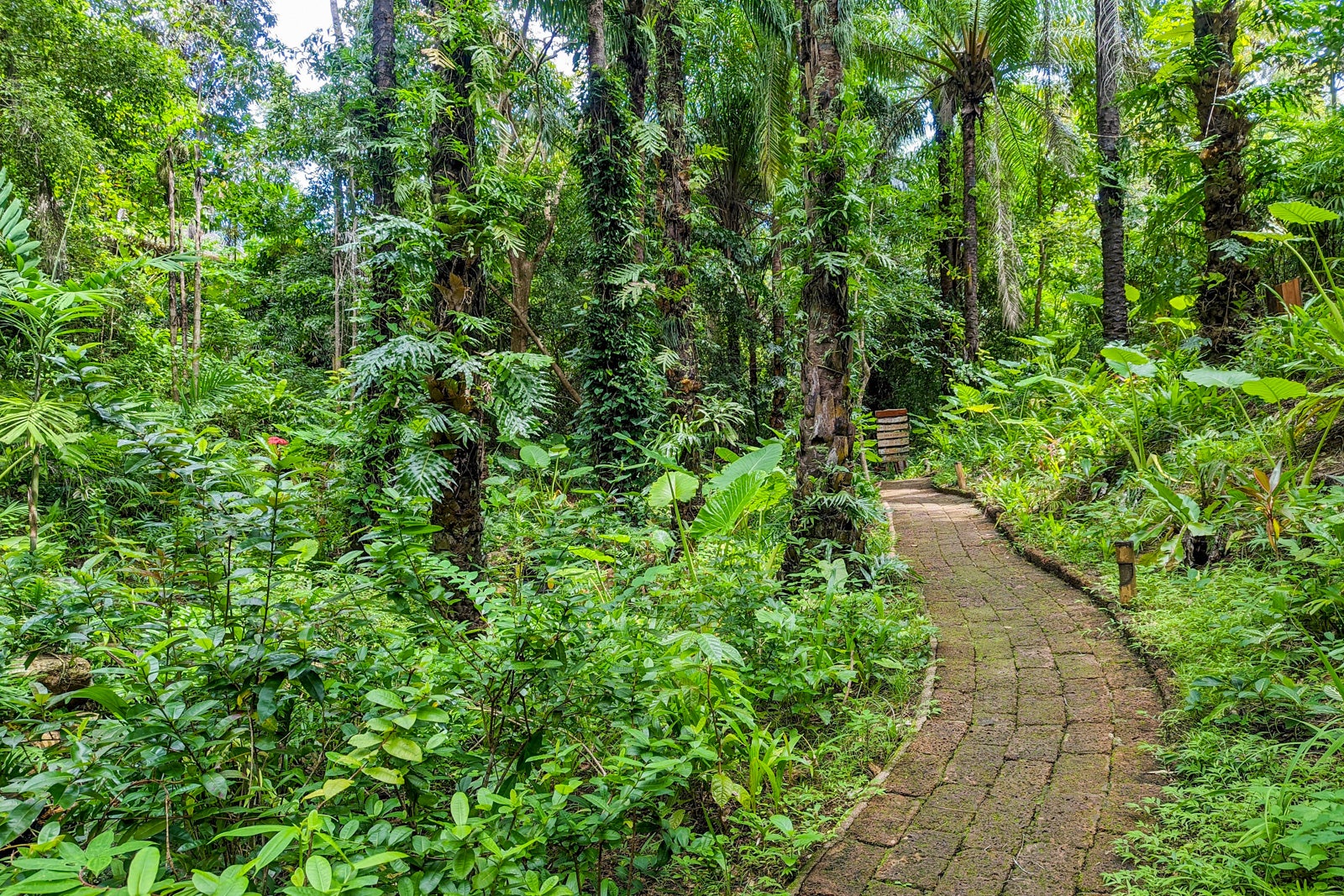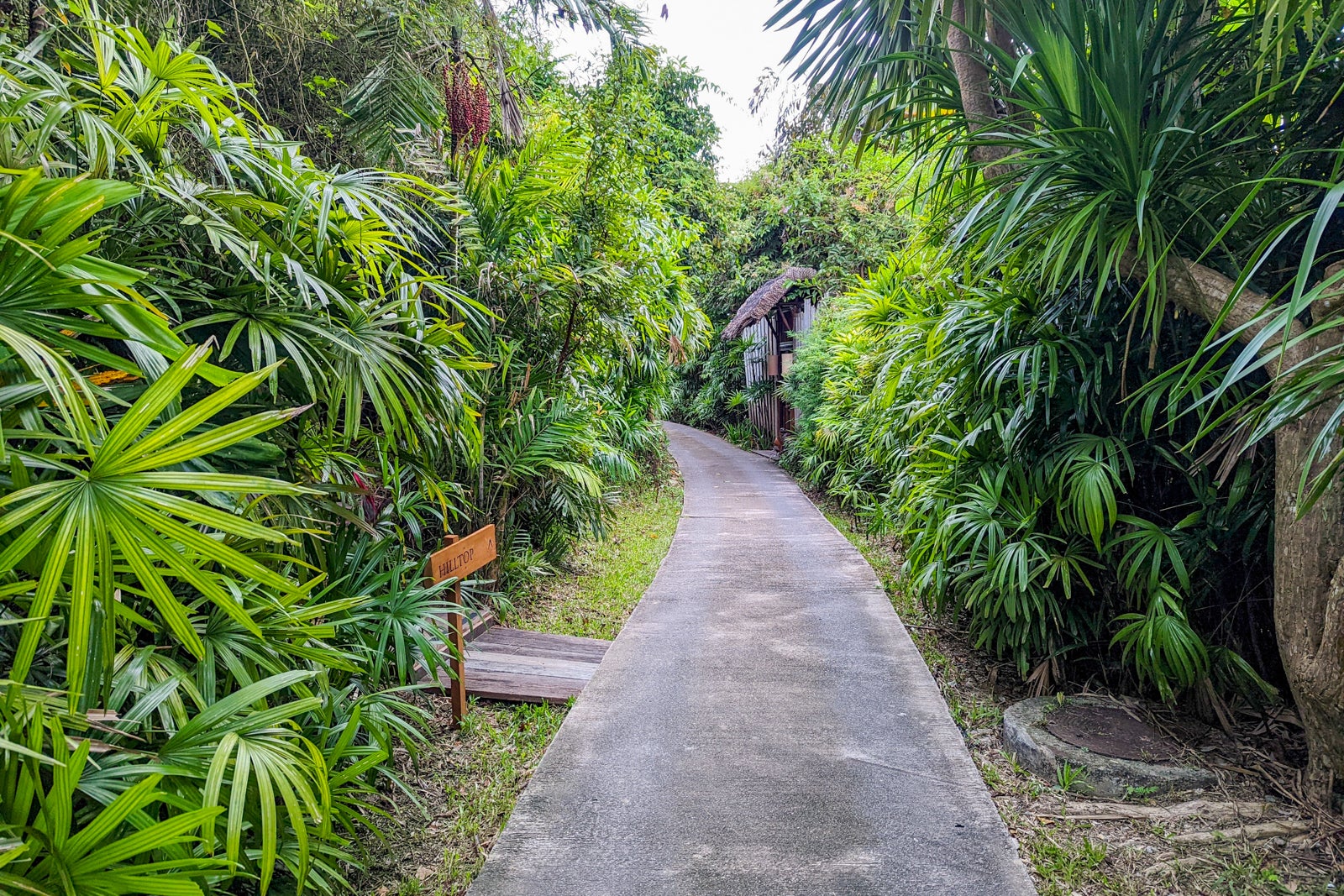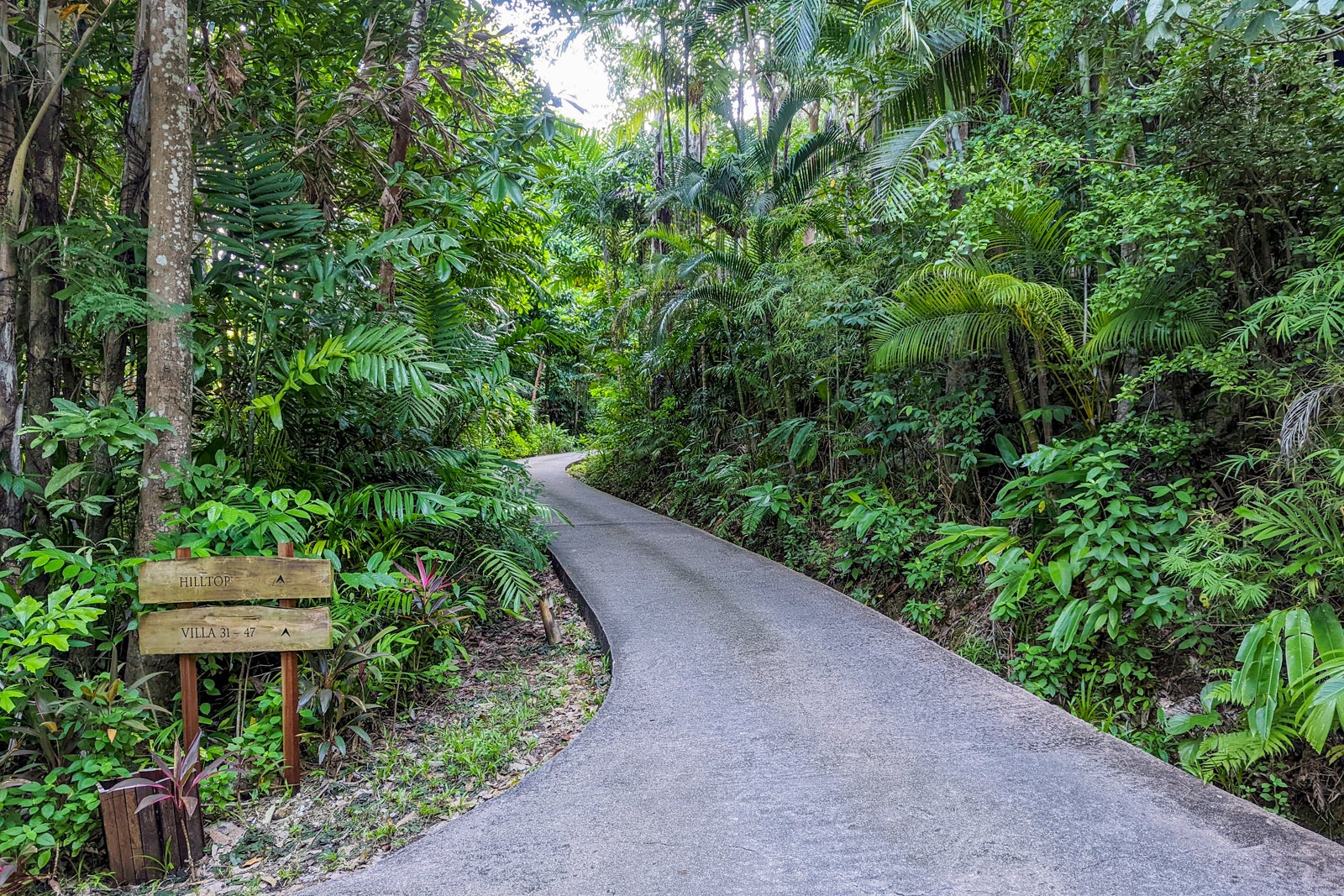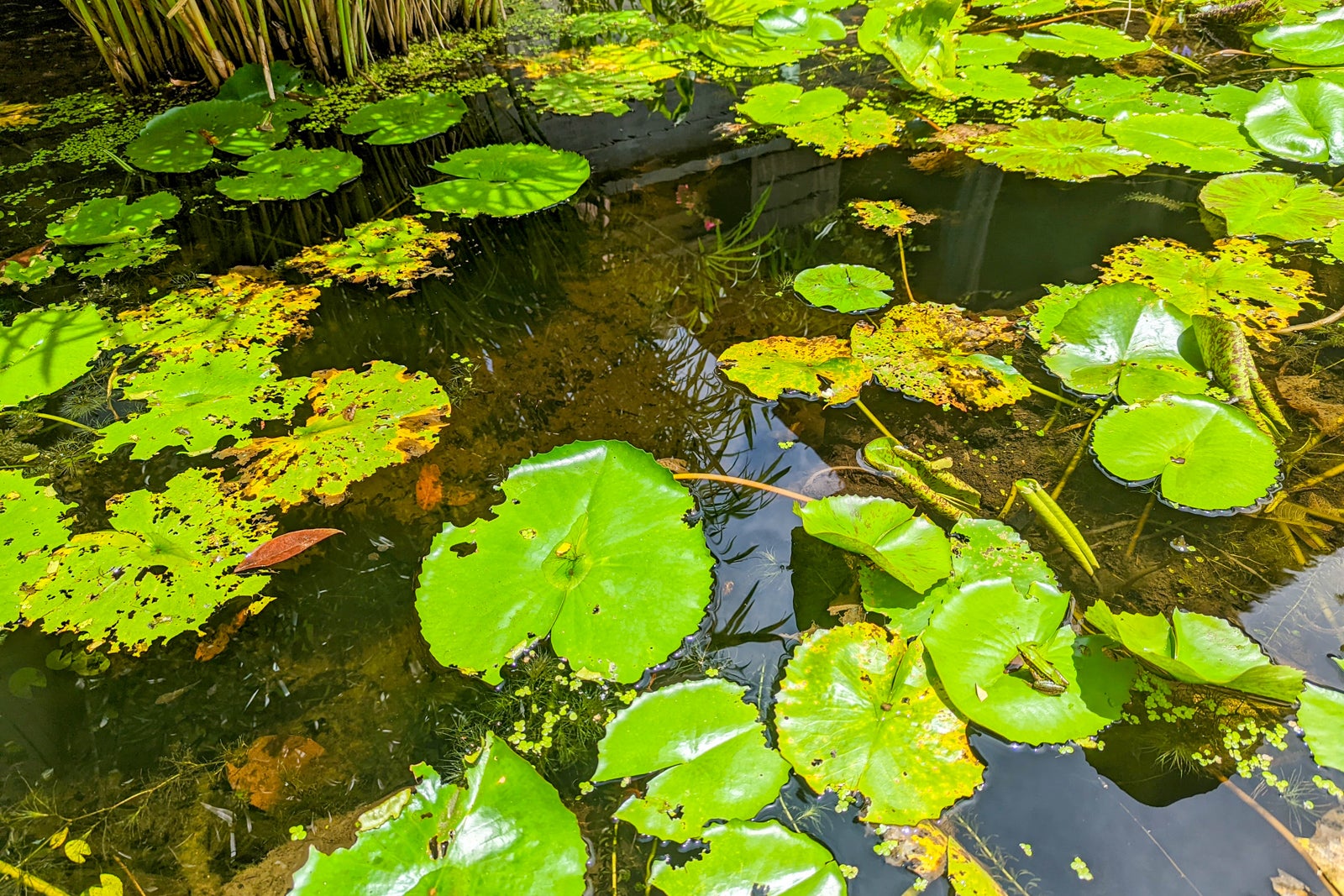 Sadly, the mangrove walk was closed during my visit. I suspect it's been closed for a while based on how the trail looked during my stay.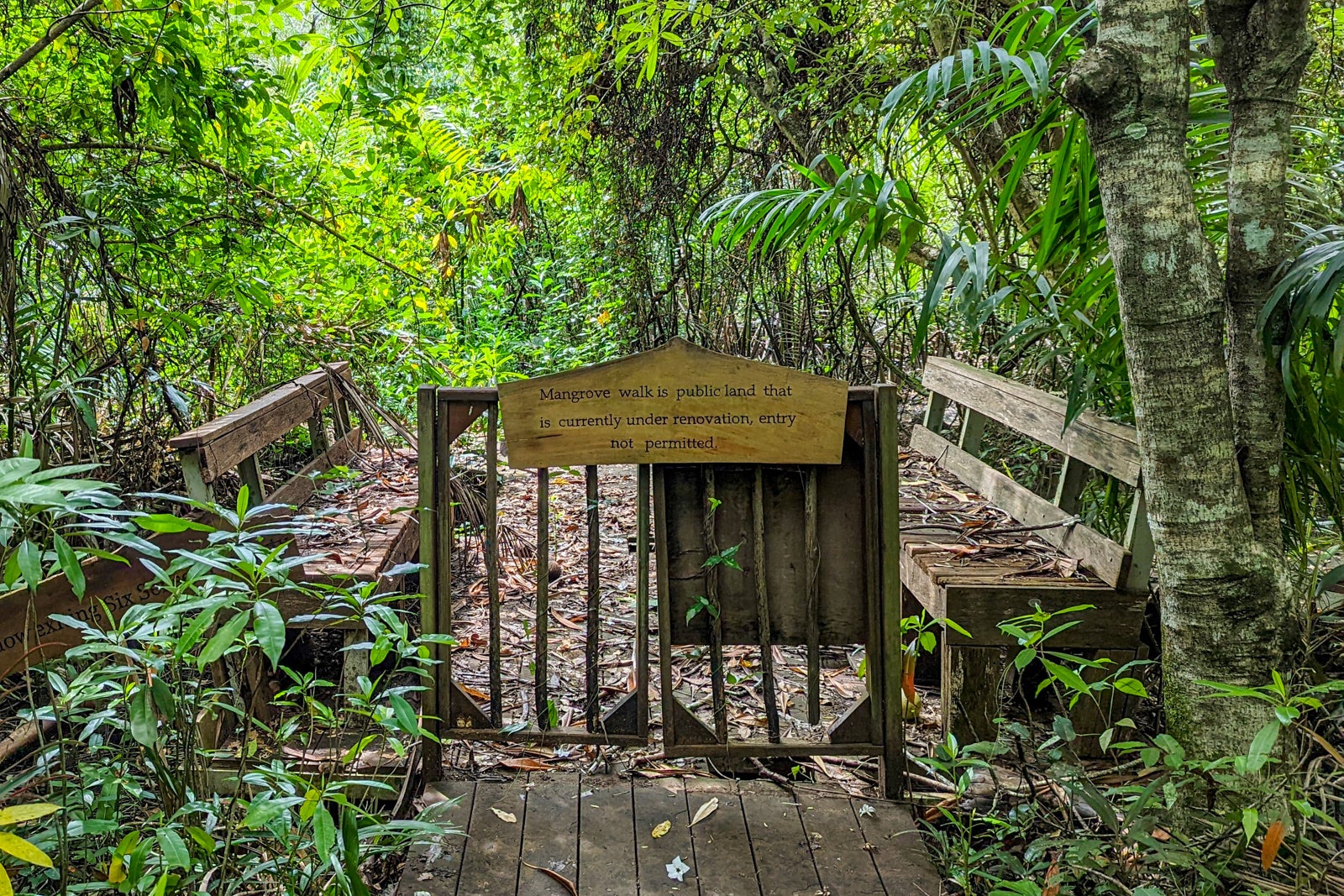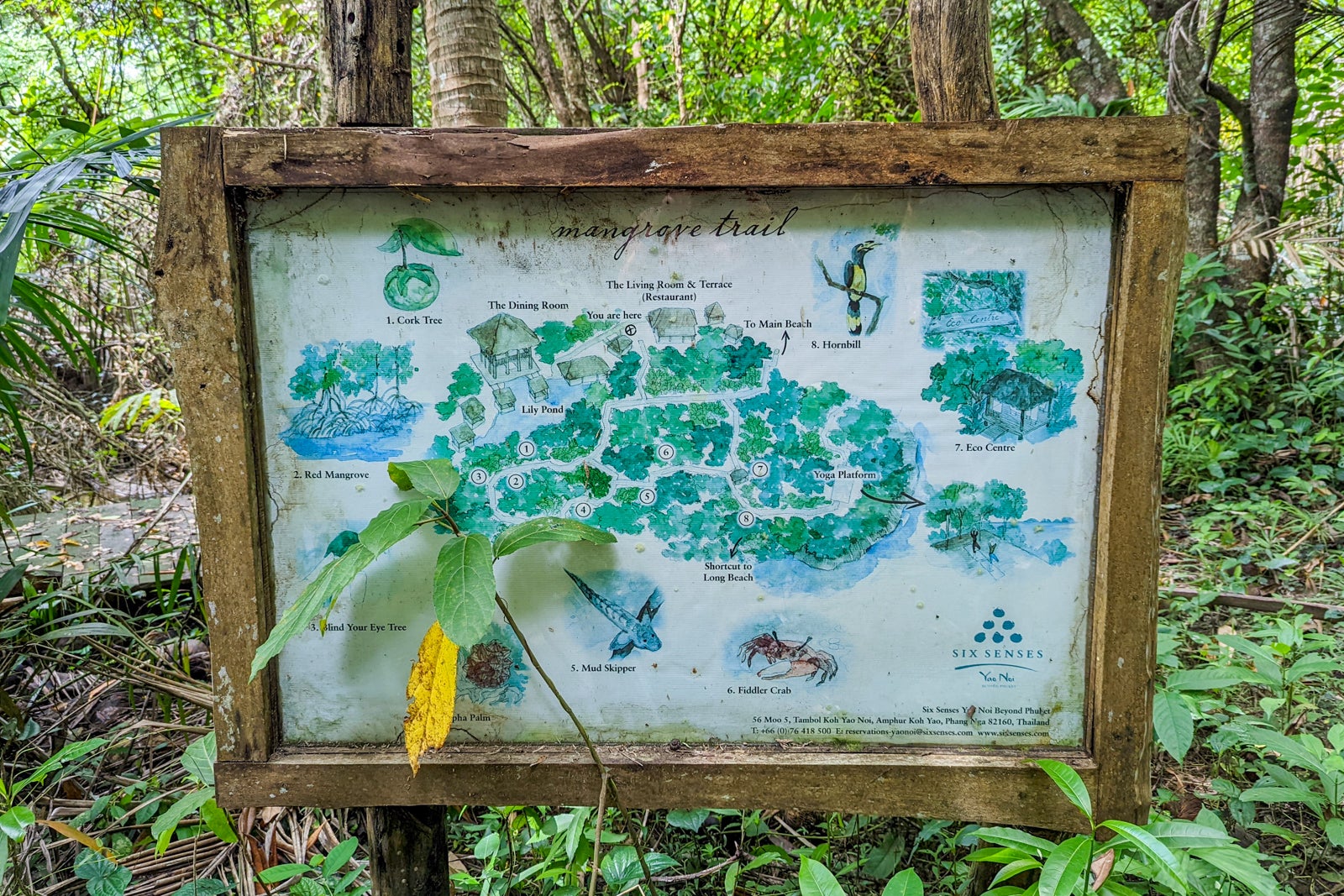 You can walk over to the resort's farm, which has not only hens but also ducks and goats. On the way, you'll pass by the tennis court.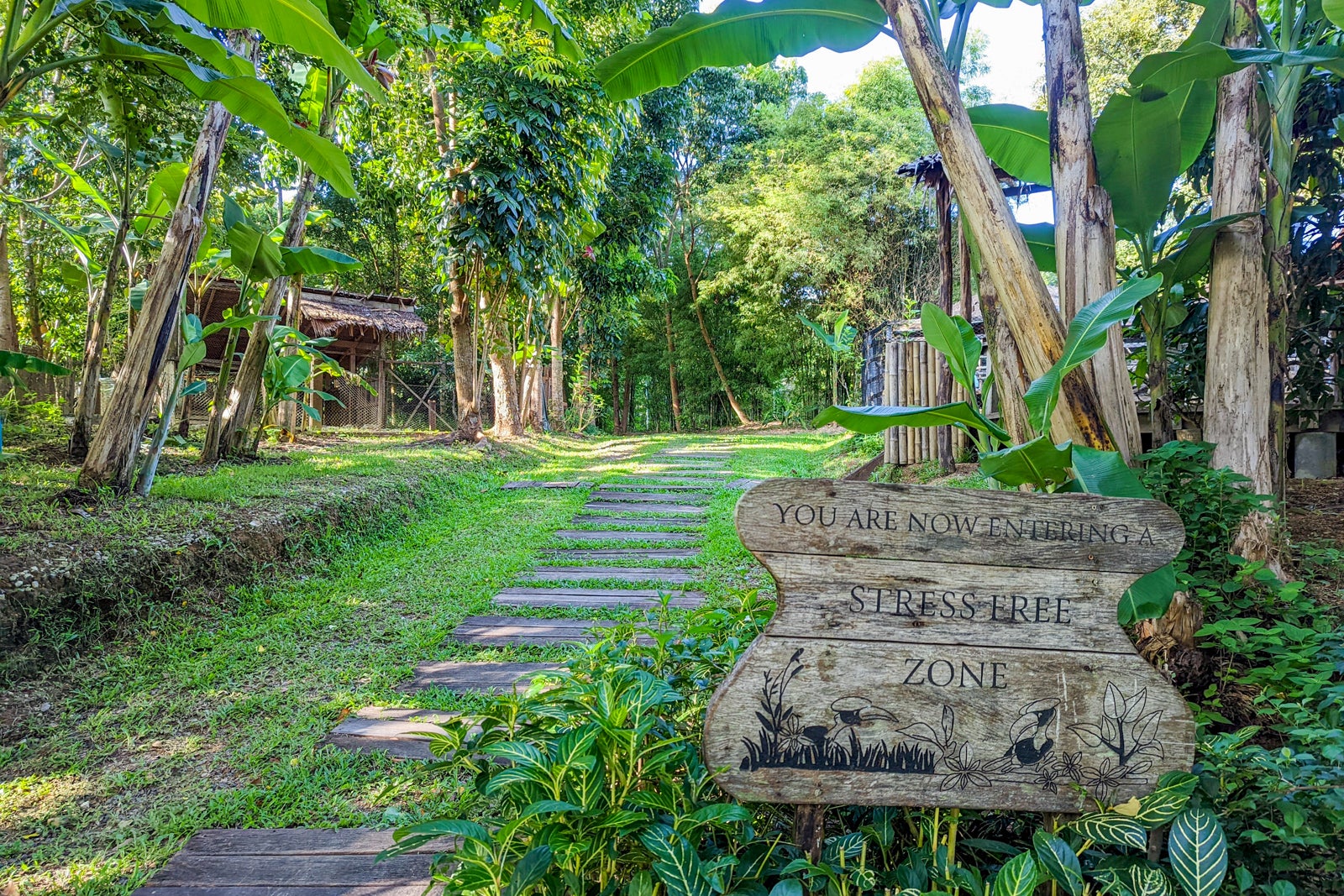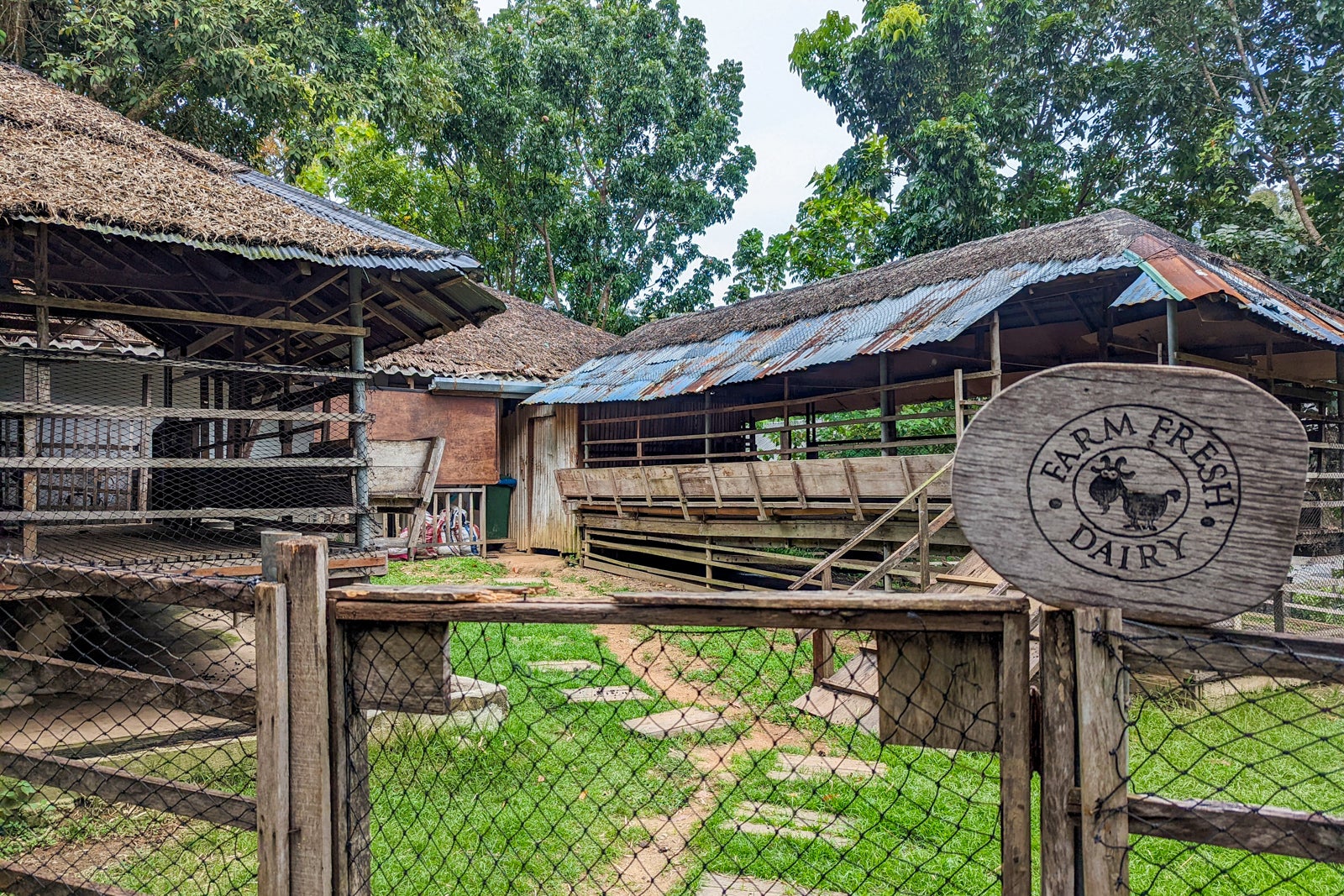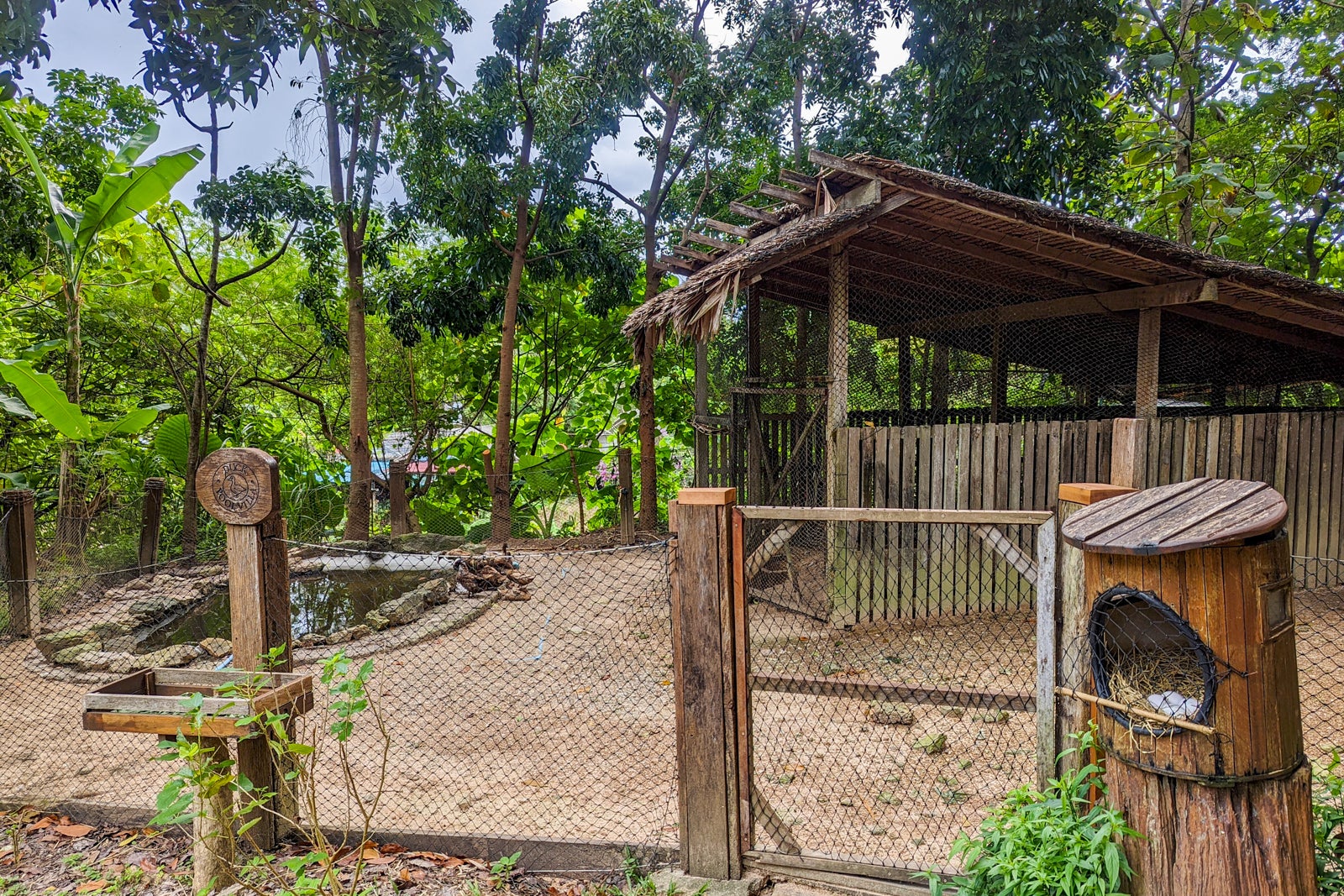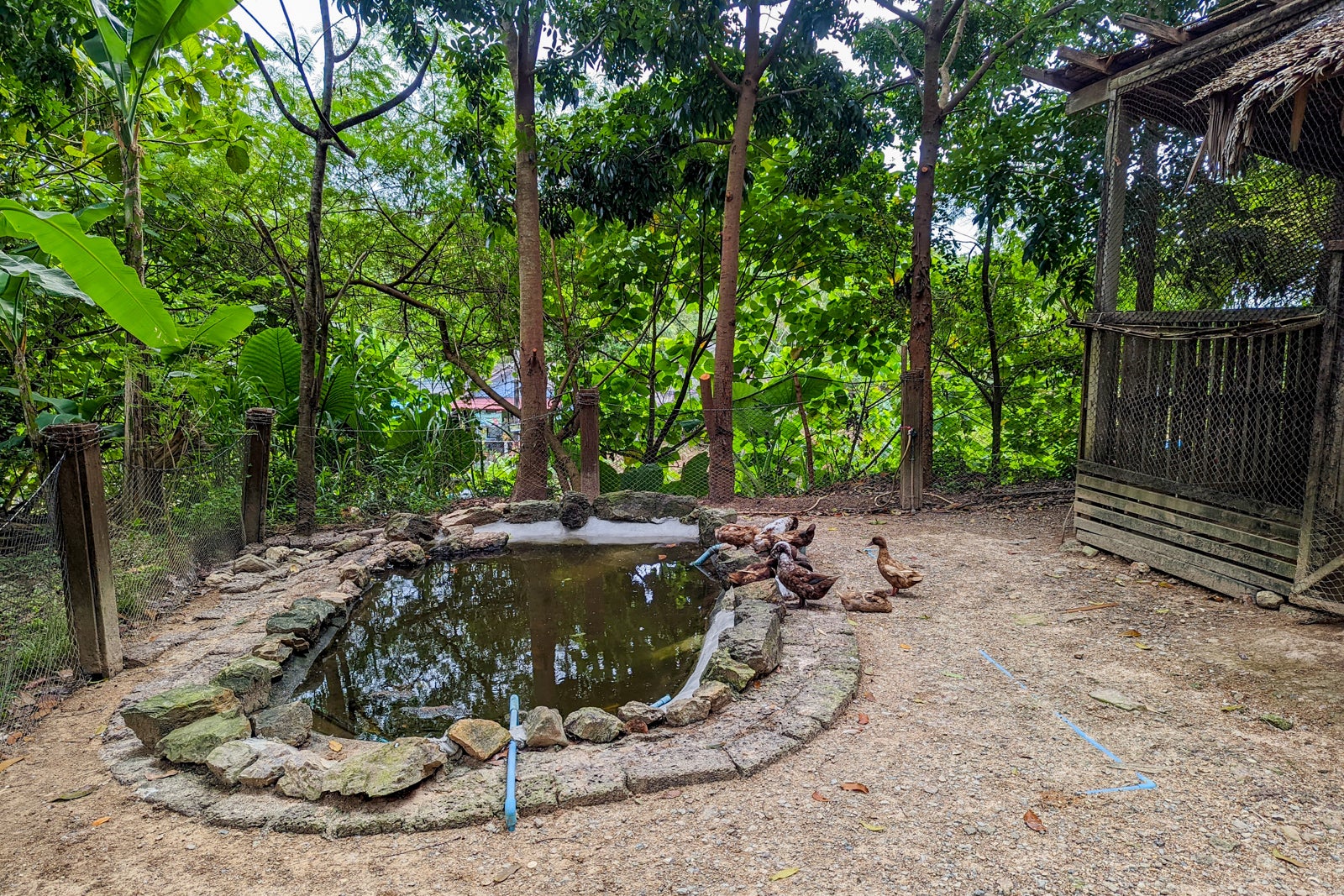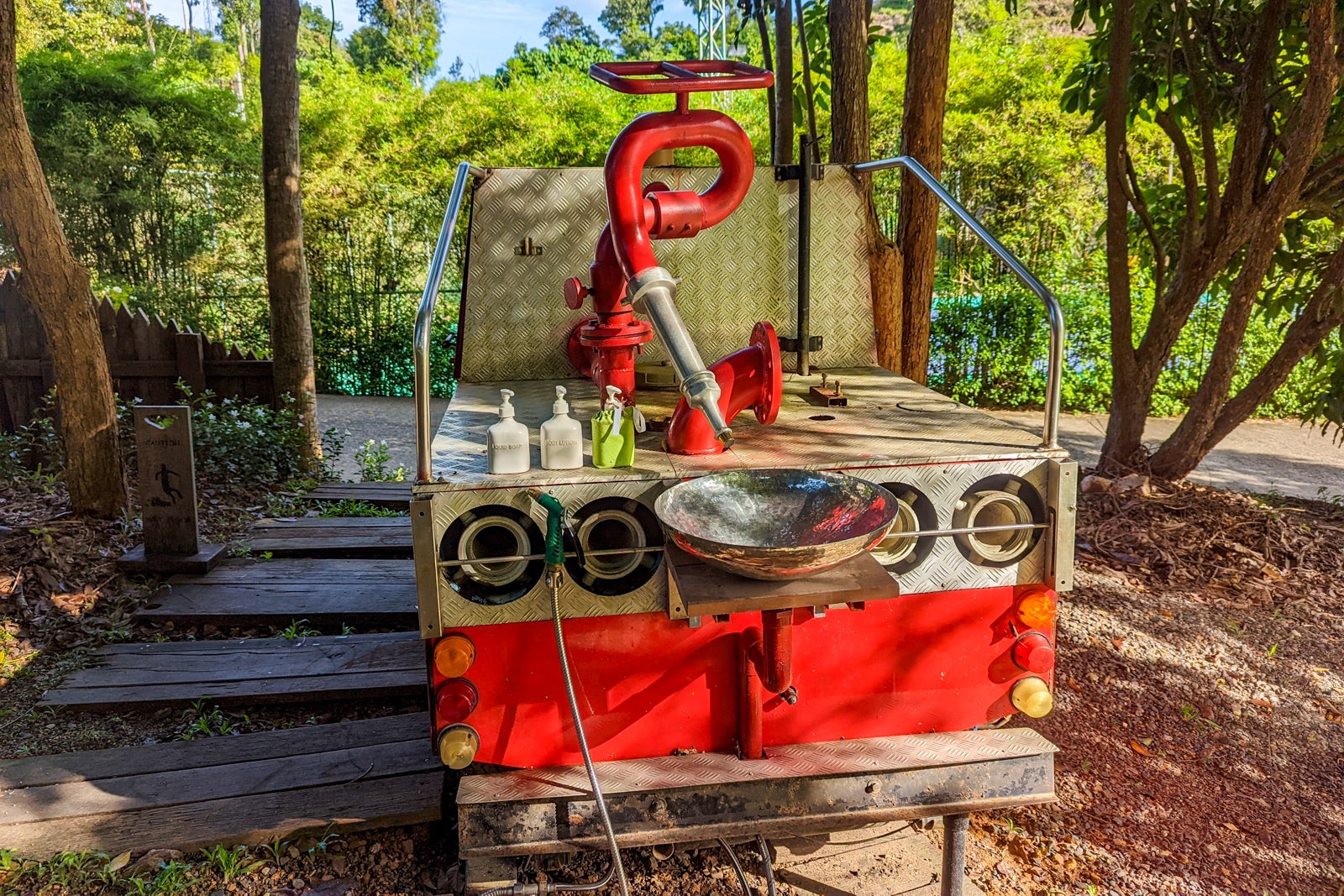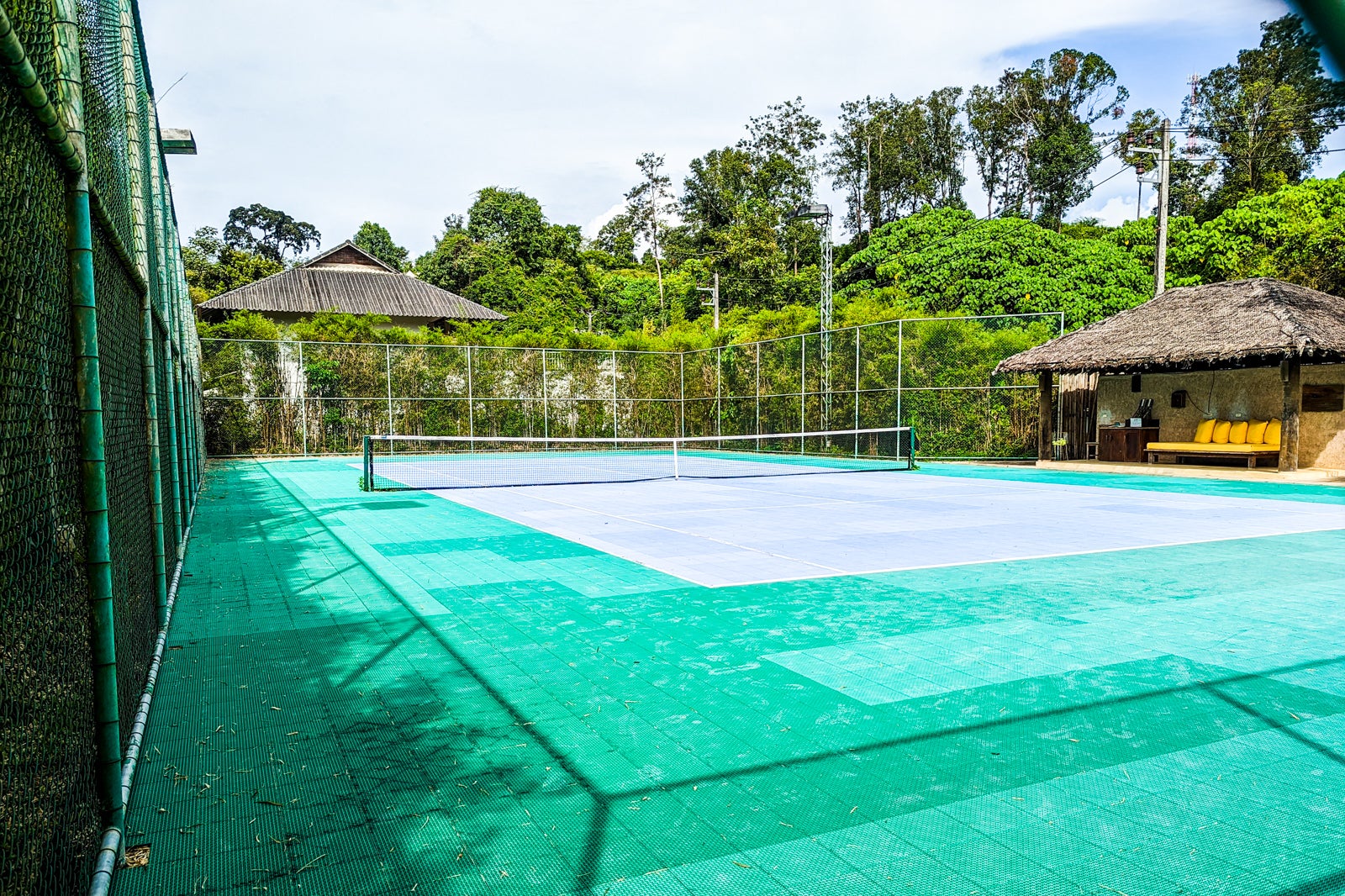 In the middle of the resort, you'll find the Den (which operates as a bar at select times), the Library (where you can borrow books) and the Main House (where you can find GEMs as needed).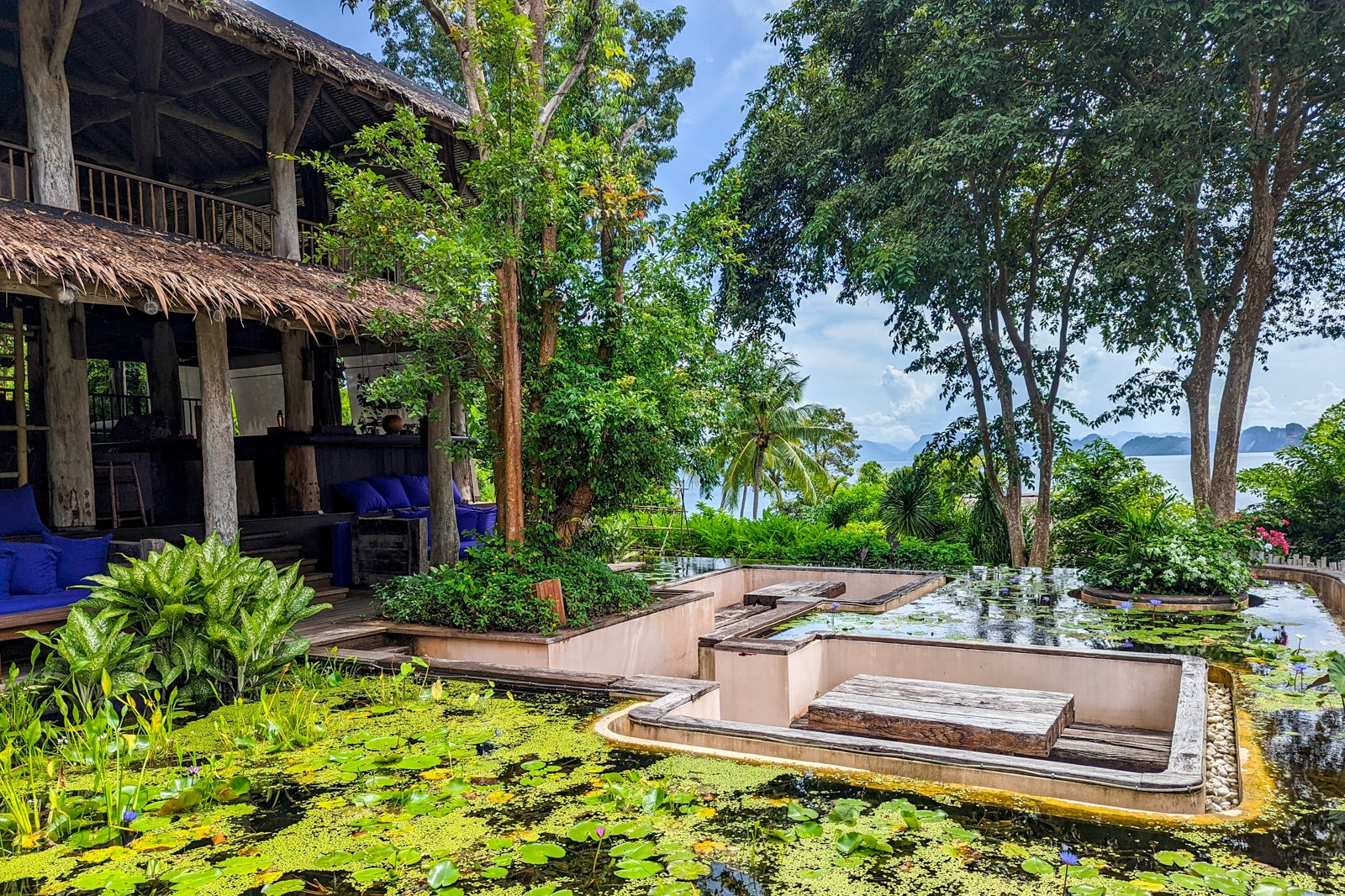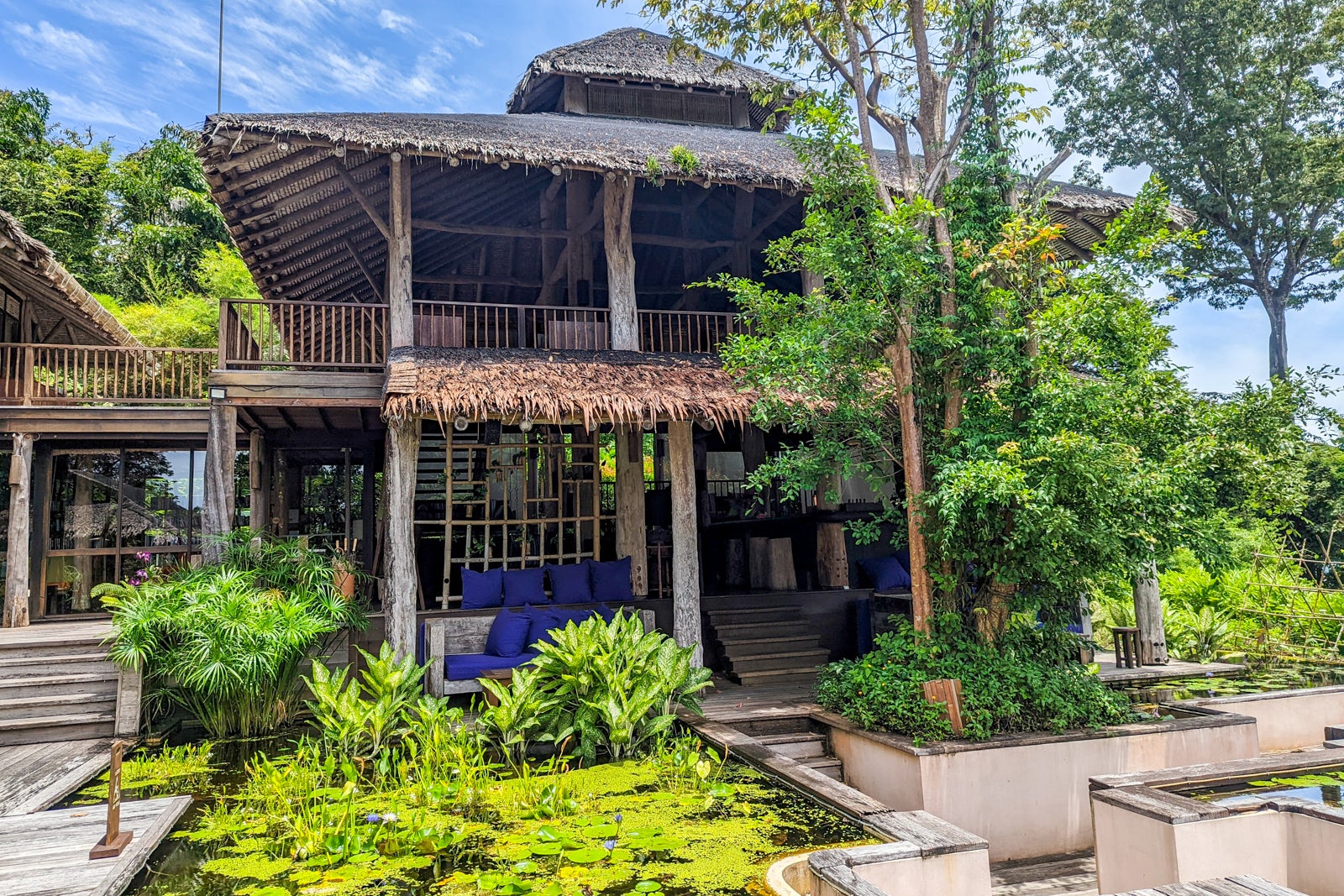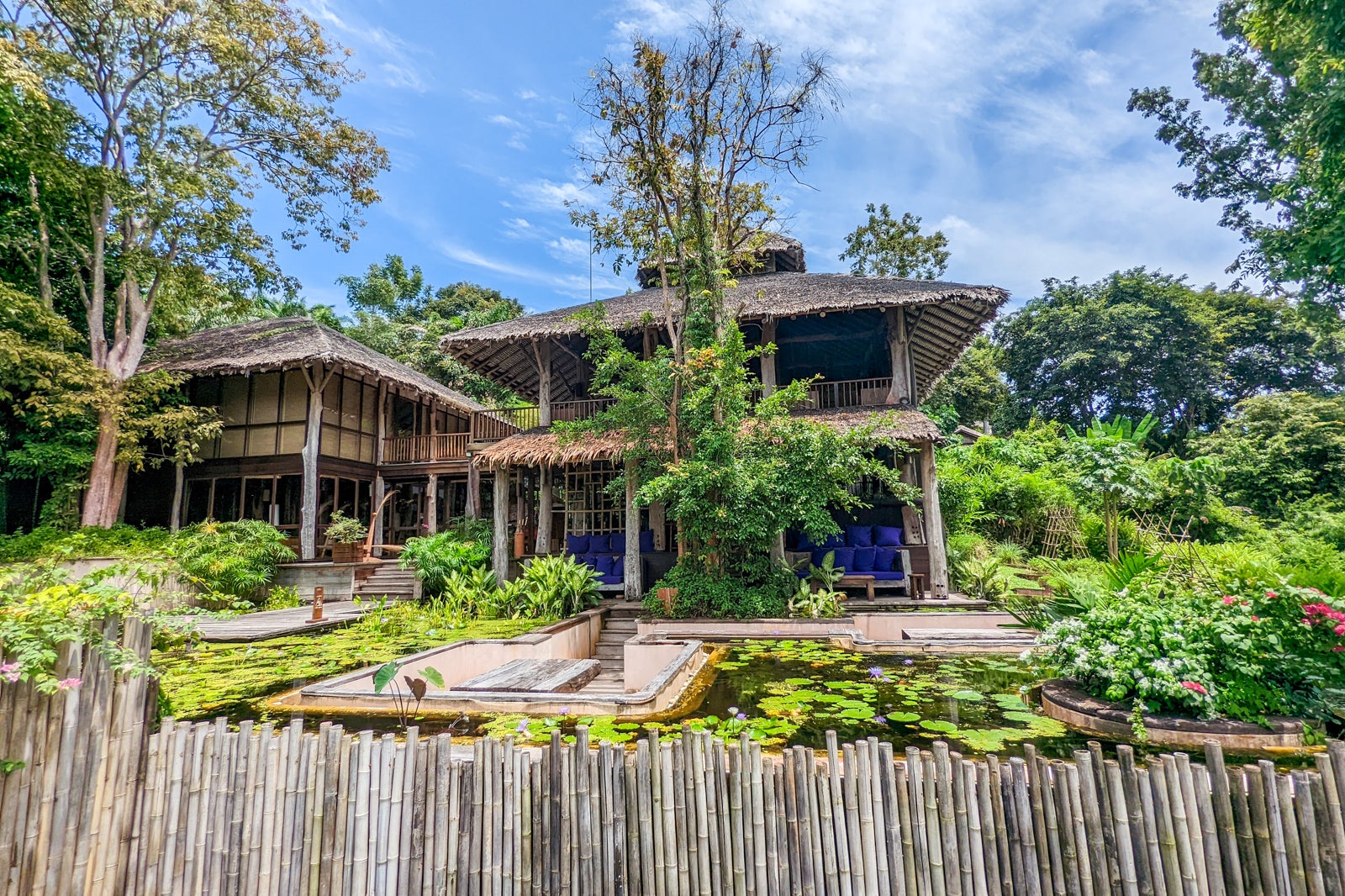 By the pier where guests arrive and depart, you'll find the Hornbills Club for children.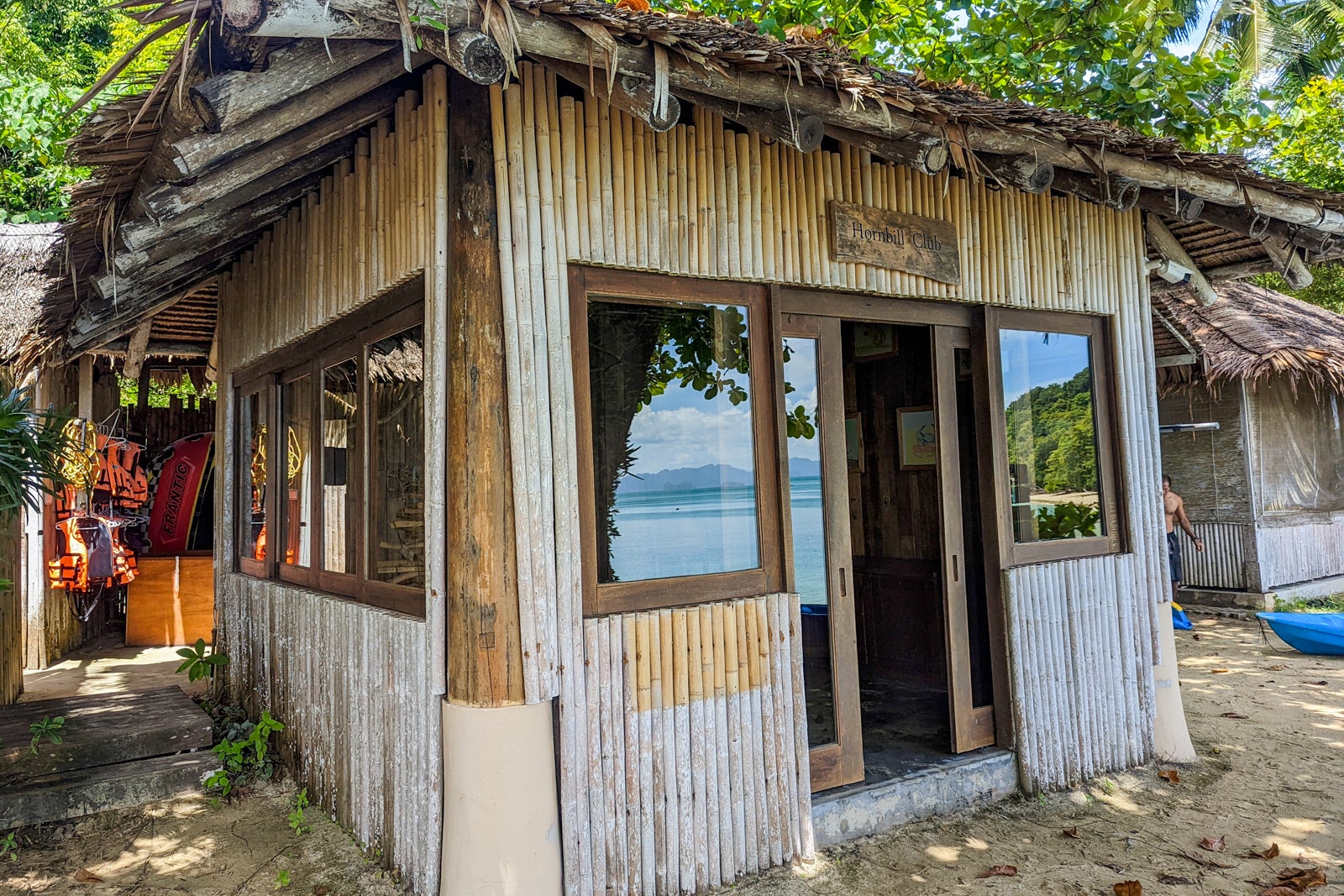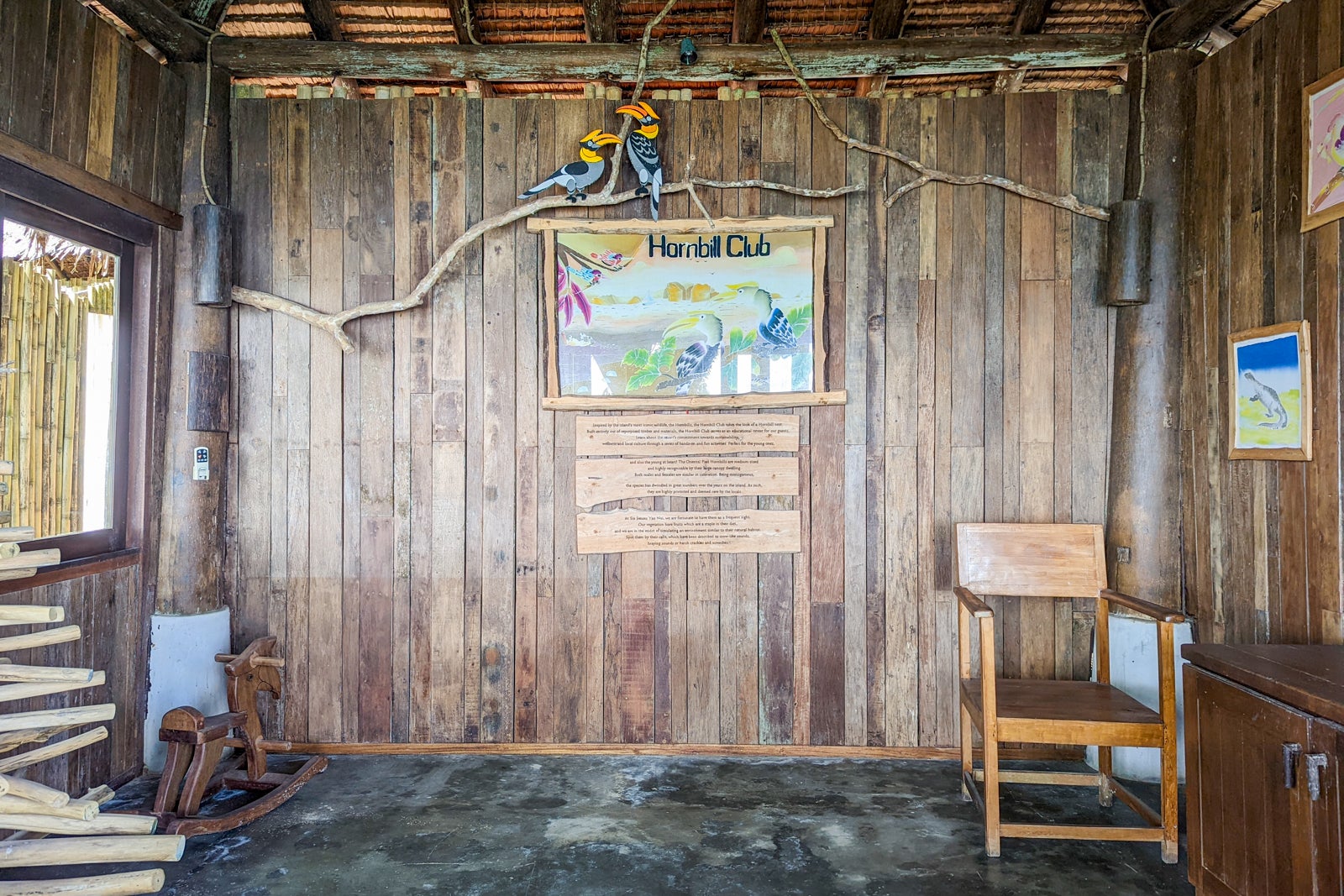 And near the Living Room, you'll find a beach in the same area that hosts evening movies. There are a few lounge chairs and some water sports equipment here.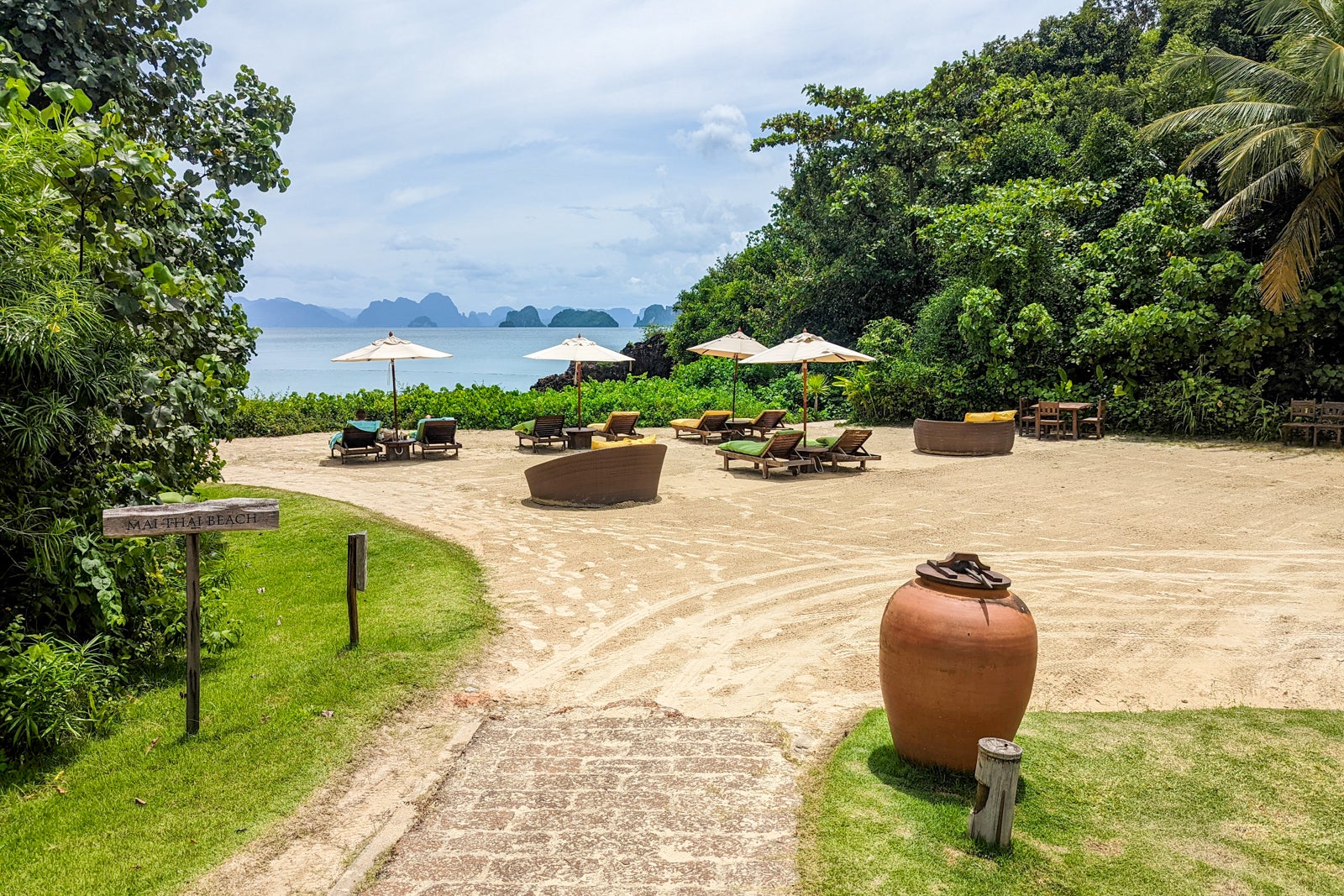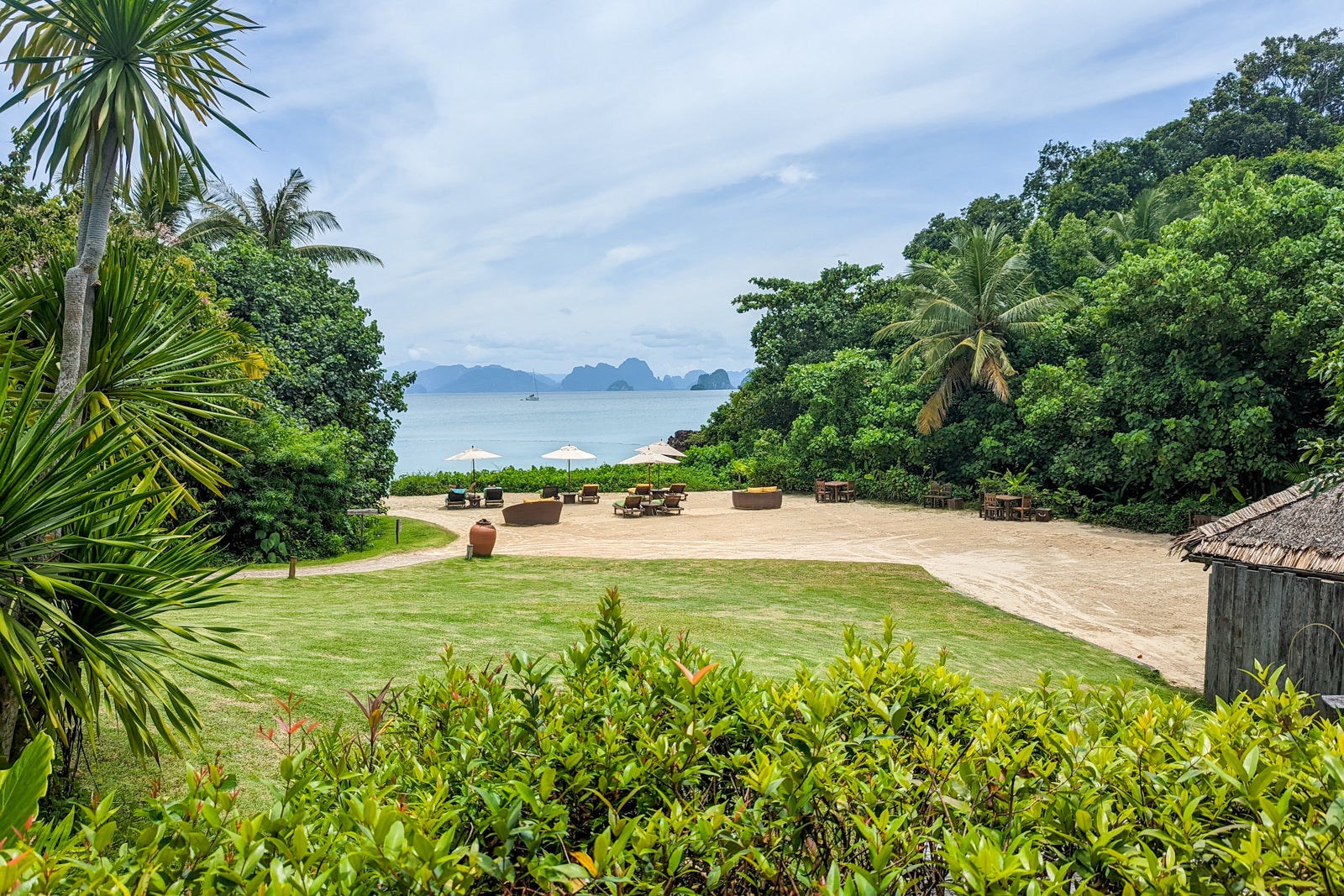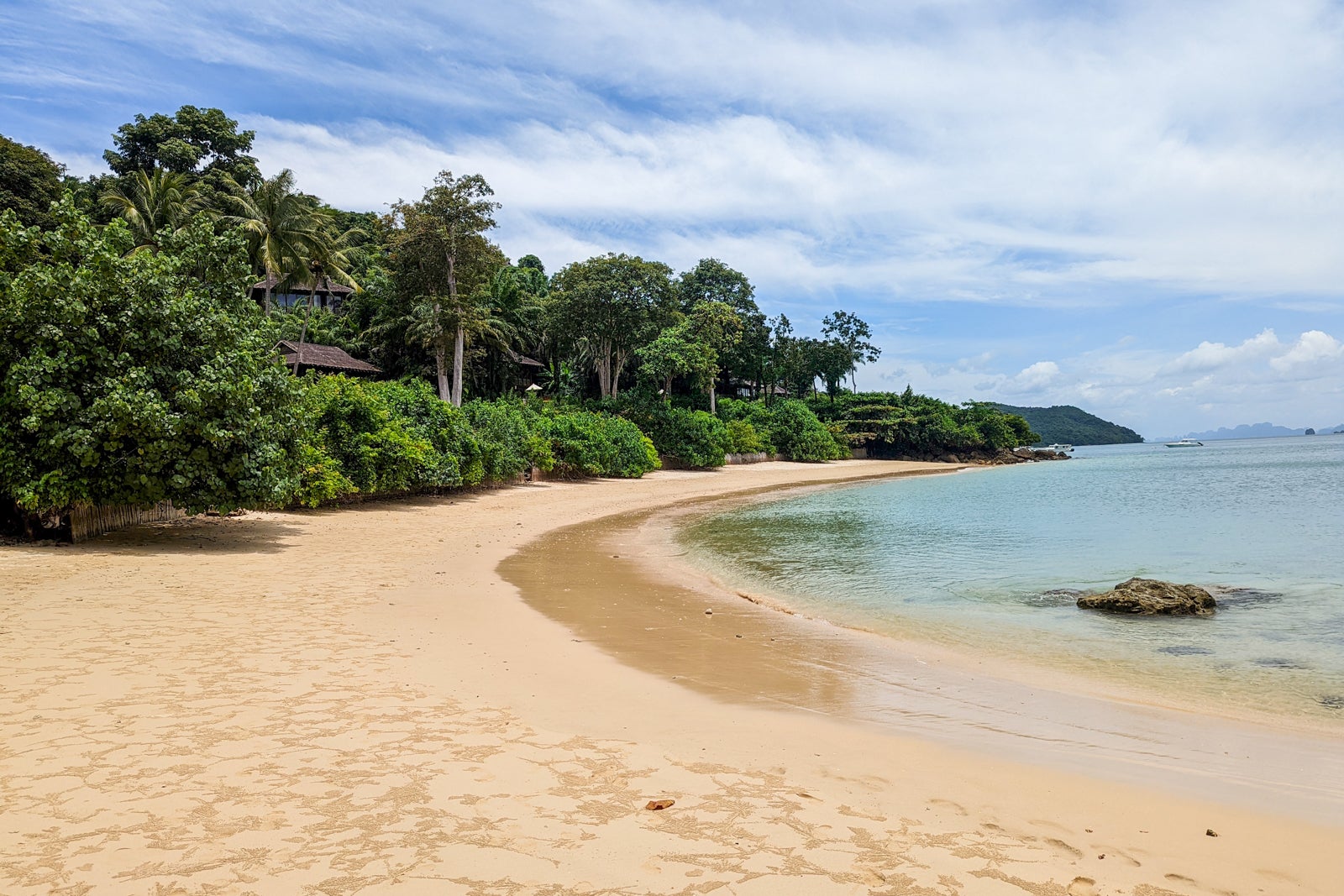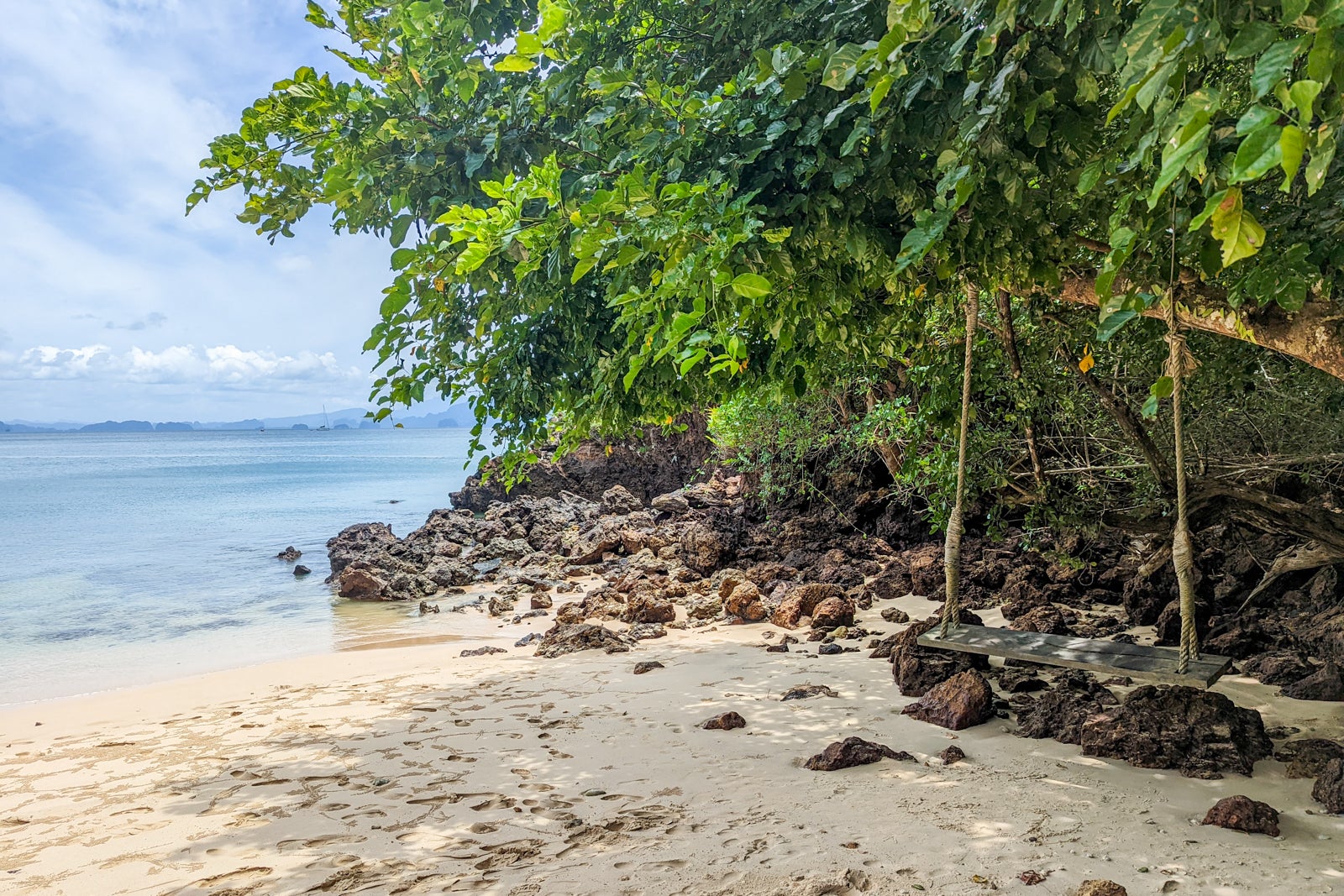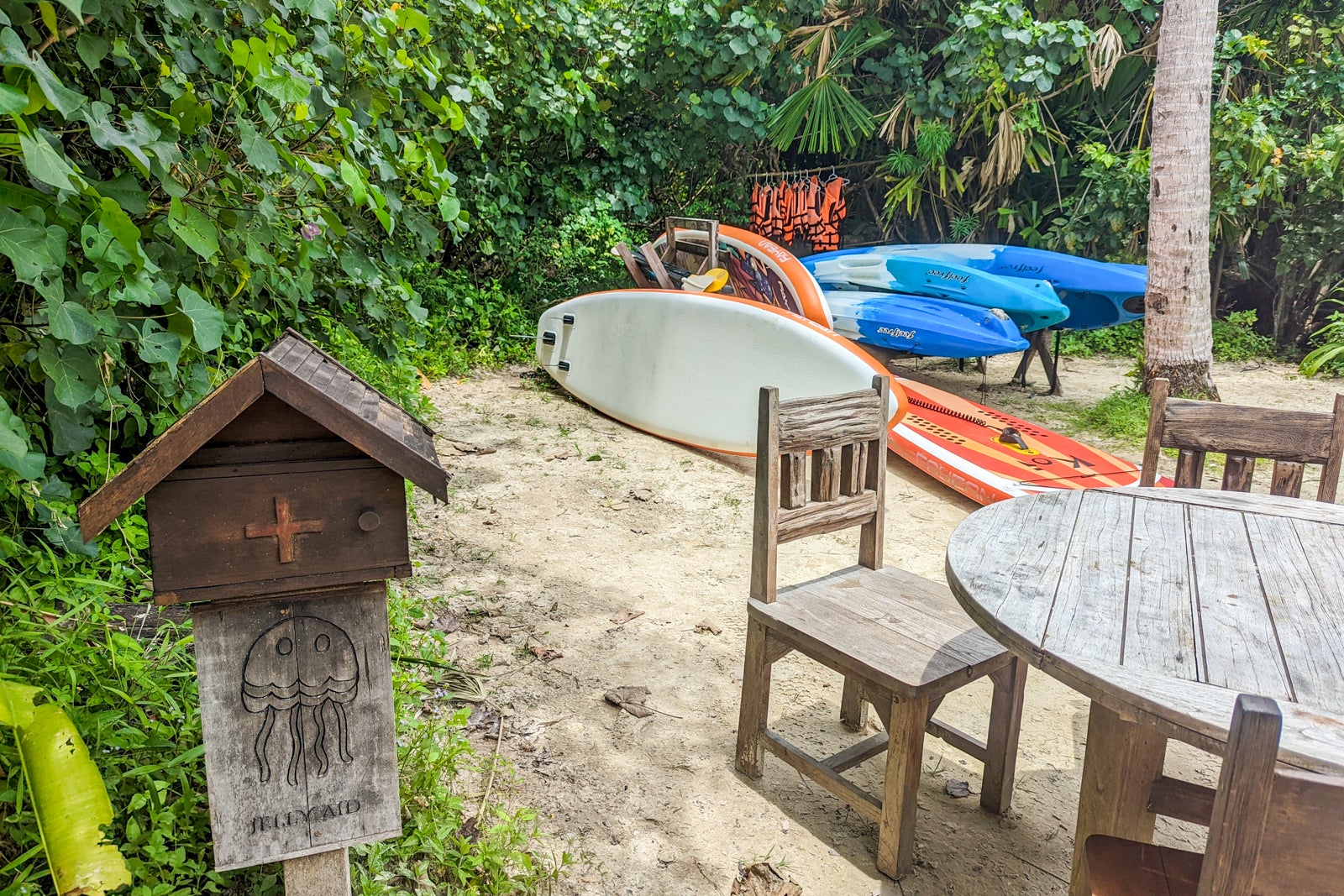 You can stroll through the gardens and visit the Mushroom Hut.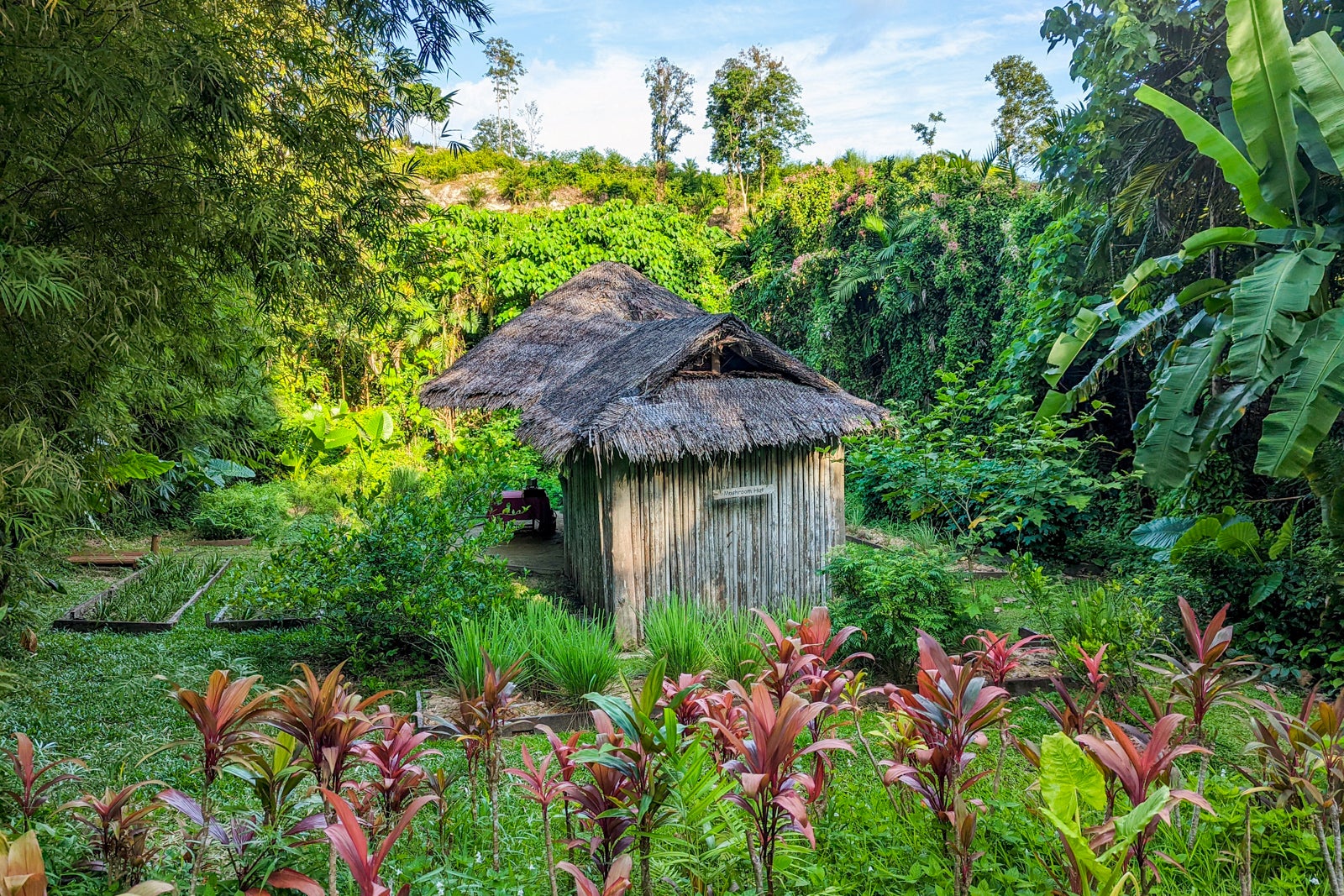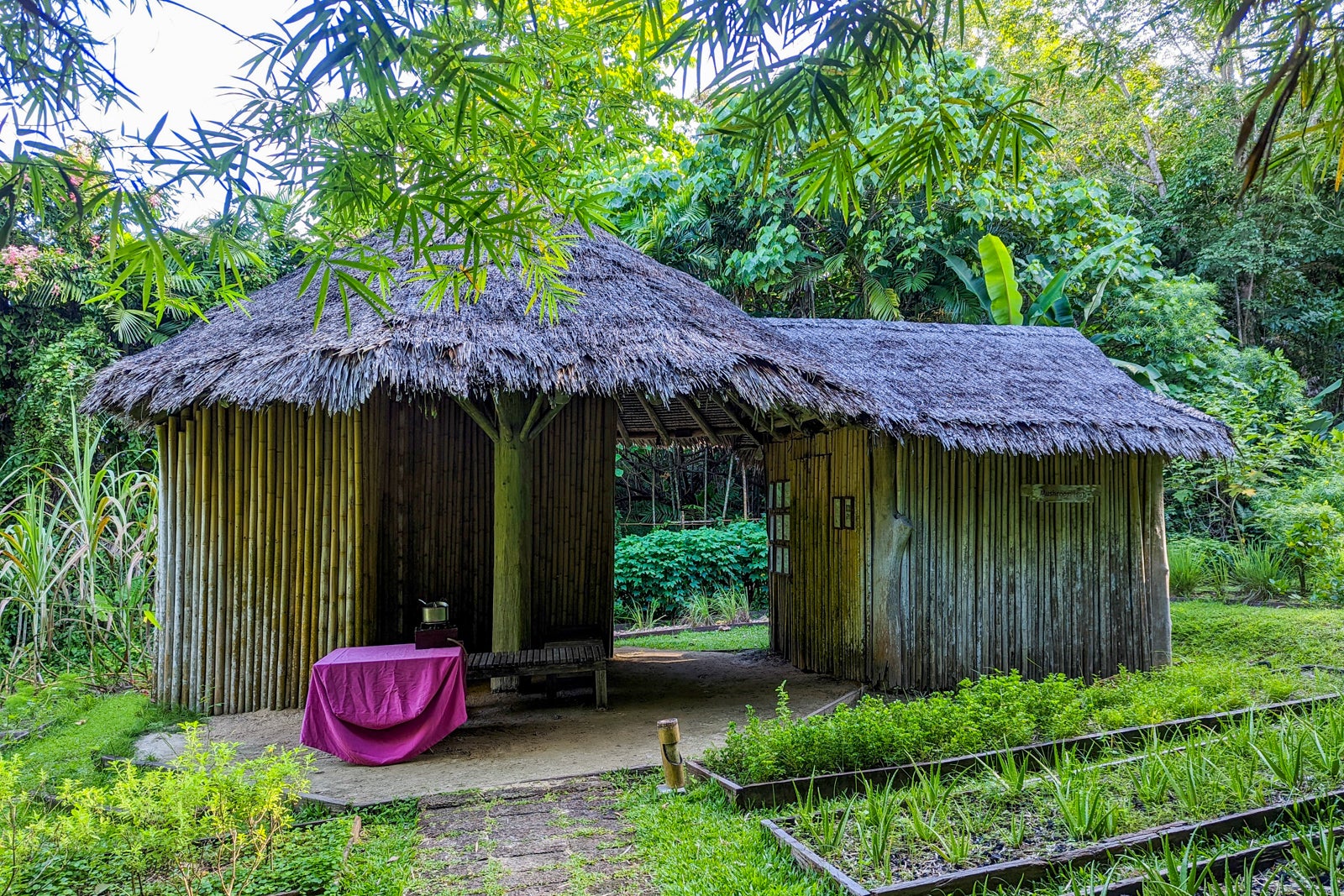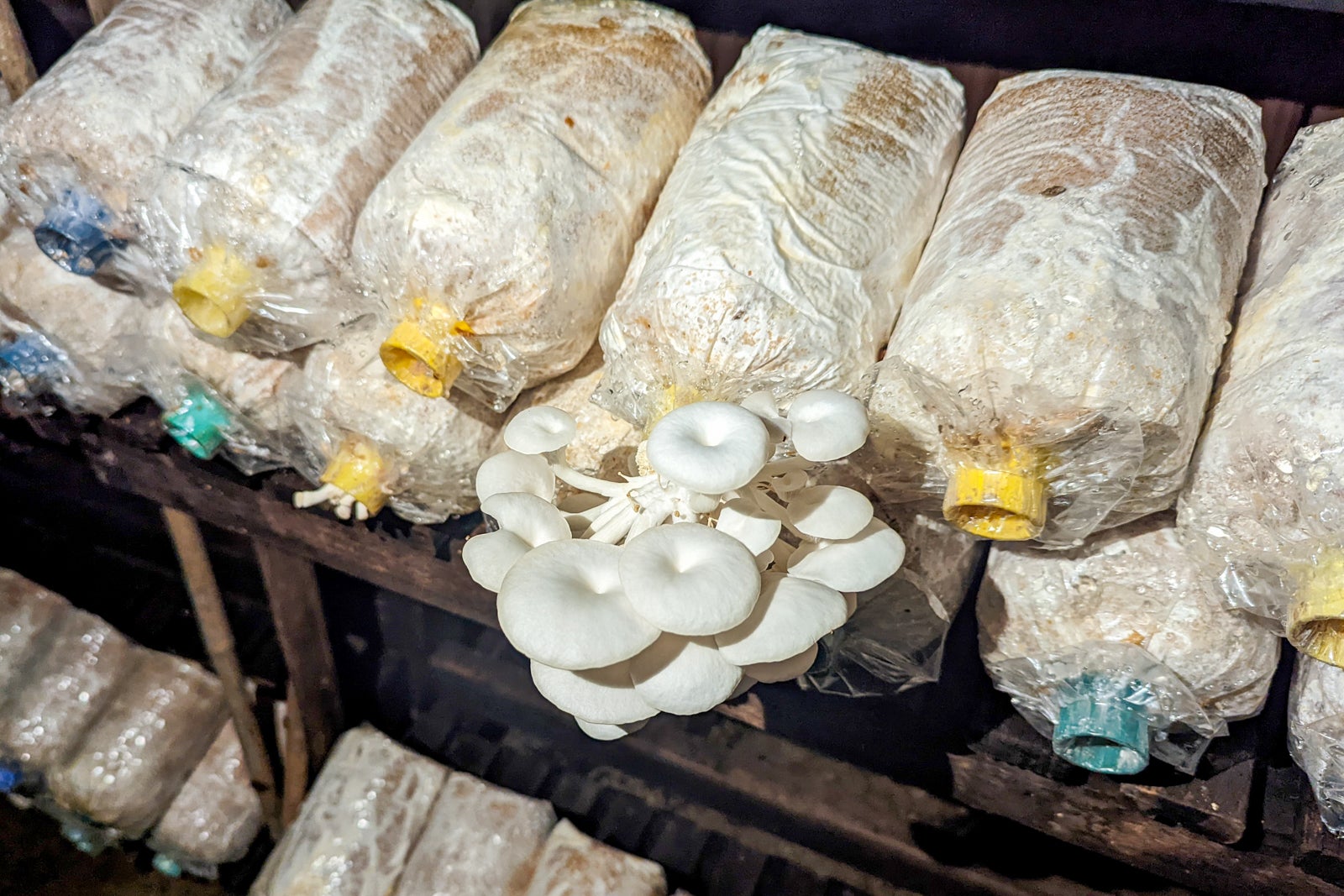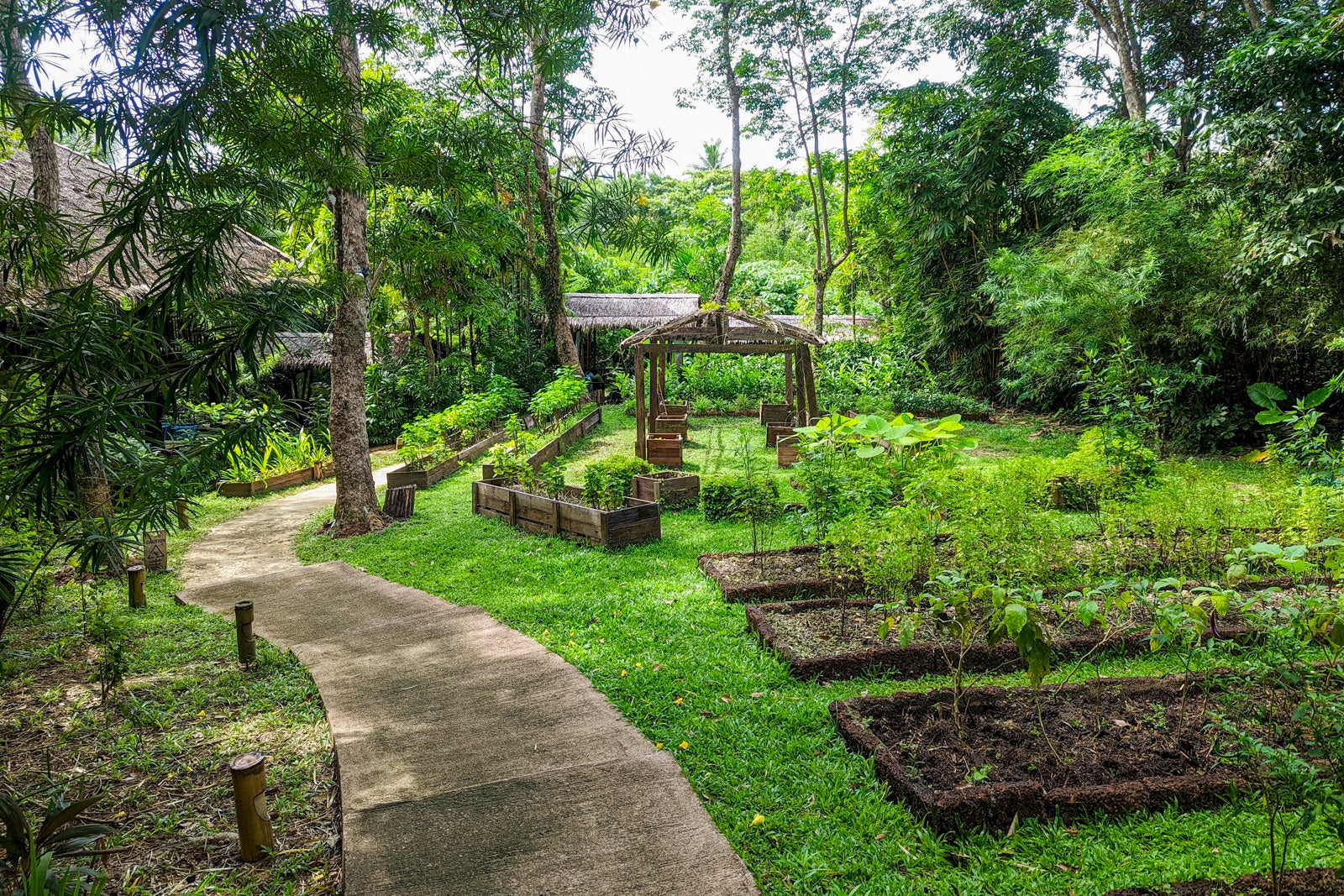 Finally, you'll find restrooms that are open-air throughout the resort. It's a concept I enjoyed at Six Senses Laamu and was thrilled to find at Six Senses Yao Noi.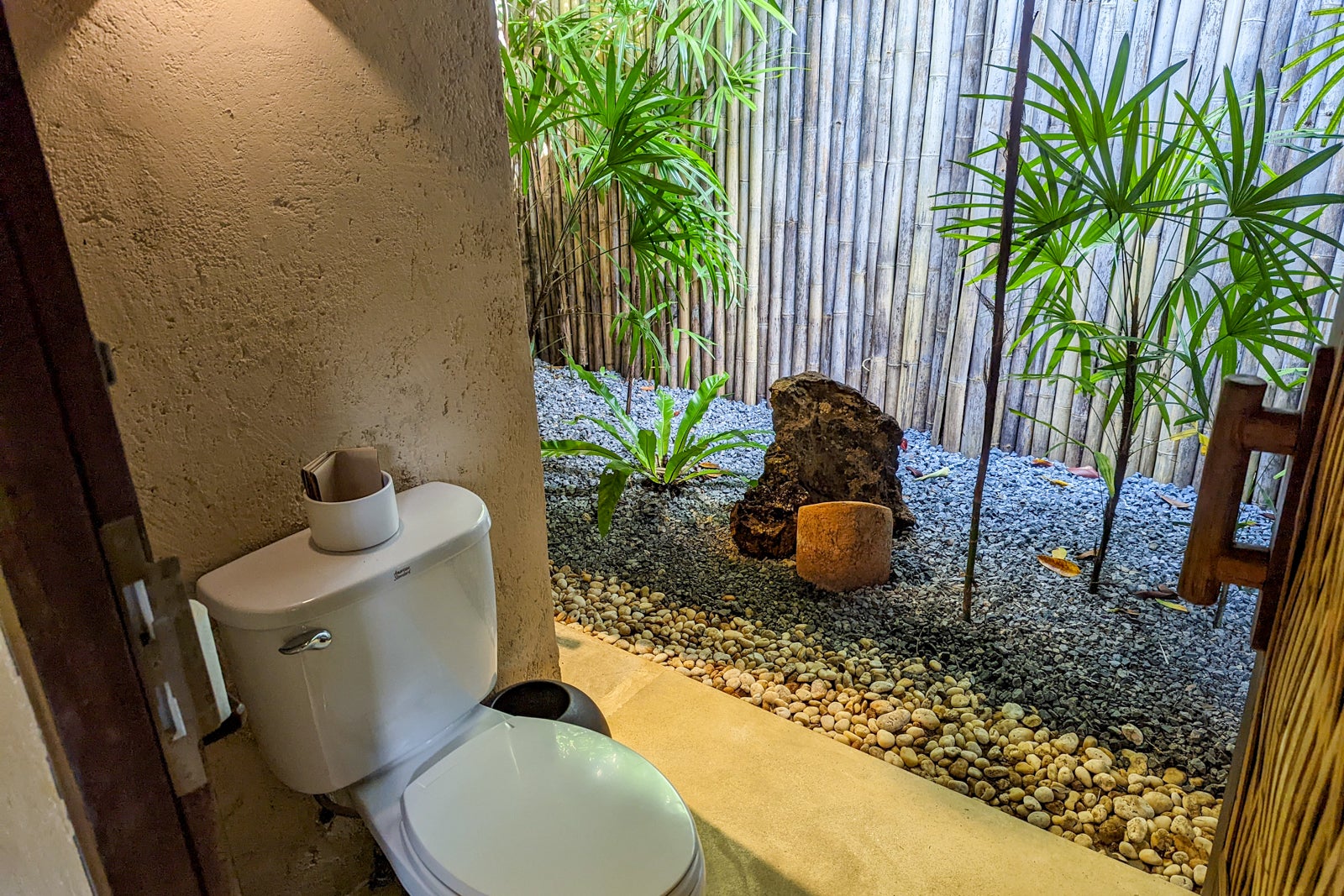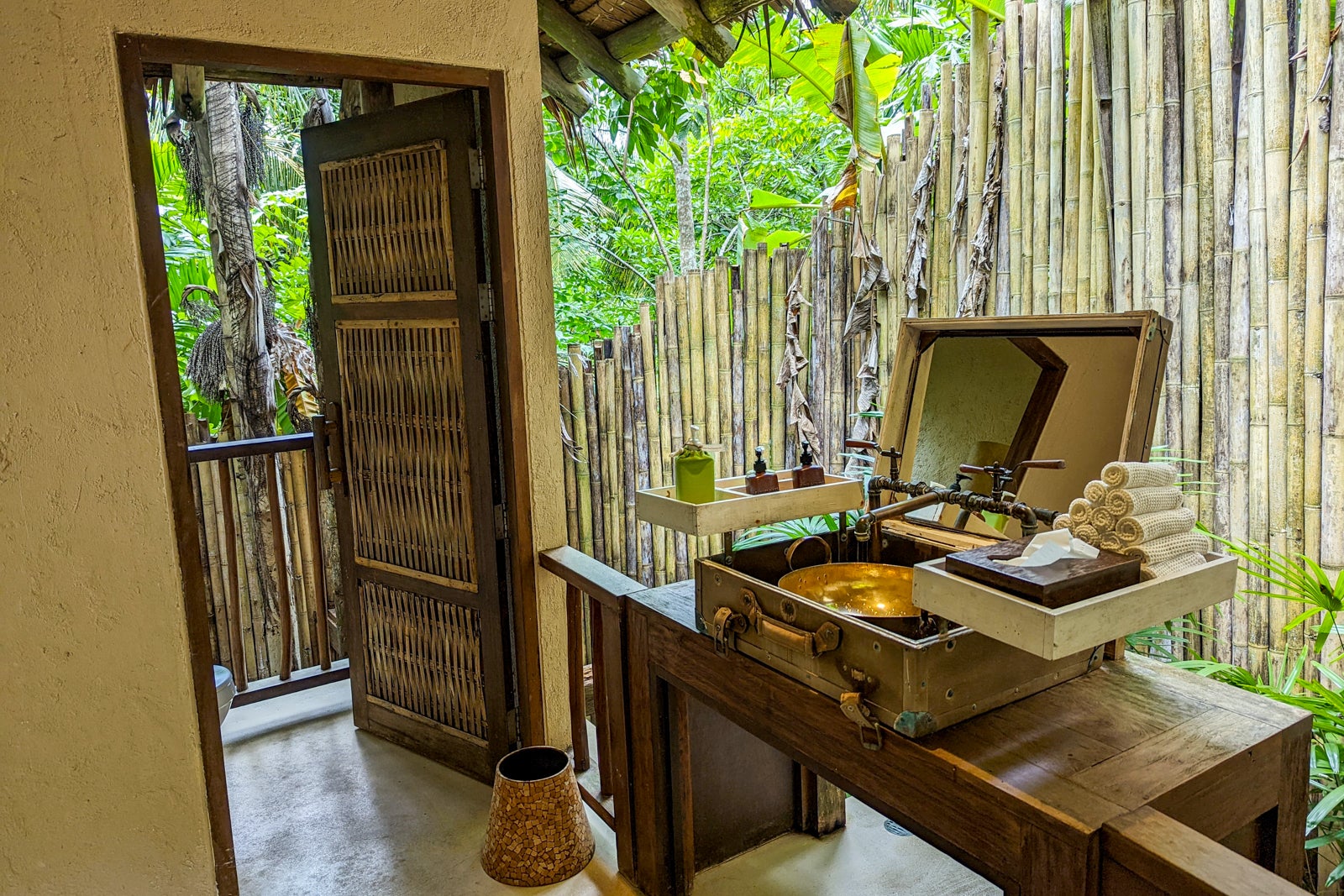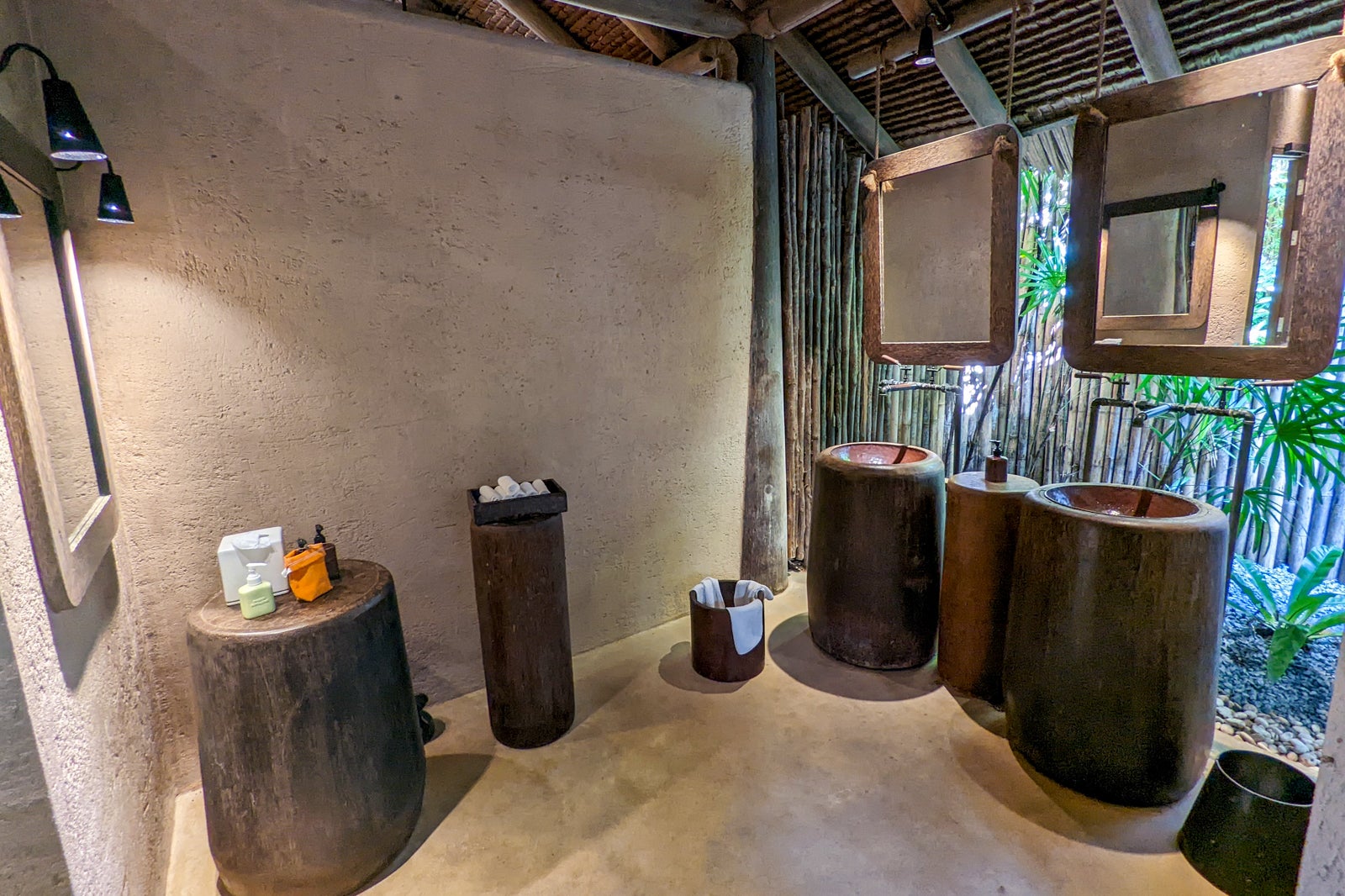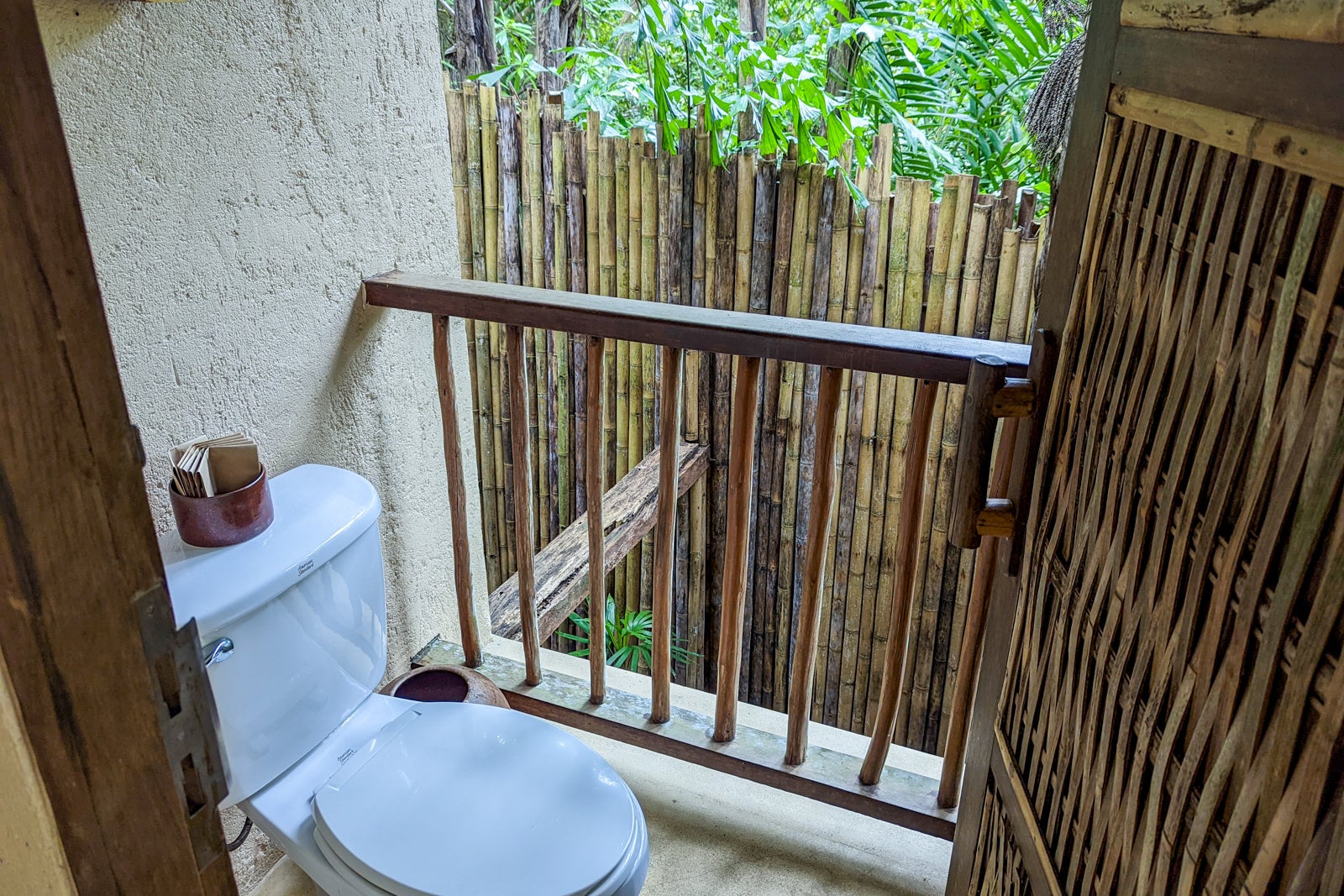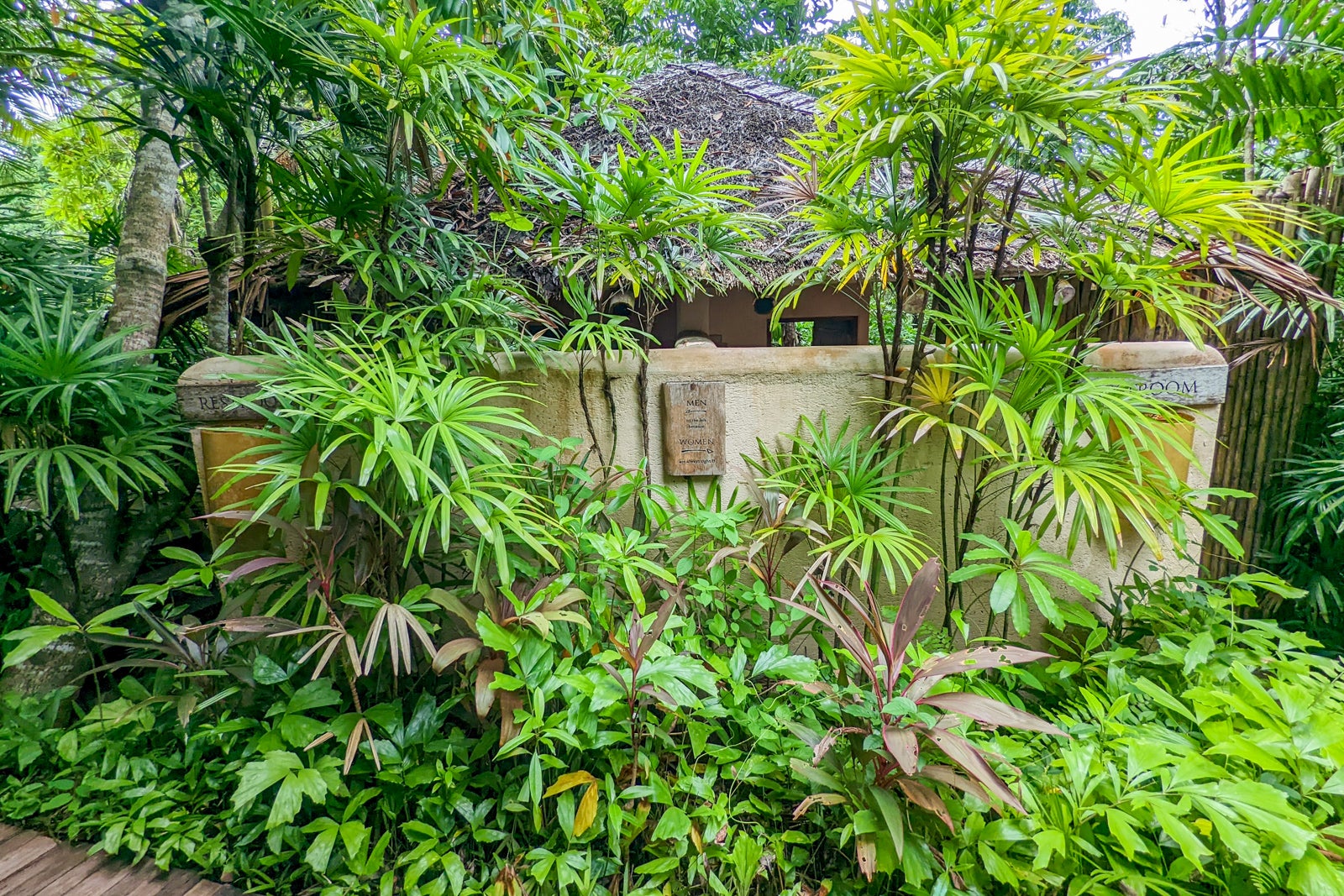 The resort offers Wi-Fi throughout most of the property. I never had an issue with the Wi-Fi speed, which tested at 57.99 Mbps download, 45.48 Mbps upload and 21 ms ping in our villa.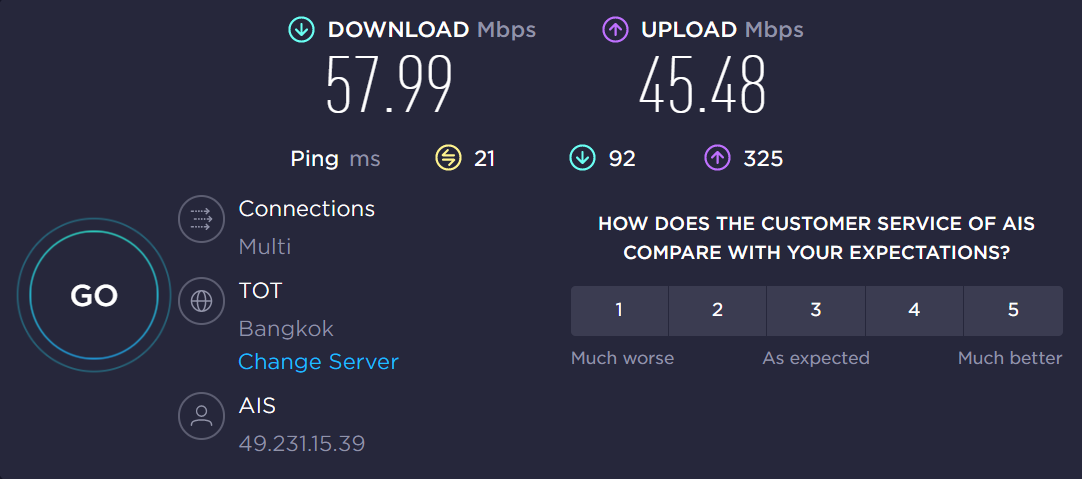 Service
Overall, the service at Six Senses Yao Noi was exceptional. The staff was attentive and fulfilled requests surprisingly quickly.
One particularly impressive example occurred when we requested more fresh milk for coffee using the app, and someone appeared at our villa with milk just five minutes later.
One aspect we loved about our previous stay at Six Senses Laamu was going on a conservation tour and interacting with the many marine biologists the resort employs.
We were disappointed to learn that the entire team who typically hosts conservation tours and sustainability activities at Six Senses Yao Noi was at a conference during our stay.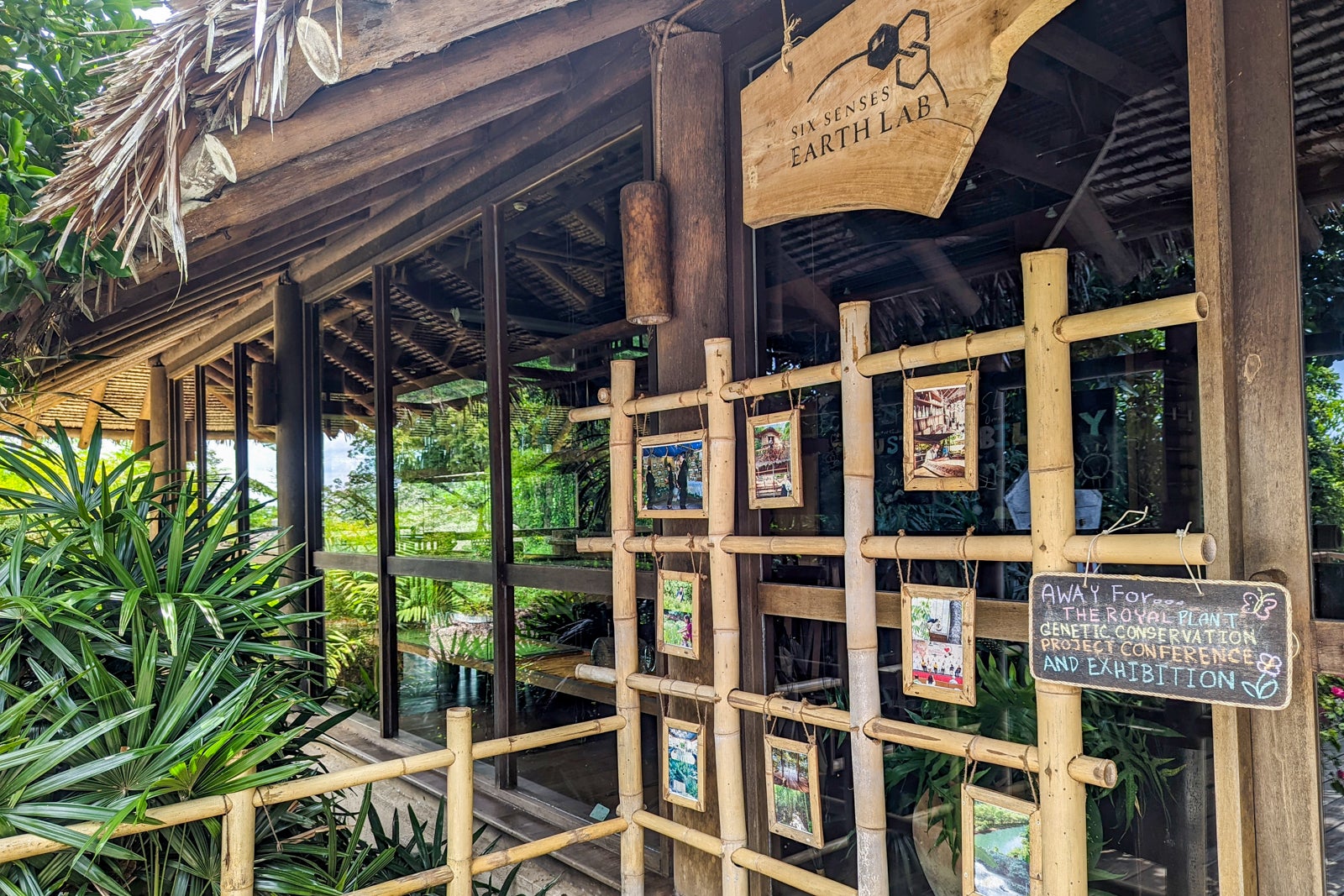 Each villa is assigned a GEM, who is your first point of contact throughout the stay for anything you need. Your GEM will greet you each morning, usually while you're enjoying breakfast.
Our GEM seemed to know where we were throughout the stay, so I suspect the staff is encouraged to input into a system when guests arrive at an activity or use a service.
For example, about 40 minutes after we checked out bikes, our GEM messaged asking how our bike ride was going.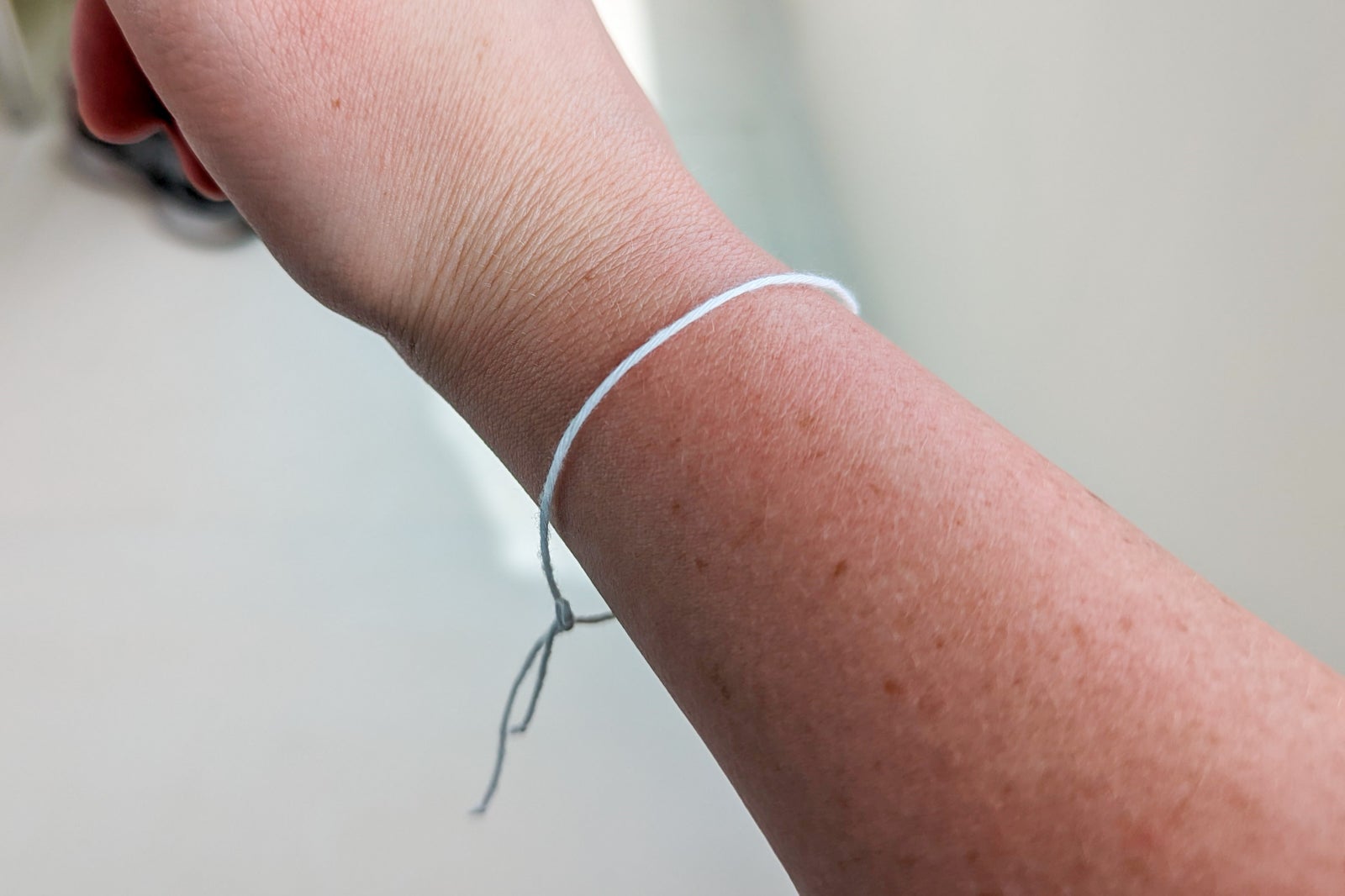 Two specific aspects made the service at this resort stand out above other high-end resorts.
First, the staff pays amazing attention to detail. You'll never need to look far for mosquito spray when you're out at night or relaxing on your patio. And one night, when we were relaxing in our villa's pool during turn-down service, the housekeeper set up a burning bug coil outside without any prompting. Also, housekeeping arrived right on schedule based on the time I'd selected on the bedside housekeeping card.
Second — and this isn't something you'll find at most other luxury resorts, especially on a short two-night stay — the staff members are seemingly encouraged to share their experiences and background with you as appropriate.
For example, on a 90-minute kayaking activity to another island and through a nearby mangrove, we learned about the island and area from a staff member who'd grown up on the island and still has family living there.
Also, after dinner at the Hilltop, we chatted with one of the chefs about the island, how his team sources food and how life working at Six Senses Yao Noi differs from some of the previous resorts he'd worked at.
In speaking with this chef, we learned that 90% of the GEMs at Six Senses Yao Noi are from Thailand — and many staff members are local, including all boat captains.
The resort manager was waiting to say goodbye when we reached the pier to depart. He'd come across us studying the birds and fish near the beach the previous day, so he eagerly indicated a hermit crab when we arrived at the pier.
This experience during our last minutes at the resort highlights how he'd noticed our interest in wildlife the day before and knew we'd appreciate seeing the hermit crab he'd found. In short, I love the adaptive, approachable service that Six Senses provides.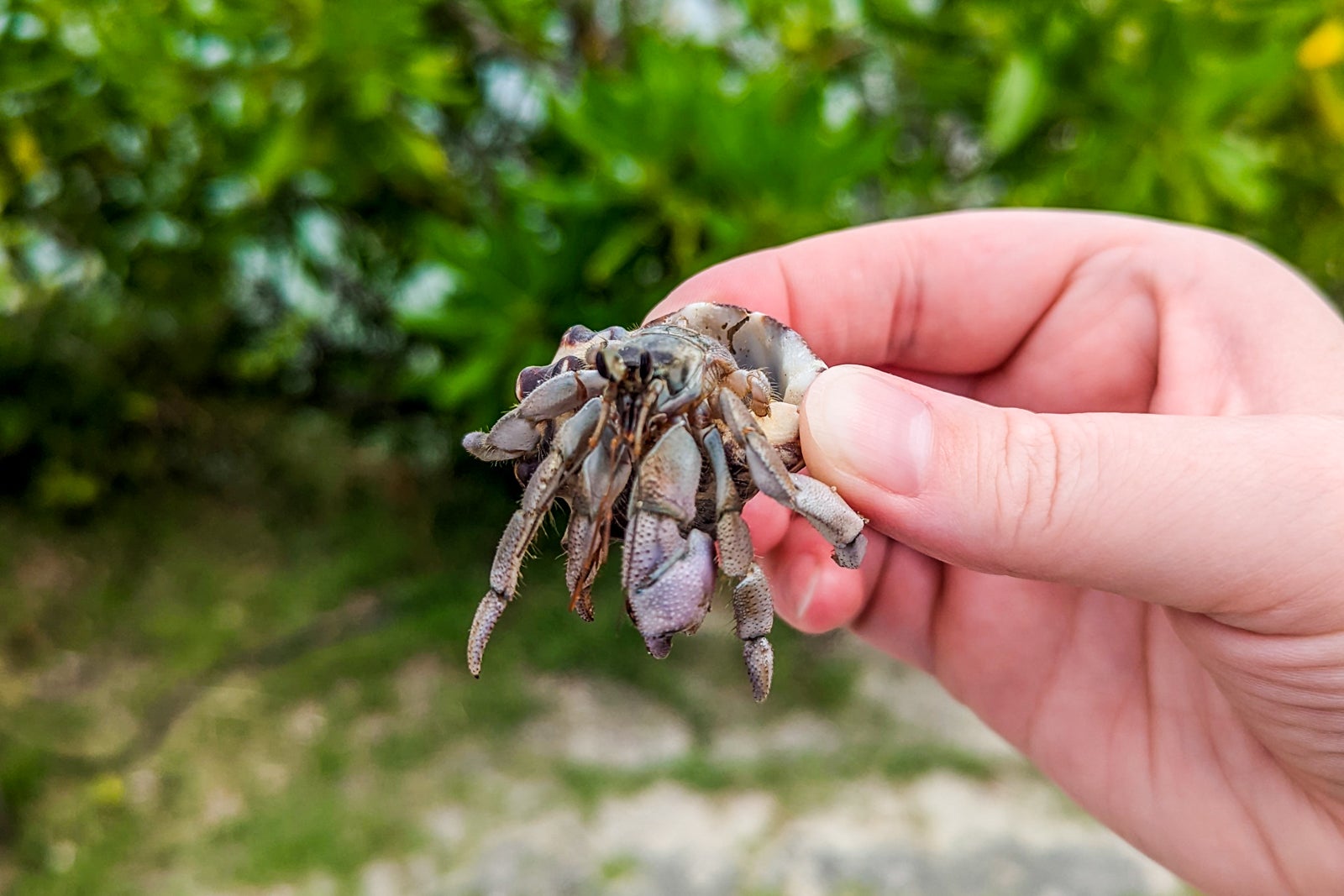 However, the one shortcoming in terms of service was my interactions with the resort via email. The reservations agents sent me an incorrect transfer confirmation after I'd sent my onward plans.
And after check-out, the resort sent me an email thread they'd had with another person along with a copy of my bill. Neither of these issues is terrible, but it isn't a good look from a resort that otherwise seems to focus on getting the small details correct.
Related: A new Six Senses resort in Norway will be carbon neutral, self-sustainable and really beautiful
Overall impression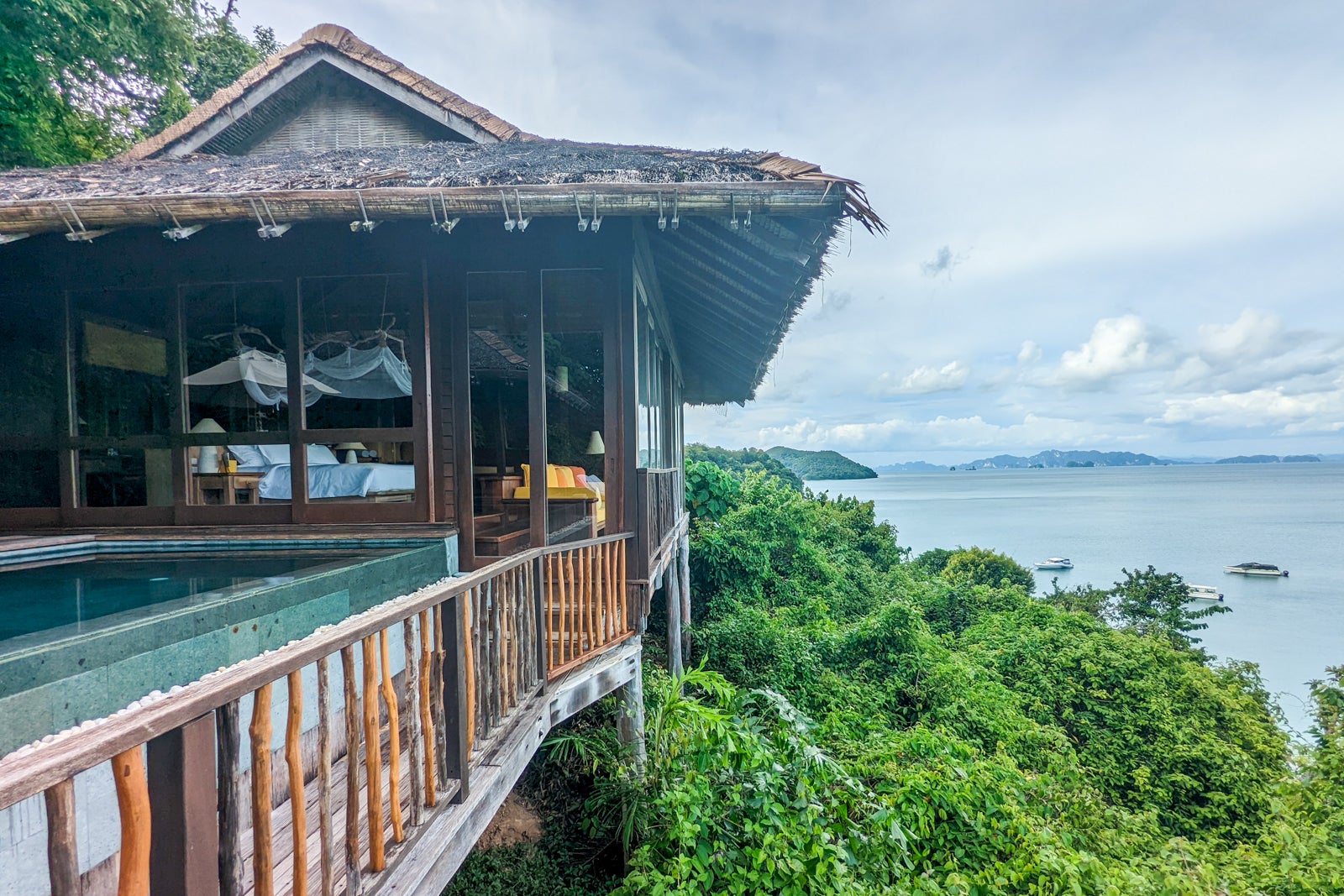 My stay at Six Senses Yao Noi reinforced my appreciation of the Six Senses brand, which began when I stayed at Six Senses Laamu in 2021.
Six Senses' style of luxury isn't for everyone, though. If you read this review and thought the lodging and experiences seemed too rustic or outdoor-focused, a stay at Six Senses Yao Noi likely isn't for you.
However, if you thought our villa and experiences seemed amazing, Six Senses Yao Noi may be a good fit.
As for me, I'm looking at my photos and planning when and where my next Six Senses stay will be.
---
Share this post
---
---