Modern Art-Inspired Bedroom + Bathroom: Spring 2021 One Room Challenge Reveal
Posted by admin on
I actually did it. I actually finished our Bedroom Suite and I couldn't love it more! What follows is essentially a photo dump of every little element that makes our new bedroom feel especially us…

*this post contains affiliate links + advertising*
I get a commission when you buy through my links that goes towards the costs of hosting this free tutorial site.
site operating fees are expensive but my commission costs you nothing. thanks for your support!
We've come a long way, baby! Here's where we started in the bathroom: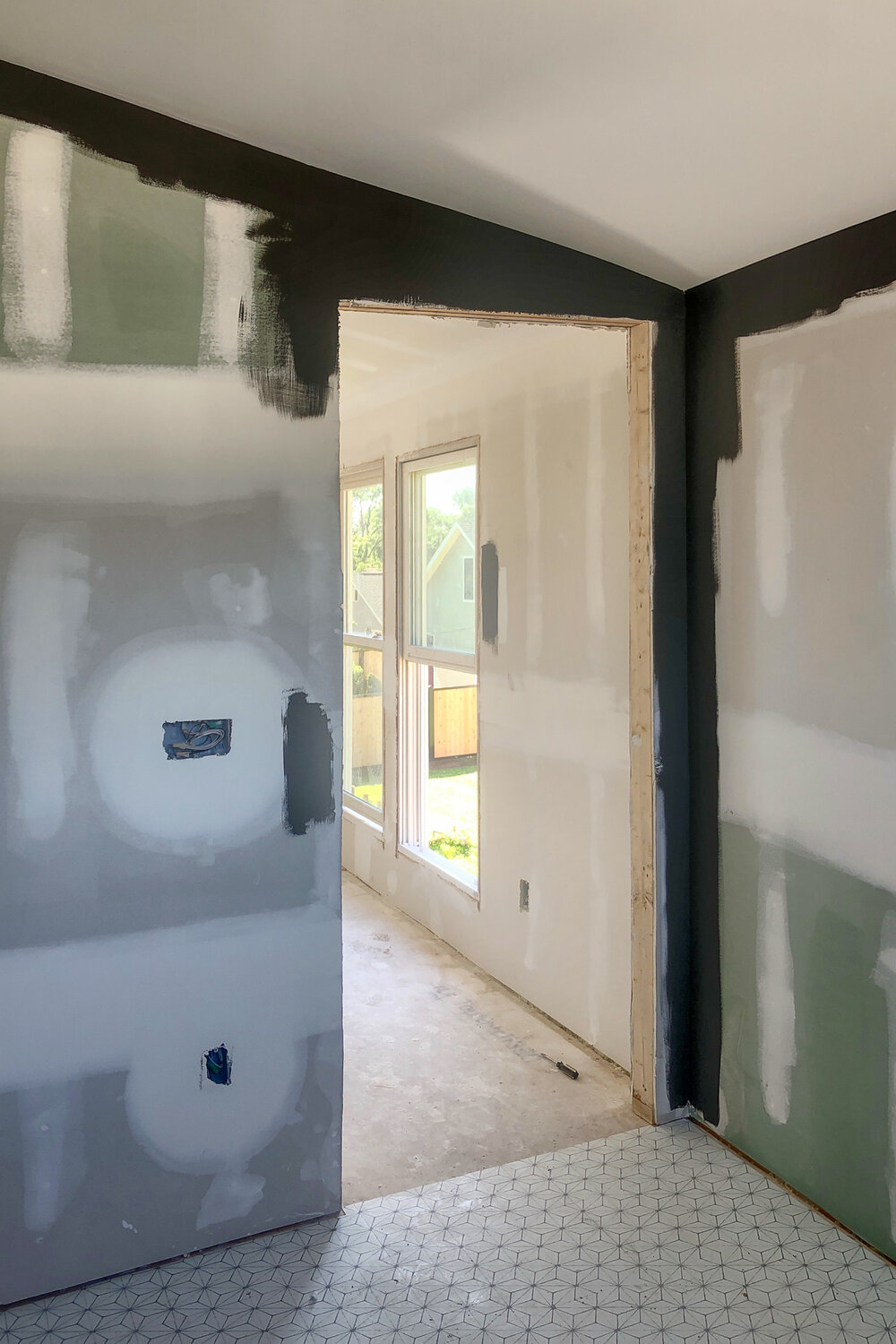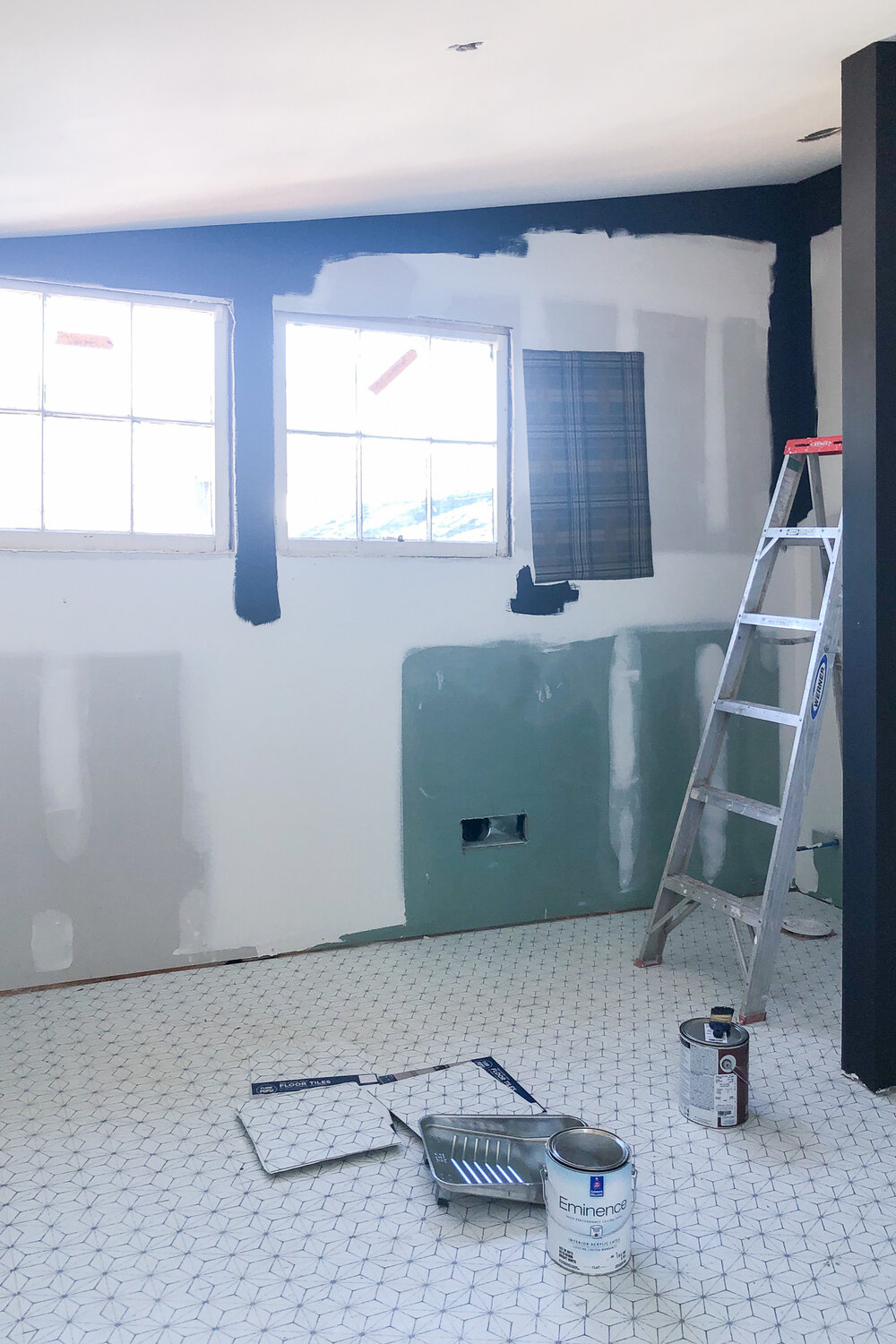 Now here's the finished space:
We painted the walls black, installed a better pattern on the floor, and added accents with Danish vibes to truly allow the artwork to sing.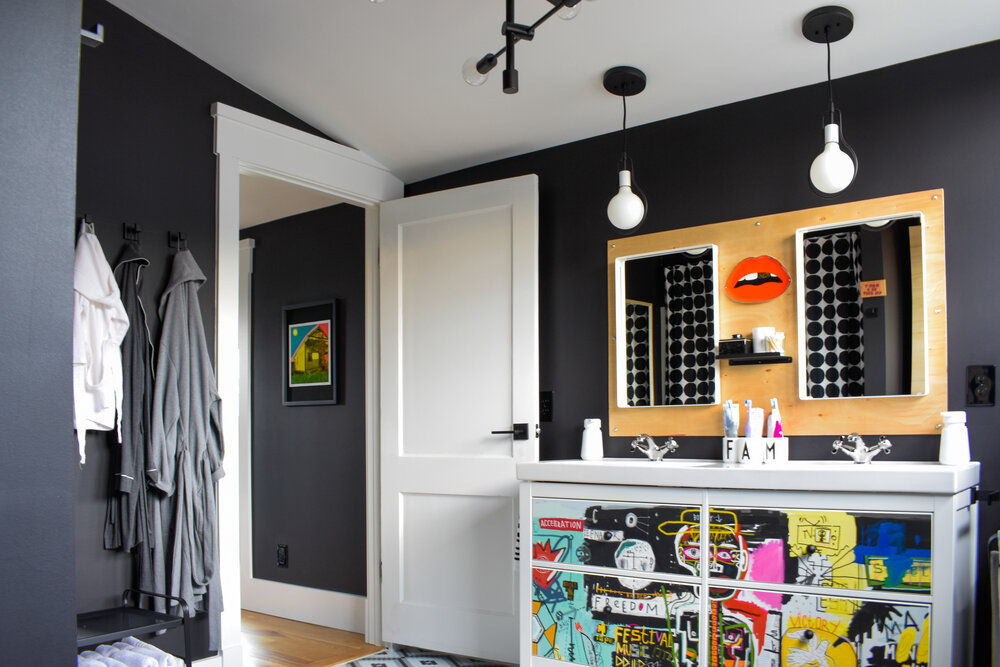 The showstopper is the wallpaper I installed on the front of the Ikea vanity.
The other accents in the space were kept minimal in color palette but I still wanted to add visual interest by combining different patterns and geometrics. I used another Marimekko pattern on the shower curtain:
As I ordinarily do, I added a strip of fabric to the bottom of a standard shower curtain to bring the height to 84". Unlike my ordinary style, I used a patterned curtain with a solid stripe this time. Look at me! Going wild!
With the black and white striped rug, the circular pattern feels just unique enough to make a statement but not overwhelm the space with additional colors.
I added hardware to our freestanding ikea cabinet and then carried the wood from that cabinet onto the mirror beside the shower by adding strips of wood veneer.
This mirror serves as our daily dressing mirror and the hooks beside it allow us to hang our lounging robes. Of course we have family robes in grey scale. Of course we do. Here's how everything flows with our art choices in the bedroom:
And now let's take a look at the bedroom before:
And now the bedroom in its completed state:
The bedroom feels so much more peaceful now without all the chaos of clutter. And, because I know you want to know where I got this bed, I DIYed it. Well, I reupholstered our existing storage bed in two Marimekko prints!
Initially, I'd planned to only reupholster the headboard in the Marimekko Unikko pattern but I felt like this room needed something else to balance the florals.
Marimekko Ajo (stripes) to the rescue! This fabric added an additional layer of geometry to the bed in a fun and unexpected way.
I also love how it pulls the stripe from the bench and the duvet without overpowering the room in stripes.
Looking direct at the bed, you hardly notice it. But then, from the side, it's additional fun!
This space just came together exactly as we'd hoped it would. And I love that it also proves how easy a room transformation can be. We really didn't have a ton of time to dedicate to this makeover but the changes we implemented changed the entire feel and function of the space.
Everything in this room now has a place to go when not in use. That's a win in a small house!
Here are the accents we added that we are happy to let shine:
This bedroom and bathroom suite is a real homage to our family. It's inspired by my wife's favorite artists from the 1980s/90s and by the spirit of breaking rules.
Over the past year, both of us have aged more than we expected. 2020 was a hard one for us and this space is a reclamation of our sense of youth and playfulness.
This room is a celebration of coming out of the dark. It's another testament to black and how darkness doesn't have to feel heavy or burdensome.
By now, everyone should be revealing their completed spaces for this season's One Room Challenge. You can go check in with everyone else by clicking this logo image:
If you'd like to catch up on the entire progress of this Principal Bedroom / Bathroom makeover, you can read all of the updates from this season's ORC here:
Below, you'll find design concepts and shopping lists for everything I've used into these two rooms:
Thanks so much for following along as we finished this space! I'll be back soon with more updates to inspire you and DIY projects to help you learn.
Until then, stay safe and sane.
xoxo
Teri
---
Share this post
---
---