Kitschy, country and worth the hype: My stay at the Dolly Parton-themed Graduate Nashville
Posted by admin on
If there are two things I love more than almost anything else in life it's Nashville and Dolly Parton.
In fact, as a die-hard country music fan, I decided to move to Nashville for college to study music and ended up working part-time during school as a backstage tour guide at the Grand Ole Opry.
On those tours, I'd take people around the dressing rooms, making a special stop at #19, called "Wagonmaster," dedicated to country legend and Opry member Porter Wagoner. There, I'd tell the story of how Dolly wrote one of the world's most famous songs, "I Will Always Love You," as a goodbye ode to Wagoner as she embarked on her solo career.
As much as I love Dolly and country music, I also love hotels, hence my "9 to 5" writing travel stories here at The Points Guy. But as fate would have it, there's a place in Music City where all my loves and life experience can come together in glitzy, kitschy country fashion: the Graduate Nashville, a Midtown hotel where every room is decked out in Dolly-themed art, a tapestry of Minnie Pearl greets you in the lobby and one the city's most Instagram-famous bars occupies the roof.
Recently, after a midday flight cancellation left me with an extra night to kill in Nashville, I decided to "dry my useless tears and get myself together" then checked myself into the Graduate for an unexpected — but long-awaited — chance to spend the night in a hotel I'd consider a "diamond in a rhinestone world."
Here's what I found at The Graduate Nashville.
For more TPG news delivered each morning to your inbox, sign up for our daily newsletter.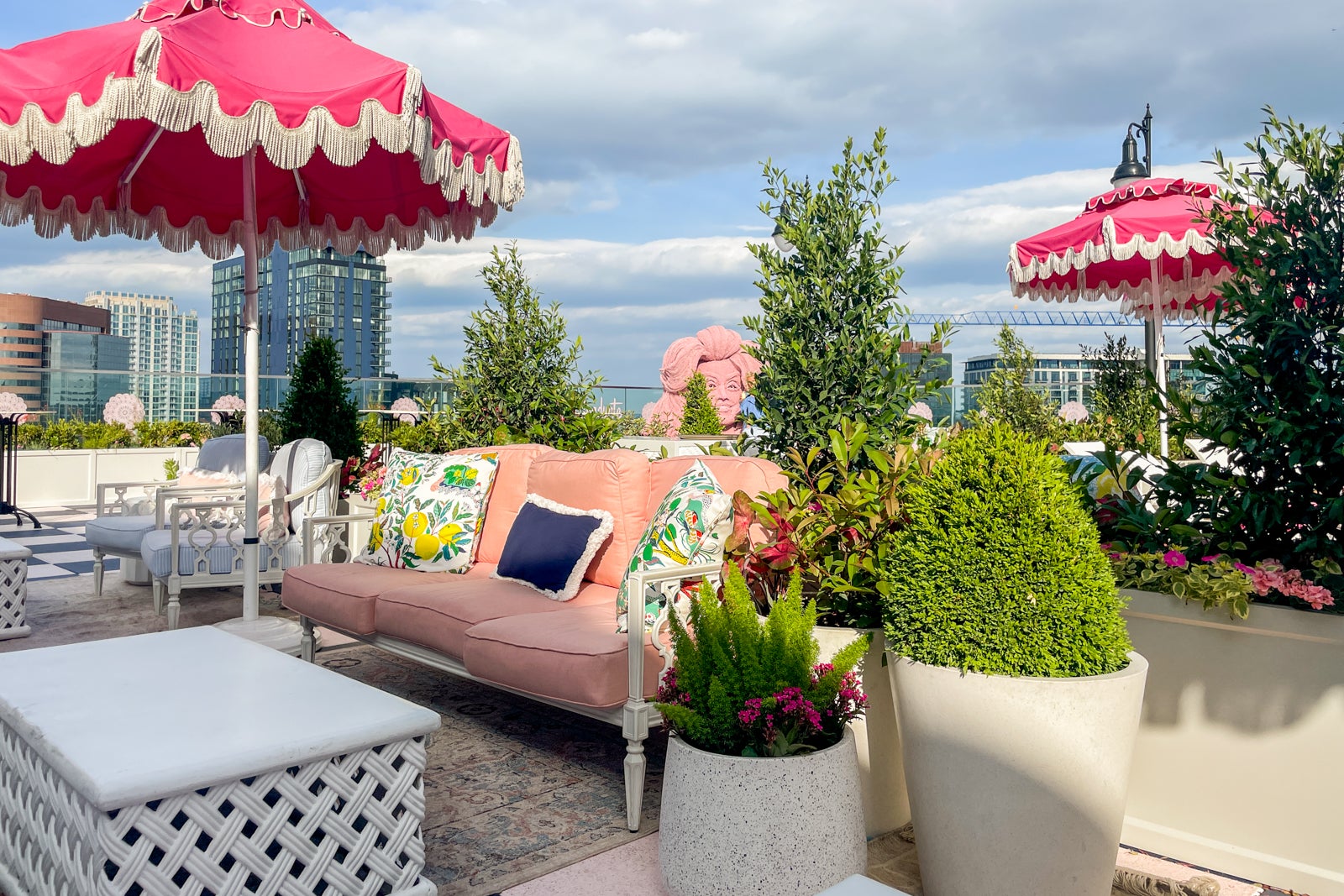 Vibe
Graduate Hotels is a fast-growing chain of properties that are themed around local universities — in this case, there are subtle nods to Vanderbilt University across the street (I went to Belmont) — and local culture and history. At this particular property, Dolly and country music are the focal points, with pops of pink, velvet and plenty of other mixed-and-matched textures and patterns adorning various elements of the hotel.
But while the decor is kitschy, it is not at all tacky, and that wide-ranging palette probably makes it one of the most Instagrammable hotels I've ever been to.
While I noticed all types of guests staying there, from families on vacation to a girl's trip celebrating someone's 50th birthday, the hotel and its rooftop bar, White Limozeen, are "must-stops" for any bachelorette party in town — so if that's something you're looking to avoid, you'll want to steer clear of this hotel.
Beyond that, I found this hotel to be totally charming. It offers a stay that feels truly authentic and local from the moment you walk in.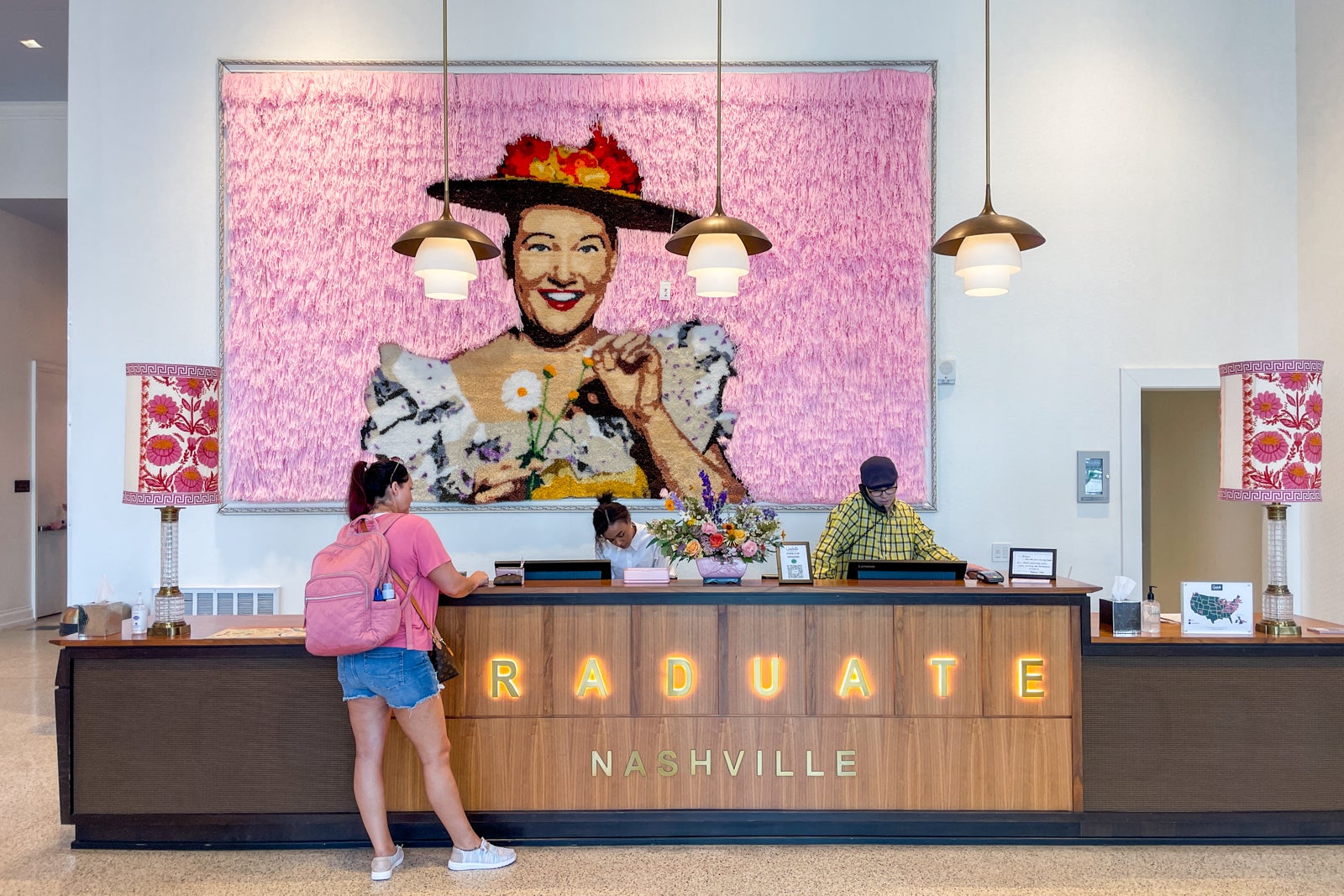 The lobby's check-in area was designed to look like a vintage stereo cabinet. Behind the welcome desk is a truly massive hooked rug hanging on the wall depicting Minnie Pearl (more on her later) by artist Margaret Timbrell. Even the keys are a tribute to Dolly, with a vintage poster and her birthday serving as her "student ID" number.
If you want to hang out in the lobby, just head to the couch area that's built like stadium seating, where I found lots of people relaxing or working on their laptops. Above it, in true college fashion, Andy Warhol-style pop art depicts the fast-food chains Taco Bell and Checkers down the street near Vanderbilt.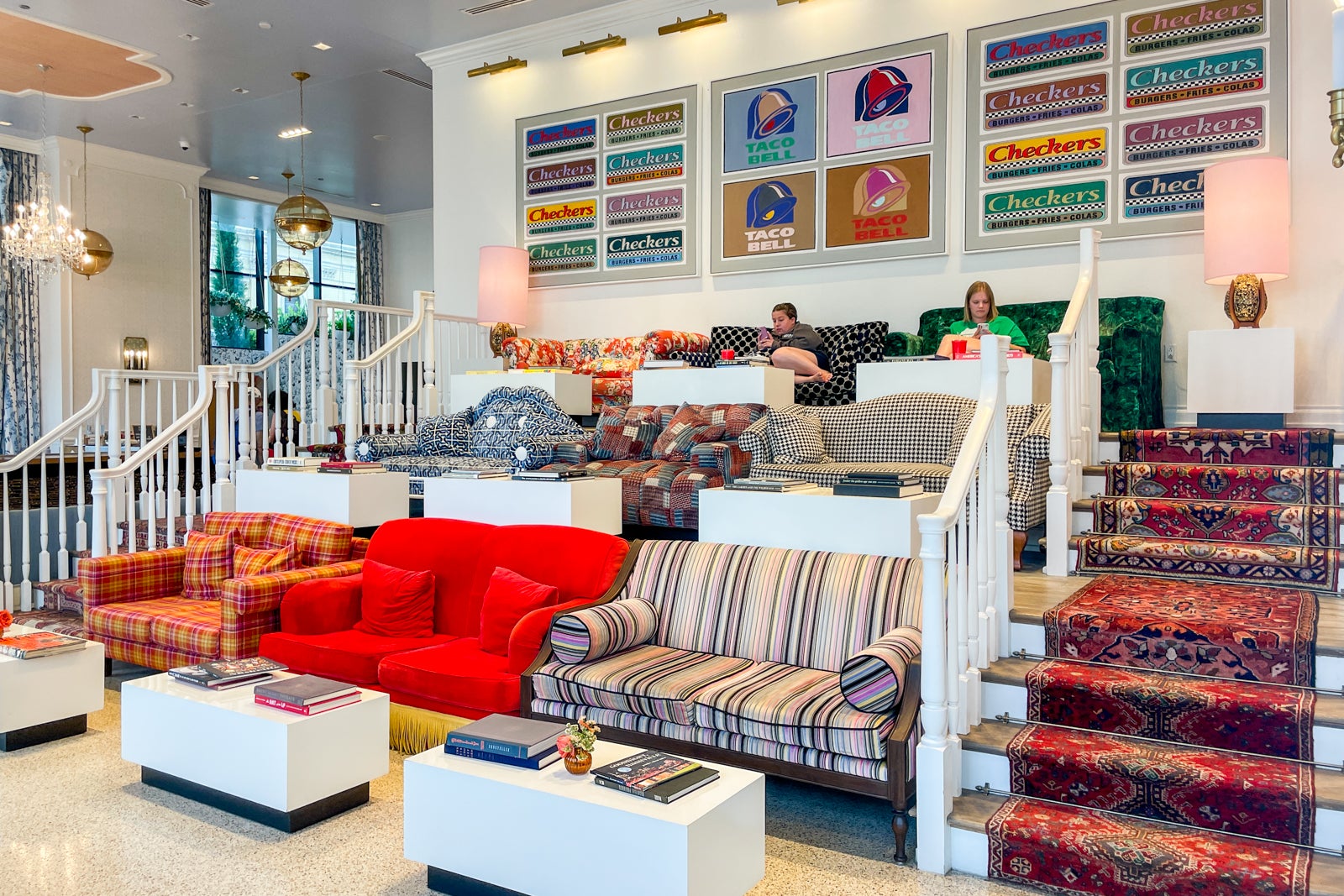 Every corner of the hotel provided little hidden moments of history or pop culture, but also practical elements like desks and carefully chosen music and art books that added so much character to the space.
Getting there
The Graduate Nashville is located in the Midtown area of the city near Vanderbilt University and is a five- to 10-minute car ride or quick Bird or Lime scooter ride to the action of Downtown and Lower Broadway.
From Nashville International Airport (BNA), expect a 15- to 25-minute car ride, depending on traffic. An Uber or Lyft will set you back around $20 to $30 in either direction.
Related: 10 cool Nashville hotels to consider for your next trip to Music City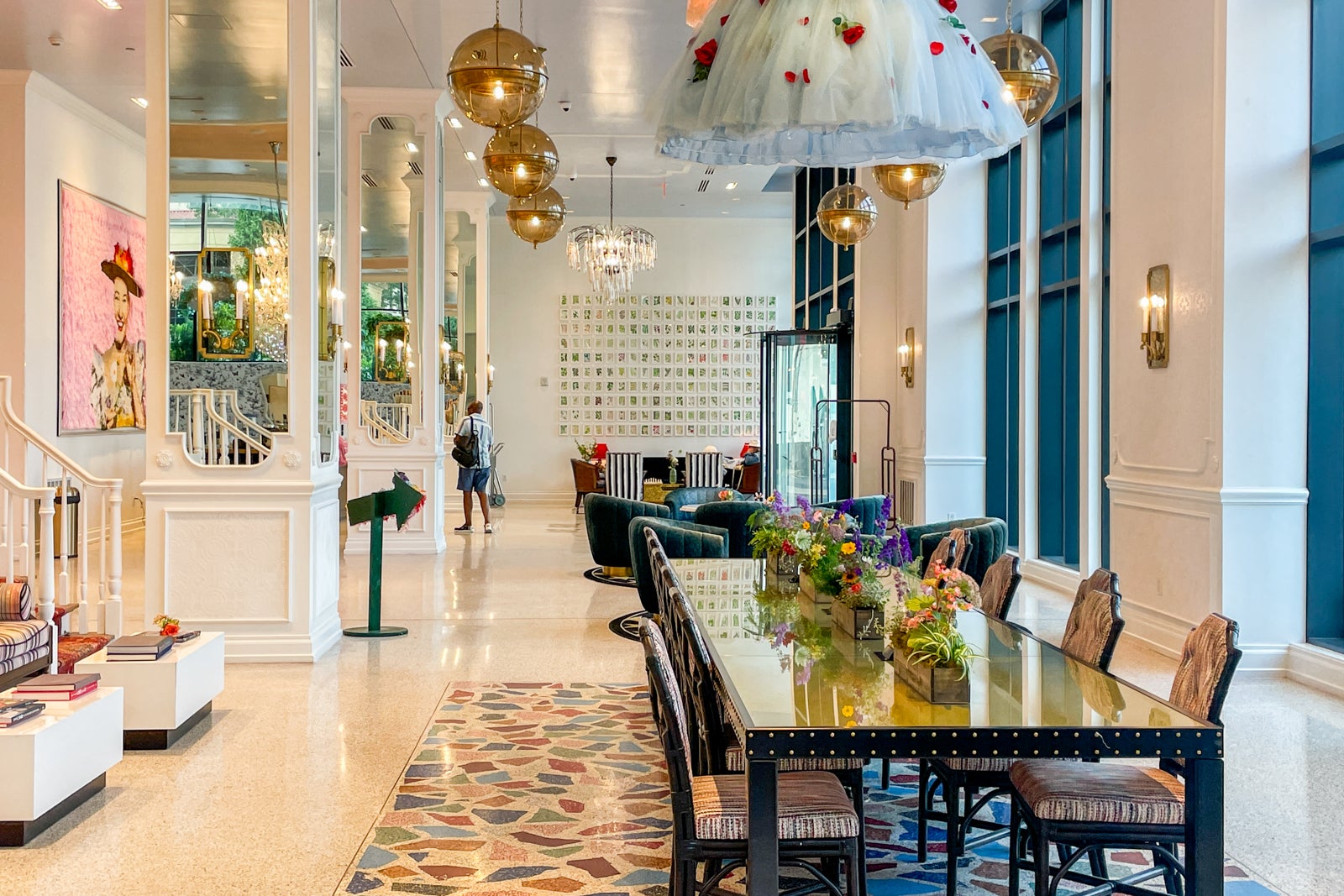 Booking details
Unfortunately, Graduate Hotels does not have a loyalty program where you can earn or redeem points.
For my stay, which happened on the last night of the CMA Music Fest (one of the busiest and most expensive weekends in town), I paid $280.72 for a Graduate King room when booking directly. Honestly, I found this to be a great rate considering the date I was there and having seen rooms at this hotel skyrocket to over $600 a night (or more) on various other trips.
If you drive, parking costs $45 a night plus tax.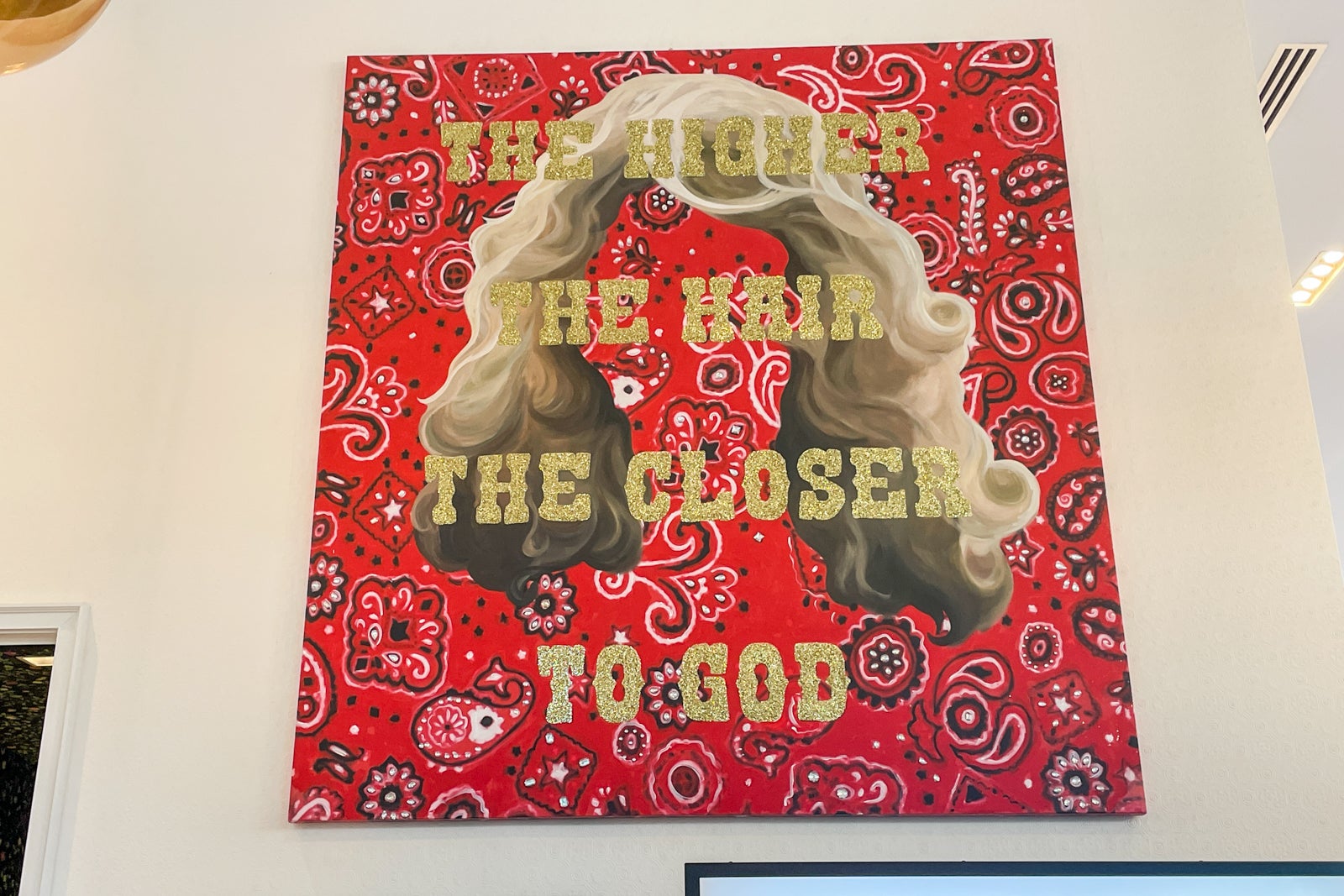 Standout features
The design and decor is truly so fun and chic while simultaneously country and kitschy.
There are tributes to Dolly and other country music legends everywhere.
White Limozeen, the rooftop bar, is a wonderful, Instagram-worthy bar that has a pool open to non-guests.
Although playful and showy, my room was efficiently laid out and very comfortable — especially the wonderful, warm shower.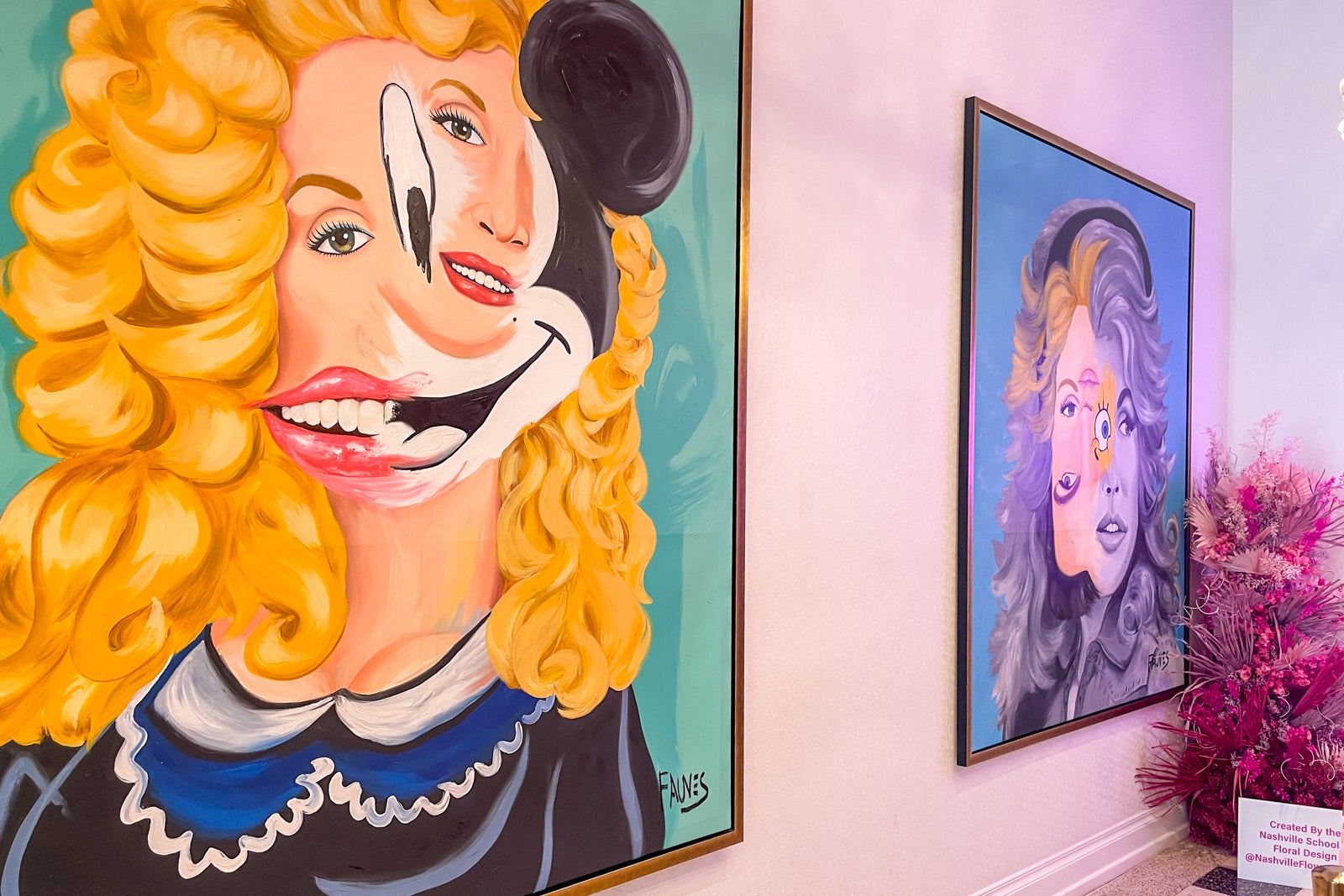 Drawbacks
While the hotel is centrally located in Nashville, it's not necessarily within walking distance of any of the city's main attractions, like the bars and honky tonks of Lower Broadway.
Though I snagged a great rate for a Sunday night, Friday and Saturday nights can be wildly expensive depending on what's happening in town.
Bachelorette parties and gaggles of wannabe social media influencers are lurking around every corner.
Bar service at White Limozeen was on the slow side.
The room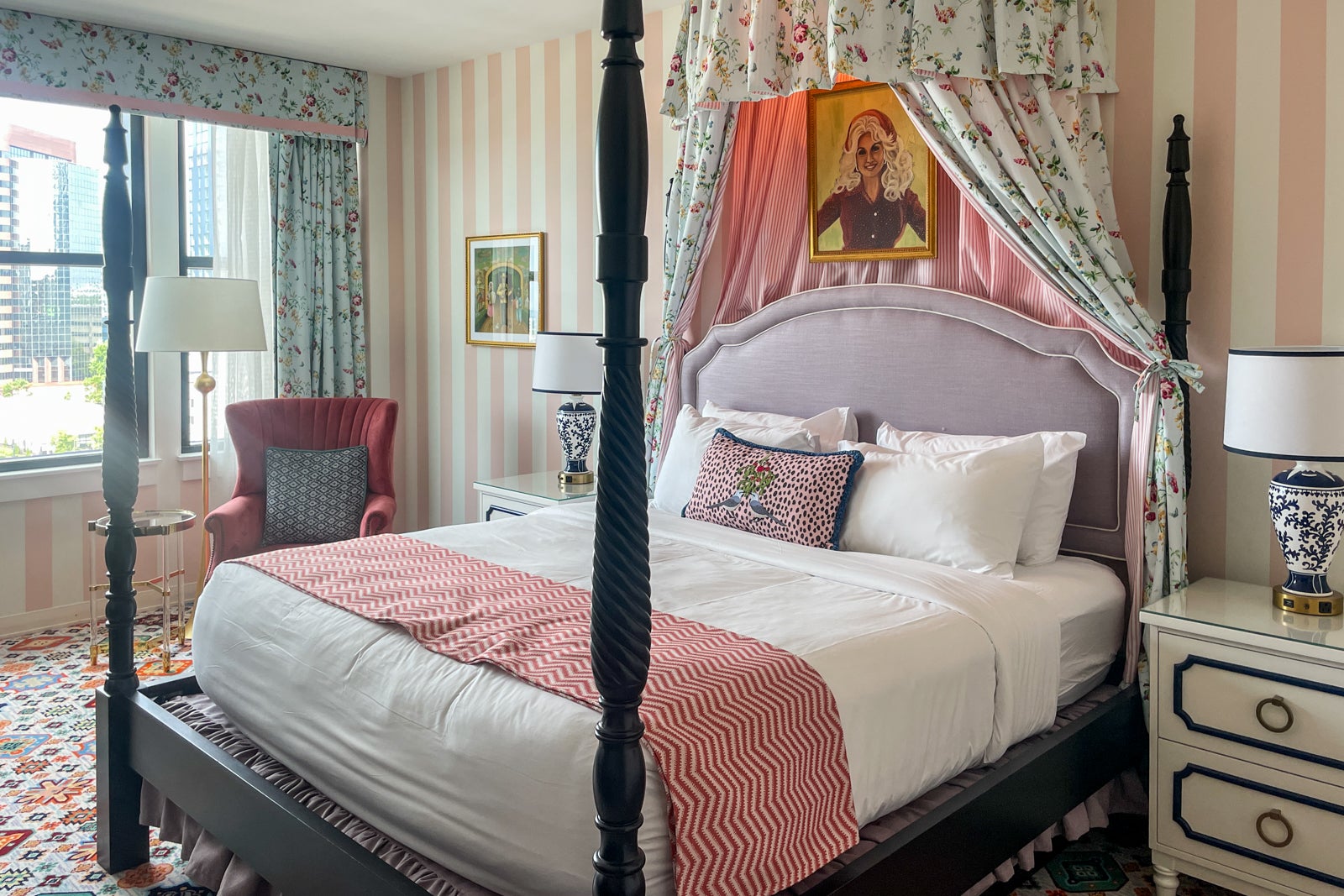 One of the main reasons I'd wanted to stay at the Graduate Nashville was the photos of the ultra-charming rooms I'd seen floating around online and on social media. I was curious if the rooms were as cute as they looked in the glossy, professional photos, or if they'd actually veer into tacky territory, almost like Dolly's famous quote, "It takes a lot of money to look this cheap."
For my part, I thought my Graduate King room did not look cheap or tacky. It was the perfect tribute to Dolly, classic country music and the Grand Ole Opry.
The centerpiece of the room was a dark wood four-poster bed with a Thulian pink headboard and a dual-patterned canopy — the interior portion had pink stripes while the outward-facing fabric displayed a subtle-but-bright floral print. Hanging in the middle was a painted portrait of 70s-era Dolly with her flowy blonde hair and infectious smile. Safe to safe I was sleeping with a literal angel above my head.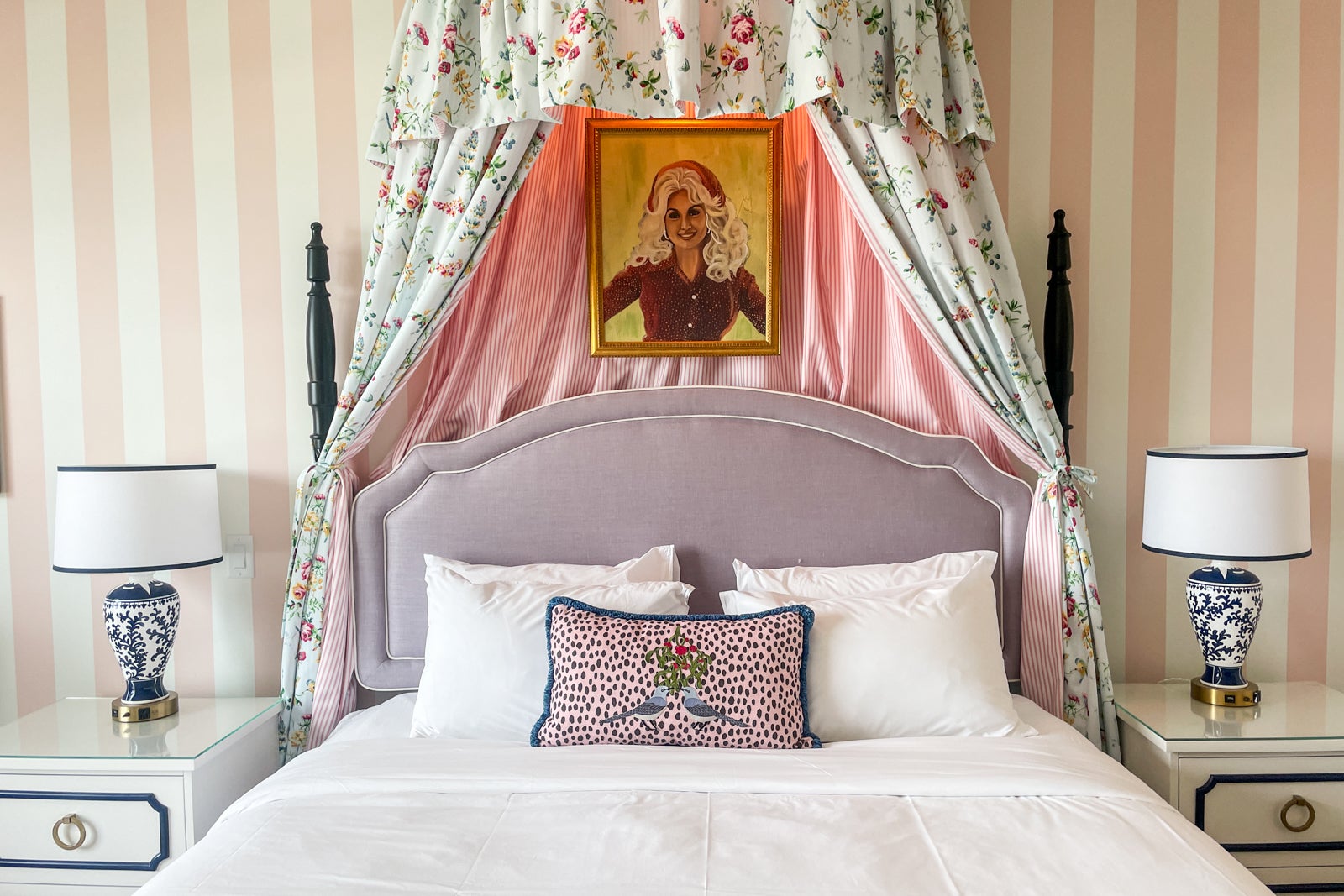 The bed was flanked by two nightstands, each with a chinoiserie-style lamp with plugs to charge your devices embedded in the base. The light pink and white stripes on the walls added texture to the room, and on one wall a large, Federal-style golden mirror adorned with electric and acoustic guitars being grasped by an eagle added some perfectly gaudy glam to the otherwise subdued palette of the space.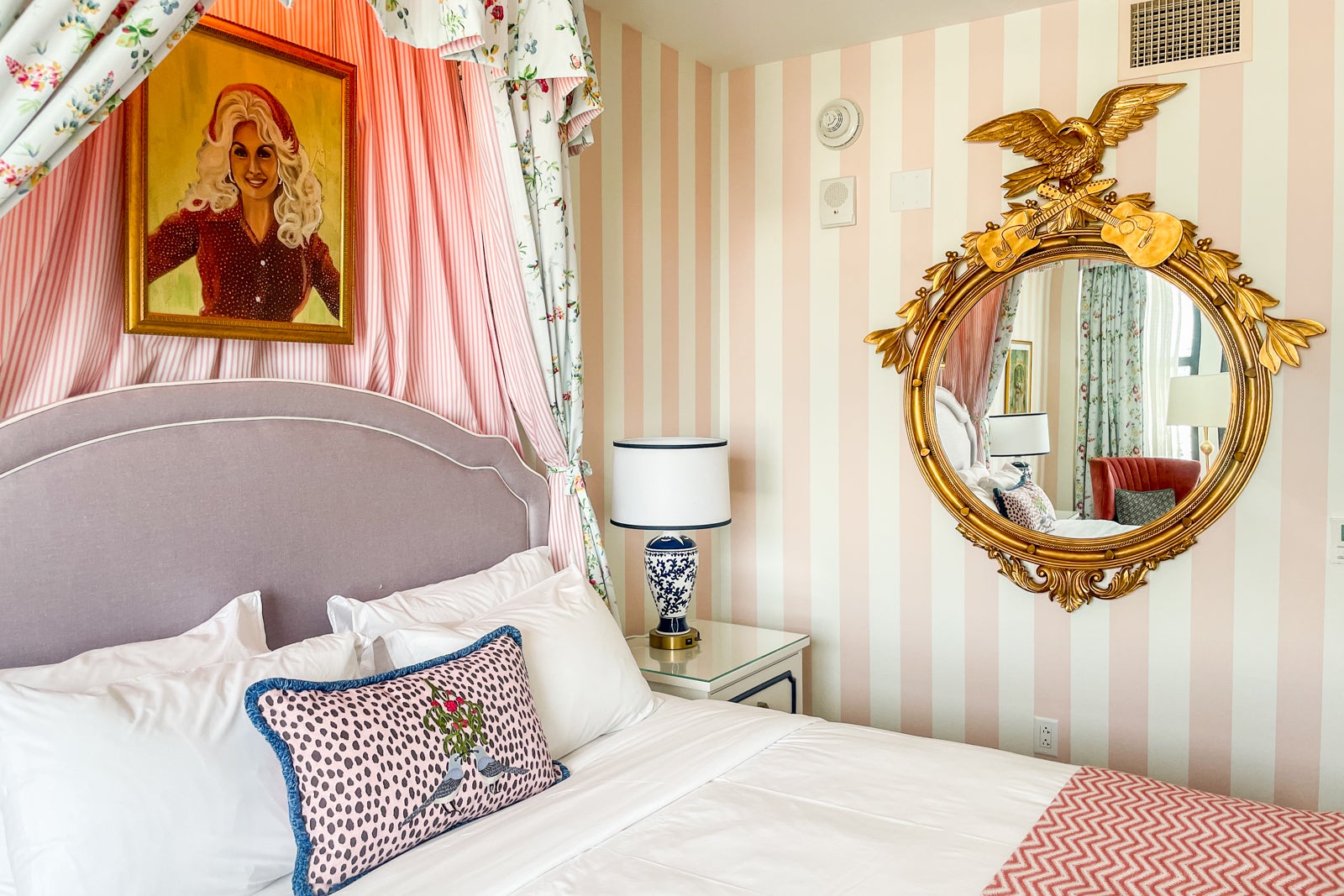 On the opposite side of the room, a velvet wing chair sat near the window, which had curtains in a different floral pattern from the rest of the room. And as you can see, even on the carpeting the Graduate left no space un-patterned, with a motif reminiscent of a handsewn quilt — and it all just worked.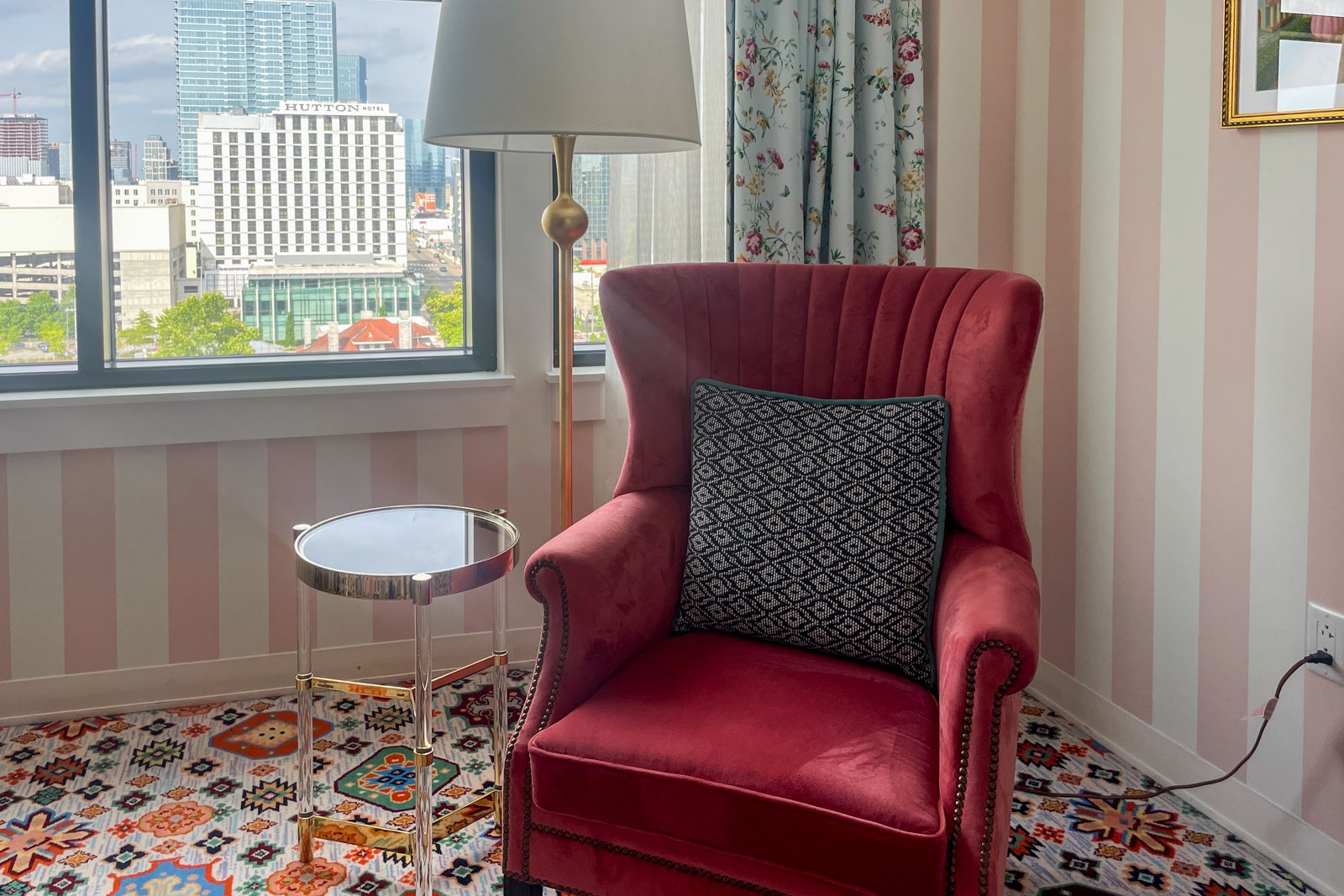 Across from the bed, a desk held a rotary phone, an adorable squirrel paperweight on a writing pad, an electric kettle with an assortment of teas and coffees, and a cute little lamp with an illustrated cowboy print that reminded me of my childhood growing up in West Texas.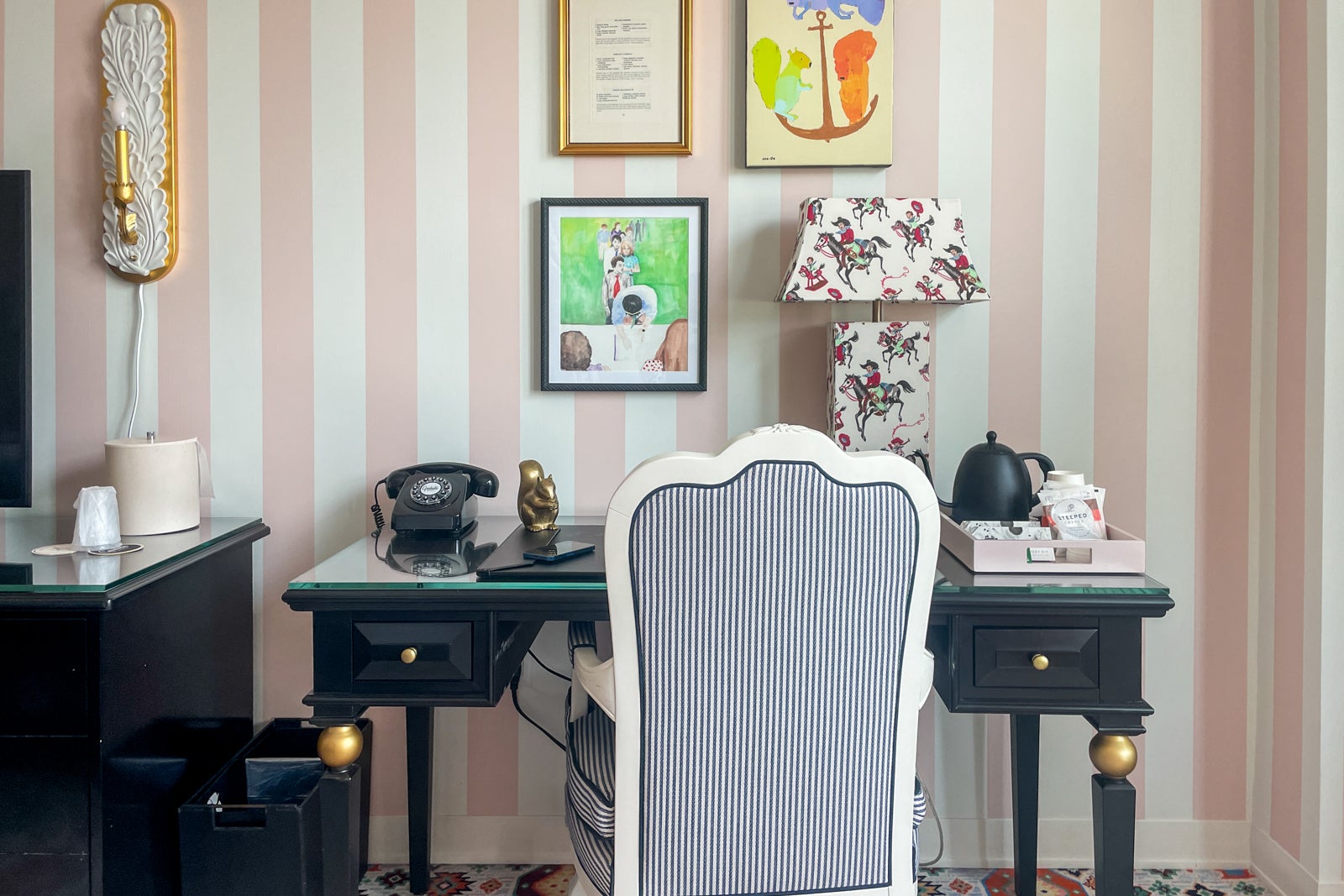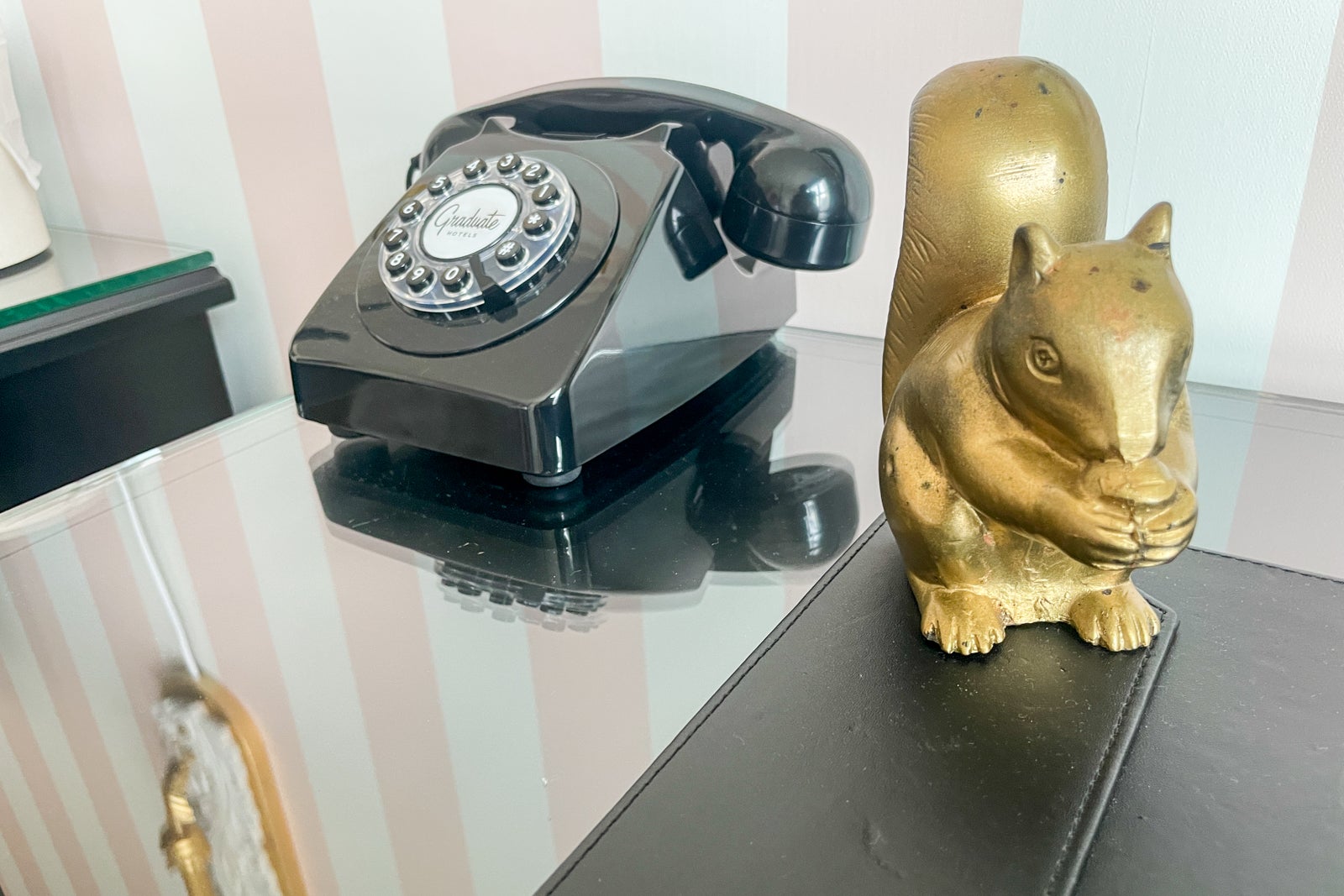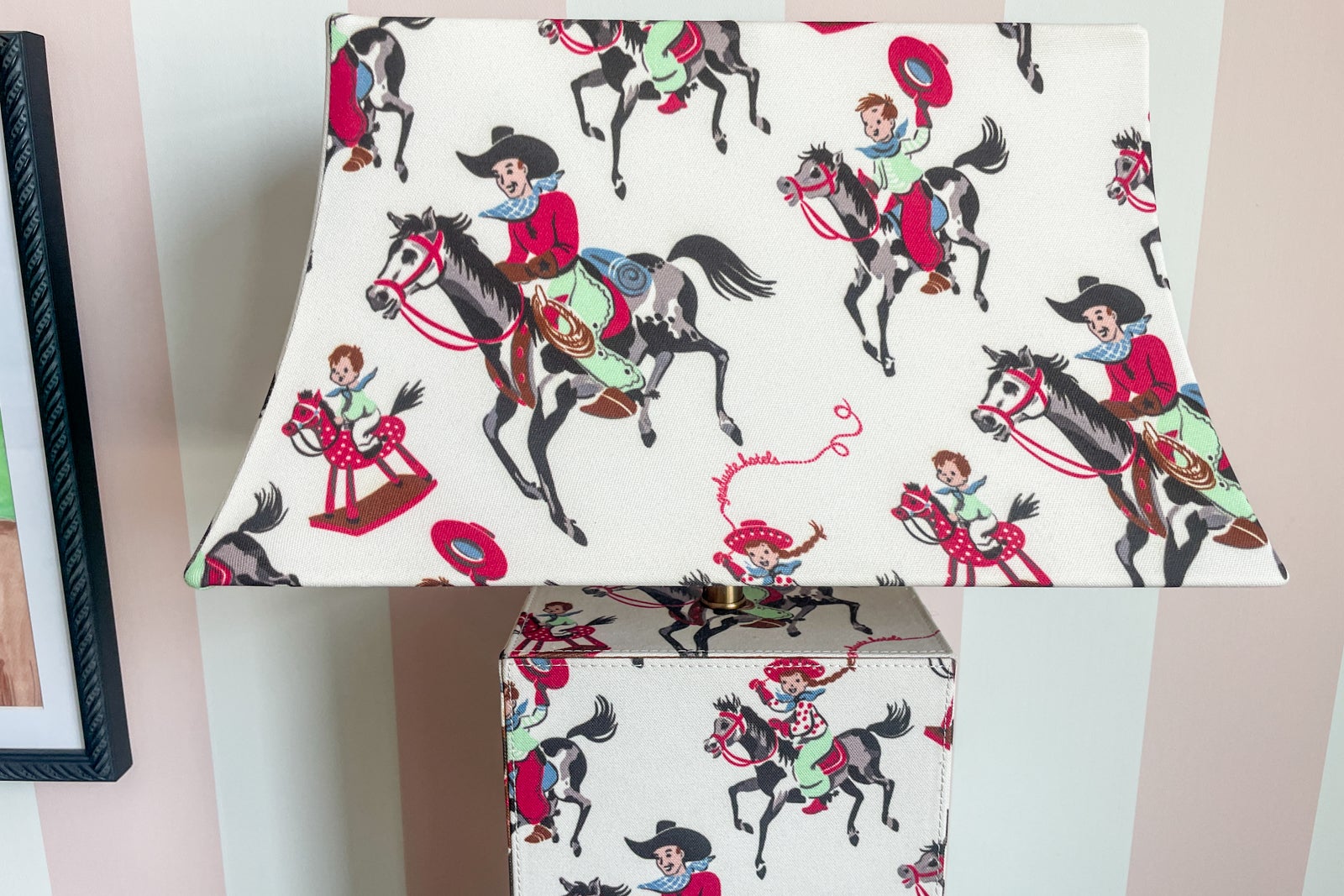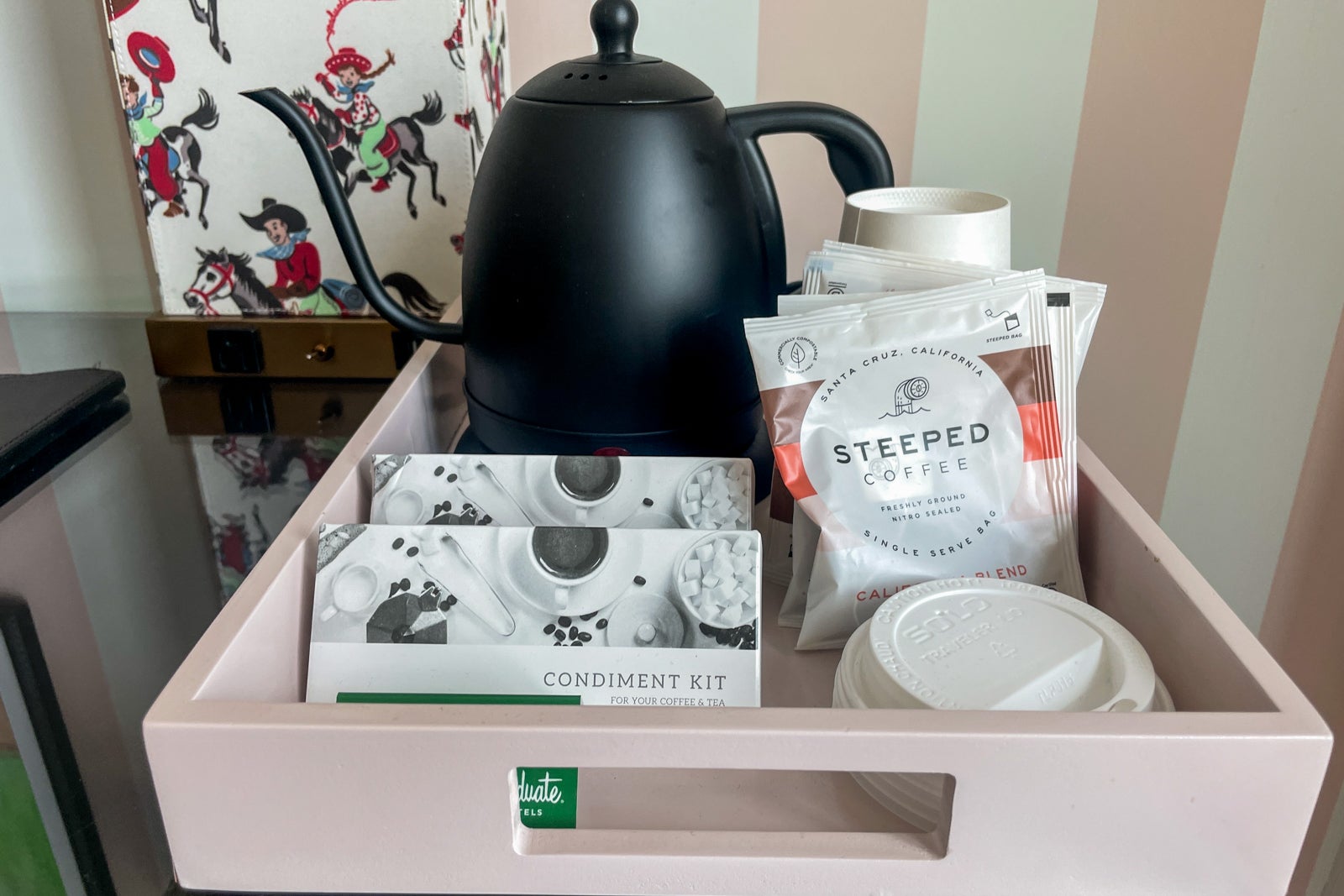 Throughout the room, there was framed memorabilia, like a photo that I believe was taken at the Grand Ole Opry featuring legendary member Minnie Pearl (whose real name was Sarah Ophelia Colley Cannon), famous for shouting "Howdyyyyyyy" and wearing hats with price tags still hanging off the side.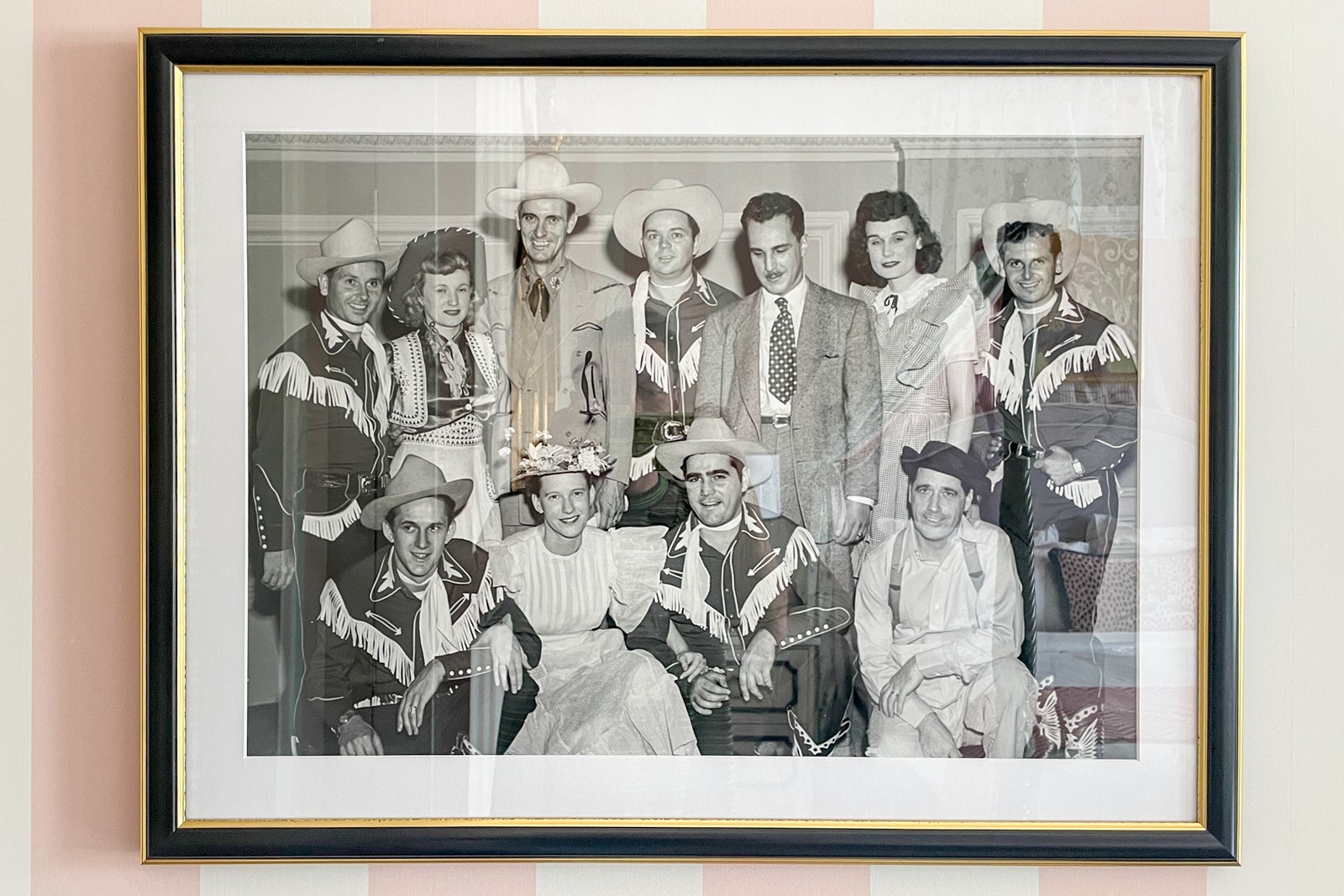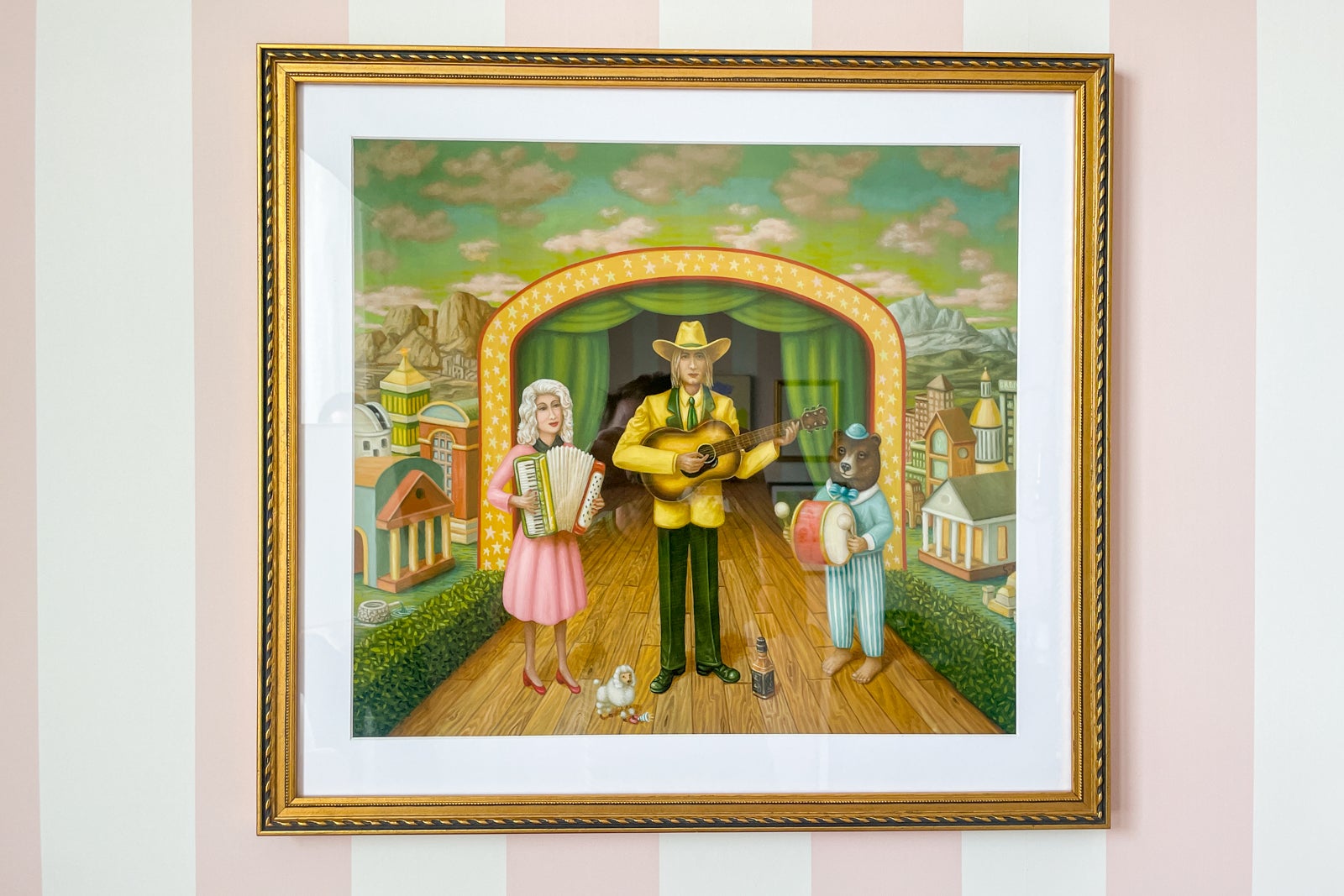 In the entryway, a small closet held extra towels and toilet paper, an iron and an ironing board.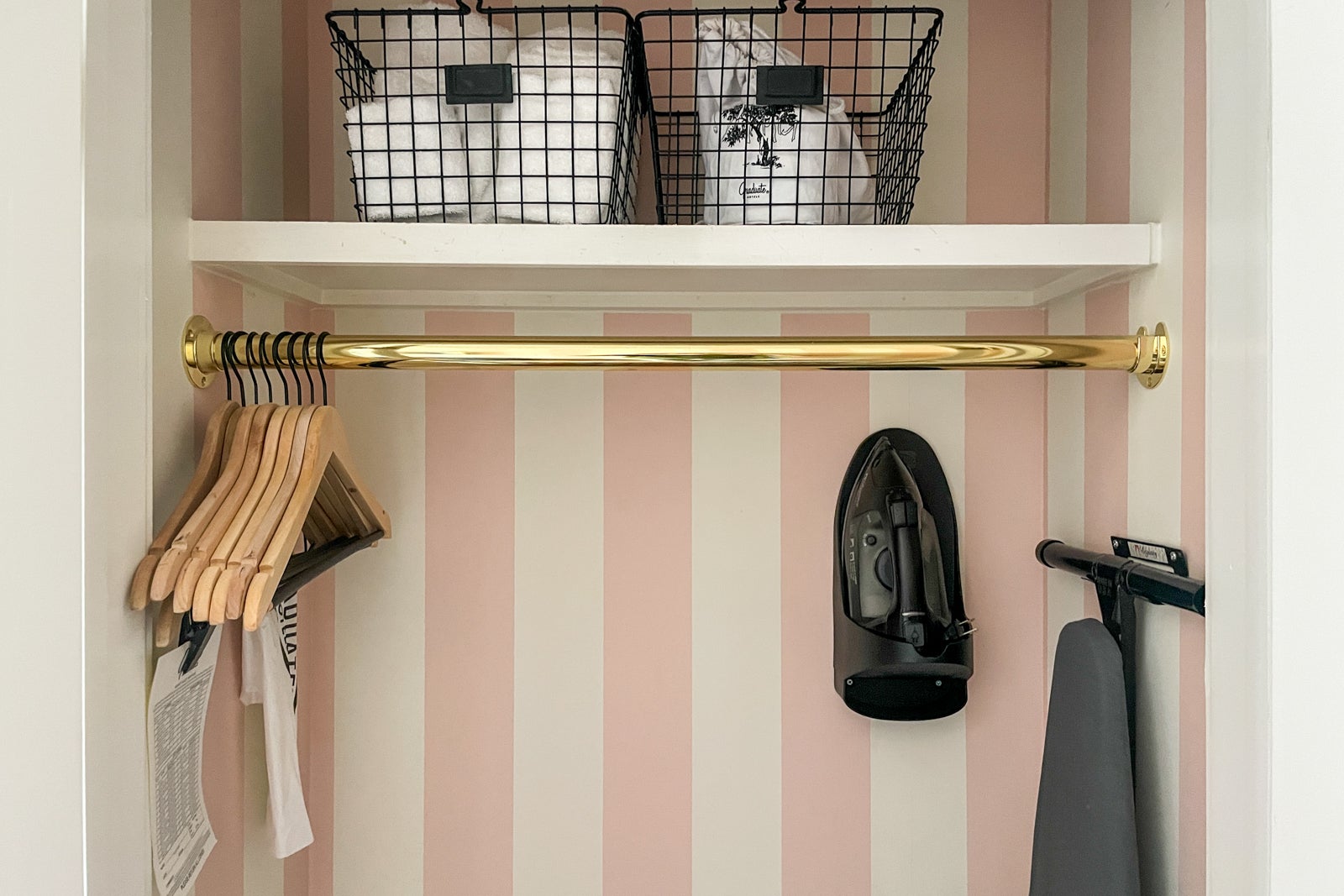 In total contrast to the pinks and patterns of the room, the bathroom was dark and moody, with a small sink, a gold mirror and a white tiled shower that had incredible water pressure — plus Malin+Goetz bath products. It was the perfect shower for washing away the grime of a sticky June Nashville day.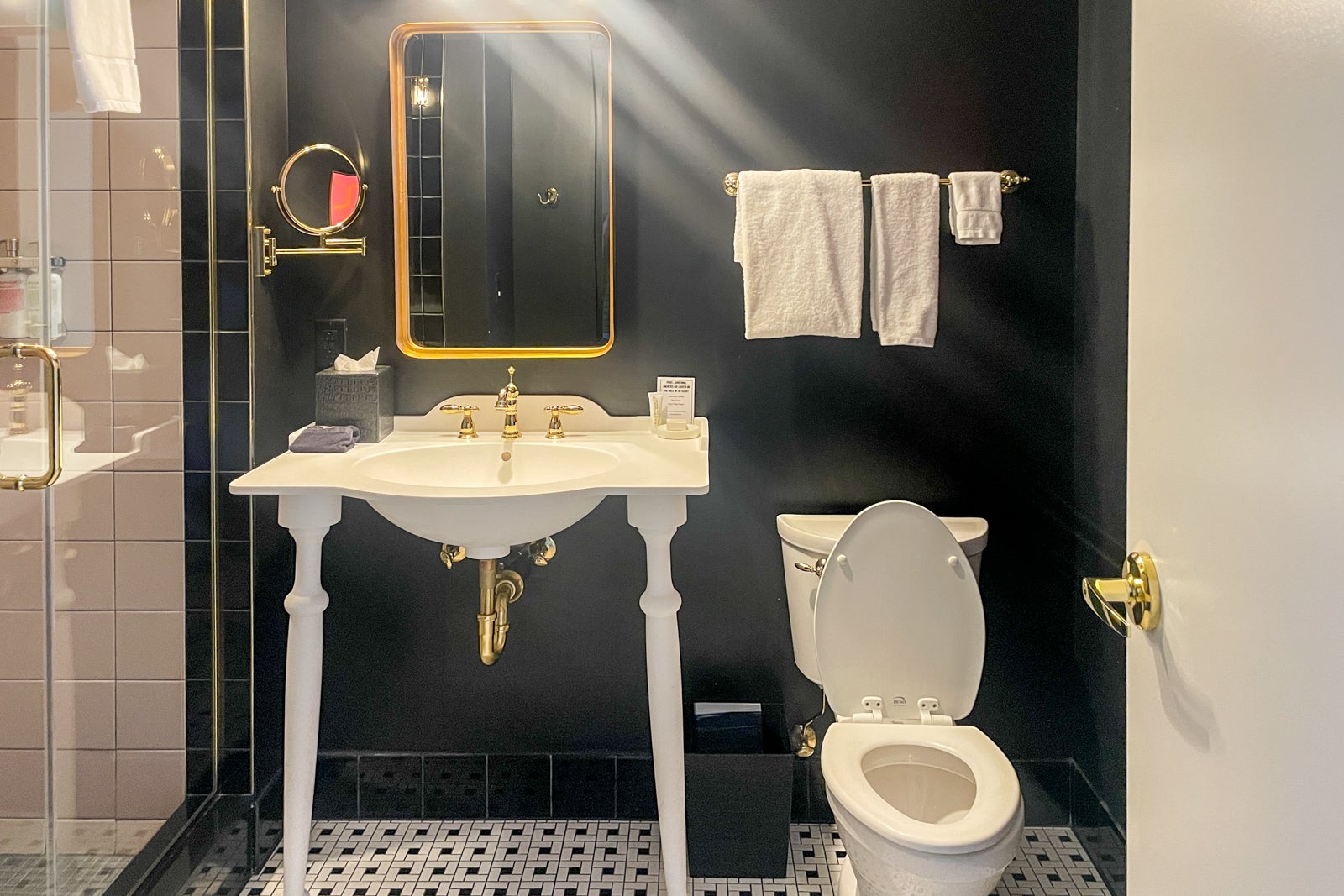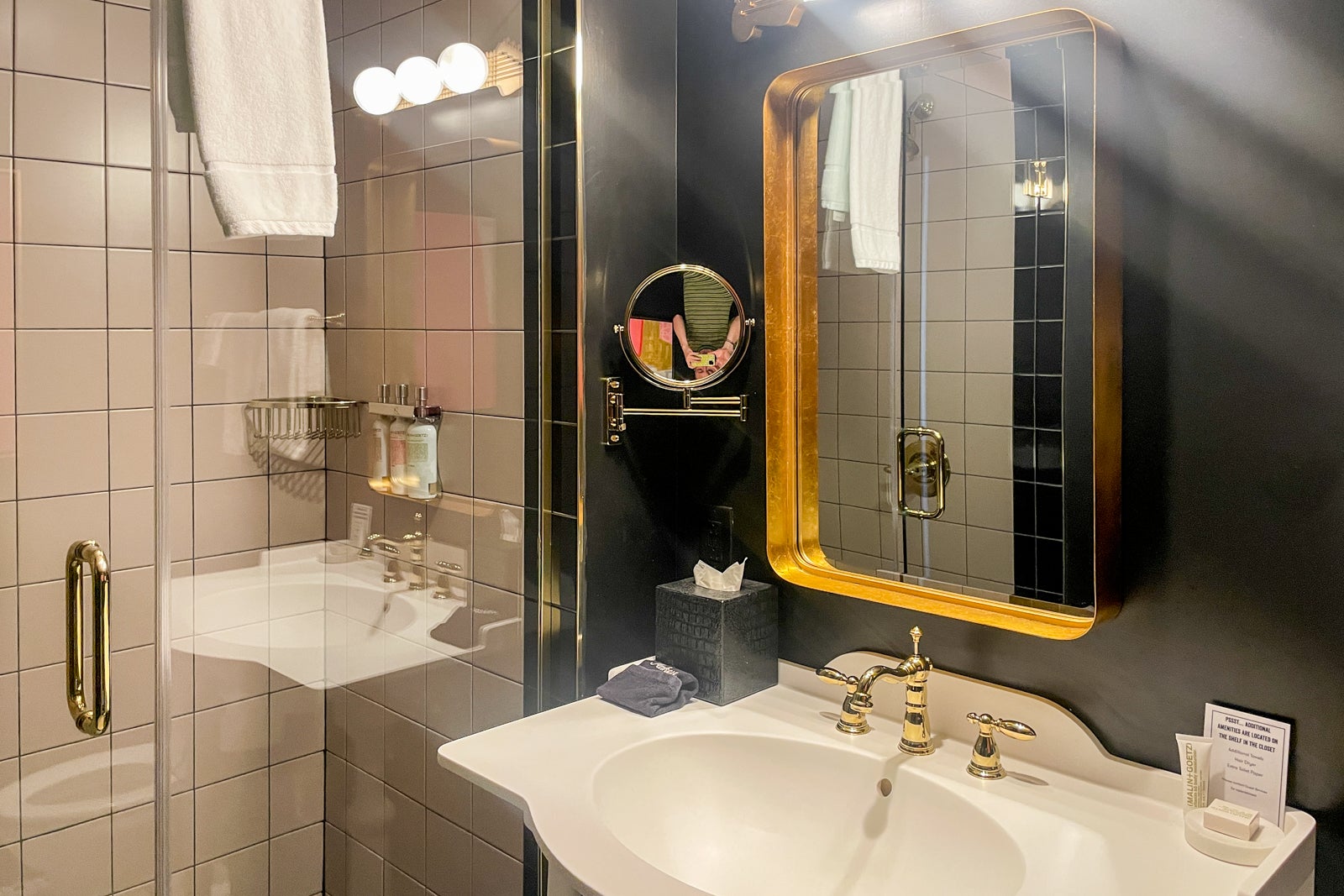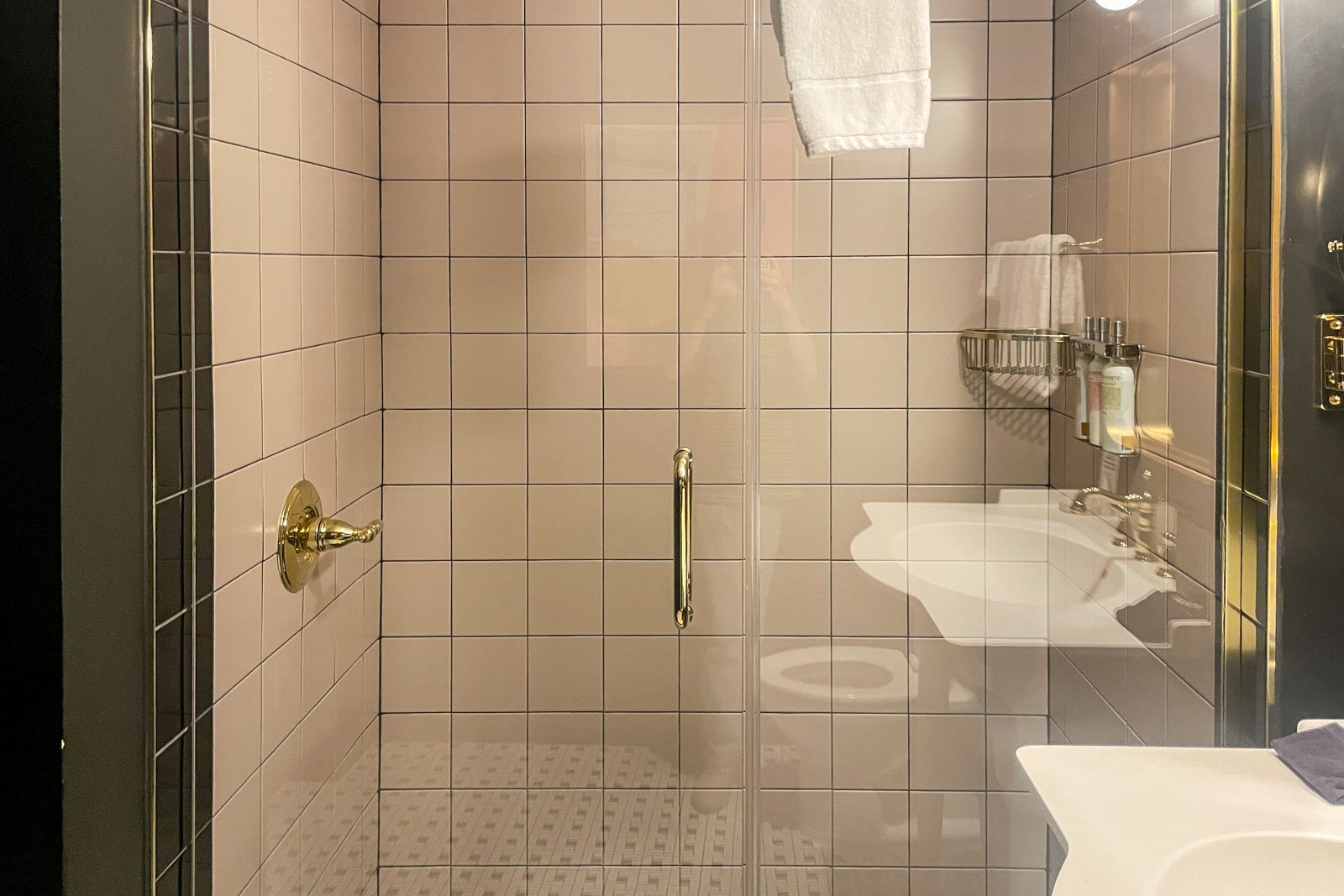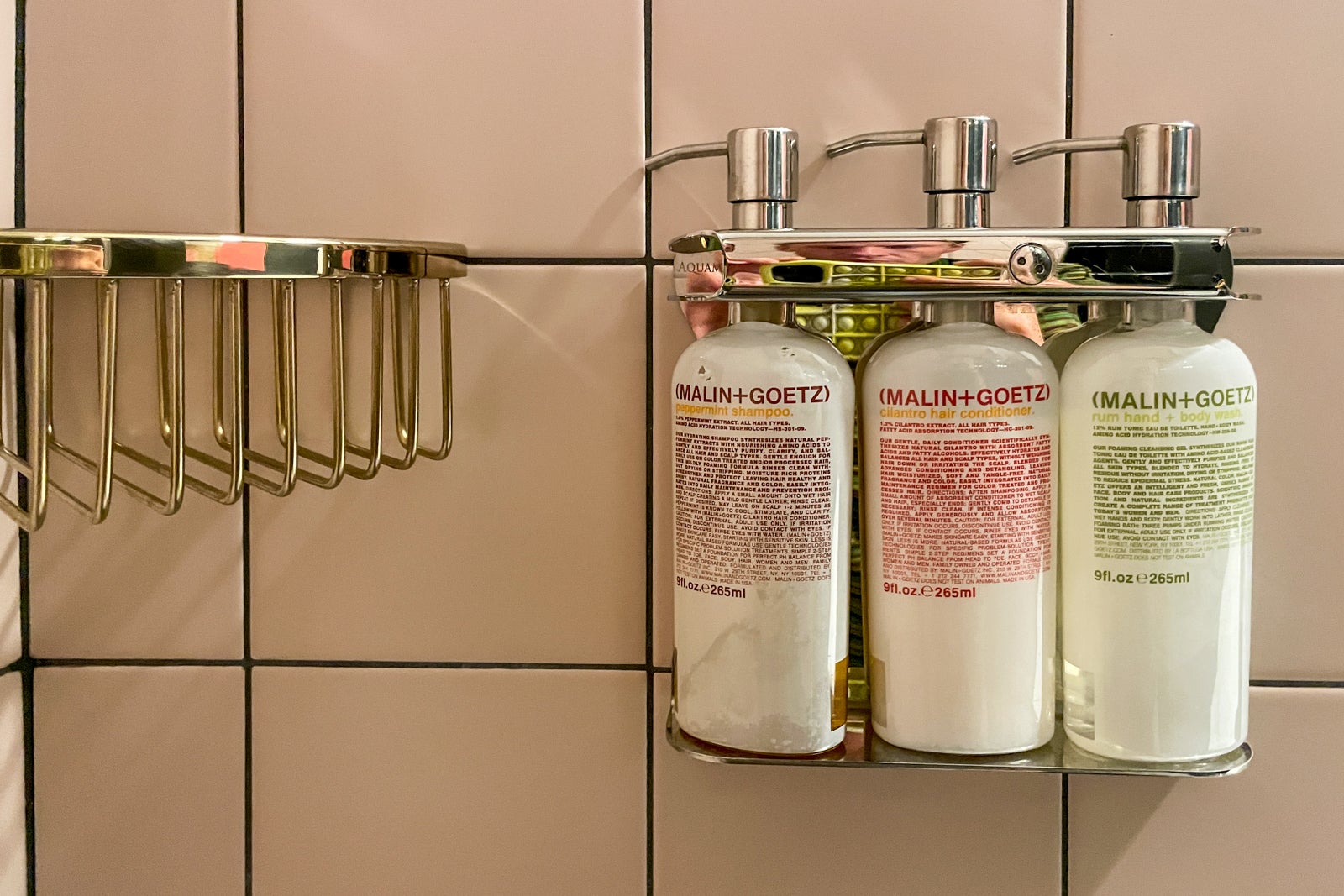 Related: Book this, not that: Nashville hotels edition
Food and drink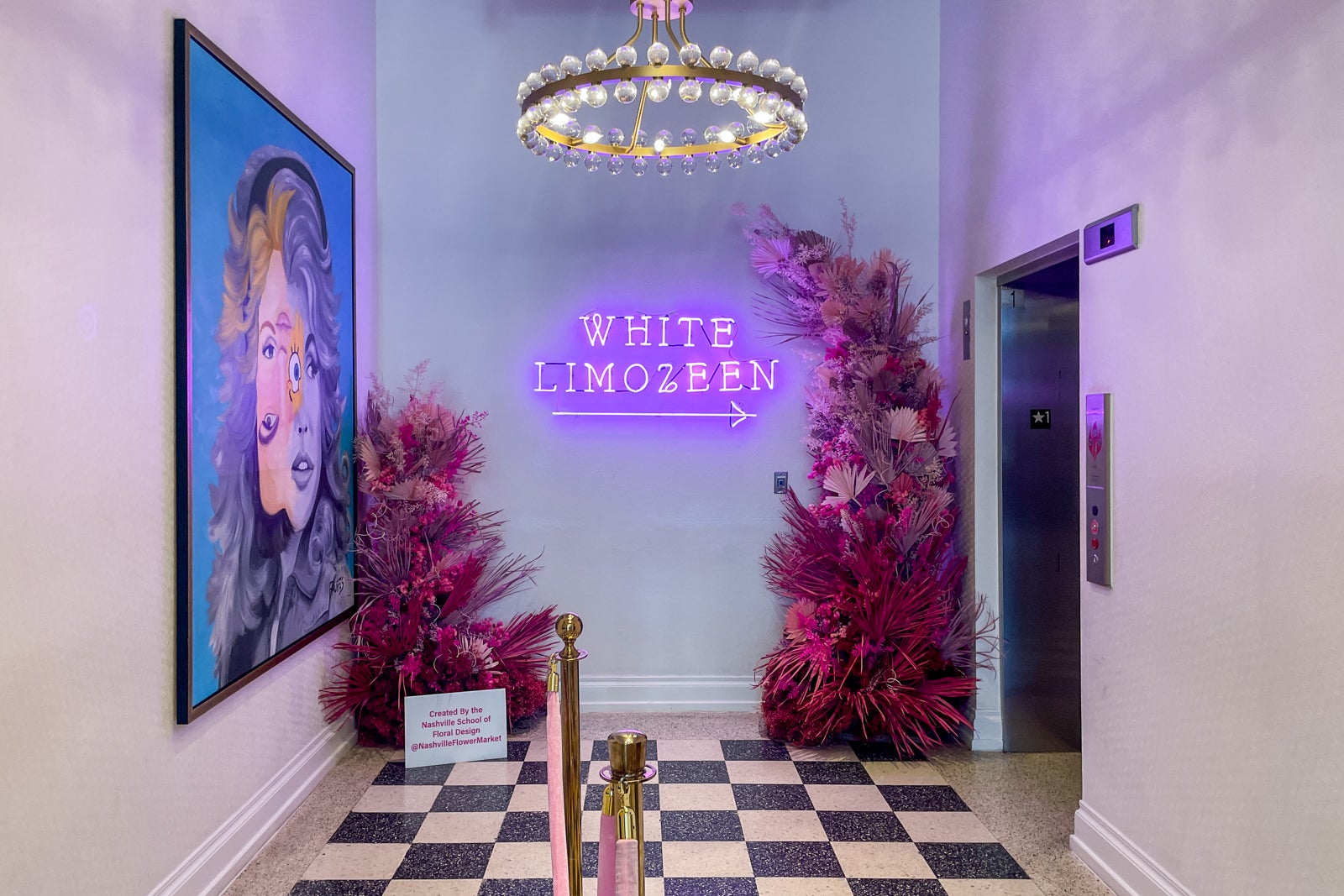 Since my trip to the Graduate wasn't planned, I didn't get to experience all the food and drink offerings at the hotel, but I did make it up to the popular rooftop bar, White Limozeen, named after Dolly's 29th studio album released in 1989.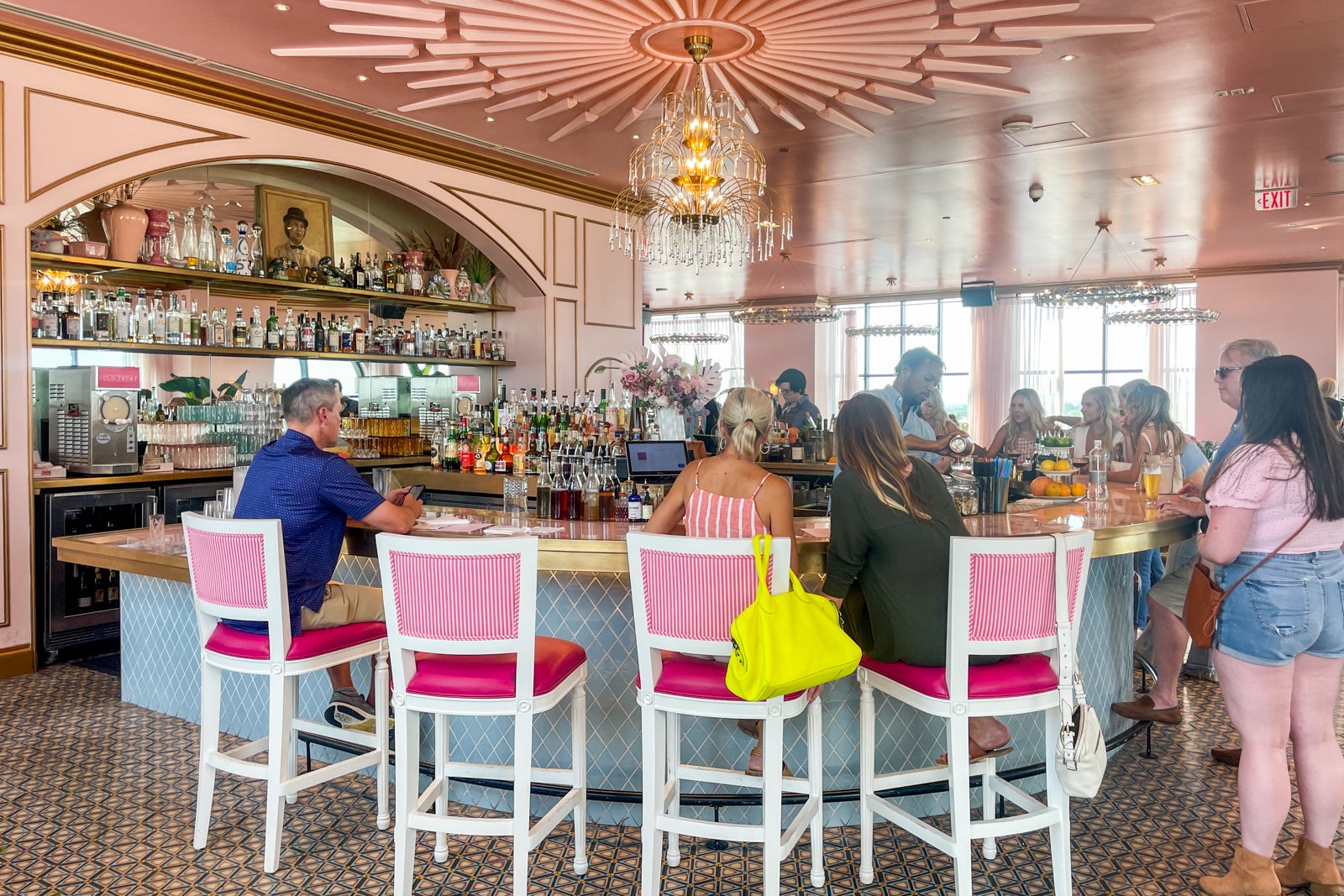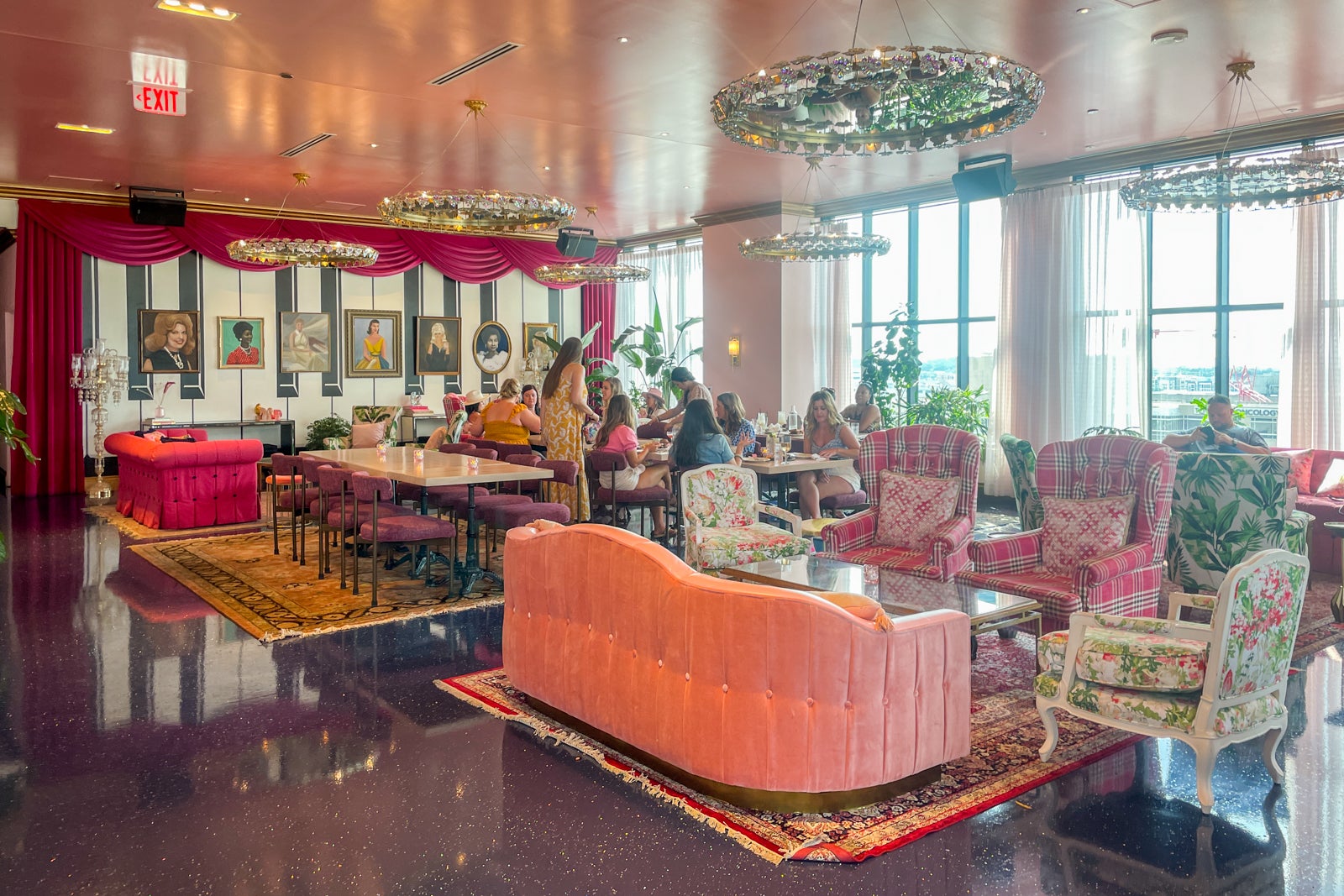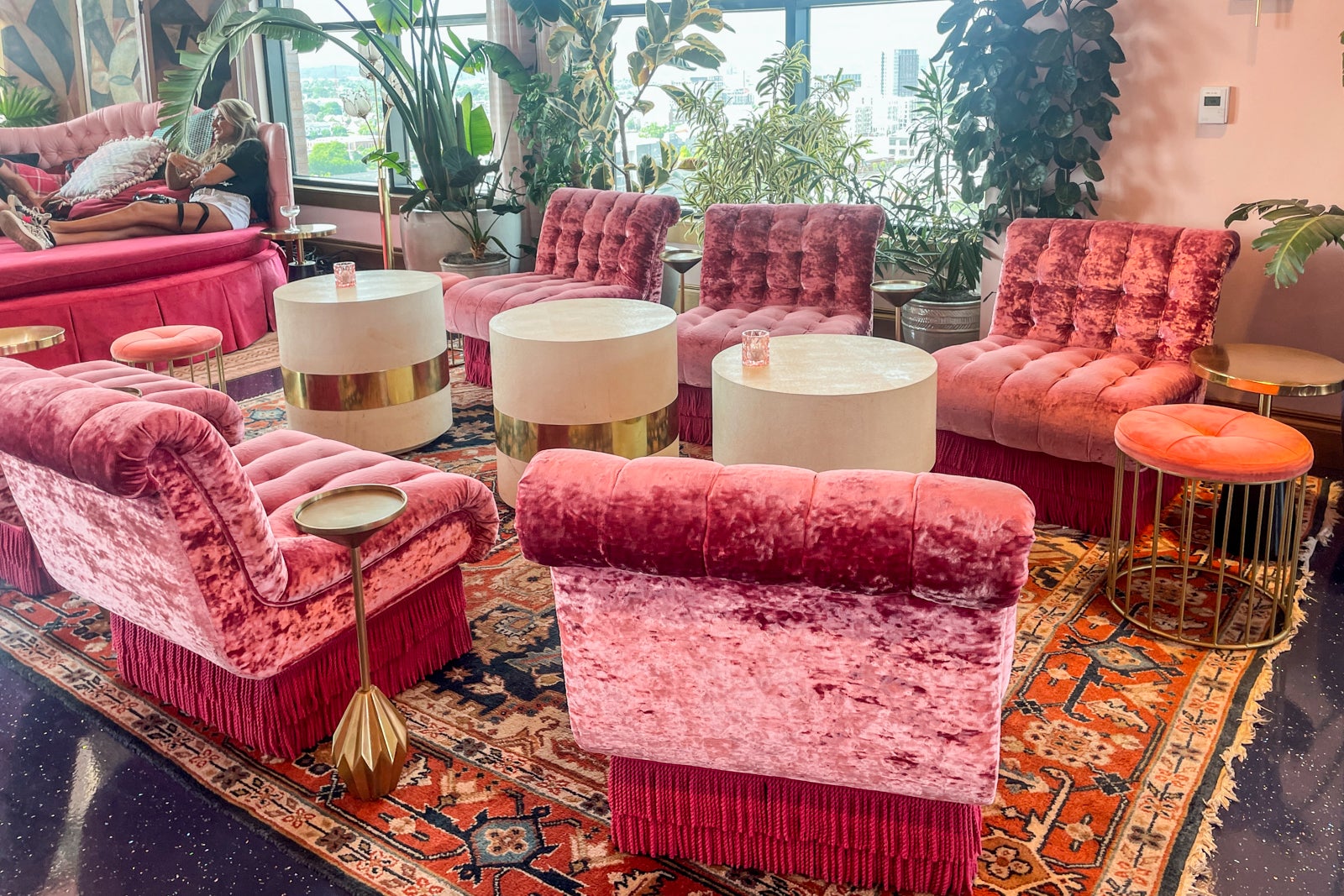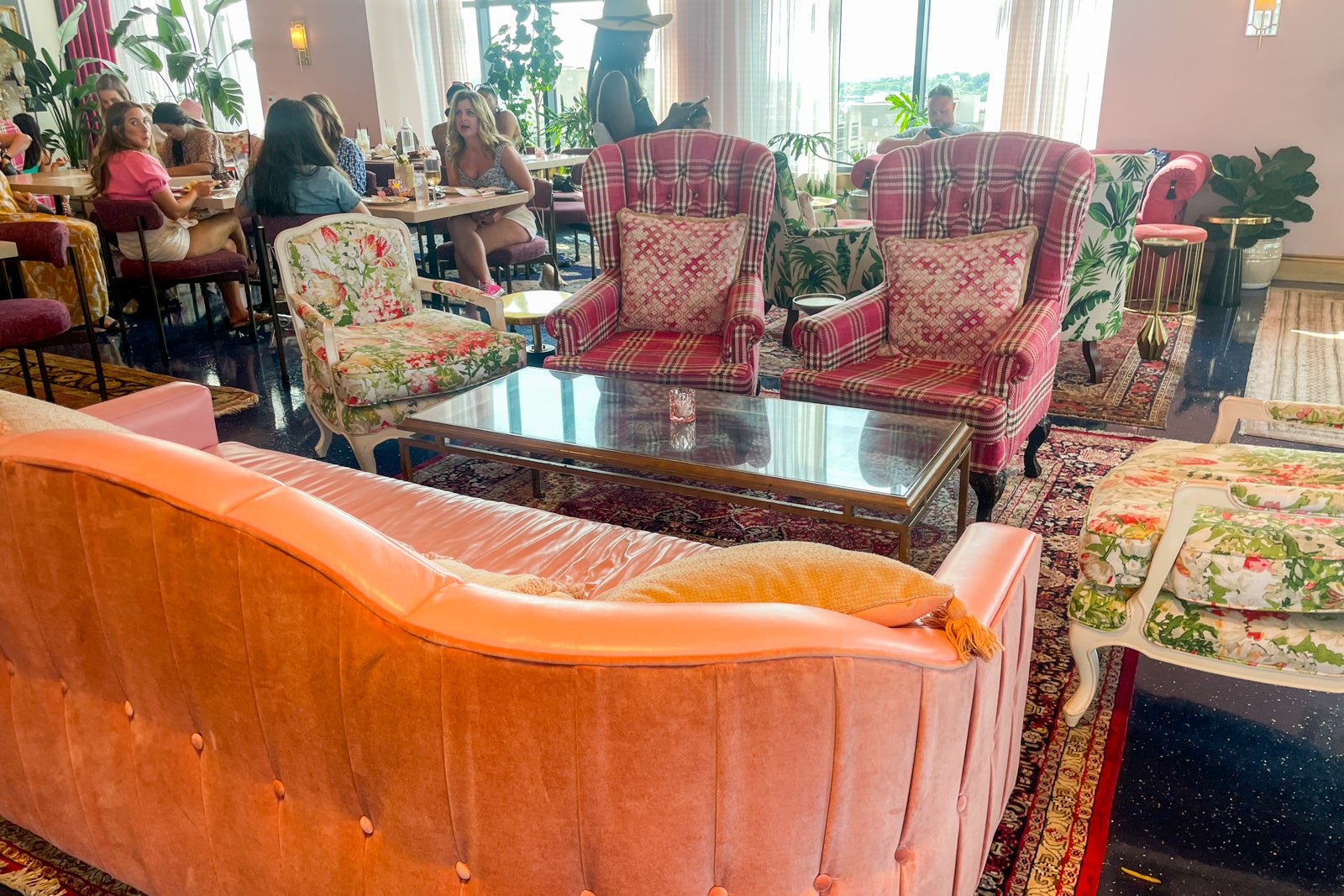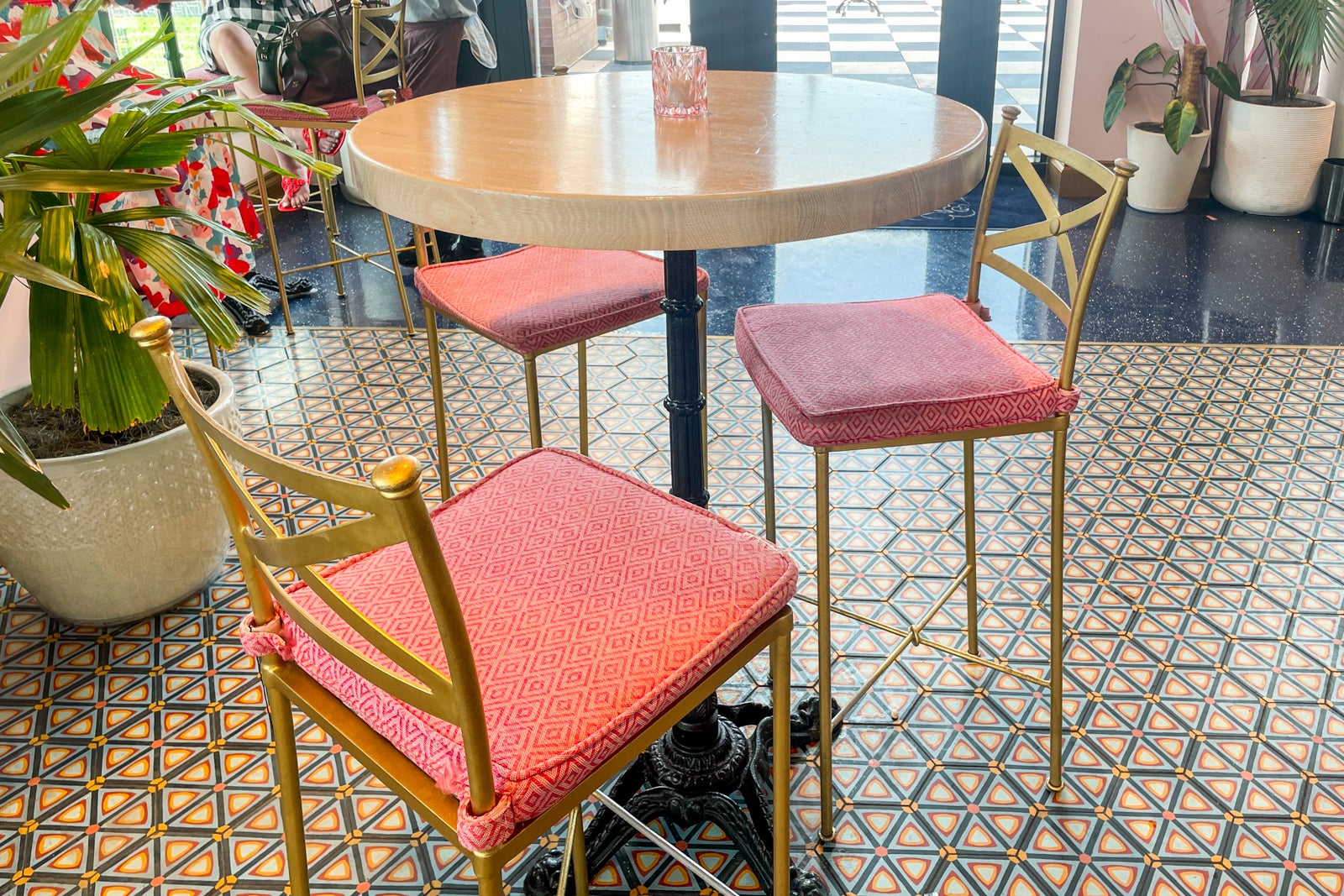 On the inside of the bar, guests can sit around on pink velvet couches or lounge chairs surrounded by large green plants and the snap, snap, snapping of 100 million photos being taken by fellow visitors. While the bar was busy but not full when I went, I'd recommend making a reservation ahead of time just to be safe.
The menu consists of $15 cocktails like Queen of the Rodeo, which was described as "a gussied-up cosmo," and the Just in Time, a Tito's espresso martini. There's also a full food menu consisting of items like oysters ($4 each), smoked trout fritters with brown butter almondine dip ($13) and larger plates like the White Limo pappardelle ($21) and even a $36 New York strip steak.
My partner and I ended up skipping food at White Limozeen in favor of one last proper barbecue dinner. But we didn't skip on drinks. To help beat the heat — and wow, was it hot — we had a forgettable rose and a margarita that took over 20 minutes to get from the bar.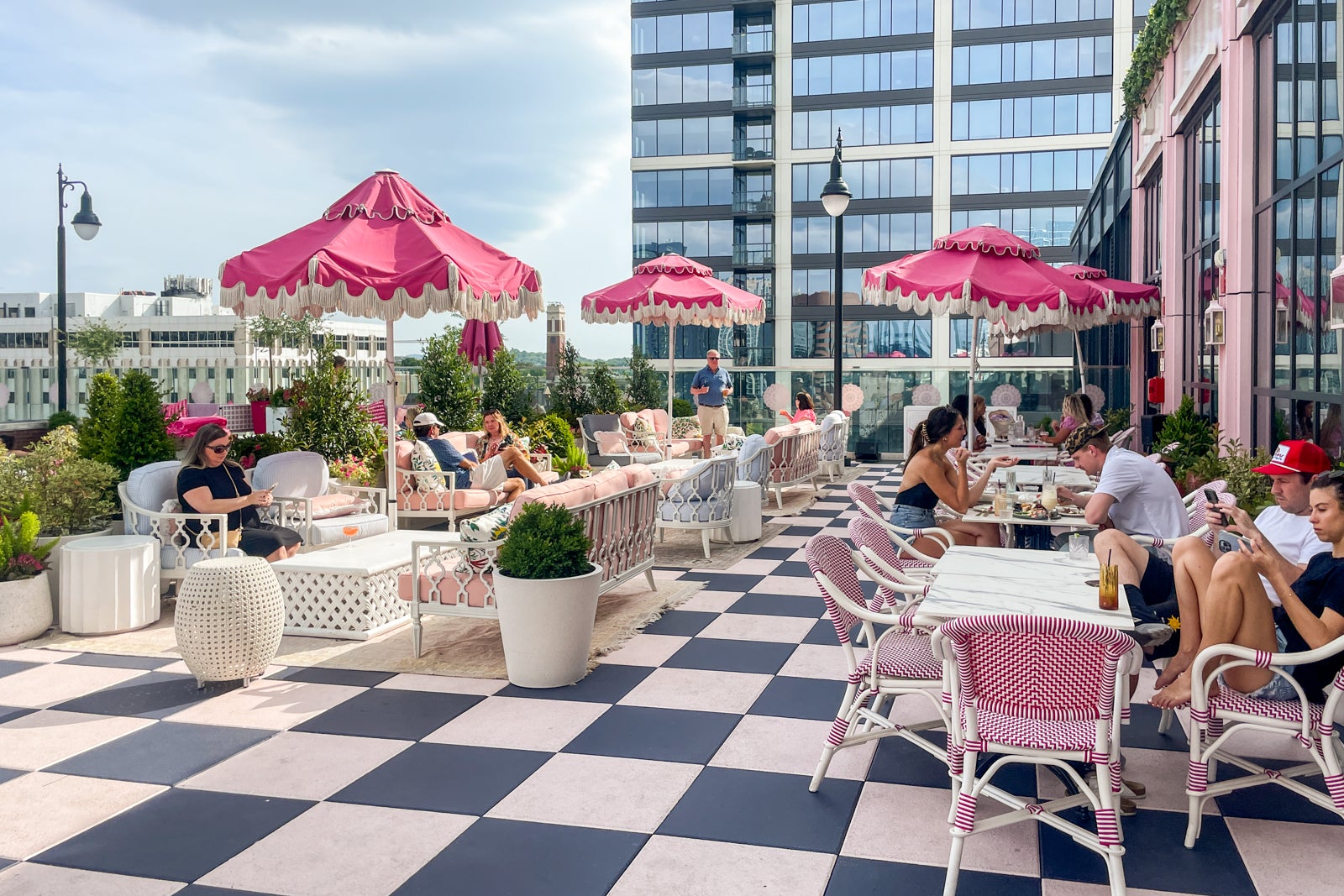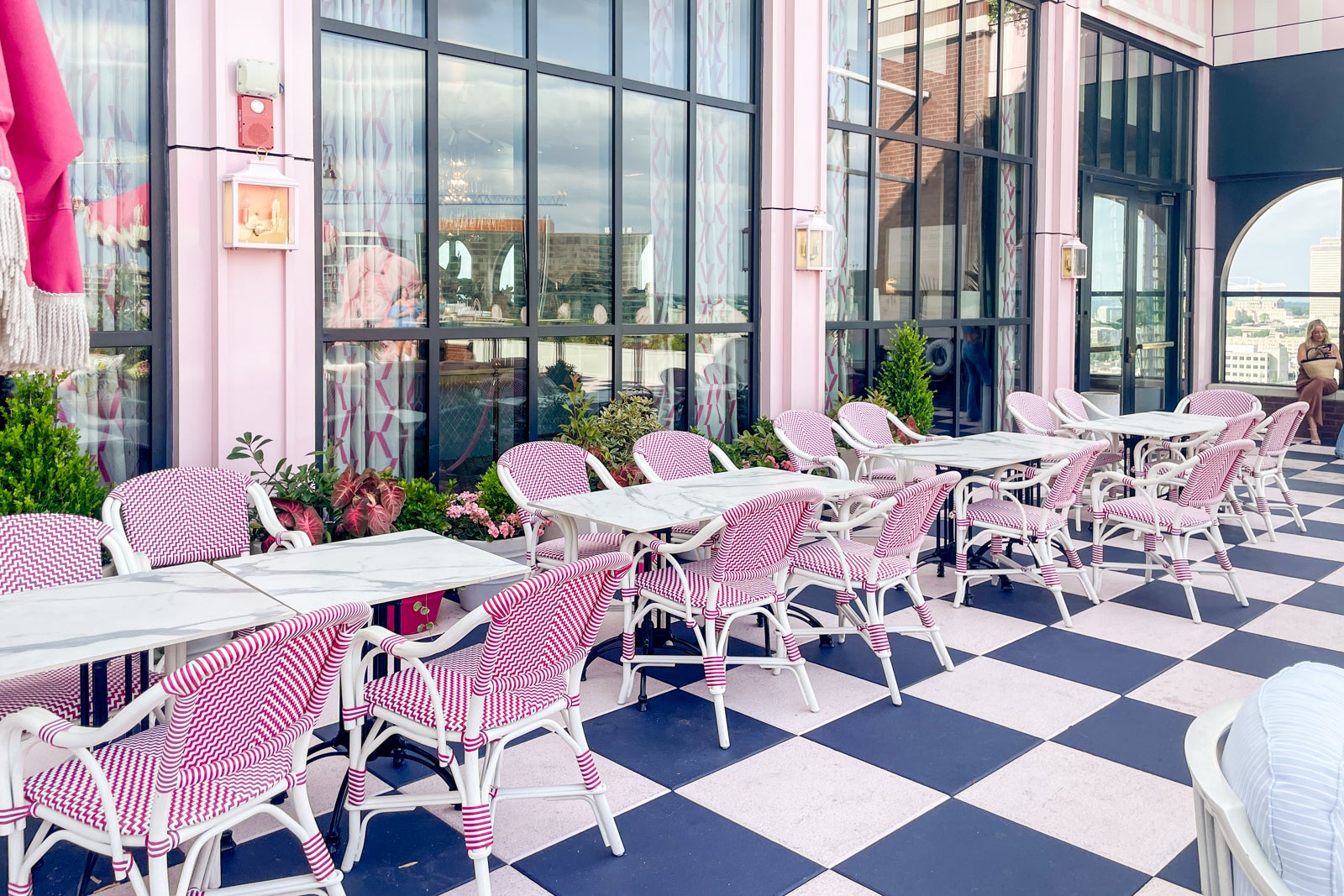 Even though it was hot, we wanted to soak up the city views, so we grabbed a couch outside where a very kind waiter noticed how long my partner had been away trying to order his margarita and was able to expedite his order. He also brought us a free round of the most beautiful Jell-O shots I've ever seen.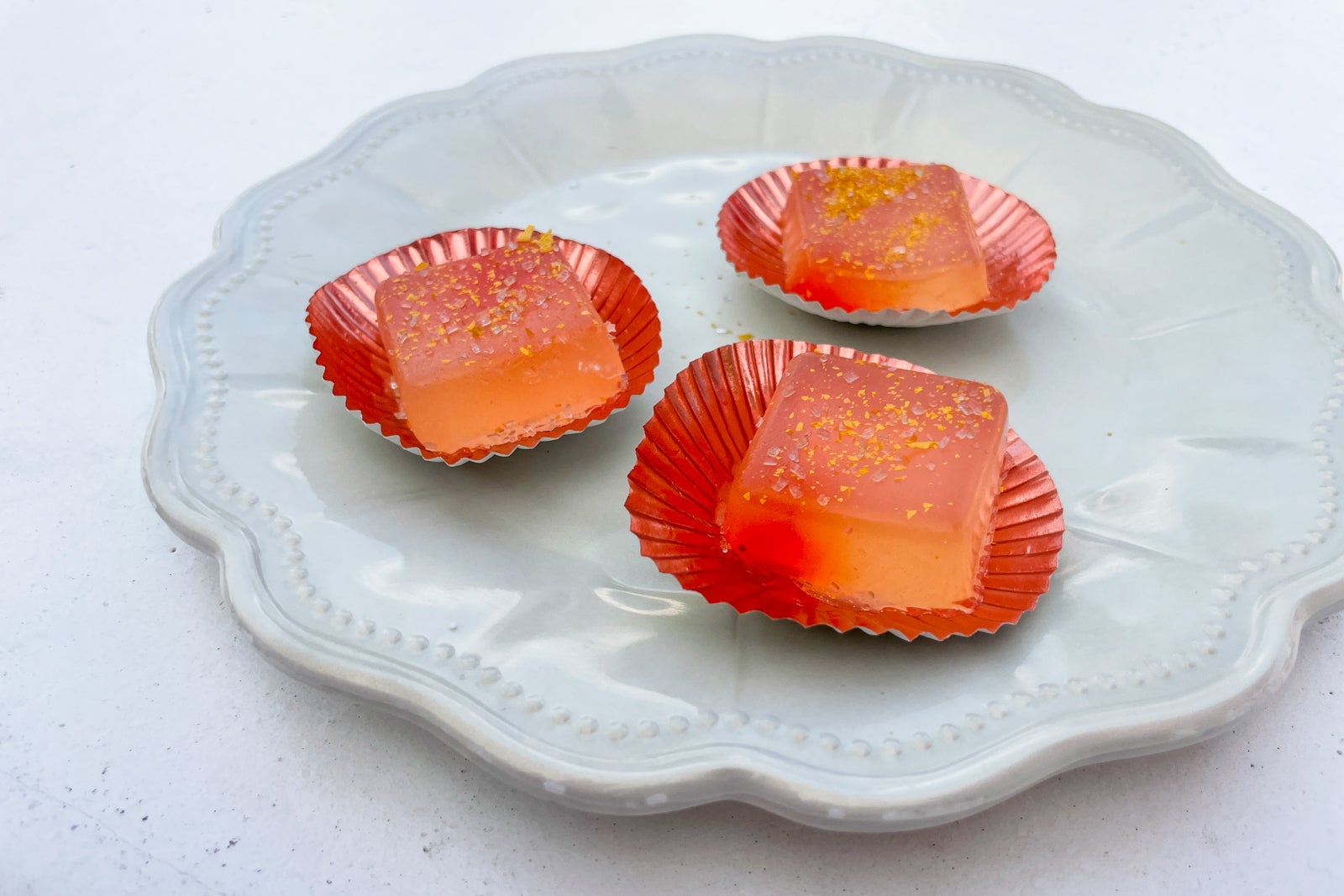 Probably the most interesting piece of art in the entire hotel can be found on the roof: a pink, chicken-wire bust of Dolly created by artist Ricky Pittman.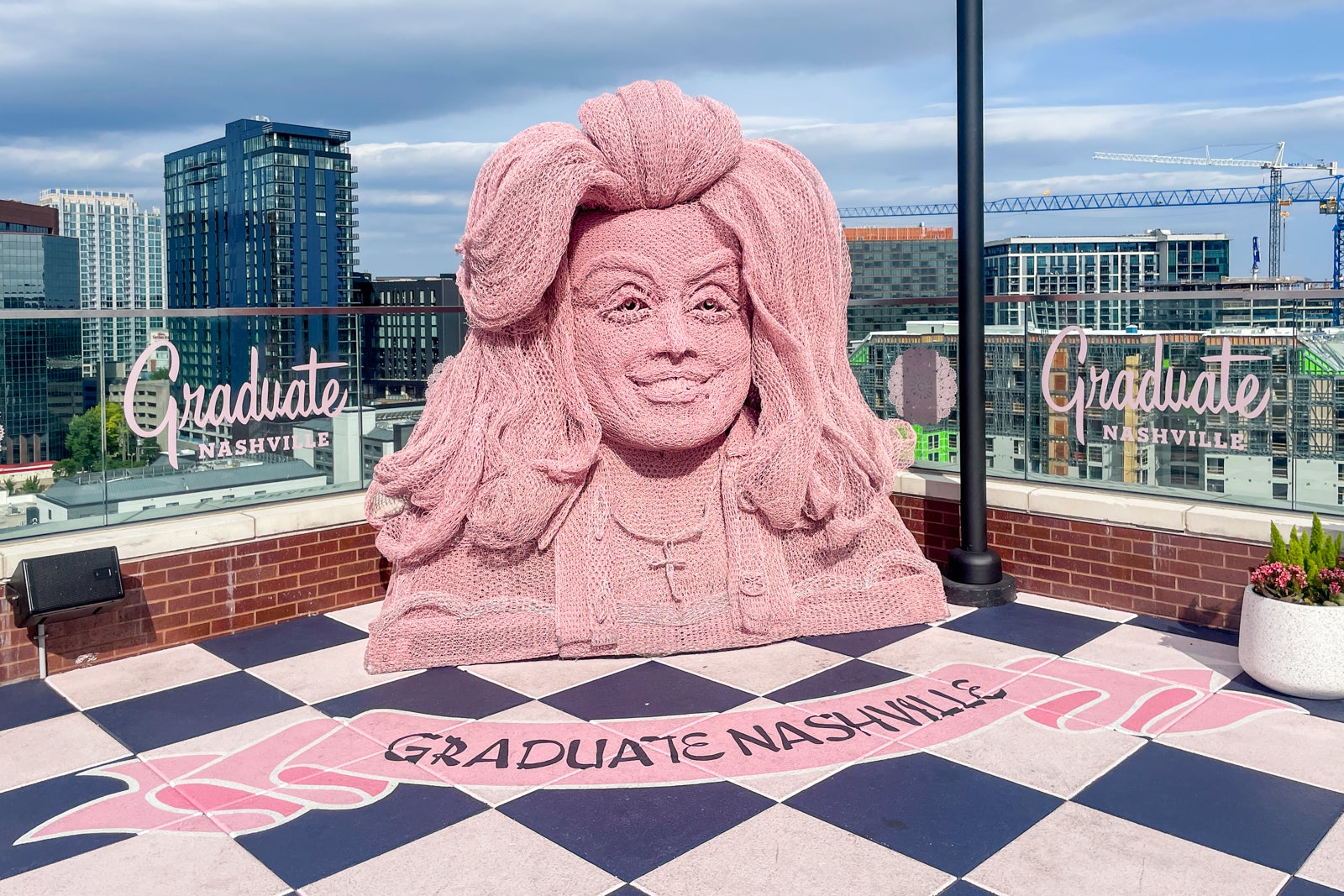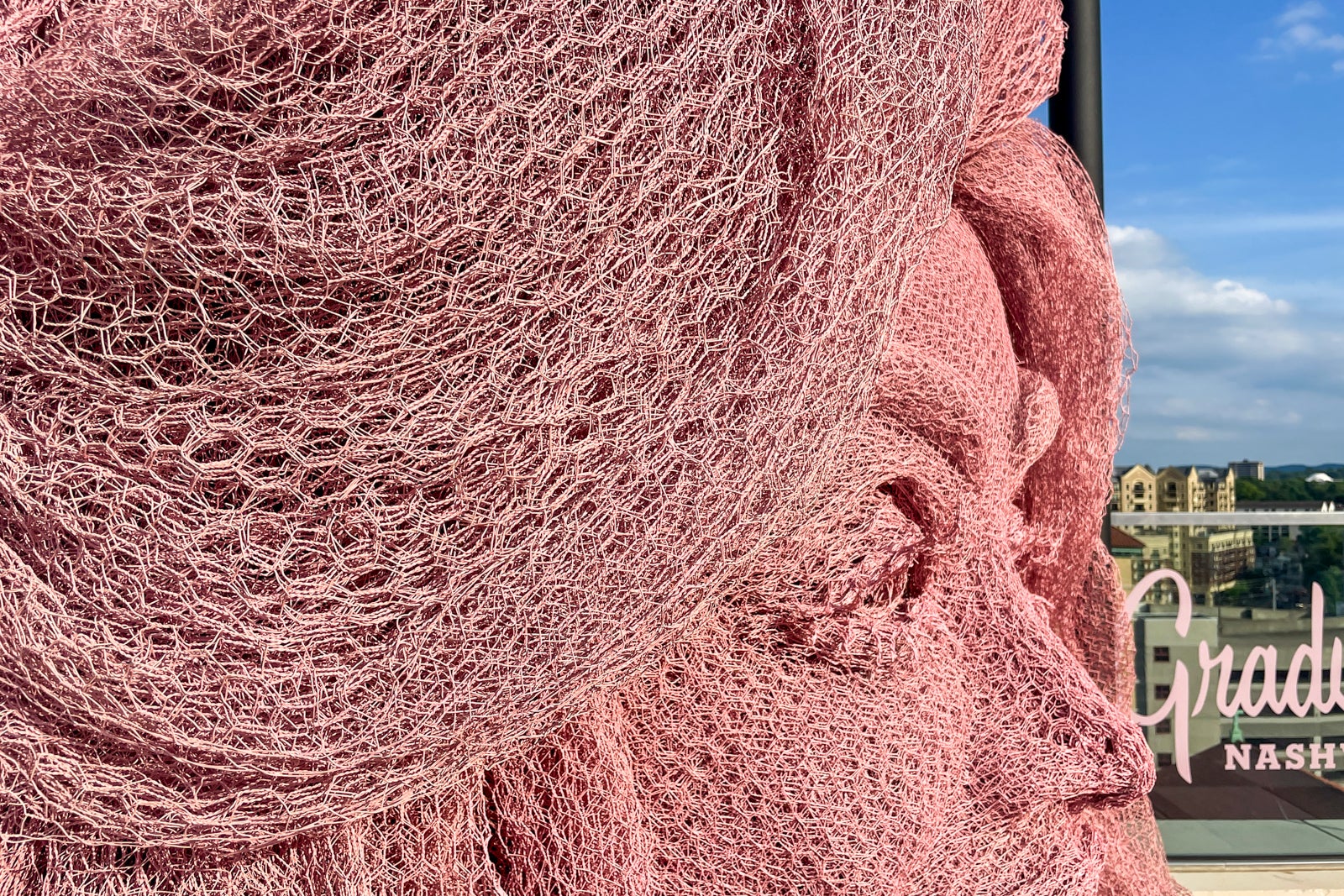 White Limozeen also has a pool called The Governor's Pool that's open to non-hotel guests. Whether you're staying at the hotel or not, it costs $50 per person Monday through Thursday and $75 for Friday through Sunday for a three-hour time slot. The pool is small and has a maximum capacity of 20 people, so reservations are mandatory and I'd recommend booking far in advance.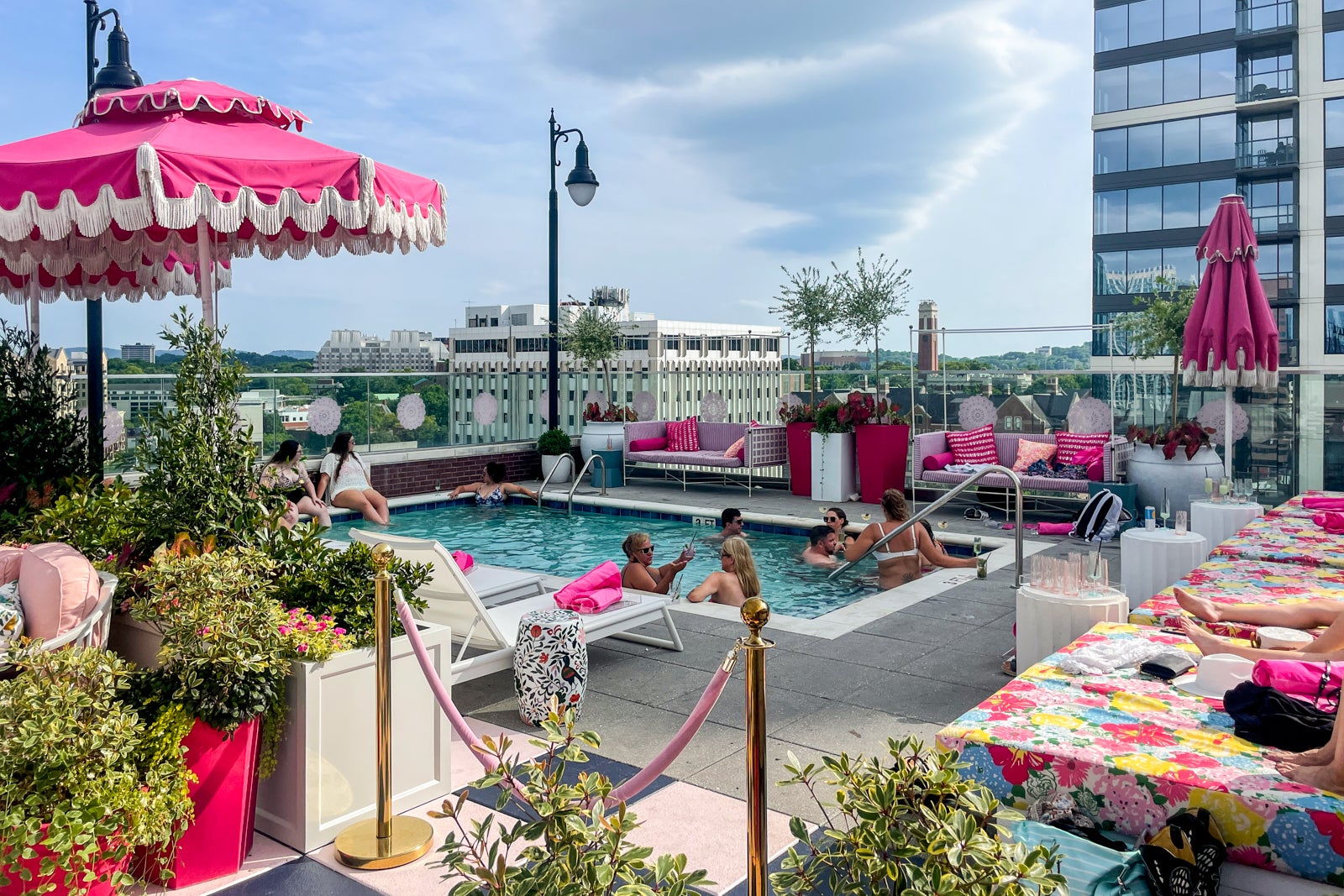 Downstairs in the lobby, there's Poindexter Coffee, open from 6:30 a.m. to 6 p.m. It serves pastries, coffee, $15 to-go cocktails, made-to-order food like biscuits and sandwiches and a few grab-and-go options.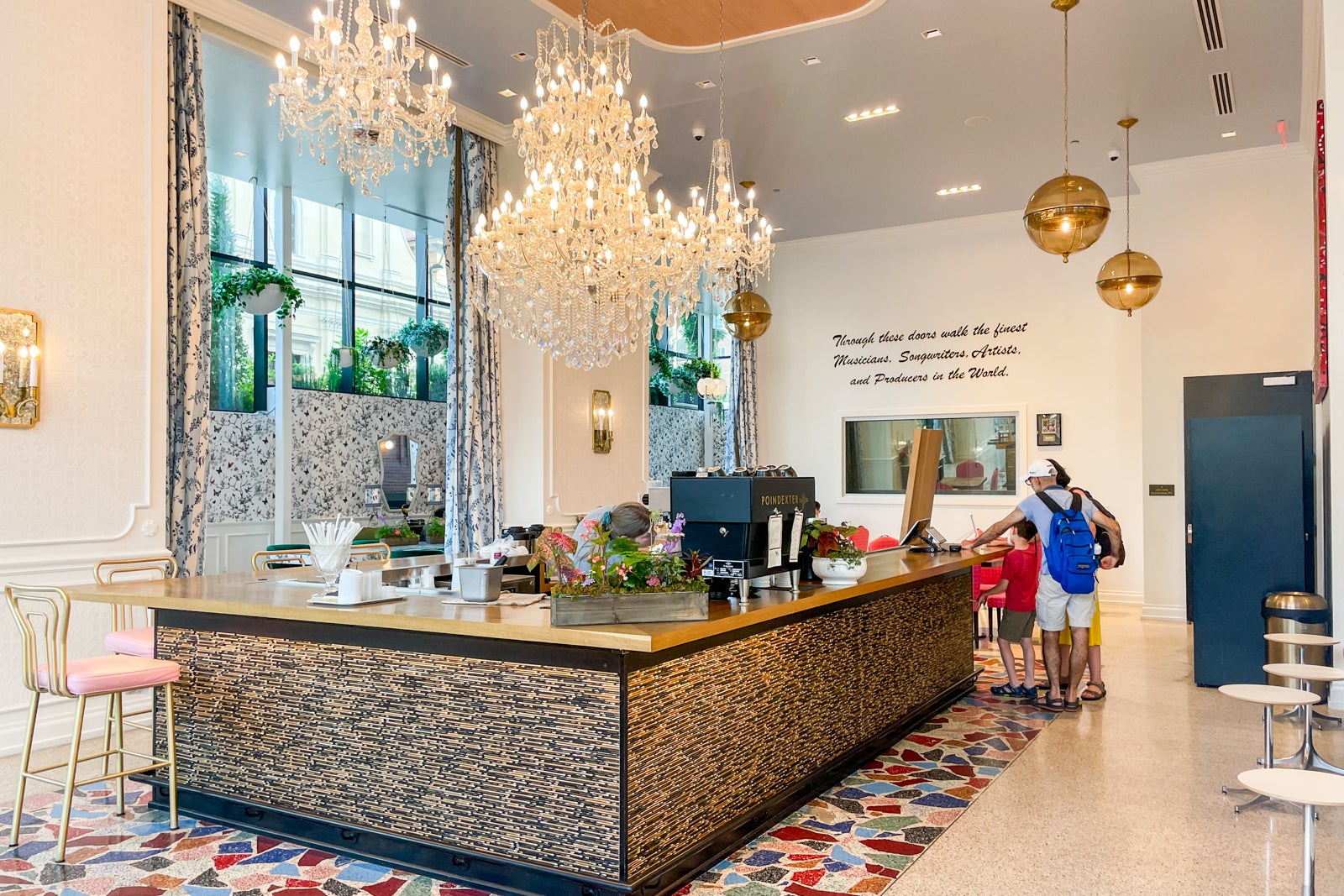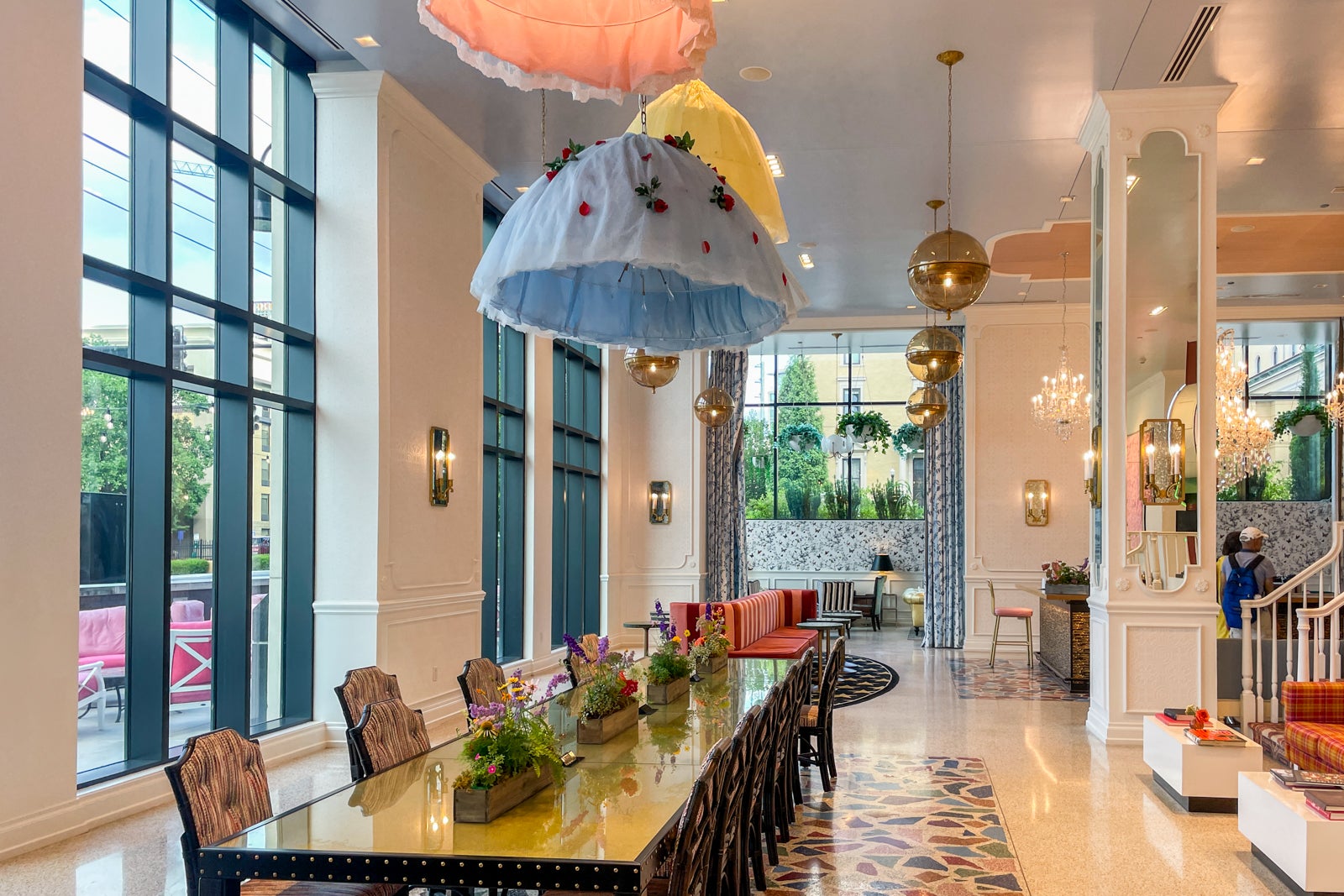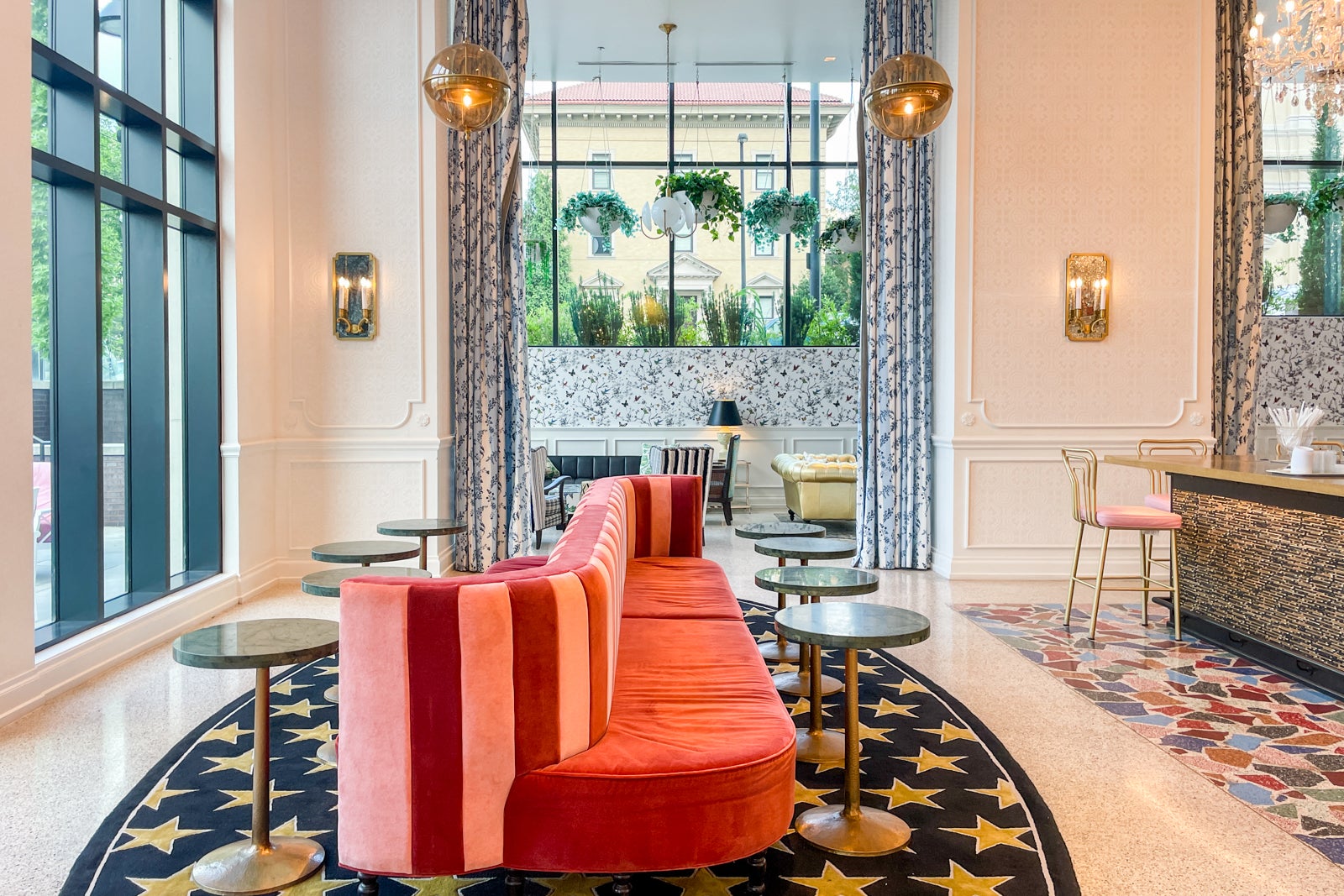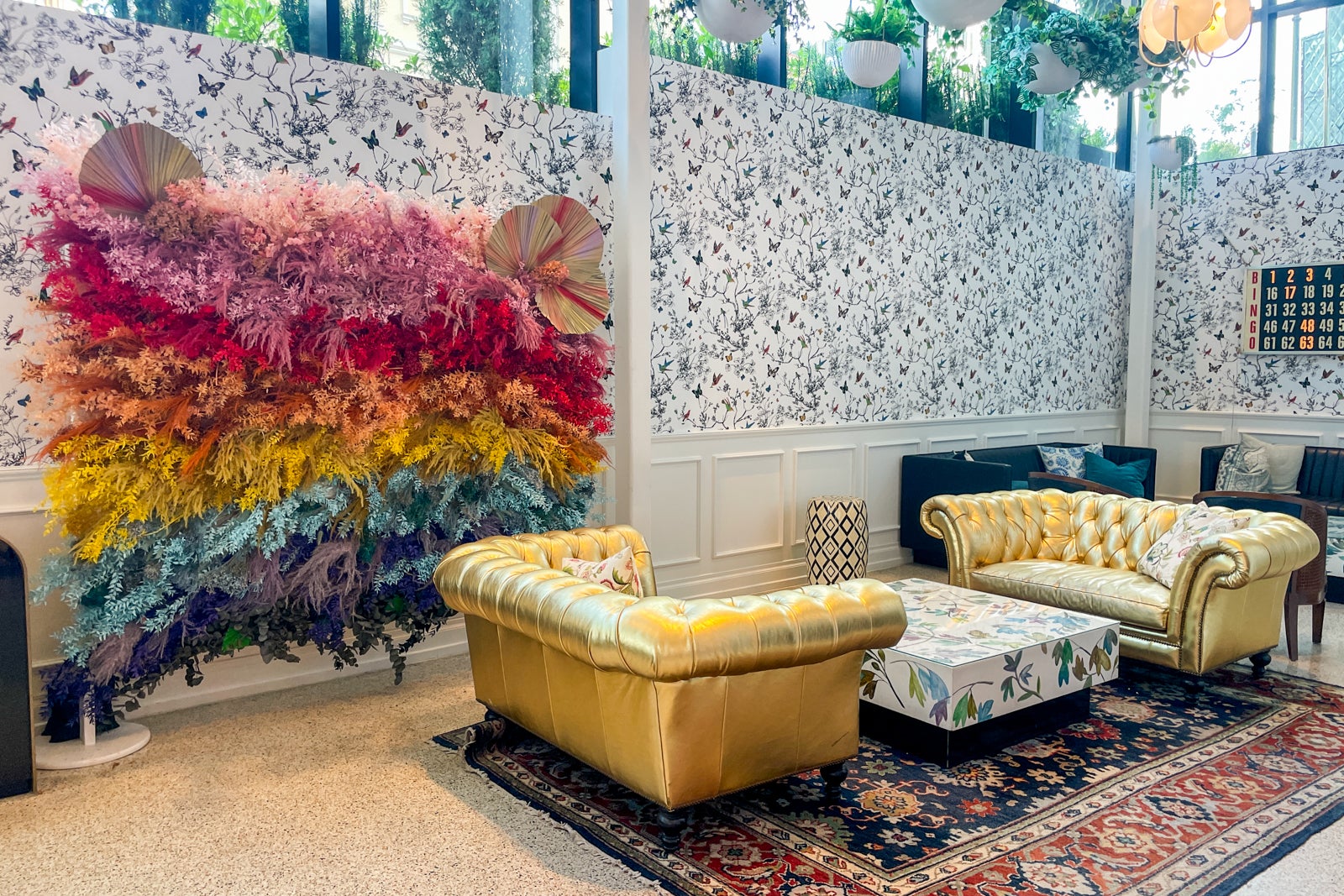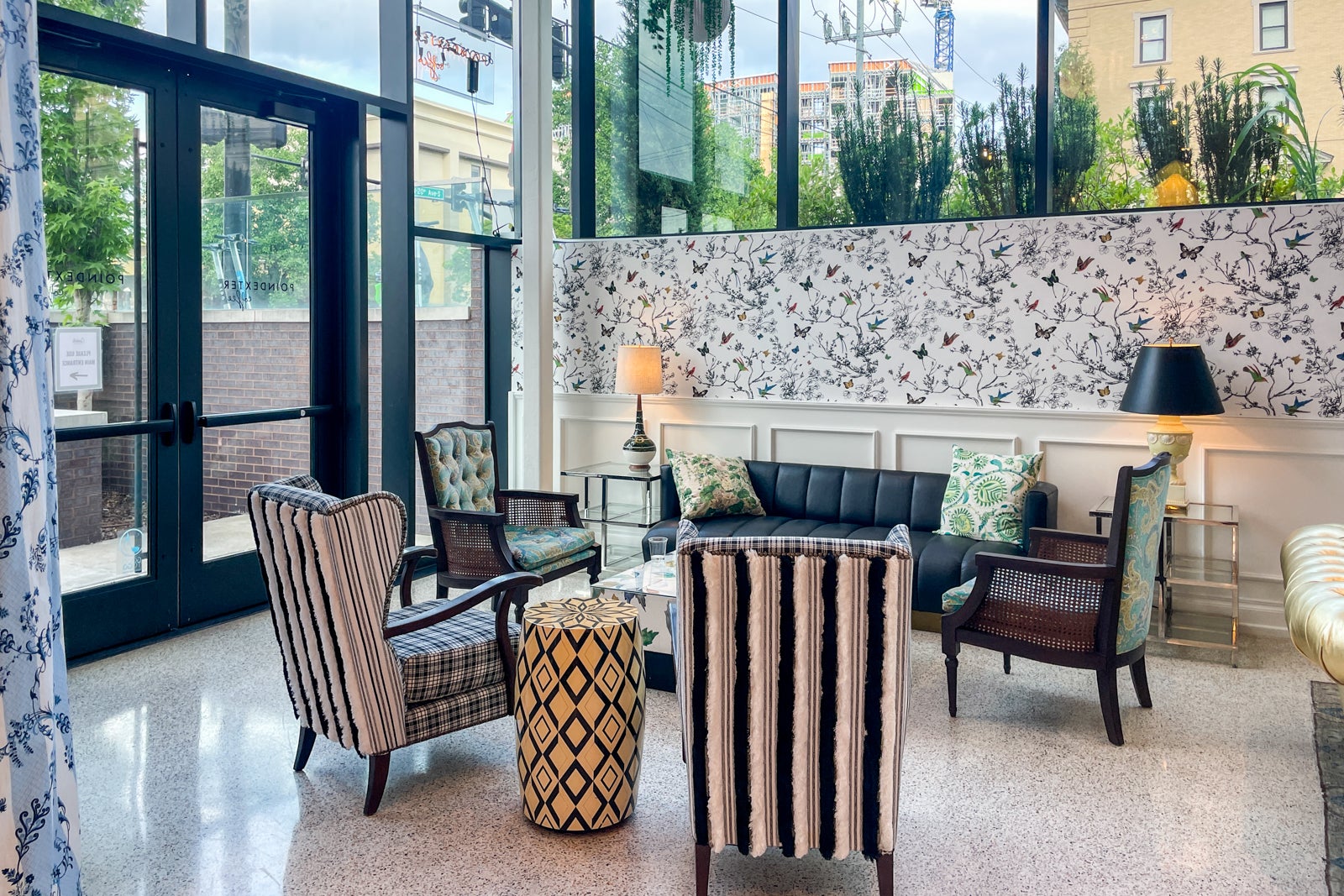 There's also a bar on the property called Cross-eyed Critters Watering Hole that's open Thursday through Saturday. Since we were there on Sunday night, we missed it — and I'm very sad about that considering the place is described as a divey karaoke bar with a "trio of robotic musicians" and an outdoor taco truck.
Related: Dolly Parton just turned her glittery tour bus into the ultimate Tennessee hotel suite
Accessibility
Graduate Nashville is an accessible hotel in accordance with the ADA. In public spaces, accessibility features include accessible elevators with braille instructions, a wheelchair-accessible registration deck, wide hallways and accessible entryways and parking spaces.
The hotel offers a number of accessible rooms and suites with bathtub grab bars and bathtub chairs, shower or bath benches, low door peepholes, adapted telephones on request, accessible bathroom vanities, impairment aides available on request, toilet grab bars and more.
Accessible rooms are available to book directly on the website, but as always, I recommend calling to confirm your booking and having any specific needs noted in your reservation.
Checking out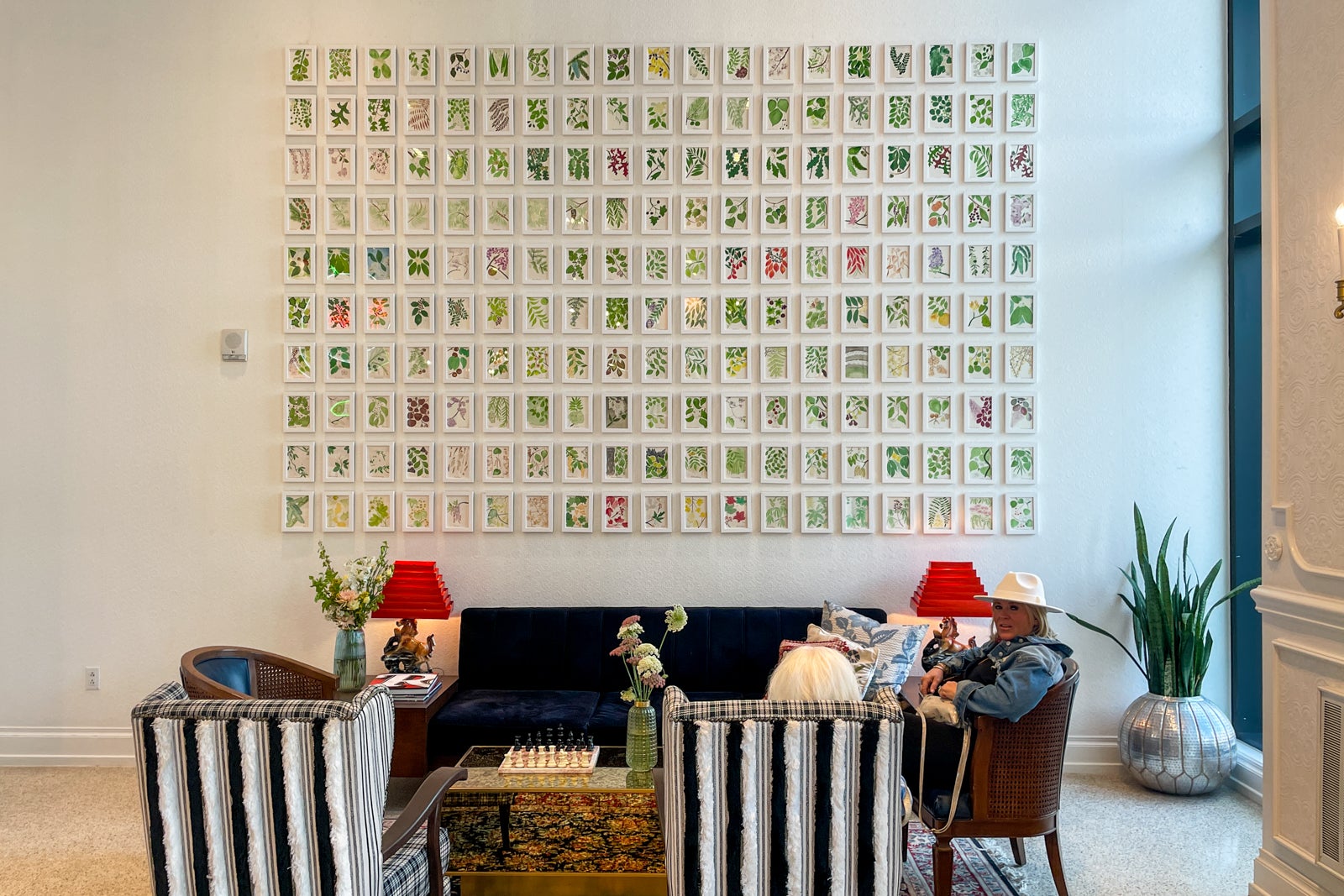 I have to say, the Graduate Nashville wrapped its heart around my little finger.
Nashville is currently in the middle of a hotel boom of sorts, with plenty of new luxury properties like a Four Seasons and a Conrad opening that are bringing a new level of luxury to Music City. But while I love the glamour of hotels like that, only in a city as special as Nashville can something as beautifully campy as a Dolly Parton-themed hotel feel so authentic.
From the patterns on prints on patterns to the gold-dusted Jell-o shots at White Limozeen, everything was exactly how I'd hoped it would be. Now, is this the type of hotel where you'd want to spend a week? Probably not. But it is the type of hotel that can make an already exciting trip all the more magical.
Sadly, I didn't get to see the light of a blue clear morning on the way out because the sun was still down when my Uber came at 3:30 a.m. for my rebooked flight home. But on my way out, I knew I'd be back to this little taste of Dolly's Tennessee mountain home.
Featured image by Tanner Saunders/The Points Guy.
---
Share this post
---
---