IKEA Kitchen Adds Real Charm to Spanish Style Home
Posted by admin on
When your home is said to have "charming potential," it might be time for an update.
This was the case for IKD customer Anna, and her husband, from Orinda, California, who recently remodeled the kitchen in their 1937 Spanish-style home.
"We moved into our home in 2006, but it hadn't undergone remodeling since a bad 1960s kitchen remodel, complete with fluorescent lighting and linoleum floors," she describes.
Therefore, the couple wanted to upgrade previous design decisions; open up the small kitchen and establish an open floor plan with lots of counter space and storage with easy access to their large yard.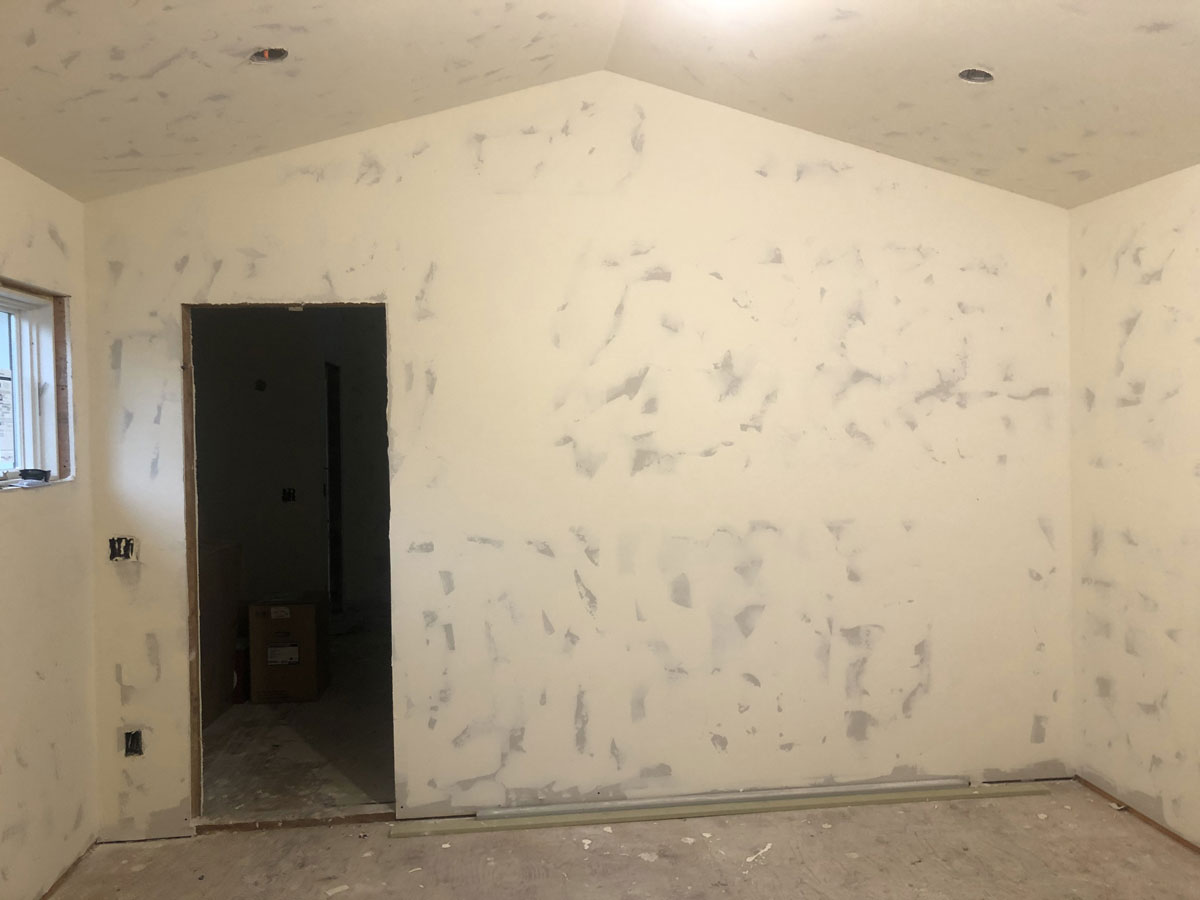 "We also wanted clean lines, warm and natural tones, and a rustic modern feel," she says."
With an overall budget of $80,000, Anna and her husband asked IKD to help them get the most out of their IKEA cabinetry.
So they combined IKEA SEKTION cabinetry framework with custom matte white acrylic fronts from The Cabinet Face, including a wall of base cabinets and one upper cabinet, a peninsula, an island, and large pantry for storage.
After researching on HOUZZ, they also chose a Miele electric-steam combination wall oven; a Vent-A-Hood range hood and a Sub-Zero 42" French door bottom freezer.
The look is complemented by Medium Grey Quartz countertops with a suede finish from MSI Stone; a backsplash with Zellige tile, and wide plank oak floors throughout the open floor plan and kitchen.
Notably, the original house had no master bathroom or closet, so in addition to the kitchen they built an addition on the other side of the house and an extra half bathroom.
"In total we only added 600 square feet, but since we felt very strongly about preserving the architectural integrity this meant adding new clay tiles and removing all the old clay tiles," she adds.
The results are a stunning and cool white IKEA kitchen that flows aesthetically and functionally with the open floor plan of the home.
Let's see how Anna's IKEA kitchen came to life!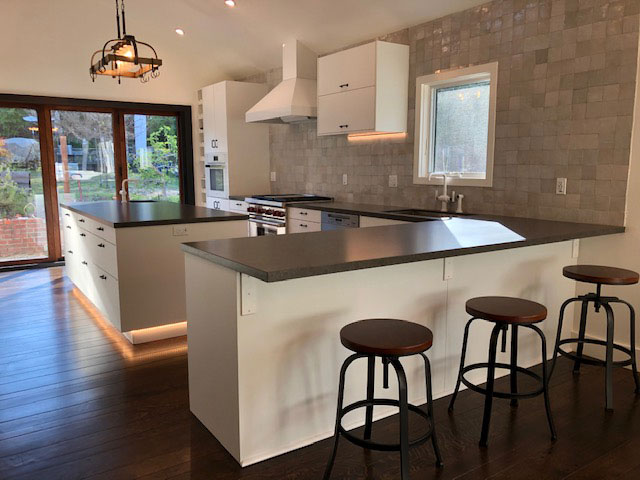 Design Challenges
Originally, the couple started work on their kitchen design in 2015 with the architect firm Raumfabrik in Berkeley, CA.
"At the time we were both working and raising a small child. It became apparent that a major remodel was going to create too much stress. So we waited for my husband to retire in 2018 and this enabled us to have someone managing what turned out to be a full-time project," she says.
This was crucial as the couple needed to tear the existing kitchen down to the studs while keeping the original footprint of the home.
"Our original plans retained a flat ceiling over the kitchen because this was in line with the original home. Once we saw the vaulted roofline, it became clear that a vaulted ceiling over the opened up kitchen/eating area was going to be the focal point of the house," she says.
In the end, much of the original wood was in good condition and could be salvaged.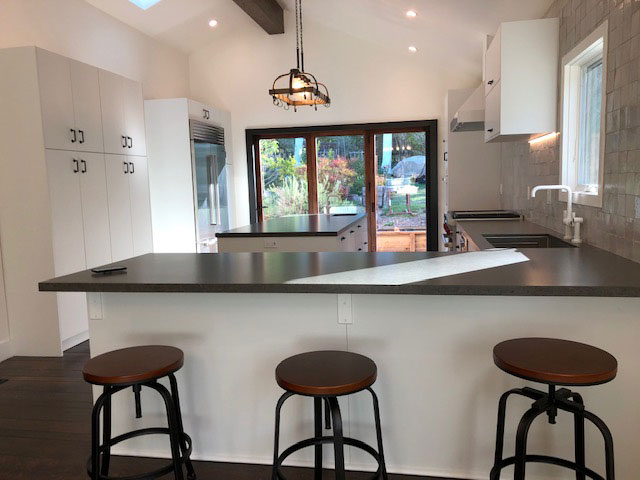 IKEA Kitchen Dreams
Anna chose IKEA cabinetry for its affordability, functionality, and appealing style.
"We have a lot of cabinetry which in total costs $27,000 for all materials and labor to install, including the beautiful cabinet fronts and higher-end cabinet hardware," she says.
Specifically, there are tremendous amounts of base cabinetry with drawers for storage in the island, between the range and dishwasher, and around the perimeter; with an upper cabinet next to the hood.
And while the couple went over their budget of $80,000 (because they opened up the vaulted ceiling and splurged on high-end appliances and backsplash), Anna says she has no regrets.
"We maxed out our budget because we wanted to live in a home we love and enjoy. But we were clear about where we could save money and did so when possible," she notes.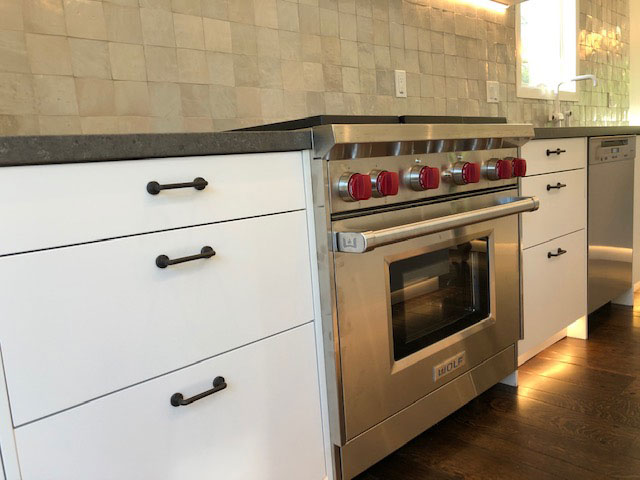 Making it Work
Anna knew her kitchen remodel needed design professionals.
Therefore, she recruited IKD as well as a cabinet installer recommended by IKEA.
"We didn't have the time or energy to tackle the IKEA DIY experience. By the time we were given a complete shopping list from IKD we felt confident and very happy with our design," she says. "Several problems not foreseen by our architect were also identified and solved by our IKD designer."
She adds that the IKEA-recommended cabinet installer helped as well, due to their familiarity with the process.
"I do recommend being on site to answer questions and make decisions as there were a few changes made at the last minute that could not be foreseen. I also recommend reading a few IKEA kitchen blogs to help you avoid common [ordering] pitfalls," she notes.
Shine A Light
What was a dark kitchen is now well lit with a combination of LED lights and natural lighting.
There are recessed LED lights in the ceiling as well as light fixtures over the island and dining room table.
"We updated the overhead lighting instead and added under cabinet lighting on much of the base cabinetry," she notes.
Natural light comes from the glass doors of the kitchen leading to the large backyard.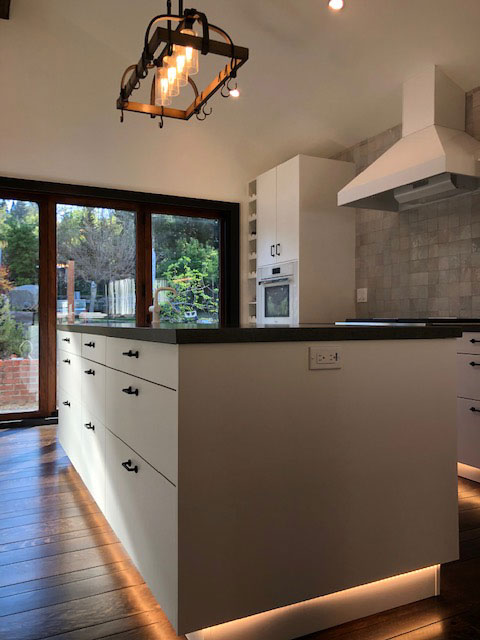 Keeping It Simple
Anna says the success to any IKEA remodel comes from good planning.
She explains: "If you're doing a major remodel – especially if you have more than a kitchen to remodel – I'd recommend moving out of your home [during the installation]. For 21 months our family of three lived in an inexpensive, two bedroom apartment two miles away so we could go back and forth easily."
She continues: "Plan to spend more time and money than you think. And if possible, have one person available to manage the job at all times. The process is very time intensive and we were able to keep track of our costs this way."
Lastly, of course, is finding the right design professionals.
"I would definitely recommend IKD if you're going with IKEA cabinets. I can't imagine a DIY remodel, especially when there is such a reasonably priced alternative and great resource in terms of navigating the IKEA process. This remodel would've otherwise been impossible for us," she says.
She concludes: "We love all of it, the vaulted ceiling, the open floor plan, the white color, the appliances, and the Zellige tile backsplash. We never had wood floors in a kitchen before, [and] I love having a contiguous warm wood throughout."
Learn more about how we can design your IKEA kitchen, bath, laundry room and closet at inspiredkitchendesign.com.
---
Share this post
---
---