Ideas for a Small Bathroom Remodel
Posted by admin on
Are you thinking about remodeling a small bath design? There are many ideas to make your bathroom design feel larger than life. You may face some design challenges, such as dealing with limited natural light and space when fitting in all your required fixtures.
If your available space cannot meet your design goals, you could consider knocking down a wall to expand your footprint. If you do not have the space or budget to expand, don't worry! There are many design ideas for making the most of a small bathroom design.
You can go bold in small spaces and maximize the impact of designer features. Introducing quality elements also won't break the bank in a small room. Utilize your small bathroom to experiment with design as bold design elements will not be as overwhelming as in a large space.
Ready to get inspired for your stylish small bathroom? Here are some great ideas for turning small bathrooms into heavenly retreats.
STORAGE
Recessed Storage is a major space saver, so it works well in a small bath remodel. Make sure you include niche storage in your shower enclosure to hold all the products you need readily available. The walls conceal pipework for a streamlined look and provide space to include customized recessed storage for shampoo, shower gel, and more. Recessed storage keeps toiletries organized and off surfaces like the shower floor for a clutter-free space that can be completed with recessed lighting.
Ledge Storage above a sink is a great place to put toothbrushes, plants, and other small items. Tile it for a finishing touch, to let it blend seamlessly into your bath remodel. Ledge storage also works well next to a freestanding tub that is positioned near a wall or in a large shower and can be used for everything from shampoo and conditioner to candles.
Closed Storage is the perfect way to store unsightly containers and medicines. A linen closet or closed vanity can conceal all, to declutter your bath design. Hanging a cabinet on a wall is also ideal for an additional custom storage solution that keeps your floor clear.
Open Storage comes in the form of stylish shelving. Choose shelving in a material that complements the style of your bath remodel, ranging from natural wood to metal or glass. Open storage also provides visual relief from closed storage and introduces an airy feel. Shallow floating shelving takes up very little space but can hold many small items and some artwork. A gallery wall on a shelf instantly upgrades any bath design and gives your space a personal flair.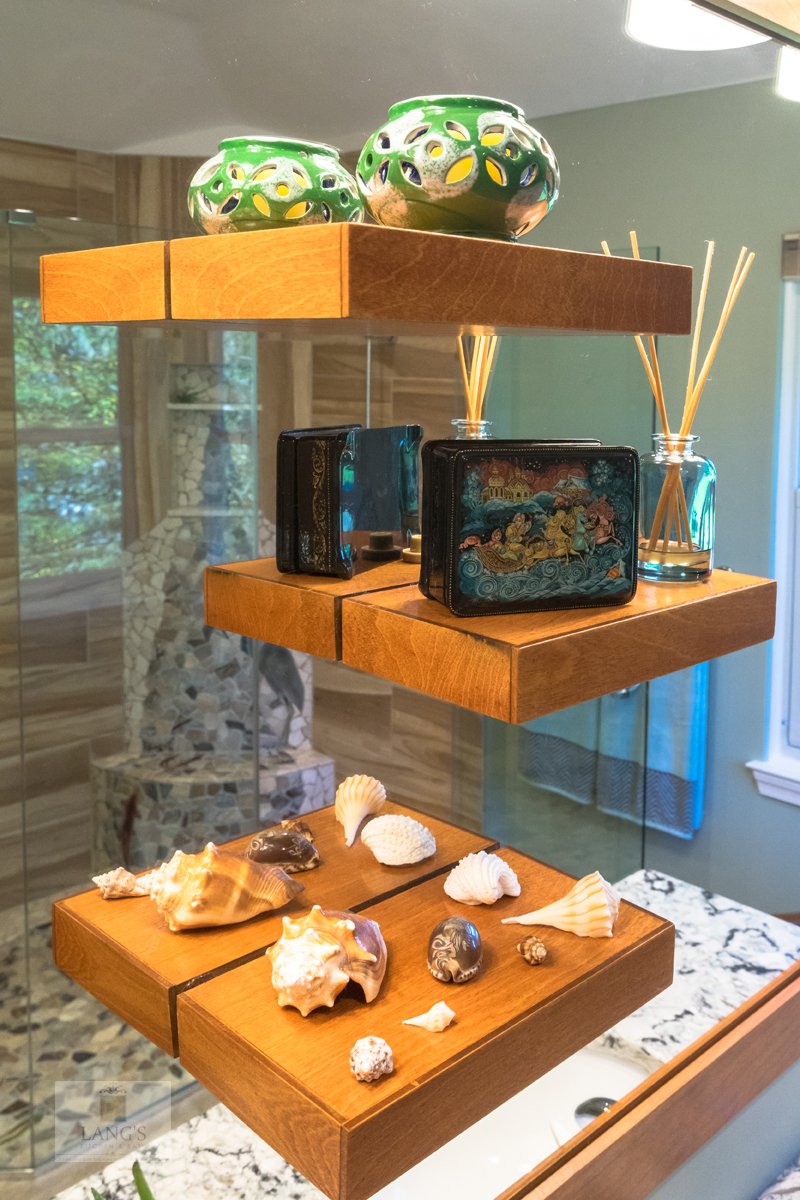 Heated Towel Racks or even ladders are a good way to store towels vertically.  If your bathroom design is too small for this, just utilize stylish hooks. You could also fit a small towel bar to the side of a floating vanity.
COLOR SCHEMES
Light Colors make a small space feel more open. If you combine them with reflective surfaces, then natural light will bounce around the room. Stick to neutral shades and your bathroom remodel will feel larger without being clinical. Go for natural accents and organic accessories.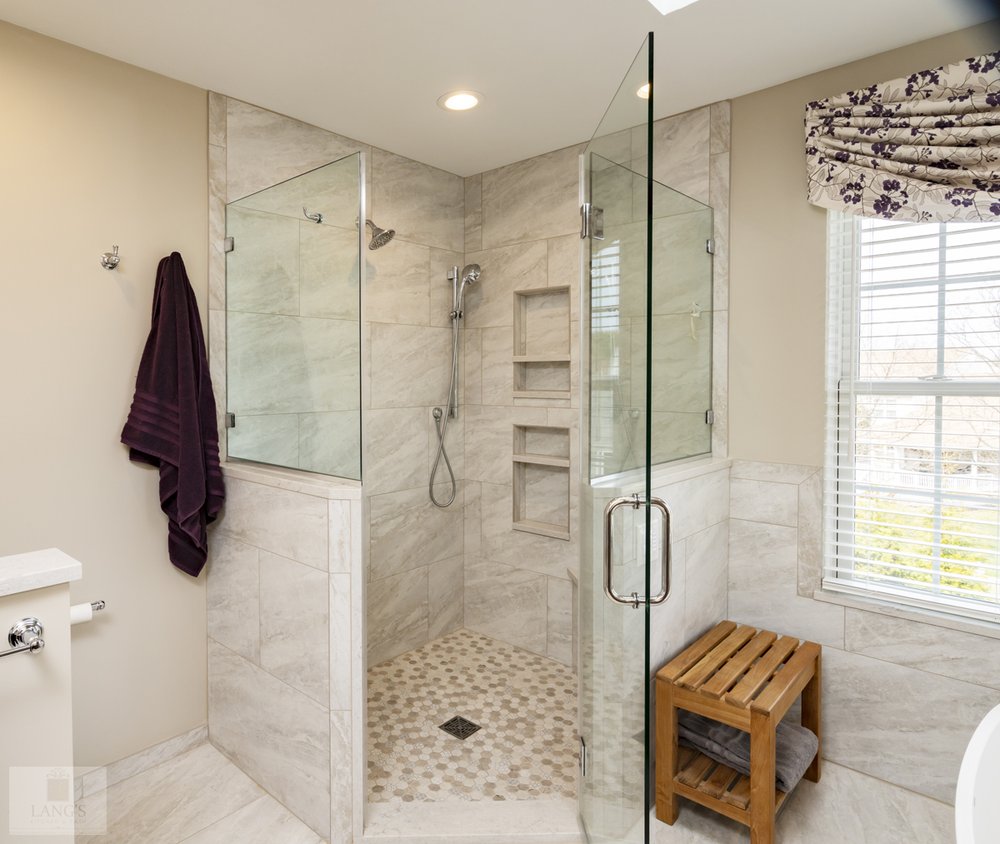 Clean lines and streamlined storage in light shades all work to make your small bath design calming and elegant. Wood stained in pastels or neutrals brings interest to a bath remodel while retaining the light color scheme. Keep your color palette to a minimum and make sure it reflects the mood you wish to set.
Dark Colors give a sense of depth and can also create the illusion of a larger space. They work especially well in a windowless room to create a cocooning effect. Try a high gloss finish in an intensely dark shade to bounce any light around the room. Choose lighting that is pronounced to achieve this ambient look.
A matte finish could make the space feel flat and claustrophobic. Eliminate gloom by adding pops of light color around your bath design. Plants work well with very dark green for a multi-dimensional color scheme. Wood panels in dark gloss paint are ideal for a vintage feel and some character.
A Monochrome Scheme acts as the perfect backdrop to add color, texture, and pattern to your bath design. Keep walls, floors, and fixtures all in one shade. One color is a subtle and stylish look that won't overwhelm a small bathroom remodel. White is the classic monochromatic color, and it opens up a design as much as possible. Adding black grouting to white tiles is a striking contrast that makes the tiles pop.
Different colors create different looks in accenting a monochrome design. Pink is fabulously '50s and orange could evoke the '70s. A small space like a powder room or small hall bath can be the ideal place to experiment with color but choose a color you can live with to transform your small bath remodel.
MIRRORS
Large Mirrors are a brilliant fix for a small bath remodel. Mirrors are a classic design trick used by interior designers. The larger the mirror, the more light is reflected around the room to make it feel larger. Go bold with a statement mirror over your sink to enhance your room's size and style.
Mirror a Wall for a look that emulates a window letting light in. As it reflects the opposite wall, it enlarges a room. Place multiple mirrors on connecting walls to create the illusion of a much bigger space. The reflections are guaranteed to brighten up your bathroom design and add a creative touch.
Backlit Mirrors are a modern and stylish way to illuminate a space as they make the mirror appear to float over the wall. They are more on trend than sconces and give a chic, minimalist appearance that is perfect in a spa-style bath design.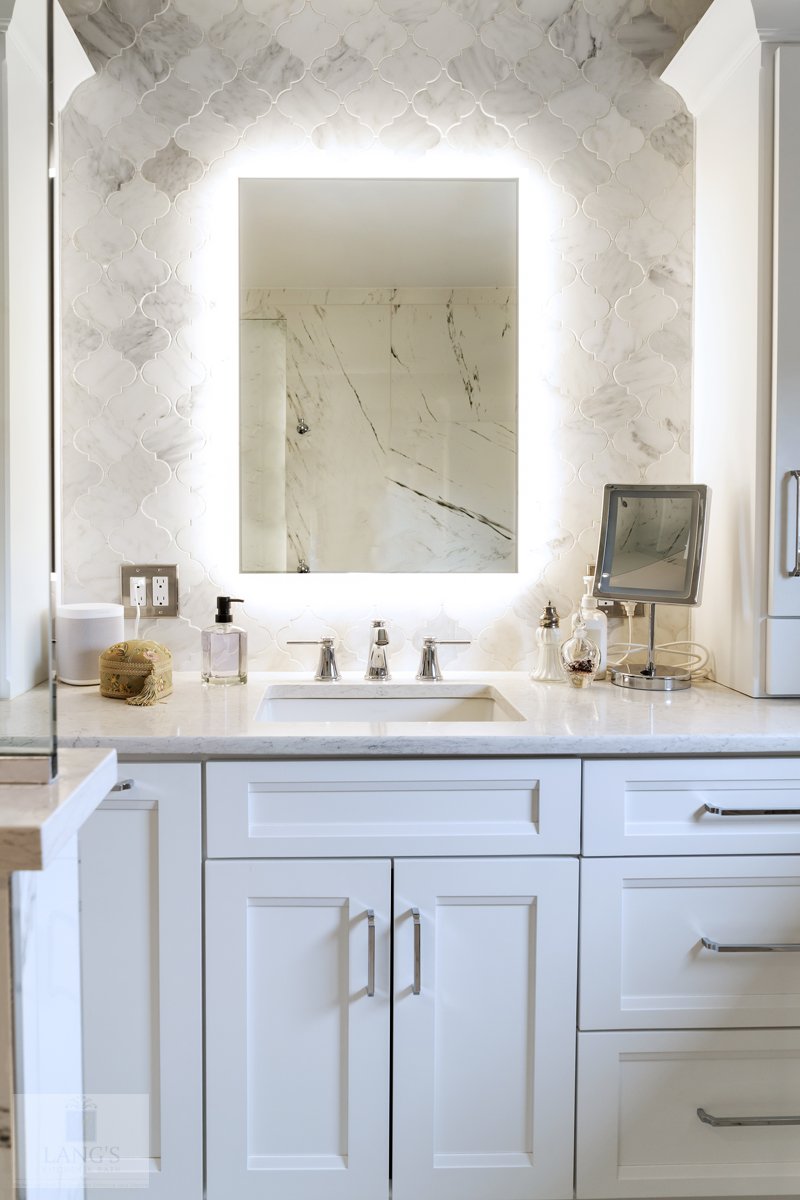 Mirrors with Built-In Storage are multifunctional heroes so are ideal for streamlining a small bath design. You can opt for a medicine cabinet to conceal items but if you want a contemporary version, try putting shelves in front of a mirror and curating their contents.
BATHTUBS & SHOWERS
Frameless Glass Shower Doors work well in a small bath design for a sleek shower style. Not only are there fewer corners to scrub, but the clear pane doesn't intrude on the space. A glass panel is also better than a curtain in a shower tub, keeping it more open.
A Wet Room makes the most of a small space and is an investment that adds value to your home. Wet rooms don't need enclosures or shower trays and ensure your shower doesn't take over the room's aesthetic. They give back the space that a traditional shower would have taken up.
Shower/Tub Combos are perfect in a limited space. You don't have to make a compromise, which is great for a family bathroom where you may need a tub for small children. There are bathtubs available that are shaped to accommodate showers inside them. You could also position your showerheads by the longer side of the tub for a more luxurious feel.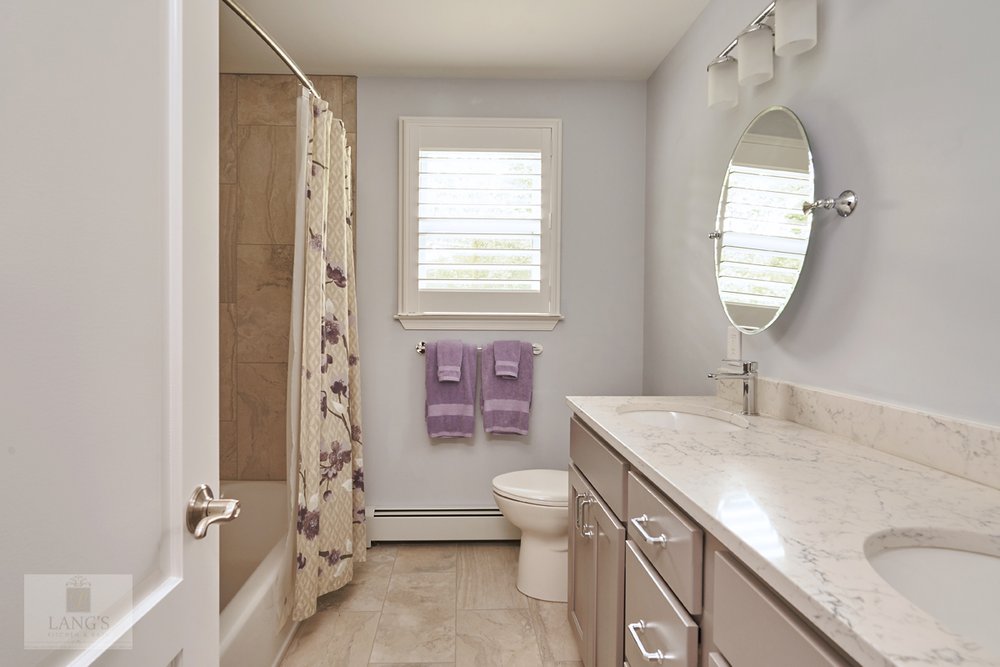 Curved Surfaces make a big difference in a small remodel. A freestanding tub is possible in some small bathroom designs. Oval shapes also give the impression of more space as there are gaps around the tub. Curved sinks and vanities also cut corners for a sleek bath design that flows well.
FIXTURES & FITTINGS
Wall-mounted Faucets save space as the pipework is hidden and they free up the area around the sink. They are stylish, modern, and easy to clean.
Wall-hung Vanities and Toilets are the best options for a compact bath design as they keep the floor clear for a sleek, airy feel. A vanity with plenty of storage reduces clutter and gives your bath remodel a spa-style feel. A wall-hung toilet also extends your floor outwards and gives the illusion of space. Other accessories such as toilet paper holders can be wall-mounted, giving a clean sweep across the floor.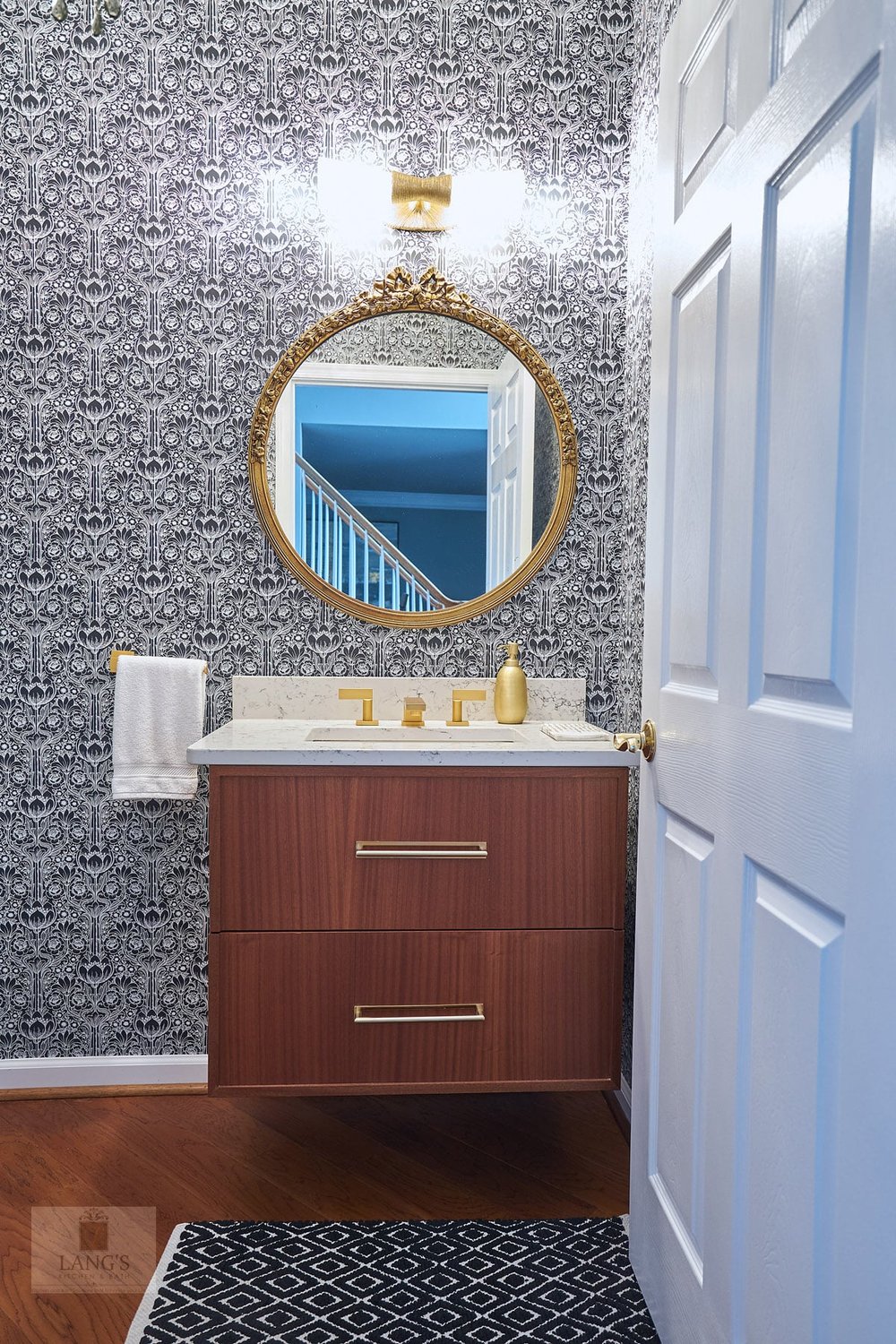 Compact Fixtures such as Japanese soaking tubs or corner sinks open up any space. There is no reason not to have a small corner sink. It performs just as well but gives you more square footage and less area to clean. As well as soaking tubs, most modern tubs come in smaller dimensions, so you don't have to sacrifice space to enjoy a luxurious soak.
Quality Materials must be prioritized in a large bath design, but this doesn't need to be the case in a compact design that requires fewer elements. Go for it with a high-end look throughout, such as brass hardware. Experiment with unusual shapes like an asymmetrical mirror or a sculptural pendant light. Create a bespoke bathing area with designer tiles around your tub. A small area offers more options as your budget dollars go further.
WALLS & FLOORS
Tiles are durable and can really add impact with color, texture, and pattern. Why not tile your bathroom from floor to ceiling? You can also tile the side of your tub so all surfaces merge together to give the illusion of space. An unusual pattern, such as a chevron arrangement, adds visual interest. Natural stone slabs add a spa-style touch, and you can add pops of color with accessories.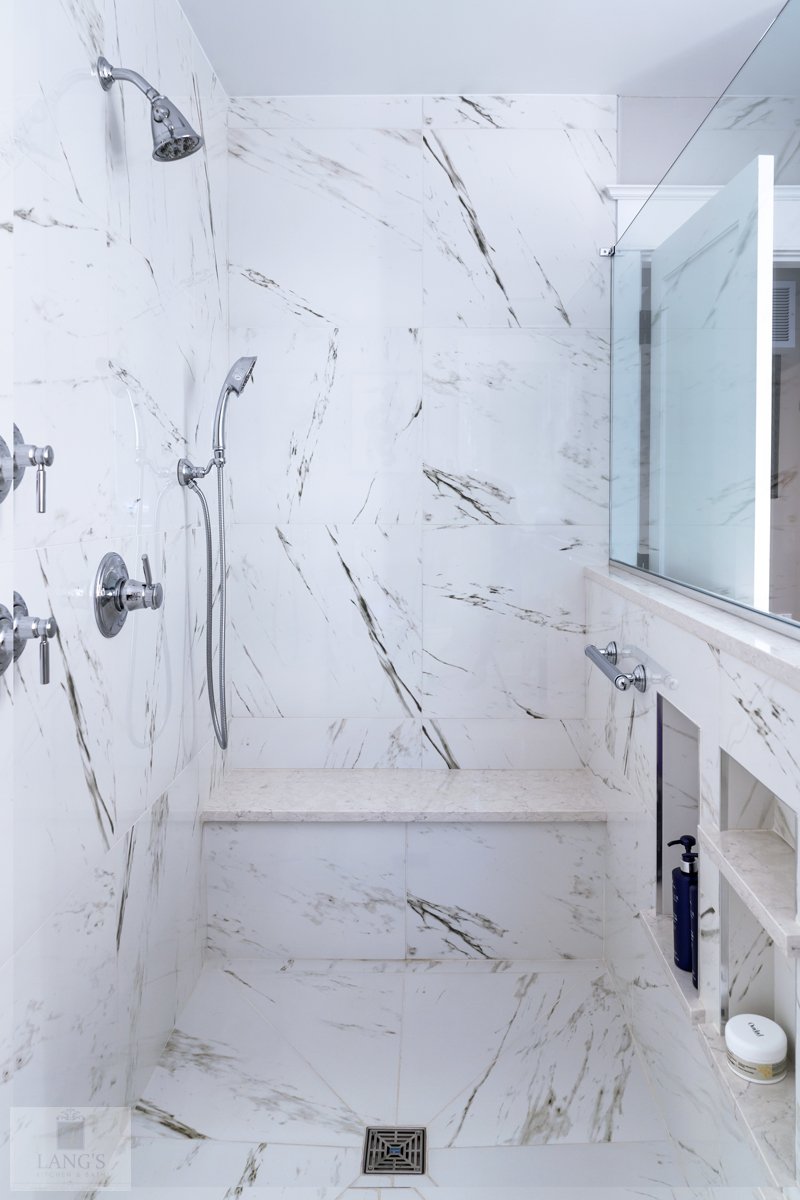 A Large-Scale Wall Covering works really well in a small space. Large patterns make a room feel more spacious. Huge motifs on wallpaper, large format tiles, and bold patterns make a statement and enlarge the most compact of bath remodels. Make sure you use vinyl wallpaper as it is steam resistant and a pane of glass over it can transform into a stylish and unique backsplash.
A Patterned Floor can really warm up your bath design and distract from the lack of floor space. Solid wood is not ideal in a wet area but try luxury vinyl planks in a herringbone pattern instead. Or choose a wood look tile to create the same look on a durable surface. Patterned or colorful tiles work well in a small bathroom to create an eye-catching look for your bathroom floor.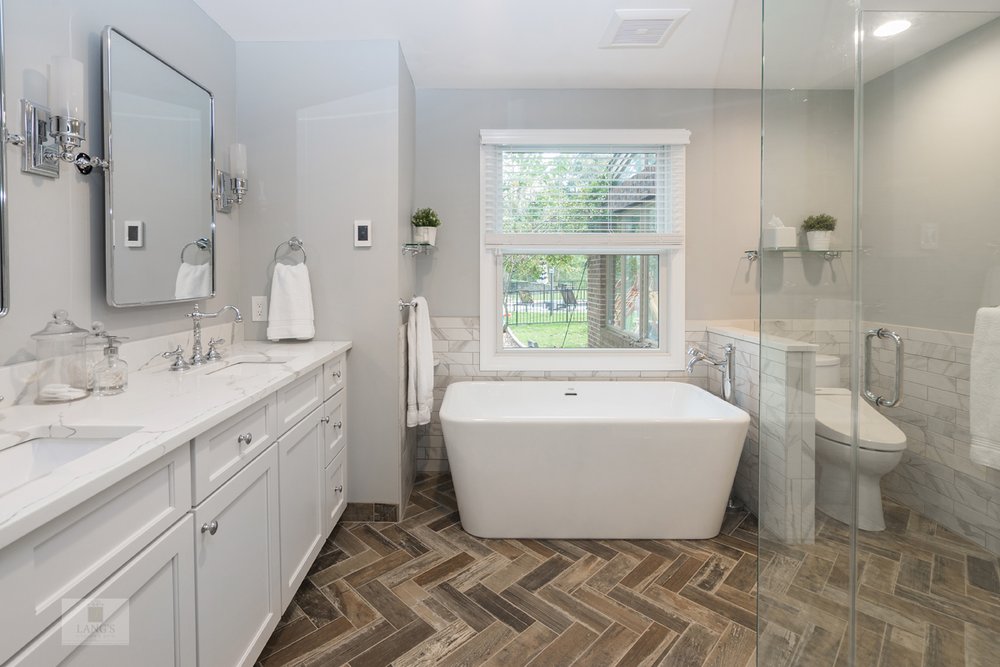 Streamline the contents of your bath design and focus on quality materials throughout. Decide on a style to coordinate the elements of your remodel. Keep surfaces as reflective as possible in your light-filled bath design. Contact us at Lang's Kitchen & Bath to discuss the best way to remodel a compact bath design.
---
Share this post
---
---