How Did Home Improvement Surge During This Pandemic?
Posted by admin on
With the Covid-19 Pandemic that hit the entire world, many people had to stay at home. Because of lockdowns in different areas, businesses and industries closed down. The need for social isolation was also a contributing factor. 
Most people had to accept reality and adjust their lifestyles. But did you know that many still did home renovations even with the closed businesses and salary cut downs? 
In fact, we learn that the period of Covid-19 shaped and improved the home market. Businesses in the home improvement sector can attest to this.
A consumer specialist survey in June 2020 involved over 600 homeowners in the U.S. The survey revealed that between March and May 2020 alone, 57% of homeowners had a home renovation project. These homeowners spent an average of $1,750 making home improvements. 
When asked what motivated them towards the renovations, most of them cited related reasons. Among all the reasons, time was the leading cause for their home improvement efforts. 
During the Covid pandemic, most people have had the luxury of time, either relaxing or working from home. By spending time entirely at home, most people became more aware of the home areas that needed renovations. 
Interestingly, others give the reasons for not going out to restaurants for eat-outs and not going for vacations. They say that helped them redirect their savings to investment. That's why they're adding value back into their residences through home improvements.
Now, let's see how home improvements surged during this pandemic.
What's the Home Improvement Trend During the Covid-19 Pandemic?
During the Covid-19 pandemic, many people were inspired to go for home improvement projects. Bathroom renovations and kitchen remodel tops homeowner wish lists.
A report by CNBC shows that the kitchen and bathroom have always been people's best remodeling areas. Yet, these two popular remodeling areas increased by 40% by June 2020 compared to a year before. 
There are surveys that show that many homeowners consider home remodeling because they've spent much time at home due to the lockdown. 
So, the leading planned projects reflecting homeowner wish lists include:
Master bathroom (25%)

Kitchen renovations (23%)
Furthermore, among the homeowners planning to remodel their homes, the desired changes include:
New décor (47%)

Improved lighting (30%)

Improved home layout (27%)
Remodeling Your Bathroom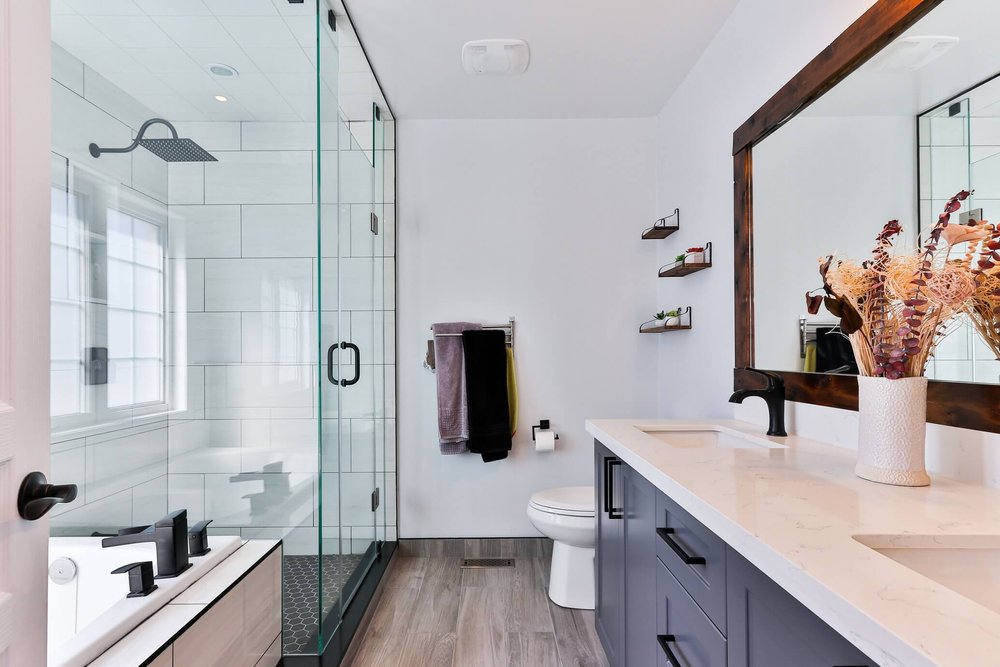 Homeowners are now looking to improve their bathroom's appeal. Some of the noticeable trends during the Covid pandemic include:
1. Installing Bathroom Cabinets for Extra Storage
Cabinetry is an essential feature in decluttering and saving space. It makes your bathroom more spacious and appealing.
The cabinets help you store things like hair gel, dryer, and other toiletries. You also use the cabinet to store spare towels so that when you want them, you're sure to access them immediately. 
A modern trend in bathroom cabinets during the Covid pandemic is the floating cabinet idea. These cabinets add to the personality of your bathroom.
Since they are installed on the wall, they seem to be floating. This cabinet style continues to gain popularity due to its attractiveness and uniqueness. 
You can also make this part of your bathroom renovation projects. It offers a fantastic way to add a unique style to your bathroom. 
The best part is that you don't need to remodel the whole bathroom. The floating cabinet also makes your bathroom space more welcoming. These are the reasons behind people's motivation to improve their homes during the stay-at-home season.
2. Adding Freestanding Tubs
Maybe you're also one of those renovating their bathrooms, and you want to know more about installing freestanding tubs. These are standalone bathtubs that you can position anywhere within your bathroom area. 
A standalone tub benefits you in many ways. First, it makes your bathroom look gorgeous. Second, it's designed for you to enjoy a soothing bath with the freestanding soaking tub.
The tub is also favorable for anyone, whether you want a modern or vintage style. Some come as freestanding tubs with showers. 
Do you know that you can also install a small freestanding tub in a small bathroom? The most beautiful part is that you have the freedom to choose from a unique variety of sizes and shapes. 
One standard shape is the freestanding rectangular tub. 
With such freedom, you can customize your bathroom's design to what you like and what you can easily maintain. 
3. Complimenting Bathroom Cabinets with Freestanding Bathtubs
Most of us would love to choose bathtub designs that match our bathroom cabinets, right? 
Homeowners are becoming more creative by positioning their bathtubs strategically. 
For example, bathtubs between cabinets can make your bathroom look more appealing. This can work especially for the farmhouse style.
Furthermore, depending on the design you choose, each tub comes with unique styles and benefits. It's no wonder the freestanding tubs have become popular in the current years.
You can choose bathtub styles and colors that match your bathroom cabinets. This adds to your bathroom's attractiveness.
Let's look at some of the commonly sought-after bathroom free standing tubs and how you can benefit from them. You'll also see how you can match your bathtub designs with the bathroom cabinets.
Copper freestanding tubs
Copper stand tubs are gorgeous, hand-crafted designs that come in various distinctive styles, shapes, and textures. 
If you have wooden bathroom cabinets that contain varnish, you can acquire a copper bathtub that closely resembles that. Most importantly, the copper's capacity to conduct heat enables you to maintain a steady water temperature. 
Copper is also associated with numerous health benefits. This is because it naturally resists mold and bacteria, hence keeping you safe from diseases linked to substances like mold.
Cast iron freestanding tubs
There are several reasons why people are choosing the cast iron freestanding bathtubs. First, they're extremely heavy and durable. They are made exactly how they were made centuries ago. Hence, they can last you many generations to come.
These tubs consist of iron with porcelain enamel coating. As a result, they are easy to clean and hard to scratch. 
As mentioned earlier, cast iron tubs can retain heat excellently, hence ideal for more extended soaking. However, you need to ensure that your bathroom cabinet is far from the bathtub. With frequent and extensive soaking in hot water, the steam might ruin the cabinet's finish.
Furthermore, some space between the cabinets and the tubs allows for easier cleaning around the bathroom areas. This will help you maintain neat bathroom spaces. 
Fortunately, if you already have your tub close to the cabinet, you don't have to worry about the steam ruining your cabinet's finishing. This is because the freestanding bathtubs can be adjusted at any time.
Acrylic freestanding tubs 
Acrylic tubs are the most common choice for freestanding bathtubs today. They come with a large variety of both traditional and modern freestanding tub designs. 
They are pretty lightweight, making them easier to move around, and install. You can even carry the tub up the stairs quickly. 
You also don't have to reinforce your floor when installing on an upper level. This sets apart the freestanding acrylic tubs compared to the heavier materials like resin and cast iron.
Most importantly, those with smaller bathrooms are not limited from installing beautiful bathtubs. You can have both the cabinet and tub in your bathroom. How?
This design comes in smaller fitting sizes; hence it can work well as a freestanding tub in a small bathroom. 
So, if you're remodeling a smaller bathroom and you want to install both cabinets and freestanding tubs, you can find such designs that save space.
4. Extra Bathroom Accessories
Do you know that you can change the seemingly minor things in your bathroom and make a huge impact? For example, mirrors increase the style in your bathroom areas, and you don't have to spend much on them. 
Homeowners are now taking time to install vintage mirrors. They're doing this to add a touch of class to their bathrooms. But, others are also going for modern mirrors, depending on personal preference. 
Other bathroom accessories that most people consider include:
New shower cubicles

Shower caddies

Towel racks

Laundry hampers. 
5. Repainting the Bathroom Walls and Accessories
Most of us are now focusing on repainting our bathroom walls for a brighter feel. Other areas include repainting the bathroom cabinets. 
Some of the trending colors include all-white bathrooms. Others are trying out bolder appeal-like metallic shades of silver or gold. 
6. Changing the Bathroom Countertops
During this Covid pandemic, most homeowners are changing their bathroom countertops. One popular material used is modular granite.
Most people like this design because it's bigger than tile and smaller than the slab. Many are also going for ceramic tiles, which is an excellent economical option. They also come in color varieties.
7. Renovating the Bathroom Flooring
Most of us now enjoy the patterned and rough-tiled bathroom floors. Others are simply adding some color to their bathroom floors.
Kitchen Remodeling
Do you know that even minor changes in your kitchen can work out wonders for your home? You get to add value to your home and breathe in a new lease of life in your kitchen spaces. 
People enjoy spending most of their home time in the kitchen. So, it's no surprise that the highest percentage of homeowners are remodeling their kitchens during this pandemic.
Maybe you're one of those who are creating working spaces in your kitchen. The beauty is that you can go for the Do-It-Yourself (DIY) kitchen makeup and attach some personality to it.
So, the primary focus on kitchen remodeling during this pandemic has been in areas like these:
1. Wall Painting
Can you relate to the excitement when you're painting your house all over again? It makes the rooms shine bright. It also makes you feel like your home is newly built. 
So, most people are now going for new shades as part of home improvement projects. Others are repainting the layers of the existing colors in their kitchens. 
Indeed, walls can look very worn out after several years, and painting can undoubtedly impart a fresh look to the space.
It's no surprise we learn from Forbes that the sale of paints in big-box stores increased as soon as lockdowns came in. What followed was more intensive home renovation projects.
2. Installing New Countertops Kitchen Countertops 
Countertops are one of the popular kitchen elements. That's why during the Covid pandemic, most people focussed on changing materials to better ones like marble or granite. 
3. Changing or Renovating the Existing Cabinets
If you are like most people, you will want to change your old kitchen cabinets after some time. This forms part of home upgrades. And, this is what most homeowners have been doing during the pandemic. 
Some are renovating their wooden cabinets by treating them with wood fillers. Again, others are putting patches on the cabinet materials to correct dents and scratches. Most people also decided to repaint their old cabinetry for a whole new look.
4. Other Kitchen Accessory Makeovers 
Some are doing open shelving to make everything accessible while working in the kitchen.
Those who're going for drawers with handles are mainly looking for stylish and excellent storage spaces. 
More so, some homeowners are replacing wooden base drawers with steel wire trays. The design is now trending. After all, stainless steel is quite sturdy.
Some of the kitchen accessories makeovers include the under-sink fittings with attached bins (round or square). These accessories also add a touch of style to your kitchen.
People are also choosing corner units that contain trays for holding utensils due to the increased efficiency. They are inexpensive, and they help solve the storage issues in the kitchen.
Final Thoughts
The past year when Covid hit, has seen significant home improvements projects. Up to date, most consumers anticipate continued kitchen and bath remodeling activities.   
Some focus on DIY home projects alone. But, the majority prefer hiring professionals for their home renovation projects. 
80% of homeowners say that they don't mind contractors entering their homes during the Covid pandemic. But, they state that the wearing of masks is a critical measure that's in place.
So, it's expected that post-pandemic life will see a continued increase in the work from home setups.
More time spent at home makes homeowners more aware of their home environment. This is more likely to increase the chances for home improvement projects.

cover image © unsplash
---
Share this post
---
---