Heart shaped pizza, anyone? ALDI Finds week of 2/1/23
Posted by admin on
Are you ready for February?? ALDI Finds for the week of 2/1/23 include heart-shaped foods, kitchen organization, and memory foam shoes. Check out this week's picks below, and let me know what you want to Find.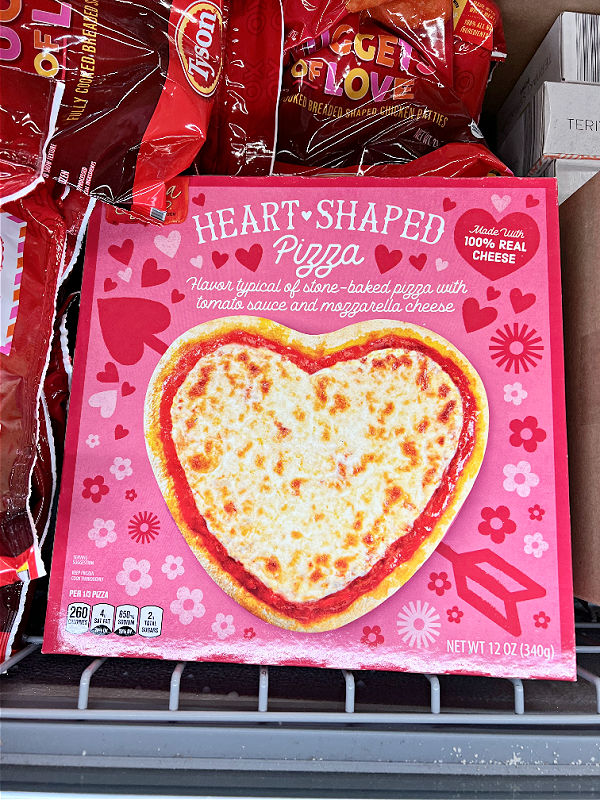 If you didn't already know that Valentine's Day was coming up, ALDI's ads will definitely clue you in. This week, for instance, it's all foods shaped like hearts and flowers, all the time. First: Look either for Mama Cozzi's heart-shaped cheese pizza in the deli section for $5.99, or for this unadvertised heart-shaped pizza in the frozen section (not tagged at my store).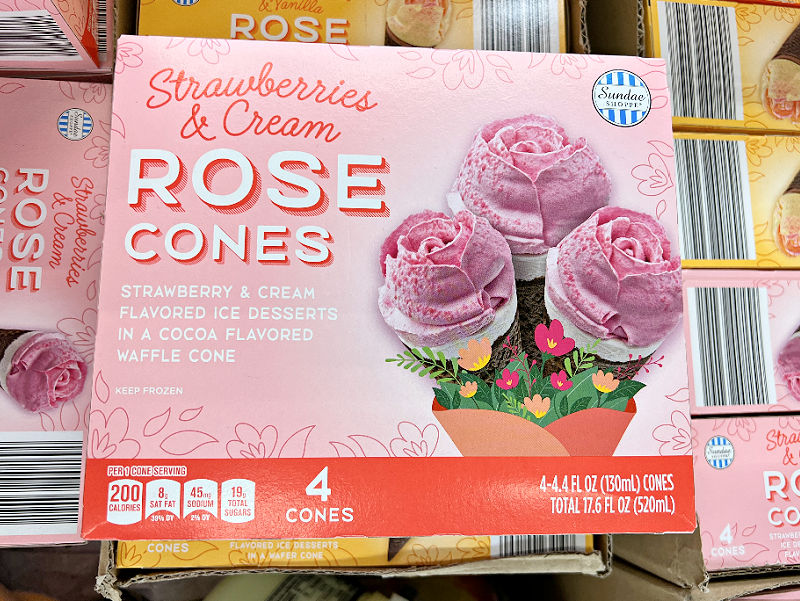 For dessert, you might keep perusing the frozen section. Sundae Shoppe strawberries & cream rose cones are back, at $3.99 per box of four.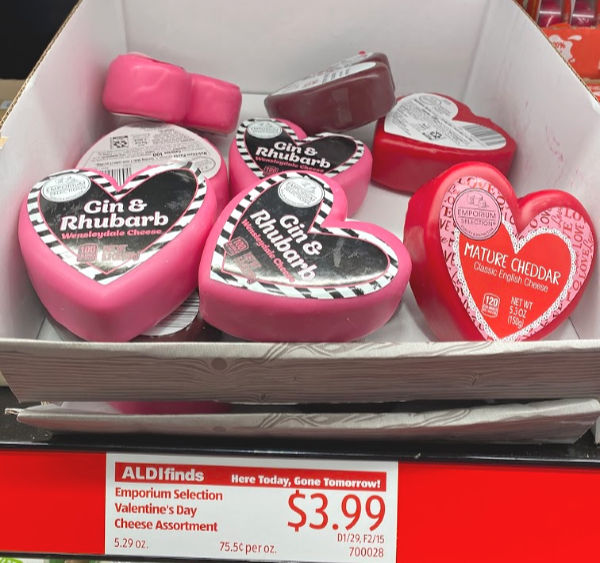 Heart-shaped Valentine's Day cheese is also back this week! Look for mature cheddar, Wensleydale with raspberries & white chocolate, or Wensleydale with gin & rhubarb, at $3.99 per 5.29 oz.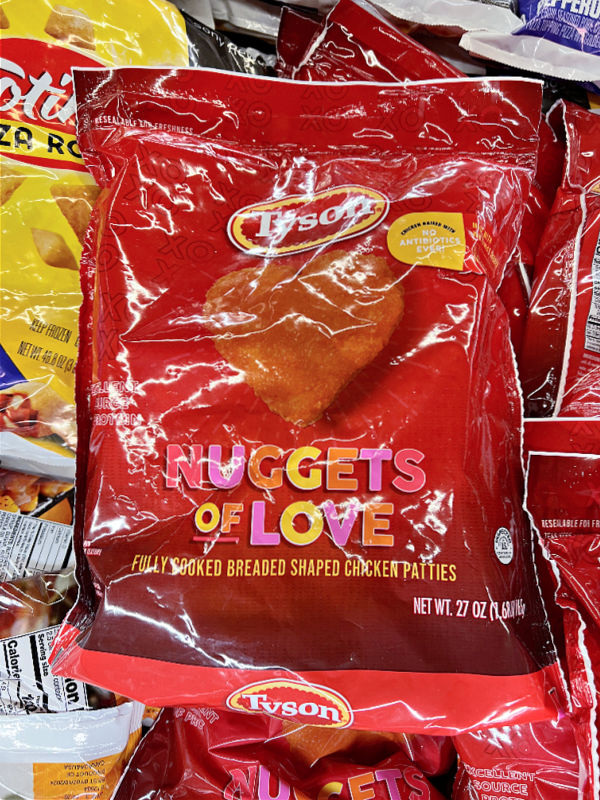 I'm not sure they thought through the "nuggets of love" name sufficiently, but you can pick up a bag of heart-shaped Tyson chicken nuggets for the kids: $6.89 for a 27 oz package.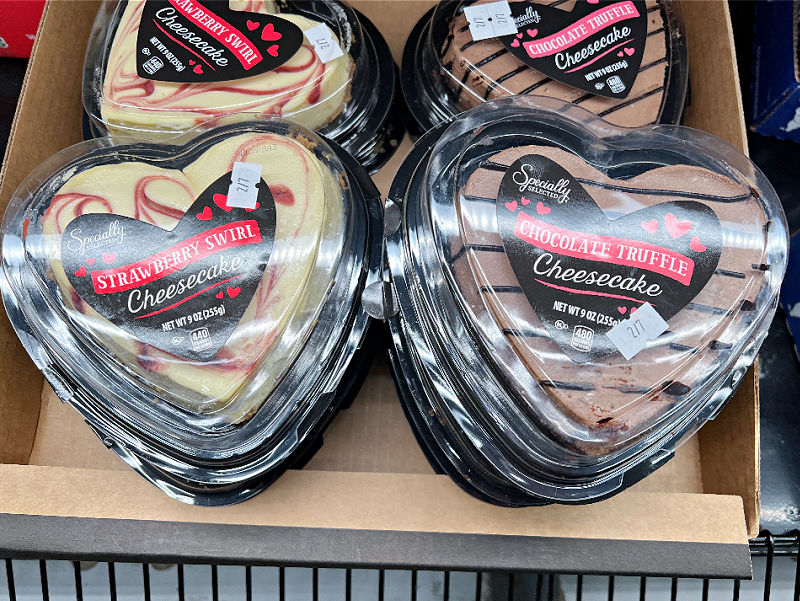 My store also had these cute little heart-shaped cheesecakes out today, but they weren't yet tagged, so I'm not sure of the price.
As always, both advertised and unadvertised ALDI prices can vary by store and by region. Here are more of the top ALDI Finds for the week of 2/1/23. (You may also Find some on 1/29/23 in Sunday ad markets, or if your store tends to put products out early — don't you just love it when that happens?)
Top ALDI Finds this week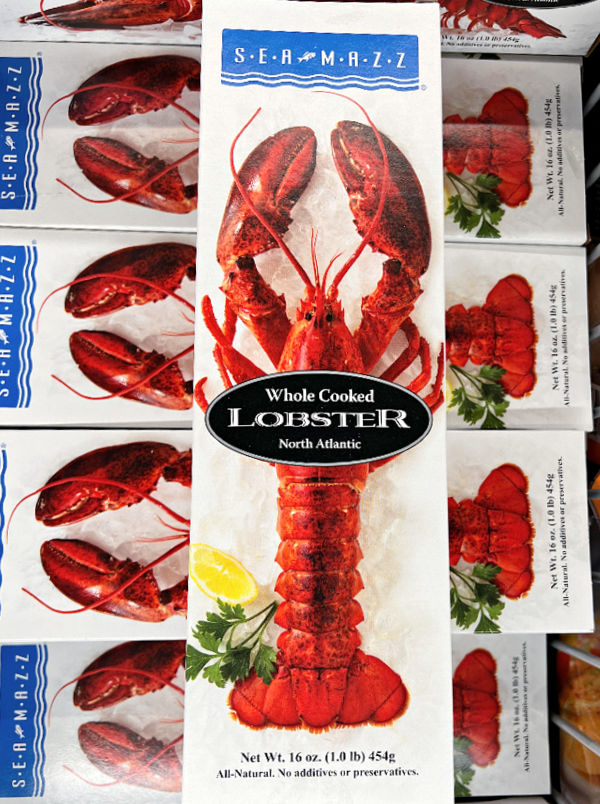 Beyond the previously mentioned heart-shaped and flowery foods to choose from, here are twenty more advertised food Finds this week, as well as twenty-five new non-Food Finds.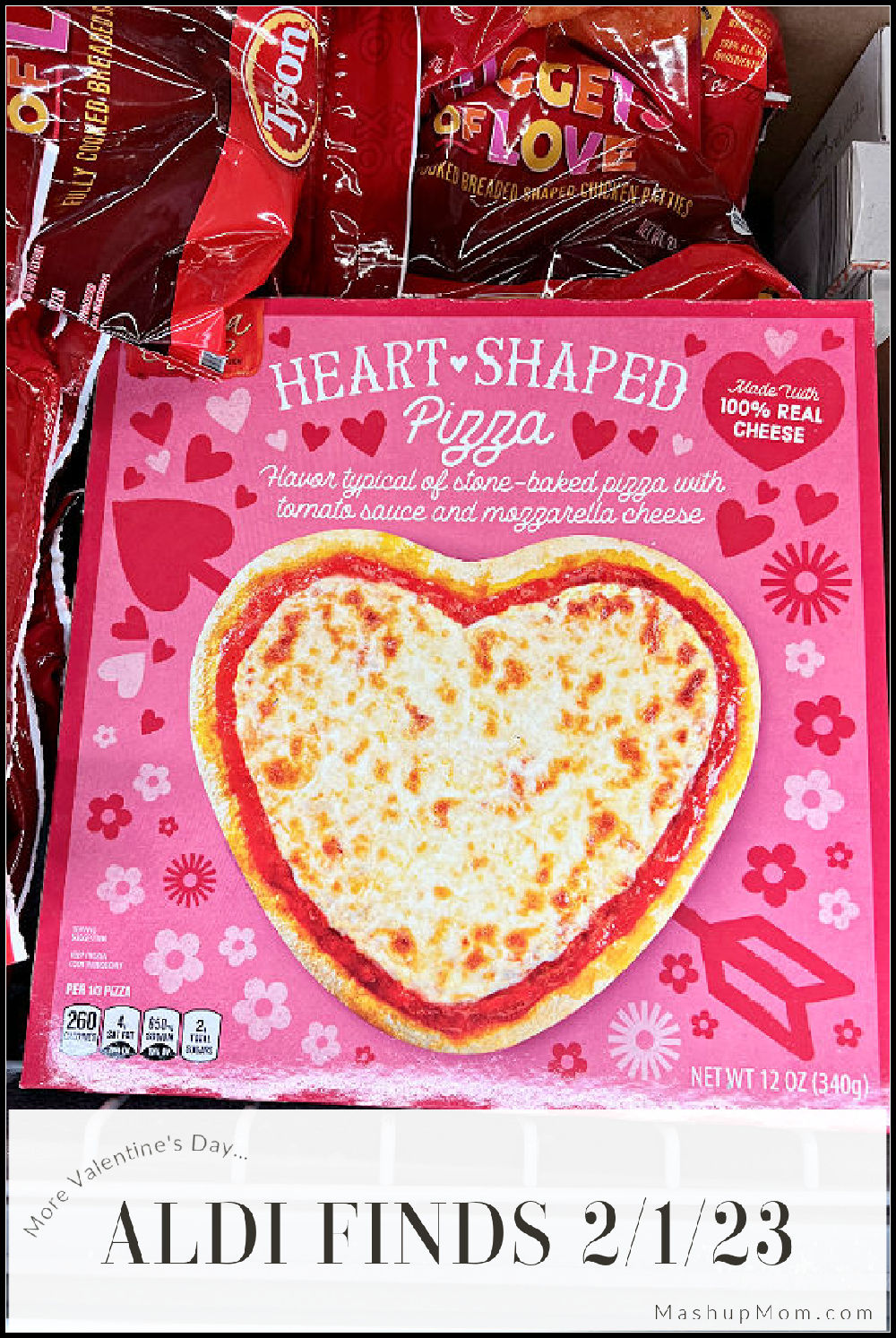 What are you going to be picking up this time around?
Twenty new ALDI food Finds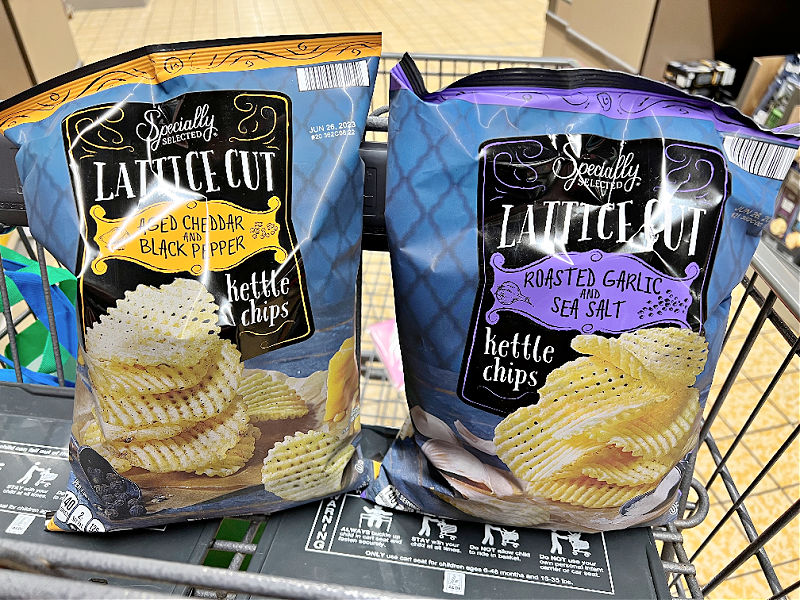 We're still pretty Valentine's Day focused here, but let's see what we have to see. This week's food Finds include:
Specially Selected lattice cut kettle chips, $2.49
GoGo squeeZ 10 pack YogurtZ, blueberry & berry, $7.69
Park Street Deli fully cooked sweet & smoky pork ribs 24 oz, $8.99
8 oz pack of Specially Selected North Atlantic lobster tails, $13.99
Mama Cozzi's stone baked pizza, four cheese or veggie, $4.49
Bremer three cheese chicken or cheesy ranch chicken skillet, $4.79
Specially Selected shrimp & crab ravioli, $4.49
Specially Selected bacon wrapped scallops, $7.49
Specially Selected creme brulee, $5.49
Yummy whole grain dino buddies 56 oz, $9.99
SeaMazz whole cooked lobster 16 oz, $10.99
Specially Selected frozen spaghetti, $3.99
Fresh whole boneless pork butt roast, $1.99/lb
Burman's Asian sauce, $2.89
Stonemill 4-in-1 gourmet seasoning, $4.29
Simply Nature organic farro or barley & lentils, $2.29
Reggano cavatappi 16 oz, $1.49
Brookdale chunk chicken breast 4 pack cans, $9.89
Angie's Boom Chicka Pop, $3.00
Cheez-It extra cheesy or white cheddar 7 oz, $2.25
Not a long ad, but you can pick up some food now for your Valentine's Day dinner — as well as some frozen convenience dinners this week.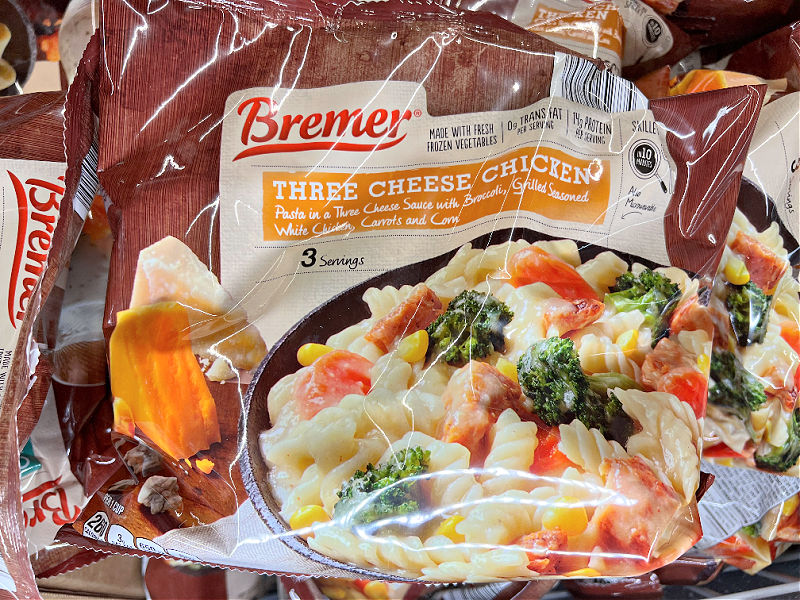 For example, you can look at these Bremer chicken & pasta skillets for a busy evening.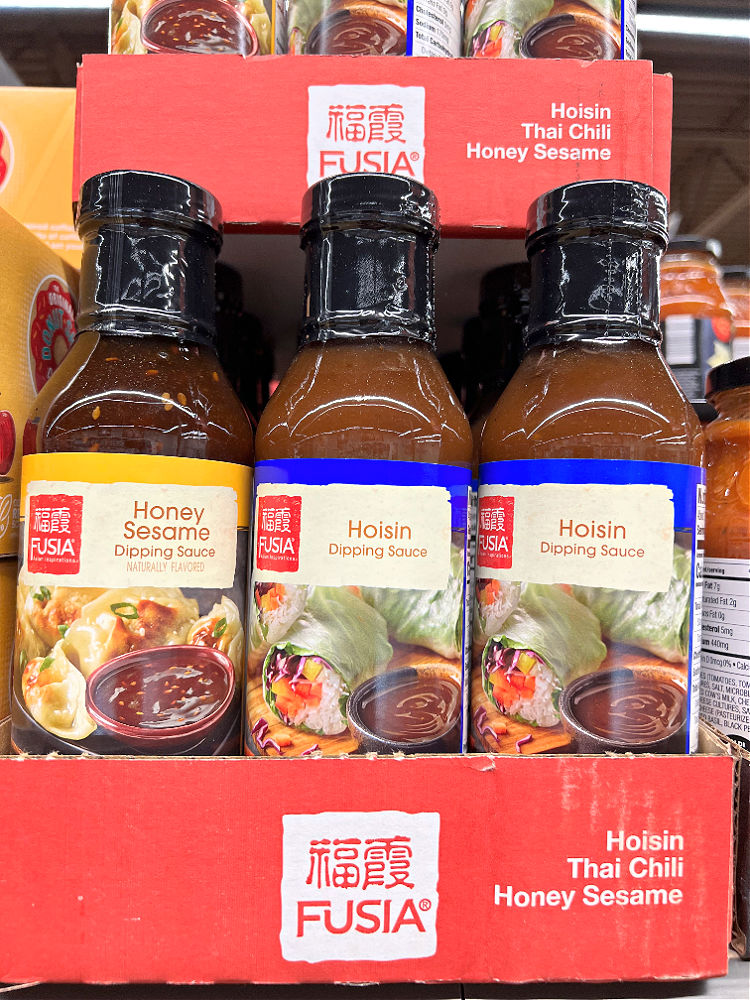 Or, you might choose to use these limited-time Fusia dipping sauces in a quick stir fry, or to dip frozen potstickers or egg rolls.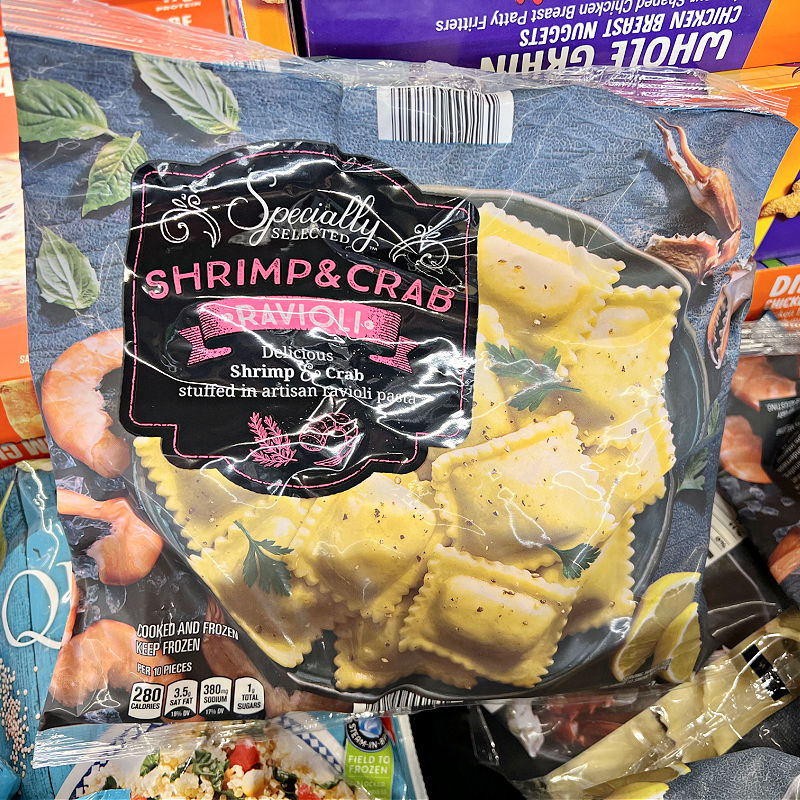 Speaking of frozen convenience foods, shrimp & crab ravioli might be a nice addition to your Valentine's meal…
And then you can cap off that Valentine's Day dinner with frozen creme brulee. (Is it just me, or is this an odd color even on the box?)
Twenty-eight ALDI non-food Finds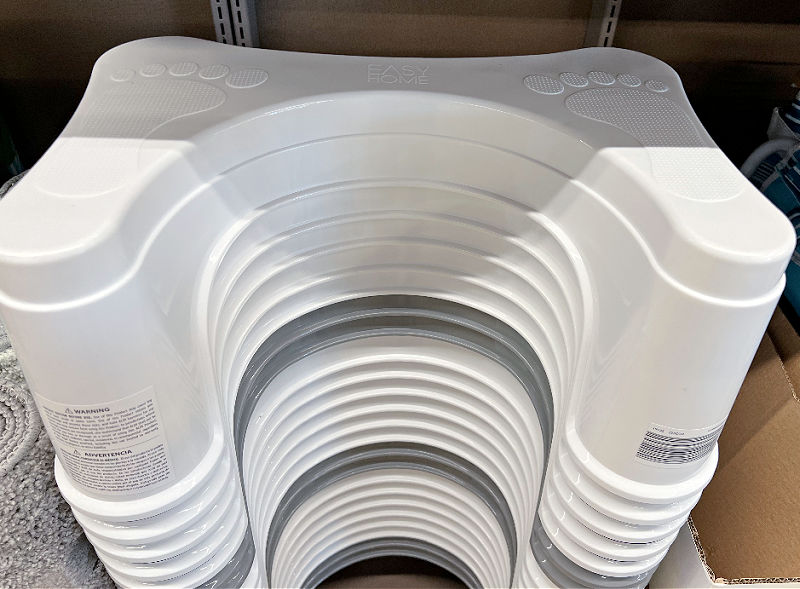 On the non-food front, let's revisit the Easy Home squatting stool this week. This Squatty Potty knockoff will run you $14.99, while other non-food Finds include:
Easy Home LED puck lights with remote, $14.99
Huntington Home 3-piece memory foam bath mat set, $14.99
Huntington Home memory foam chair pad, $7.99
Huntington Home waste bin or toilet brush, $9.99
Joie drain accessories, $3.99
Huntington Home square pebble shower mat, $5.99
Crofton 32 oz glass bottle with silicone, $9.99
Ambiano rotating Belgian waffle maker, $24.99
Huntington Home 24″x36″ chef mat, $14.99
Huntington Home wire cabinet organizer, $6.99
Crofton oil & vinegar bottles, $9.99
Crofton color pop bamboo tray, $12.99
Huntington Home organizer or bag saver, $6.99
Ambiano 2-slice toaster, $24.99
Ambiano blender, $39.99
Crofton color dipped wood board, $6.99
Crofton divided glass food storage, $11.99
Crofton clip-on silicone utensil, $4.99
Huntington Home bathroom or kitchen box sign, $4.99
Crane 3-pack adult athletic socks, $4.99
Serra Ladies' plush full-zip jacket, $14.99
Crane memory foam trainers, $14.99
Crane ladies' athleisure leggings or bra, $9.99
Crane exercise mat or bodyweight training set, $14.99
Crane fitness massage gun, $39.99
Not a lot of non-food Finds this week, either, but some OK kitchen and athletic choices if you're in the market.
What's Up with ALDI Finds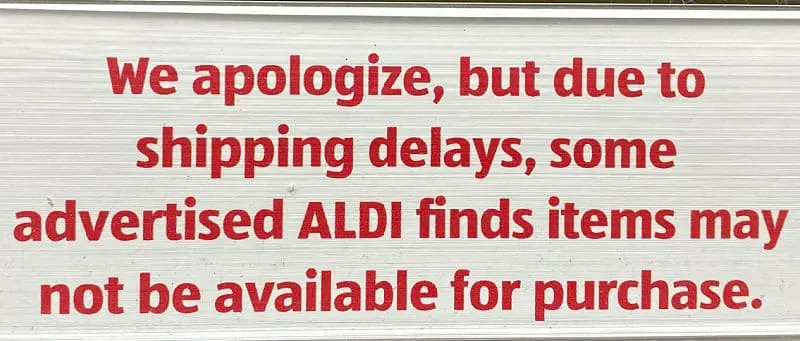 What's up with ALDI Finds? These are limited time special buy items, and are available in stores only while supplies last. If you spot something you like, be sure to pick it up while you can. See also: What is the ALDI Aisle of Shame?
Be sure to visit the ALDI Finds product delays page before popping over to the store for new Finds. Because of ongoing shipping delays and materials shortages affecting ALDI (and everyone else…), some of their advertised products may not be available in all locations.
Finding the Finds
Where do you Find all of this week's special buys?
Check out the "ALDI Finds" and current weekly ad tabs (or mobile menu choices) on the ALDI site to window shop from home.
Products mentioned in this post were either spotted in store or are from the ad starting 1/29/23 in Sunday ad markets, 2/1/23 in Wednesday ad markets. What caught your eye among this week's ALDI Finds?
---
Share this post
---
---