Great hospitality deep in the heart of Texas: What we loved about the Thompson San Antonio – Riverwalk
Posted by admin on
The timing of my visit to review the Thompson San Antonio hotel in Texas was perfect for several reasons. One, I happened to be home in the city to visit my family. Two, it was the first major outing for my baby sister since the pandemic hit in March 2020. We drove from our house in the San Antonio Hill Country, dropped off the kids to stay with the grandparents at their condo near the Riverwalk, then drove 2.2 miles to the Thompson San Antonio – Riverwalk, a Category 5 property in the World of Hyatt program.
Related: The most award-friendly hotel program: Everything you need to know about World of Hyatt
Opened in February 2021, Thompson San Antonio, a 20-story, 162-room boutique-style hotel is on the north side of the city's famous Riverwalk. It's far enough away from the hustle and bustle of the core section of the Riverwalk, but close enough to walk if you want to check it out.
The Thompson brand is known for working with local businesses and artisans to incorporate the aesthetic of the city it's located in. The company worked with designer Mariana Valero of the interior design firm Amass & G to create a space that really embraces Texas-inspired touches.
When I think about San Antonio, I think aged hardwood, leather, cowhide pillows and Tex-Mex textiles. The hotel's interiors managed to capture an aesthetic of tailored design and rich textures without making it look kitschy.
For more TPG news delivered each morning to your inbox, sign up for our daily newsletter.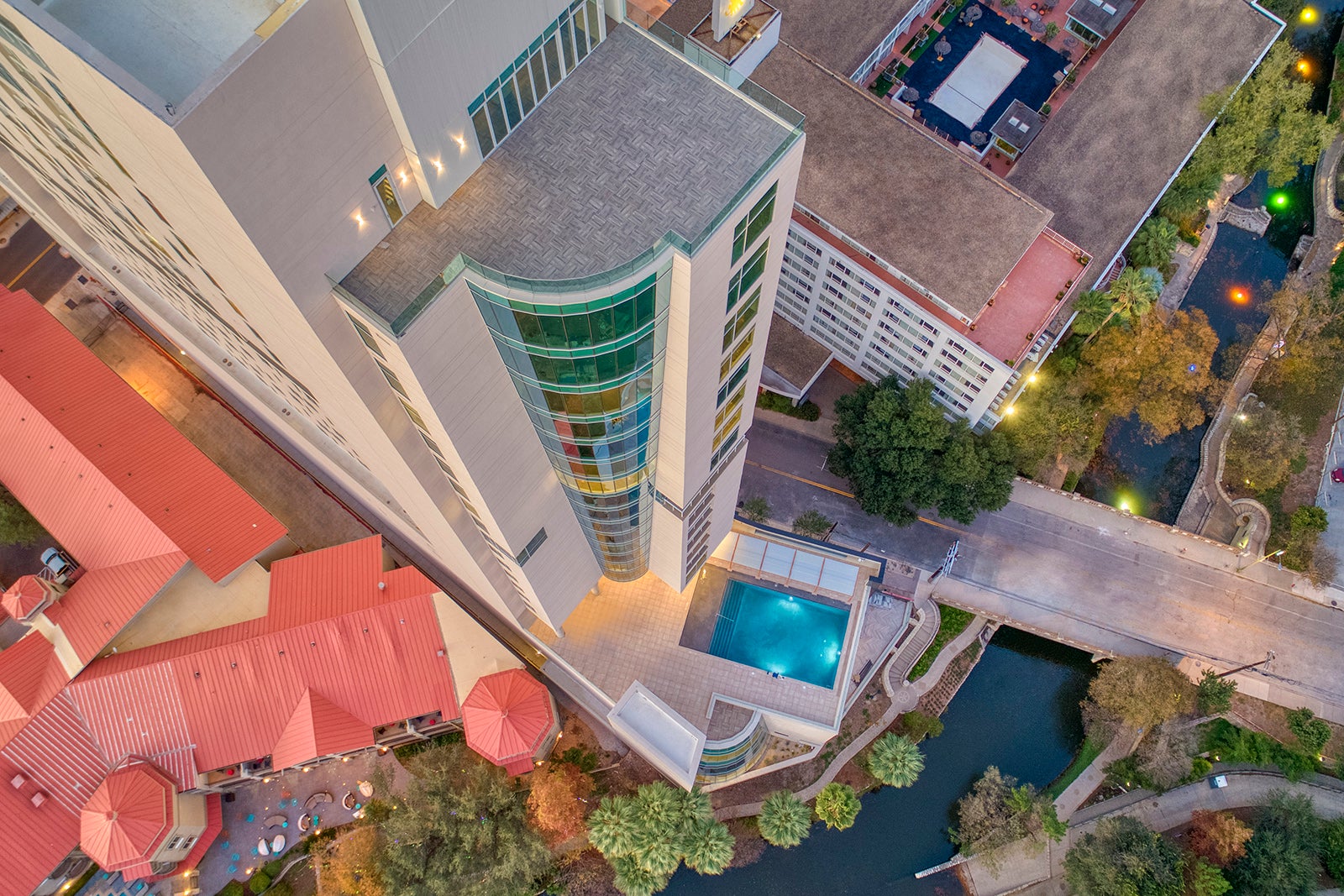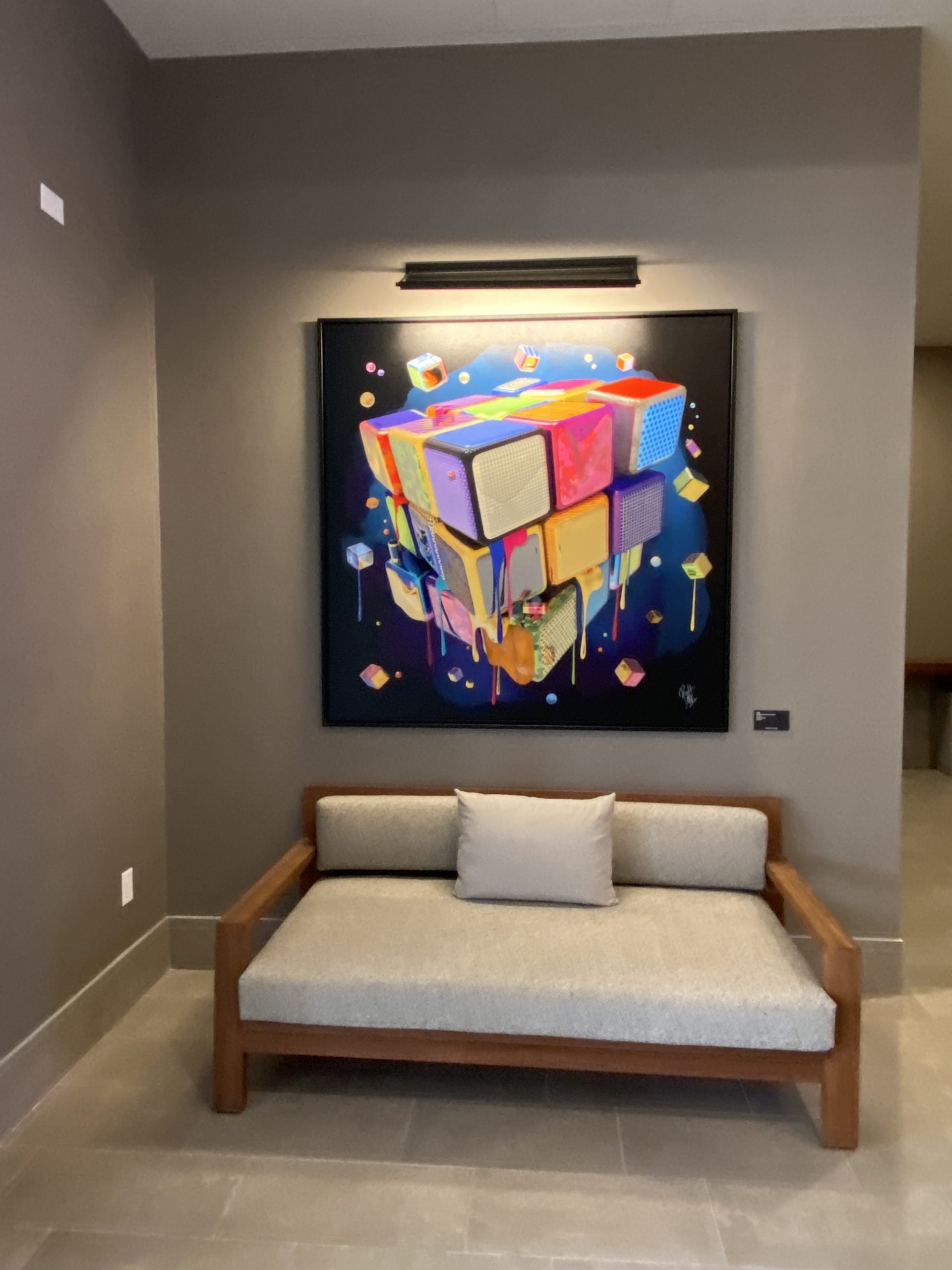 I'm a big art lover, and this hotel doesn't disappoint, with curated works of internationally renowned artists and photographers. There are intriguing paintings, installations and sculptures throughout the property, including original sculptures by Jeff Koons and Koray Akay, a limited-edition piece by Lucio Carvalho, photography by Lynne Douglas and a 3D acrylic ink on aluminum painting from San Antonio-based artist Eric Breish.
Here are the details of my stay.
For more TPG news delivered each morning to your inbox, sign up for our daily newsletter.
Booking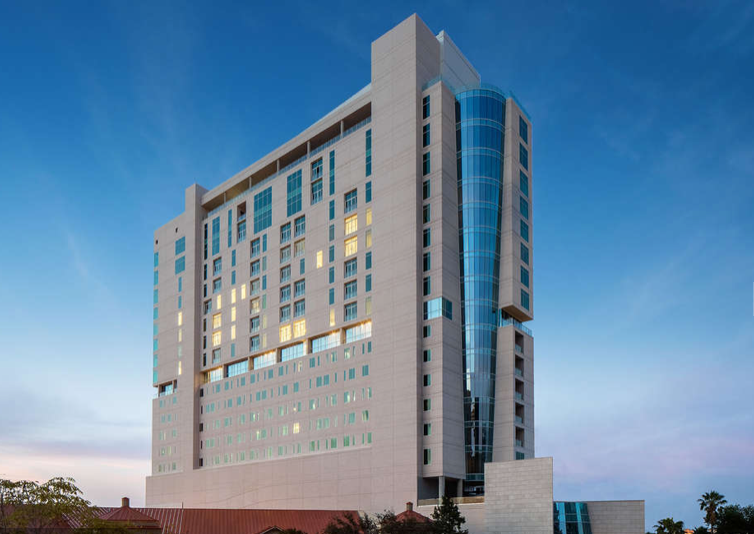 I booked my room directly on the hotel's website, choosing to prepay using my Platinum Card® from American Express in order to get 5 points per dollar spent (made through Amex Travel). I chose the king bed with a neighborhood view and booked the member rate. My room was booked in late April.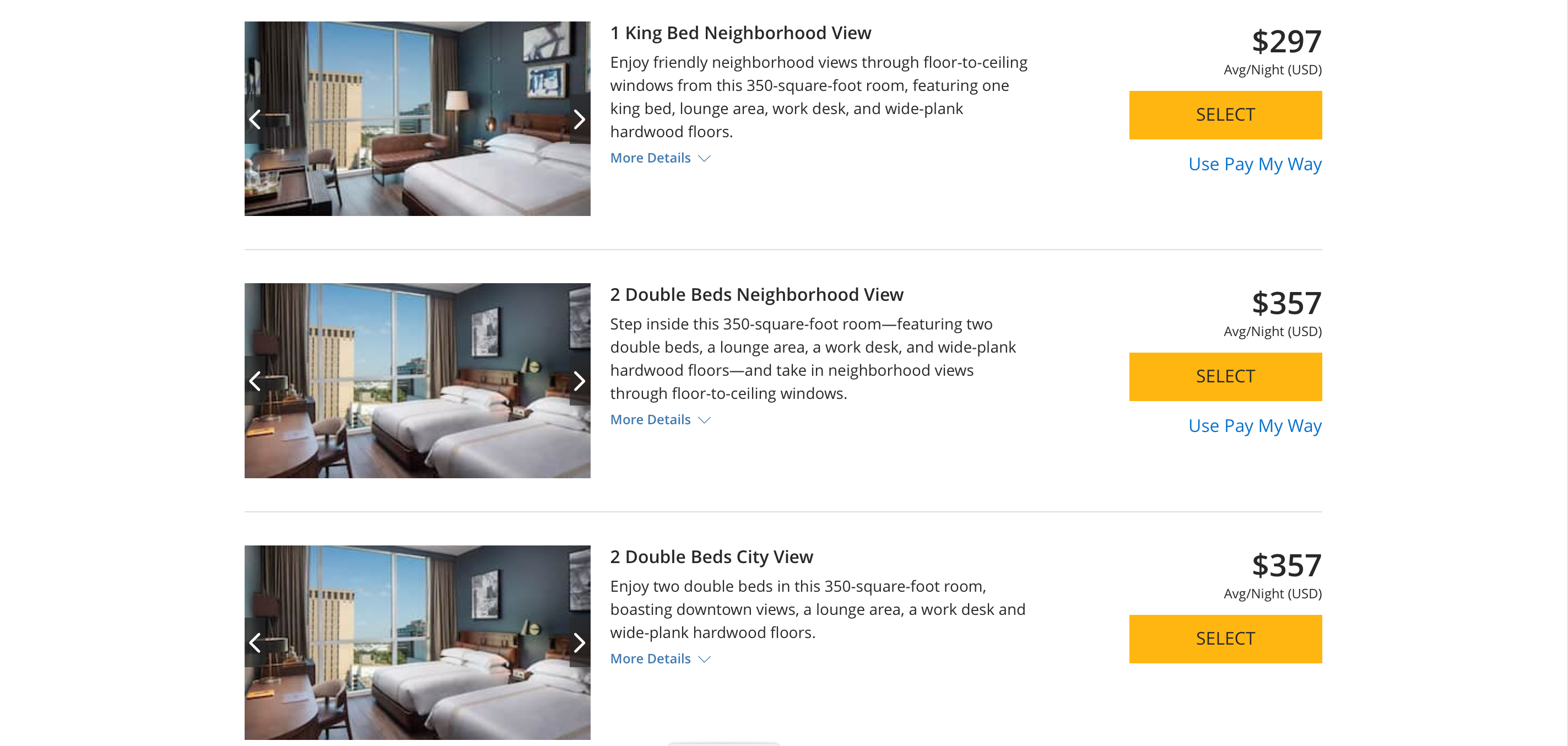 No surprise here — the hotel's prices increase over the peak summer months, but not as much as you'd expect for a luxury brand. In August, a two-night weekend stay in a single room starts at $324 per night when booking the prepaid member rate.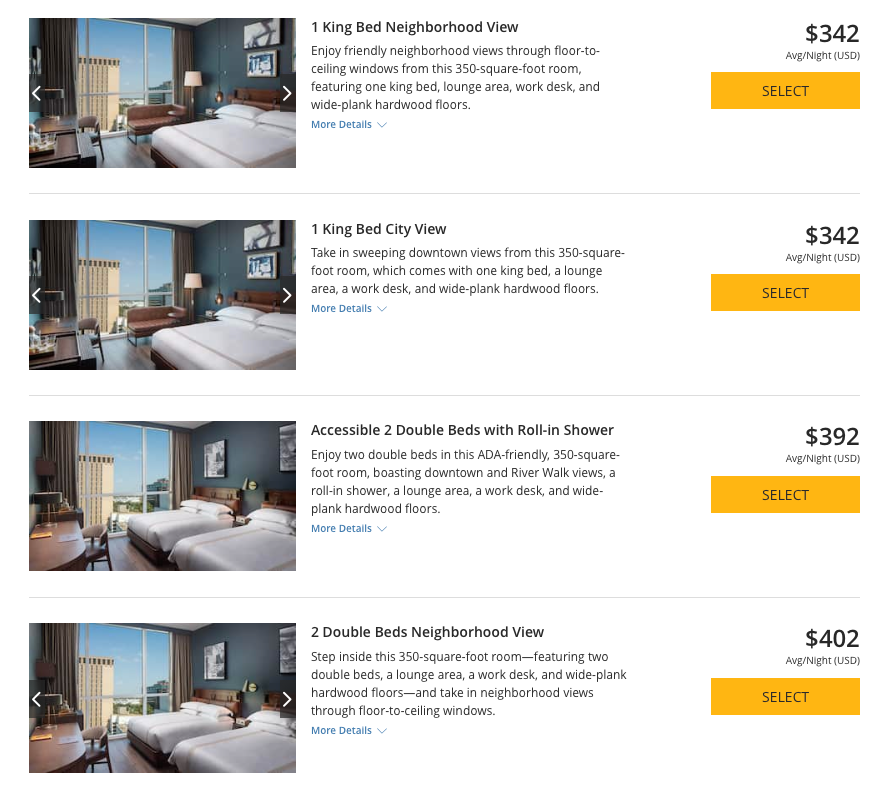 These rates are in line with other Texas boutique hotels closer to the center of the action at the Riverwalk. For those who want to splurge, it's a solid deal for a five-star hotel. Similar hotels closer to the Riverwalk are running at around $300 a night in August.
If you're sitting on a stash of points or miles accumulated during the pandemic, you may want to use them to book your room instead of cash. You can use the points on your Chase Sapphire Preferred Card and redeem them at 1.25 cents per point through the Ultimate Rewards portal. You can also use the miles on your Capital One Venture Rewards Credit Card and redeem them to "pay" for your stay. Or those with American Express Membership Rewards cards can book a room with their points.
Related: Should you get the Chase Sapphire Preferred or Capital One Venture — or both?
Location
The San Antonio Riverwalk is considered the heart of Alamo City. So it's only natural that many of the city's top hotels are located in the middle of the action. But the Thompson San Antonio decided to take a more exclusive route, locating in the underdeveloped Riverwalk North neighborhood. The Riverwalk is right next to the hotel, and it's an easy walk — or boat ride — to the shops, dining and attractions.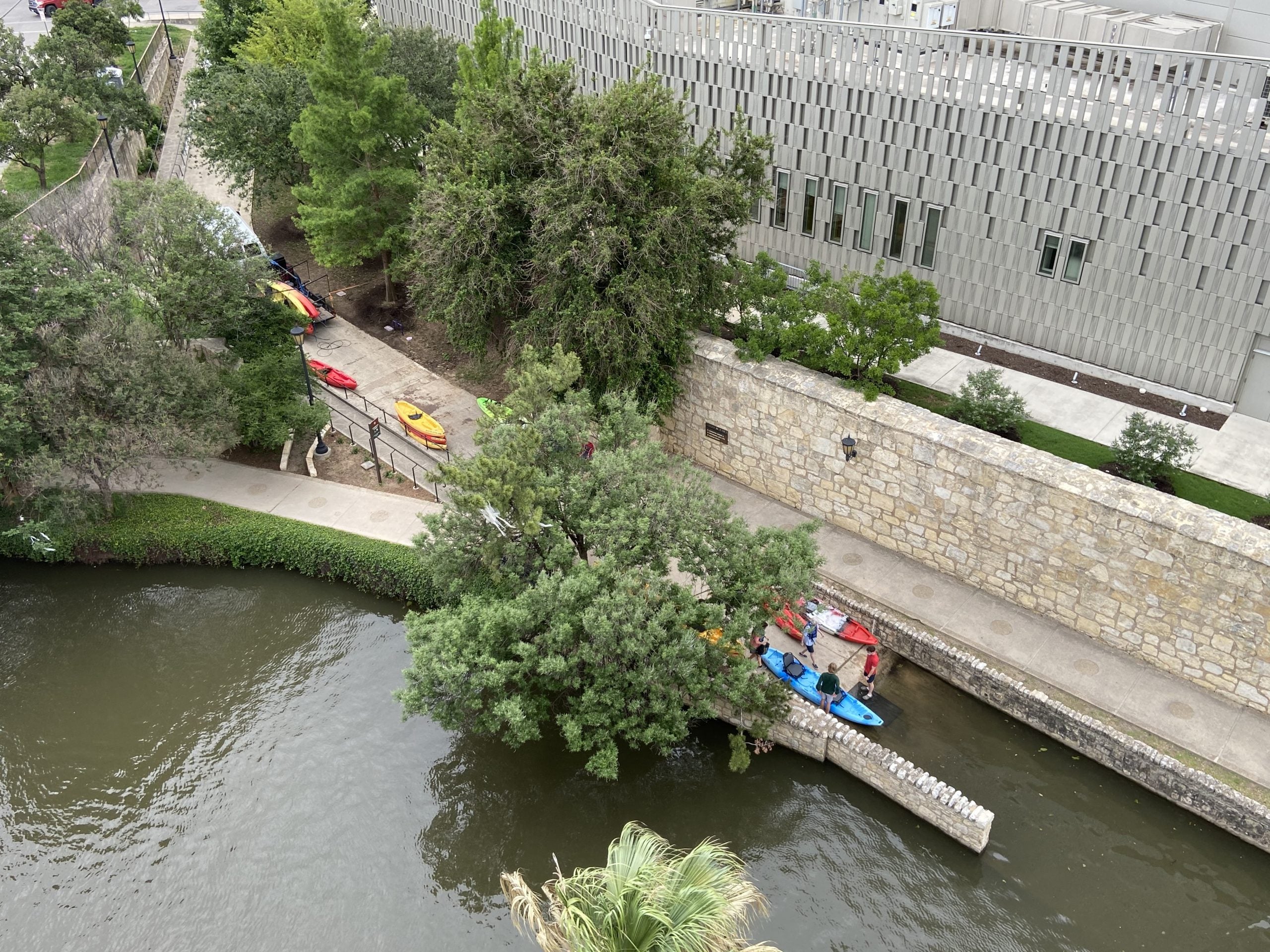 The area around the hotel is underwhelming at best, except for the Tobin Center for the Performing Arts. But as someone who has been watching the growth of San Antonio since my parents retired and relocated there in 1995, I fully expect the area surrounding the hotel to look completely different by 2026.
Check-in and lobby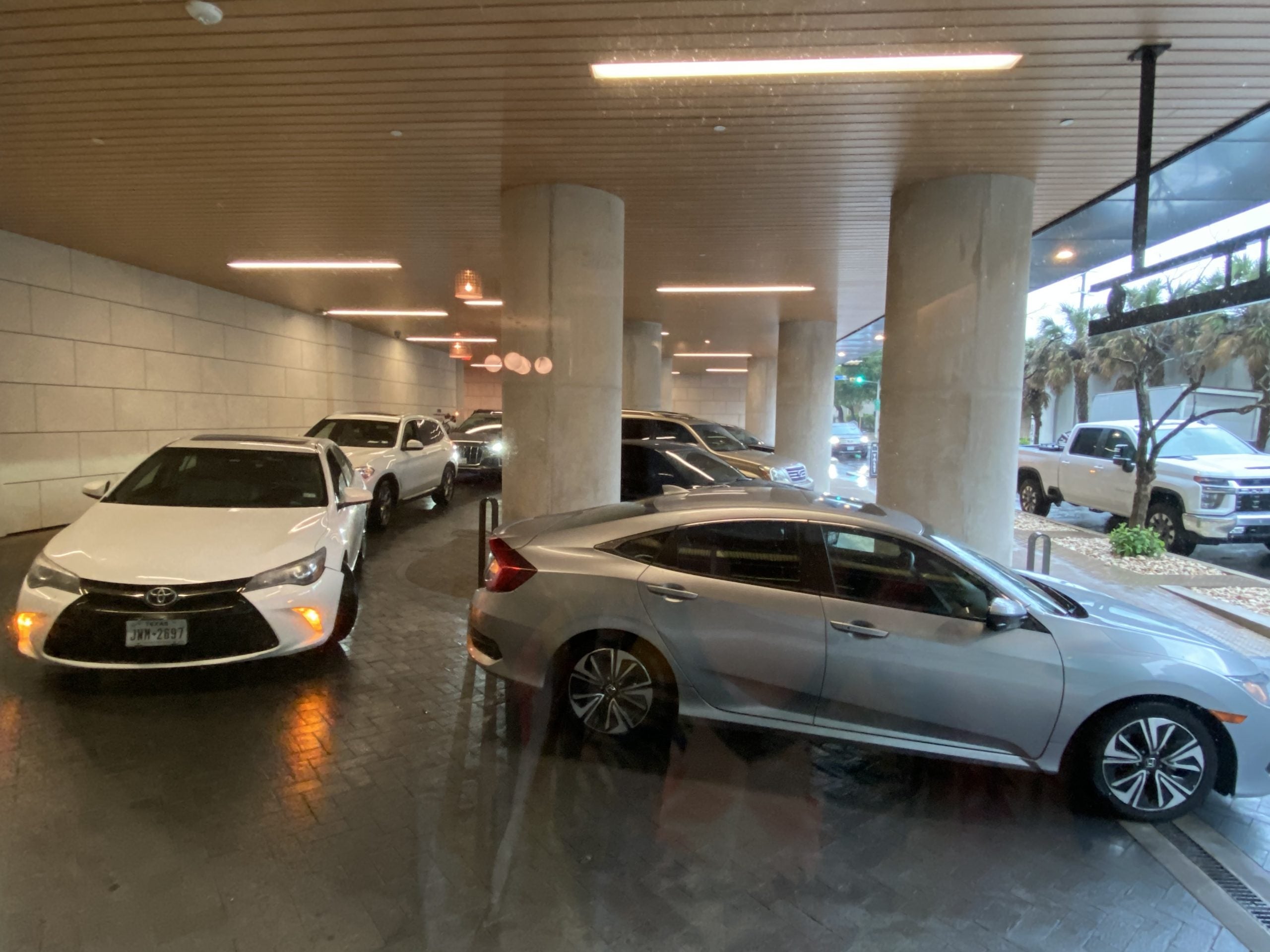 Upon arriving at the hotel, I noticed that valet parking (your only option outside of limited street parking) was crowded — and tight. We got the first taste of this hotel's great hospitality when we were finally able to leave the car and check in. The valet staff apologized for the wait, offered us bottled water and gave us a warm welcome.
There was a short wait at the desk, but once there, we were again warmly and enthusiastically welcomed to the hotel by Luke and Cathy. As we checked in, Luke spoke about all the highlights of the hotel, including the guests-only pool and bar on the fourth floor and the signature first floor Landrace restaurant (more on both later). He also offered us our choice of bottled water or a mini bottle of Mionetto Prosecco (my personal favorite).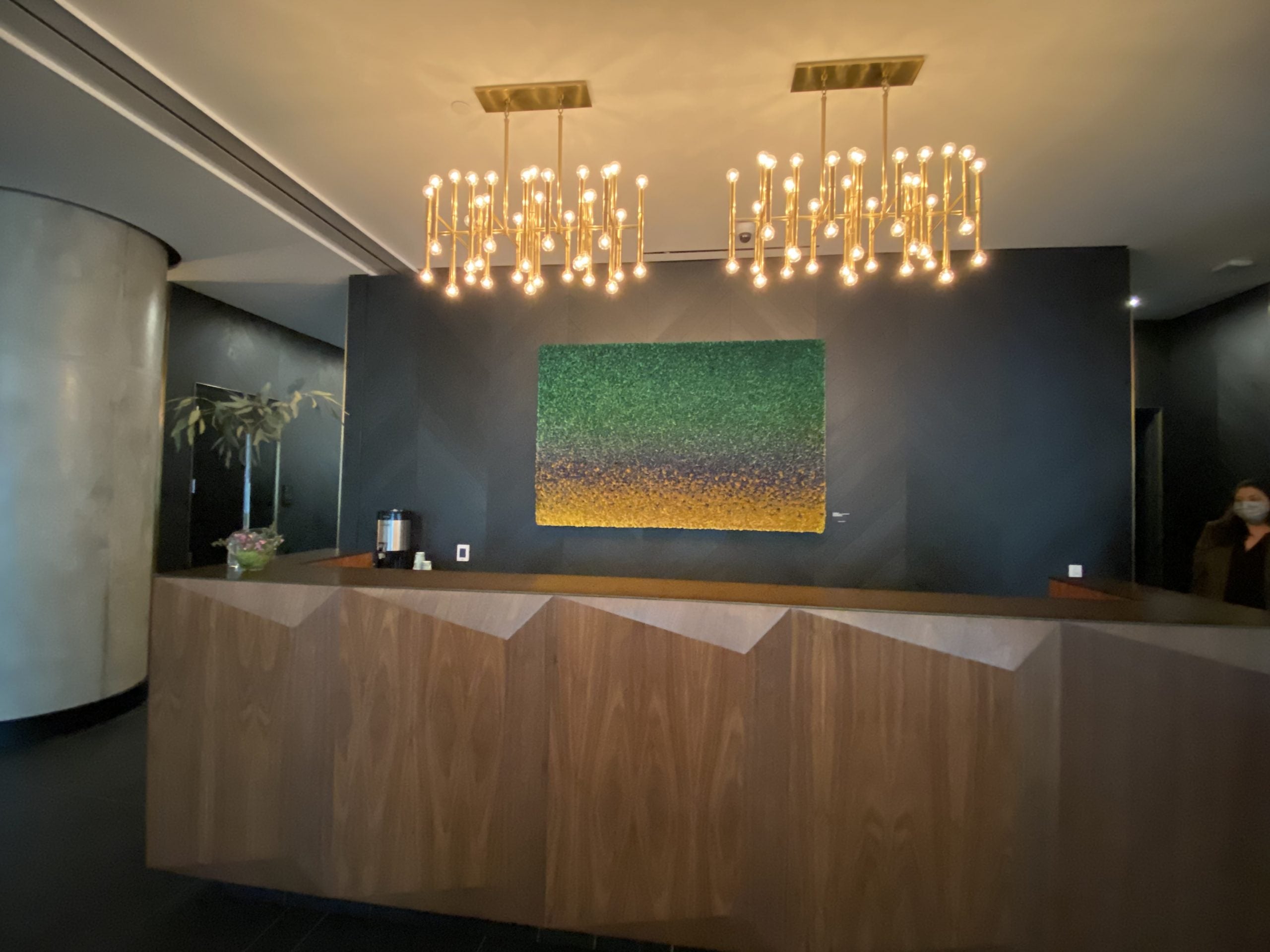 The lobby had an eclectic mix of comfortable seating, including a long padded bench across from the check-in desk, privacy chairs that remind you of those in American Express Centurion lounges and long sofas, with cow-hair throw pillows throughout. There was an expansive curved leather sofa in front of a long gas fireplace and shelves full of books. The concierge desk was made of a unique carved stone and glass, with comfortable barrel-shaped wool and brass chairs.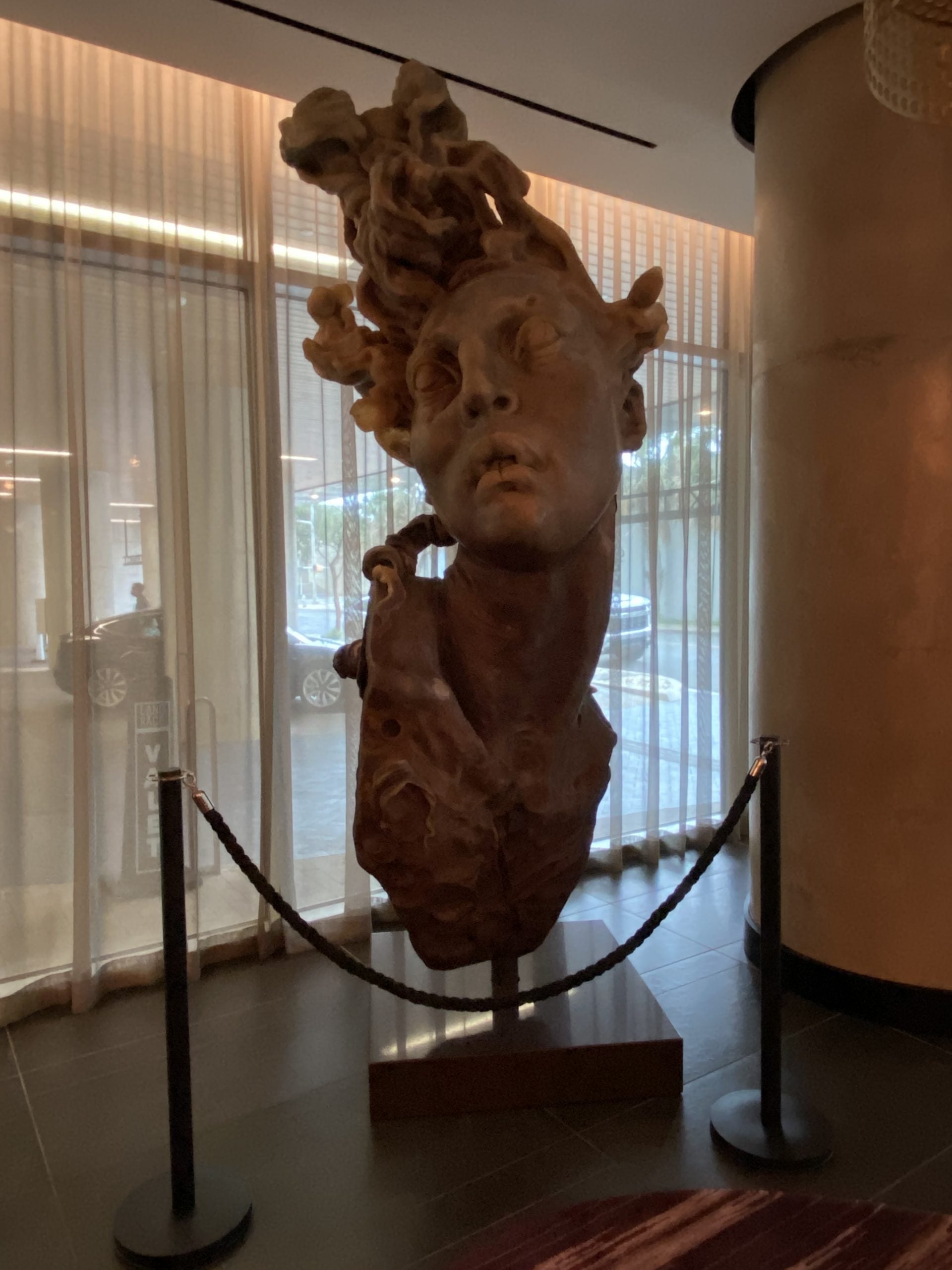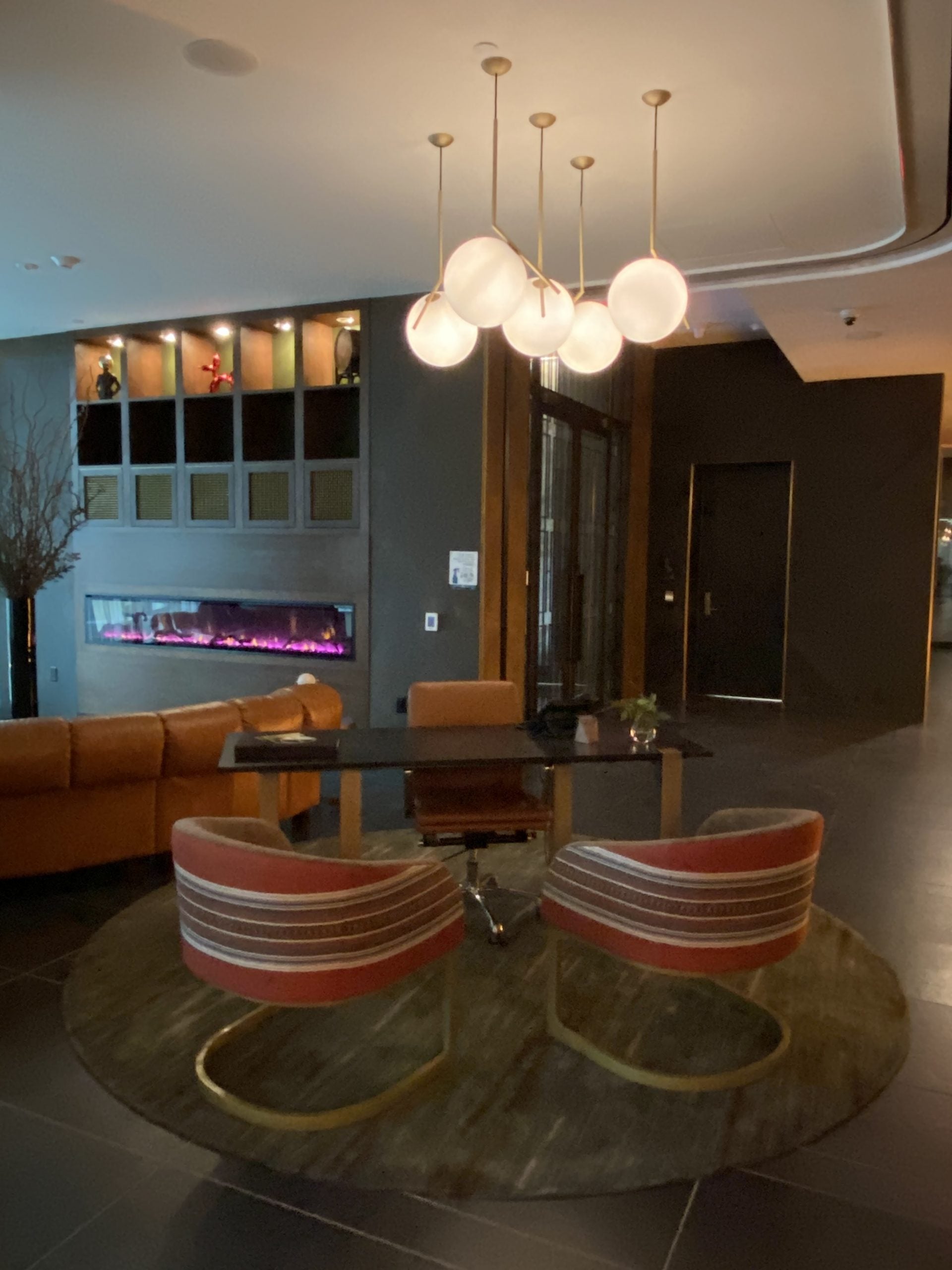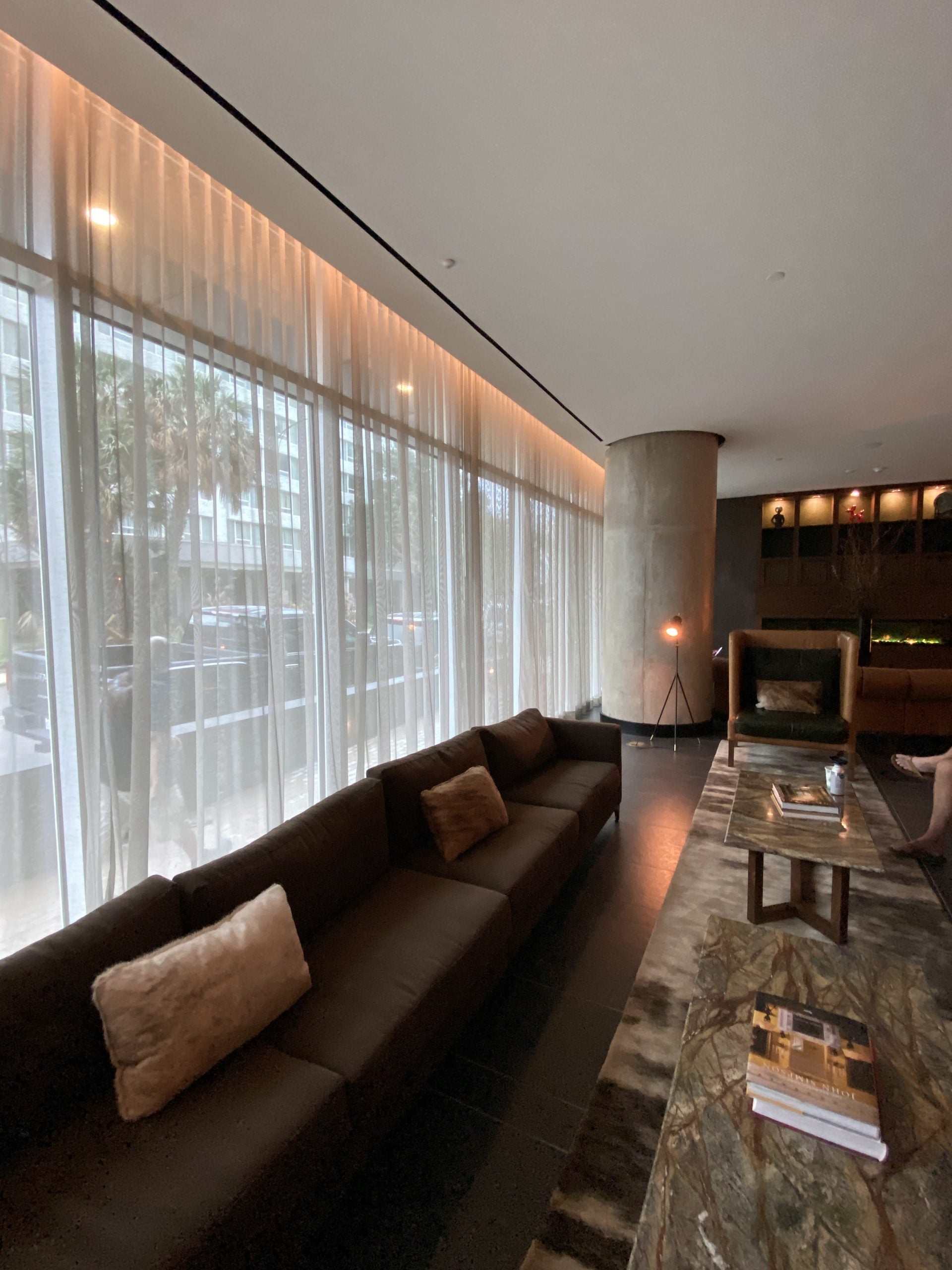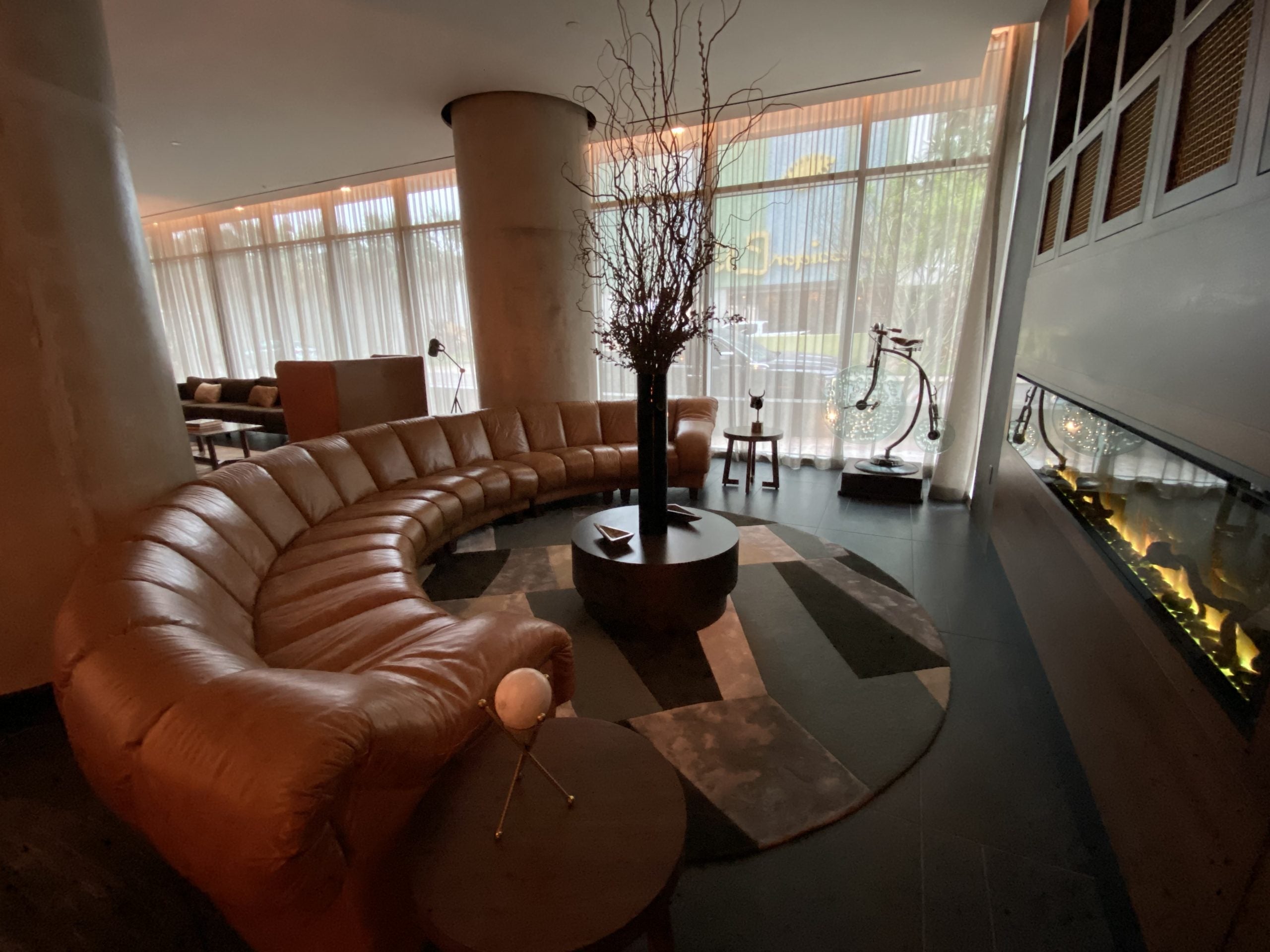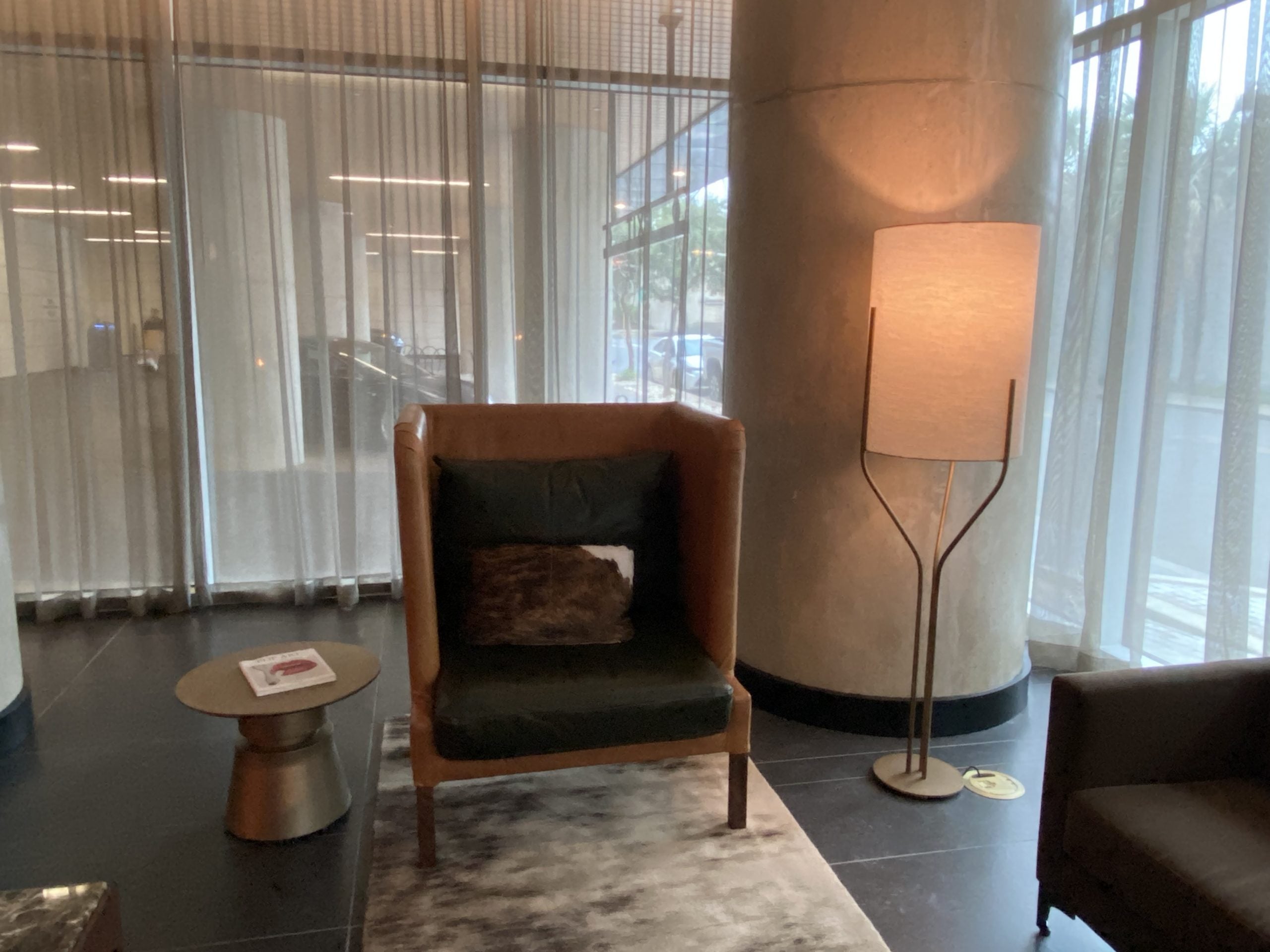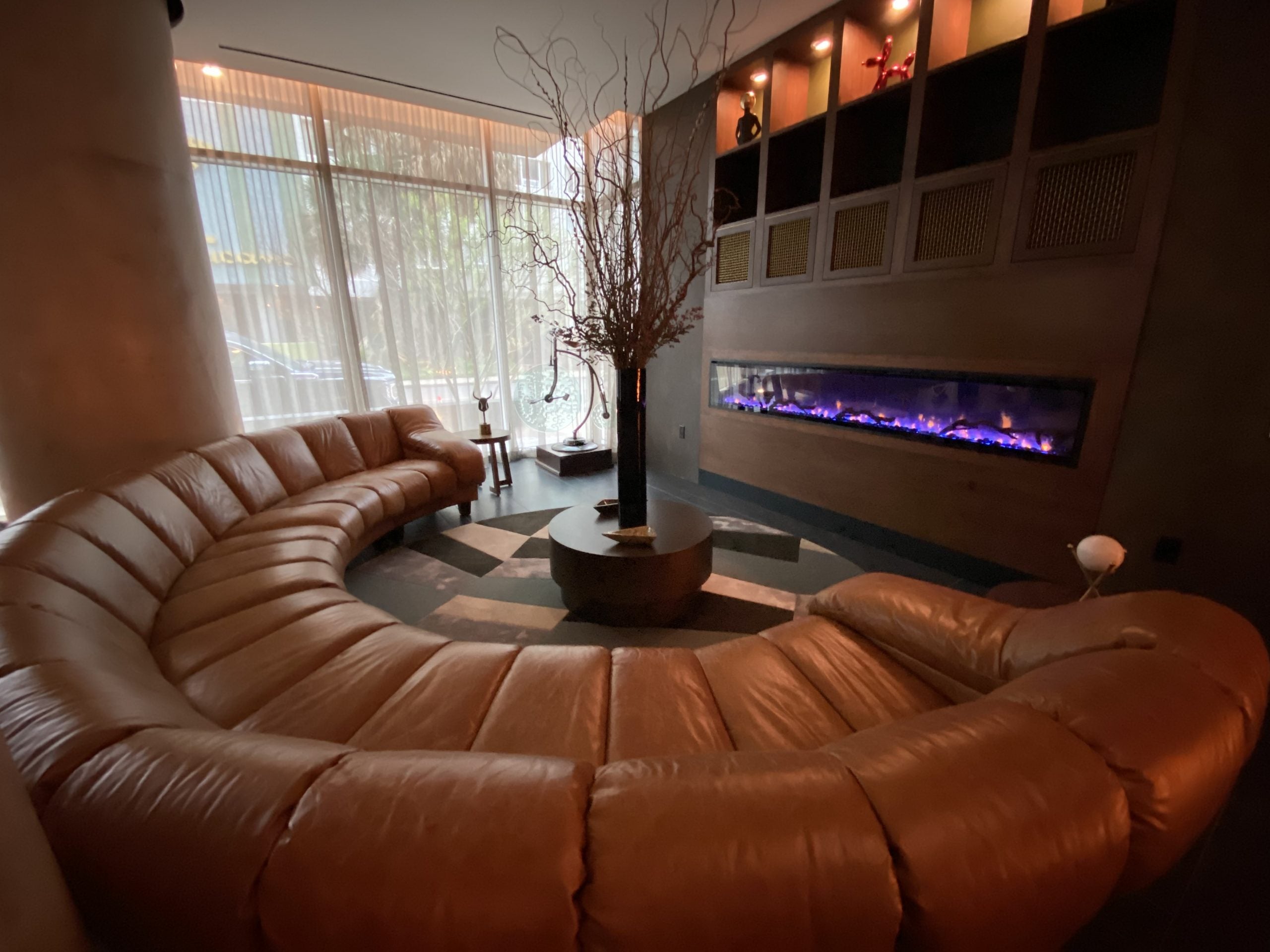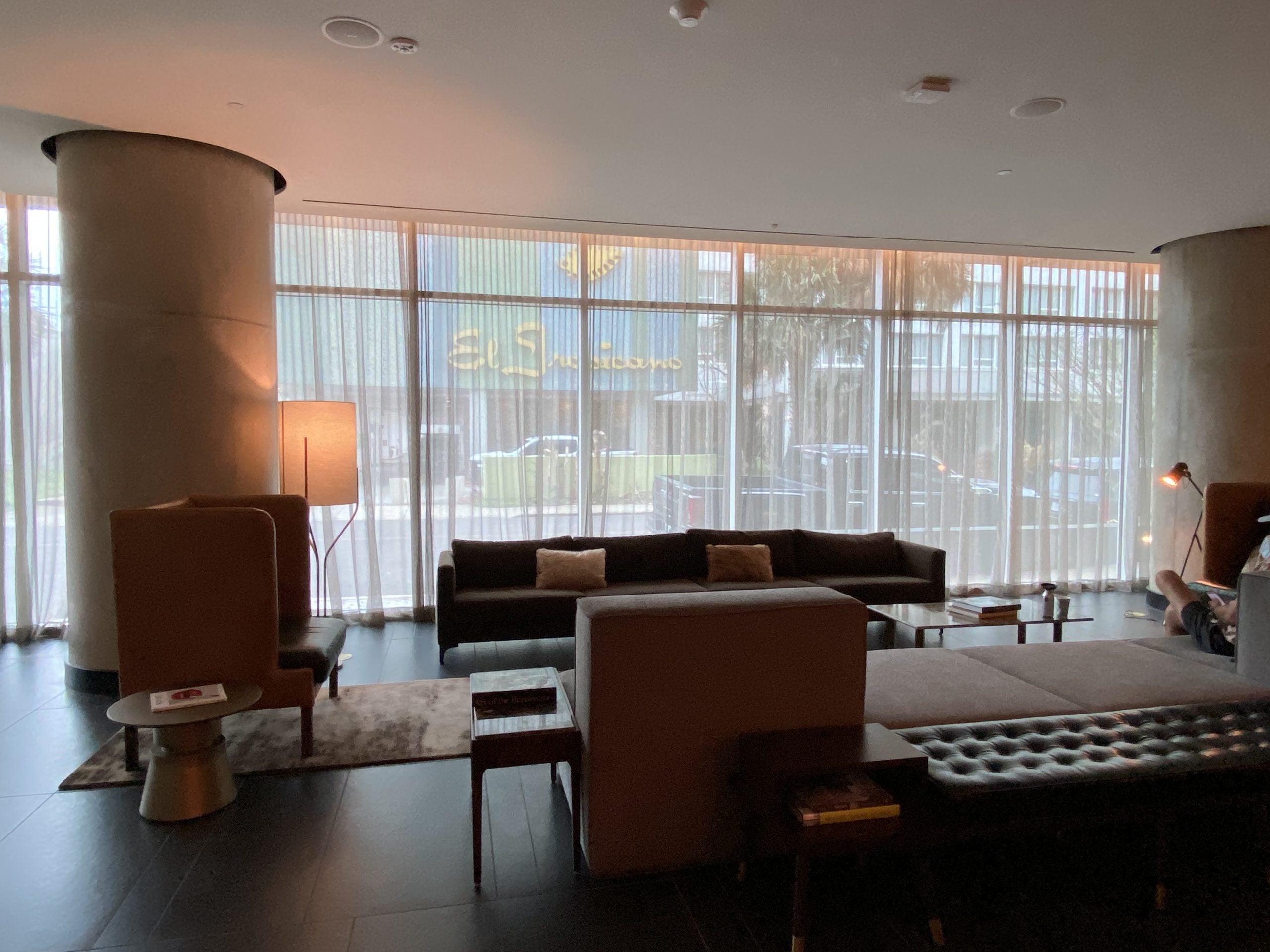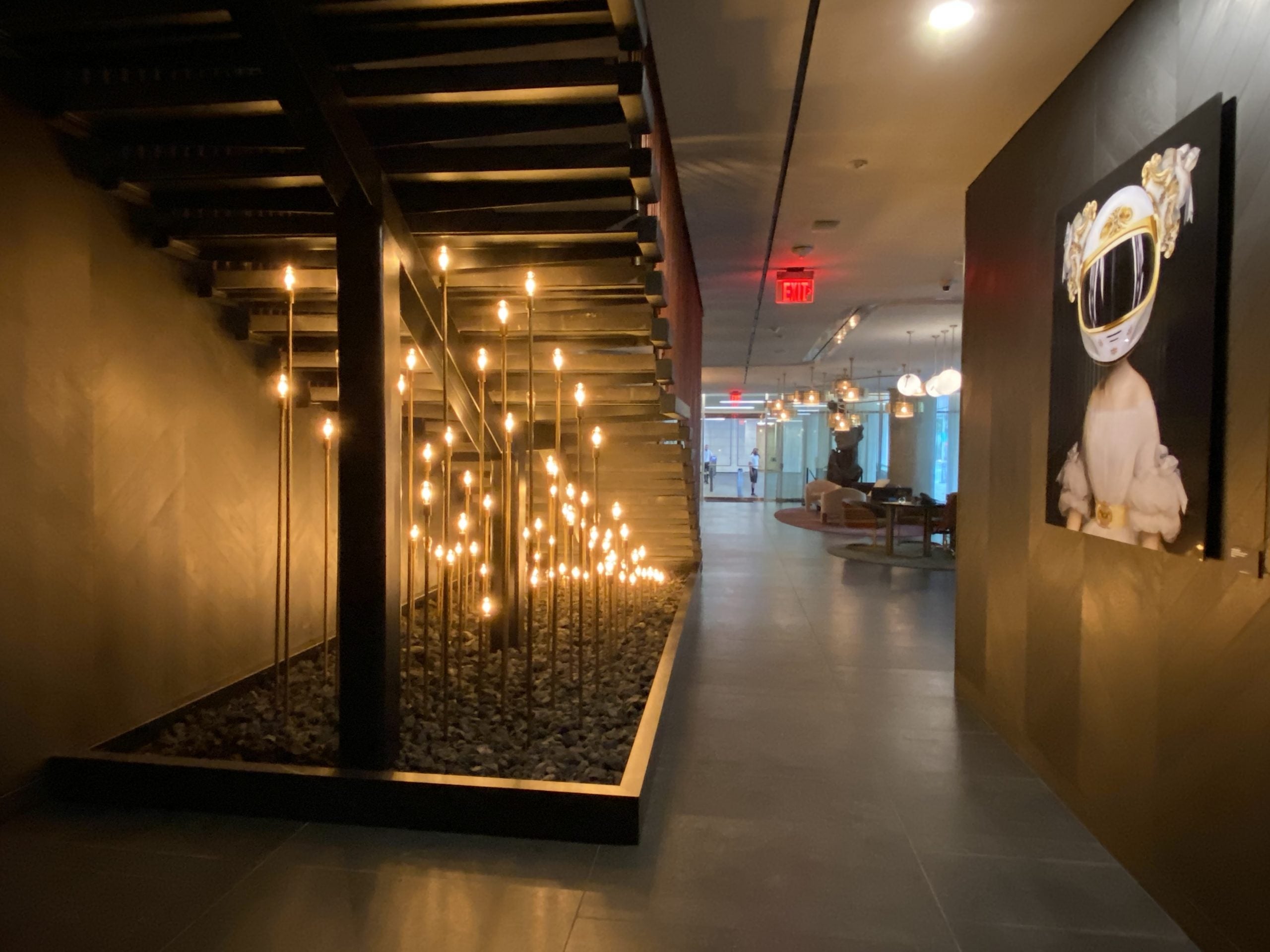 Room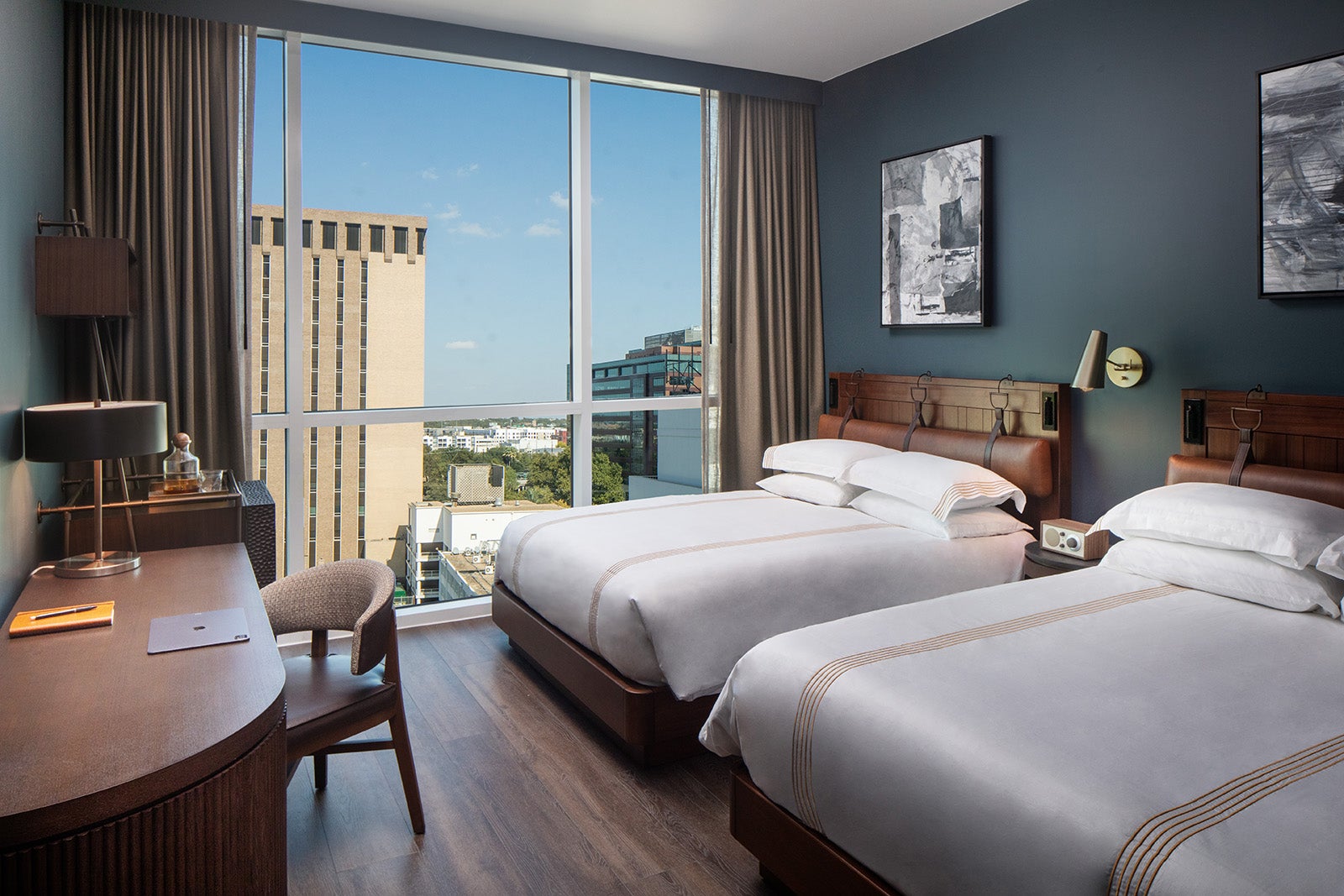 Thompson San Antonio's 162 guest rooms include 33 suites, with floor-to-ceiling views of the the city, downtown and San Antonio Hill Country. A nice touch was the ice area. Not only could you get your ice, but there was a water dispenser that offered room temperature, chilled and sparkling water. There were also free aluminum bottles of water, along with a bowl of fresh apples.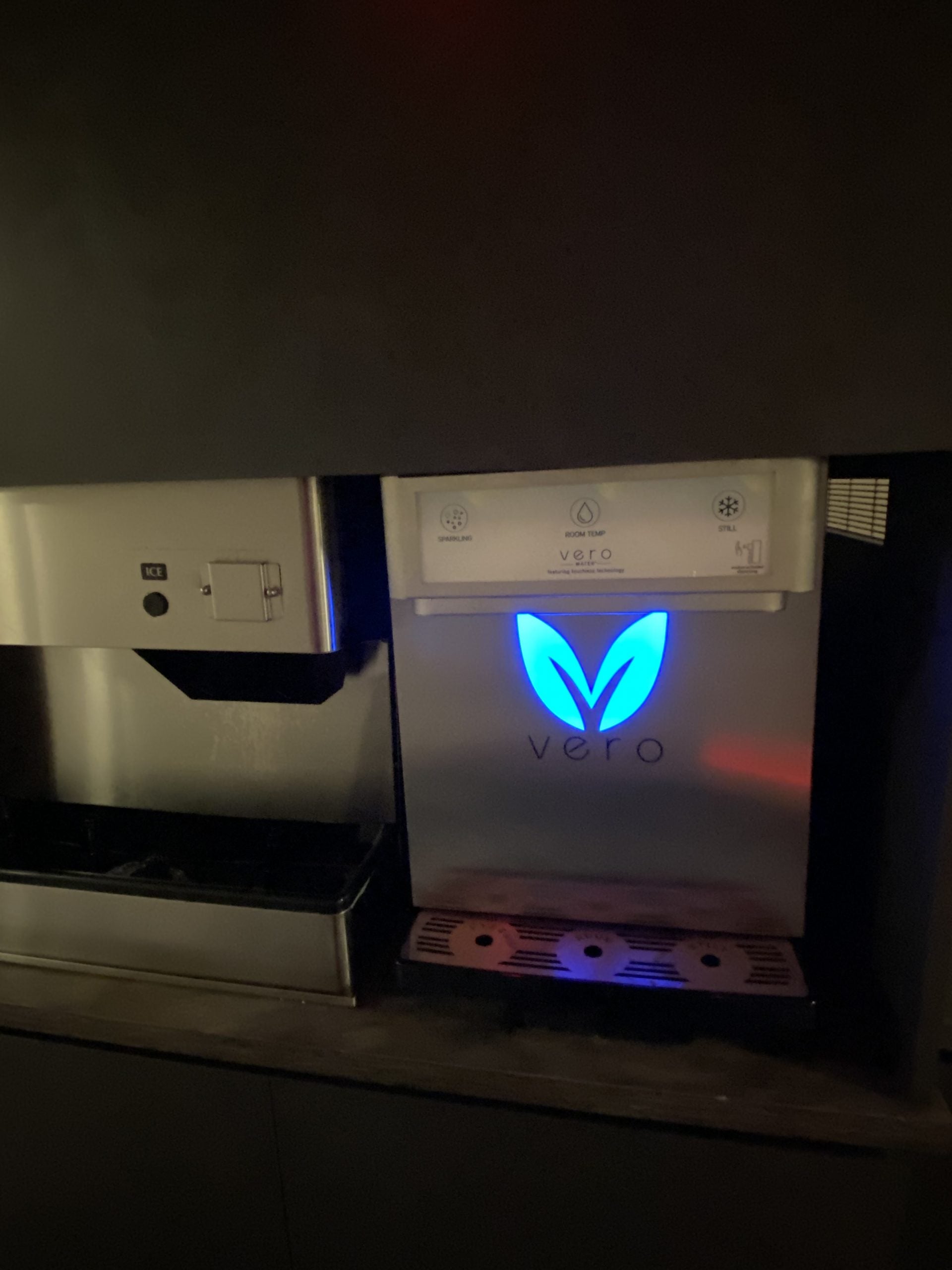 Room sizes range from 350 to 2,400 square feet, featuring custom sofas with animal-hide pillows and a small side table and equestrian-like touches, including a comfortable brown leather and buckle pillow-back headboard. The hardwood floor was covered on each side of the bed with small, soft rugs. There was a small comfortable sofa and a round table.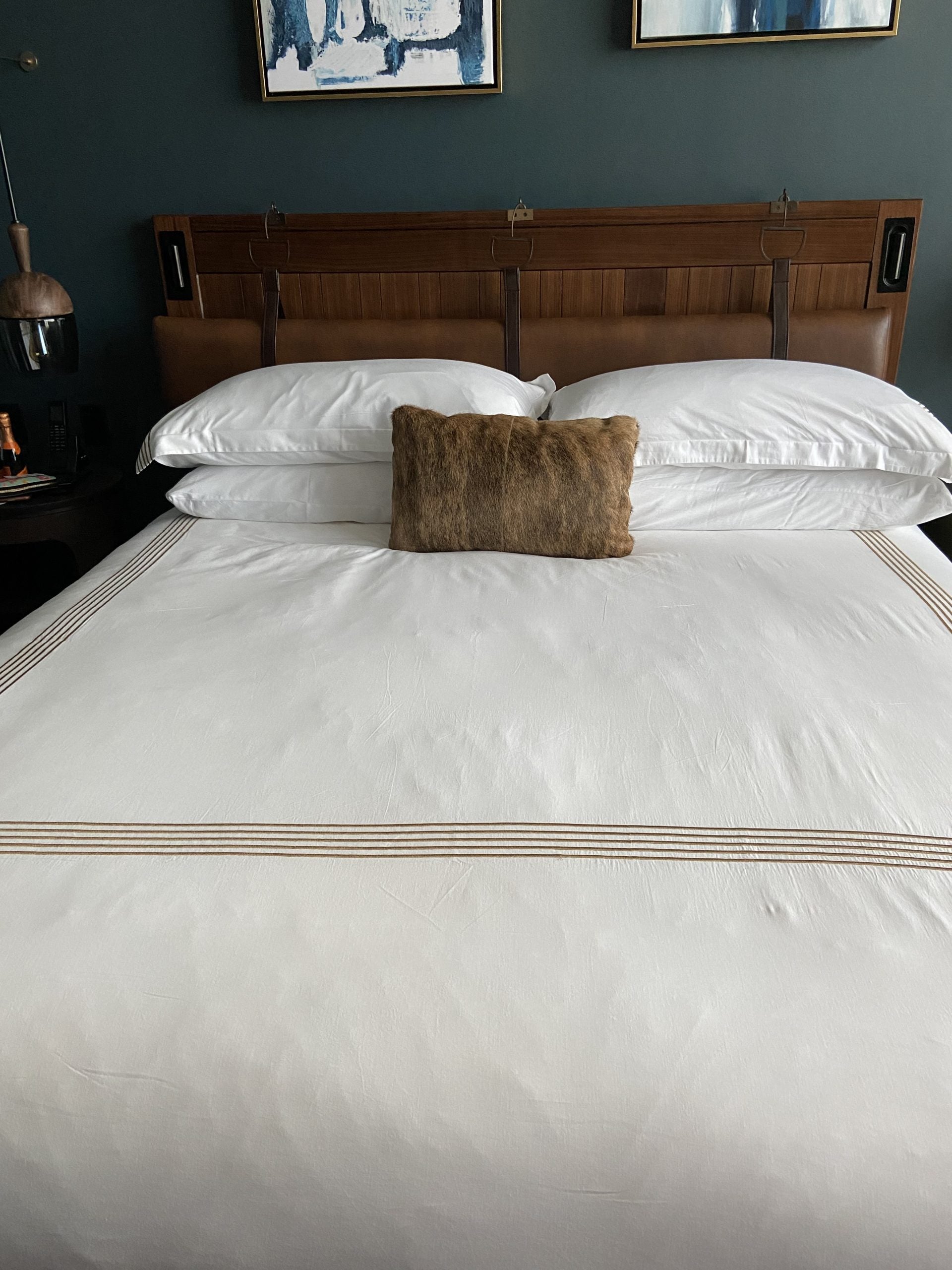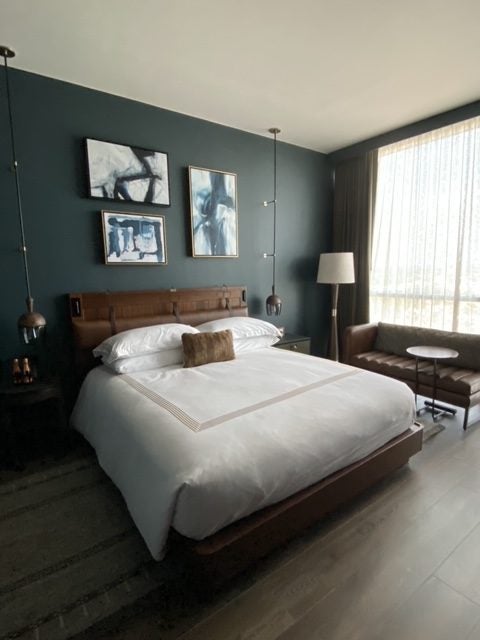 The minibar was a sleek, hammered metal storage cabinet. On top was a beverage and snack bar, featuring regional goodies from brands such as Dallas-based Ranch Water and Austin's craft-distilled Saint Liberty Bertie's Bourbon Whiskey along with a Nespresso coffee machine.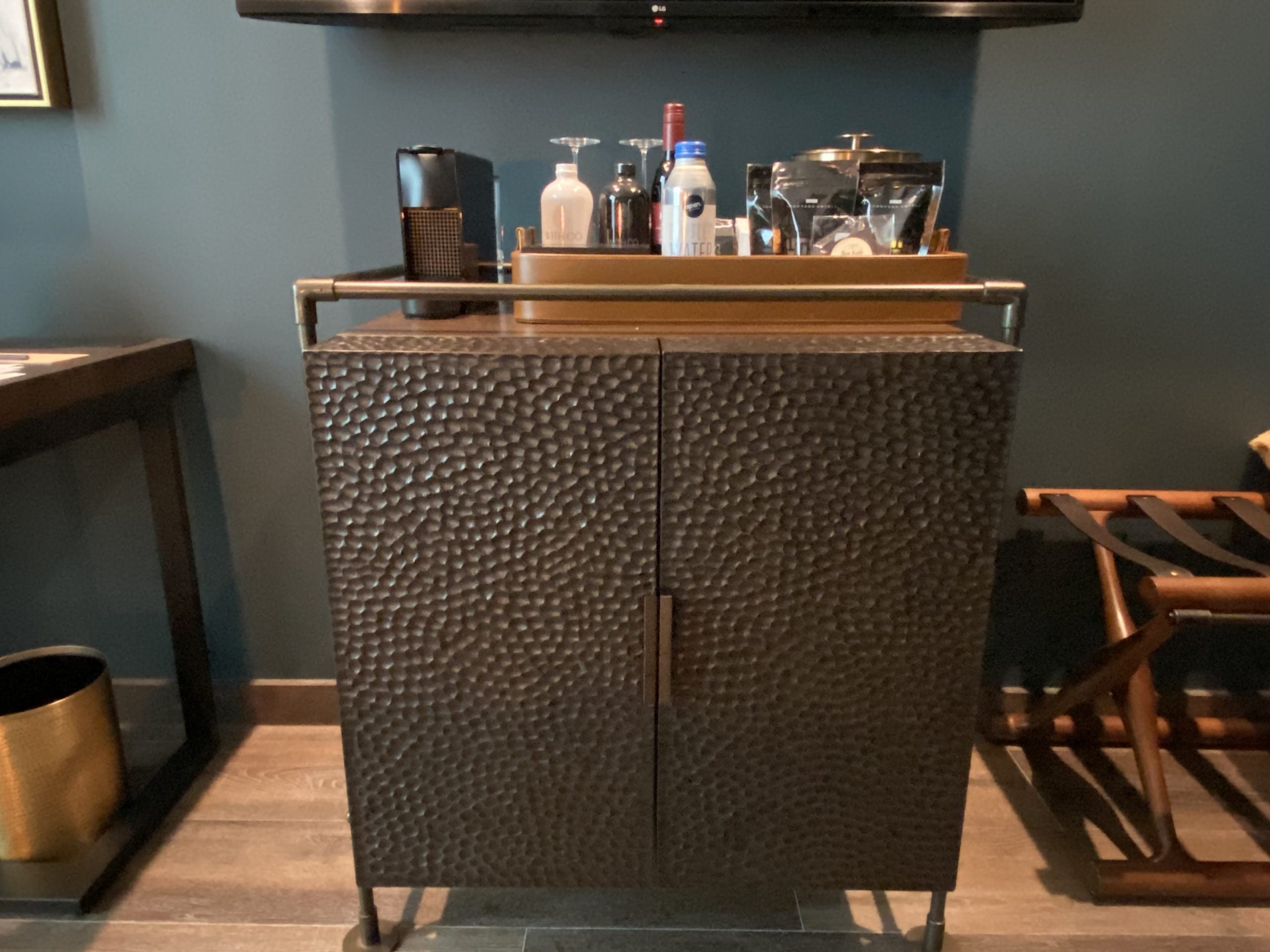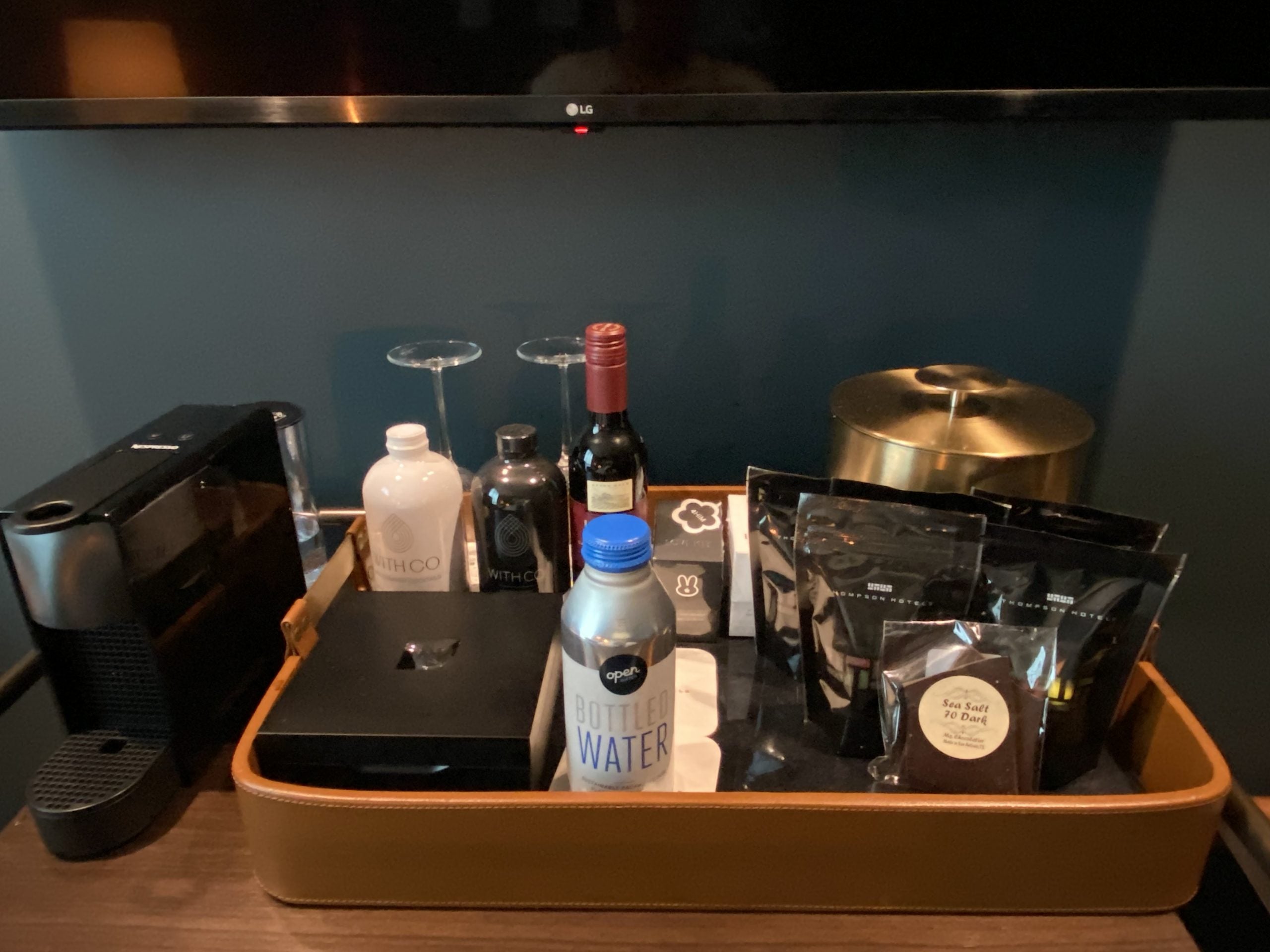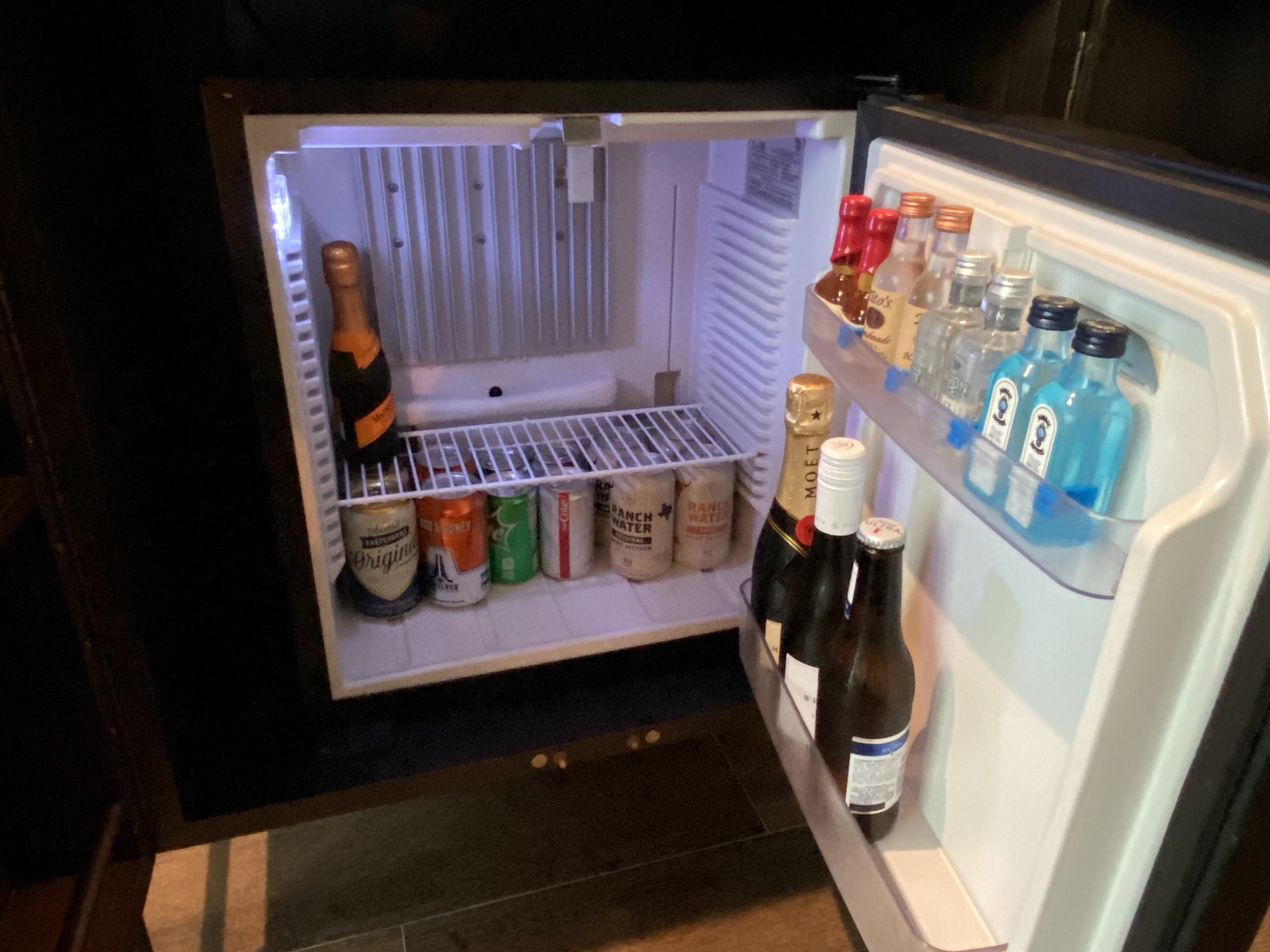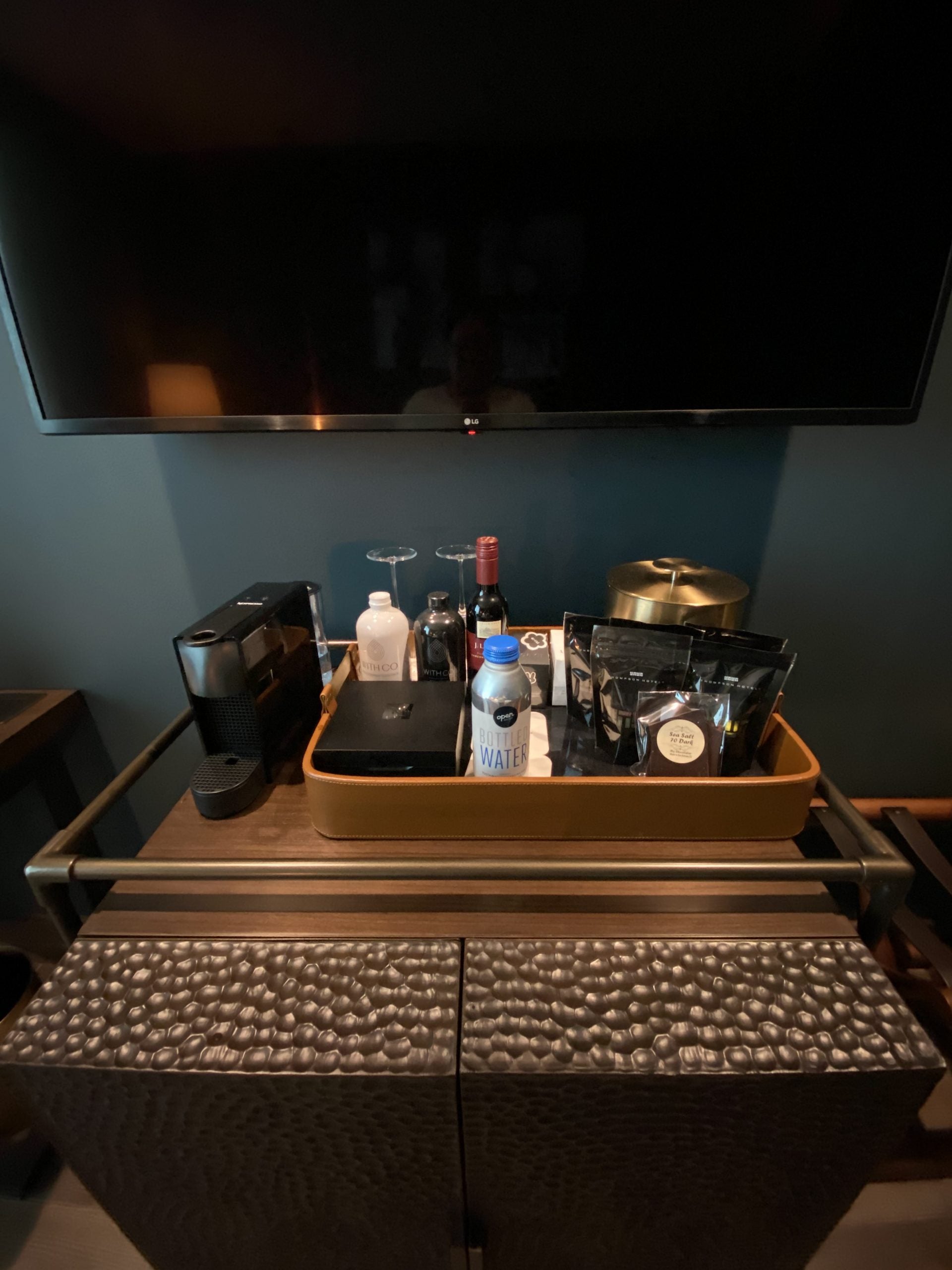 While comfortable, the room had a few flaws. The side of the room closest to the door had a power outlet and a USB port. The same wasn't available on the window side of the bed. I actually had to push back the nightstand, unplug a lamp and plug in my phone charger (good thing I always travel with a plug-style charger). There were more plugs on the smallish desk, but the space was limited.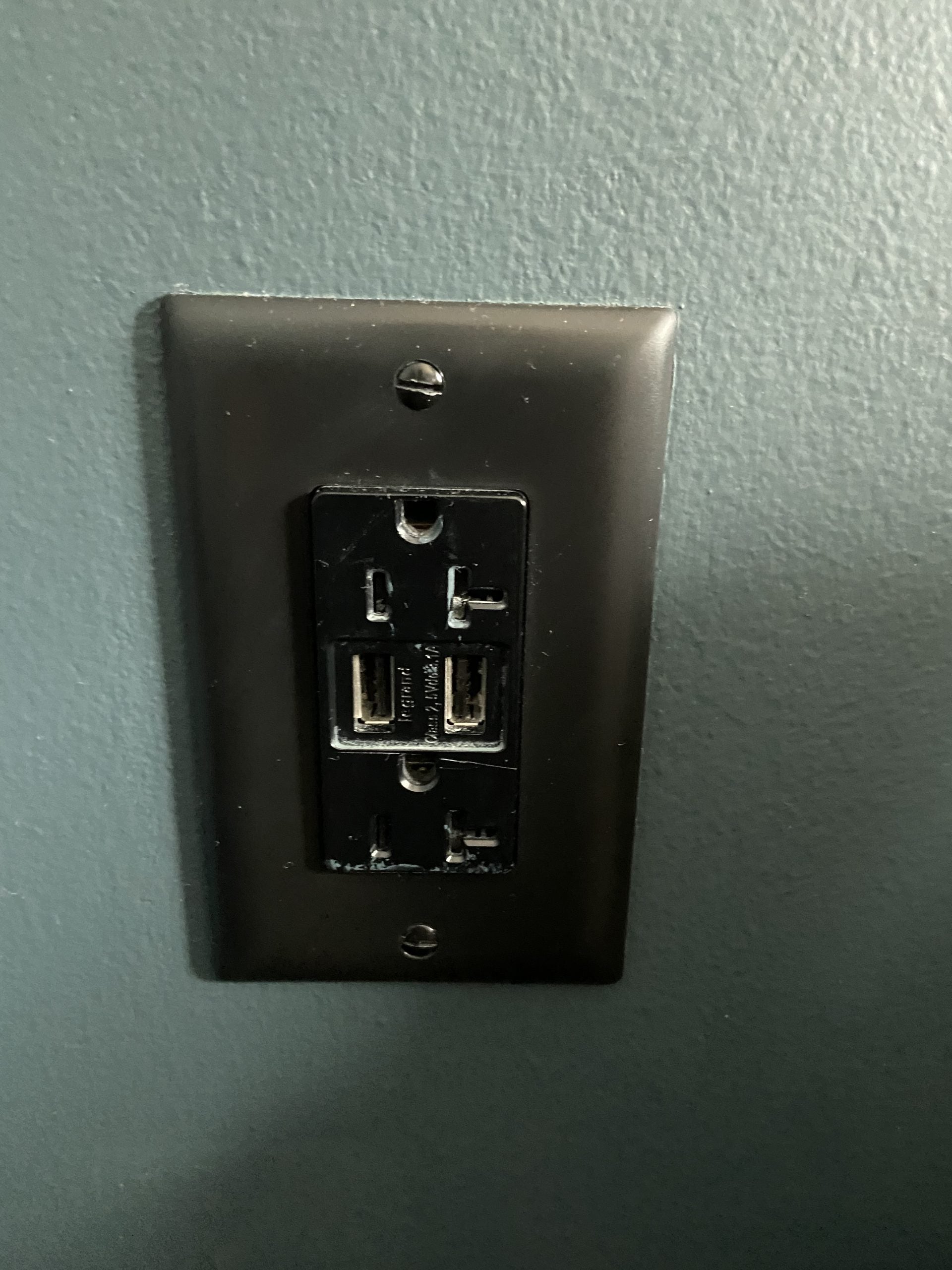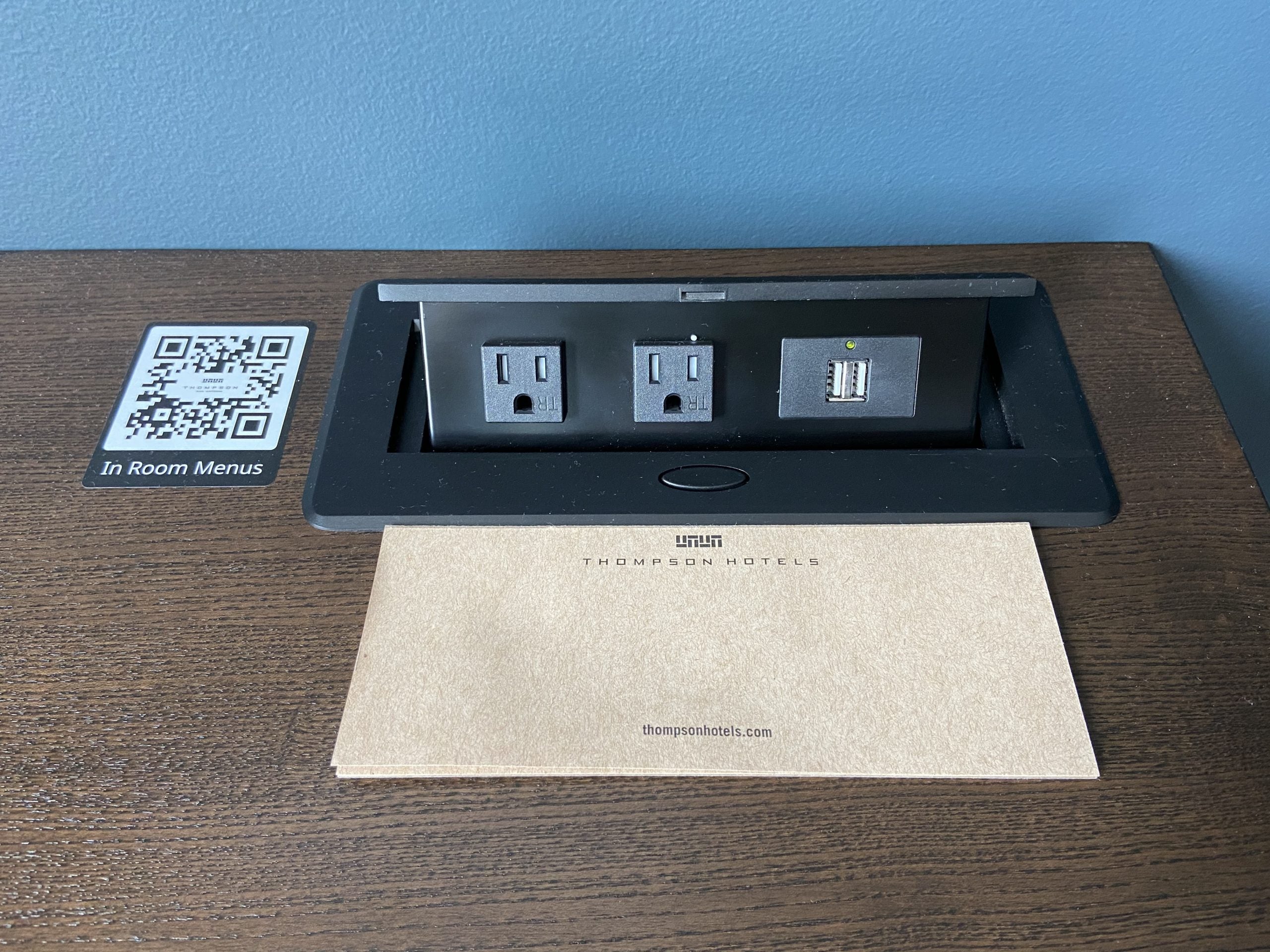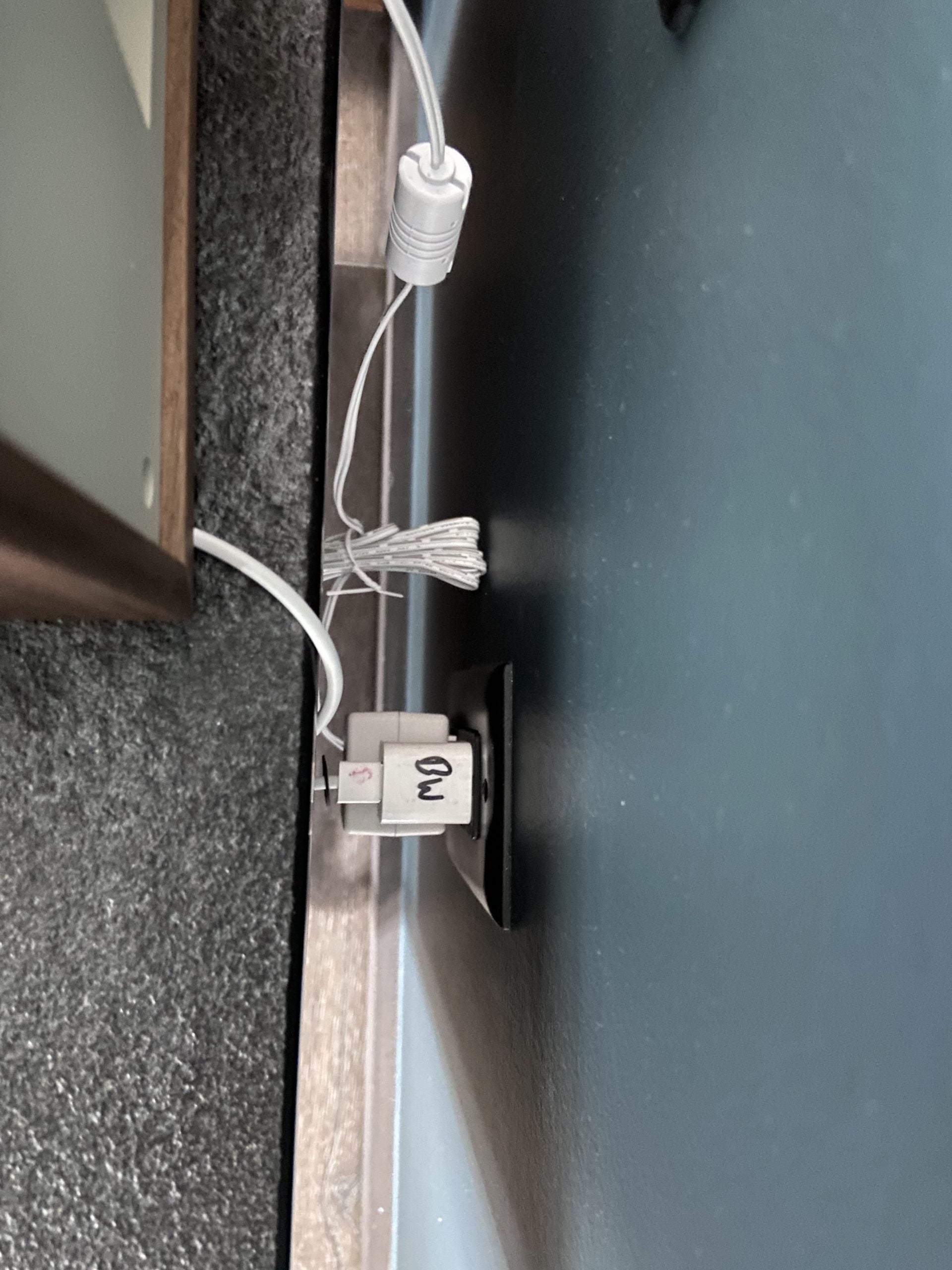 As you enter the room, there's a closet with plenty of storage, a laptop safe, one of the softest hotel robes I've ever worn and a clothes steamer — but no iron or ironing board. There also weren't any extra pillows or blankets, but what we had was plenty.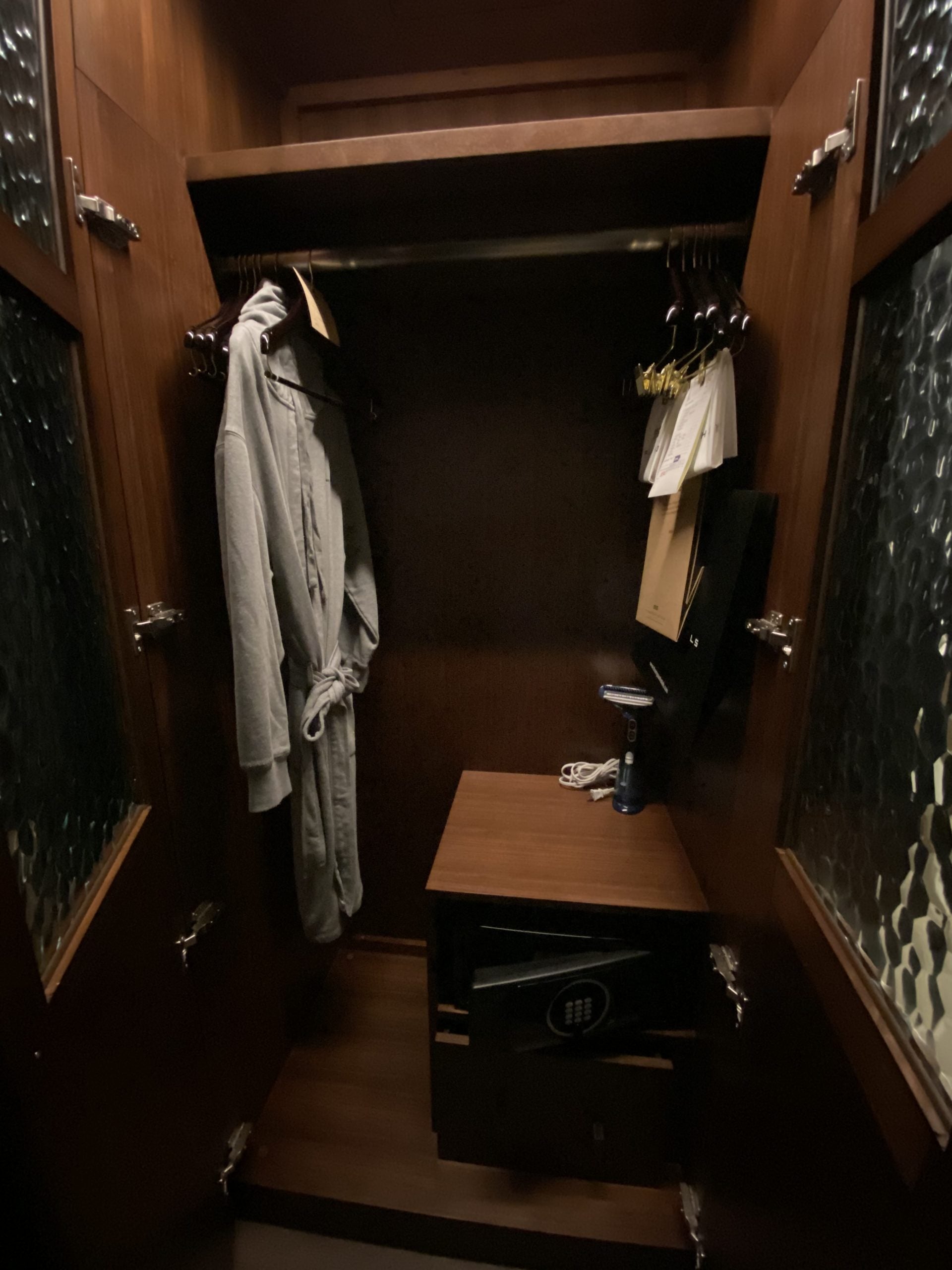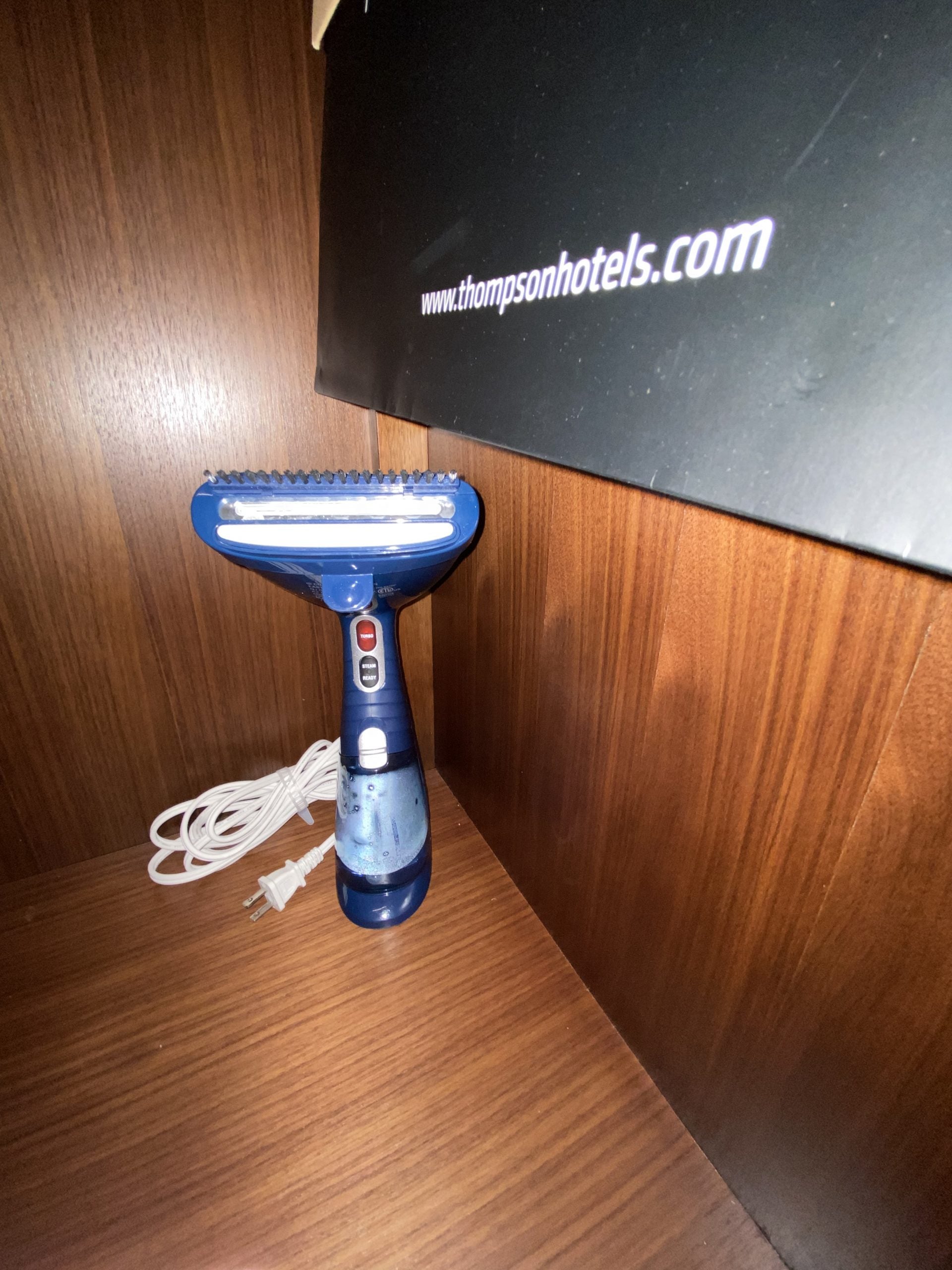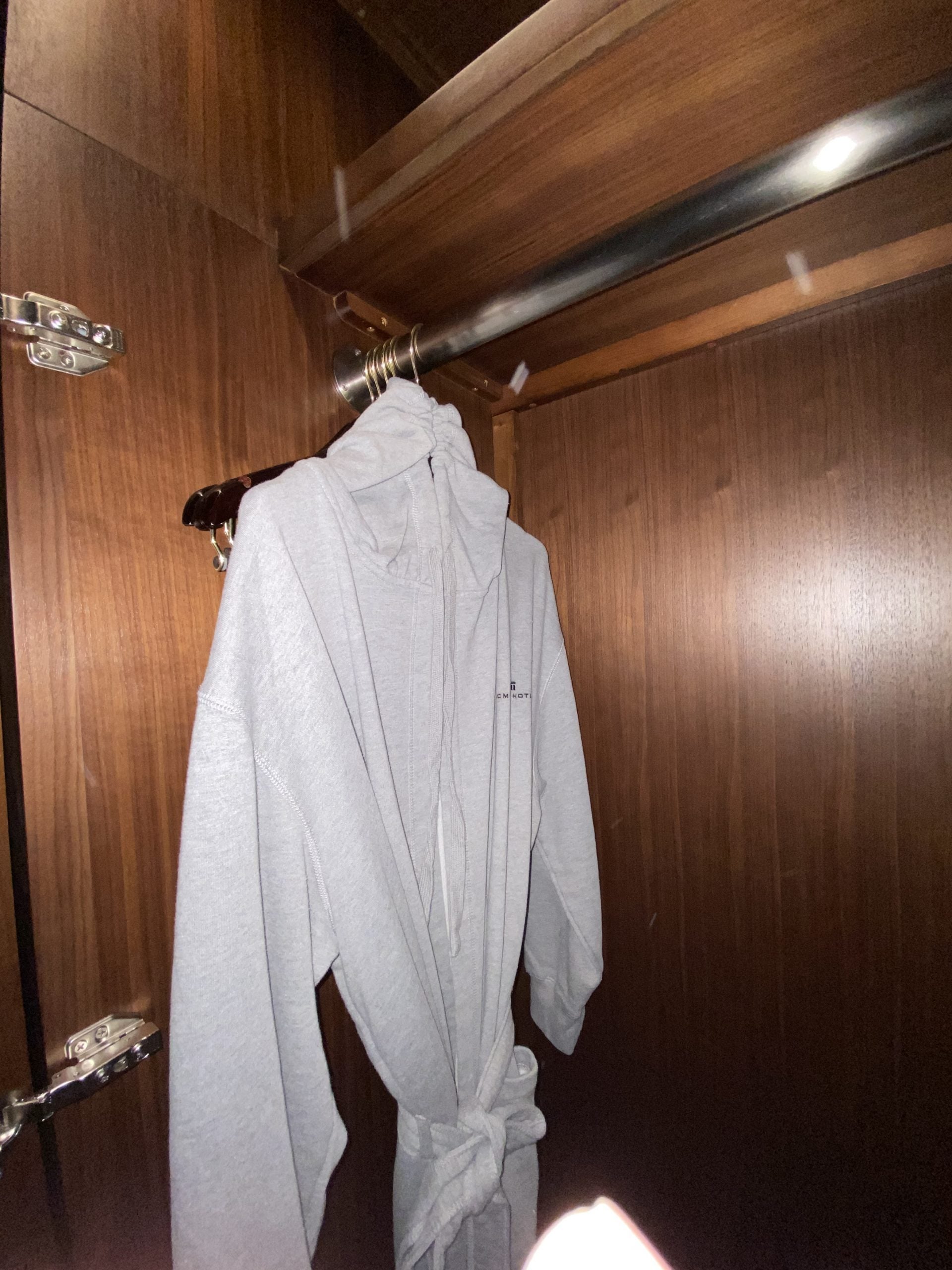 What made this hotel special was the spacious stone-and-glass bathroom, complete with a rainfall shower. The sink area had enough space to hold the make-up, perfume and bathroom accessories for two people, plus D.S. & Durga bath products (but in a pump instead of small bottles). The bath sheets, washcloths and hand towels were soft and luxurious, and the body wash smelled divine. My only nit was that the make-up mirror was a bit small and low, and wasn't magnified.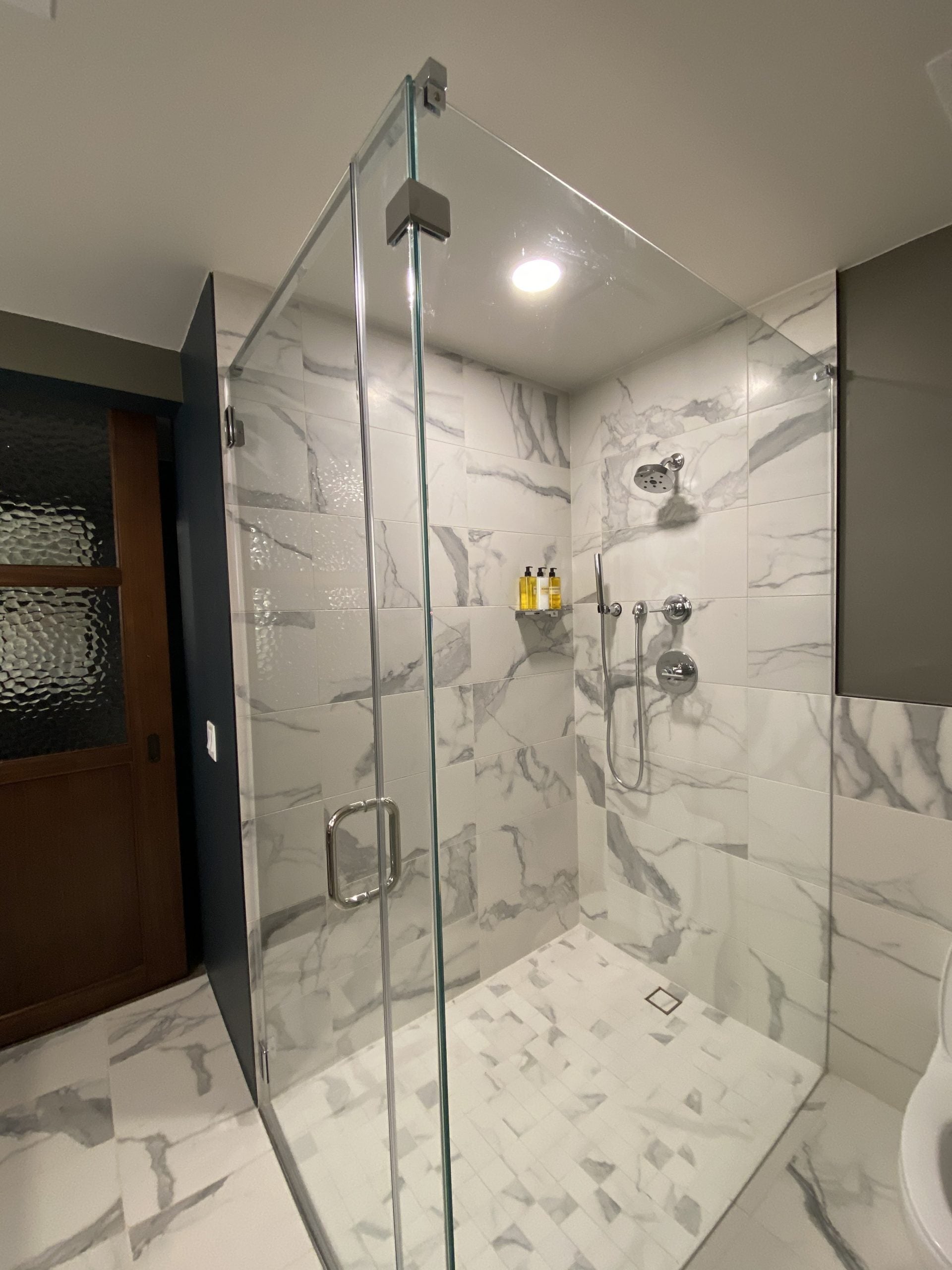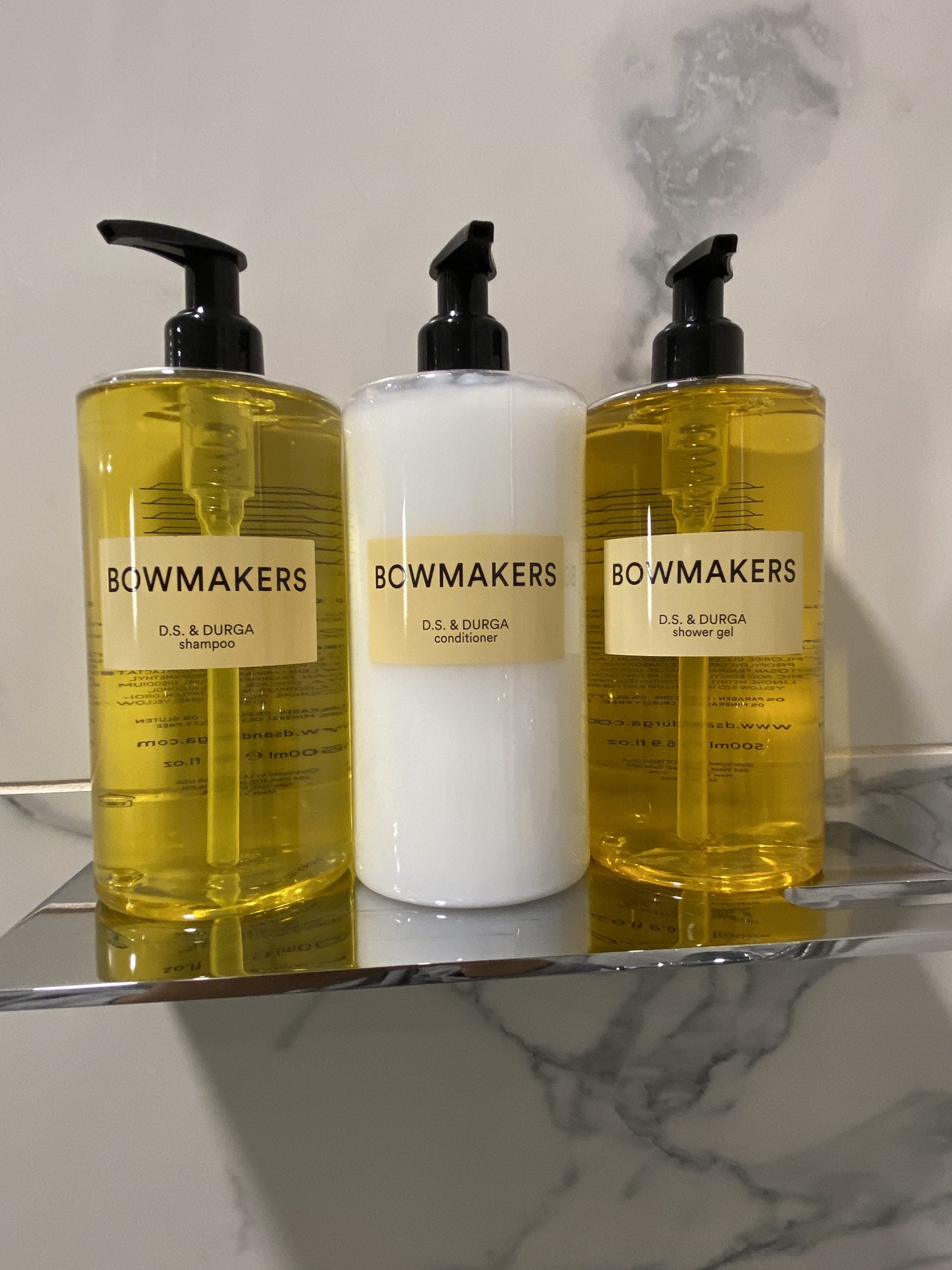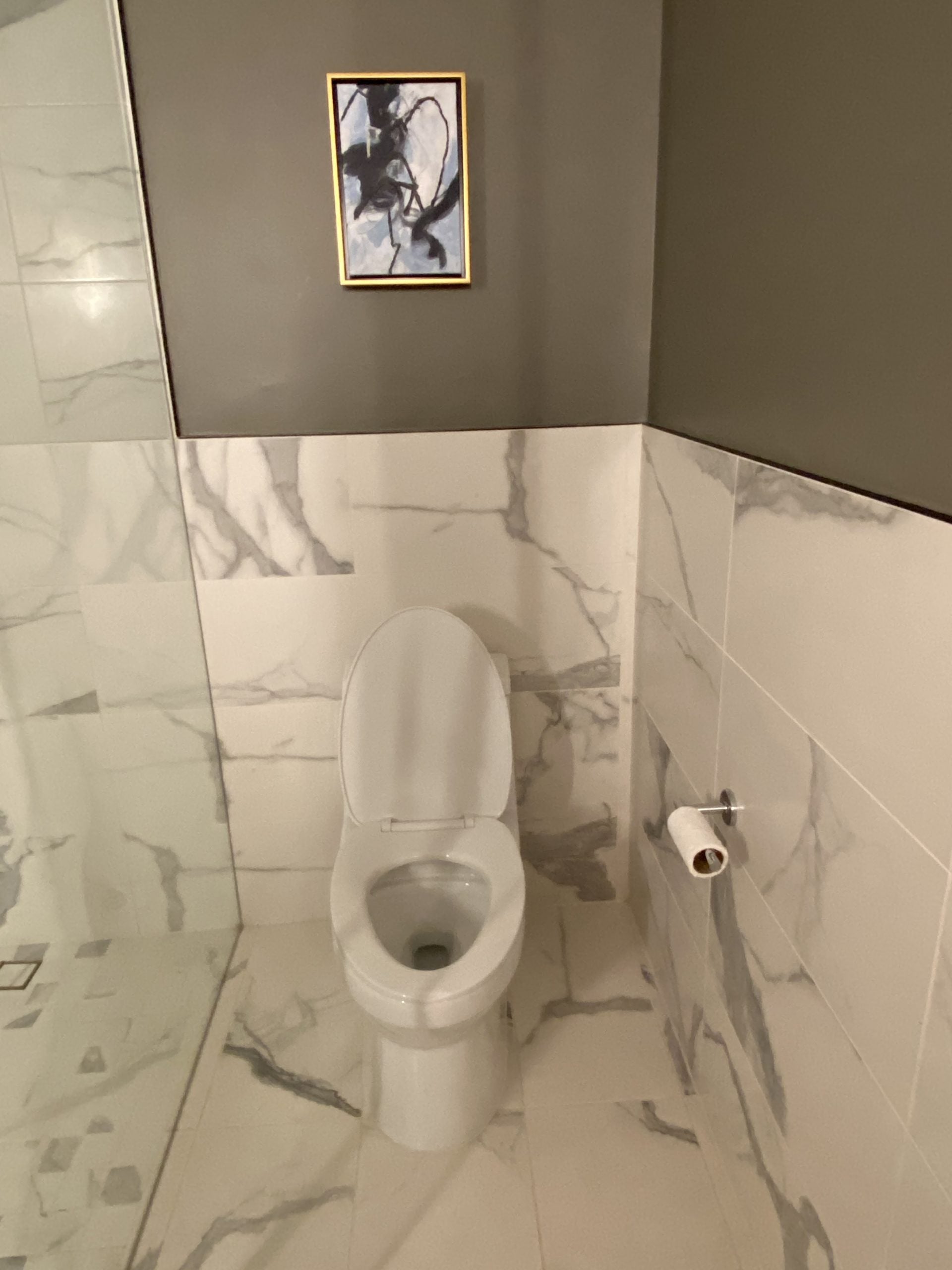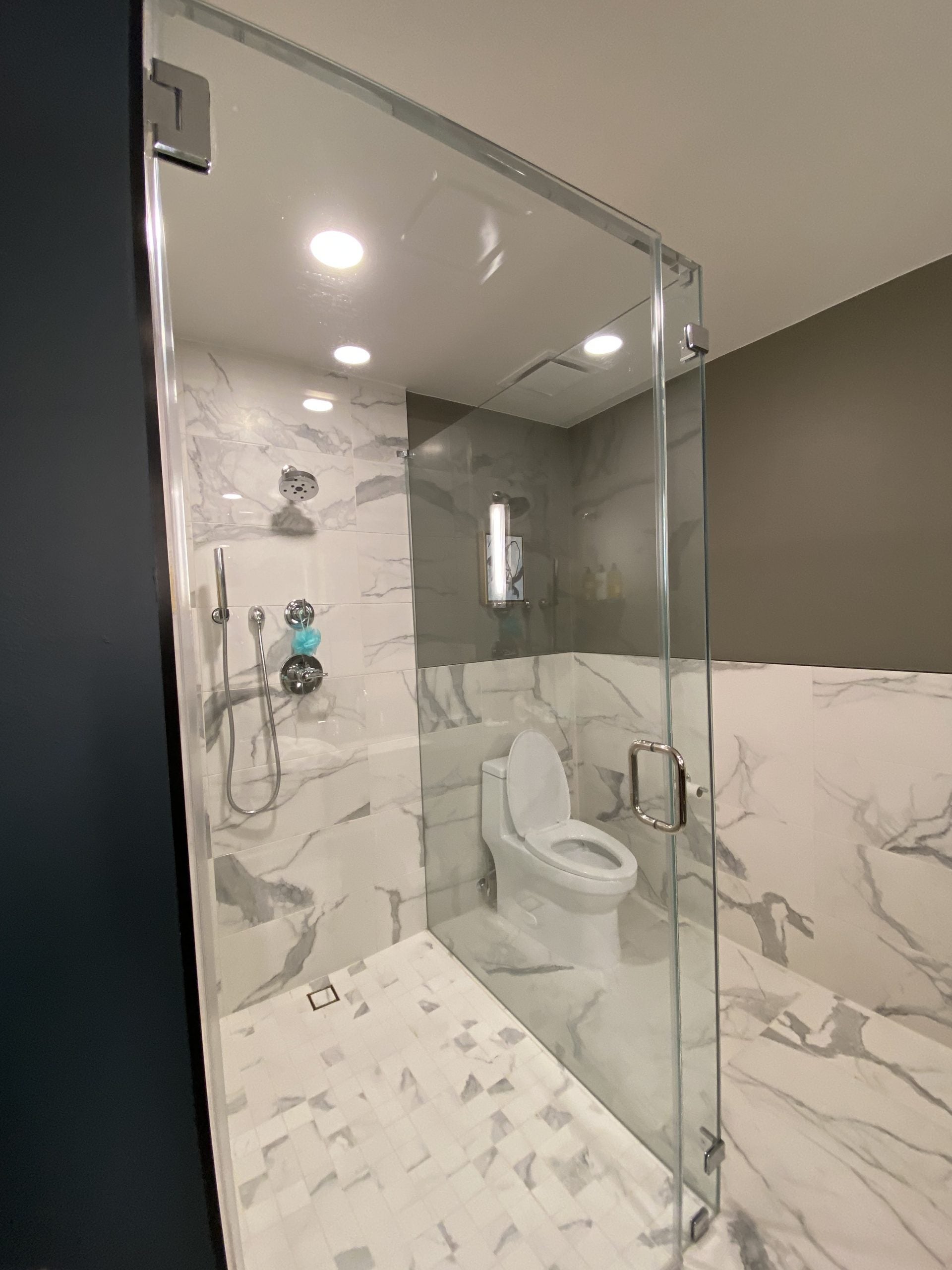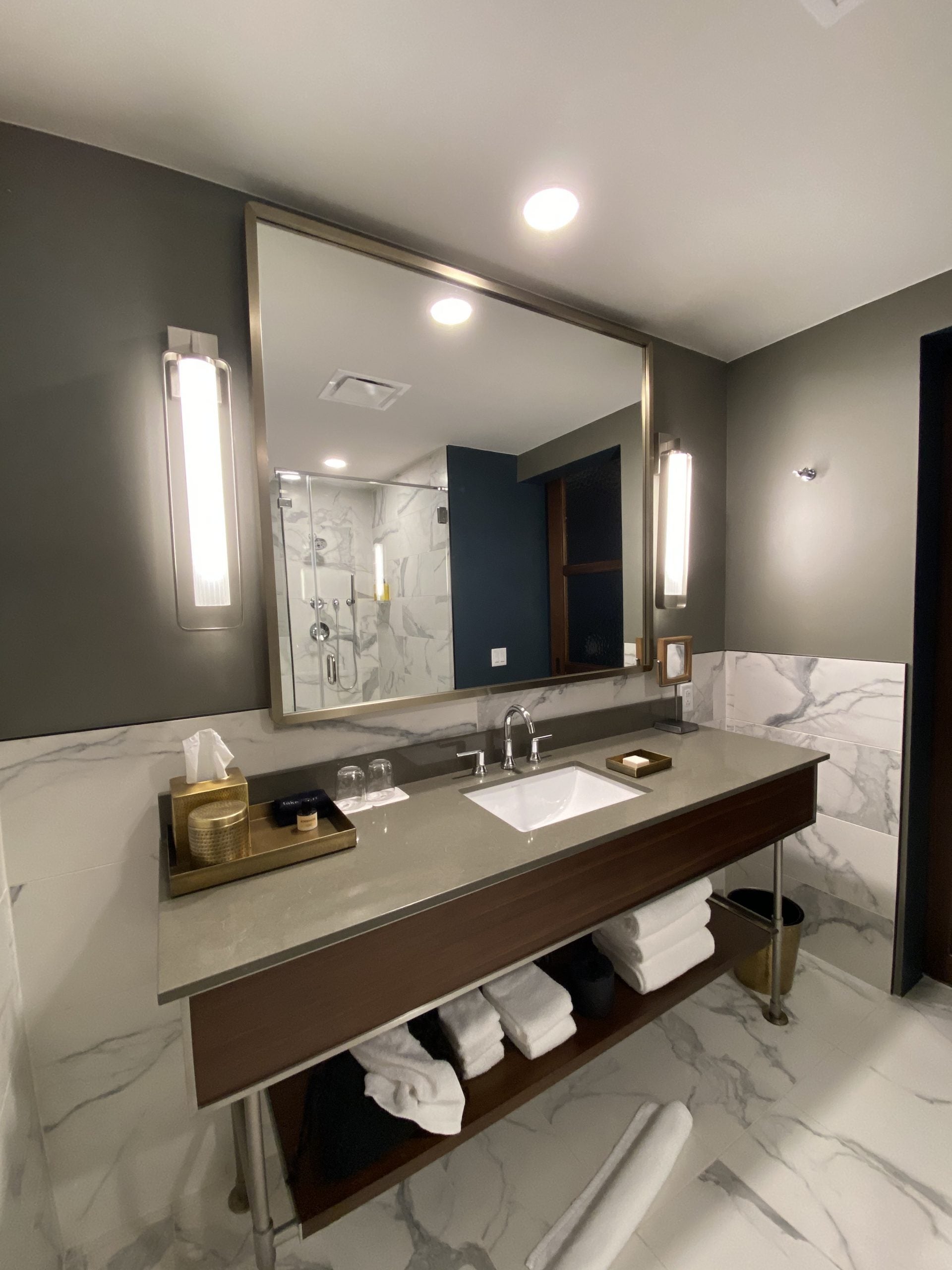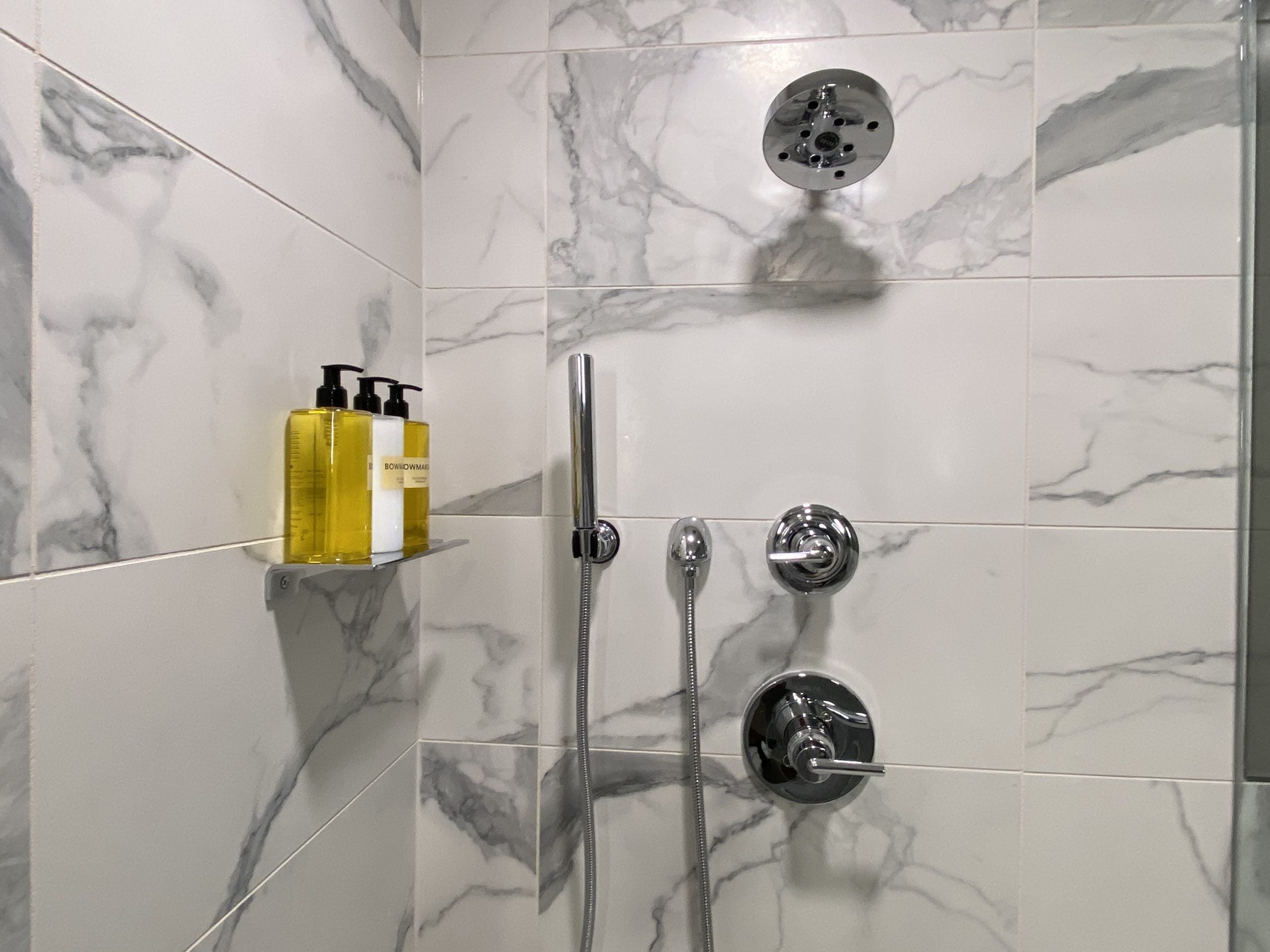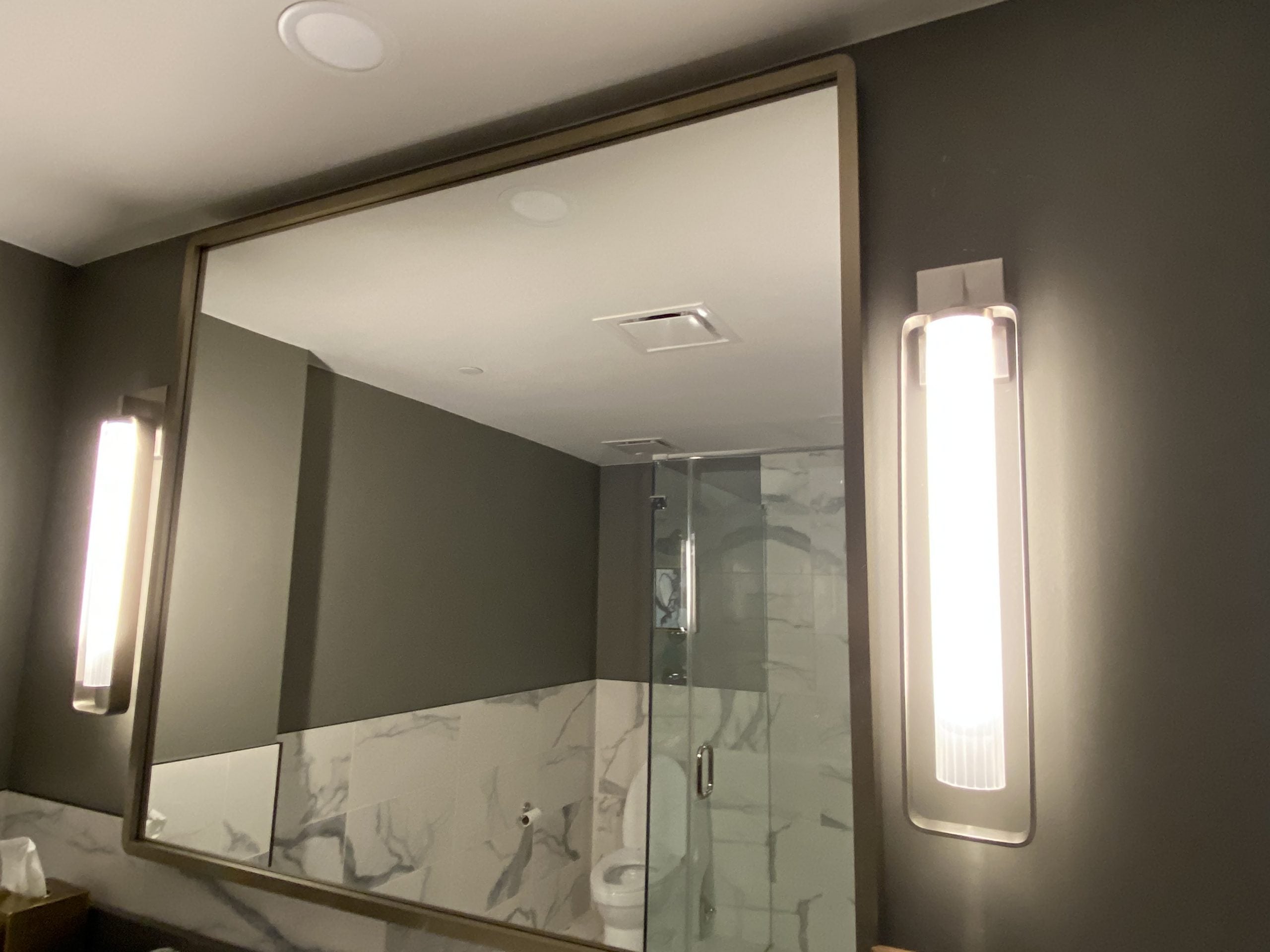 Amenities
The Thompson has two restaurants, along with the guests-only pool bar that offers food. There's a 5,000-square-foot on-site spa, but I was unable to see it during my visit. It has services including massage therapy, facial and body treatments, and waxing. There are also five treatment rooms, relaxation areas, a sauna and a steam room, plus a 24-hour fitness center.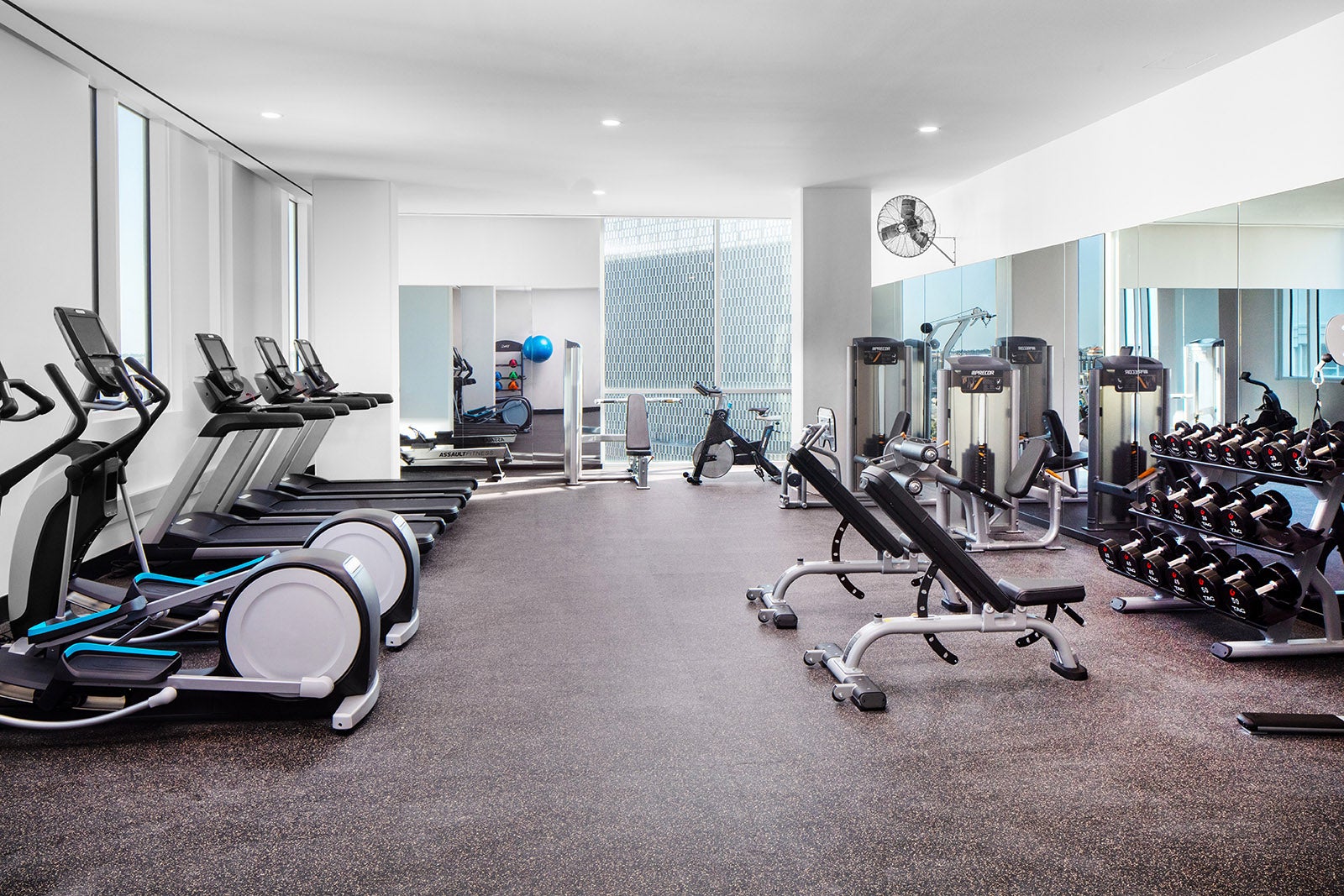 Free Wi-Fi was available throughout the hotel and in the room. In our room, it was robust enough for me to cast programs from my phone to the television.
Food and beverage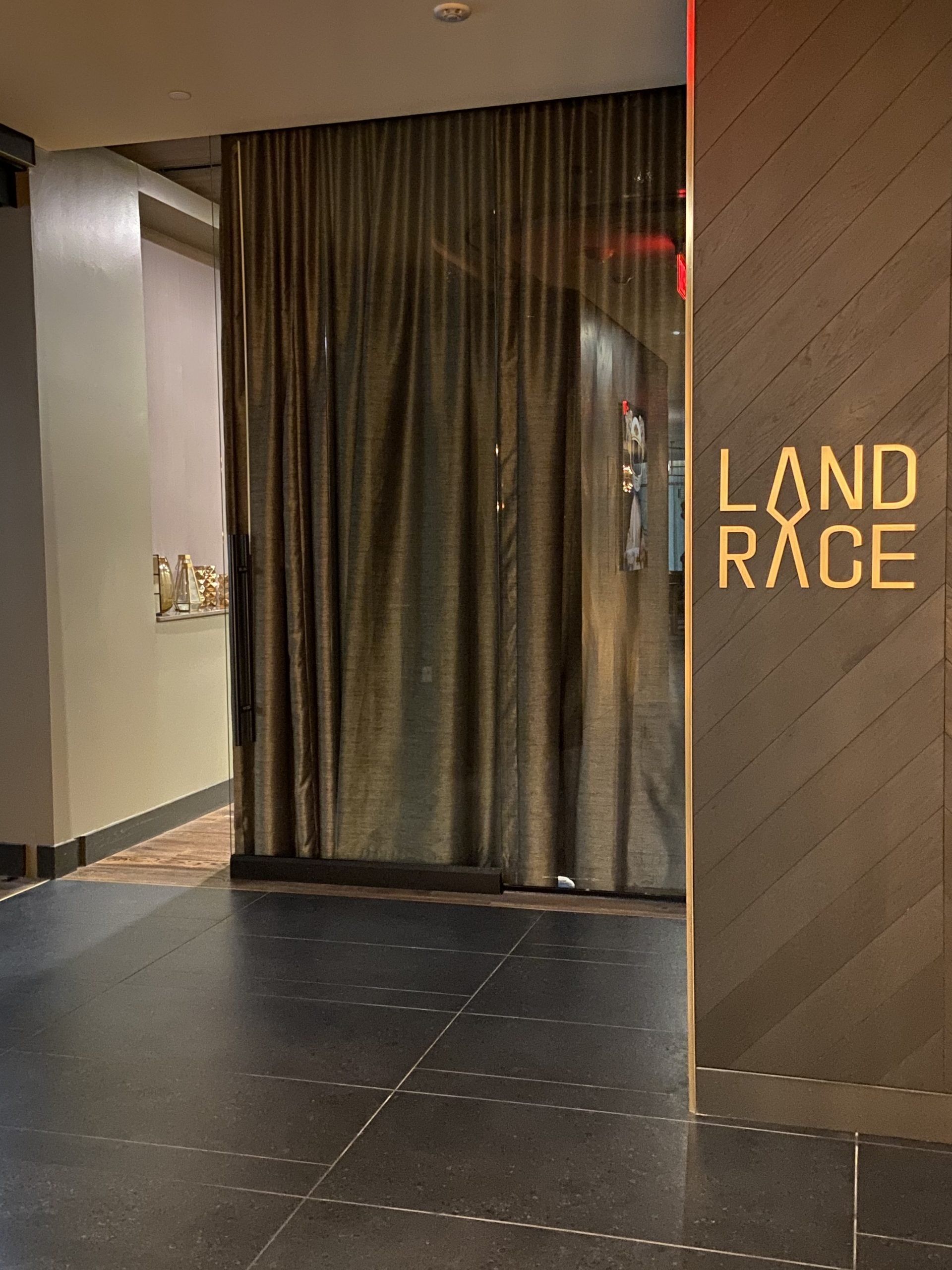 The hotel prides itself on offering bespoke dining experiences partnering with local award-winning chefs, and the San Antonio outlet didn't disappoint. The jewel of the hotel was Landrace, a destination restaurant helmed by James Beard Award finalist and popular San Antonio chef Steve McHugh. We had lunch at the restaurant, which showcases regional Texas ingredients and sources from nearby heritage growers. The bar makes its own flavored syrups and juices for the cocktails. Our bartender said the Thompson team worked hard to hire folks like him, those with experience working at local hotels.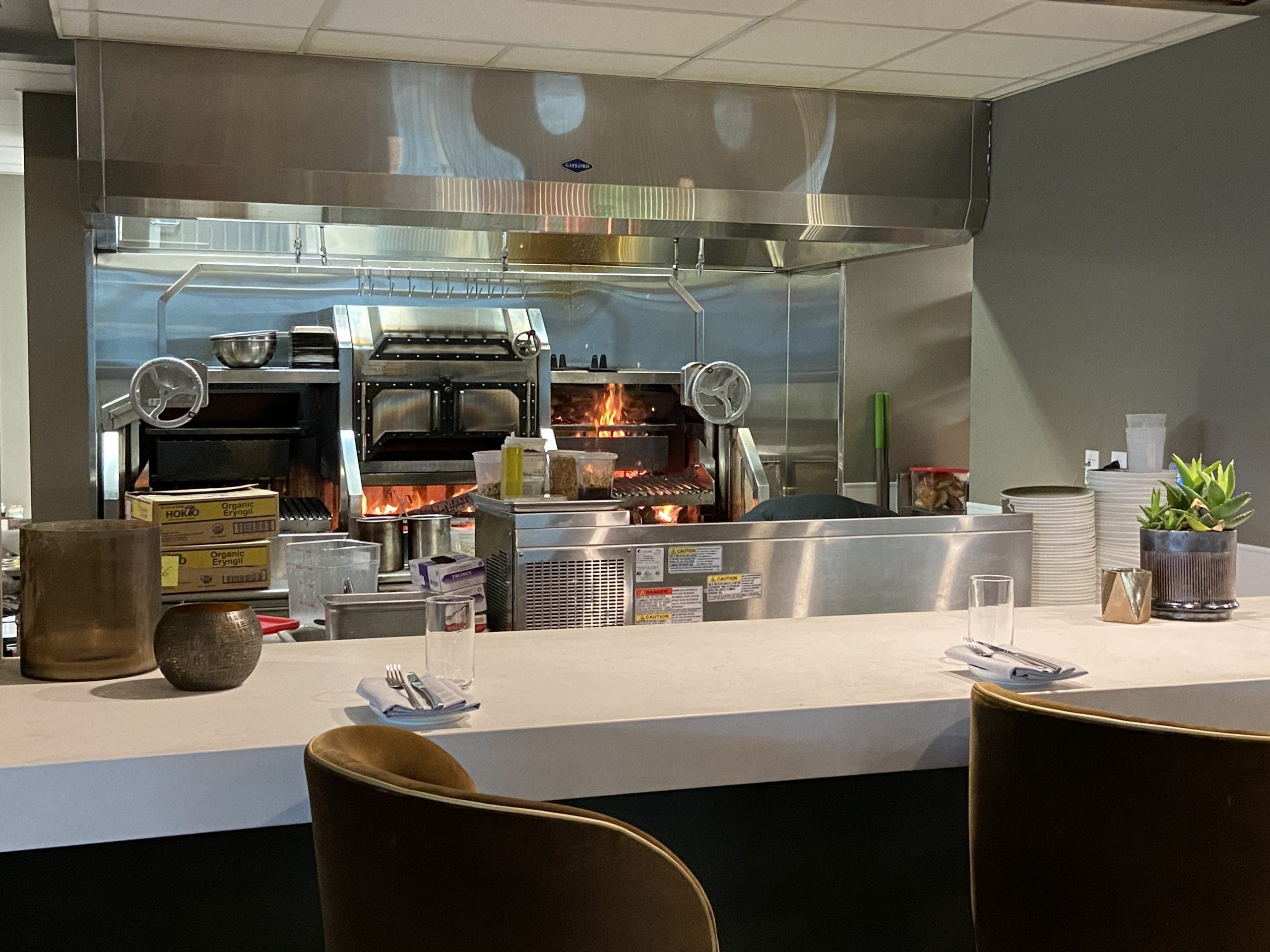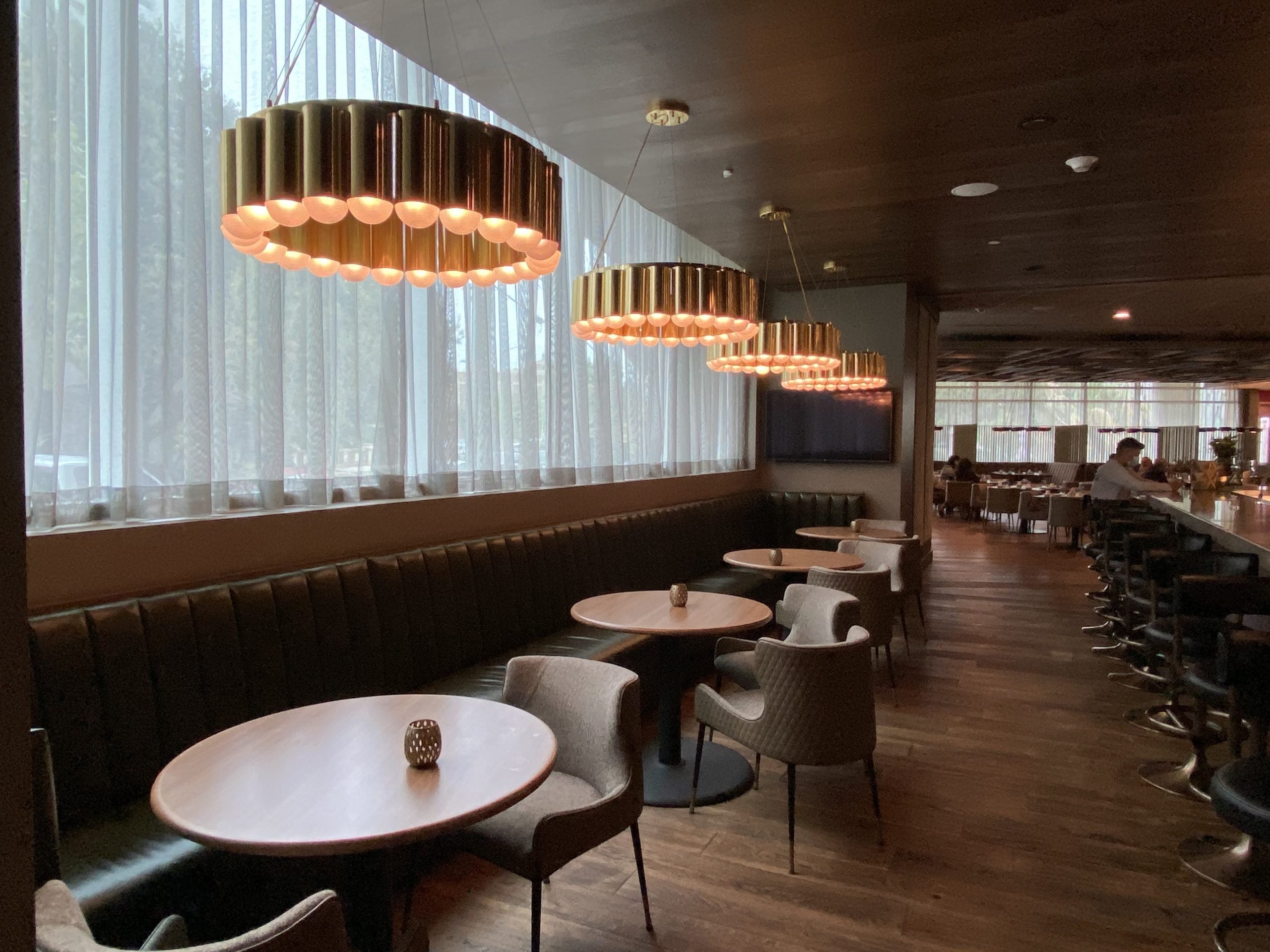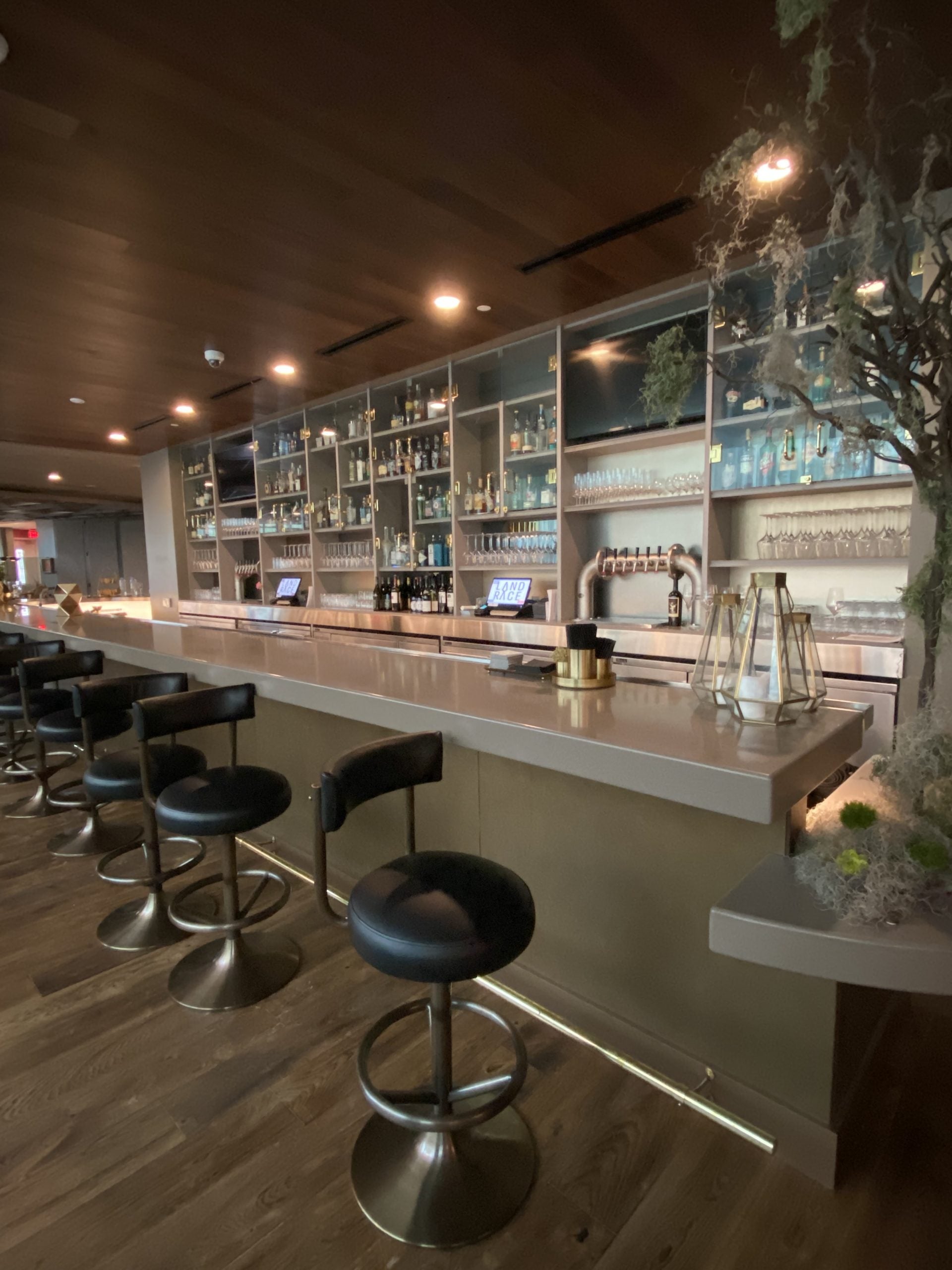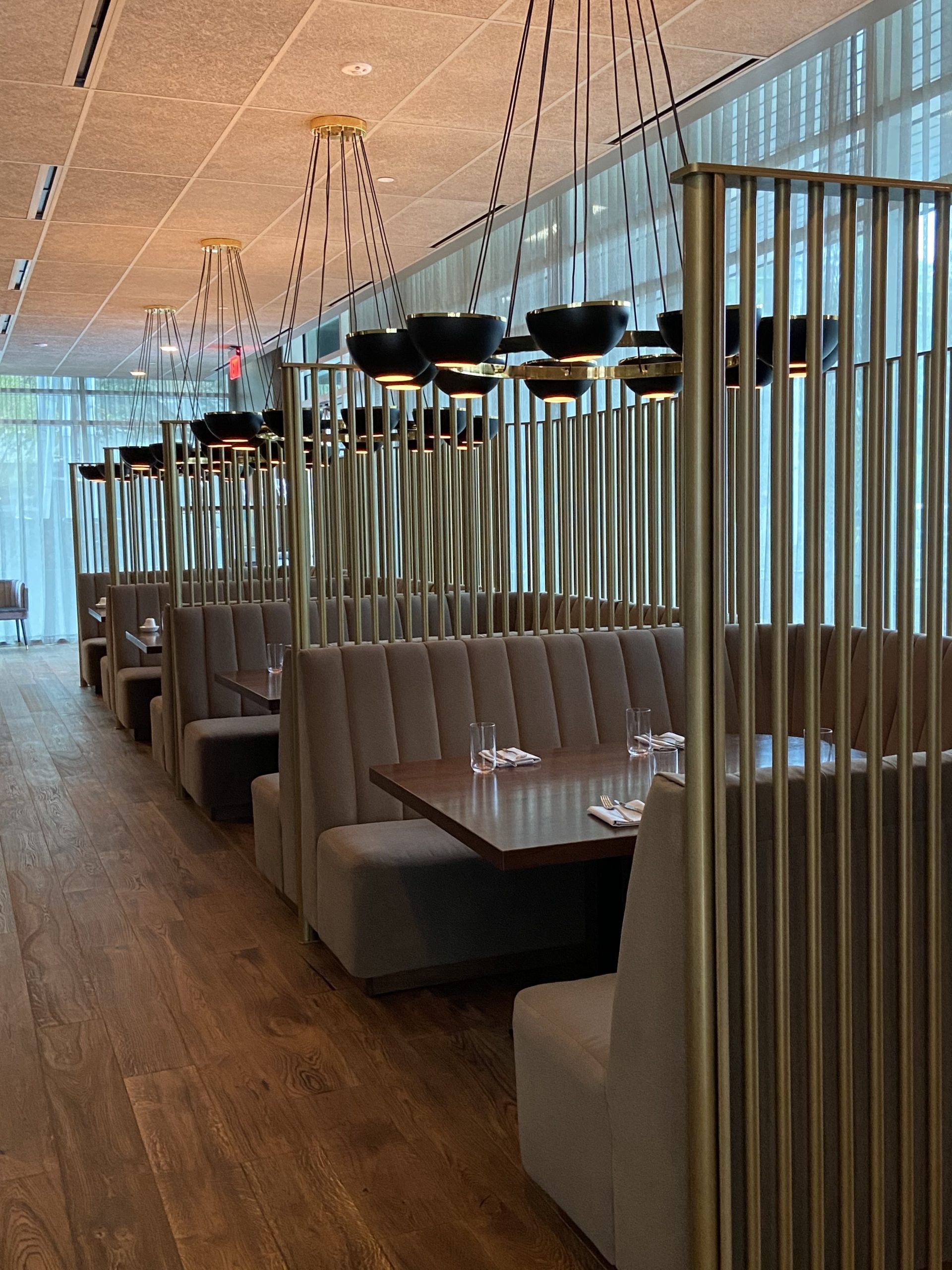 For brunch, I ordered the avocado toast with eggs and a bowl of the best stone-ground grits I've ever had. My sister had the wagyu petite tender with eggs over easy and a chicory salad.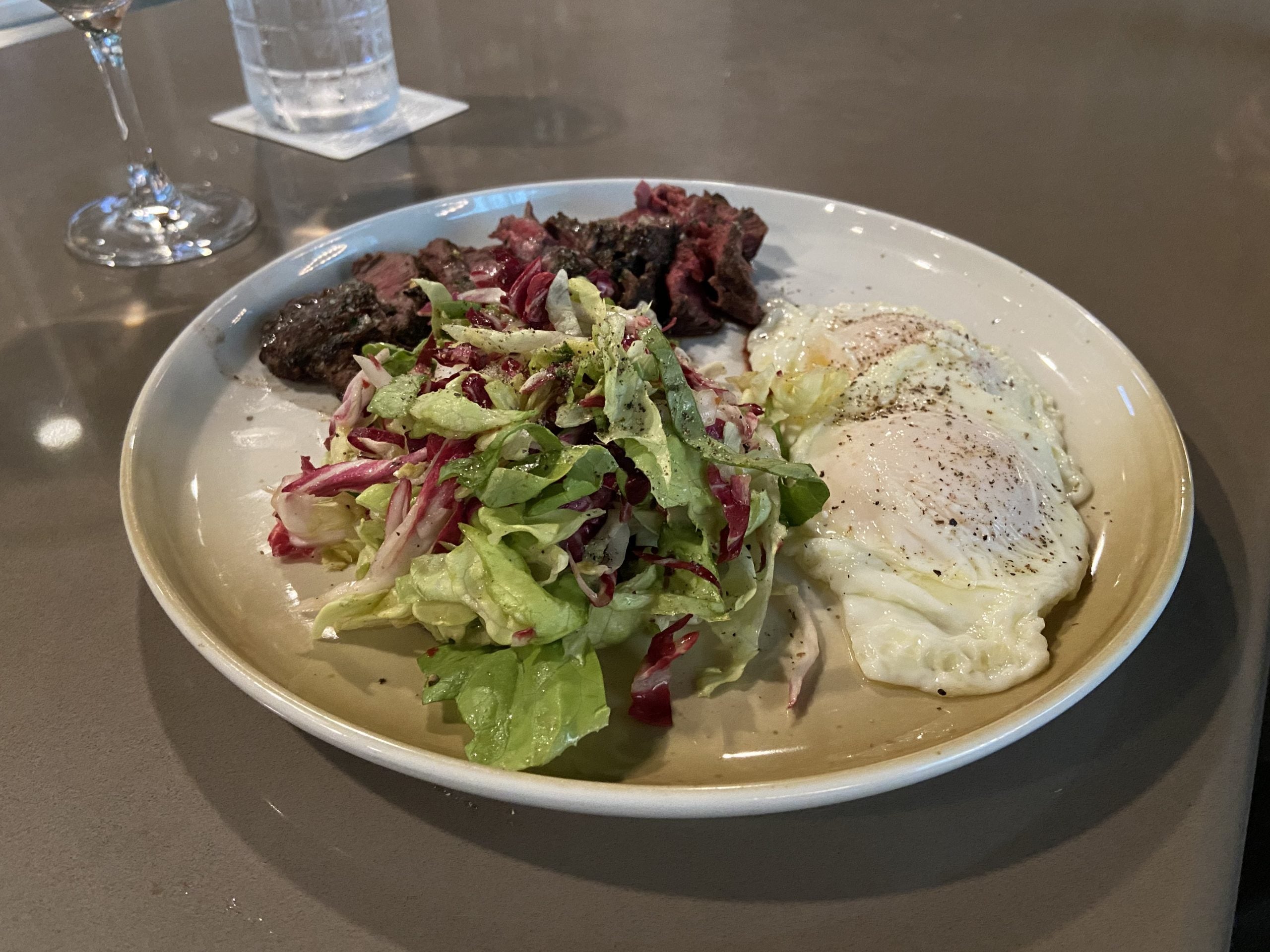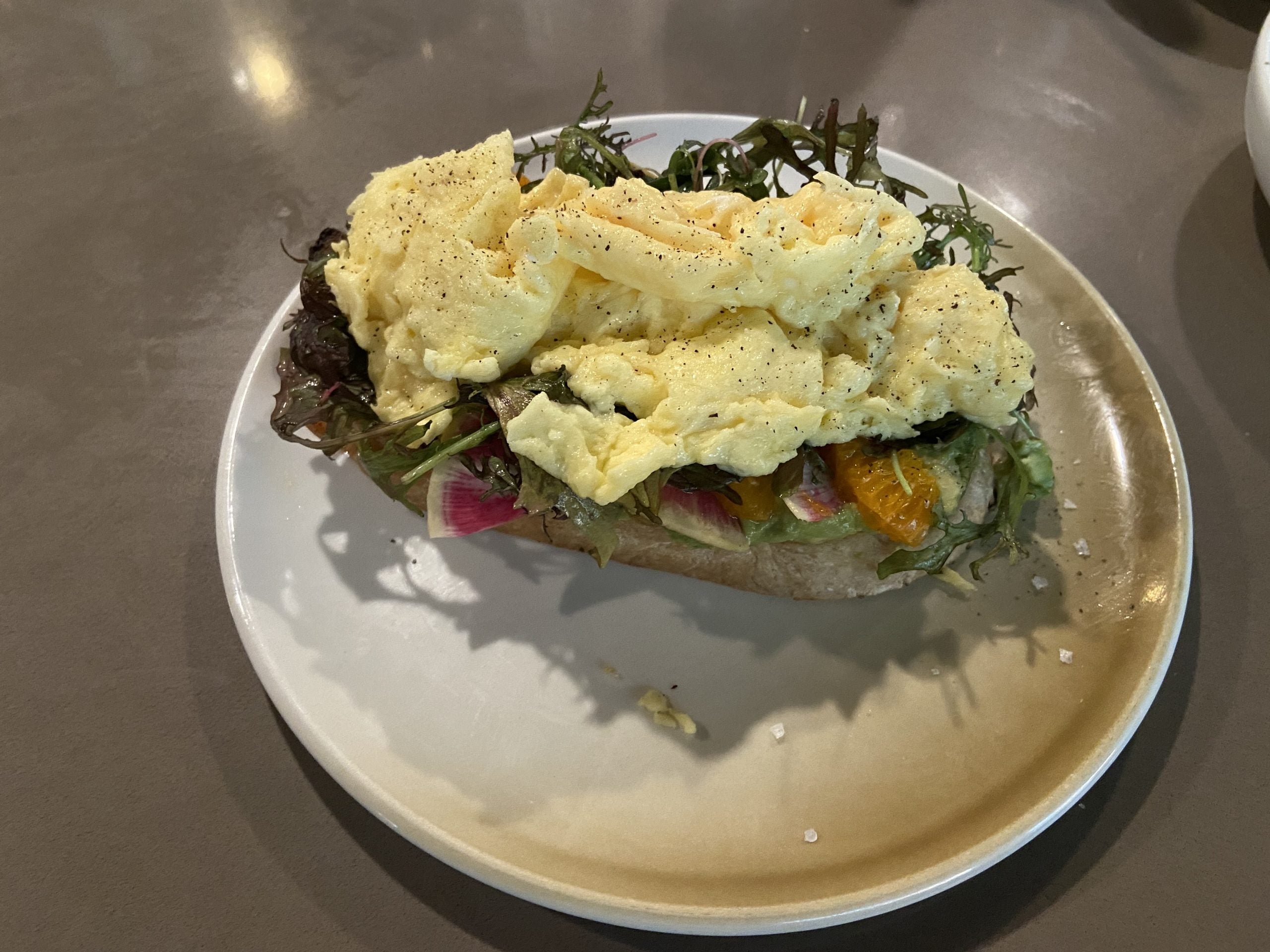 We tested out room service, which was handled by Landrace restaurant. There was no menu; instead, I used my smartphone to see the menu. I kept it simple, ordering those great stone-ground grits with a side of bacon. The front desk gave us complimentary mini bottles of prosecco.
While the food was rolled to my room on a cart, the server said the cart couldn't be left in the room. It was awkward to eat my meal on the couch table, while my sister ate by the bed. The desk was barely large enough to hold the plates, silverware and cloche for each meal.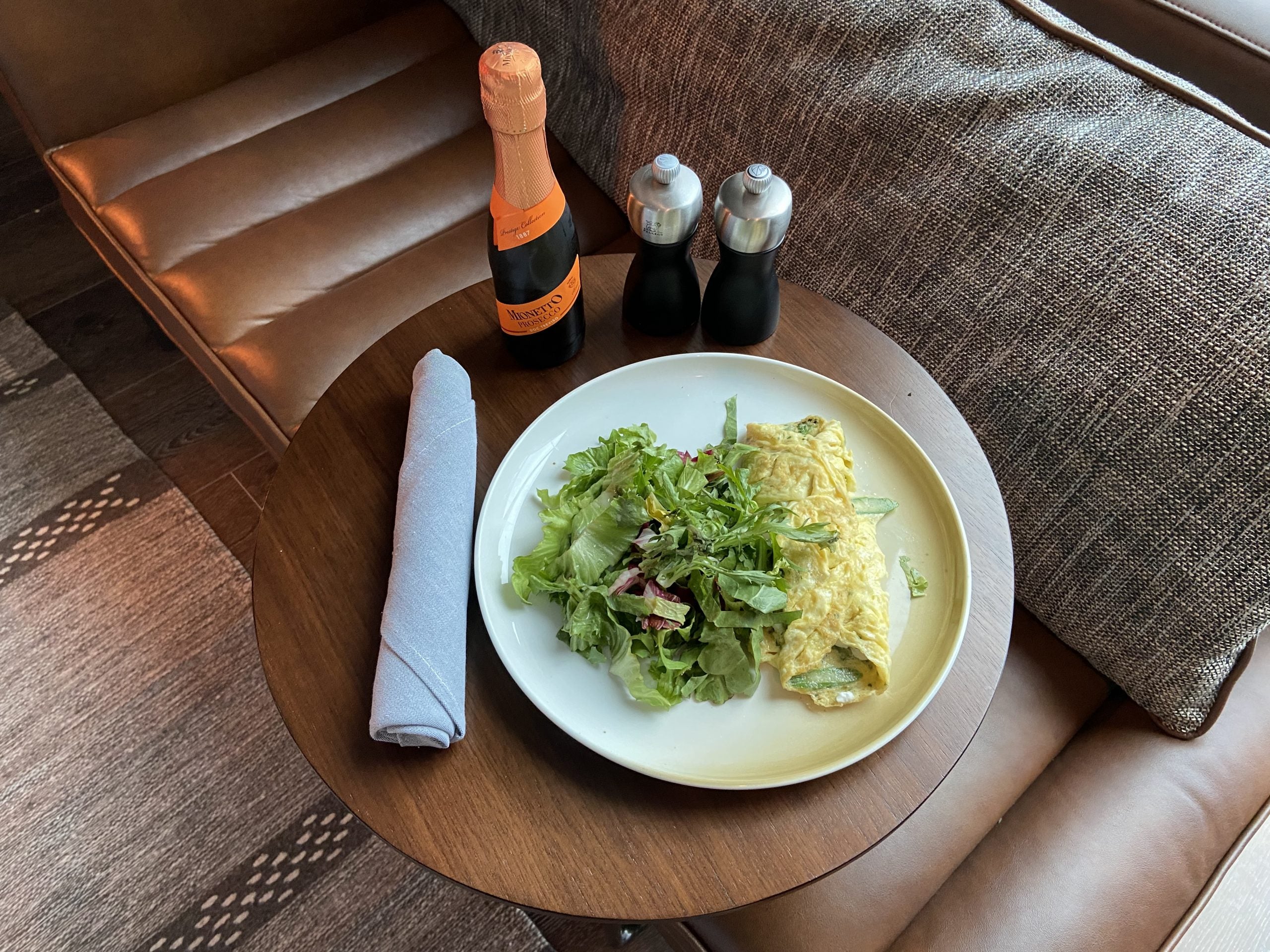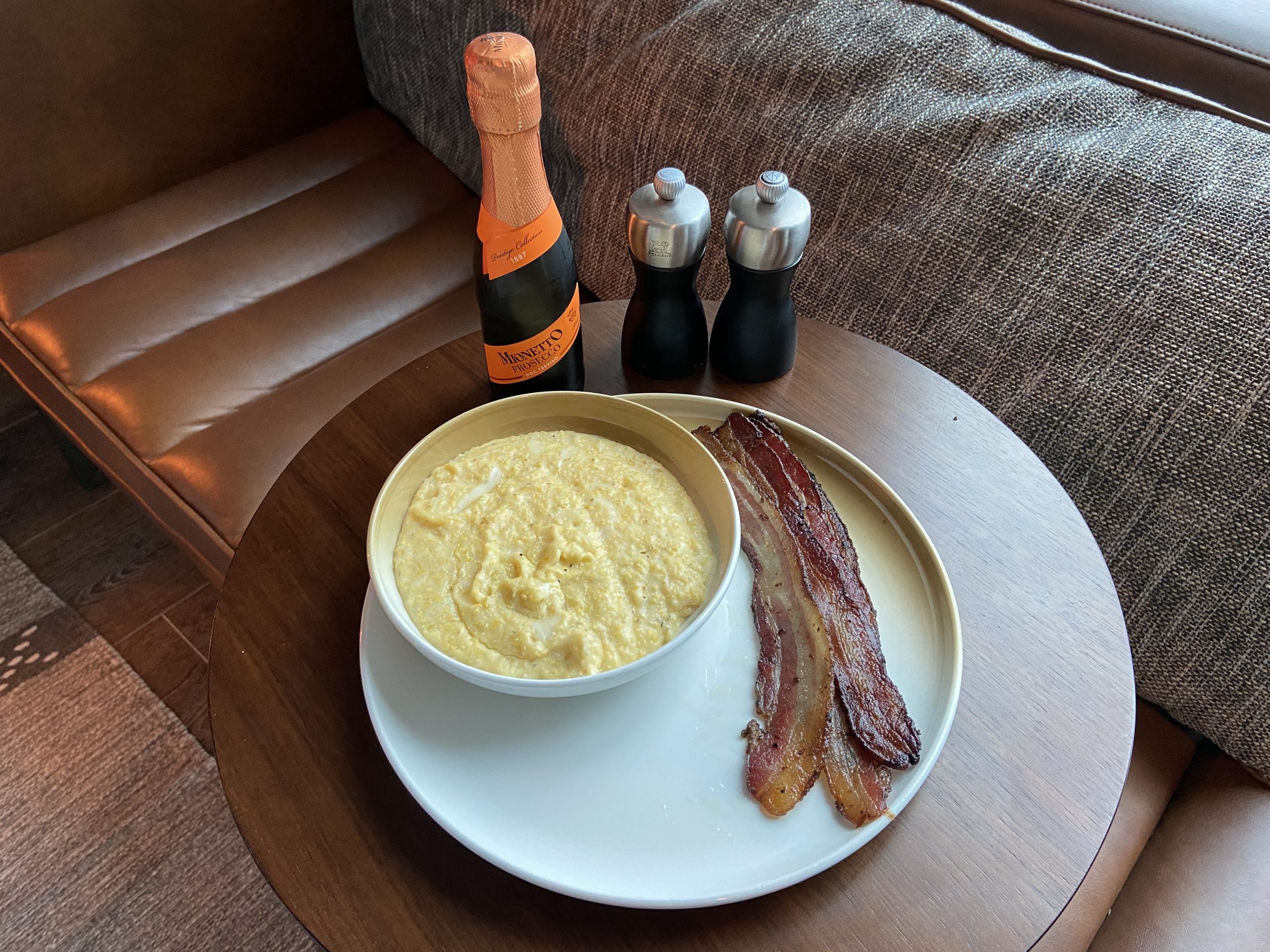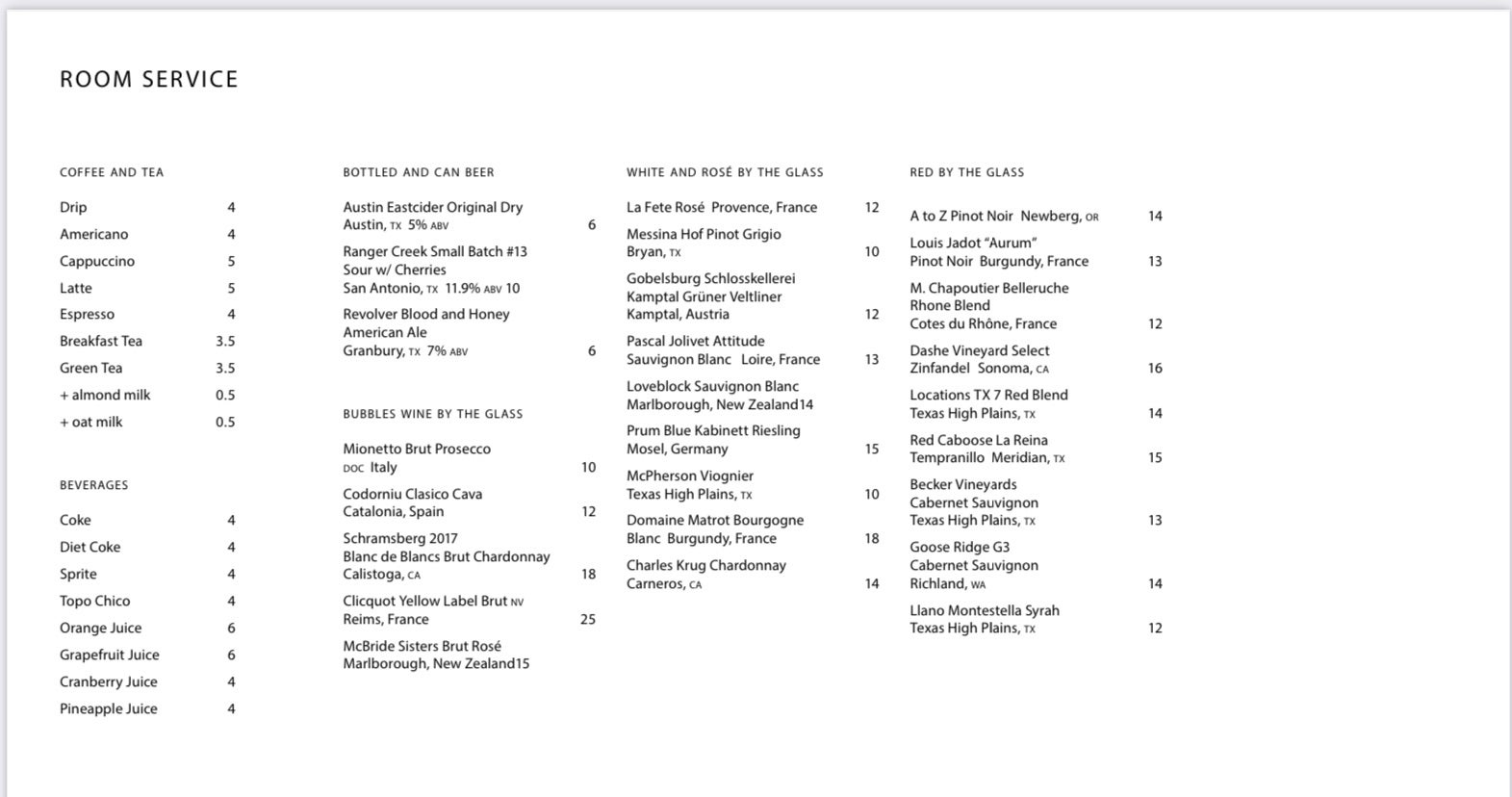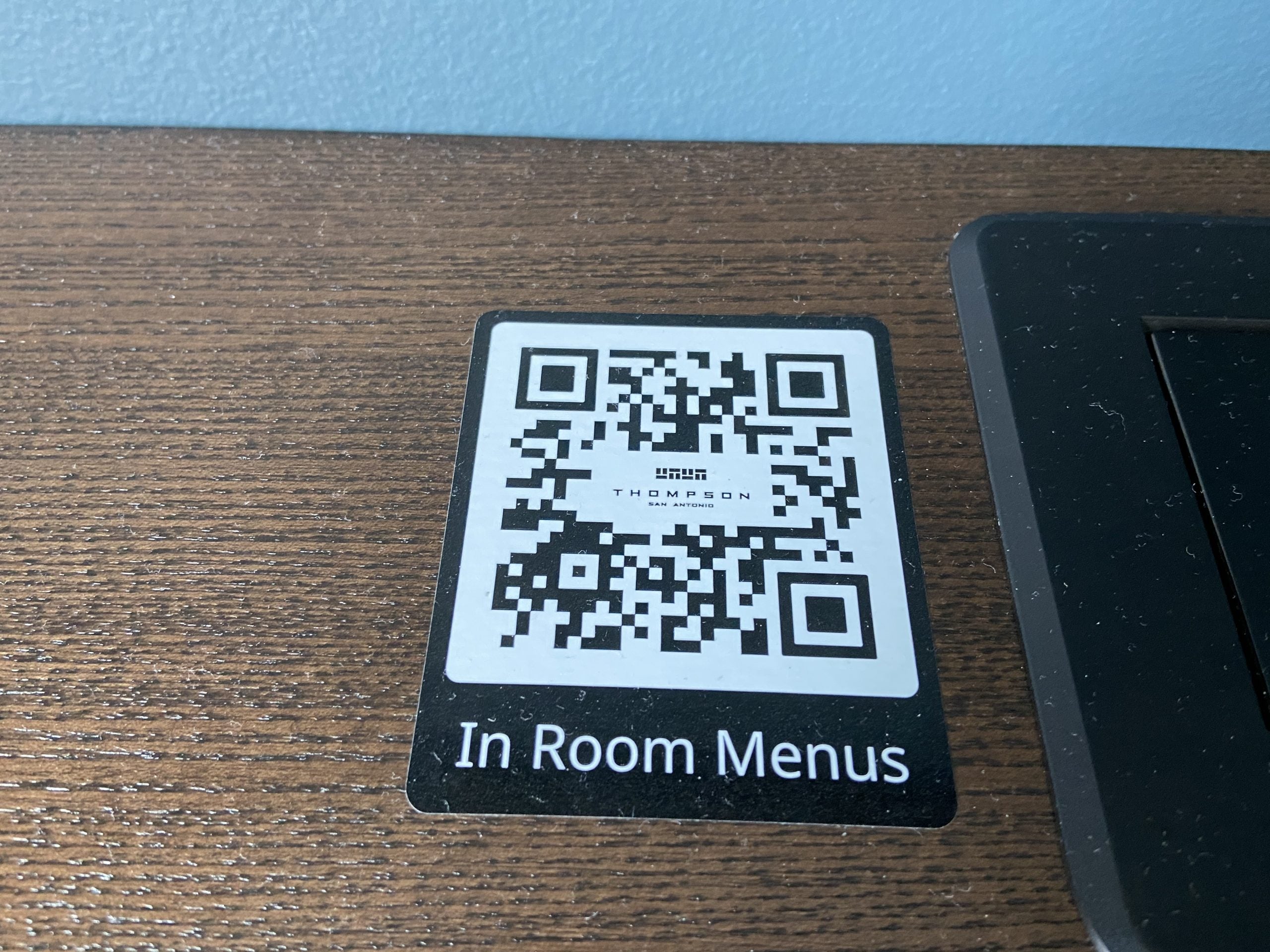 We went to the 20th floor to check out The Moon's Daughter bar and restaurant. Happy Hour had just started, and it's a popular meeting spot for both hotel guests and locals, with great views of downtown San Antonio and beyond. I spoke with Chef Kris, who said they're still getting up to speed on service (which was excellent, by the way) and still trying to get up to full staff. He noted that the pandemic has slowed down the hotel's efforts, but he hopes to be fully staffed by mid-summer. A big goal is to offer a true Sunday brunch, which is bound to be popular with guests and local residents alike.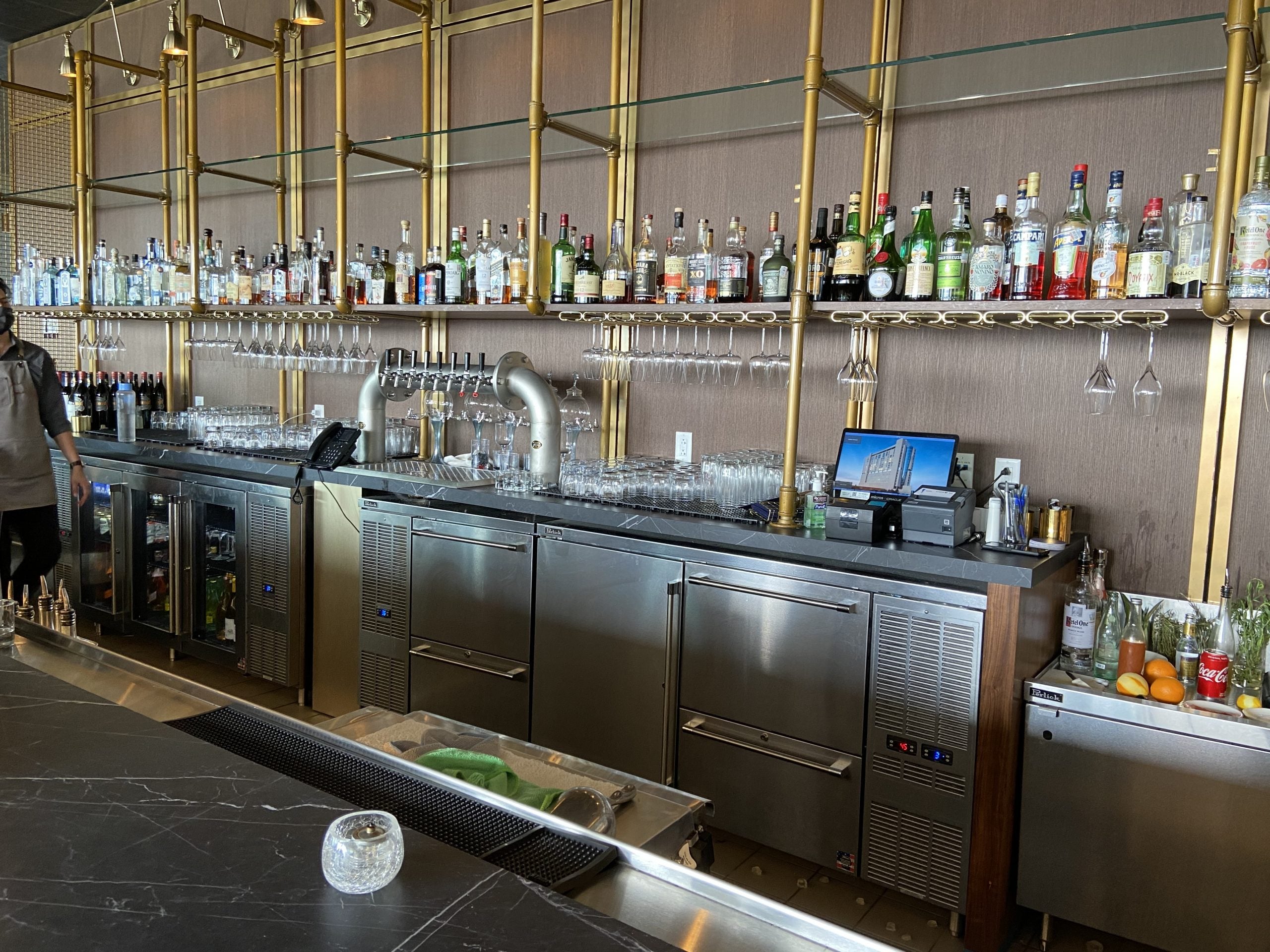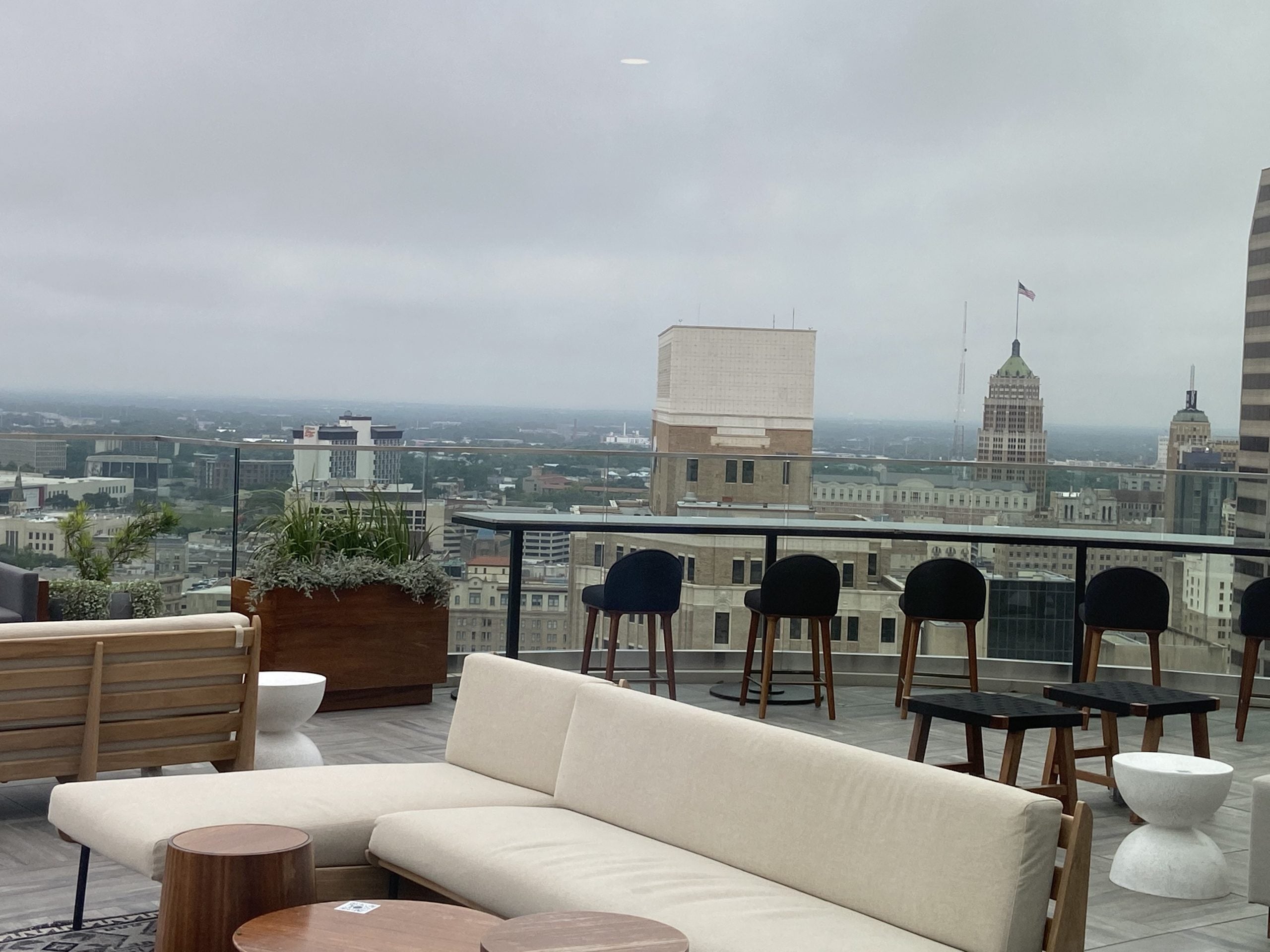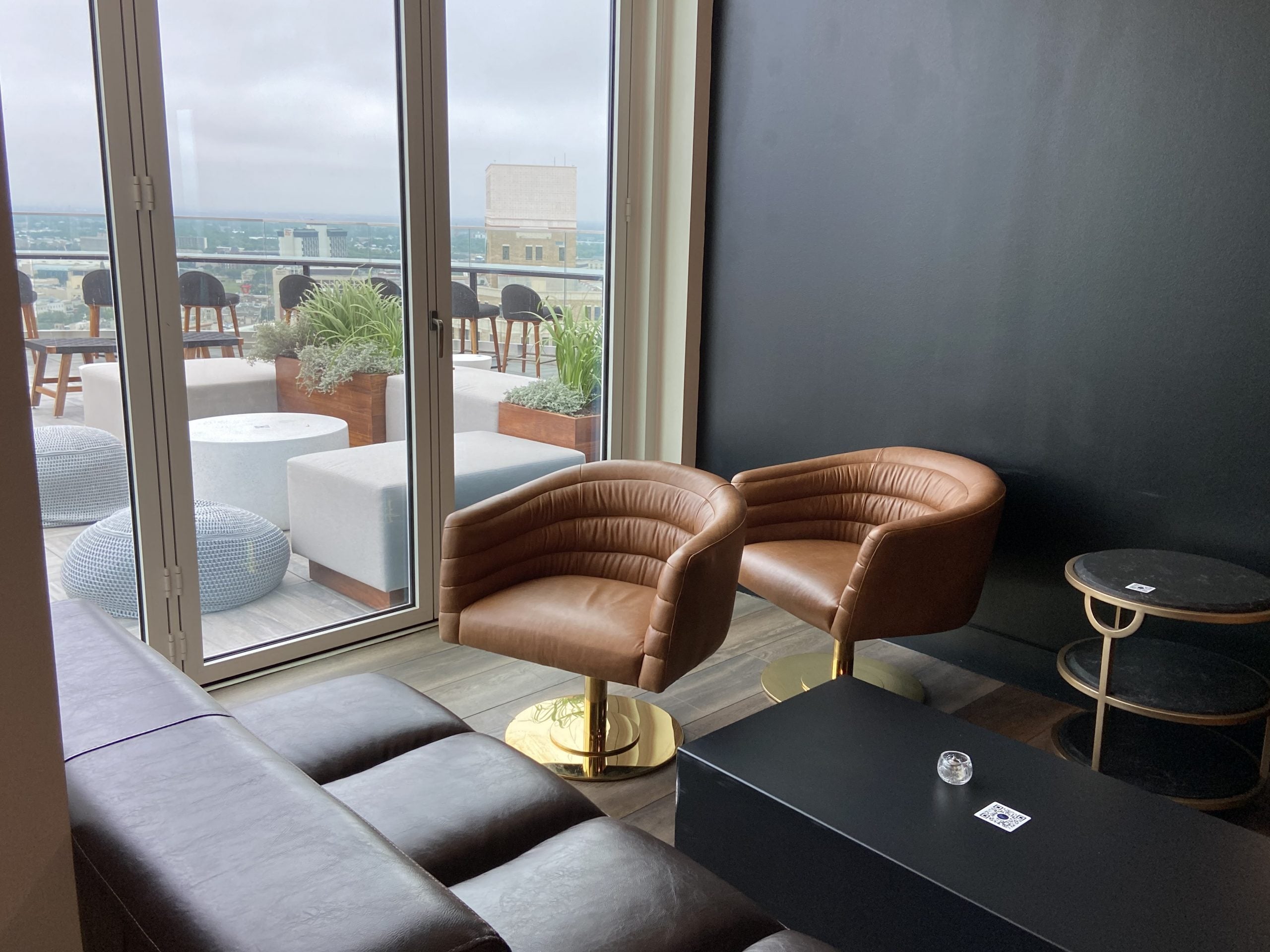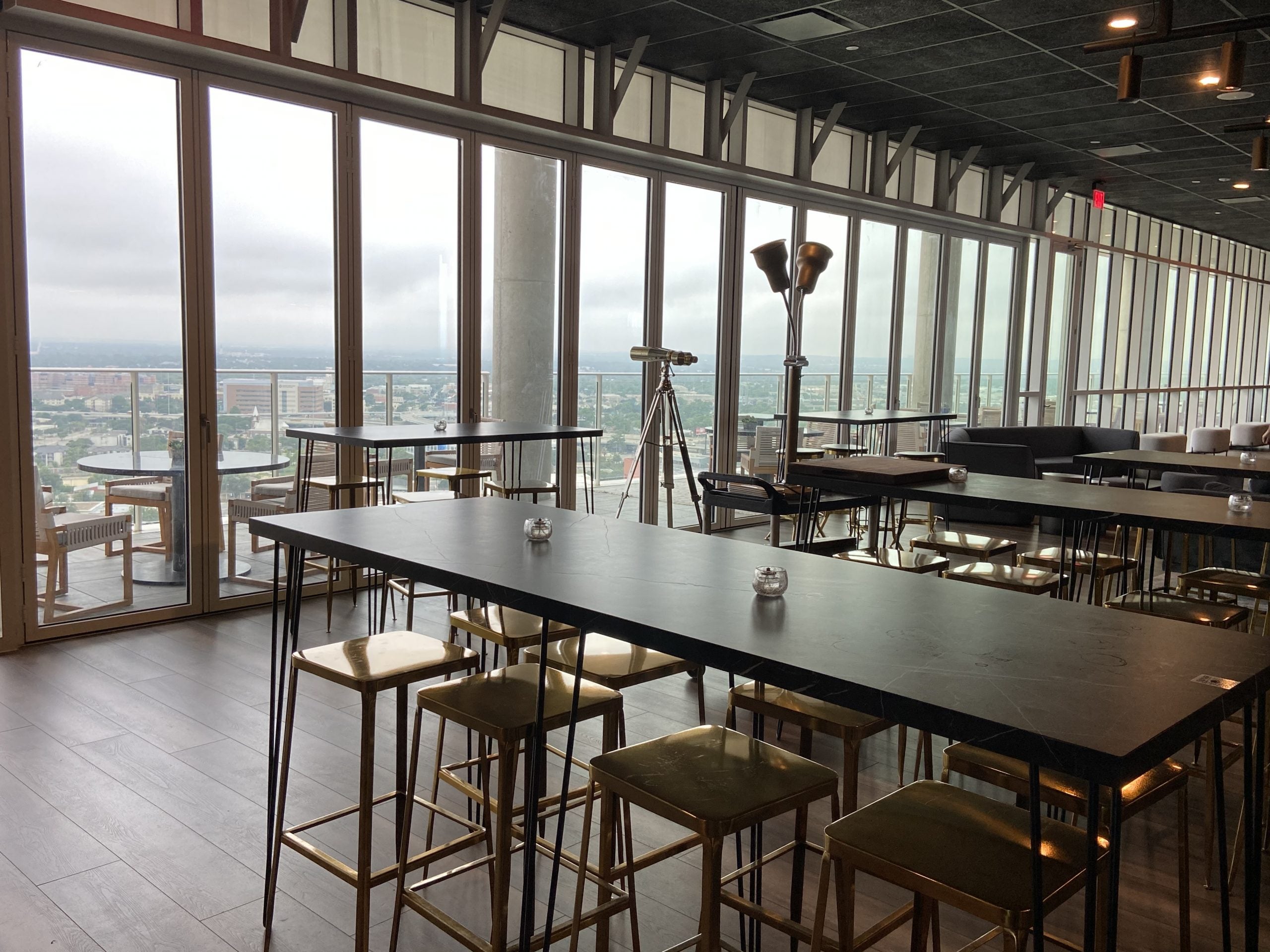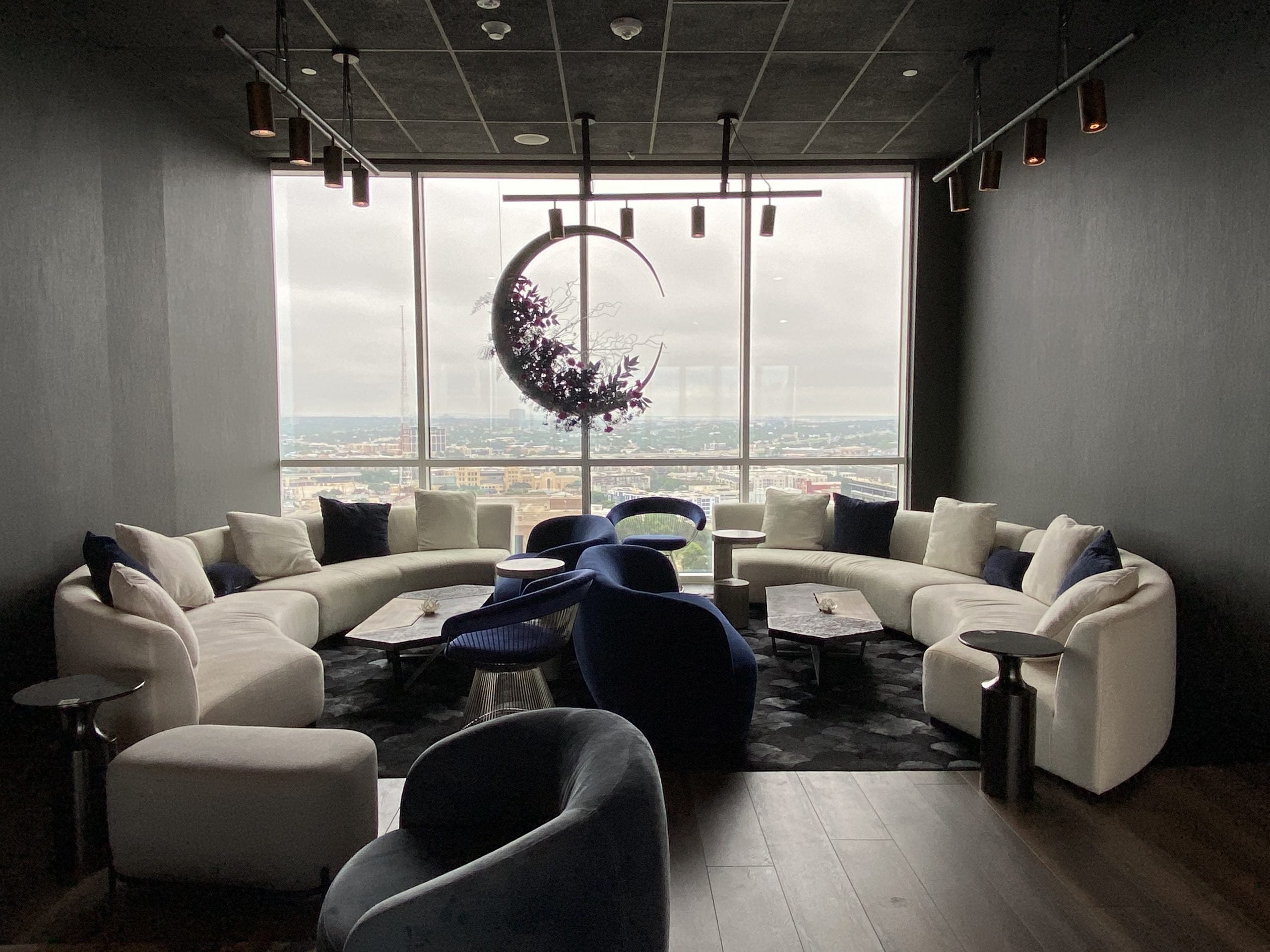 We ordered the roasted beets, which were the perfect snack — and quite delicious.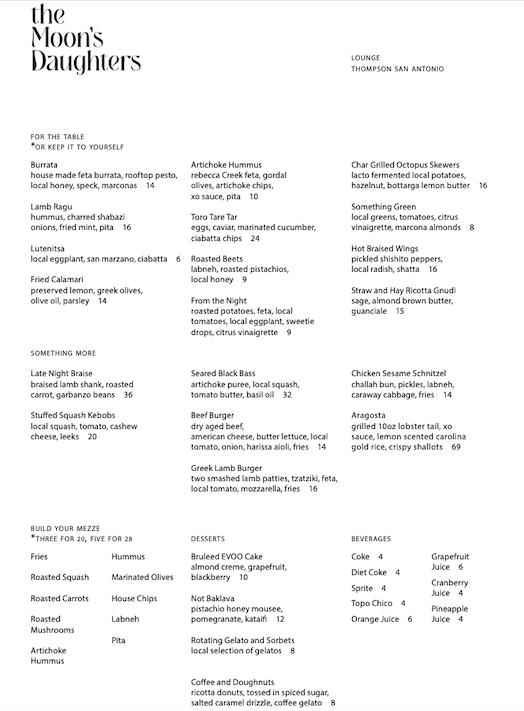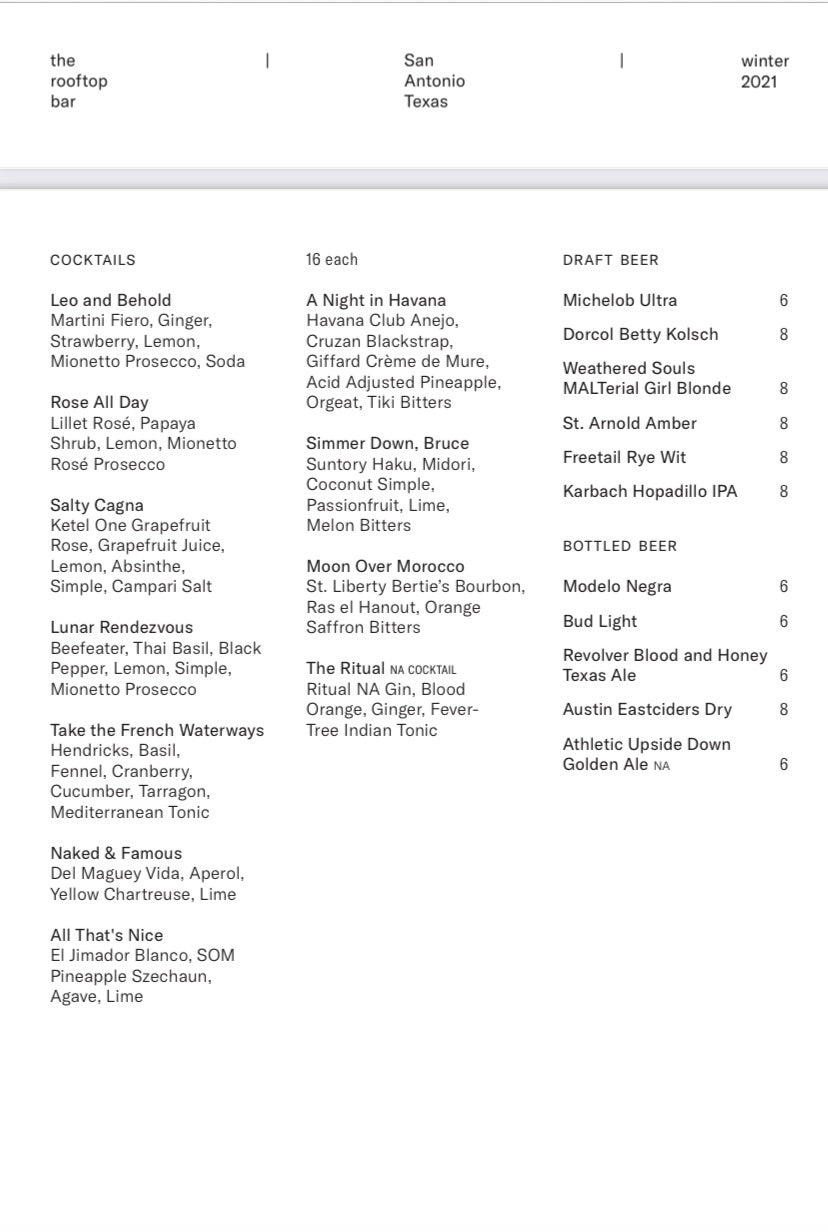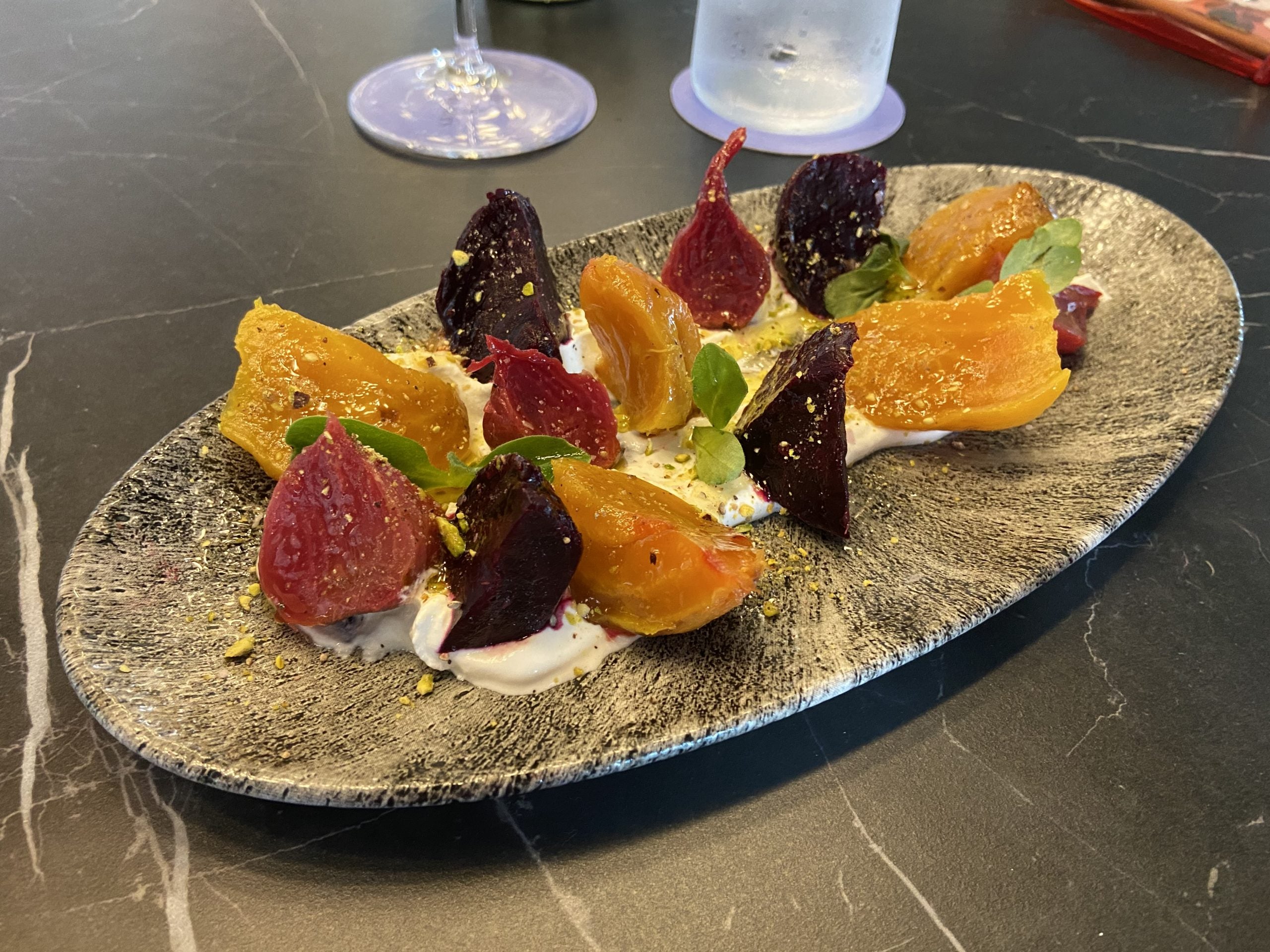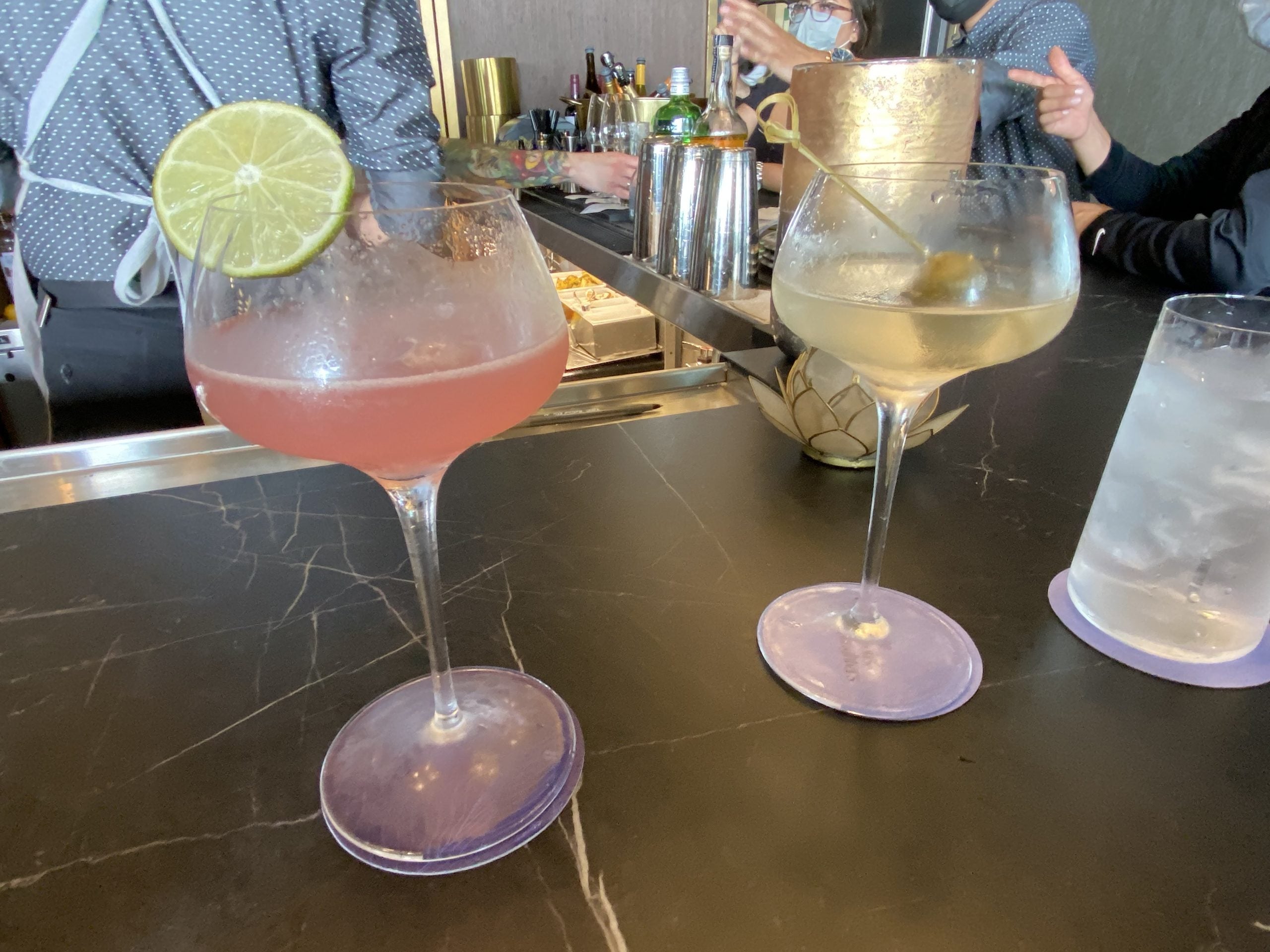 And, when we needed a coffee pick-me-up, we could find it near the front desk in the lobby.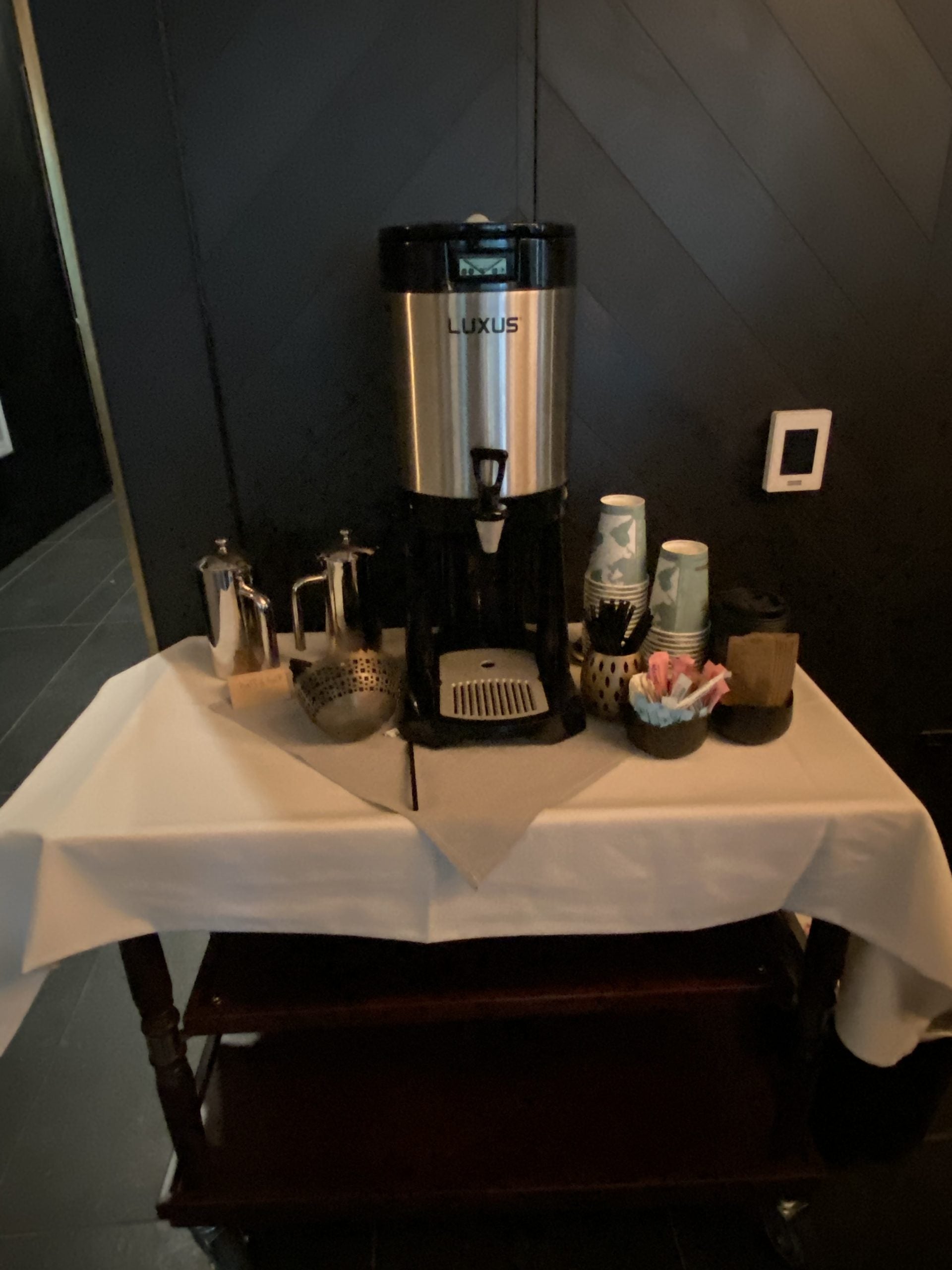 The coffee was very good and was served with your choice of milk, cream or almond milk, along with regular and natural sugar.
pool and cabanas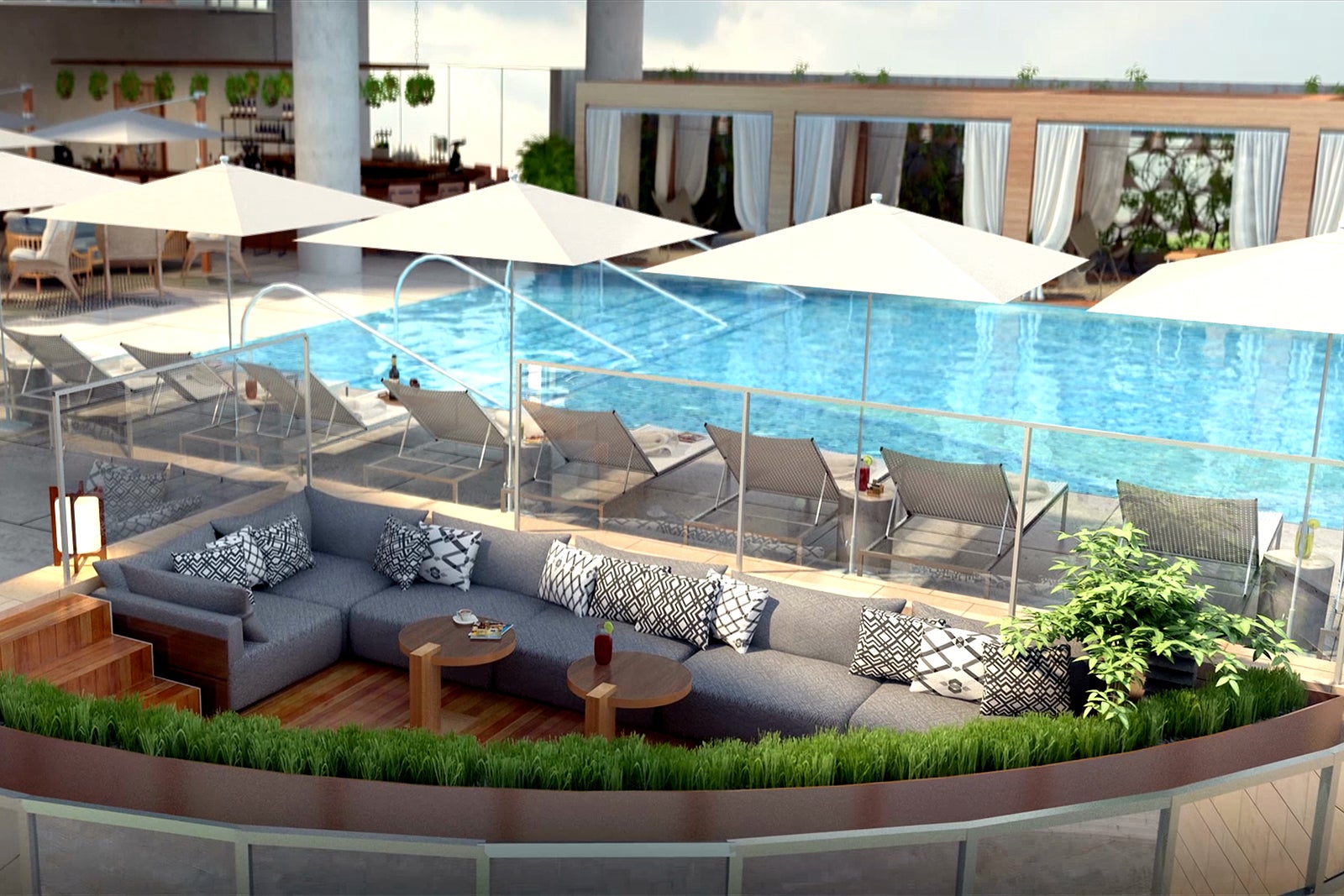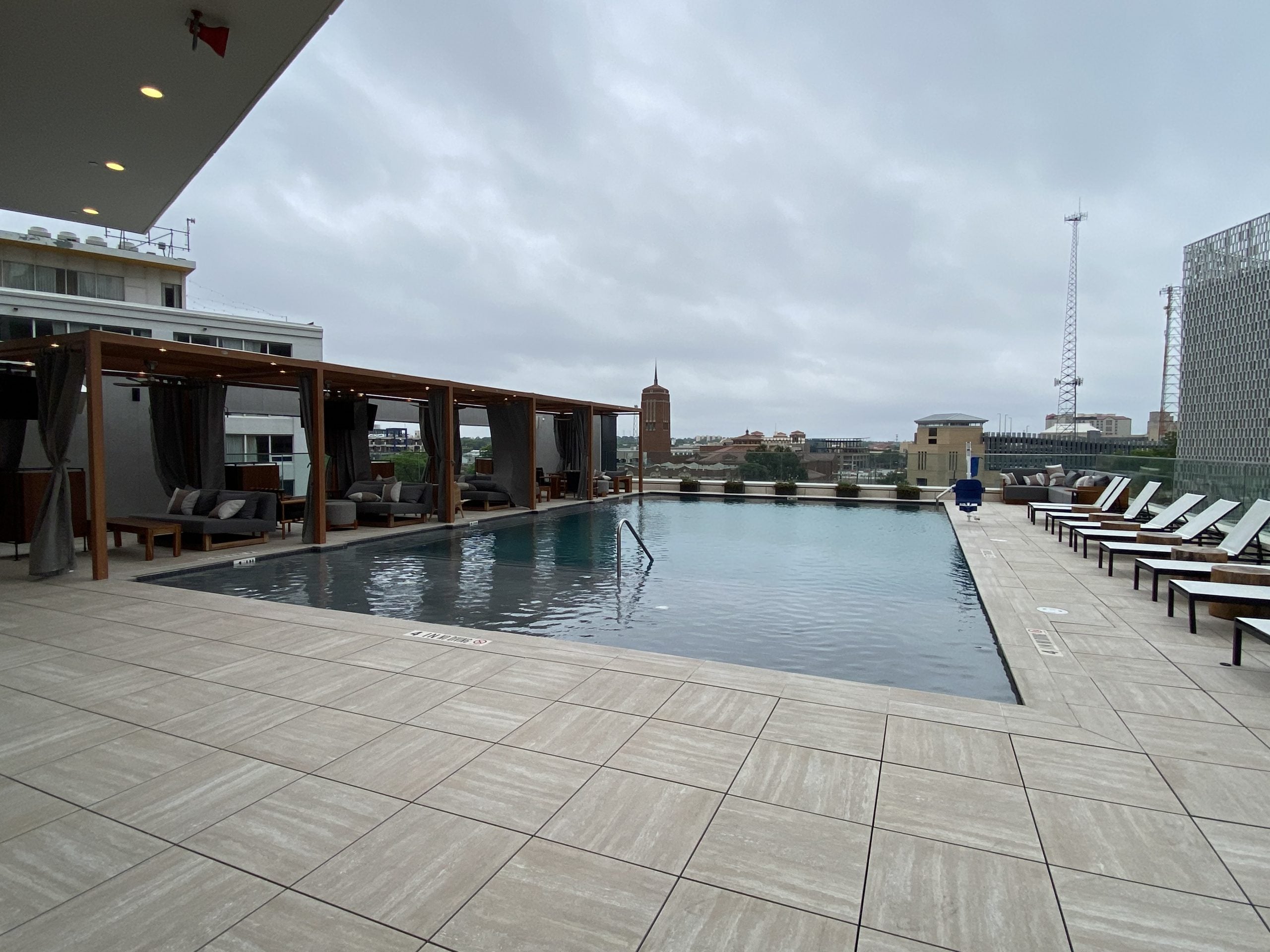 The pool, on the fourth floor of the hotel, is only open to hotel guests. You enter by using your room key. It boasts a full bar that also serves snacks, private cabanas with a minibar, a ceiling fan and flat-screen televisions and a winch to help those who are disabled take a dip in the pool. There also are expansive views of the city. It rained the entire weekend we were there, so we weren't able to check out the bar and food menu.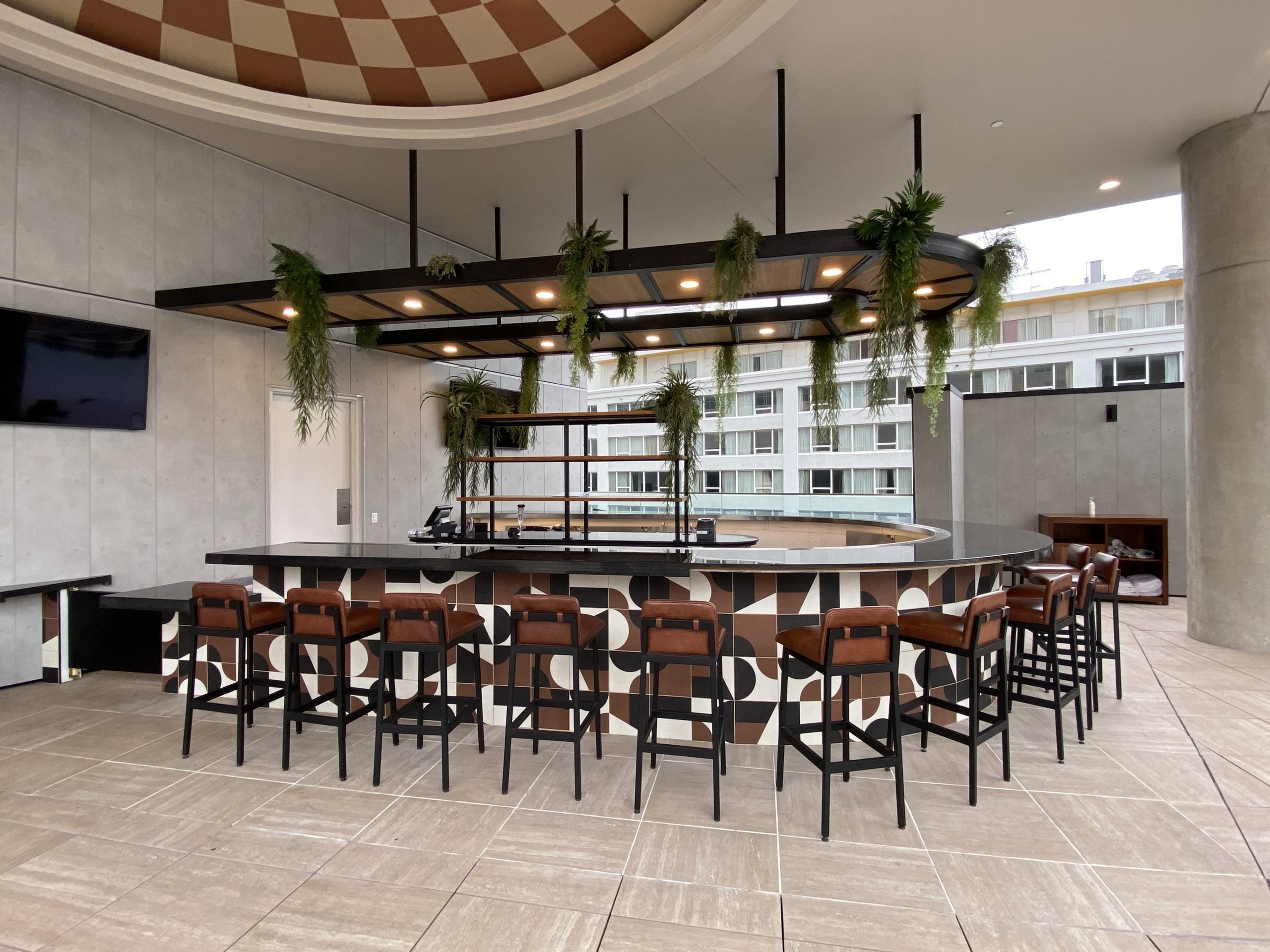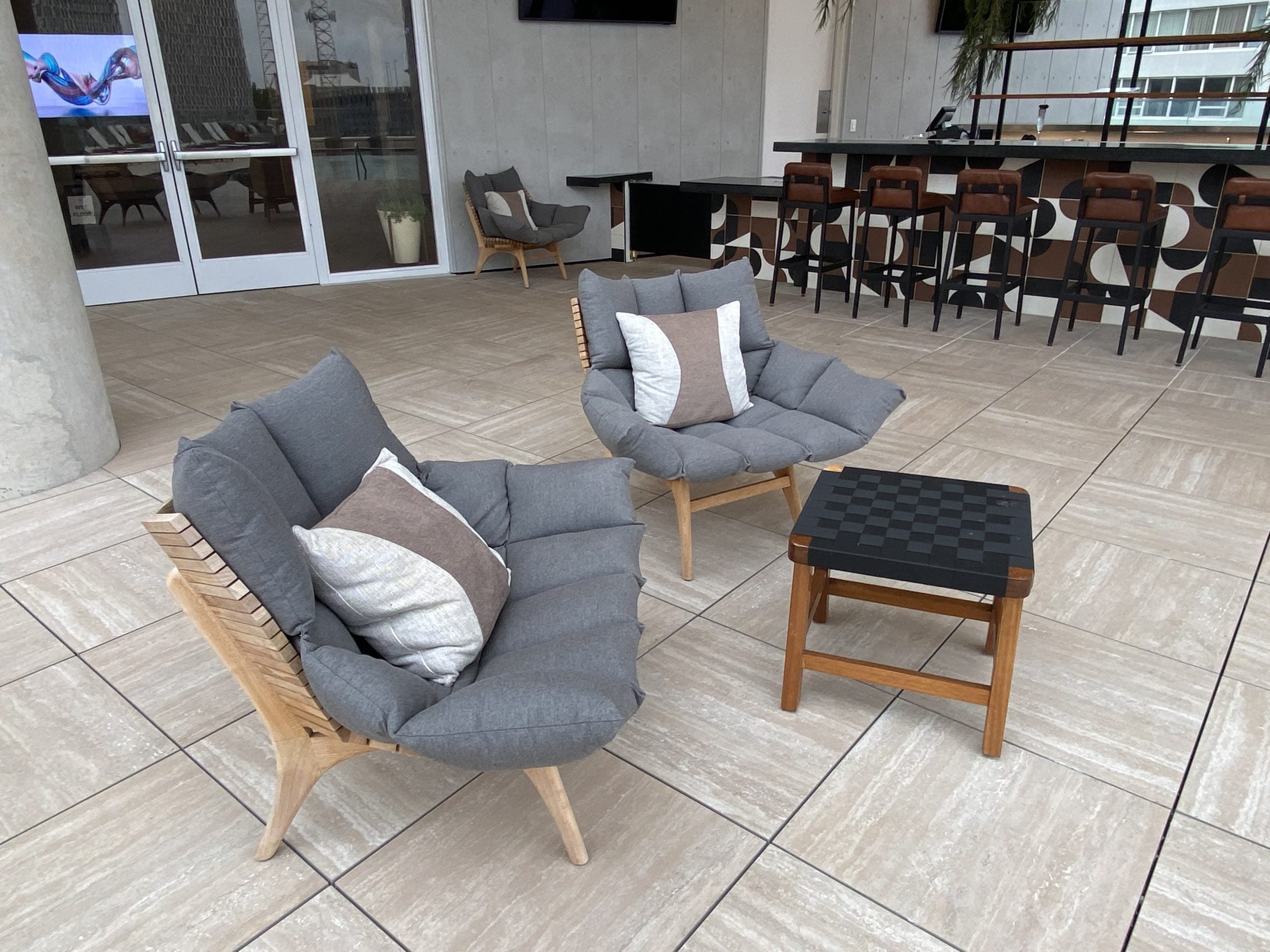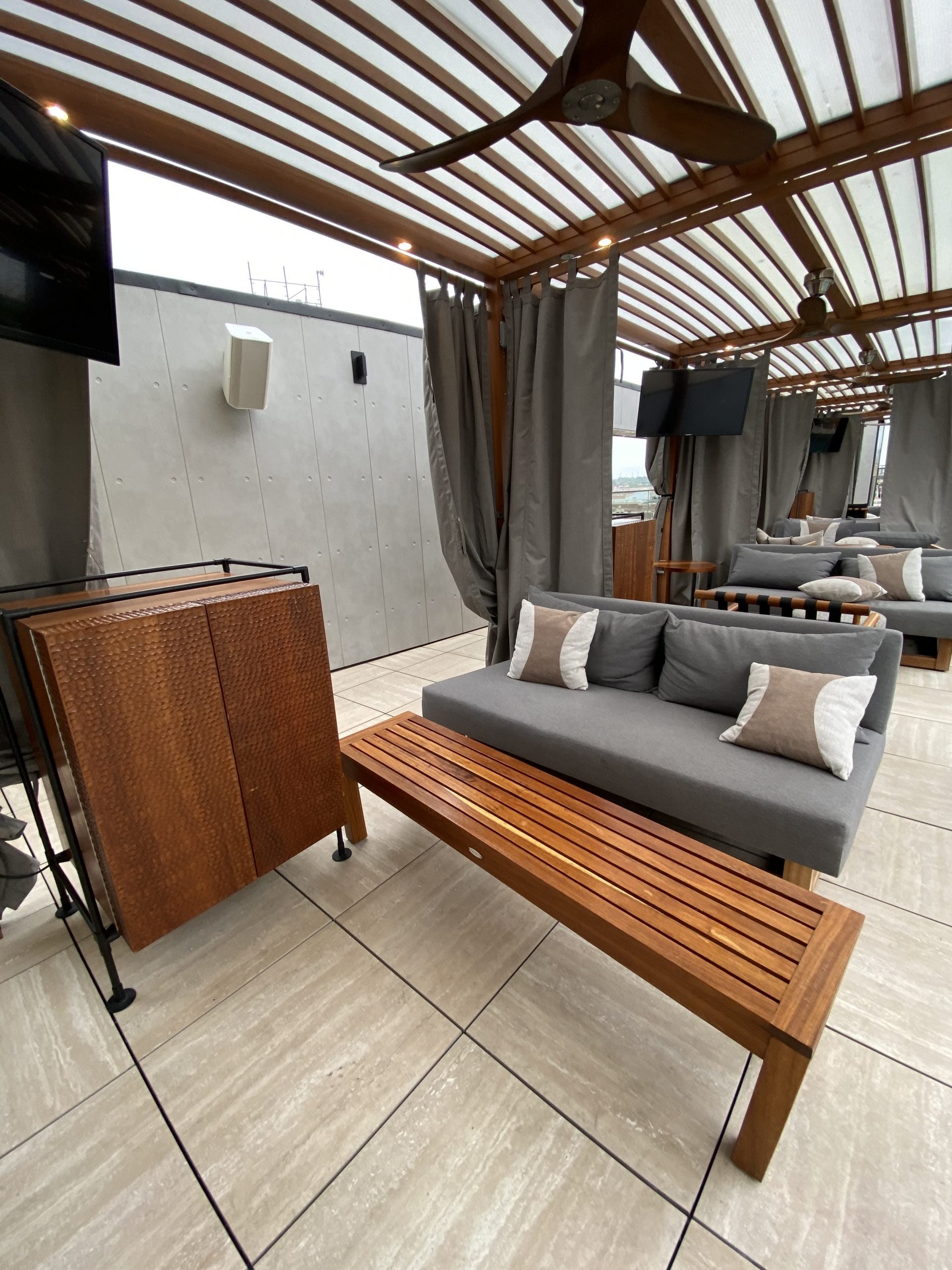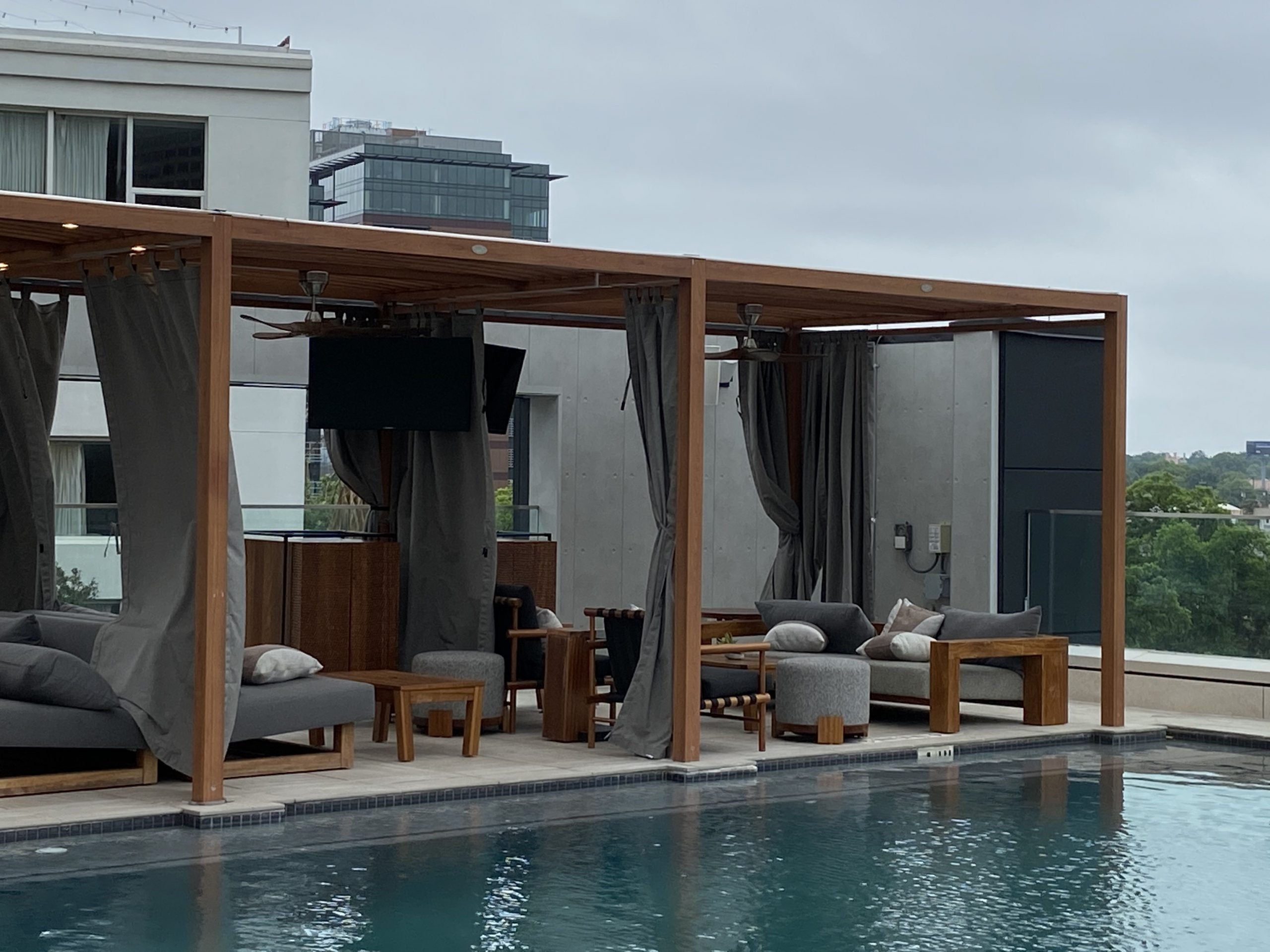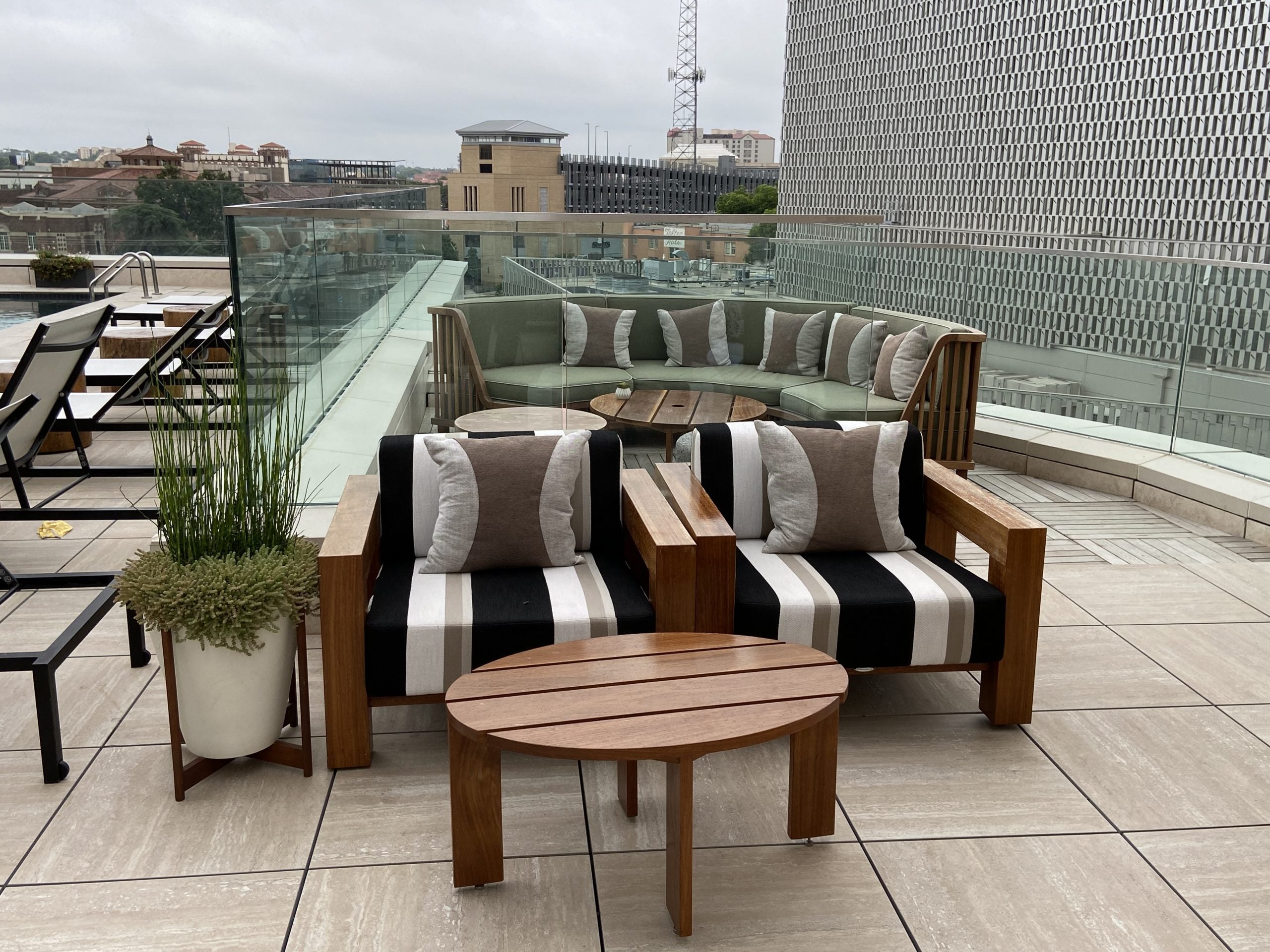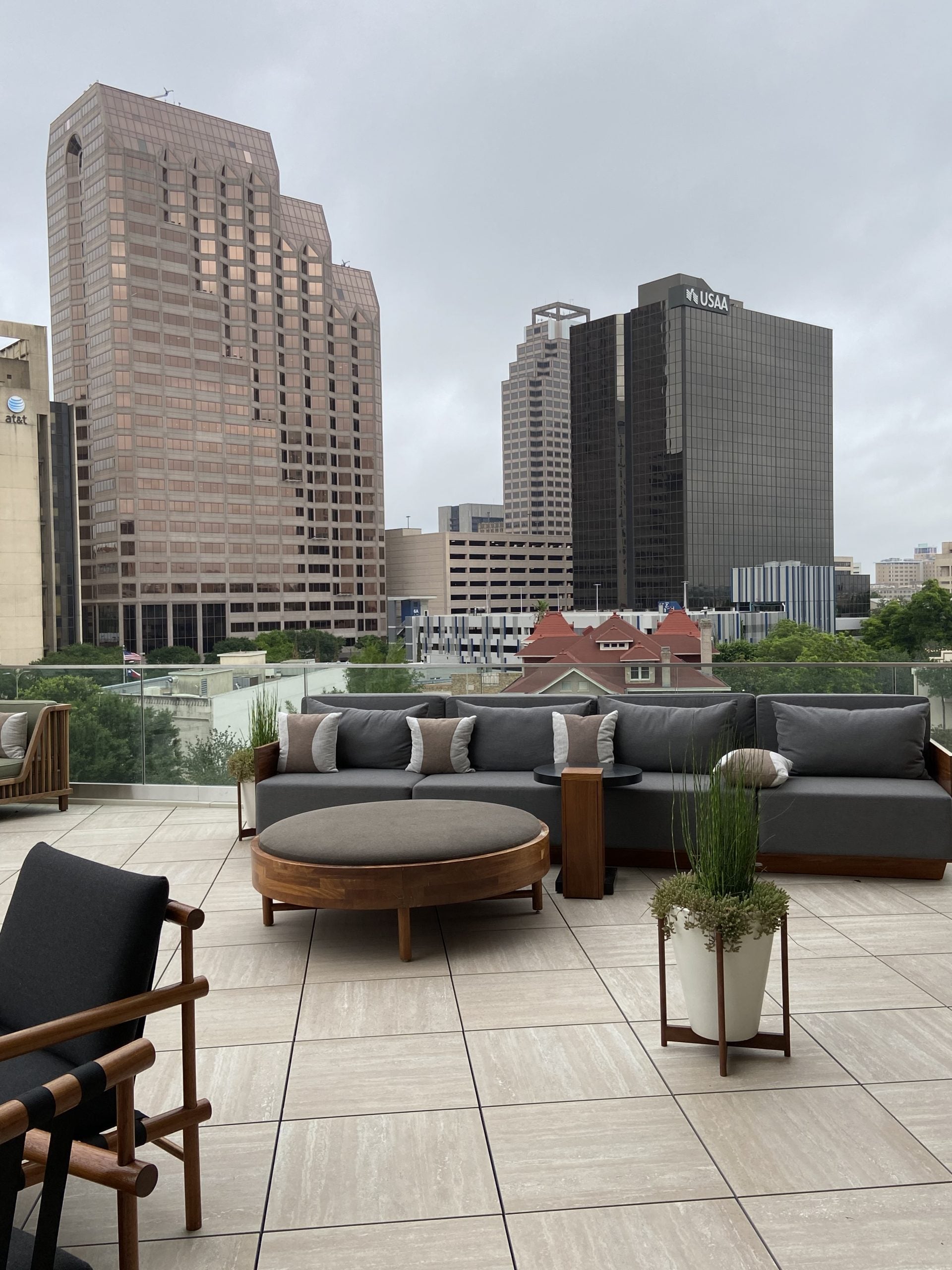 Service
As noted above, the hotel is still working to hire more people, and there were a few nits with execution. What I can say is what they lacked in staffing was fully made up by the great hospitality by the staff that was there. From the valets to the front desk to the food and beverage workers and right down to the housekeeping staff, their focus on customer service was stellar. If you asked anyone for help, they were there to take care of your needs. When the elevator was a little slow, the bellhop apologized for us having to wait. I went back up to The Moon's Daughter and the bartender remembered me and greeted me by name. No matter how many people came in and out, the front desk crew gave everyone a welcome greeting.
Overall impression
The Thompson San Antonio is a welcome addition to the city's hotel scene. The friendly staff, it's distance from the center of the Riverwalk and its own spin on Texas luxury will definitely bring me back for a future staycation. It's great for singles who want to enjoy the nightlife on the 20th floor, eat great food and get a spa treatment. It's also a solid option for families, whose kids will really enjoy the pool. Once the hotel is fully staffed, I would definitely put the Thompson San Antonio on my top 10 list of favorite U.S. hotels.
Featured image by Benét J. Wilson/The Points Guy
---
Share this post
---
---