Get Organized with a Custom Closet System
Posted by admin on
All homes require plenty of closet space, and a home remodel is an opportunity to maximize that storage potential. Having an organized closet is an asset to your lifestyle and interior design. It's very satisfying to see rails of shirts, stacks of folded sweaters, and rows of shoes. Keeping art supplies in craft bins and winter hats on hooks or in storage bins also means everything is easily accessible and your space is decluttered.
You can enlarge an existing closet or allocate space to create a new one as part of a home remodeling project. Custom storage is the best way to use every inch of this space, combining form and function. A design expert can work with you to plan exactly what you need in your custom closet system.
The more organized your closet is, the lower the maintenance will be. A high-functioning closet takes clutter from adjoining rooms and avoids being chaotic as everything has its place. Whether you would like a walk-in closet or a small hall closet, here are our tips for getting organized with a custom closet system.
What Do You Want from A Custom Closet System?
Do you look at magazines and watch home design shows and imagine how organized your whole life would be if your clothes, shoes, linens, and accessories were perfectly stored? Attaining a dream closet is not out of reach. It takes some planning and preparation, but the end result is tailor-made to your taste and requirements.
You can take inspiration from any closets you see on social media sites or television shows, but your custom closet system will be based on the space you have available and your lifestyle. Do you need to store your extensive collection of handbags or a lot of sports equipment? Do you have a penchant for wide-brimmed hats? Are you addicted to buying jeans? Look at the items you need to store and seek out storage solutions that meet your needs.
How much maintenance are you prepared to put into your storage system? Would you like to display the contents of a walk-in closet or conceal them with sliding panels or cabinet doors? How many people will be accessing the closet at once and can they find what they need and keep it organized easily? These are the basic questions you should ask yourself before you start planning your custom closet system.
Should You Consider Adding a Closet During an Adjoining Remodeling Project?
You might feel like remodeling one space is overwhelming enough without taking on an additional project. However, a kitchen design or bathroom remodel is the perfect time to consider adding a custom closet system.
Adding a master closet design to your master bath remodel makes a huge difference to your lifestyle and storage capacity. Such an addition also increases the resale value of your property. Doing this work all at once means you're benefiting from on-site labor so it will never be as cost effective again. Planning additional closet space enlarges your remodel while making it multifunctional and stylish. The benefits of two interconnecting remodels outweigh the initial financial outlay or time costs.
If you are embarking on a kitchen remodel, this could be the perfect time to install custom storage for your utility room, hall closet, or mudroom. Custom closet storage can be applied to many spaces, such as an entry hall or even extra pantry storage in an alcove adjacent to the kitchen design.
Is It Worth Customizing Storage Solutions in Any Closet?
Custom storage solutions are the ideal way to store essentials in any part of your home. They maximize the available space of a closet, regardless of its size and shape.
Master closets accommodate everything from socks to suits, so it's imperative that there are tailor-made storage compartments to avoid chaos. Floor-to-ceiling storage makes the most of every inch of wall space and enables you to see everything at a glance.
You might want to color-code your clothes or sort items by season. Maybe you'd like workwear, casual, and formal wear sections. Plan your custom storage in a way that works for you and looks visually appealing.
The same goes for other types of closets. Linen closets with custom storage cater for fresh towels and sheets in a way that lets you grab them with ease. Hall closets can accommodate everything from outdoor wear to sports equipment, craft items, and excess pantry supplies. Such a range of closet contents can easily become messy and would definitely benefit from effective custom storage solutions.
How Do You Prepare for Custom Storage?
There is a very straightforward process involved in planning for custom storage. Whether you have an existing closet space or are creating a new one, you need to figure out what exactly it is you need to store.
The first thing to do is empty out the contents of a closet you are remodeling or the contents that you will be moving into a new storage space. Use bags or boxes that you can use to take things to a donation center, dry cleaner, recycling place, or garbage can. Have a full-length mirror handy so you can quickly try on clothes and decide if you want to keep something.
Once you have removed everything, including hangers, clean the space and visualize how you want your closet to be organized. Take measurements so you know what dimensions you're working with. A design expert can be even more specific when it comes to assessing your available space and designing your custom closet system.
Now look at the contents and decide if you really love it or if you actually use it. Have a "maybe" pile that you can revisit in a few months' time. Be as brutal as you can and consider what you are going to discard or donate. Then decide what you are going to return to the closet or store elsewhere. For example, you might have thrown all sorts of things in your hall closet over the years when you just want coats and outdoor accessories there. This is your opportunity to declutter and reorganize the contents of your storage areas. Once you decide on what you are keeping, you can see what you need to store and think about your requirements. Maybe it's more shoe storage, or possibly more rails for hangers. Decluttering and assessing your contents gives you a good indication of the storage solutions you need.
How Do You Assess Your Requirements?
Put the items you're keeping back in your closet and see how they fit. Your space should be no more than 80 percent full, with 20 percent for breathing space and extras, such as guests' coats.
Think about where each category should go and make regularly used items more accessible. Put work clothes at the front and formal wear further back, for example. You could also rotate things according to seasons. There's no need to have sun hats out front in winter, or snow boots accessible in summer.
Group like with like, so you easily see what group needs the most storage. If it's accessories, they could be stored in compartments, or sweaters might need shelving or drawers. Is this closet just for you or do you share it with a partner? Judge what you both need, and you might find one person can donate space to the other if one of you has more storage needs.
Your family might have outgrown your hall closet's capacity or your existing mudroom storage and you have more than ever to store. Now you can decide if you can configure the space you have or if it's time to expand your closet area.
What Are Your Customized Storage Options?
If your closet does not provide enough storage space or feel sufficiently organized, then consider a customized storage system. It won't create more space, but it will maximize every inch. Customized storage offers a mix of solutions so you can store everything in the best way possible.
A closet with too much shelving could make it difficult to stack or remove items and waste precious space. Designing shelves to fit your requirements is more effective. Ensure you have rails at different levels to hang everything from dresses down to tees without wasting space around them. Pull-down rails let you access upper storage space with ease.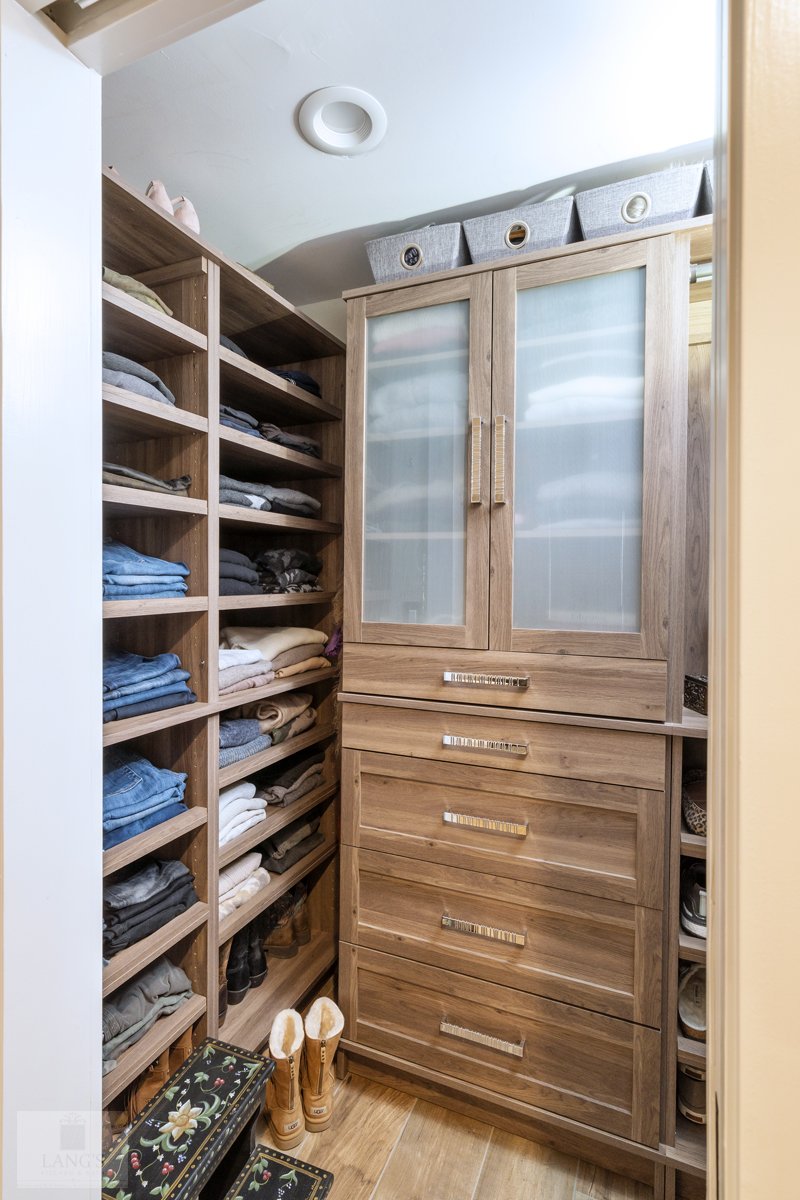 Invest in matching hangers to bring a sense of order and calm to your closet space. Have drawers that aren't too deep or shallow and fold smaller items so they can be placed in drawers in filing order, making it simple to see what's there at a glance. Put smaller handbags inside larger ones to utilize the space you've allocated them. Vacuum seal items and place them in a designated top or bottom space until needed. Categorize shoes by giving them different slanted shelves. Over-the-door storage is great for smaller items such as belts or other accessories and it won't impact your closet space. Hooks also maximize wall space. Bins and baskets are the ideal addition to your custom shelving to consolidate socks and underwear.
Can Any Space Be Customized as a Closet?
Any storage space can benefit from a customized closet system. A mud room, pantry, hall, or linen closet all function more efficiently when organized. You know exactly where to put items away and can find what you need without everything falling on top of you.
The premise for assessing and creating customized storage is generally the same across the board, with certain unique requirements for some spaces, including:
Hall closets would need sturdy rails and hangers for heavy coats. You can place a rail from front to back in narrow, deep closets so you can walk down the side to locate a coat.

Cubbies can be designed in various sizes to store footwear.

Seasonal items can be stored on a shelf over a coat rail.

Drawers can fit underneath rail storage or shelves.

Baskets and bins work well in all closet spaces to conceal clutter.

Designate zones for different items, including a miscellaneous zone, to keep it low maintenance.

Finally, ensure that your remodeled closet has adequate lighting. Recessed lighting is useful for illuminating shelving and cubbies. A hanging lighting fixture can elevate the smallest of spaces, giving it a custom look and feel.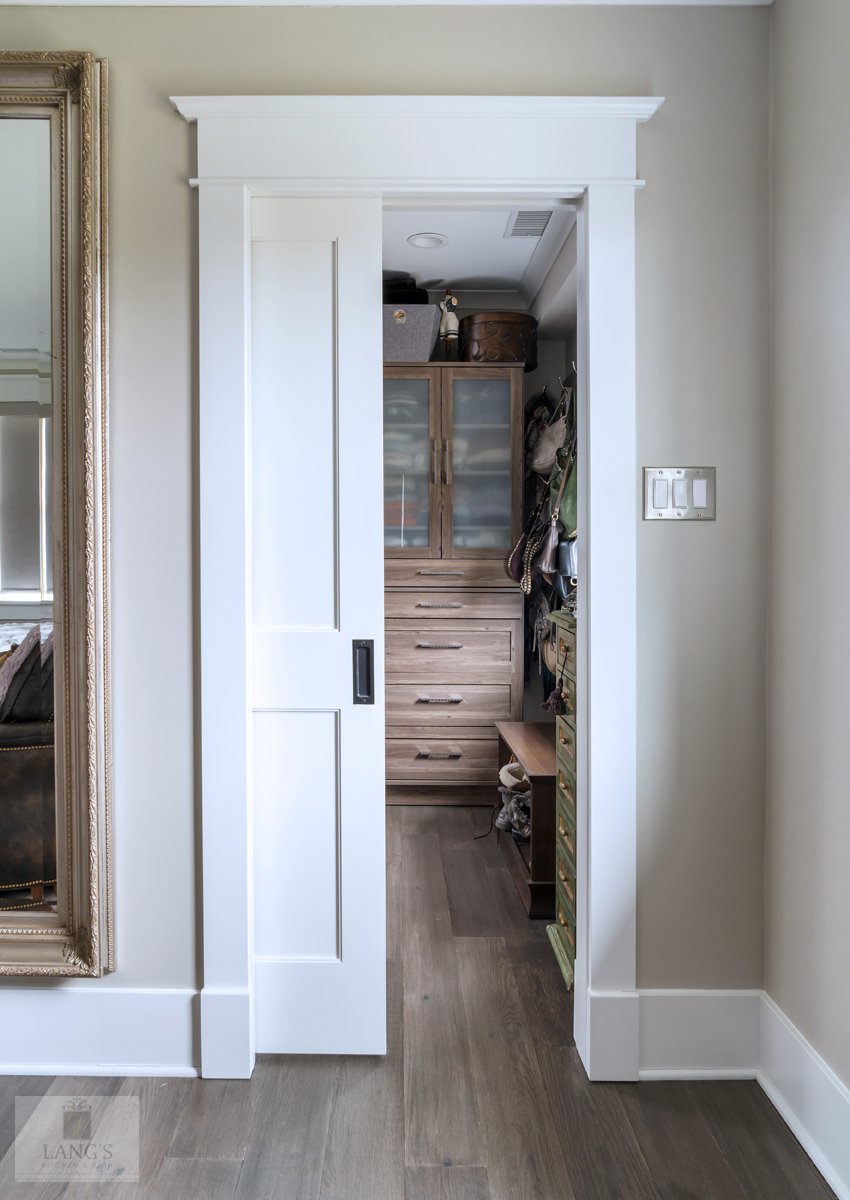 Make an appointment with our experienced team at Lang's Kitchen and Bath. Our design experts can show you the most effective and stylish custom closet systems. You can easily design a closet on its own or as an addition to a kitchen design or master bath remodel. Improve your lifestyle and add to the value of your home with a closet system that maximizes all available space.
---
Share this post
---
---