Four Clever IKEA Design Hacks to Create More Storage in a Small Bathroom
Posted by admin on
Customizing IKEA kitchen cabinets offered more bathroom storage options for this couple.
Kate and her husband, Josh, were determined to make the most of the single bathroom in their Illinois apartment. They had a bathtub/shower combination, but they really wanted a separate bathtub and walk-in shower. They installed a new shower stall where a storage closet had been. This renovation resulted in less storage space, and half of the bathroom looked brand-new, while the other half did not reflect the upgrade.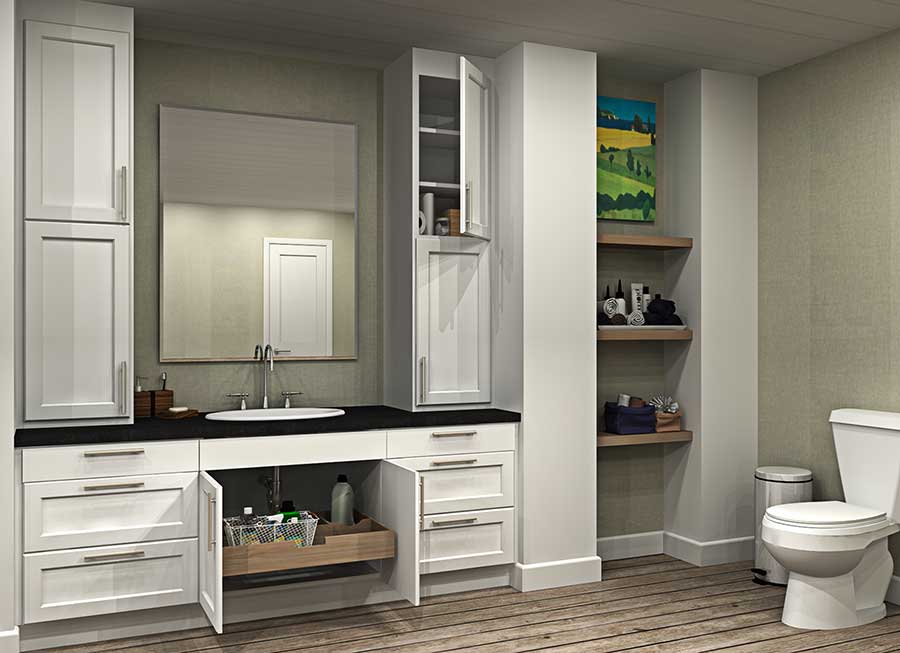 Kate and Josh considered their bathroom design options.
"We needed to replace the lost storage and give our bathroom a facelift," Kate explains.
In addition to the lost closet space, they had an awkwardly shaped recess next to the toilet. It had always been there, once housing a radiator, and Kate and Josh wanted to make that space look intentional and cohesive.
"With the new shower and tub, we were able to approach the contractor and say, 'This is what we want, and this is where we want it.' We weren't 100% sure of our options here. We started where most people do, on Google, and IKEA was the first place to pop up for 'bathroom storage solutions.' We browsed the website and saw a few things that might work—but we wanted to see more real solutions by real people."
Kate tells us she searched on Pinterest and came across an IKD blog on transforming a bathroom with natural wood cabinets. The couple liked what IKD was able to achieve (and the price point), so they reached out.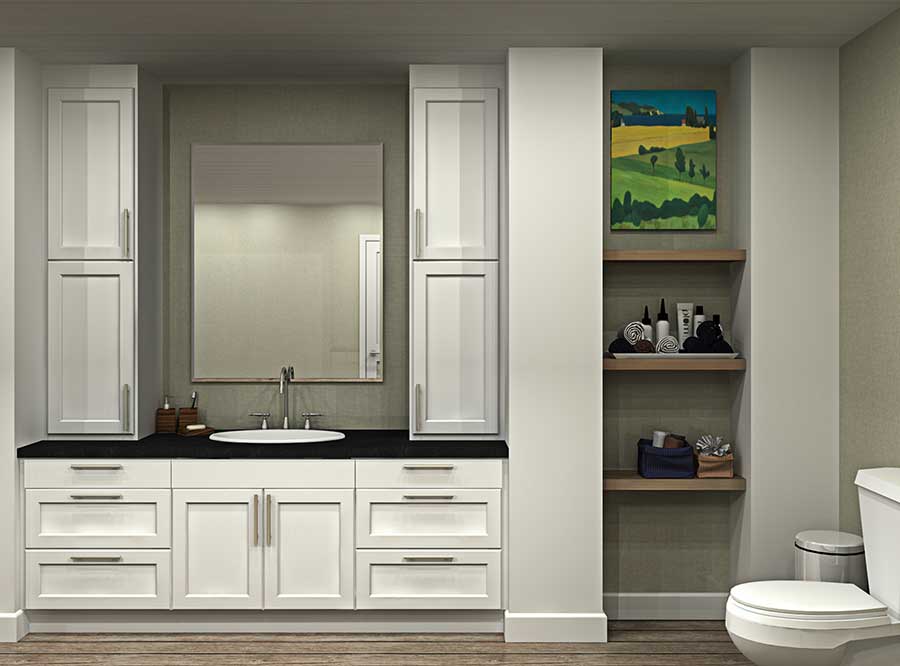 We'll Design Your Ideal IKEA Bathroom Easily, Affordably, and Online
Our IKEA Bathroom Design Package is everything you need to complete your new bathroom with confidence.
GET STARTED TODAY
IKD Designer Albert helped them see how high ceilings could work to their advantage.
After receiving the measurements, IKD designer Albert saw that they were dealing with an 80" long space, which isn't much if your goal is to fit a vanity and closets.
"They didn't have much width, but they did have a 96" ceiling height. We knew we could make the space work by stacking wall cabinets from IKEA and designing the recess to become a home for floating shelves. They agreed to continue using a single sink if it meant getting more storage." –Albert, IKD Designer
The bathroom was an essential space for this couple. They like to relax, and they cared about their appearance. They needed room for big, soft towels, plush washcloths, bathroom necessities, and cleaning supplies. Josh had an extensive selection of beard care products, and Kate required storage for her bath supplies.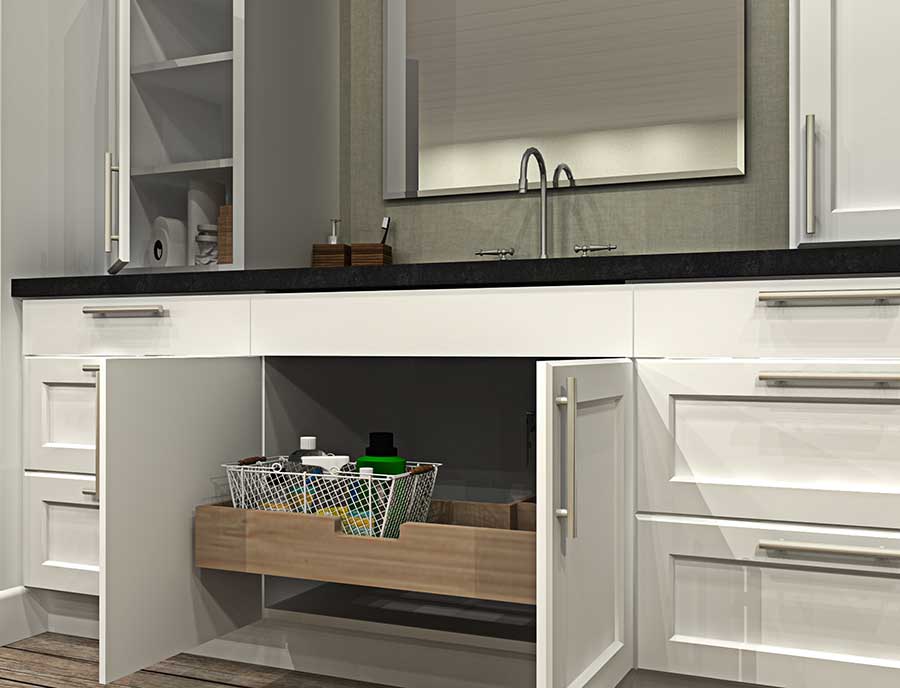 "Every Friday night, I run a hot bath. I drink tea—or wine, depending on how the work week went. It's how I unwind. I love the floating shelves because they give me a place to put my Bluetooth speaker. I made one cabinet my 'spa cabinet.' It has incense, candles, bubble bath, face masks…."
4 IKEA cabinet design hacks gave this couple a functional bathroom.
IKD designer Albert used two IKEA cabinet frames, originally 24″W x 24″D x 30″H, and cut them to 25" H for the drawer base.
Next, he cut a 30″W x 24″D x 30″H cabinet frame to 25" H for the sink base.
Then, he stacked four IKEA wall cabinets that were 15"W x 30"H to create a cabinet design that reached from the top of the vanity to the ceiling.
Finally, he designed two custom 60" H side panels to conceal the horizontal seams between the cabinets, making it look as if they were always meant to be used in that fashion.
"We wanted to make sure we complemented the couple's style and followed the #1 design rule of making the space work for the way the client lives. We presented three designs in total, and the last one—the one you see here—was the winner. Most bathroom counter heights are 31", and the couple wanted to keep it there. However, they wanted deeper drawers and cabinets. I knew we could give them everything they wanted using IKEA's kitchen cabinets." –Albert, IKD designer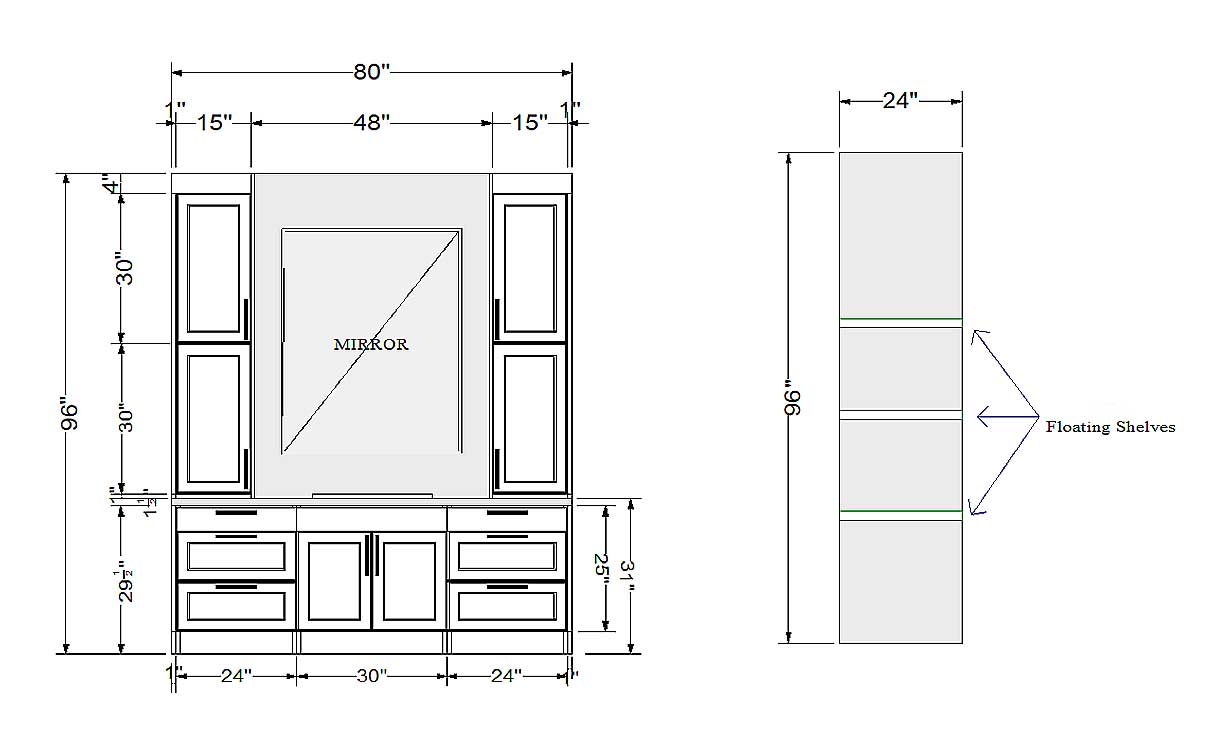 The couple chose a SÄLJAN black marble laminate countertop and AXSTAD matte white door and drawer fronts to finish the look. Because Kate mentioned that she doesn't like squatting down every time she needs to access the cabinet under the sink, Albert added a Rev-a-Shelf pullout feature in the cabinet.
The total cost of IKEA's cabinets, including twelve KALLRÖR door and drawer pulls, was $2,046. (This also includes materials for installation and customization.) The floating oak shelves by Semihandmade were $208. This brings the total project cost to $2,254.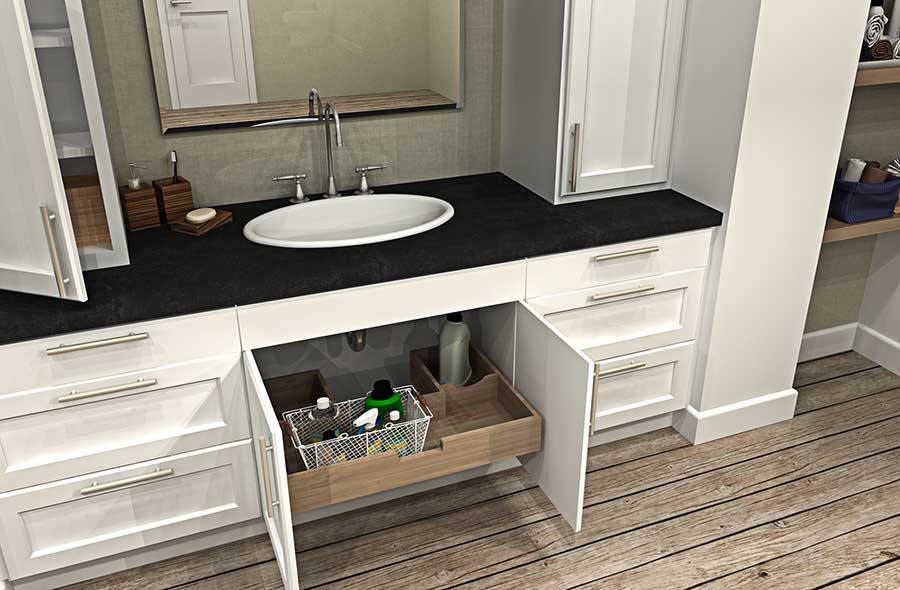 Kate and Josh handed the plans, shopping list, and price breakdown to the same contractor that had overseen the bath and shower renovation, and he handled all the design adjustments and installation.
Conclusion
Kate and Josh were willing to compromise on sharing a sink if it meant having more storage. IKD was able to provide that space by hacking IKEA kitchen cabinet frames, using a maple U-shaped vanity pullout from Rev-a-Shelf, and turning a once unattractive recess into a beautiful floating shelf feature.
Get a Professional IKEA Bathroom Design – All Online
Work with our certified designers to get a personalized bathroom designed around your needs and vision. If you're interested in learning more about our service, make sure to check out our IKEA Bathroom Design Services.
---
Share this post
---
---