Custom Shoe Cabinet for Our Family of Four
Posted by admin on
Note: Discover tips and tricks for small space shoe storage via my book, Small Space Style: Because You Don't Need to Live Large to Live Beautifully
One of the first things that's visible upon entering our cottage is a tall, custom cabinet made from reclaimed wood: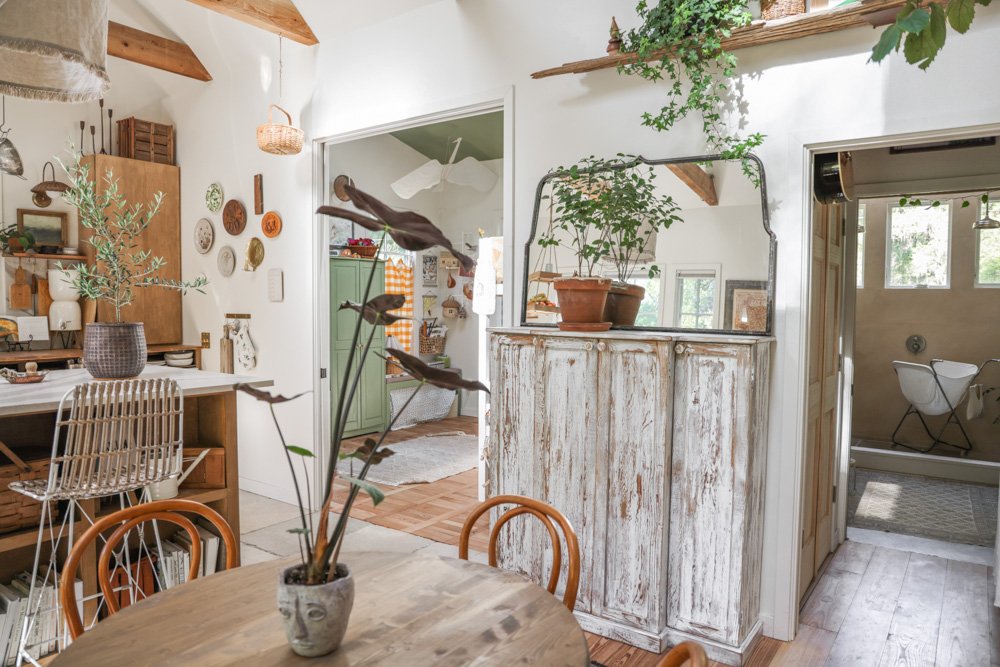 Luckily, one of the things that's not immediately visible is all its contents: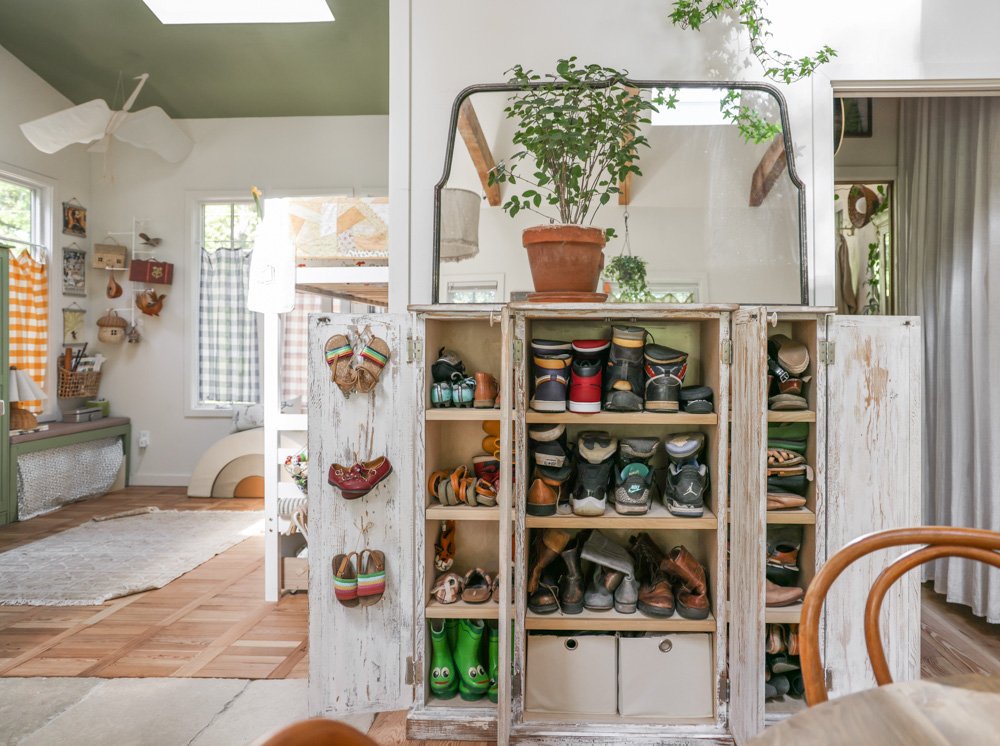 This three-part, four-doored cabinet holds almost all of the shoes for our family of four. (There are some frequently used pairs — as well as a few tall boots — stashed elsewhere for doorside access and utility.)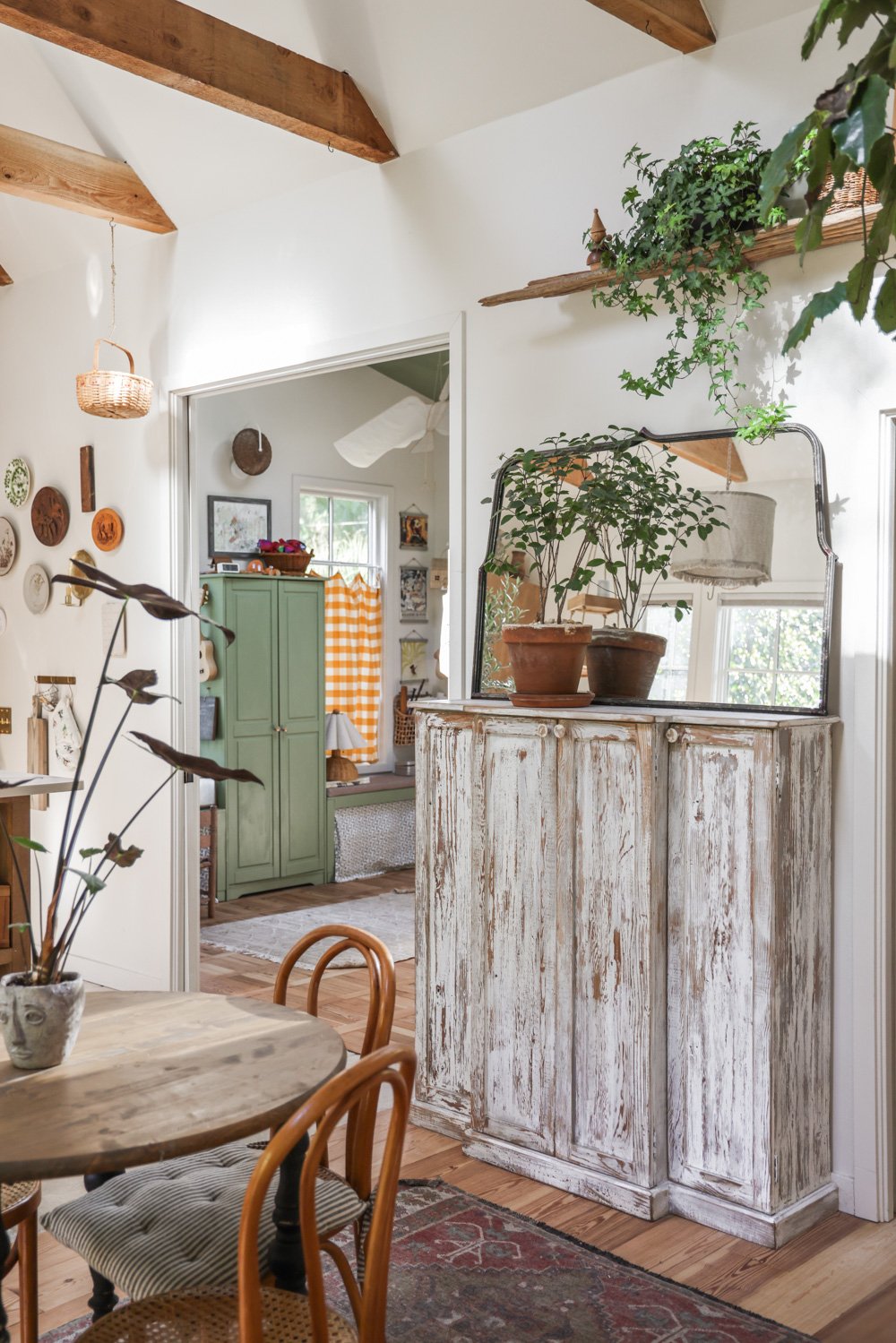 The cabinet was made by our good friend at Tumbleweed & Dandelion, with whom we designed it.
The idea was to keep everything near the front door, without causing a bottleneck there. We opted for a taller height (per usual), to maximize vertical space. The cabinet also provides the perfect perch for a large, light-bouncing mirror that adds color and depth to the pocket door wall, which itself cannot support even moderate weight due to the necessary hollow framing behind much of the drywall.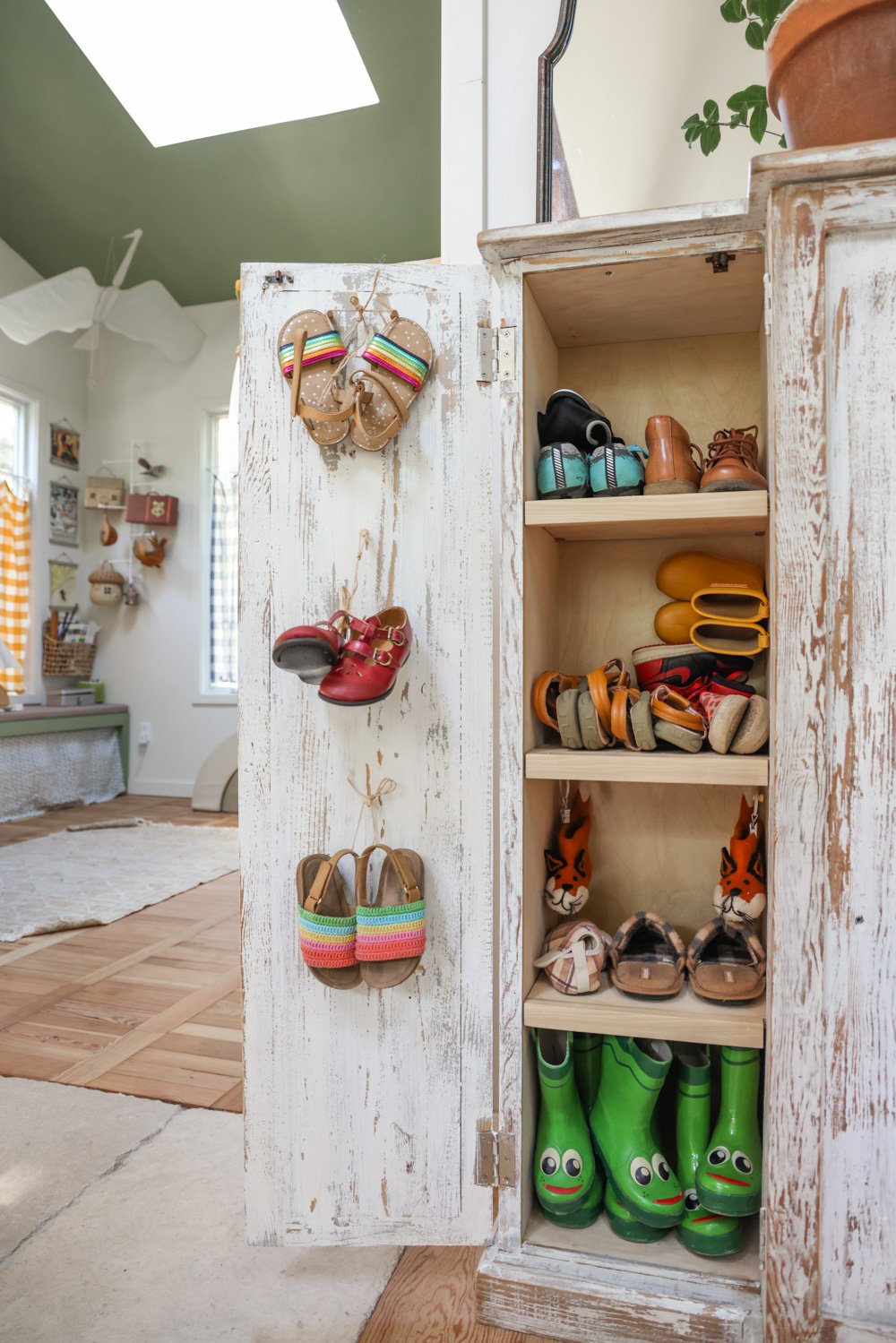 I've found that some important parts of designing custom furnishings for our unusual, smaller spaces are not just the obvious ones — like size (particularly depth) and shape, but also aspects like leg type and maneuverability around the pieces.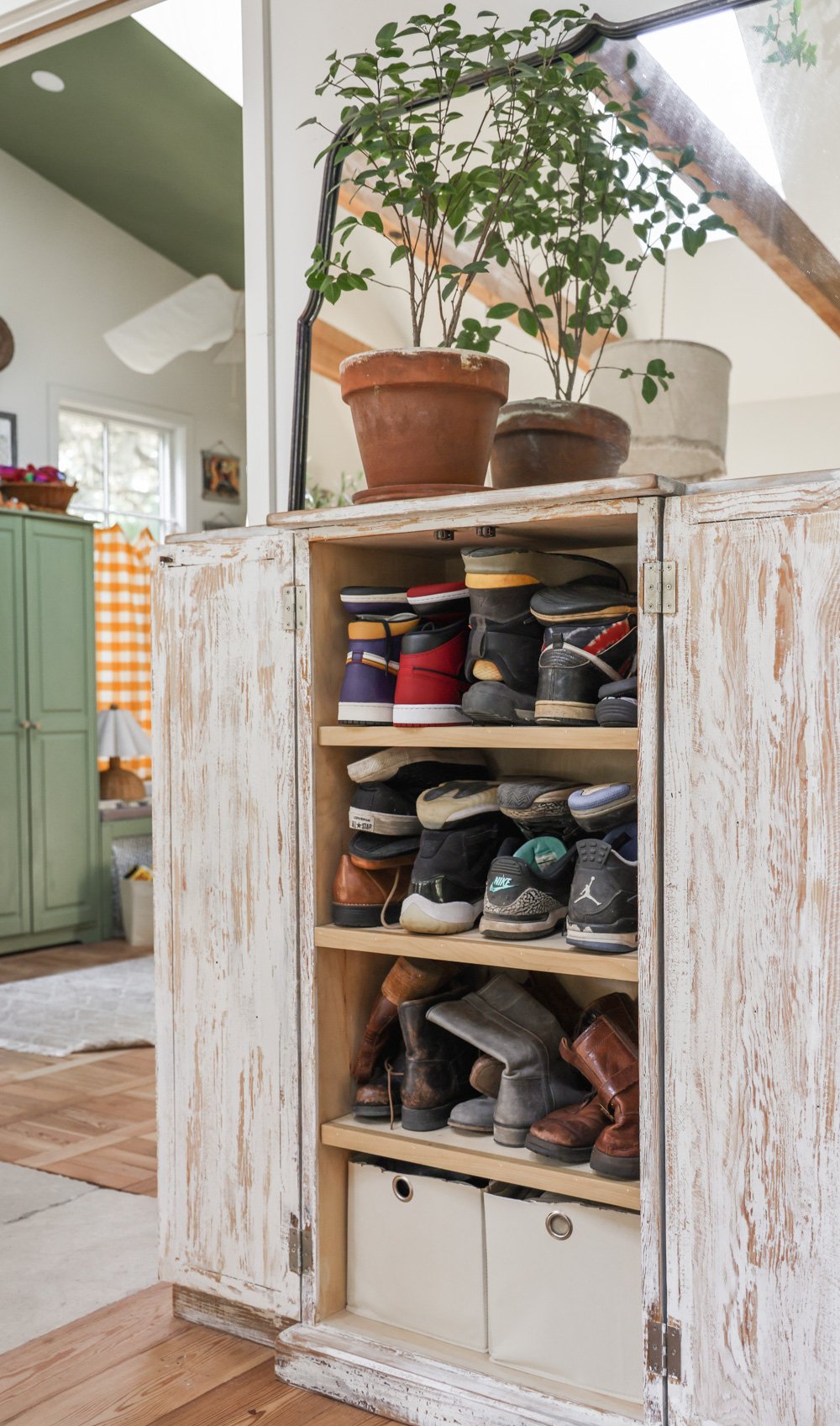 For example, we didn't want dog hair to be able to make its way beneath the cabinet, and we wanted it as sturdy as possible since we have two young children. Hence the flat bottom design.
And we wanted the piece to be as shallow was possible to prevent us from bumping into it when in the "dining room," or while crossing from the bathroom into the kids' room, but it also needed to be deep enough to accommodate Adam's sneakers. Hence the alternating depth between compartments.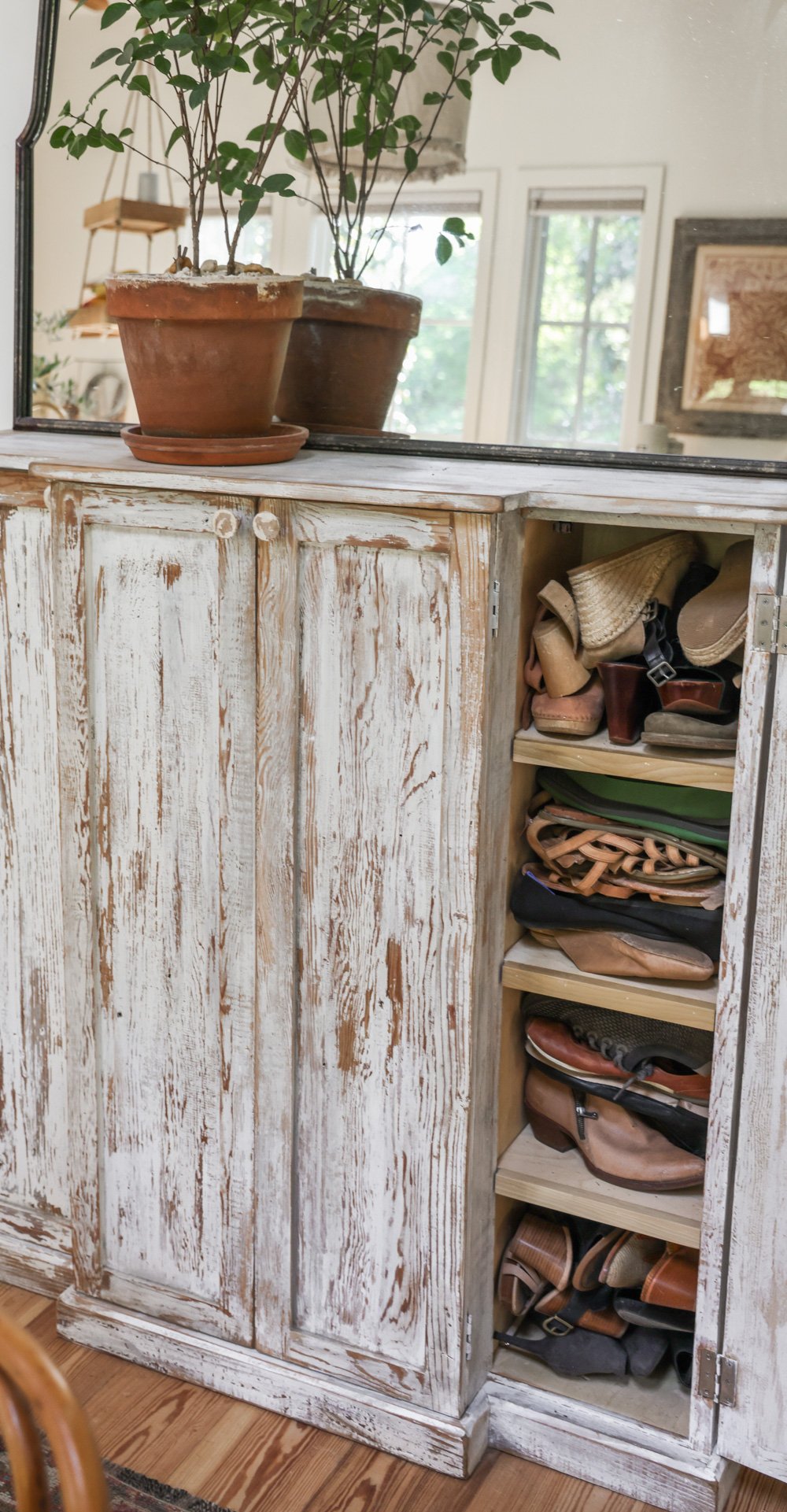 The kids shoes go on one side, and handmedown shoes that they've yet to grow into hang from the interior of the door. Adam's sneakers fill most of the middle compartment, while my shoes sit (somewhat pell-mell, but I don't mind) on the right side.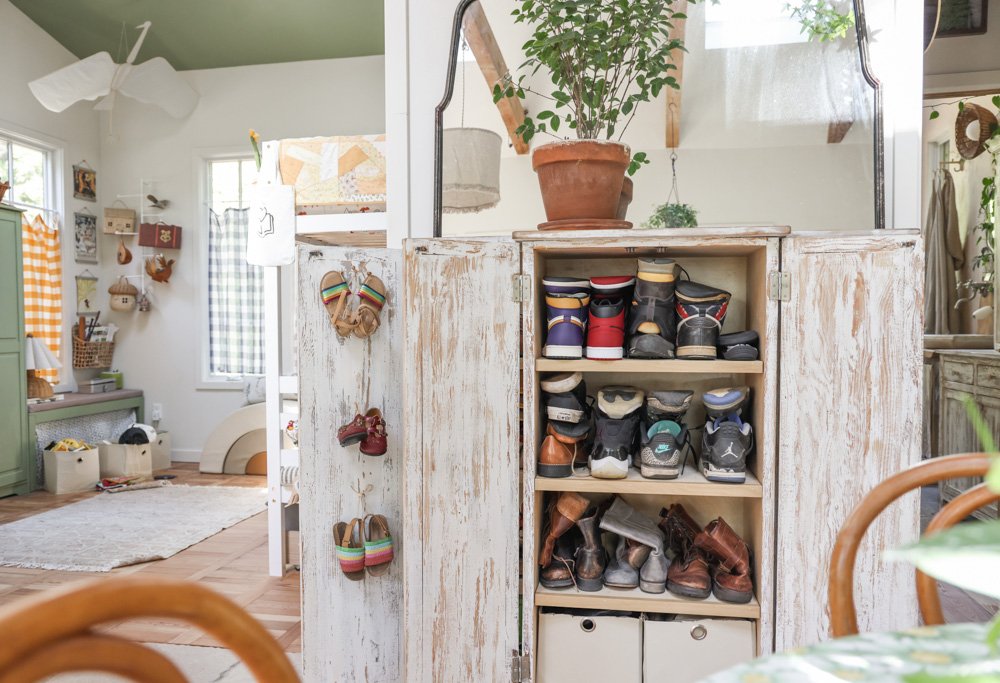 Shoes that my oldest child has outgrown go into a 6-pocket beverage bag that I suspend from the makeshift hallway coat closet, which is a small stretch of receded wall in front of the breaker box where I added a dowel and hangers to make the space highly functional. While in the bag, the shoes wait to be reused by our younger child, or are kept for sentimental reasons. (Yes, I'm good at letting things go, but not all things.)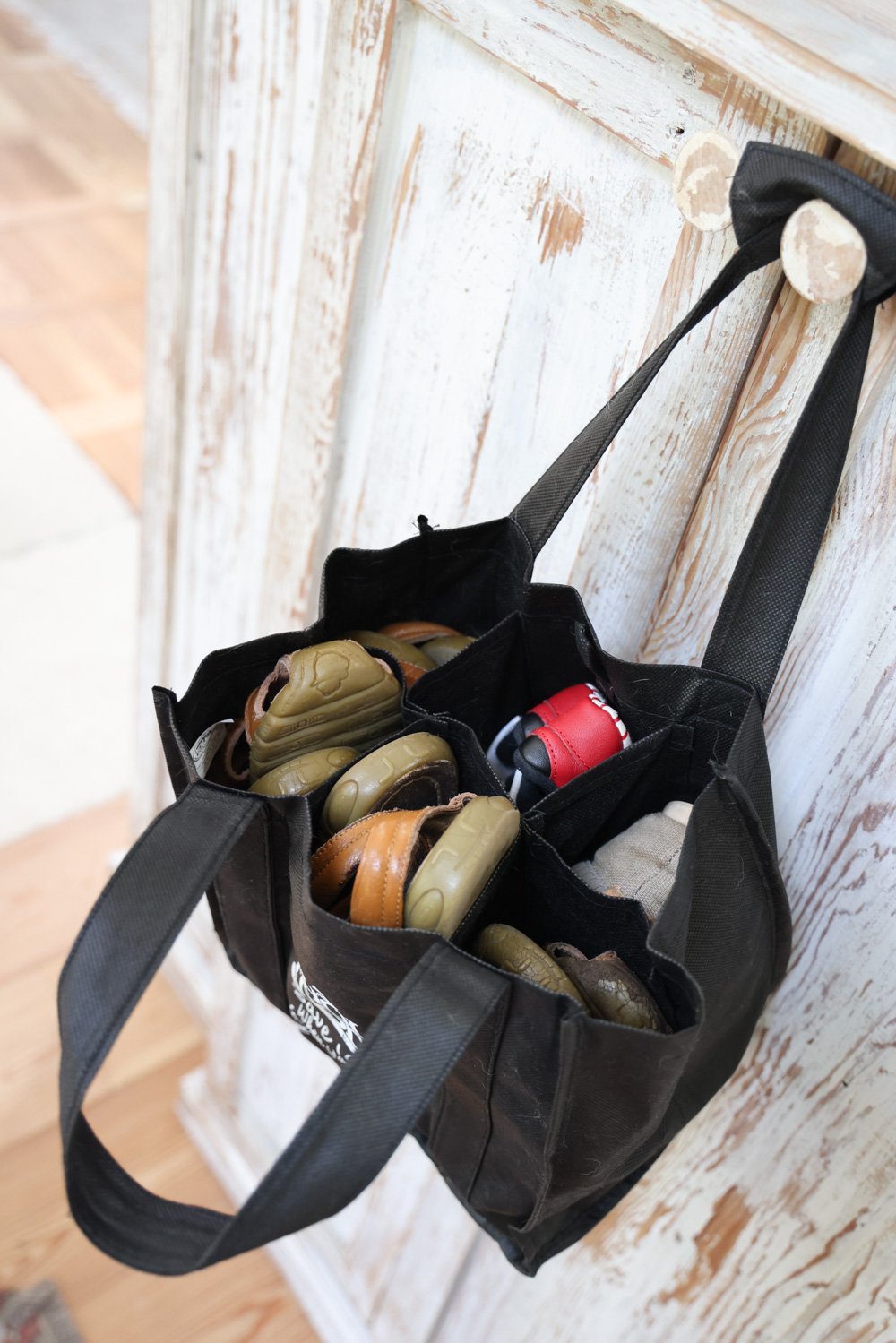 This cabinet turned out exactly as we'd hoped and imagined, and has room inside to adapt, thanks to removable shelves. We're grateful to our talented (and absolutely delightful) friends at Tumbleweed & Dandelion in our old, beloved town of Venice Beach, for bringing this vision to life!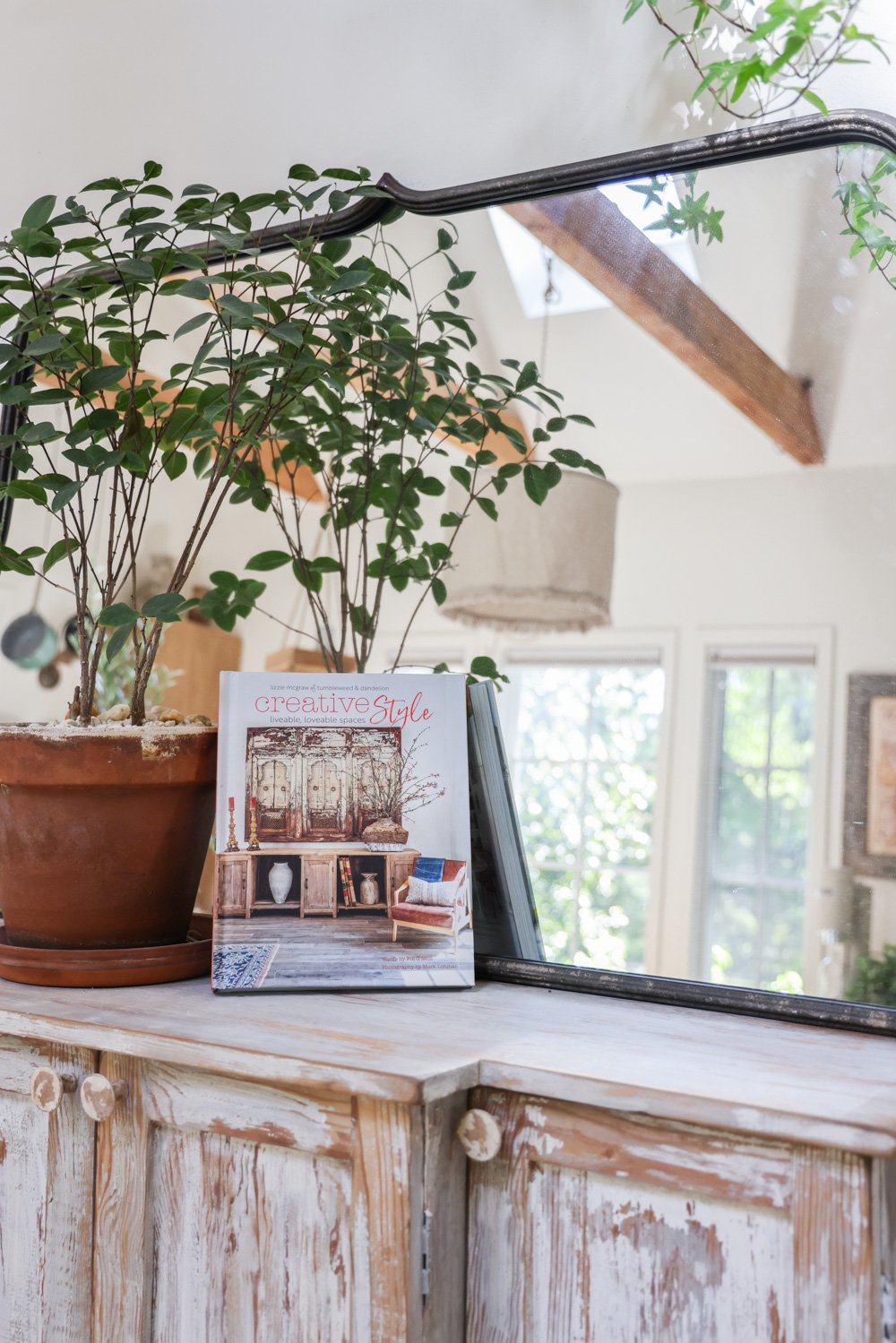 And speaking of our Tumbleweed friends, the shop's founder, Lizzie McGraw just wrote and published a fantastic book that I love, which be found wherever books or sold, or via her small business' online store.
---
Share this post
---
---