Corner Bathroom Vanity Ideas To Transform Your Washroom Space
Posted by admin on
Installing a corner bathroom vanity isn't rocket science. A bathroom is straightforward. It doesn't take much to find a wall mount vessel sink for your bathroom.
"Bathrooms do a really good job of striking that balance: they're not cheap, but also not nearly as expensive as something like a kitchen remodel," said Mischa Fisher. 
A powder room is all about you. We'll show you the latest corner bathroom vanities. With each example, you'll see how the vanities add style and elegance to your bathroom spaces.  
Bathroom Transformations With Corner Vanities
When installing corner bathroom sinks, hire a professional contractor. Unless you have plumbing experience, vanity installation would not be a DIY project. There are a few steps you should take before you begin.
First, select a paint color and tile design. Second, measure the overall dimensions of your bathroom space. Third, decide if your vanity will require a wall mount or will it be free-standing.
Rounded Bathroom Sink Vanity
Small powder rooms will benefit from a vanity like this example. The round front allows it to blend with the corner where a square counter would be awkward.
You'll need to determine the location of your faucet holes. If you want a vessel sink, you'll need to plan accordingly.
Black Marble Corner Vanity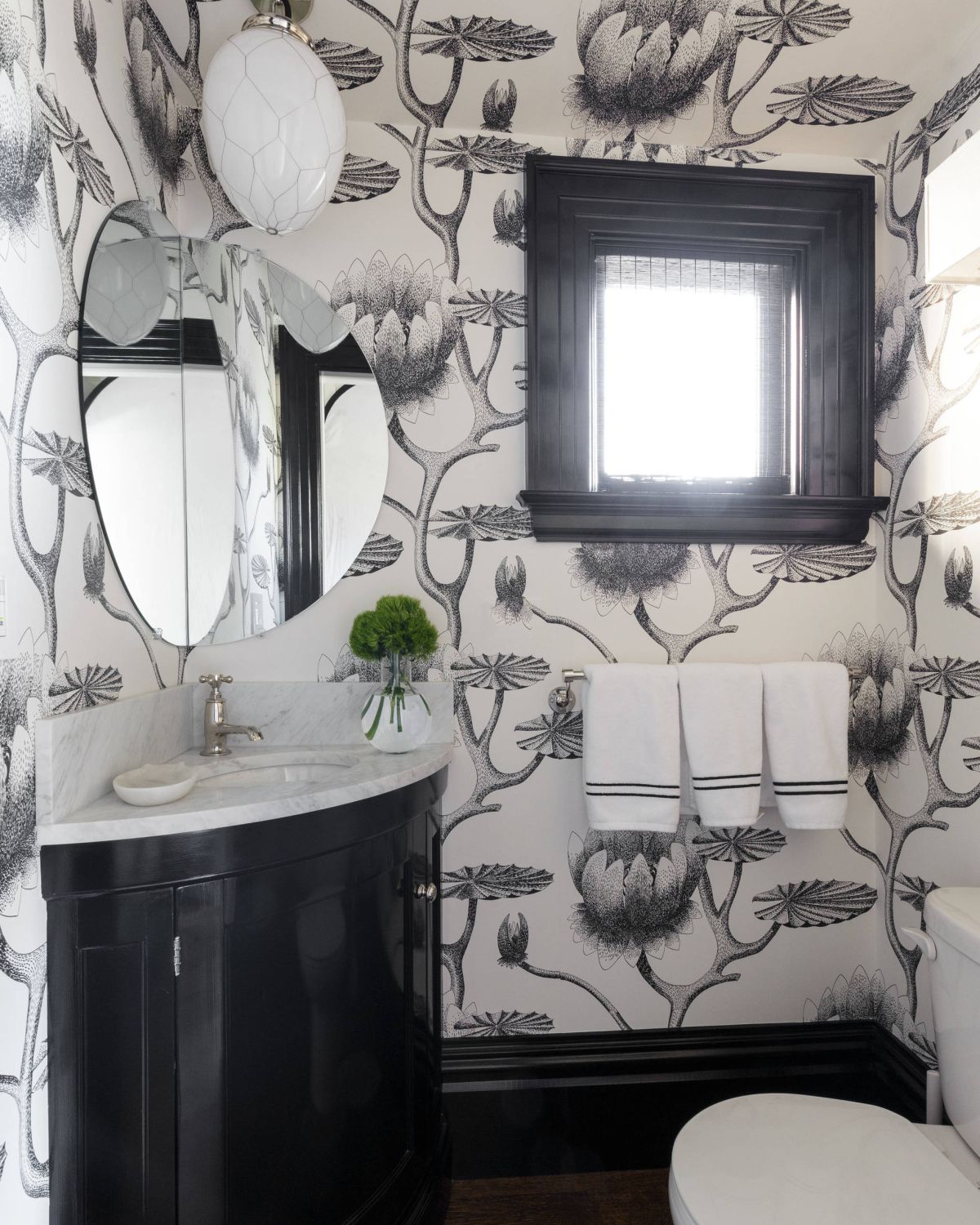 A black marble corner vanity is the cherry on top of any bathroom space. Install a wall mounted vessel sink or go with a vitreous china design. 
Bathroom Wall Art
Your mirror options are plenty with corner vanities. Fill your bathroom with wall art and turn your powder room into an art exhibition zone. In this example, a wall-mounted vessel sink with a white marble top adds the right amount of flair. 
Triangle Corner Vanity
Added floor space and counters pace is a built-in feature with bathroom corner sinks. In this example, the triangle corner vanity provides lower cabinet storage for towels and additional cabinet space.  
Small Corner Vanity 
Corner vanities are useful when you want to renovate an old home. A smaller vanity means more available space for the new shower and the old clawfoot tub. 
Corner Vanity Extension
Did you know that a corner vanity can have an extension? If you have the space, a vanity extension would provide additional countertop space for small bathroom accessories. 
If you wanted to try a different countertop, think outside of the box. According to Consumer Reports, ultracompact countertops feature a combination of quartz, porcelain, and glass. Surface patterns and pigments can make the countertop look like stone or concrete. 
Dual Mirror Corner Vanity 
As the saying goes, two is better than one. With a corner vanity, one side can hold the sink and the other a flat counter space for the daily prep. However, two mirrors will enable you to use the space easily, without bothering your partner to use the mirror.
Corner Sink Storage Space
If you have the space, use it or lose it. Install a corner cabinet on top of your countertop for more storage where there would be wasted space otherwise. A glass front allows for more styling and decorating.
Closed Corner Cabinet
Do you need a space where you can throw your bathroom odds and ends out of sight? A closed corner cabinet on the top of your corner vanity will provide you with the perfect spot. 
Two Connected Full Vanities
Does your partner insist on having a sink to themselves? If your bathroom allows, go ahead and use the corner to house two full vanities connected by a cabinet and countertop. With bowl sinks, you won't lose any surface space, giving you both all the luxuries of separate spaces.
Corner Sink And Shower
Attach your corner vanity to the shower to create a complete bathing unit. This modern vanity adds a dressing table to the bathroom. Add a wall mounted vessel sink. A vitreous china countertop would be another option. 
Colorful Bathroom Vanity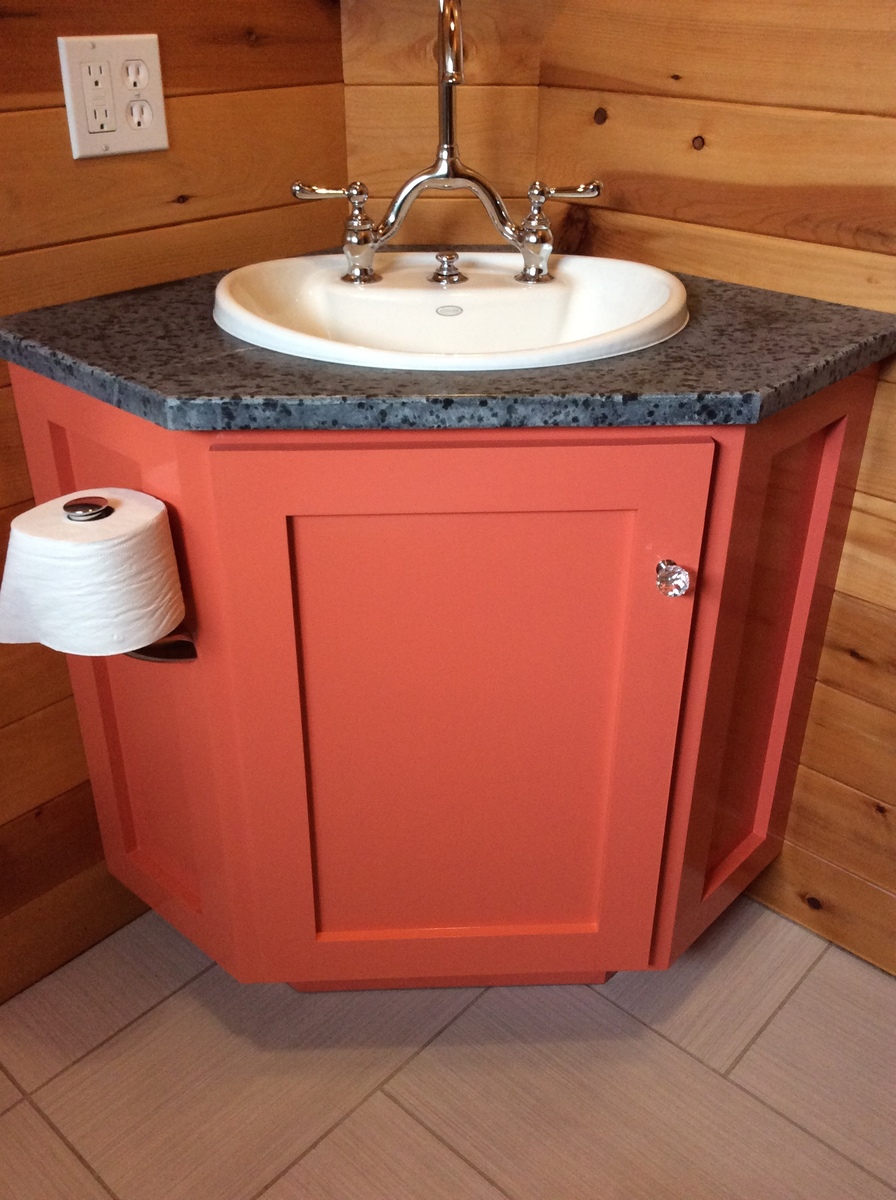 In this example, Ana White shows us the DIY aspects of a corner vanity project.  Go with a coral color or a lighter hue if necessary.
Give yourself ten to 20 hours to create and uses plywood and birch trim as its main materials. After each application of paint.
Gray Bathroom Vanity Sink
If you like brutalism, then try a brutalist bathroom style. Gray, white, and concrete would make for the ideal brutalist bathroom layout.  
Corner Vanity Remodel
For vintage bathroom spaces, cherry wood cabinets with a black marble top would create a historic bathroom vibe. Remo. The antique pink corner sink was transformed into an elegant corner vanity with rich wood colors.
The granite countertop looks fantastic on this corner sink and is a modern addition to any bathroom. 
Minimalist Corner Vanity Unit
Your bathroom corner doesn't necessarily need a chunky corner vanity to completely transform the space. This corner vanity unit is a minimalist option that has space for a good-sized sink.
Underneath, you'll find plenty of space for adding your toiletries or towels, so it doubles up as additional storage for your bathroom.
DIY Dressing Table Corner Vanity
If you have the space, consider a full dressing table. This DIY dressing table is created from scratch and is the ideal spot for getting ready in the mornings.
Solid Oak Corner Bathroom Vanity
This solid oak corner vanity is a sturdy piece of furniture to add to any bathroom space. The light color makes it easy to add to most bathroom settings, and it is a functional yet stylish vanity.
You'll enjoy plenty of storage space underneath the sink, as well as room to put your hand wash and toothbrush on either side.
Tiny Bathroom Corner Vanity
If you have a tiny bathroom, you'll like this small corner sink vanity. For rooms where there's only space for a toilet and vanity, you'll find this is the perfect option for making the most of this room.
Rustic Bathroom Vanity
In this example, the corner bath vanity in burnt oak would make a hearty addition in your bathroom space.  This rustic vanity provides extra storage space to relieve clutter issues.
Bathroom Sink Vanity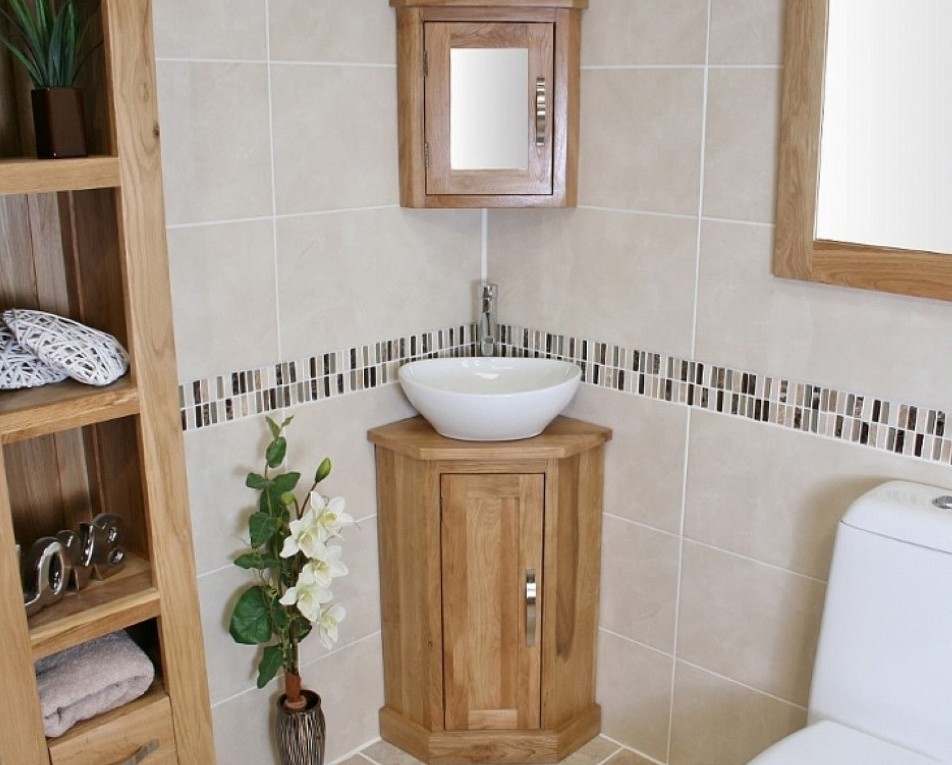 In this example, a modern bathroom sink vanity is the centerpiece of the bathroom. The addition of the small medicine cabinet overhead adds more storage space plus a small mirror.
The vanity is a place where you can brush your teeth and comb your hair. It's an altar designed to help you worship your body and appearance. It isn't called "vanity" for no reason.  
Frequently Asked Questions (FAQ)
FAQ
What Is An ADA Compliant Bathroom Vanity?
ADA sinks with a rear drain location provide better plumbing drain hookups. Protection from hot water is most important. An open vanity receives waste and supplies insulating jackets applied to the pipes, protecting wheelchair users.
A closed model conceals pipes and is equipped with a removable face or face board covering the pipes. Vanities must have roll-under capabilities. Meanwhile, the vanity top shouldn't be higher than 34 inches above the floor.
Can I Use Adhesive Caulking To Secure A Bathroom Vanity To A Wall?
Adhesive caulking isn't strong enough to hold a vanity. Tile is durable for most bathroom accessories. However, epoxies can't be trusted to secure something as heavy as a vanity. Vanities are made to be screwed in place.
What Are The Characteristics Of A Floating Vanity?
In modern bathroom design, floating vanities do not have legs or a base. Floating vanities are mounted directly to a wall. The vanity style helps unclutter bathrooms while providing extra storage for toiletries, towels, toilet paper, and other essentials.
Corner Bathroom Vanity Conclusion
A corner bathroom vanity adds value and versatility to your bathroom space.  You don't have to create a mountain out of a molehill as bathroom vanities are not too difficult to install.
Bathroom vanities have the power to transform a bathroom space like Cinderella's slippers after midnight. One addition to a bathroom will modernize its appearance. 
Decide on a faucet type and install a wall mounted corner sink. Bathroom sinks are like fruit, all of them are good for you, but they don't taste the same. Find the style that's right for your space, and watch how your bathroom is transformed.
The post Corner Bathroom Vanity Ideas To Transform Your Washroom Space appeared first on Homedit.
---
Share this post
---
---