Cool, casual and cute: A first look at the new Del Mar Beach Hotel in California
Posted by admin on
I grew up in San Diego, and every summer Sunday when I wasn't at camp, my family would pack up our Volvo with beach gear – chairs, towels, umbrellas, coolers and boogie boards galore – and head to the beach in Del Mar.
My brother and I would spend entire days building sandcastles and playing in the water and, as we got older, catching some sweet, sweet waves on those boogie boards. We'd pop over to the parking lot near the lifeguard stand for hot dogs at lunchtime and then huge waffle cones heaped with two scoops of ice cream (mint chocolate chip for my brother, rocky road for me, cookies and cream for mom and strawberry for dad) before heading back home.
For more TPG news delivered each morning to your inbox, sign up for our daily newsletter.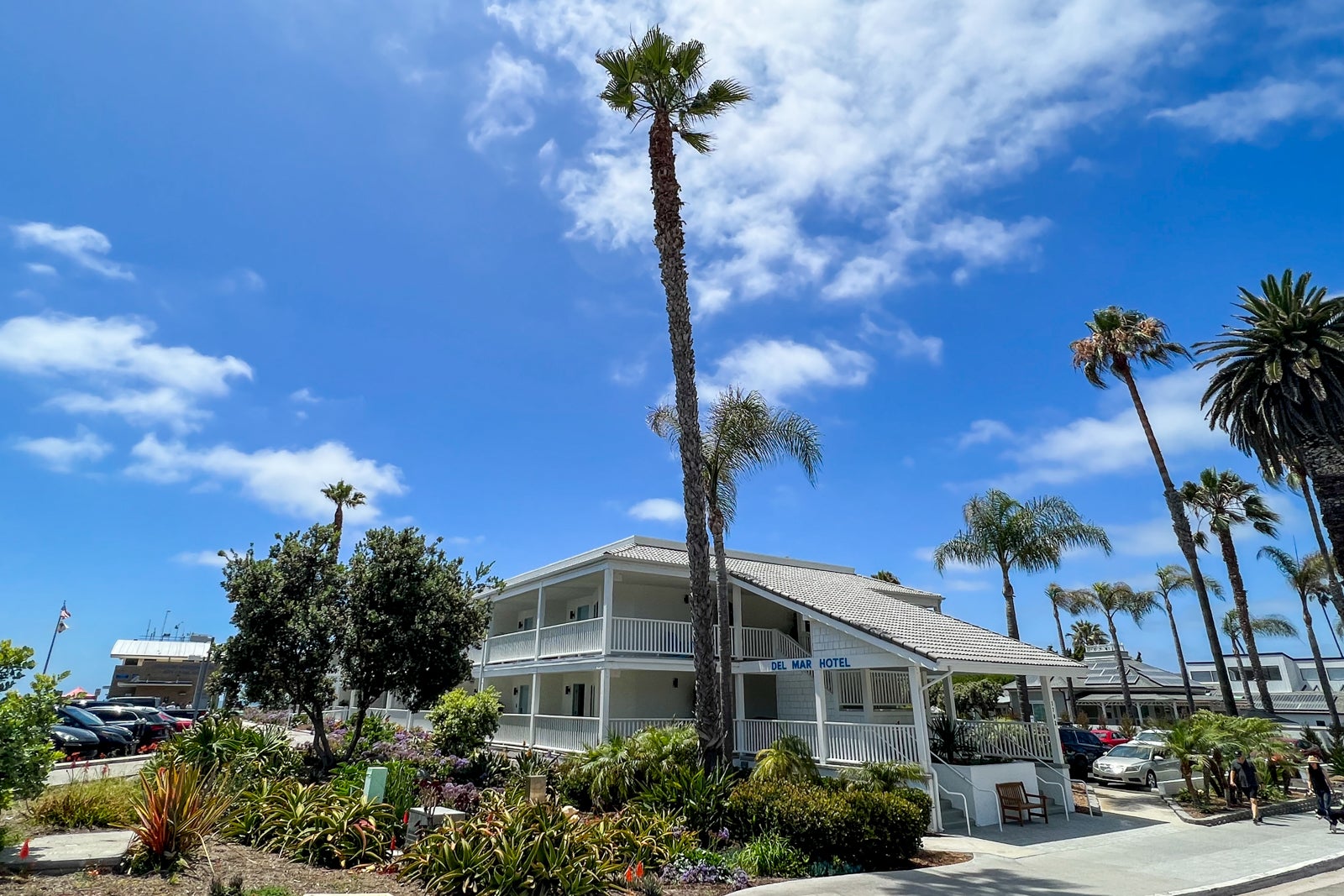 Though my attention was usually on the surf, I always noticed the old motel across the parking lot from the ice cream stand. You know the kind I mean — a nondescript, two-story block with peeling paint, weathered wood and a general aura of dilapidation belying the otherwise sunny setting.
We never stayed there, since we were local, but I always wondered about it. And I wondered even more once I learned that it was being renovated to the tune of $14 million and would reopen as a new hotel by July Fourth weekend this year.
Since I was planning to visit my folks for the holiday anyway, I booked myself a room for two nights and checked in for a first look at the new Del Mar Beach Hotel. Opening weekend kinks aside, it turned out to be a pretty tubular SoCal beach getaway.
Booking
The new hotel has just 46 rooms and suites plus two self-contained residences (cute bungalow-style houses across the parking lot from the main building) and isn't part of one of the major hotel chains, so booking with points wasn't an option.
I first looked directly on the hotel's own new website, which has a handy booking calendar and displayed rates ranging from $299-$719 per night over the next few months. The rates were on the higher end of that spectrum (around $499) for the July Fourth holiday and I found there was a three-night minimum requirement.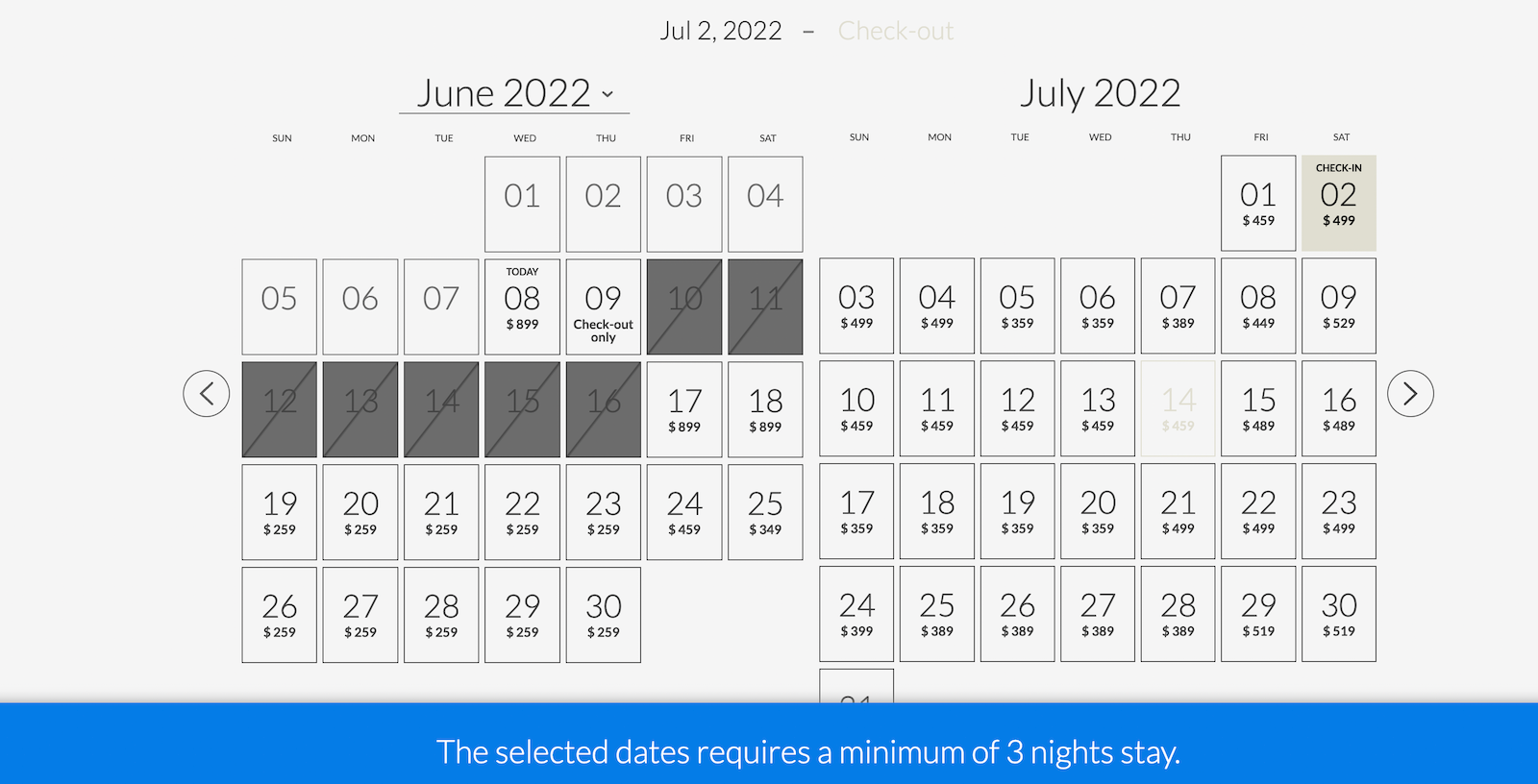 Figuring I could just stay another time this summer, I Googled for other Del Mar hotels … and it popped up, with a mix of photos from the old motel and ones showing the new rooms. Google indicated that it was bookable for two nights on various online travel agencies (OTAs) like Expedia.
I followed a hunch and logged into both the Chase travel portal and the Capital One travel portal, and sure enough, I was able to book a two-night stay through either of them instead of the hotel's own three-night requirement — for the same prices, or slightly lower, than those displayed on the hotel's site.
I recently opened the Capital One Venture X Rewards Credit Card and, though I've already burned through its $300 annual statement credit for bookings made through Capital One travel, I figured I'd still do well by earning 10 miles per dollar on a hotel booking made on the portal, so that's what I did. I was reassured by the fact we could cancel up to five days before arrival.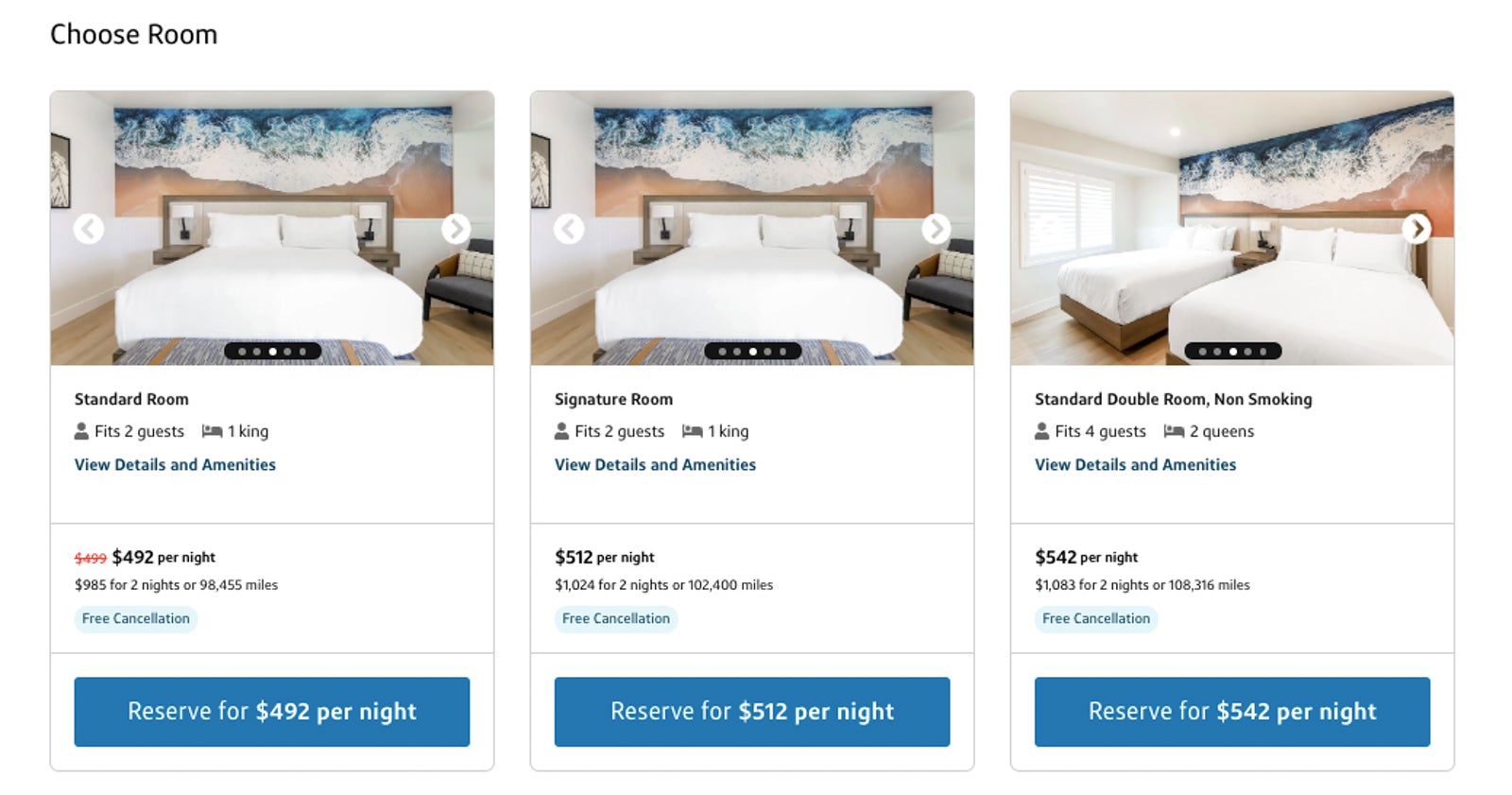 A starter category King room was going for $499 per night plus around $70 in taxes and $40 in combined property and resort fees per night that included valet parking, internet, use of the hotel's patio chairs and beach towels and loaner beach gear like chairs, umbrellas, boogie boards and surfboards, a welcome glass of wine, and coffee and espresso in the lobby in the morning.
Because my partner and I were traveling with a friend, I ended up booking a King room for them and a King Partial Ocean View room for $20 more per night for us. My total for our room came to $1,226.74 for the two-night stay.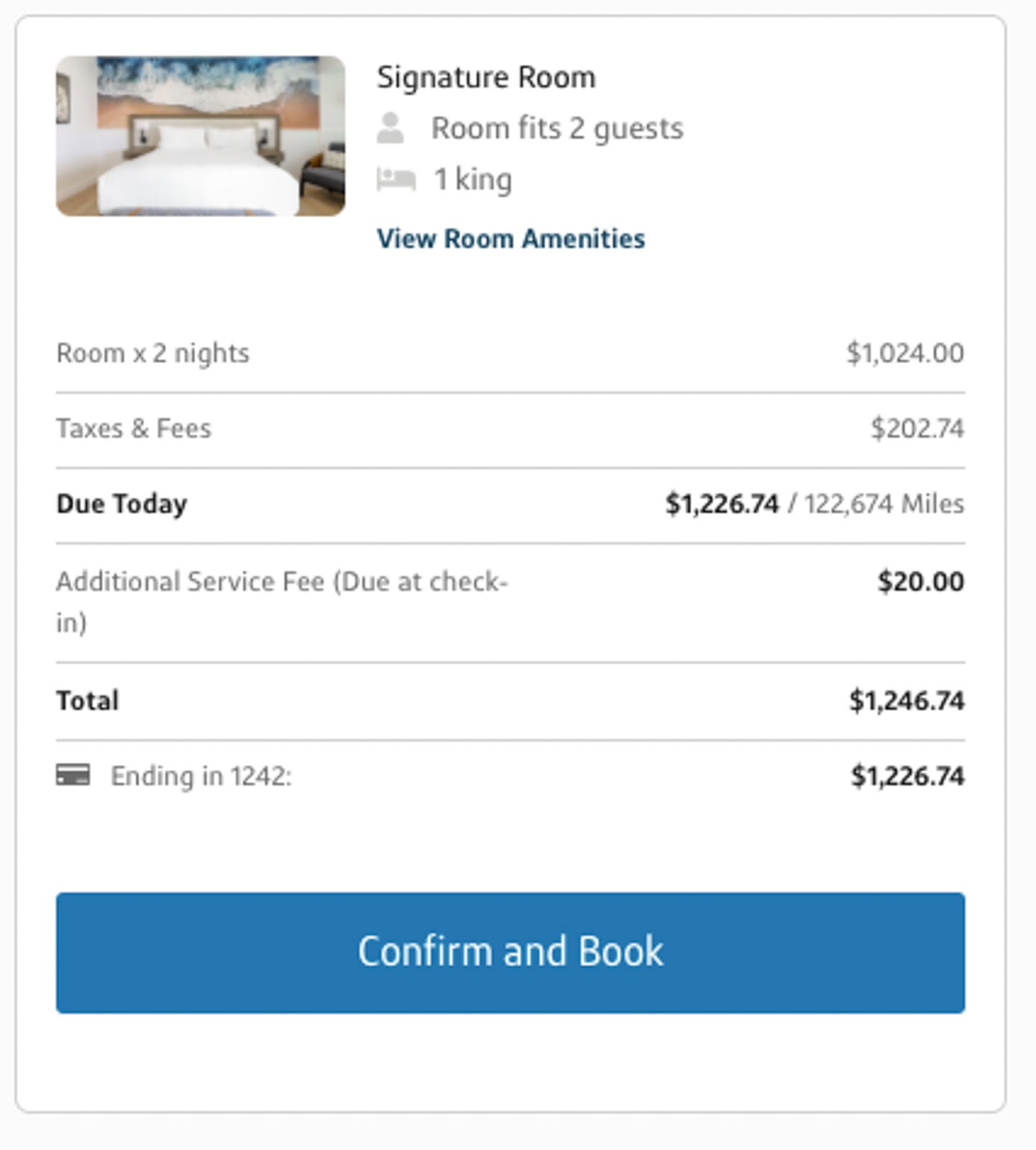 That was steep considering this is a cute but basic hotel without amenities like a restaurant, but the price was not totally out of line with other nearby offerings over the holiday weekend. What's more, this is one of the few hotels in Southern California that is right on the beach (we're talking down a single flight of stairs), so the upcharge felt worthwhile.
Location
The Del Mar Beach Hotel occupies a prime piece of realty in the beach hamlet of Del Mar, about a 30-minute drive north of San Diego International Airport (SAN).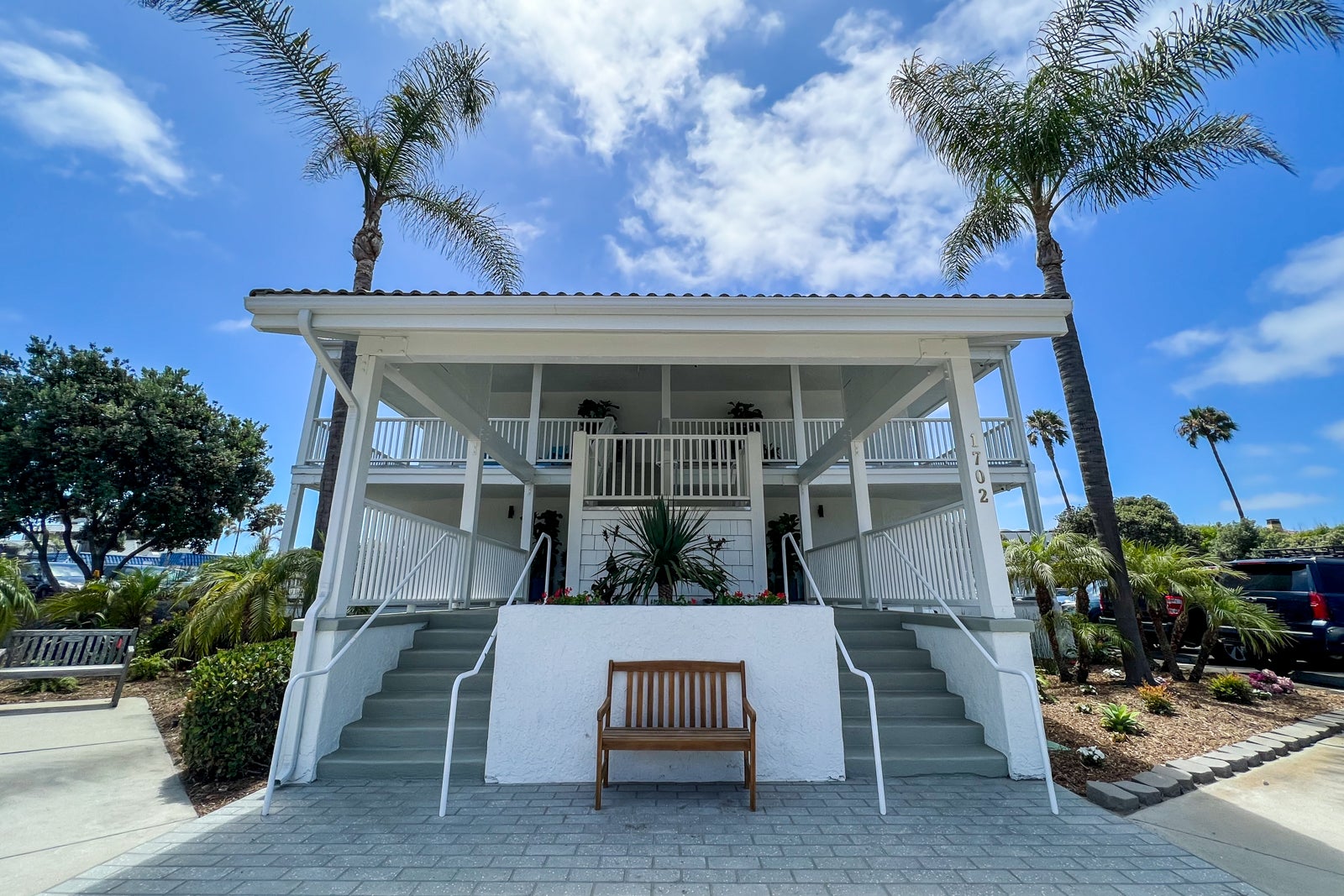 The hotel is located right on the beach itself at the end of a mile-long stretch of oceanfront mansions. It is just next to the main lifeguard tower in the area and across a parking lot from two popular restaurants, Poseidon and Jake's.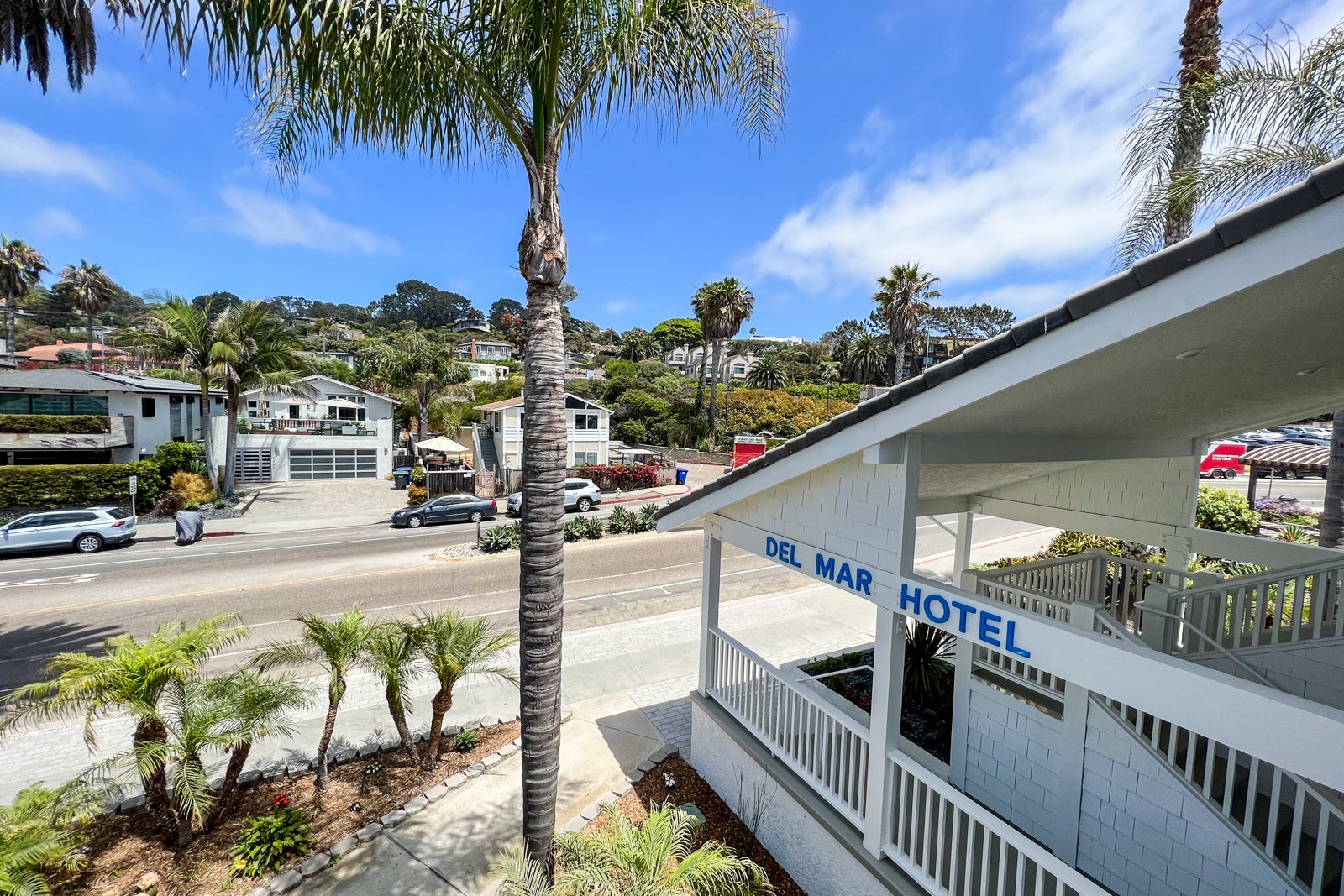 You can walk up a hill into the main village of Del Mar to check out restaurants like Sbicca, Americana, Pacifica and Tamarindo, and if you have a car, you can venture to downtown San Diego and sights like Balboa Park and the San Diego Zoo in about a half-hour.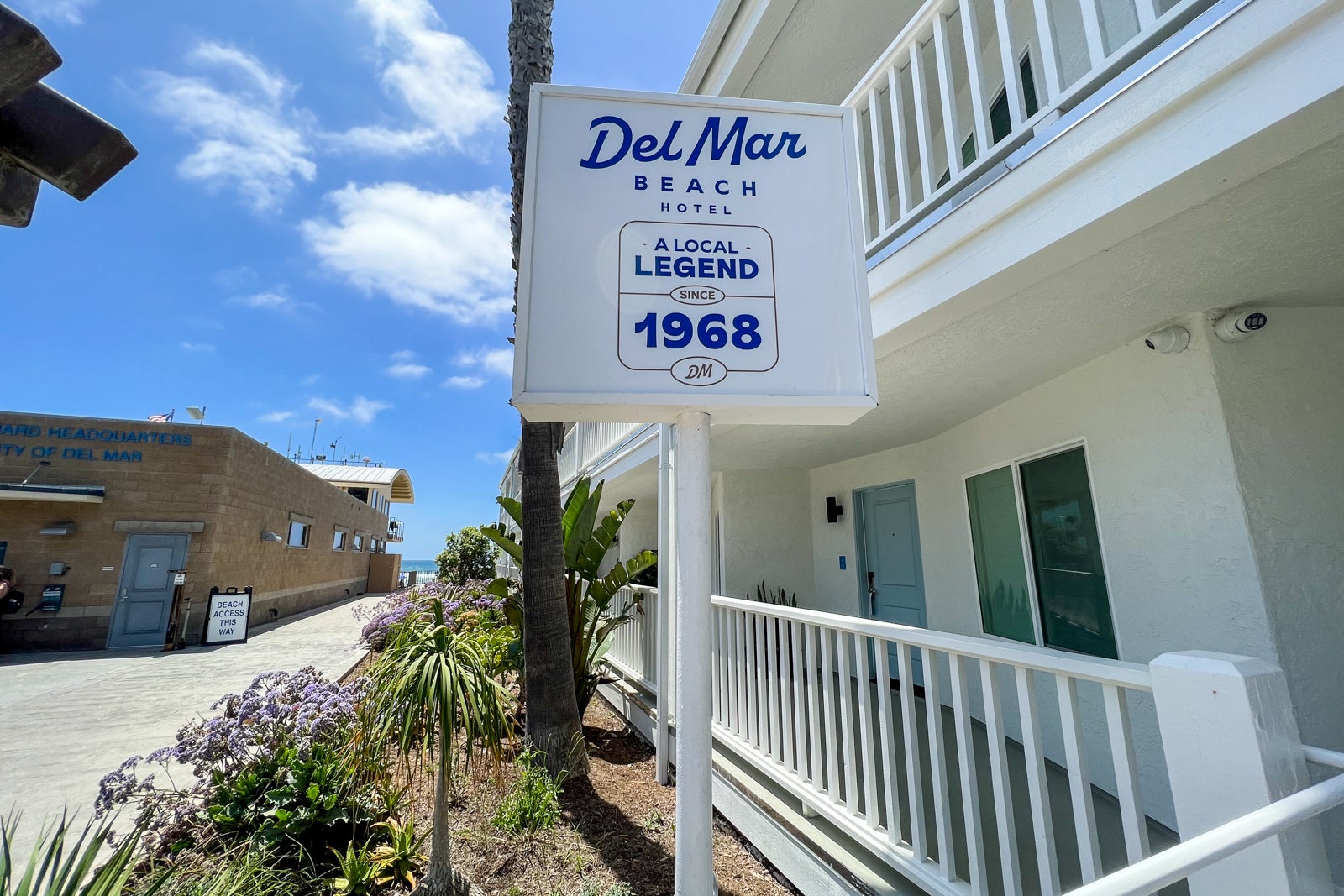 As I mentioned, this is one of the very few hotels with direct and easy beach access in all of Southern California, which is why it is able to charge a premium. If you want a pool cabana and bottle service, you might want to look elsewhere. But if you're like me and just want to hit the waves for the day, it feels well worth it. After all, what's better than rolling out of bed, grabbing a few complimentary chairs and an umbrella and stretching out on the sand within a matter of minutes?
Checking in
One of the main selling points for booking this hotel over a busy holiday weekend was knowing we'd have access to free parking so we wouldn't have to contend with overpriced lots or hours of cruising around the neighborhood looking for a space. Since we had two rooms, we had two allocated spaces, which meant my family could park their car there during the day and join us for some beach time.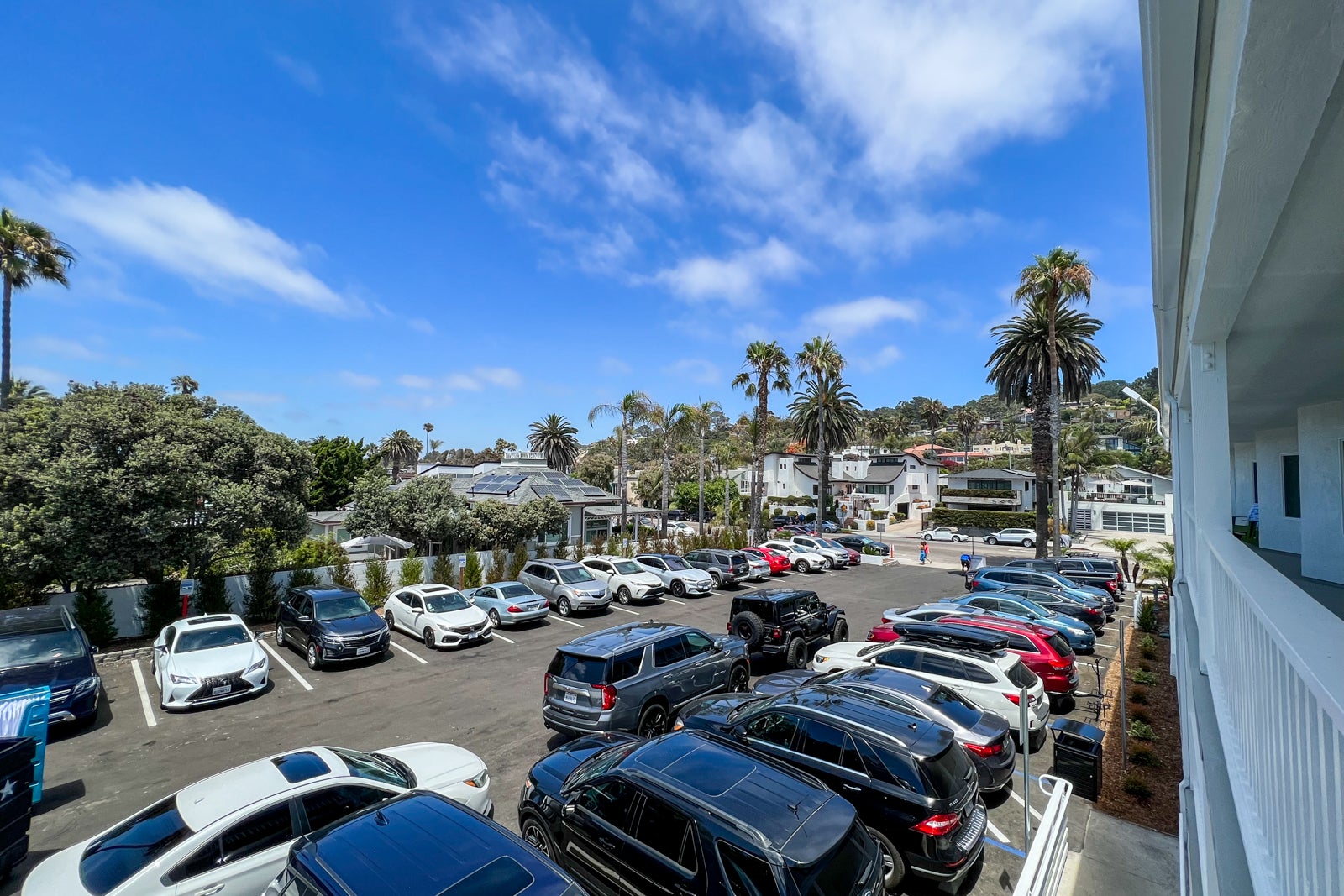 I called before our noon arrival and was told that one of our rooms was ready while the other would probably be turned over by the standard 4 p.m. check-in time.
When we arrived, we valeted the card and rolled our suitcases to the cute little lobby on the street side of the hotel, which had some beachy, high-backed armchairs, a wall installation with colorful surfboard tailfins and a brightly tiled reception counter.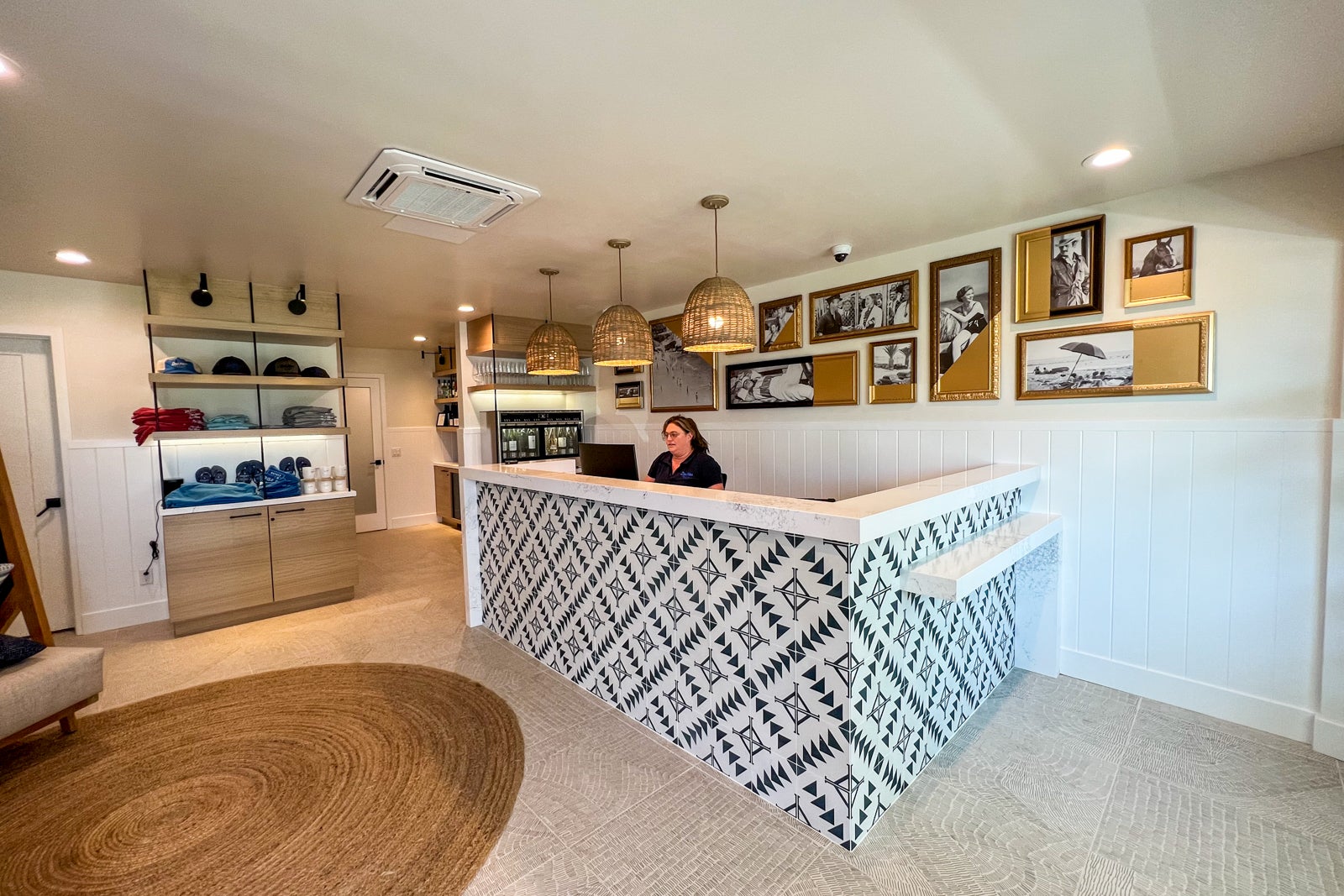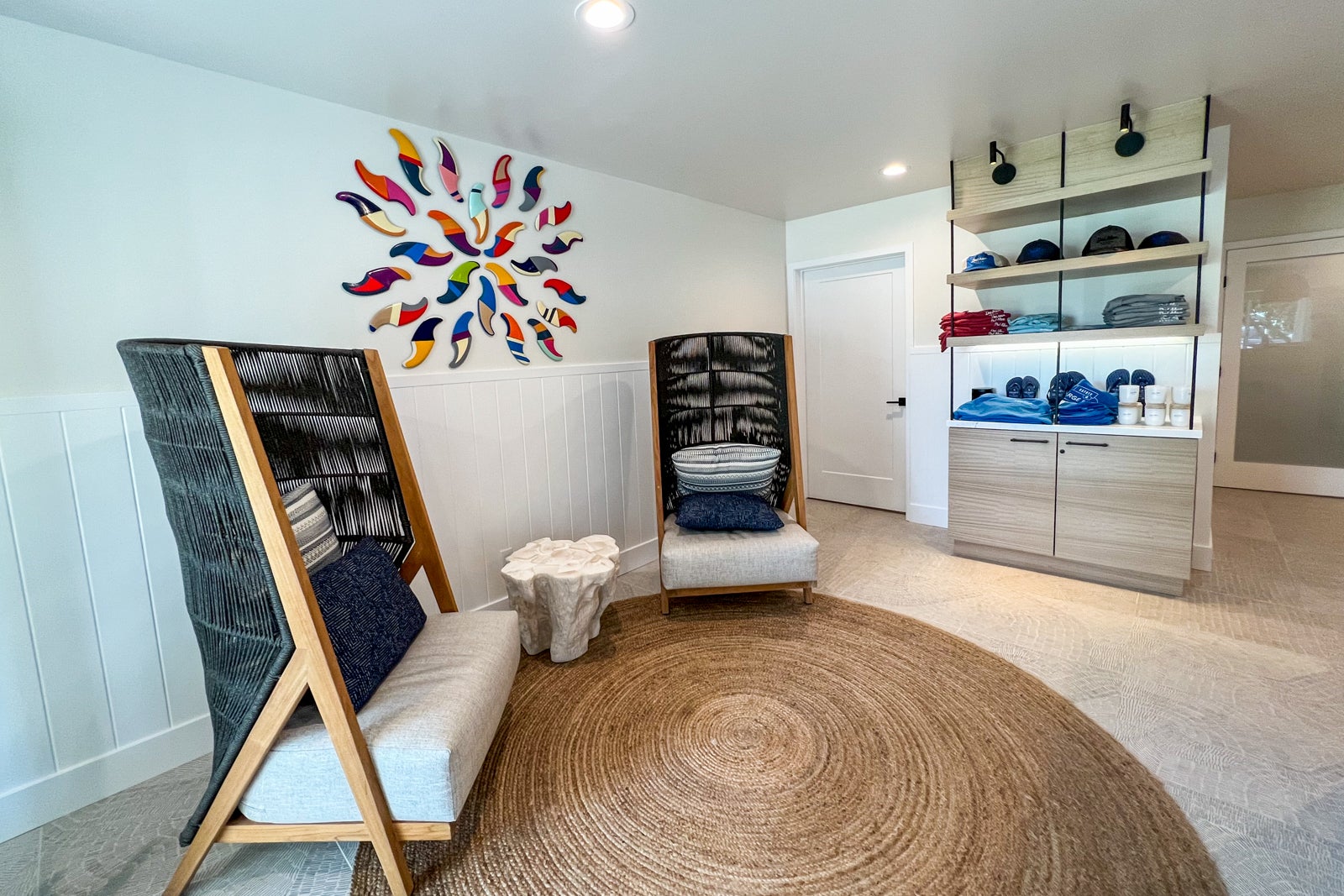 The friendly front-desk agent checked us into both rooms, though only gave us the key for one, and offered us a glass of sparkling rose wine to enjoy out on the beachfront patio. Since our rooms were prepaid, I was only asked for a credit card for incidentals, which I happily handed over.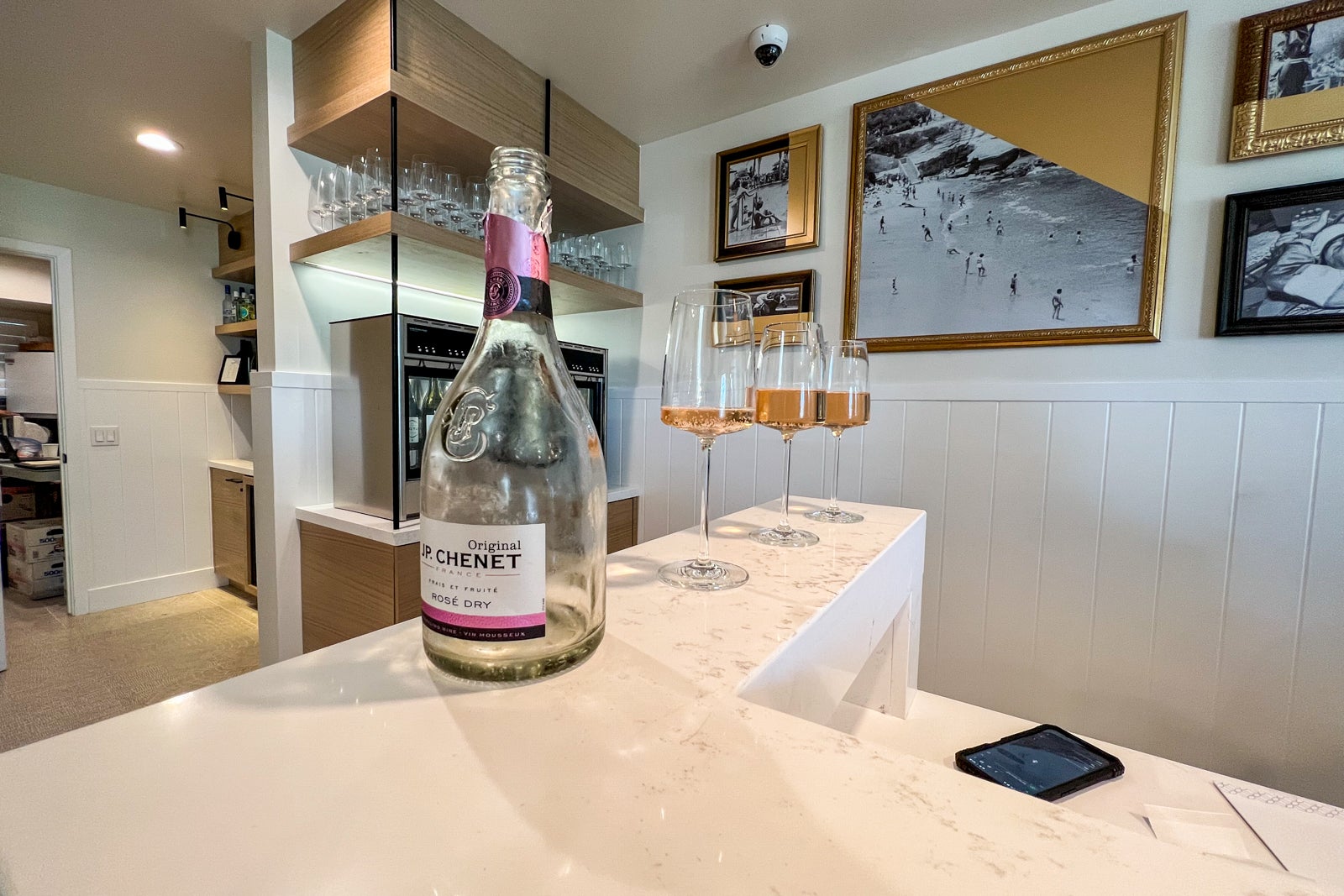 She pointed out a variety of apparel on sale, including T-shirts and sandals, as well as a Cruvinet wine-dispensing machine from which guests could order glasses of wine, including Husch Chardonnay, Chateau du Rouet rose and Crunchy Rôastie Syrah from Santa Barbara.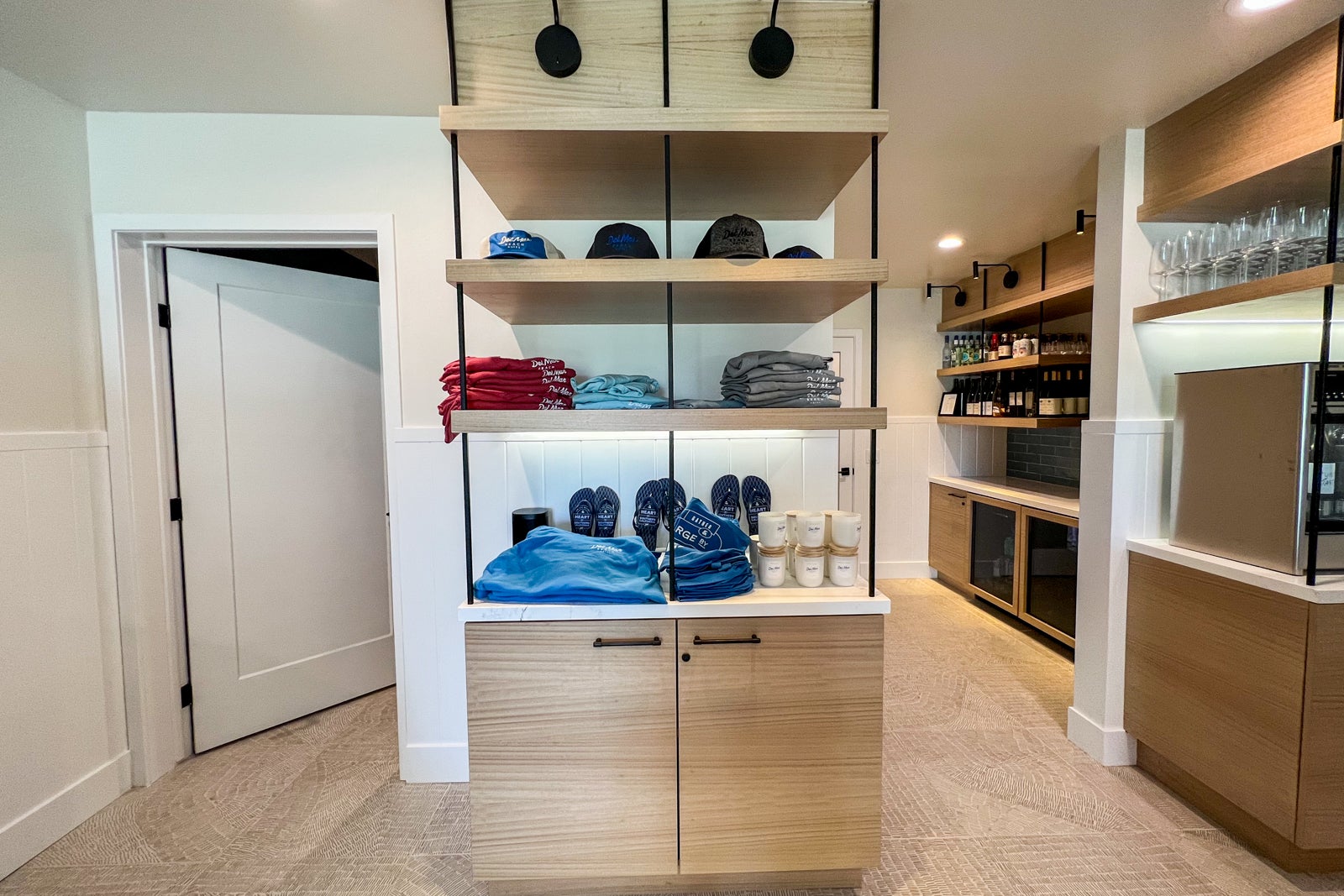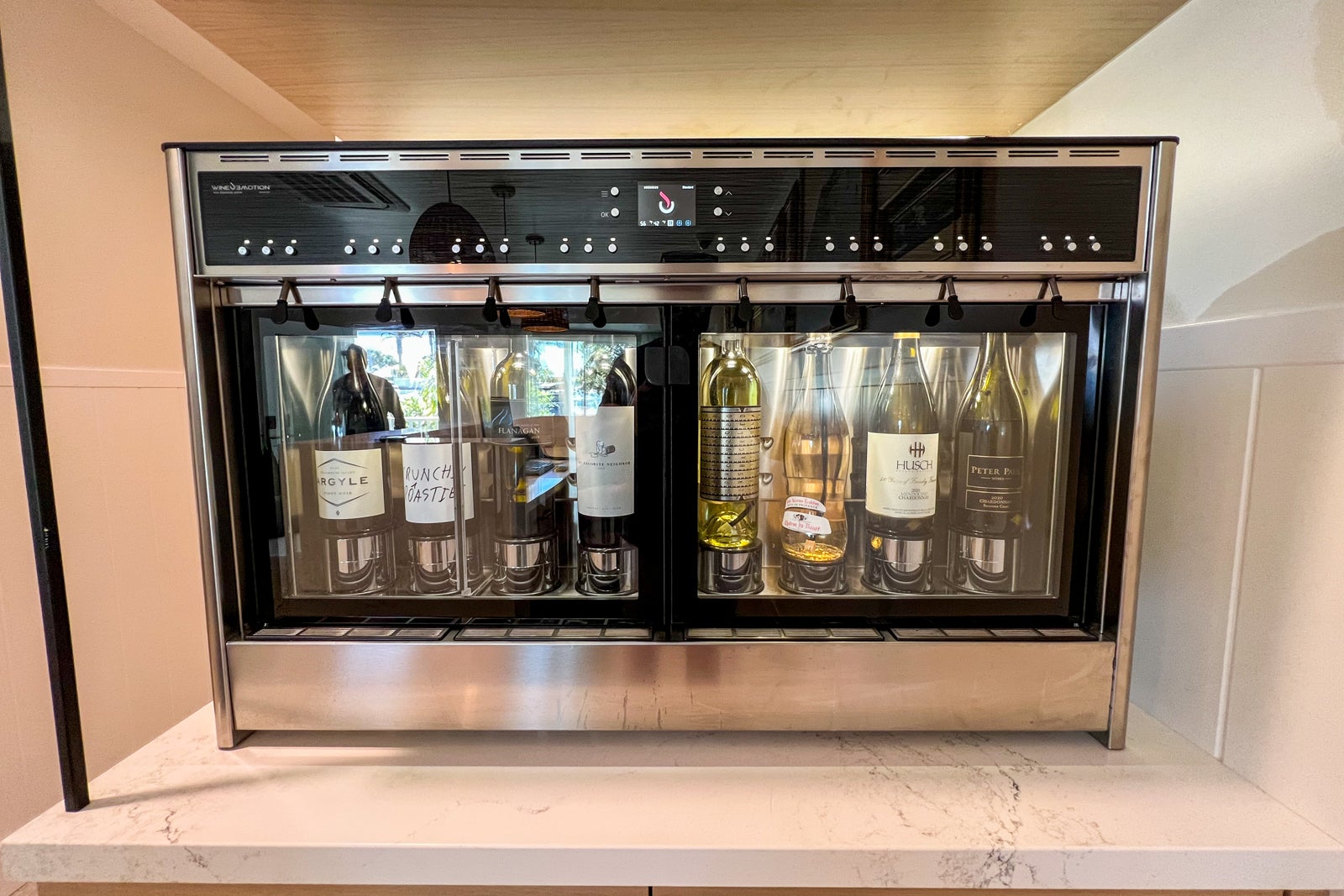 Around the corner, in a little alcove, there were minifridges holding bottles of wine for sale as well as beers ($8), sodas, kombucha ($7), coconut water and regular water, plus full-size bottles of spirits including Grey Goose vodka, Bacardi rum and Maker's Mark bourbon. The bottle prices ranged from $38-$48.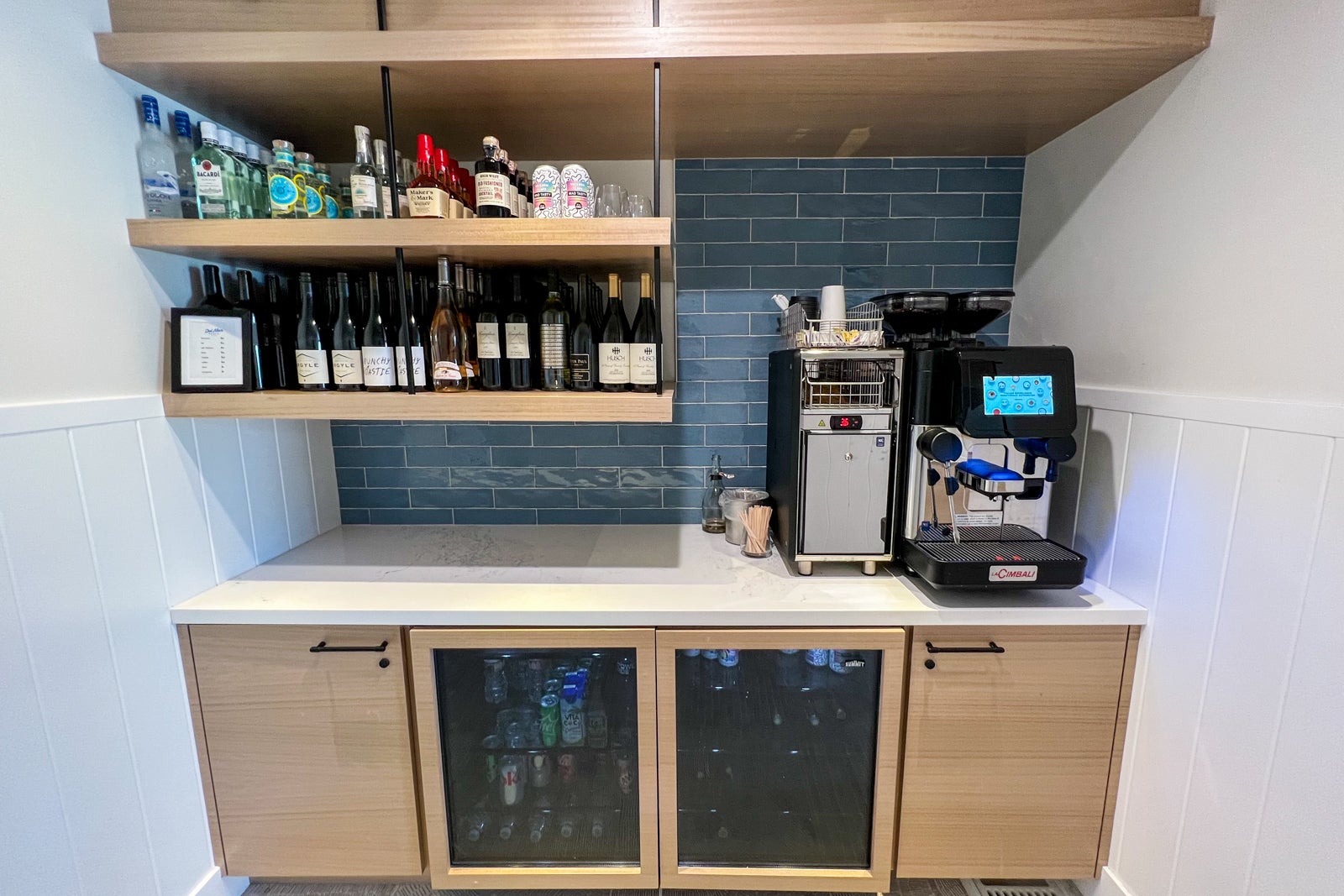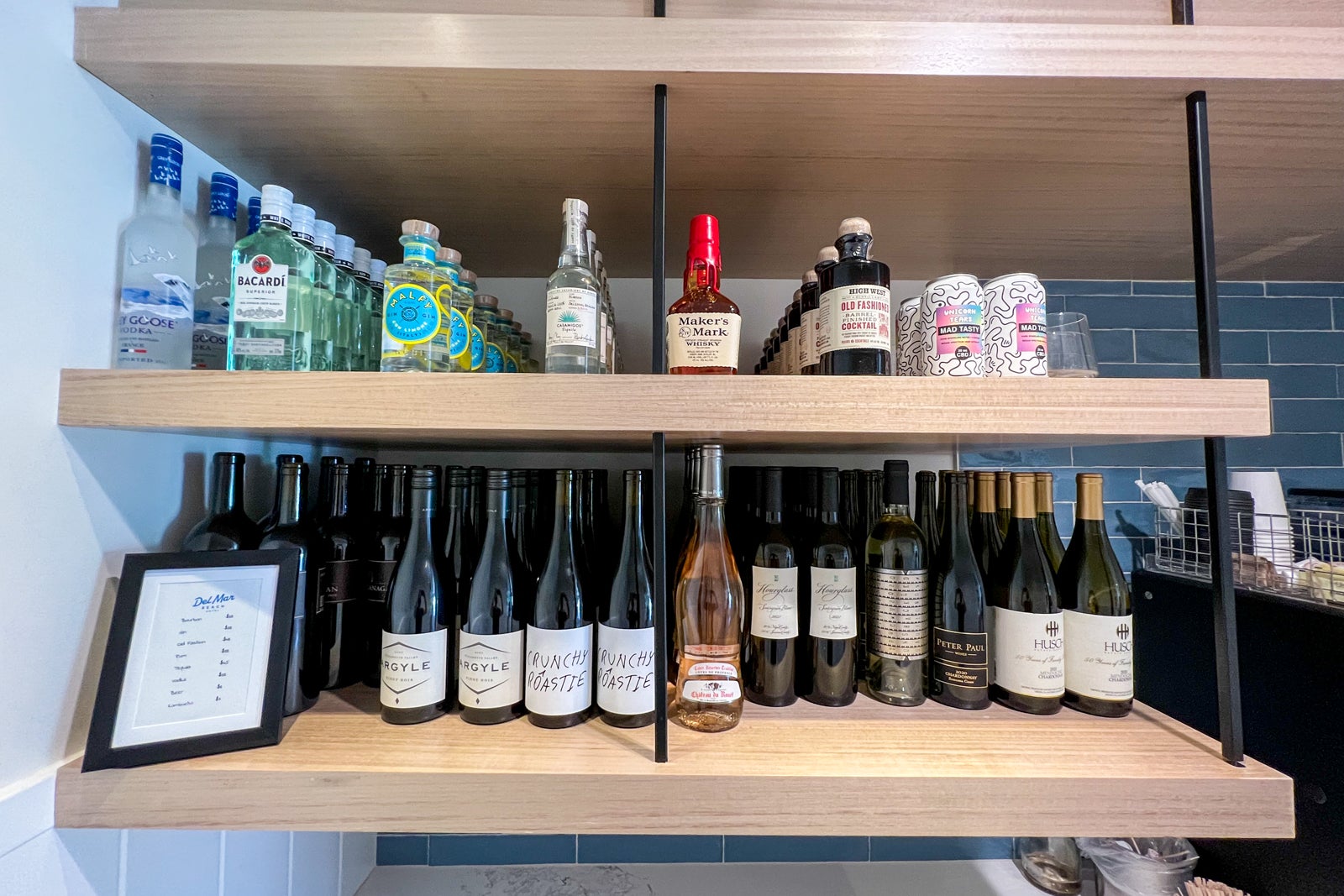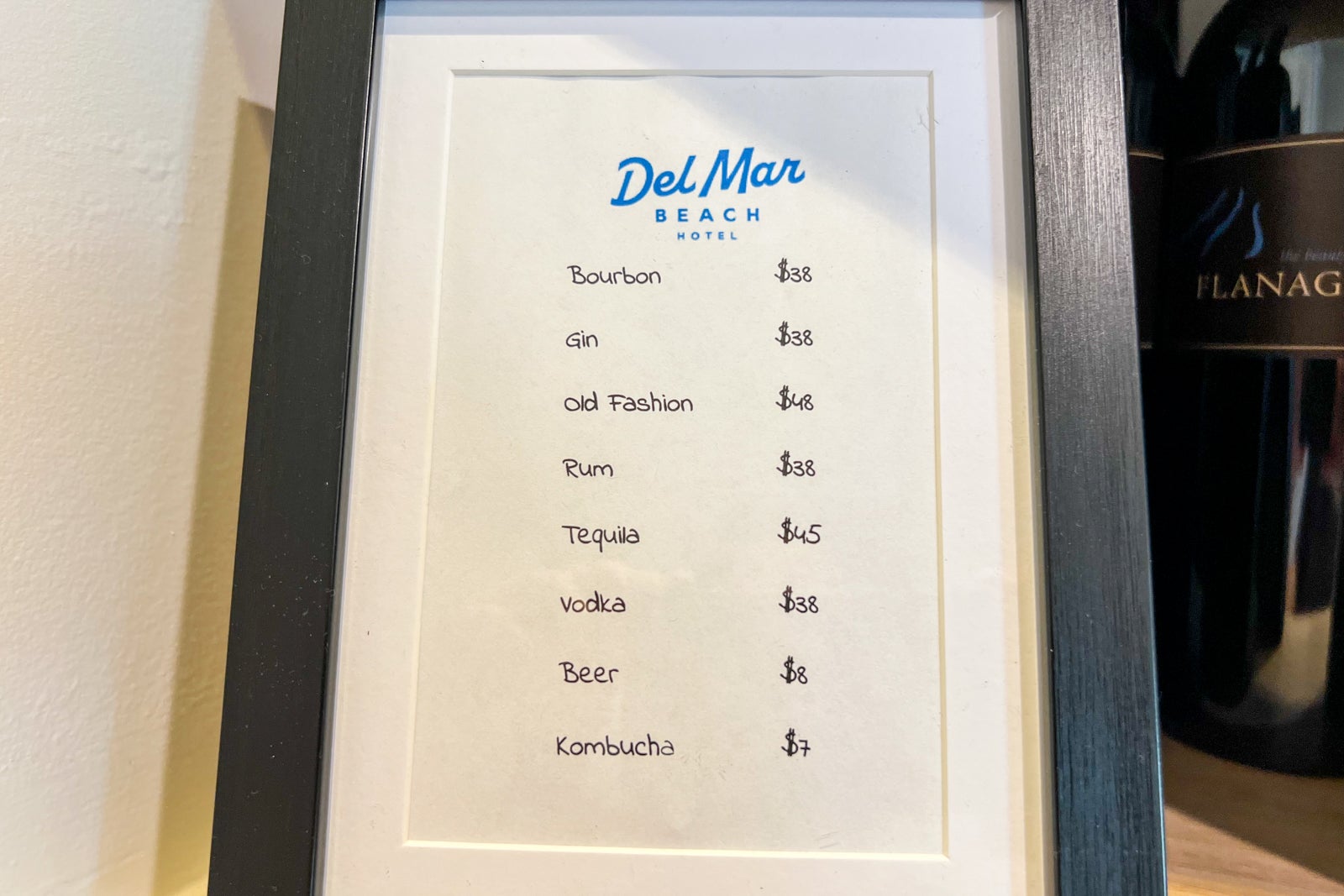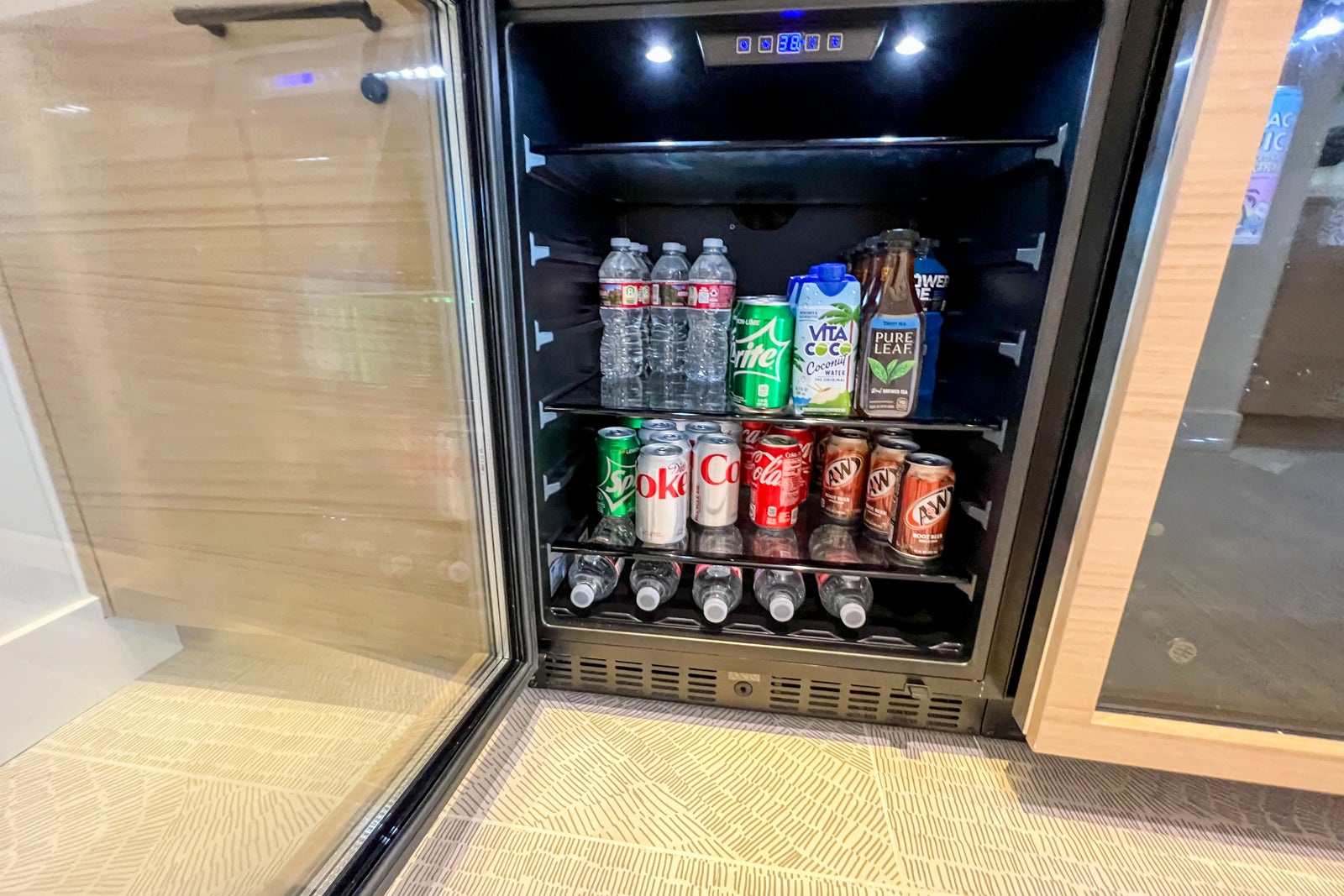 There was also a shiny La Cimbali espresso machine where guests could help themselves to free coffee drinks around the clock (my personal recommendation is a cappuccino with an extra shot of espresso).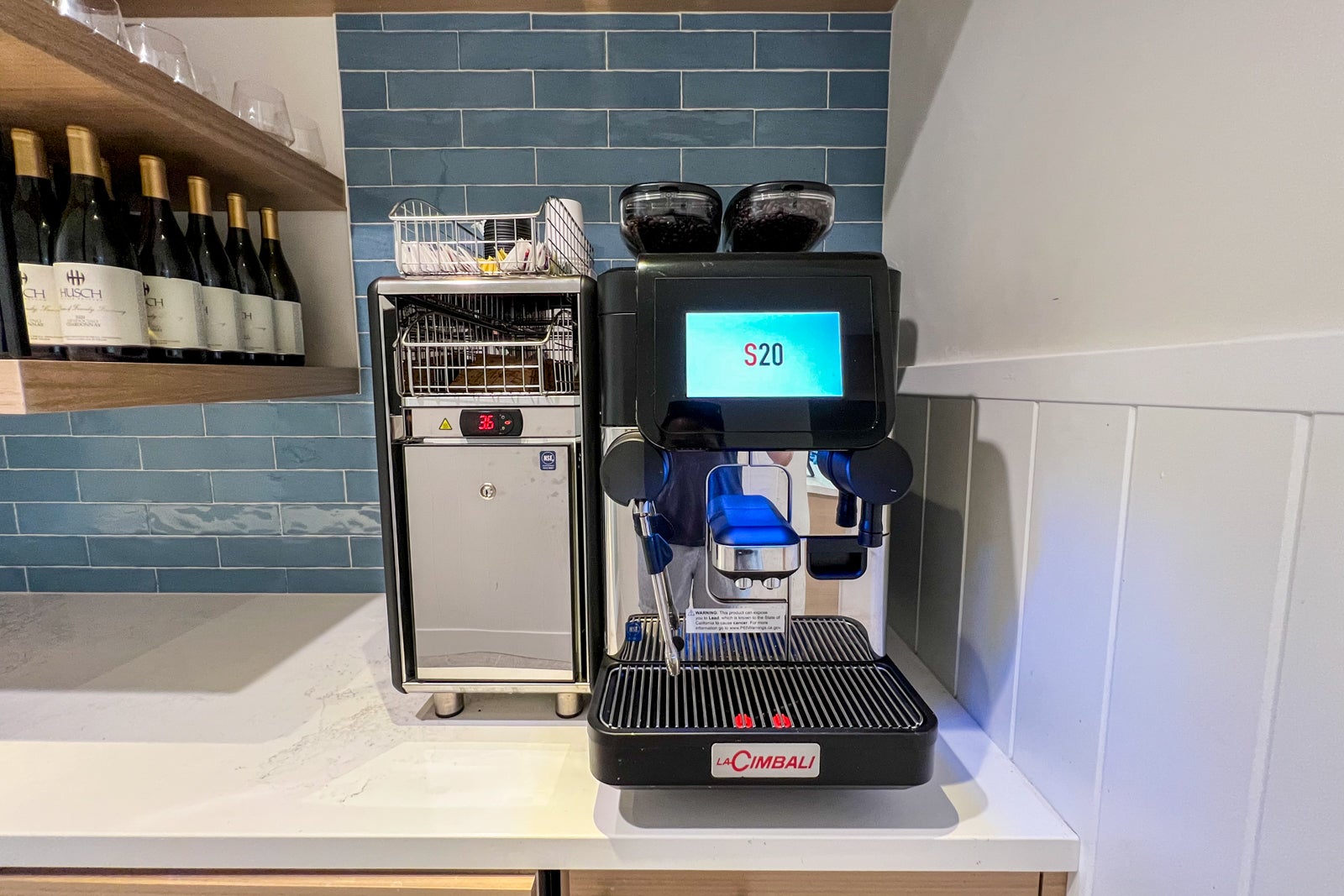 We took our welcome rose out to the patio and I left my partner and our friend there to relax on one of the daybeds while I took photos of the rest of the hotel.
The room
The hotel has a variety of room categories that can be difficult to parse. There are regular King and Double Queen rooms, which seem to be on the ground floor toward the street side of the building.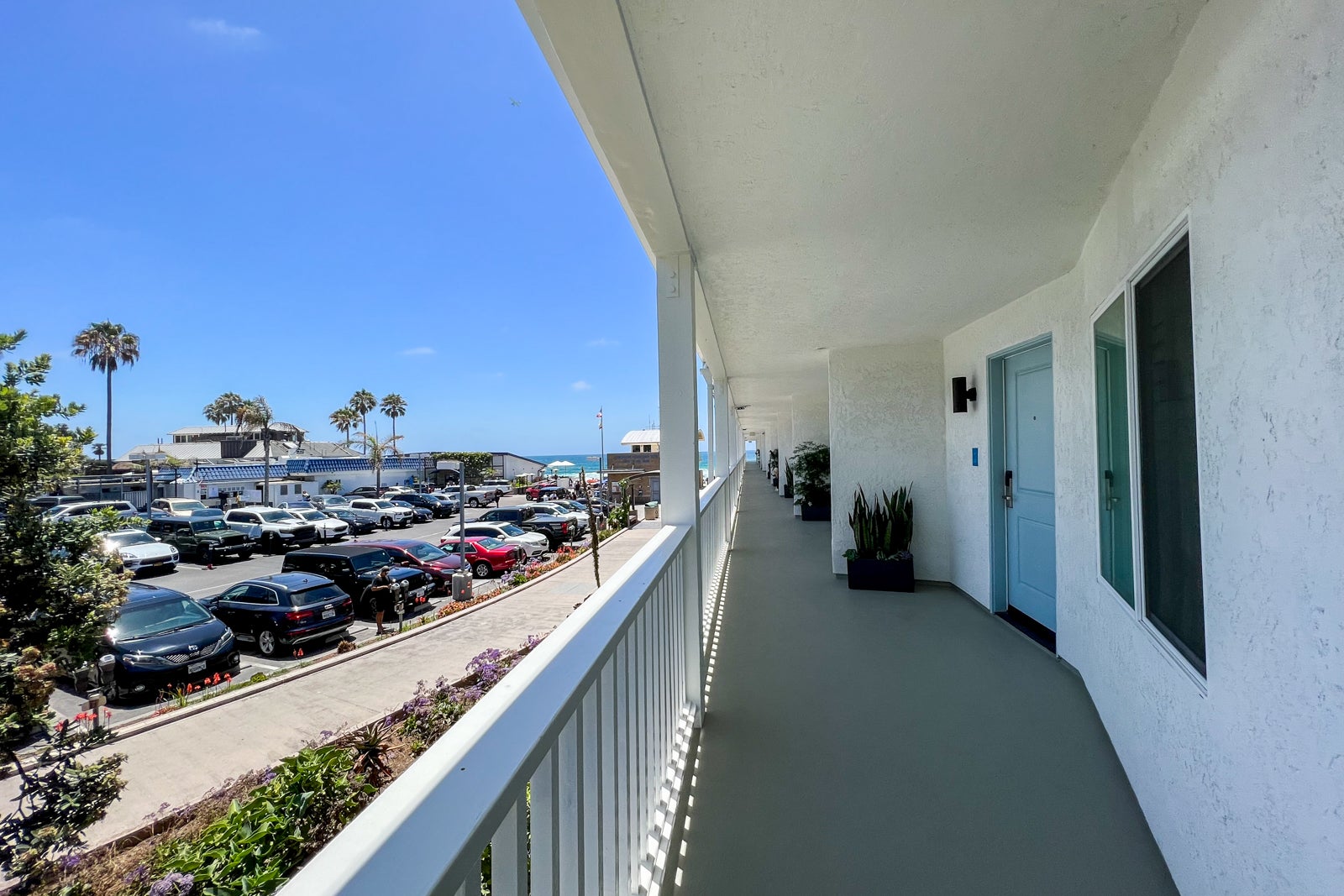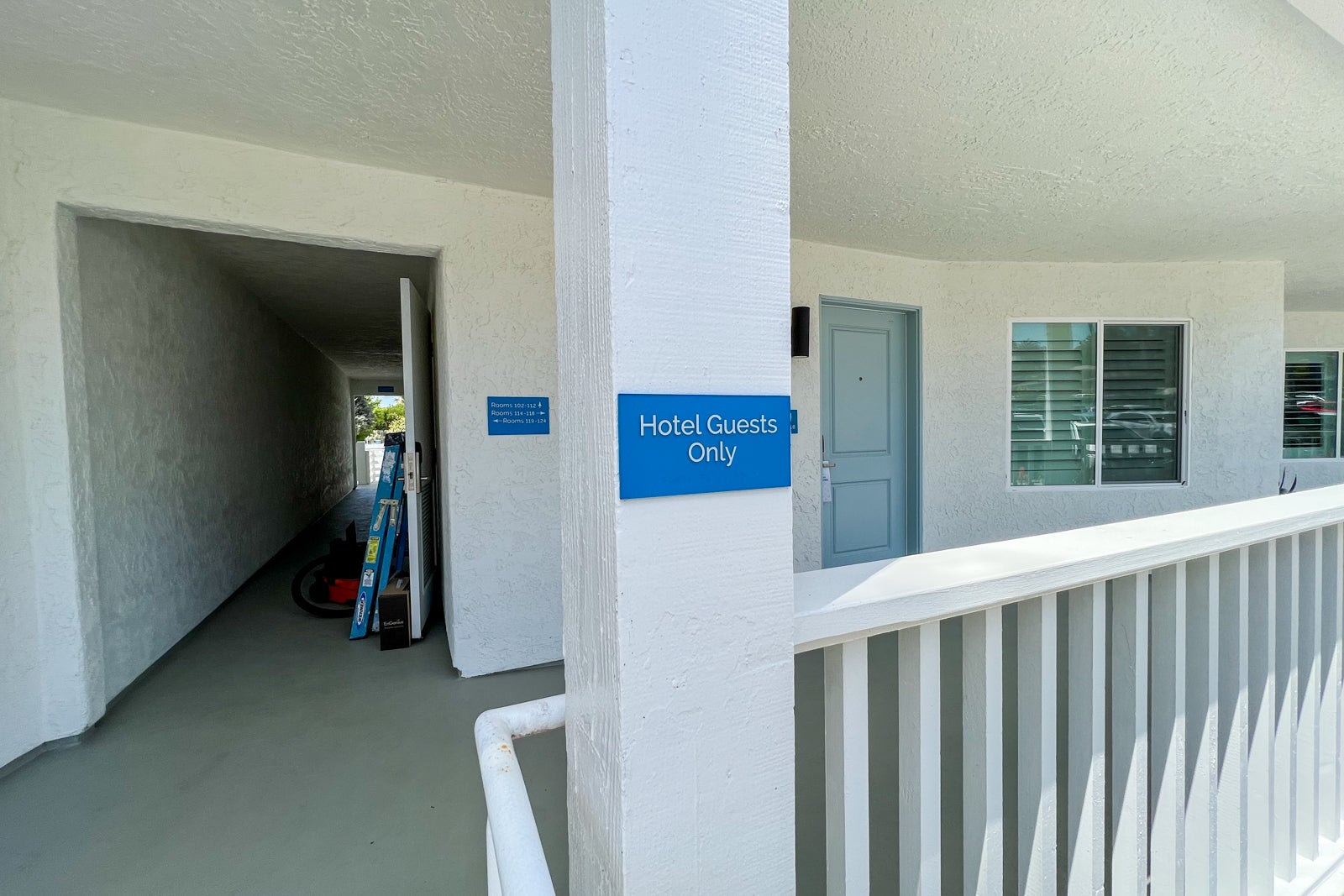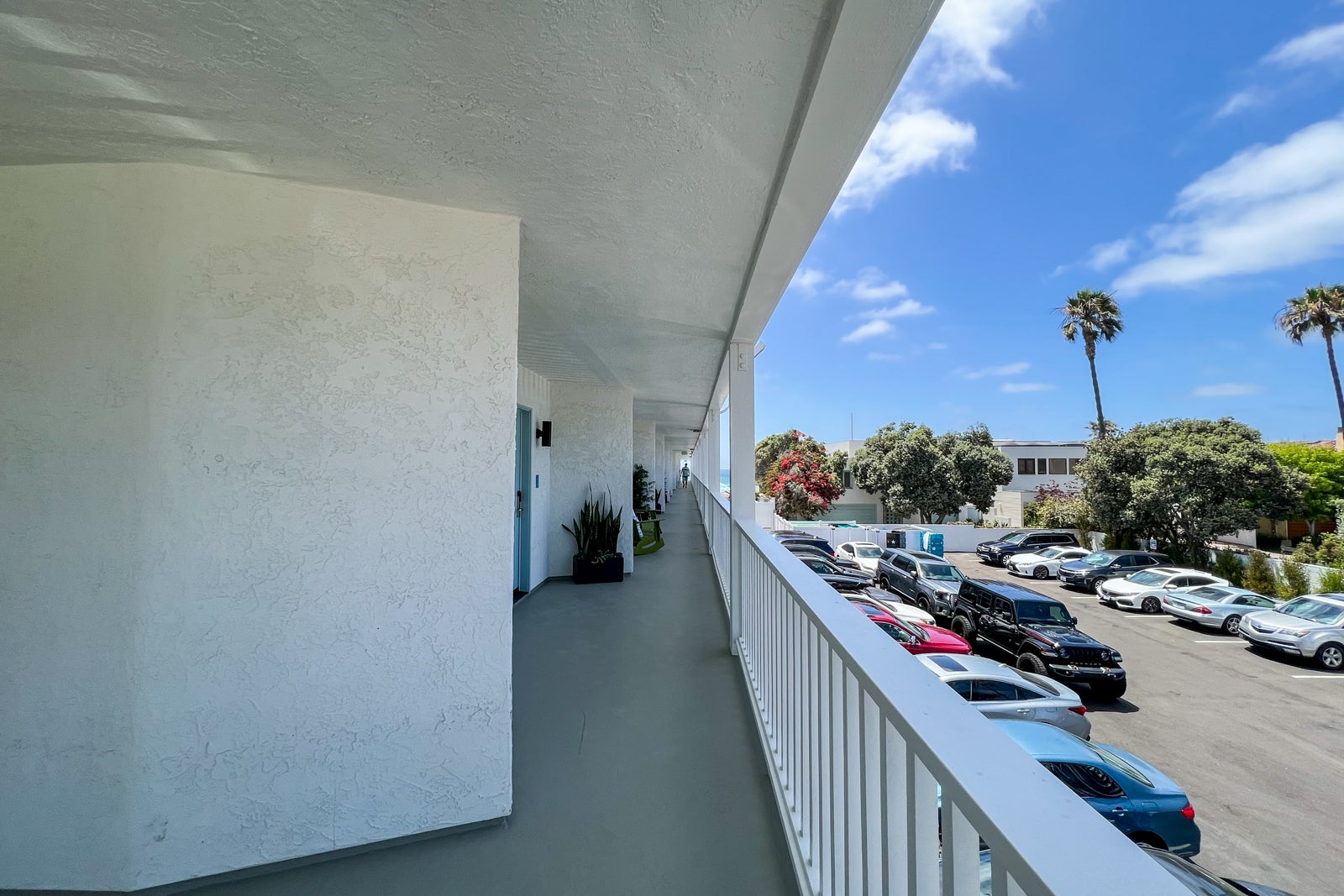 Our King Partial Oceanview room was at about the building's midpoint on the second (and top) floor. Then there are two-queen High Floor Coastal and King High Floor Ocean View rooms, which seem to be toward the ocean side of the building on the upper floor.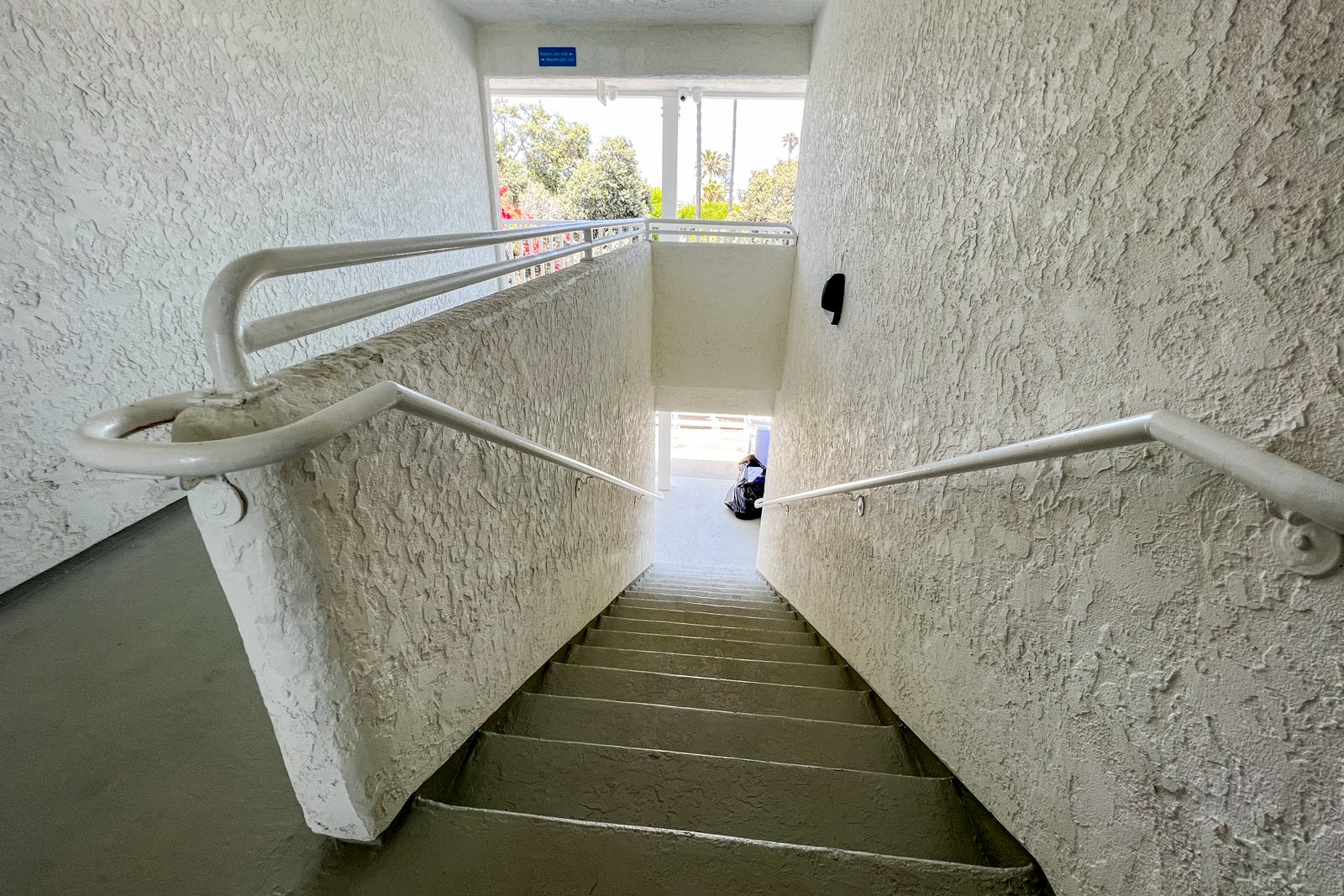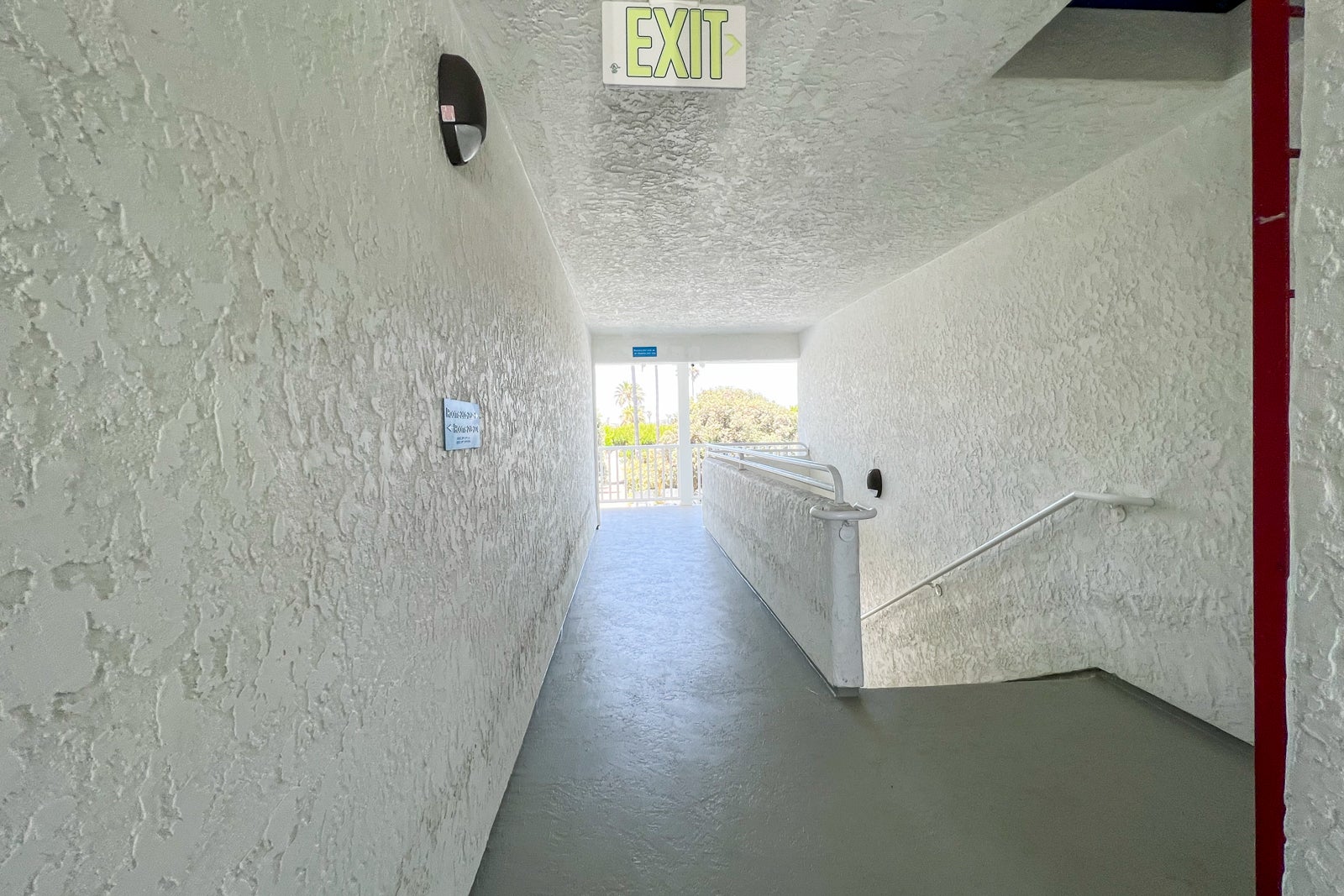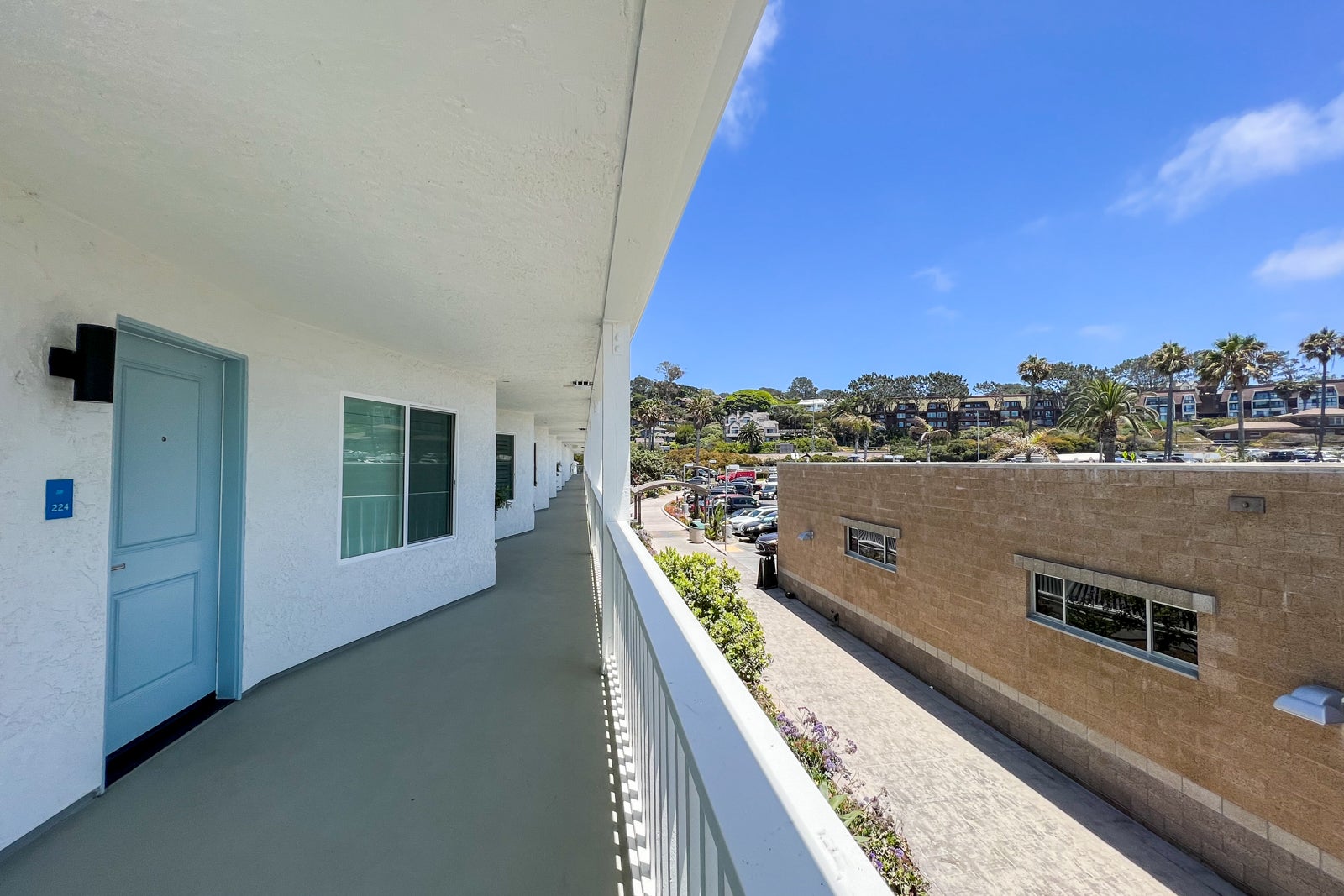 The thing is, this is a remodeled, decades-old motel, so these distinctions aren't super helpful. All the rooms are 300 square feet and feature the same amenities and layout. The ones on the upper floor might offer a partial ocean view if you crane your neck and are probably a little more quiet without upstairs neighbors. But you might as well book the least expensive room possible since you won't be getting extra space or amenities. The outdoor walkways run past all the rooms, so you might not want to leave your windows or shutters open since other guests can pass by at any time.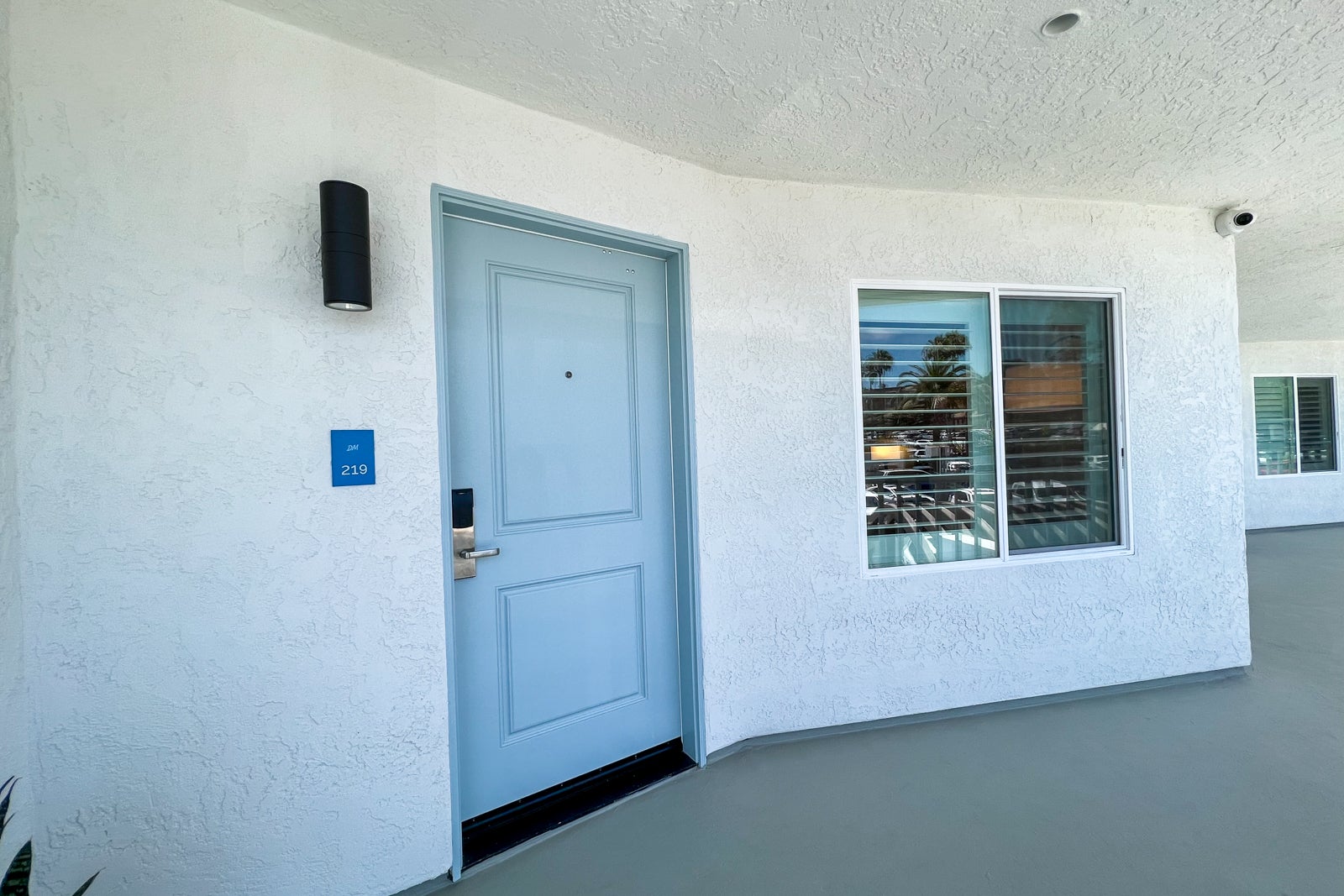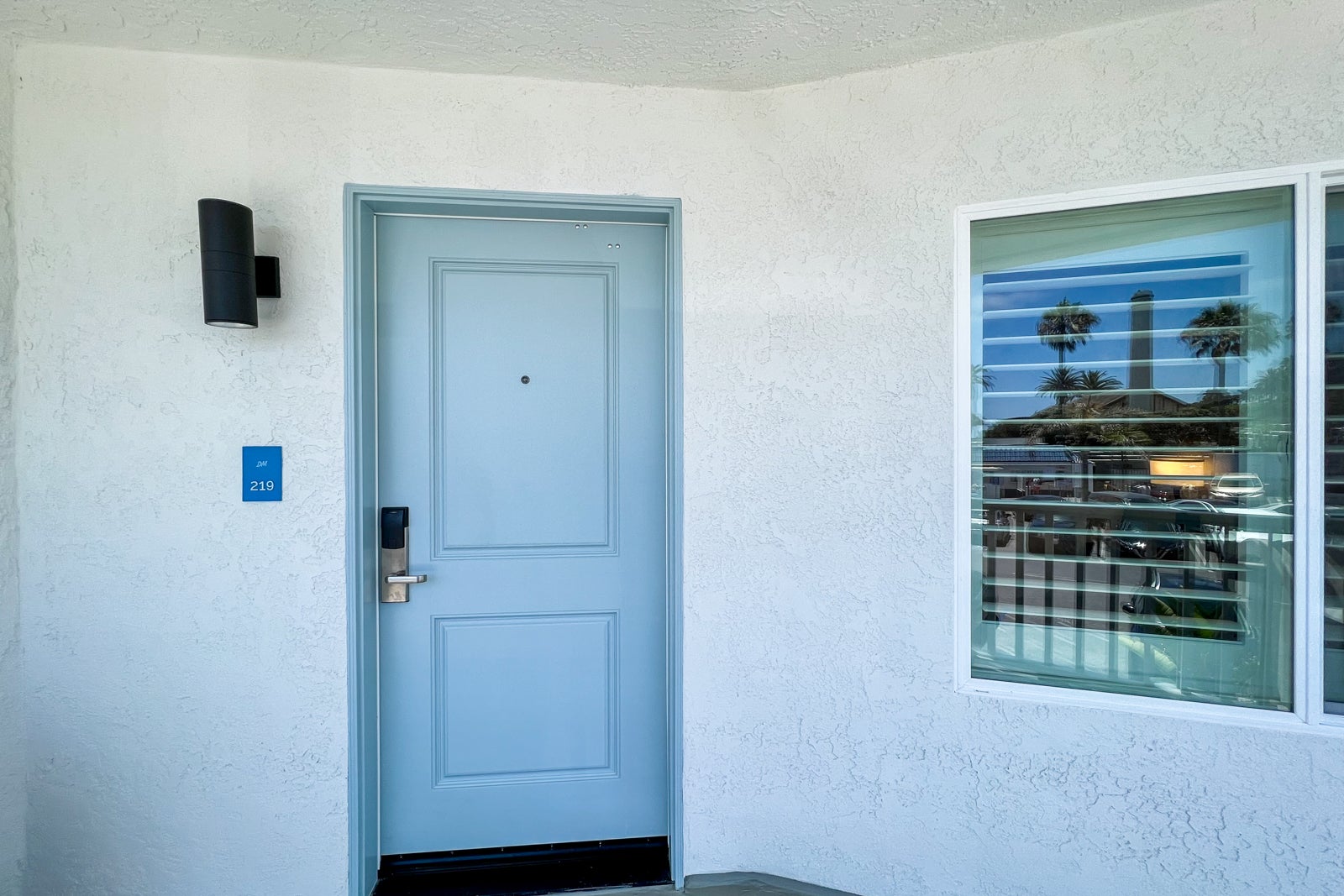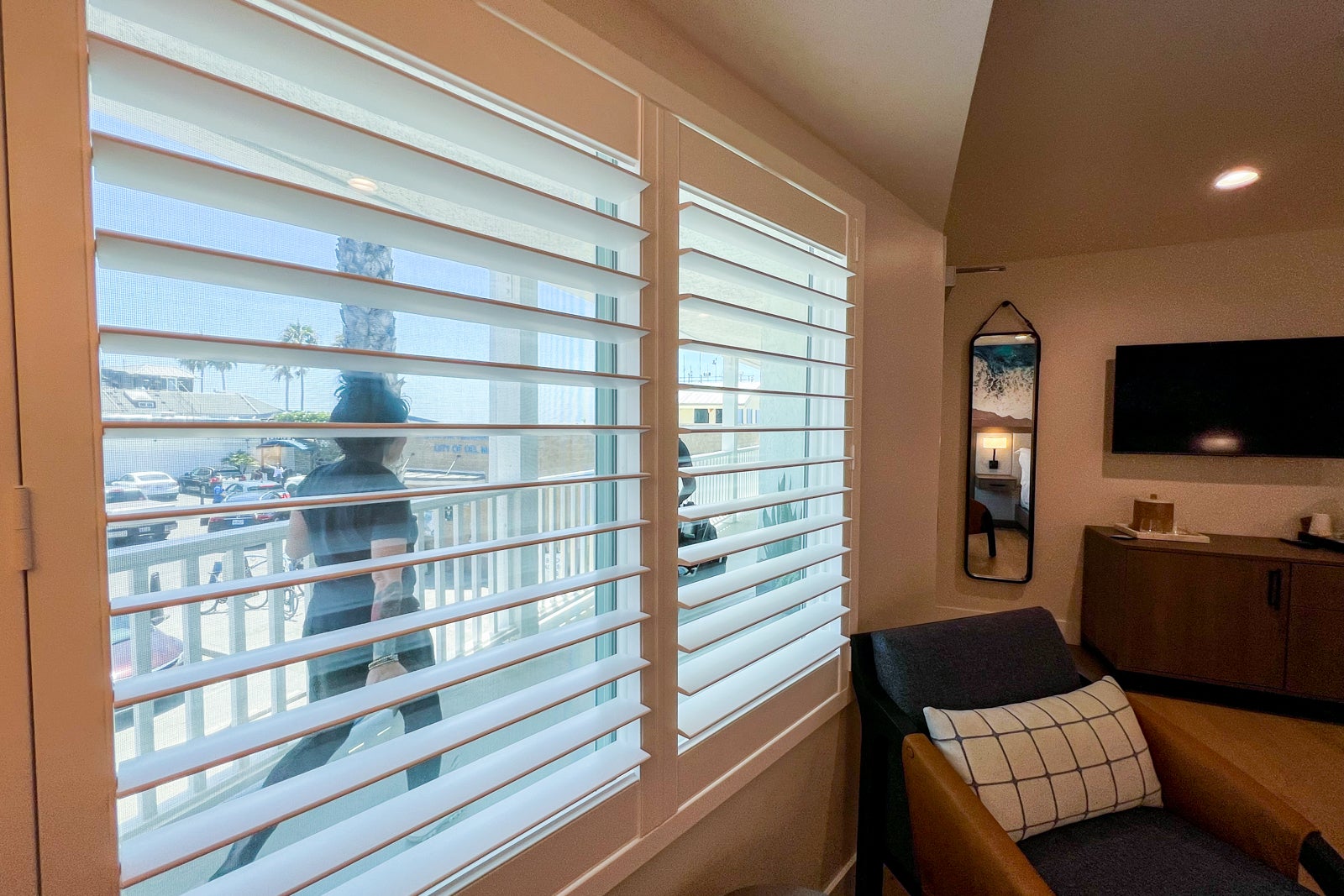 That said, there are two rooms at the beach end of the building with windows overlooking the Pacific. While it would be stunning to wake up to surf views, they also overlook an active walkway, so again, privacy might trump location.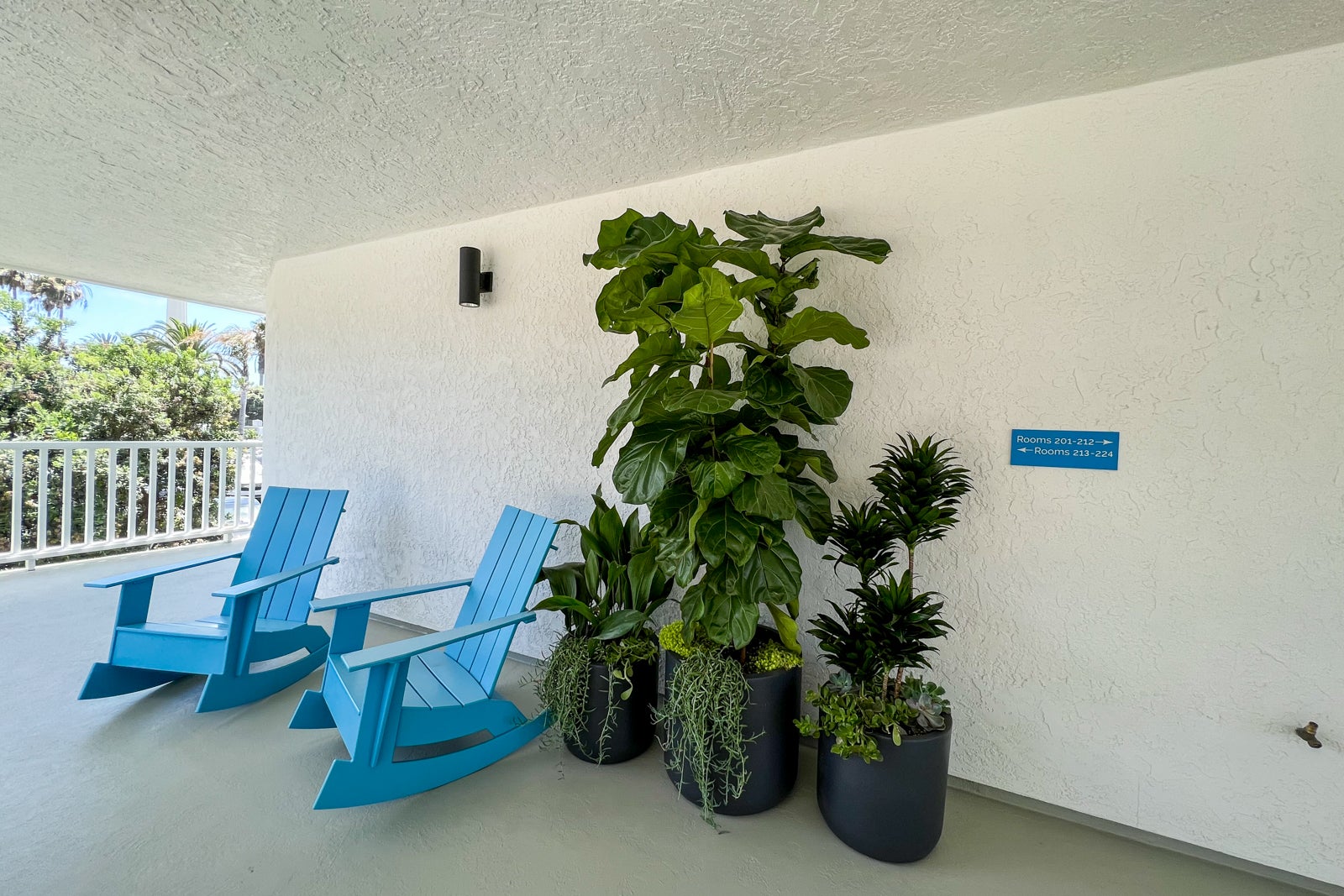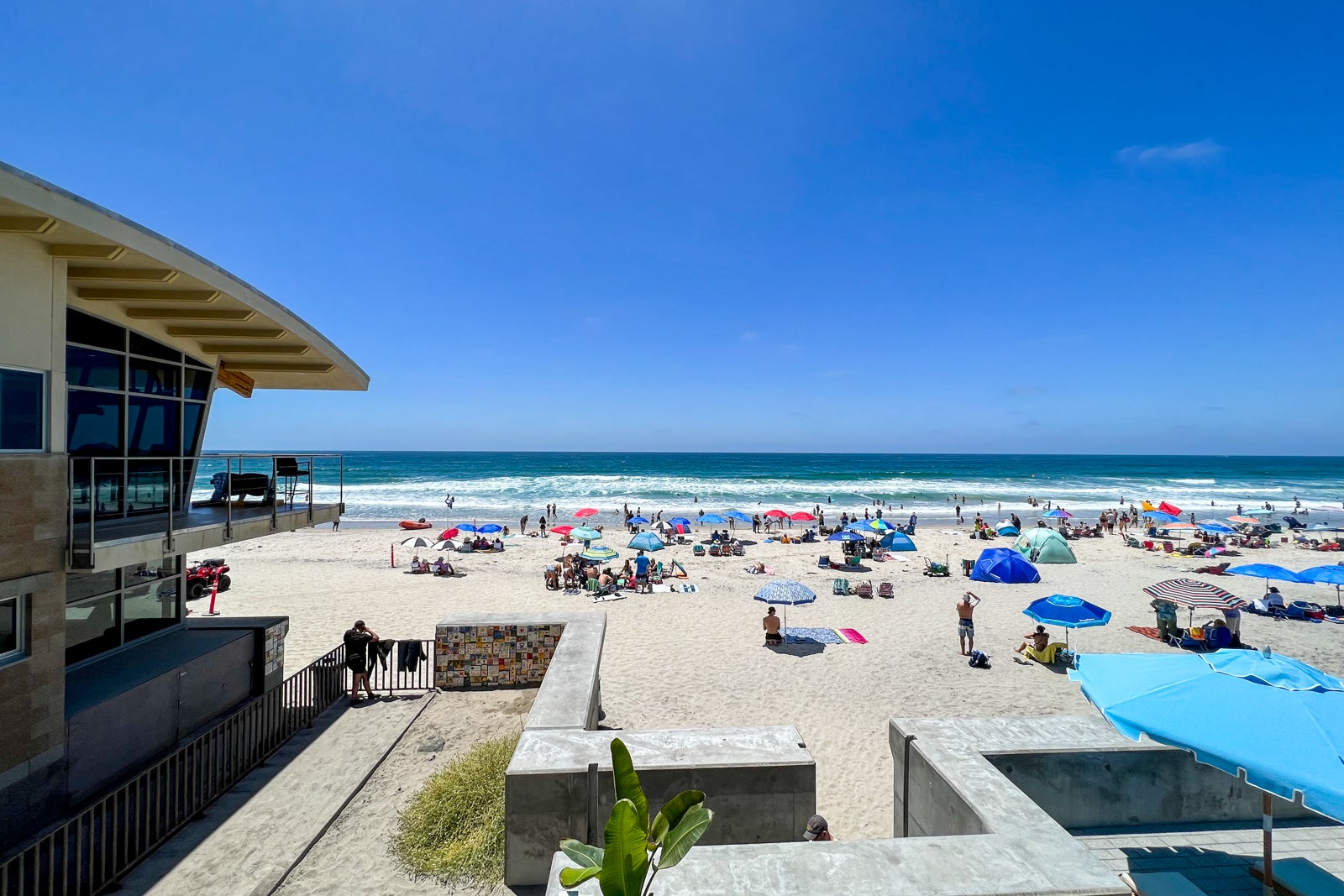 Our King Partial Oceanview room was bright, beachy and felt very spacious. There were blond hardwood floors and whitewashed wooden wall paneling.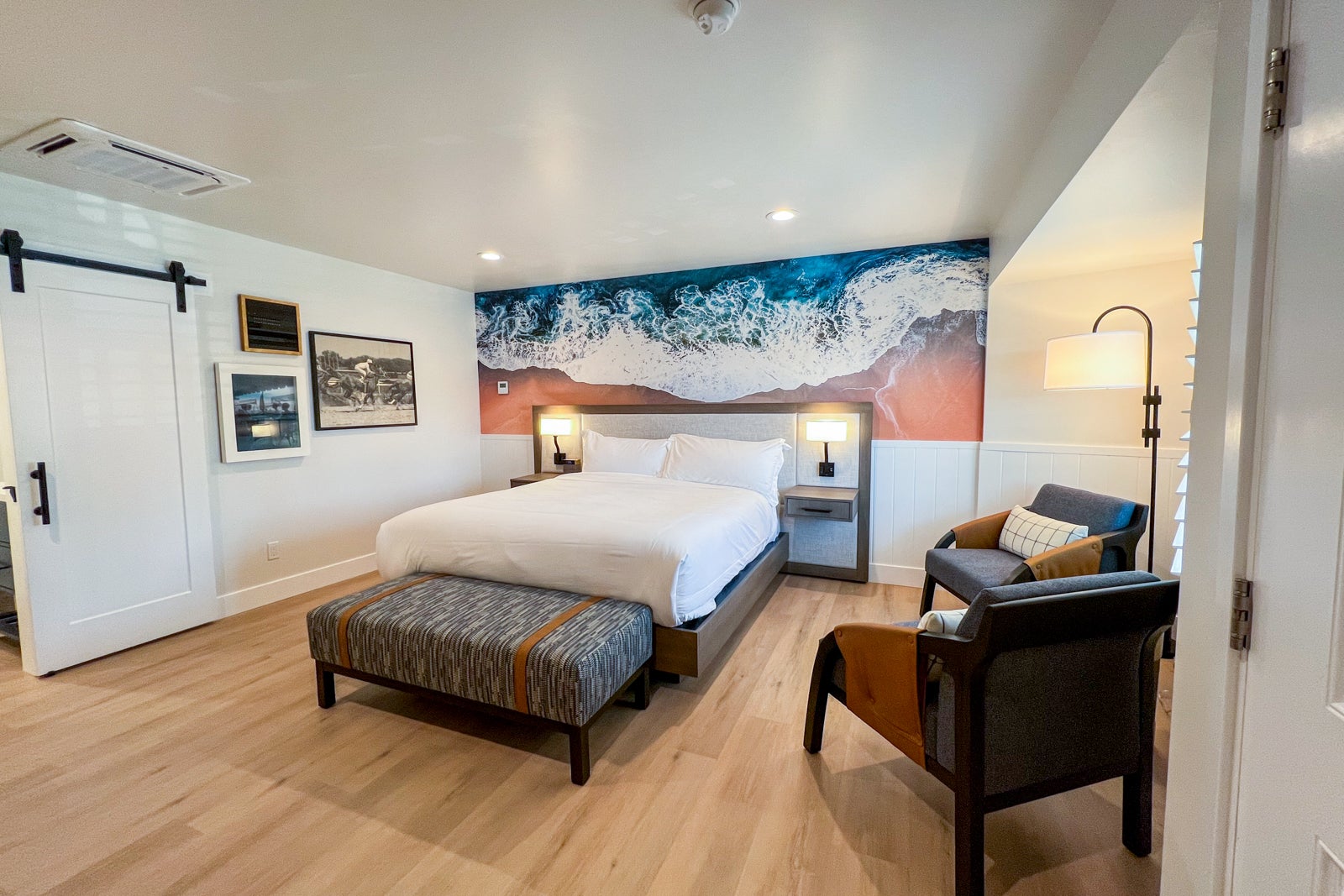 Above the king-size bed (dressed with white Frette linens) was a wall mural of the surf, which felt especially apropos. There was also a little sitting area near the windows with two armchairs, a floor lamp and a side table. The single window let in plenty of light (so much so that blackout curtains might be in order for sunny mornings) through plantation-style wooden shutters.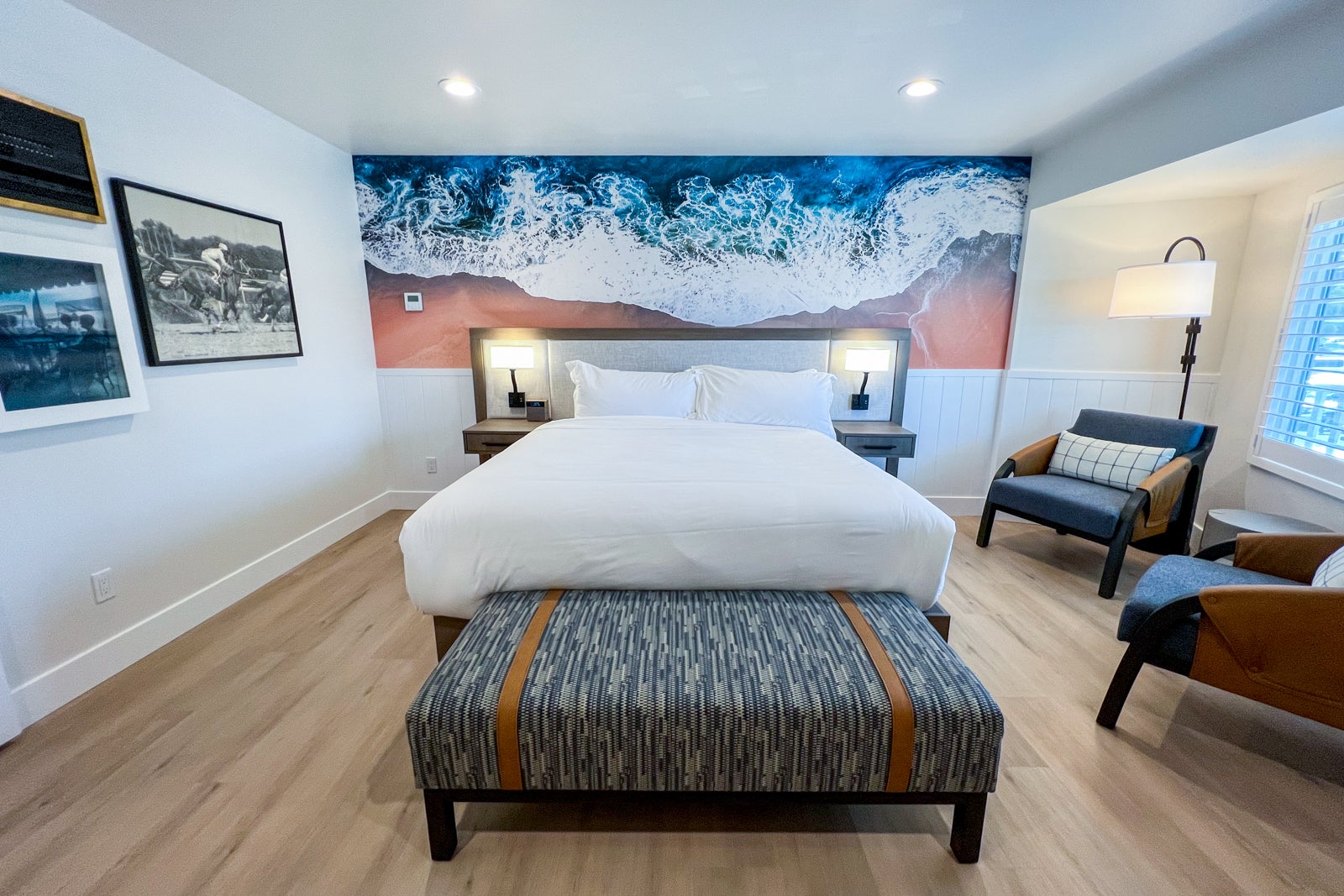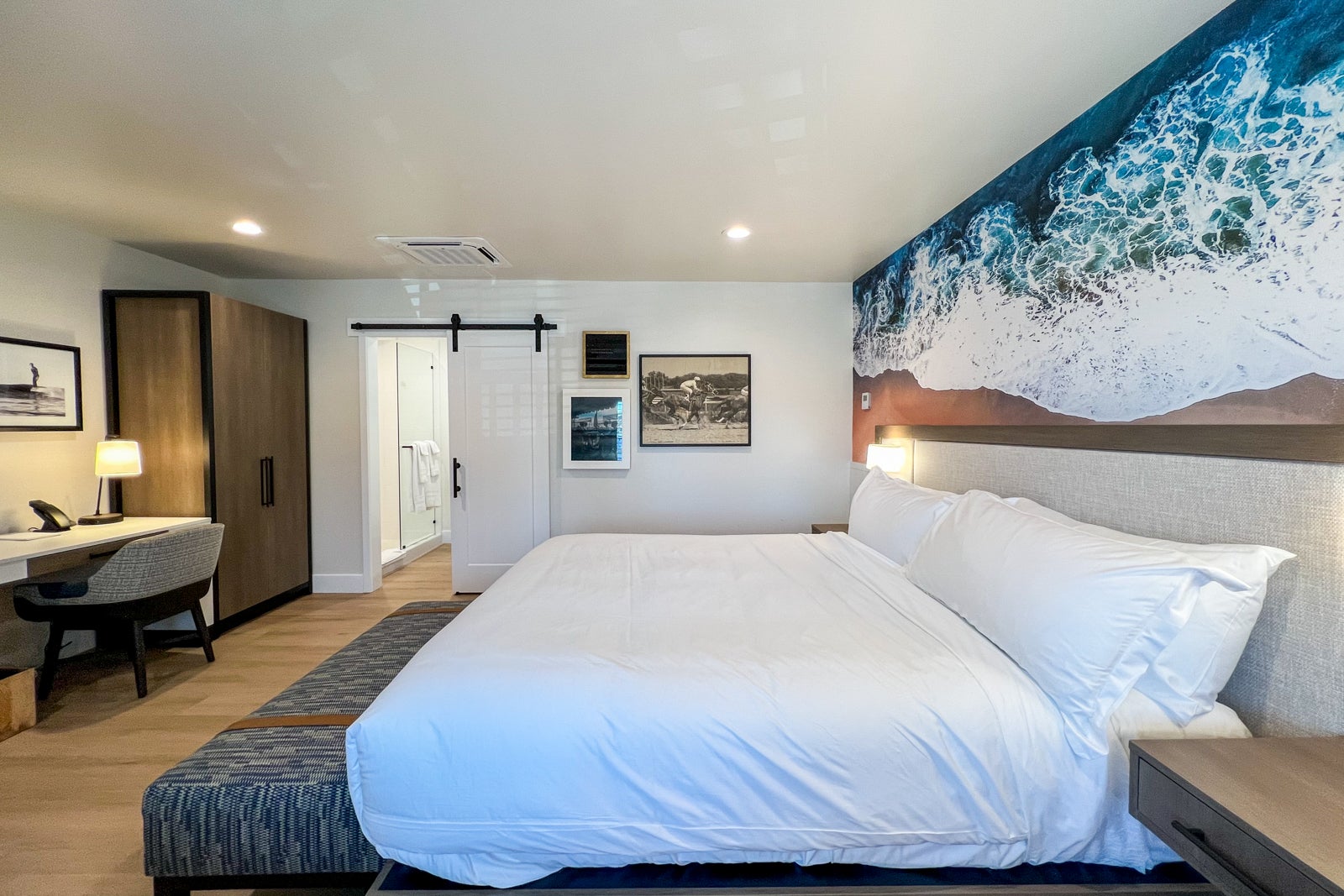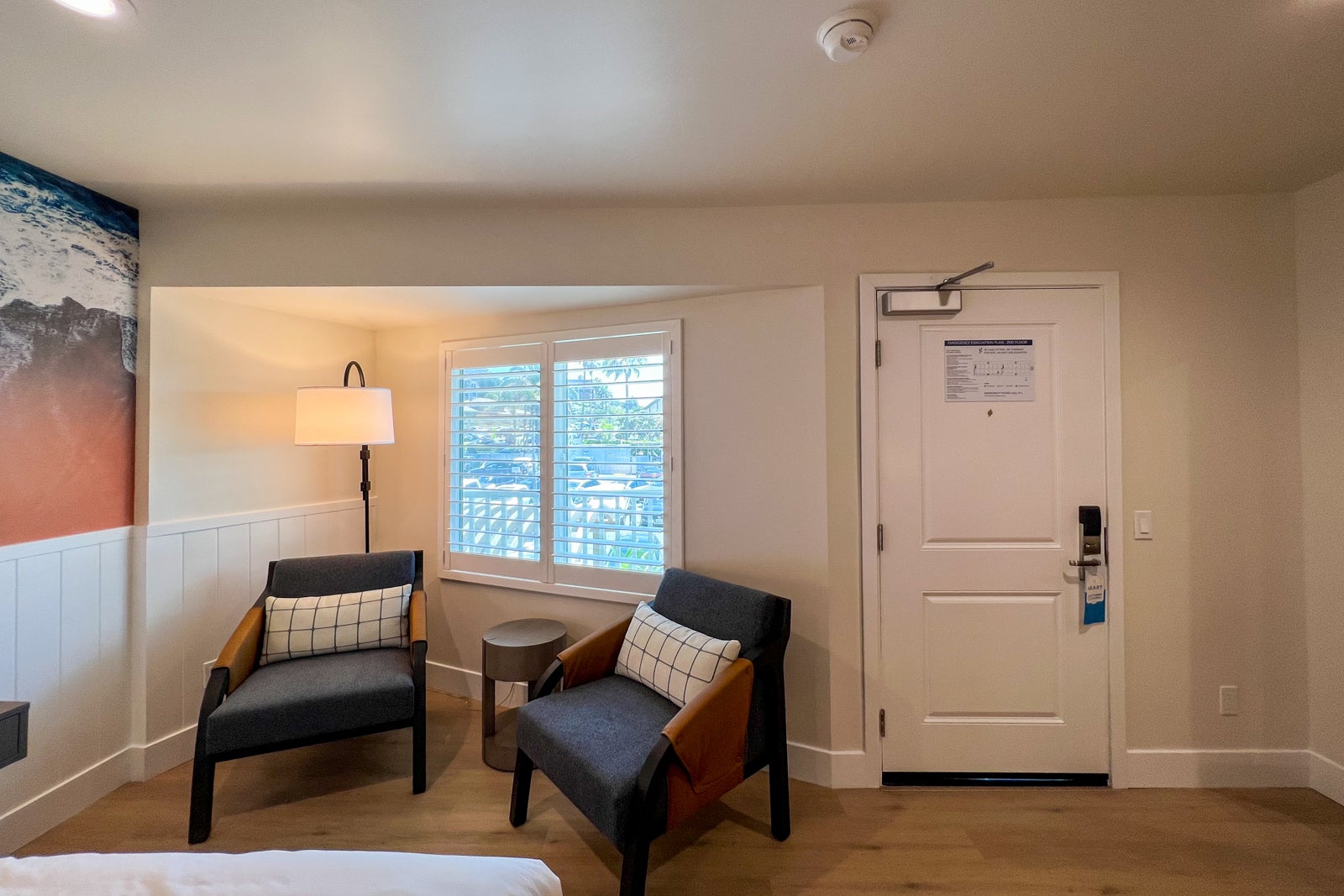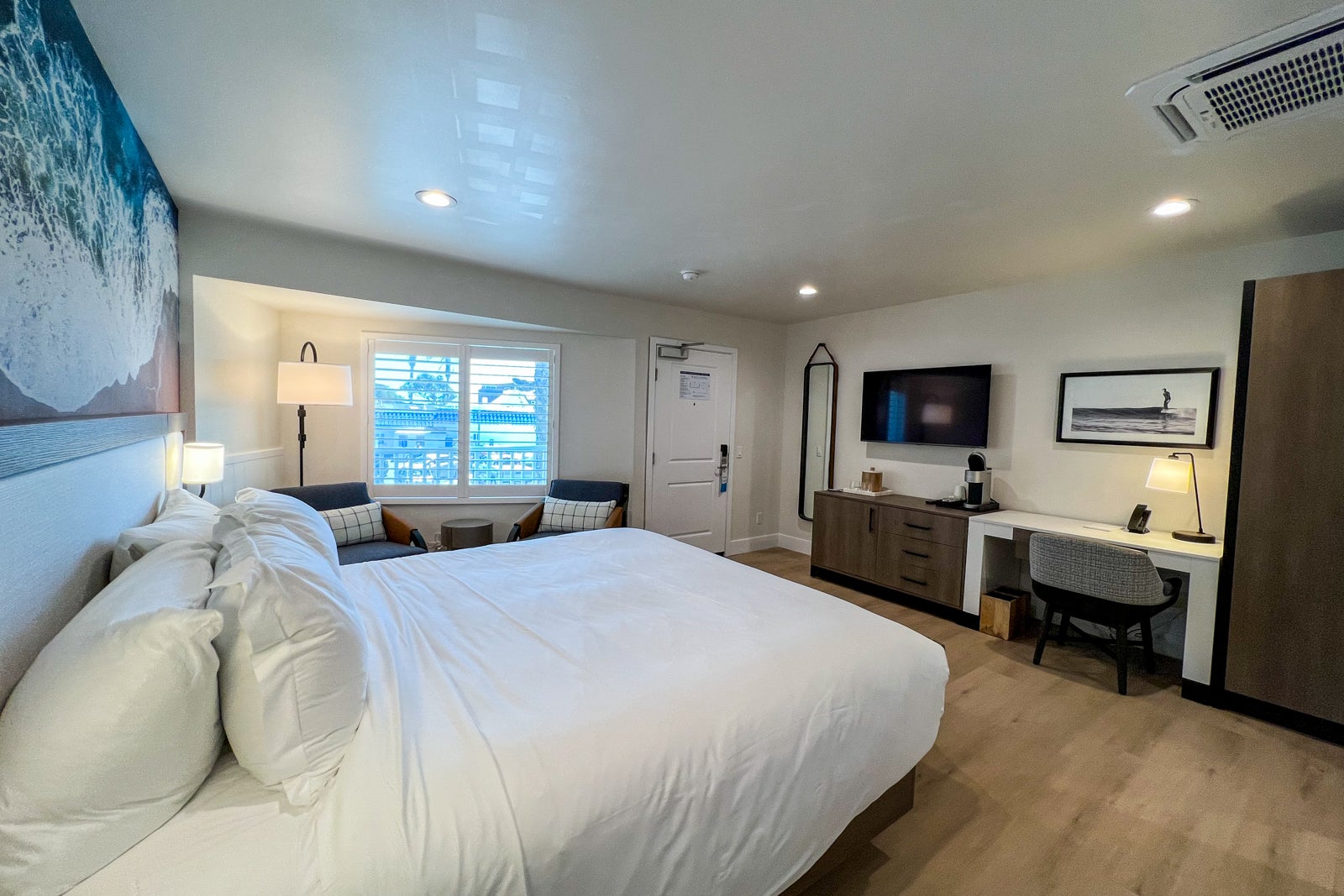 To either side of the bed was a floating nightstand with a drawer and a reading lamp with power plugs and USB ports.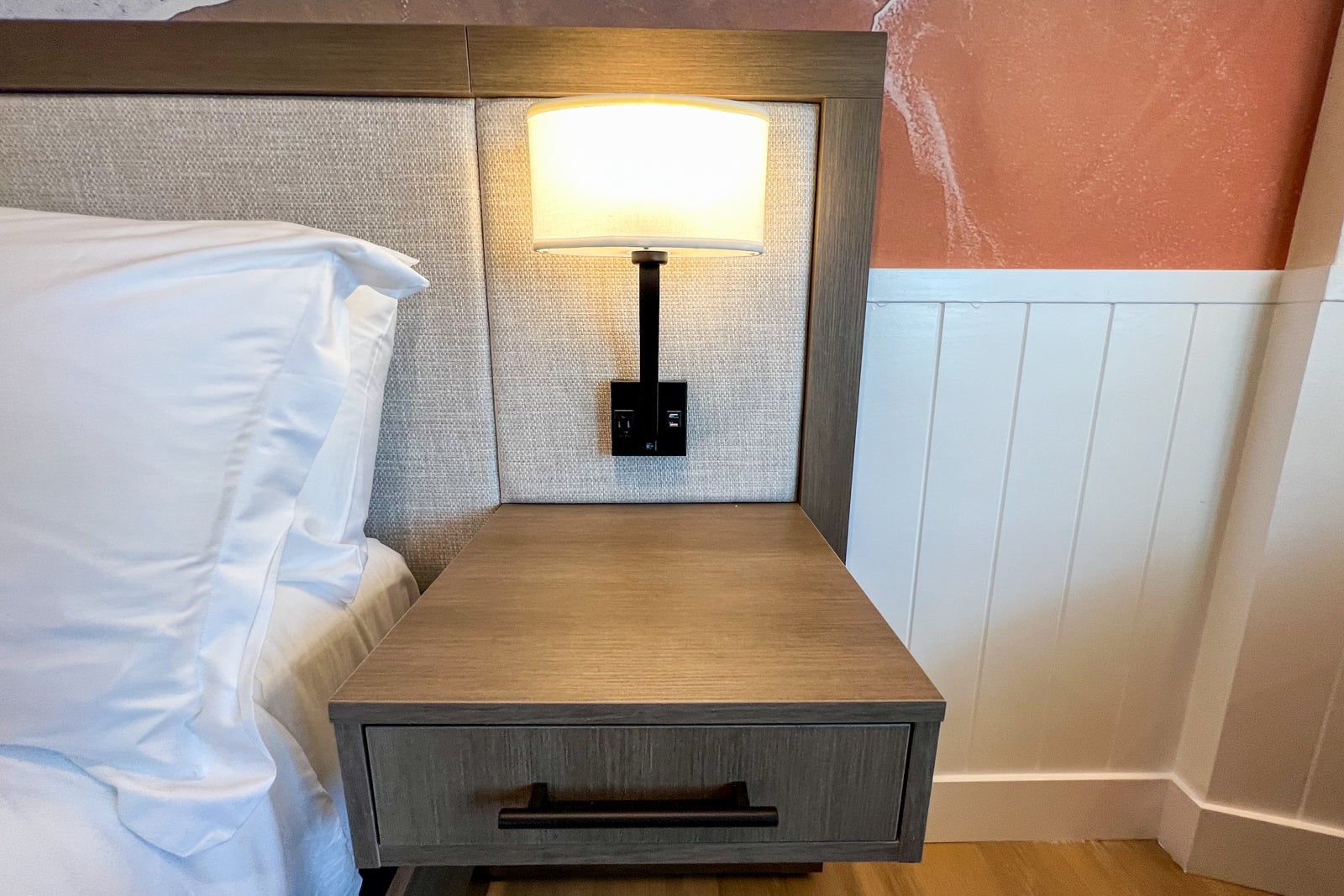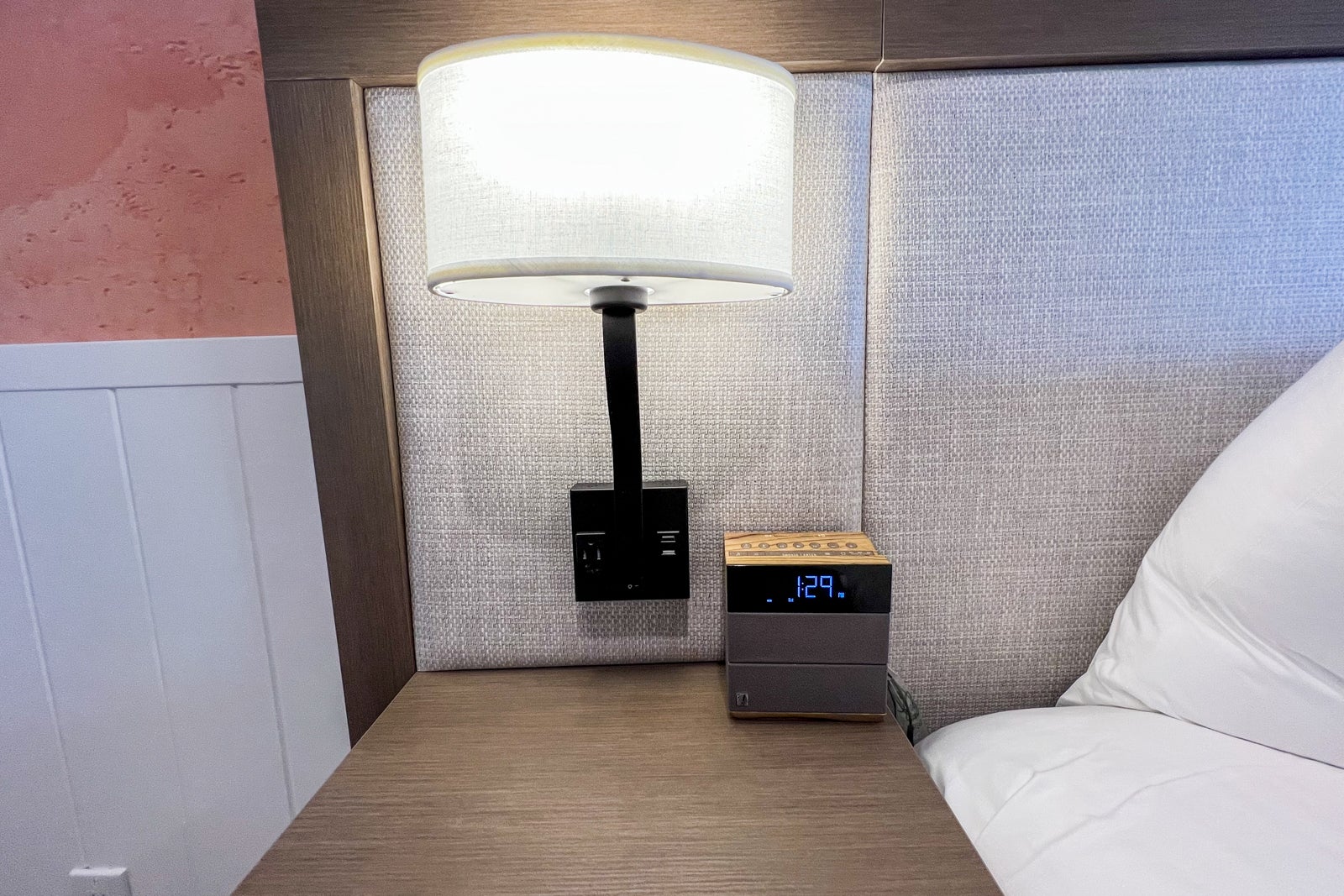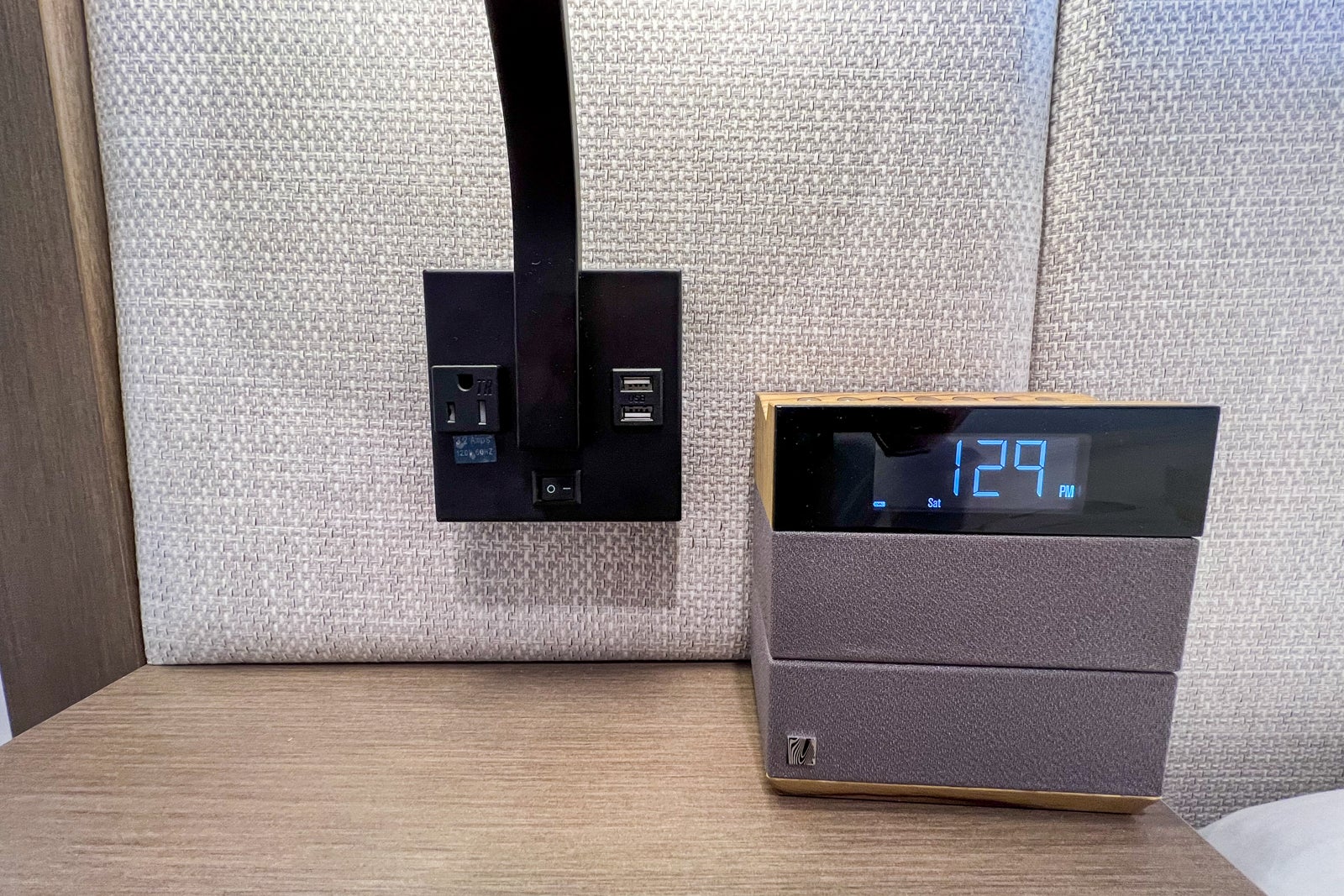 On the wall across from the bed, there was a hanging, full-length mirror just inside the door. Next to that was a bureau with drawers for clothes and a cabinet with a small refrigerator. It also held an ice bucket, some wine glasses and a Keurig coffee machine with pods, sweeteners and creamer. Above that was a wall-mounted flat-screen TV that had cable, but not the ability to screencast.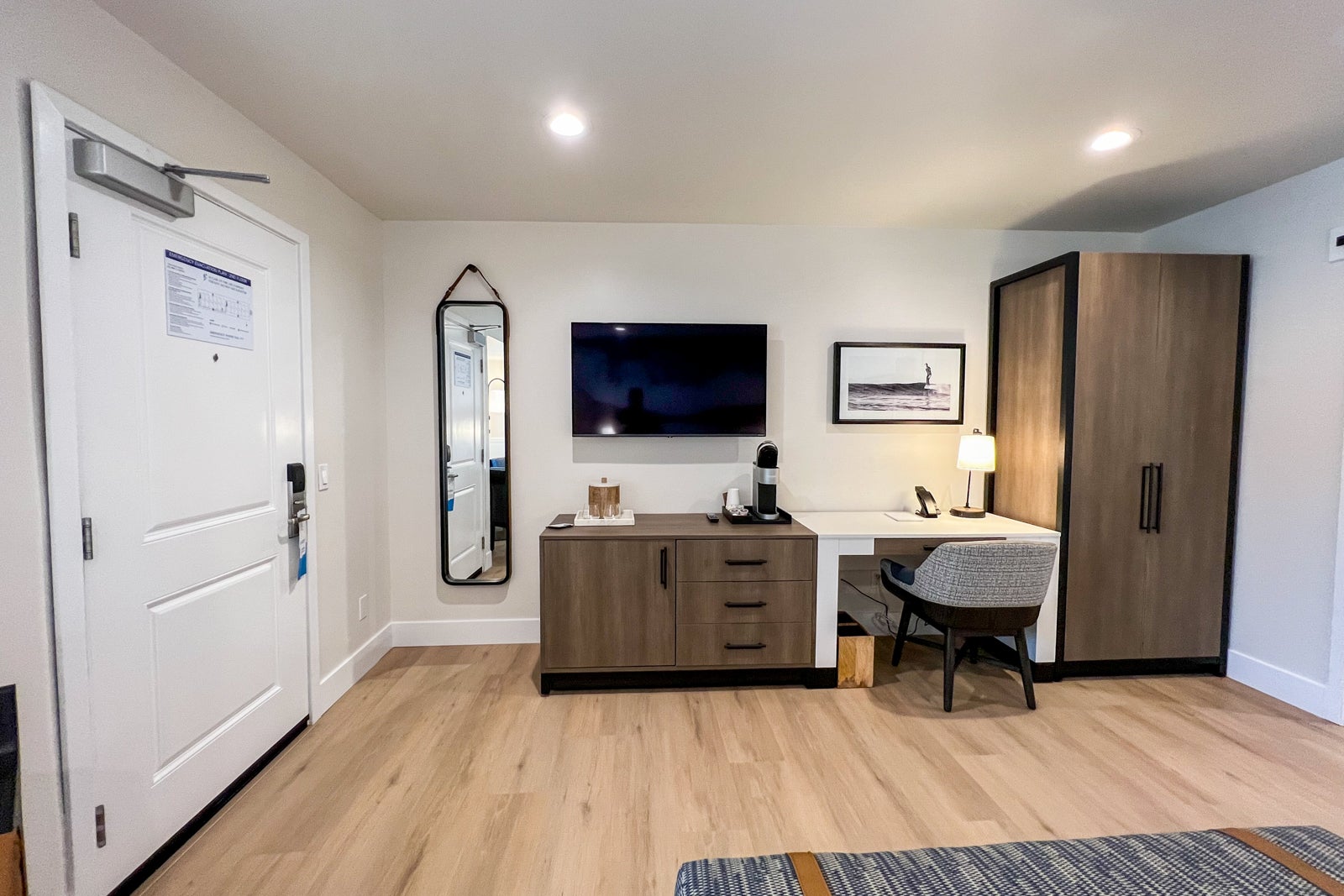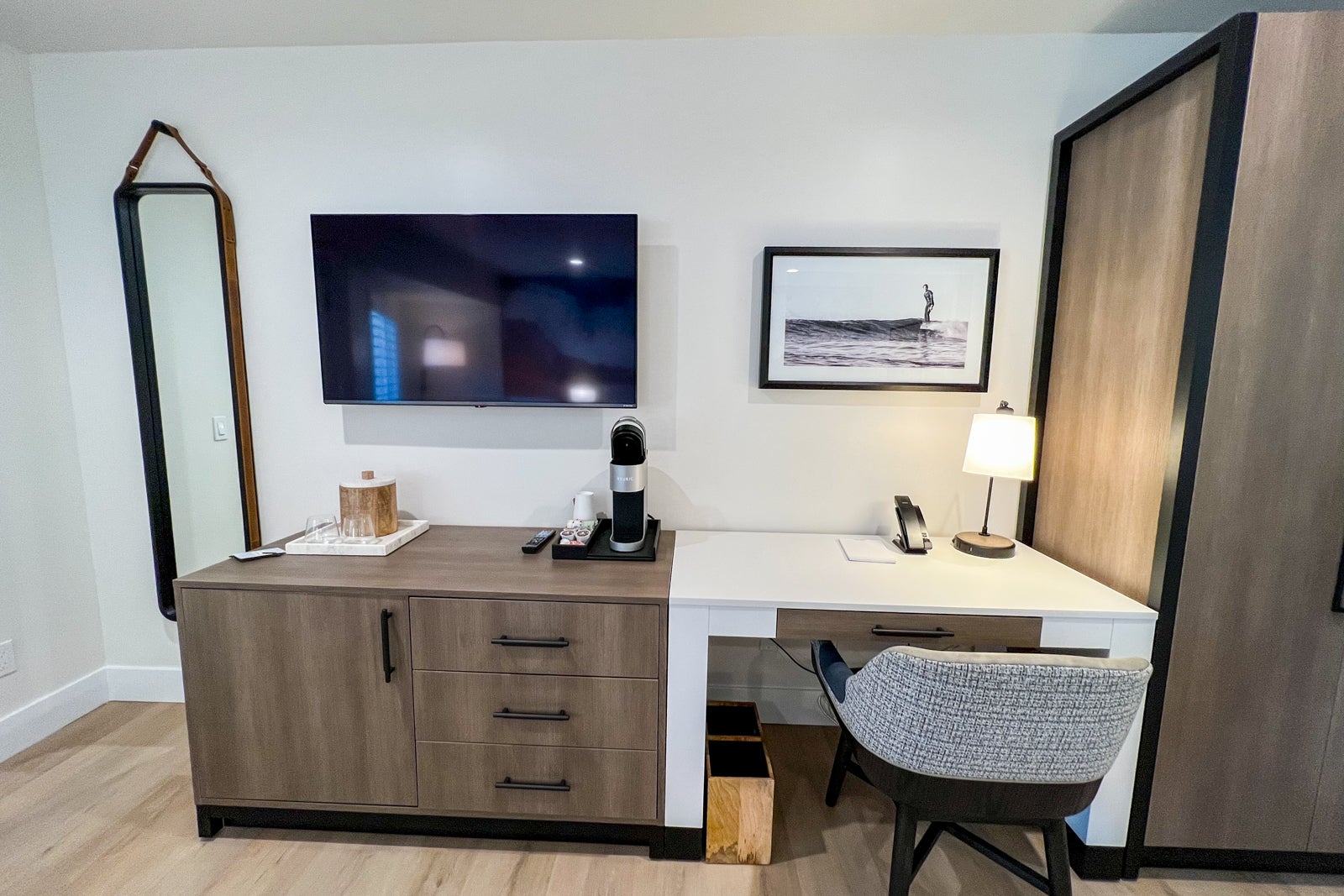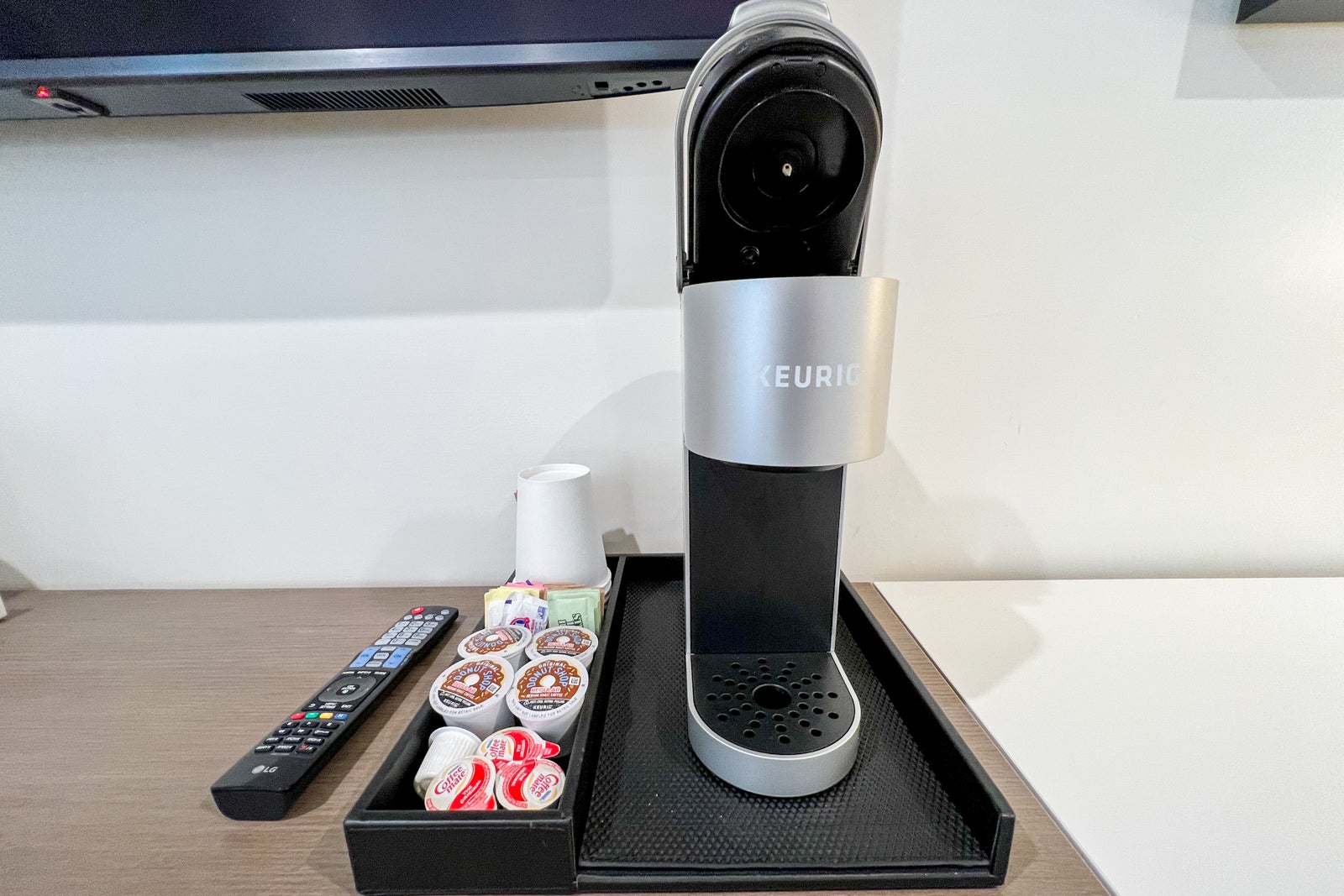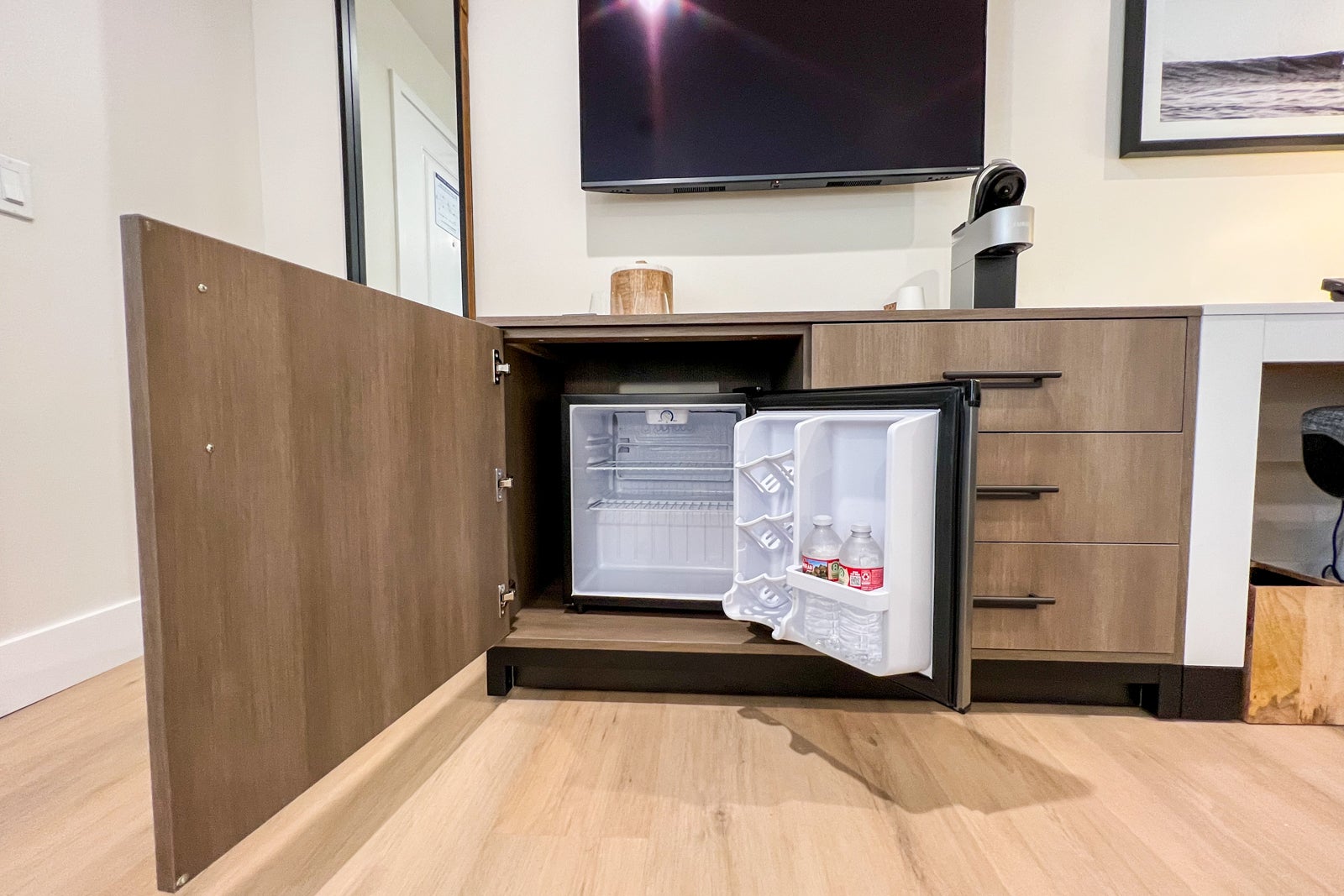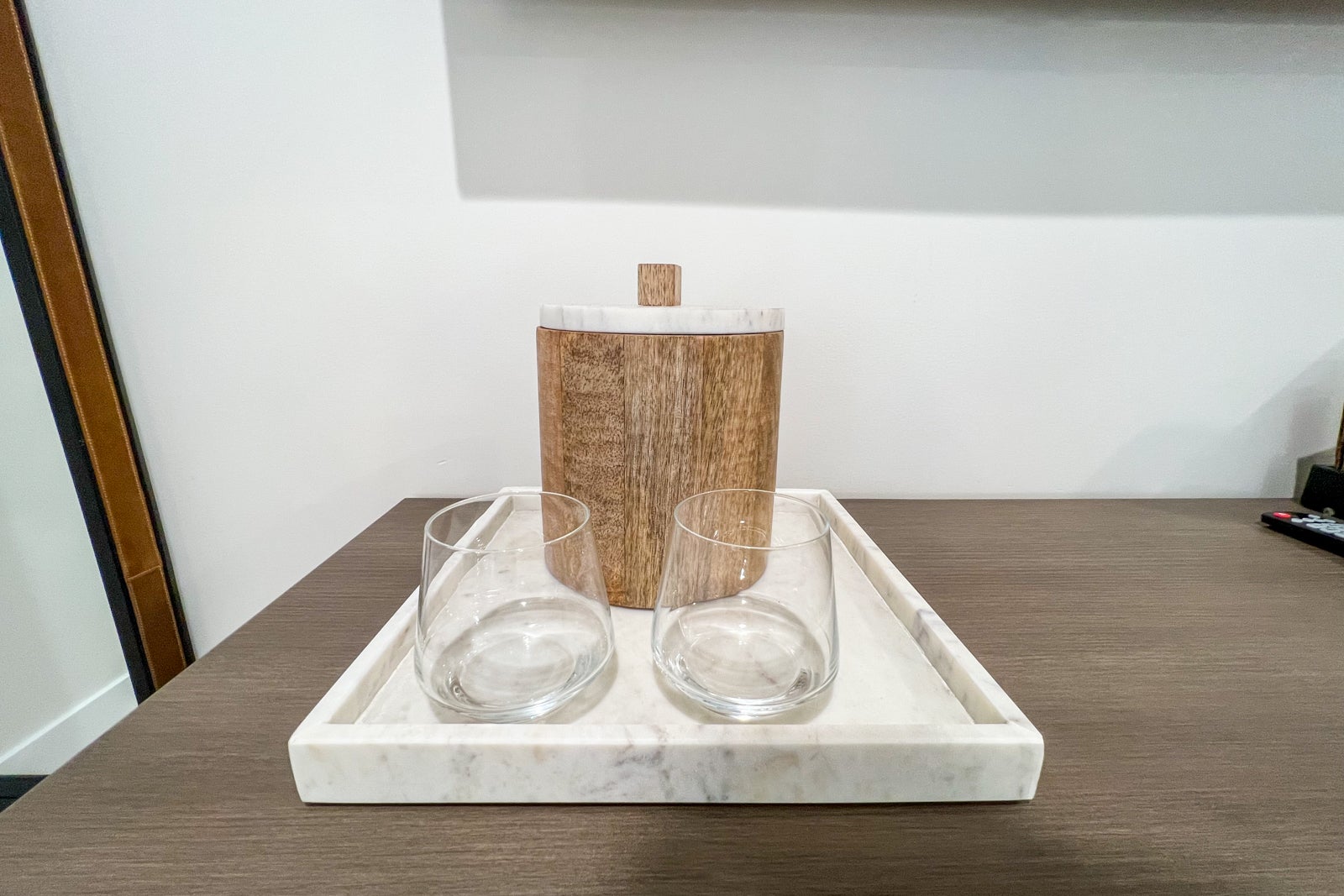 Nearby was a white, slim-profile work desk with a comfortable chair and a lamp with USB ports, plus the room's telephone.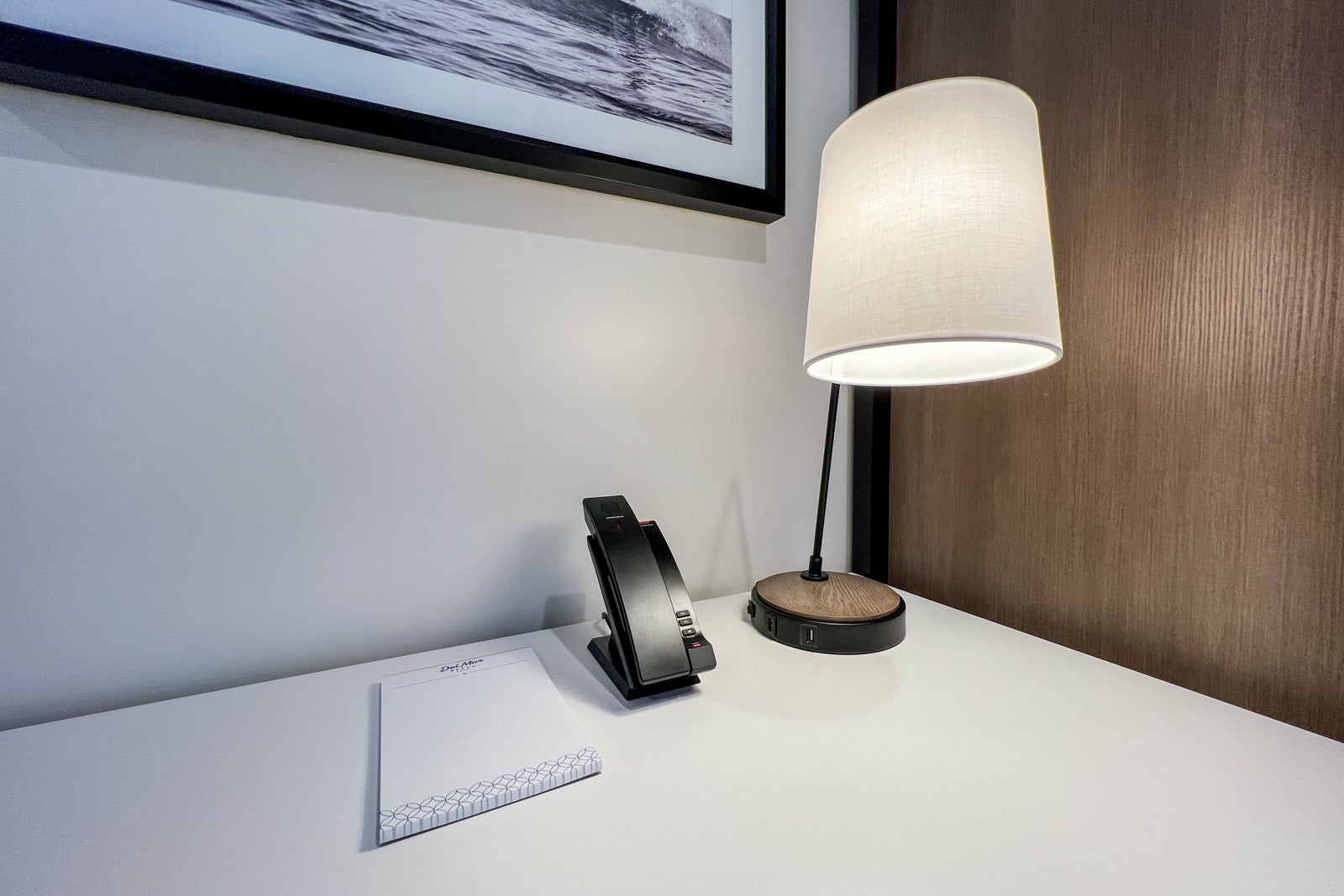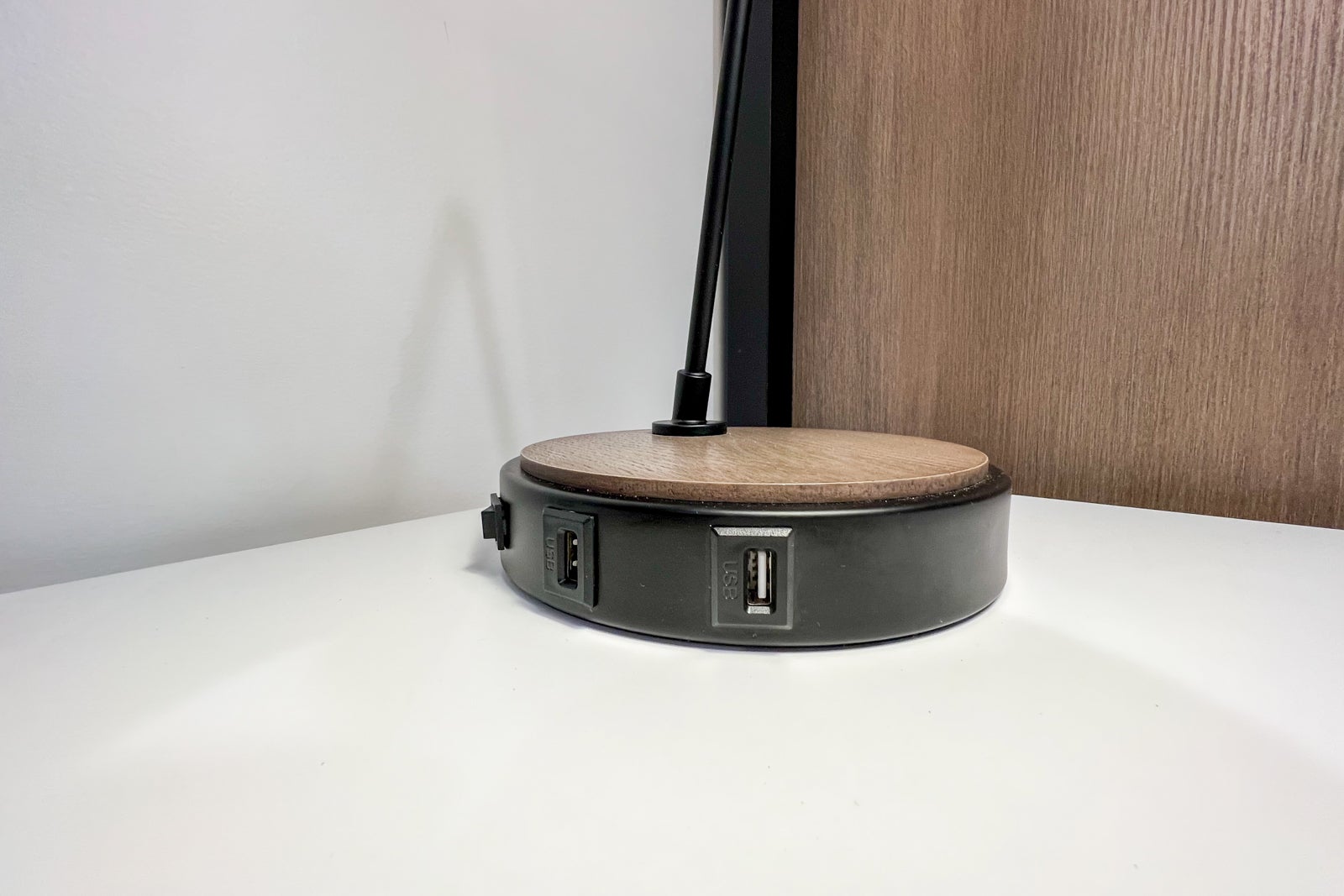 Finally, there was a large cabinet closet with shelves for shoes and a suitcase plus an in-room safe and an area for hanging clothes.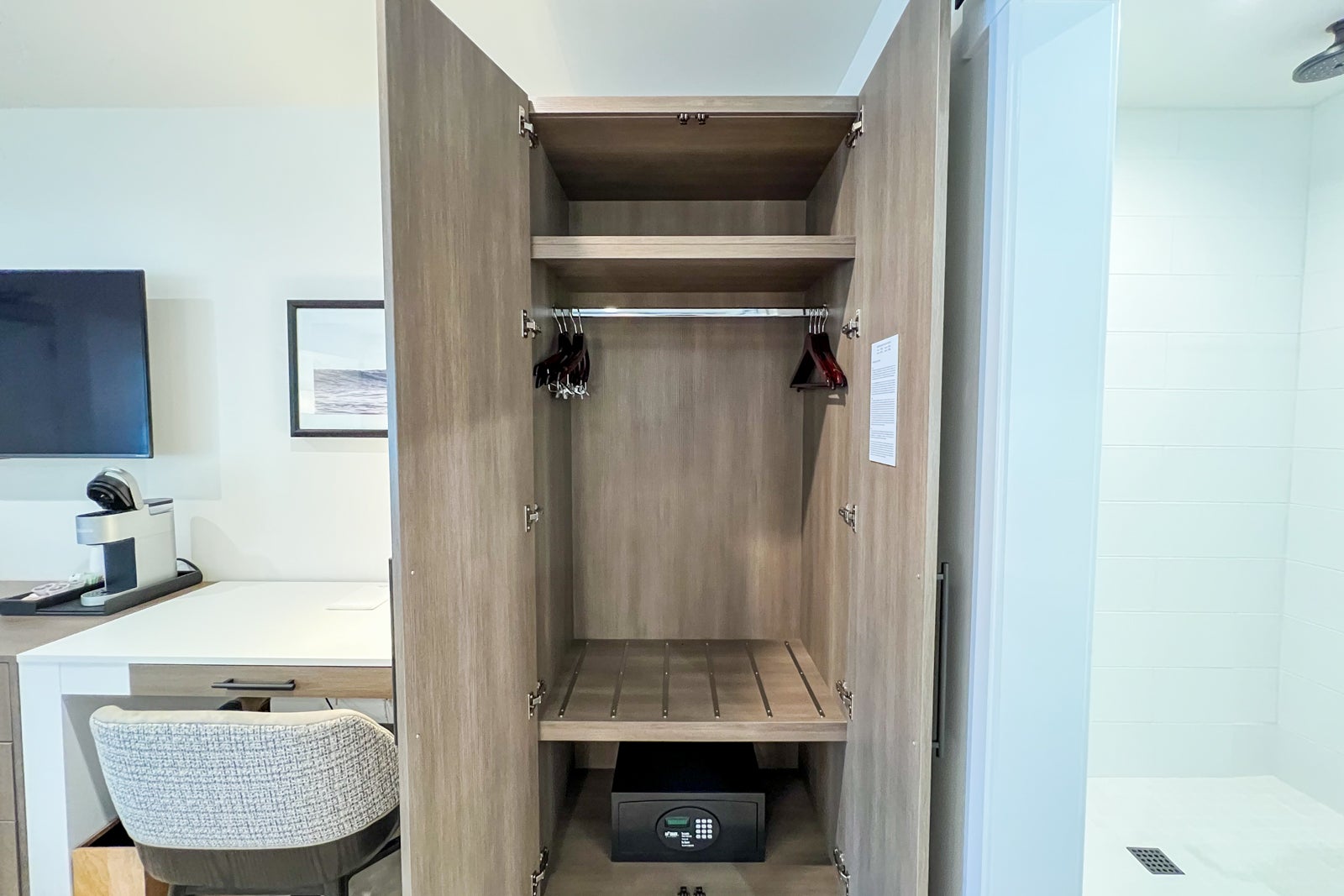 On the wall opposite the front door, the bathroom had a cute, barn-style sliding white wooden door – an allusion to the nearby Del Mar Racetrack. There were other complementary references, like a reproduced antique print of a jockey riding his steed mid-race and a photo of ladies betting on the day's races. In the bathroom, there was a photographic print of a jockey in full regalia riding a surfboard.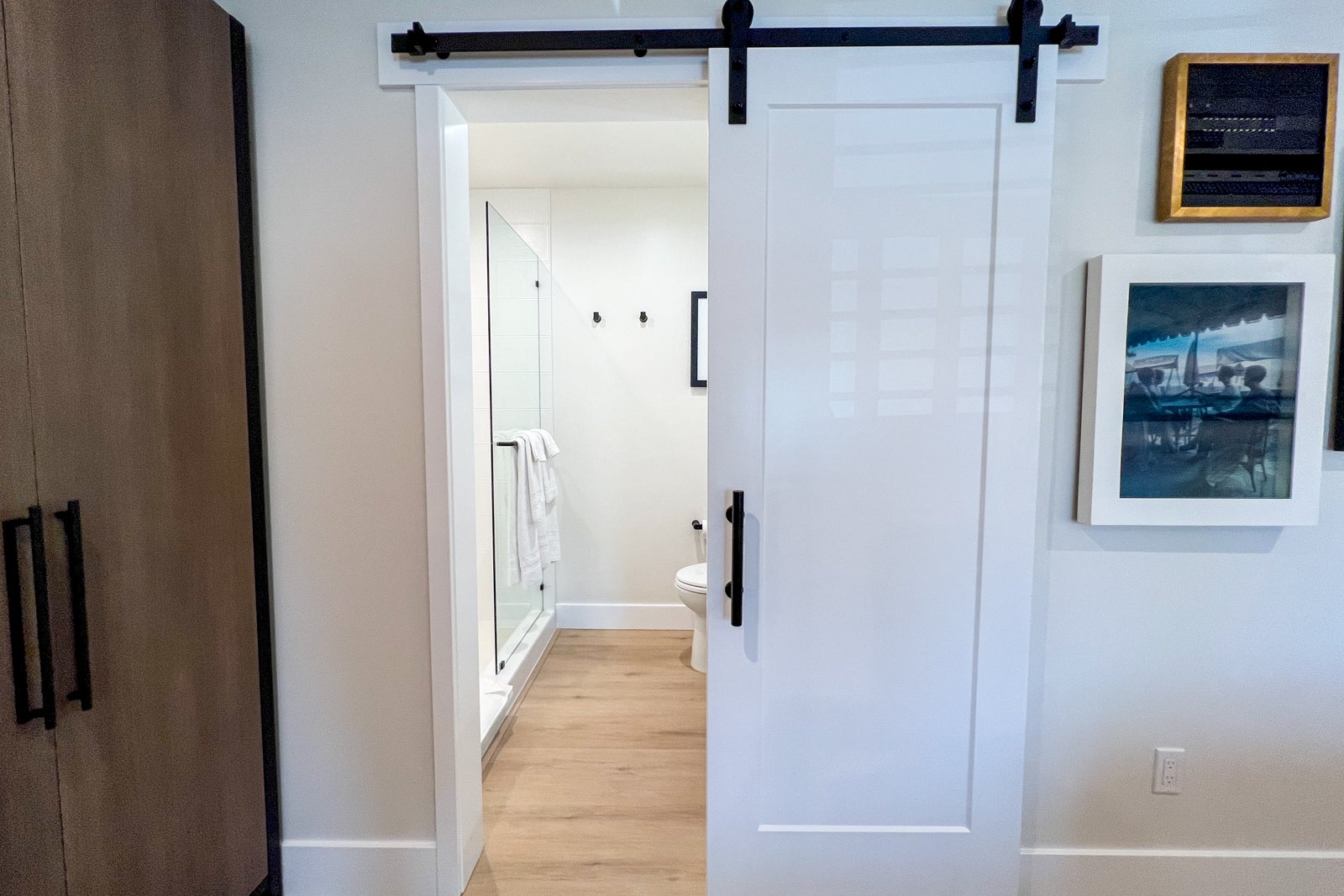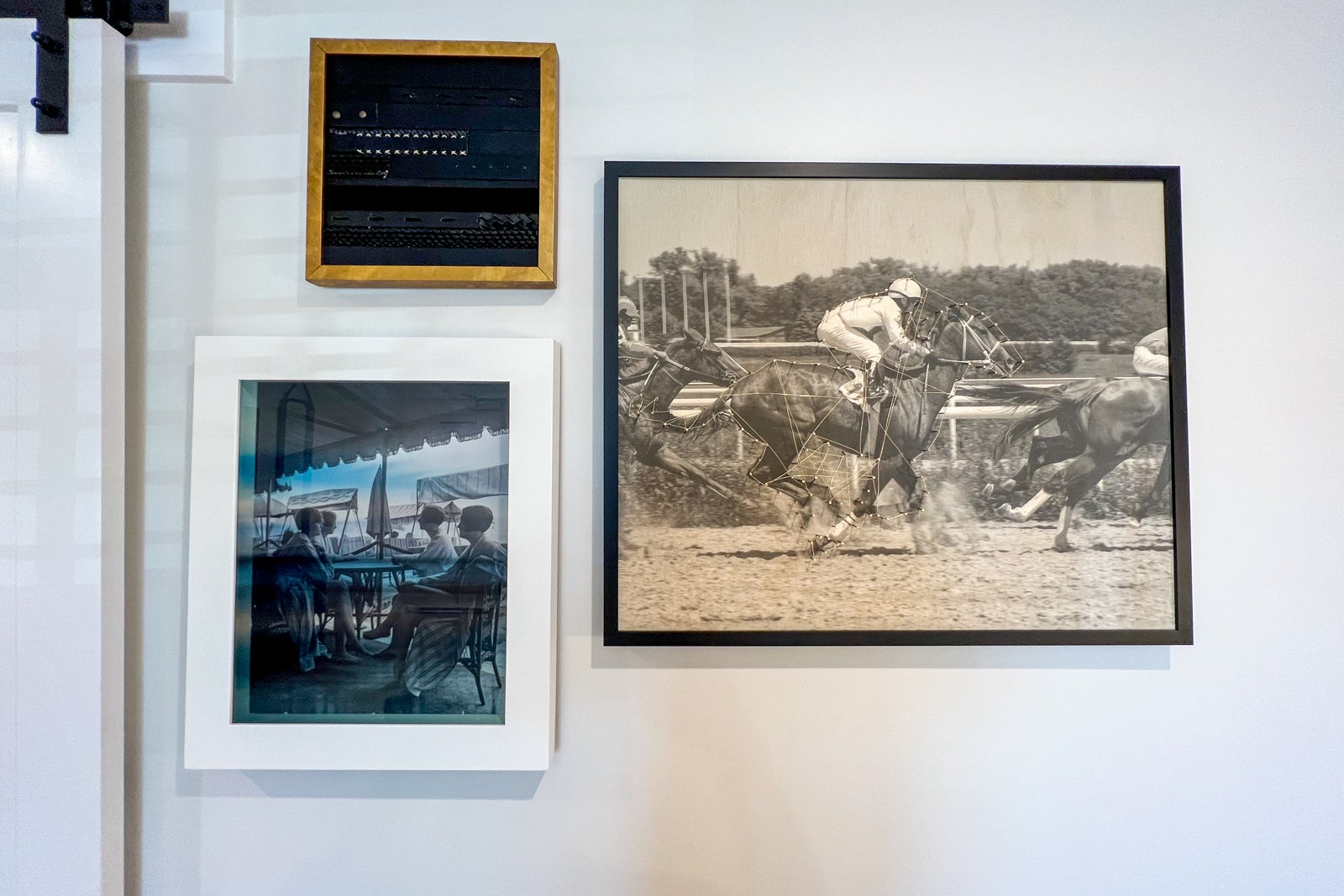 The bathroom was compact, though well laid out, especially considering what it must have looked like in the old motel days. There was a single sink with a stone counter and a backlit vanity mirror, which you could turn on and off with a single touch. Next to that was the toilet. There wasn't much surface area, but an under-sink drawer held the hairdryer and enough space for two toiletry bags. Additional glasses to use in here for brushing our teeth would have been useful.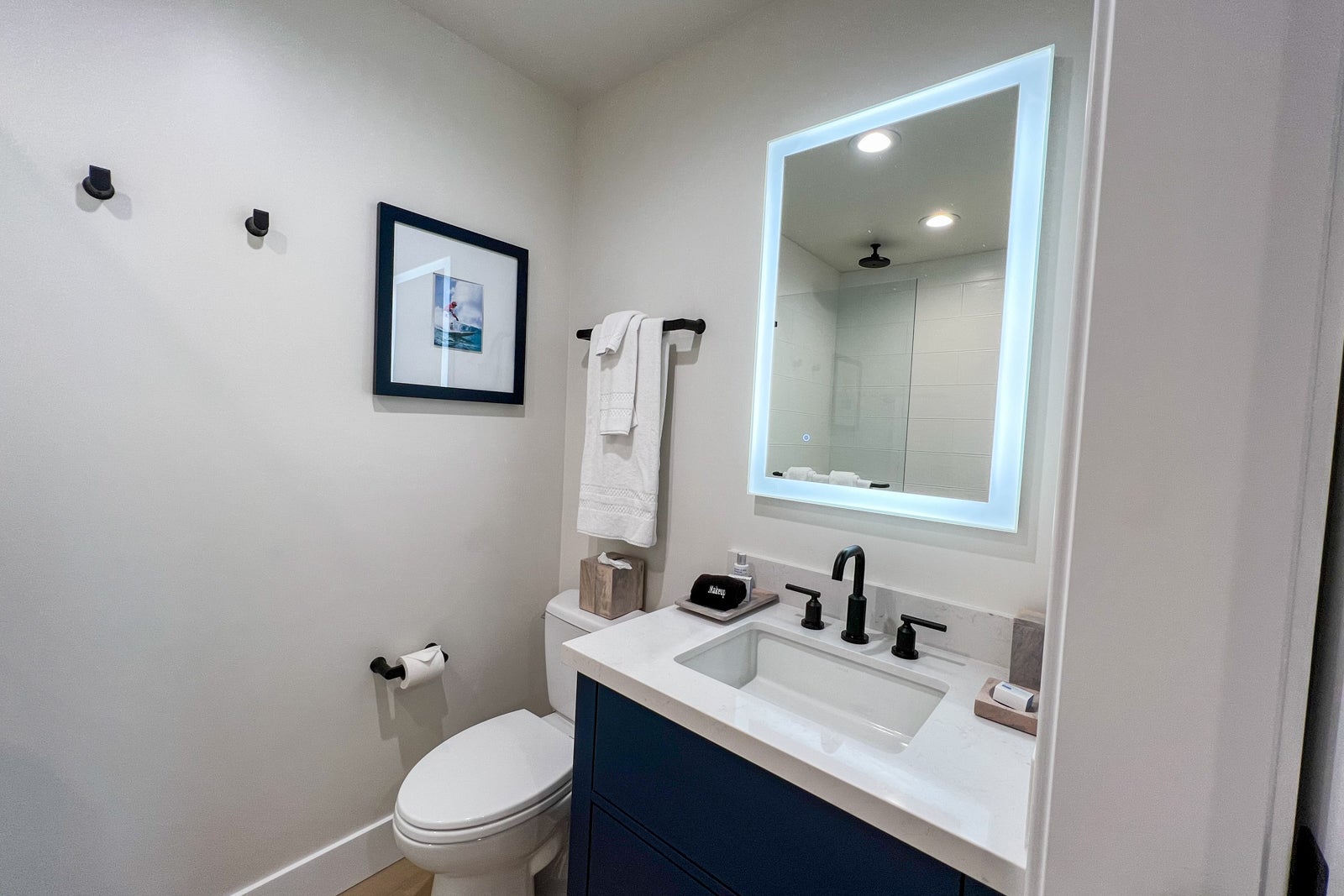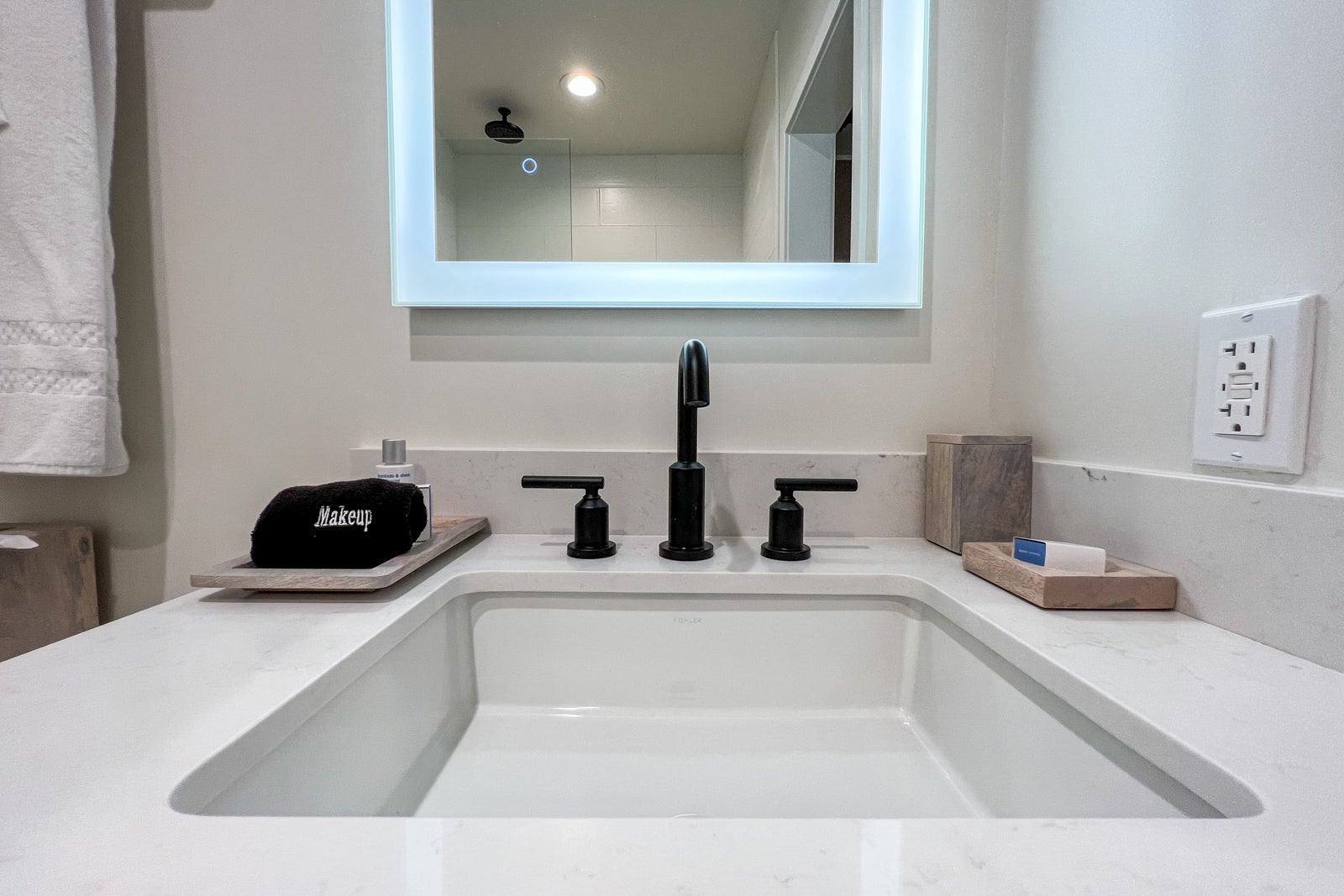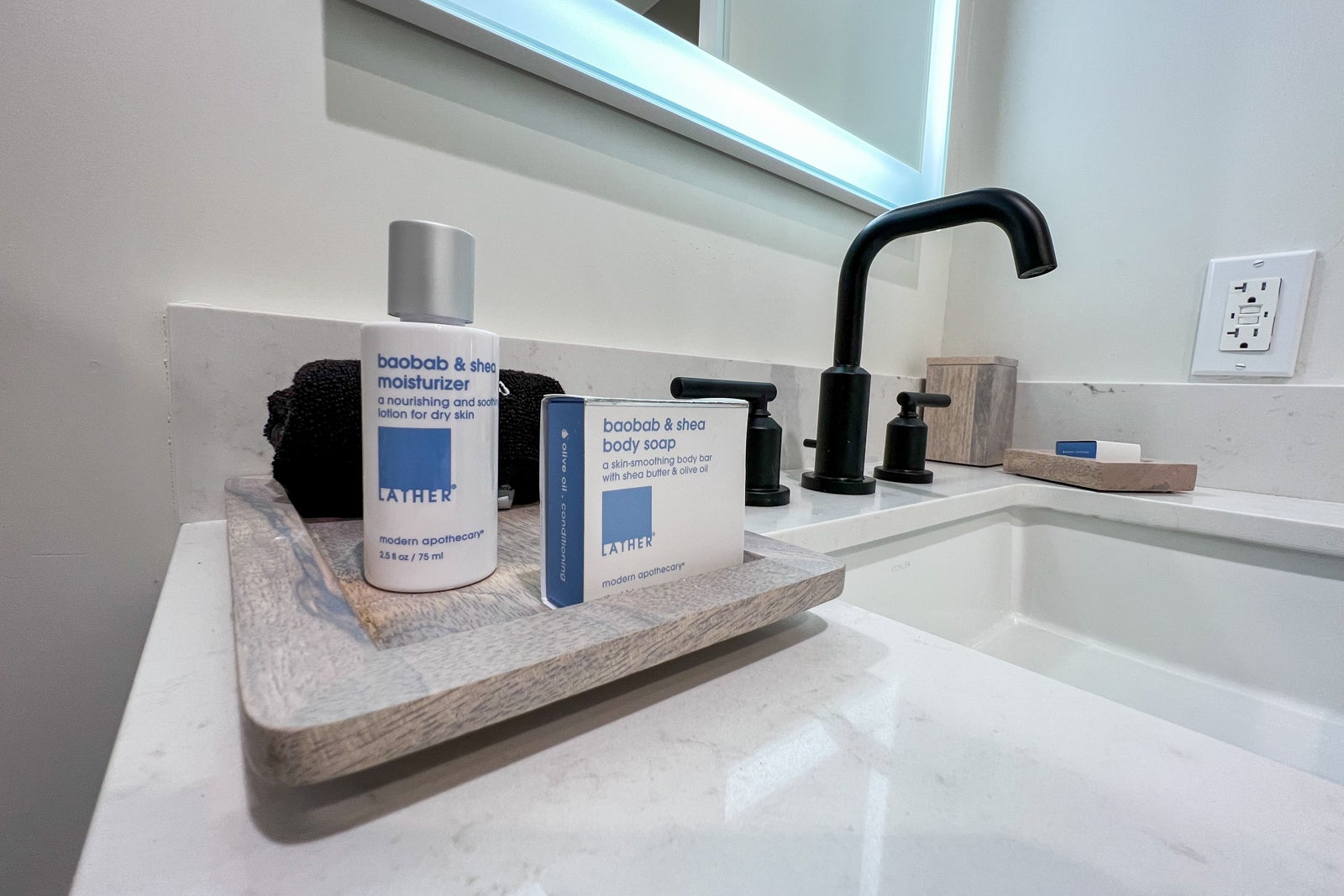 The opposite side of the small room held the walk-in shower, with just a half-wall of glass and an overhead showerhead. The pressure wasn't ideal, but it was easy to use and the temperature never faltered.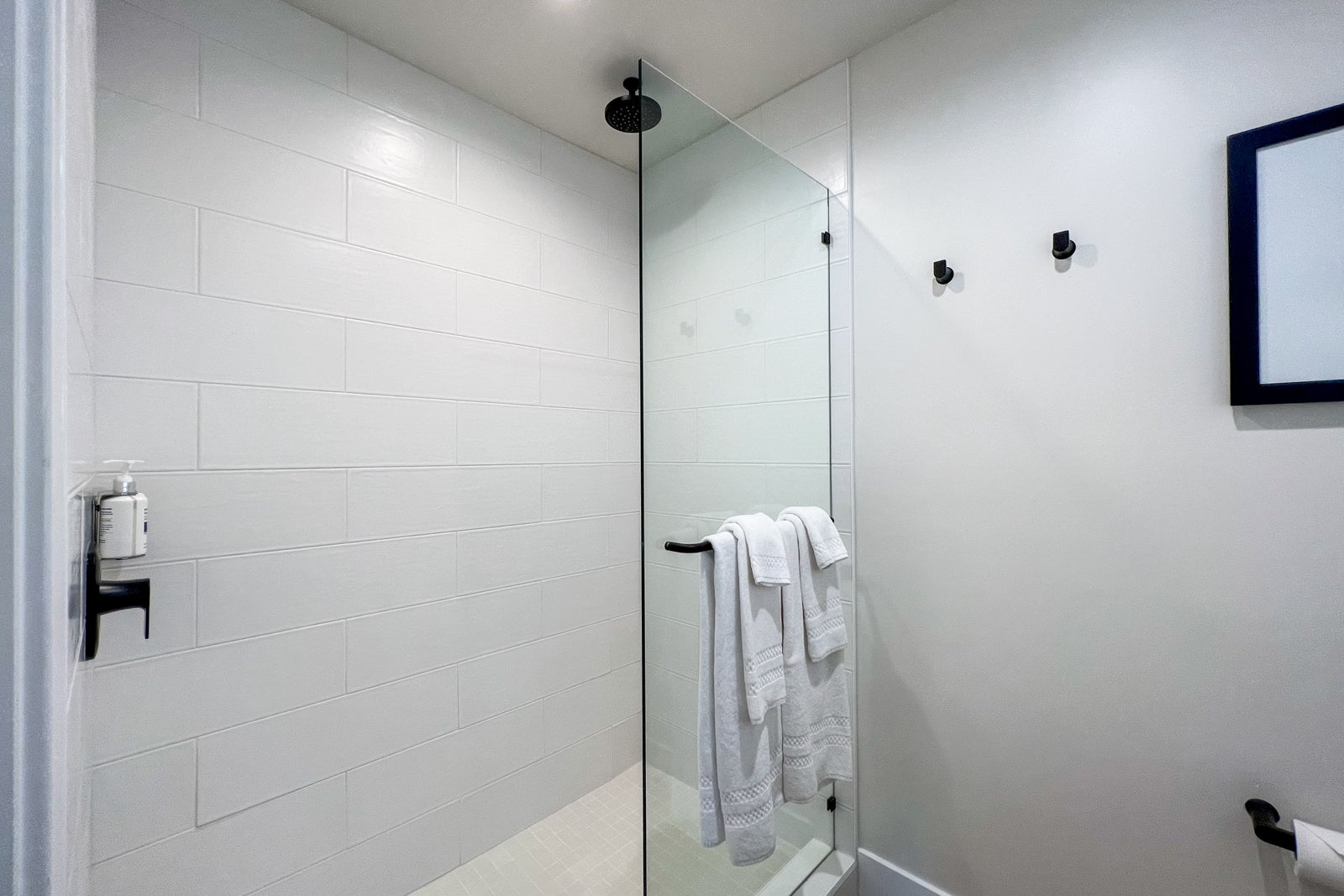 The hotel stocks light-bodied and fresh Lather Organics vegan and cruelty-free bath amenities, including baobab and shea hair wash, conditioner, soap and moisturizer.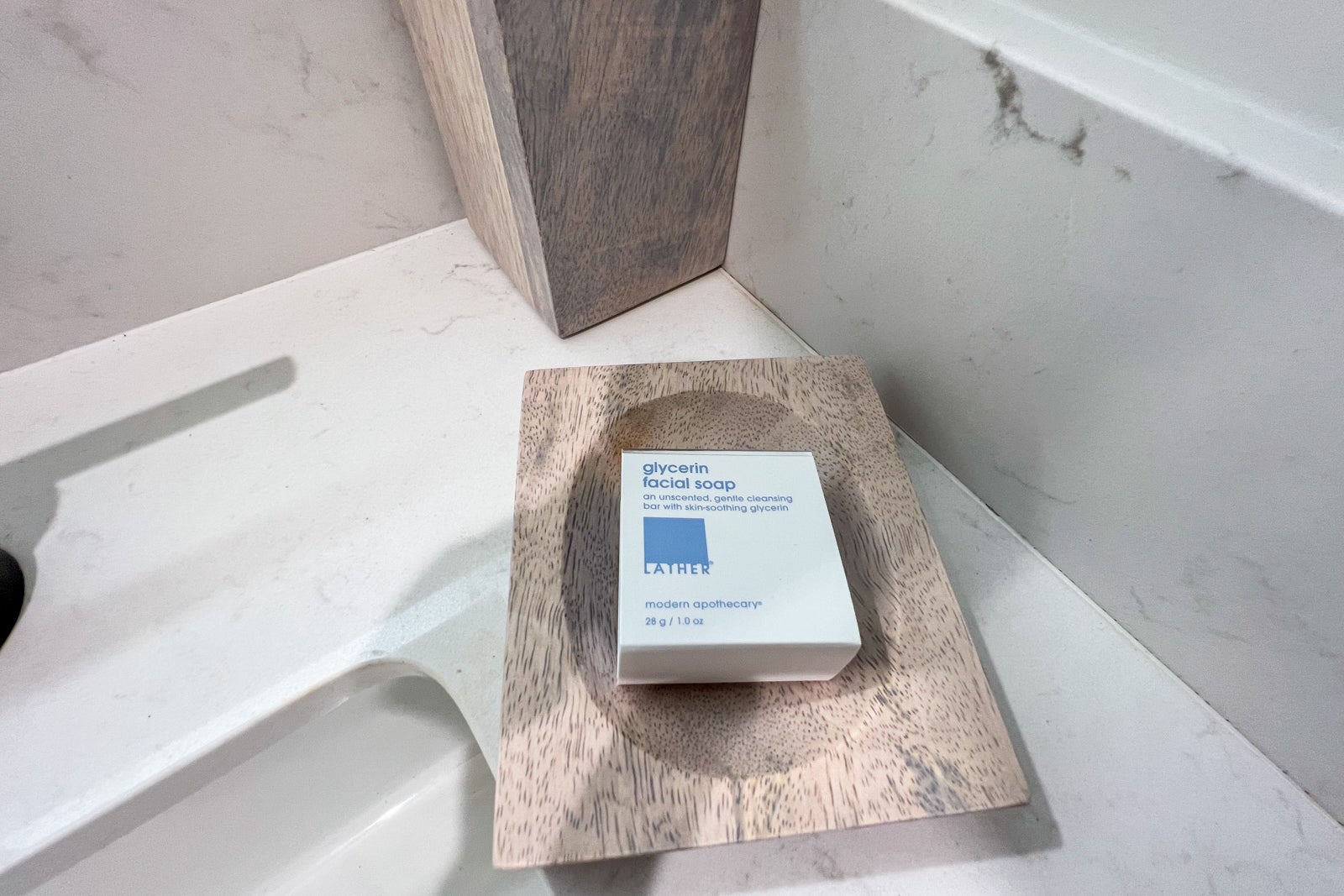 Overall, the room felt bright and beautiful — the perfect setting for a laid-back beach weekend – if not exactly a luxurious redoubt. I just wish that our supposed partial ocean view had more ocean vistas and fewer panoramas of parking lot and passersby. That said, even for a motel-style outdoor walkway setup, there was relatively little foot traffic, and though the hotel was full, we didn't hear much noise from other guests.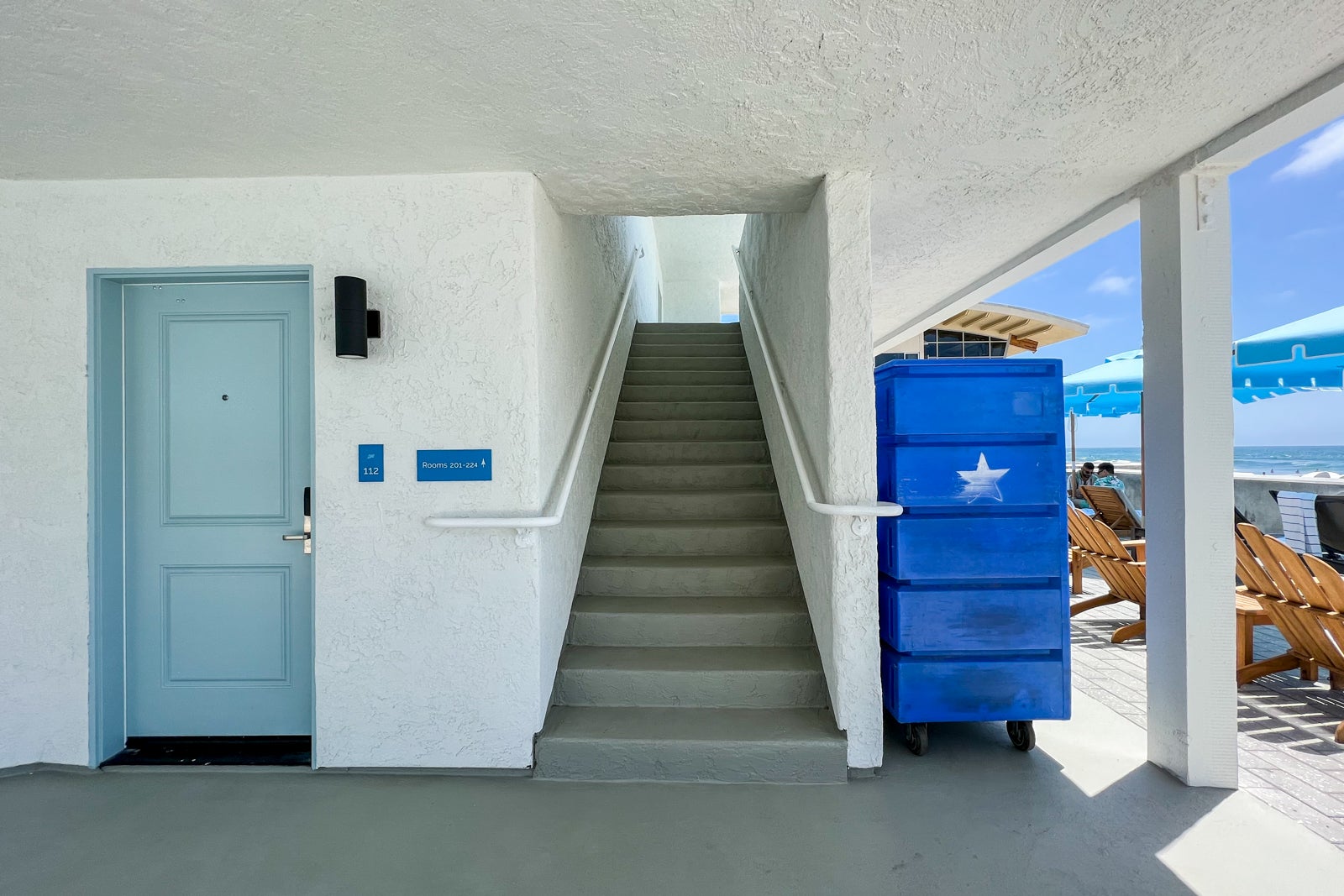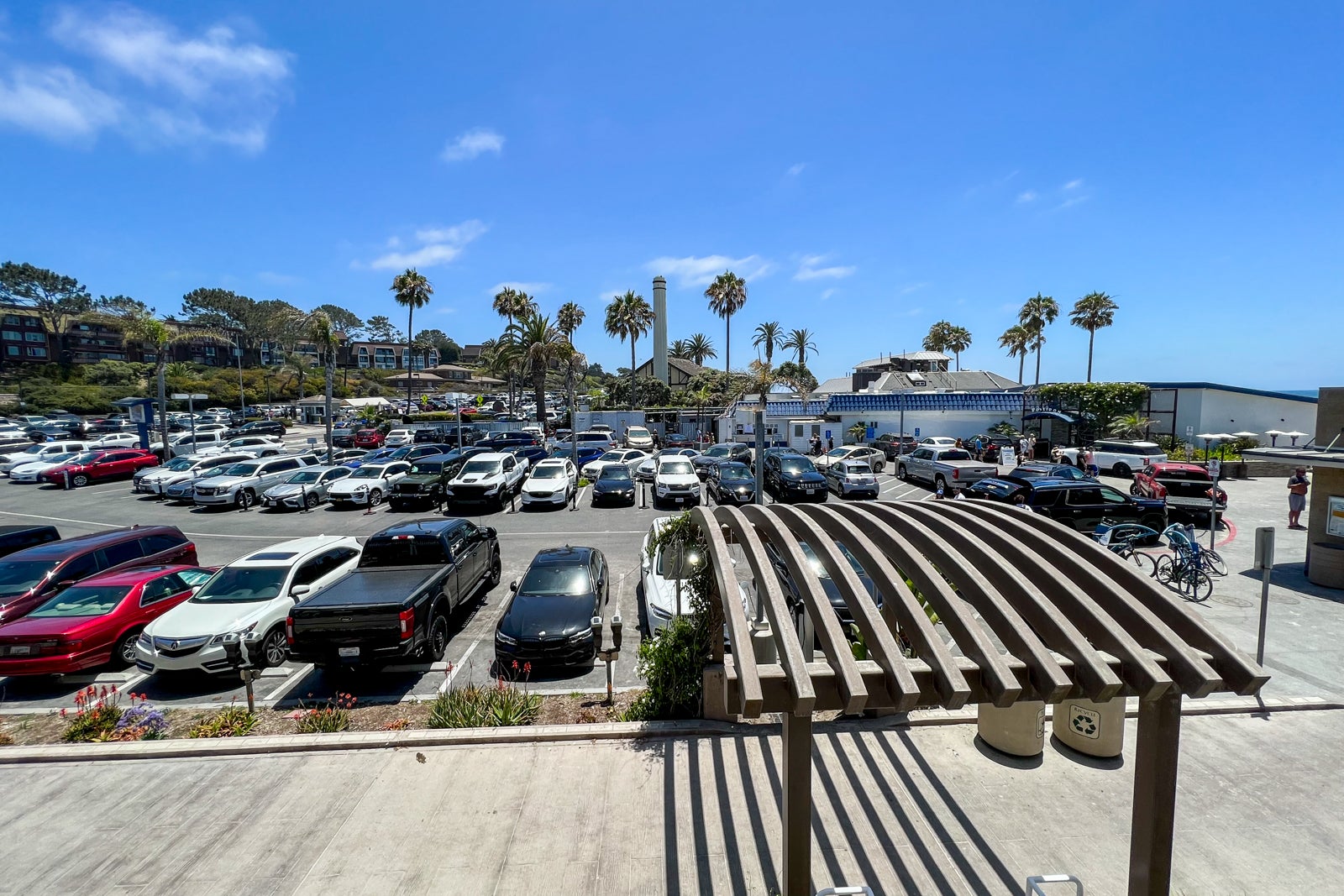 I didn't get to check them out for myself, but the hotel has redone two neighboring houses at 1726 and 1730 Ocean Avenue and dubbed them the Beach House and the Bungalow. The Beach House is 1,600 square feet and has three bedrooms that can accommodate up to eight people. It also has its own kitchen and patio along with a barbecue, fire pit and outdoor seating area.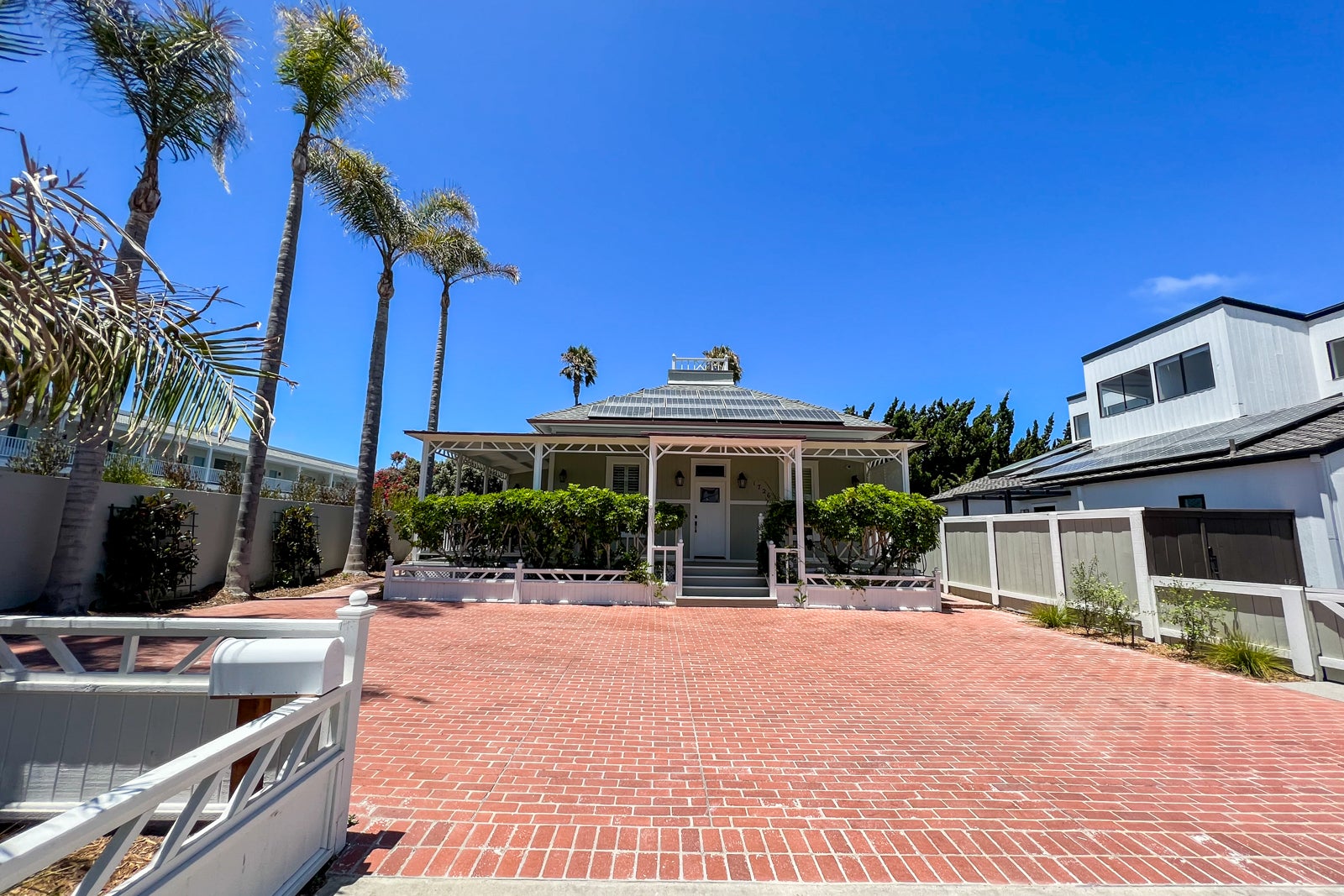 The Bungalow has a single bedroom, though is advertised as accommodating up to six people, with its own kitchen with a wine fridge, espresso machine and dishwasher, as well as a private hot tub and outdoor shower.
Amenities and service
As the hotel had officially been open just a single day before our arrival, some of the amenities had yet to arrive or be offered.
While we were there, we could use the oceanfront patio, which had a row of loungers with a row of Adirondack chairs behind it as well as two daybeds with more Adirondack chairs surrounding a fire pit.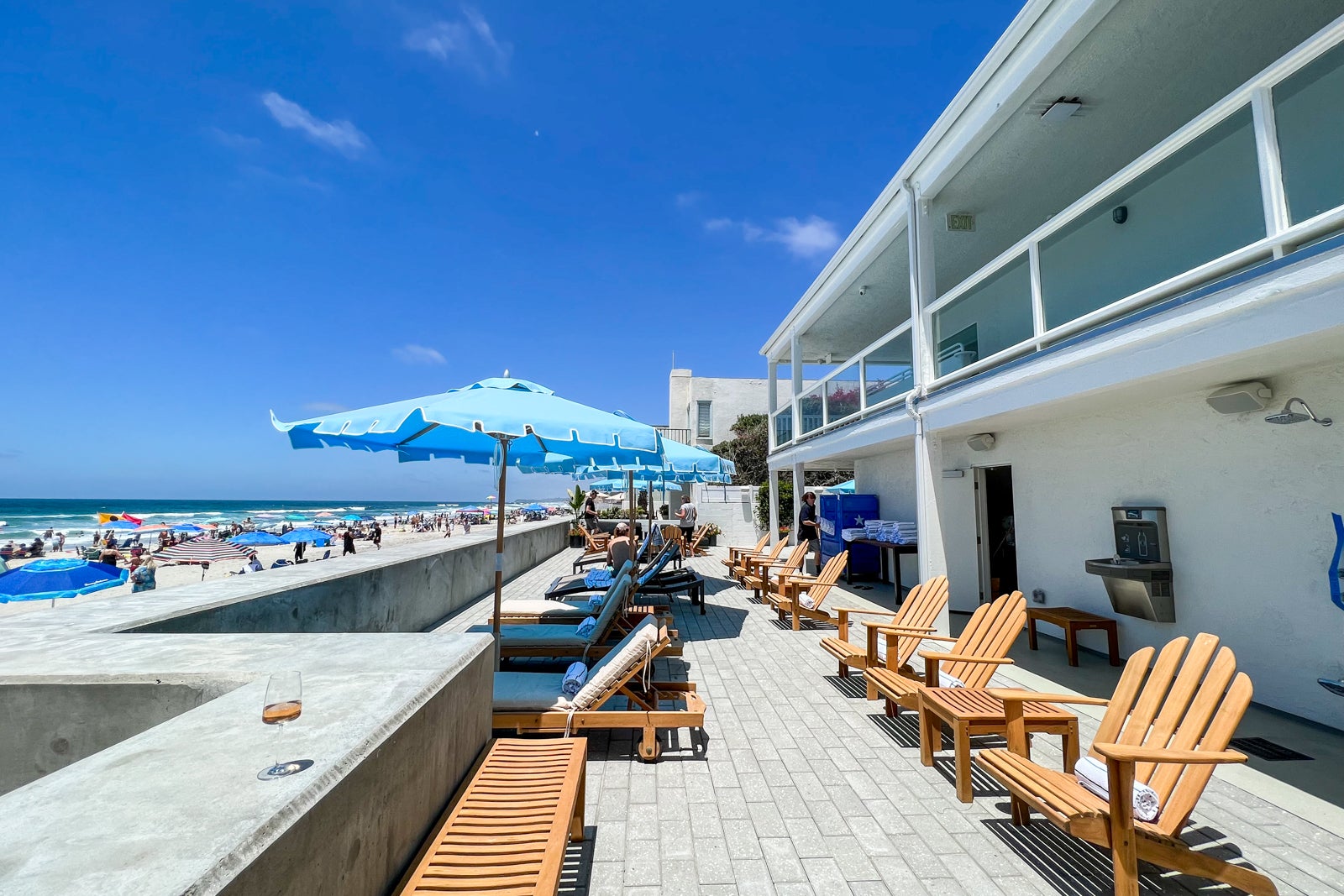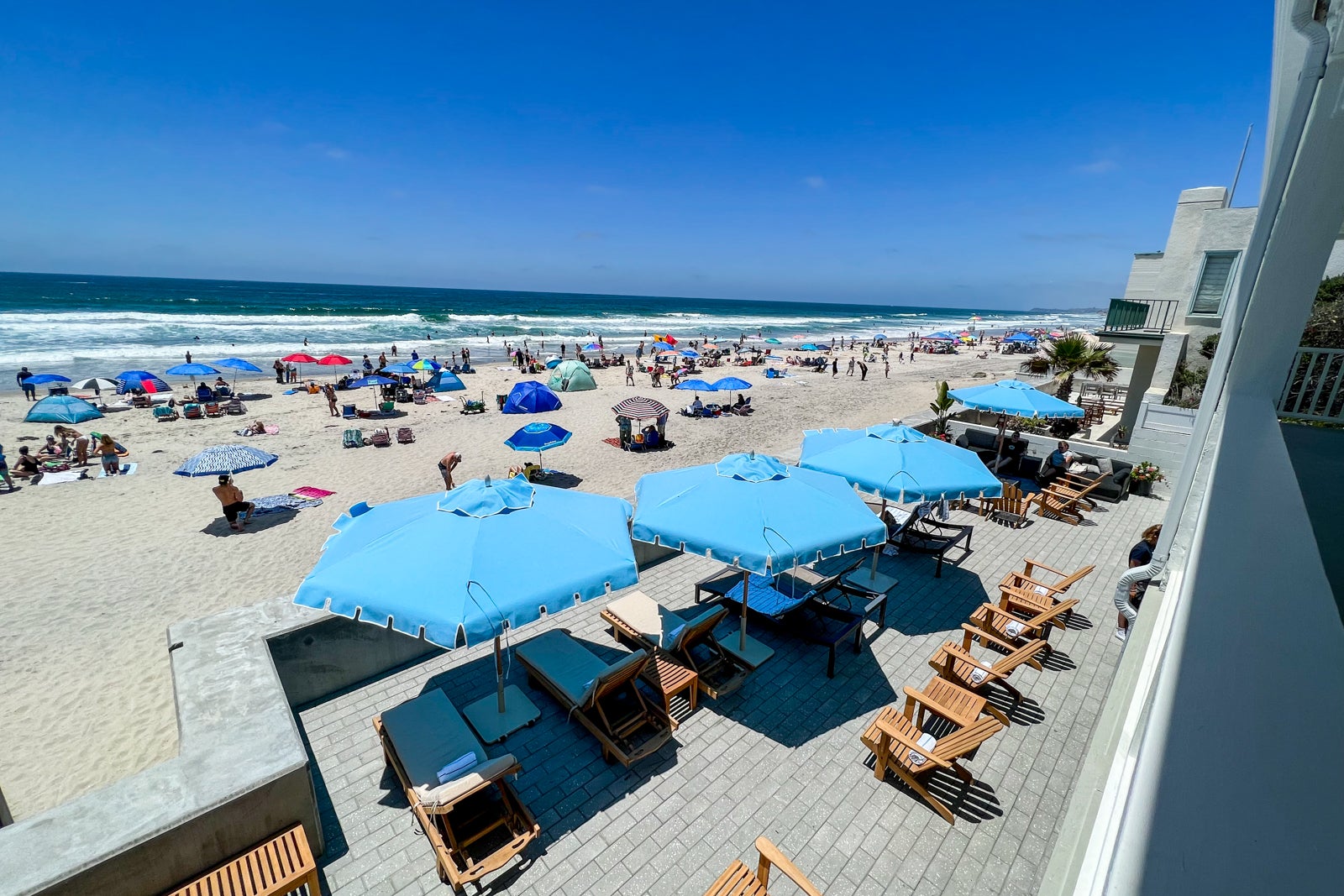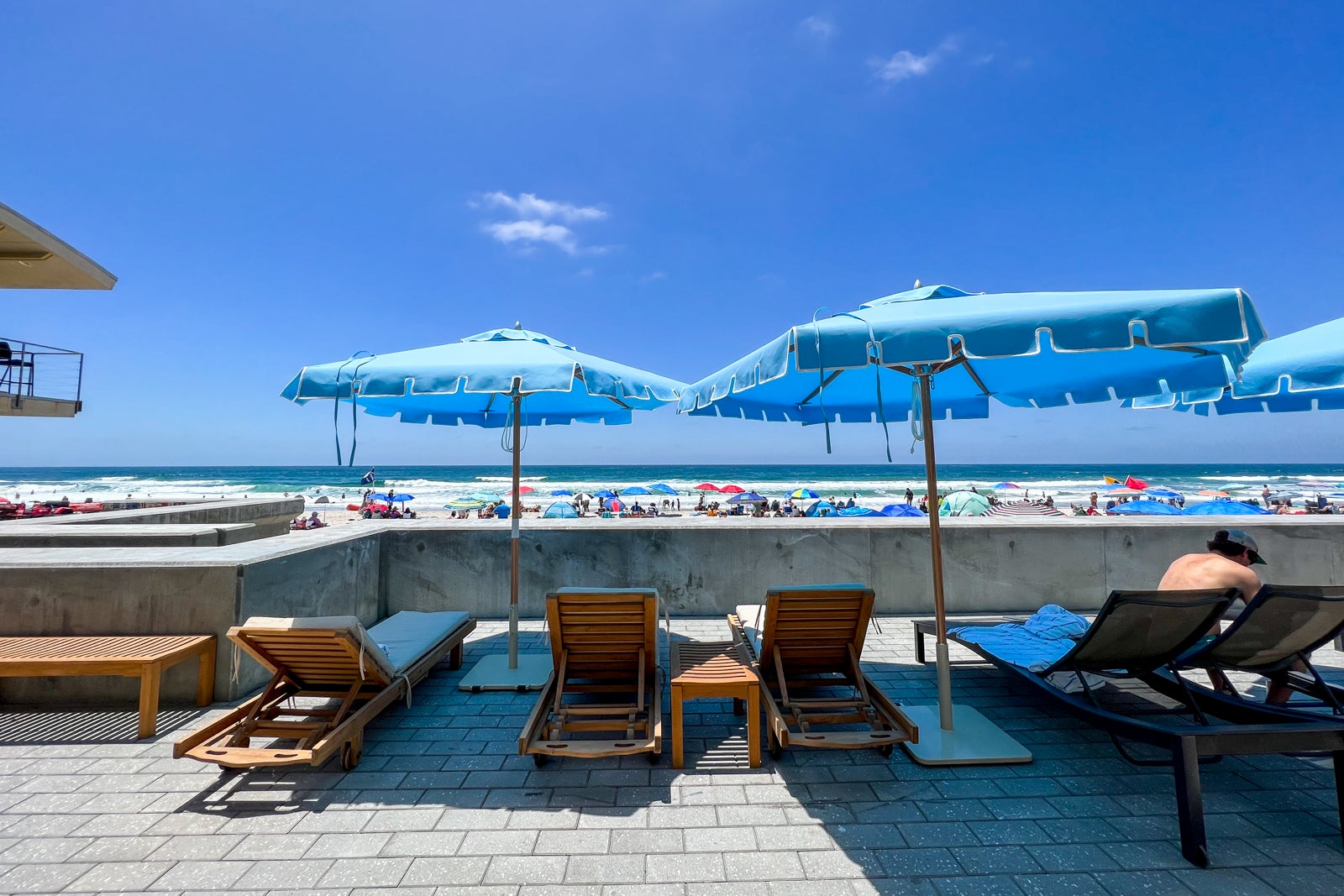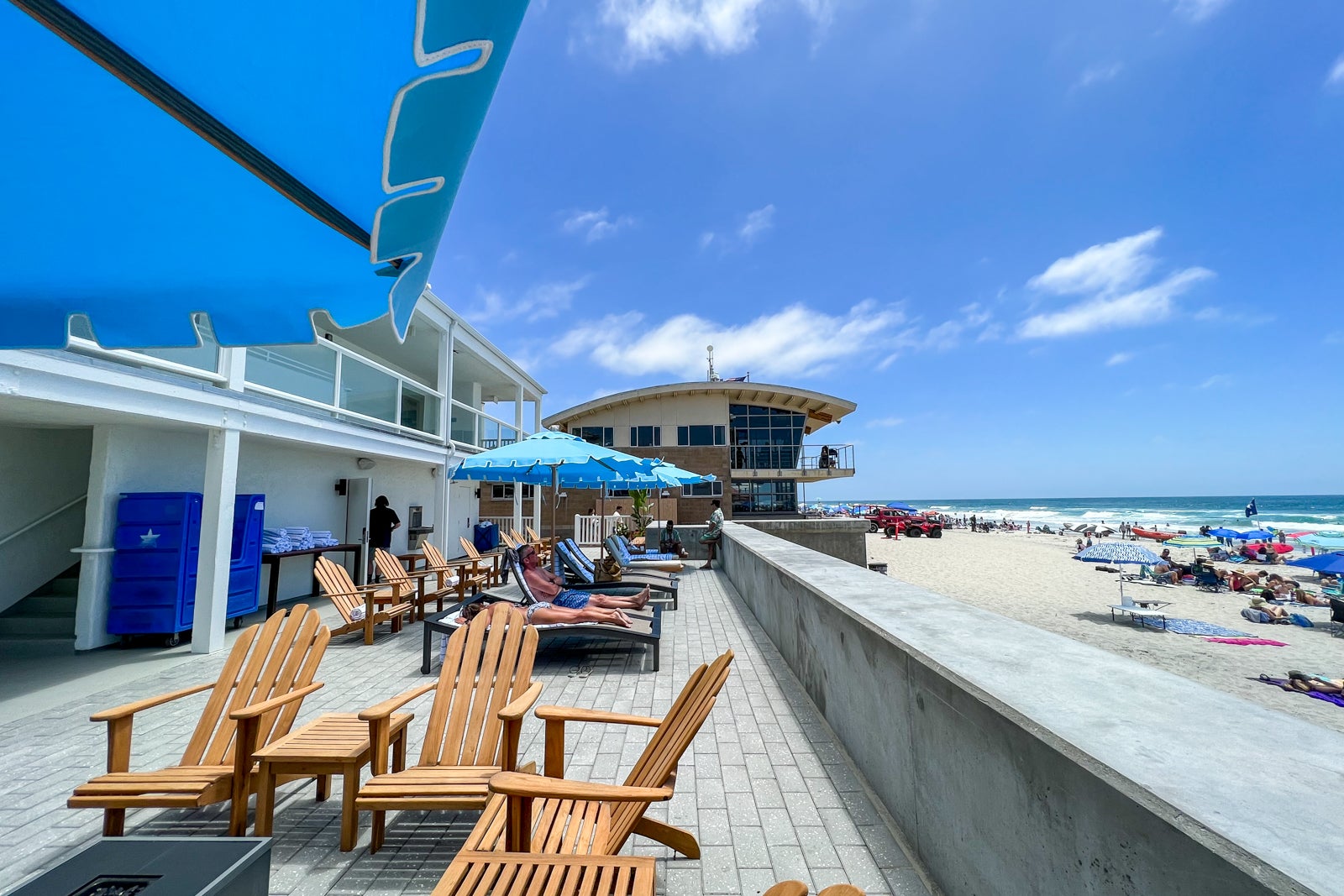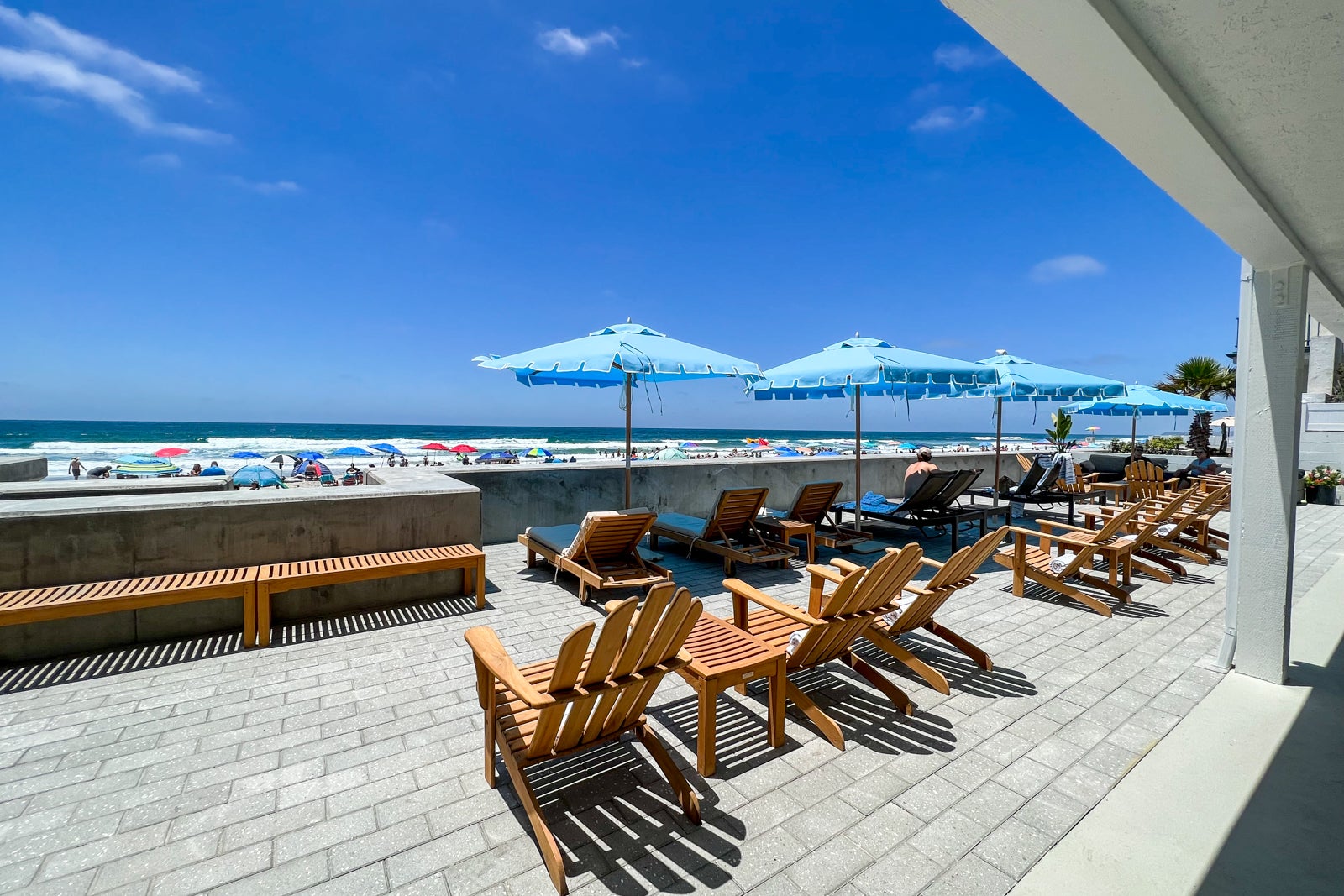 A handful of umbrella-shaded tables with chairs of their own were arranged along the length of the building.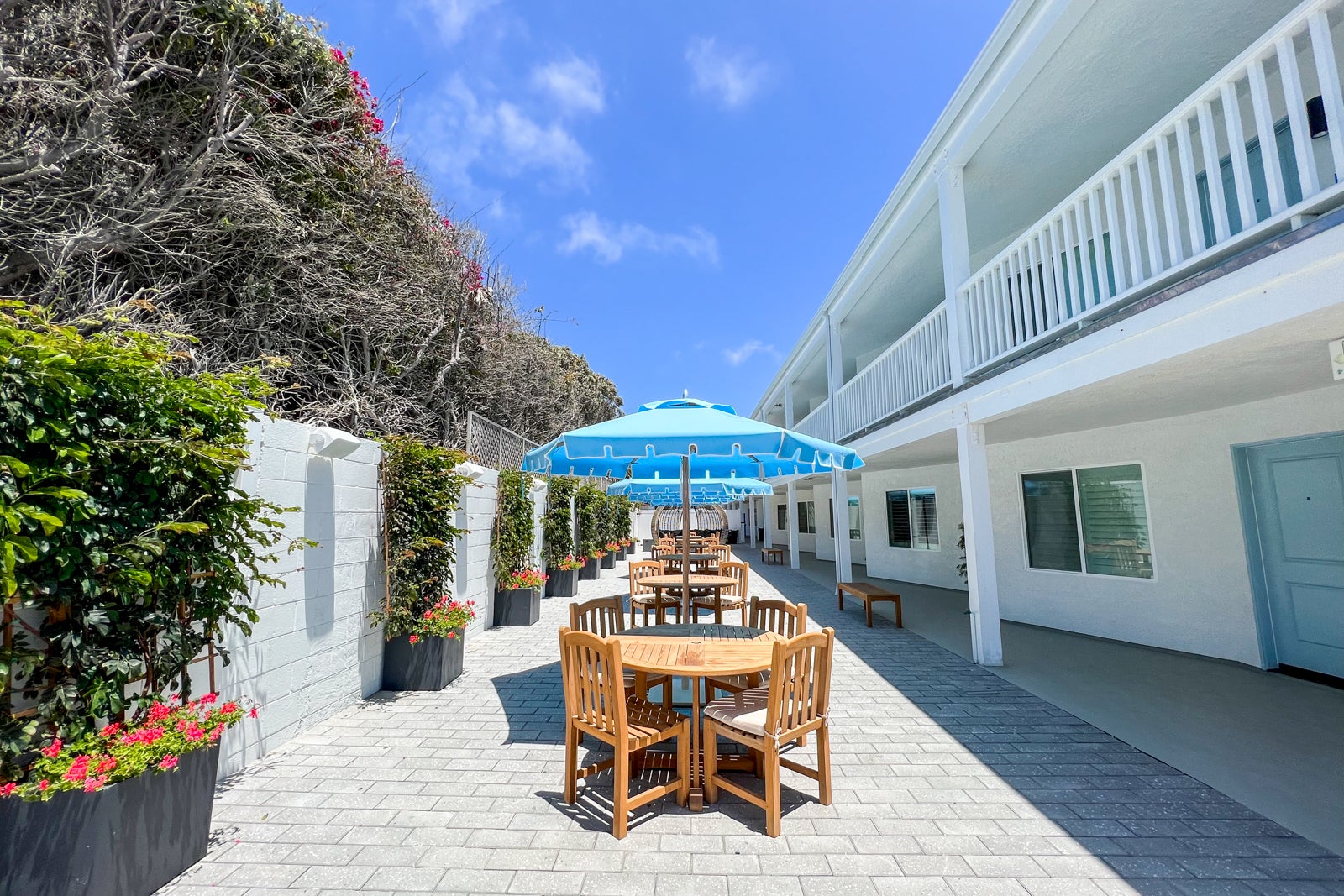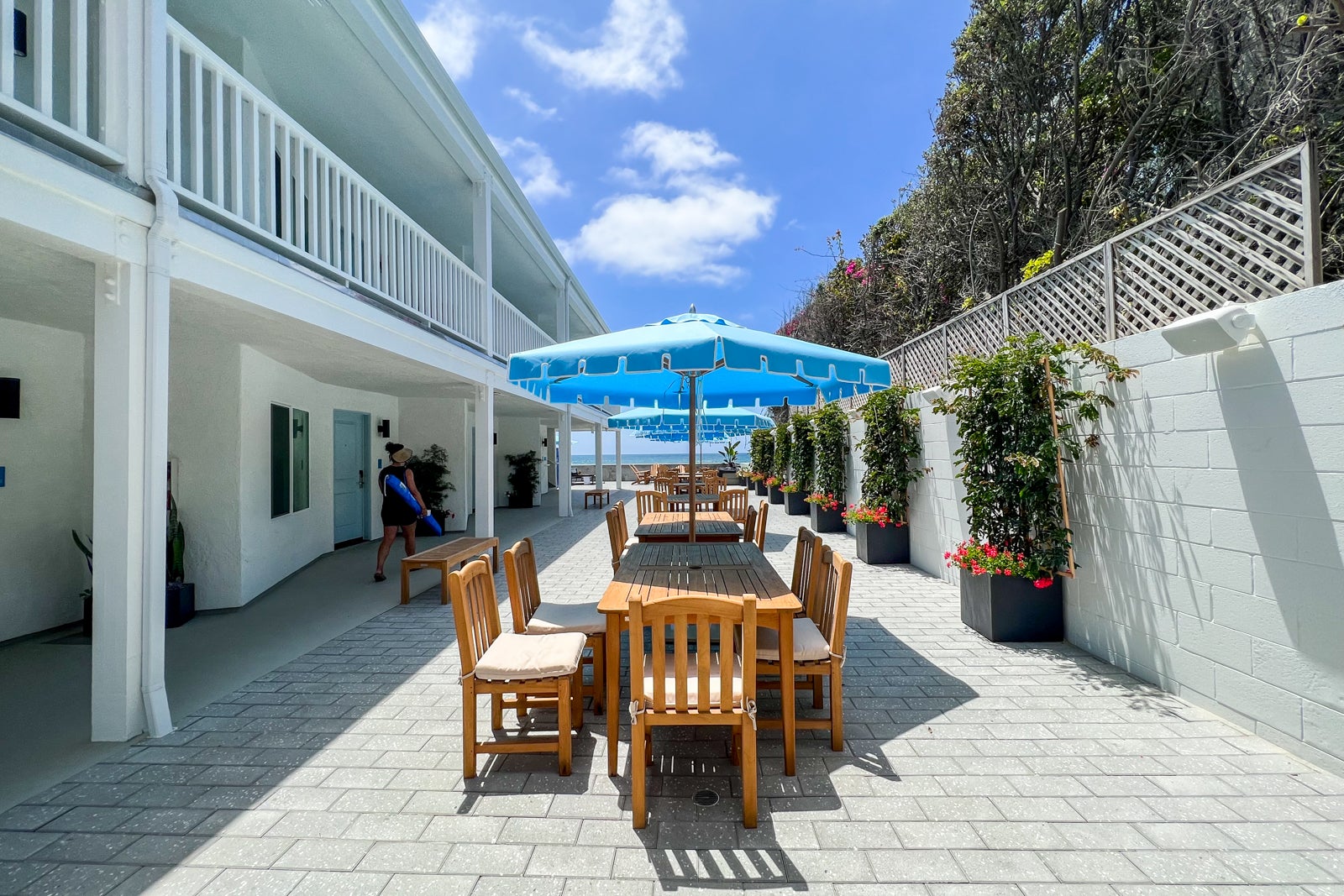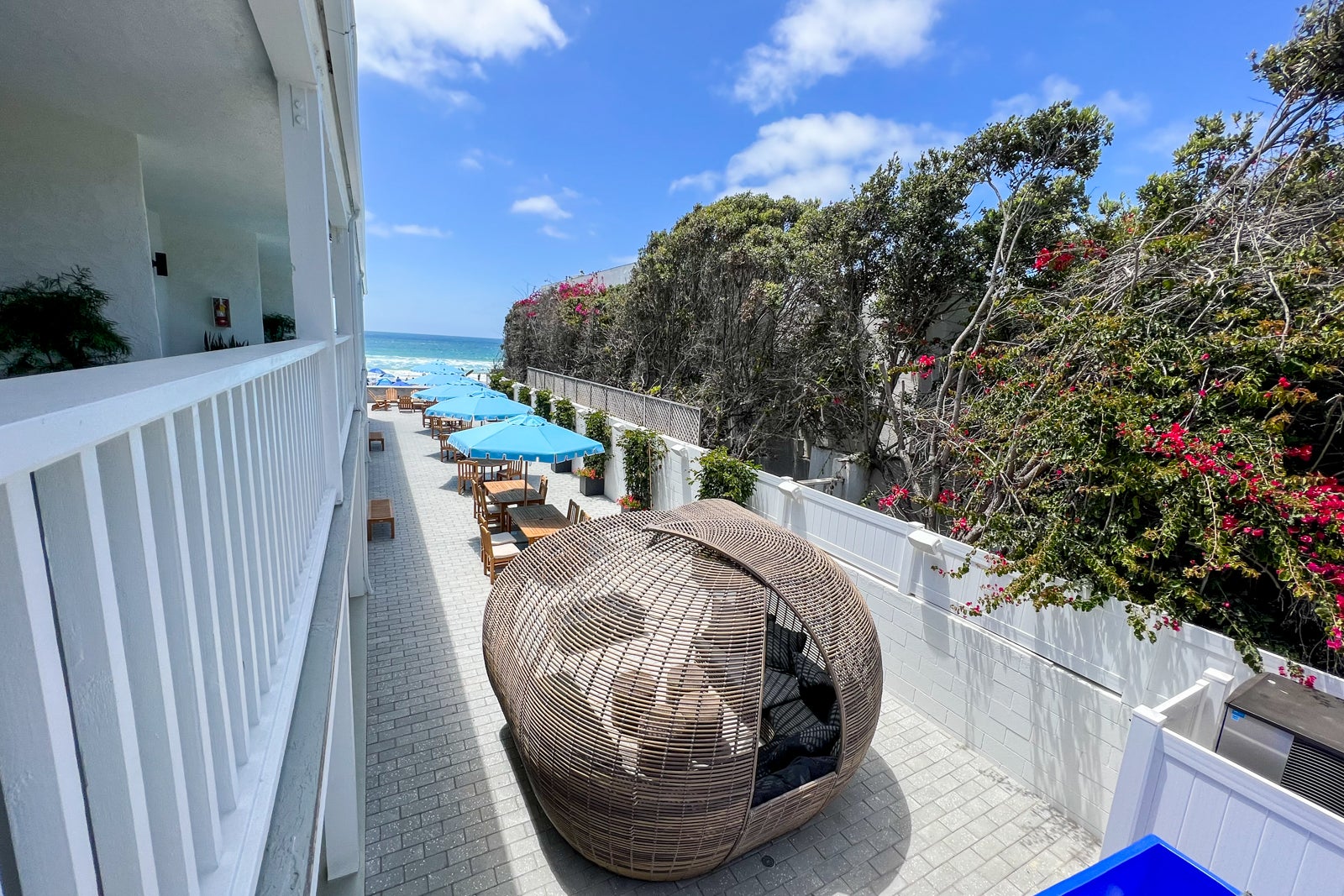 There was a water fountain guests could use that also refilled bottles, and both foot and body showers for washing off the saltwater from the ocean.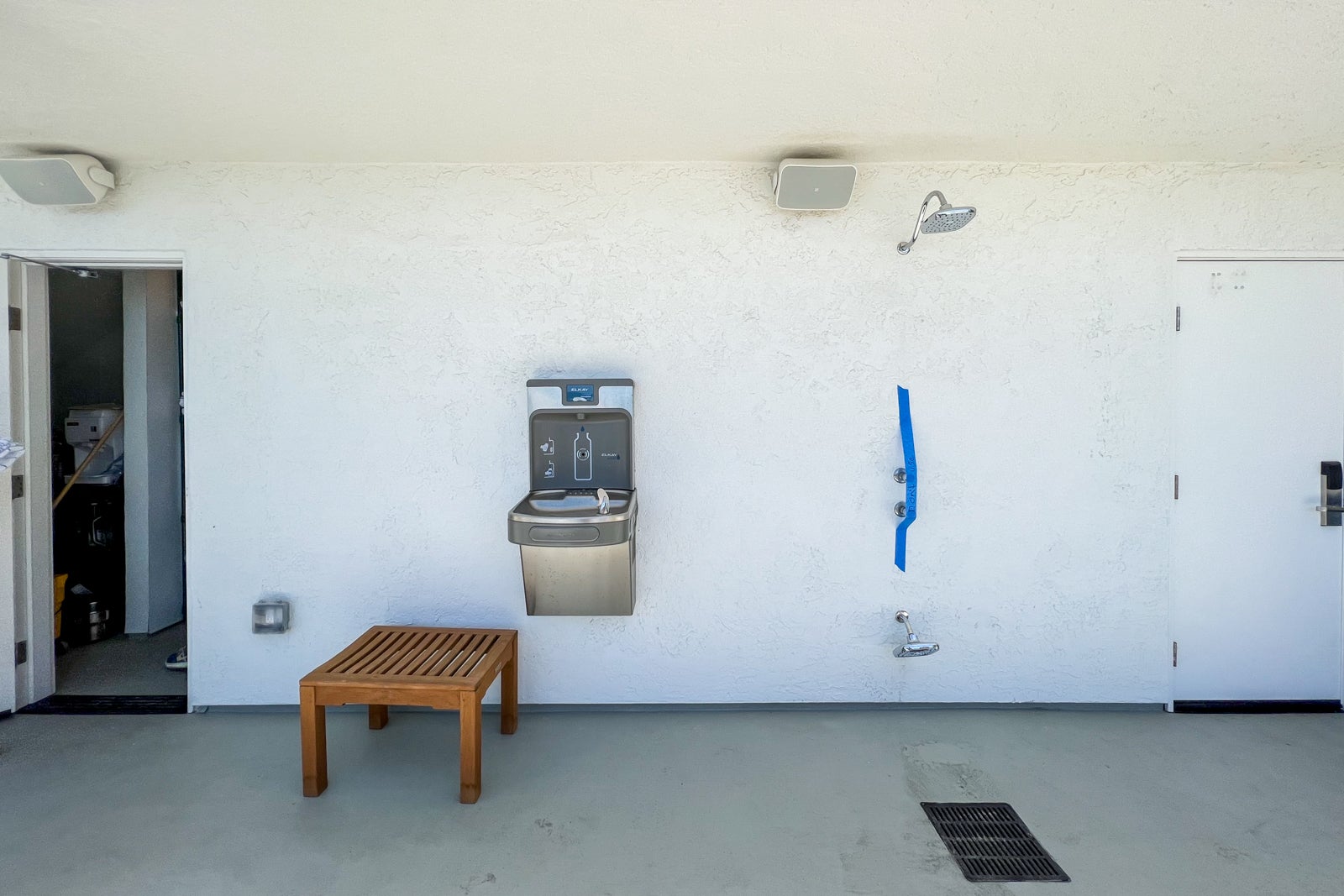 Toward the back of the space was a large lounge fixture that the staff dubbed "the onion" (we called it "the nest" ourselves) fronting another firepit. There was also an ice machine back there.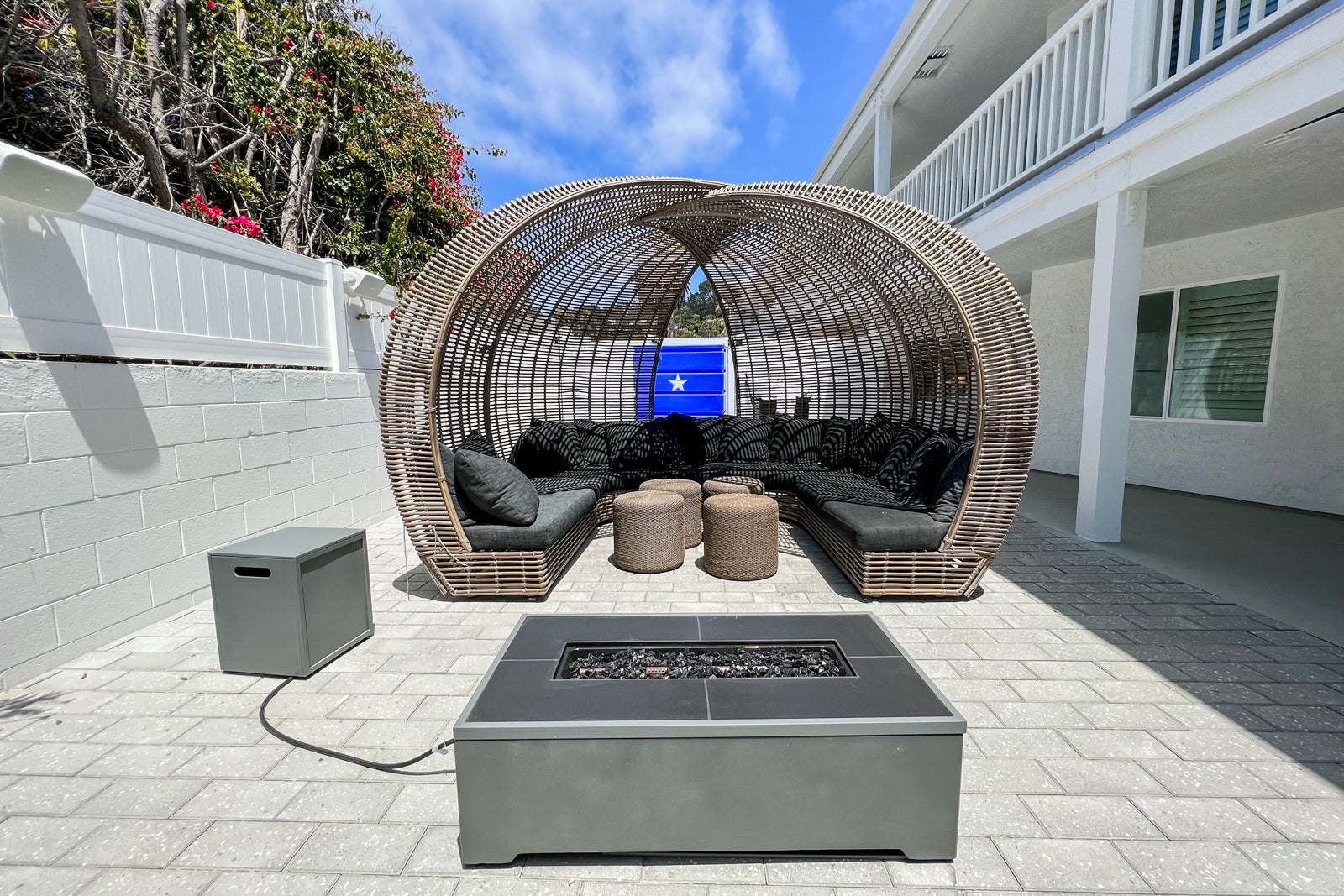 The two deck attendants were diligent about helping guests set up their chairs, keeping fresh beach towels on hand and offering afternoon treats like hand-scooped gelatos and sorbets from the recently opened Ann's Hatmakers ice cream parlor in town as well as huge cookies and horchata smoothies with shots of cold-brew coffee. You could have had a week's worth of desserts in a single day if you indulged.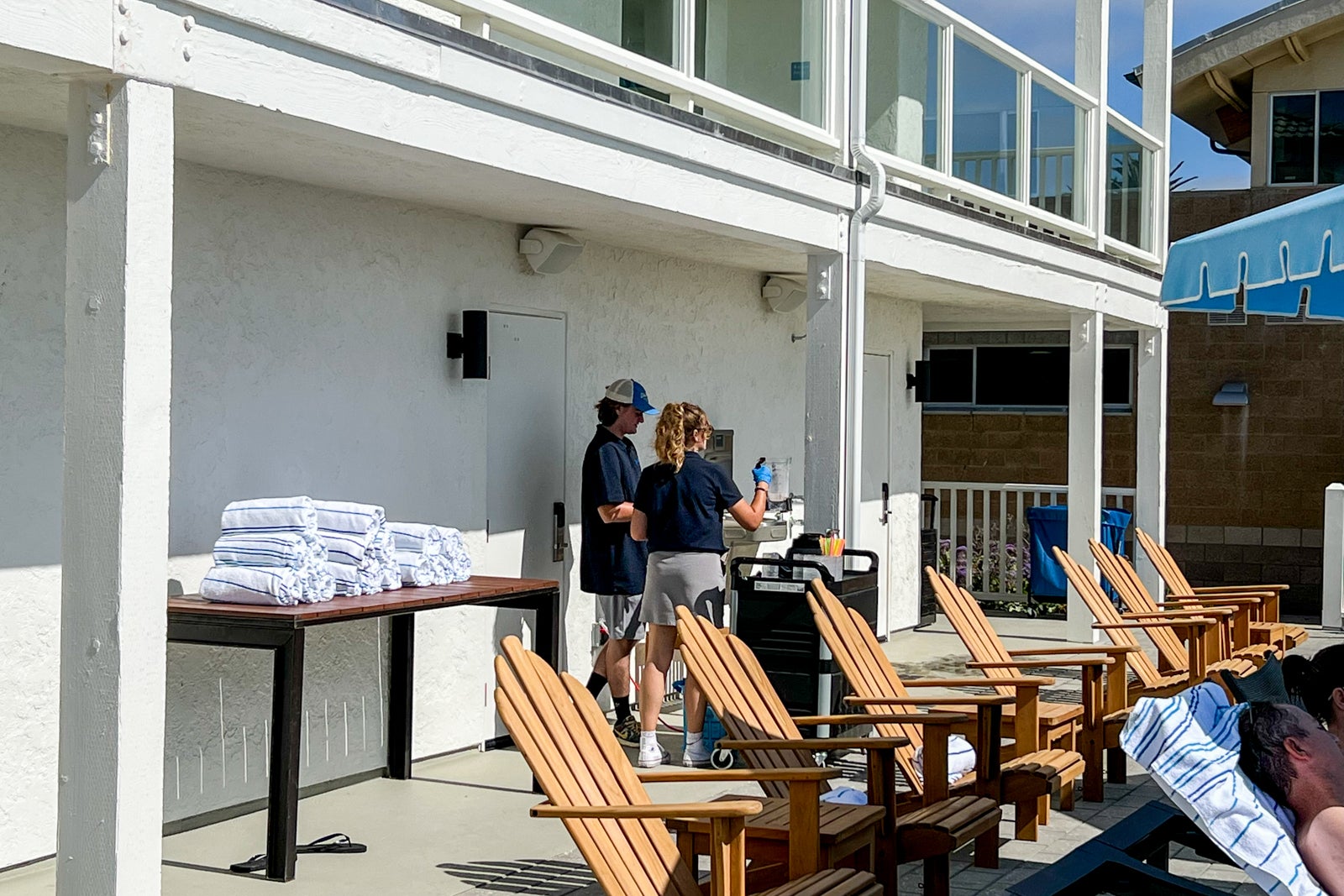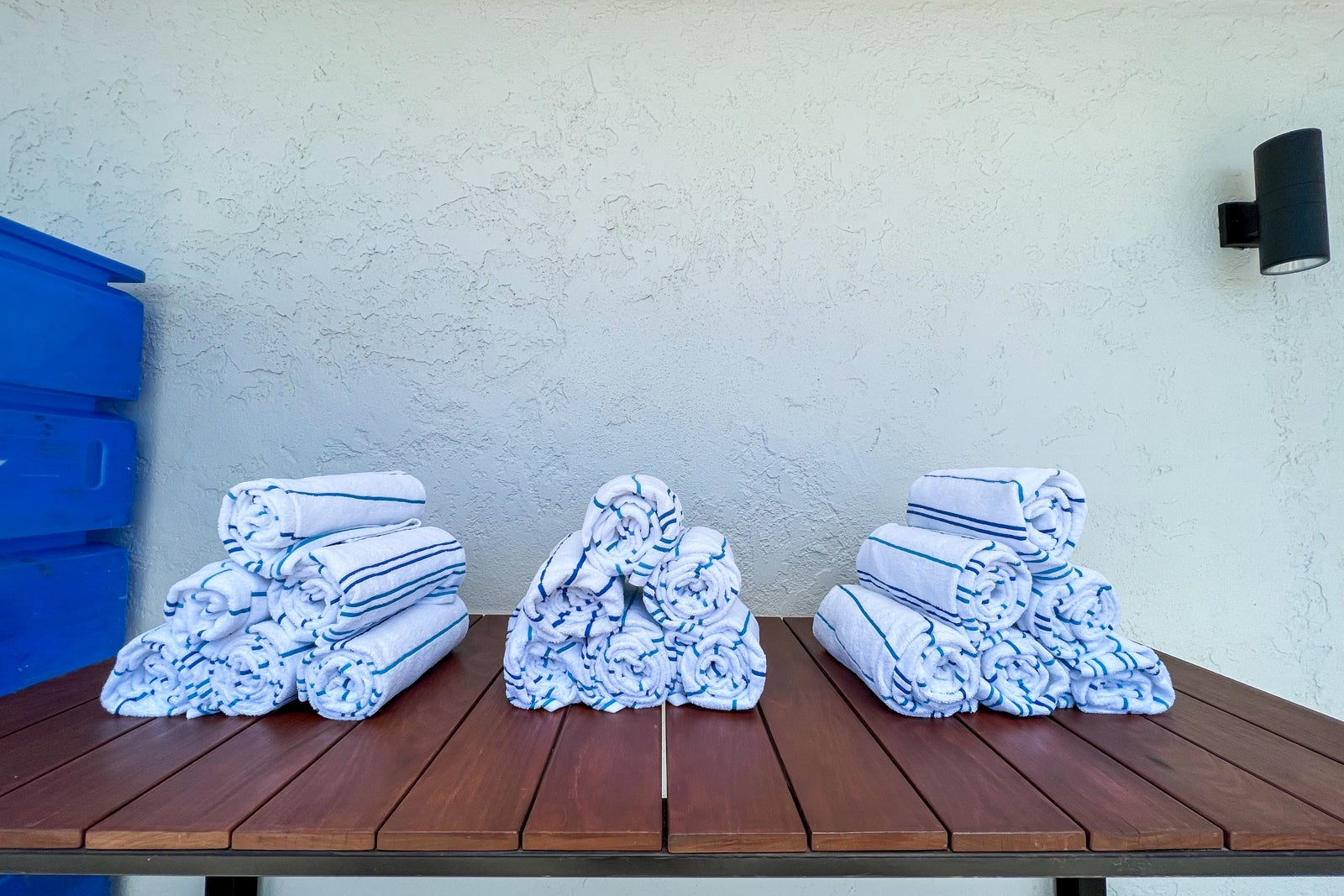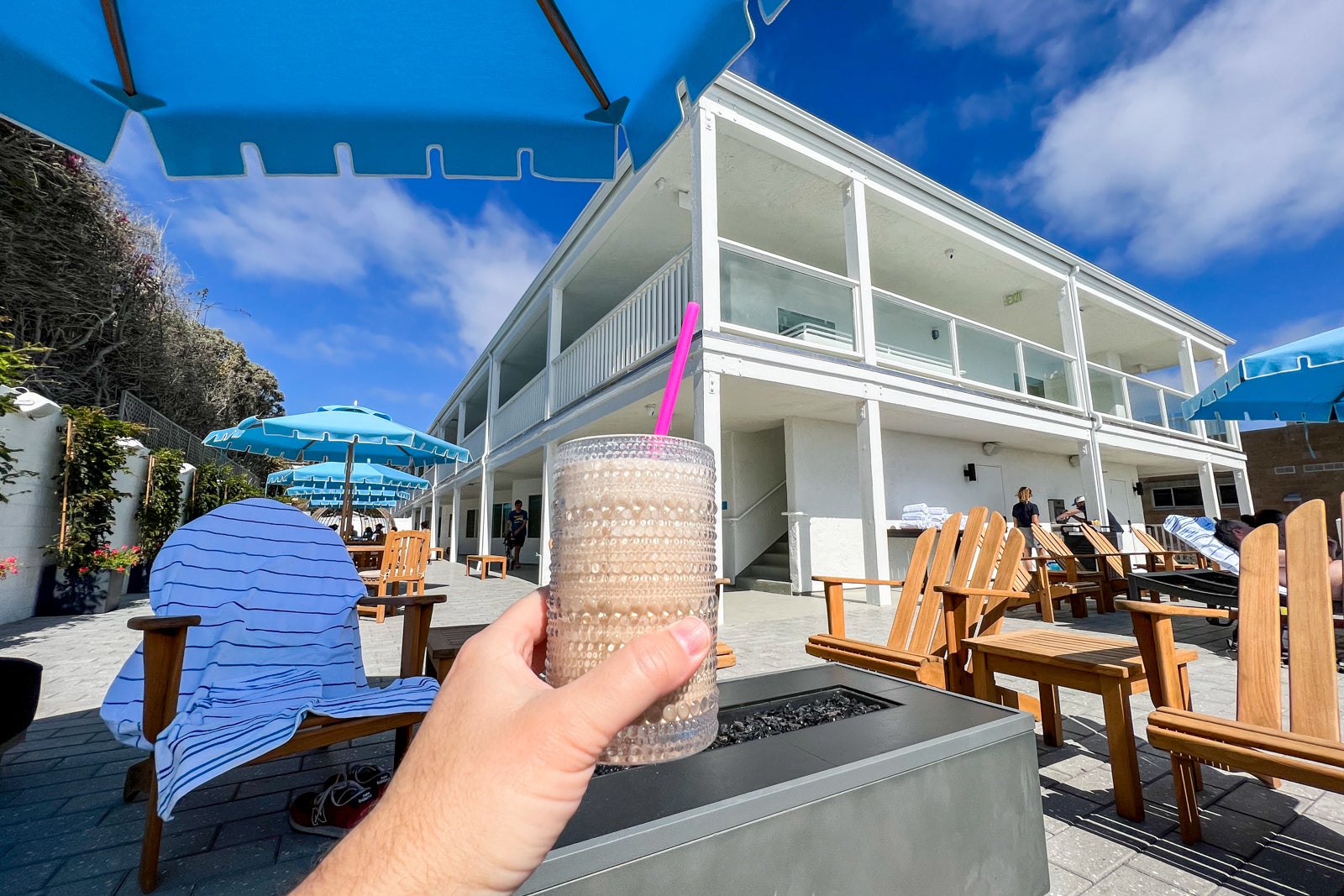 It was also nice to be able to order a bottle of wine from the lobby and have it delivered with an ice bucket and glasses to the patio area, though a bottle of Unshackled Sauvignon Blanc I could get from the grocery store for $20 cost a cool $55 (but the setting!).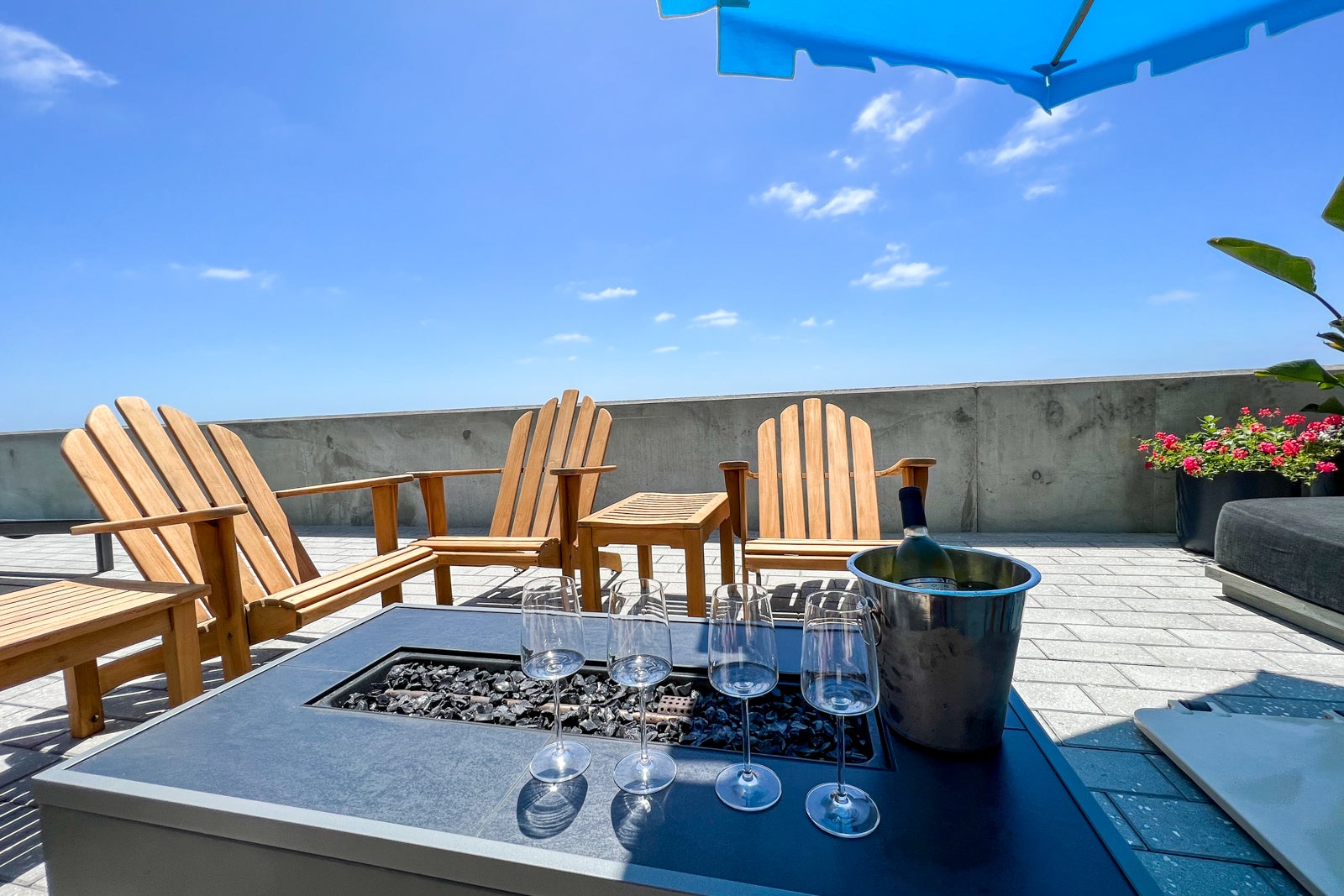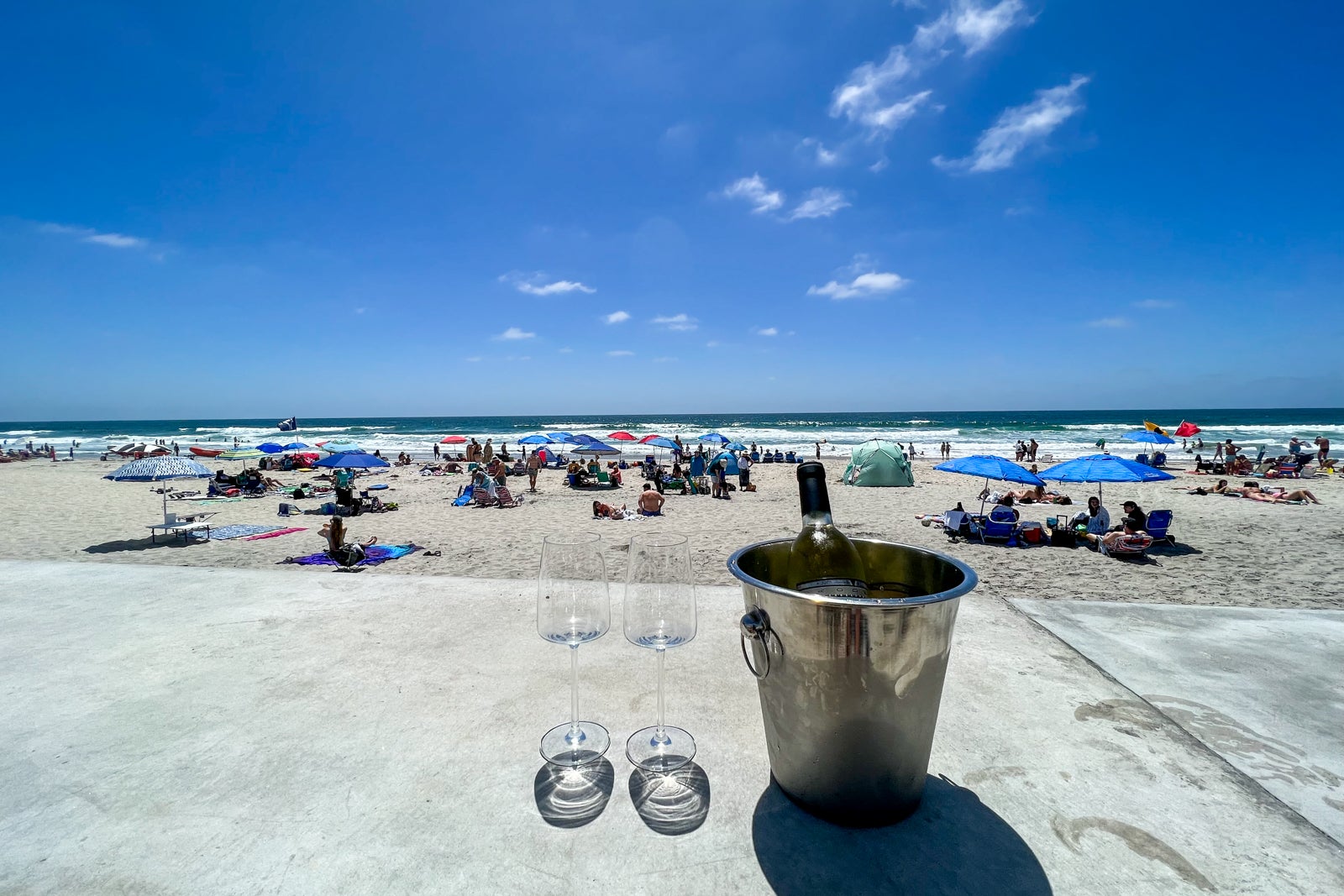 The hotel lends guests beach gear on a first-come, first-served basis. They only had 14 low-slung beach chairs our first day, so I made sure to ask for a set of chairs by 9 a.m. the following morning and got the last two, plus the last available boogie board, which I put to good use.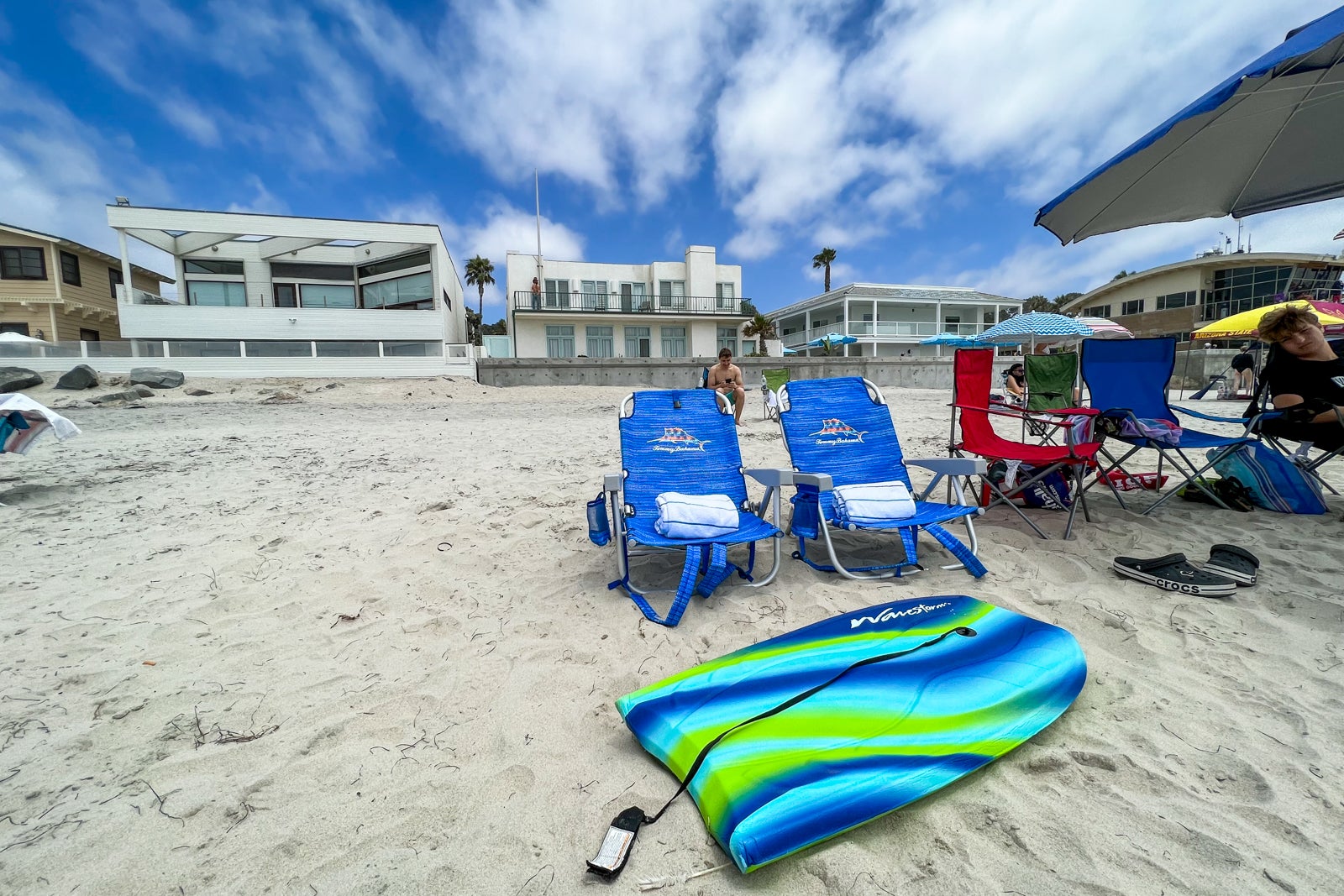 Later that day, they got a delivery of more chairs — both low-profile and higher, camping-style ones — as well as more boogie boards, surfboards and umbrellas, so hopefully future guests can just amble on down and grab what they need at their leisure. A staffer will even help you pitch your beach setup if you ask, which is a service many higher-end resorts in the area do not extend.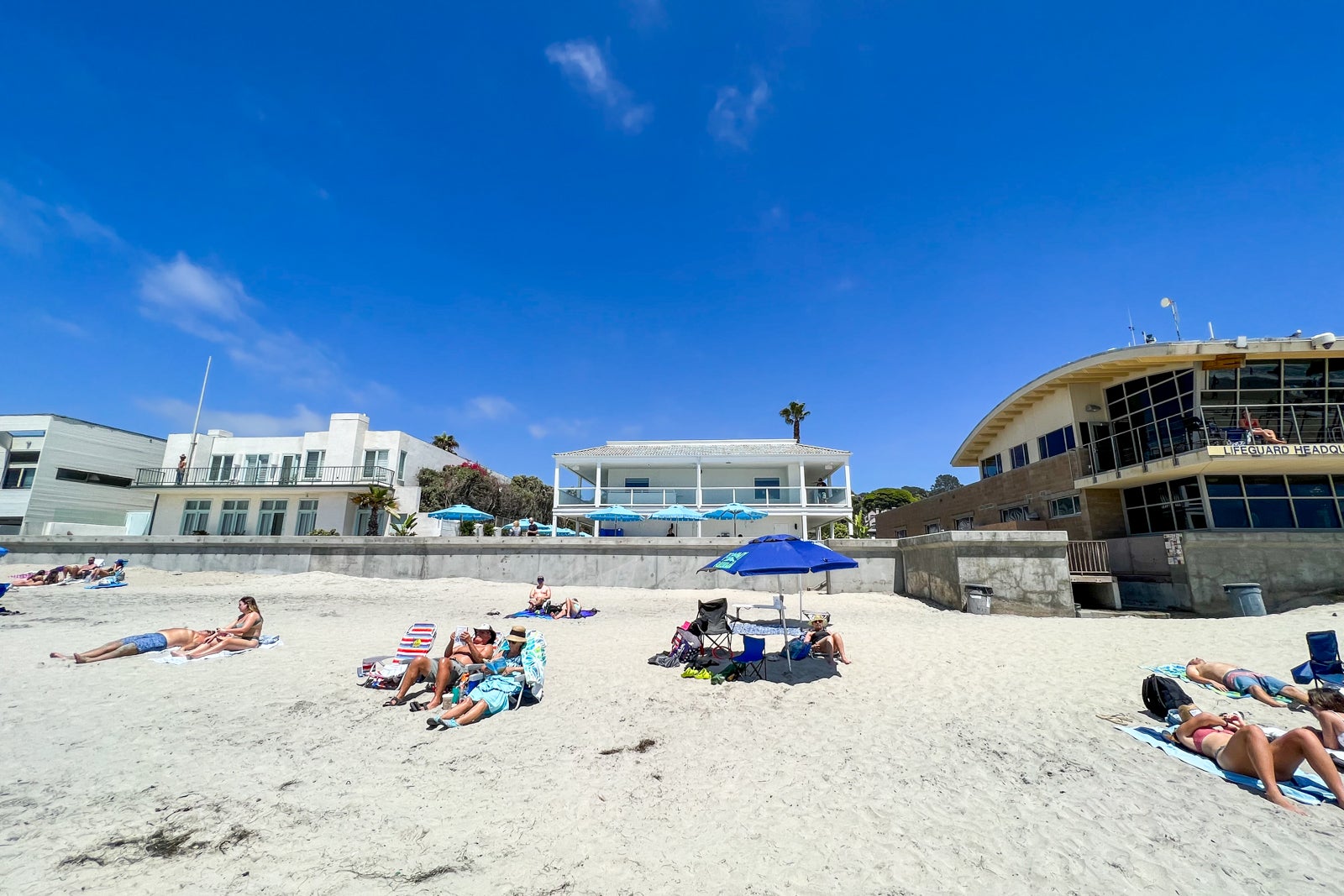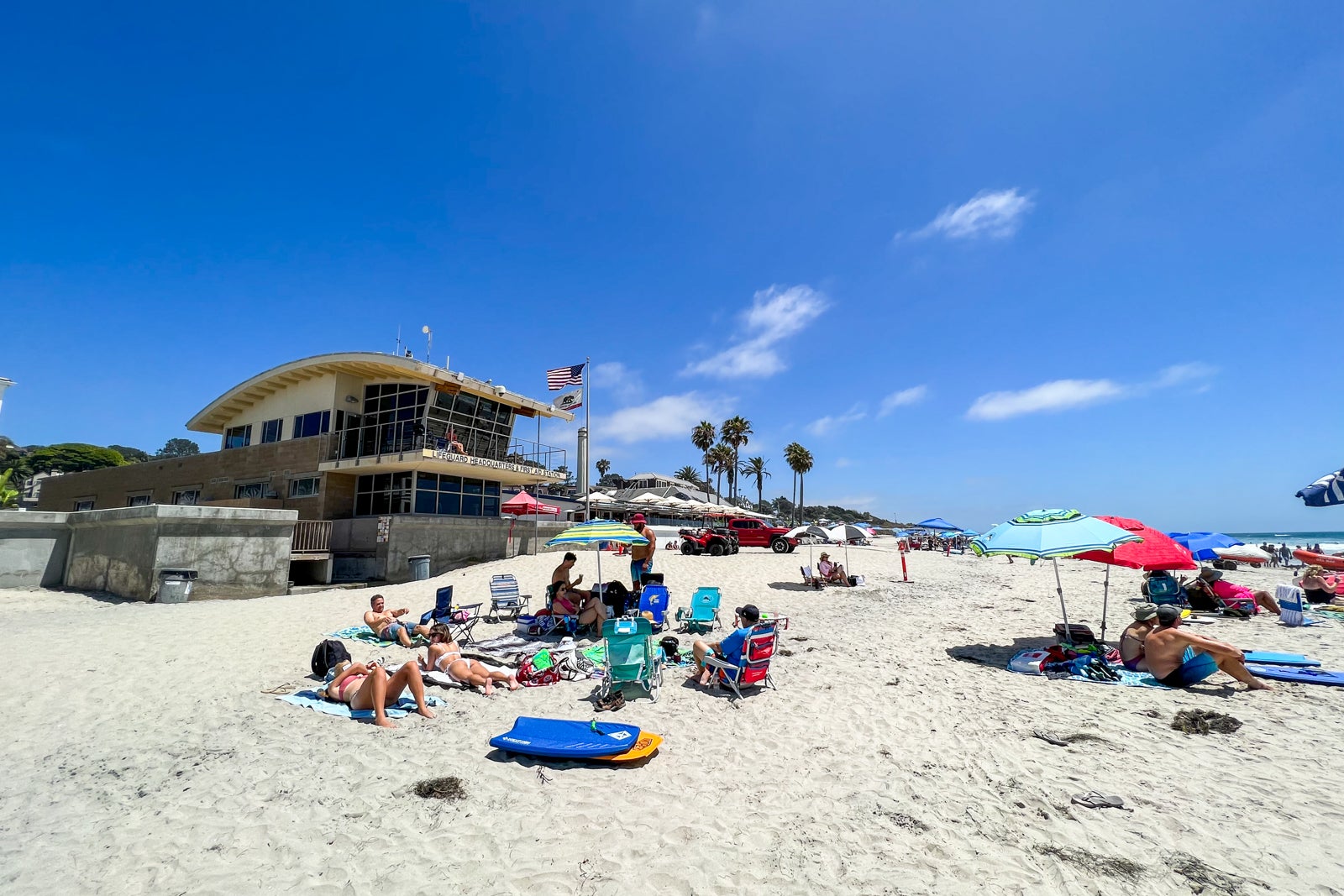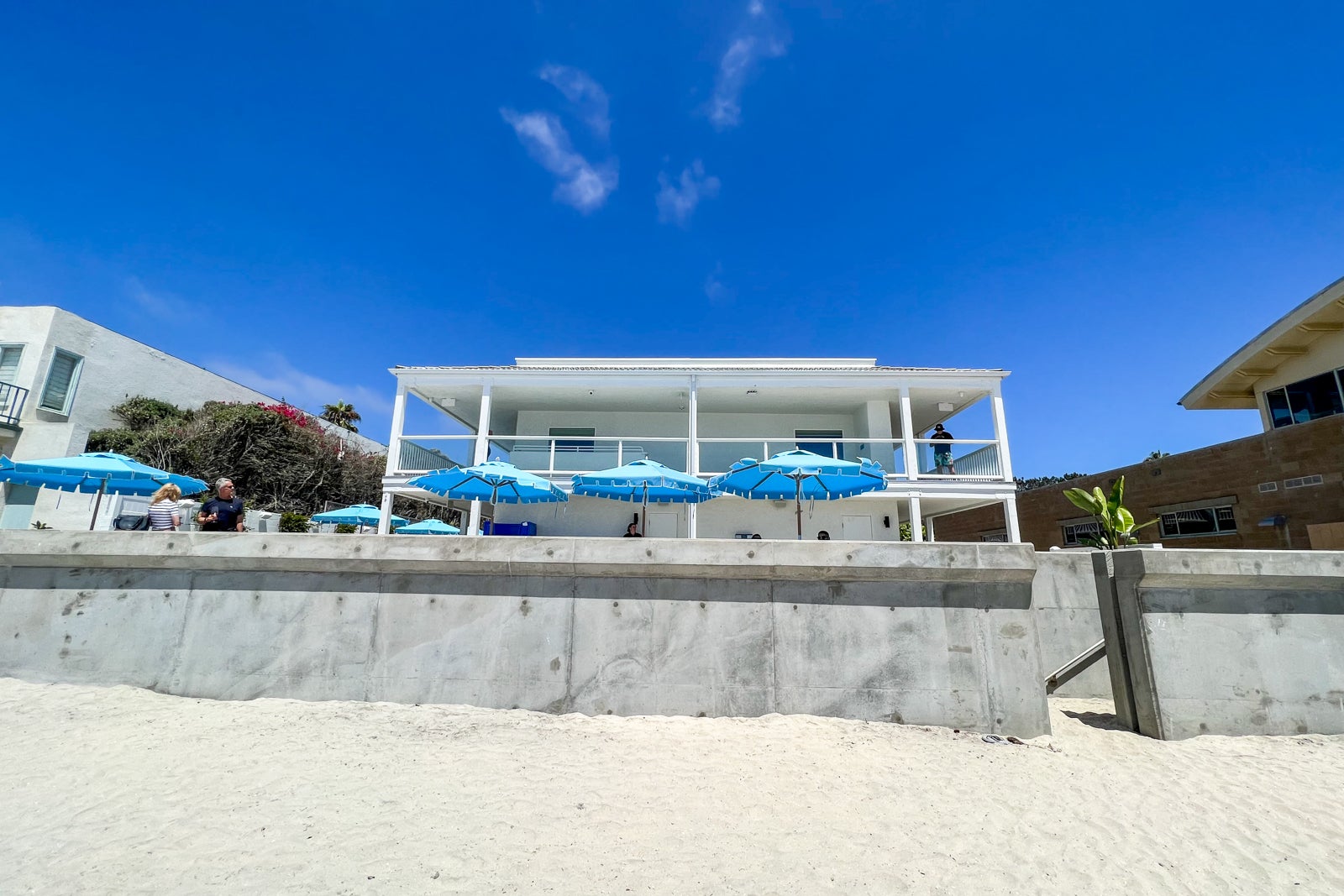 The hotel also plans to offer wellness and fitness sessions like beachfront sound baths and yoga classes and will reportedly open an onsite food outlet called the Airstream Café, where guests can pick up pastries, sandwiches, coffee and fresh juices.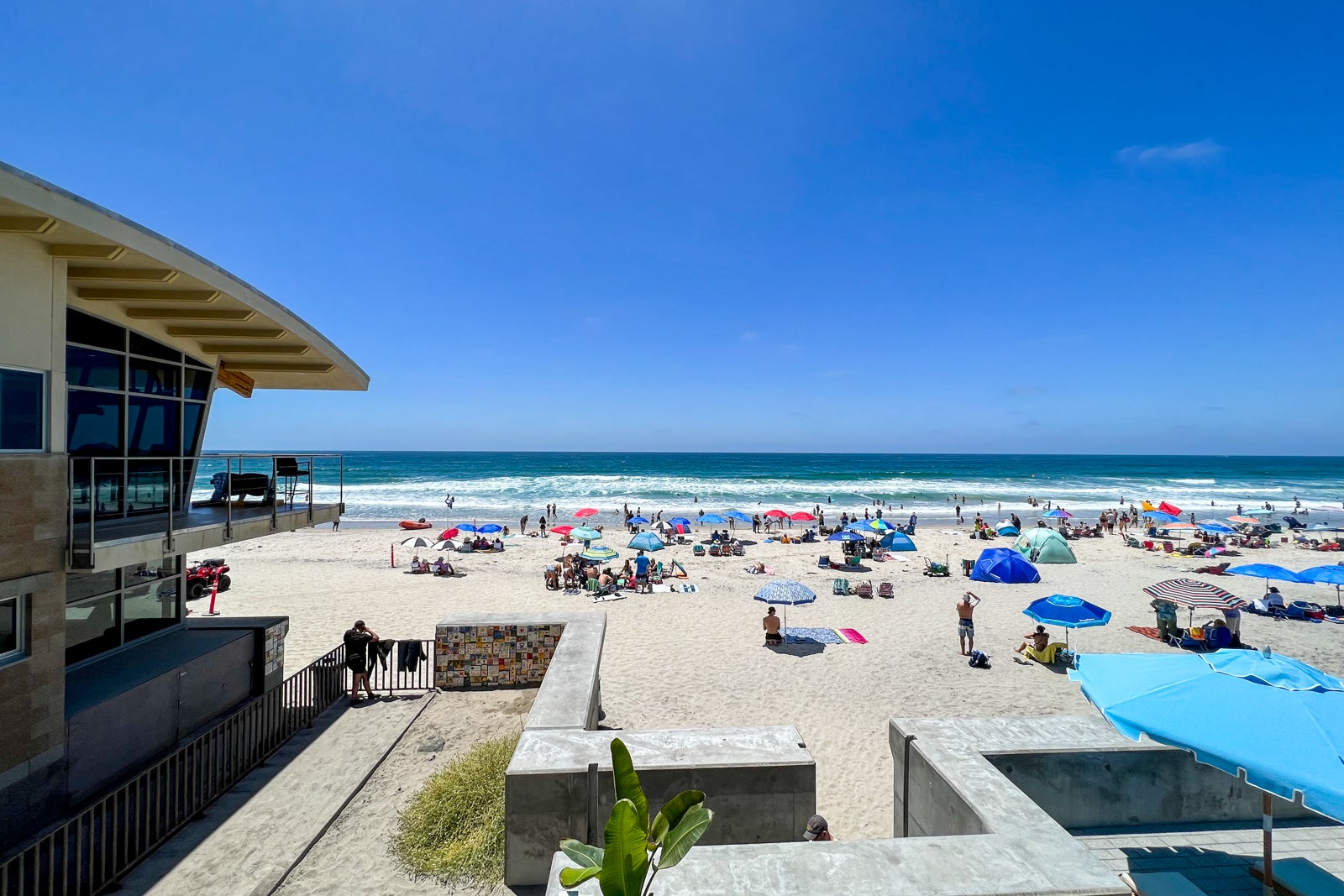 Though small in number, the staff were always available to help with whatever we needed, and did so with a distinctive, relaxed and relaxing SoCal style. Whether it was carrying an ice bucket with wine out to the patio, serving us an extra scoop of caramel gelato, helping me figure out the lobby espresso machine or rearranging accommodations so we could keep our rooms for a late 2 p.m. checkout, they were unfailingly cheerful, upbeat and efficient.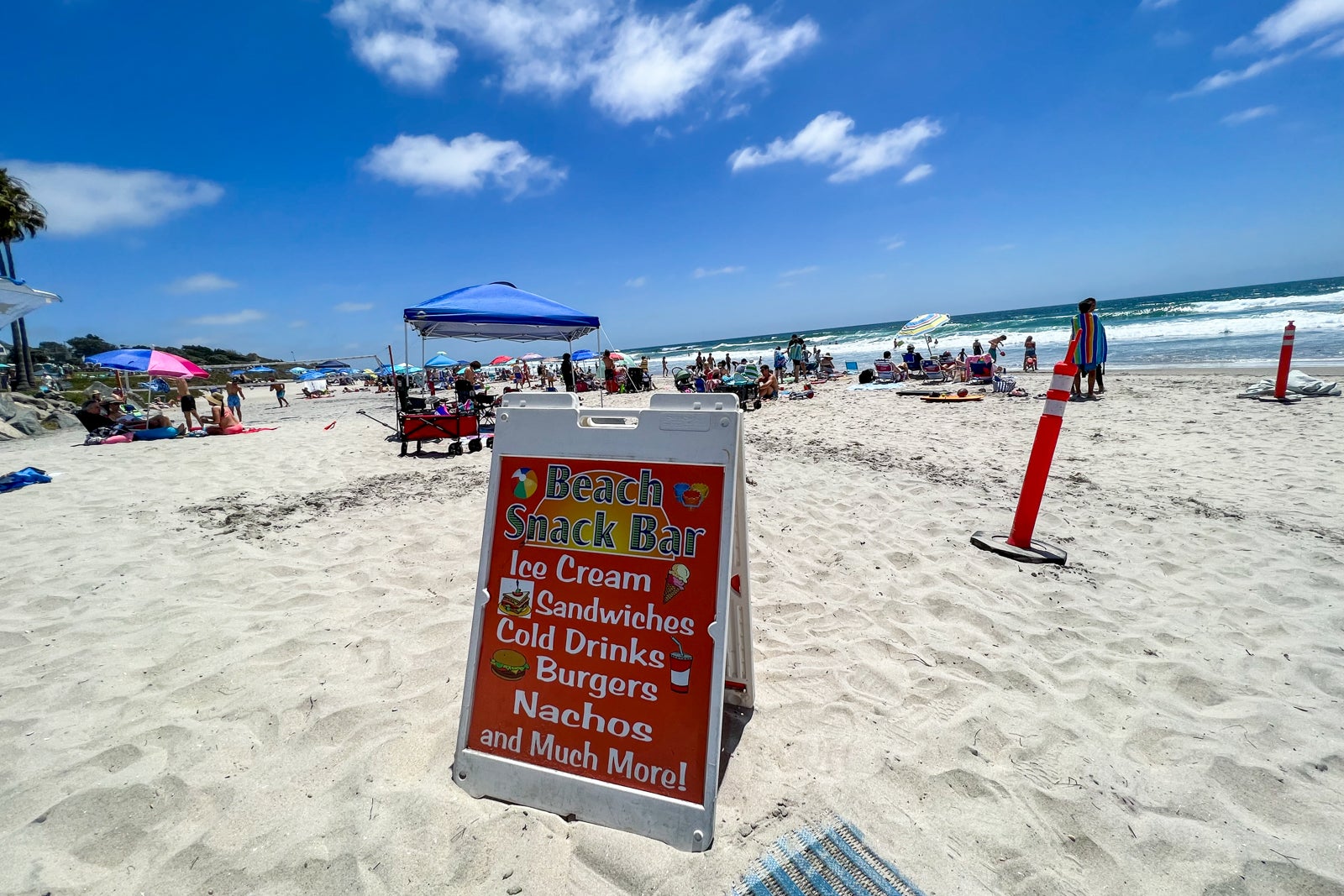 I even spied the manager assembling beach toys for a visiting child so he could play in the sand with his mother. As much as the oceanside setting, the casual but attentive hospitality of the staff really made this stay feel perfect for a California beach getaway.
Accessibility
The hotel offers accessible rooms with a single double bed, though I was not able to view one and check its other amenities.
Because the property dates to 1968, certain features seem not to have been updated, including a set of stairs at the street-front side, though wheelchair users and others who need to avoid stairs can take an accessible walkway to the building's midpoint and either backtrack toward the lobby from there or head to their room.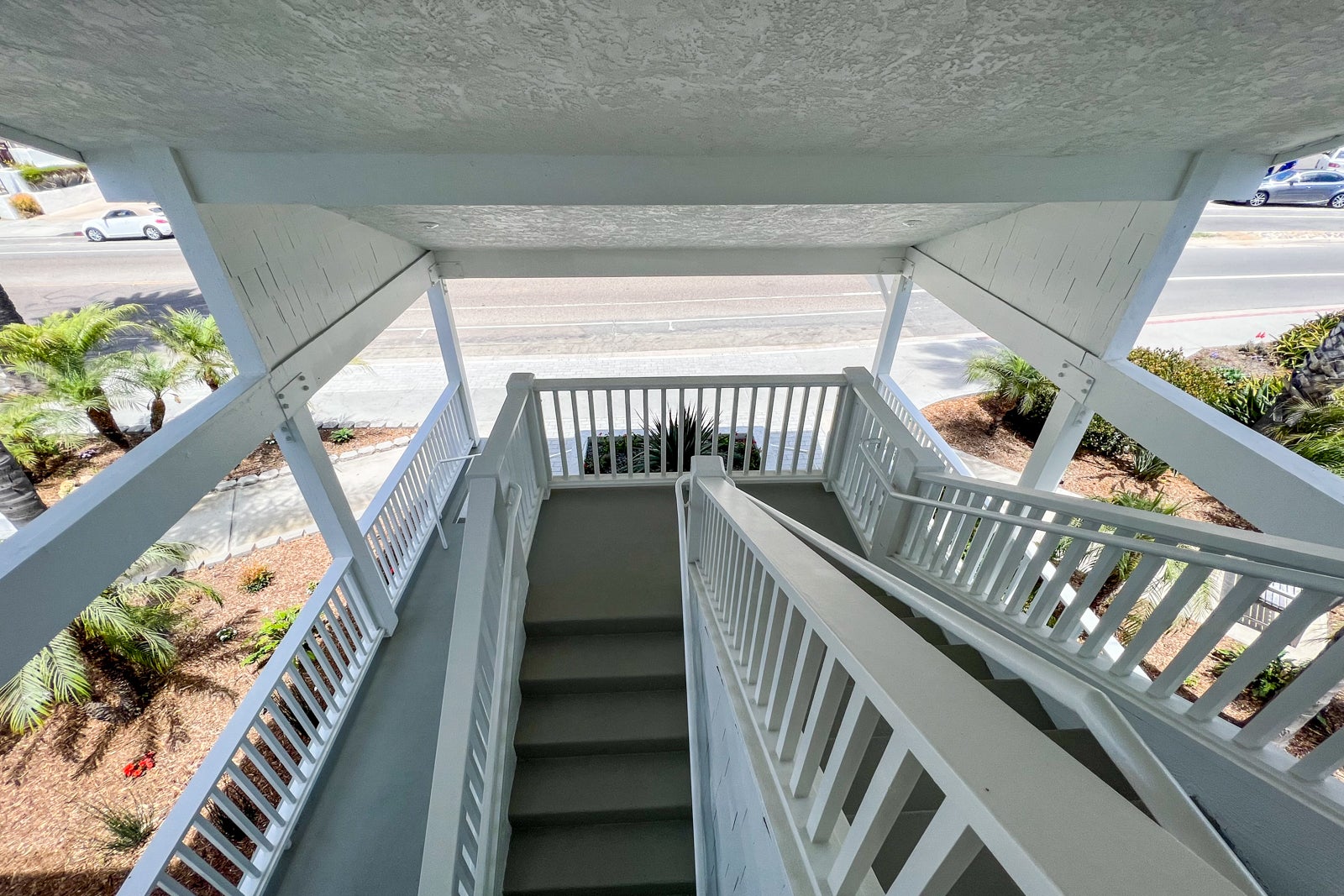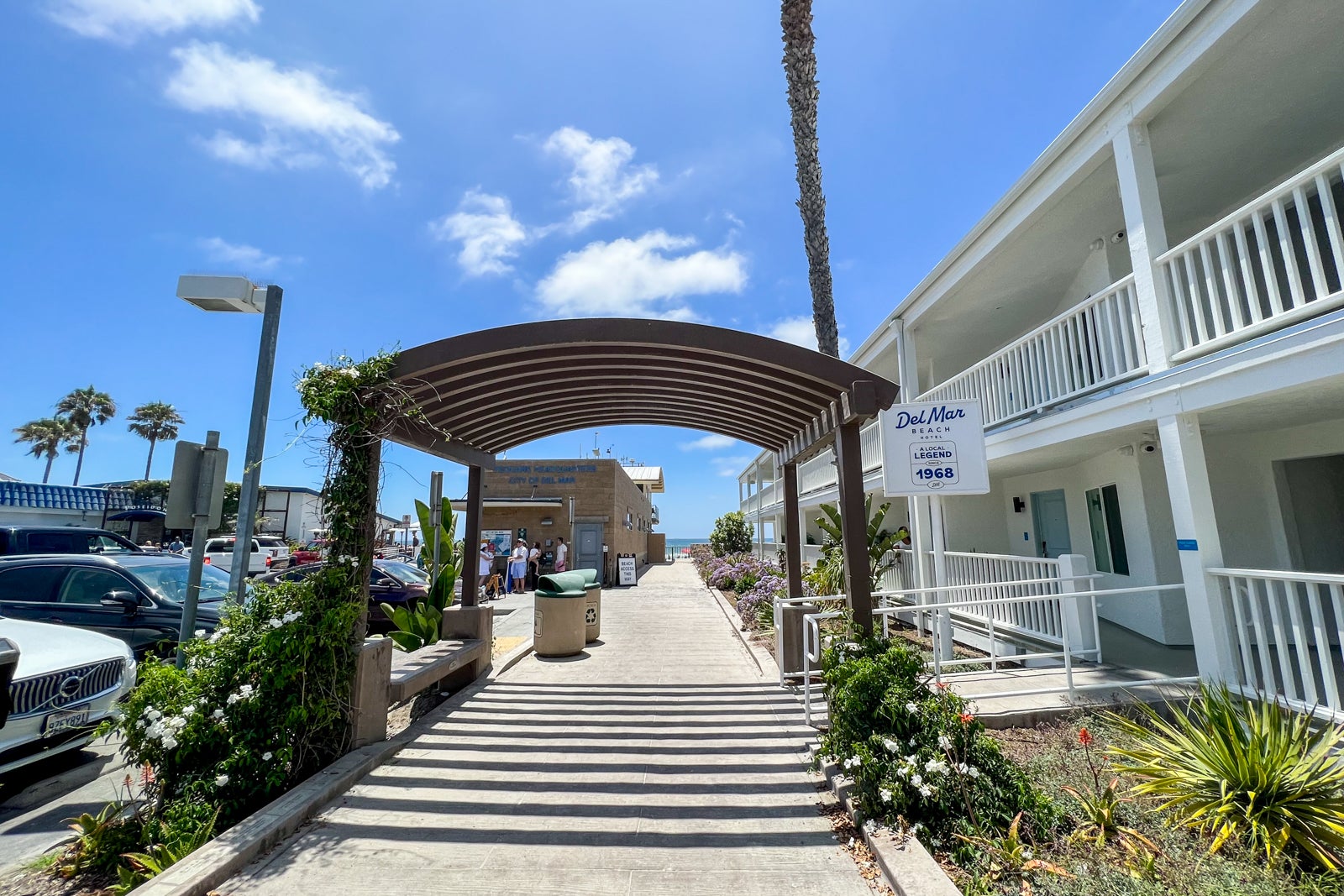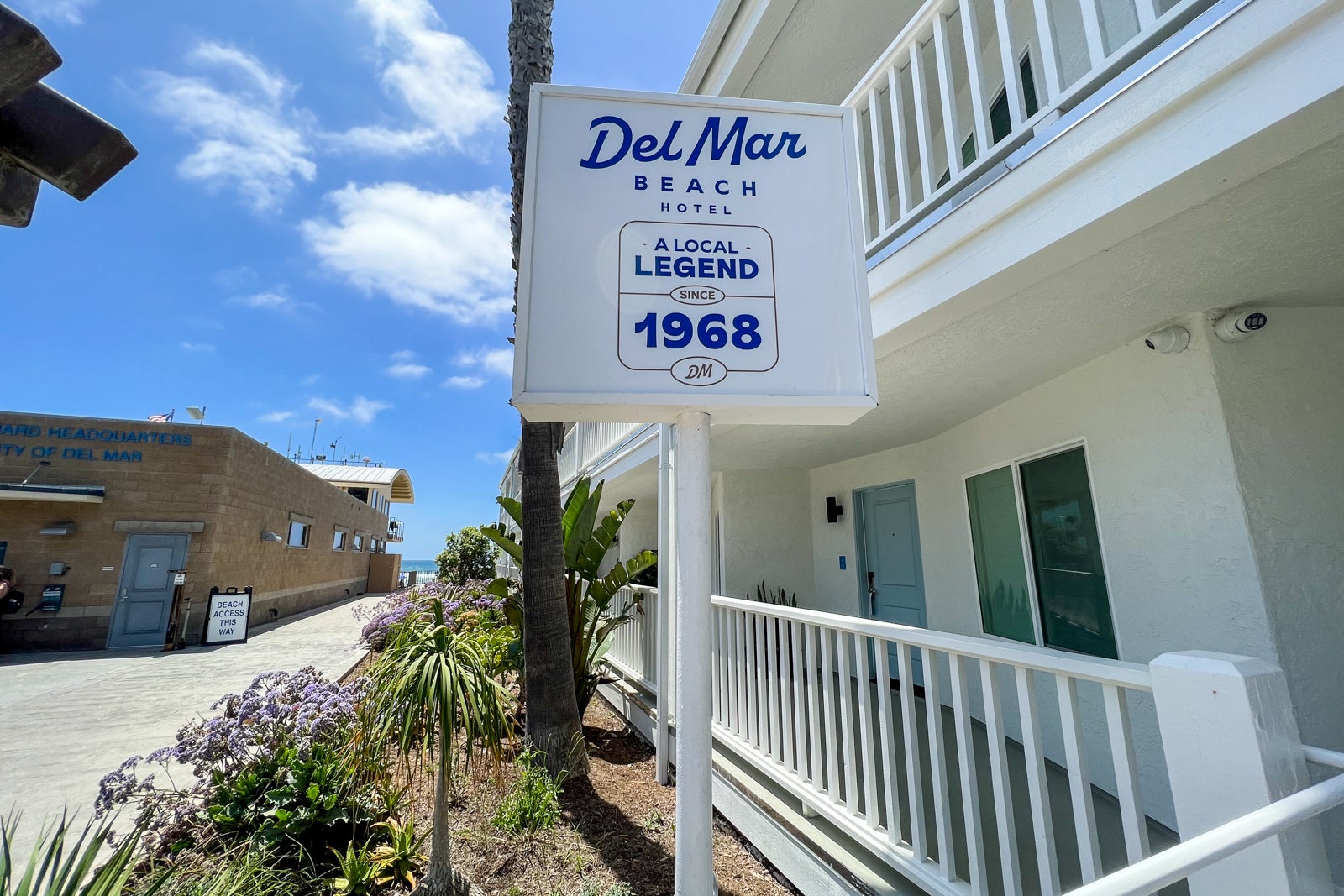 There are no elevators, so second-floor rooms will not be accessible, but the walkways on the ground floor are wide and head directly to the patio.
The hotel's beach access is down a set of stairs, but guests who cannot use them can take the town's accessible sidewalk around the lifeguard station and onto the beach from the other side.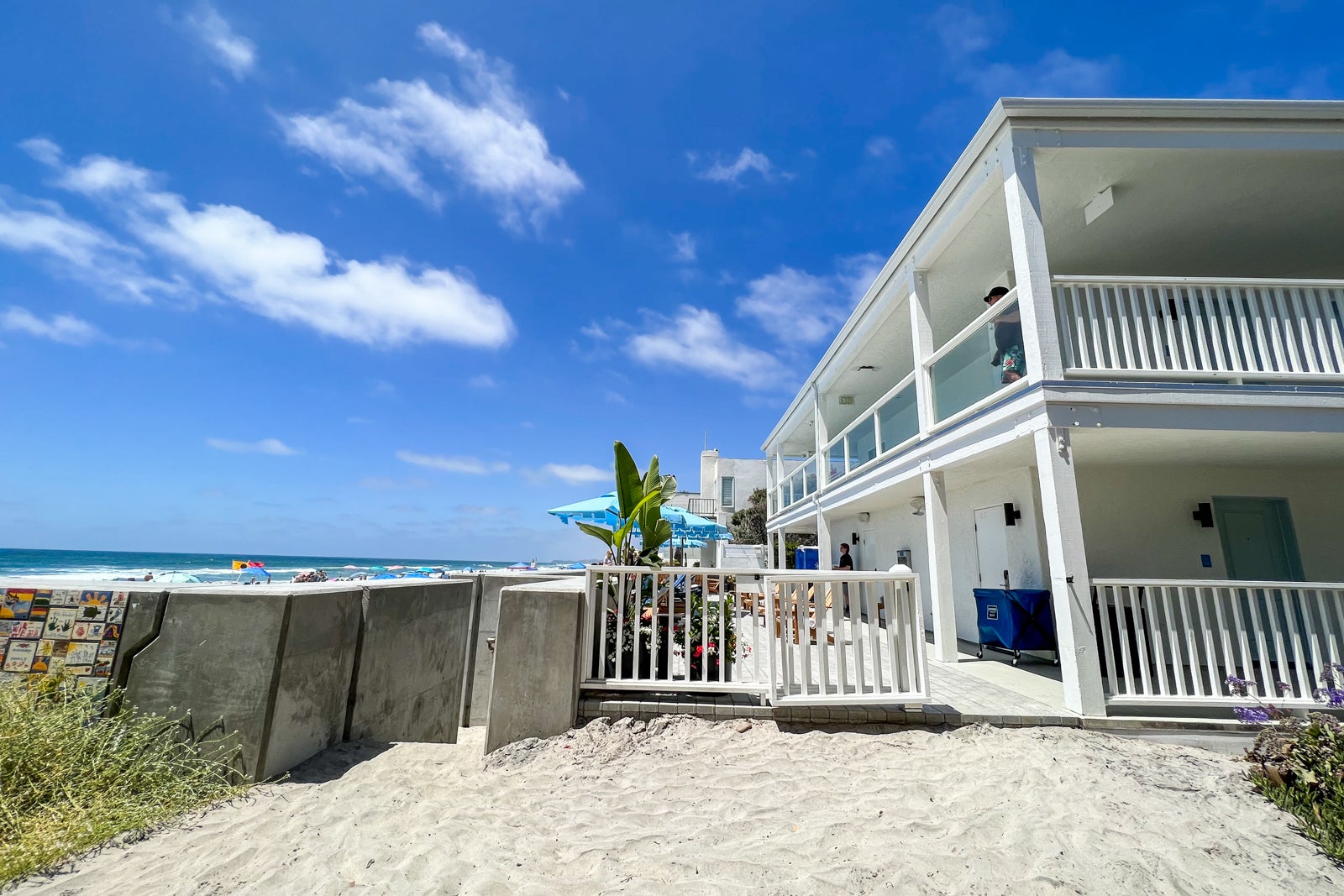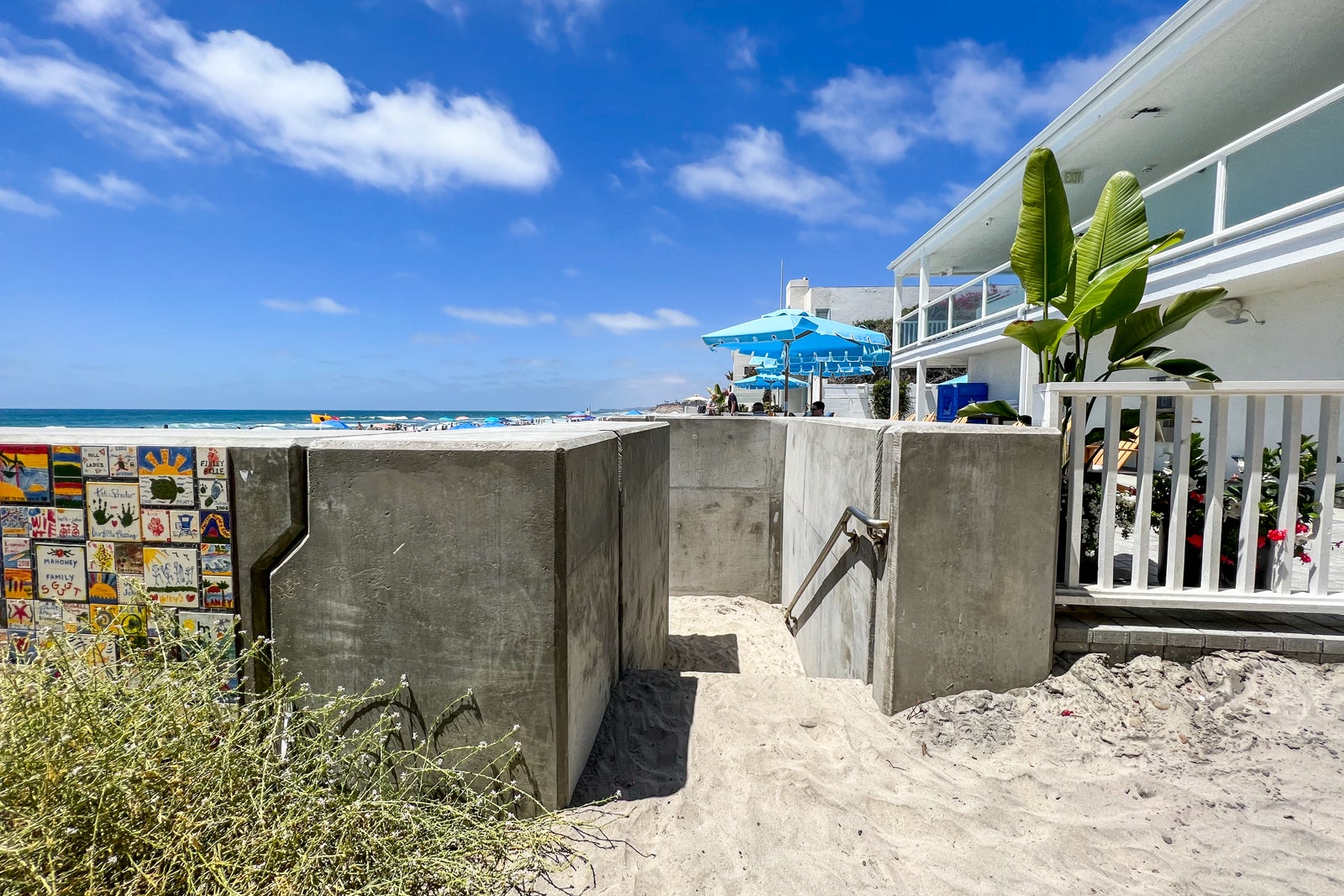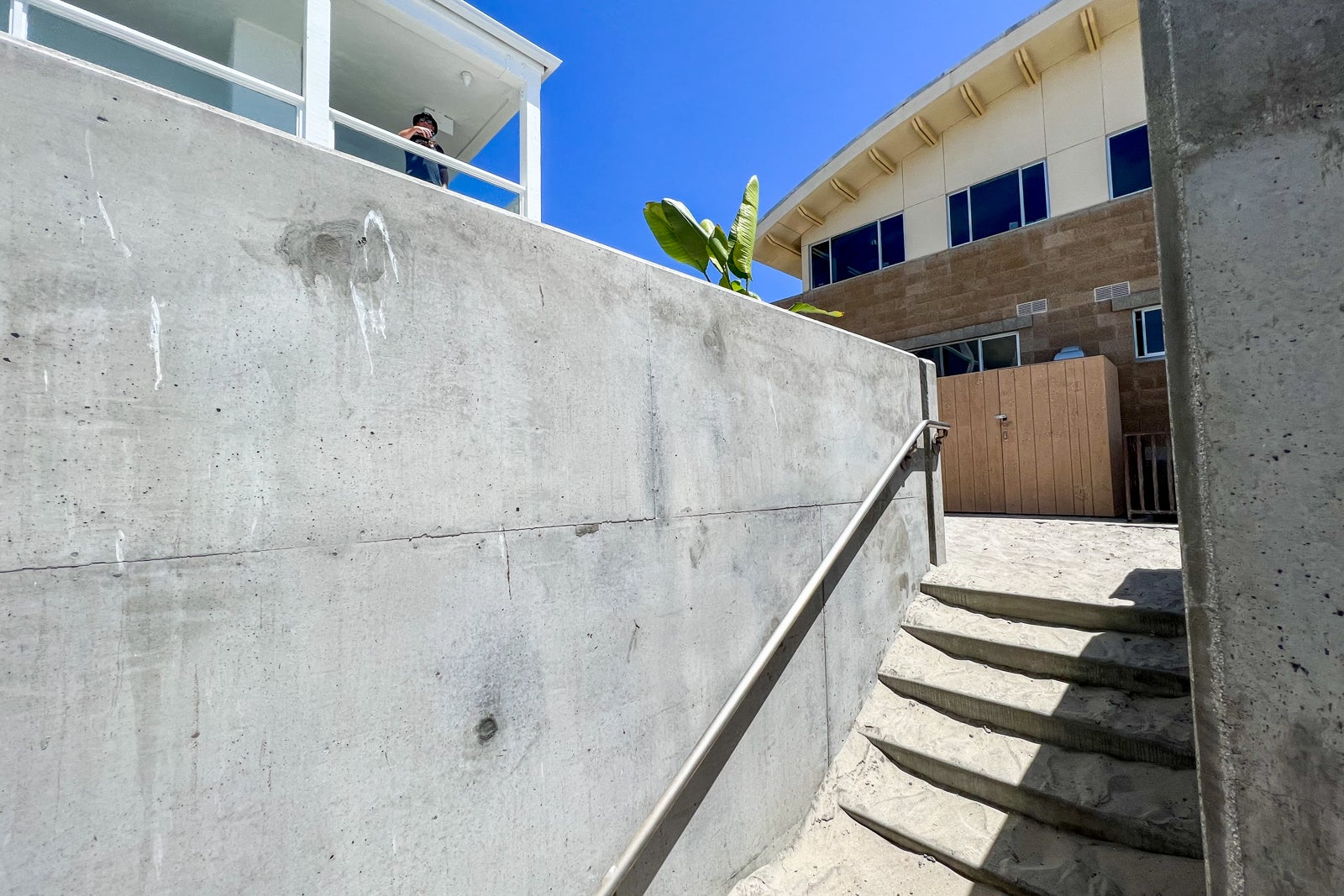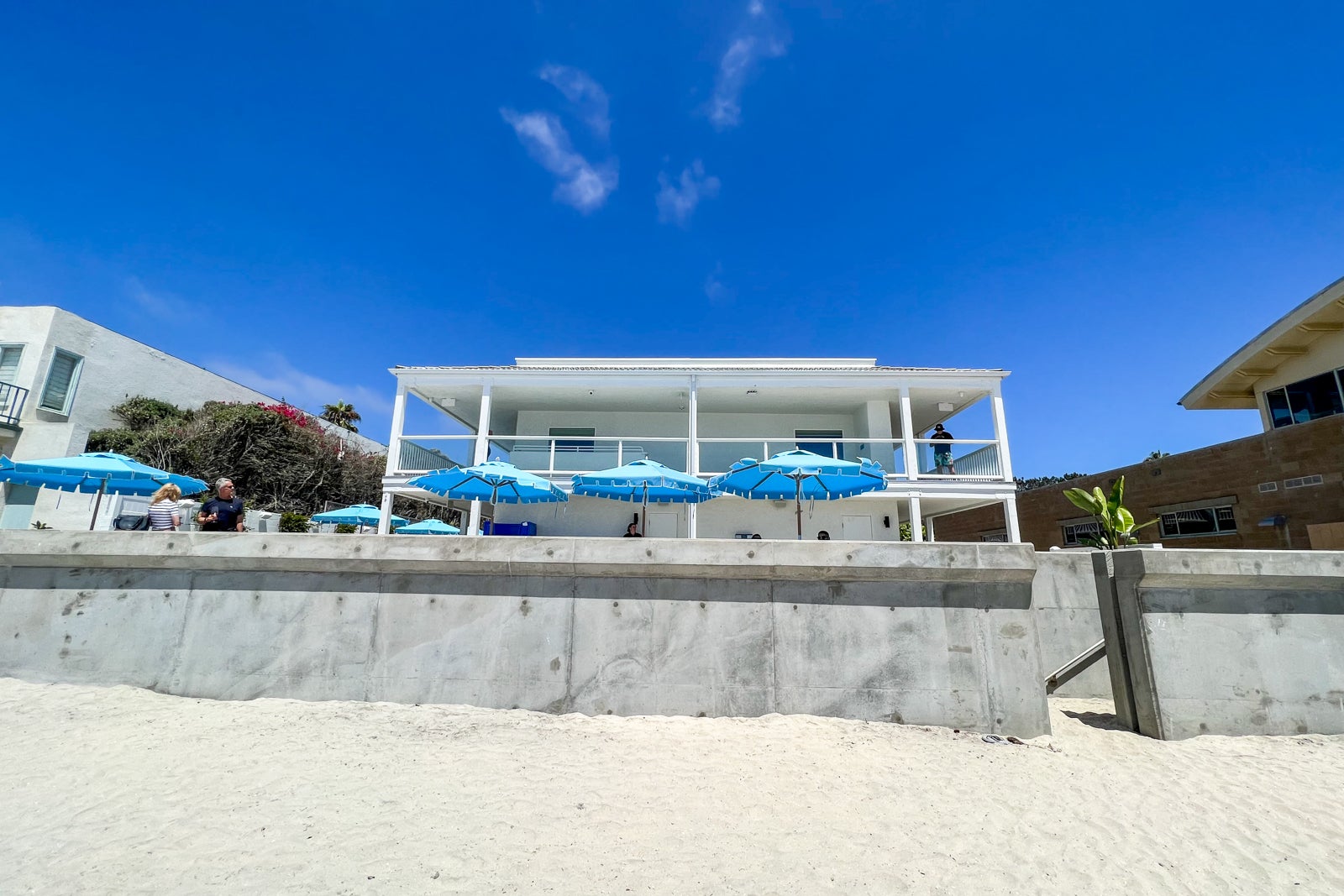 While not ideal, at least there is beach access, and the hotel staff should be helpful in getting chairs, umbrellas and other beach gear down onto the sand for guests.
Overall impression
If you want a typical luxury resort stay, with pool service and gourmet dining, the Del Mar Beach Hotel might not be the right choice. If you're looking for a more authentic, DIY beach trip where you just happen to have (some of) the amenities of a high-end hotel without all the fuss, this new hotel has everything you need.
The rooms are spacious and bright, the staff is accommodating and friendly, and you can't beat the location, right on the golden sands of Del Mar. In my book, it's well worth the premium prices, especially considering they're not much higher than comparable properties not nearly as close to the beach.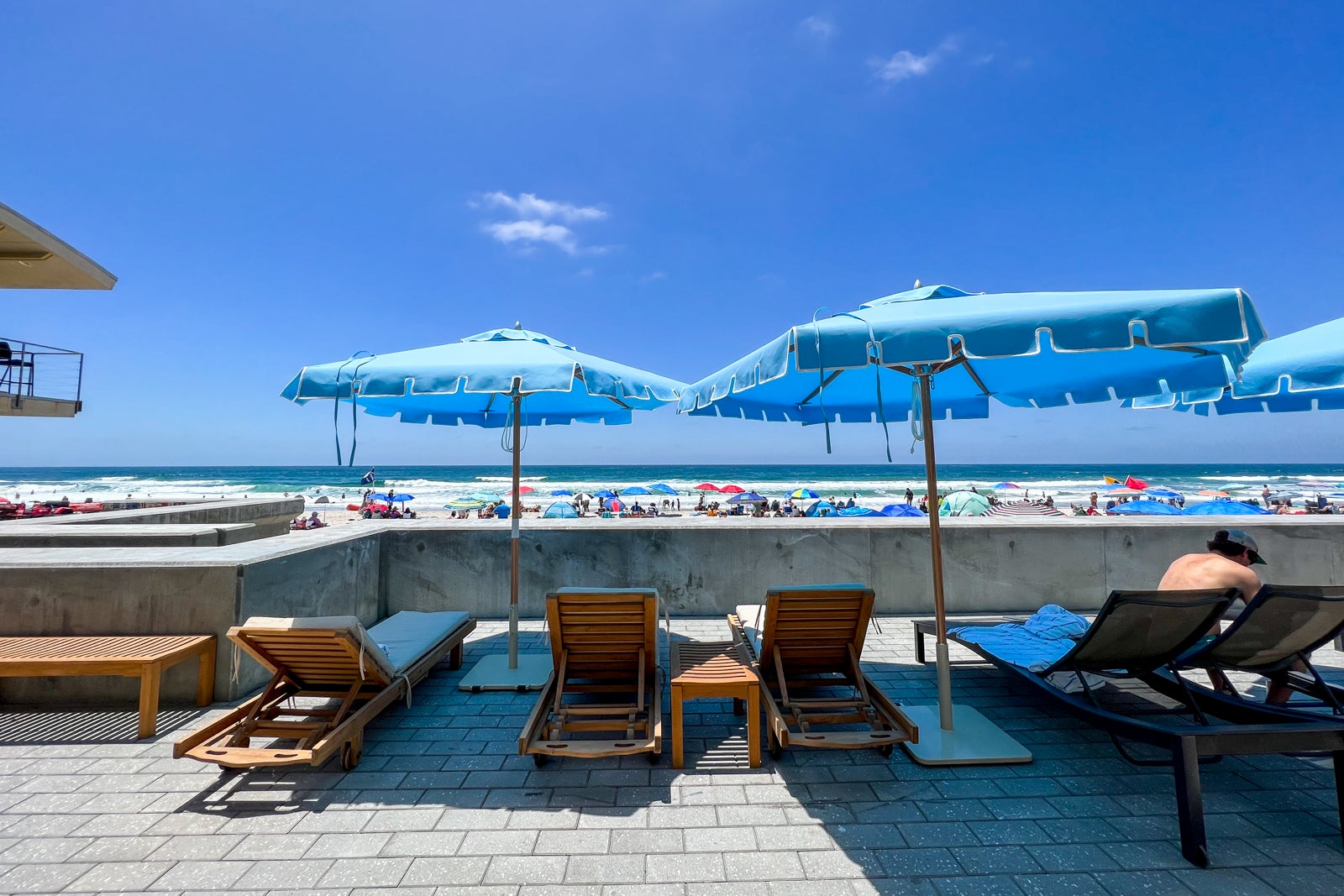 I'm not much for nostalgia, but my recent stay at the Del Mar Beach Hotel made me yearn for the heat-hazy, sunburnt-nose, melted-ice-cream, backseat-nap summers of my youth. Only now, instead of trundling back and forth across a busy street loaded down with worn-out beach gear and enduring the ride home with gritty sand in my suit, I got to sip ice-cold rose on the patio, borrow top-notch Tommy Bahama chairs and umbrellas and sink into a well-deserved sleep to the sound of the waves in the comfort of Frette linens after a refreshing shower with Lather products.
I've already booked my next stay.
Featured photo by Eric Rosen/The Points Guy.
---
Share this post
---
---