Are Cheap Garage Cabinets Worth It?
Posted by admin on
Garage cabinets are a great way to maximize your garage's storage space and keep it organized. Still, a new set of steel or aluminum garage cabinets can quickly get expensive.
However, there are some ways to save money when buying new cabinets. In this article, we'll explore several cheap options.
Garage cabinets don't have to be super-expensive. Cheap options for garage cabinets include repurposing old kitchen cabinets or building your own out of plywood. There are also inexpensive plastic or metal garage cabinets, and some constructed from particle board. These cabinet types have different pros and cons, so we advise you to carefully examine and compare the drawbacks of each cabinet against its advantages.
We recommend you always choose quality over quantity (or price in this case) after weighing your options.
In light of this, this article will focus on inexpensive garage cabinet options you could consider. Then, we will reveal the pros and cons of installing them in your garage. 
---
Pros and Cons of the Different Types of Cheap Garage Cabinets
In this section of the article, we will explore the diverse cheap garage cabinet options available and let you in on the benefits and drawbacks of each one.
However, before we do that, here is a table showcasing the estimated cost of different cheap garage cabinet options.
| | |
| --- | --- |
| Cheap Garage Cabinet Options | Estimated cost |
| Repurposed old kitchen or bathroom cabinets | Prices could start from $4,000 |
| Plastic garage cabinets | Price starts from $100 and may increase depending on the size you want. |
| Low-end metal garage cabinets | Prices can range from $180 to $500 |
| Particle board or MDF garage cabinets | Prices may start from $300 |
| Do-it-yourself garage cabinets | Almost nothing. (Cost will arise from materials to be used). |
Repurposed Old Kitchen/ Bathroom Cabinets
When remodeling your kitchen, instead of throwing those old cabinets out, you can choose to use them in your garage.
Doing this is indeed an inexpensive way of giving your garage a makeover. However, repurposing old kitchen/ bathroom cabinets has benefits and drawbacks.
PROS
Budget-friendly: If you're looking to install cabinets in your garage without breaking the bank, repurposing old cabinets is one way to go. With the right cabinet specialist, you can have your remodeled garage cabinets look all new and unique for about half the cost of brand-new ones.
Eco-friendly: Manufacturing new cabinets can contribute to environmental pollution and other waste. However, repurposing your old cabinets for your garage will help reduce the environmental impact.
Time-saving: From the remodeling process to the installation period, repurposed kitchen or bathroom cabinets will take less time to set up than the time frame required to have a brand-new cabinet manufactured and installed in your garage.
As appealing as these benefits may seem, remodeling your old kitchen or bathroom cabinets for use in your garage may be a bad idea. 
Here are some reasons why:
CONS
Non-durable: Your wooden kitchen cabinets are not built for garage use. They are not strong enough to house heavy-weighted tools and equipment, so repurposed old cabinets aren't ideal for your garage.
Low Extreme Temperature Tolerance: Most garages are exposed to extreme temperatures, making them vulnerable to moisture, pest damage, and dry rot in the months when the weather is dry and hot.
No-warranty: The great thing about getting brand new garage cabinets is that they usually come with warranties. Several companies even give you a Lifetime warranty on the garage cabinet you order.
Plastic Garage Cabinets
You're right in considering plastic garage cabinets if you want to cut costs, as they are one of the cheapest garage cabinet options out there.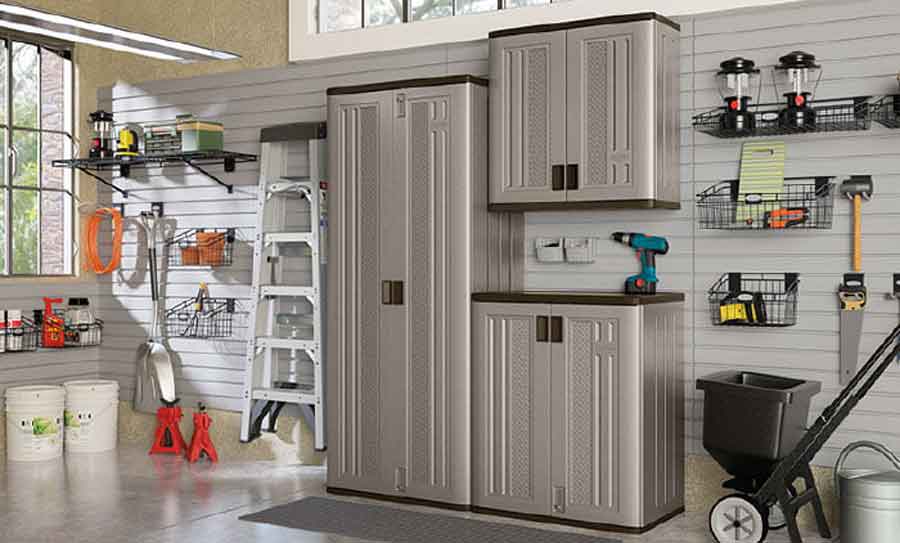 Check out the pros and cons of this type of garage cabinet and see if it's still worth considering.
Pros
Corrosion and Rust-resistant: The good feature we've noticed when dealing with plastic garage cabinets is that they are designed to resist corrosion and rust. Plastic can protect your belongings from chemical exposure and rot.
Moisture Resistant: Plastic garage cabinets don't suffer degradation from exposure to extreme humidity levels and moisture.
Best for Lightweight Tools: Plastic garage cabinets are lightweight, making it easy to move your tools from one place to another.
Cons
Non-durable: Plastic garage cabinets are not the way to go if you consider long-term and heavy-duty use. They have far lower load capacity than wooden and metal cabinets, so you might want to reconsider if your tools and equipment are heavy-weighted. This could make them wear out on time.
Ruins Aesthetics: When making good physical impressions, plastic garage cabinets are a total failure. You can kiss your garage aesthetics goodbye because plastic cabinets will ruin the attractiveness of your garage.
Fades Quickly: Your plastic garage cabinets will become an eye sore when it starts to fade with time. This would cheapen the overall appearance of your garage if you worked so hard to beautify it.
Inexpensive Metal Garage Cabinets
Suppose you don't like the idea of repurposing old kitchen cabinets or plastic garage cabinets. In that case, the next best cheap alternative is low-end metal garage cabinets.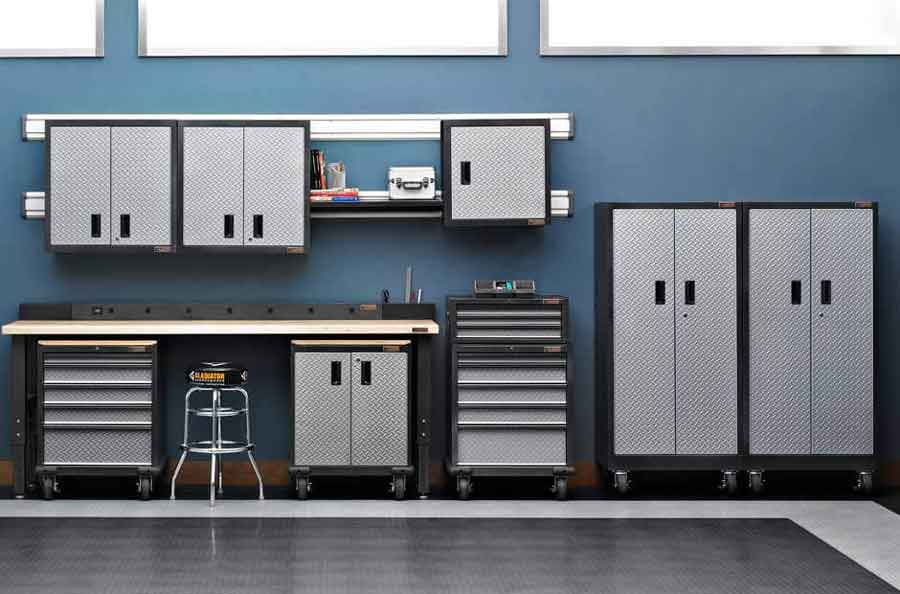 However, there are more downsides to this option than upsides. Let's explore the upsides first, 
PROS
Affordability: Low-end metal garage will work with your budget if you want to spend the barest minimum on garage cabinets.
This option is great if you do not care about aesthetics.
CONS
Little Value for Money: You will be short-changing yourself if you go for cheap metal cabinets because they won't last long. When they're damaged, you may be forced to get another set of cabinets installed.
Corrosion Prone: Poor quality metal garage cabinets are prone to rust and rot. Need we say more about the damage that can do to your stored belongings?
Low Durability and Functionality: Low-end metal garage cabinets are not sturdy enough to support heavy-duty equipment such as compressors or generators. Investing in quality metal material like steel is better if you want a durable, heavy-duty metal cabinet.
With high-end garage cabinets like steel, you get both functionality and aesthetics in your garage!
Particle Board or MDF Garage Cabinets
Particle boards and Medium-density fiberboards are cheaper alternatives for solid woods. They are manufactured by combining elements such as wood fiber and waste materials.
Several people prefer this option to be used in their kitchens and bathrooms, but let's take a look at the advantages and disadvantages of using particle board or MDF for garage use: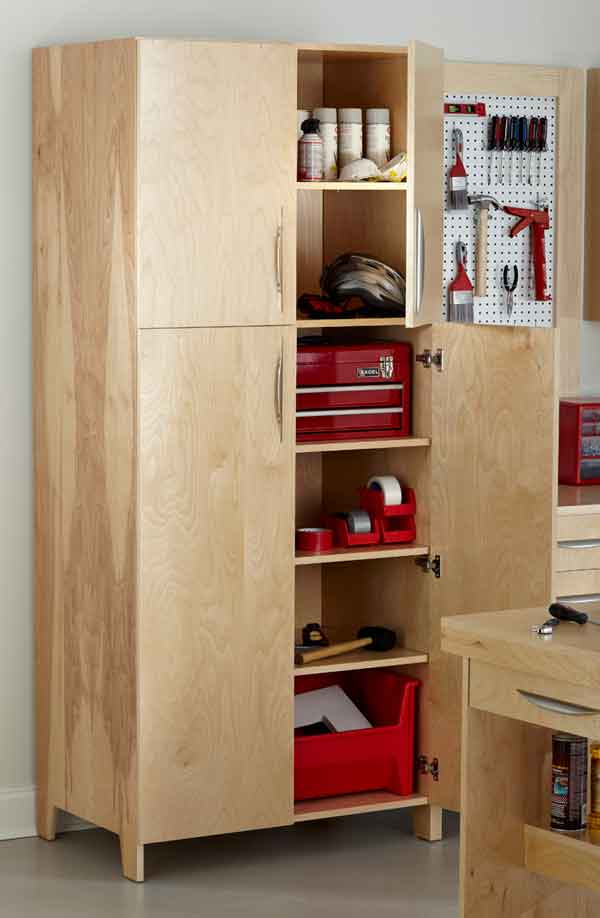 PROS
Inexpensive: The significant advantage of these garage cabinet options is that they are low in cost compared to other alternatives such as solid wood or plywood.
Easy Manageability: MDF and particle board garage cabinets will be easy to clean and maintain. They also aren't prone to dry rot or rust.
Eco-friendly: These materials are sustainable and environmentally friendly, made from recycled wood waste such as wood fiber and shavings.
CONS
Non-durable: Cabinets made from particle boards or medium-density fiberboards do not last. It is pretty easy to tell why when you think about it. They have a very high tendency to give way when used to store heavy-duty items. They may break or chip off when under stress.
Low Moisture Tolerance: MDF and particle board garage cabinets have a very low tolerance for moisture and humidity. This implies they can absorb water, swell, become soft, and break.
Heat Vulnerability: These materials are highly susceptible to damage when exposed to heat and hot weather.
Do-it-yourself Garage Cabinets
If you really want to save money, then DIY-ing your garage cabinets may be ideal. However, this might not be the best option if you're new at woodworking.
PROS
Saves Money: The obvious and most significant advantage of DIY projects is that you get to save money instead of paying someone else to do it for you.
Creativity: By building your garage cabinets yourself, you'll be able to add extra personal touches that professionals wouldn't typically include.
CONS
Quality: Depending on your skill, building your cabinets may not be a good idea if you're new. The quality might not be  
Frustration: You may find it frustrating to build your garage cabinets, especially if the design doesn't come out the way you imagine it. 
Time-consuming: While a professional might take about 1 to 2 days to install your garage cabinets, it might take longer to complete due to procrastination or other activities.
---
Frequently Asked Questions
Q: How long does it take to install garage cabinets?
This depends on the size and quantity of your cabinets and your installer's expertise. In general, installation can take anywhere between 1 to 2 days.
Q: What are some of the best materials for my garage cabinets?
Solid wood and steel are some of the best materials you could consider for your garage cabinets.
Q: Do all types of garage cabinets come with a warranty?
Cheap garage cabinets usually have short or even no warranties (12 months or less). High-end garage cabinets usually offer extended or lifetime warranties.
The post Are Cheap Garage Cabinets Worth It? appeared first on Garage Transformed.
---
Share this post
---
---