A perfect hop across the Pacific: Qantas 787 business class
Posted by admin on
The best airlines make you feel like you've already arrived at the destination as soon as you set foot on board. There's nothing like hearing a hearty "Guten tag, Herr Rosen" on Lufthansa or "Bonjour, Monsieur Rosen" when flying Air France.
Qantas is one of the best airlines at this type of aerial ambassadorship. As soon as I see a red tail fin with a white 'roo hopping across it and hear that distinctive Aussie twang, I know there's a treat in store … and it's better than a Murray River salted caramel Tim Tam.
That's why I was excited to book an elusive award in business class aboard Qantas' Boeing 787-9 Dreamliner from Melbourne to Los Angeles at the end of my recent trip to cover Australia's reopening to international travelers. The experience was just as I'd remembered it — if slightly more somber than before the pandemic.
Here's my account of flying back from Australia to the U.S. in March, and what other travelers can expect.
For more TPG news delivered each morning to your inbox, sign up for our daily newsletter.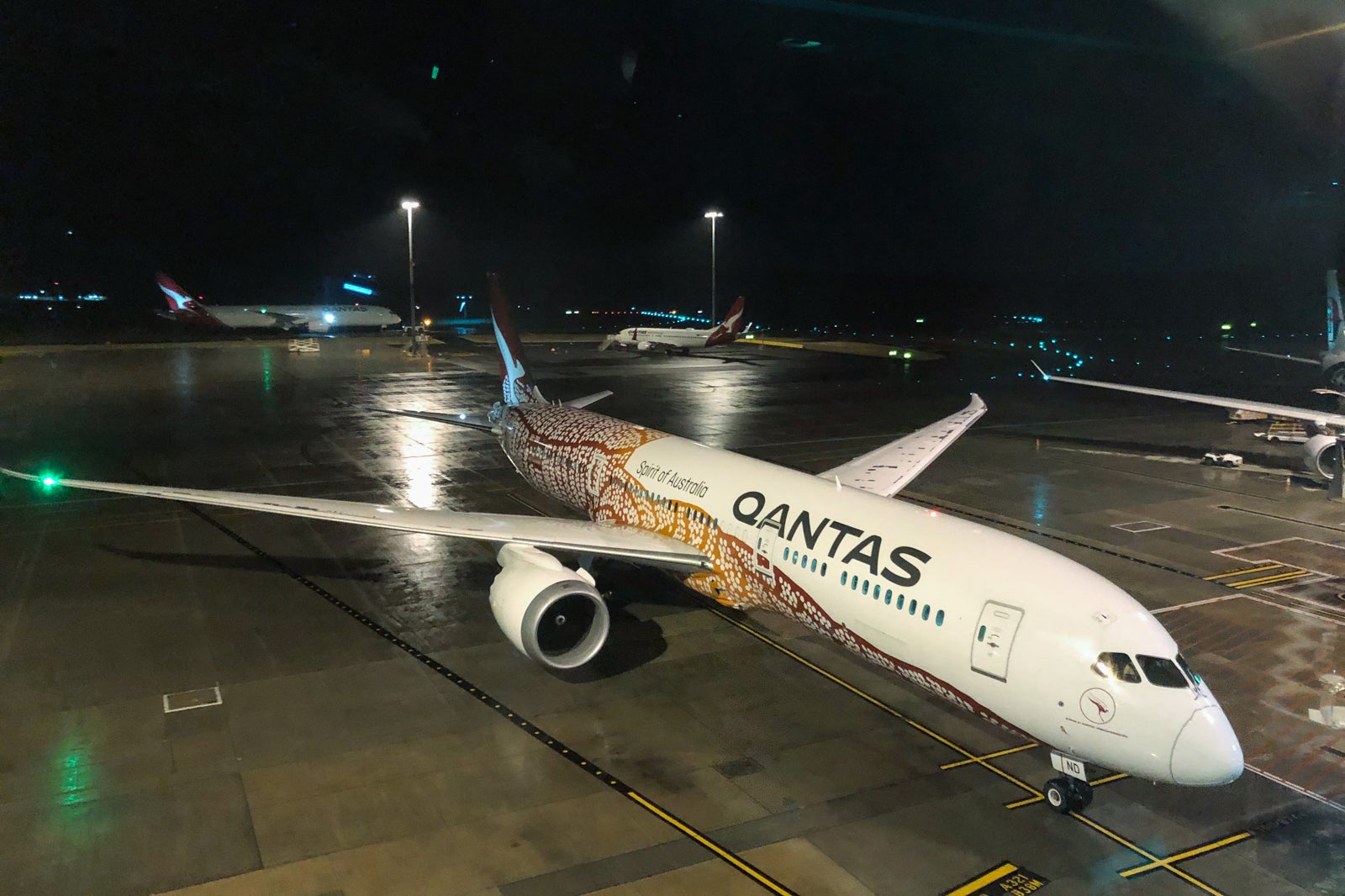 Booking
Australia announced that it would reopen to international travelers just two weeks ahead of the Feb. 21, 2022, official date. That gave me minimal time to plan a trip. However, the short notice also let me pounce on airline award tickets before many other flyers were able to do so.
That's how I scored a business-class award on Singapore Airlines from San Francisco to Sydney to arrive the first day the country would be reopened and to find a veritable frequent-flyer unicorn for my return: a business-class award on Qantas for just 55,000 Alaska Airlines miles plus $110 in taxes and fees.
By contrast, paid fares were running around $8,000 one-way. That was due to a number of factors, including the scarcity of flights between Australia and the U.S. after the country had been closed to international travelers for nearly two years, and the fact that Qantas is still in the process of reactivating its fleet and rebuilding its route network.
As soon as I found that ticket, I booked it — then hoped that my plans weren't derailed by a government about-face or by contracting COVID-19 while I was traveling in Australia.
Luckily, neither of those things occurred, and I was able to fly as scheduled.
Airport experience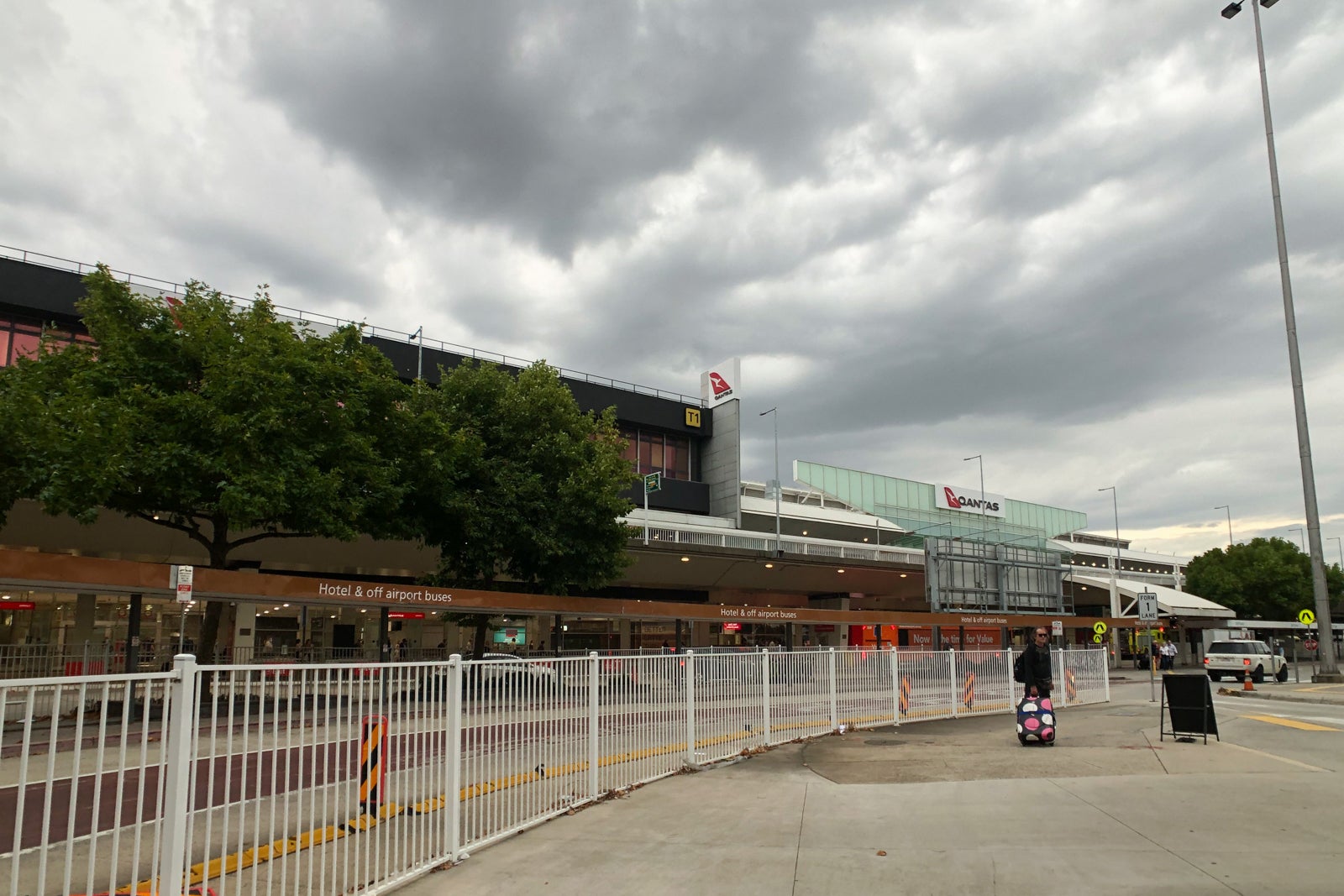 My flight departed at 10:55 p.m. on a Friday but I arrived at the airport at 6:30 p.m. – both to give myself some extra time in case check-in was busy and because I'd spent all day working at the hotel and needed a change of scenery.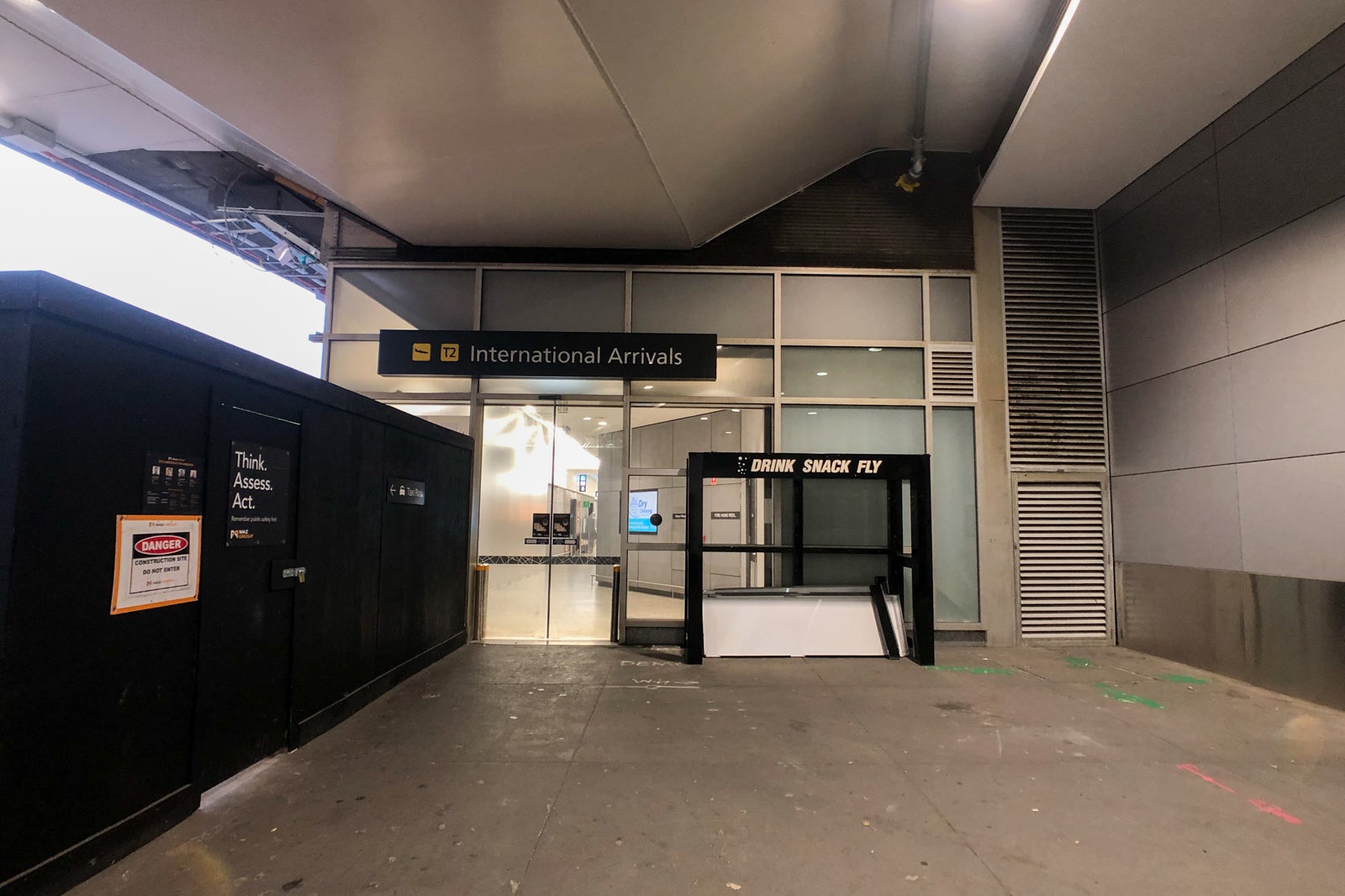 The airport wasn't very busy at that time. However, there had been a car accident on the departures level of Terminal 2, where my international flight was departing, so my Uber had to drop me off on the lower arrivals level of Terminal 3 and I backtracked.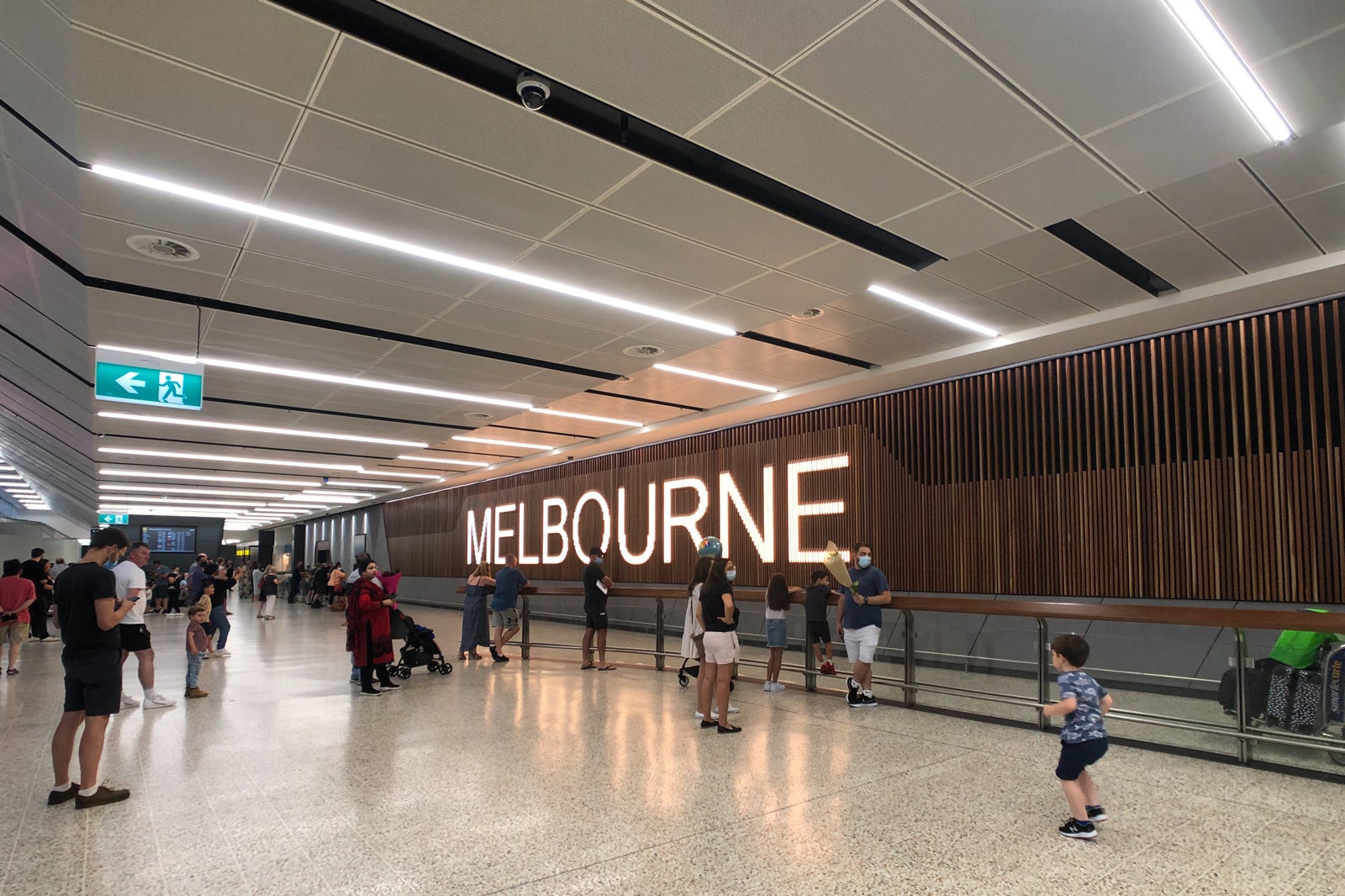 On my way to check-in, I noticed the Qantas First Suite check-in lounge — which was also available to the airline's Platinum One and Platinum elites as well as Oneworld Emerald elites — was closed.
Only a handful of the regular check-in counters were busy throughout the entire terminal since so few international flights had resumed.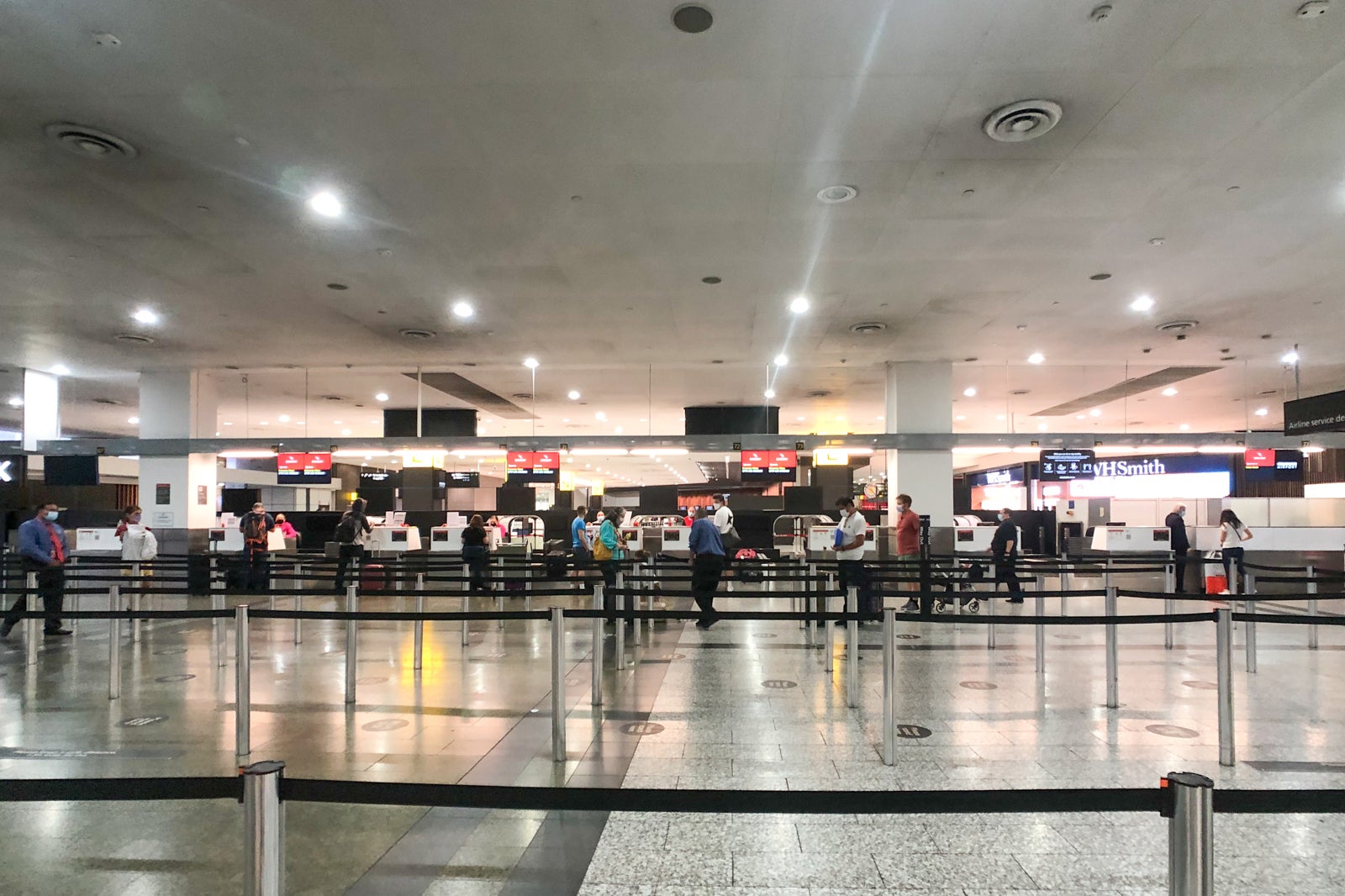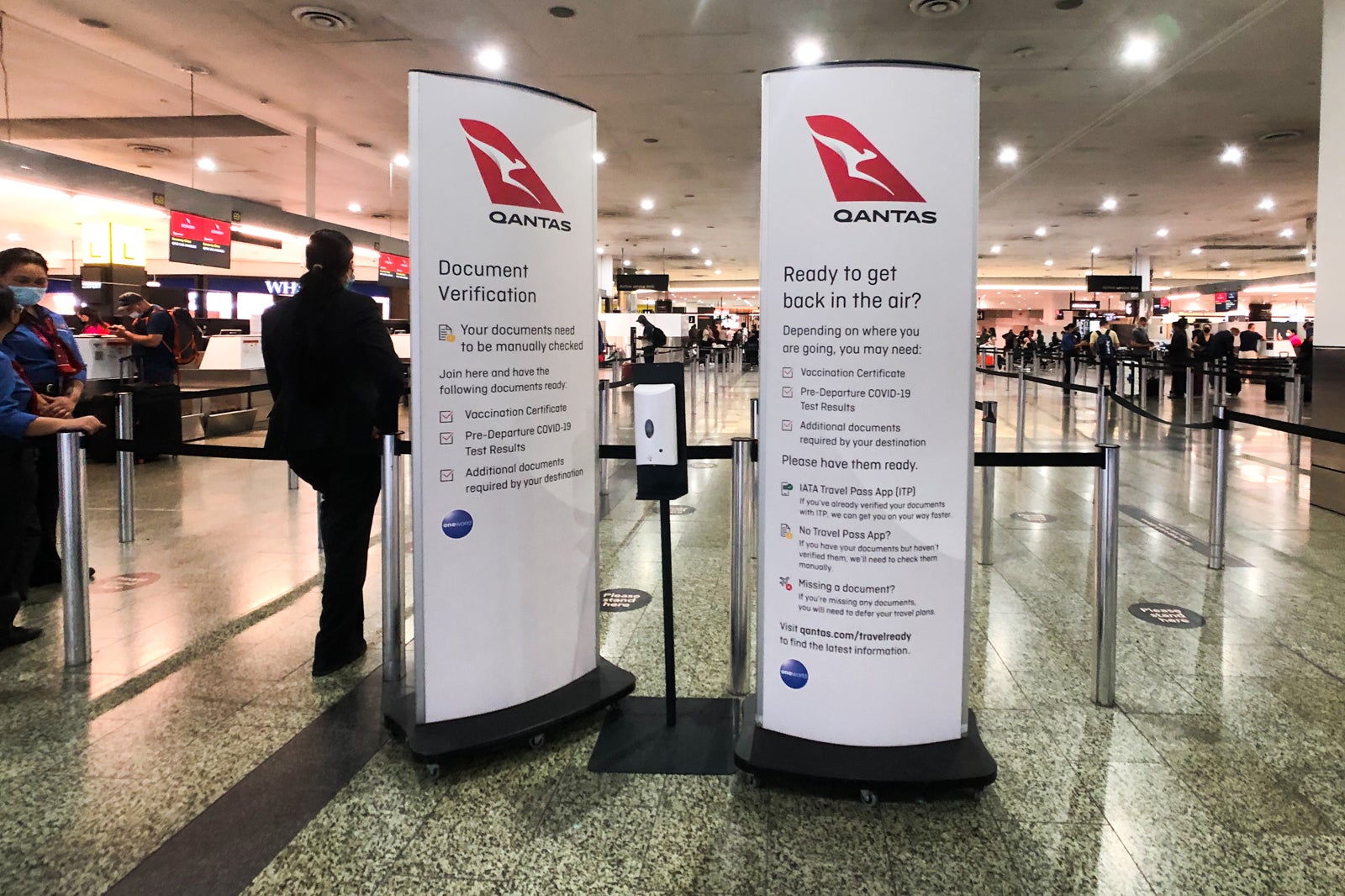 The Qantas counters for my flight were nearly deserted. I still ended up waiting for around 15 minutes, since the check-in agents had to verify each passenger's vaccination card, health declaration form and a negative COVID-19 test result from within the previous day to adhere to the current entry requirements for passengers from the U.S.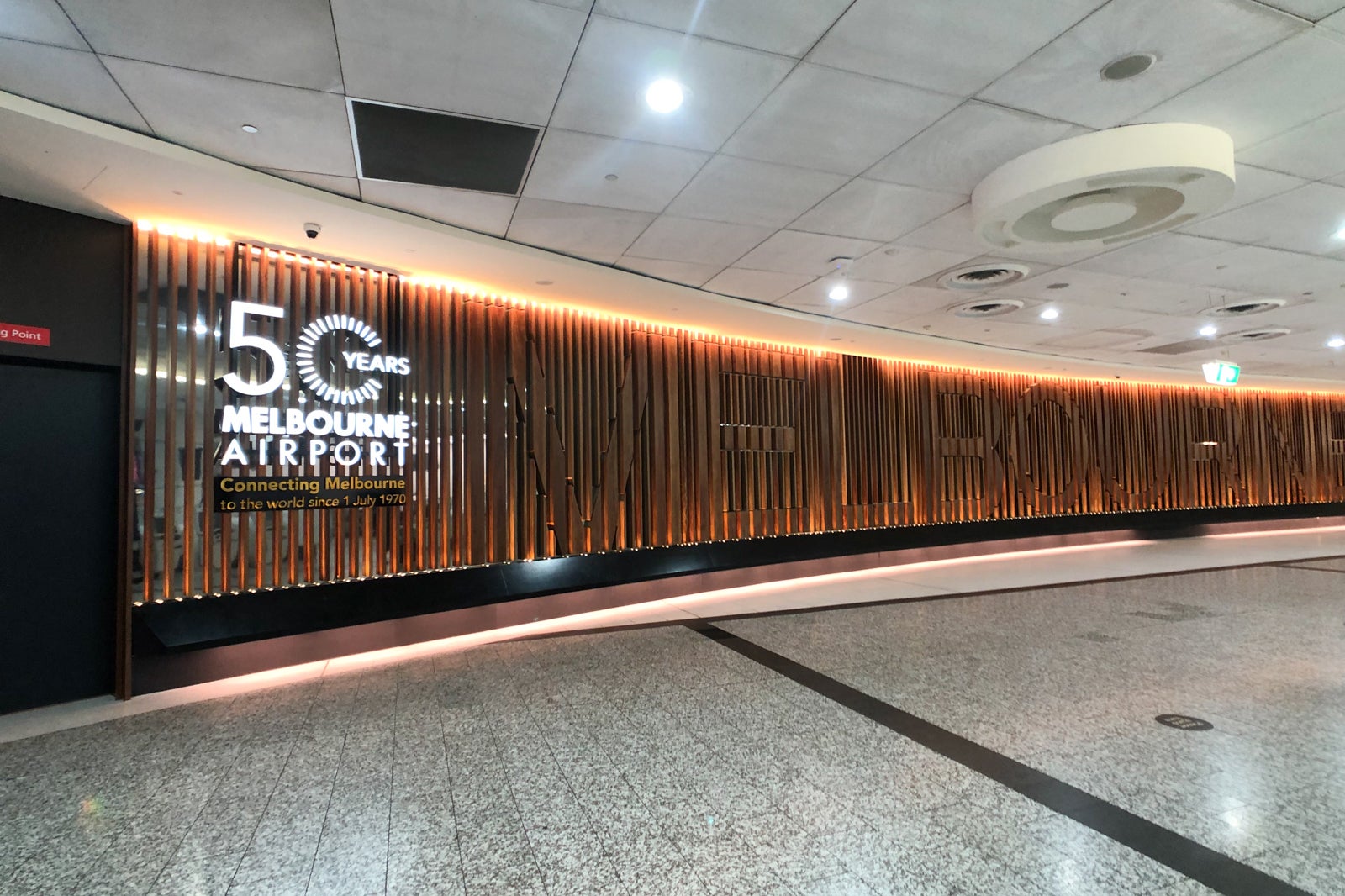 Once I was at the counter, it took the agent five minutes to process me. He then directed me to the Qantas First lounge past security, since the business-class one was closed until the end of March.
I was through immigration and security in a matter of minutes, then walked through the Duty Free shop and a depressingly empty corridor of luxury shops (all of them closed for the day). I continued on past a few deserted gate areas and finally took the escalators upstairs to the lounge.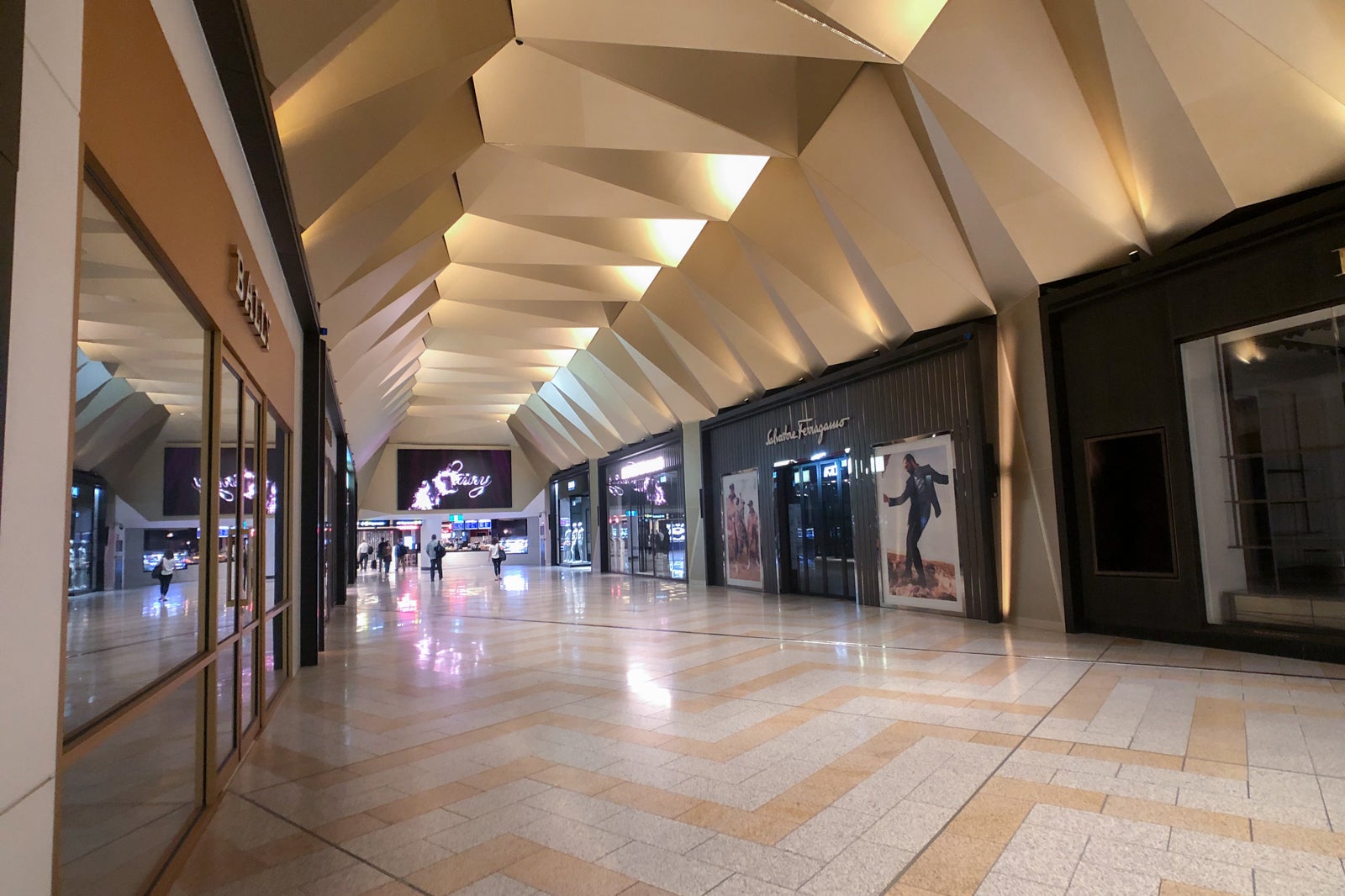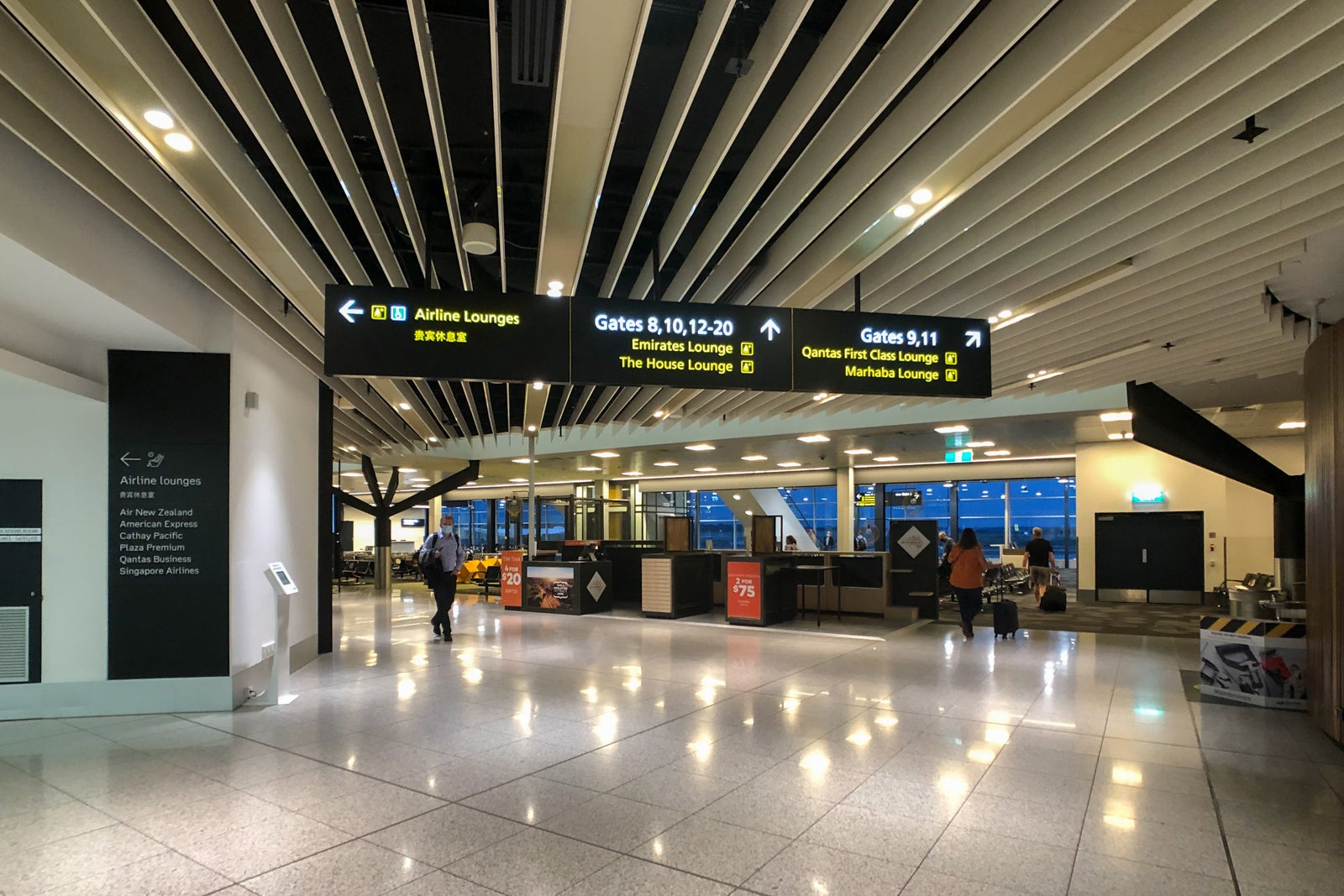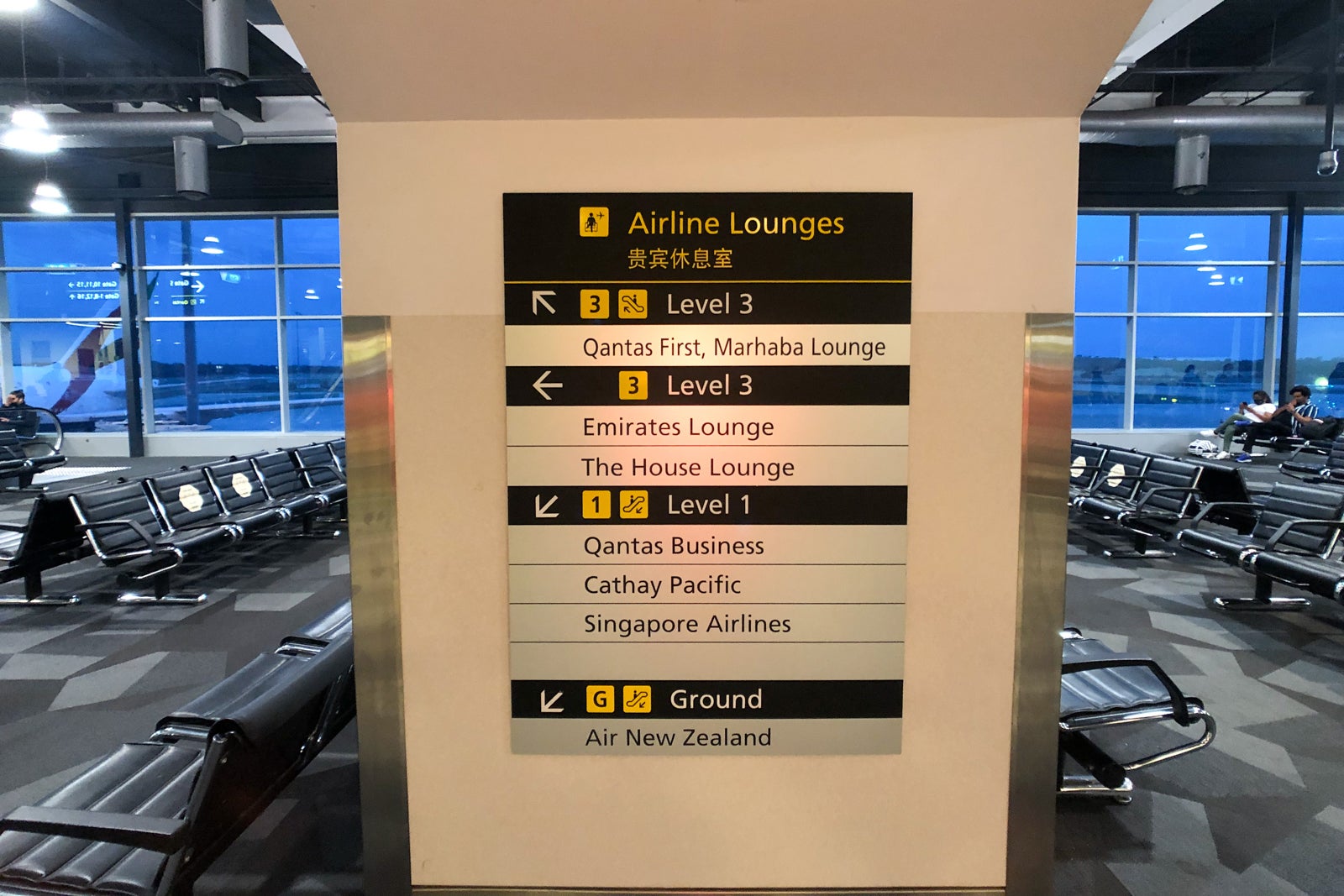 The lounge's capacity was capped at 130 customers, though there was nowhere near that number when I arrived. I noted the hand sanitizer display and a sign indicating that I was required to wear a mask and to acknowledge to staff that I was feeling well. I showed my boarding pass to the reception agents and admired the small living wall of plants opposite.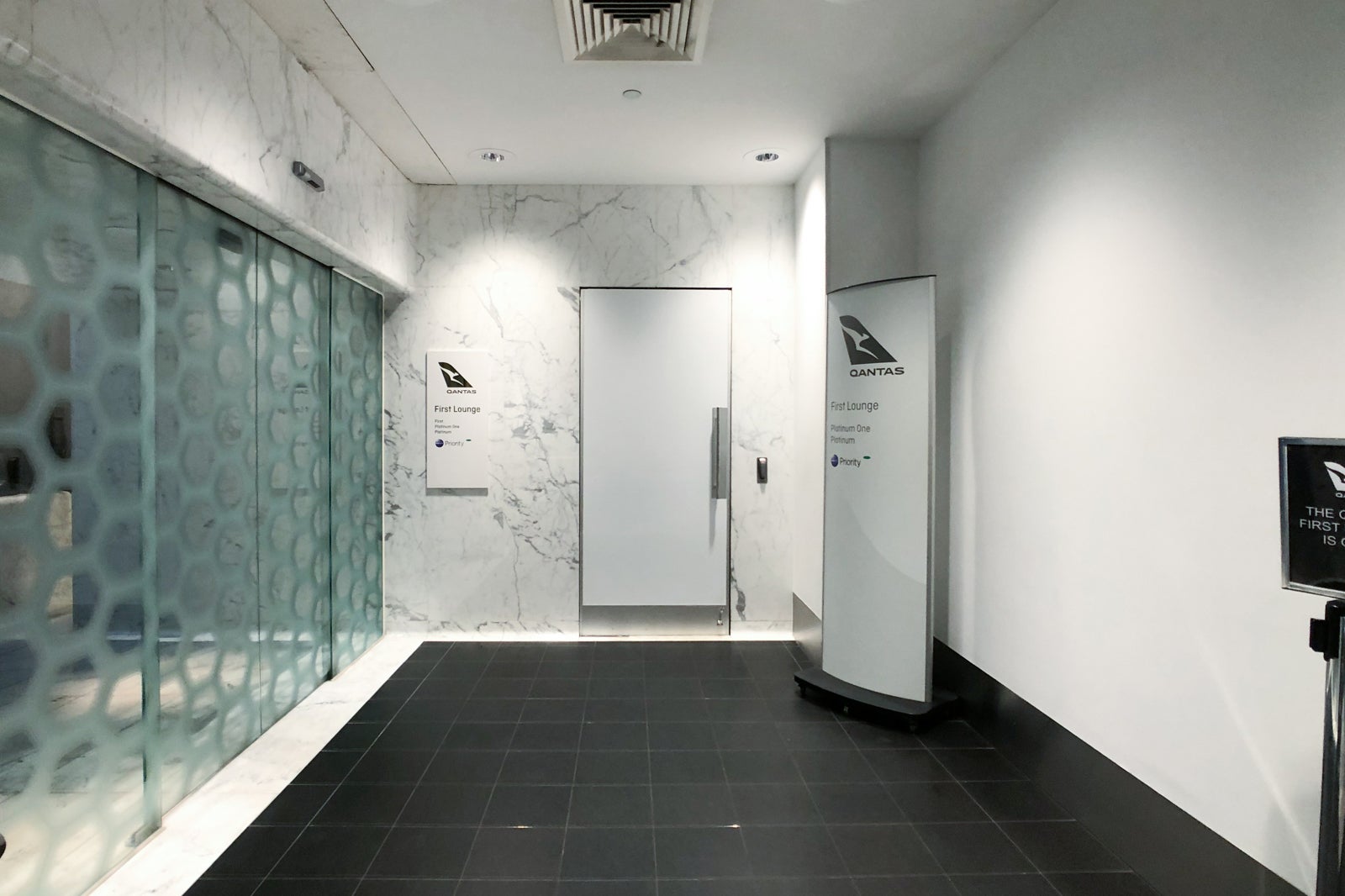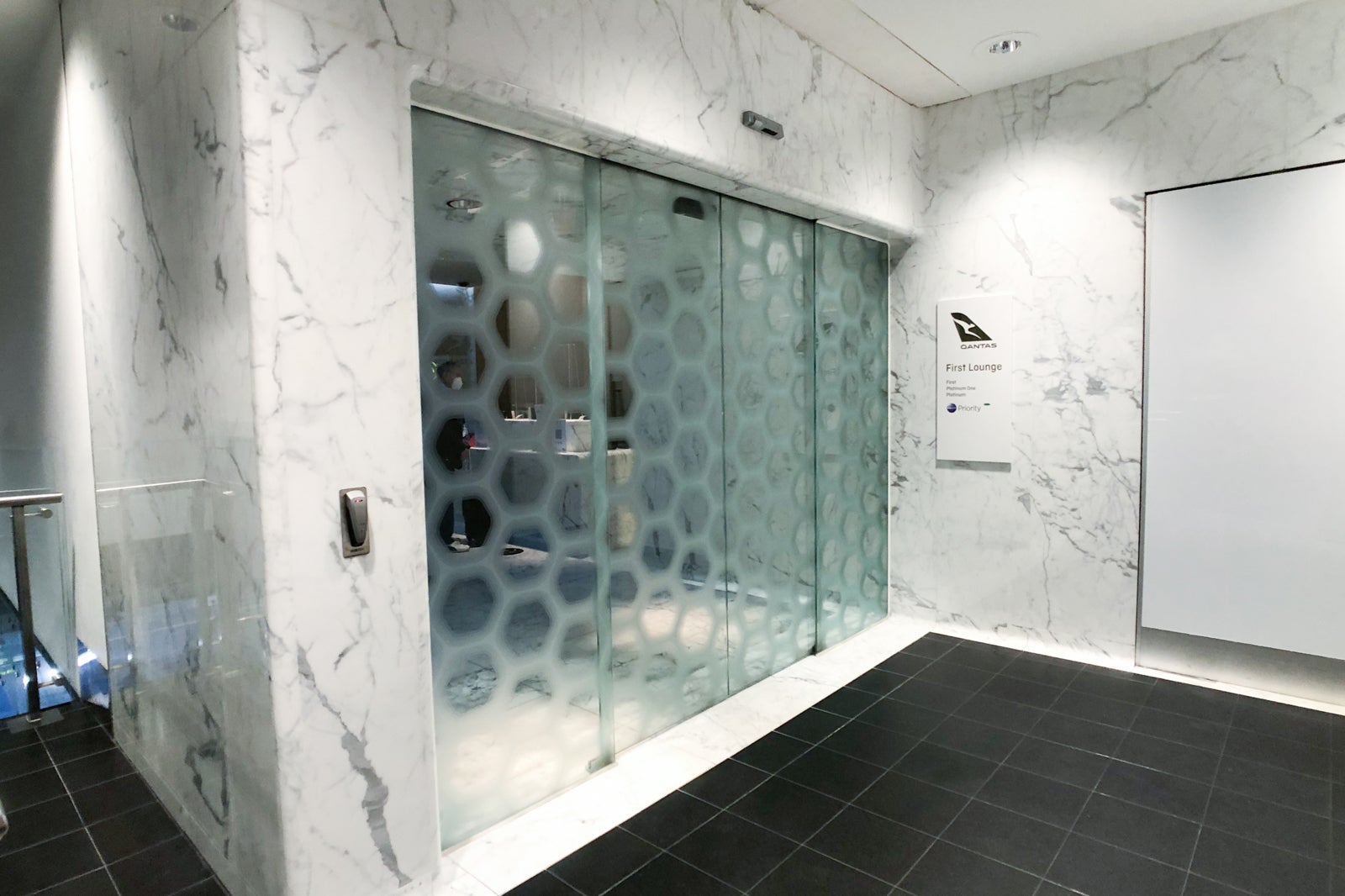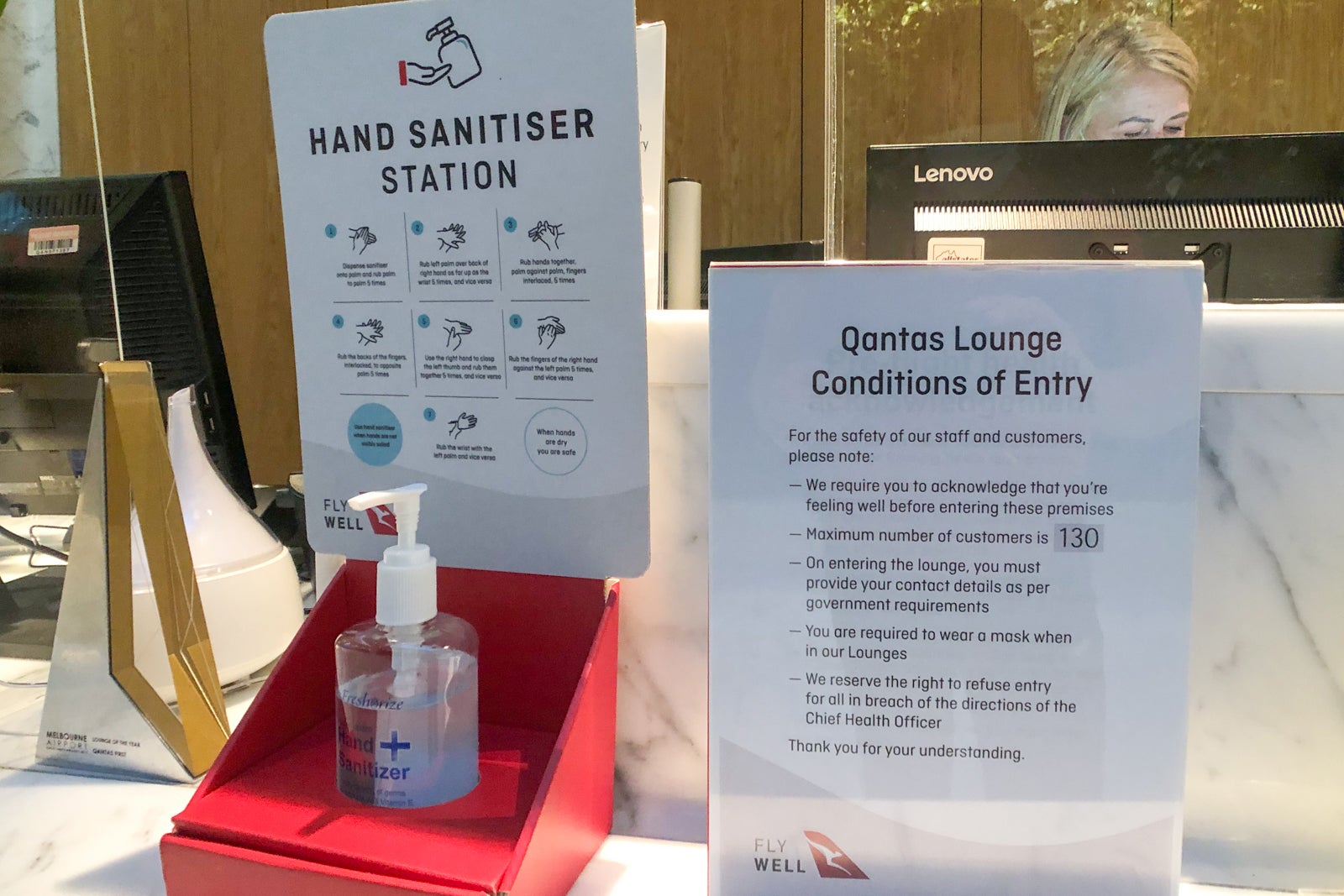 This lounge looked like Qantas' flagship First Lounge in Sydney, only it was much smaller. Like the Sydney outpost, this lounge was designed by Marc Newson, who also took charge of designing the airline's original A380 interiors over a decade ago. The ambiance was meant to evoke the golden age of travel — hence the retro Solari departure display board and other classic elements like gray-veined white marble floors and wall tiling, European oak partitions to section off intimate seating areas and squared-off, low-profile armchairs and sofas that wouldn't have looked out of place in Don Draper's office.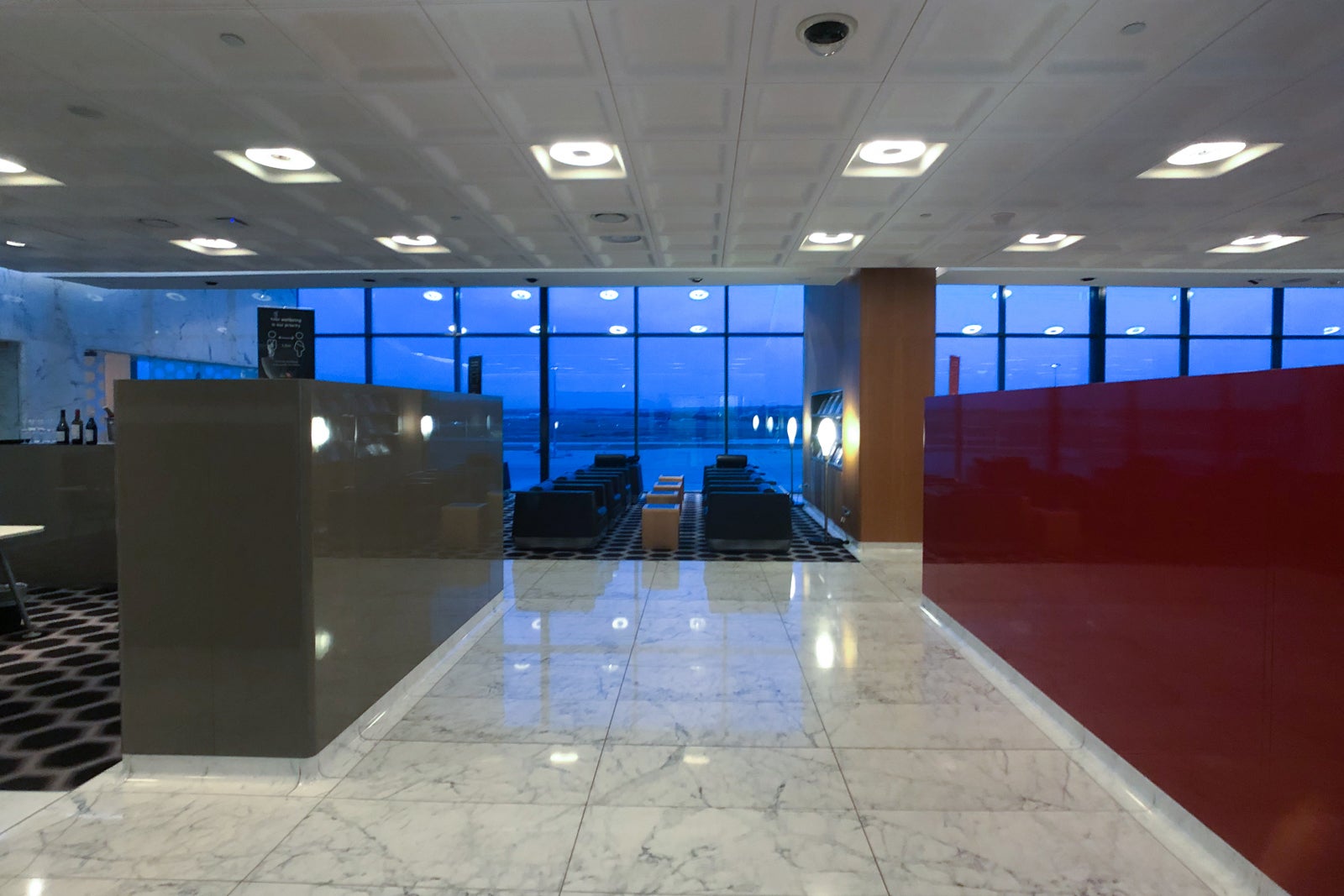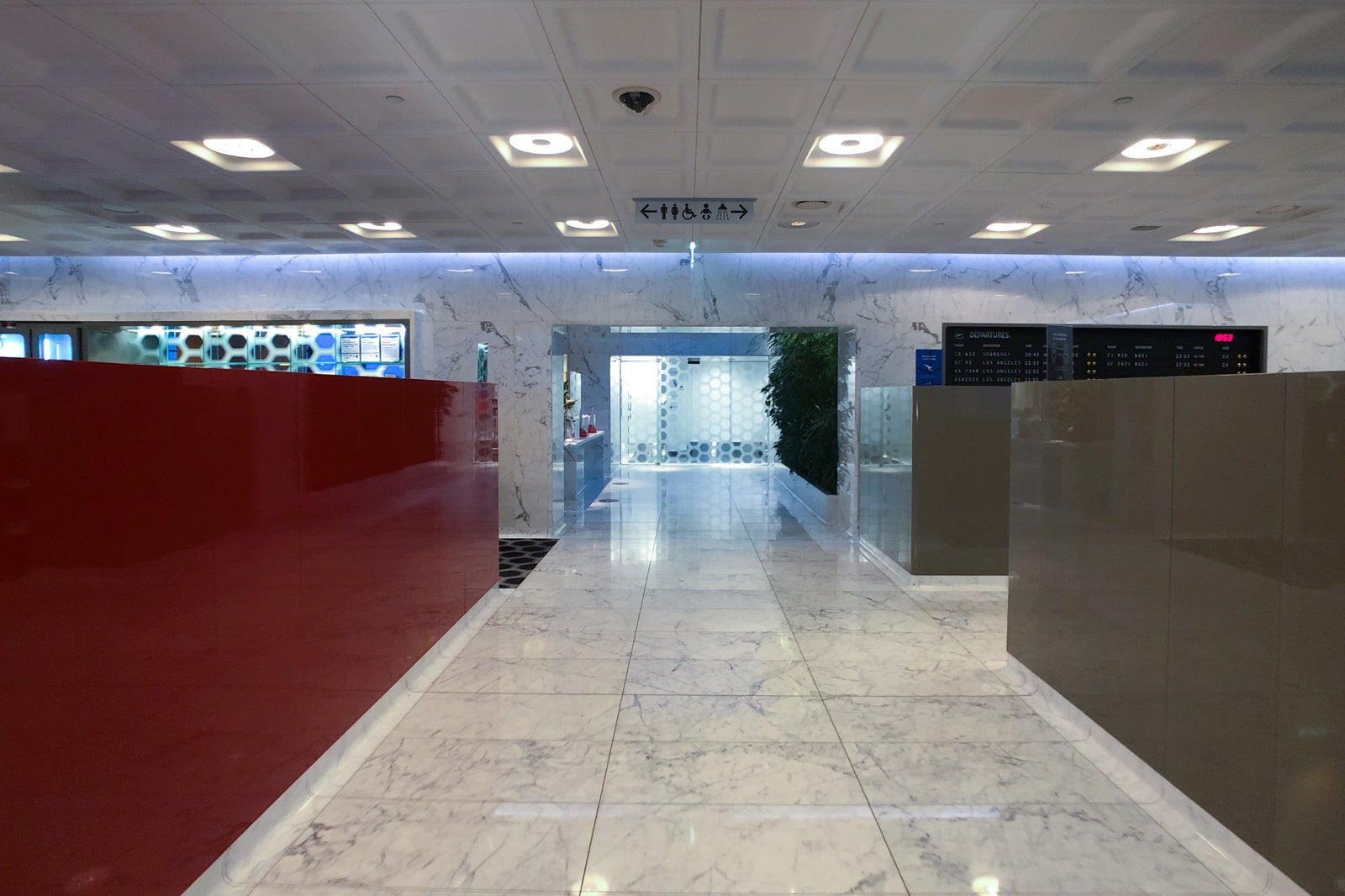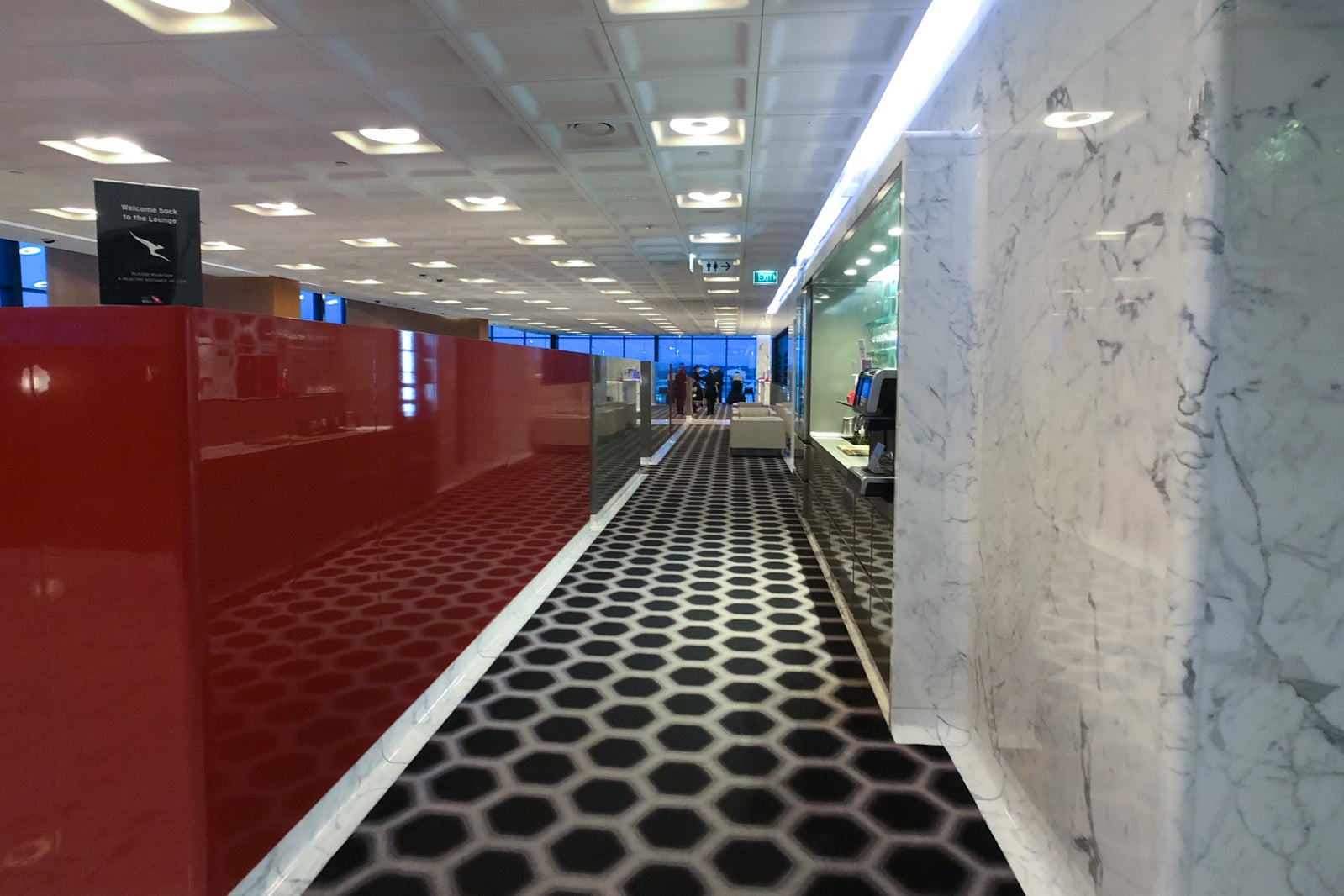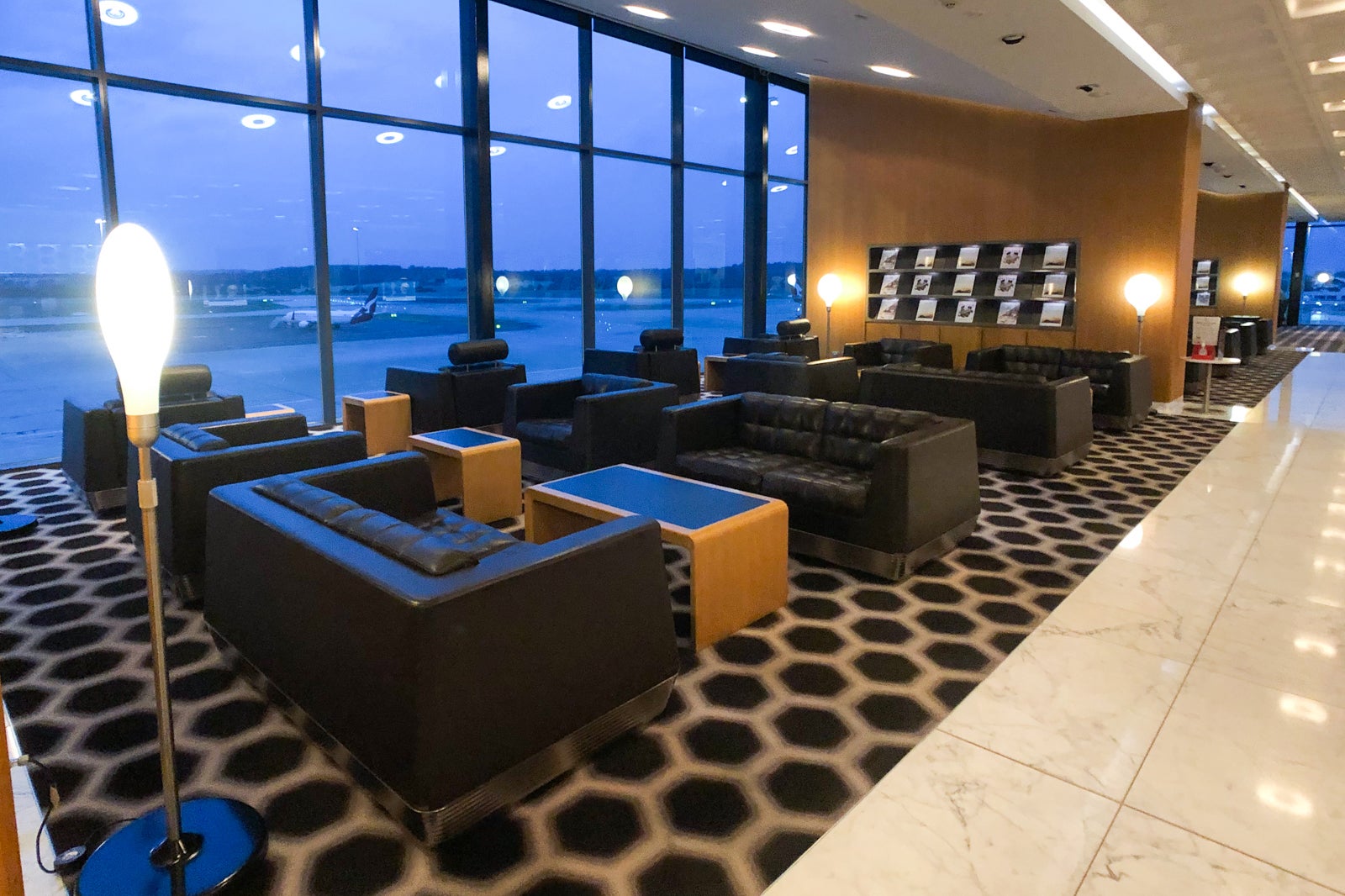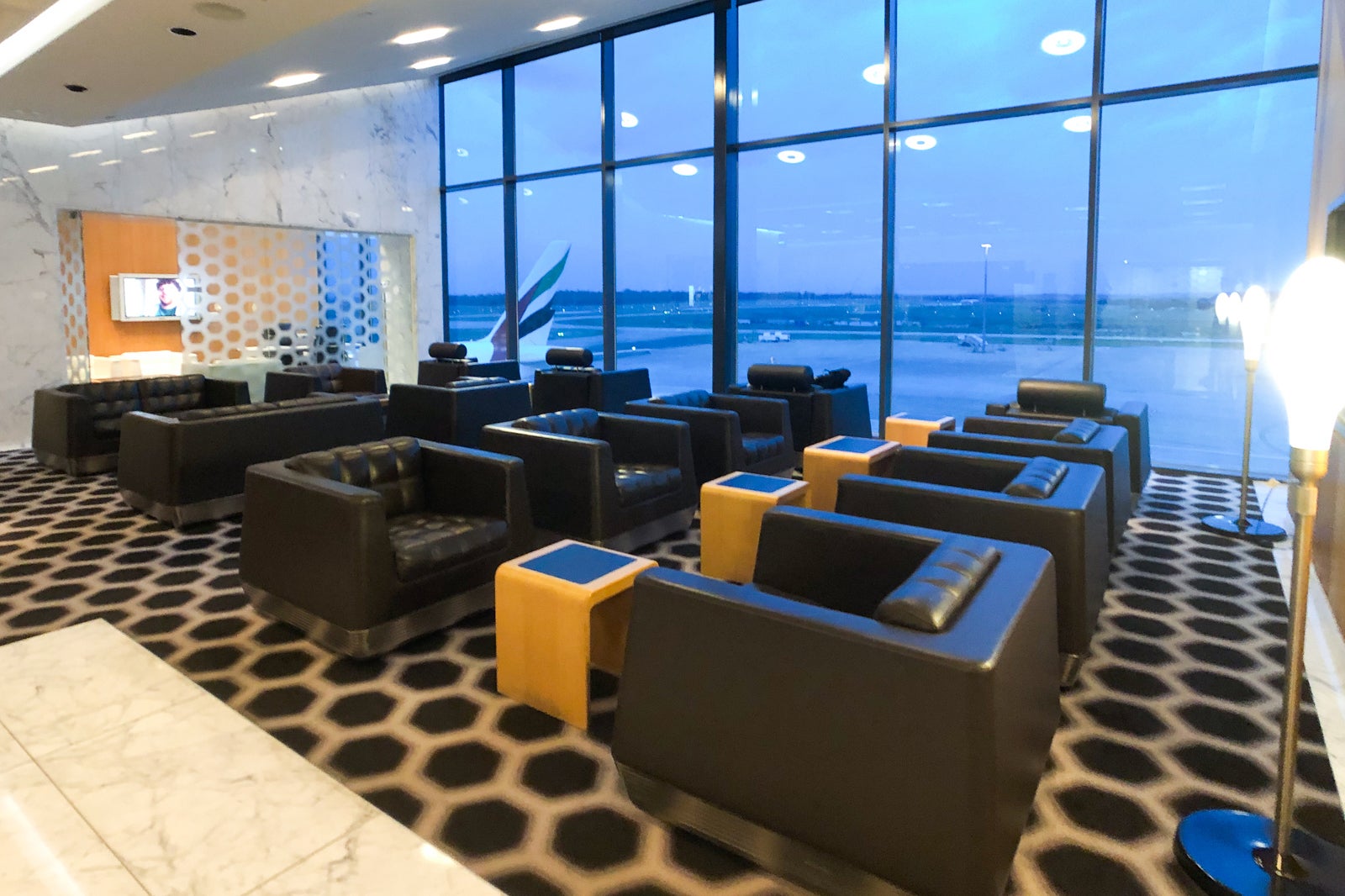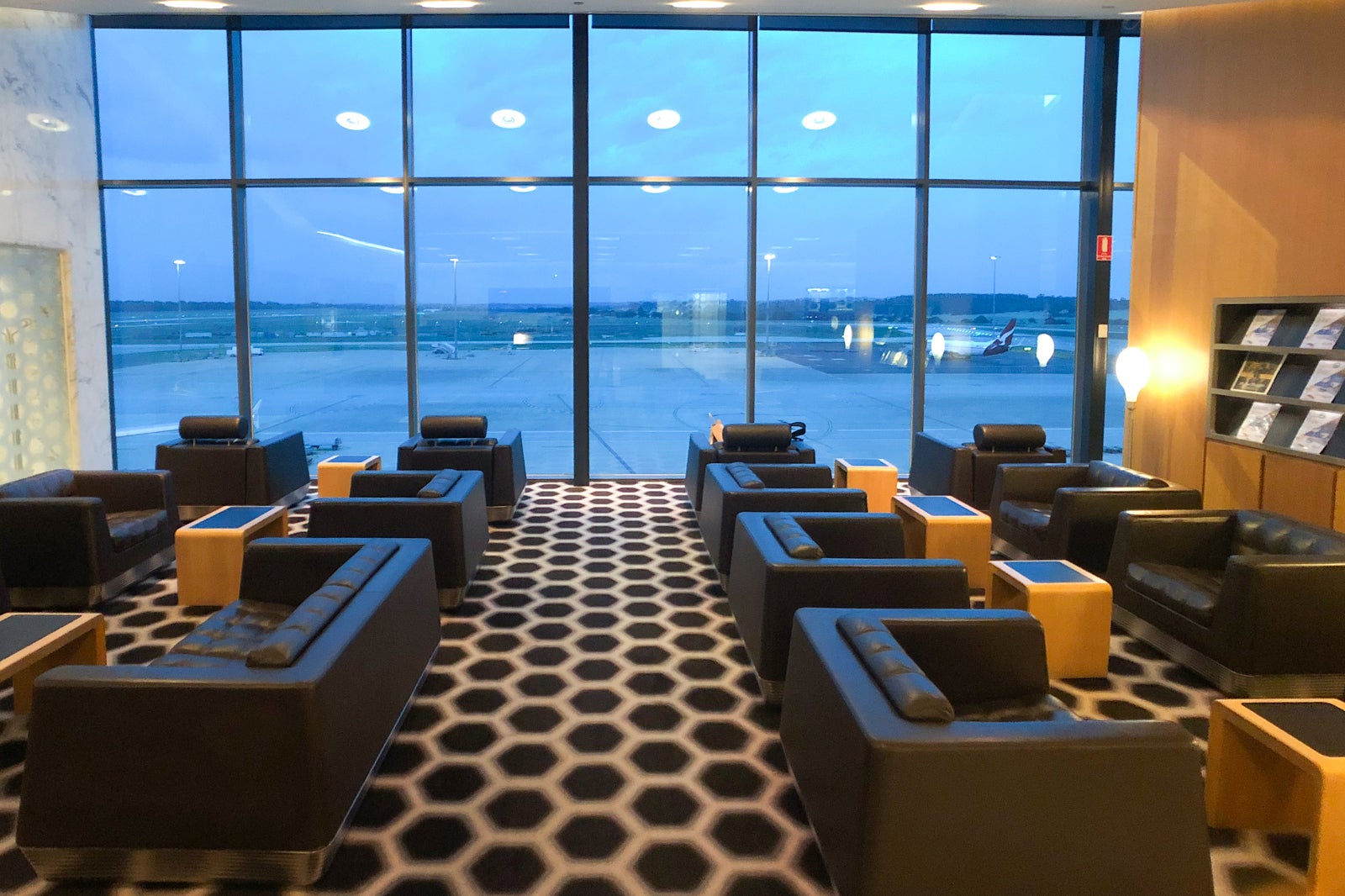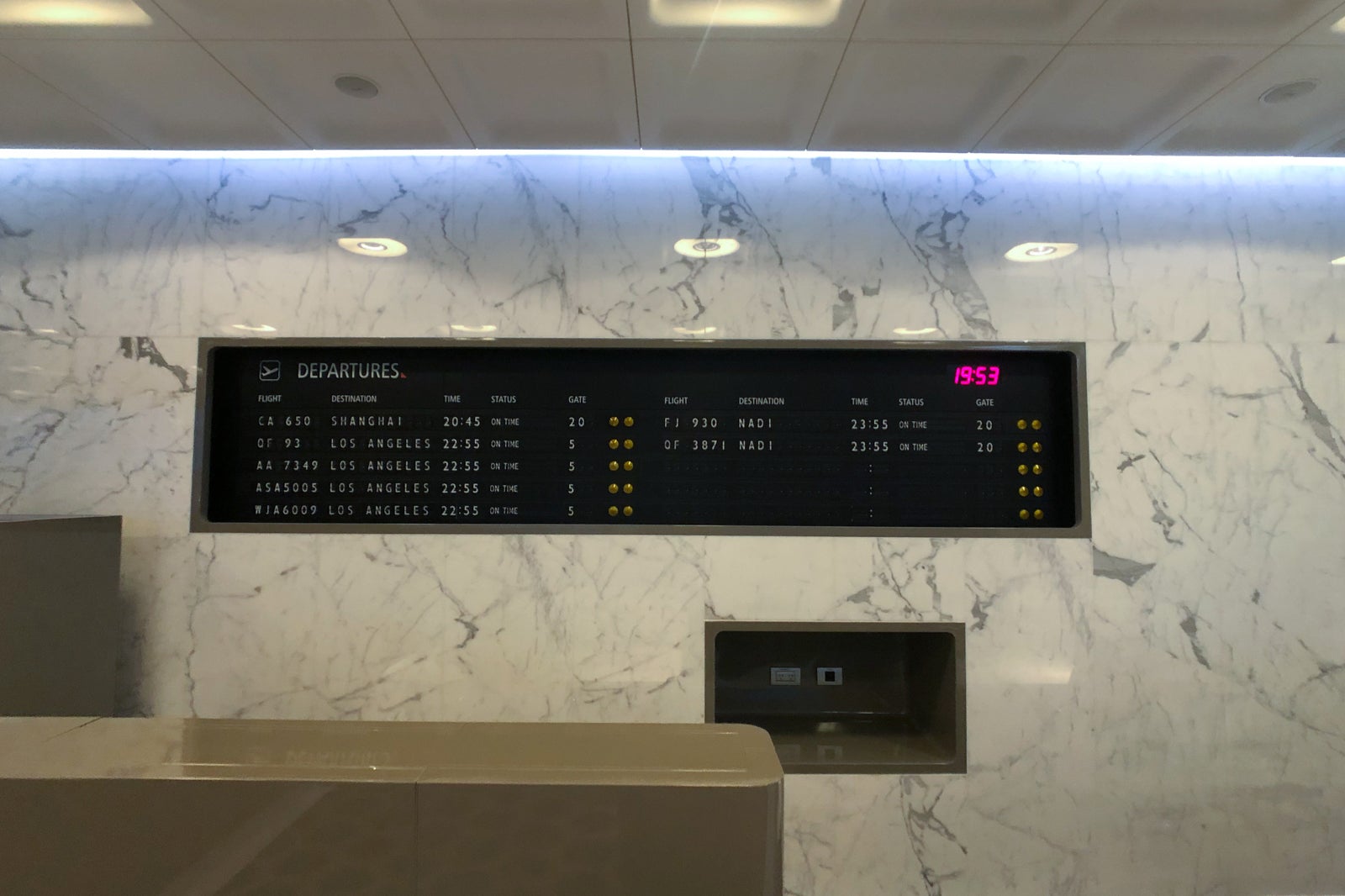 The distinctive, blurred honeycomb pattern on the carpeting was intended to make visitors feel uneasy looking down and encourage them to keep their gaze up to experience the surroundings. Mind tricks aside, that wasn't hard to do thanks to the vibrant palette of ochre, red, deep brown and white, all hearkening to the timeless vistas of Australia's landscapes. In short, it's just a nice looking lounge.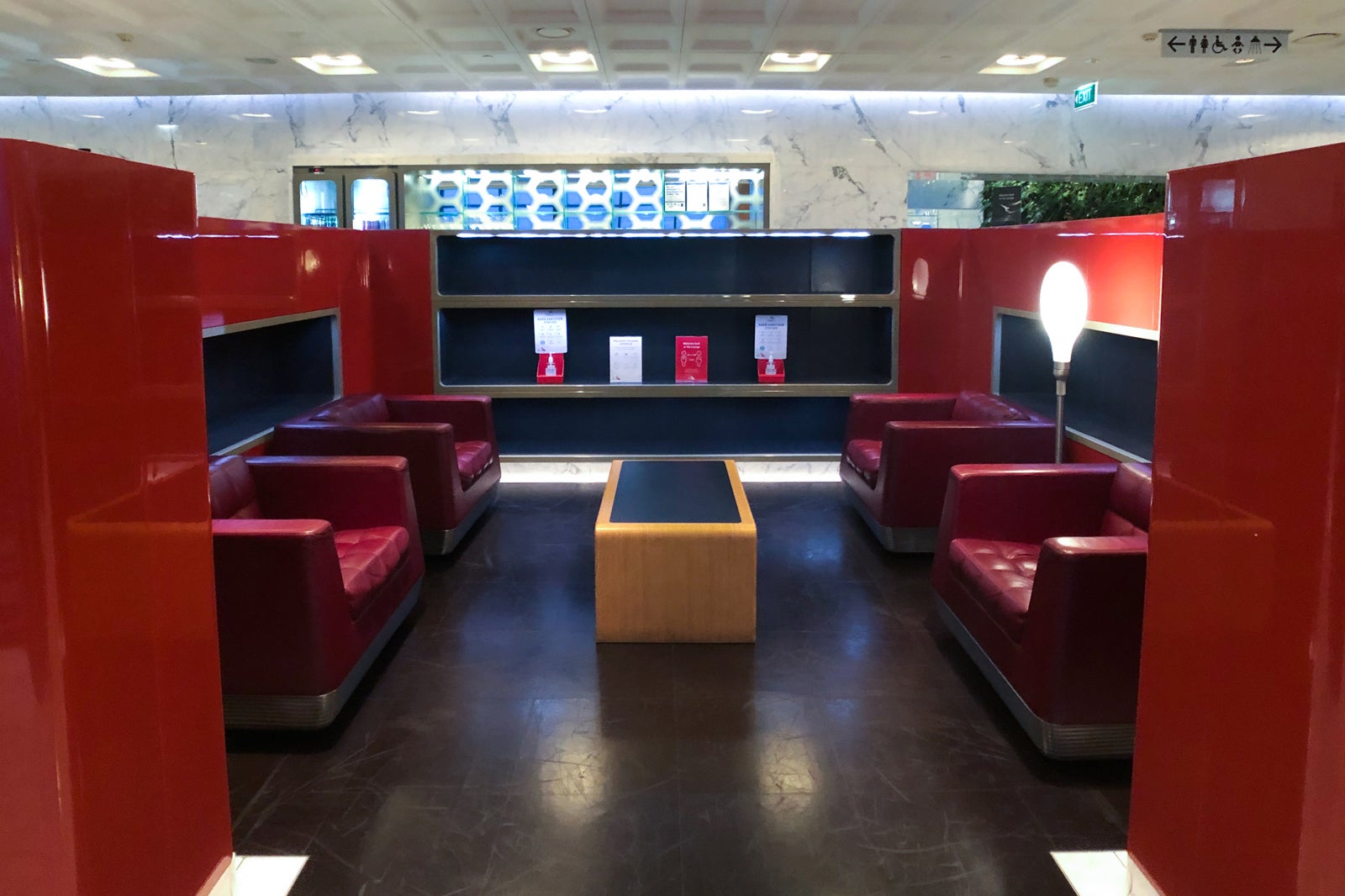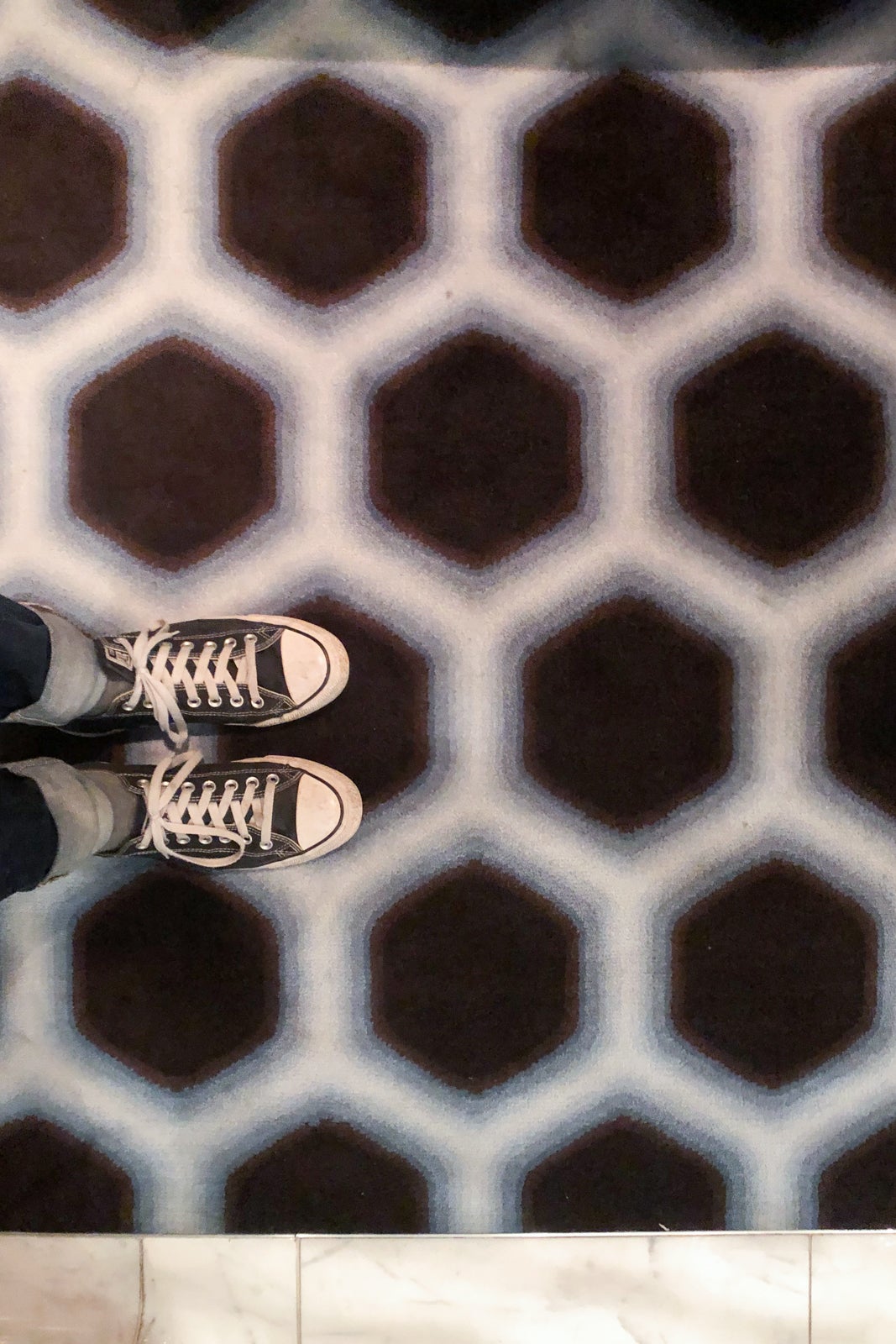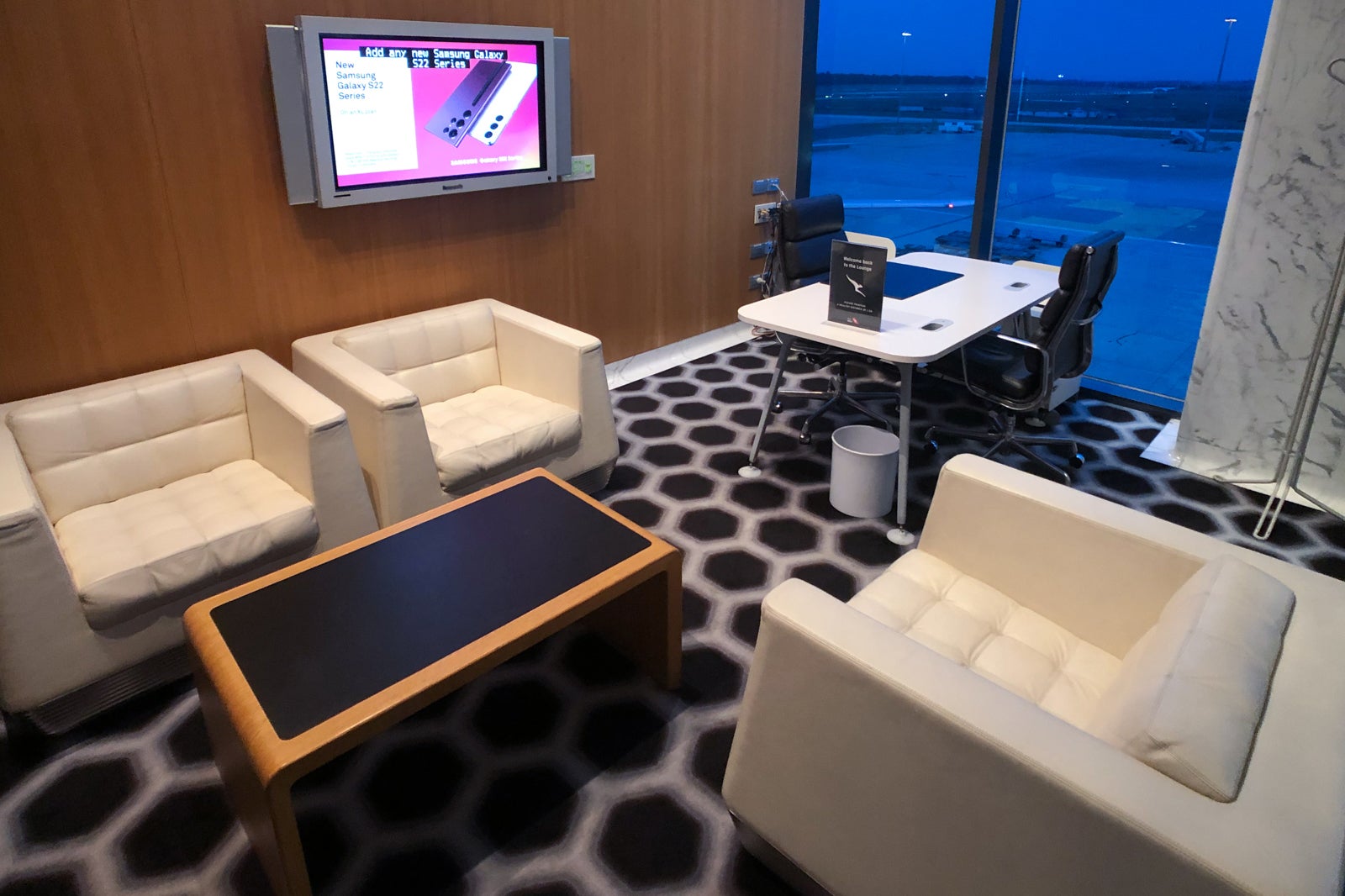 There were a few workspaces near the lounge entrance and then two private rooms you could reserve if you wanted to have a meeting with colleagues, though no one was using them while I was in the lounge.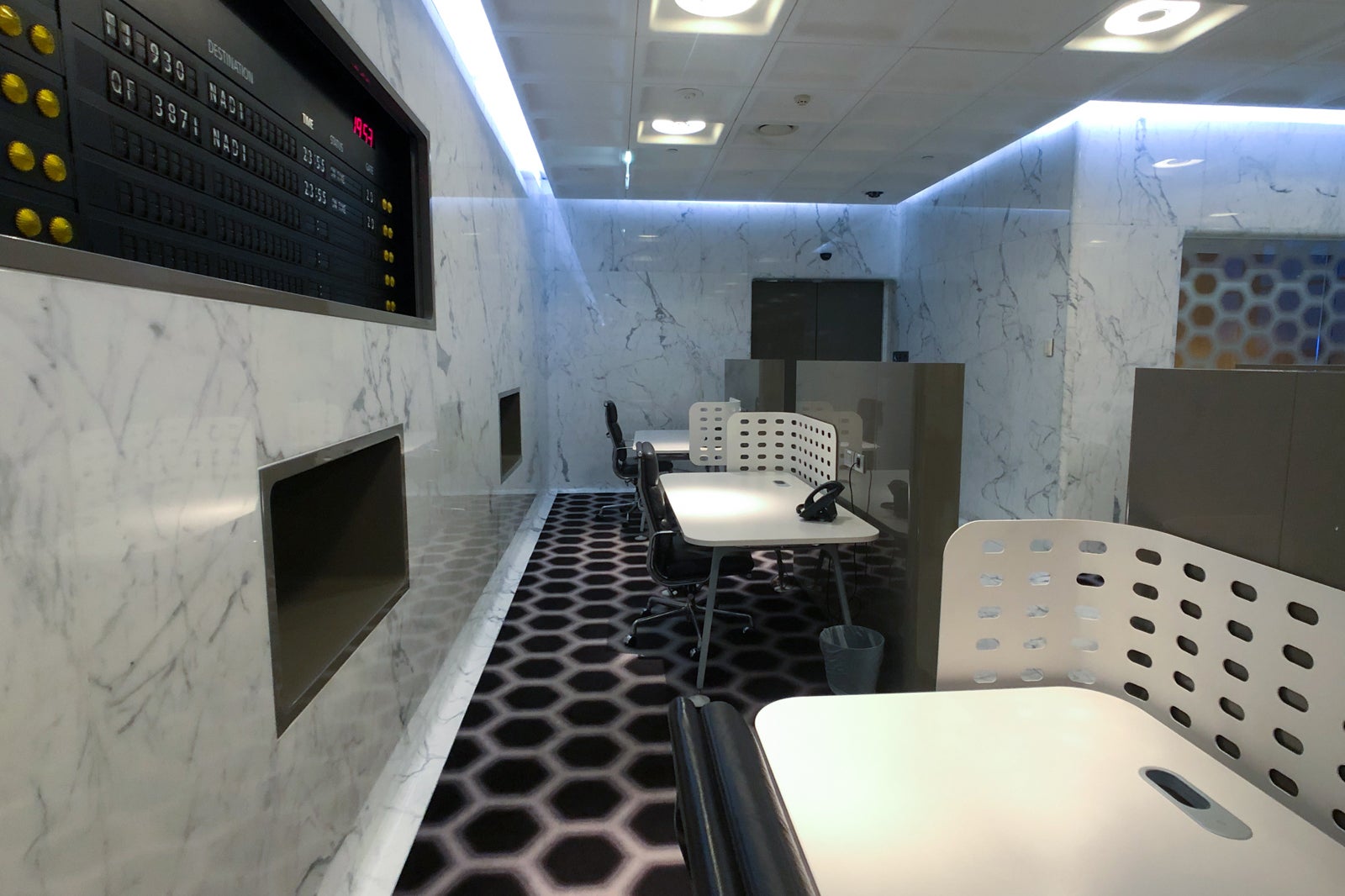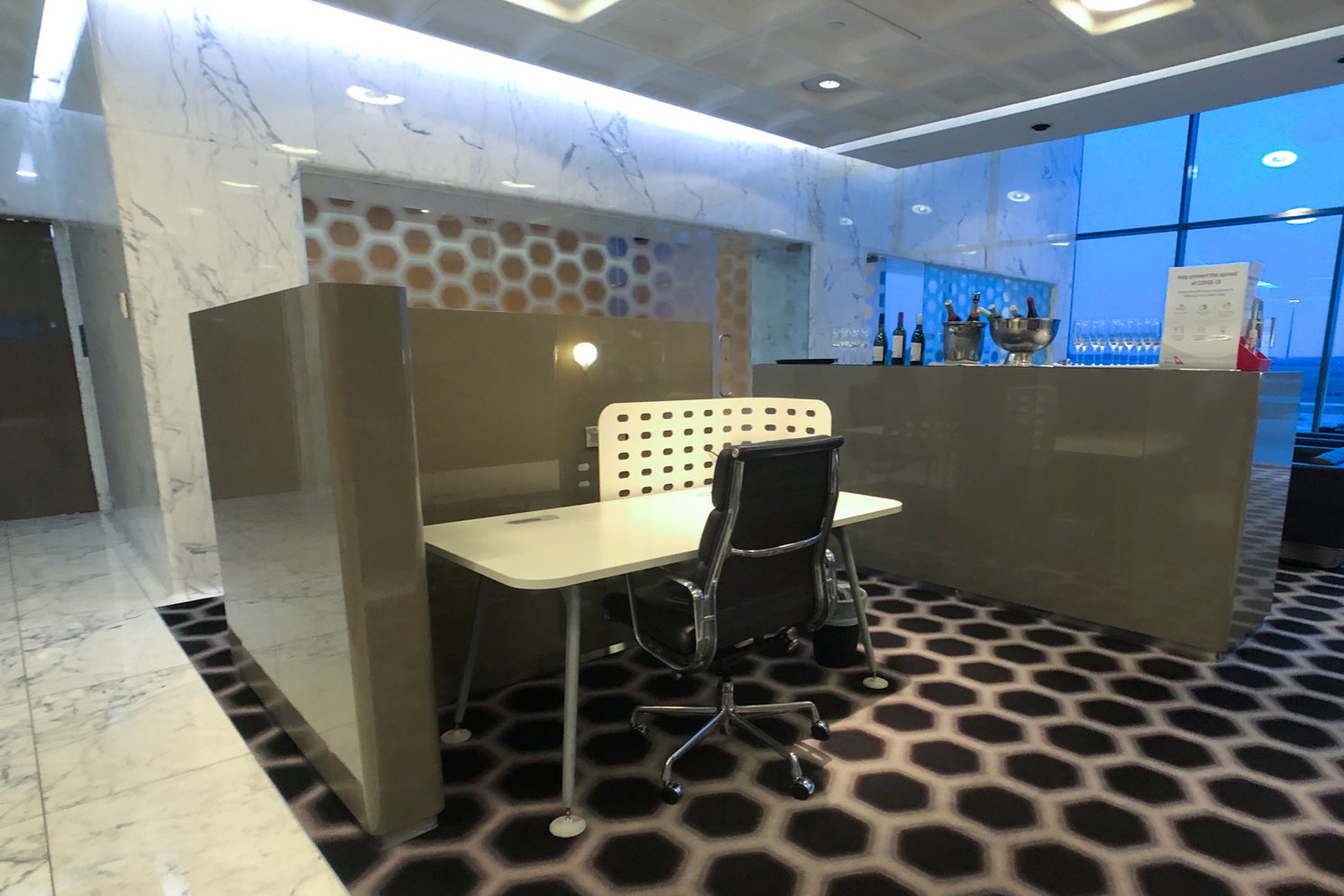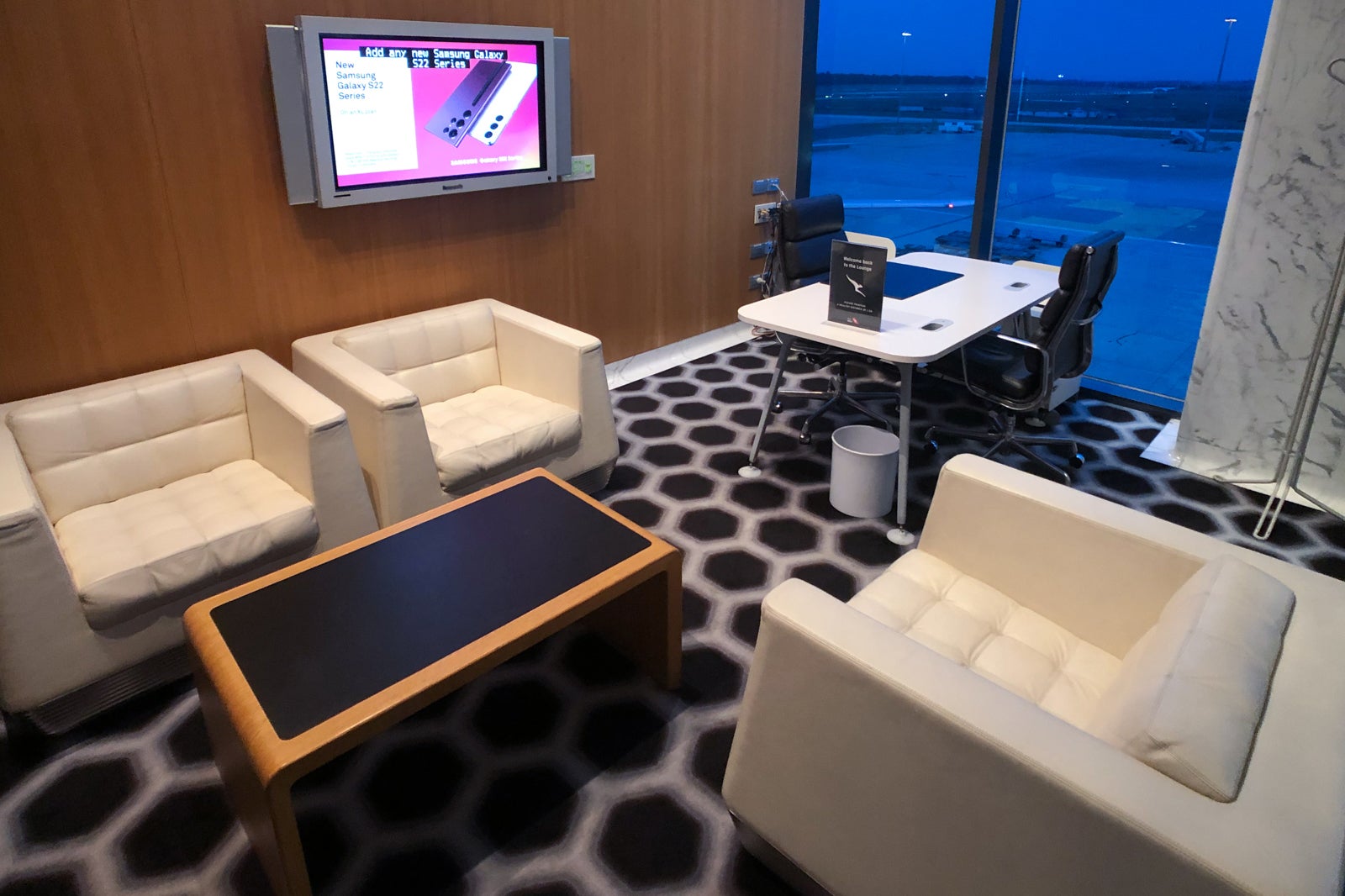 The wall opposite the entrance, which ran the length of the lounge, was all windows overlooking the tarmac and several gates. About a third of the lounge was taken up by its a la carte restaurant with menus by Aussie celebrity chef Neil Perry of Rockpool, a partnership that has been in place for around 25 years now.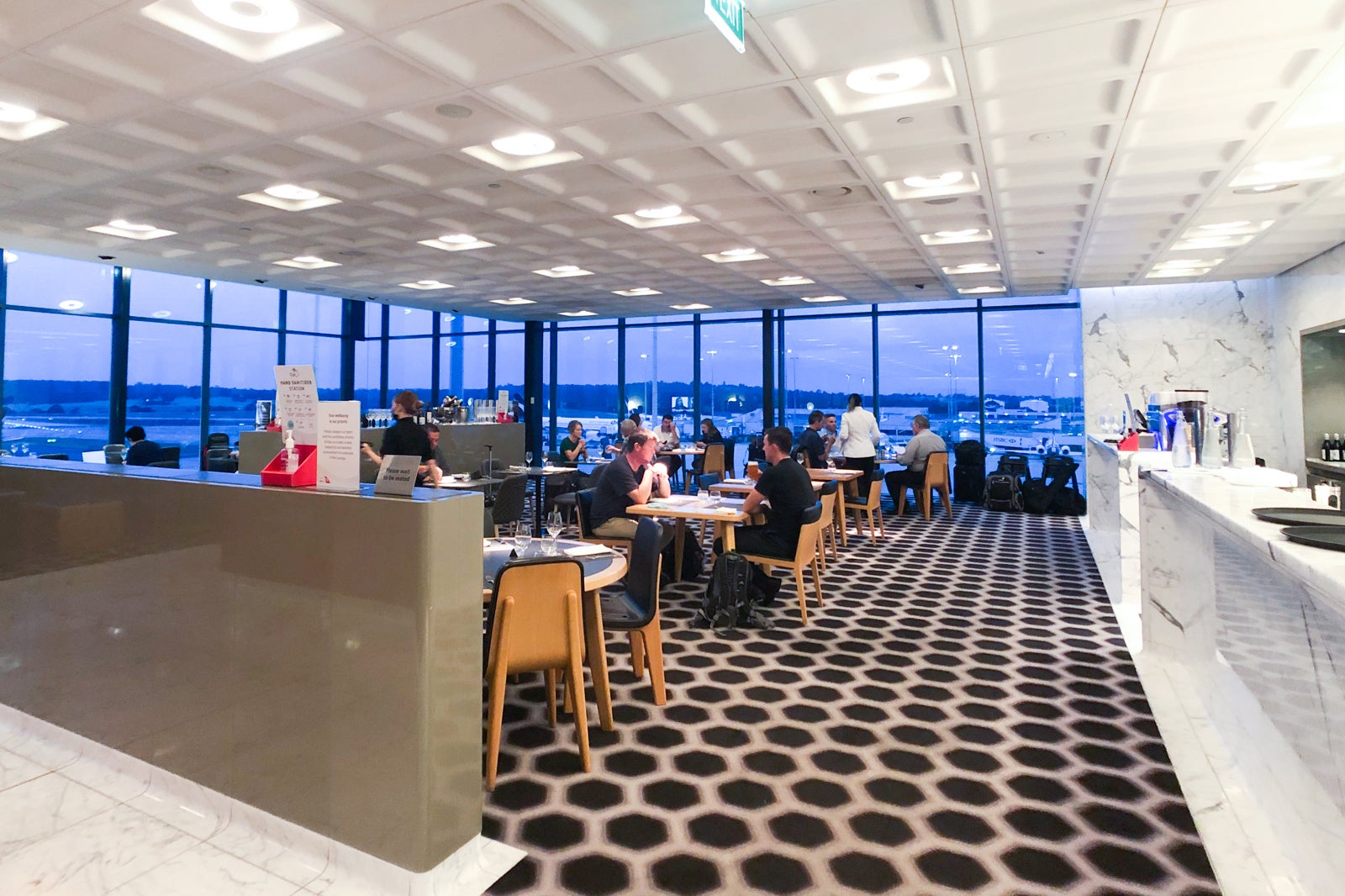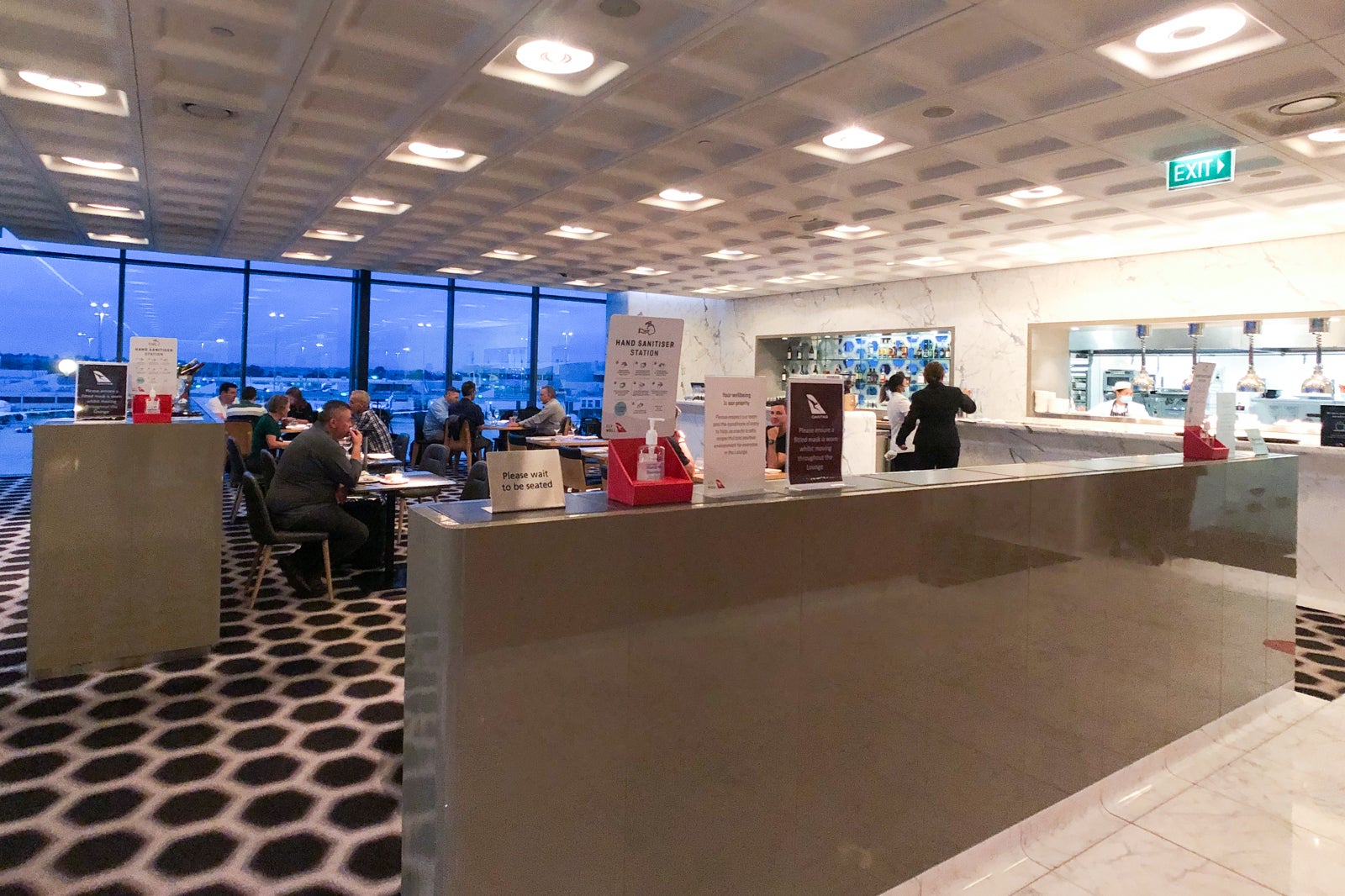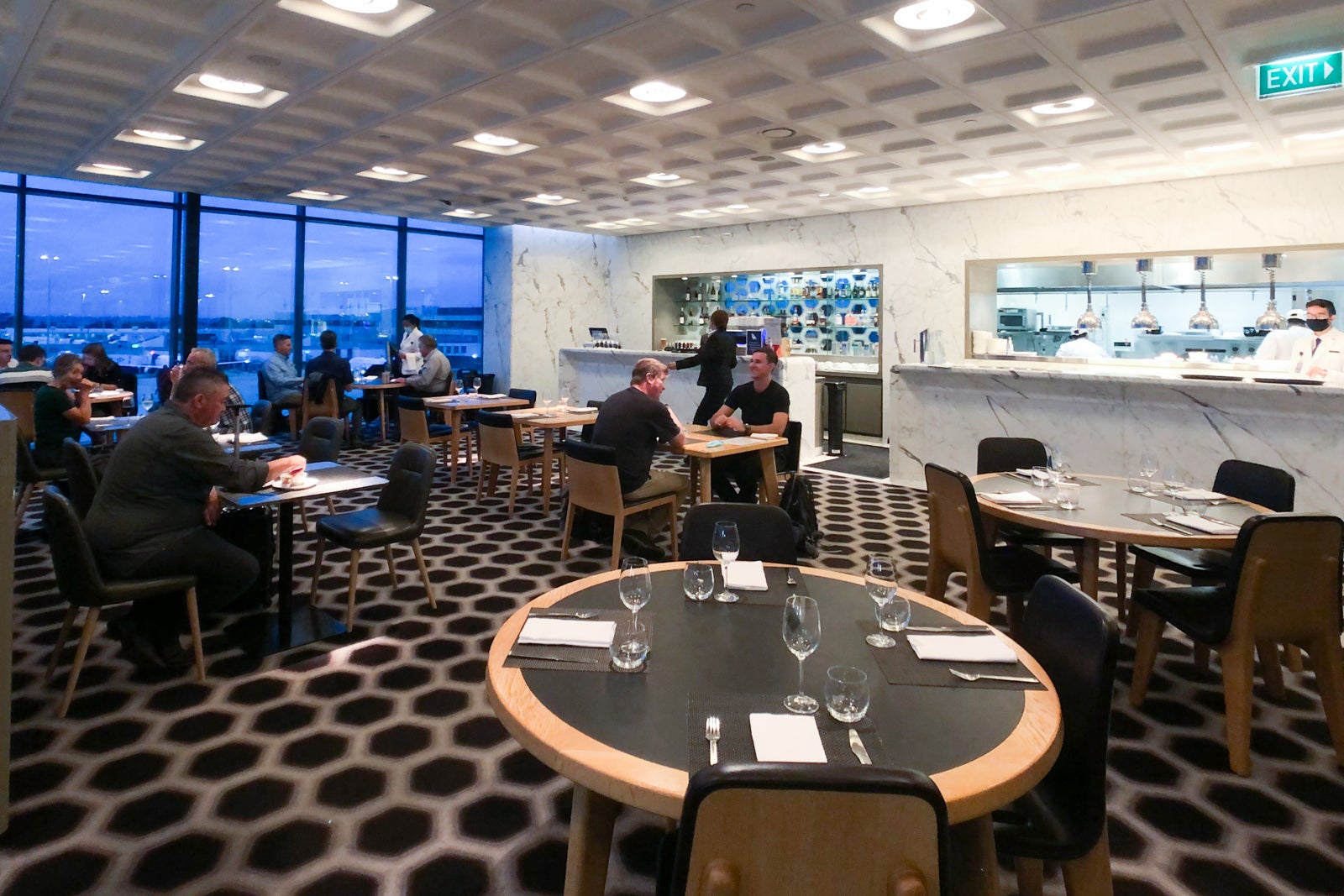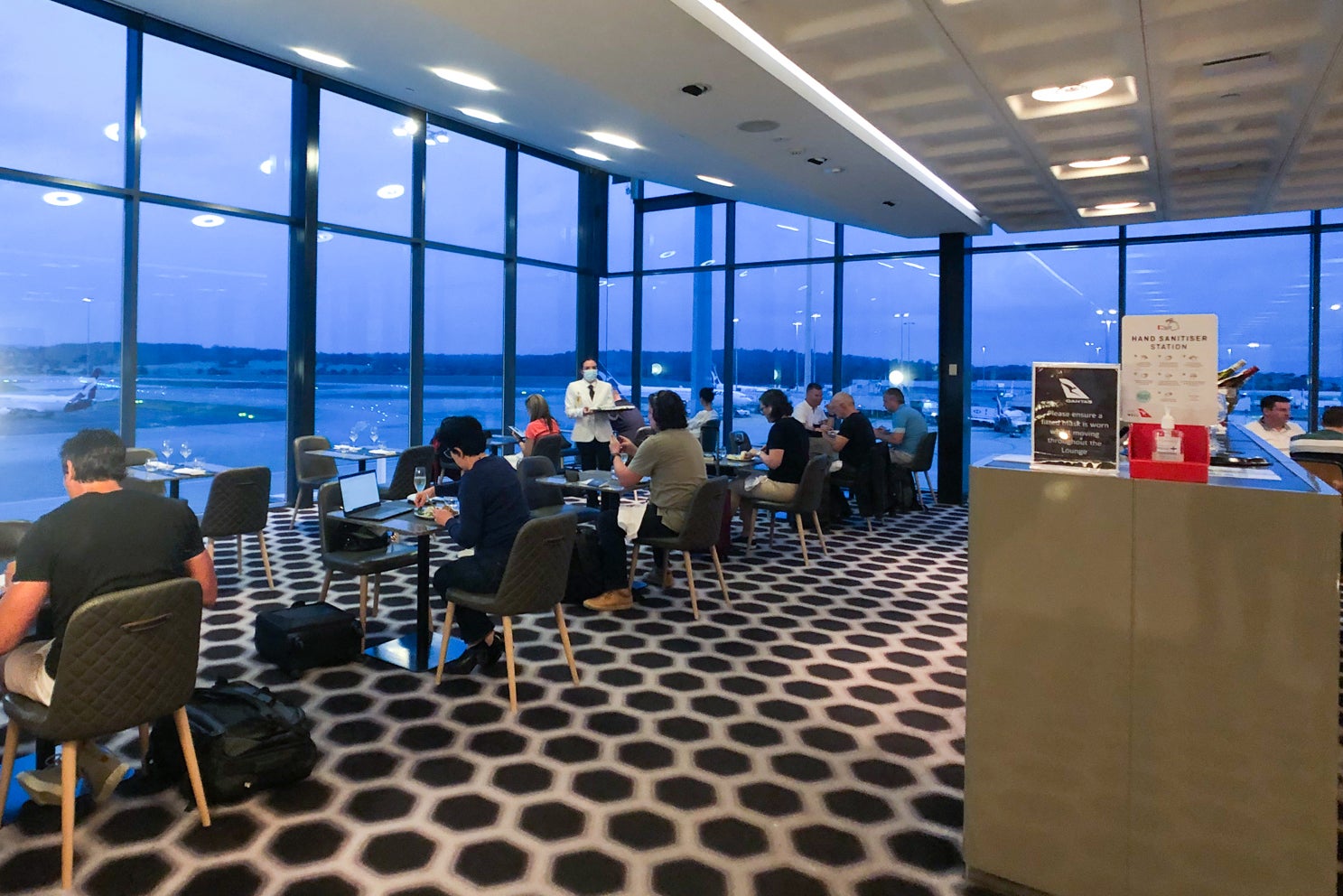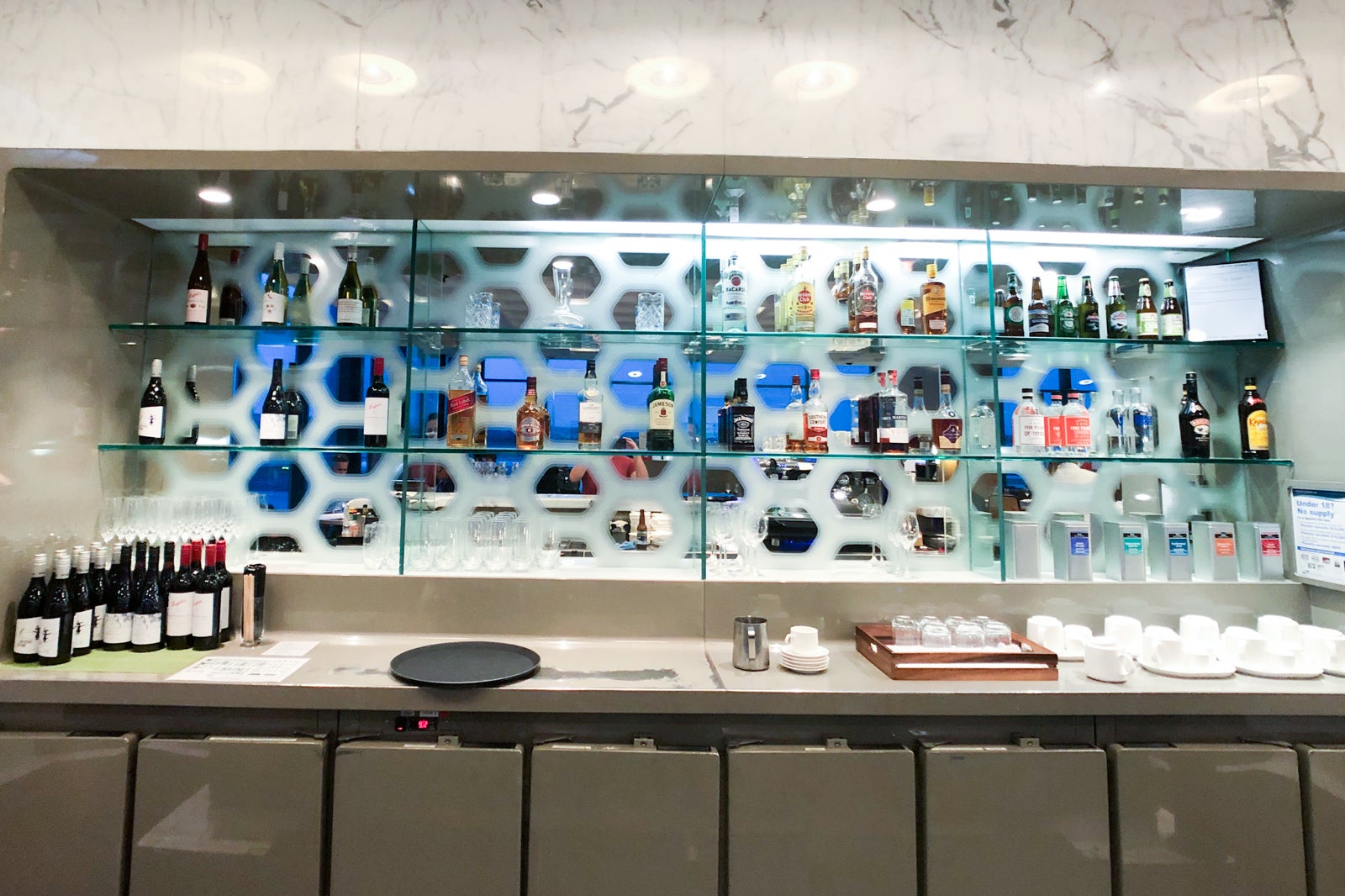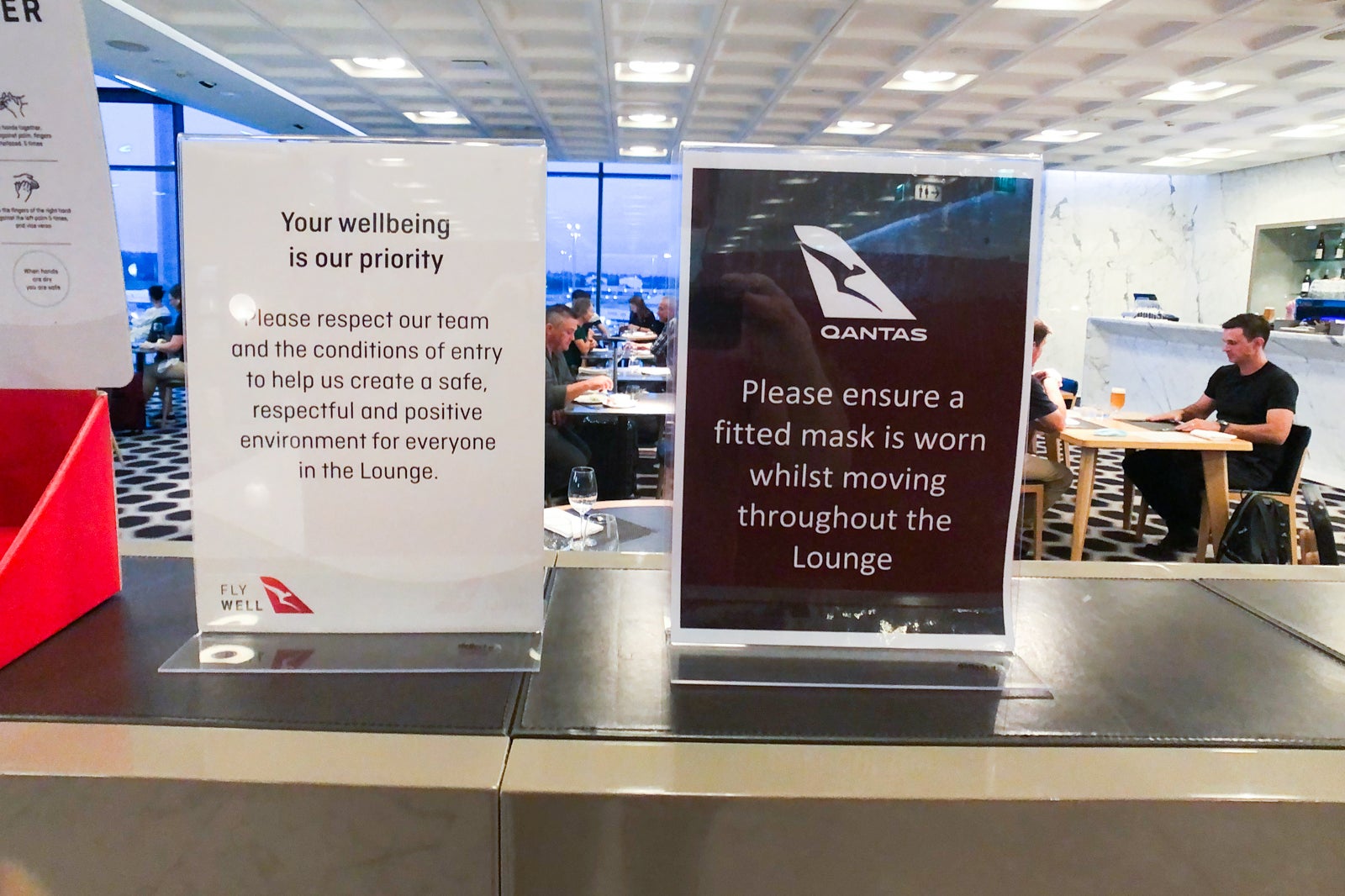 Each Qantas First Lounge serves a specific seasonal menu, though you can always find staples like Perry's salt-and-pepper squid with green chili dipping sauce. Given how busy the restaurant was becoming, I chose to sample the food at a seat at the other side of the lounge and was encouraged to try the lasagna with shaved fennel, lemon and parsley salad. It was hearty but delicious; I didn't want to fill up before my flight, so I only had a few bites.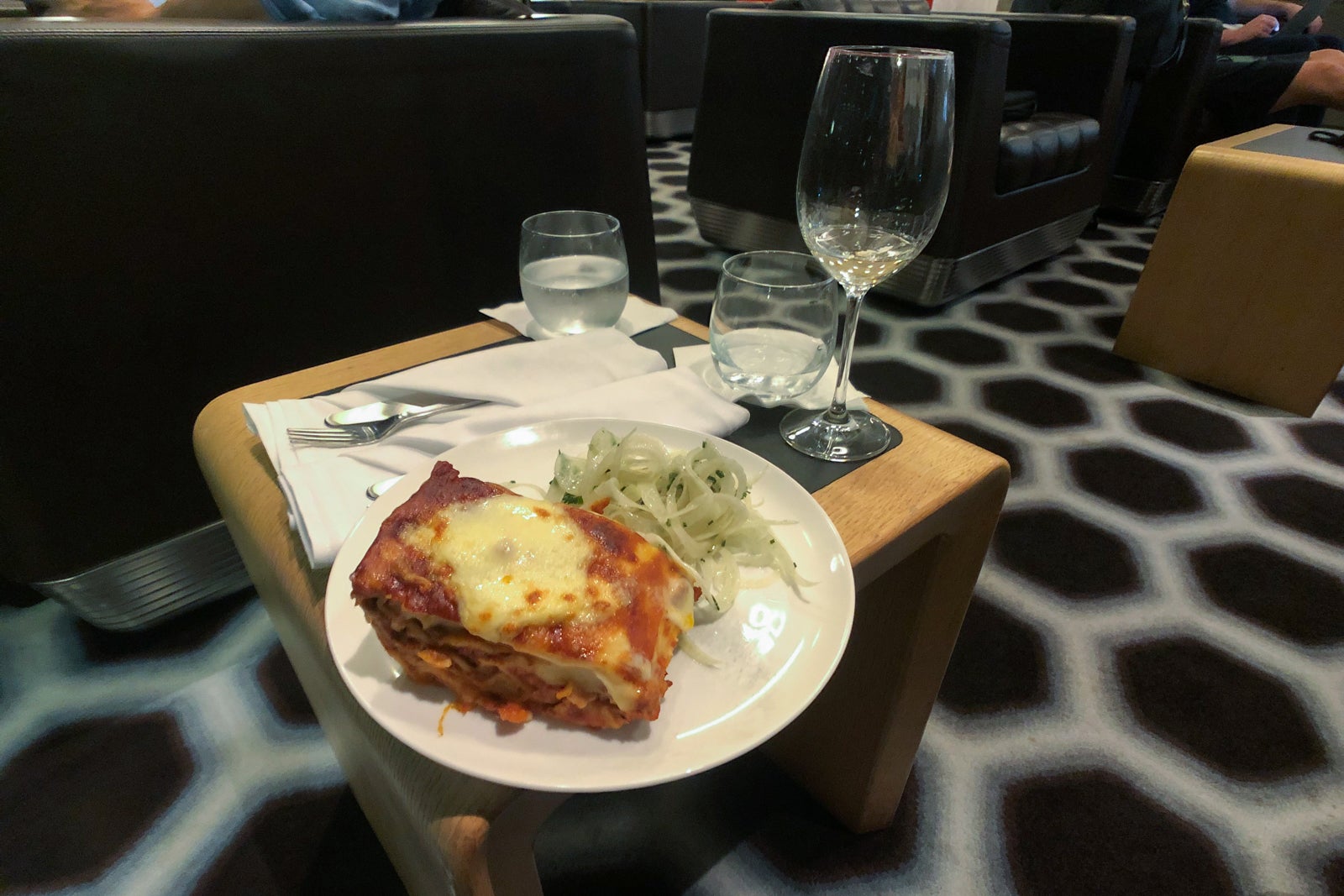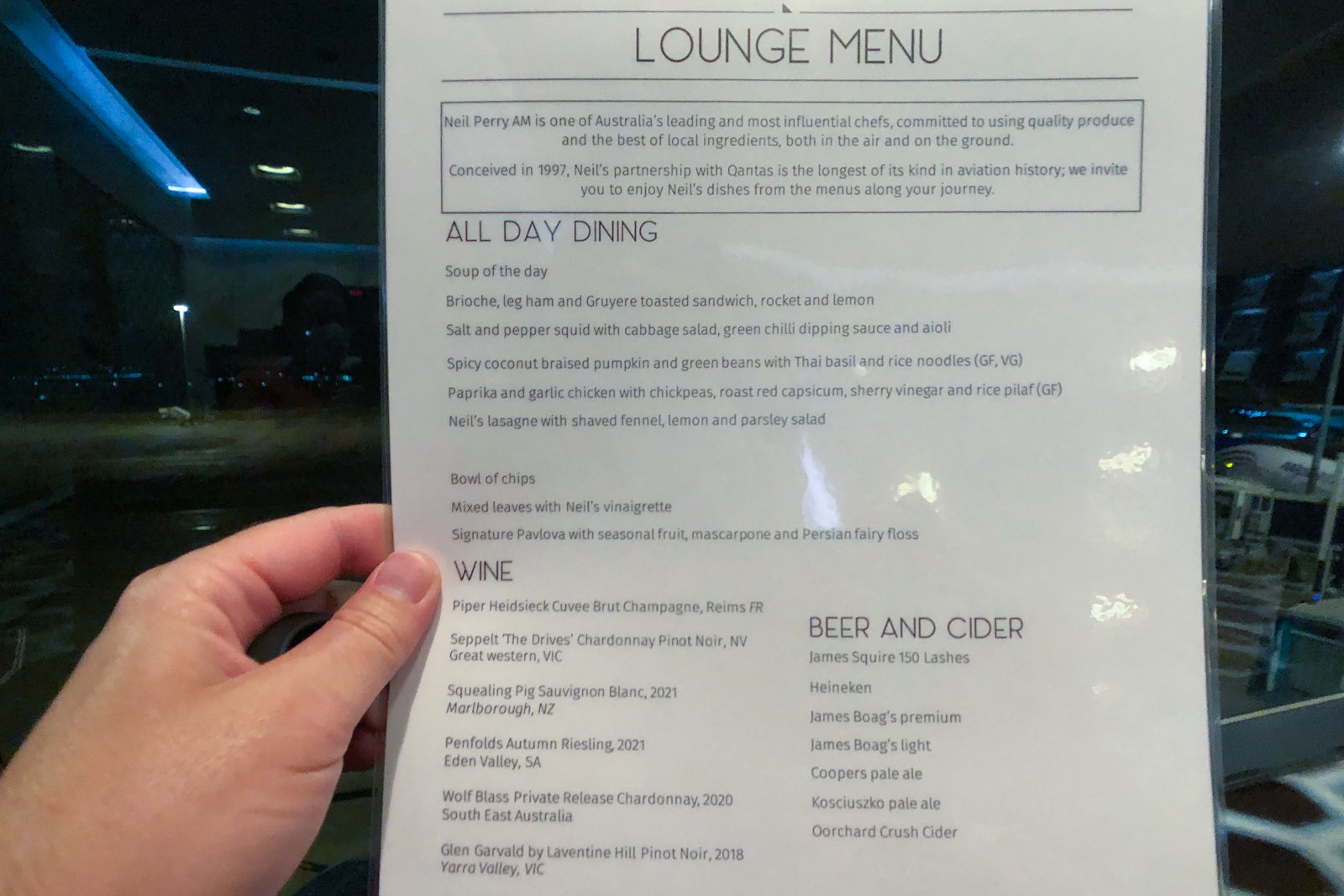 I did, however, want to try a few of the Australian wines available instead of the Piper Heidsieck Champagne. I asked for tastes of the Seppelt "The Drives" sparkling wine from Victoria, which was bright and refreshing, and the jammy but restrained Fifth Leg Shiraz from Western Australia's Margaret River region.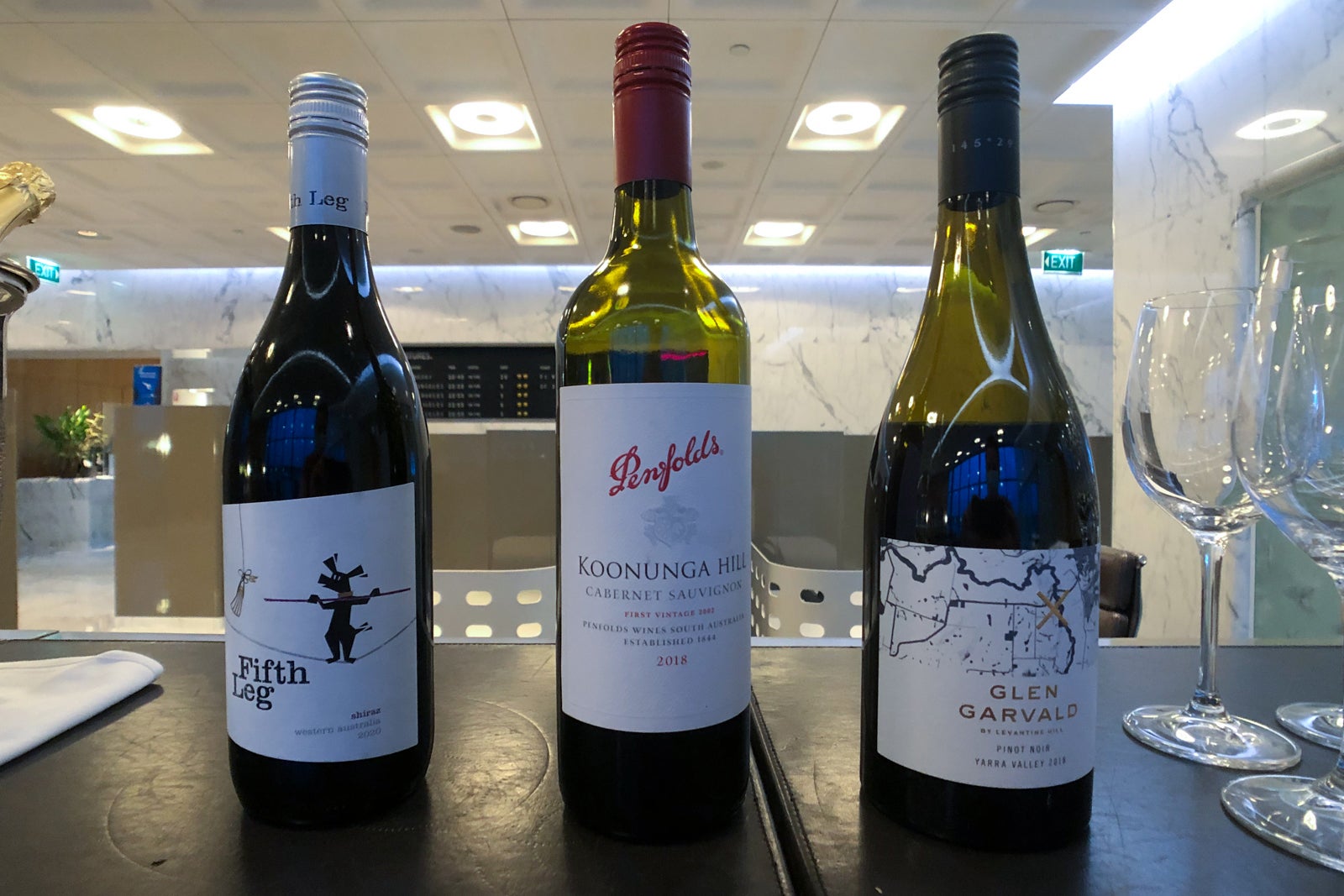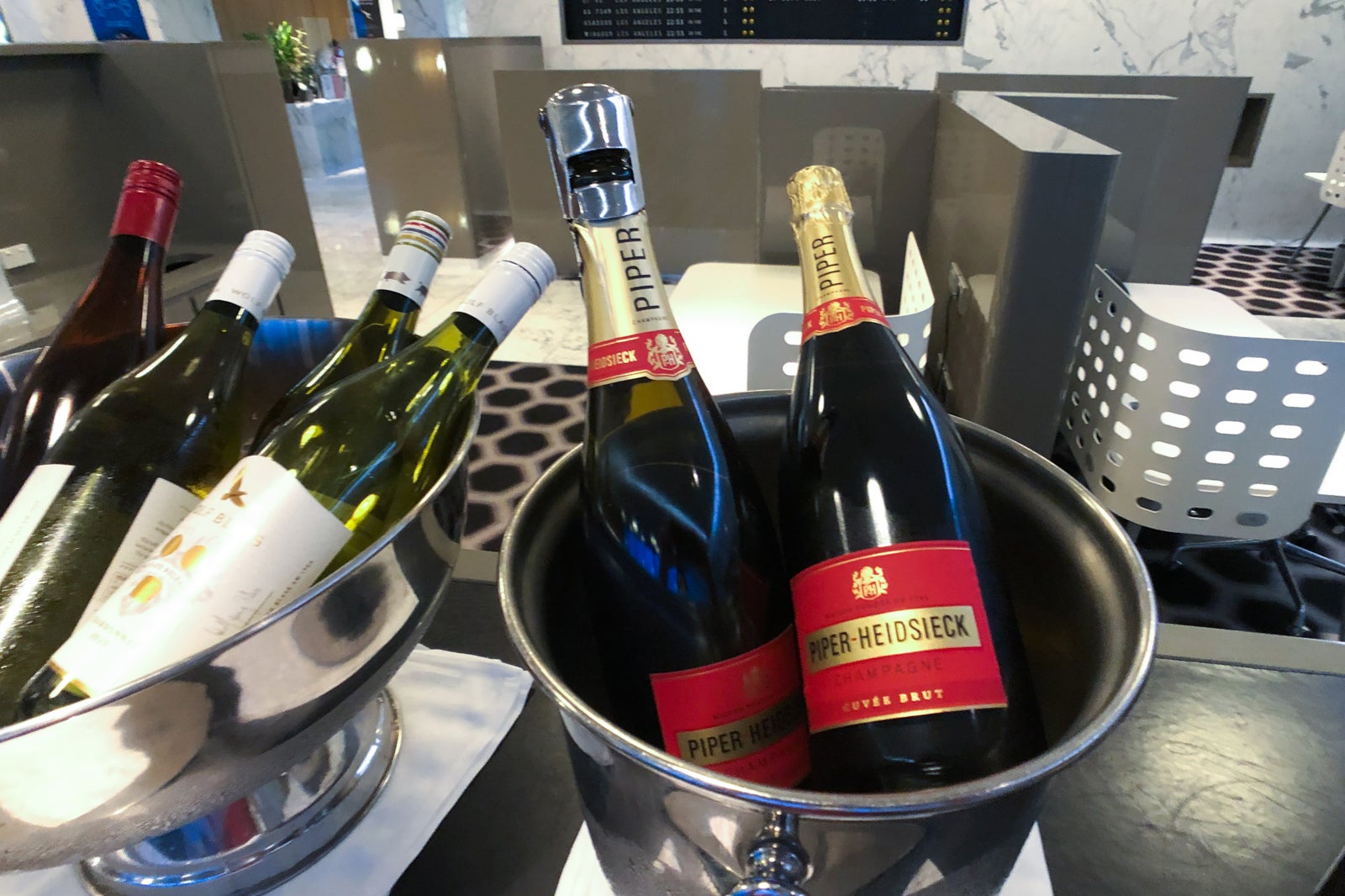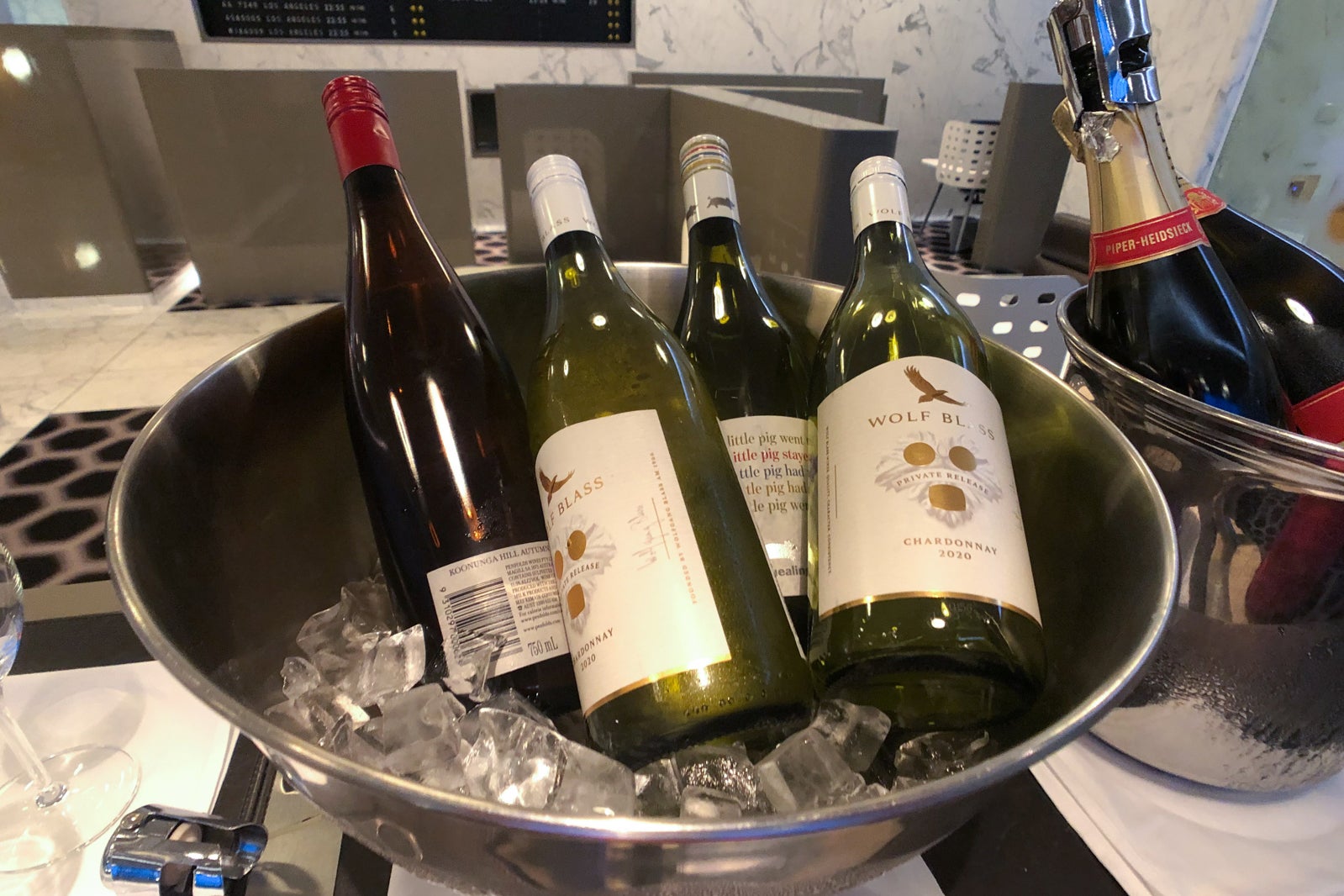 Since I'd been out all day and wanted to freshen up before my flight, I popped into the first-come, first-served shower area and staked out a private suite. There is also a small spa that offers eligible passengers short, complimentary treatments like mini-facials or neck and shoulder massages, though this was closed during my visit.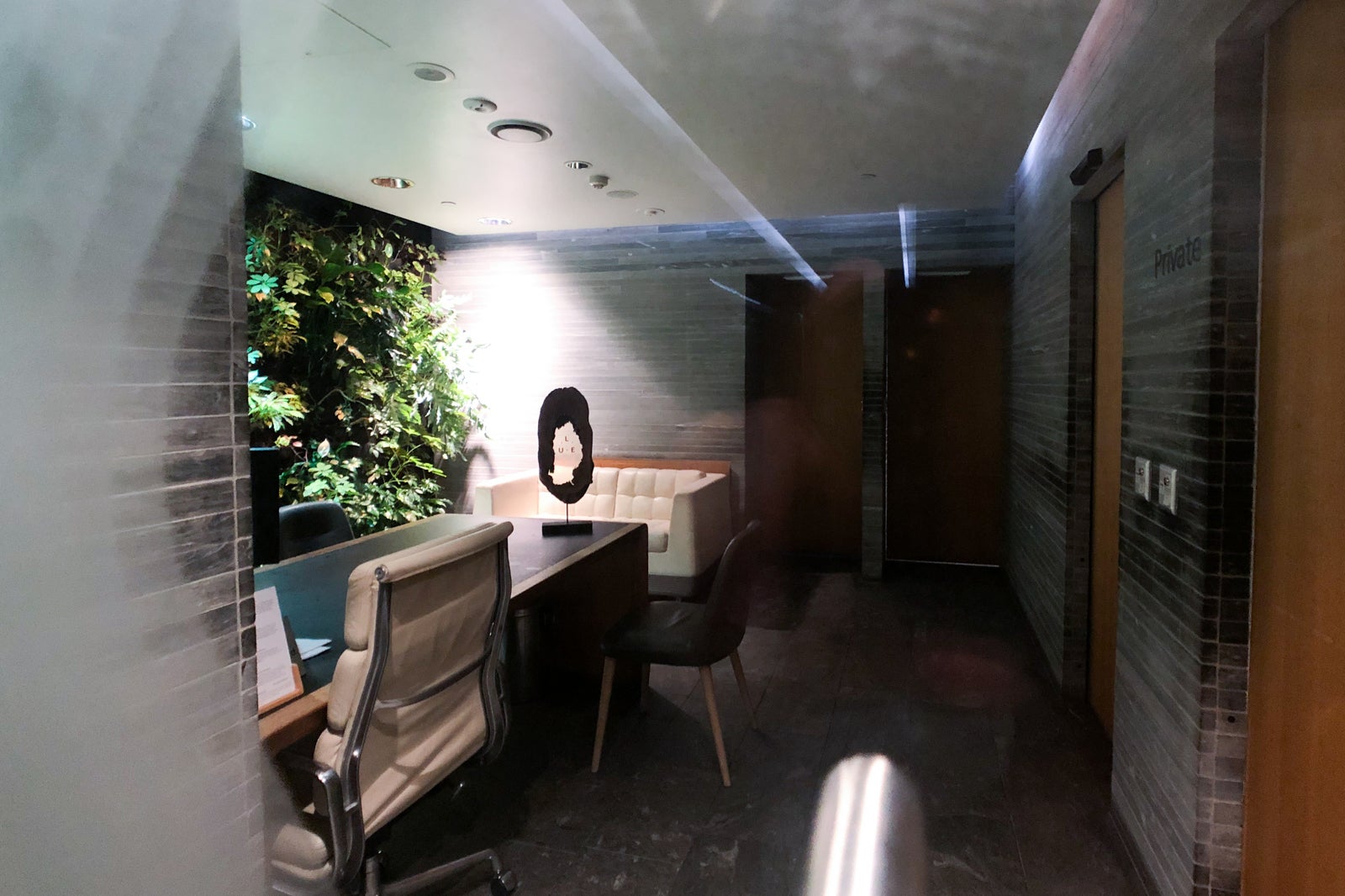 I wish my bathroom at home looked like this, what with all the gleaming marble, a walk-in shower cabine and a separate cubby for the toilet.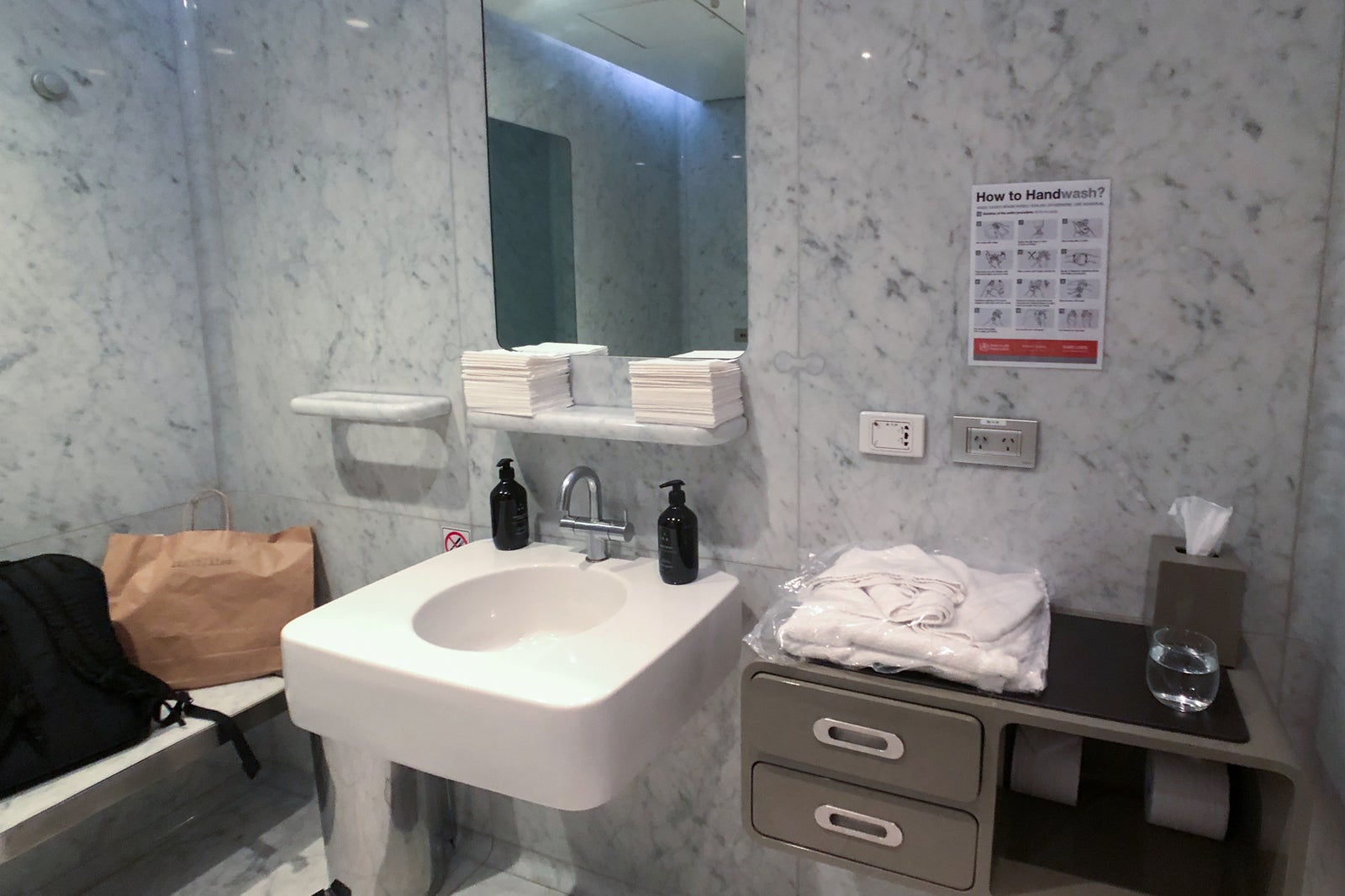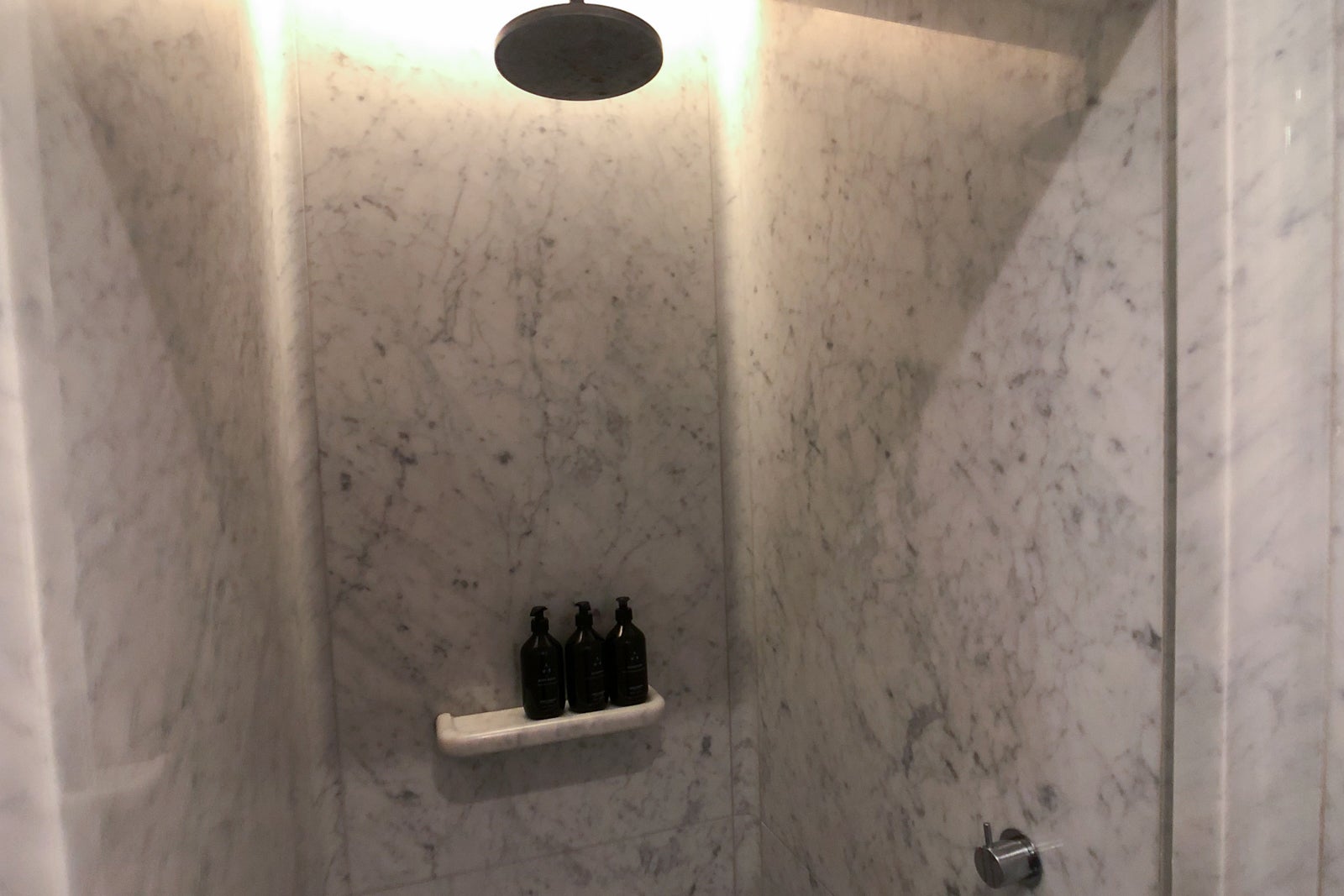 The staff had laid out both hand and body towels wrapped in plastic and provided dental and shaving kits. There were also lemon myrtle and geranium Lagaia Unedited products, including hand soap, body lotion, shampoo and conditioner. By the time I'd showered, primped and moisturized, I felt like a new man and was ready to board my flight.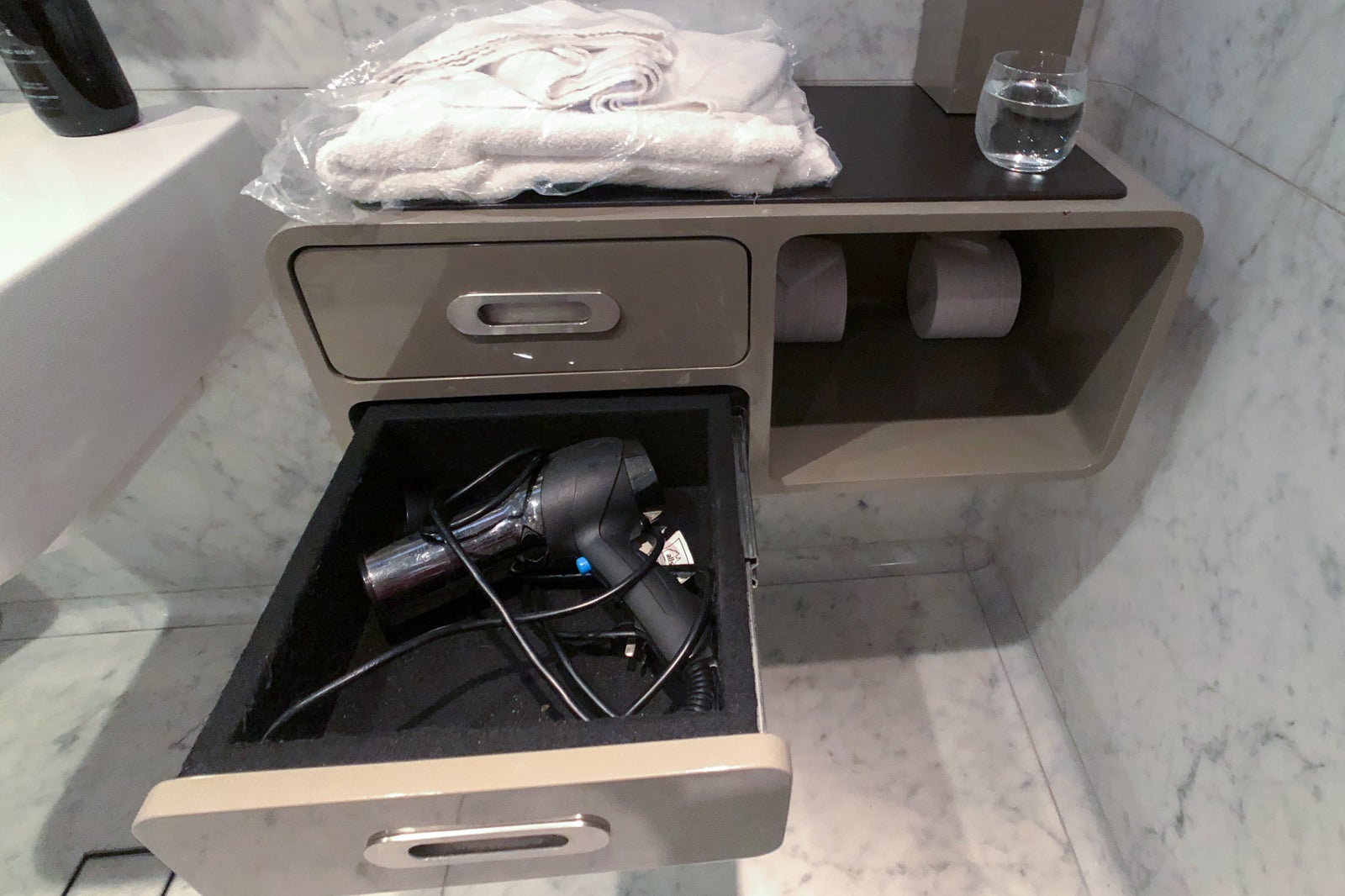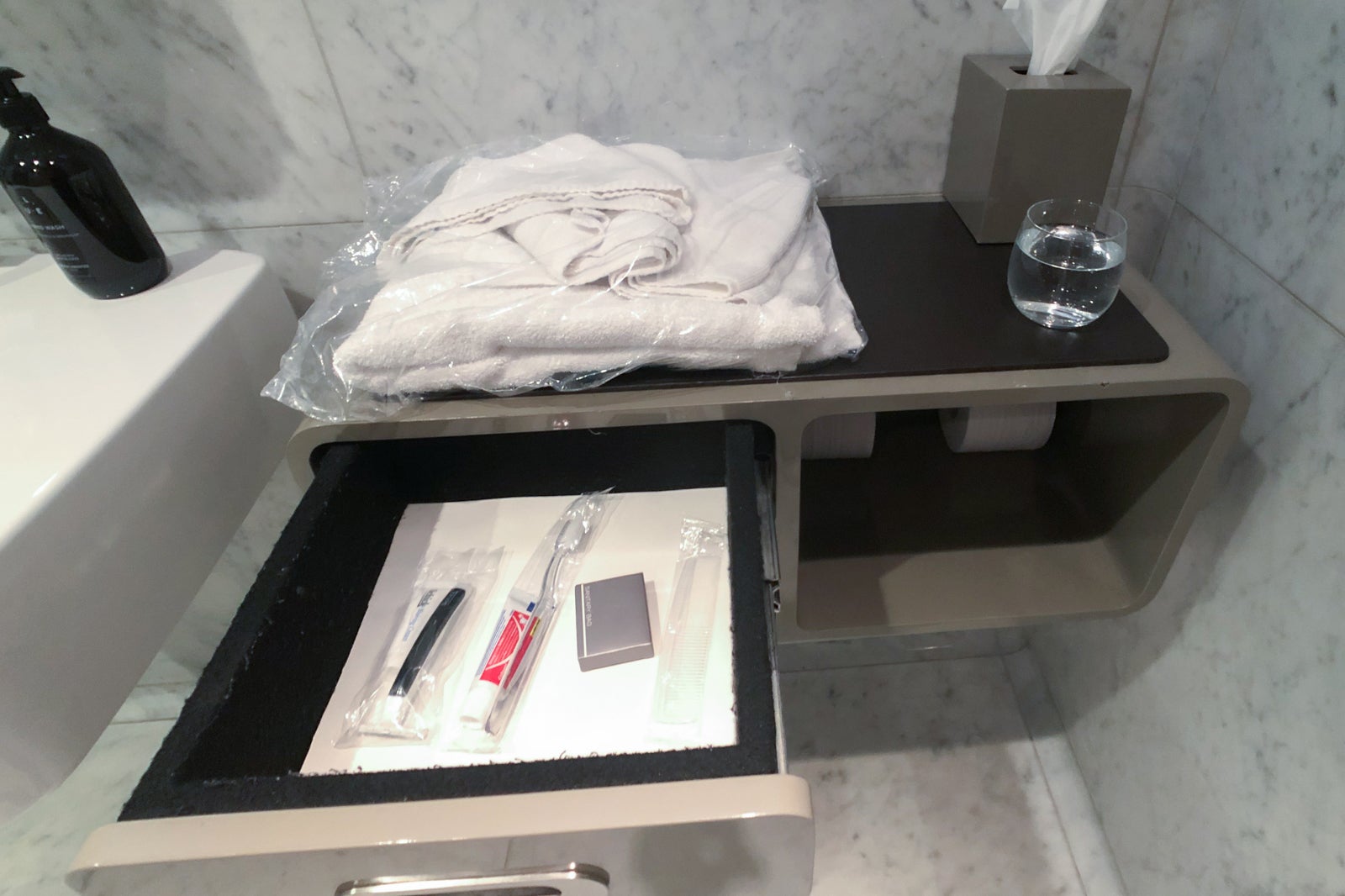 I headed down to the gate area shortly before boarding and found it cordoned off by a security company the airport had contracted to manage crowding. They were only letting transit passengers sit in the gate area; others were forming a huge line snaking into the terminal, so I'm not sure how effective their measures were.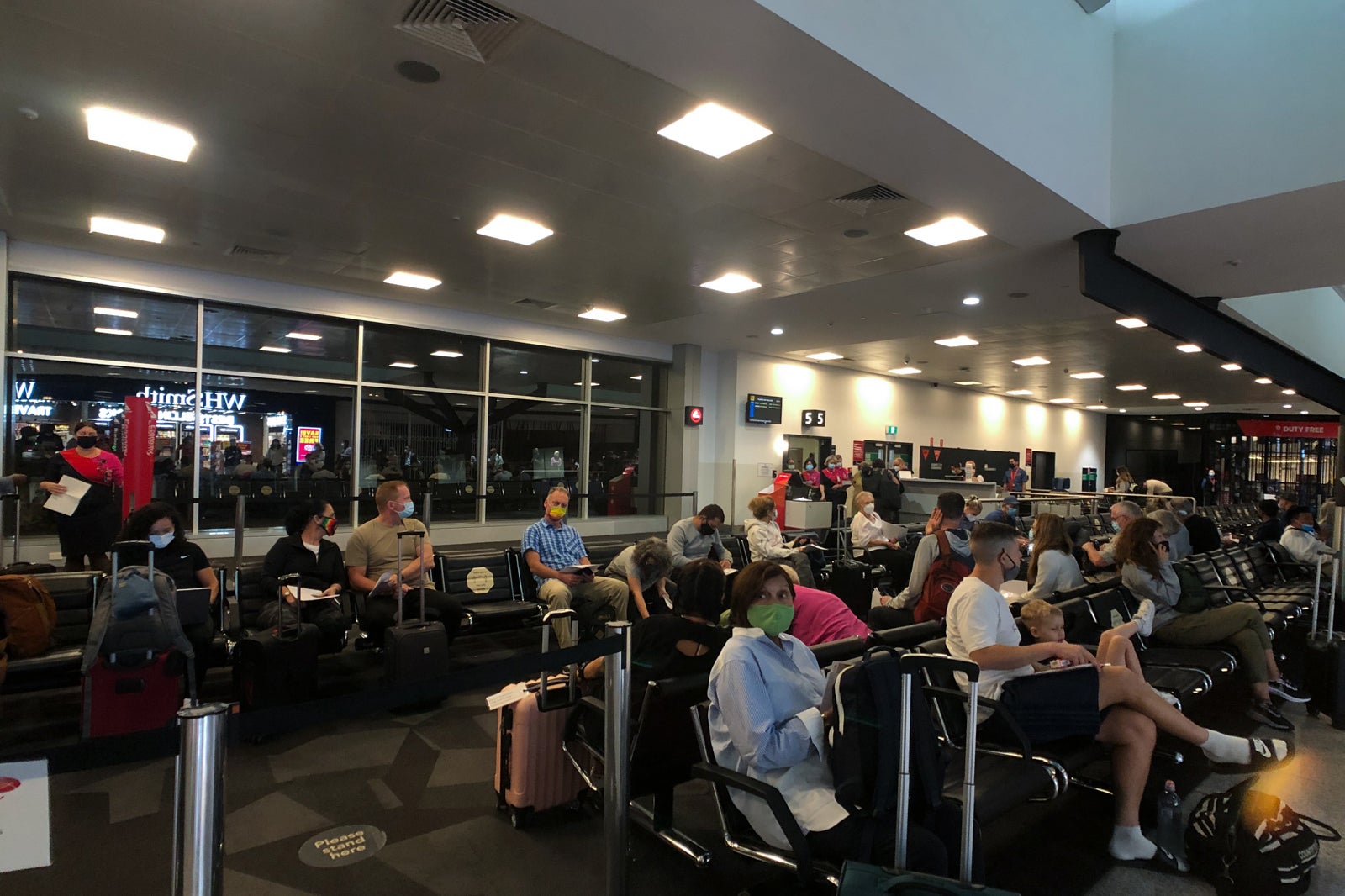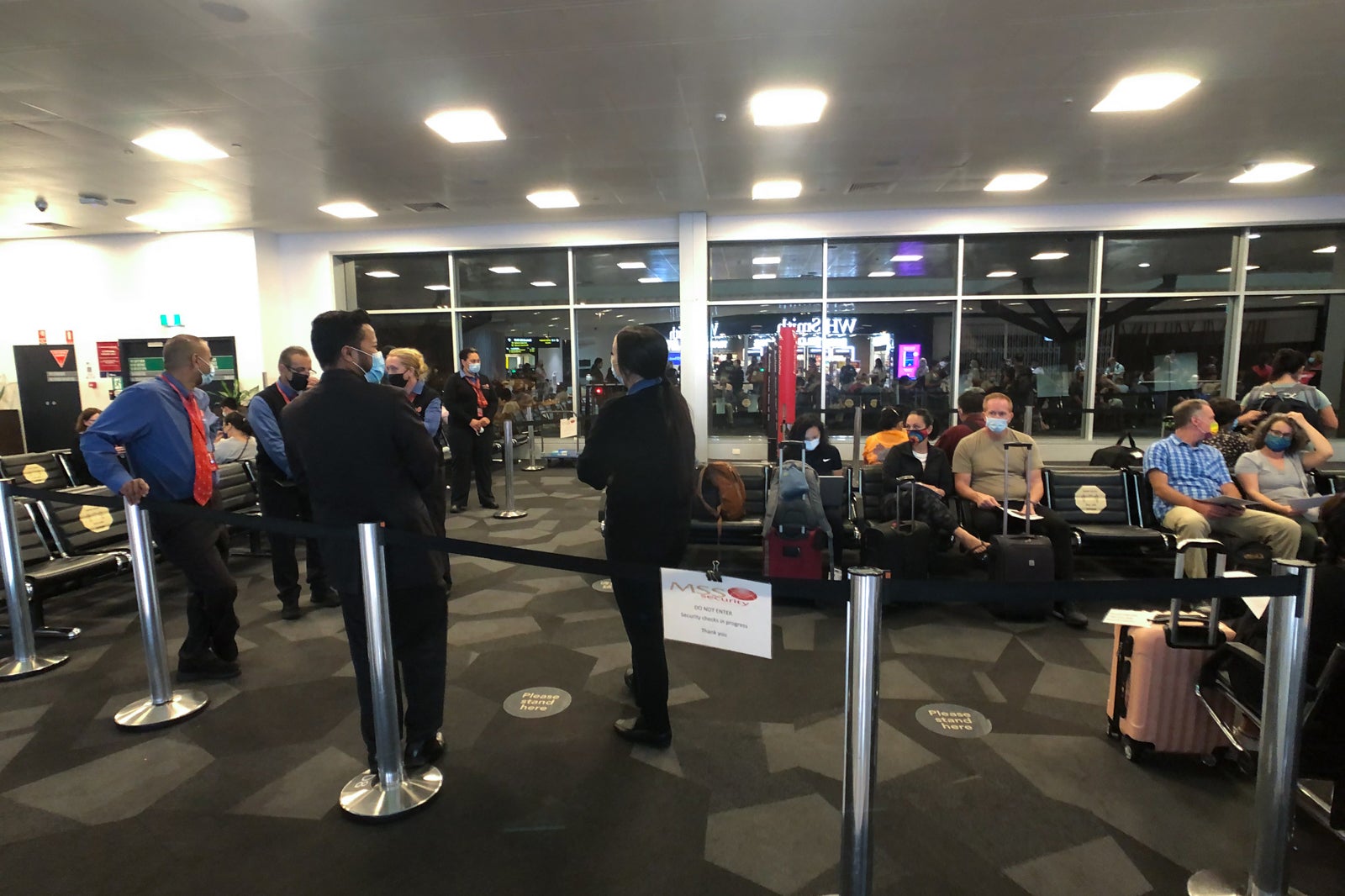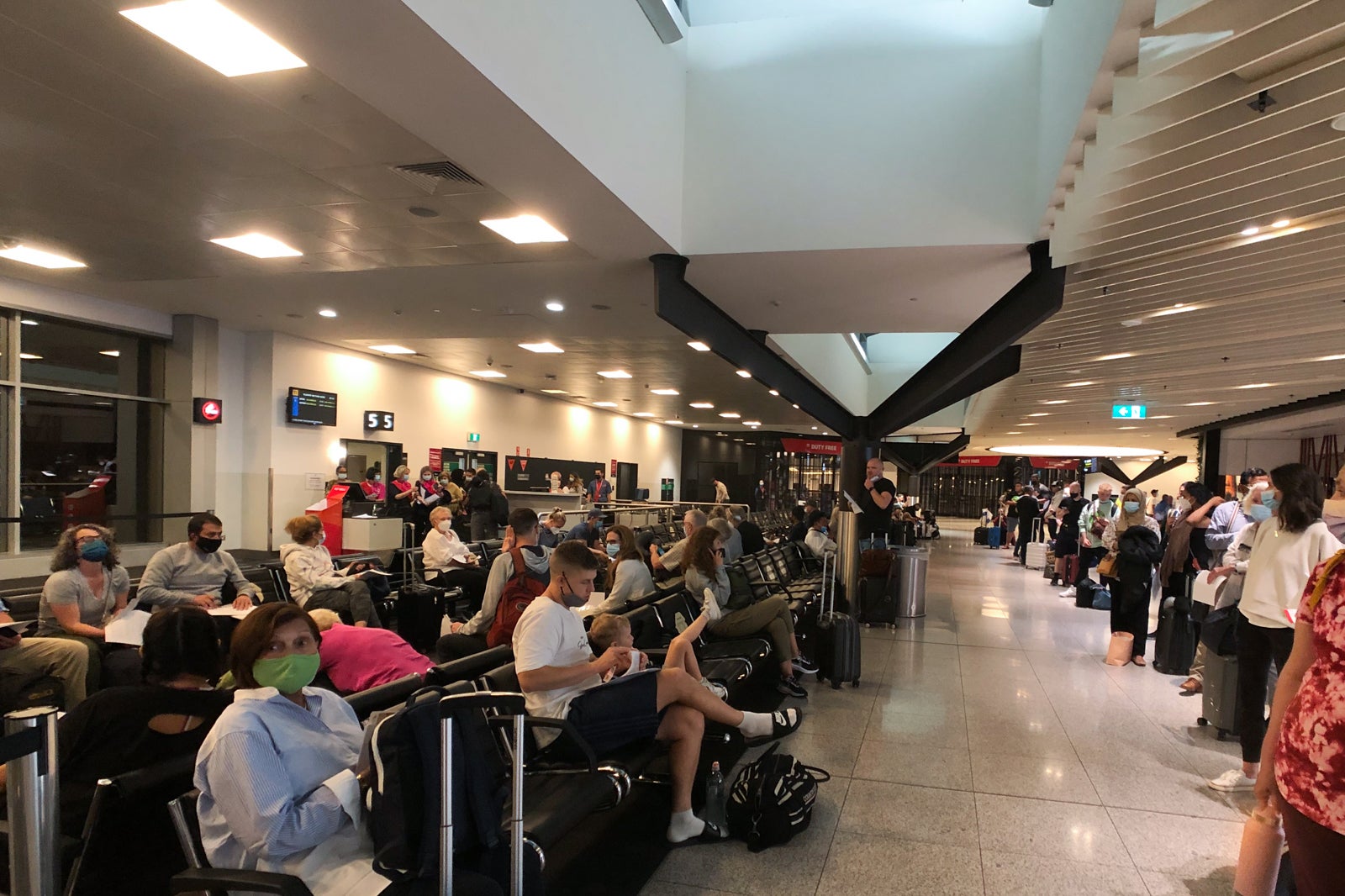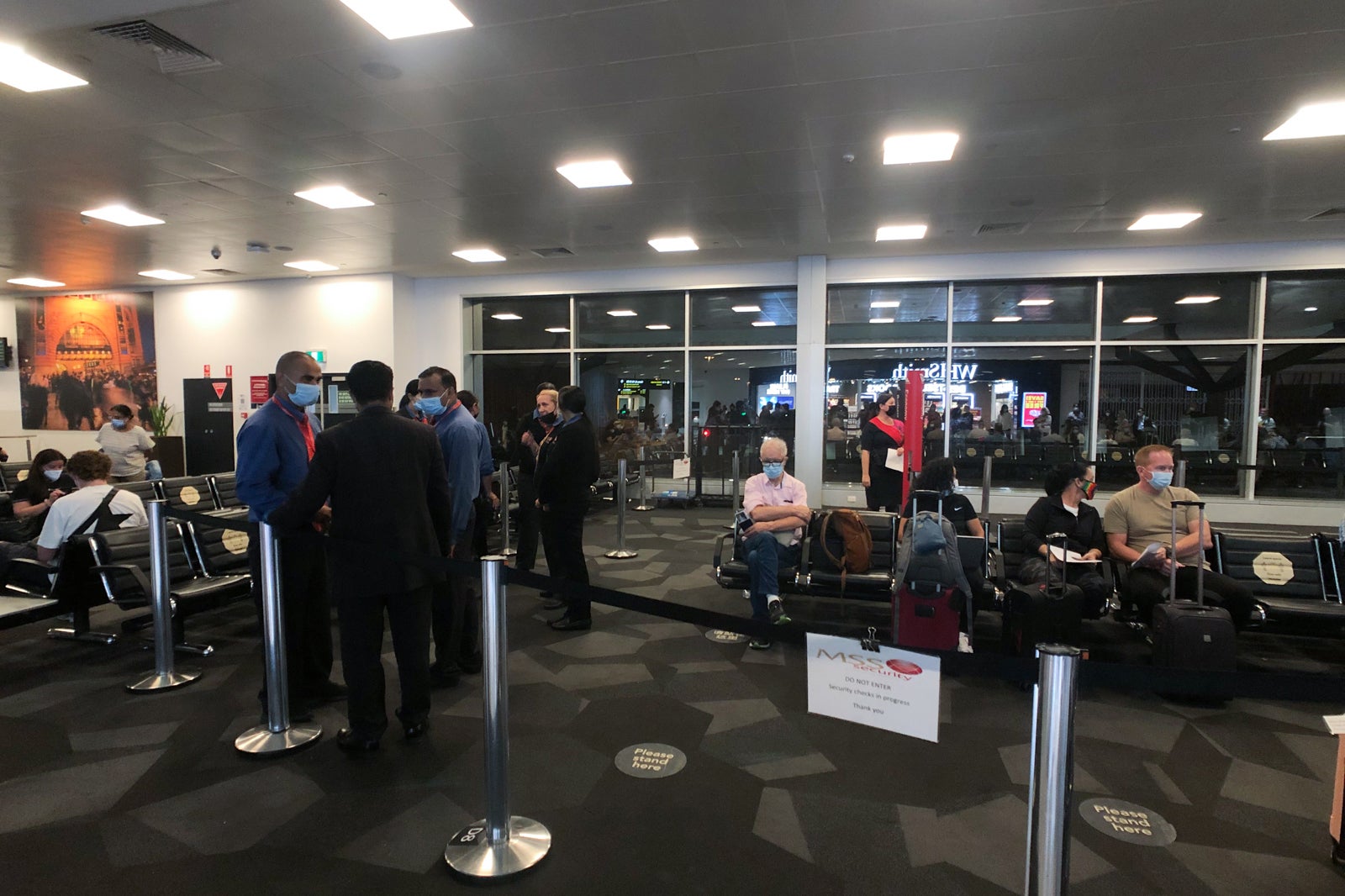 Boarding started with families and those needing extra time. Then business-class passengers were allowed to go to the ticket counter, so the security agents let me through and I was down the jet bridge and on the plane in a minute.
Once there, a flight attendant directed me to my seat. I snapped some photos before the cabin got too crowded, then settled in to explore my seat.
Cabin and seat
Although not the first airline to take delivery of a Boeing 787 Dreamliner — in fact, Qantas' first of these next-generation aircraft was the 615th to roll off the assembly line — the airline made a huge fanfare for the occasion back in October 2017, and with good reason.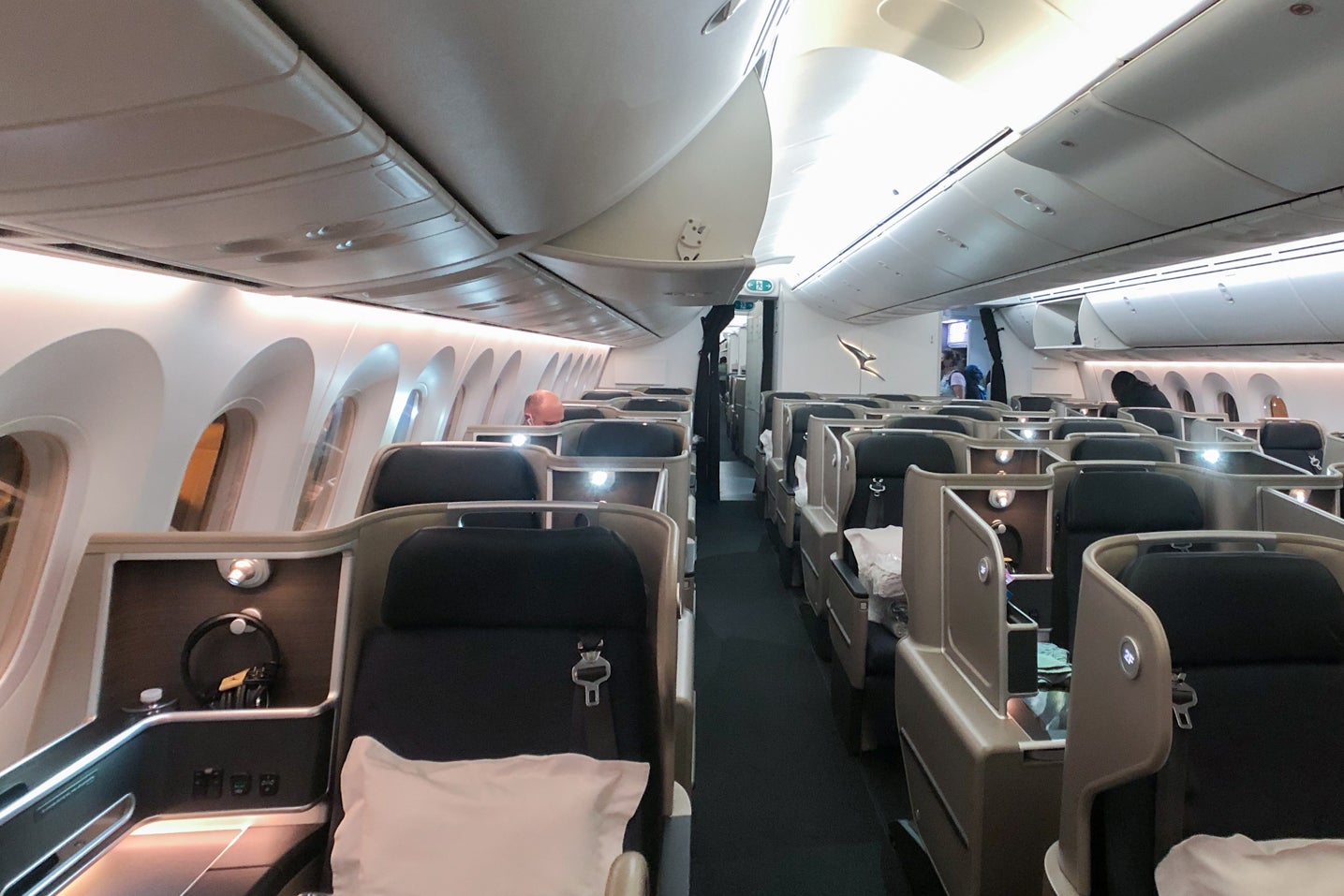 The plane sports the airline's latest interiors, created by industrial designer David Caon, with not just new business-class seats, but also a whole new premium-economy product and updated coach seats.
The jet's 42-seat business-class section is divided into two cabins arranged in a forward-facing 1-2-1 pattern. The front one, in which I was seated, has eight rows of single seats on the sides and seven rows with two seats running down the center. The aft one has three rows of four seats each for a total of 42 seats.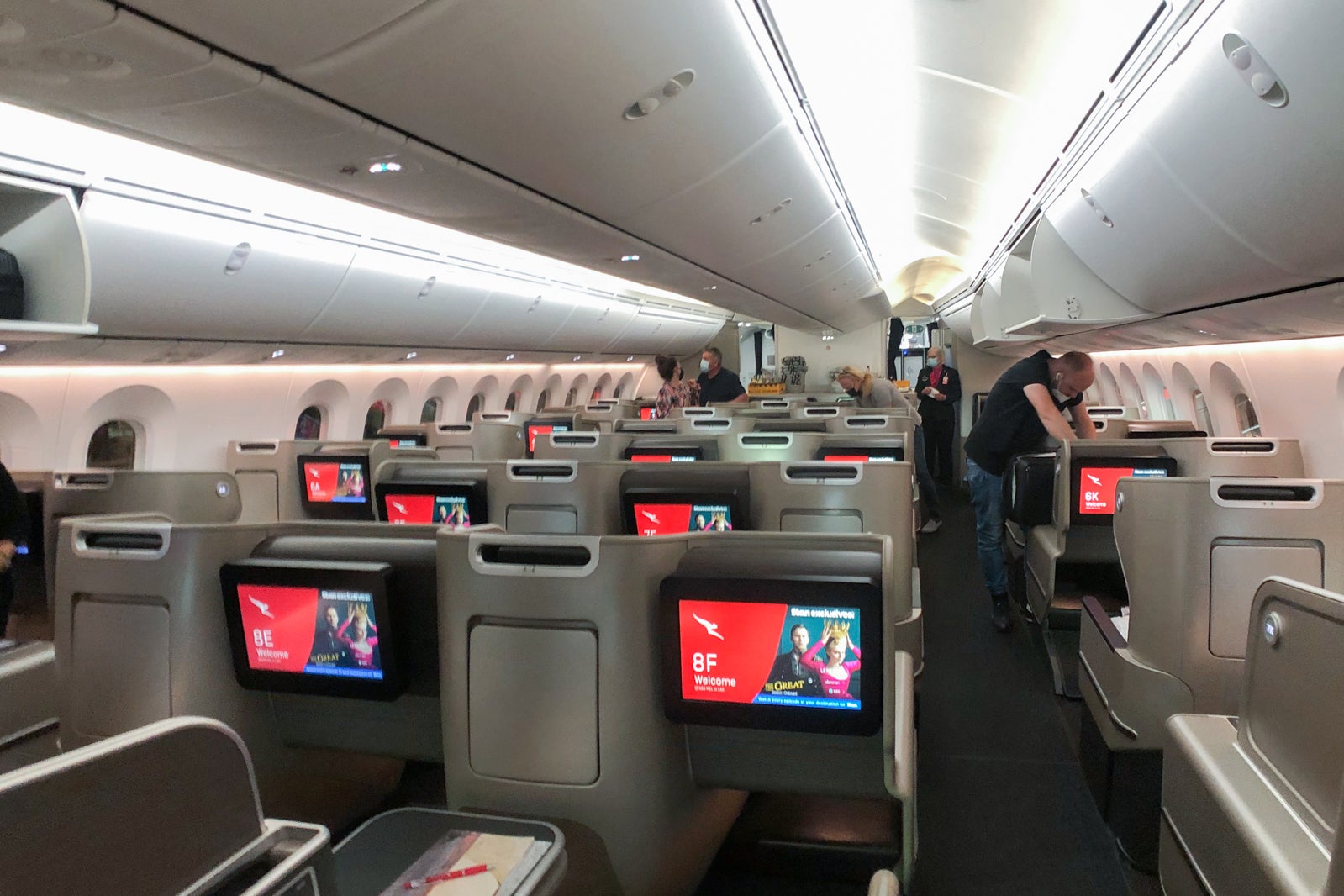 These are Vantage XL seats from Thompson Aero, much like you'll find on SAS and in Delta One (though the latter have been significantly modified to become suites with closing doors). The aesthetic Caon and Qantas went for was slightly austere — silvery seat shells, charcoal-gray seat upholstery, chocolate-brown faux wood paneling — but it feels sleek and sophisticated rather than stark.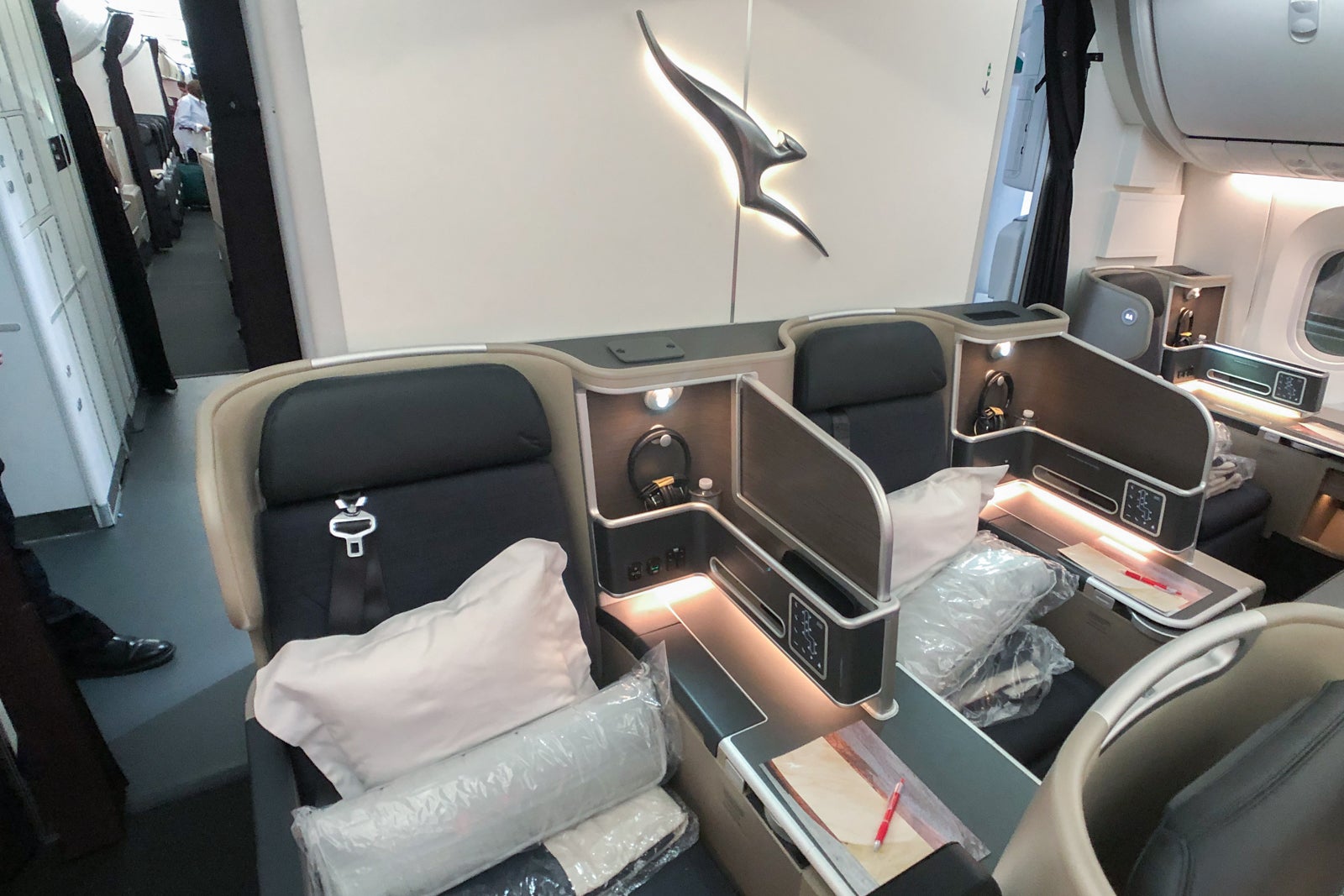 Along the sides of the cabin, seats have one wide armrest and another narrow one. Though it varies in the back cabin, in the front one, odd-numbered rows have the wide armrest on the aisle side, and I find they provide the most privacy, which is why I selected seat 7K.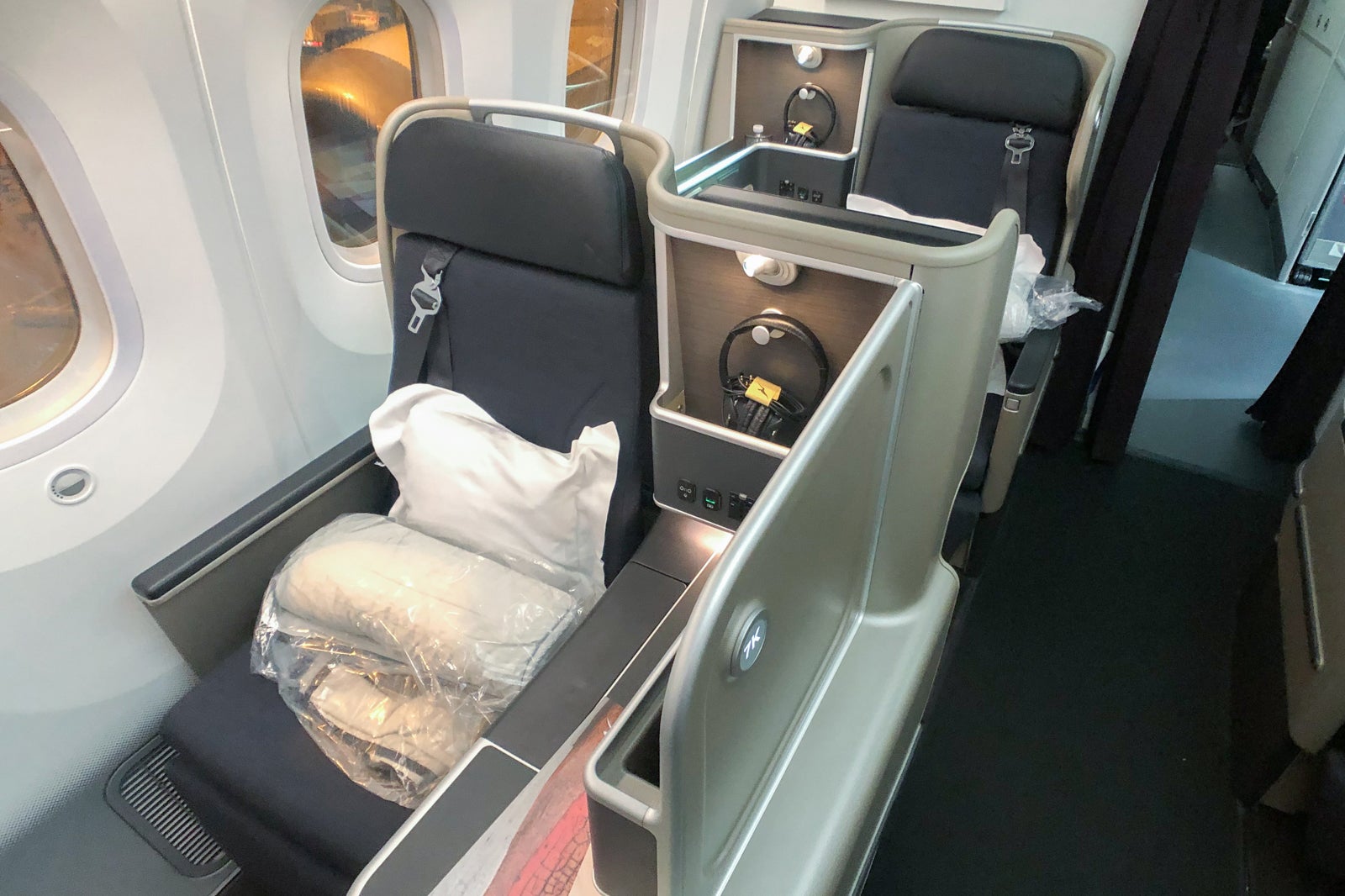 In the center section, the two seats are separated by a wide armrest, and depending on which row and which side you are on, you could have a wide or narrow armrest on the aisle — so it's worth studying the seat map.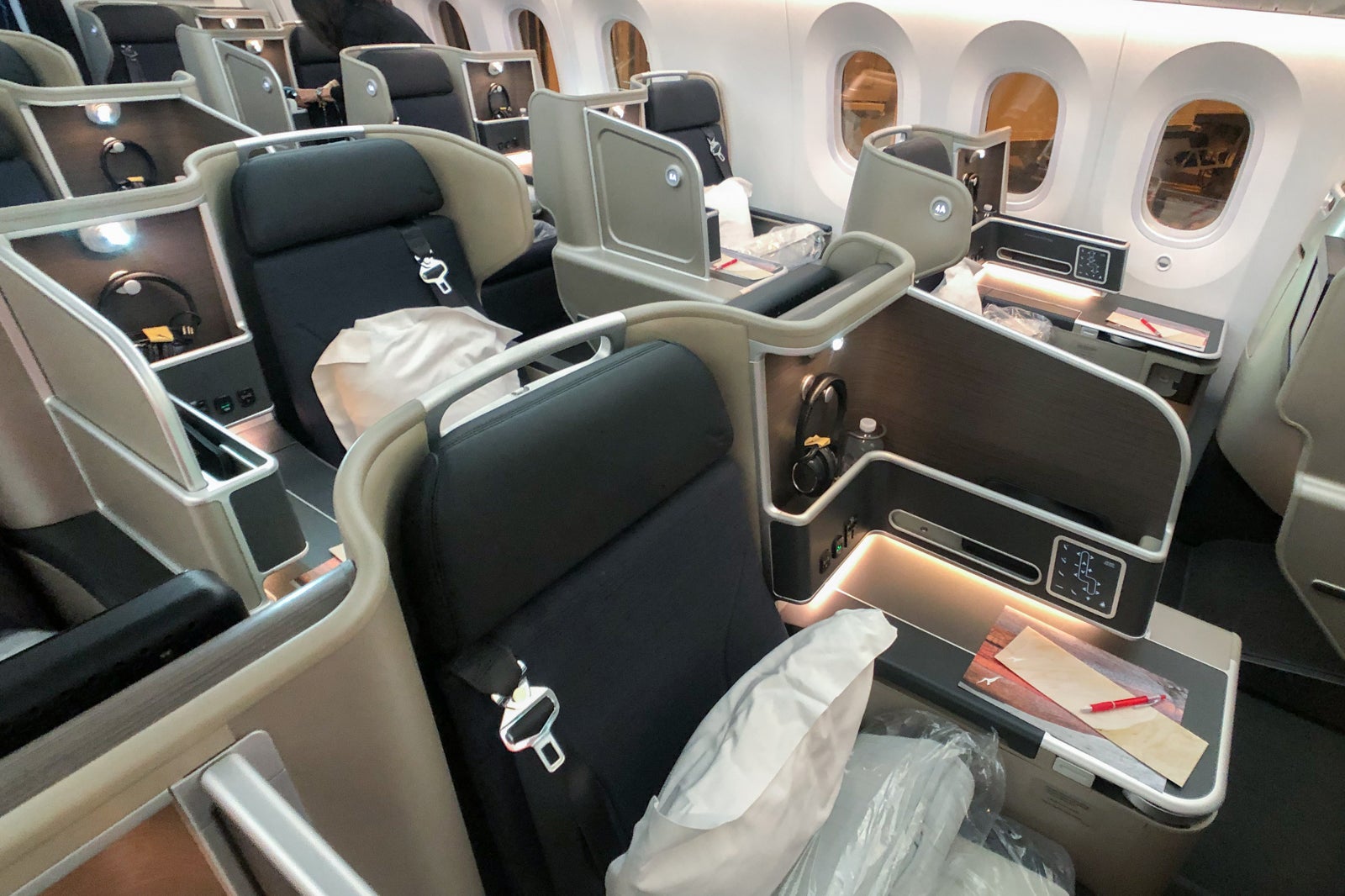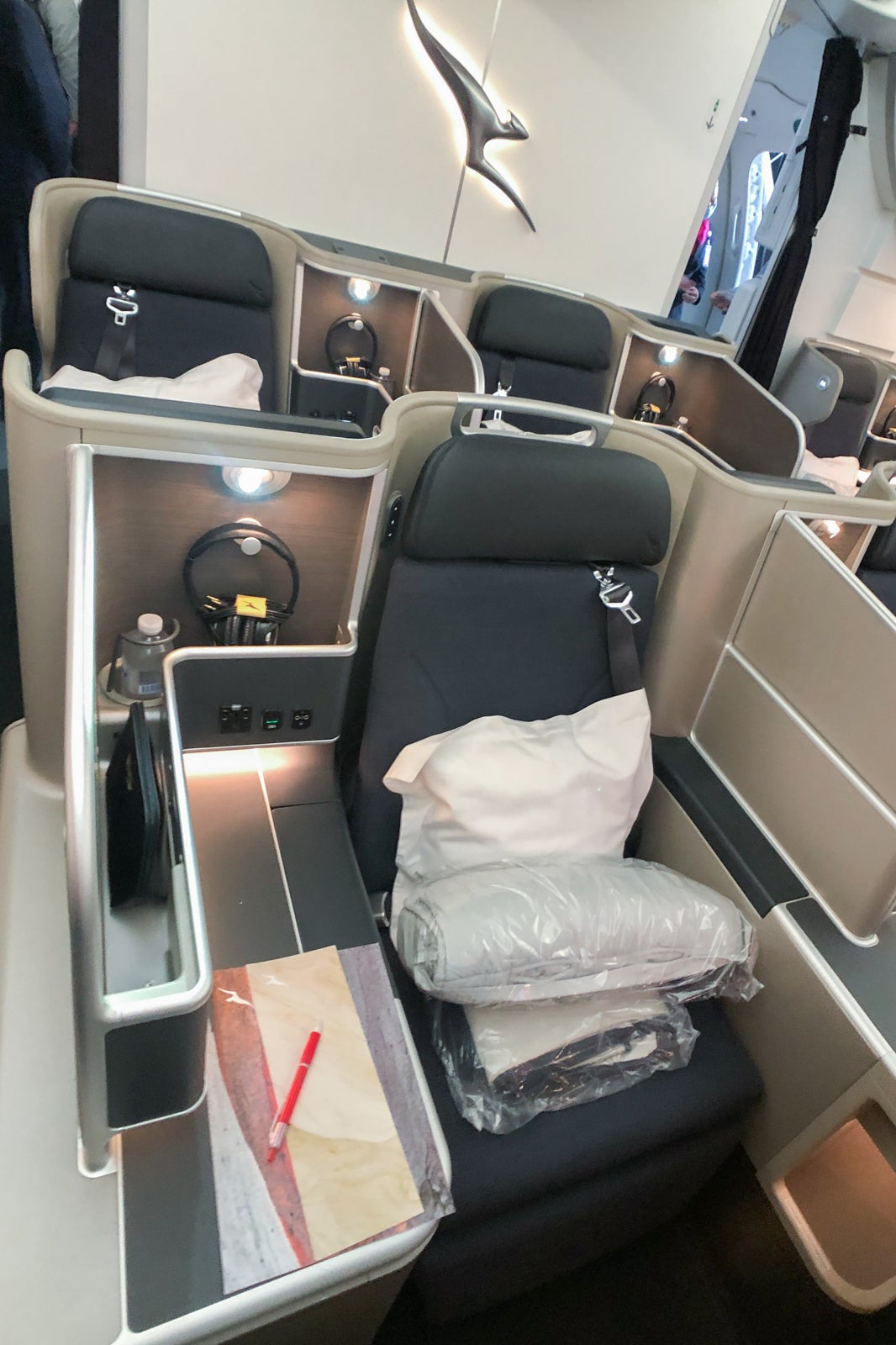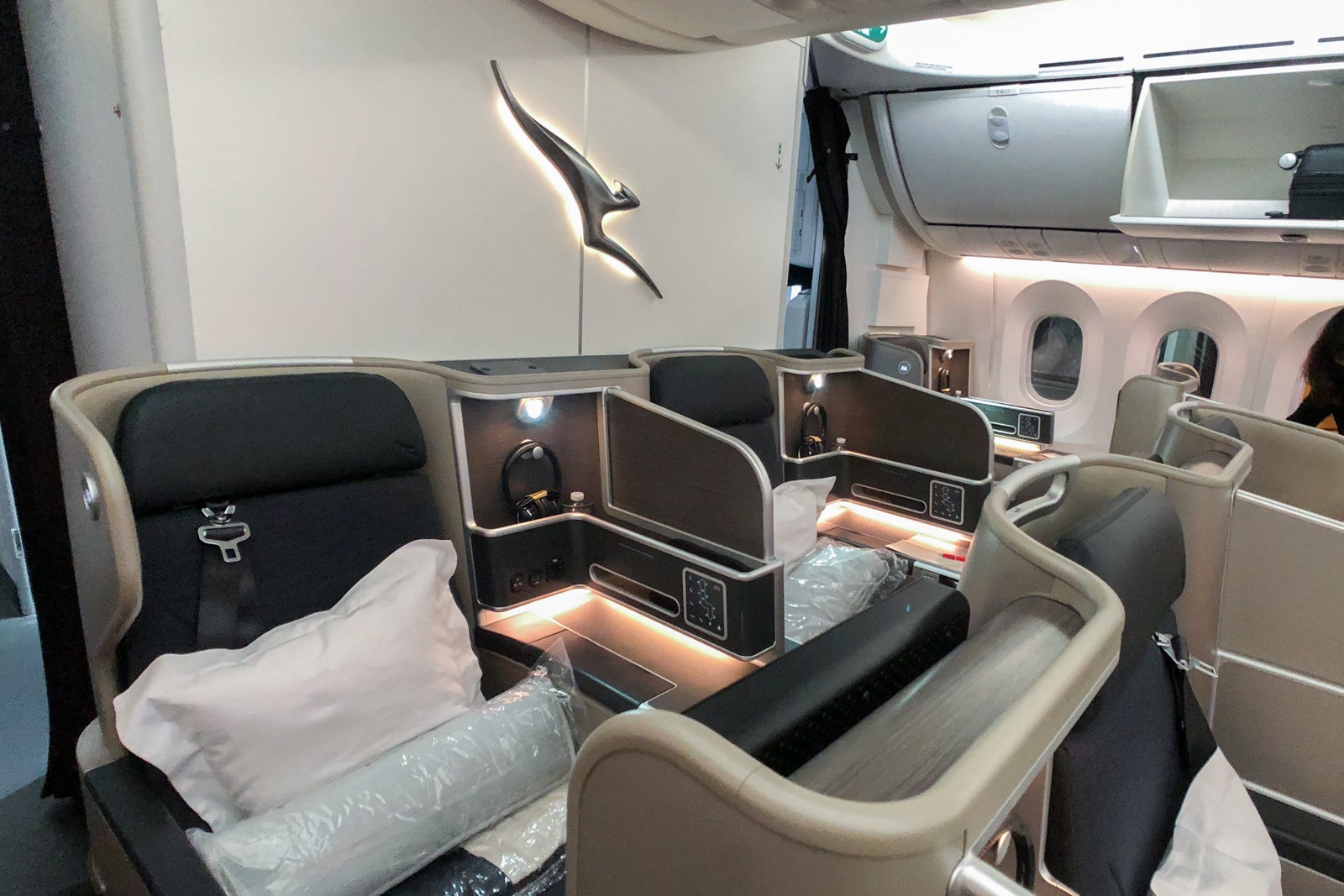 Two of the nice things about this particular Boeing 787-9 cabin are that there are overhead bins along the sides and the center so that every passenger had plenty of space for their personal belongings, and each seat has individual air nozzles to control the temperature.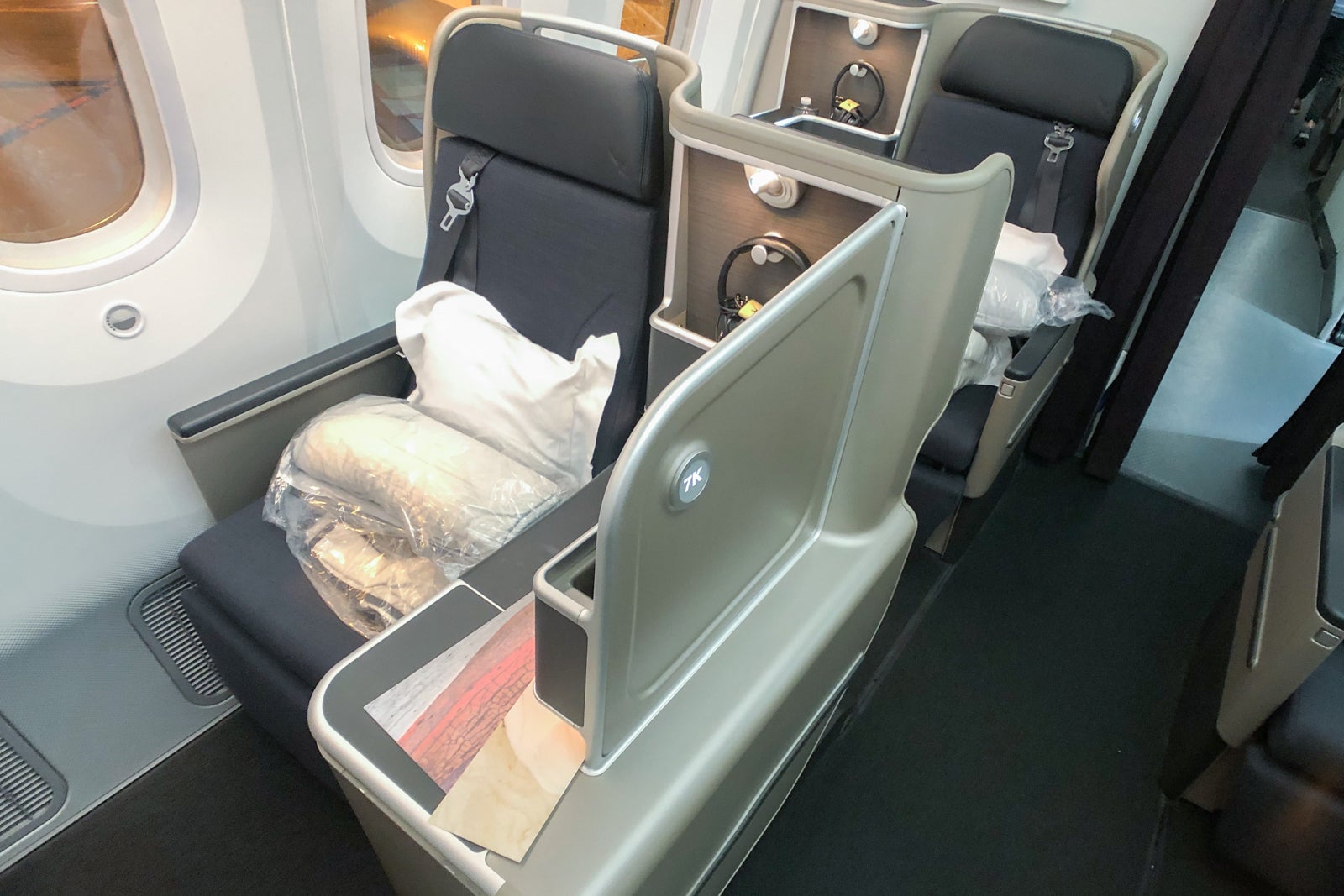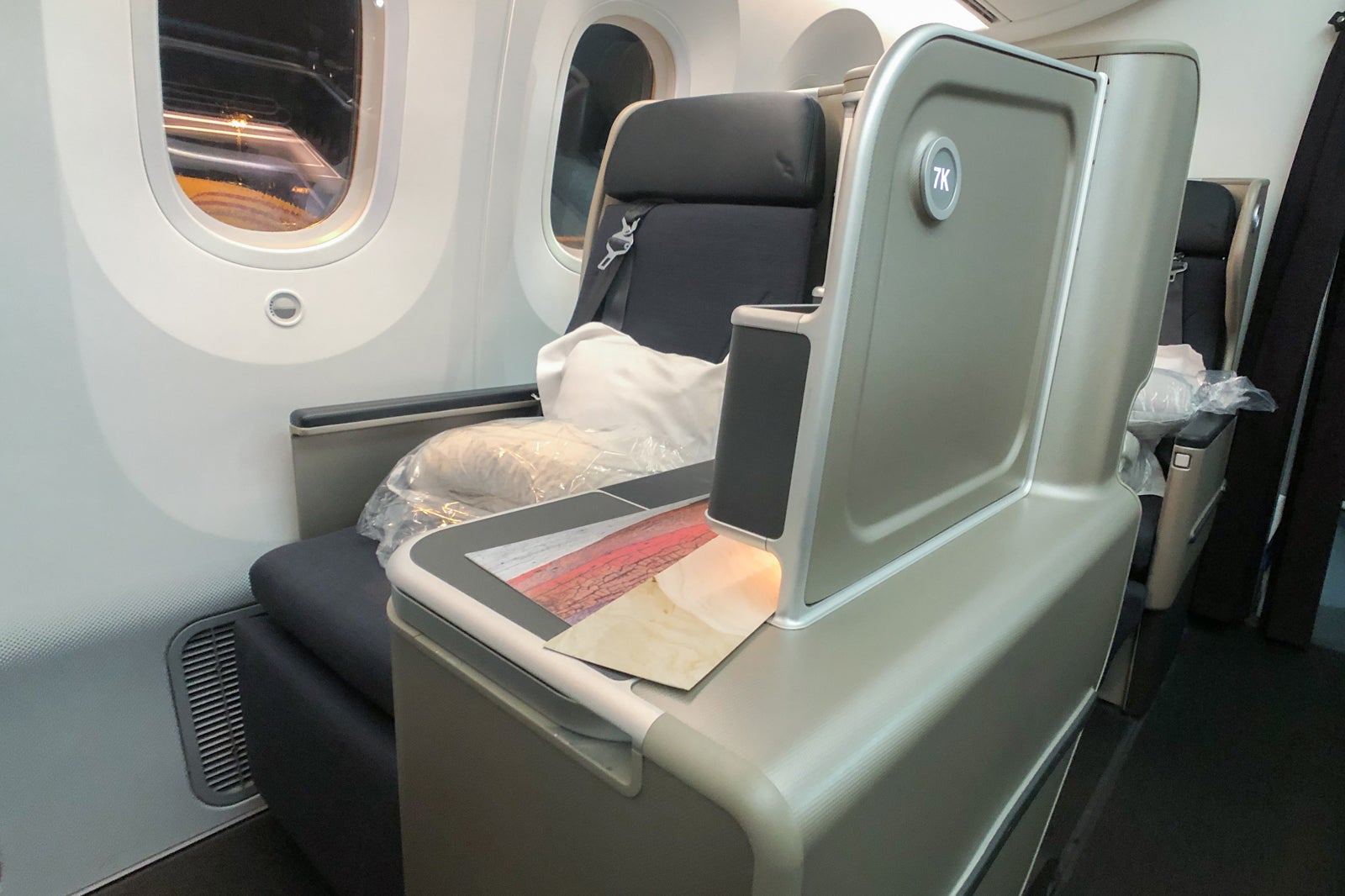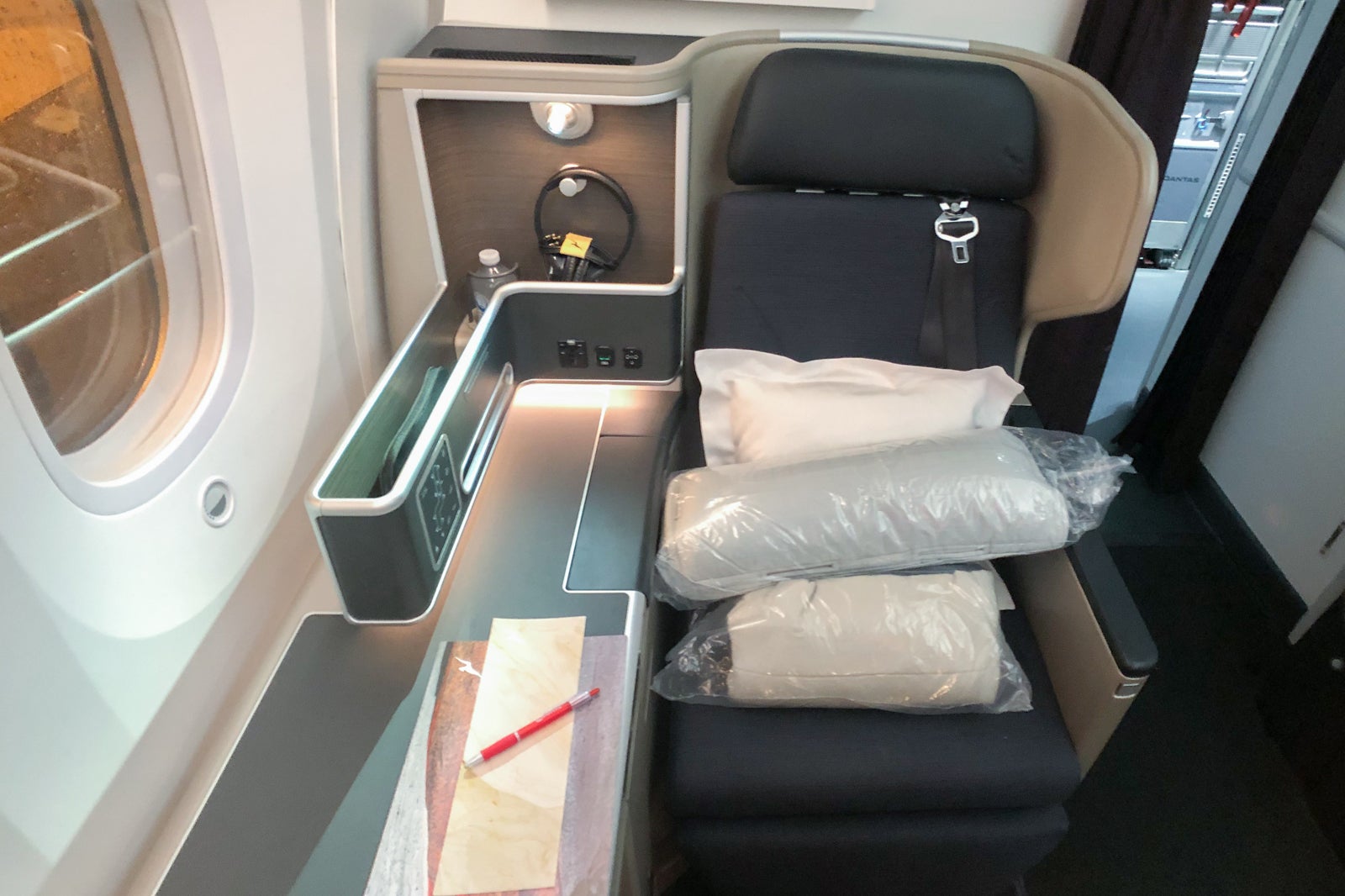 The seat controls comprise a simple panel located along the wider armrest with various preset positions for takeoff and landing, relaxation and sleeping, as well as arrows you can use to move the individual components of the seat.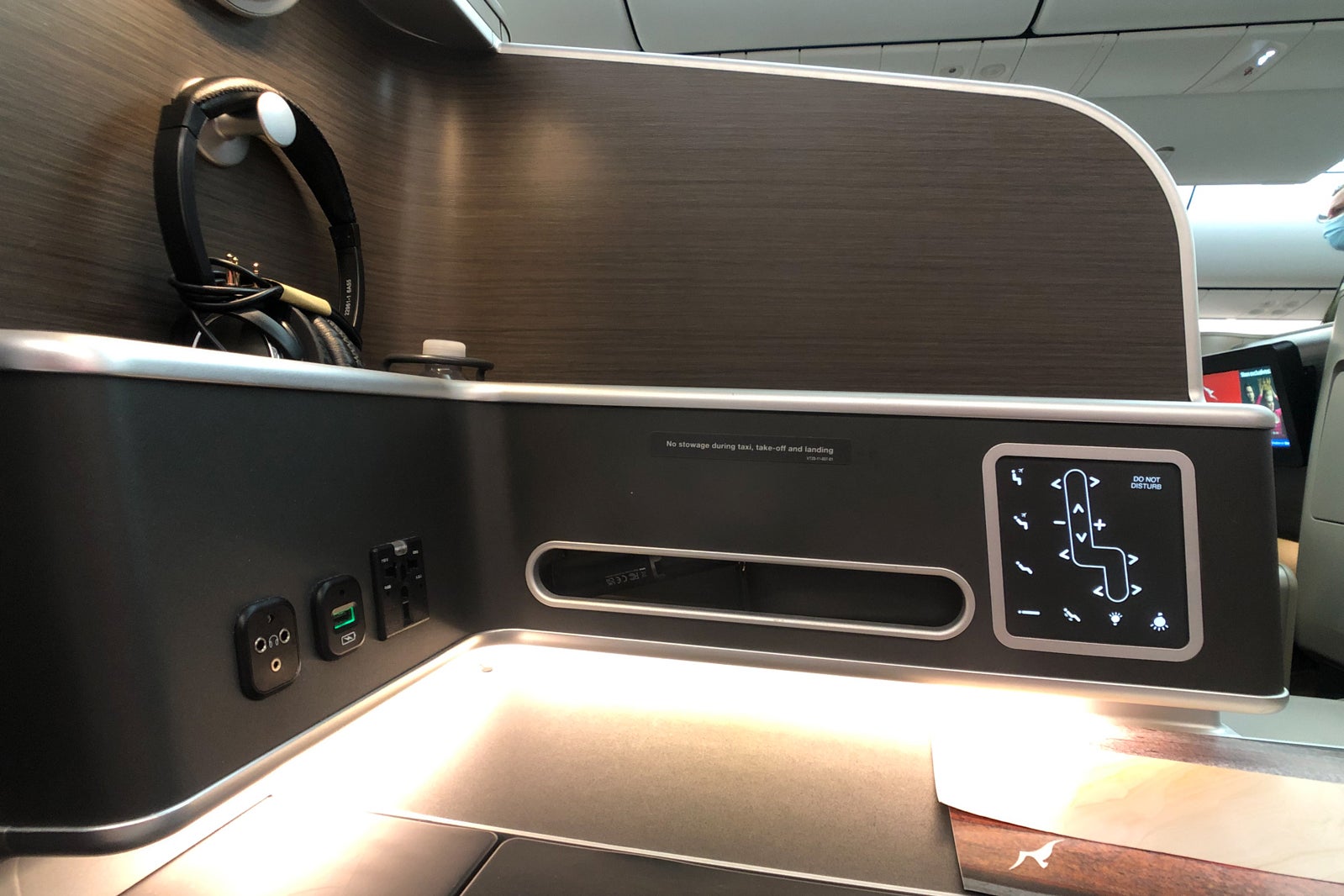 While it was not the fanciest of consoles, I liked the utilitarian icons on it, and appreciated the "Do Not Disturb" button, which illuminated my seat number in red when I wanted to rest. There are also two lighting buttons, one for the bright, overhead task light and another for a subtle lighting effect along the armrest that somehow makes it feel cooler than your average seat.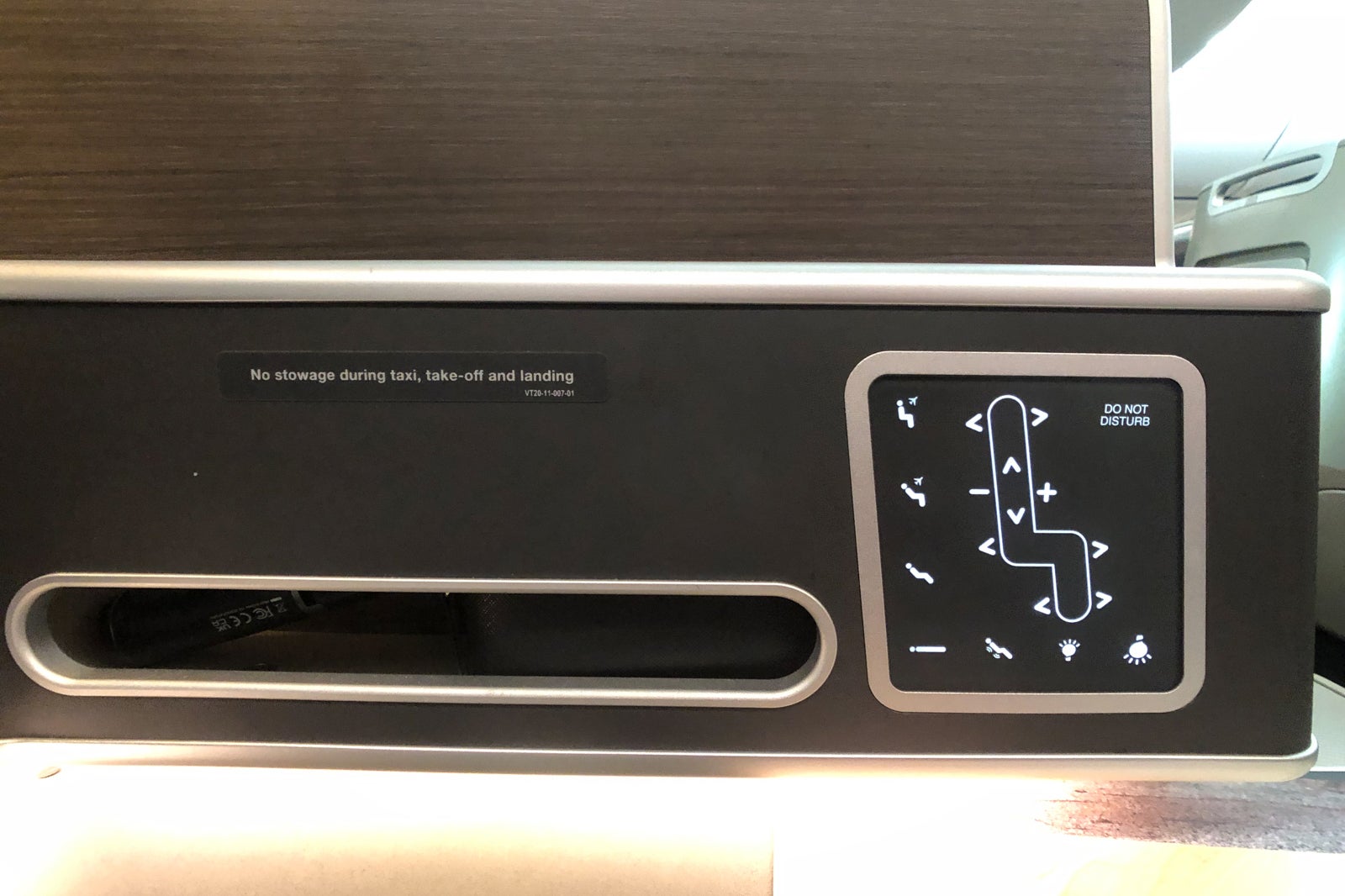 The wide armrest contains a small pop-up cabinet holding the remote for the entertainment system and a small mirror. Above that is a narrow shelf that you can use to stow small electronics, a holder for water bottles, and a peg to hang the provided headset. Along the seatback side are ports for USB charging, a universal power adapter and the headphone jack.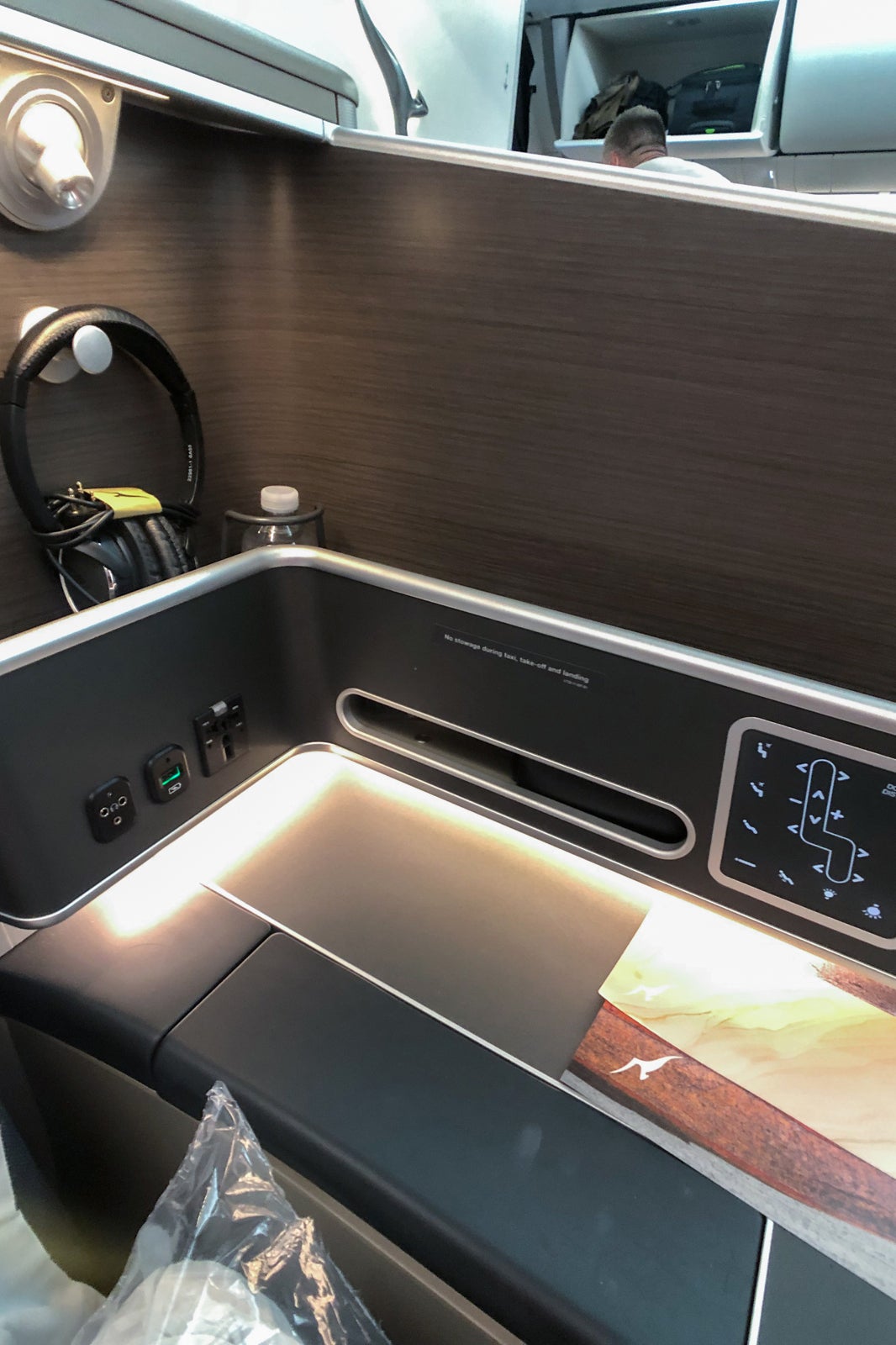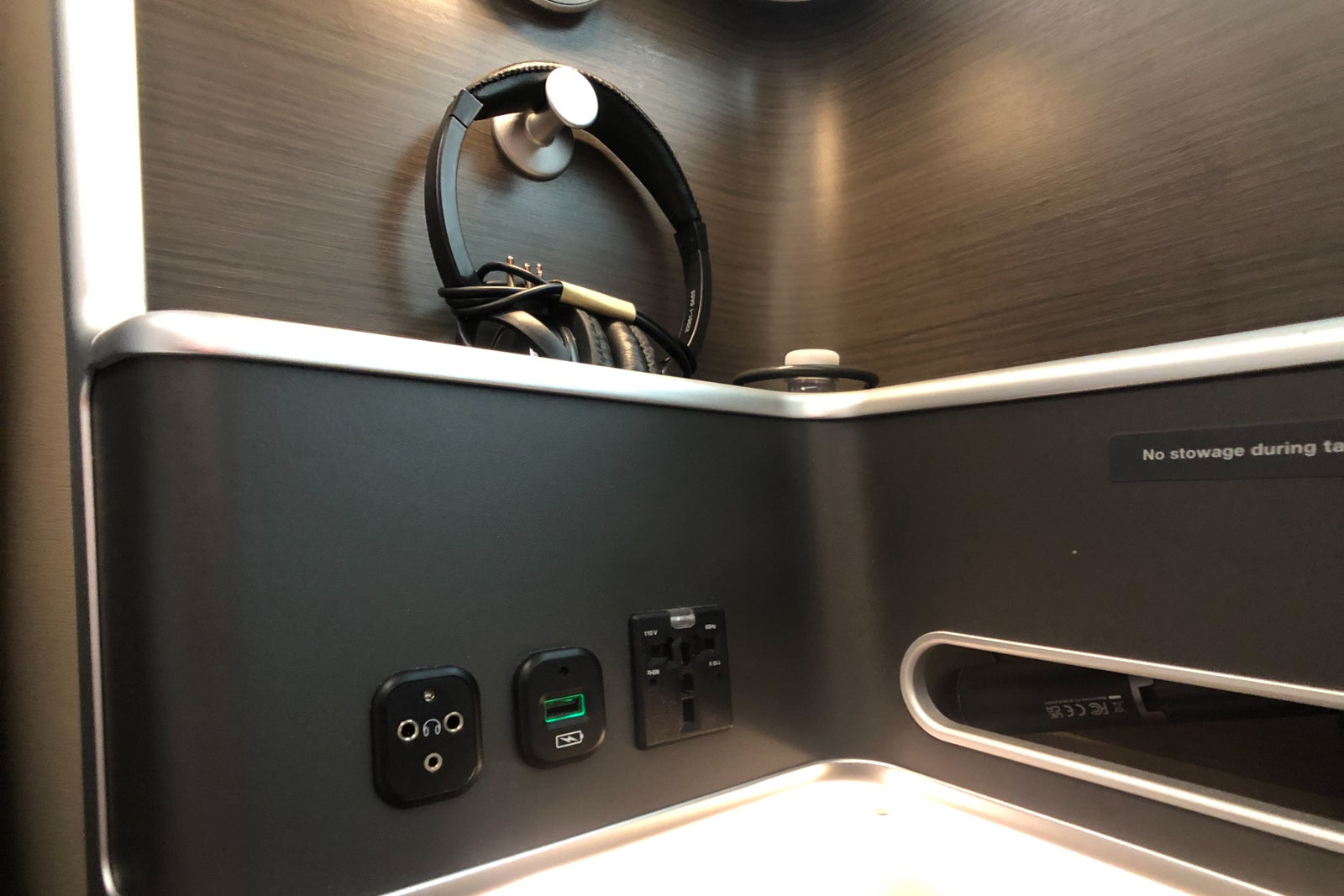 In upright position, the seat is 23 inches wide at the armrests and slightly narrower at the shoulders. It has 46 inches of pitch — the distance between your seatback and the one in front of you.
Speaking of which, there is a pocket holding the safety materials in the forward seatback that I used to stow my Macbook Pro for takeoff and landing since there was no other convenient place to put it in the seating area and I wanted access to it without having to get into the overhead bins.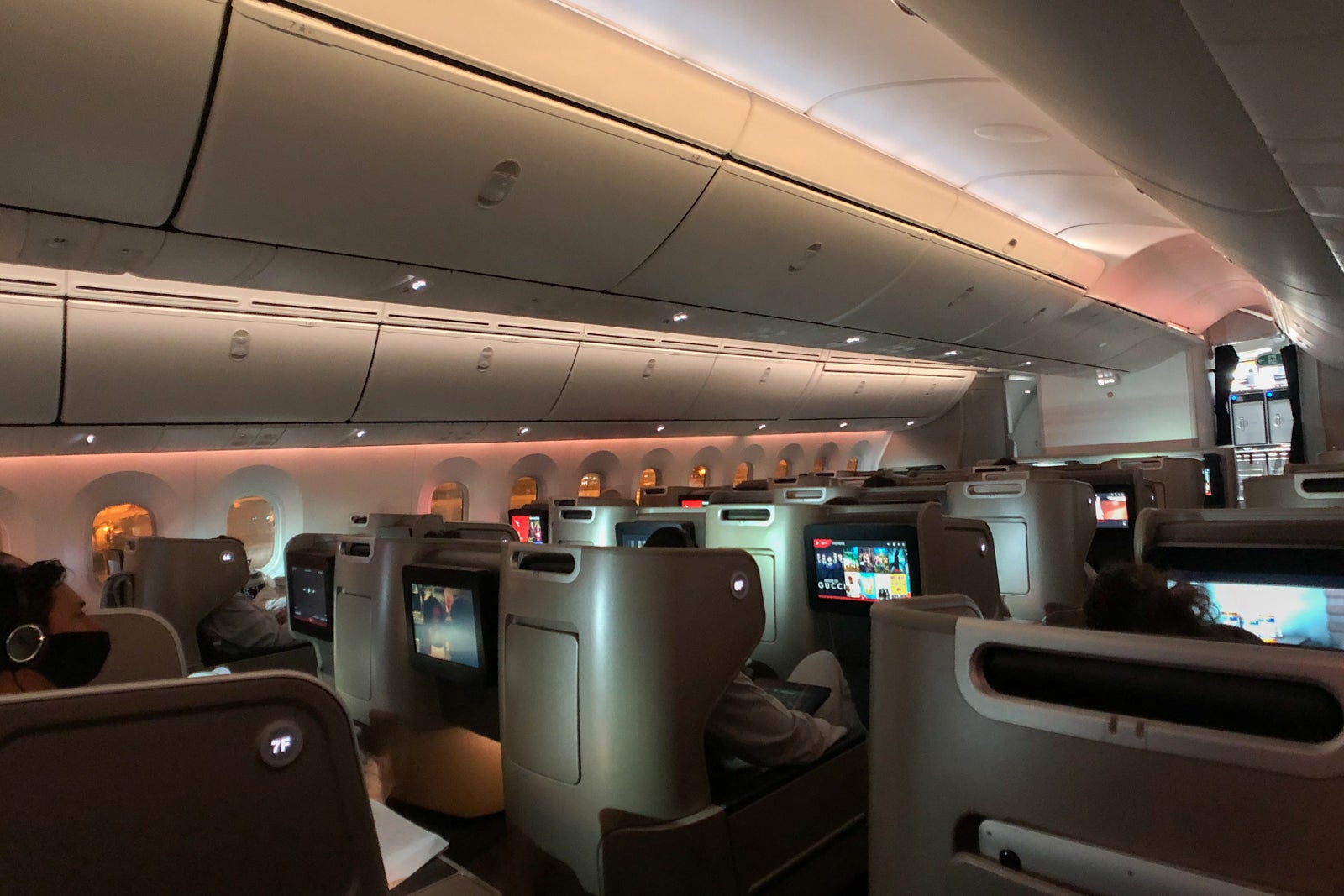 The tray table is released by a latch on the wide armrest and rotates out then slides forward and back for easy access if you need to leave your seat. It measures 19 inches across and 10 inches wide, so it is not huge, but it was big enough to fit my Macbook Pro easily.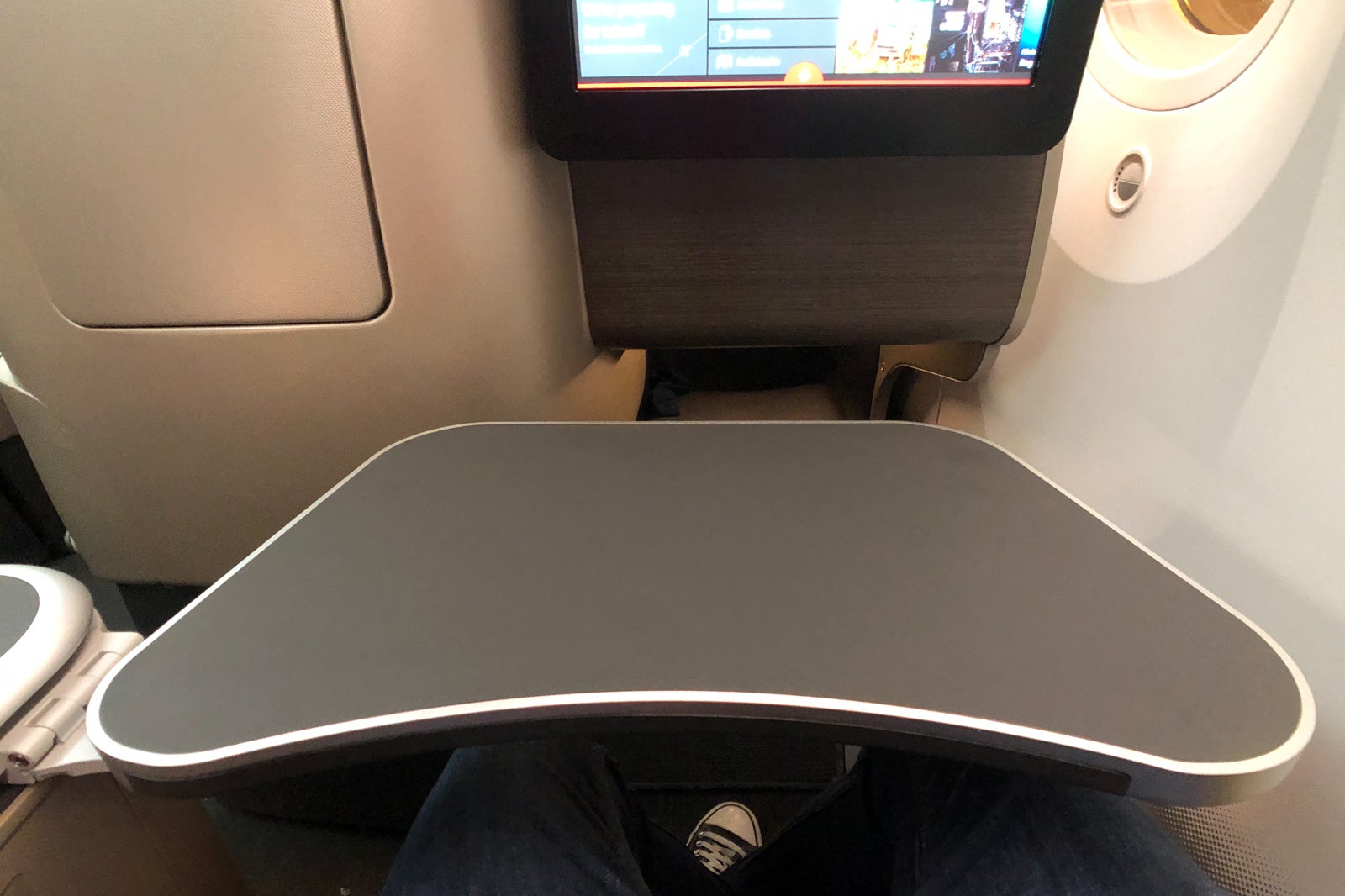 In lie-flat mode, the seat reclines to an 80-inch-long bed. When I boarded, there was a seat cover/mattress pad combo, a cotton duvet and a medium-size pillow waiting for me. Later in the flight, I slipped the cover over the back of my seat, pushed the lie-flat button on the control panel and waited for it to go flat before straightening out the rest of the cover to overlay the foot of the seat. I lay down, pulled the blanket over me, buckled my seatbelt and was off to dreamland.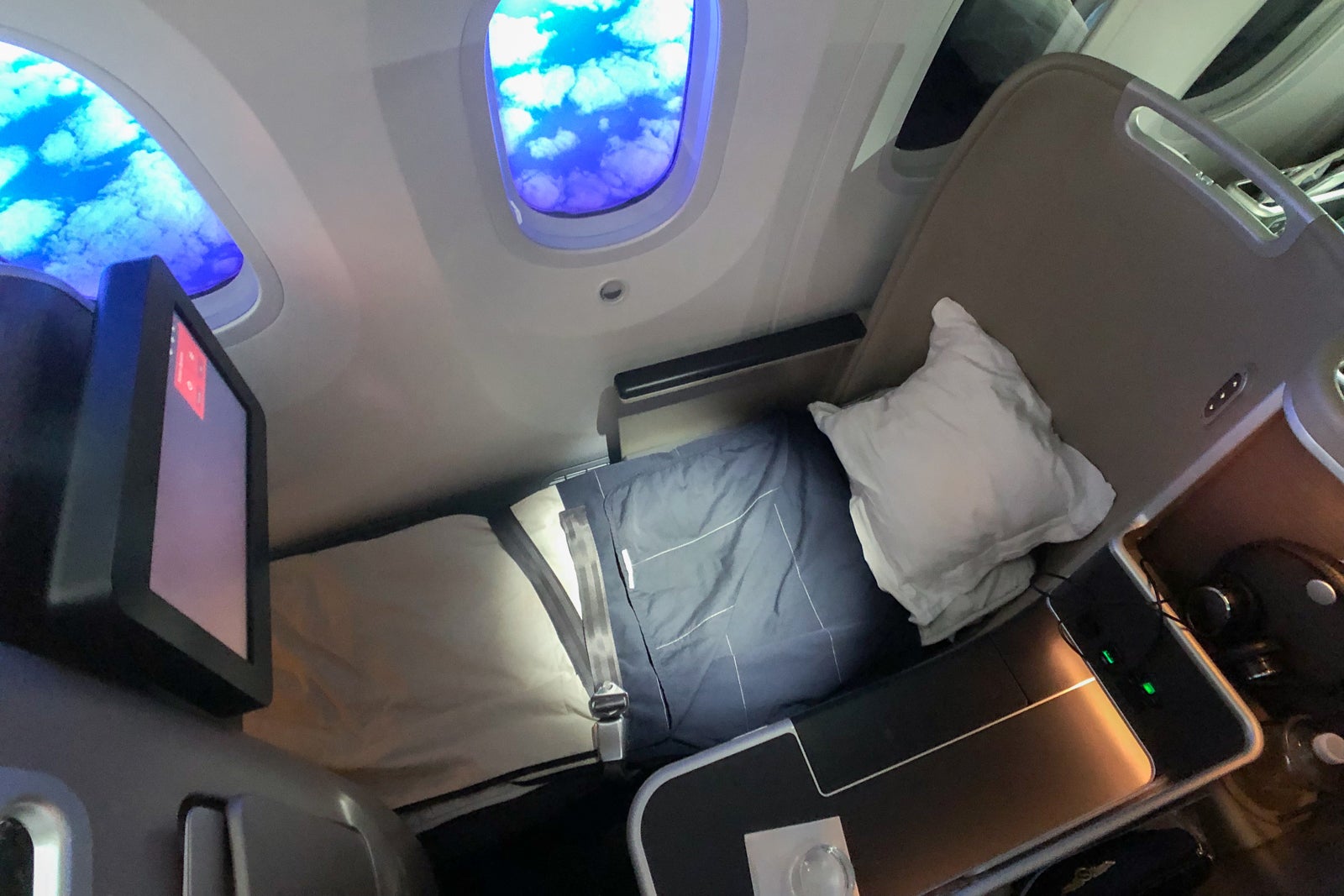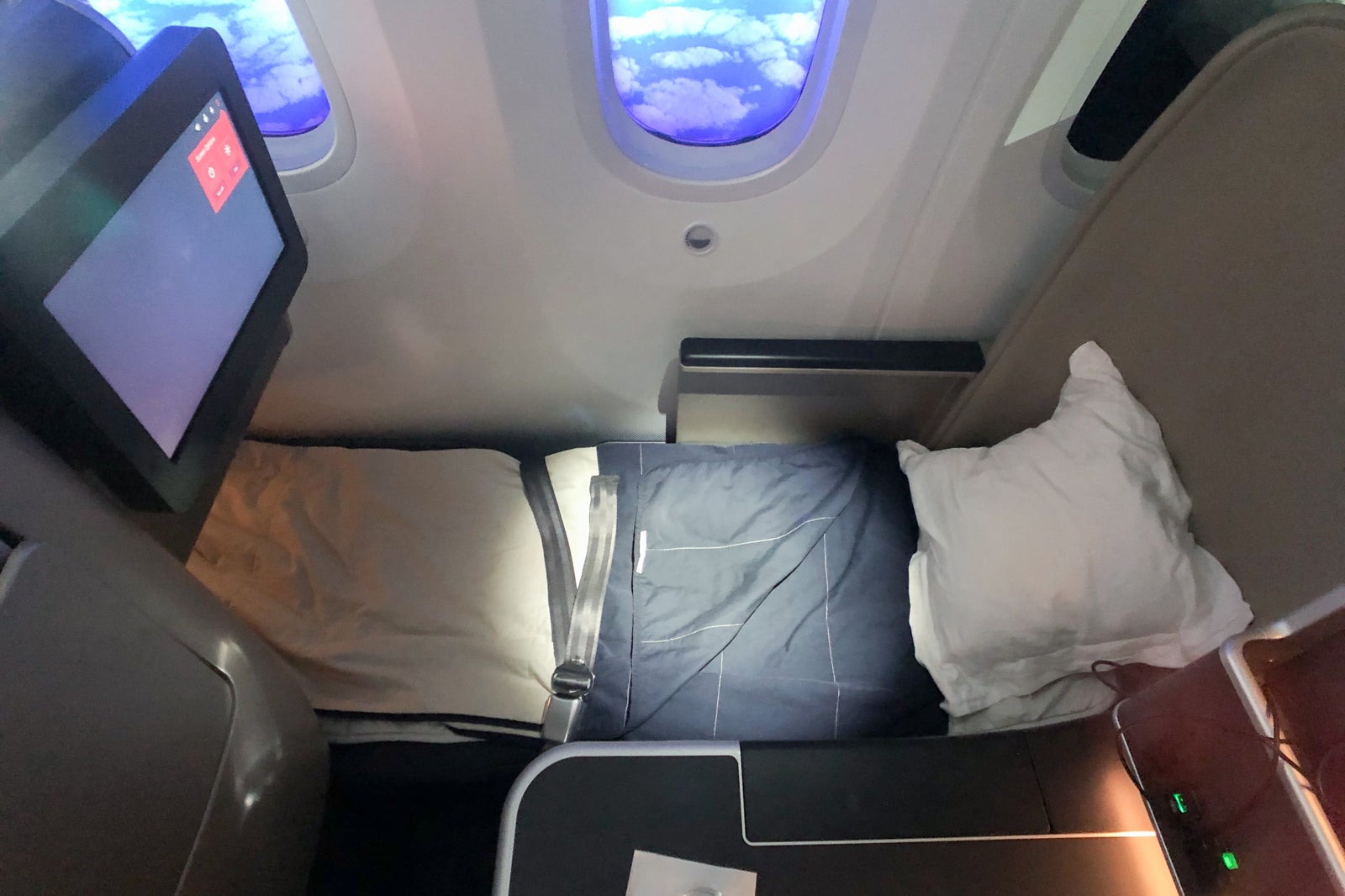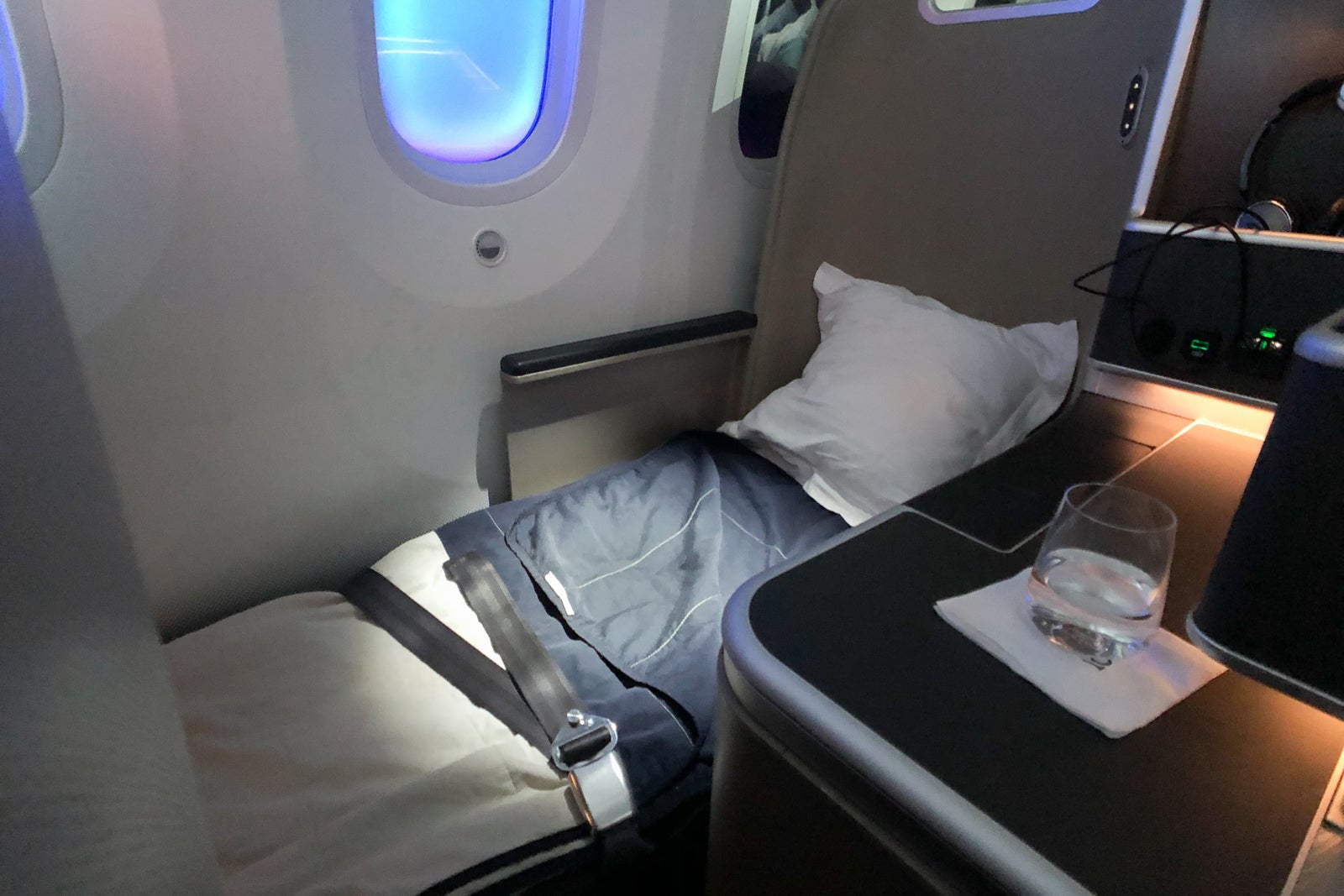 Although I didn't see them helping passengers on this flight since some folks went to bed right away and others stayed up to enjoy a meal or watch some entertainment, Qantas attendants will usually make up the bed for business-class passengers on flights upon request.
I'm not very tall, and could comfortably turn from side to side as well as maneuver my feet in the footwell, which I measured to be 16 inches wide and 30 inches deep, though only 11.5 inches tall at its highest. If you have big feet, you might feel a bit squashed.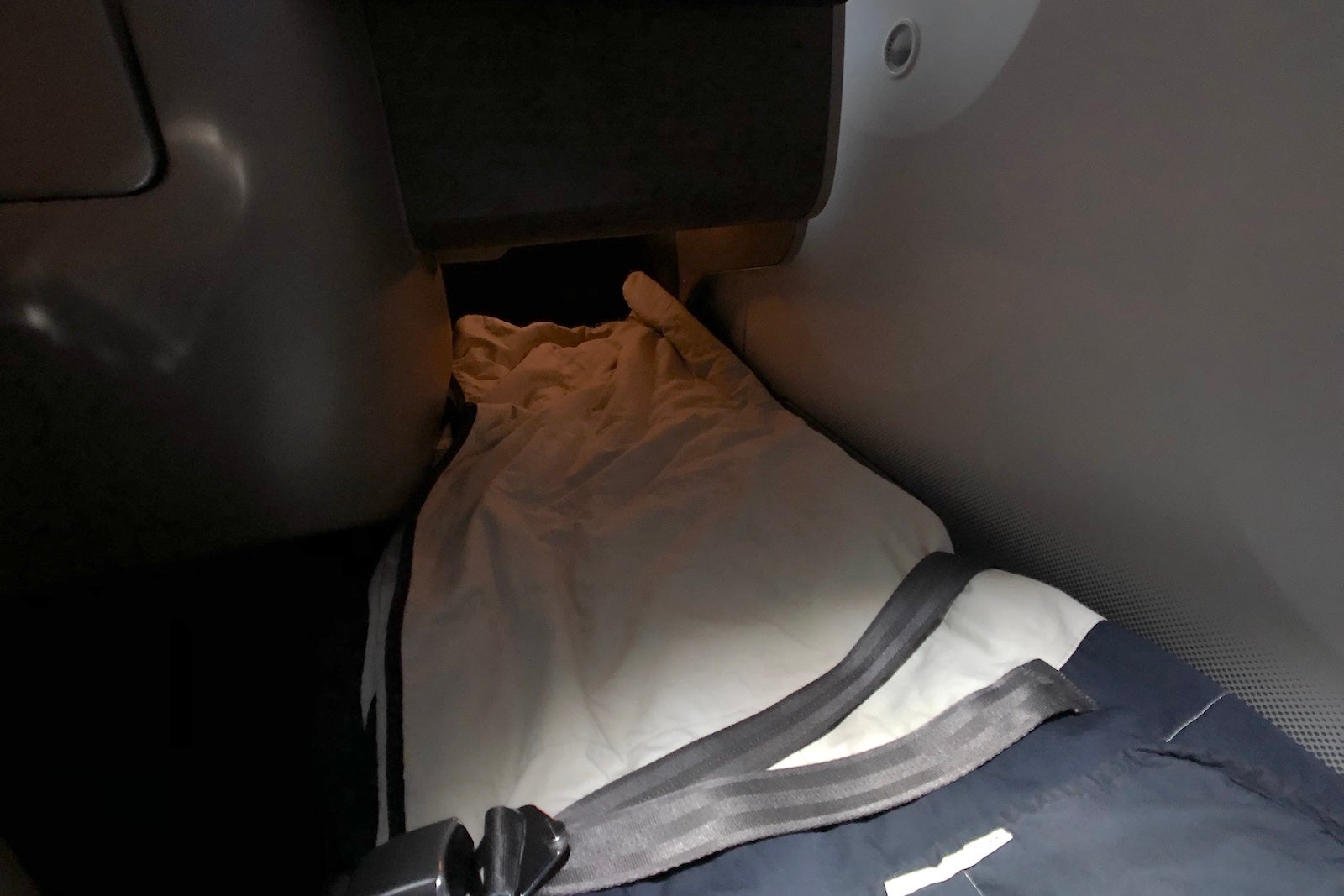 Overall, I still really love these seats. There's a lot of personal room, plenty of surface area for devices, dishes and drinks, and a decent-sized bed for me to get some rest, especially if I'm separated from the aisle by one of the larger armrests. That said, they could have a little more in-seat stowage for a computer so that you don't need to jam it into the seatback pocket or leave it in your carry-on bag until the seatbelt sign has been turned off.
Amenities and service
Each business-class seat has a 16-inch touchscreen entertainment system that you can also control with a remote housed in the armrest. Unlike those on many other airlines, these screens tilt up and down slightly, making it easy to watch movies or shows while in lie-flat mode, which I appreciated.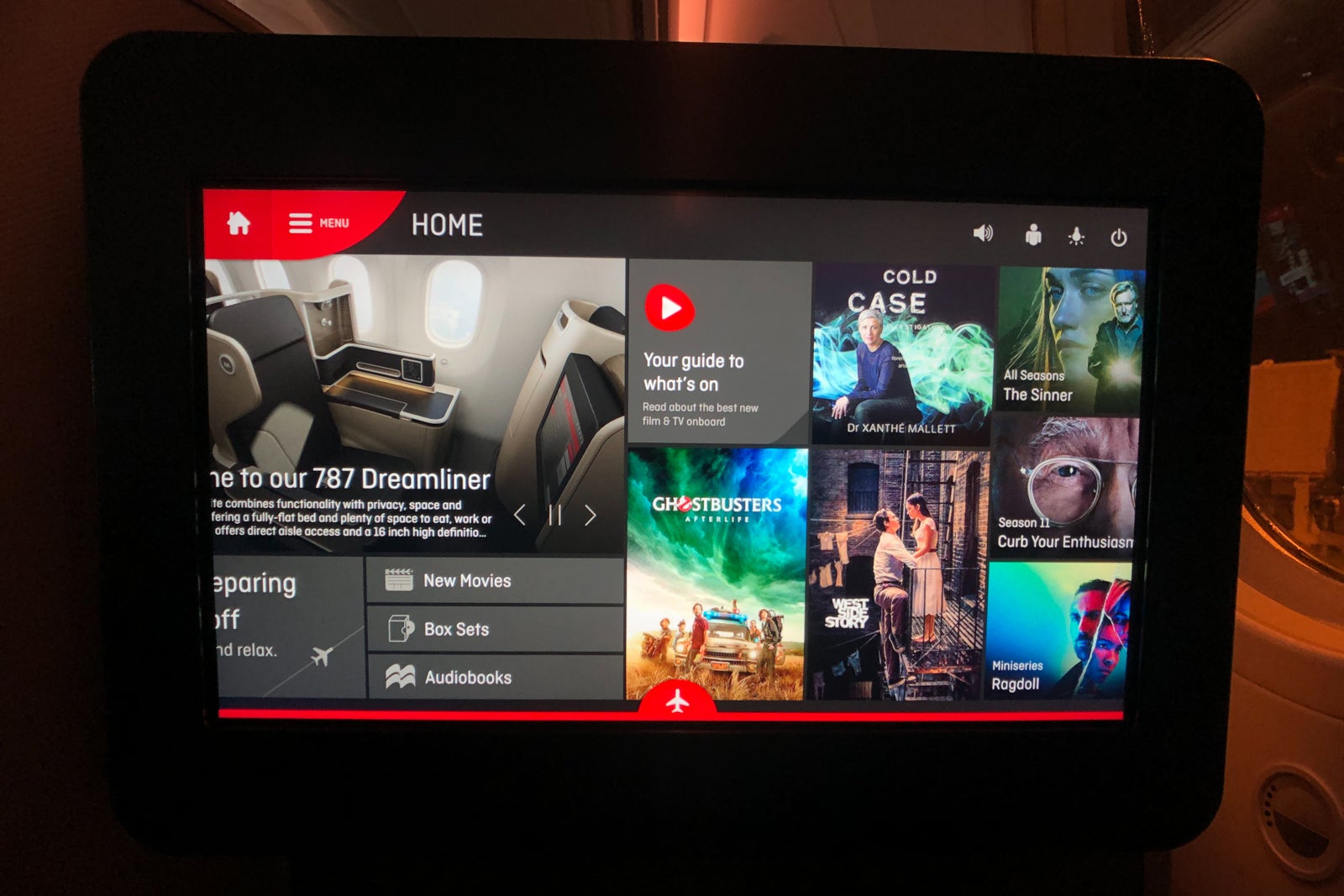 There were hundreds of movies and TV shows to choose from — a good thing since Qantas doesn't offer Wi-Fi on its Dreamliners — including relatively new releases like "House of Gucci," "Eternals," "Encanto" and "West Side Story."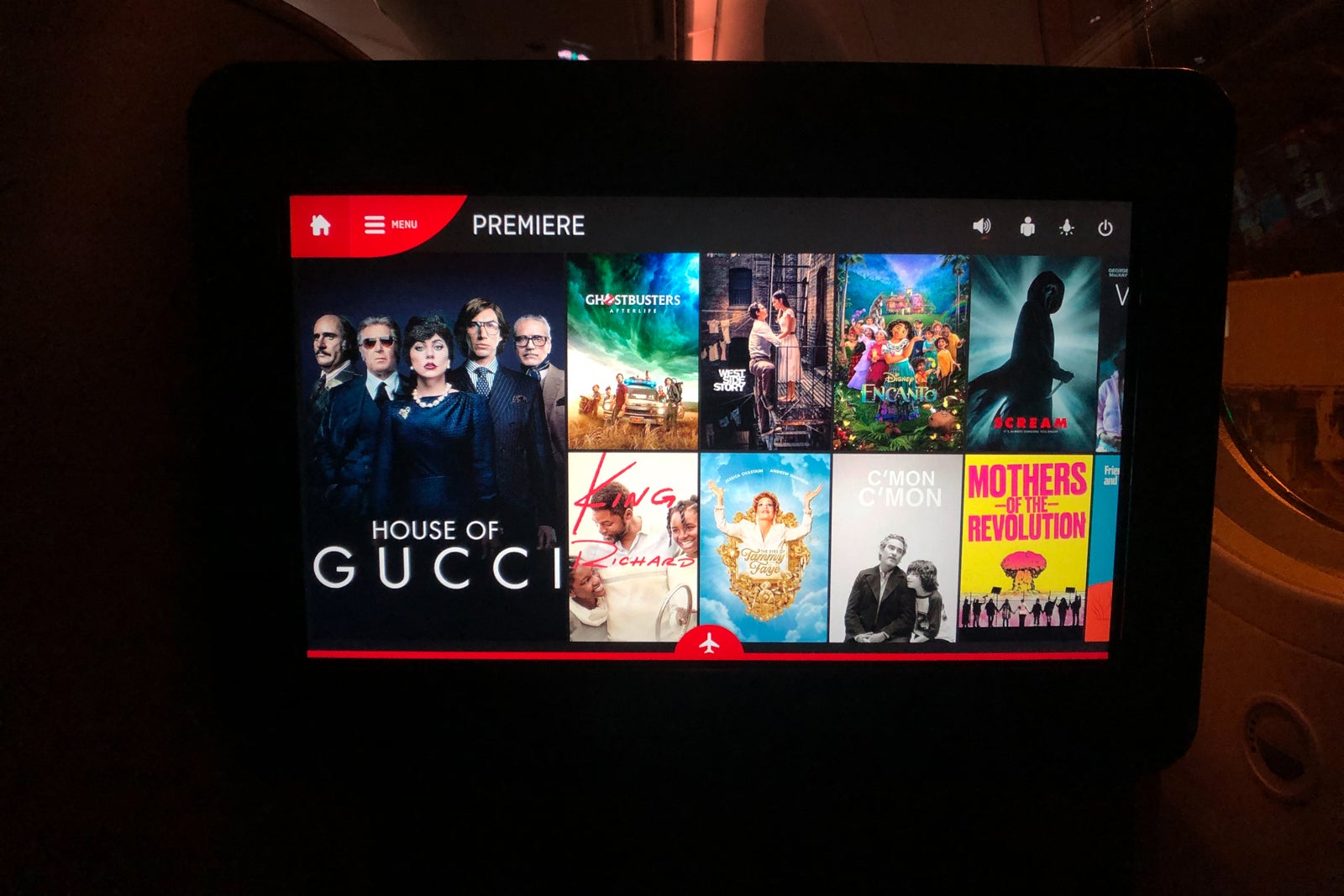 I also explored the flight map at various points throughout the night and before landing in Los Angeles.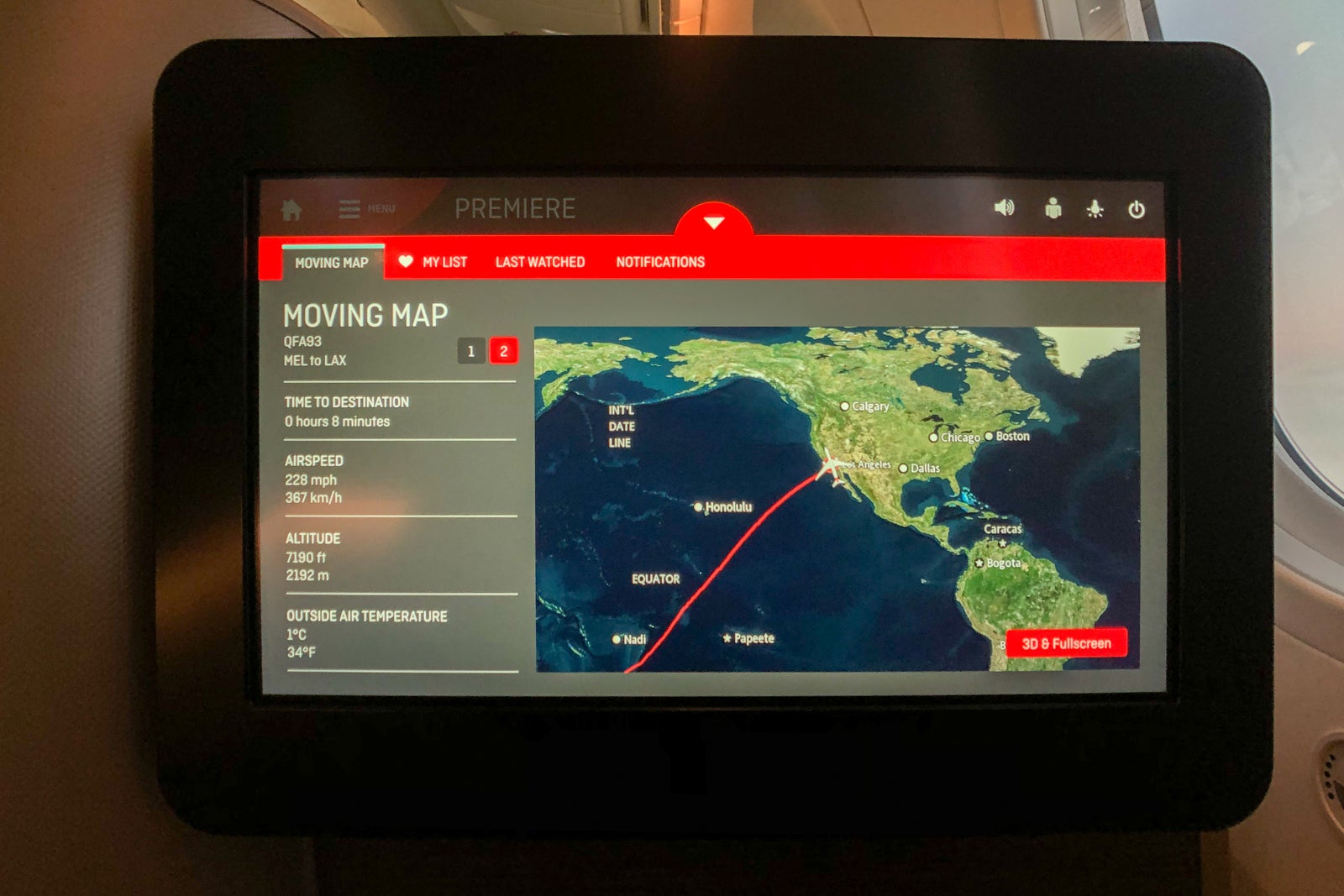 An amenity kit was waiting at my seat when I boarded and was designed with the airline's 1960s logo as part of Qantas' Centenary collection celebrating its 100th anniversary.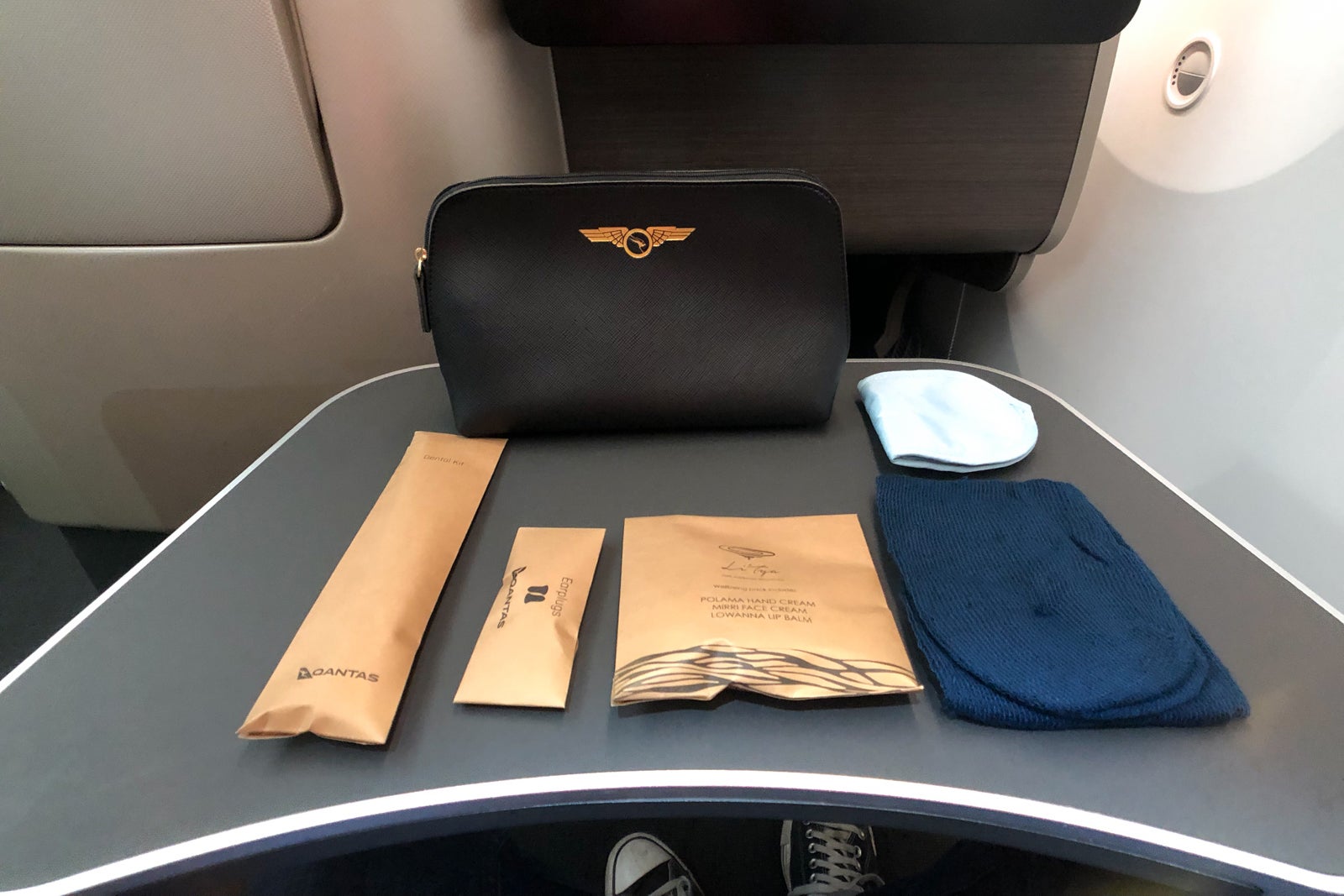 Qantas has been trying to make its amenity kits more sustainable, so this one contained several items wrapped in recycled, compostable paper, including toothpaste and a bamboo toothbrush, socks made from a bamboo-polyester blend, ear plugs, an eye mask and a trio of Li-Tya products: Polama hand cream, Mirri face cream and Lowanna lip balm.
There was a pair of basic headphones (they were fine but didn't drown out much cabin noise) and a pint-sized bottle of water on the shelf at the back of the seat. Unlike some other carriers, including Singapore Airlines, which I had flown to Australia, Qantas did not provide passengers with kits of hand sanitizer and masks. That was OK for me since I'd brought extras of both (as well as bleach wipes to swab my seat), but I thought it was an interesting omission considering passengers were required to keep their face masks on except when eating. (Side note: All the other passengers took this very seriously – I didn't see anyone unmasked at all except during meal service — and I was careful to keep mine on as well.)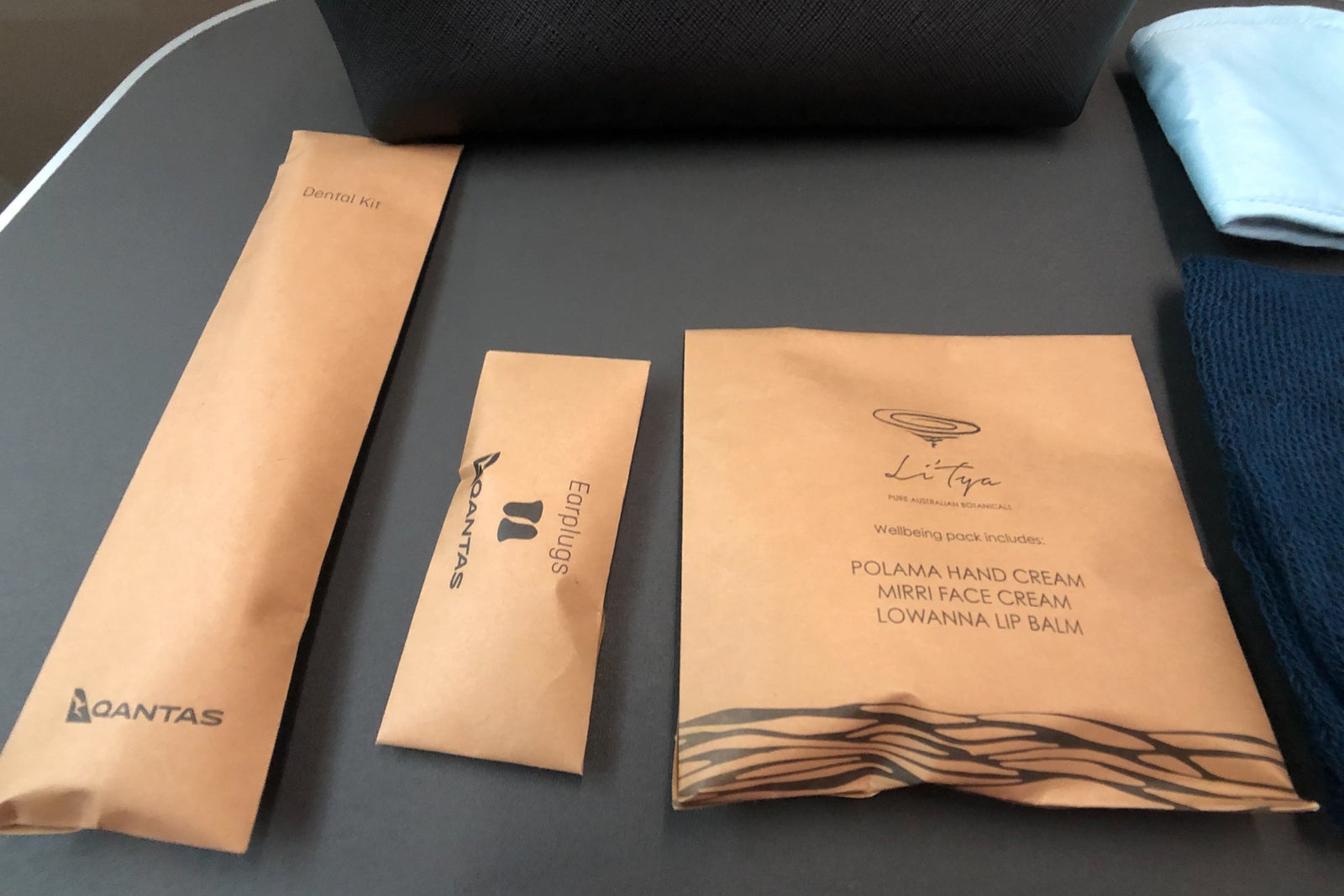 My hands-down favorite Qantas business-class amenity, however, has to be the pajamas they hand out, which include a set of pants and a long-sleeved, T-shirt-style top. Flight attendants offered each passenger a choice of small/medium or large/extra-large. Although the smaller ones fit me just fine, I always opt for larger pajamas that I find to be more breathable. Made of gray cotton and emblazoned with a kangaroo on the front and "QANTAS" on the back, these were as comfy as I remembered, and I wore them for most of the flight.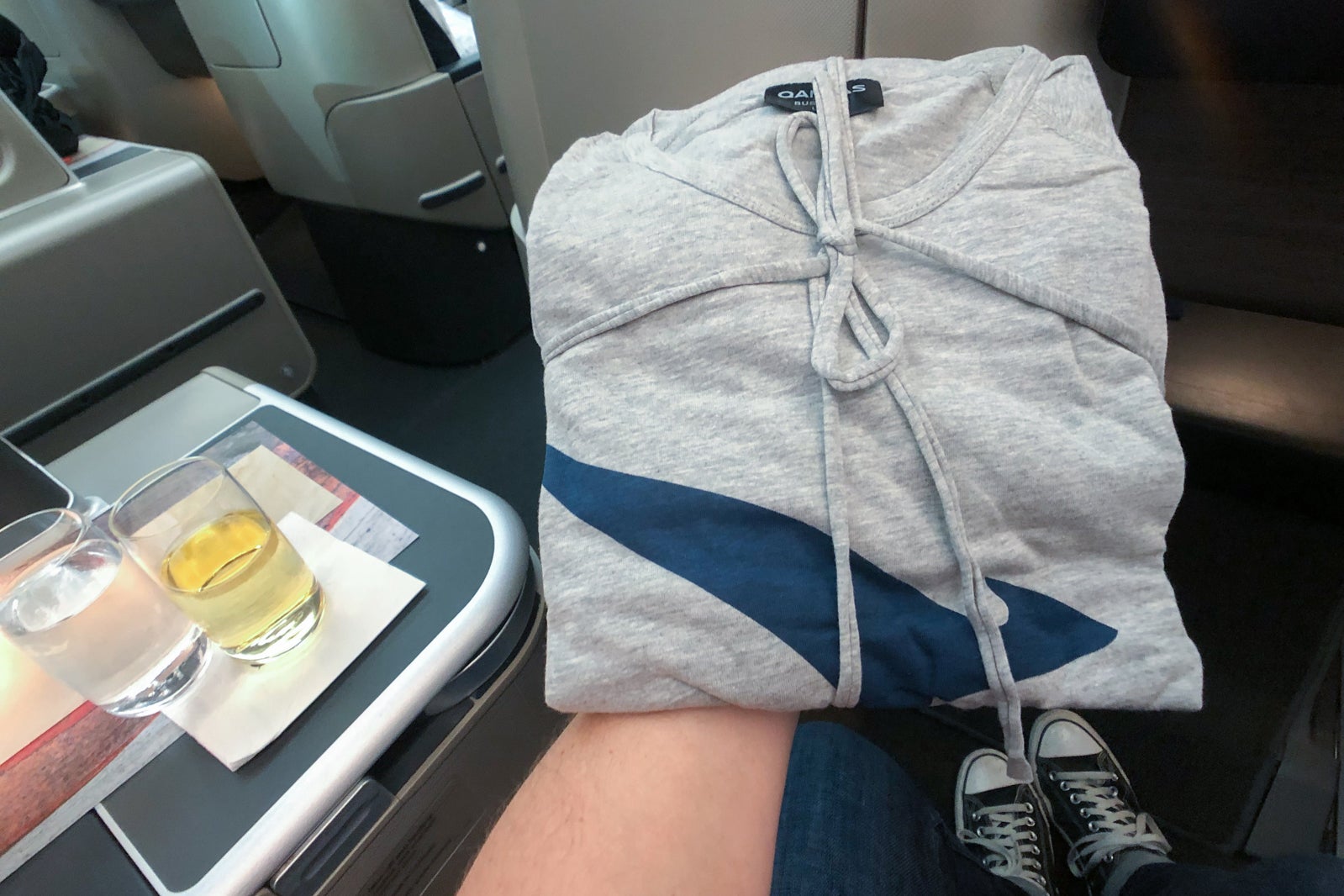 Business-class passengers have access to three dedicated lavatories, one at the front of the cabin near the cockpit door and two on either side of the galley between the two business-class cabins. I mostly used the latter since the front one always seemed occupied, but the back ones rarely were. Flight attendants came through periodically to wipe them down, and I appreciated the no-touch toilet and sink. There weren't any special amenities to mention, just a bottle of hand soap.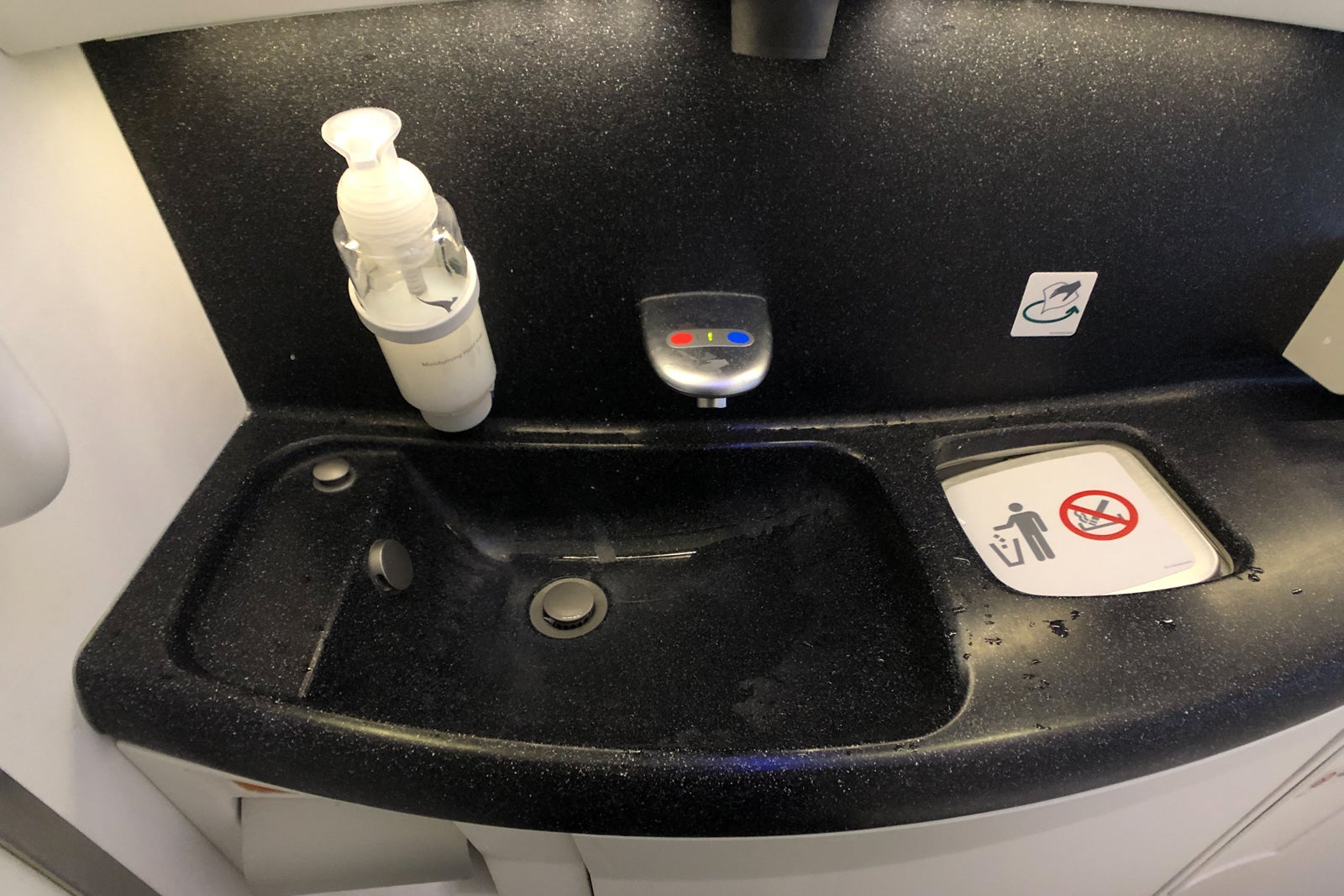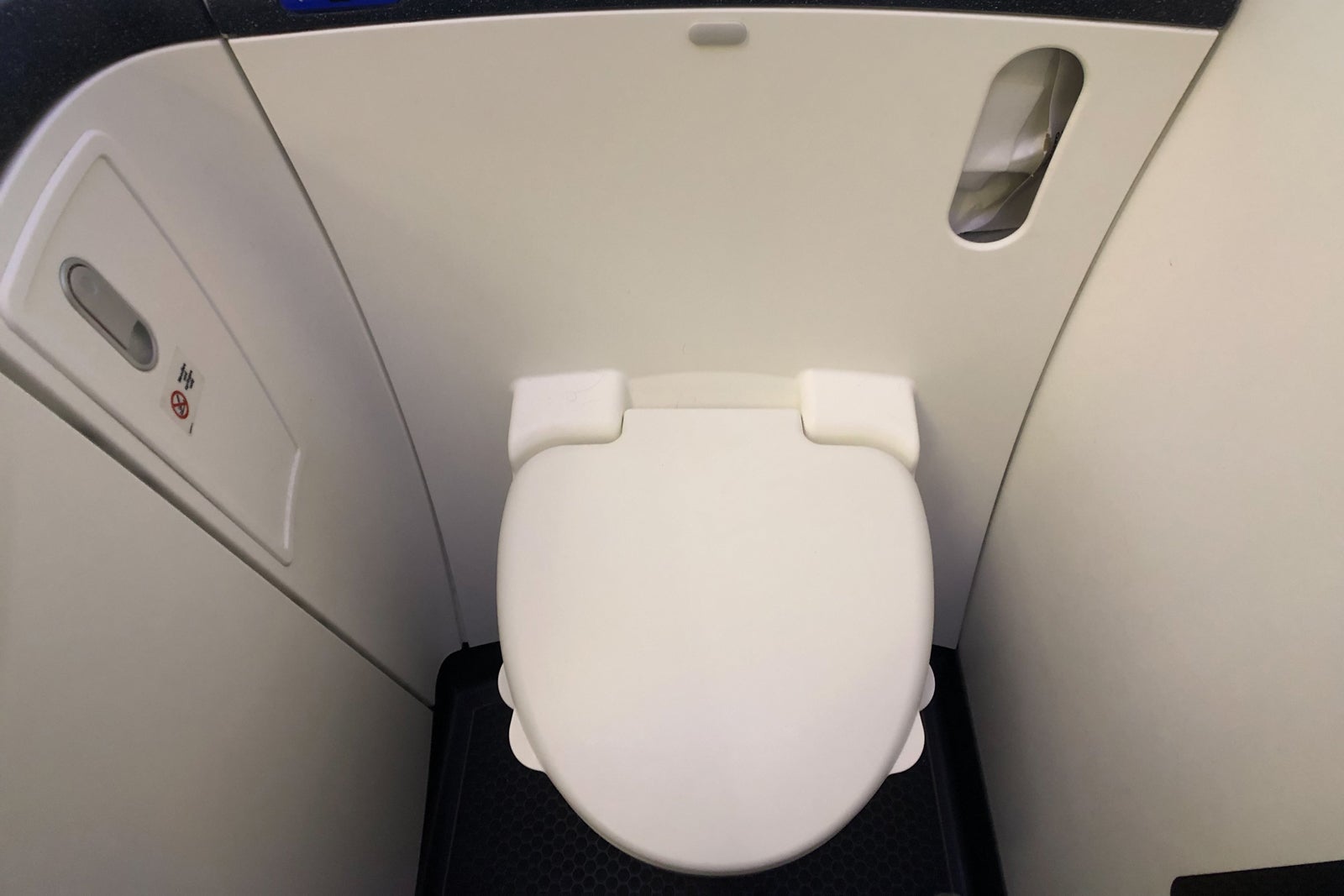 As for service, in the past, I have felt like I've walked off Qantas flights having made new friends among the crew members I'd met. This one was different. I'm not sure if it was the timing of the flight or if something else was going on, but none of the attendants introduced themselves by name to me or the passengers around me, orders for meals were taken very quickly and with little discussion, and the meals were served and removed quickly with minimal interaction.
The in-flight manager came by each seat to introduce himself and thank passengers for flying just before landing — a nice, warm touch that reminded me of my past Qantas jaunts — but the rest of the crew barely seemed to interact with passengers at all.
Food and beverage
Given the flight's late-night departure, the crew handed out menus while we were still at the gate and asked passengers if they wanted to go right to sleep or to enjoy a meal after takeoff.
Most opted for the meal, myself included. It began about 30 minutes after takeoff with a small salad of assorted lettuces and vinaigrette and a choice of breads including sourdough, garlic bread and seeded bread.
The choice of mains included a vegetarian zucchini-basil soup with parmesan croute; caramelized potato gratin with peas, mushrooms and roasted fennel; a chipotle lamb sandwich with mint salsa and sweet onions; beef fillet with green beans and mashed potatoes; and the dish I chose, Jiangxi-style Humpty Doo barramundi with sesame and jasmine rice.
Flight attendants set out tablecloths and trays and served the salad from a cart while pouring drinks — I chose a Shaw + Smith Sauvignon Blanc — then returned about 15 minutes later with the main courses. The fish was a nice combination of firm and juicy textures and sweet, salty and spicy flavors. I got a glass of berry-forward Heirloom Vineyards Shiraz from the Barossa Valley to go along with it.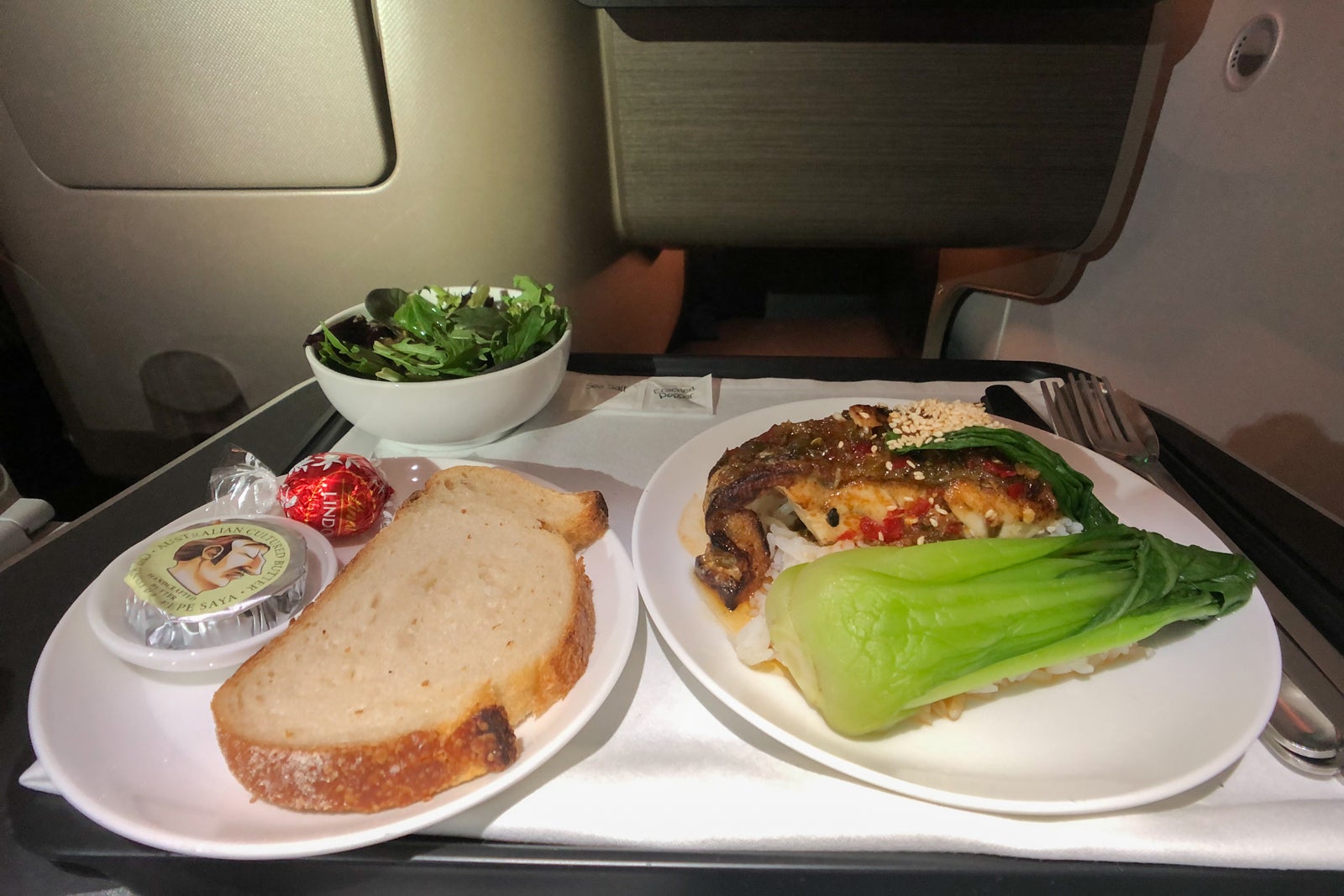 My meal ended with a selection of cheese and crackers and a bowl of fresh fruit. I watched the end of a movie then went to sleep for several hours, skipping the mid-flight anytime menu that had options like a croque monsieur, spinach-feta quiche with caramelized onion and crudites with dip.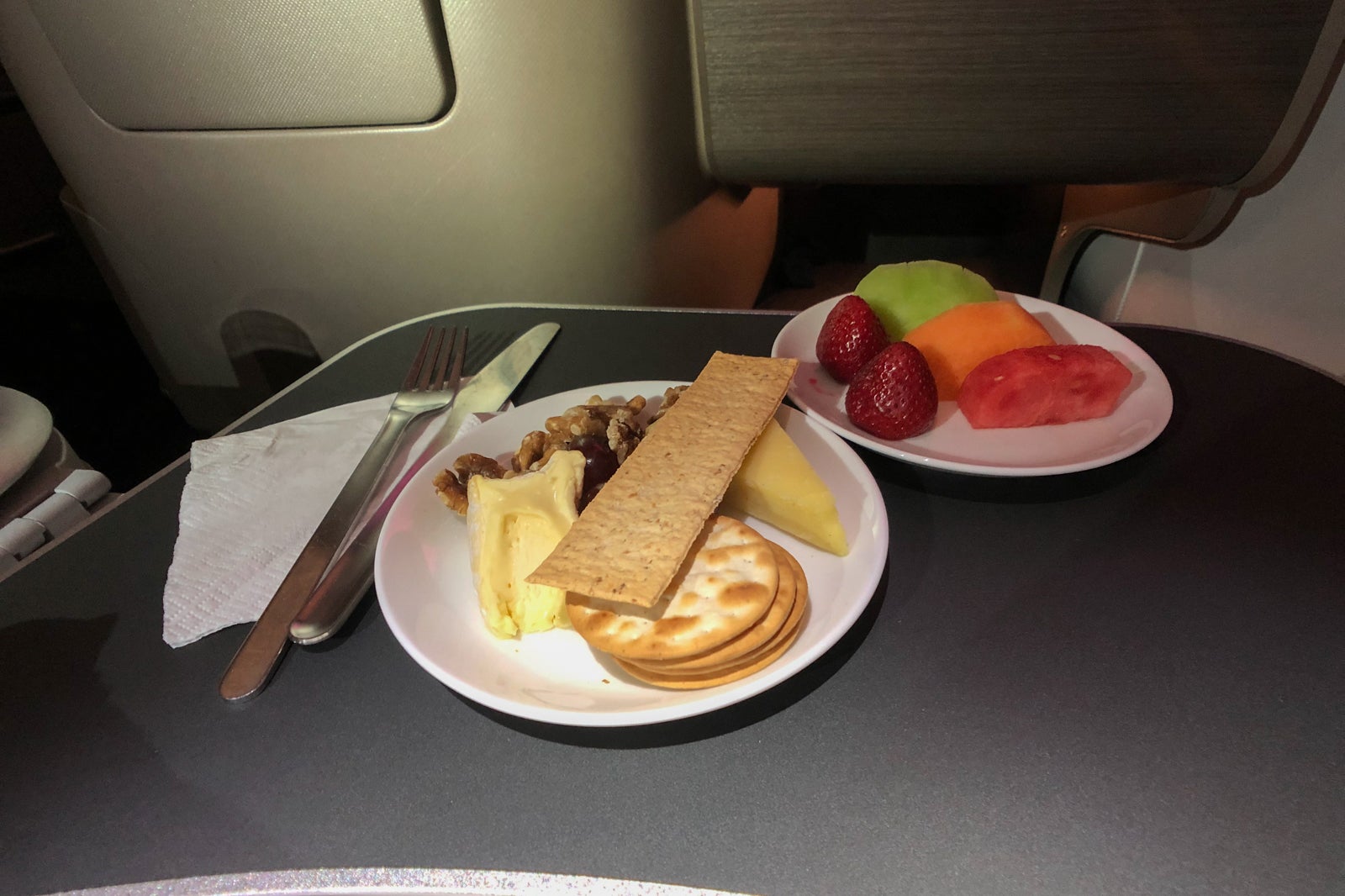 Before turning in, I had filled out a breakfast menu where I'd opted for an Urban Remedy cold-pressed juice with cucumber, apple, pineapple, pear, celery, kale and lemon. It proved to be tangy and fresh — perfect before my usual drink of choice, a coffee with milk and sugar (served in one of the airline's distinctive Noritake bone china mugs, of course).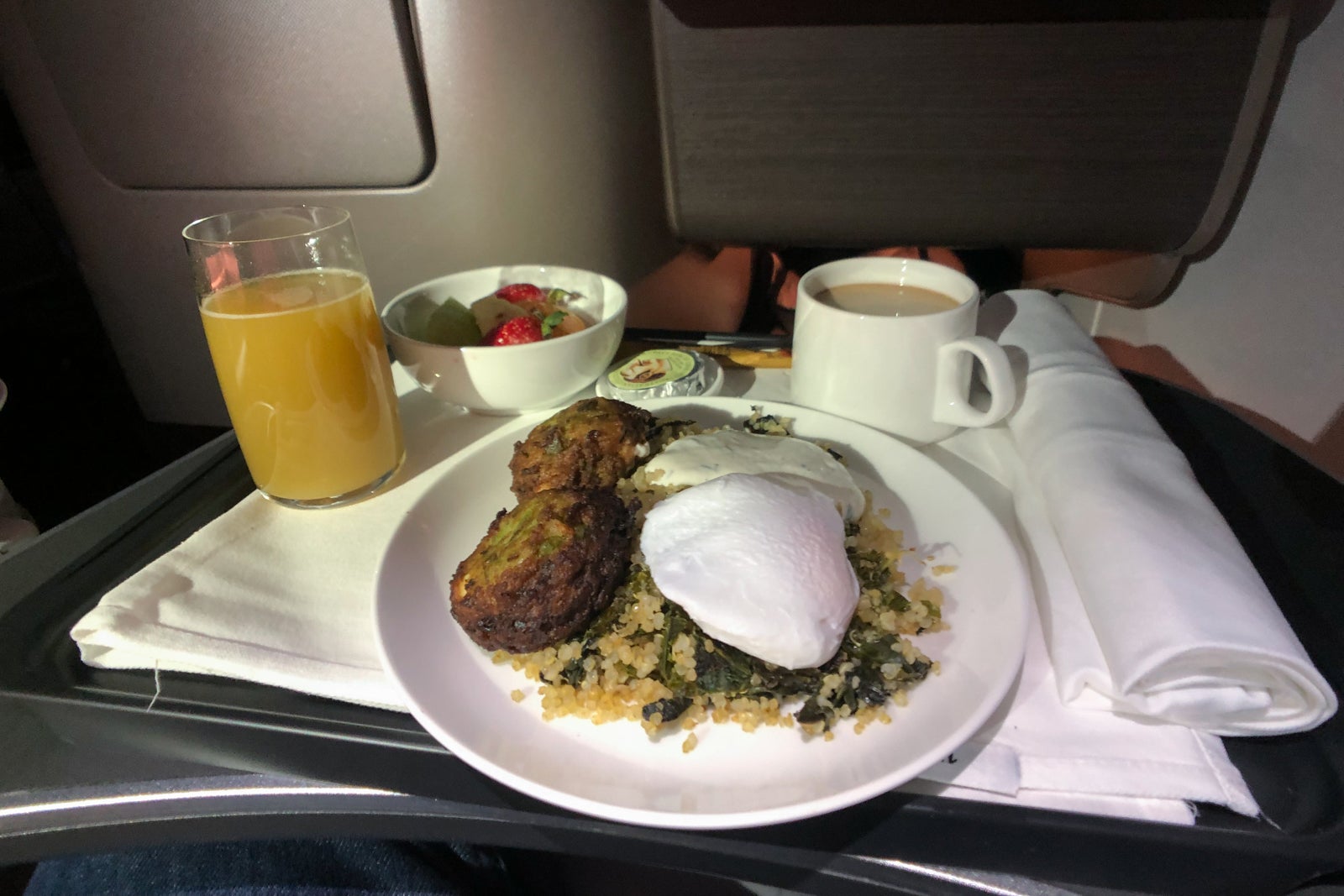 I also ordered a fruit salad, a croissant that ended up being enormous and very buttery (in a great way, but it still made me feel guilty) and what I thought was the most interesting breakfast choice: green pea fritters over a quinoa-kale salad with a poached egg and herbed lemon yogurt sauce. (The other options were free-range scrambled eggs with bacon, sautéed mushrooms and roasted tomatoes; and a bacon-egg-cheddar roll with barbecue sauce.) The dish ended up being hearty but light and was a nice way to end the flight.
Final approach
Shortly after I finished the second meal, we began our initial descent into Los Angeles. It was lovely just watching the sunset over the city as we swung inland then banked past downtown for our approach into Los Angeles International Airport (LAX).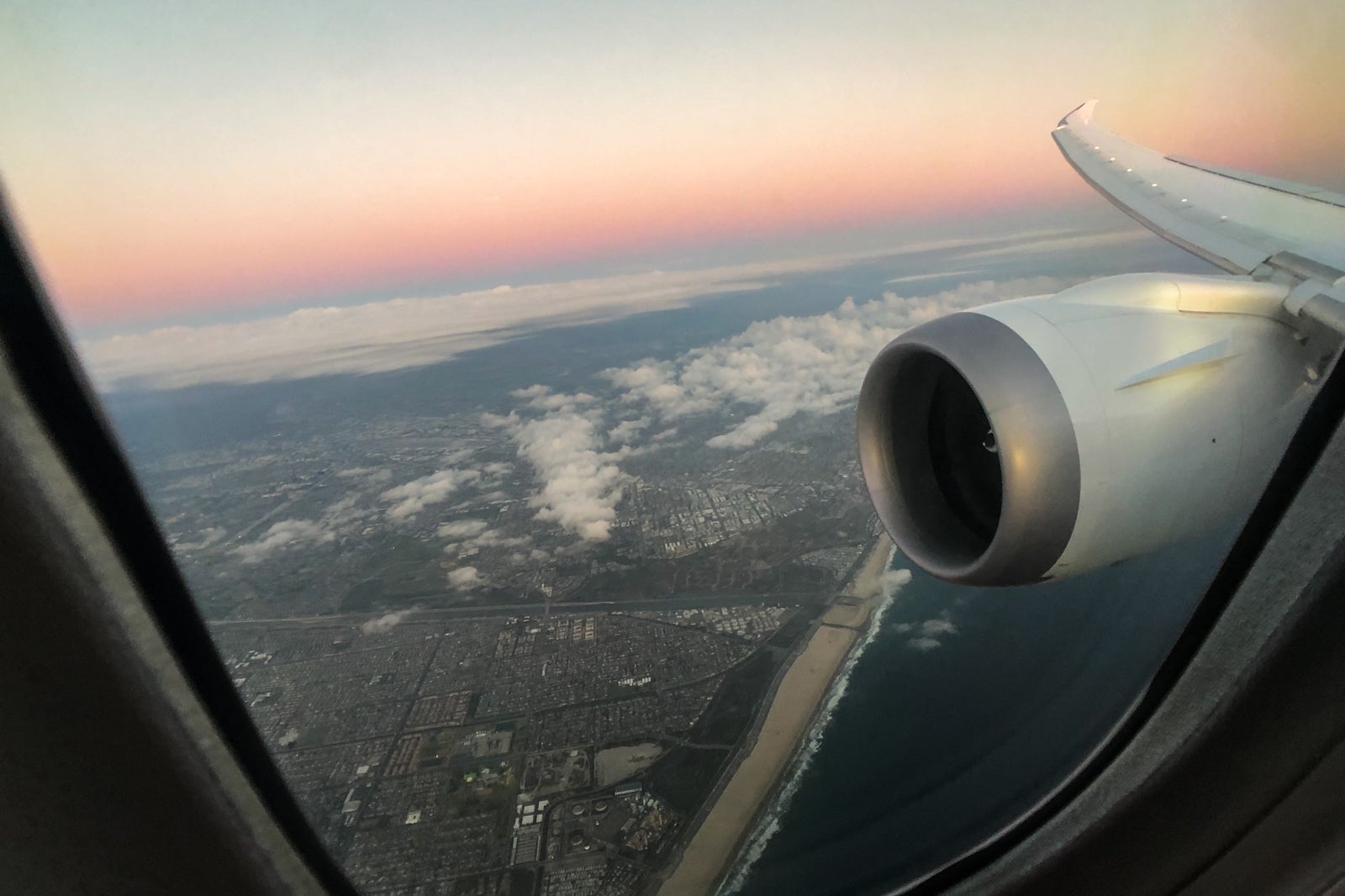 After a short taxi, we were at the gate and the doors were opened a few minutes later. Due to how few international flights were still arriving at LAX at that point, I passed through Global Entry, collected my checked bag in record time (it can sometimes take over an hour at LAX) and quickly was on the shuttle to the ride-hailing service lot.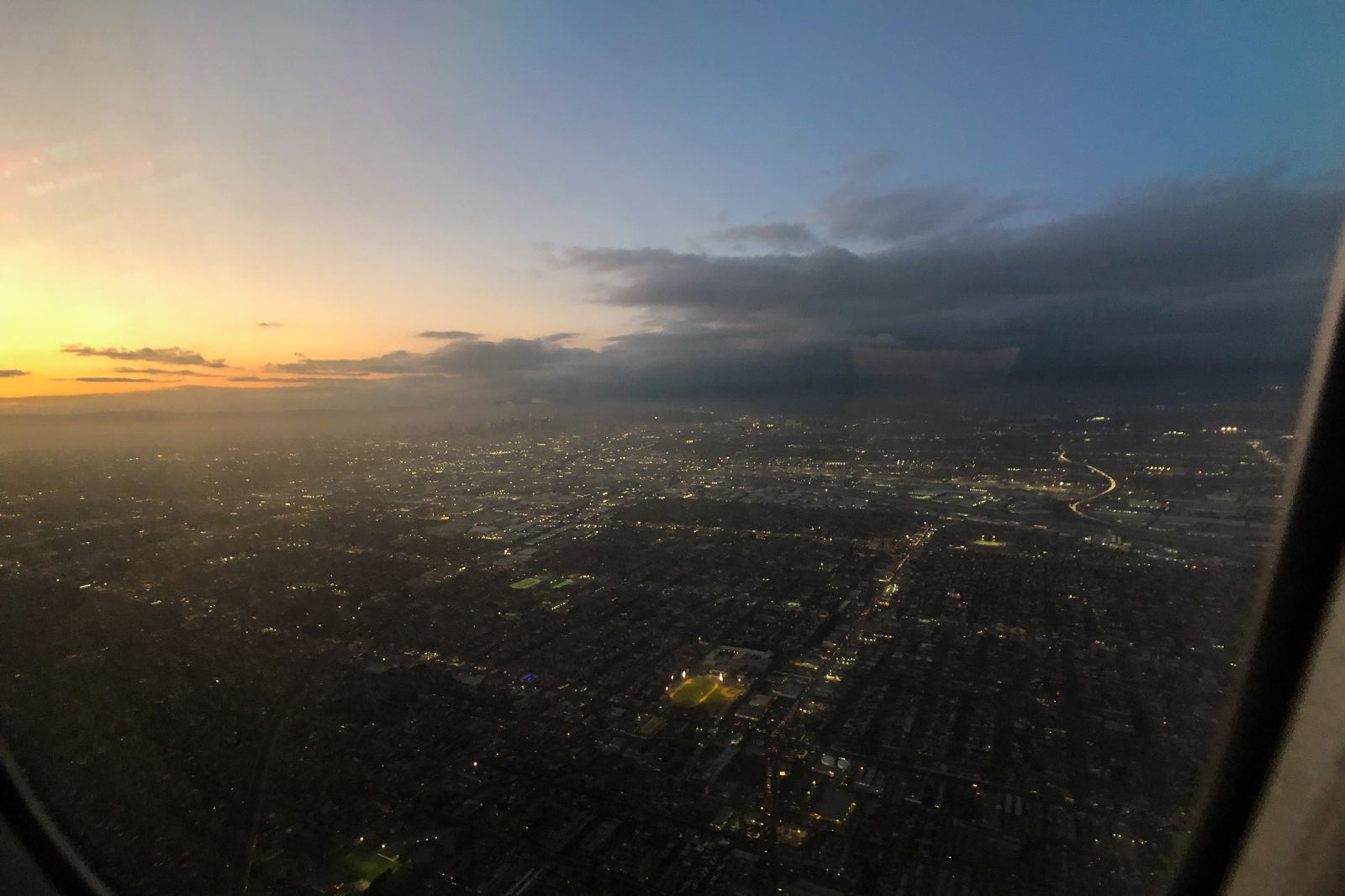 I haven't flown much during the pandemic and I had expected my flight on Qantas to feel very different compared to the pre-COVID-19 era. Masks and hand sanitizer aside, though, it felt very familiar and comfortable — especially donning those pajamas and settling in for a dinner of Barramundi accompanied by Australian wine. Now I'm on the search for more Alaska Airlines awards on Qantas so I can fly the airline on the way to Australia rather than just for the return. That way, I can keep replenishing my airline pajama stock.
Featured photo by Eric Rosen/The Points Guy.
---
Share this post
---
---