A luxury hotel lacking warmth: My stay at the Capella Bangkok
Posted by admin on
I've been covering the hotel beat for several years now, and everyone in this industry gushes over how hotels in Asia, no matter the price point, usually far exceed expectations when it comes to hospitality.
When I got the assignment to go spend a night at the Capella Bangkok — part of a smaller chain of luxury hotels — located primarily in Asia, I was giddy at the thought of how stellar the experience might be. After all, I've even had excellent stays at Holiday Inns and Crowne Plazas in this part of the world. A truly deluxe brand would be sure to knock it out of the park, I thought.
Walking up to the Capella Bangkok was breathtaking enough. The hotel sits behind a wall in a complex with the Four Seasons Hotel Bangkok at Chao Phraya River and Four Seasons Private Residences Bangkok. It's the kind of place that's polished, stunning and filled with people speaking in hushed tones.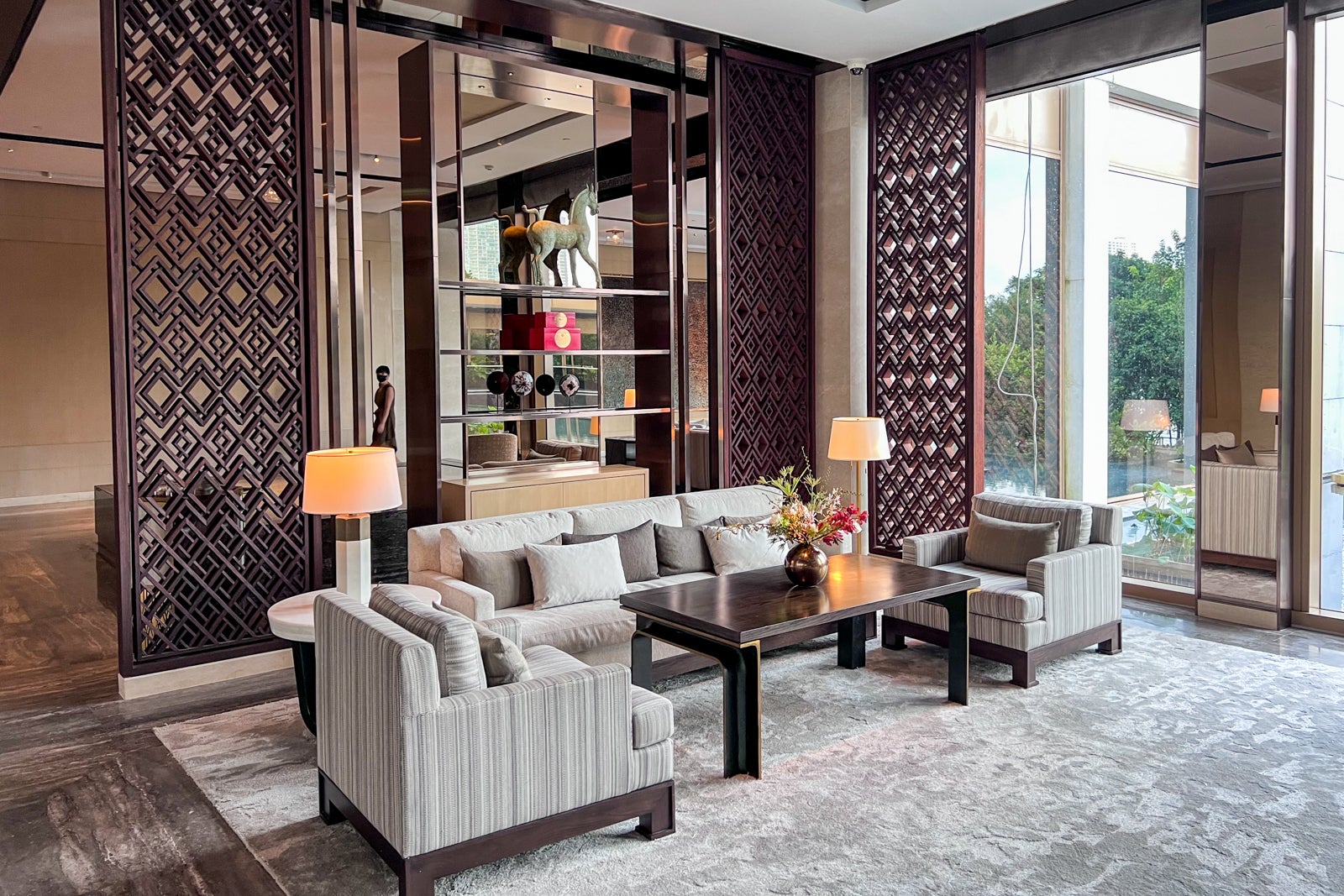 "Toto, we're no longer at the Crowne Plaza," I may have whispered to myself when I walked in and needed a forklift to pick my jaw up off the well-polished floor.
If only that feeling had lasted. The Capella Bangkok is a stunner, but I experienced some pretty significant lapses in communication and a lack of general warmth that a hotel at this price point should project. Maybe my experience was an outlier … and maybe I'll have to stay at a few more Capella resorts to find out.
Booking details
I booked my one-night stay through Brett Snyder, who runs the booking service Cranky Concierge. A one-night stay in a Riverfront-category guest room with a king-size bed came to 22,500 Thai baht, or about $643.
This reservation came with amenities similar to those found on premium booking platforms like American Express Fine Hotels + Resorts and Skylark. The Cranky Concierge reservation included a $100 resort credit, flexible check-in and checkout times pending availability and a room upgrade based on availability. I was bumped up to a riverfront premier room, which amounted to the same type of room I'd booked, only on a higher floor of the hotel.
My booking also came with other extras like free breakfast, complimentary snacks from the minibar, excluding alcohol, and free access to the hotel happy hour.
Getting there
I walked from the Four Seasons next door, but Capella Bangkok is a 30-minute taxi ride from Bangkok's Suvarnabhumi Airport (BKK). Taxi fare from the airport to the city is usually around 500 Thai baht, or about $14.
Standout features
Capella Bangkok knows how to make a first impression. The hotel's welcome area is pristine and ornate with polished stone floors, elaborate wooden screens and immaculately dressed staff. It also feels rather exclusive to learn this isn't the guest lobby. That space, dubbed the Living Room, is tucked behind a sliding door accessible only via a keycard.
All rooms have excellent views of the Chao Phraya River, as they are only on the river-facing side of the hotel building.
High marks go to the Michelin-starred Cote for its general fabulousness as well as Phra Nakhon, a Thai restaurant that also hosts breakfast and has a wonderfully fun staff that was a delight to chat with.
While I didn't book a treatment, the spa is a beautiful space. Even if you aren't enjoying a therapy, take time to hang out in the hot tub or steam room.
A compartment situated between the guest room's walk-in closet and the hallway was a nice touch for getting various services like laundry tended to without needing a member of the staff to enter the room in the event a guest is napping or wants their uninterrupted privacy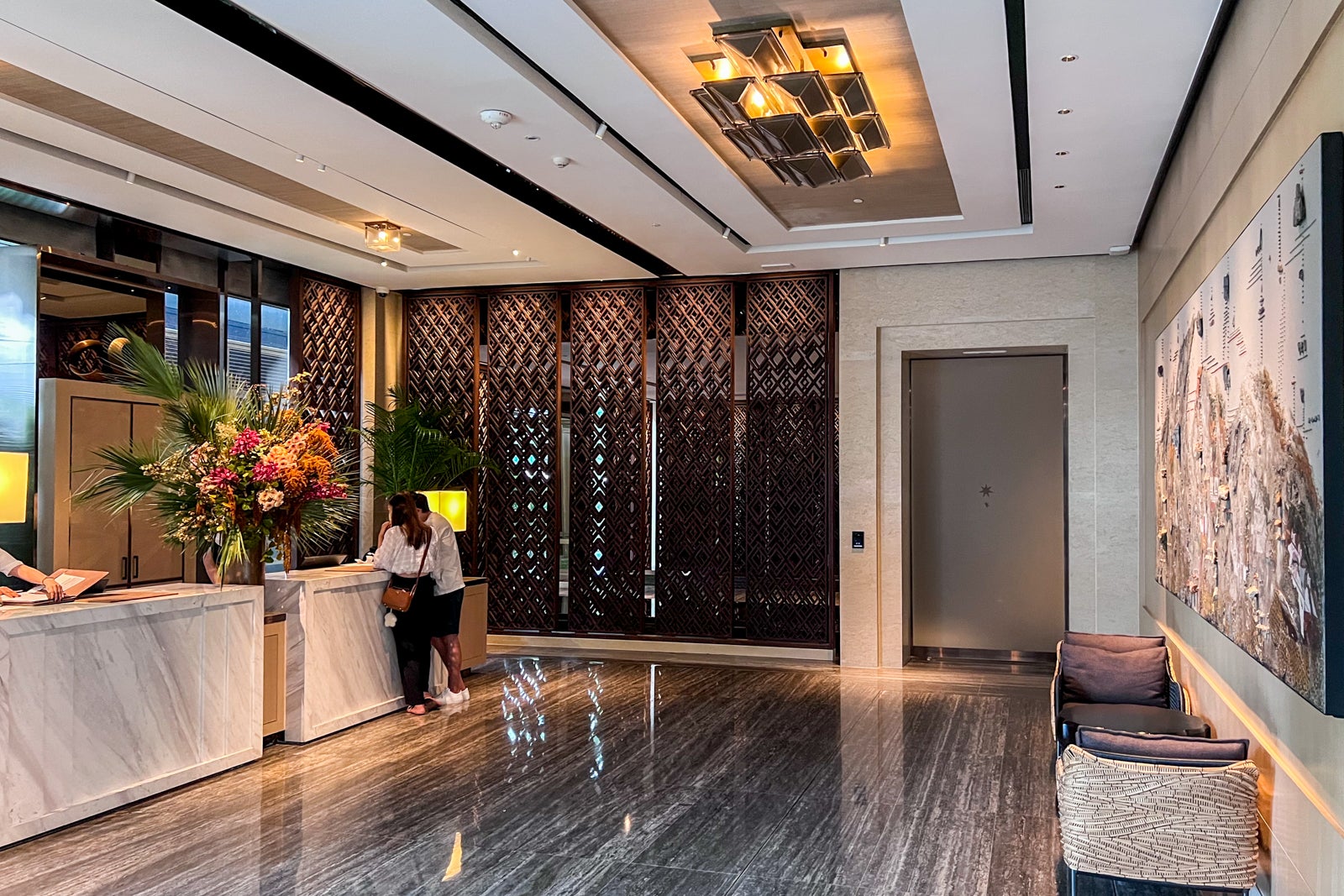 Drawbacks
Communication was not the strong suit of the staff here, particularly with Capella Culturists — the title used for the hotel's private butler service. I got wildly different answers on everything from tour pricing to what parts of the hotel were good for an afternoon cup of tea. When I asked why I didn't receive evening turndown service, the Culturists claimed my "do not disturb" light was on, but when I went and checked, it was off.
Capella directs guests to communicate digitally with their Culturists via WhatsApp. While this certainly has its advantages given the international clientele who speak an array of languages, it also makes the private butler aspect of the hotel feel less special. Even more so when an "all of our service representatives are presently engaged" message pops up.
For a hotel of this caliber, every little thing stands out — both the good and the bad. The lounger on my outdoor deck was disheveled and a robe in my room was frayed. When turndown service eventually came, empty bottles of water weren't refilled. These are all minor details — but details a hotel like the Capella should get right.
Another failure on the communication front came with a request for late checkout. The team at one point said it was fine before backpedaling and saying they couldn't commit until the morning of checkout. I was also told at various times that a late checkout — if it were to be granted — would be at noon, 1 p.m., 1:30 p.m. or 3 p.m. The spectrum was frustrating, as I was trying to sync up with a driver to take me to my next hotel. (I ended up leaving at 2:30 p.m.)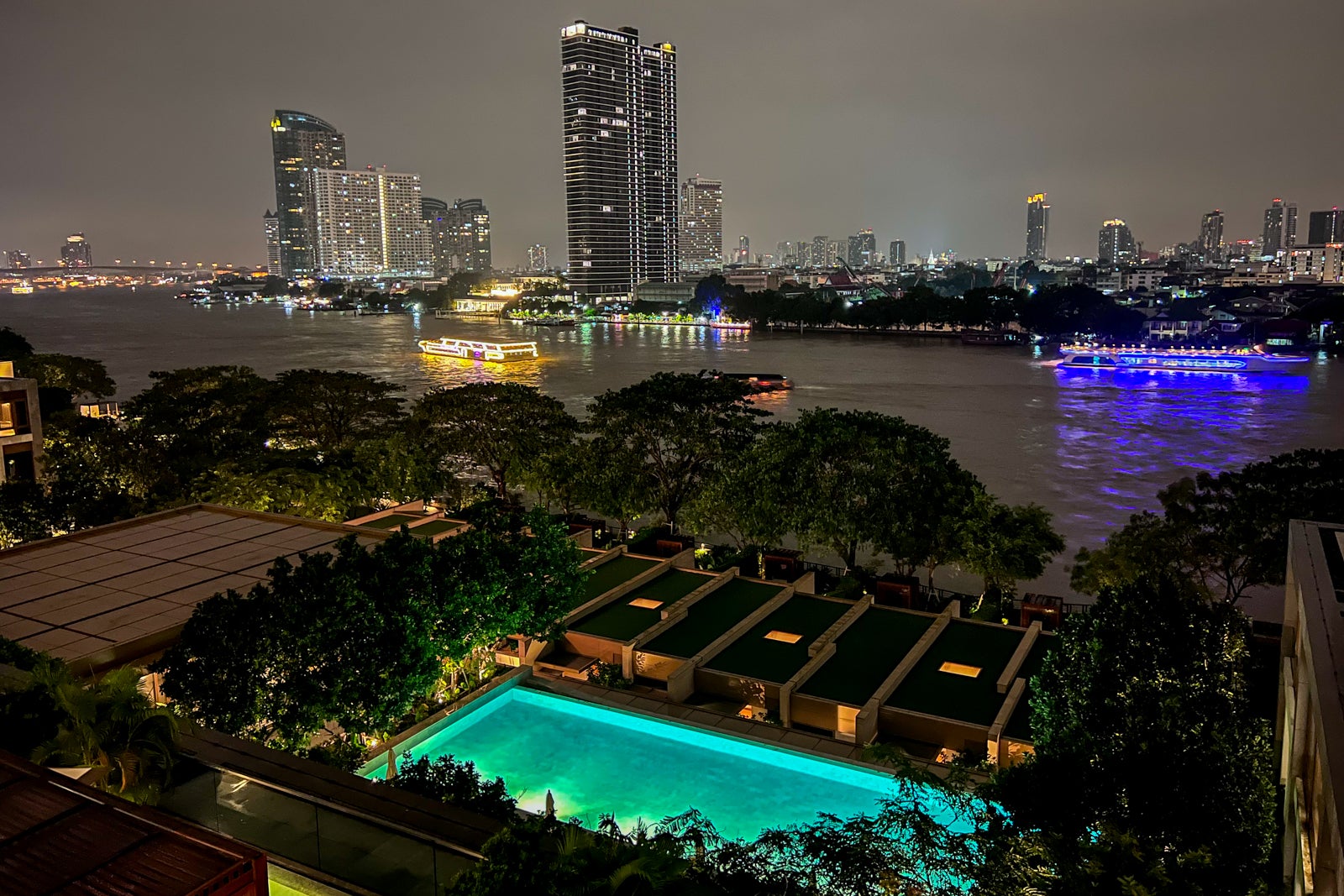 The vibe
Chic travelers willing to dole out cash — discreetly, of course — will find a welcome home at the Capella Bangkok. The secluded hotel is part of the same complex as the Four Seasons but leans noticeably more into the vibe of being in a walled-off compound than its next-door neighbor. A staff member even scoffed when I mentioned how much fun I had when the Four Seasons team recommended I try a local Thai spot in the neighborhood.
Why wouldn't I eat at one of their own restaurants, he wondered.
That said, it was certainly fun to get whisked past the decoy lobby into the real one for guests and then get feted with Champagne in the Living Room. Every staff member I encountered was friendly enough, but I wish the warmth of some of Capella's restaurant workers would rub off elsewhere on the property.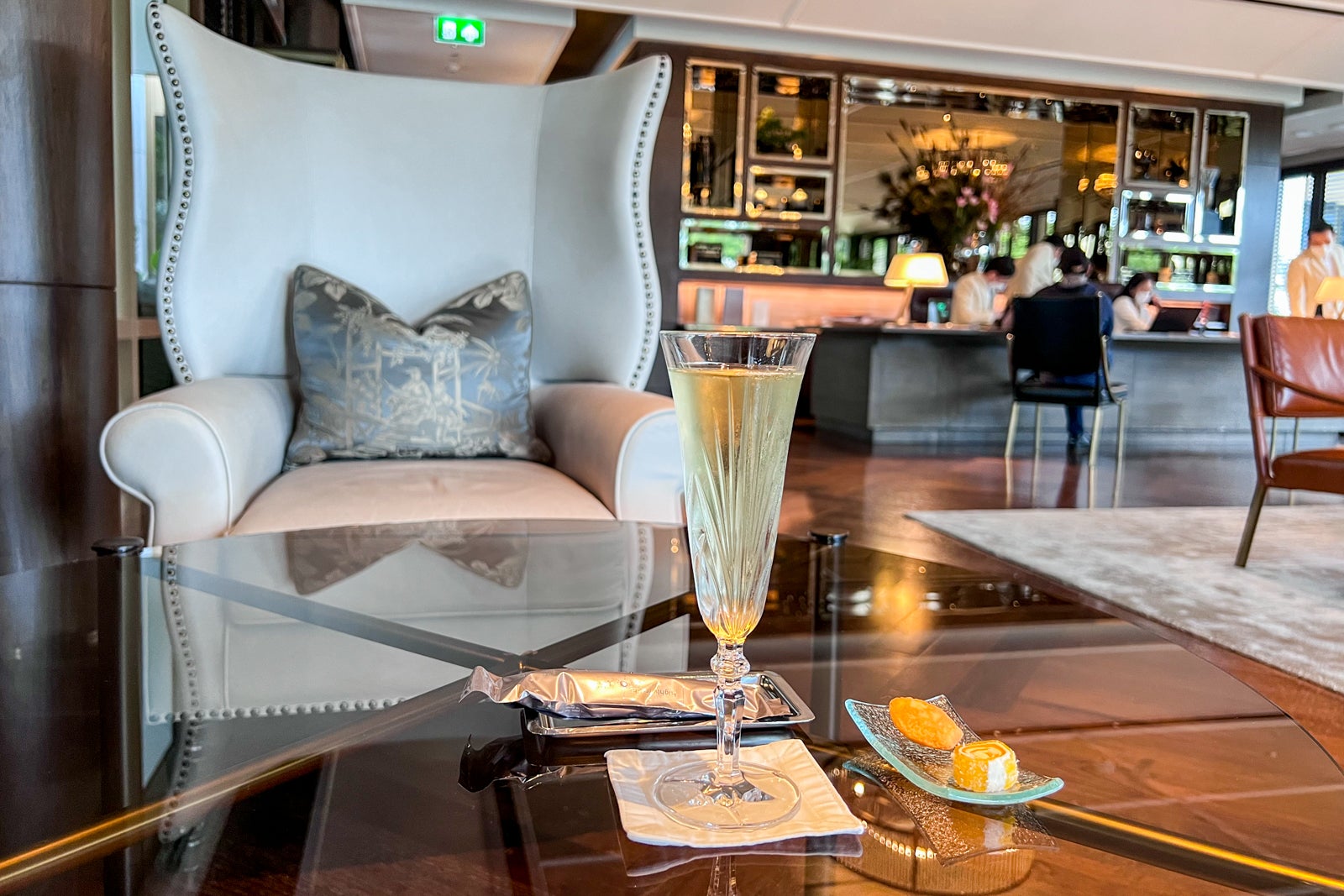 Of course, the guests at this hotel also seemed to be more removed than those at the Four Seasons. This is not the kind of place where you strike up a conversation with a stranger at the hotel bar. I never thought I'd say this, but I began to miss the throngs of young folks I saw at The Standard and even the Four Seasons broadcasting their every move on TikTok and Instagram.
The room
The guest room was truly magnificent. I was upgraded to a riverfront premier room on the fifth floor of the hotel, and it was a luxurious roost for my last night in Bangkok before moving on to Hua Hin.
The room featured a small entryway (decorated by a floral arrangement) that forked into an enormous walk-in closet to one side and into the main sleeping and living area in the other direction. My Culturist showed me the ropes of the guest room as it was very well stocked with all sorts of amenities.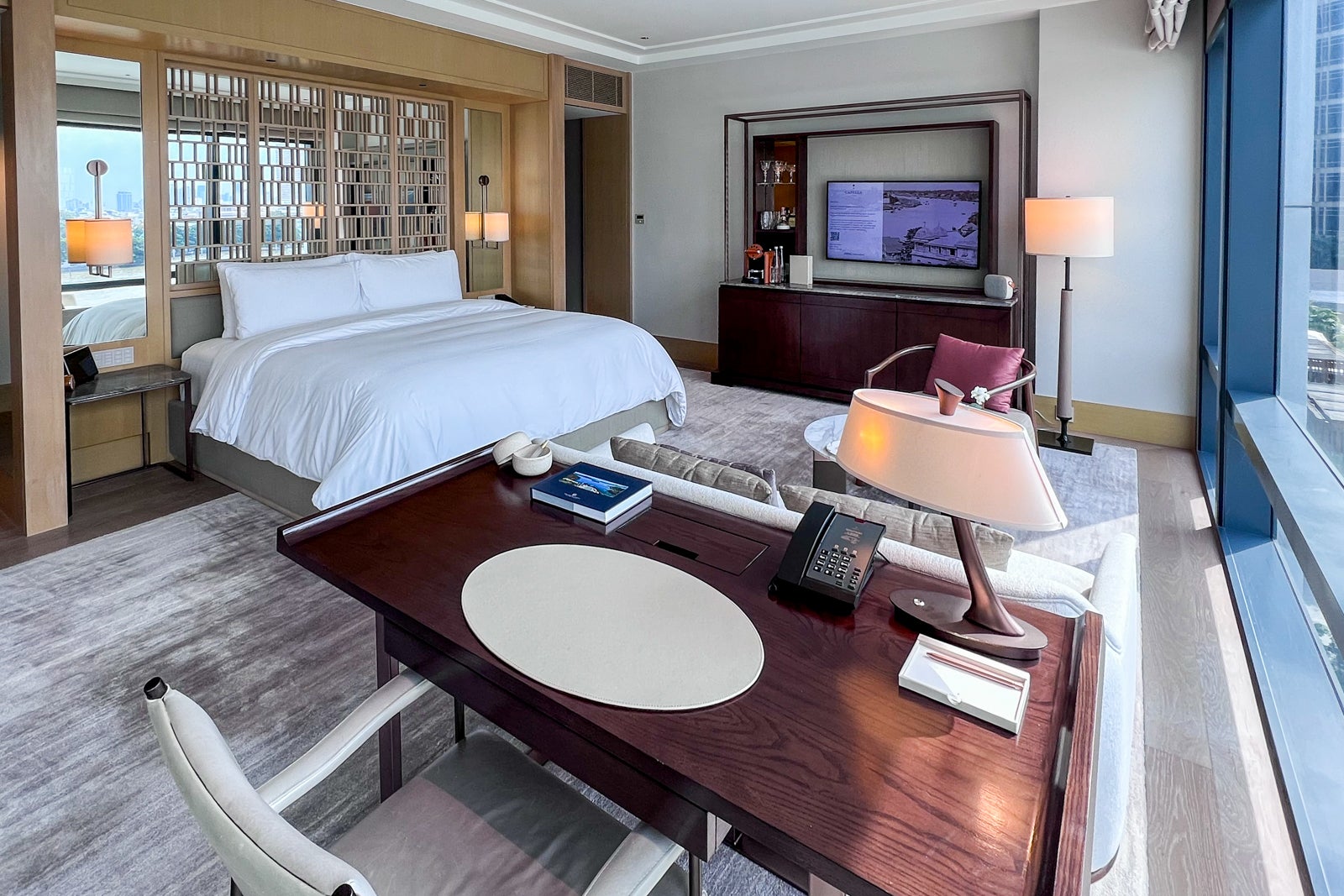 There was ample space for luggage (which was brought up separately by another member of the Capella staff) in the walk-in closet, a vanity for dressing and primping, tons of storage, a safe and even a compartment with a door out to the hallway (accessible with a key held by members of the staff) where you could leave items for the hotel staff to take or have them returned to you in the event your "do not disturb" sign was on, my Culturist told me.
There were also lightweight robes hanging in the closet and a nice leather bag you could use to take clothes or other items to the pool or gym. It was a very well-planned space, and my Culturist also reminded me the hotel provides free pressing for up to five items of clothing, which I took advantage of to look a little more presentable at the remaining dinners during my trip.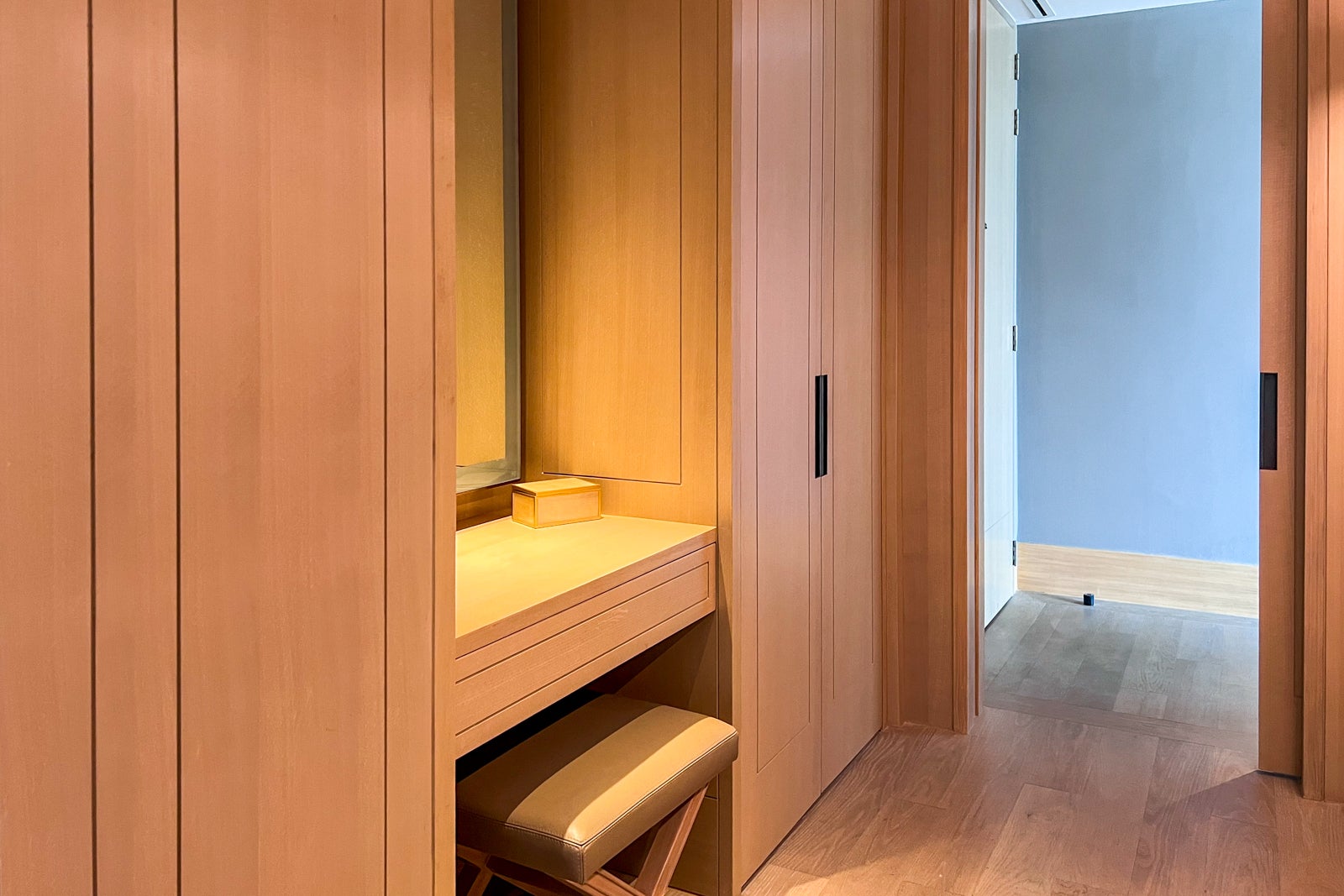 Back in the main part of the guest room was the king-size bed, a desk to work from and a separate sitting area. The bed was very comfortable, with panels of buttons on each side that controlled lighting as well as the window shades. The blond wood, floor-to-ceiling windows and mirrored headboard made the room feel even larger than it already was.
A small couch, chair and coffee table formed the small seating area, and there was a welcome gift of a few baked goods — thanks to my booking via Cranky Concierge.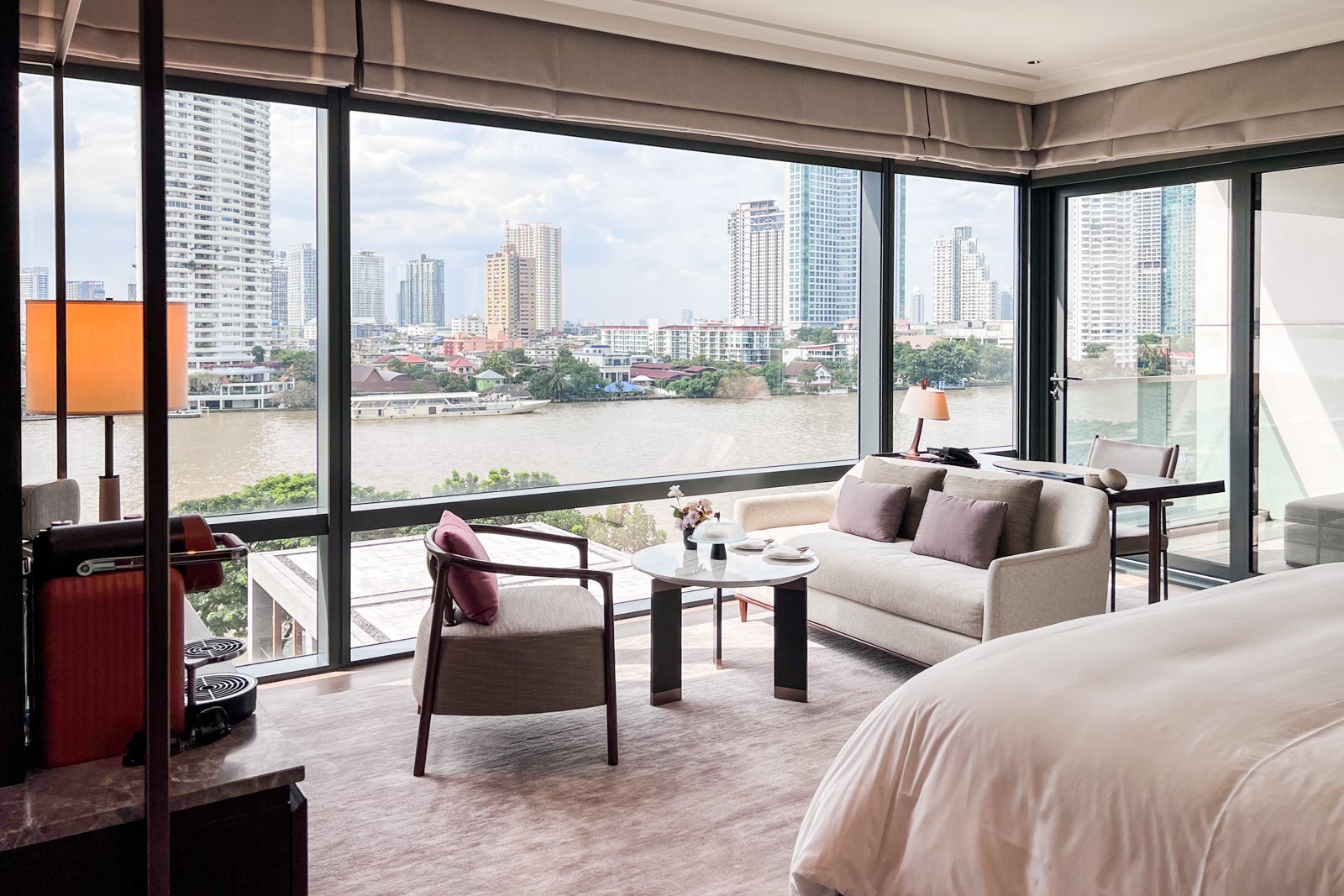 A nice chest of dark wood held the minibar, leather-bound Nespresso machine and television (which included another reminder to WhatsApp my Culturist with any questions). There were very nice pieces of dishware for coffee and tea within the cabinet as well as snacks like local Singha beer and spiced nuts. My favorite treat of all was a jar of shortbread cookies.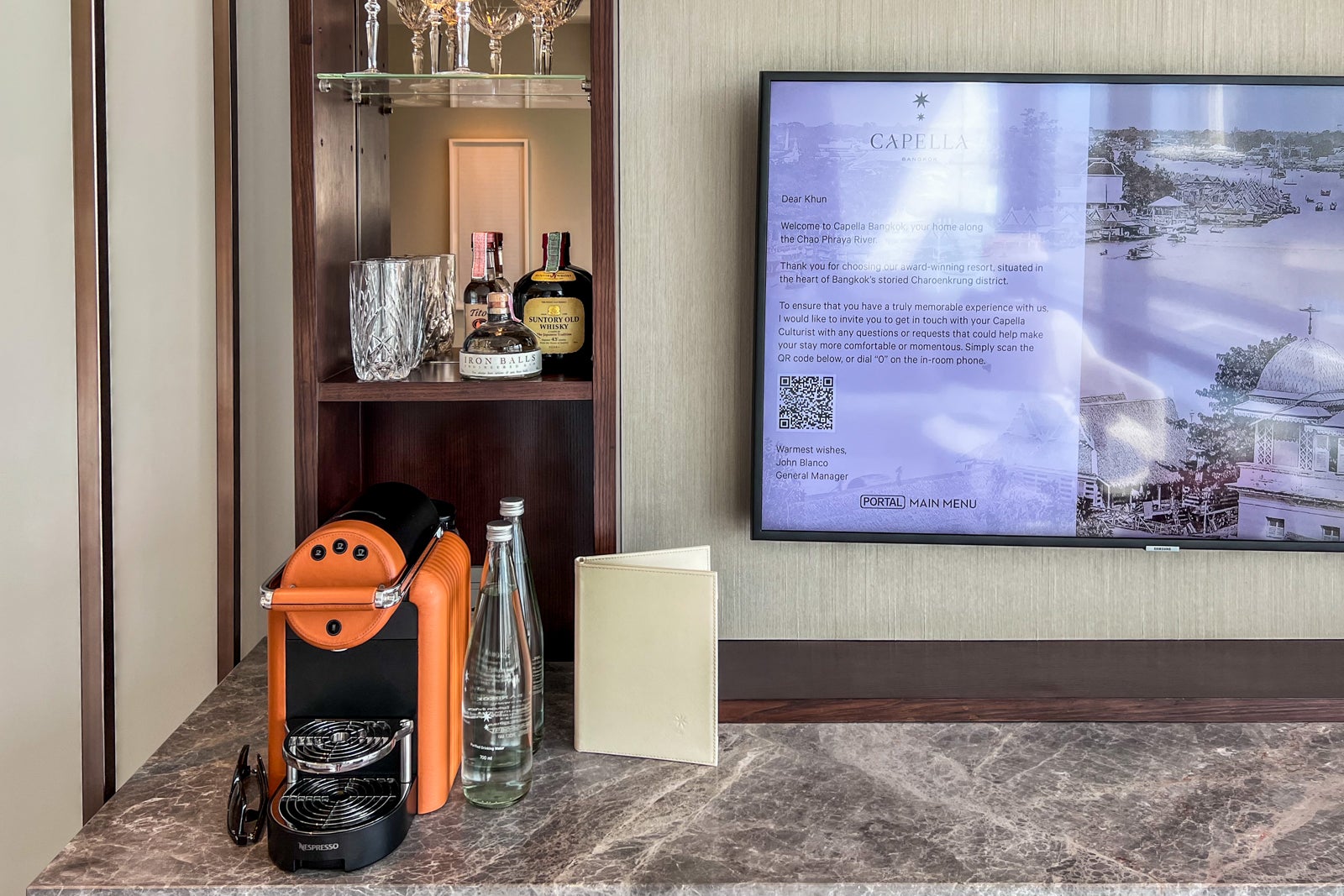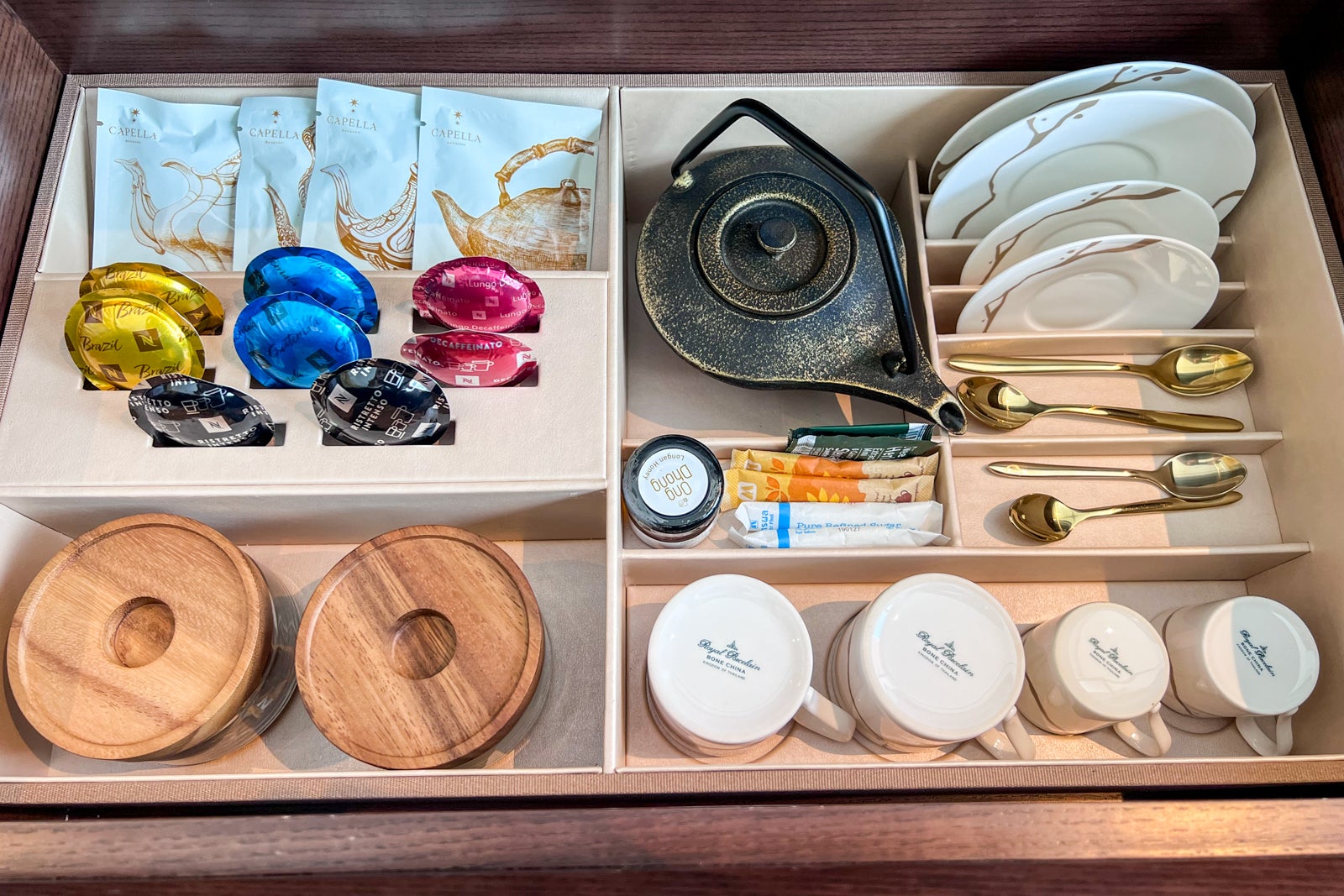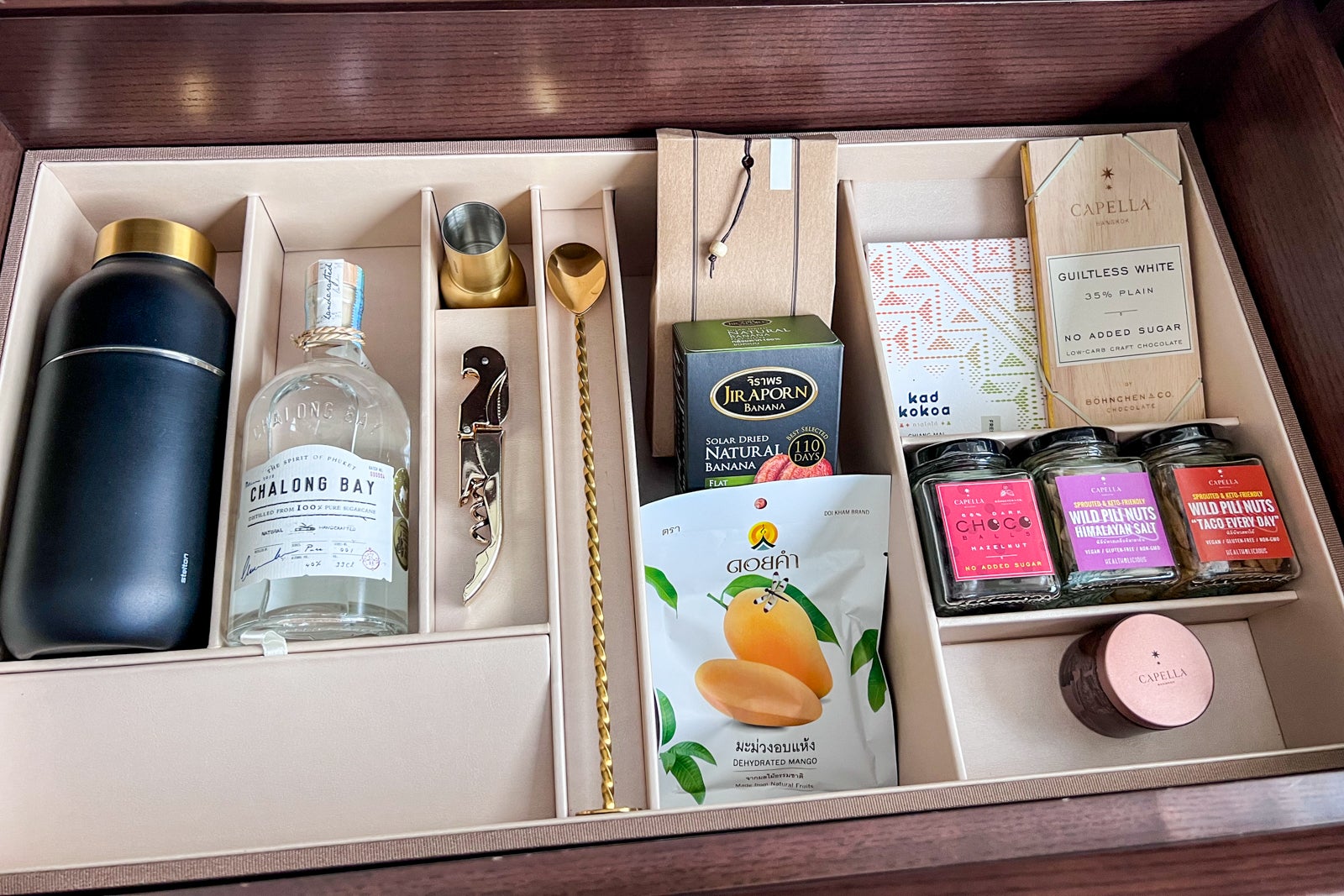 There was a sliding door behind a desk that led to a private terrace, which included a lounger with a small side table to place a coffee or glass of wine and take in the view of the river. If you left the sliding door open for longer than a minute, the air conditioning inside would shut off for energy efficiency. While this outdoor space was a welcome feature, the lounger had several stains on it.
But the decadent bathroom was one of my favorite parts of the room. Light-colored tiles and recessed lighting plus a stand-alone tub in the center made it feel more like a sanctuary than a mere bathroom. A large window looked out onto the terrace and river beyond, and blinds could be drawn with the push of a button.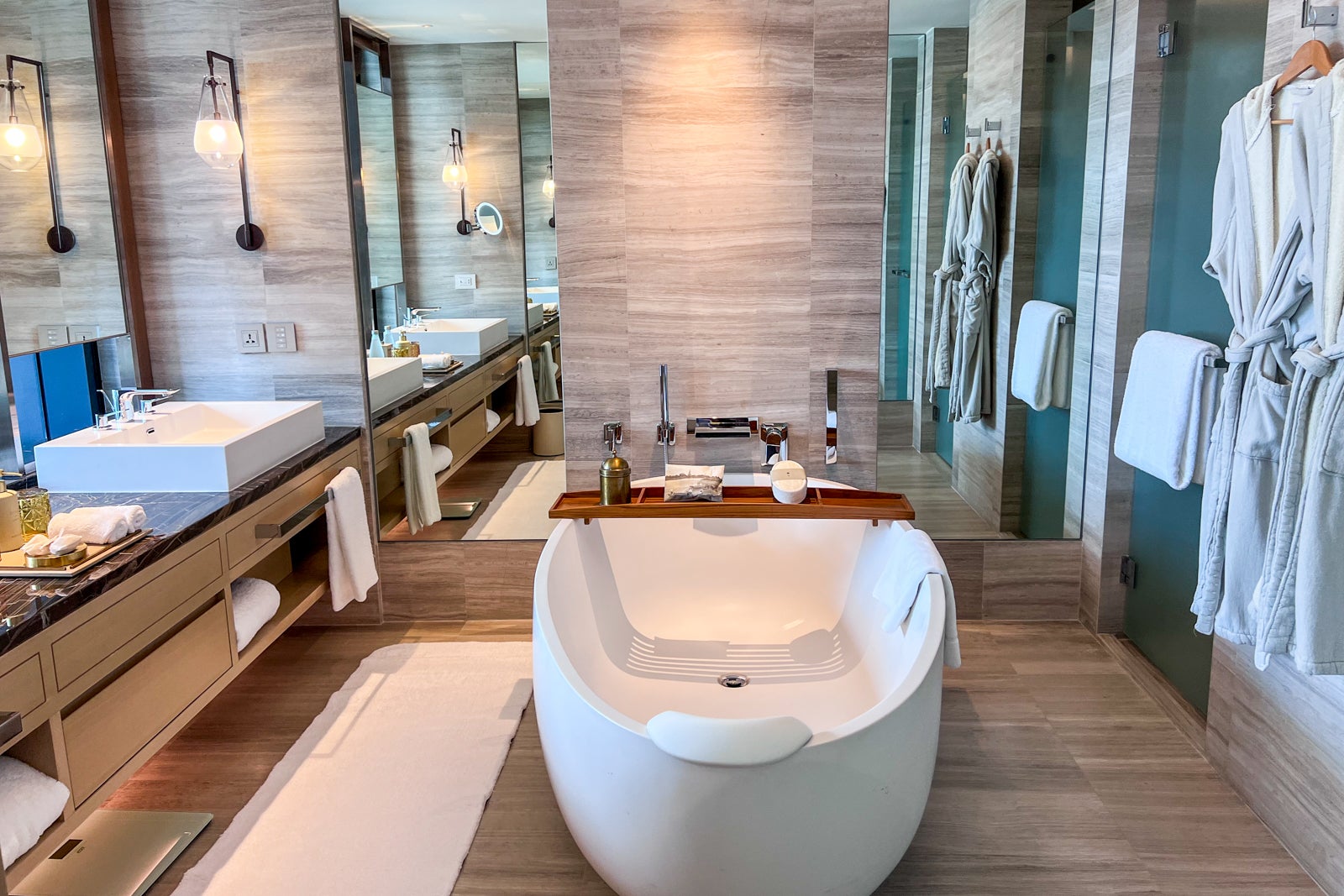 Dual vanities provided plenty of space to get ready, and the hotel provided an array of amenities, from an emery board to a shaving kit, mouthwash, hairbrush, comb and dental kits — all packed in boxes that, when stacked next to each other, recreated a historic photo of a fishing scene on the Chao Phraya. While the hotel seemed austere in certain parts, the design of the room showed careful attention to Capella's image.
The bathroom also had a walk-in shower with Etoile de Siam bath products in large pump bottles. The tub had bath salts in an ornate, copper canister as well as a sponge for exfoliating and a soft headrest to truly relax at bath time.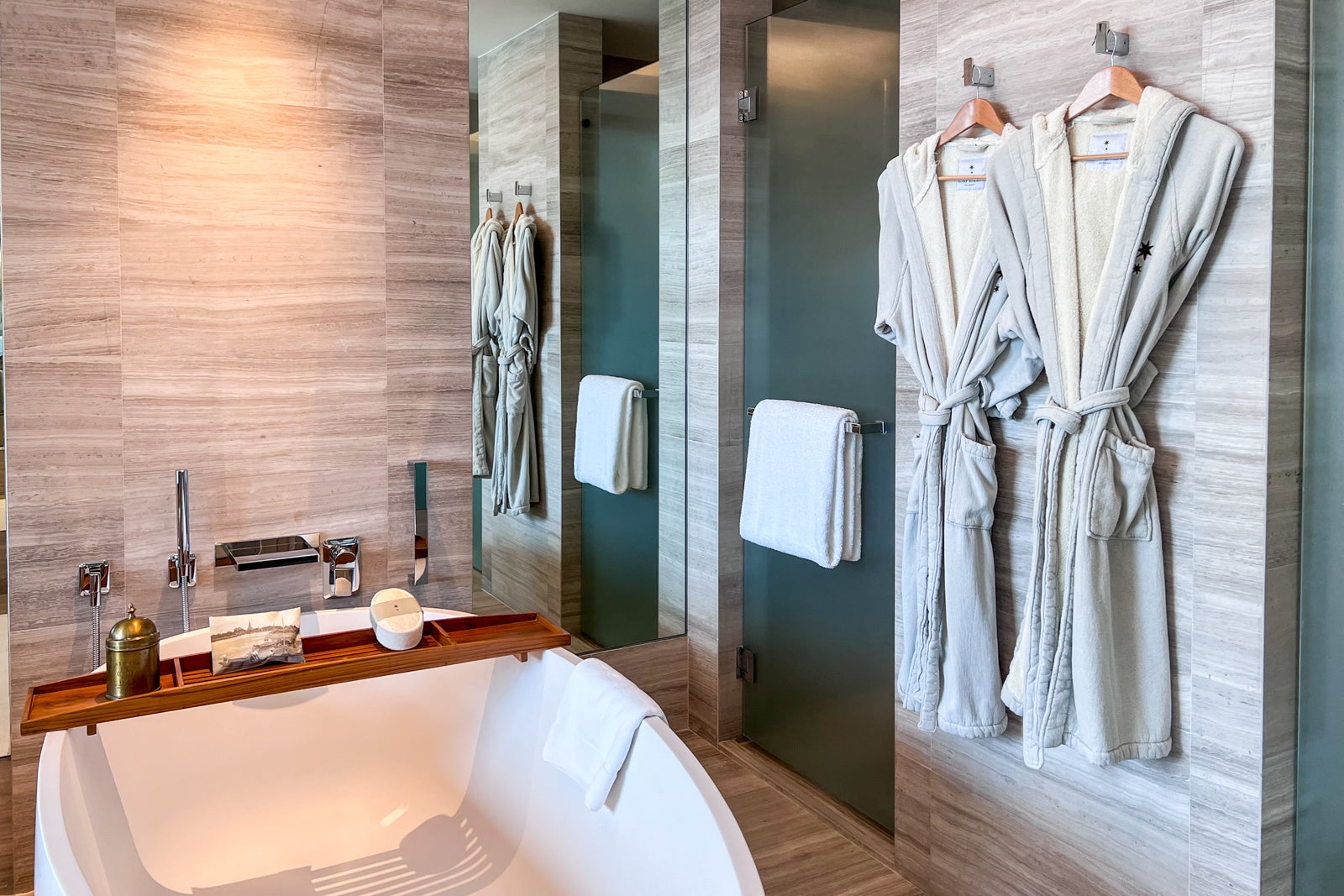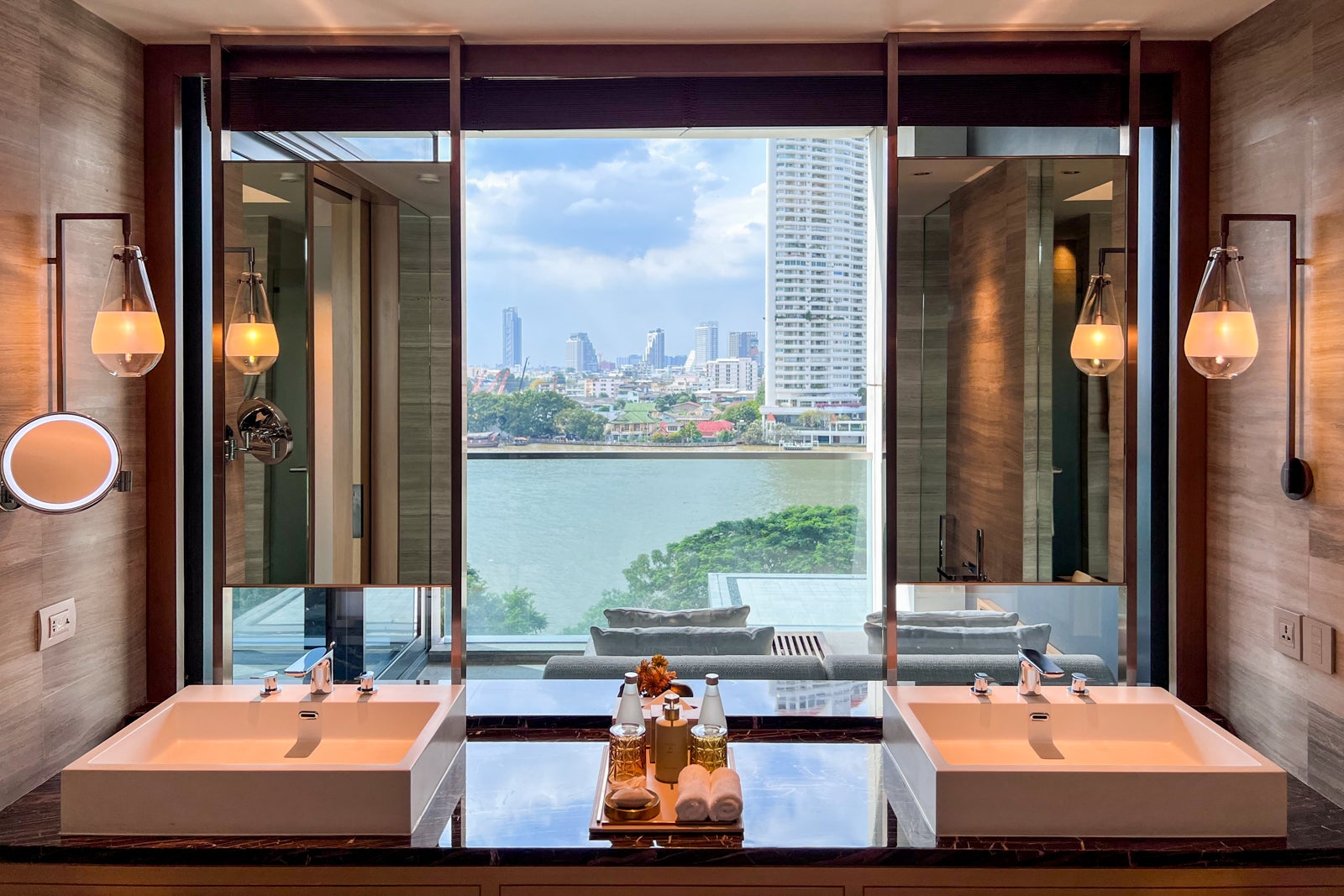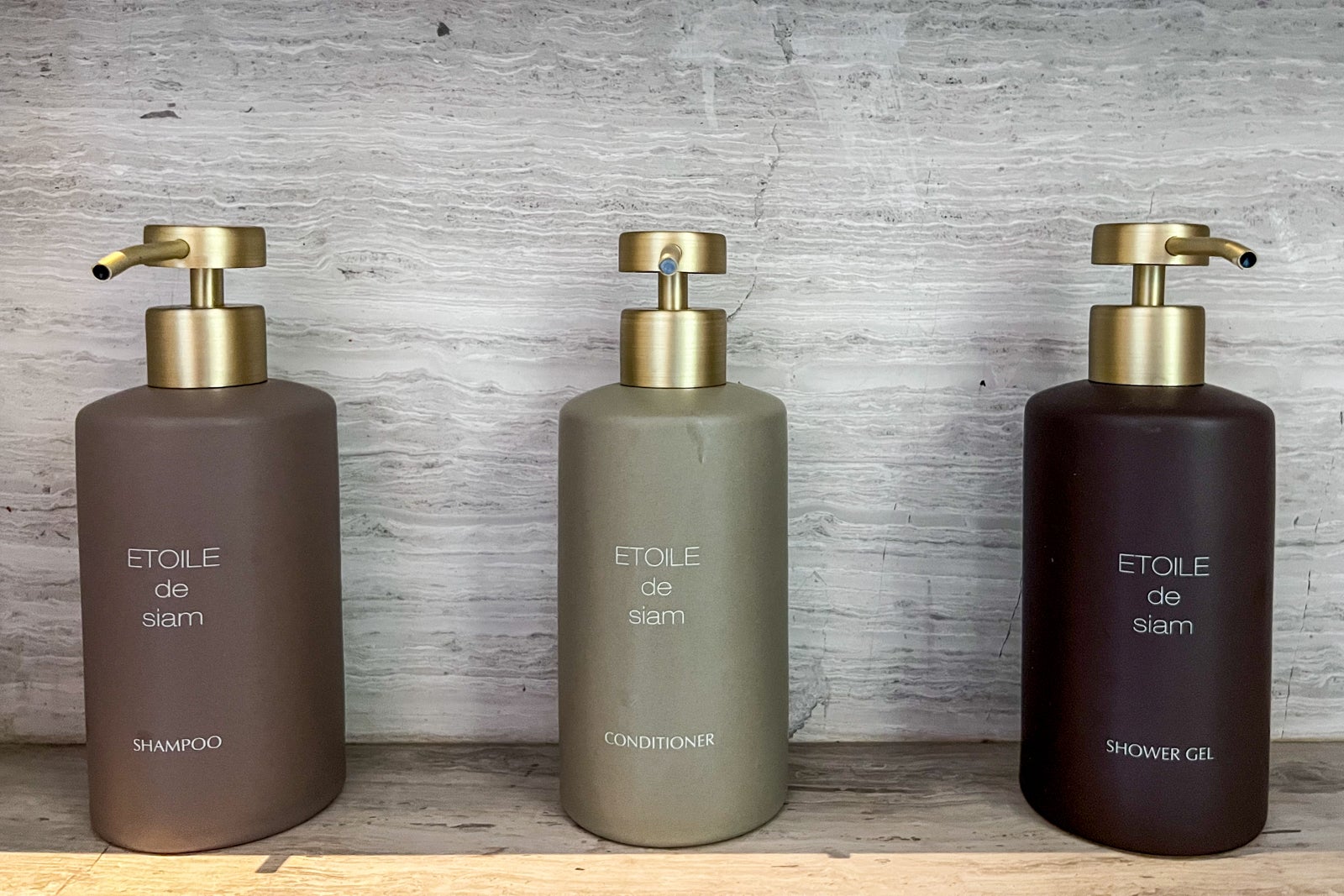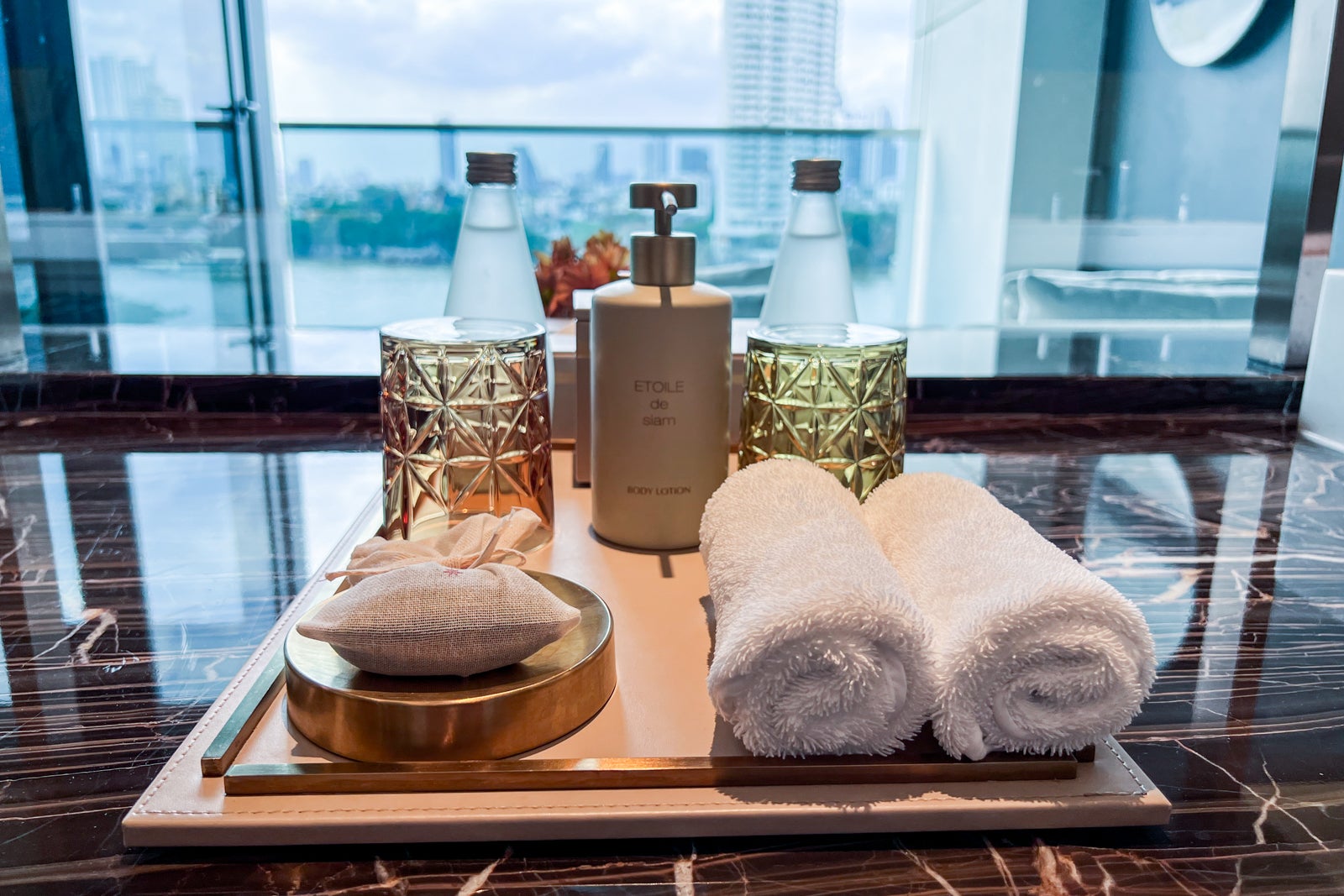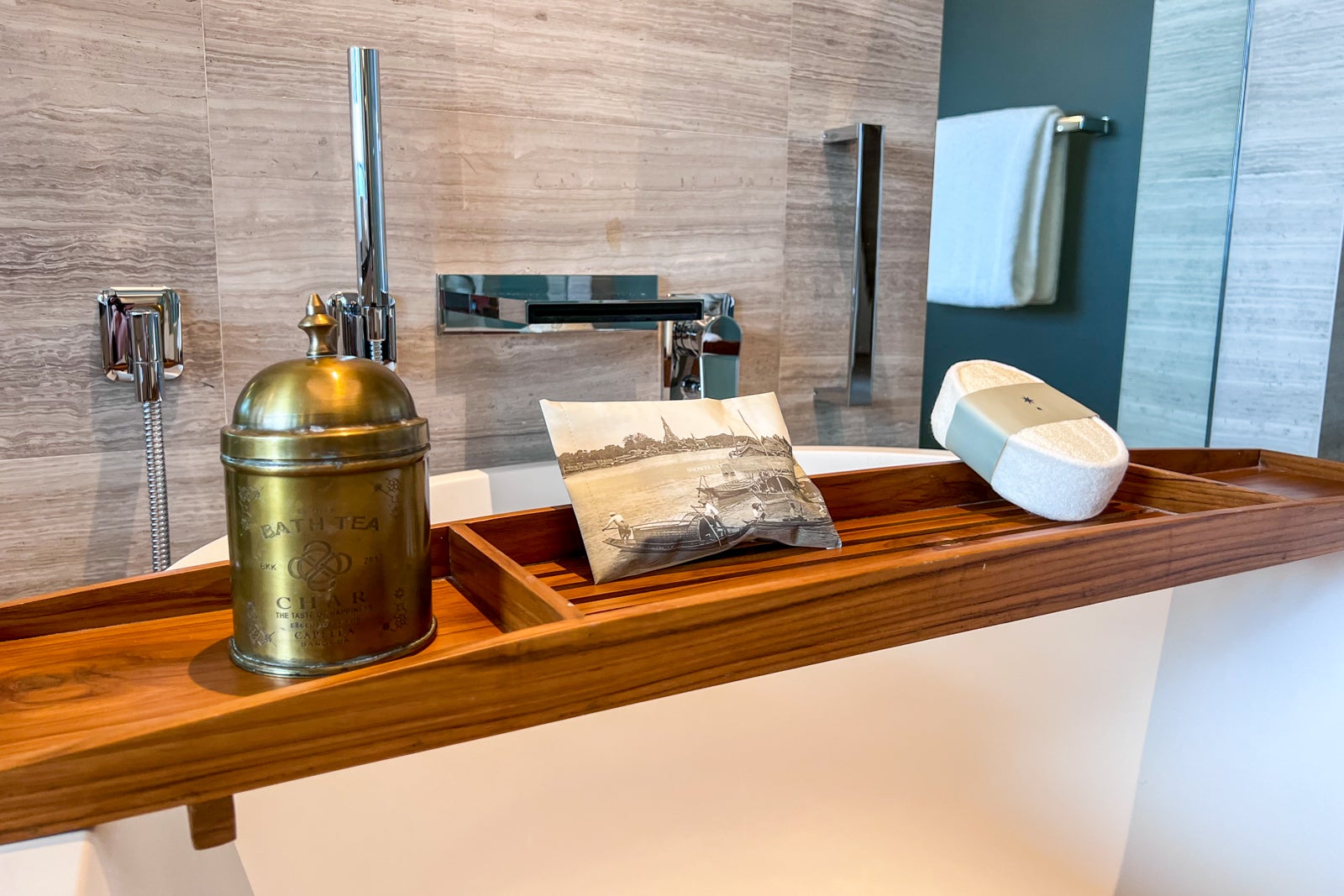 While a lot of time and resources went into planning out the bathroom and its high-end finishes, it is here where I noticed another small oversight in upkeep. Two heavier robes were hanging in the bathroom, and these had noticeable wear and tear. We all know hotel robes are reused, but one would hope a hotel team like the Capella's would work to ensure the robes don't make that fact abundantly clear with frayed fabric.
I tested out the closet compartment by placing a small bag of laundry in there as well as three shirts for pressing. All of it was retrieved in a matter of minutes and returned freshly pressed and cleaned by checkout the next day.
I left for an evening happy hour and noticed turndown was happening farther down the hall. By the time I got back to my room, however, it hadn't been serviced.
I was surprised and messaged my Culturist, who told me they skipped my room because a "do not disturb" light was on. I went and checked, but this didn't seem to be the case. Further, I thought it was strange after all the talk of how items would just be left in the closet compartment if a "do not disturb" sign was up that nothing showed up there either. Eventually, someone came to tend to the room, but I noticed small details were missing, like swapping out empty water bottles.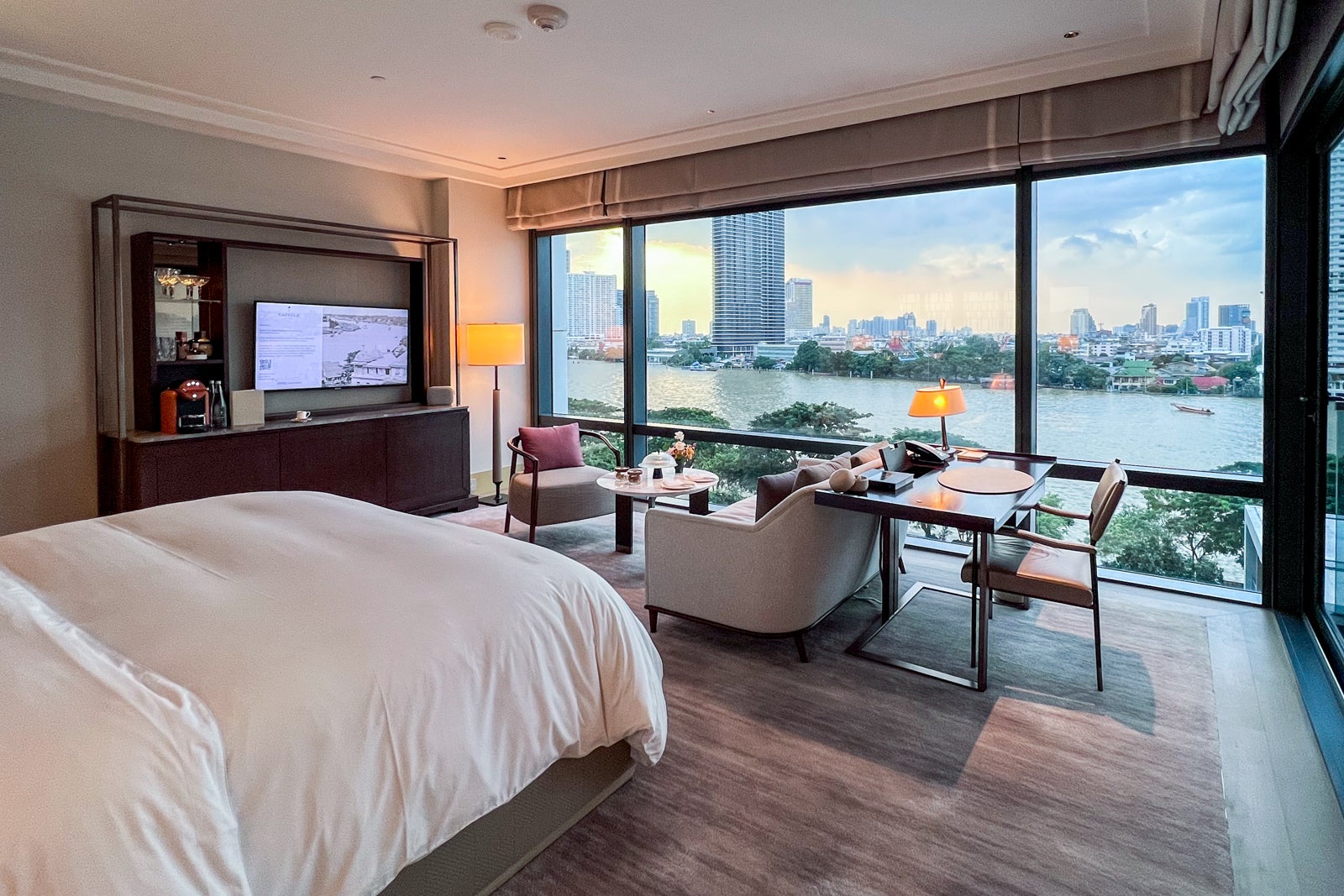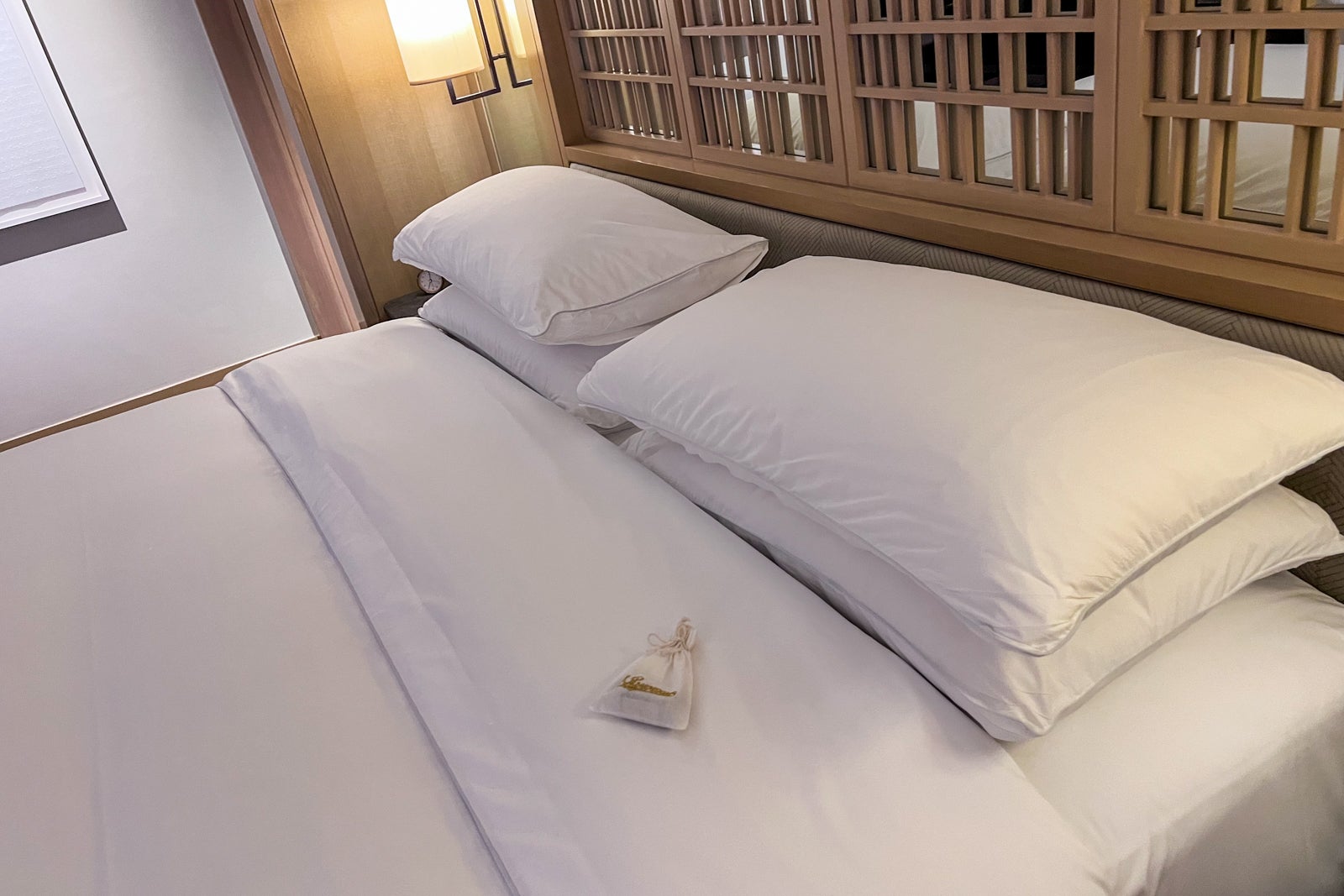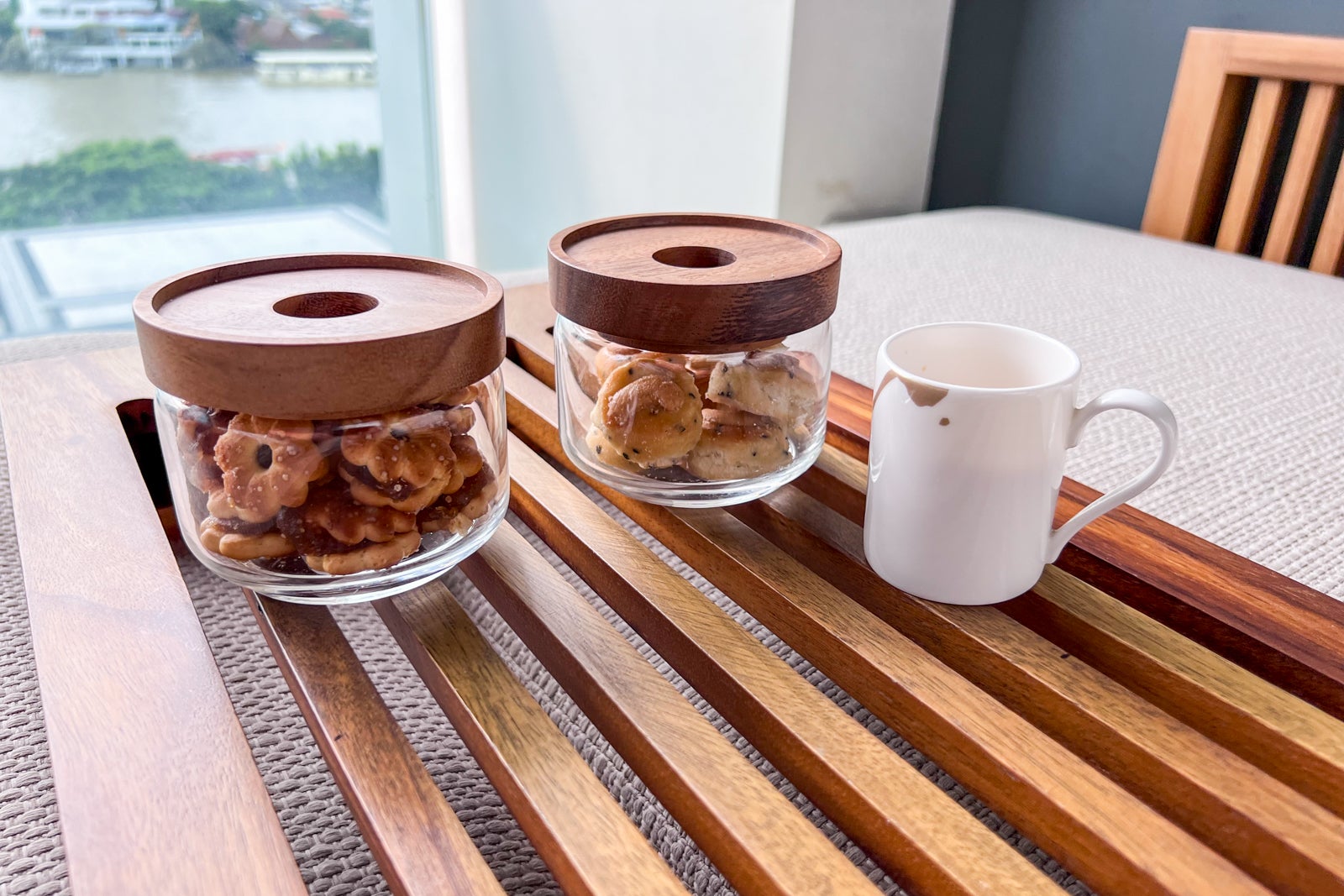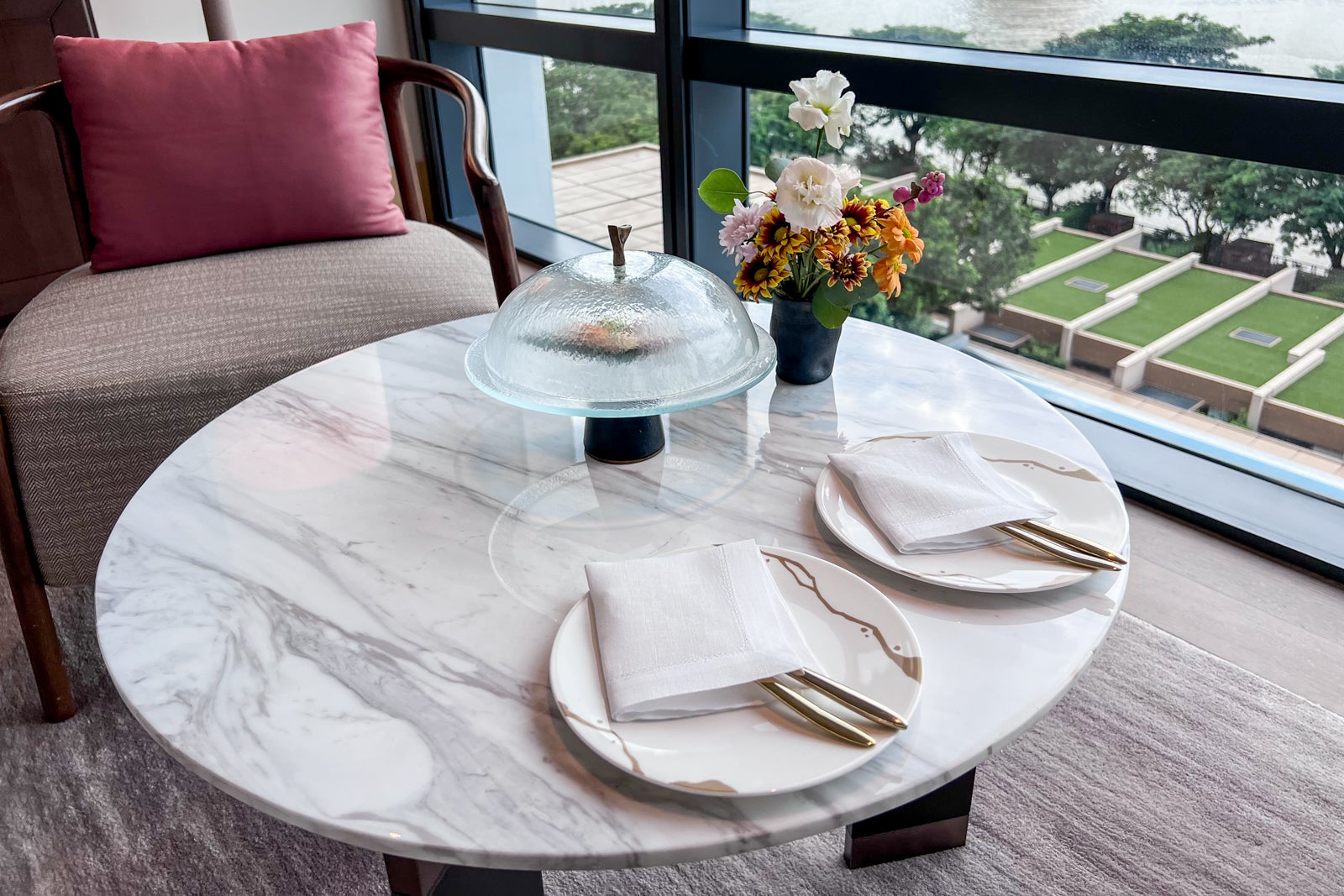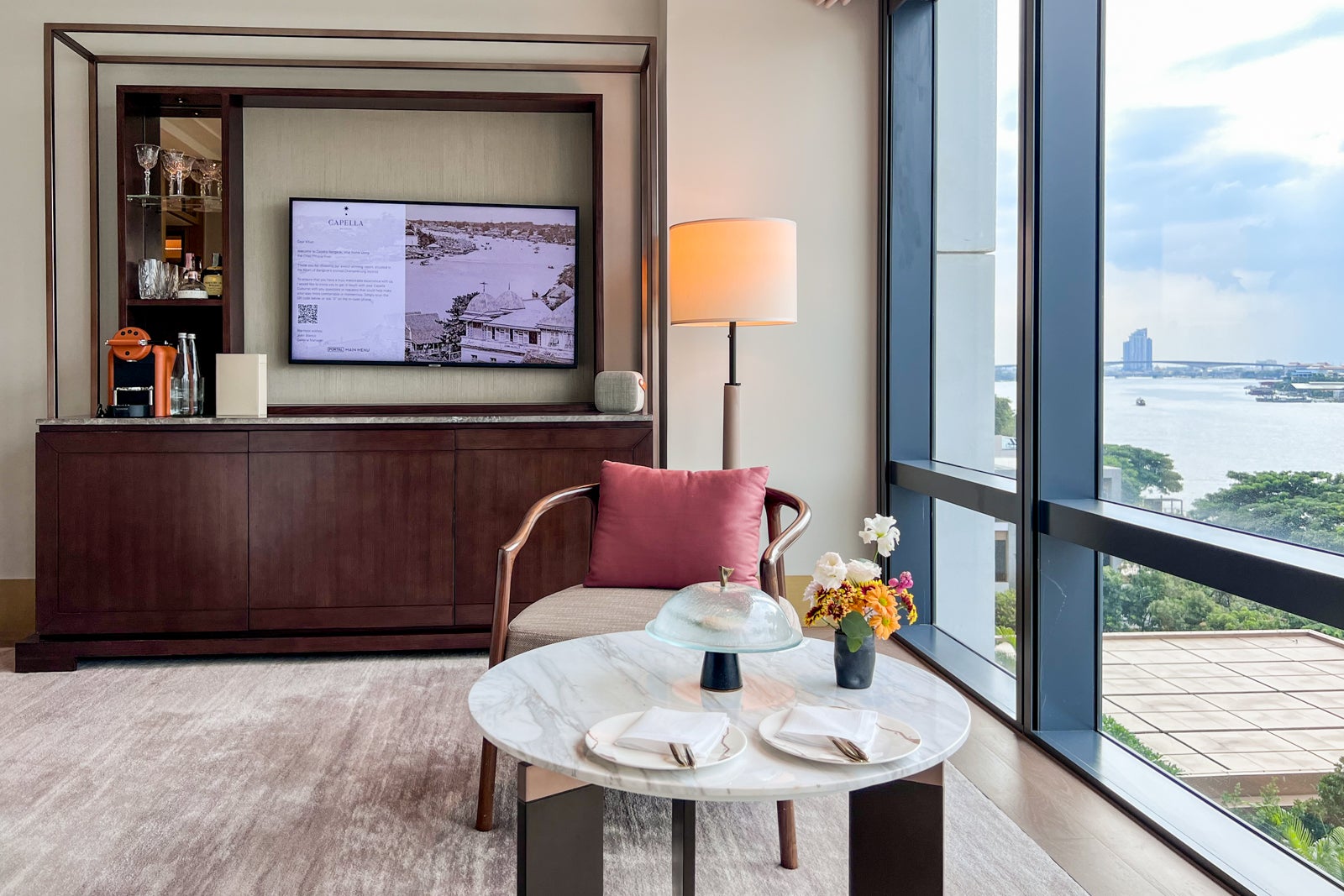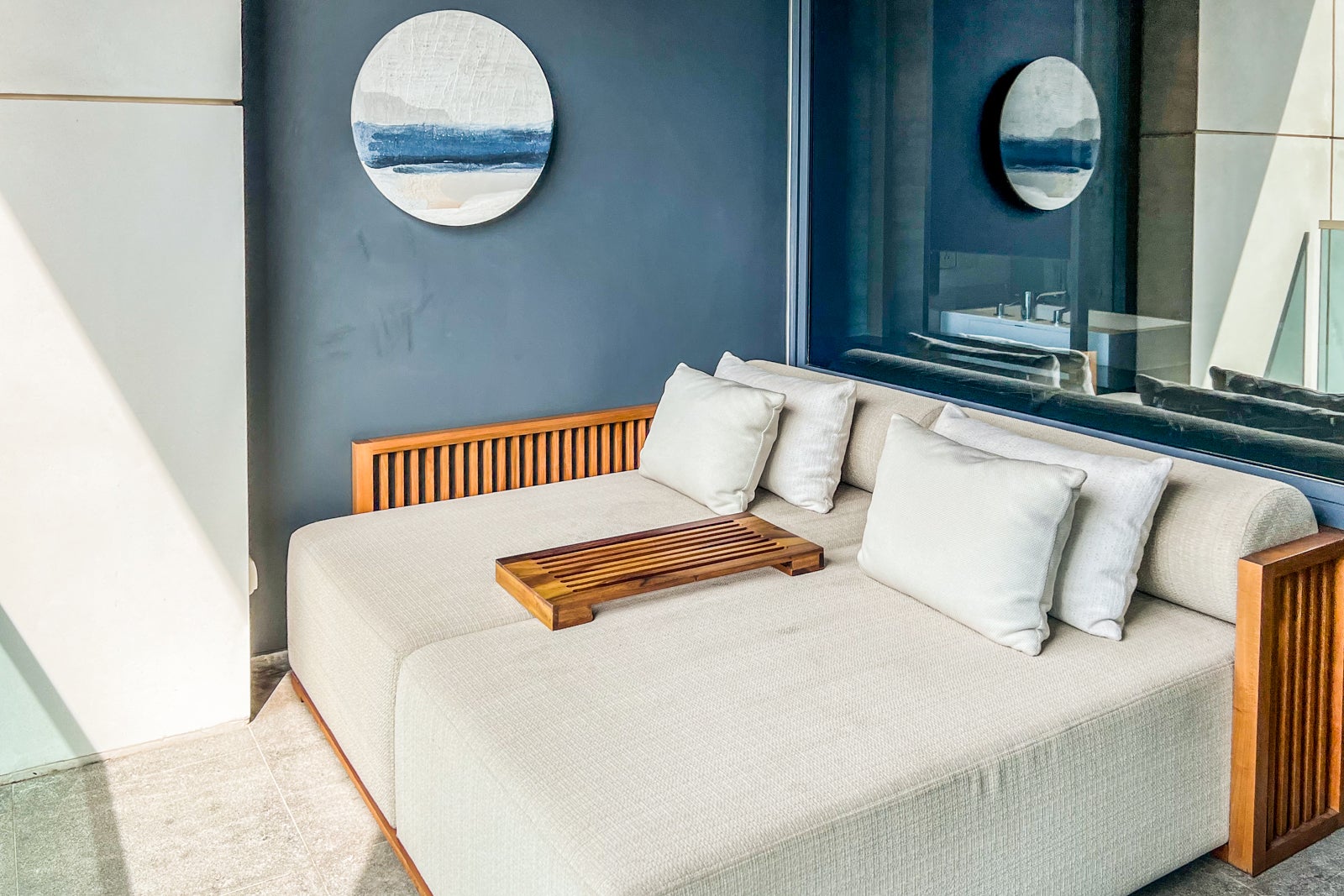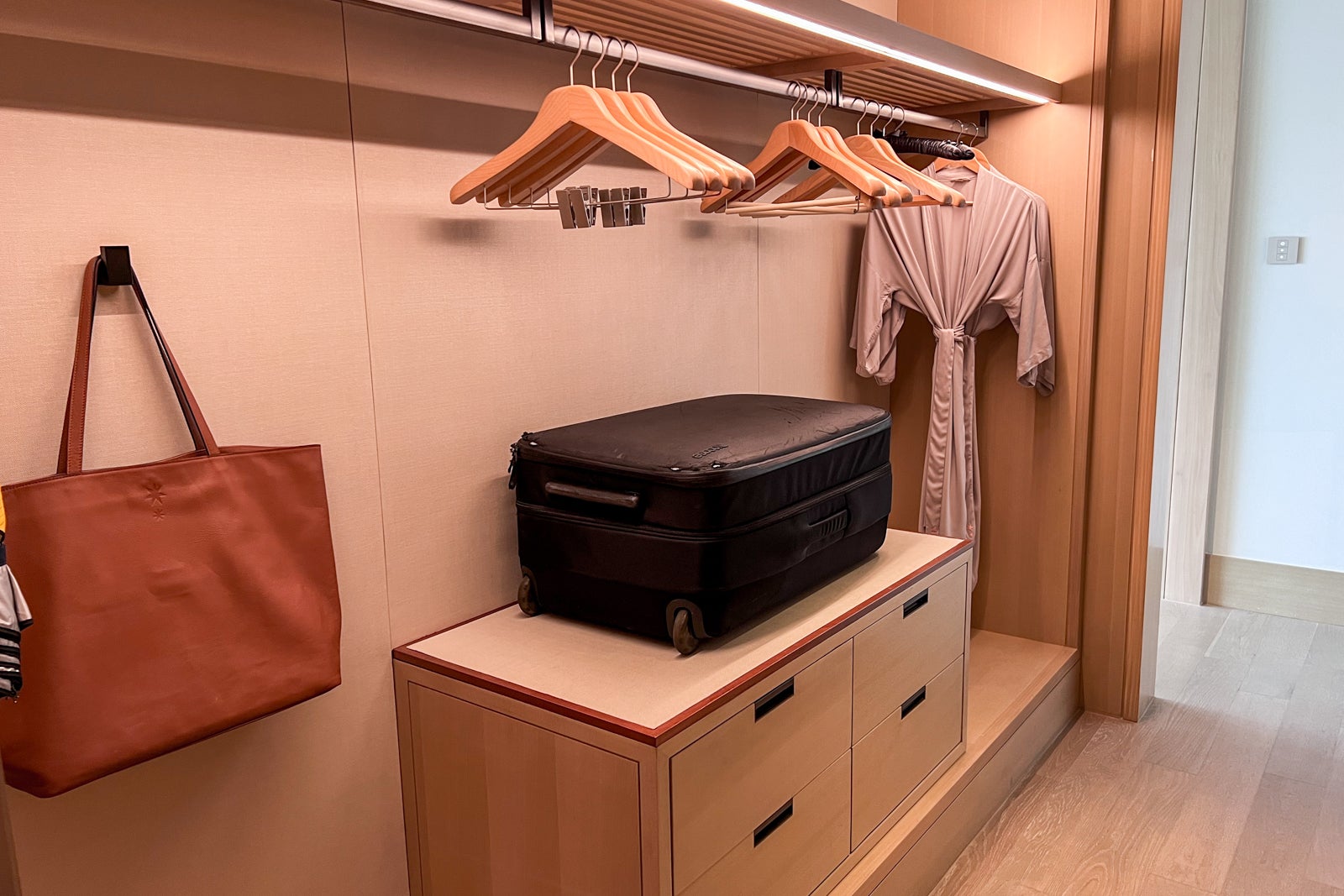 Nobody should lose sleep over this, and I certainly didn't — that bed at the Capella was divine. But it's another stumble for a hotel aiming to be one of the best in Bangkok.
Food and beverage
Where Capella really excelled was in several of its restaurants. The hotel does evening programming for guests, and I started my night with a happy hour at Stella, a gorgeous lounge reminiscent of a fancy jewelry box. White marble and mirrored walls add to the formal feel of the space, and a stuffed white peacock keeps watch beneath a chandelier. The event came with two complimentary small bites and a cocktail or glass of wine, and I was told some version of this offering is fairly standard at the hotel.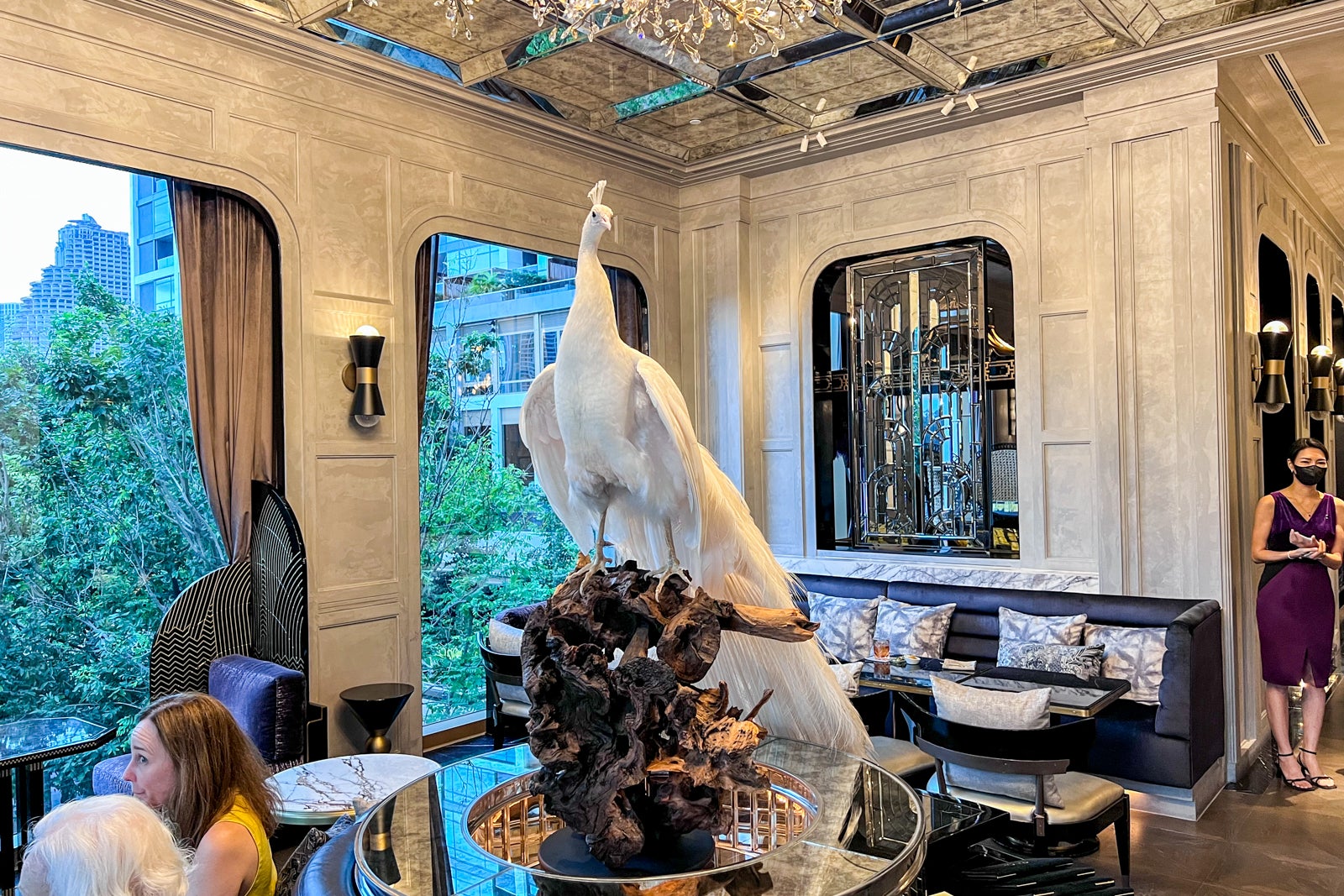 The weather was so nice that I wanted to sit outside, so I moved on from Stella to Phra Nakhon, Capella's Thai restaurant that has a patio by the river. At 835 baht (around $24), a glass of Sancerre was one of the pricier drinks of my trip. But the staff at Phra Nakhon were all incredibly kind and more laid-back and conversational than anyone I had met at the hotel so far. I was happy to find out Capella's morning breakfast was also served here.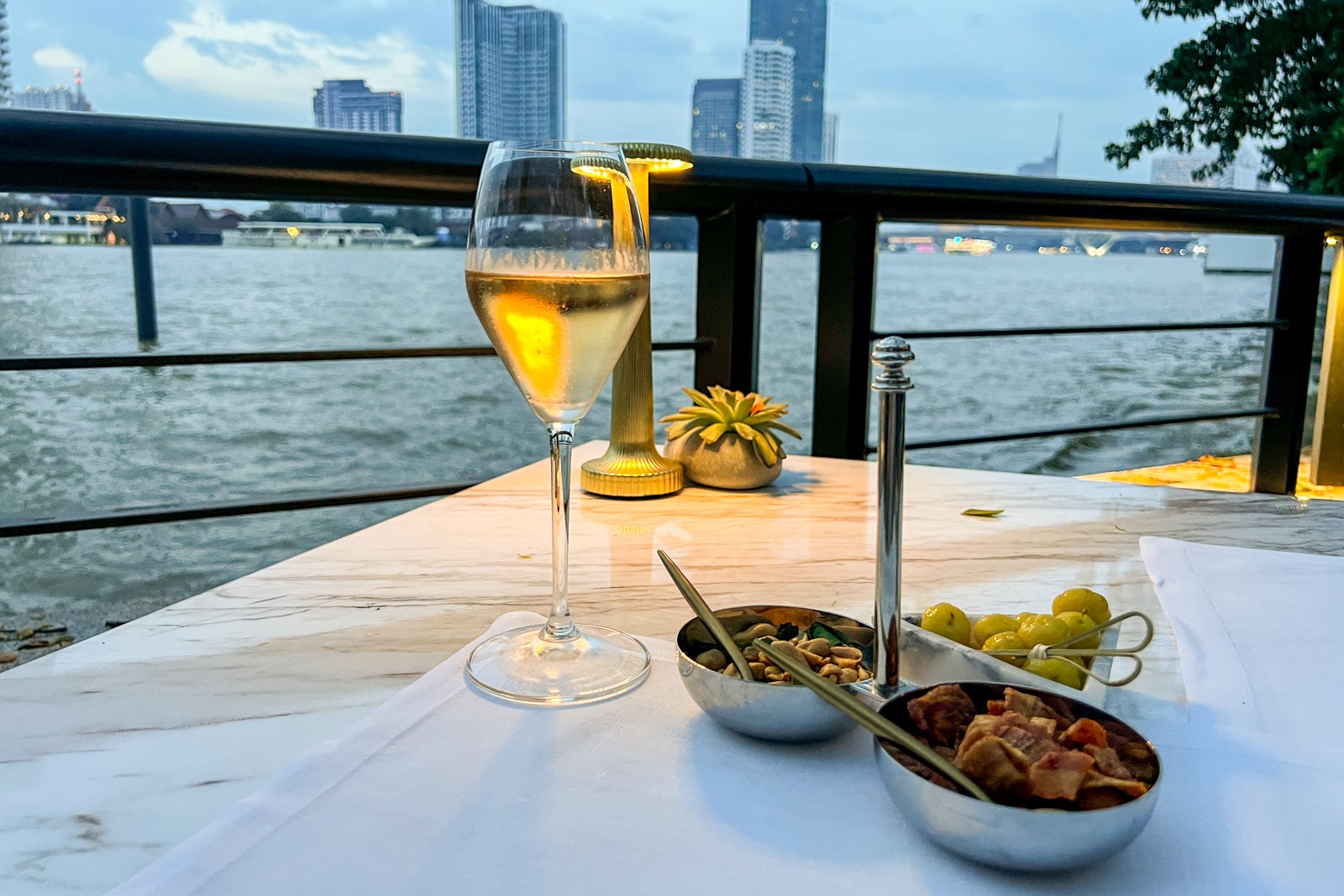 Later that evening, I also went to Cote by Mauro Colagreco, Capella's contemporary French restaurant that has one Michelin star. I made sure to book a table in advance, as this is a very popular restaurant. While it isn't always fun to eat at swanky places like this alone, the Cote team took very good care of me.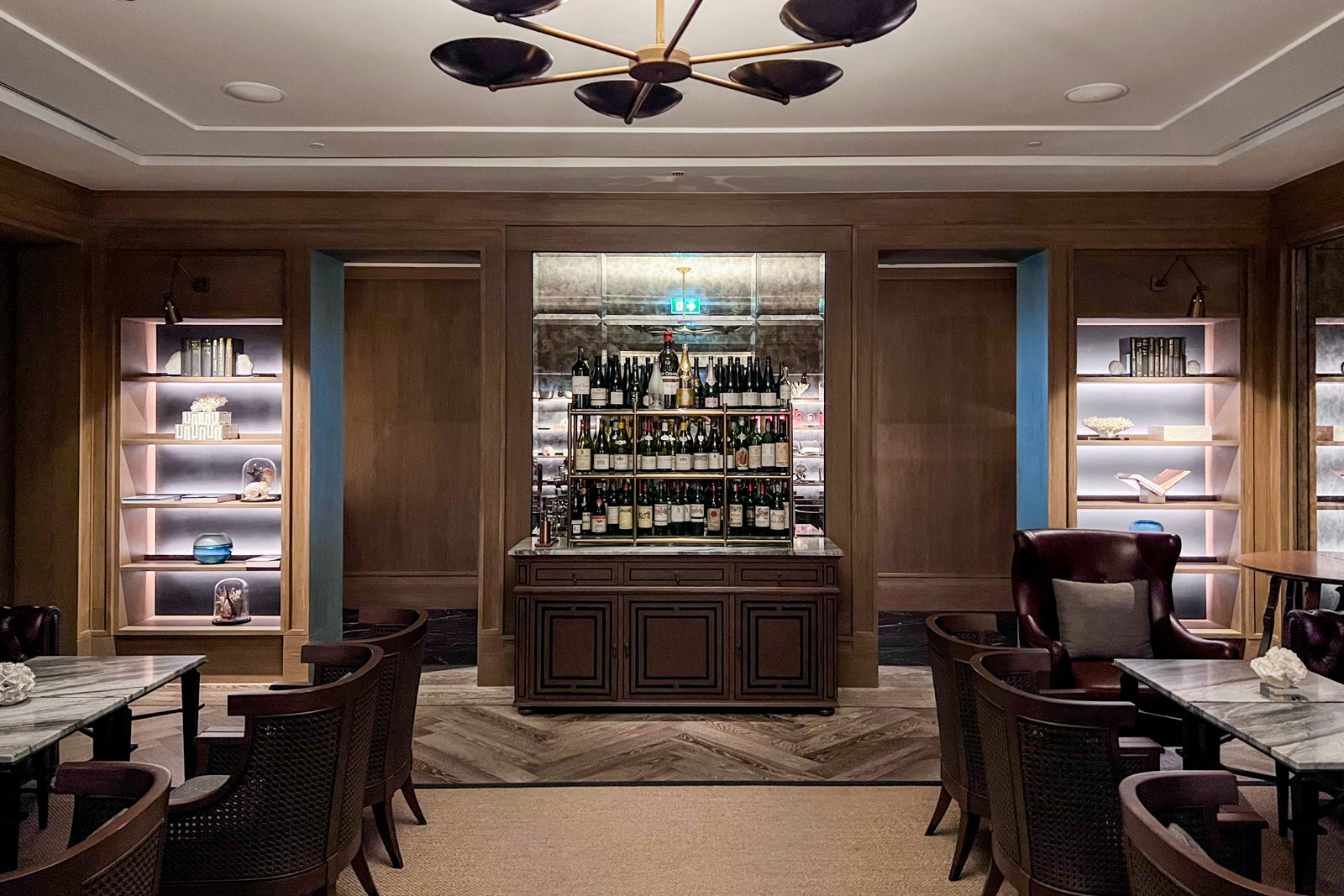 The restaurant is sleek with light, wood-paneled walls and upholstery with accents of darker wood in the tables and cabinetry. There is a smaller area with library vibes at the restaurant's entry that includes an impressive central wine rack. The main dining room overlooks the river and has a great view of evening fireworks from the nearby Iconsiam mall. But the real show is what gets served.
The restaurant offers five-, seven- and nine-course tasting menus. I went with the seven-course option and a wine pairing for 9,400 baht ($269). Given the $100 resort credit I had, the meal ended up coming to $169 — still pricey but not bad for such an acclaimed dining experience that also ended up being more like a 12-course meal when factoring in multiple rounds of amuse-bouches sent out by the chef.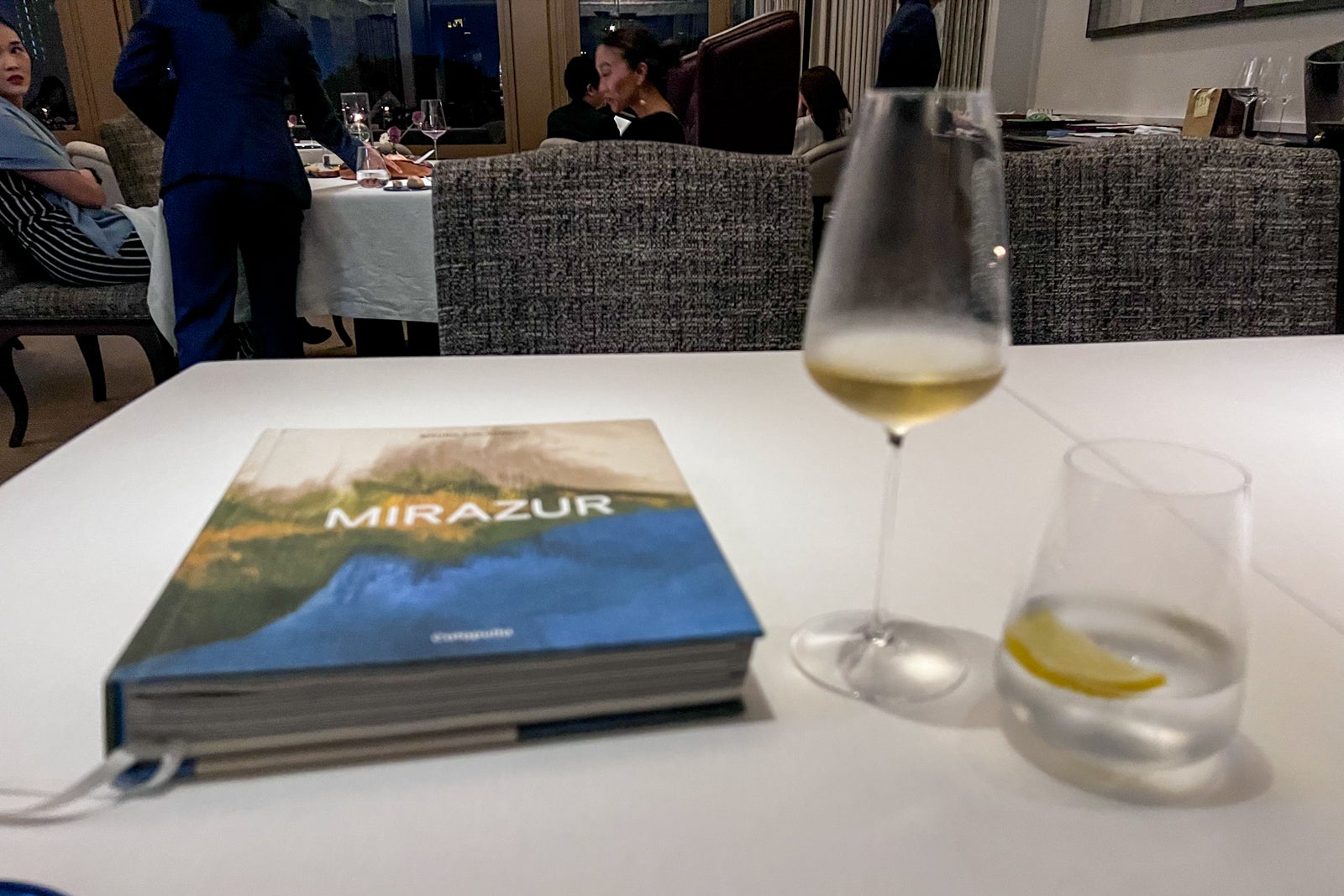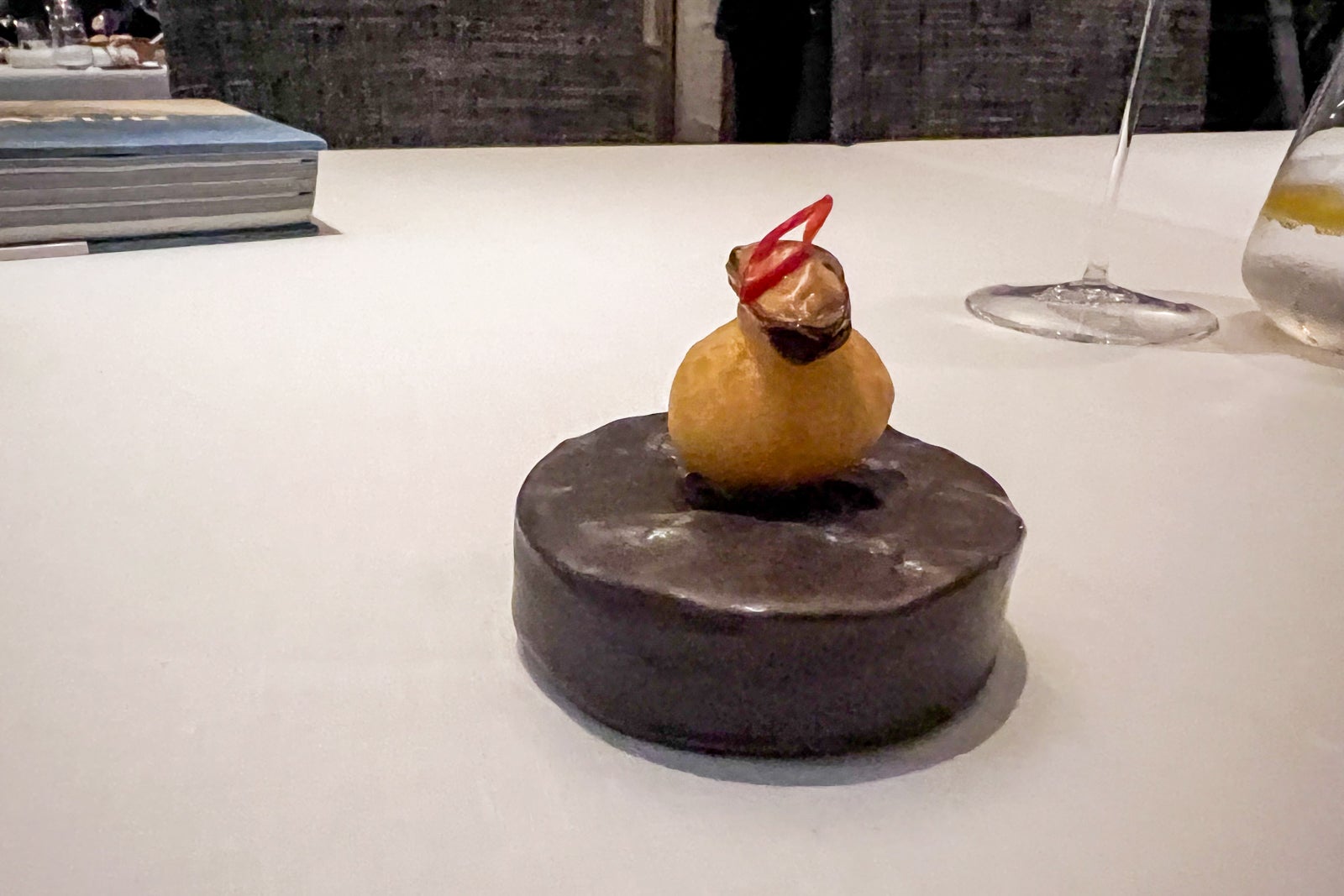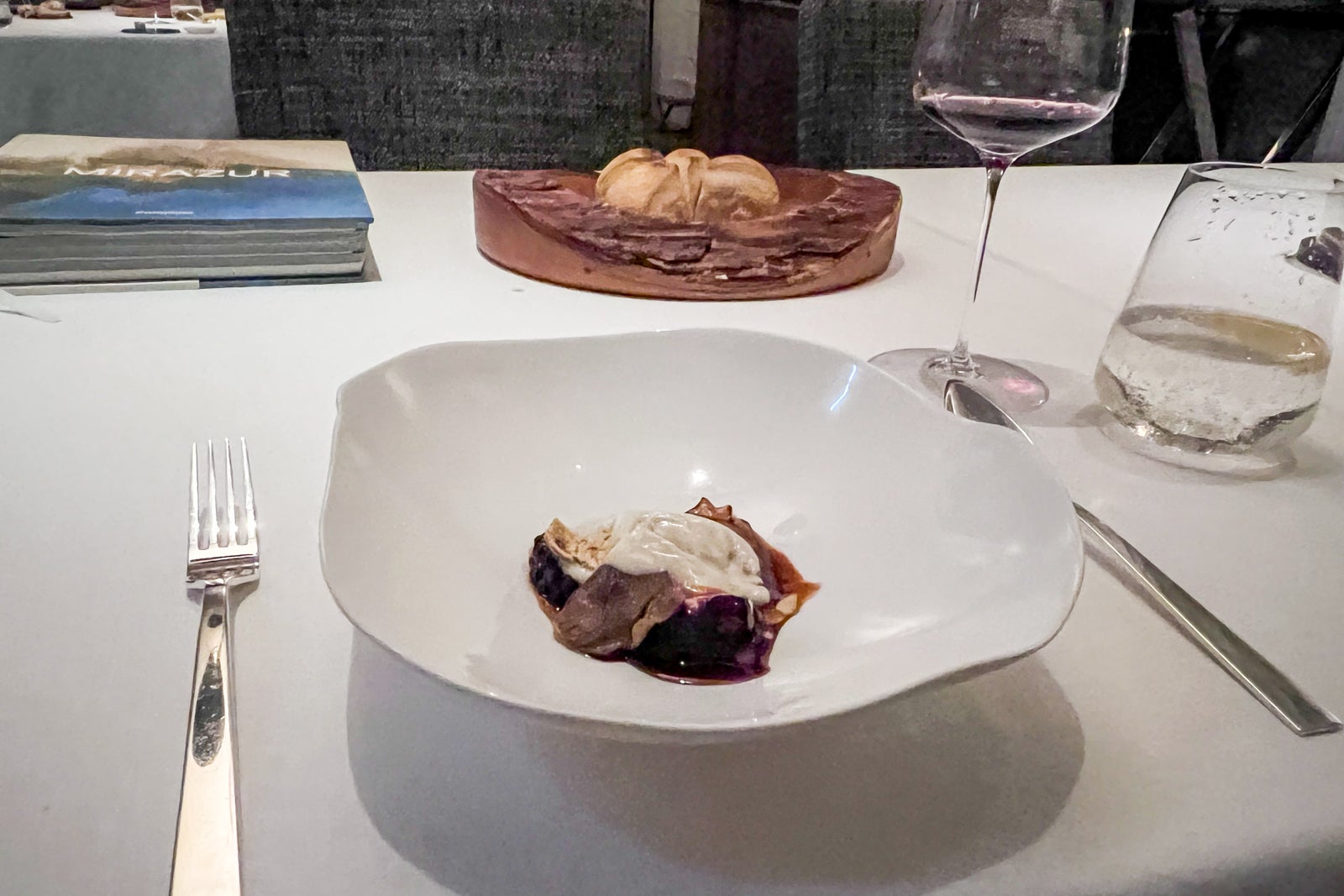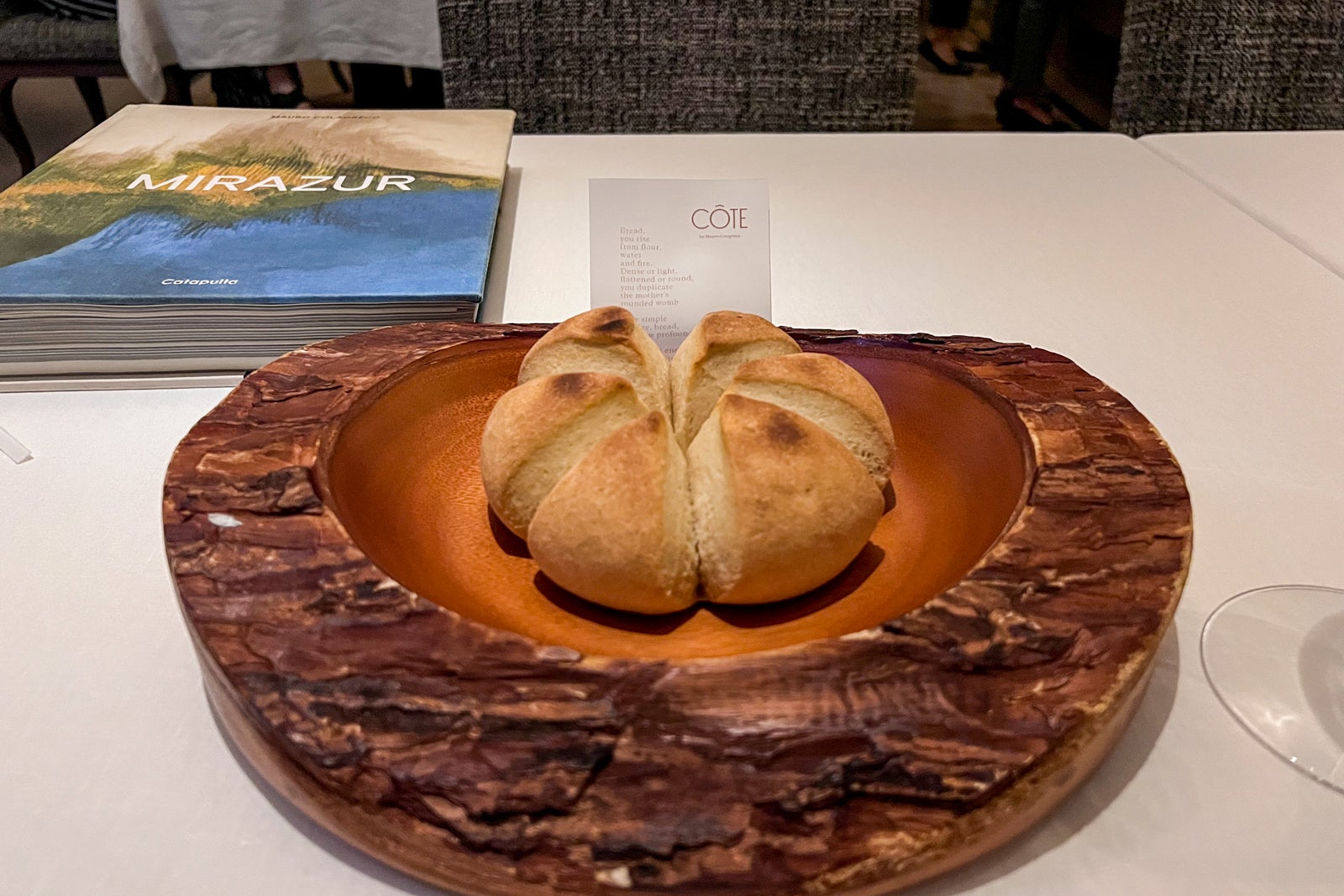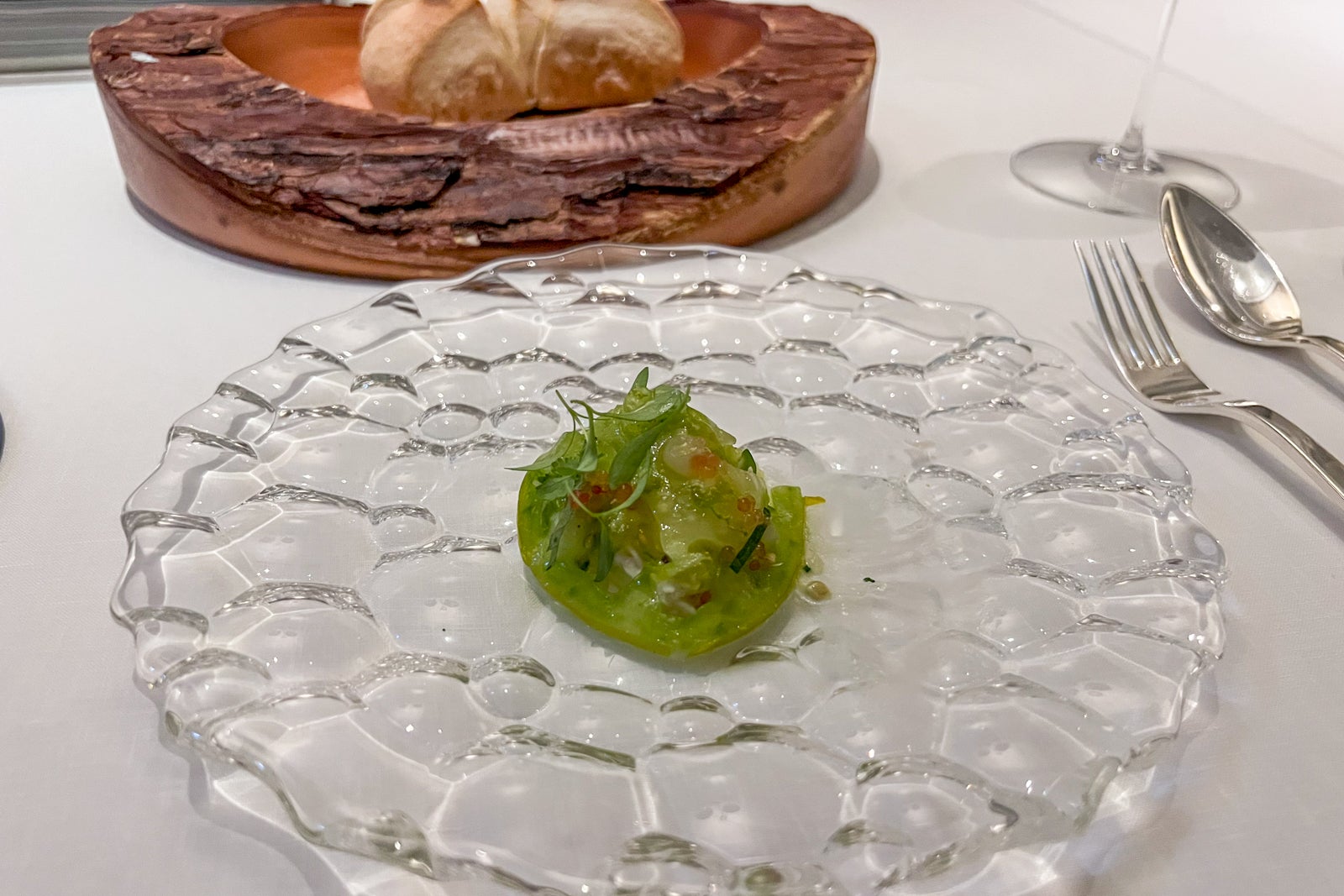 Before my first course of crab, green tomato and burrata arrived, I was treated to Parmesan with an almond jus, seaweed tapioca, mussel tempura with barbecue mushrooms, sardine and trout roe and finally a beet macaron with goat cheese and green apple.
And bread.
These were all small bites, but we weren't even on round one yet. It set the tone for a decadent evening.
The meal progressed with beetroot served with cream and caviar before moving on to the third course of grilled monkfish with zucchini. Octopus with "cepes" mushroom and tamarind followed before a much-hyped main course of loin of beef, morel mushrooms and beef jus. The flavor profile crescendo from the amuse-bouche leading into seafood and finally the beef accelerated to a delectable effect.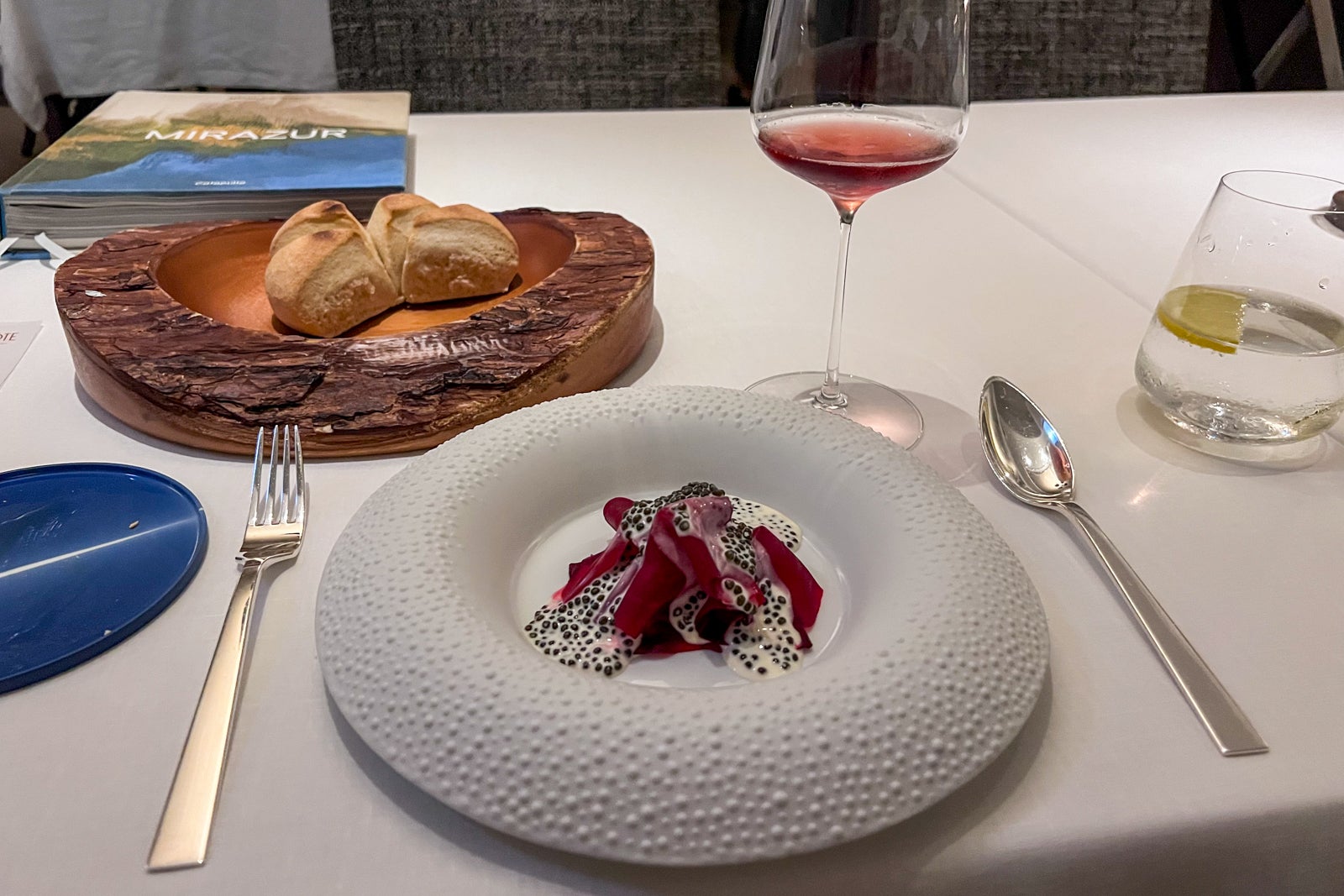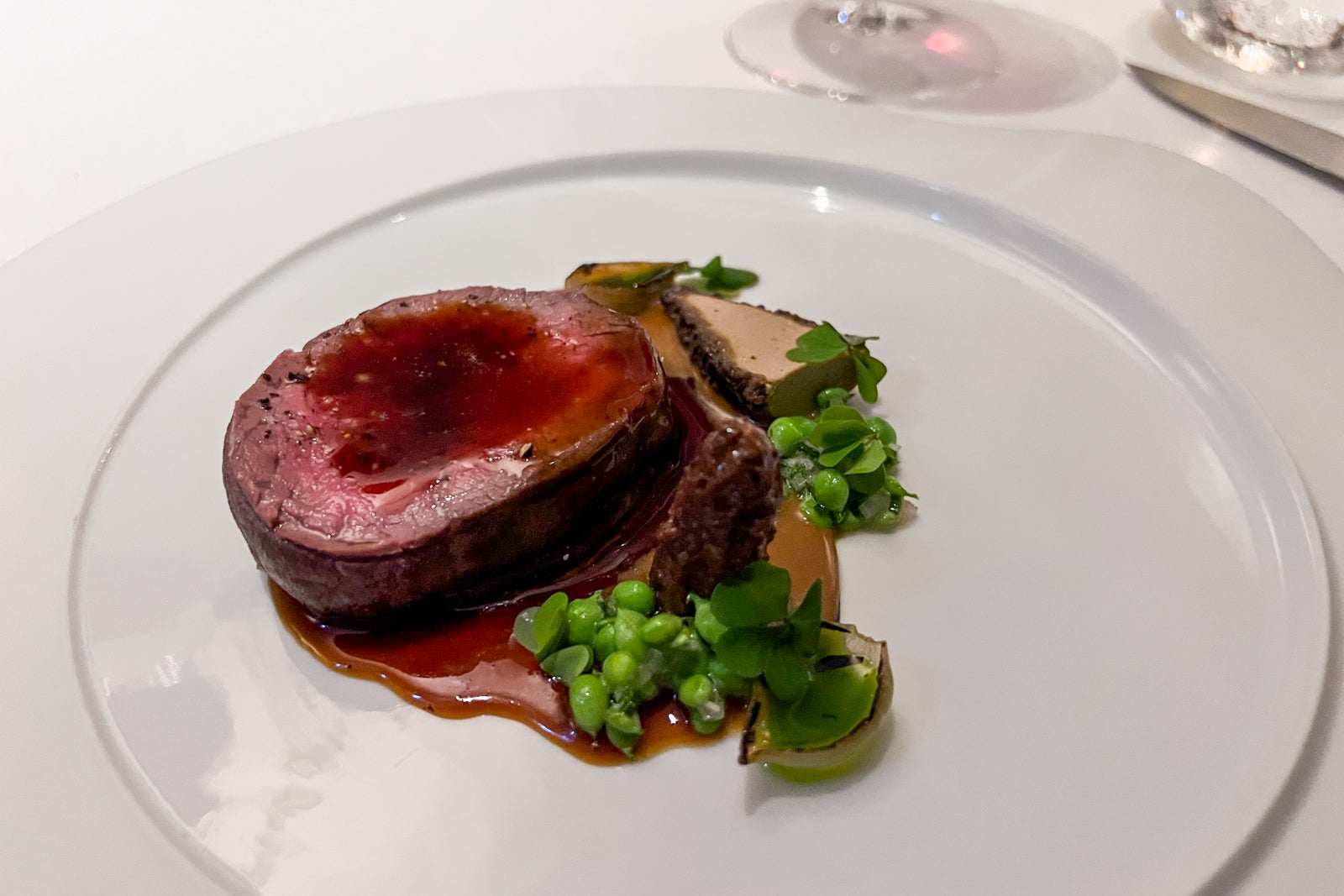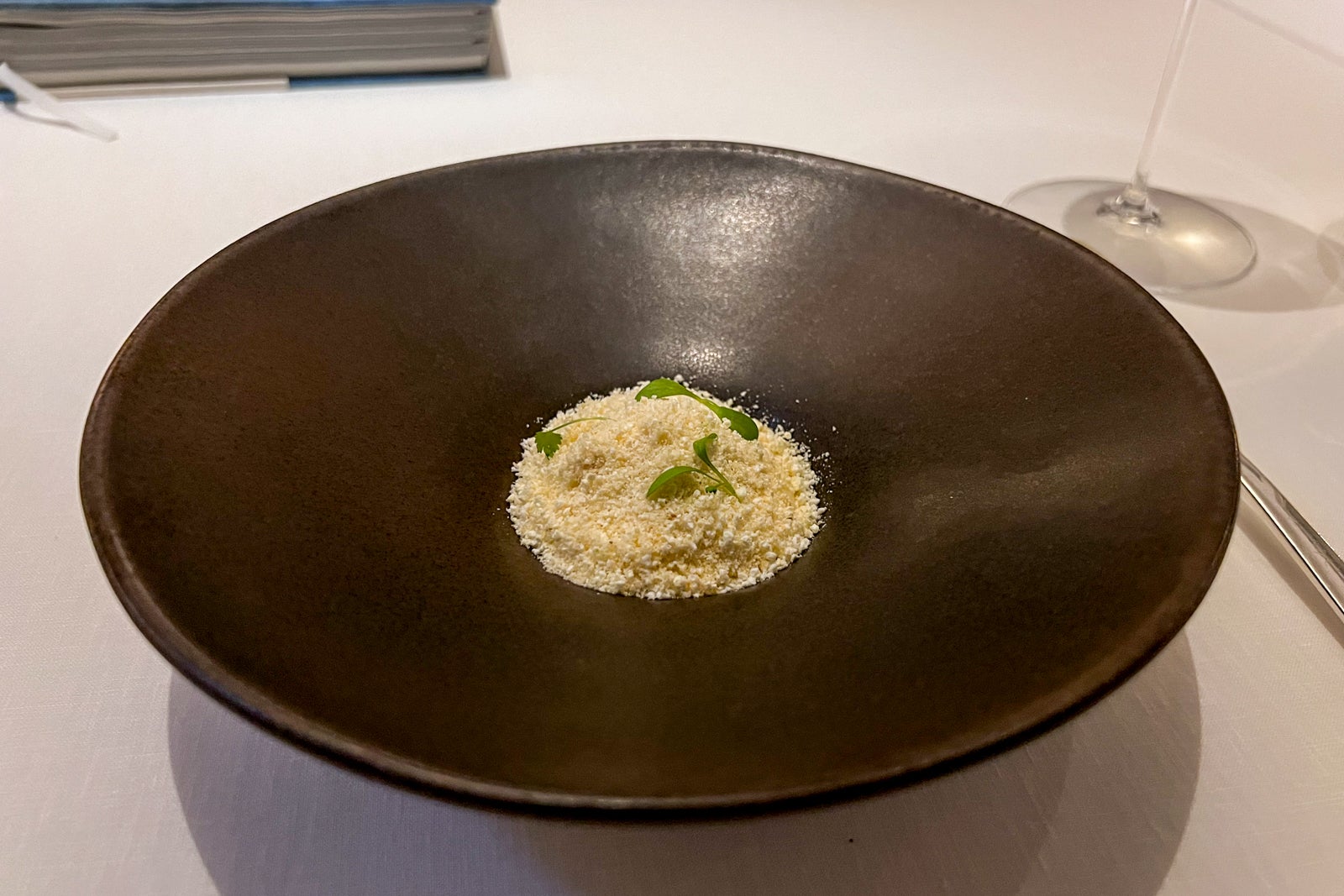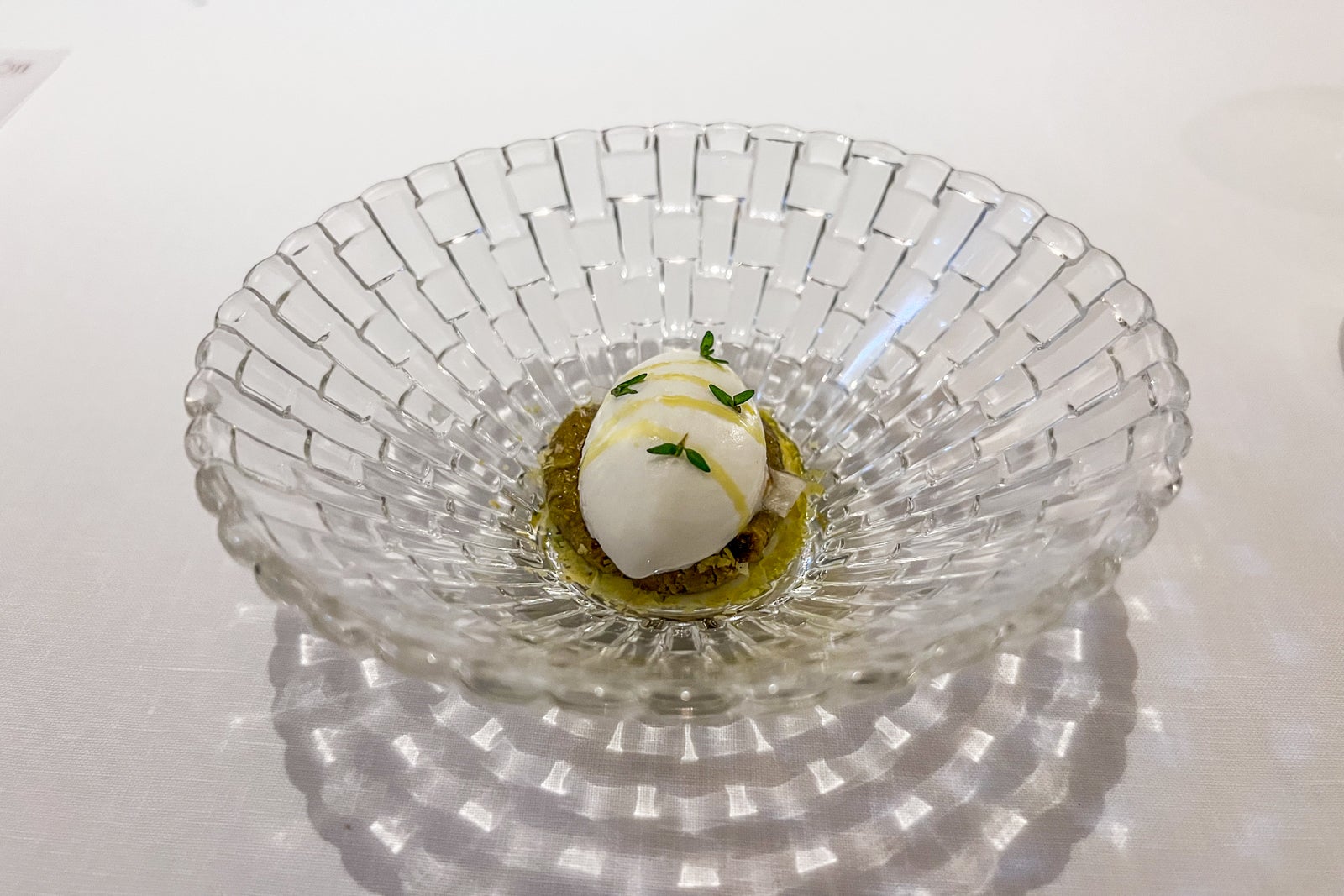 The tasting menu rounded out with yogurt, pistachio and candied citrus and a final bite of mascarpone and popcorn powder with coriander leaves. There was even a surprise selection of miniature desserts that included pastries, cookies and a macaron.
I was waving a gastronomy white flag by the end of the meal. How does anyone do the nine-course meal, I wondered multiple times.
It was a sumptuous evening out, but it was also fun. Appearing to show a little sympathy for my solo dining status, the Cote team kindly brought over a book to read about Mirazur, Colagreco's restaurant in Menton, France, that has three Michelin stars and topped the list of the World's 50 Best Restaurants in 2019. It was a nice distraction between all those courses without resorting to my phone (apart from taking photos for this review, of course).
I went down to Phra Nakhon for breakfast the following morning. It was another delicious, copious breakfast spread, and I was able to snag a table outside by the river. It was during this meal that one of the workers seemed to scoff at the idea that the Four Seasons next door sent me to a local Thai restaurant rather than one of their own (perhaps sensing a little competition in the Thai cooking space?). But it was still another exceptional dining experience at Capella.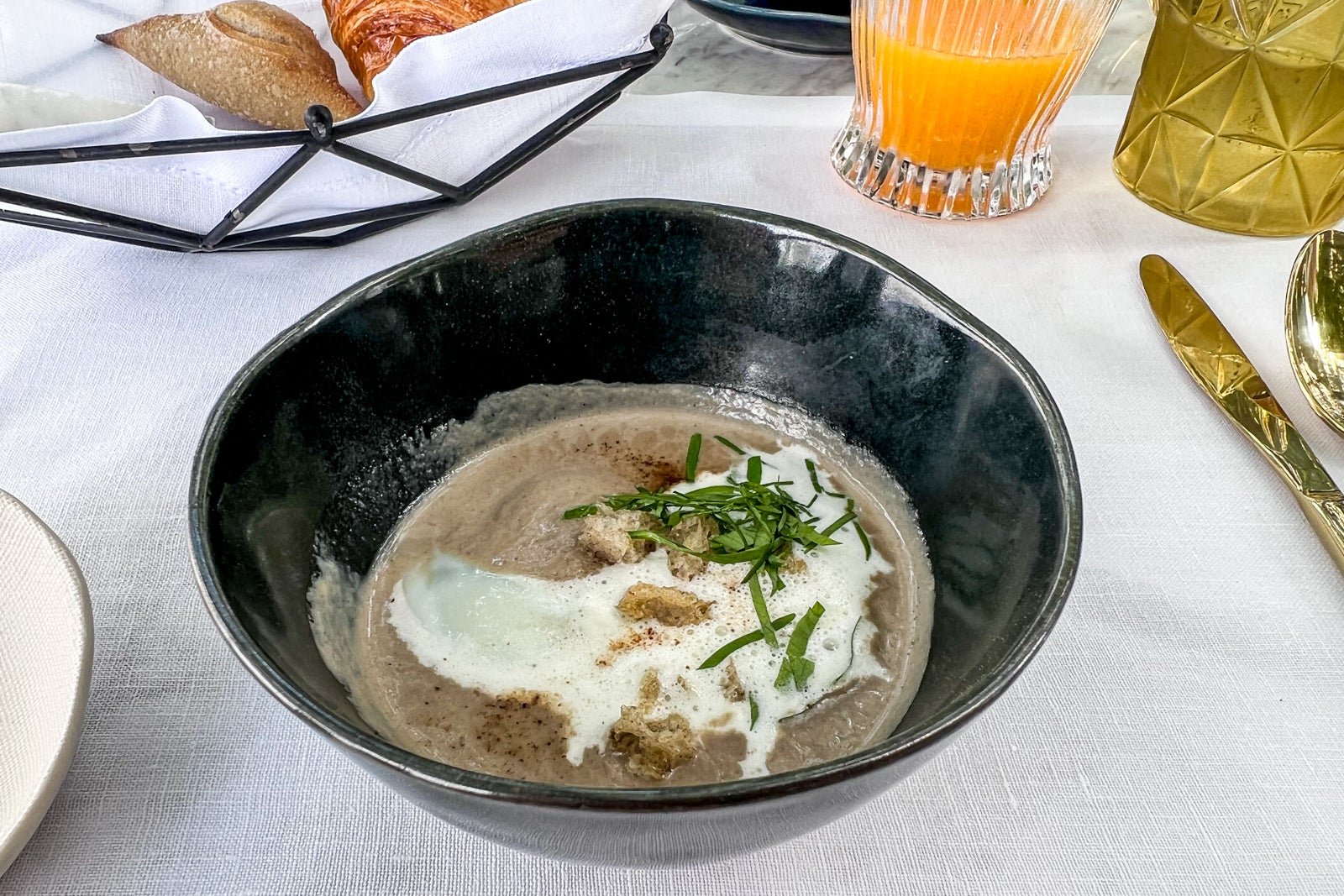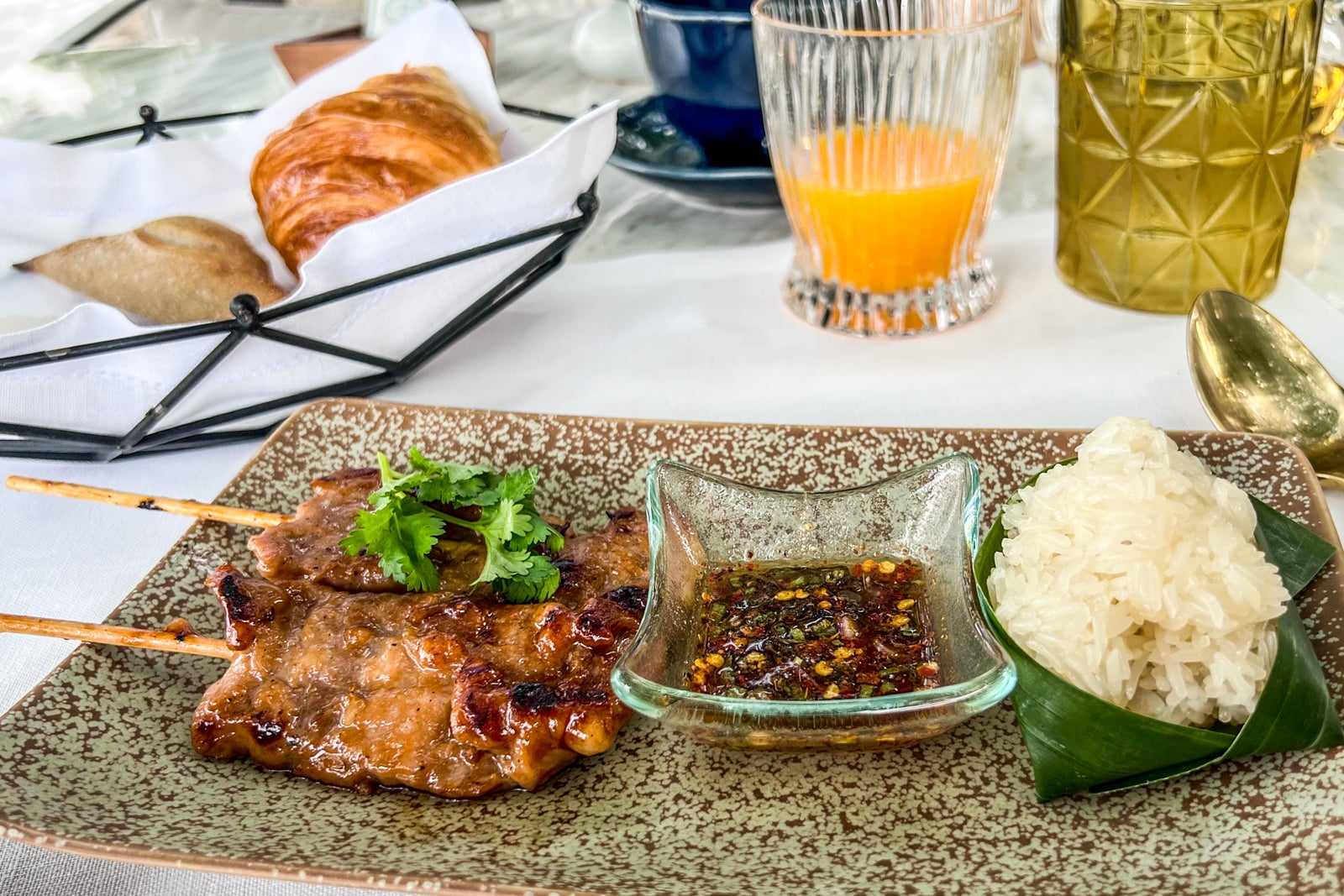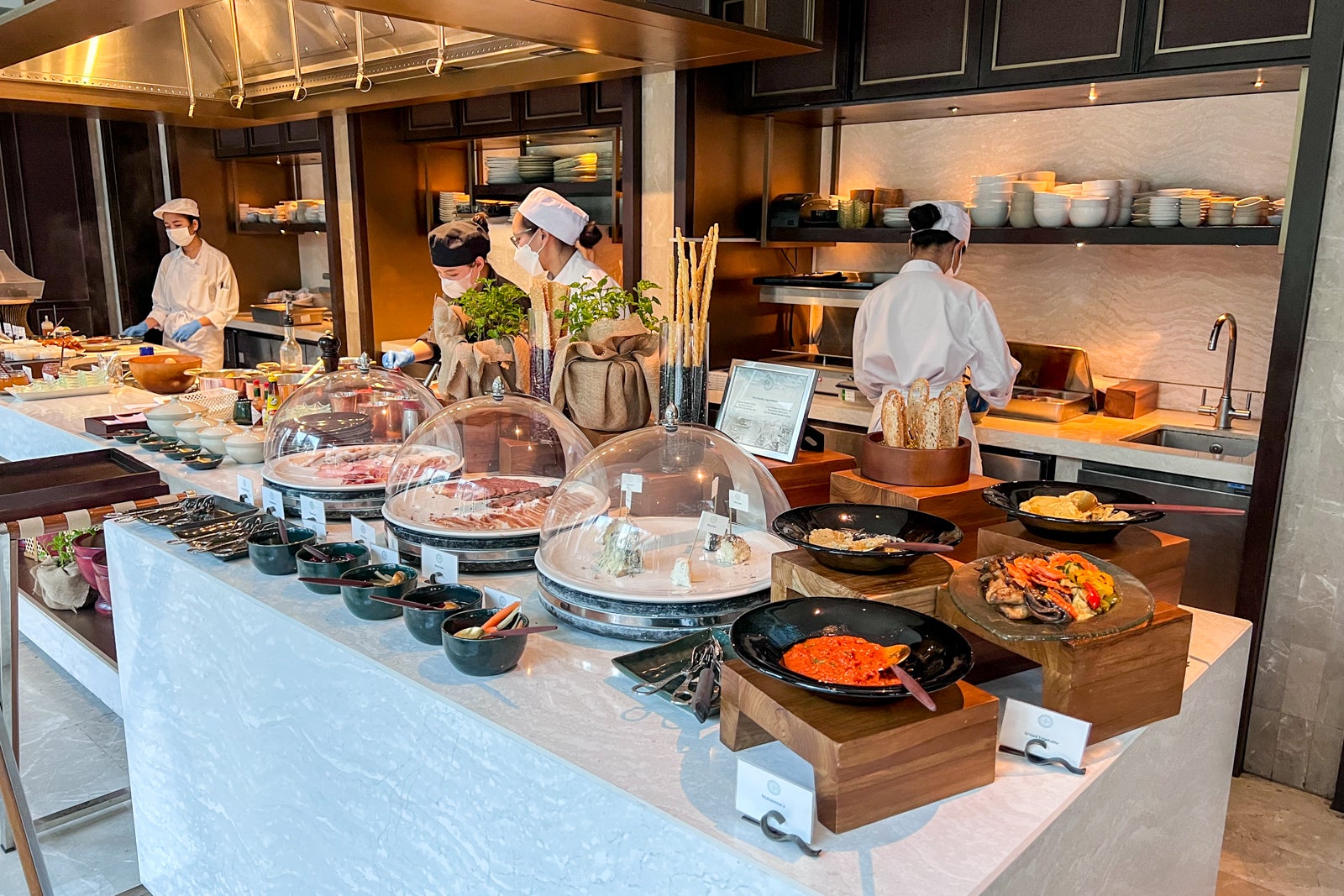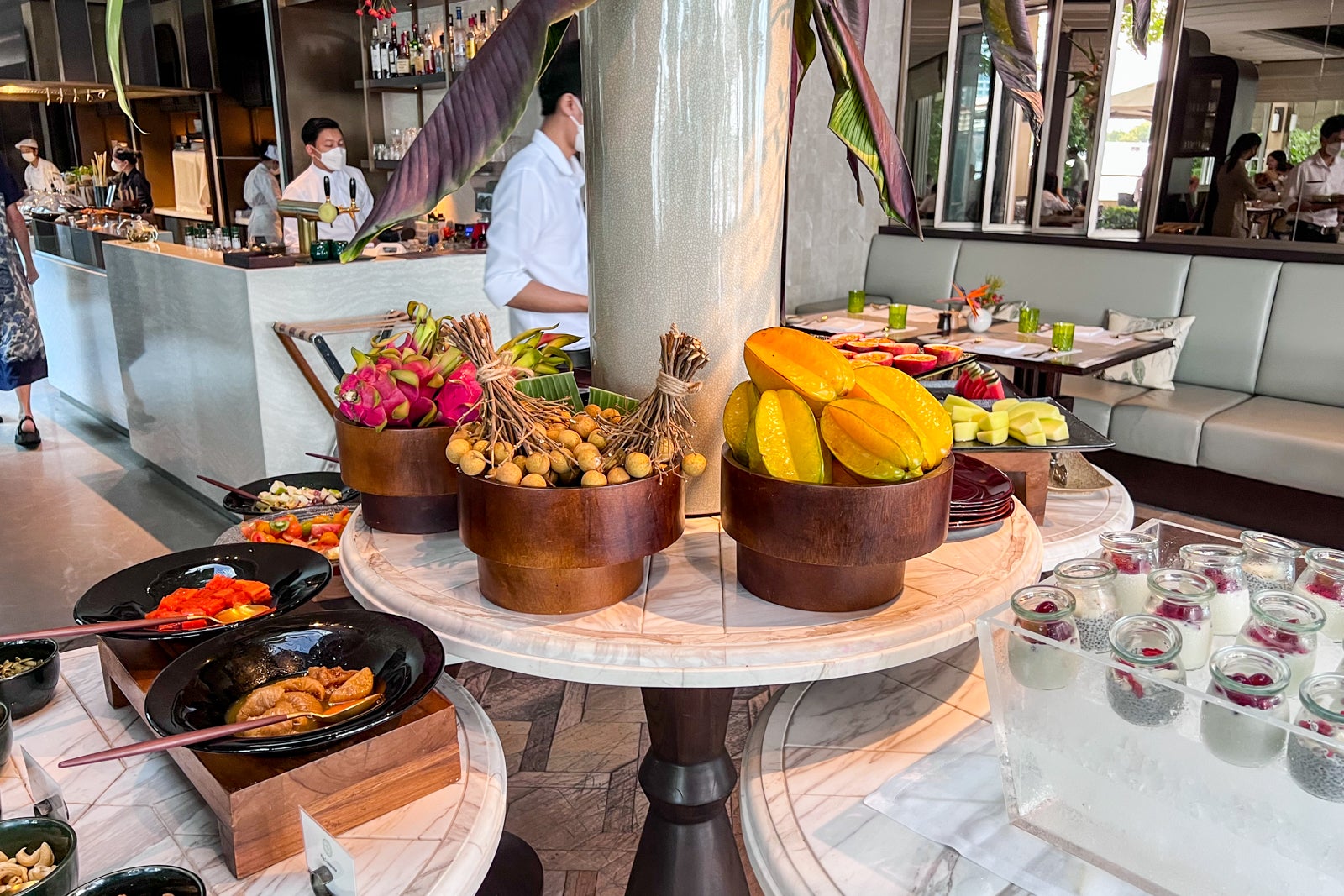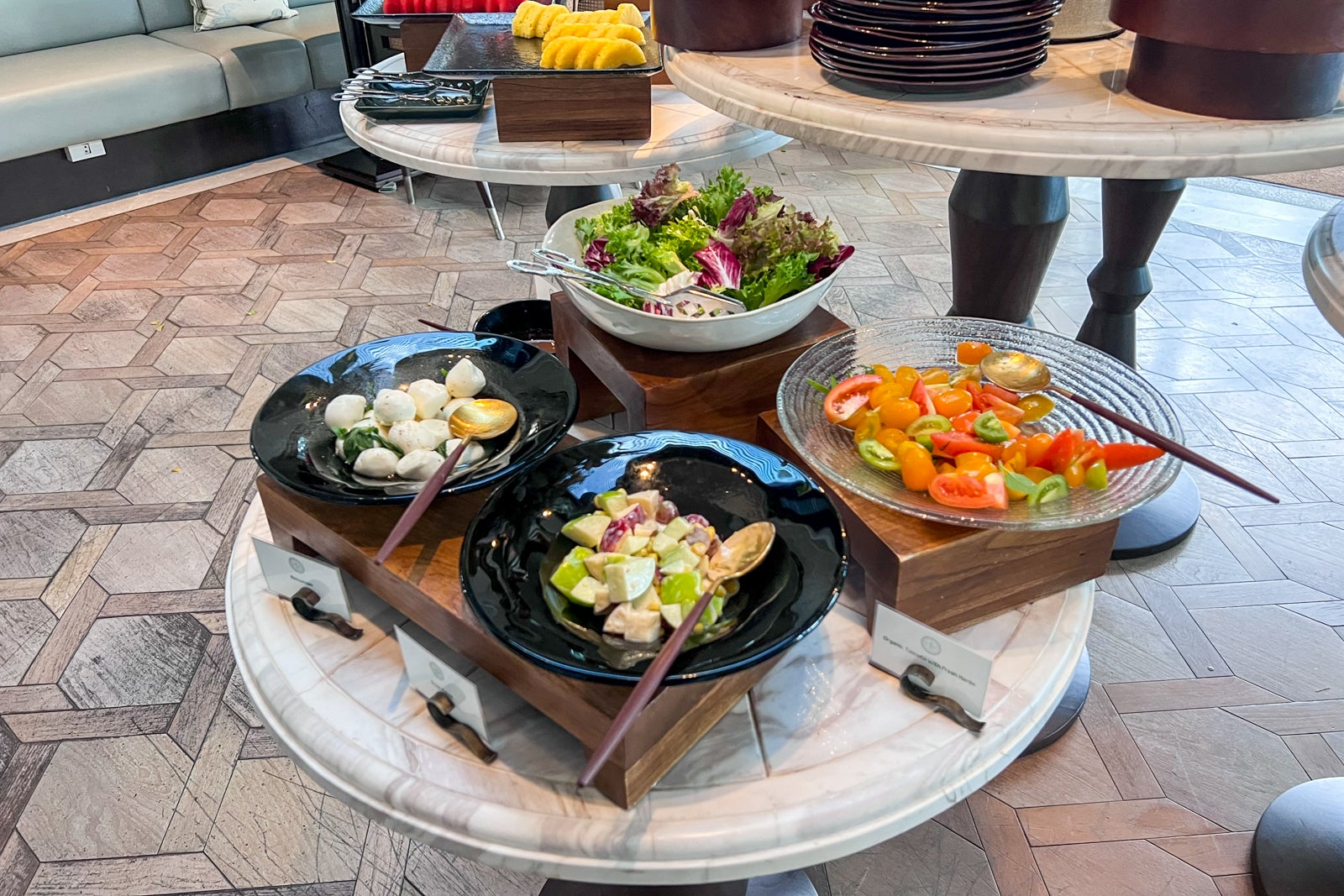 The breakfast buffet included bread, pastries, salads, fruit, charcuterie and various mezze. There was also a menu for hot items like eggs cooked to order. I ordered a truffled onsen egg served in a mushroom cream with a sourdough crouton — a delicious, silky start to a morning meal. I also ordered grilled pork skewers with sticky rice and a chili dipping sauce. Yes, I could feel all seven courses from the night before in my stomach, but Cappella's food is too good to pass up. Breakfast was included with my stay, but the entire spread, including hot and cold items, costs 1,200 baht ($34).
I also laughed when one of the breakfast staff came over to ask if I wanted coconut water served in a freshly shaved coconut. She excitedly explained the careful detail that goes into shaving down the coconuts, so they have a soft membrane that can be punctured with a straw.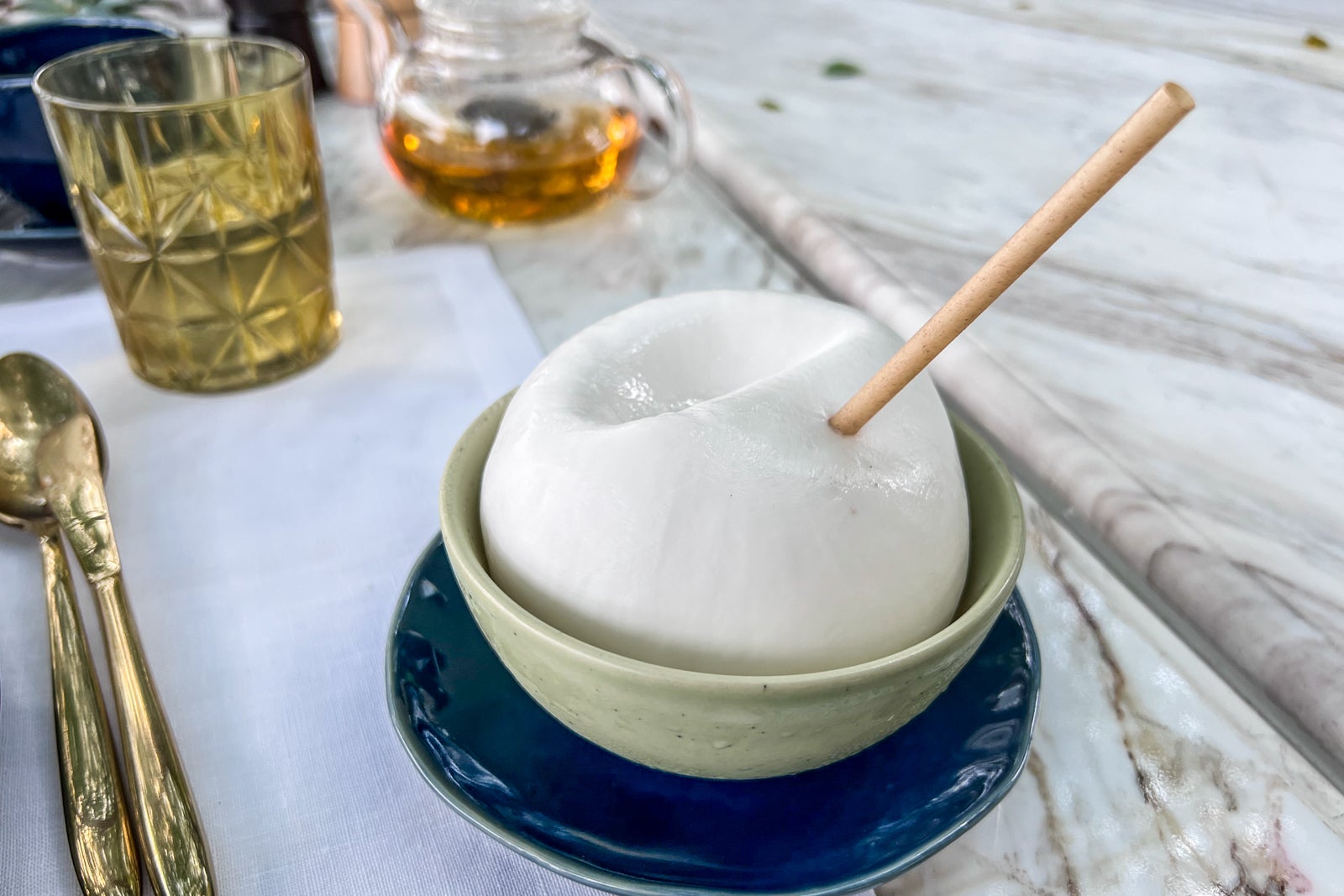 She then deadpanned, "I mean, we don't do that ourselves. We hire out. Obviously."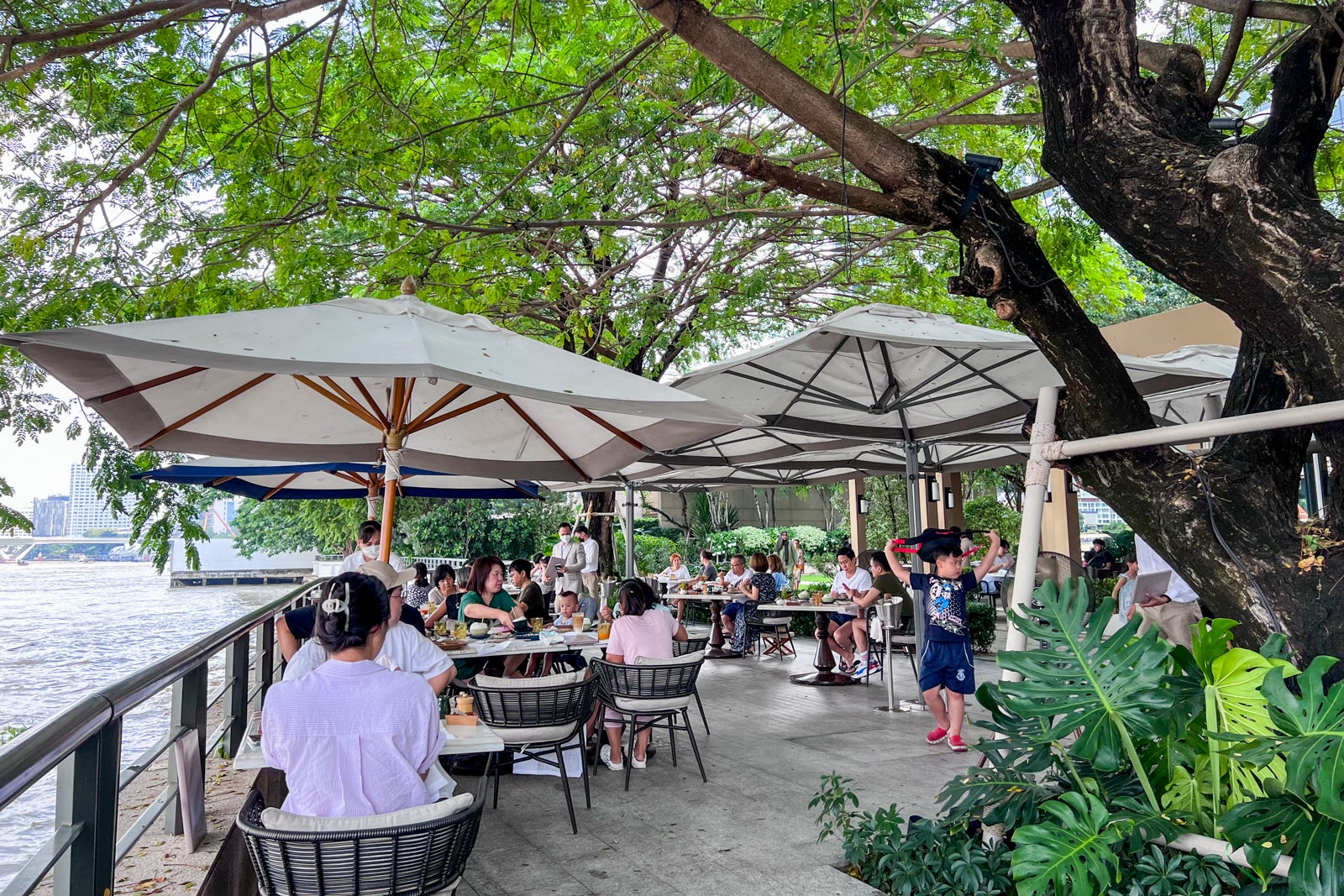 Another member of the staff, likely noticing the sweat coming on from a combination of Bangkok humidity and chili dipping sauce for the pork skewers, kindly moved a fan right by my table. The hospitality exhibited by the staff members of its various restaurants was the most memorable part of my stay at Capella Bangkok, and I hope the hotel imbues that care and spirit into the rest of the guest experience.
Service and amenities
It's on the service and amenities front where the Capella fell flat for me. I mentioned at check-in how I'd love to arrange for a tour of some of the city's palaces, and the general manager recommended I take a boat tour with a group the hotel has a strong relationship with. He quoted a reasonable price (around 4,000 baht, or about $114) for a two- to three-hour trip the next morning and said they'd grant me late checkout so I could enjoy the tour.
"Great," I said. "Let's go ahead and book it."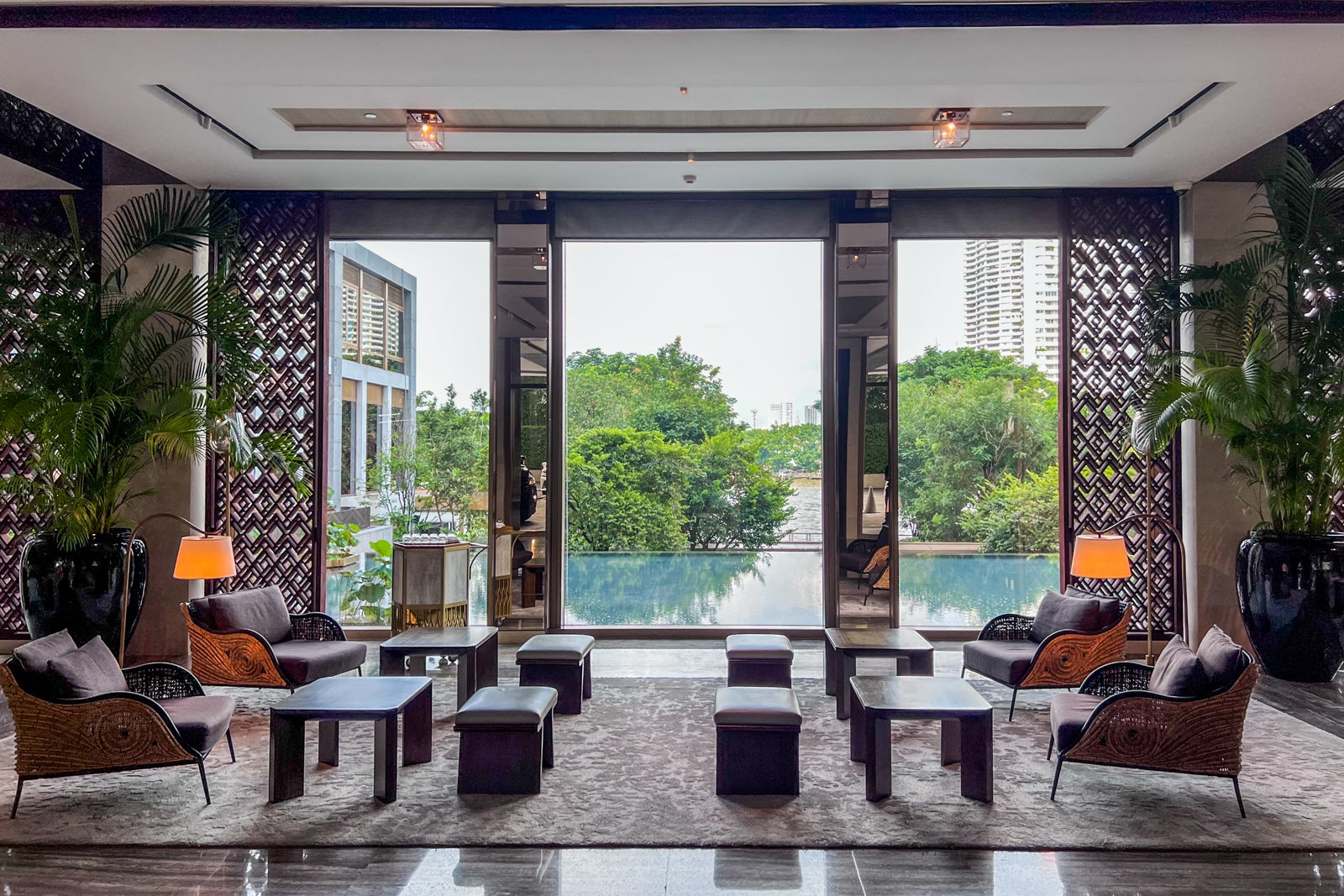 He passed me along to one of the Culturists. This person told me to wait and book the service through the hotel WhatsApp network, as they try to do most communication through that. As soon as I got to the room, I texted via WhatsApp down to the lobby to book the tour. This time, I was given a slightly higher price (though he mentioned the trip would likely be two hours longer than what I was initially told).
The previously promised late checkout was suddenly no longer a guarantee. They wouldn't be able to let me know until tomorrow morning, the Culturist said.
I still wanted to see the palaces, so I went ahead and told him to book anyway and just asked if I could use the spa to freshen up once I got back if I was not able to postpone my checkout. They agreed, and things seemed fine. Later, I got a message from the hotel saying they had quoted me the wrong price again and that it would be double the cost.
At this point, I was nonplussed and didn't trust the hotel not to change the price yet again. I told them to forget about it and took a taxi to the Grand Palace on my own the following morning.
Additionally, my Culturist told me I could go back to the Living Room for afternoon tea or coffee, a glass of Champagne, to have a snack or just hang out. When I did just that, though, I could not get any service. After waiting for a while, I just went back to my room and made a coffee there.
To be fair: By the time I got back from the gym later that afternoon, there was a baked good on the table in my room that I think was meant as an apology for the tour booking confusion.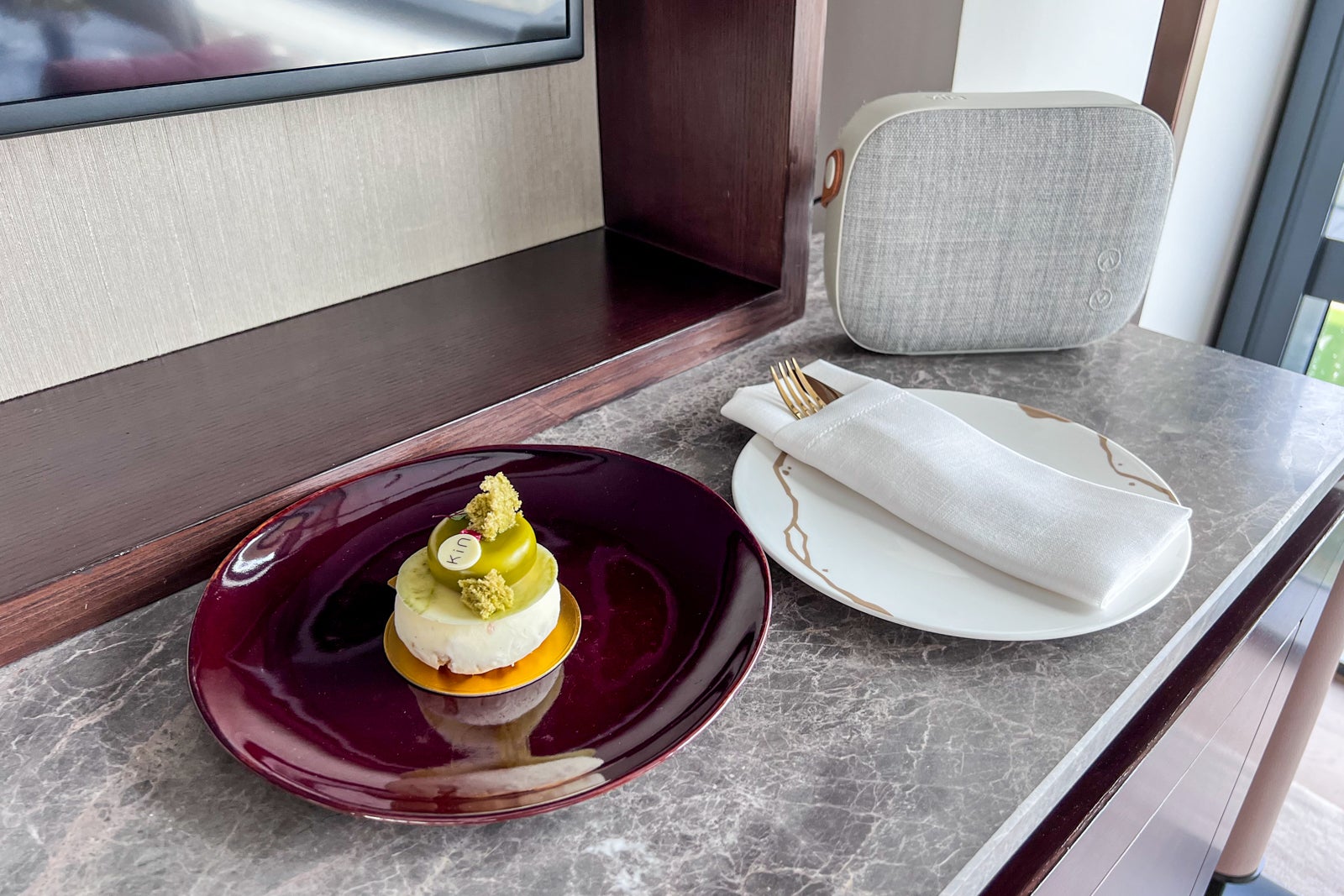 While the hotel's spa facility was beautiful, the gym was well equipped with weights and machines — but perhaps a little too compact.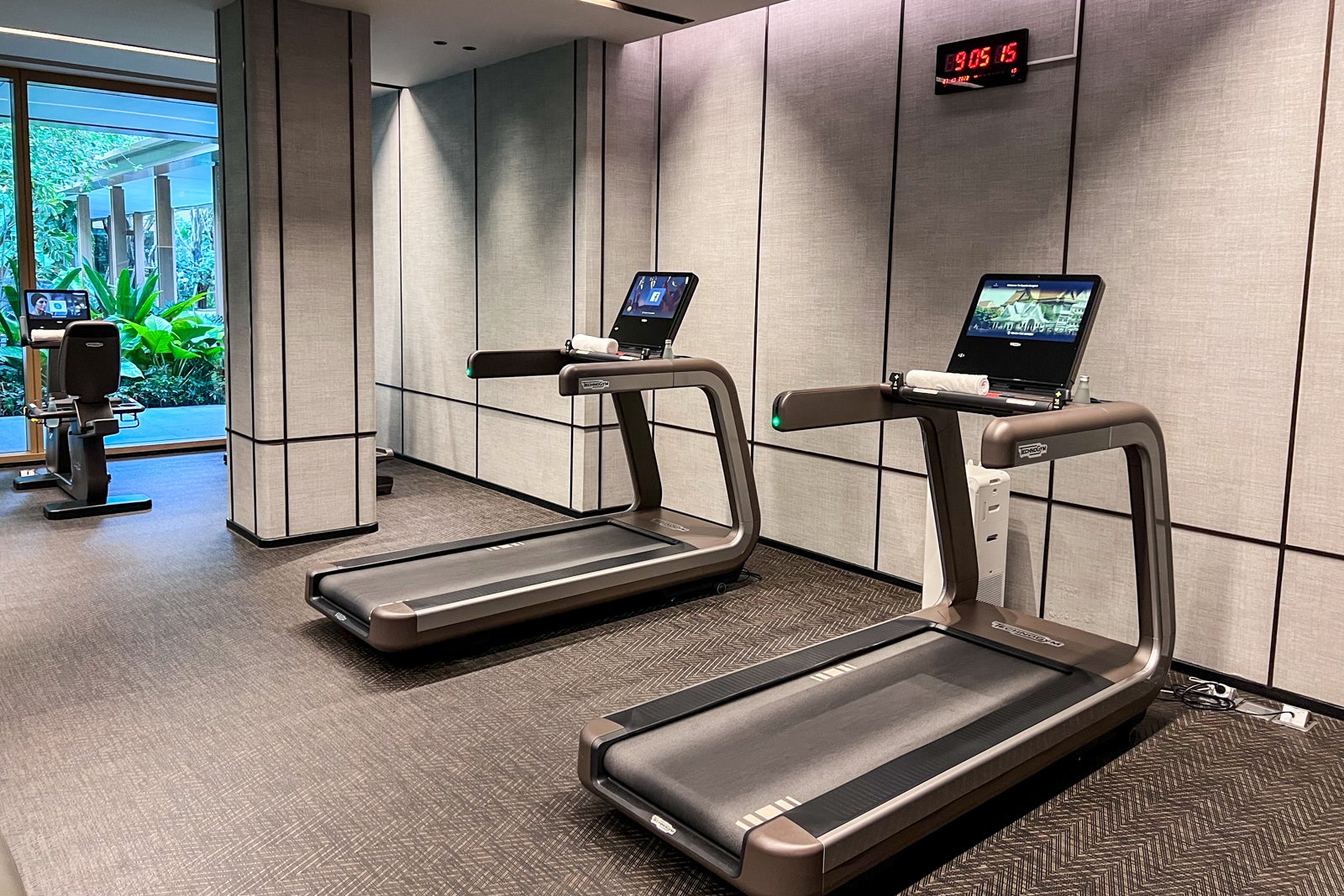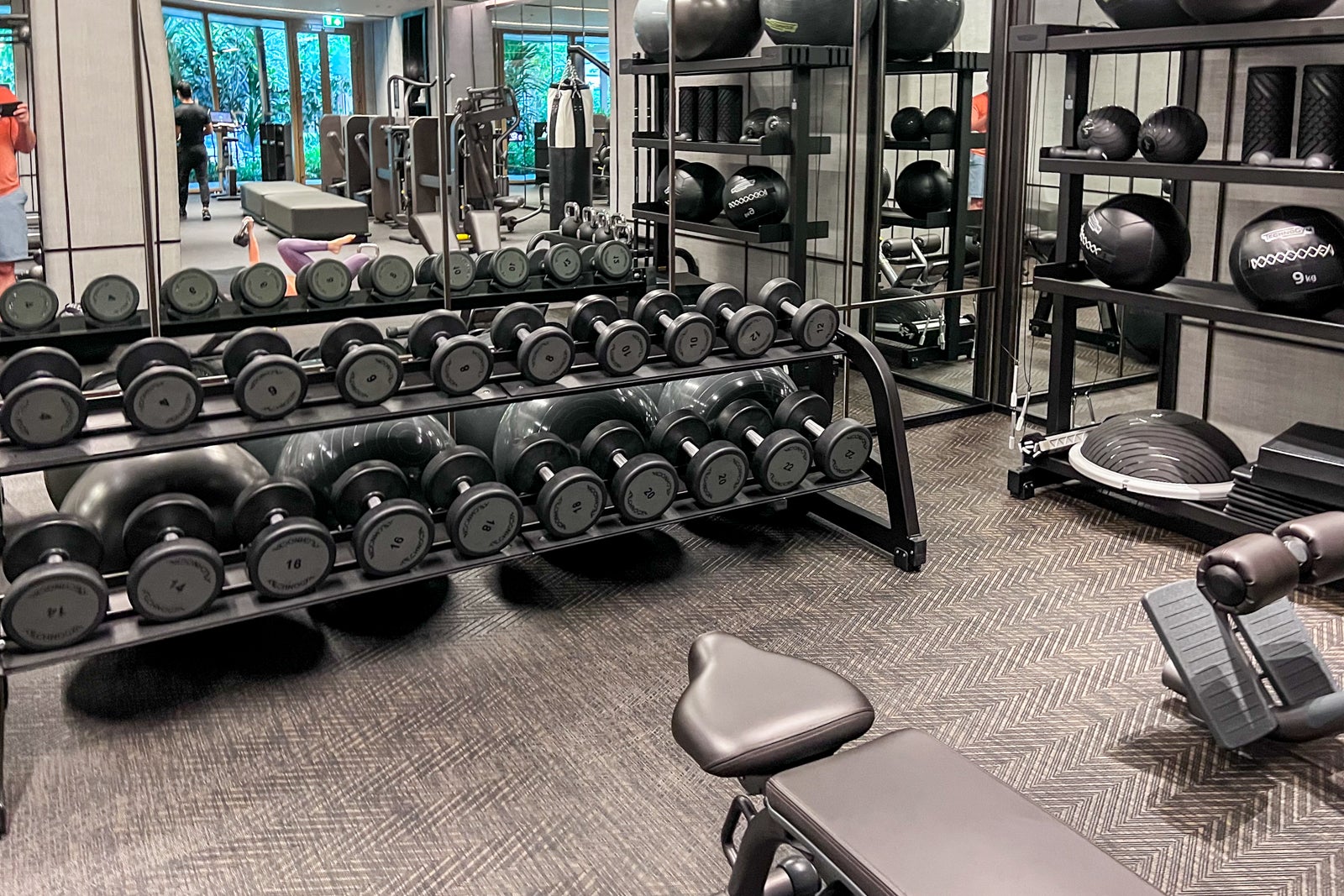 Like at the Four Seasons, the Capella gym is a trek from the guest rooms, and you can't just take an elevator directly down. You have to take an elevator to the lobby level and then walk to a second elevator to get down to the area outside where the private villas are located and then go through a gate into the spa area.
A little warmup never hurt anyone, though.
The hotel's pool, on the other hand, is beautiful, with loungers and cabanas and very attentive staff members who first bring over water and sunscreen without any request. From there, you can order snacks and beverages. It was an excellent way to soak up some sun and get in a few leisurely laps during my stay.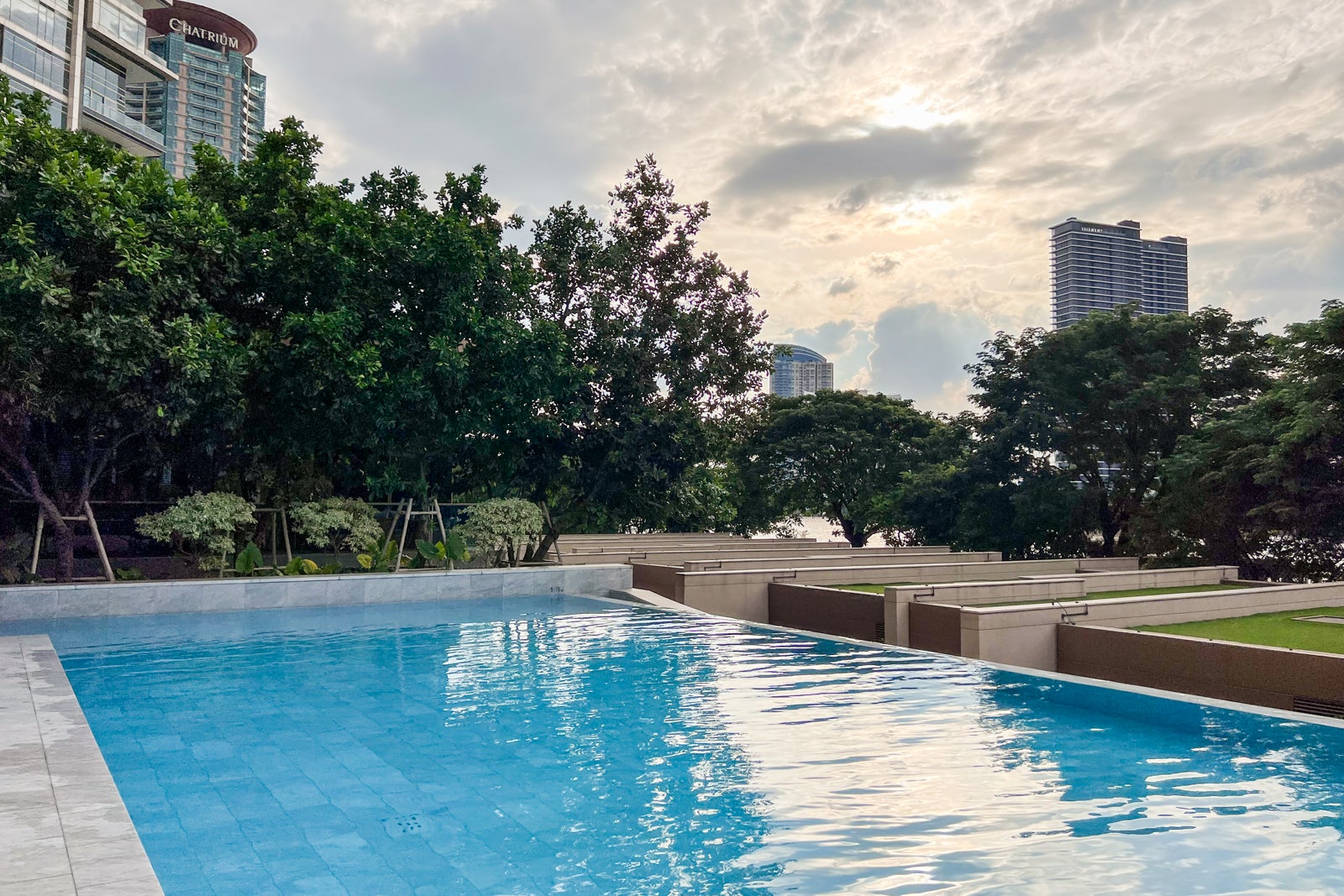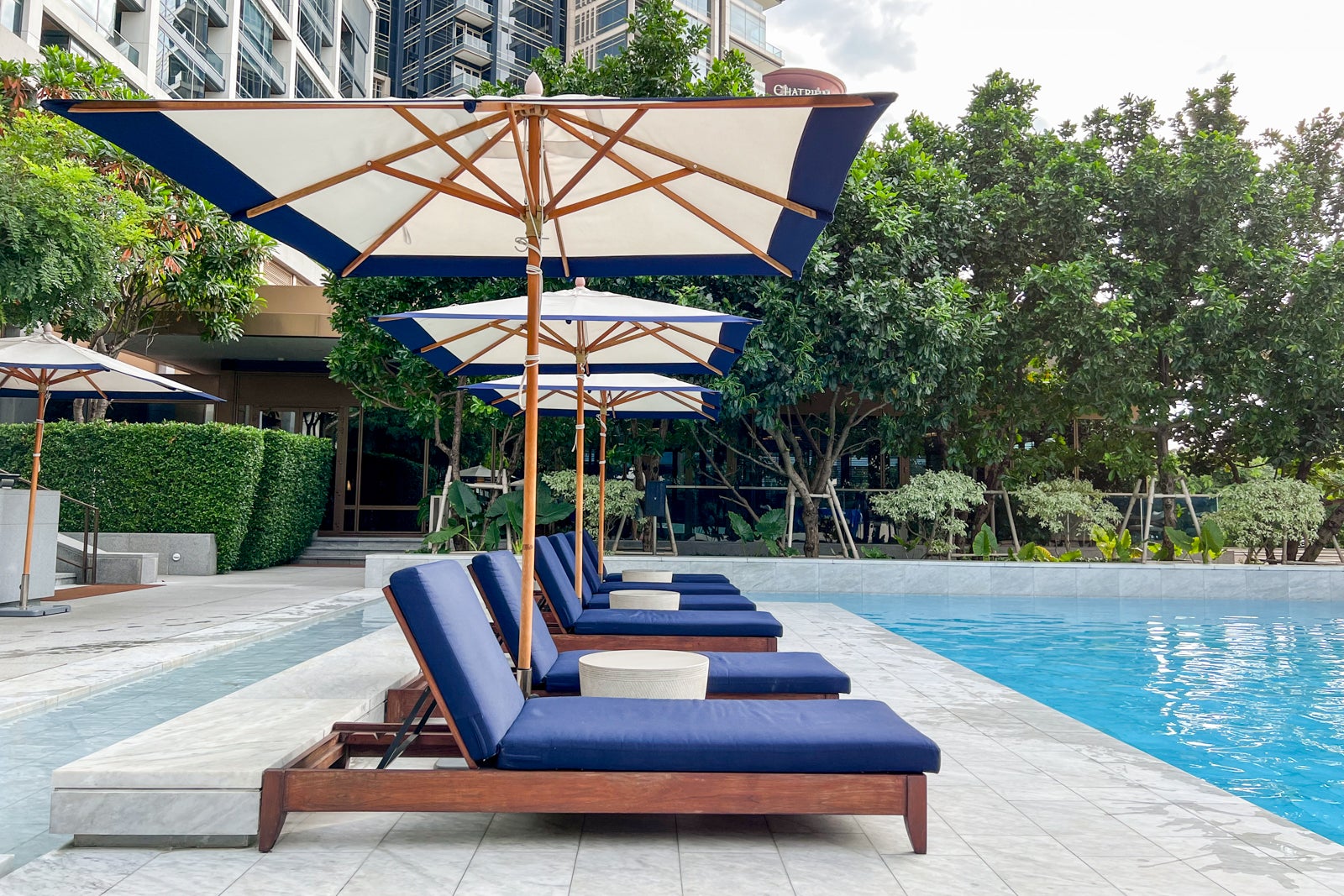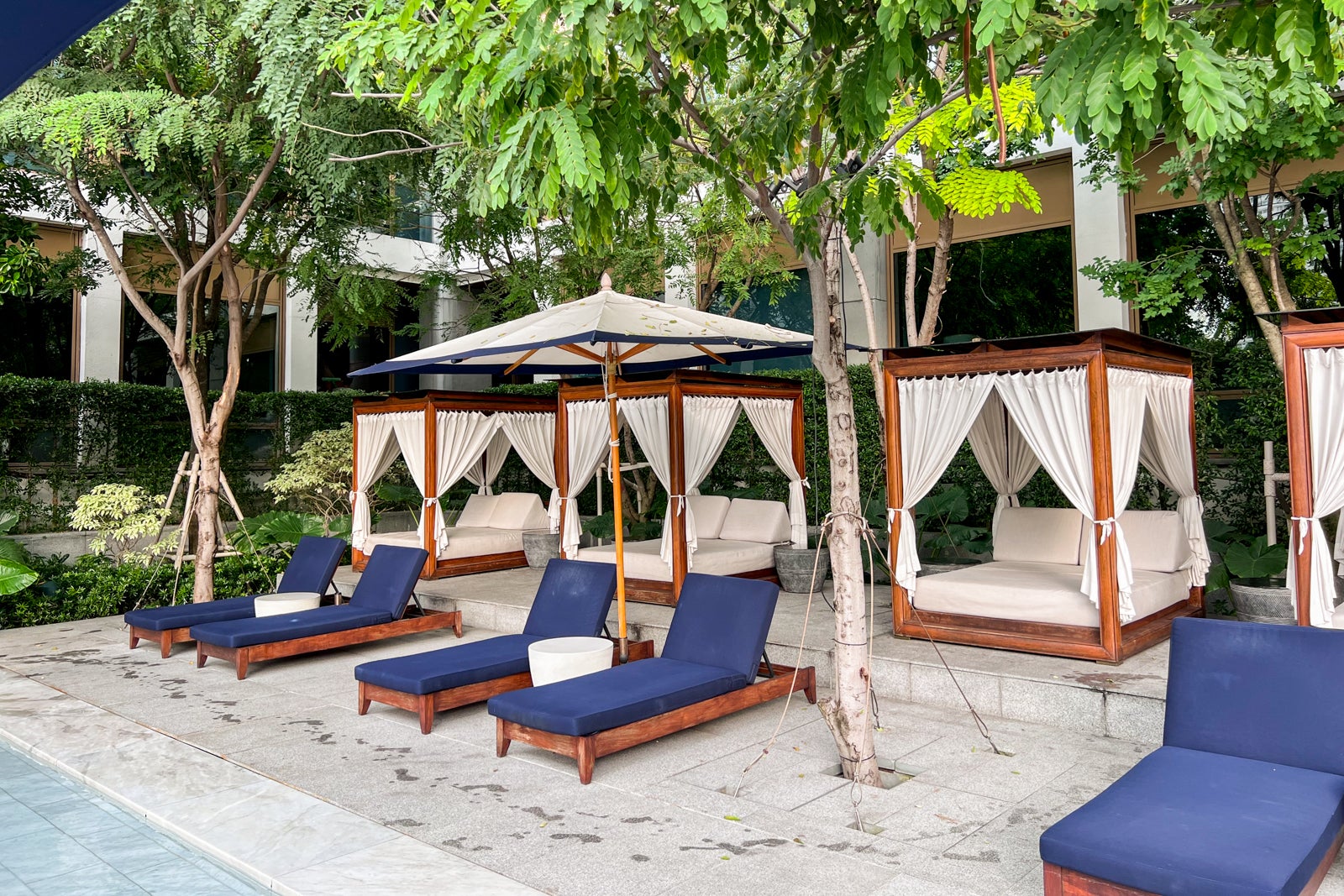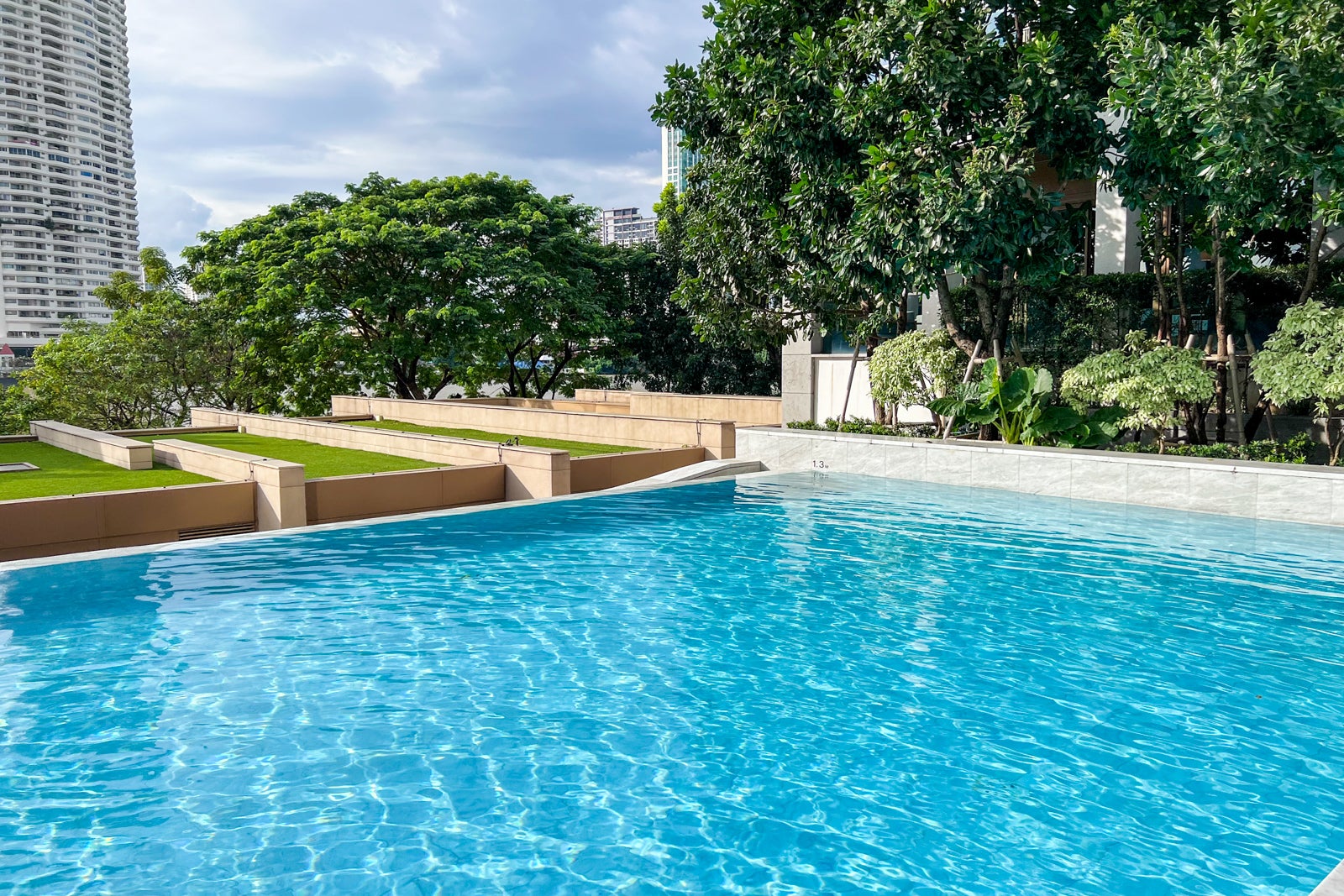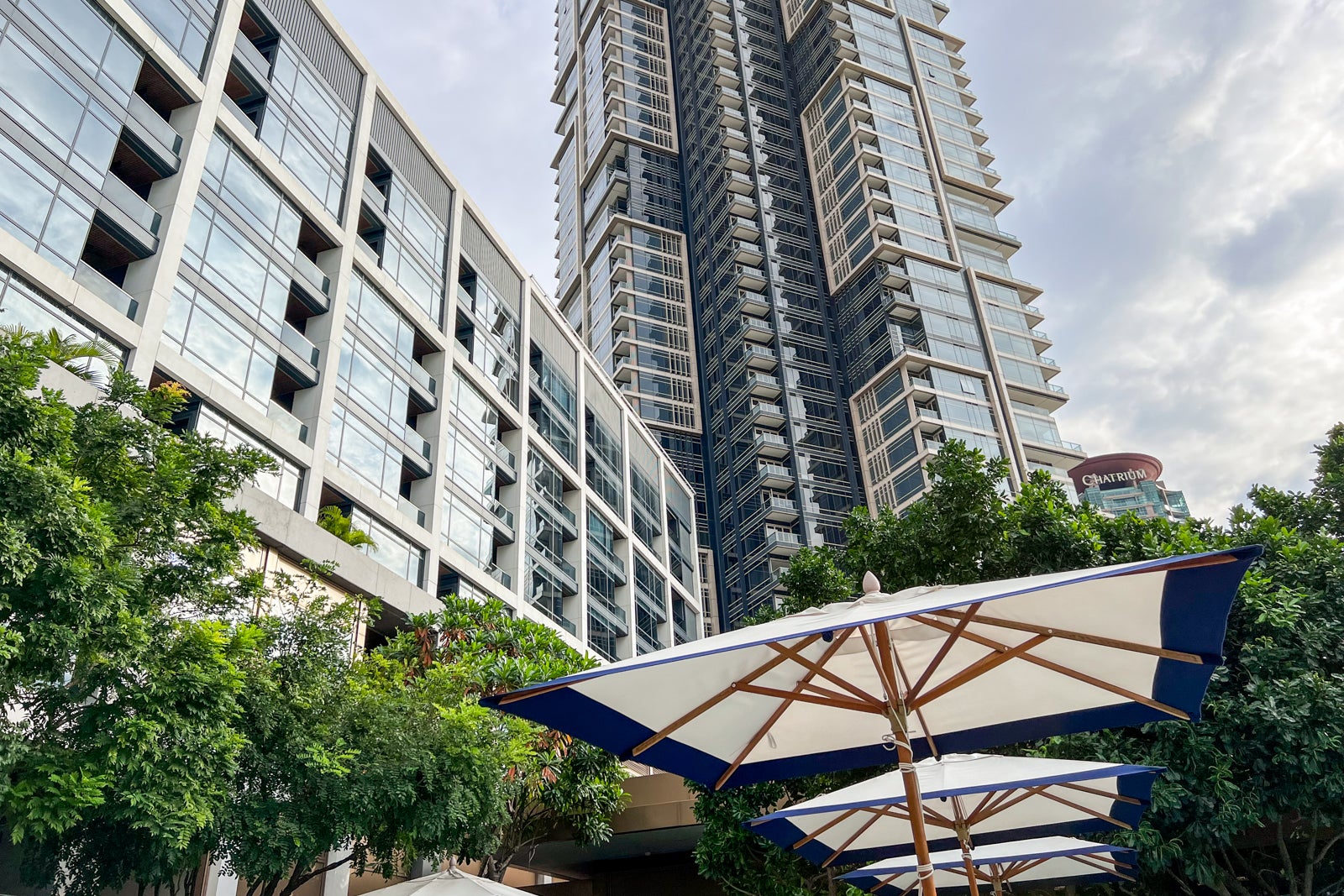 Out and about
The hotel is in Bangkok's Creative District, which features art galleries and malls dedicated to art. It's about a seven-minute cab ride from spaces like Warehouse 30, a collection of galleries that is also a short four-minute walk from the River City art mall. Capella uses the same dock as the Four Seasons for a complimentary ferry to the Iconsiam shopping mall.
It's about a 25-minute taxi ride from the hotel to The Grand Palace in typical Bangkok traffic.
Accessibility
Many parts of the hotel, like the public lobby, Living Room, pool area and restaurants are accessible to wheelchair users. Additionally, select rooms have accessible features but should be specifically requested over the phone to guarantee a booking. While the pool area is accessible, there is no chair lift into the pool itself.
Checking out
I had one last dip in the pool at the Capella before checking out, but I wasn't sad to leave the hotel — well, apart from not being able to dine at Cote and Phra Nakhon again.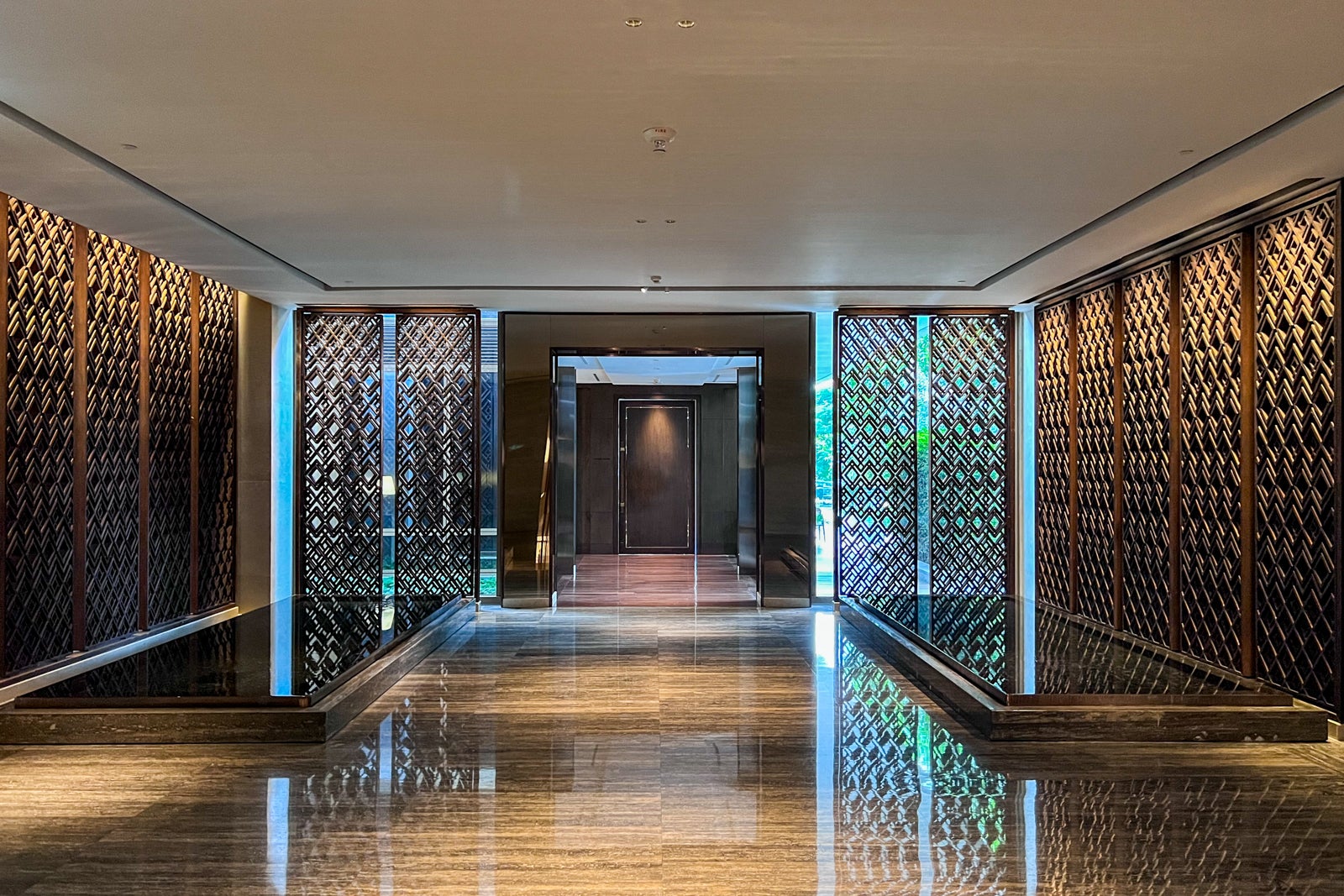 Interestingly, the most help the Culturist team provided occurred when they found out my next stop was Hua Hin. I got several night market recommendations that ended up being highlights of my stay there. Hopefully, some of that enthusiasm will be channeled back to enhance the in-house experience for other guests.
---
Share this post
---
---