18 Unusually Useful Command Hook Tips
Posted by admin on
We've all heard of command hooks, right? Genius invention to hang stuff on your wall without damaging it or making anything permanent. Did you know that there are TONS of unusual command hook uses that save the day? Seriously, some life-saver ideas that can save you time, money, sanity…you name it! Check out our list of 18 times that these tiny little hooks came to the rescue in some unexpected ways!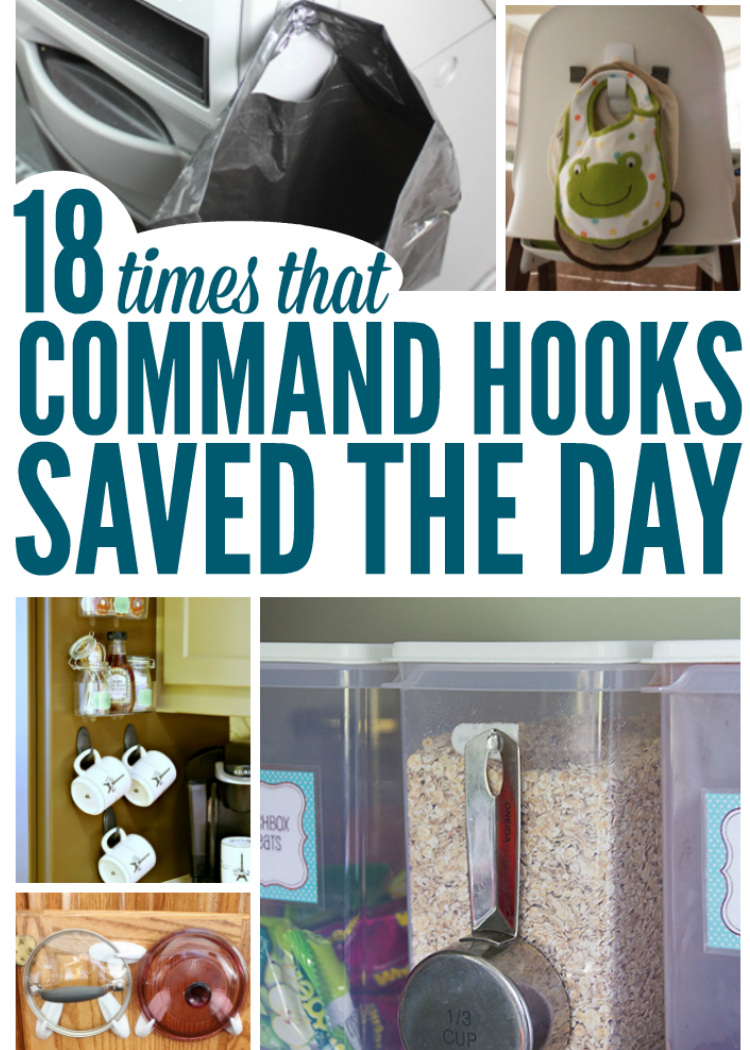 Unusual Command Hooks Uses Around the House!
1. Hang it in the Shower for Wet Bathing Suits
How many times have you hung wet bathing suits outside to dry (they get crunchy that way, ew) or over the side of your tub/shower curtain rod? Keep all the water dripping INSIDE the tub by simply attaching a hook to the inside of your tub/shower. Unusual use for a command hook? Maybe. Brilliant swimming hack? Definitely!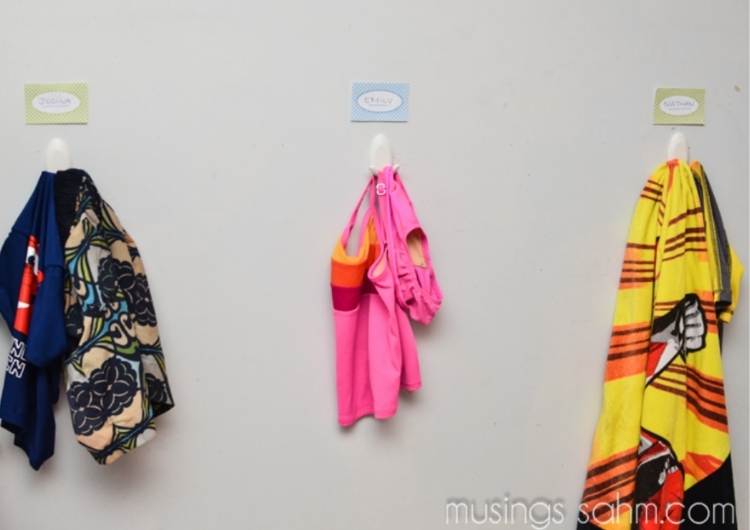 2. Hide Unsightly Cords in the Kitchen
I leave my KitchenAid on the counter, but I hate the thick cord sitting on the counter with it!  It clutters up the counter, looks messy, and it gets in the way. And truly, there is no need for it to be plugged in unless we are actually using it, but I don't want to get it in and out of storage when we need to use it.  This unusual use for a command hook easily hides it and clears up counter space at the same time instead. Such a good idea! Convenient, simple, and clean.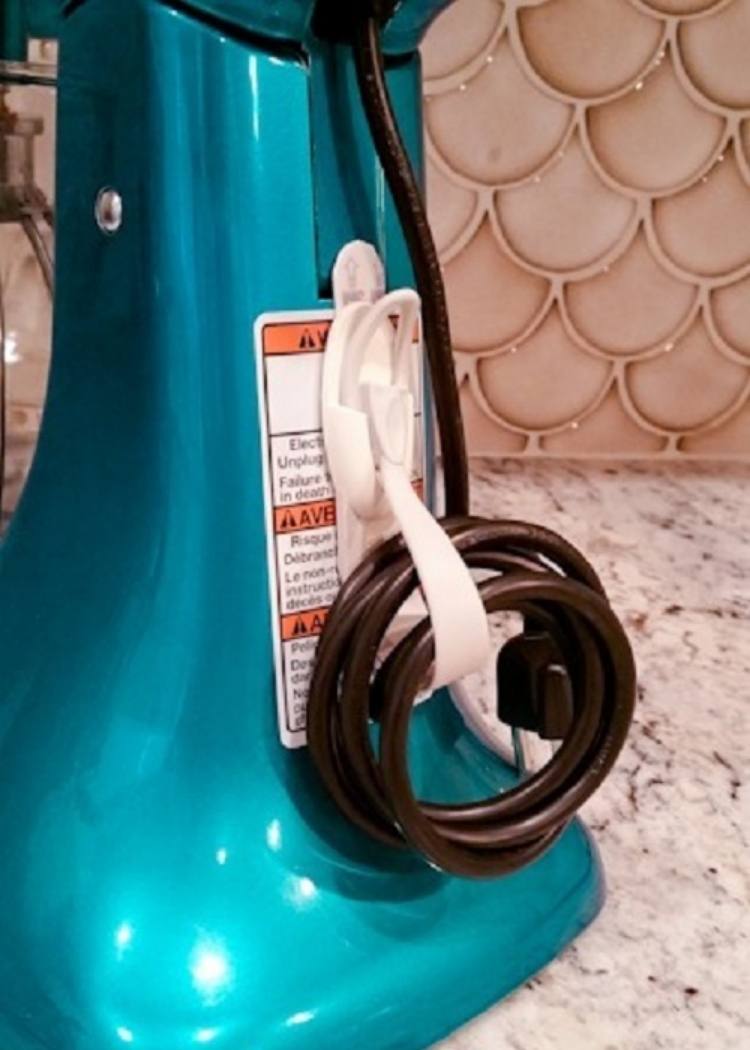 3. Video: Unusual Command Hook Use – Trash Can Hack
I made a quick video to show you how you can even use Command Hooks to hack your trash can! No one likes issues with the bag in the trash can, and this unusual command hook hack helps keep things clean and tidy!
4. Organizing Hack with Unusual Command Hook Use for Baking Supplies
How about the hooks for your stand mixer? Those bulky accessories that you need for your stand mixer don't have a place they easily can fit for storage.  They don't exactly fit in a drawer, and they take up too much room anyway. Use a command hook to attach it to otherwise wasted space inside your cabinet. Such a quick and creative way to put the space that you have to good use!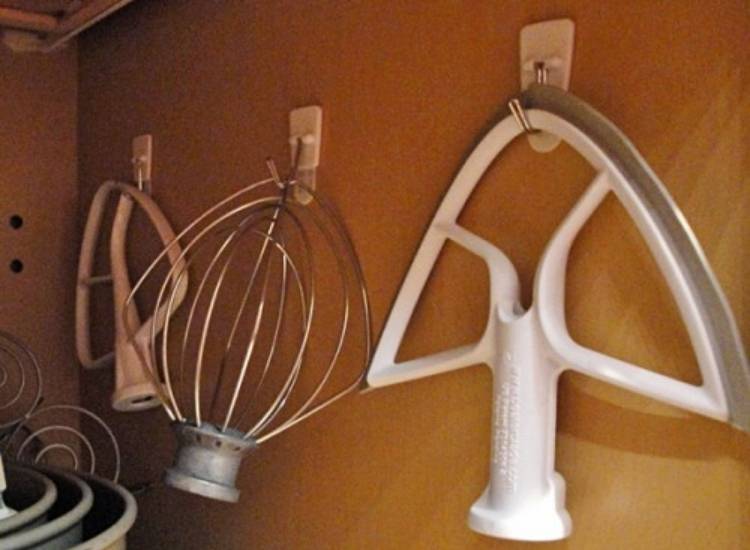 5. Decorating Hack Use Command Hooks to Hang Curtain Rods
Command hooks can come in all shapes and sizes, from clear to white even to brushed nickel! If you don't want to (or can't) install hardware for your curtain rods, chances are pretty good you can find a command hook that will match or complement your curtain rod. This is a win-win for decorating for any budget and skill level!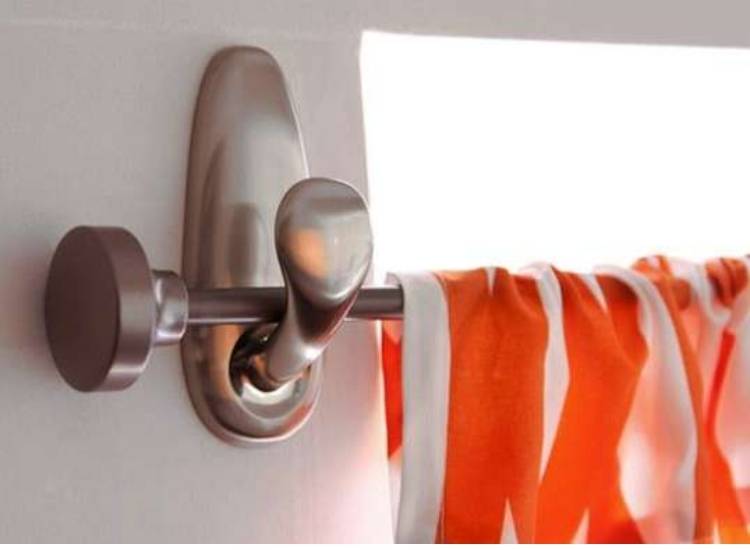 6. Store Your Plastic Wrap and Foil
Create a clever system to store and USE your plastic wrap and foil using two command hooks. These can be installed anywhere, but we'd suggest the inside of your pantry door, or on a shelf. This unusual use for a command hook helps you easily and conveniently find what you need while saving space at the same time!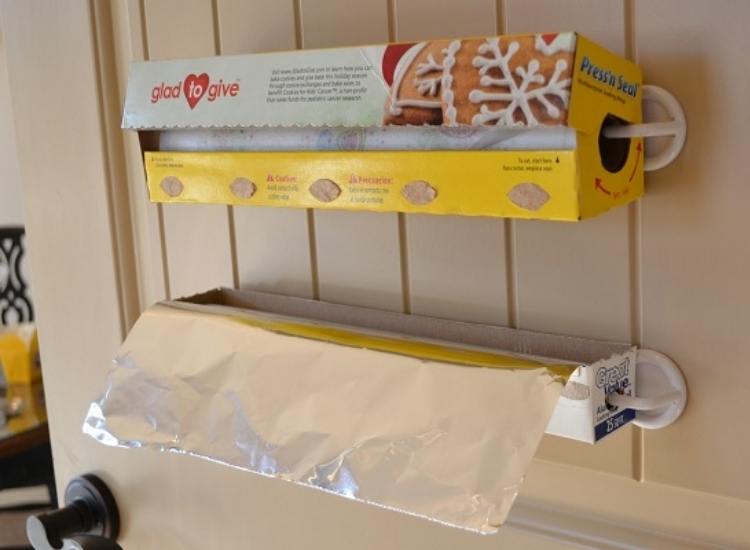 7. Unusual Use of Command Hooks in Your Trash Cans
Most of us reuse grocery bags as trash can liners in the smaller trash cans throughout our house right? Great way to reduce, reuse, recycle! But very annoying when the grocery bag slips down inside the trash can and half your trash ends up outside the handles…not anymore! Secure two command hooks right where the bag handles reach on the sides, and just slip them over the hook. Just the kind of unusual command hook use I love!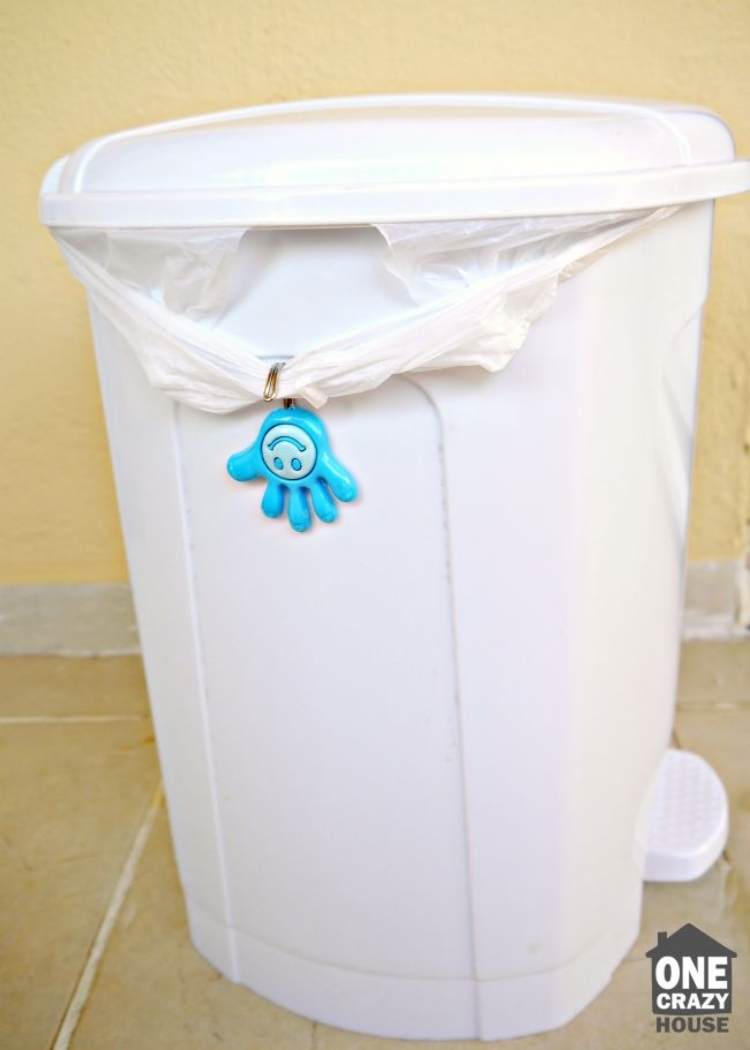 8. Unusual Command Hook Use to Display Your Kids Art
This system can be installed on your fridge, or in a playroom – virtually anywhere! Just use two hooks, a thin curtain rod, and some hooks, and you've got a clean, easy display for tons of their artwork! You can create a rod per child and easily switch in and out creations as needed!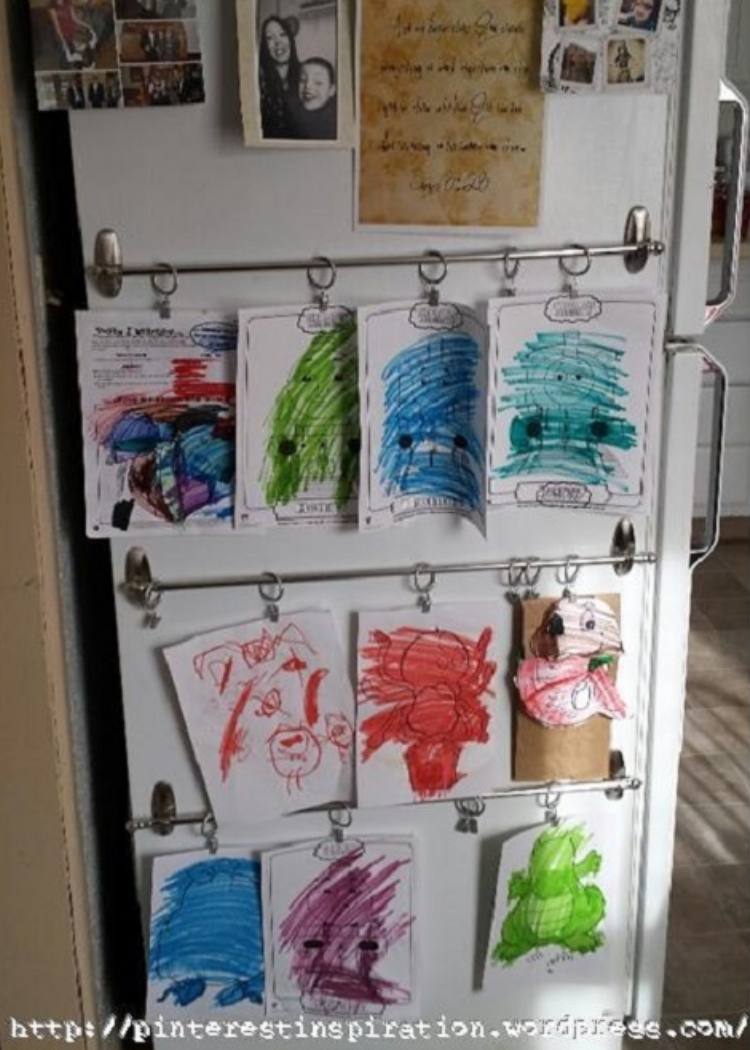 9. Use Command Hooks for Organizing the Pantry with a Handy Cereal Scooper
Mornings are hectic and every minute counts. This unusual command hook use helps save you time and stay organized when kicking off your busy day!  Keep a scooper or measuring cup right on the container of cereal or oatmeal to make breakfast as seamless as possible.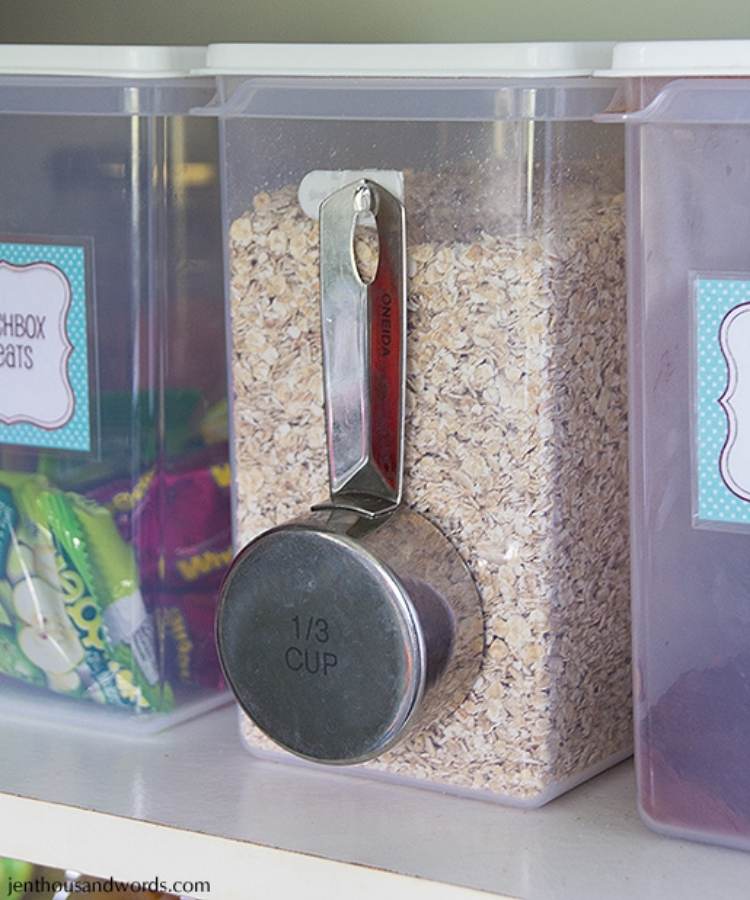 10. Unusual Command Hook Use to Create a Vertical Herb Garden
Find the spot in your kitchen with the best sunlight, plant a few herbs, and attach them with command hooks! Simple, beautiful, AND functional. This unusual command hook use helps freshen up your kitchen and makes the most of the natural light you have in your home while saving space. Mixing sizes of mason jars allows for a variety of fresh herbs in your kitchen!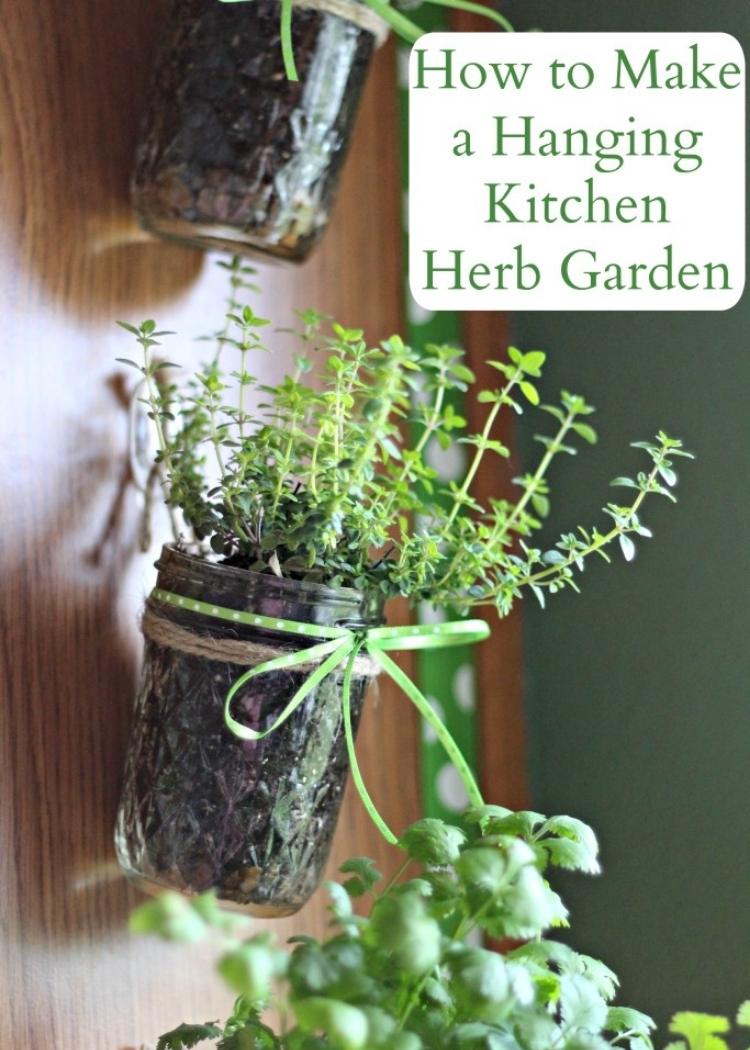 11. Use Command Hooks to Hang Dual Shower Caddies
Share a shower caddy? Too much stuff on it? Try this for a handy solution. Instead of sharing one caddy, install two right on your shower wall with command hooks. Easy, and plenty of space for everyone's everything! Double win!!
12. Unusual Command Hook Use to Create Super Sweet Stuffed Animal Storage
This storage solution gets stuffed animals off the floor, can be customized to fit any color scheme or size you need, and is easily removed when you no longer need it. It might be unusual, but this command hook use is super clever! Coordinate the color scheme to your décor by switching our tulle, ribbon, or both as needed!

13. Create a Coffee Station Using Command Hooks.
Another easy and unusual use of command hooks is to create a coffee station on your fridge. You can easily attach some hooks underneath the bottom of your cabinet to hold coffee mugs – it looks pretty AND it clears up room in a cabinet – score! Add clear containers for the mix-ins and you are set.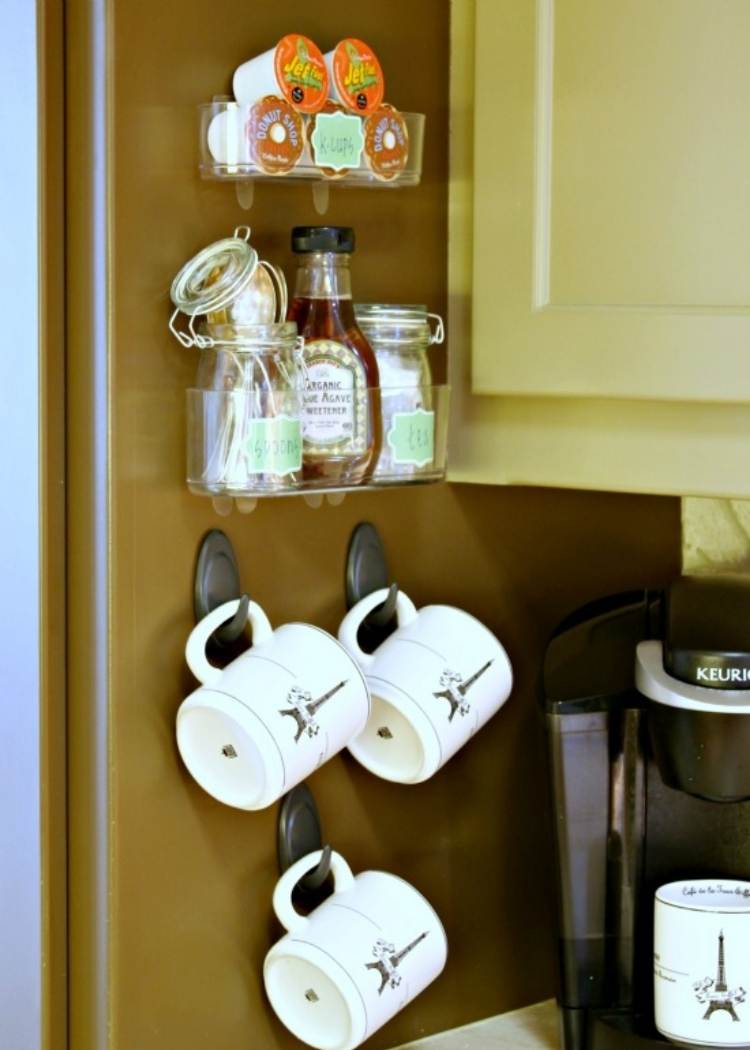 Good ideas start with brainstorming. Great ideas start with coffee.
14. Unusual Use of Command Hooks to Hang Banners
You won't find an easier method to hang a banner from the top of a doorway – if you've tried tape before, you probably know that just doesn't hold. And who wants to install any kind of hardware or end up with nail holes for something so temporary? Command hooks on the top of the door frame are not visible, hold well, and are the perfect solution. When they are no longer needed, they are easy to remove and won't leave behind a hole like nails! Talk about unusual command hook uses saving the day.
15. Store Baby's Eating Gear on the Chair
Why not store baby's bibs right on the back of the chair? Using a command hook makes them easily accessible and easily hidden. This is another unusual use of command hooks and a complete-time saver!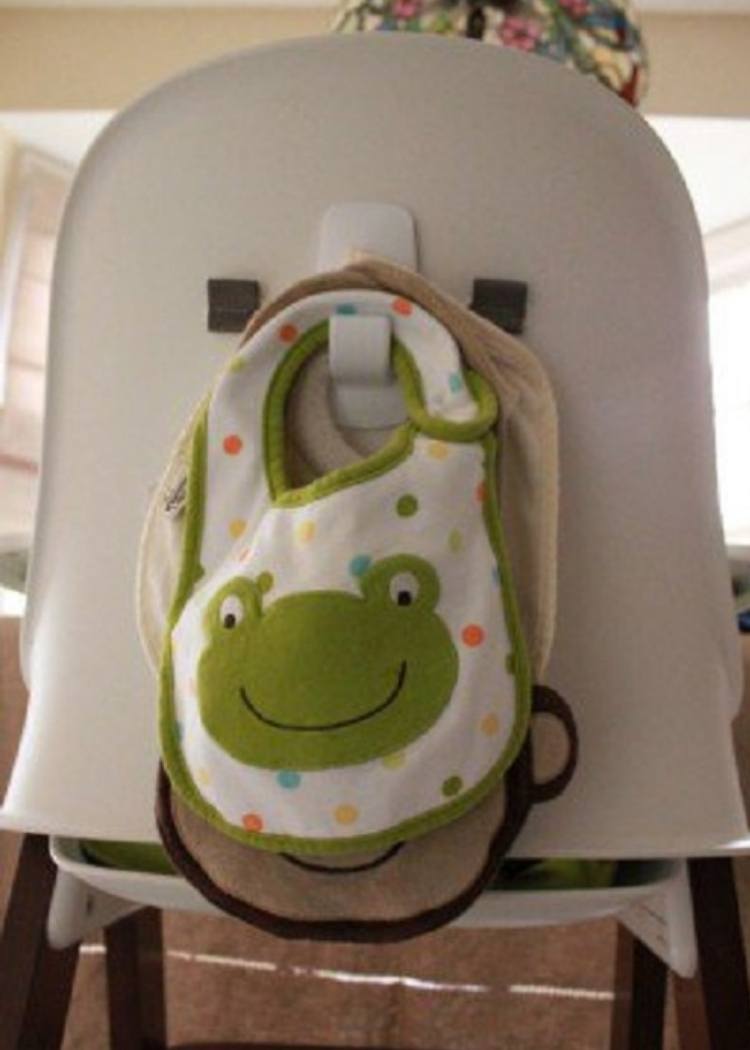 16. Declutter Your Countertops with Command Hooks on the Wall
Command hooks attached right to your backsplash can provide some easy storage – it can look really pretty, AND your favorite kitchen tools are handy when you need them! This is also a great way to add a splash of color and coordinate your kitchen décor.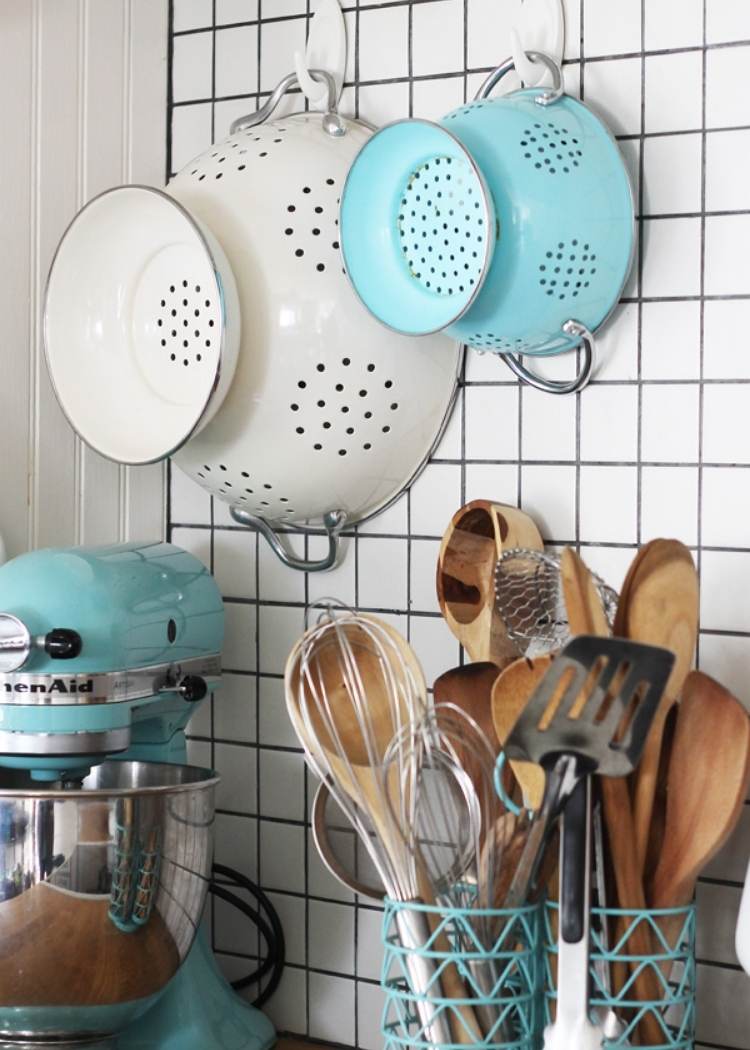 17. Hang a Bag in Your Car for Trash
Everyone needs a trash bag in their car – to buy one specially made to attach somewhere in your car can be really pricy, and you're often limited on where you can put it. With a command hook, simply choose where you want it, attach the hook, and hang a small bag. Done! This is one of those unusual command hooks uses that will pay you back in peace of mind by keeping the car clean!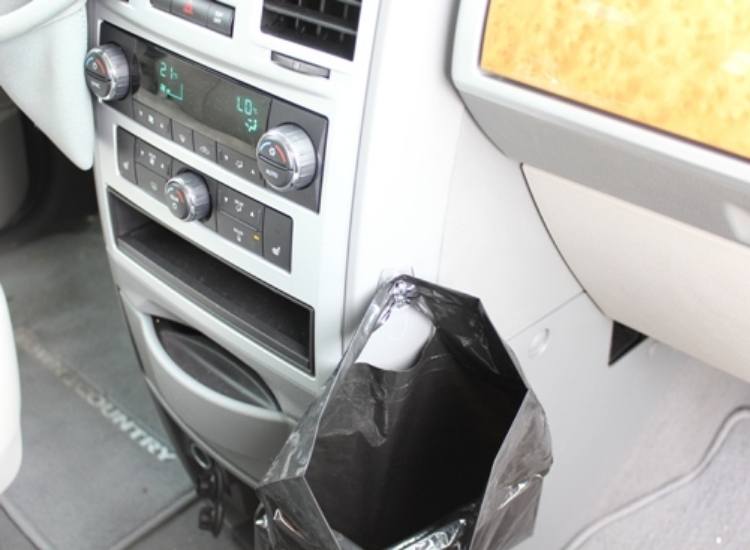 18. Unusual Use of Command Hooks to Store Your Pot Lids
Seems like no one has ever found a really good way to store lids to the various pots we keep in our kitchen. Until now! This idea is genius…just attach two hooks for each lid to the inside of the door and you've got the perfect storage space! This might be one of our favorite unusual command hook uses, and it is a total lifesaver!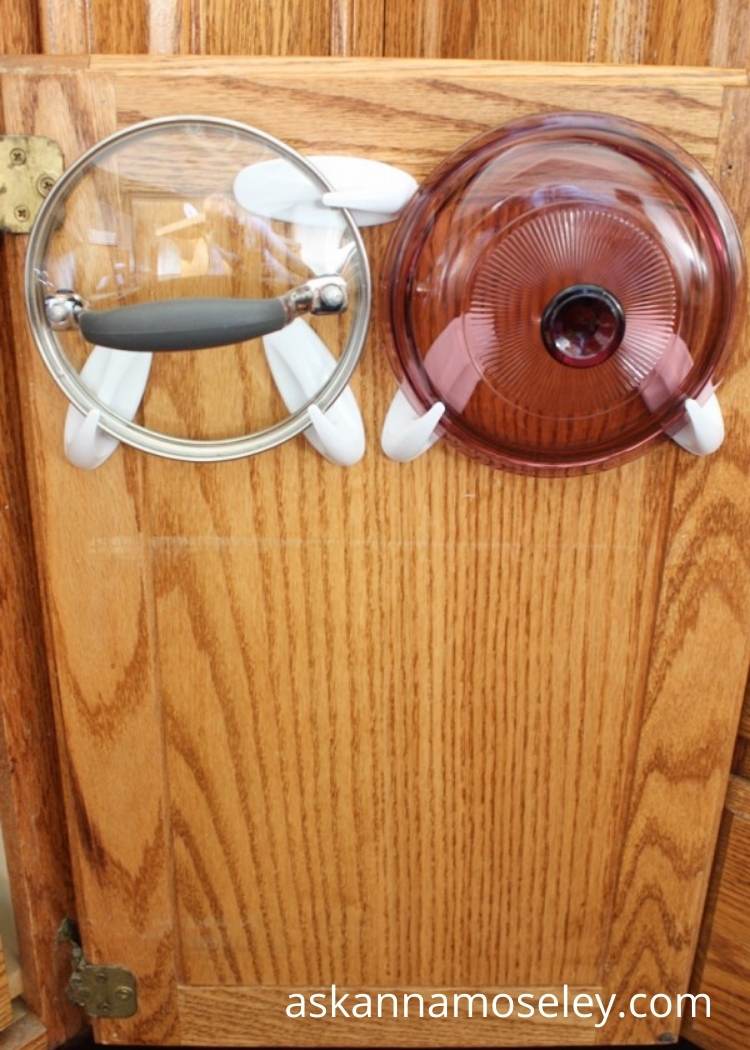 Best Modern Command Hooks.
These are NOT your Grandma's hooks! Add instant space with some of these more modern, durable options. With so many options for finish, strength, and durability these stylish options are a great way to add versatility to your home without damaging your walls!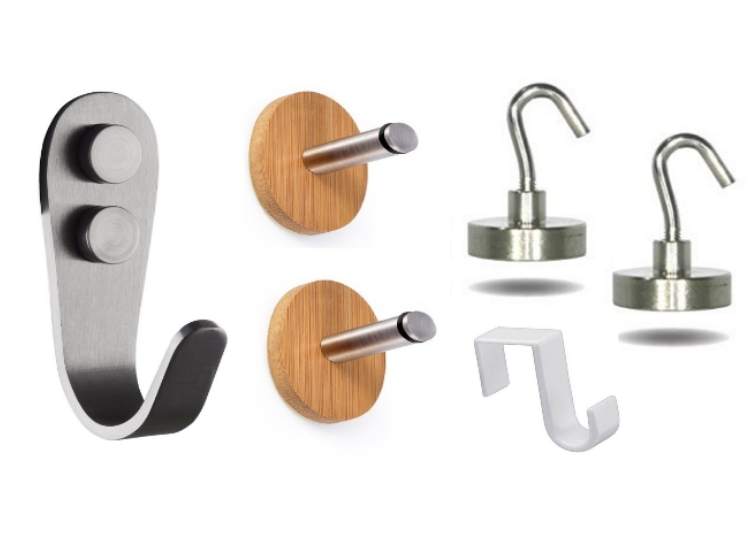 Are you a fan of command hooks? I bet if you weren't, you are now!
Which idea was your favorite? I don't know about you, but I sure know that I'm planning to stock up on these the next time I go to the store – I can't wait to try out some of these!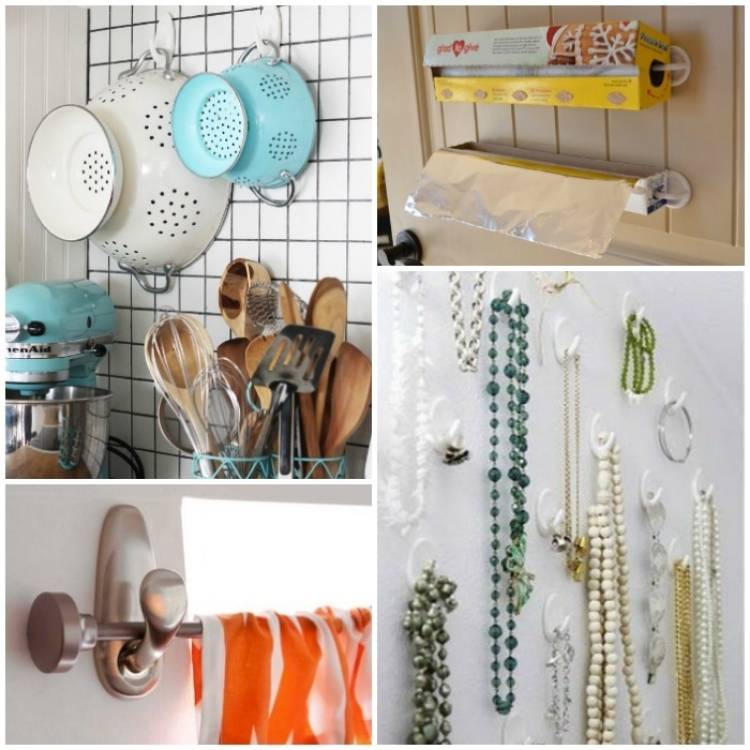 Found These Unusual Command Hook Uses and Ideas Helpful? Check Out More Amazing Ways To Organize Your Space:
The post 18 Unusually Useful Command Hook Tips appeared first on DIY House Hacks - One Crazy House.
---
Share this post
---
---