Things I'm Loving Friday #467
Posted by admin on
Friday is heeere! How are you? How was your week? Earlier this week one of my girlfriends referred to this month as "Maycember" when referencing the number of kid-related end-of-the-school-year commitments and activities and it certainly felt like an accurate reference to the busyness that comes during the holiday season and, apparently, MAY. Phew!
Our calendar is certainly full right now but it's temporary and, for the most part, filled with fun stuff the kids love. All that being said, you better believe I'll be majorly exhaling June first when all of the boys are done with school for the summer.
As for the weekend ahead, I'm excited for it because we have a few things on the agenda, ranging from a big bounce house event that looks awesome and a make-up soccer game for Chase to hosting our friends on Saturday evening for lake fun and s'mores. I'm hoping to have a moment to recap everything on the blog on Monday but until then, I hope you enjoy a wonderful weekend!
Things I'm Loving Friday
(Skirt: Amazon — I'm in the yellow in a medium / Top: Old but I think Amazon, too! This one looks almost identical / Lace-up sandals: Amazon / Paperclip chain necklace: Amazon / Ryder's shoes: Adidas — they were Chase's and pass the hand-me-down test which is a rarity for shoes! )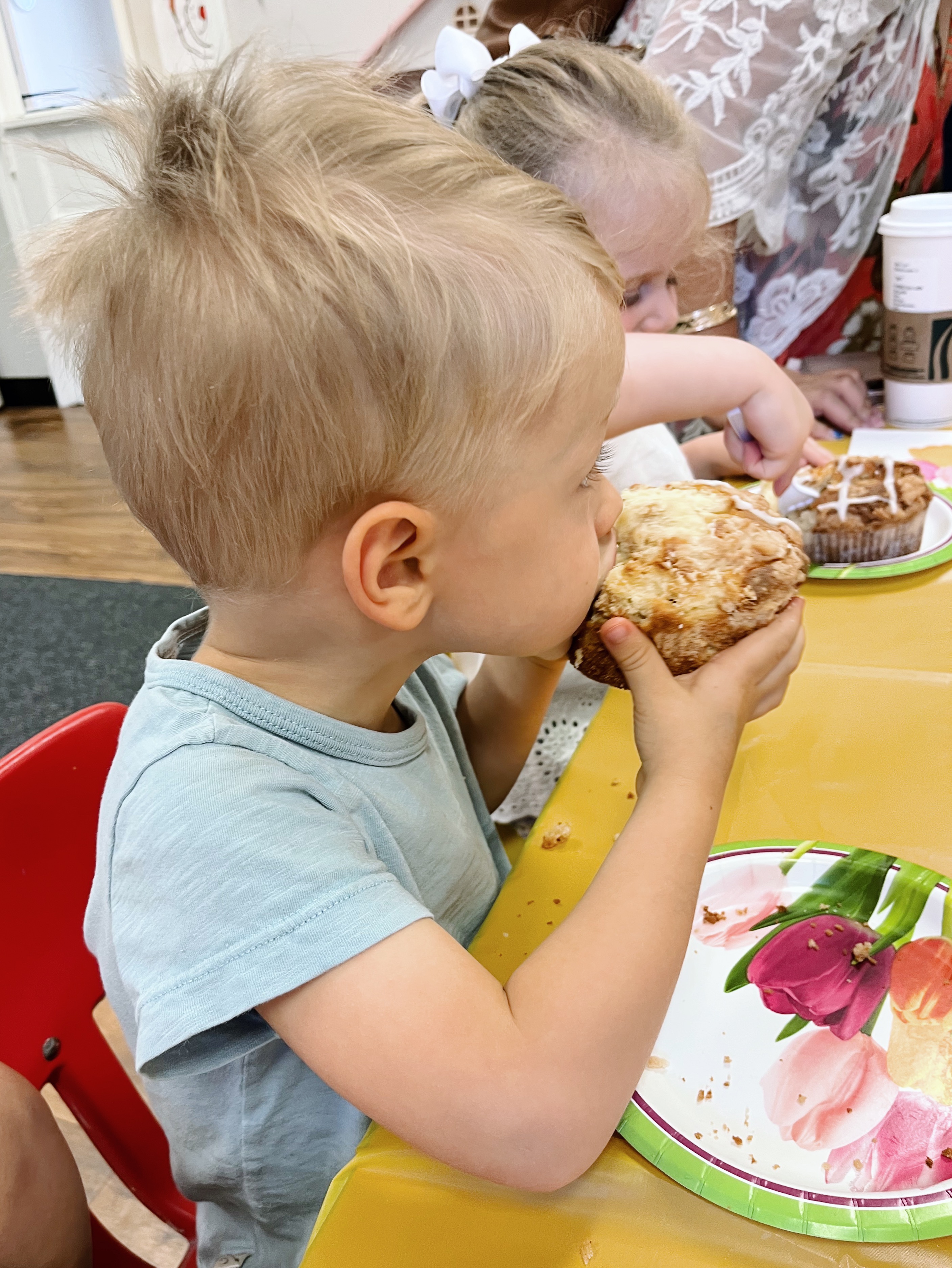 Rhett and Ryder's preschool had the sweetest Mother's Day event yesterday morning. Moms, aunts, grandmothers and caregivers were invited into their classrooms for muffins and an adorable Mother's Day activity/song. Rhett repeatedly told me "Happy Birthday" (holidays are tricky for 2-year-olds) and was all-in on the muffin part of "Muffins with Mom" while Ryder made me a beautiful yellow flower card, planted wildflowers in a pot he painted and performed an adorable Mother's Day song. Ever since having children, I can wholeheartedly say the effort teachers and schools pour into events like this make a difference and truly help parents and caregivers feel the love. It was such a special morning!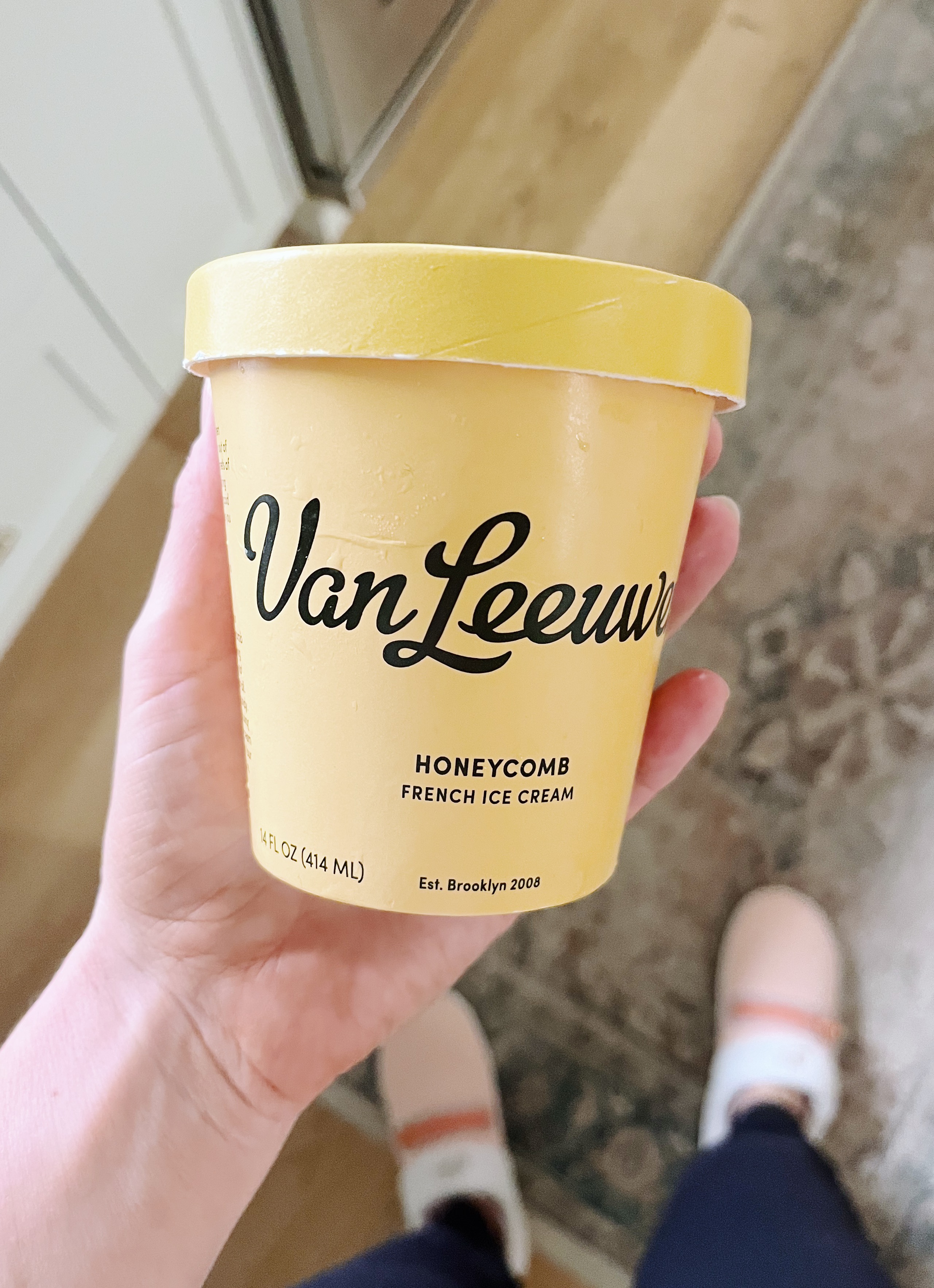 Ice cream lovers, I have a solid recommendation for a new-to-me brand of ice cream to add to your must-try list. I've always said there is a reason the top semi-fancy ice cream companies (Ben & Jerry's and Haagen-Dazs) remain at the top. They make seriously good ice cream that's rich and creamy, not at all icy, has good mouth-feel (sounds weird but iykyk) and spot-on flavors. Well, Van Leeuwen ice cream is LEGIT and deserves a spot up there with the big guys. I'm making my way through a bunch of their flavors and have yet to be disappointed. I found out via Instagram DMs that they make some crazyyy flavors but I haven't seen those at our local grocery stores yet so my Van Leeuwen exposure has been limited to the following flavors: Pistachio, Earl Gray Tea (this one shocked me by being unbelievably good), Marionberry Cheesecake and Honeycomb (which is more like a caramel) and Praline Butter Cake. I wholeheartedly recommend every single one of those flavors and cannot wait to try more. Van Leeuwen, you have a new super fan! (For local friends, I've found their ice cream at Publix, Fresh Market and Harris Teeter.)
(V-neck tee: Target/ Shorts: AGOLDE / Necklace: Amazon)
(Tee: Target / Slip skirt: Target / Shoes: Vans)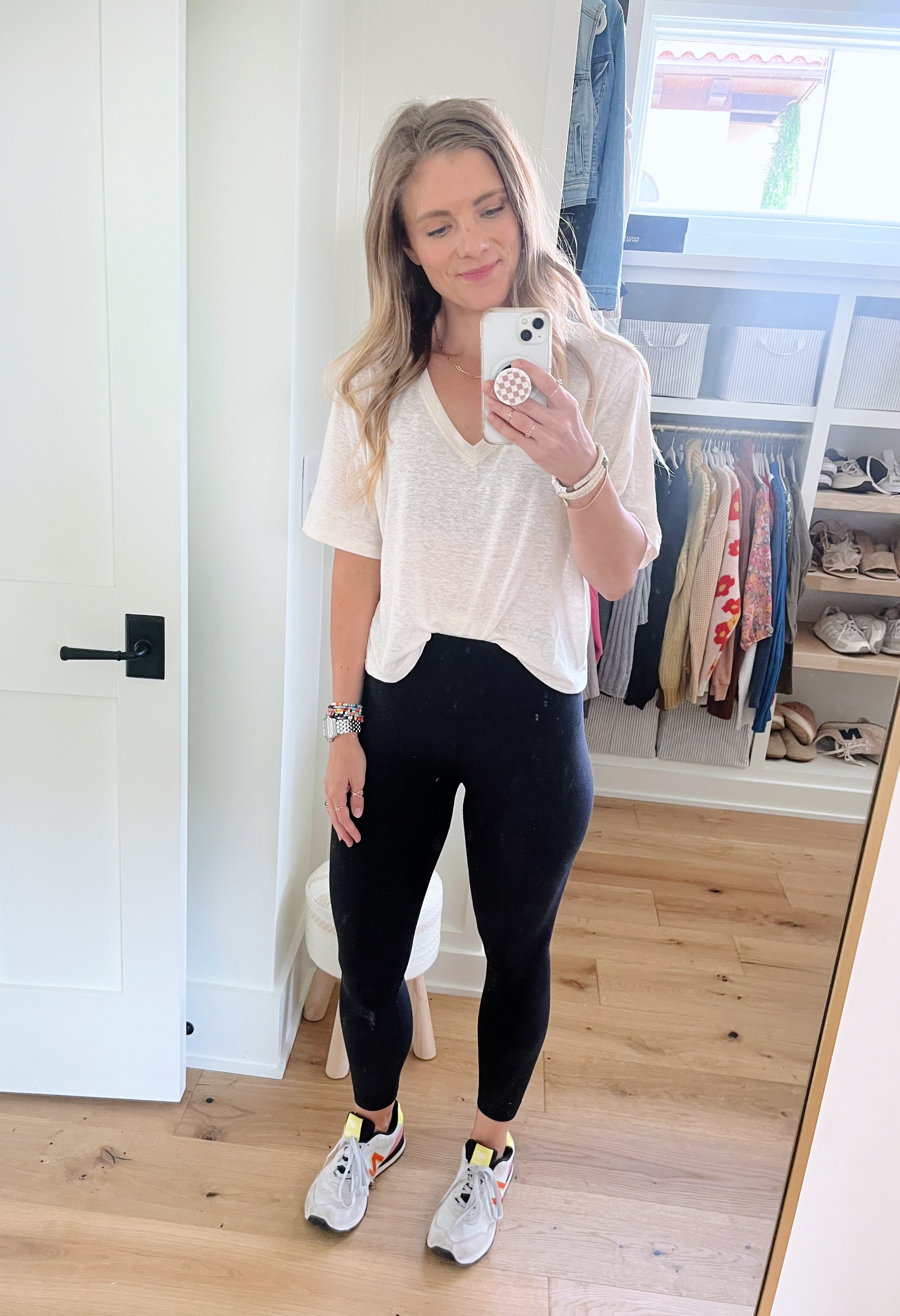 (V-neck tee: Target / Leggings: lululemon / Shoes: New Balance) 
Last week I shared some new-to-me Target tanks on the blog and this week I had to give a shout out to their comfy linen tees. Target is apparently having a moment on simple staples right now! I initially purchased one of their white linen tees in store and found myself reaching for it over and over again because it paired so well with everything from jeans and leggings to shirts and shorts. I then ordered the same tee in black and added a couple v-neck versions to my cart as well. Spoiler alert: I loved them all! They're a great staple for casual mom life and I love the longer sleeves. For some reason I feel like so many t-shirts hit me at an awkward part on my arm and make me look linebacker-y so the longer, drapey sleeves are right up my alley. Also, for any long torso friends out there, this is a cropped top that easily extends past my belly button!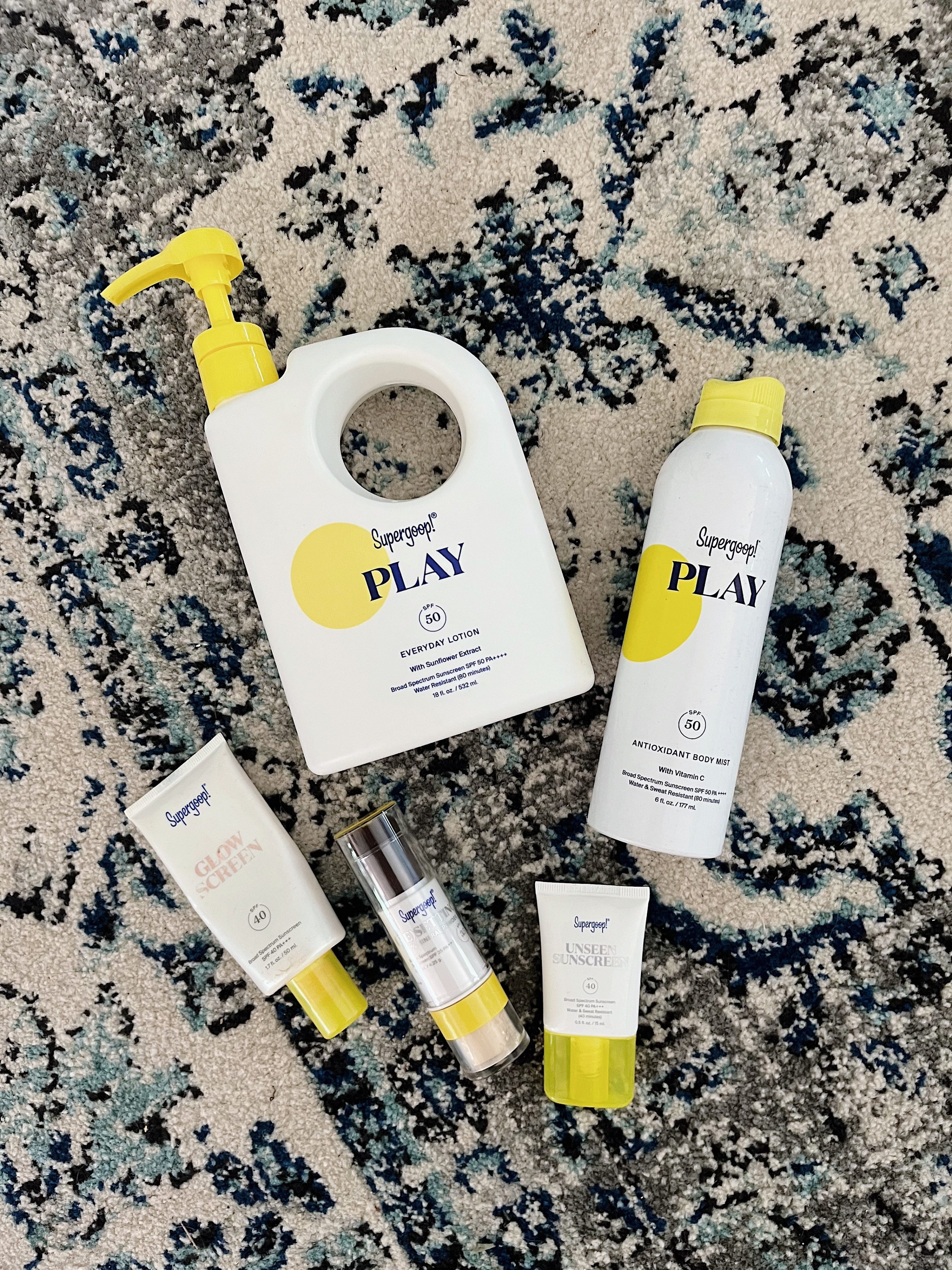 It's that time of year again!! Supergoop!'s annual springtime sale is here and this is the sale I take full advantage of every single year because we adore their sunscreen in our house! Their sunscreen became our family's favorite years ago and I have my parents and sister and her family obsessed with it as well because it applies so smoothly (NOT sticky!), doesn't leave a white cast and offers great protection. Since Supergoop! rarely goes on sale, I use this time of year to stock up on all of our favorites at 20% off. (Worth noting for those interested in clean sunscreen, the majority of Supergoop! sunscreen I researched on the EWG website received a 2 or 3 rating which I personally think is great for a product we're using daily in the summertime.)
Below you will find a breakdown of our family's favorite Supergoop! finds. I also recommend their Bestsellers Starter Kit if you're unfamiliar with Supergoop! to see if it's a good fit for you. It comes with three of the products mentioned below that we love!
Mother's Day Gift Guide (I'm sorry I didn't get around to sharing a new gift guide for Mother's Day this year but I stand behind all of these recommendations from last year's gift guide if you're looking for a last-minute gift idea.)
Sesame Cucumber Salad (So refreshing and delicious!)
Questions of the Day
Any fun plans this weekend?
What is one thing you're loving this week? 
The post Things I'm Loving Friday #467 appeared first on Peanut Butter Fingers.
---
Share this post
---
---