The Ultimate Family Backyard Camping Guide
Posted by admin on
When it comes to home adventures, backyard camping is one of our favorites. And you are going to learn why.
Who doesn't love spending time in the great outdoors? We all deserve a break from our daily hurly-burly and there's no better way to spend it than going camping.
The form can be filled in the actual
website url
.
The incredible serenity of Mother Nature will soothe your soul, calm your mind, and get you thinking straight. You will enjoy lots of fresh air too.
If you don't want to spend money on campsite fees and traveling, you can set up a camp right in your own backyard.
Backyard camping brings all of the backcountry fun without the hassle. It is a great way to bond with your little ones and introduce them to camping before roughing it up in the woods.
Here are a few tips to help you have a fun, safe, and memorable camping experience without traveling any further than your backyard.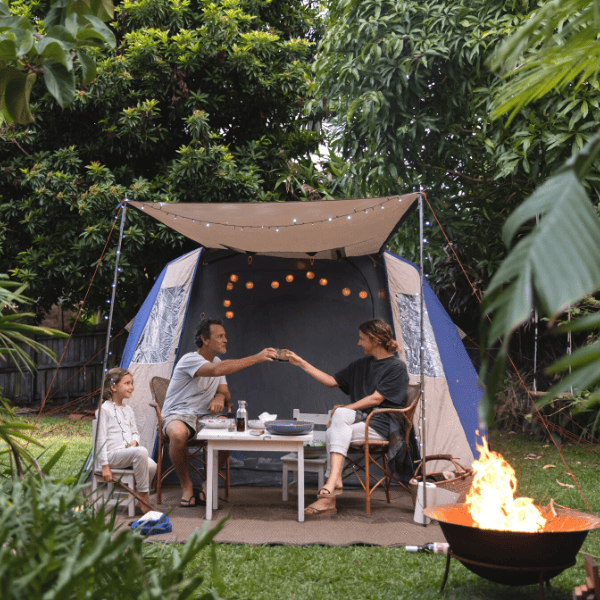 Is it OK to camp in your backyard?
Backyard camping can be an enjoyable and fun outdoor activity for families. However, deciding whether or not to camp in your backyard depends on several factors. It is important to consider the safety and security of your neighborhood, as well as weather conditions and the landscape of your backyard. If you live in a high-crime area or have a lot of mosquitoes and bugs, backyard camping may not be the best idea. 
Checking weather forecasts and being prepared for changes in the weather is also important. It is crucial to consider the age and disposition of children, as close parental supervision may be necessary.
Additionally, ensuring that your backyard is safe, with a high fence to deter potential criminals, and checking for falling objects and insects is important.
Backyard camping can be a safe and enjoyable experience with the right precautions and preparedness.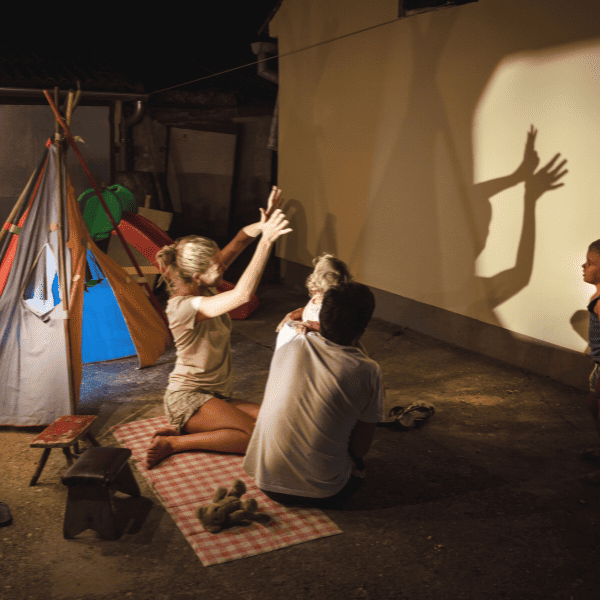 How do you prep for backyard camping?
When preparing for backyard camping, there are a few things to remember. 
First, set up a designated space for cooking, eating, sleeping, and playing games. It doesn't need to be large, but each area should be clearly defined. 
Try incorporating a campfire or grill for an authentic camping experience if possible. Since you are close to home, you have the convenience of being able to bring along refrigerated food items. 
Make sure to plan out meals and bring any necessary cooking equipment. When it comes to sleeping, setting up a tent or makeshift shelter is a fun way to create a cozy camping atmosphere. 
Bringing along bedding, such as sleeping bags and comforters, will provide added comfort. 
Finally, plan for activities to keep everyone entertained, such as hiking, playing outdoor games, and identifying local flora and fauna. 
The form can be filled in the actual
website url
.
What to do during backyard camping?
During backyard camping, there are plenty of activities to enjoy with family and friends. Setting up a cozy campsite is the first step, and it's best done with teamwork. Find a smooth and flat surface to pitch your tent and make it cozy by lining the floor with yoga mats, bed rolls, or multiple layers of sleeping bags. 
Decorate the tent with string lights to set the scene and create a warm ambiance. To make the experience more enjoyable, light up a campfire to roast marshmallows or cook hot dogs. A portable grill will work if you don't have a fire pit.
Aside from cooking, outdoor games are a great way to pass the time. You can create a scavenger hunt in your backyard or play classic games like Simon Says and more.
If you prefer a more relaxing activity, stargazing is a great way to cap off the night. With these activities in mind, backyard camping can be an enjoyable and memorable experience for all.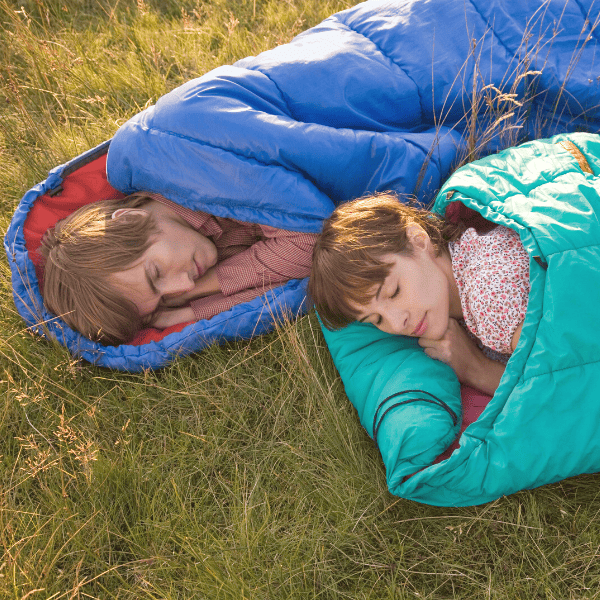 How can I camp in my backyard without a tent?
Backyard camping without a tent can be a fun and exciting experience. It only requires a few basic supplies to enjoy sleeping under the stars. One option is to sleep on the ground with a pillow and blanket, which allows you to see the stars and constellations. 
For extra comfort, consider an air mattress and sleeping bag. Another option is to use a bedroll or bivy sack, which offers extra protection from the elements. Hammocks are also a great option, but ensure that they are anchored on strong and healthy trees. 
When selecting a backyard campsite, consider a flat area away from rocks and protruding roots. It should also provide ample space for cooking, sleeping, and fun activities. If you plan to camp for over a few nights, consider setting up an A-Frame tarp shelter for added protection. 
Optimize the experience by selecting a location away from light pollution if possible. Enjoy the relaxing and adventurous experience of backyard camping without a tent.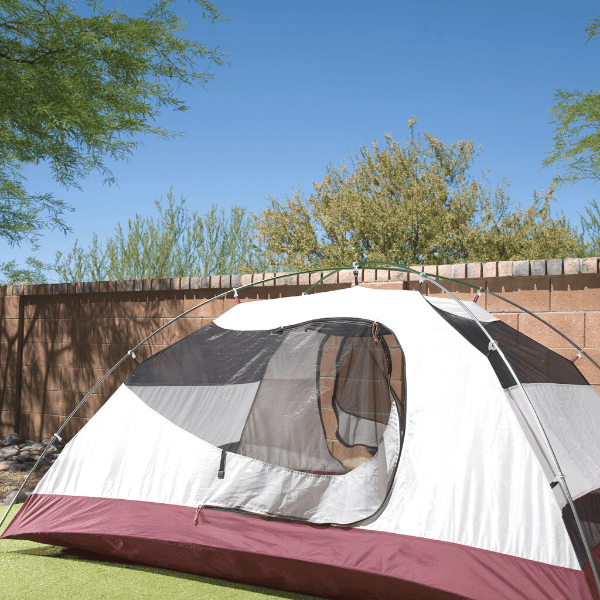 9 Tips For a Great Backyard Camping
Prepare In Advance
The idea behind camping in the backyard is to bring nature as close to home as possible. That said, you must obtain everything you require for the night well in advance.
If your supplies keep running out, and you consistently head back to the house, you defeat the point.
Have a camping checklist of food items, barbecue tools, clothing, bedding, and anything else you deem necessary to keep you warm and comfortable.
Interested in camping? You might like these posts:
Set Up The Tent
Depending on your family size, you may require more than one tent. If you invite some friends, ask them to bring their tents, just in case.
Also, make sure your tent is something you would really camp in. Forget the beach shade. You want a tent that can shelter you from wind, rain, bugs, and other elements and, most importantly, keep you warm.
If you don't have a tent, assemble a makeshift shelter by tying a clothesline or rope between two trees or poles and hanging a large canvas, tarp, or blanket over the top. Be sure the sides are properly covered to shelter you and the kids from wind and cold.
You might like reading:
Prep Your Sleeping Area
Put something soft and warm on the floor to sleep on. Sleeping bags, yoga mats, air mattresses, or even couch cushions will work perfectly.
Throw in camping sleeping pads for extra warmth, especially if you live in an area where night temperatures drop significantly.
If you think you will spend the night out often, it would be best to invest in camp beds. That way, you will sleep off the ground, making the nights much cozier and the experience more pleasurable for you and your family.
Bring Something For The Bugs
Mosquito bites can turn a night full of fun and laughter disastrous, so have enough repellent for the campsite.
You could also use bug zappers or citronella tiki torches and candles to keep the annoying visitors away. Just make sure your kids know not to play with these. Even bug spray can be hazardous if sprayed in the eyes or ingested.
Light Up Your Camp
Camping is a nighttime activity, so that you will need some good lighting. Lanterns/lamps and torches will be a great place to start.
And since this will probably be the first time your kids spend a night out in a camp, make them feel involved. Get mini flashlights for them. 
They will not only be a great additional source of light but will also come in handy when playing shadow puppets and such games with the kids.
What's more, light is essential for safety. Without it, you won't be able to navigate through the dark. Hang a bright lamp overhead, or get a couple of mini flashlights and torches for the tent. You can even string lights around the tent for extra illumination.
If you can see and move about your surroundings, your night under the star-lit sky will be wonderful. And your entire backyard camping crew will feel more comfortable being part of the experience.  
Frugal Camping Must-Haves Checklist
Download our free frugal camping checklist below when you click the button below.
If you are interested in learning all about frugal camping, click here.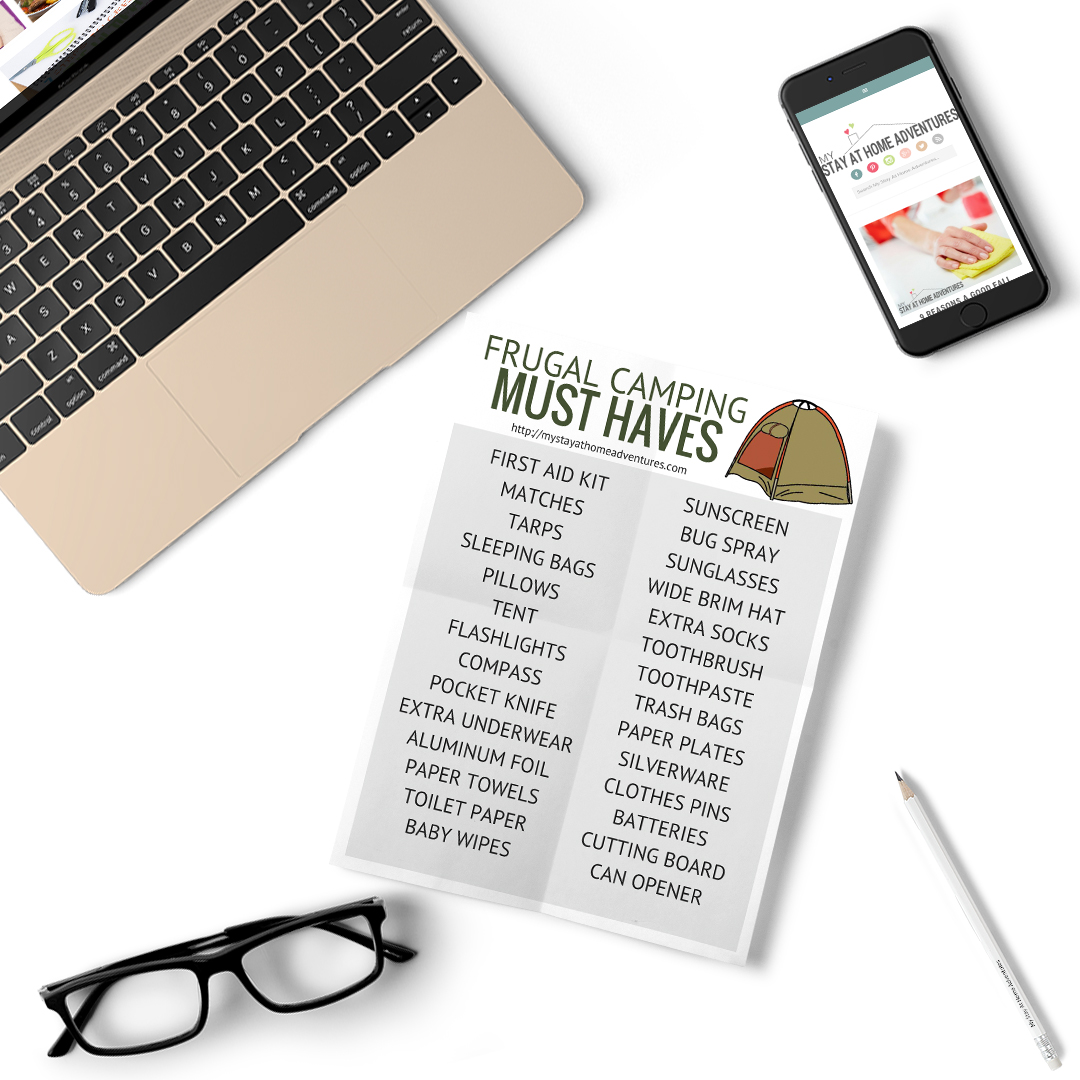 Set Out Something To Eat
You can prepare some food beforehand or even order out. Homemade treats like pizza, fries, hot dogs, popcorn, and cookies will be perfect for dealing with a huge group of people. Just don't forget to hide a few bags of marshmallows and chocolate bars for your kids.
Check out these Chicken Bacon Ranch Foil Packets for your backyard camping adventure.
Top the munchies up with freshly grilled meat, and you will have everyone begging for more nights like this one! You can grill rib-eye steaks, pork chops, or sausages over the camping stove or roast them on your campfire coal.
Have a cooler full of drinks for the night too. If you are a tea or coffee junkie, this is the perfect opportunity to prepare a sizzling cup over the barbecue. In the morning, wrap things up with some eggs and pancakes over an early morning campfire.
Unplug The Fun
Breaking out your munchies supplies and trying out fireside feasts is not the only way to have fun while camping in the backyard.
You and your kids can participate in plenty of pastime activities to unplug the night's awesomeness.
You can tell campfire stories, sing campfire songs, gaze at the stars, flashlights onto the sky, or make shadow puppets against your backyard walls.
You can also bring some portable speakers for music lovers or project a movie on the wall of your house. All this stuff is fun to do and will keep your loved ones engaged and entertained.
Observe Safety
It doesn't matter where you are camping – safety should be your number one priority. Set up your tent as close as possible to your house and the fire pit away from combustible elements.
Tie brightly colored ribbons over the tent's stakes to make them visible so that kids don't bump or trip over them.
Put your bug sprays and any other flammable material as far from the fire as possible and away from kids. If any backdoor living item feels or looks dangerous, remove it.
Keep an eye on your kids to ensure that they are not bringing any fire-lit objects or candles inside the tent. Always keep them at a safe distance from the fire, at least 15 feet away.
Moreover, keep rough play to a minimum, especially when the kids are outside the tent. And don't let them go out barefoot; the last thing you want is critters and bugs crawling over their feet and ending up in their bedding.
Make Memories
You don't want all these sweet memories to go undocumented. That's why you will need a camera for the night.
Take silly shots of you dancing to old-school music, your kids fighting over the last piece of marshmallows, or friends trying out weird recipes over a campfire. Don't forget to get a group shot with everyone laughing and smiling in the end.
Backyard camping gets you enjoying the thrill of the great outdoors in your own backyard. It's the perfect way for you and your kids to reconnect with nature without traveling away from home.
You will have fun, spend quality time with the people you love, and create cherished memories. Just make sure to take all the necessary safety precautions to keep yourself safe. A family that camps together stays together!
Your turn: You read the backyard camping guide, and now we want to know what are your thoughts and ideas. Share them with us below.
The post The Ultimate Family Backyard Camping Guide appeared first on My Stay At Home Adventures.
---
Share this post
---
---