Coronation Facts Food & Fun
Posted by admin on
On May 6, 2023, King Charles III will be coronated at Westminster Abbey on Saturday morning. Festivities will follow Sunday and Monday. This is a great opportunity to teach British history in a fun way with facts, food, and fun learning activities.
Coronations are big events in England! The last one was Queen Elizabeth II's coronation in 1953.
When a king or queen dies, the heir to the throne immediately becomes the next queen or king. A coronation is the official grand ceremony where the royal crown is placed on the new monarch (king or queen) and prayers are said for him or her, and the entire nation.
The way that the English monarch is crowned has been the same for almost 1,000 years. The first king to be crowned in Westminster Abbey was William the Conqueror on Christmas Day 1066. The most recent coronation was Queen Elizabeth II's on Tuesday June 2, 1953. Her coronation was the first to be televised and broadcast on radio.
King Charles III will be crowned in Westminster Abbey Saturday May 6, 2023.  Born in 1953, he is the oldest monarch to ascend the throne at the age of 74. Many changes take place in the United Kingdom when a new king or queen is crowned. Charles III's image or cypher will be added to their coins, banknotes, post boxes, uniforms, and flags.
Coronation Schedule Saturday
9:45: 1,000 military members will line the processional route.
10:20: Procession of King Charles III & Queen Camilia from Buckingham Palace to Westminster Abbey accompanied by Household Calvary in the Diamond Jubilee State Coach.
10:53: Arrive at Westminster Abbey
11:00: Coronation service officiated by Archbishop Justin Welby begins
Noon: Charles III officially crowned as king with St. Edward Crown during the service.
1:00: Charles III & Camilia head back to Buckingham Palace in the Gold Stage Coach. Other members of the royal family will join the procession.
1:33: Arrival back at Buckingham Palace followed by military salute and three cheers in the Garden Terrace.
2:15: Charles III & Camilia greet folks from the balcony and enjoy a flypast.
Sunday Coronation Events
Street Parties "The Big Lunch" across the country
Evening Concert at Windsor Castle
Light Show
Monday Coronation Events
Monday is a bank holiday throughout the UK
The "Big Help Out" (volunteer opportunities throughout the country)
There will also be private celebrations throughout the city. For example, the Ritz Hotel is throwing a dinner/ball Saturday evening. https://www.theritzlondon.com/find-an-offer/dining-offers/king-charles-iiis-coronation-ball/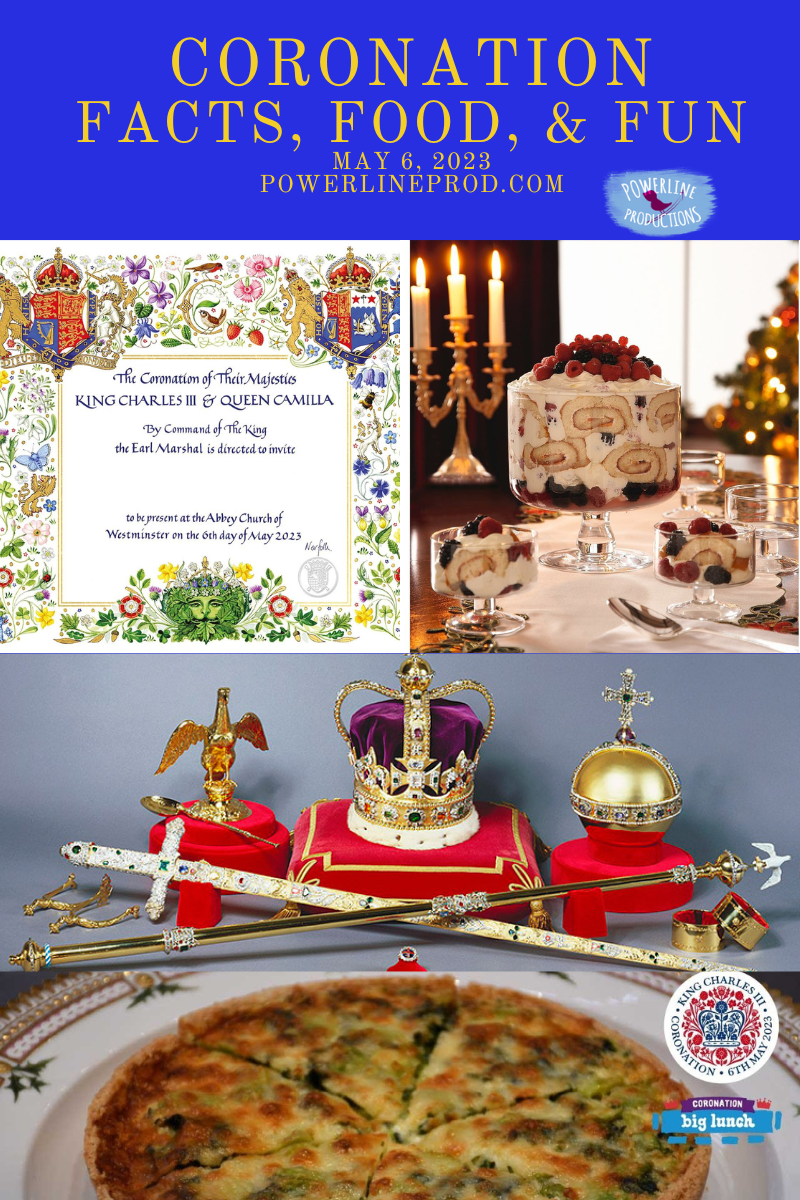 Royal Coronation Menu
King Charles & Queen Camilia will enjoy a delicious Big Lunch at Windsor Castle on Sunday. Their menu includes:
Roast Rack of Lamb with Asian-Style Marinade
Coronation Quiche
Prawn Tacos with Pineapple Salsa
Aubergine (eggplant)
Strawberry & Ginger Trifle
Make Roast Rack of Lamb, Coronation Aubergine, & Strawberry & Ginger Trifle: https://www.countryliving.com/uk/create/food-and-drink/a42797558/king-charles-coronation-recipes/
Make Coronation Quiche: https://www.veranda.com/luxury-lifestyle/a43660236/official-coronation-menu/
BBC's Collection of Coronation Celebration Recipes: https://www.bbc.co.uk/food/collections/coronation_party_recipes
Fun: Create your own Coronation Big Lunch or Coronation Tea menu. Decorate it to make it a beautiful work of art. Then prepare the food and eat it while you watch the coronation on TV.
Procession to Westminster Abbey Route
King Charles and Queen Camilla will travel from Buckingham Palace to Westminster Abbey via The Mall through Whitehall. After the ceremony, they will reverse their course. Folks will gather on the streets to cheer and wave as they go by in both directions.
Fun: pull up this area of London on Google Maps and get a closer look at the places they will ride by.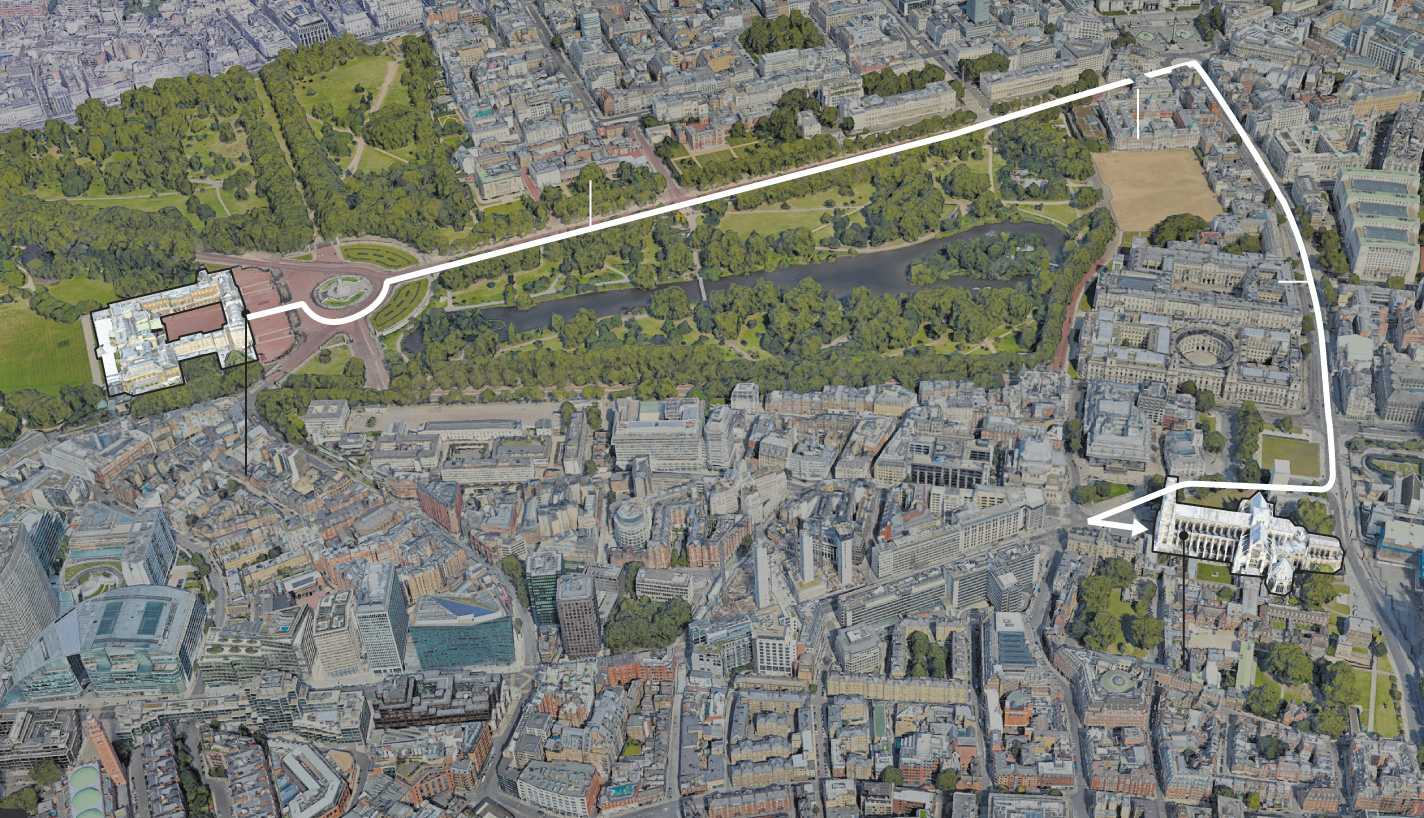 Diamond Jubilee Coach
King Charles & Queen Camillia will ride to the service in the Diamond Jubilee Coach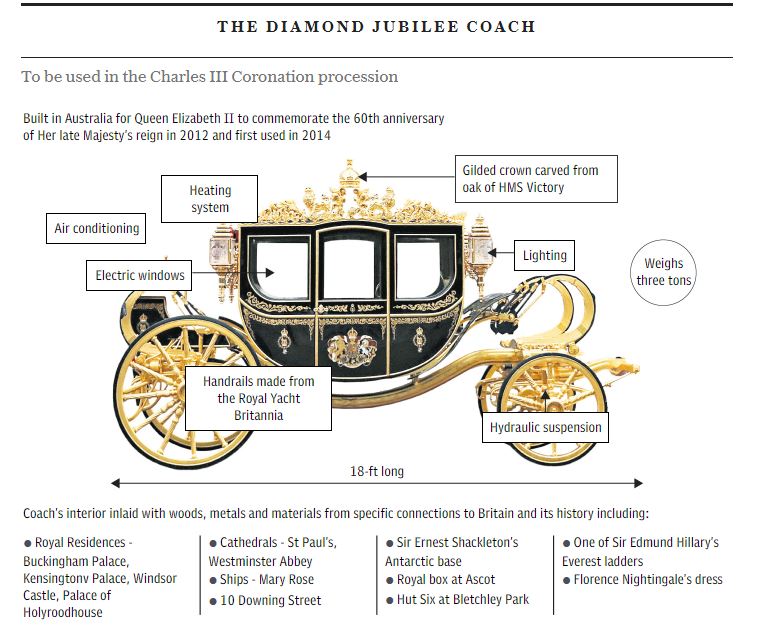 Fun: Design your own coach for the coronation.
Service at Westminster Abbey
Unlike his mother Queen Elizabeth II, a devout Christian, Charles III has changed up the traditional Anglican church service to include Buddhist, Hindu, Jewish, Muslim and Sikh leaders taking part in the ceremony. Though Charles will be the "supreme governor" of the Church of England and "defender of the Christian faith," he wants to be inclusive to other religions and reflect the post-Christian status of his country.
It is sad to see the baton pass from a woman of faith in Christ to a man who has not yet found a relationship with Jesus who is the Way, Truth, and Life, Himself declaring that NO ONE comes to the Father except through Him.
Here is the Coronation Liturgy. https://www.churchofengland.org/coronation/liturgy
Fun: Research what the Bible say about Kings and Leaders.
Crown Jewels
Housed at the famous Tower of London (a castle), the Crown Jewels are a national treasure with over 100 pieces. The collection includes crowns, orbs, scepters, and a 12th century spoon used to annoint the new monarch at the coronation ceremony.
St. Edward's Crown, the Sovereign's Scepter with cross, and the Sovereign's Orb. For more information about the crown jewels, read "The Crown Jewels: Coronation Regalia" on the Royal Trust Collection website: https://www.rct.uk/collection/themes/Trails/the-crown-jewels-coronation-regalia There are some beautiful pictures in the article and links to more information.
Fun: Make a Crown out of cardboard and fake jewels. Or design your own "Crown Jewels".
Resources to Learn More about UK Royalty & British History
Travel to London, one of the most exciting and education cities in the world,  with me in Travel to London Unit Study. Get your passports ready, make your hotel reservations, get your plane ticket, and let's go! We will have a blast learning about kings, queens, historical events, lovely gardens, famous people, heroic Christians, beautiful castles, and amazing museums. You and your children will have so much fun that you won't even realize you're learning.
Grab your copy  of Travel to London Unit Study today and learn history and geography the fun way!
Grab your copy of Let's Have Our Own Victorian Tea and celebrate the Coronation in style! 
In Let's Have Our Own Victorian Tea, learn how Meredith has hosted her own Victorian Tea including setting up/decorating the venue, scheduling the event, planning the menu, and dressing for the occasion. All plans are created to be adaptable to you and your family. The planning process is broken down to keep it simple. We have included conversation starters, hostess descriptions, decorating tips, fashion tips, Victorian poetry, and tons of recipes! You and your guests will have a cozy, elegant time. As a bonus gift, we have included templates to make your own lovely cardstock teacup.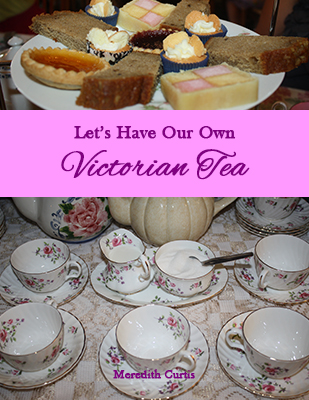 Resources to Learn More about the Coronation
What is a Coronation pdf: https://www.rct.uk/sites/default/files/resources/PowerPoint%20Presentation_What%20is%20a%20Coronation.pdf
Castles (after Norman Invasion): https://www.rct.uk/resources/video-windsor-motte-bailey-castles-and-the-norman-invasion
Coronation Learning Resources: https://www.hrp.org.uk/schools/the-tower-of-london-schools-coronation-competition/coronation-learning-resources/primary/
Family Tree of King Charles III Game: https://www.busythings.co.uk/play/?try=school&autosetup=age911&activitytag=ws_charles_iii_tree_lbl
Learn about and to sing the British National Anthem God Save the King (Queen) https://www.classicfm.com/discover-music/british-national-anthem-lyrics/
Crowns to print and make https://www.madeformums.com/toddler-and-preschool/queen-and-king-paper-crowns-to-print-and-make/
Until next time, Happy Homeschooling!
Warmly,
Meredith Curtis
---
Share this post
---
---