25 Easter Activities For Toddlers
Posted by admin on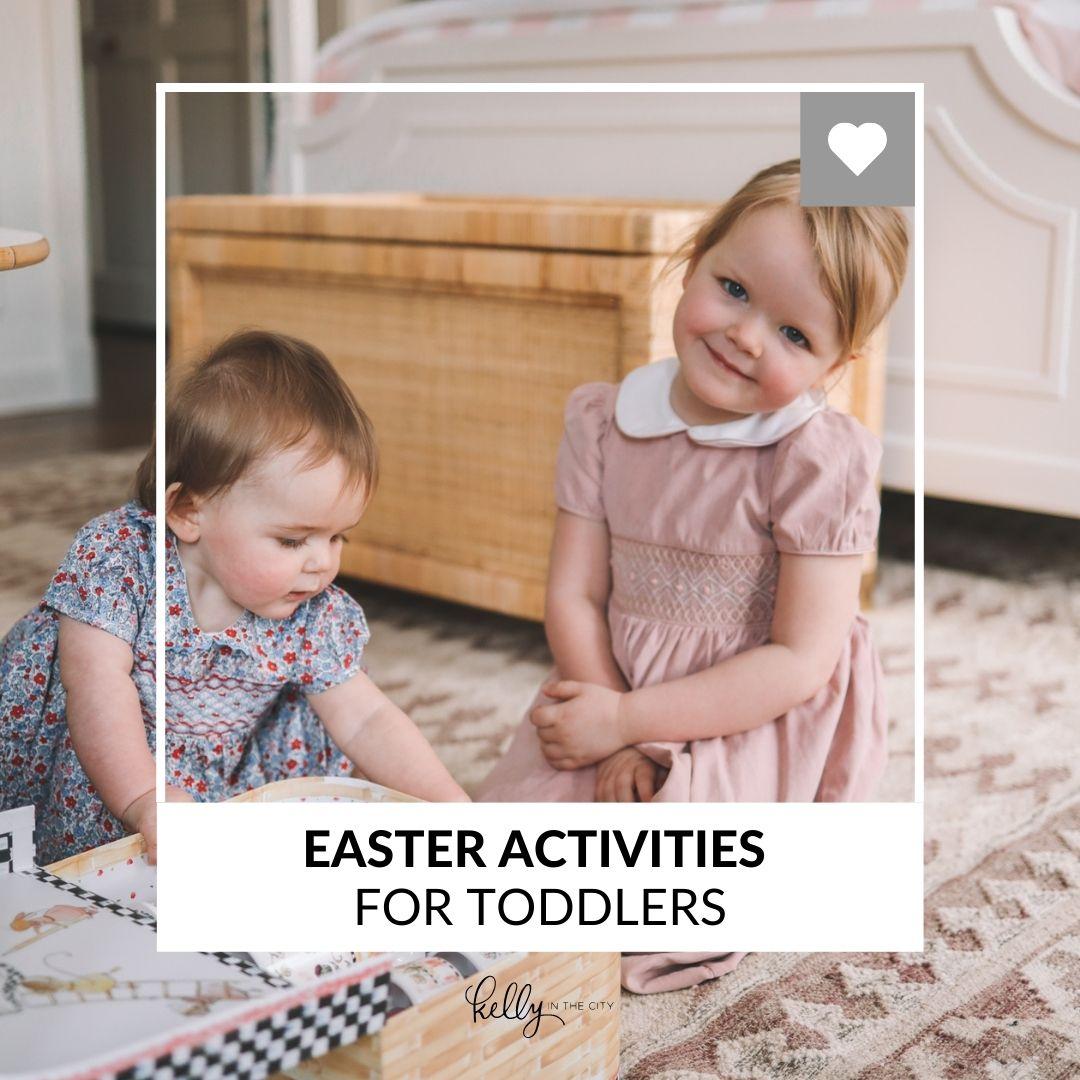 Springtime is here, and with it comes one of our favorite holidays: Easter.
From the bright colors to the sweet treats, Easter is a time for fun, family, and celebration. And if you have little ones, you know that finding ways to introduce them to the joys of the season can be a challenge. 
I've learned over the years that having a few activities planned (and don't forget the decor!) will even get the dog excited for Easter! HA! BTW – Noodle is still taking it easy with the sprain, but still ready for some Easter fun!
Luckily, there are plenty of Easter-themed activities that can help your toddlers get into the spirit of the holiday, while also giving them a chance to develop their skills and creativity. Whether you're looking for Easter craft ideas, games, or sensory activities, I've got you covered with a list of 25 Easter Activities for Toddlers. So let's hop to it and explore all the ways you can make this Easter one to remember!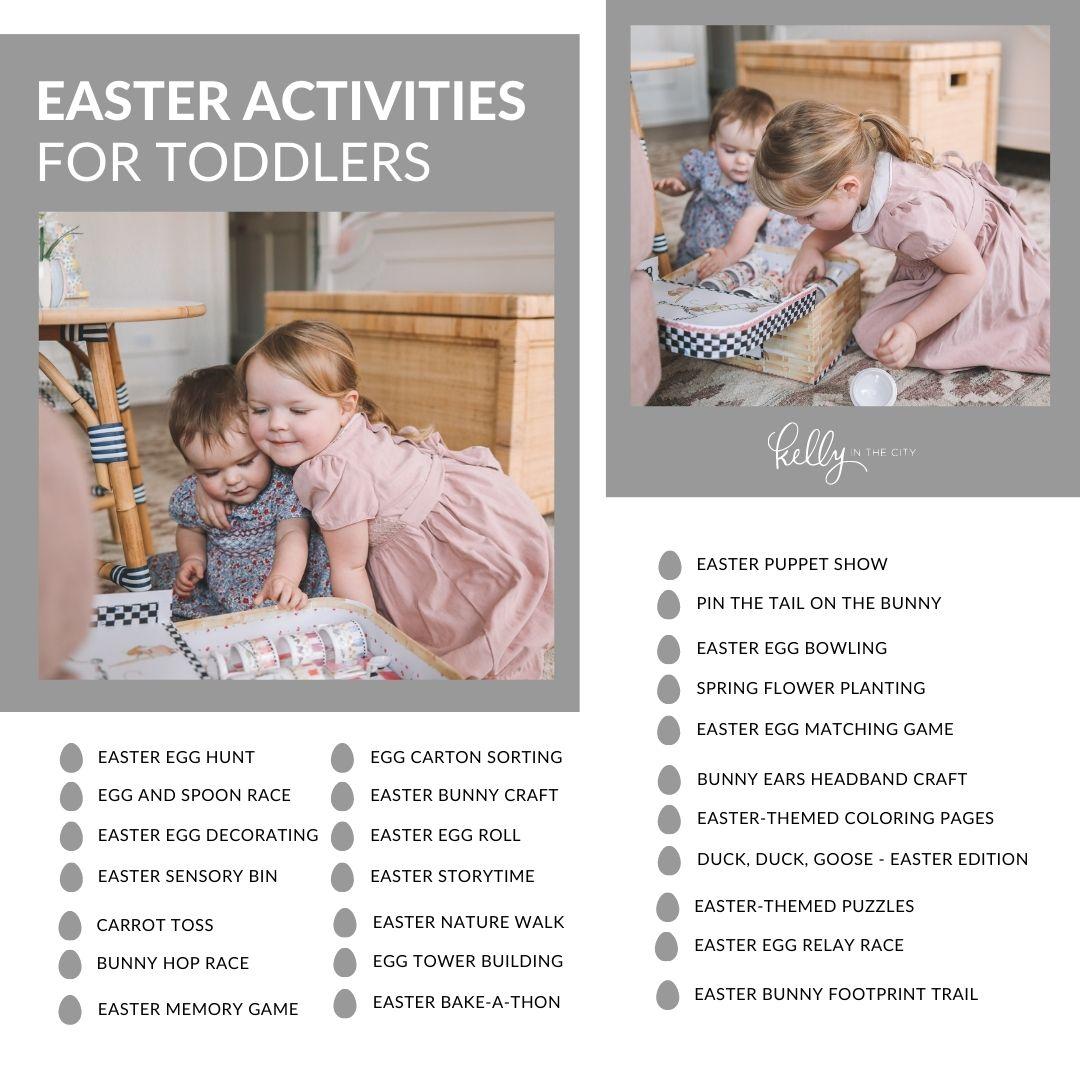 25 Easter Activities For Toddlers
Easter Egg Hunt
Easter Egg Hunt – the classic Easter activity for toddlers that brings excitement and anticipation to the holiday! Whether hidden in the yard or tucked away inside the house, plastic eggs filled with small treats or toys are waiting to be discovered. This activity promotes exploration and helps develop motor skills as toddlers search for colorful eggs and fill their Easter baskets (you can monogram these!) or bags with treasures. With the joy of discovery, it's sure to be a memorable and fun-filled experience for the whole family!
Egg and Spoon Race
Ready, set, race! The Egg and Spoon Race is an exciting Easter activity for toddlers. All you need are plastic eggs, spoons, and a start and finish line. Balancing an egg on a spoon promotes concentration and fine motor skills. Plus, the whole family can join in on the fun, racing from start to finish without dropping the egg. Take the game outdoors for a spacious location or use real eggs. Anticipate some egg-citing Easter fun that brings the family together!
Easter Egg Decorating
Unleash your toddler's creativity with Easter Egg Decorating! This fun arts and crafts tradition promotes fine motor skills and self-expression. You'll need hard-boiled or plastic eggs, non–toxic paint or markers, stickers (like these or these), and other decorative items. Set up a decorating station and let your little ones personalize their eggs. This activity is perfect for indoors, just protect the table with a covering to minimize mess. Get excited to create egg-ceptional works of art this Easter!
Easter Sensory Bin
Looking for a fun Easter activity for your toddler? Try the Easter sensory bin! It promotes curiosity and exploration skills. All you need is a container, filler material, and Easter-themed items like eggs or bunnies. Hide the items inside and encourage your toddler to dig, search, and play. It can be done indoors or outdoors on a surface that's easy to set up and just as easy to clean. 
Egg Carton Sorting
Egg Carton Sorting is an educational and fun game for toddlers that helps develop color recognition and sorting skills. All you need is an empty egg carton, plastic eggs, and small objects that match the colors of the eggs. Simply place the colored items in the plastic eggs and encourage your toddler to sort them into the carton by matching the colors. This activity can be done indoors at a table or on the floor, making it a convenient and enjoyable Easter activity. 
Easter Bunny Craft
Get crafty with your toddlers this Easter by creating an adorable Easter Bunny keepsake! With just a few materials, such as paper plates, cotton balls, glue, markers, and construction paper, your child can develop creativity and motor skills. Help your child glue cotton balls onto the paper plate to create the bunny's face, then assist them in cutting out and gluing on ears and facial features. This fun and creative activity can be done indoors at a table with a protective covering.
Easter Egg Roll
Get Easter rollin' and gather around for a classic toddler Easter activity: the oh-so-fun Egg Roll! Perfect for developing your toddler's motor skills, simply set up start and finish lines and let the giggles begin as they roll hard-boiled eggs across the lawn. Timeless, fun, and adorable—your family will love this Easter tradition! 
Easter Storytime
Winding down the Easter holiday? Get cozy with your little ones for some heartwarming Easter storytime! Easter-themed books, like "The Bunny Rabbit Show!" by Lily's favorite author, create a fun atmosphere and help your toddlers learn to listen, develop their language skills, and grow to love reading. Grab a selection of charming Easter books, snuggle up in a cozy nook or with comfy pillows on the floor, and share precious moments reading aloud to your little bunnies.
Carrot Toss
Mamas, let's hop into a playful carrot toss activity for the little ones! Toddlers will be delighted tossing toy bunnies & carrots, bean bags, or small stuffed animals into a basket or bucket, while improving their hand-eye coordination and motor skills. All you need is a set of cute tossing items and a basket or bucket. Set up the target, adjust the distance to suit your toddler's abilities, and watch them have a blast, indoors or outdoors!
Bunny Hop Race
Get ready to hop into the Easter spirit with the Bunny Hop Race! Your little ones will be hopping like Peter Cottontail and bringing loads of delight to the exciting day. This adorable activity will help your toddler get stronger and more coordinated, making it the perfect addition to their Easter party. All you need is a start and finish line and plenty of space for your toddlers to hop along. Have them line up at the start line and race to the finish line only by hopping like a bunny. Buckle up for some egg-stra special Easter memories with your little bunnies!
Easter Bunny Footprint Trail
Peter Cottontail is on his way! Add a sprinkle of mystery to your Easter celebrations with a charming Easter Bunny Footprint Trail!

This enchanting activity encourages exploration and problem-solving skills in your little ones. Simply cut out bunny footprint shapes from paper, then tape them indoors or draw them with chalk outdoors to create a magical trail. Watch your toddler beam with delight as they follow the path, leading to a delightful surprise or treat!
Easter-Themed Puzzles
This is an easy way to engage your little ones' minds with delightful Easter-themed puzzles! These cute and fun challenges will help your adorable toddlers learn how to solve problems, work together, and focus. Simply choose Easter puzzles suitable for their age and skill level, and set them up at a table or on the floor. If you're on the hunt for something for both toddlers and preschoolers, grab this Easter Counting Activity Book! Watch your little bunnies enjoy hours of delightful, focused fun!
Easter Egg Relay Race
Switch out of those dress shoes and gather your little ones for an exciting Easter Egg Relay Race! This team-focused activity is perfect for developing teamwork, communication, and gross motor skills. Simply set up two baskets or buckets, plastic eggs, and a start and finish line. Divide the children into teams and watch them collaborate as they race to transfer the eggs without dropping them—using only their hands or a spoon. A delightful outdoor adventure in a yard or park, and a perfect way to bond this Easter!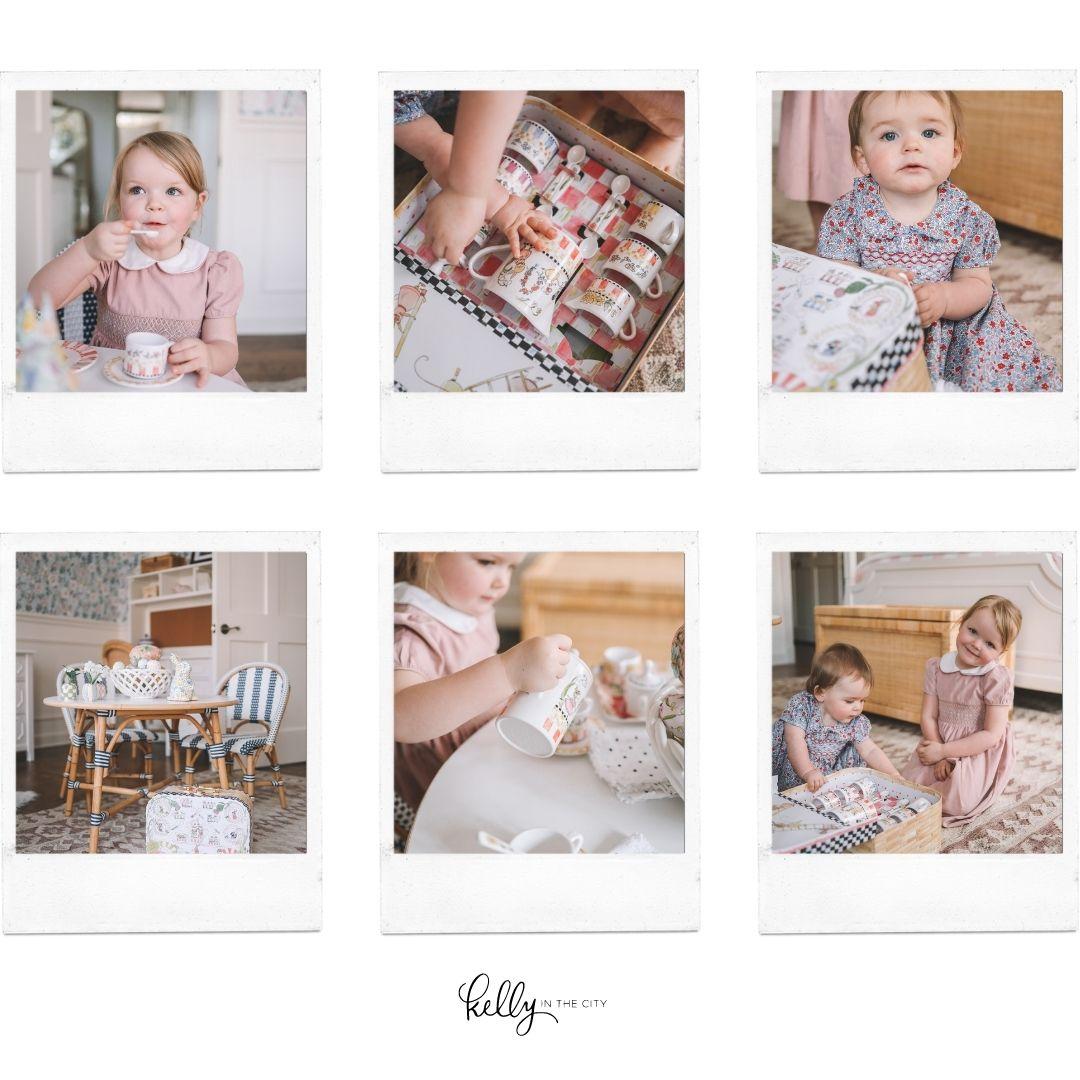 Easter Nature Walk
Spring has sprung, so let's take our little bunnies on a delightful Easter nature walk! This enchanting outdoor activity encourages curiosity, observation skills, and physical activity. Explore the beauty of spring with your toddler while wearing comfortable clothes and shoes. Point out Easter decorations, flowers in bloom, baby animals, and other signs of the season. Enjoy this bonding experience outdoors, whether in a park, nature reserve, or around your charming neighborhood. 
Egg Tower Building
Grab your hard hats because it's time to get creative with the egg-citing Egg Tower Building! This fun and creative Easter activity helps your little ones learn how to solve problems, be creative, and use their fine motor skills. Just get a lot of plastic eggs and a big space, and your toddler can build towers by stacking and building them on their own or with other kids. This delightful activity will have your little bunnies creating marvelous egg masterpieces indoors, at a table or on the floor.
Easter Bake-A-Thon
Treat that Easter sweet tooth and whisk up some fun with an Easter Bake-a-thon! Your little bakers will adore making and decorating Easter-themed treats while promoting fine motor skills, direction-following, and creativity. Gather baking ingredients, cookie cutters, icing, and cute decorations, then choose simple, fun recipes for cookies, cupcakes, or other tasty treats. Together, in the warmth of your kitchen, help your toddler mix, shape, and decorate their scrumptious creations. Bon appétit, my darlings! 
Easter Puppet Show
Get ready to bring some Easter cheer and imagination to life with an enchanting Easter puppet show! This fun activity will keep your little ones busy while helping them improve their listening skills, creativity, and ability to play make-believe. Gather Easter-themed finger puppets or larger stuffed animals and set up a cozy puppet theater or a simple curtain or blanket stage. Weave a story featuring the Easter Bunny and other festive characters, then invite your toddler to join in, taking turns acting out the captivating tale. This is the perfect indoor activity for a magical playroom or living room experience! 
Pin The Tail On The Bunny
Hoppy boys and girls, gather 'round and add a festive twist to a classic party game with Pin the Tail on the Bunny!
This delightful activity promotes body awareness, spatial orientation, and coordination in your little ones. Simply prepare a large bunny poster or drawing, removable adhesive, and fluffy "tails." Hang the bunny at toddler height in a spacious room. Gently blindfold each child, give them a fluffy tail, and spin them carefully before guiding them to the poster, where they'll attempt to pin the tail in the right spot. A hopping good time awaits! You can also find a full set for this game, including the blindfolds, tail, and more, HERE. 
Easter Egg Bowling
How much fun is it to add some Easter flair to a beloved game with Easter Egg Bowling! This fun activity helps develop gross motor skills and hand-eye coordination for your little ones. Grab plastic Easter eggs, small pins, or empty water bottles, and set them up in a triangle formation on a flat surface. Give each child a colorful egg and watch them gleefully roll it toward the pins to knock them down. Perfect for indoor or outdoor play, depending on space and weather. Let the Easter fun roll on!
Spring Flower Planting
Let's welcome the Easter season with Spring Flower Planting! This fun activity brings your kids closer to nature and helps them develop responsibility, fine motor skills, and an appreciation for the natural world. Gather flower pots or a planting bed, soil, seeds or seedlings, gloves, and a small shovel. Help your toddler plant the seeds or seedlings, following the instructions on the seed packets or plant tags. Encourage them to lovingly water and care for their blooms as they grow. A delightful outdoor adventure, perfect for a yard, balcony, or sunny window spot! 
Easter Egg Matching Game
Matching mamas, let's engage those brilliant little minds with an Easter Egg Matching Game! Your toddlers will love trying to find the right half of a colorful plastic Easter egg and put it back together. This delightful game helps develop color recognition, memory, and fine motor skills. Simply separate the egg halves and scatter them around the room. Watch your little ones eagerly search and match the halves by color or design in a charming playroom or living room setting. A fun and educational Easter treat! 
Bunny Ears Headband Craft
Get crafty with your toddler this Easter by making bunny ear headbands! They'll love creating their own unique headbands and pretending to hop around like bunnies. All you need are headbands, construction paper/foam sheets, glue/tape, and decorations like markers/stickers. Cut out bunny ear shapes, attach them to the headband, and decorate for an extra touch of fun! Perfect for indoor play at a table with a protective covering.
Easter-Themed Coloring Pages
Easter-themed coloring pages are fun for toddlers and promote fine motor skills, creativity, and hand-eye coordination. You'll need Easter-themed coloring pages and non-toxic crayons or markers. Download an Easter printable or purchase the pages, provide the coloring tools, and let your toddler create their masterpiece indoors at a table with a protective covering.
Duck, Duck, Goose – Easter Edition
This Easter-themed version of the classic game Duck, Duck, Bunny gets kids moving, talking to each other, and listening. All you need is a group of children sitting in a circle and a "picker" to walk around tapping heads and saying "duck" until they pick a "bunny." The "bunny" chases the "picker" around the circle, trying to tag them before they take the "bunny's" seat. Play indoors or outdoors!
Easter Memory Game
This Easter memory game is perfect for toddlers to improve concentration, focus, and memory skills. Simply find matching pairs of Easter-themed objects or cards, like bunnies, eggs, chicks, and flowers. Lay them face down in a grid pattern and take turns flipping them over. Keep the pairs you match! Play it indoors at a table or on the floor. Fun for parents and toddlers!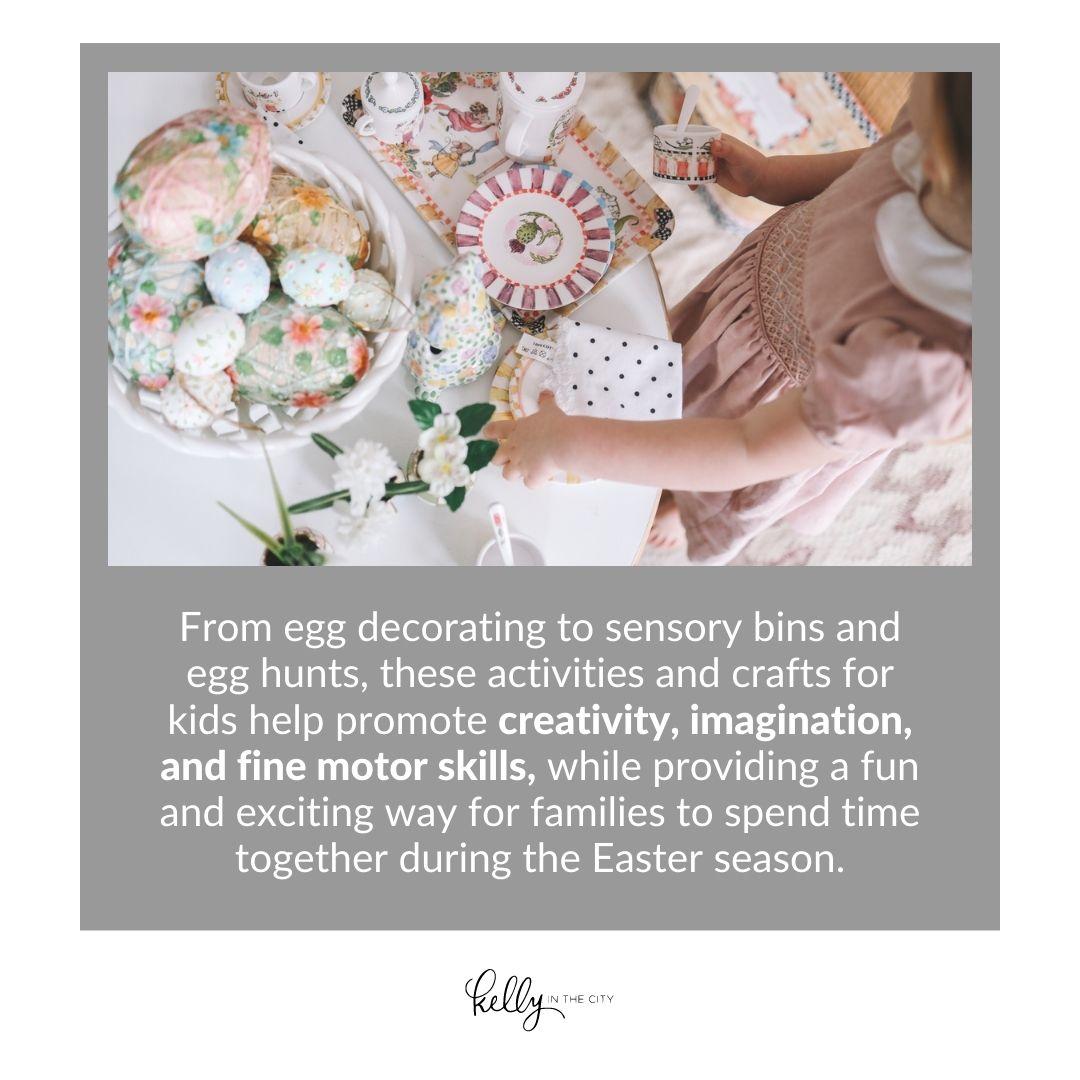 I would love to know the traditions you have with your toddlers on Easter!
From egg decorating to sensory bins and egg hunts, these activities and crafts for kids help promote creativity, imagination, and fine motor skills, while providing a fun and exciting way for families to spend time together during the Easter season. With so many options available, there's something for every family to enjoy. 
I hope that these 25 Easter activities for toddlers have inspired you to try out some new and egg-citing ideas with your little ones. So go ahead, hop into the Easter spirit, and try out some of these fun activities today! 
In need of more Easter inspiration??? See my roundup of Easter basket ideas for girls HERE, as well as my top Easter outfit ideas for moms this year.
The post 25 Easter Activities For Toddlers appeared first on Kelly in the City.
---
Share this post
---
---