Traveling Across the Solar System Algorithm Game Boards
Posted by admin on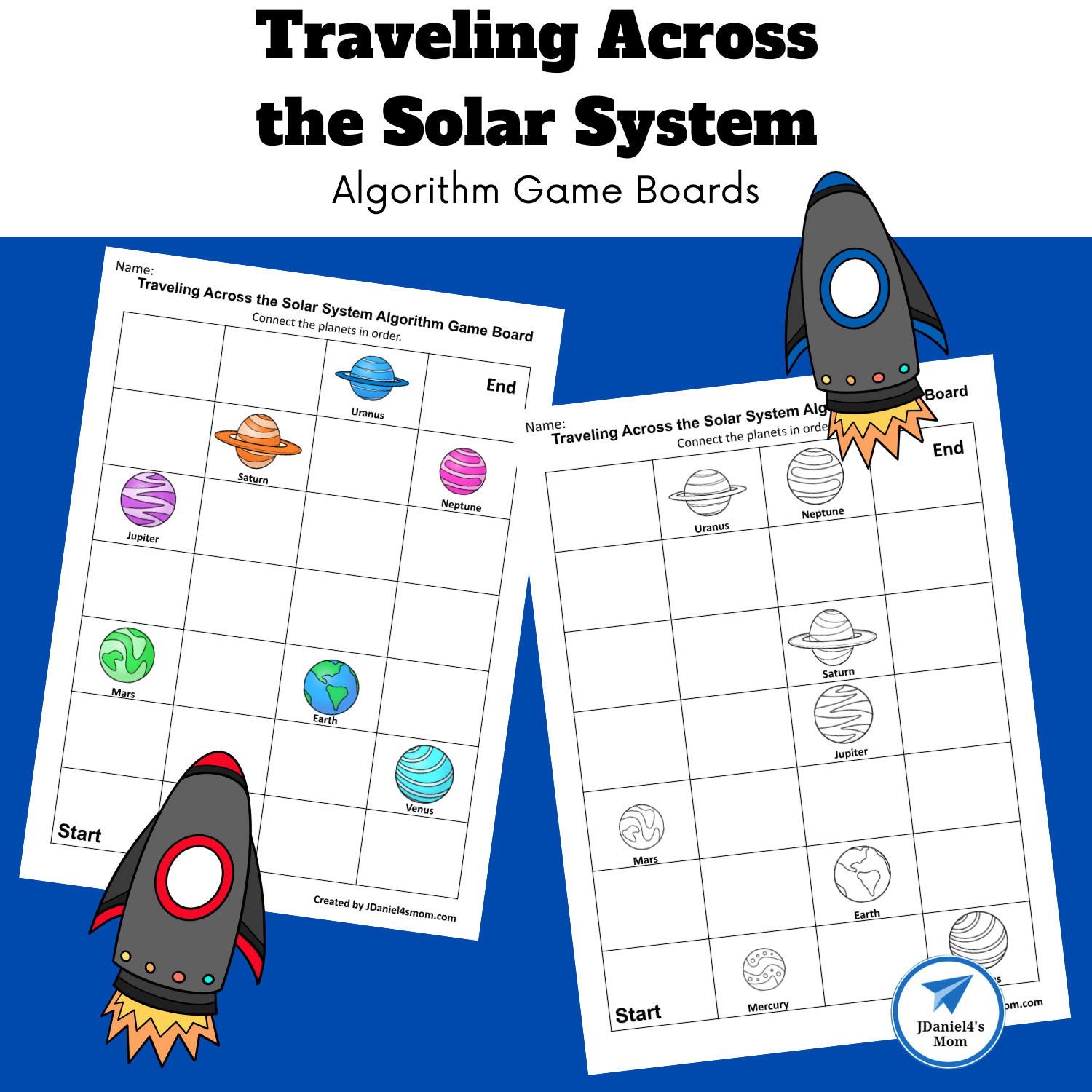 Solar System Algorithms Game Boards are a fun way to review the order of the planets in the solar system. Children build a path or algorithm from the word Start through the planet squares to the word end. They can use arrow squares or rockets squares in the set to build paths. However, that will mean covering the planets and their names. Children can draw arrows to create their paths if they prefer.
Getting the Traveling Across the Solar System Algorithm Game Boards Pages
First, you will need to download the set.
Second, if you don't have Acrobat Reader you will need to download it. The algorithm page is an Acrobat Reader PDF file.
Third, you must go to your download file and open the page.  You may be asked if you want the file to open right after you download it. You won't have to hunt for it in your download file if you are.
Getting Ready to Use the Solar System Algorithm Game Boards
Making the Game Boards Reusable
If you plan on using the game boards over and over again, you may want to laminate them. Below I have suggested products that you may want to use to cover them.
The links below are affiliate links. As an Amazon Associate, I earn from qualifying purchases. My Amazon Picks
Scotch Brand PRO Thermal Laminator, Never Jam…$54.68$128.93 (11154)
Scotch Thermal Laminating Pouches, 100 Count-P…$15.98$24.68 (63556)
Scotch Thermal Laminating Pouches, 200- Count-…$27.99$42.99 (23612)
Hammermill Printer Paper, Great White 100% Recy…$17.00 (4917)AllAds by Amazon
Using B/W or Color Game Boards
If you choose to laminate the game boards, they printing the color version makes sense. They will look pretty and it will justify the cost of printing in color. However, if you plan to use them like worksheets printing them in B/W makes more sense.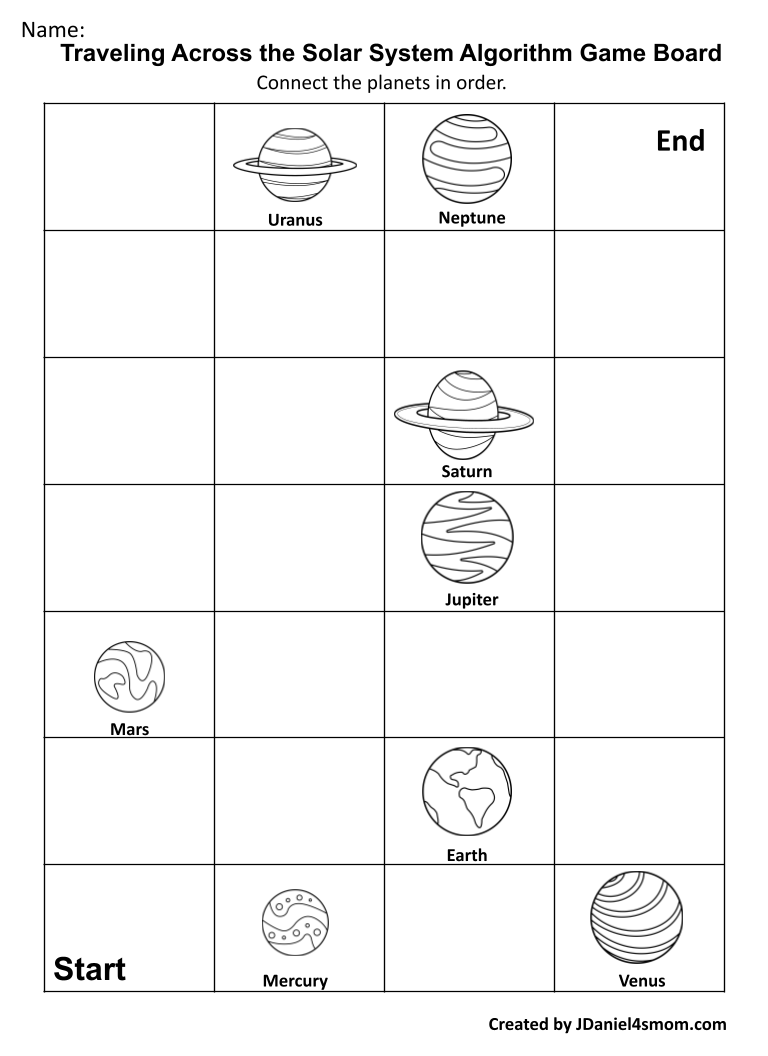 Exploring the Game Boards
You will find that some of the game boards offer a number of ways that your children to complete the game boards. Here is how you could introduce your children to the game boards.
First, you can work through a part of a game board with your children. It will help them understand how to place the arrows in the boxes. Remember that the arrows they draw or the printed arrows or printed rockets should point in the direction they will need to go to connect to the next step. They need to begin at the word Start and finish in the box that will lead them to the End box.
Second, children can work with a partner to complete the gameboard. They can take turns placing the arrows in the squares.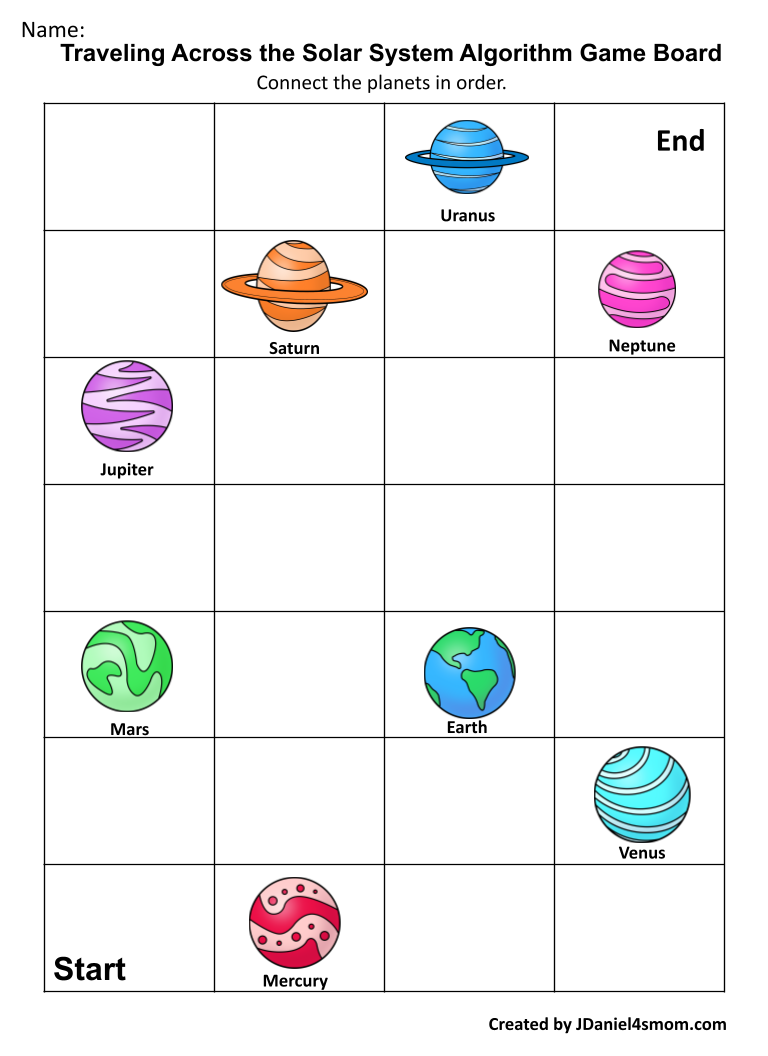 More Algorithm Game Boards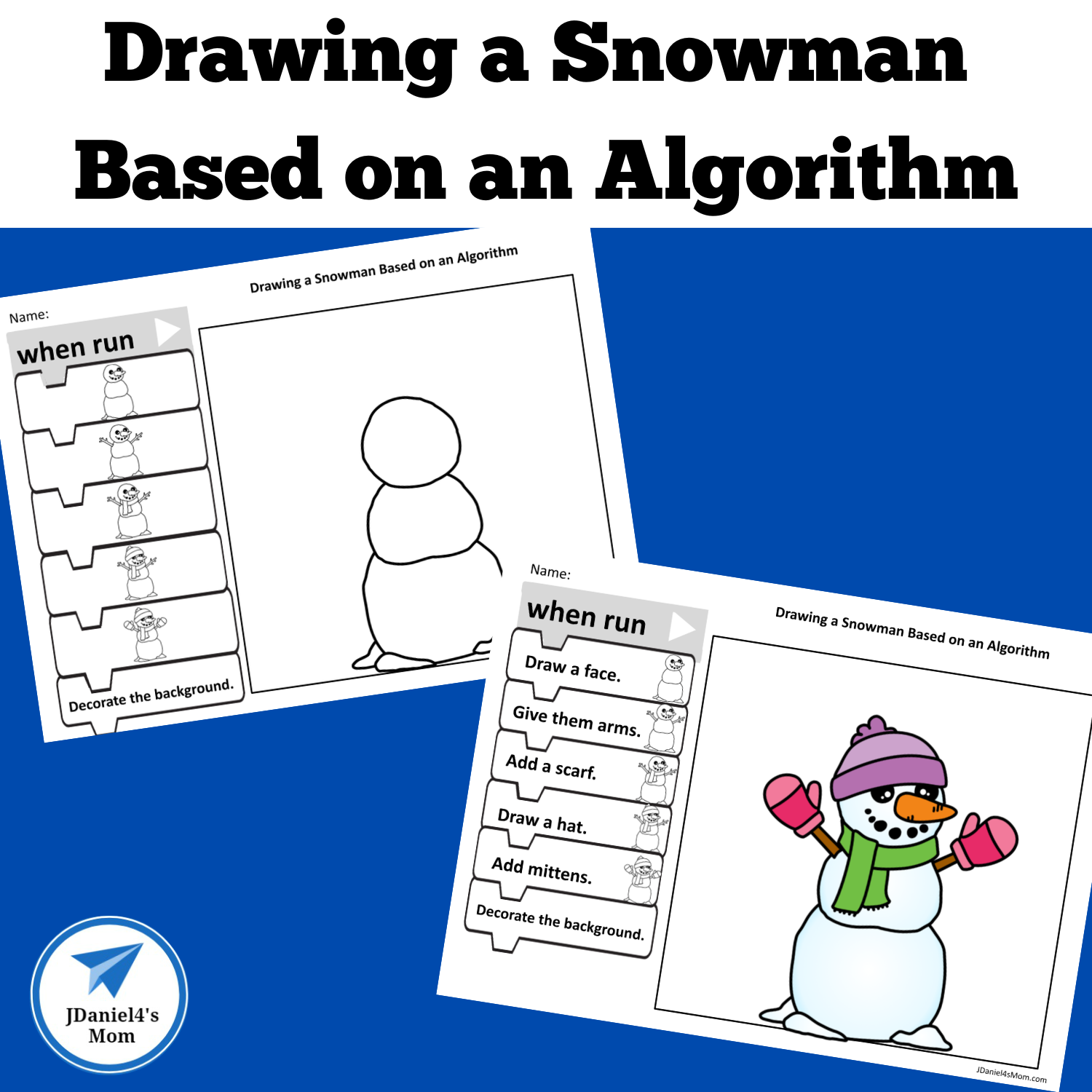 How to Build a Snowman Algorithm Game Boards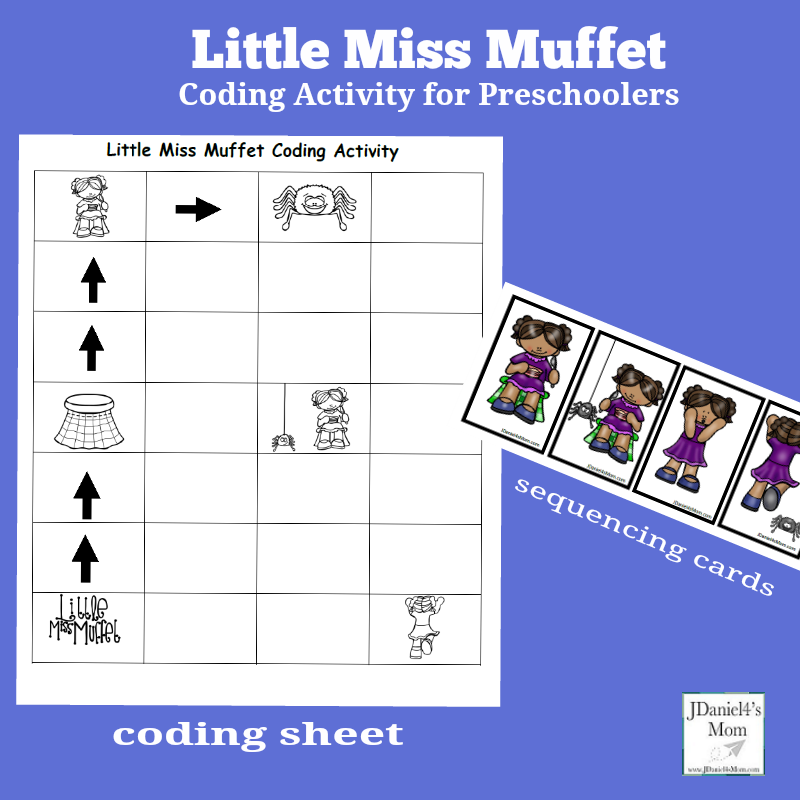 Little Miss Muffet Coding Activity for Preschoolers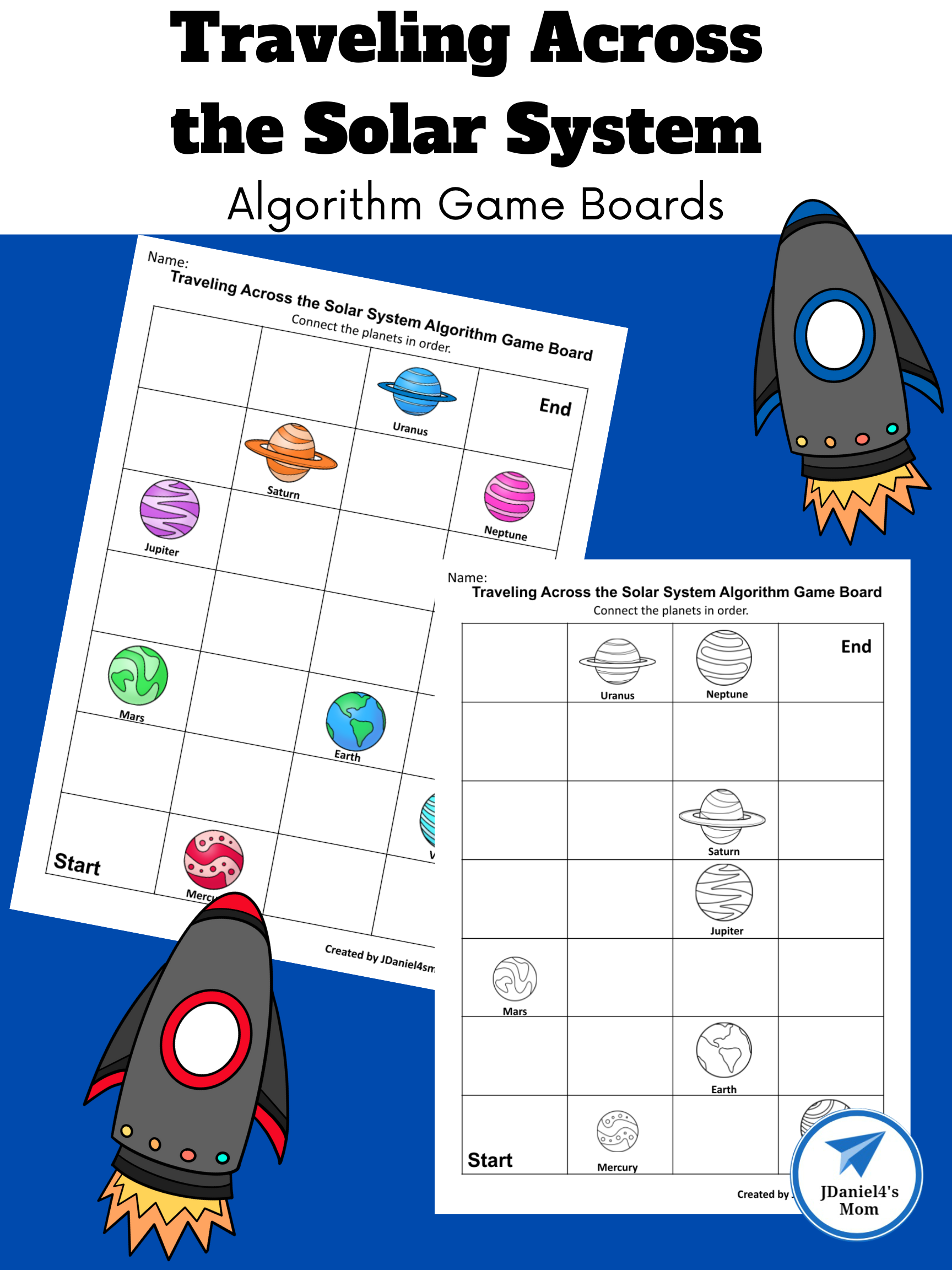 The post Traveling Across the Solar System Algorithm Game Boards appeared first on JDaniel4s Mom.
---
Share this post
---
---