The Best Animation For Adults Of 2022
Posted by admin on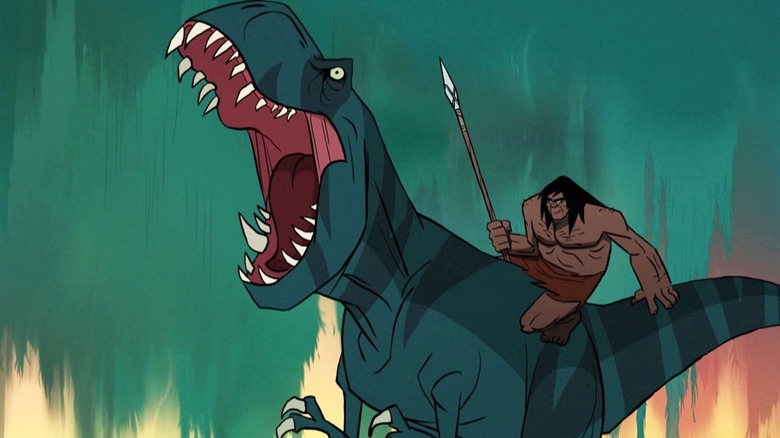 How do you be an artist in these trying times? Some of the year's best animated TV shows and movies asked this question, and it's not hard to figure out why. In 2022, animators continued fighting for respect from an industry that doesn't often love them back. Animation helped keep the entertainment industry afloat during the worst of the pandemic, and the people who bring these creations to life deserve more than seeing their projects canceled prematurely, having their work scrubbed from streaming services, and inadequate wages.
After all, while it can be crass, bloody, or just too intense for younger viewers, animation can also provide a break from a stressful world — sometimes simply by reflecting back exaggerated versions of our adult concerns. Some of the best animated productions of 2022 explored identity crises, the difficulty of letting go, the struggle to make art, and the absurdities of everyday living. Here are our favorites.
Primal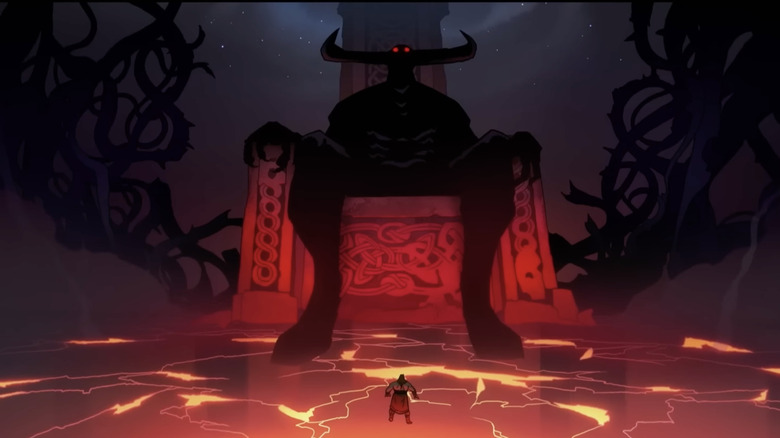 While floating on an endless sea, the caveman Spear (Aaron LaPlante) surveys the water, looking for food or signs of a possible threat. Like the anticipatory rise of a curtain, the massive sun peers over the horizon. Later, a storm rises, and a fanged Megalodon springs from the rising waves. As the tranquil shots of nature dissolve into a maelstrom, season 2 of Genndy Tartakovsky's magnum opus starts with a bang, and it never lets up. In its second outing, "Primal" ramps up the pulpy prehistoric violence, the heartache, and — surprisingly — the hope.
As he sails across the water to rescue his captured friend Mira (Laëtitia Eïdo) from the ruthless Vikings, Spear and his T-Rex companion, Fang, venture into the unknown. Effectively conveying Spear's identity crisis without using any dialogue, season 2 of "Primal" examines the moral complexities that characterize different cultures. Through his silent grimaces, Spear wonders what it means to be a Neanderthal in the face of the overwhelming force of civilization. He forlornly examines the good and the evil of human communities, and feels unwelcome. "Primal" streams on HBO Max and airs on Adult Swim.
The House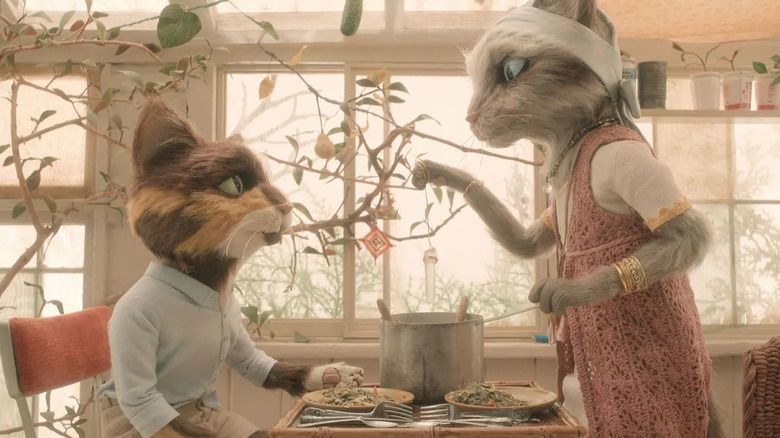 This year, adult animation found playful avenues for expression in anthologies like "The Boys Presents: Diabolical" and "Love, Death & Robots." Not least among them is the stop-motion film "The House," a three-part horror anthology about the various owners of a single home across multiple eras.
The film's first segment, "And heard within, a lie is spun," is set in the 1800s and centers on ruddy-faced humans who move into the sinister manor, much to the chagrin of their eldest daughter (Mia Goth). Jumping ahead to the 21st century, "Then lost is truth that can't be won" focuses on an anthropomorphic rat (Jarvis Cocker) who's dealing with unwanted squatters. The final short, "Listen again and seek the sun," follows a cat (Susan Wokoma) who's refurbishing the unfixable house in the midst of an apocalyptic flood. With the gloomy grace of Edgar Allan Poe's short stories, "The House" uses the theme of material obsession to unify its three sections, while the film's furry puppets are so lifelike that it feels like they're staring back at the viewer with a searing gaze. "The House" is available on Netflix.
Inu-Oh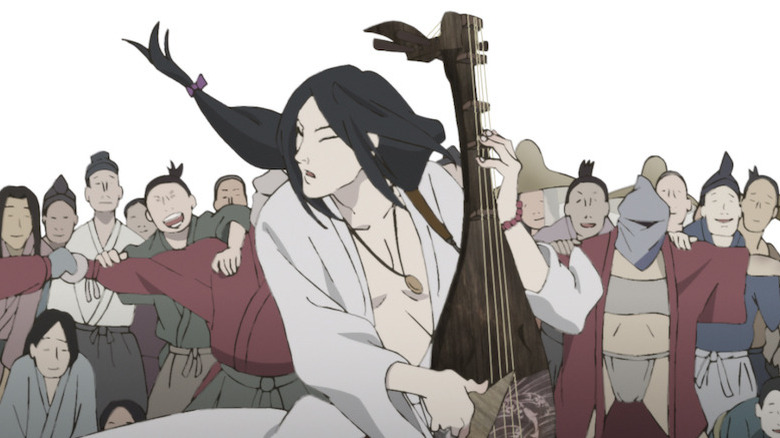 It turns out that rock and roll and feudal Japan are a match made in heaven. A known rebel in the anime scene, Masaaki Yuasa of Science SARU brings us the story of a blind biwa player, Tomoari (Mirai Moriyama), who befriends a deformed dancer who goes by the name Inu-Oh (Avu-chan). The movie charts their respective evolutions: Tomoari grows into an unorthodox biwa player, while Inu-Oh pushes traditional Japanese Noh dancing beyond its known limits. Much to the displeasure of the ruling shoguns, their labors blossom into the grandest of rock performances, capturing the attention of the entire city and disrupting more traditional forms of art. 
Otomo Yoshihide's electric compositions make Tomoari and Inu-Oh's music crackle with energy. In addition, when Inu-Oh takes the stage, Yuasa goes wild with the stagecraft imagery, like the projection of a golden whale during a performance that echoes Queen's iconic "We Will Rock You." Thanks to Avu-chan's unfettered vocal range, Inu-Oh performs like the greats, while his moves pay homage to the likes of Elvis and Michael Jackson, the King of Pop. You can find "Inu-Oh" on most major video-on-demand platforms.
Close Enough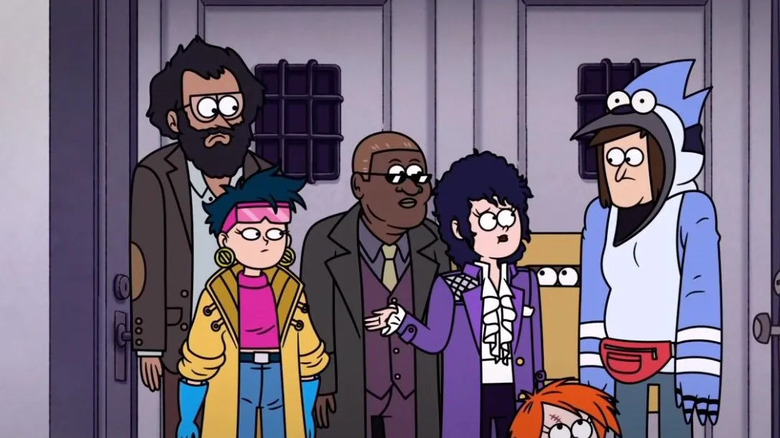 From J.G. Quintel, creator of "Regular Show," "Close Enough" has a refreshing aesthetic that's polished while looking deceptively simple. It has its own surreal vibe, which sets it apart from long-running human-centric animated sitcoms like "Family Guy" or "The Simpsons," both of which revolve around nuclear families in traditional middle-class homes. In contrast, "Close Enough" reflects the socioeconomic shift faced by today's generation. The series is set in a time when cost-cutting measures lead to unorthodox family units. In this case, you have the millennial parents, Josh (Quintel) and Emily (Gabrielle Walsh), their gremlin of a daughter Candice (Jessica DiCicco), their divorced roommates (literally — they used to be married to each other), and their eccentric landlords.
With hilarious plunges into the surreal, season 3 of "Close Enough" features outlandish scenarios like a honeymoon plagued by bison, a "Lord of the Flies"-like riot at Candice's preschool, and a Viking-themed almost-wedding. Sadly, 2022 wasn't particularly kind to "Close Enough"; it was both canceled and became one of the victims of the great HBO Max purge. Hopefully, it will resurface somewhere else in the future.
Cyberpunk: Edgerunners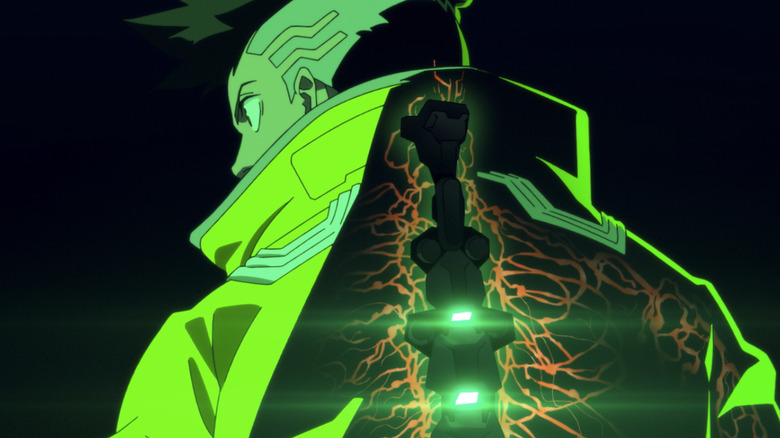 What will it take for young punk David Martinez (Zach Aguilar) to have it all? In a neo-noirish city where crime runs rampant, cybernetic implants are commonplace, and megacorporations rule the day, the disenfranchised David faces ruin when he loses his hard-working mom to a drive-by shooting. When David gets his hands on her rare implant, however, he has it bonded to his body, and its powers become an asset in his newfound criminal career. But there's a psychological price: It's not a question of if David will lose his mind and go "cyber-psycho," but when.
An electrifying spectacle like his earlier effort, "Promare," "Cyberpunk: Edgerunners" is arguably director Hiroyuki Imaishi's magnum opus. One of the show's visual wonders is the simple combination of technological communication with slickly choreographed heists. When the titular Edgerunner speedruns through a job, he leaves behind a colorful accordion of body tracings that convey his speed in slow-motion. In addition to the kaleidoscope of futuristic hues, this anime is also a harrowing tale about addiction. All 10 episodes are streaming on Netflix.
Entergalactic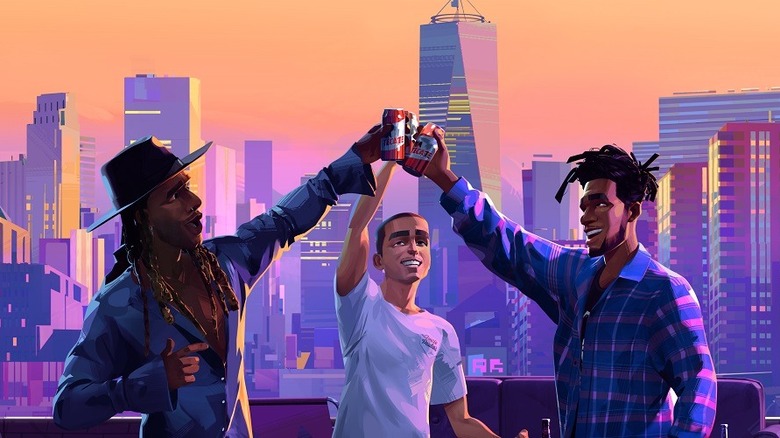 Love at first sight arrives with a 360-degree twirl of the camera, a purple backdrop, and a Kid Cudi track. It all goes down when Jabari (Scott Mescudi) falls for his neighbor, the luminous Meadow (Jessica Williams), and leads to some serious conversations about desire, artistic integrity, and the sustainability of romance.
A companion piece to the Kid Cudi album of the same name, "Entergalactic" is a romantic comedy that luxuriates in its own artistic glory. Borrowing the textures from "Spider-Man: Into the Spider-Verse," "Entergalactic" pushes the boundaries of its genre, which is typically the domain of live-action. At times, for example, the film transforms the characters' longings into hallucinatory flights of fancy. Reality feels just as dreamlike, with New York City blushing with cool purples, blues, oranges, and reds. It'll make you wonder how other live-action genres would look with this splashy artistic style. "Entergalactic" is available on Netflix.
Inside Job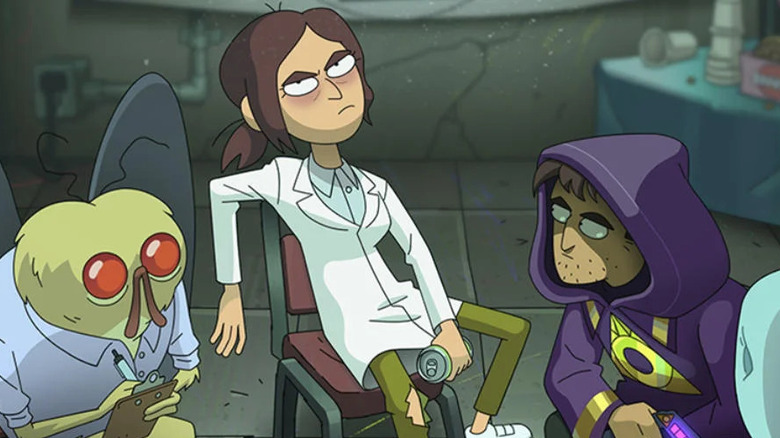 Cognito Inc. is a shadowy company that covers up conspiracies and schemes for various global institutions. In this world, the Catholic Church has arranged for the creation of a fake underground Hell, mushroom-shaped aliens have their own clique, and Keanu Reeves is a vampire who drinks blood to stay young (he also dates the main character's mother). These are just some of the scenarios found in the second half of season 1 of Shion Takeuchi's "Inside Job."
As the 2022 installments of the Netflix original series kick off, Cognito's ever-beleaguered head scientist, Reagan Ridley (Lizzy Caplan), is coping with her arrogant father's takeover of the company. Not only that, but she's finally found her soulmate: Ron (Adam Scott), an Illuminati at a rival company. Basking in both the joy and the trepidation that comes with a new relationship, Reagan faces a difficult decision regarding her work and her desire for love. By making its heroine more vulnerable than she was in the first half of the season, "The Inside Job" ups the emotional stakes. You'll be surprised by how much you care for Reagan's predicament.
Rick And Morty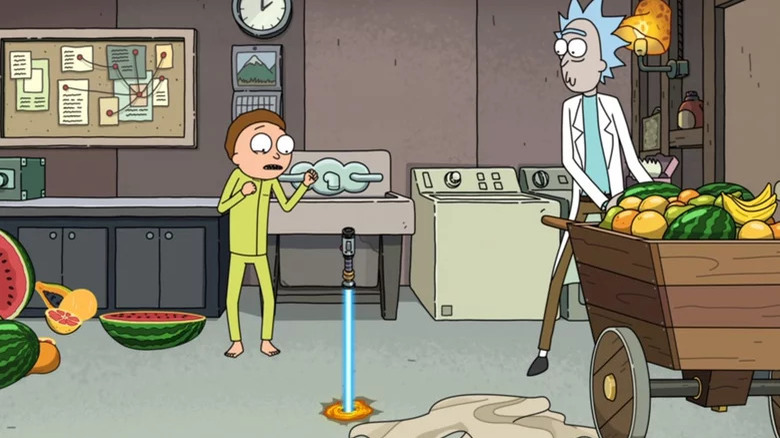 In 2022, the dysfunctional dimension-hopping pair of Rick and Morty (both voiced by co-creator Justin Roiland) returned for season 6. As before, "Rick and Morty" is full of wacky inventions and far-out sci-fi premises, many of which are punctuated by very human follies. Some changes did occur, though. The season begins with the Smiths unable to travel to other worlds through portals and, just to further ratchet up the stakes, kills off the Smiths' interdimensional counterparts.
Some of this season's misadventures include Morty becoming trapped in a virtual reality game, two Beths (Sarah Chalke) falling for each other, and sun knights who want Morty to be their next king. There are also fortune cookies that give people superpowers, a war between the Smiths and their sleepwalking counterparts (it has to be seen to be believed), and Rick and Morty zipping through extremely meta territory, even for this show. Look, it's "Rick and Morty"; by this point, you know that you have no idea what to expect. You can stream the latest season of "Rick and Morty" on the Adult Swim website, although you'll need to log in via your cable provider.
My Love Affair With Marriage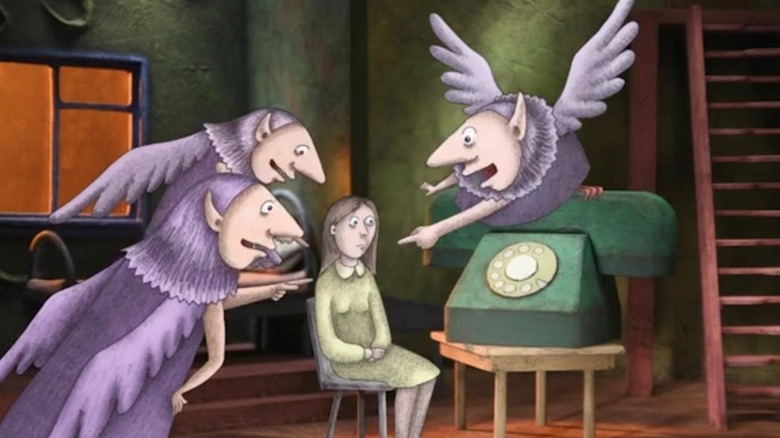 Marriage is a myth, and our pursuit of it is often based more in fantasy than rational thought. When you think about social survival, you don't really picture it in terms of brain chemicals, right? But that's the genius of Signe Baumane's semi-autobiographical "My Love Affair with Marriage," a frank illustration of our cognitive processes (complete with biology sections animated by Yajun Shi) that explains how a woman processes her drive for self-preservation in the face of ridiculous gender expectations.
Since childhood, Zelma (Dagmara Dominczyk) has been enchanted by the fairy tale of marriage and its (supposedly) happily-ever-after ending. As she blooms into womanhood, however, she grapples with sexism and her self-internalized misogyny as she endures a string of messy romances. Baumane signals comfort and discomfort through comic and dramatic symbolism. At one point, Zelma and a lover transform into a pair of seals to signify their current satisfaction, but the serenity belies the impending marital violence. 
Through these symbols, Baumane captures the seductive allure of staying in toxic relationships. Assailed by social expectations, Zelma's headspace is made up of merciless mantras about motherhood and wifehood, as well as surreal musical numbers. "My Love Affair with Marriage" has been screening at various film festivals, but has not yet received a digital release.
Undone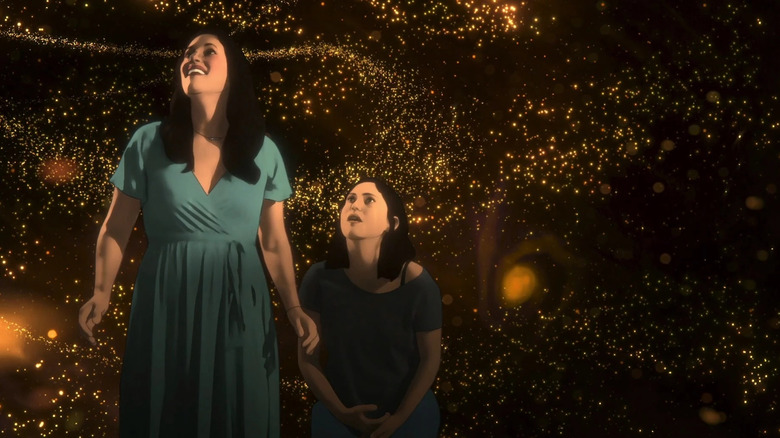 Hisko Hulsing explores the boundless possibilities of rotoscoped animation to beguiling effect in "Undone." Like its heroine, Alma (Rosa Salazar), the audience never knows when the world is going to hurl our protagonist to another realm, either real or a dream. Hulsing's stylistic choices blur the boundaries that separate memory, delusion, and reality.
After exercising her time-bending superpowers (whether or not they're real is left ambiguous), Alma has been waiting outside a cave for her father's resurrection. Just when it all seems to be an illusion, the cave opens up a new reality where her father (Bob Odenkirk) is alive. Season 2 deals with this new status quo, in which everything is slightly better, but that introduces different issues. As a result, Alma and her sister, Becca (Angelique Cabral), begin to question how far they should bend the dimensional boundaries, as their investigation into their mother's secret may compromise this new, stable world. 
With painted backgrounds and humans who look like they've stepped out of oil paintings, "Undone" expresses the inherited, ongoing nature of trauma like nothing else. It's streaming on Prime Video.
Harley Quinn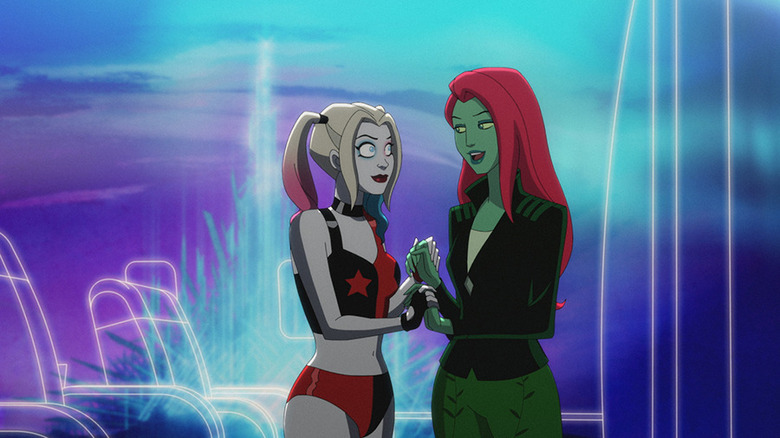 Read the fan responses to "Harley Quinn," and you'll see the catchphrase "Be gay, do crimes" pop up a lot. In season 3, this is the same a riotous cartoon that contorts DC's heroes and villains into figures of goofy absurdity. However, in its latest season, "Harley Quinn" also has many thoughtful things to say about commitment. Namely: Please talk honestly with your loved ones.
Finally, the bat-swinging Harley Quinn (Kaley Cuoco) and Poison Ivy (Lake Bell) are a couple, and together they're the most unstoppable force Gotham has ever seen. However, while their bond is tight, their conflicting interests begin to test their relationship. Poison Ivy is having trouble opening up, while Harley is struggling with the possibility of being good. One of the highlights of season 3 is "Batman Begins Forever," a comedically dark trip down Bruce Wayne's memoryscape in which Harley returns to her therapist roots, an act of kindness that drives her toward her big epiphany for the season. You can see Harley and Ivy being gay and doing crimes on HBO Max.
Apollo 10 1/2: A Space Age Childhood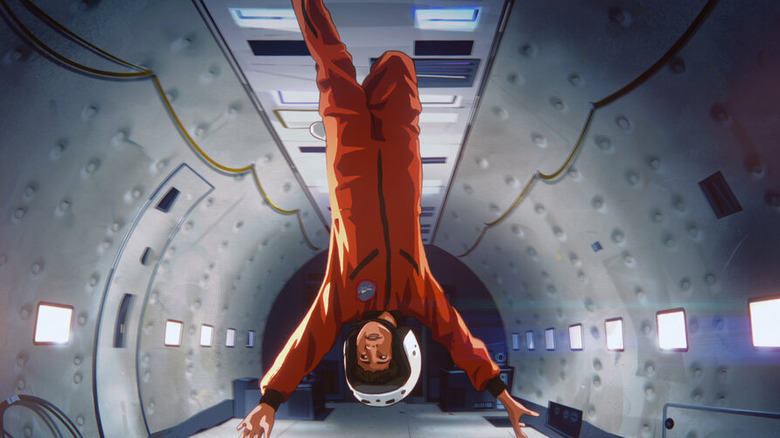 Anyone who grew up in the suburbs of Houston, Texas will feel "Apollo 10 1/2: A Space Age Childhood" deep in their bones. Richard Linklater's film takes us to the late 1960s, when NASA is on the precipice of launching Apollo 11 and setting the moonwalk in motion. 
With live-action footage given bright sun-soaked colors via rotoscoping, "Apollo 10 1/2" is a collage of childhood nostalgia. In it, NASA secretly recruits young Stanley (Milo Coy) to travel to the moon as a test subject. Just when you think he's going to blast off on a kid-friendly adventure, however, his space training turns out to be more of a fantasy anchored in Stanley's '60s nostalgia than a literal government mission. 
As a result, his journey to space is less important than his childhood adventures on Earth. Voiced by a contemplative Jack Black, an adult Stanley remembers his childhood before the moon landing: prank calls, concocting strategies to survive punishment at school, and AstroWorld. Like a parental figure who's telling his life story to a member of the younger generation, Stanley treats Houston's landscape as rife with its own casual mythology. For him, the horror of the Vietnam War and the ensuing protests seemed contained in a television box. "Apollo 10 1/2" is not just a nice slow ride through memory lane; the bright style belies a critical gaze into suburban privilege. You can watch this nostalgia piece on Netflix.
Dragon Age: Absolution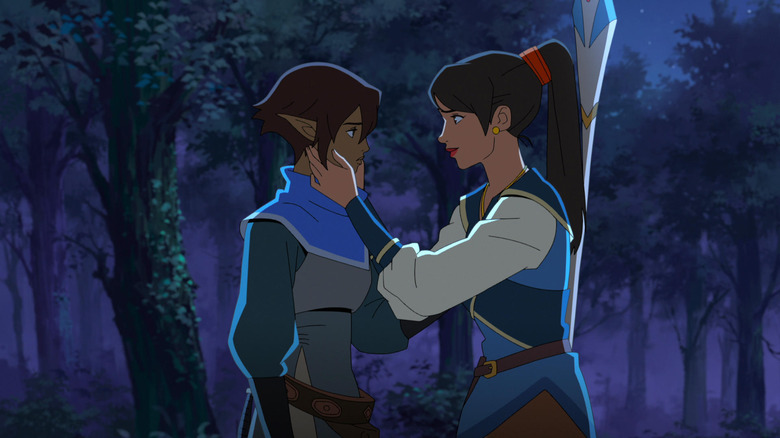 Have you noticed that, both in terms of aesthetics and humor, western animation for adults often shares a lineage with "Avatar: The Last Airbender"? If you haven't, just look at some of 2022's other offerings, like "The Legend of Vox Machina" and season 3 of "Dota: Dragon's Blood," which share some South Korean animation studios with Nickelodeon's ultra-popular franchise. Also consider season 1 of "Dragon Age: Absolution," which contains expressive performances from every character. Produced by the South Korea-based Red Dog Culture House ("The Witcher: Nightmare of the Wolf"), its six episodes follow the elf Miriam (Kimberly Brooks) and her gang as they plan to steal a mysterious ring that can raise the dead. However, Miriam's past might compromise the mission. 
You don't need to play the BioWare game that "Dragon Age: Absolution" is based on to get invested in the show's emotional arcs. Even if the introductory season of "Dragon Age" confines its world-building to one location, it makes sure that we grow attached to each one of its good-looking rogues, especially Miriam, whose banter drips with hot romantic chemistry. "Dragon's Age: Absolution" is streaming on Netflix.
Tuca & Bertie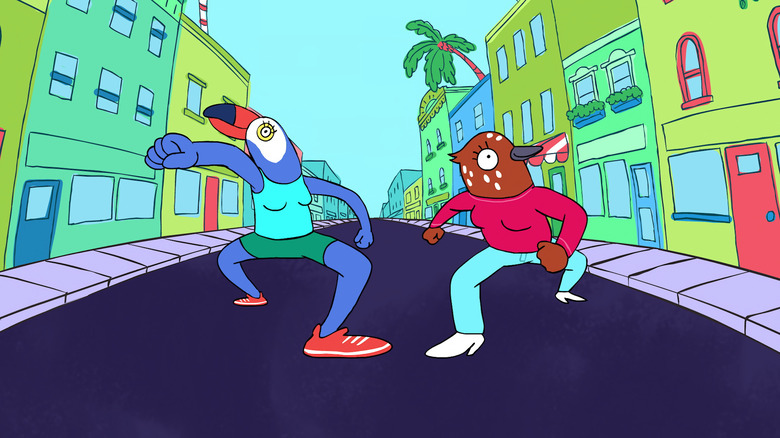 Although it's set in a world populated by anthropomorphized birds and plants, Lisa Hanawalt's "Tuca & Bertie" is grounded in real adult problems, like how to repair your relationship with your mom, deal with mean words from a supposed friend, meet your boyfriend's exes, and getting eaten by a snake (okay, maybe that last one is a little far-fetched). "Tuca & Bertie" exploits its elastic style to tackle painful topics like abandonment, sexual desire, and bodily betrayal.
With the animation showcasing the series' unexpectedly precise comedic timing, season 3 follows the eponymous avian besties, voiced by Tiffany Haddish and Ali Wong, as they deal with changes to both their occupations and their relationships. In one ingenious metaphorical visual, Bertie shrinks when her mother's admonishments make her feel small. This gag becomes a Chekhov's gun in the most unexpected way in the finale, in which Bertie has to travel into her friend's uterus and pull out a growth. It's as surreal as it sounds, and serves as a major monument to Bertie's friendship with Tuca. 
Sadly, Adult Swim axed "Tuca & Bertie" for a second time after rescuing it from Netflix, which canceled it in 2019. Thankfully, all three seasons are currently on HBO Max.
Mad God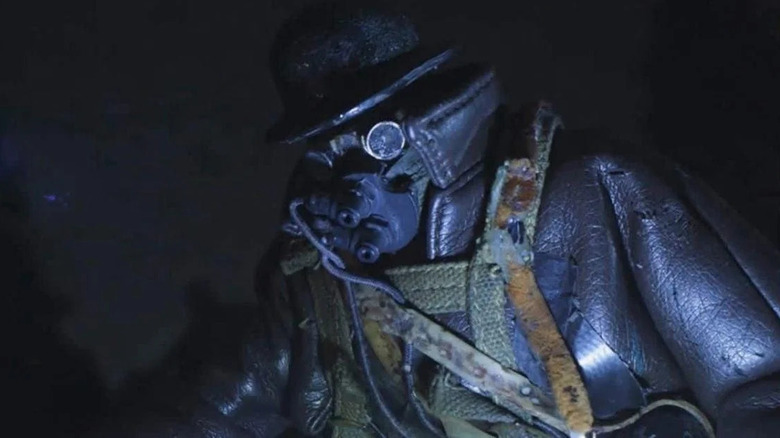 If the lifelike textures of "Mad God" feel familiar, you may be recognizing the same craftsmanship that brought you the original "Star Wars" and "Jurassic Park." That's because the stop-motion animation of "Mad God" is the handiwork of Phil Tippett, an unsung but highly influential visual effects designer. An epic feature three decades in the making, Tippett's film is an unhinged journey through high-octane muck.
Like he's taking a demented trip through Dante Alighieri's "Inferno," a gas-masked soldier only known as the "Assassin" descends into an abyss and wanders through hellish wastelands. He absorbs the ghastly and nauseating sights along the way, like tumorous quadrupeds that stomp and chomp on dusty zombie slaves. In a fitting metaphor for the unchartable nature of this sci-fi landscape, he occasionally glances at a soggy map that's disintegrating into pieces. 
As in Mamoru Oshii's "Angel's Egg," the world's apocalyptic history and the mysteries behind its religious imagery are left up to the viewer's own interpretation. But, if you'd like, you can toss aside your impulse to analyze and simply enjoy the grimdark ride. This grotesquerie is streaming on Shudder.
Read this next: The 13 Scariest Animated Movies
The post The Best Animation for Adults of 2022 appeared first on /Film.
---
Share this post
---
---