The 5 Best Barbara Walters Pop Culture References
Posted by admin on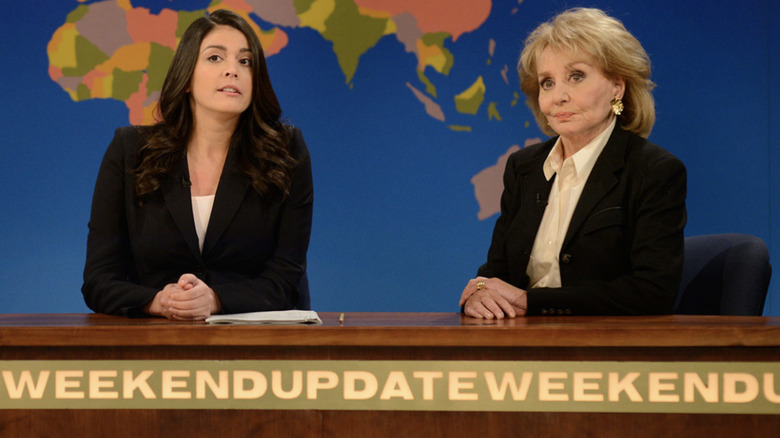 As calendars across the globe flipped from 2022 to 2023, the world too said farewell to the journalistic legend, Barbara Walters. It felt fitting that Walters' passing was announced around the same time an episode of "20/20" would have been airing on a Friday night, proving that even in her final moments, Walters was a consummate professional who had her timing down to a science. 
With a career spanning nearly 70 years, Walters became one of the most recognizable figures in the world, which made her ripe for parody and cultural inclusion. Just about every animated series under the sun had a reporter inspired by Walters and her presence in pop culture expanded far beyond her own work. To pay our respects and honor a legend, here are the five best Barbara Walters pop culture references.
Baa Baa Walters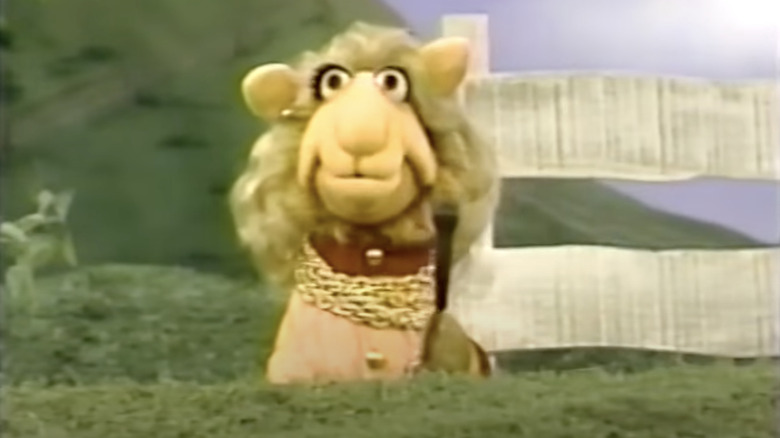 While only appearing in a single episode of "Sesame Street," the Barbara Walters spoof muppet, Baa Baa Walters, is one of the funniest celebrity parodies in the history of everyone's favorite preschool series. Baa Baa Walters interviews the famous celebrity Meryl Sheep in a field, and Baa Baa Walters plays into the real-life Walters' trademark mispronunciation of "R" sounds, donning a fashionable blonde wig and a statement piece necklace, just like the signature look of Walters in the 1980s.
As Meryl Sheep tries to claim she's "just like your average sheep," Baa Baa isn't having it, telling her she needs to "stop pulling the wool over our eyes" and admit she's a celebrity. It's a refreshingly sweet parody of Walters' interview style, highlighting her fearlessness in pushing back against famous folk when she knows they're giving sound bites and not being truthful. 
Despite the parody, Barbara Walters had an excellent relationship with the Jim Henson Company, the Muppets, and the cast of "Sesame Street." She appeared during the "Sesame Street All-Star 25th Birthday: Stars and Street Forever!" celebration, reporting for "25/25," of course. In 2005, Walters hosted the "Sesame Workshop Benefit Gala," and both Kermit and Miss Piggy were interviewed by her multiple times.
Barbara Walters Makes The Teenage Mutant Ninja Turtles Cry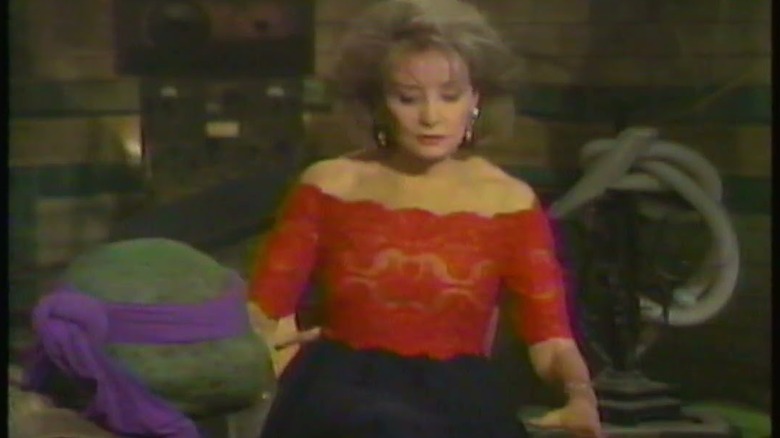 Barbara Walters has interviewed some of the most legendary and polarizing humans to ever exist, famously becoming the first American journalist to sit with Vladamir Putin, getting the first interview with Monica Lewinsky following the Bill Clinton impeachment scandal, and even speaking with Fidel Castro. Having conducted interviews over a half-century, there were, of course, times when Walters royally missed the mark. However, some of her most endearing are the times when she was willing to self-parody.
During the annual Oscar special in 1991, Barbara Walters sat down to interview Leonardo, Donatello, Michelangelo, and Raphael of the Teenage Mutant Ninja Turtles. The foursome wore their practical, rubber turtle suits as shown in their hit feature-length film, and Michelangelo even calls Walters a "dudette" at one point. The mock interview crosses into hilarity history, however, when they start crying after Walters asks them if they know who their parents are.
Barbara Walters stepped away from the Oscars special in 2010, and in looking back on her legacy, told the NY Daily News she did not want to "go down in history for interviewing the Teenage Mutant Ninja Turtles." She also joked that her dress was ruined after the interview after the turtles had cried all over it. 
There are low-quality clips of the interview available online, and it's truly ridiculous to see one of the world's most renowned interviewers talking to some radical teens in rubber suits.
Webra Walters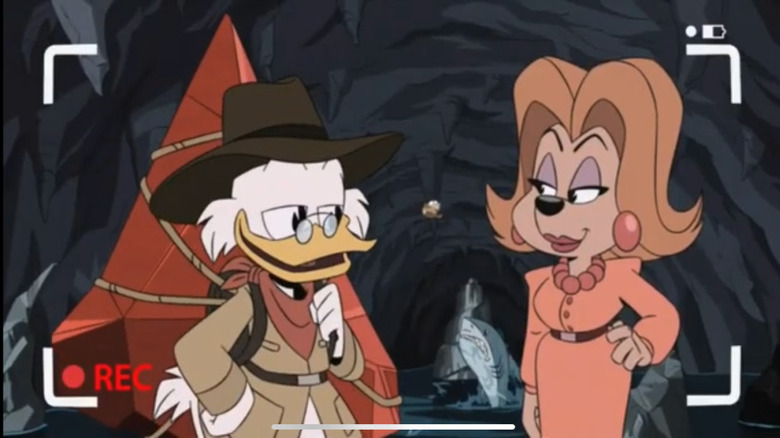 In the expansive world of Disney's Duckburg universe ("Darkwing Duck," "DuckTales," etc.), the hardest-hitting reporter is Webra Walters, an ace journalist with zero tolerance for mudslinging and a penchant for calling people out on air if she senses they're trying to deceive her or the audience at home. Although she's "just a journalist" to some, Webra Walters was unafraid to face off with supervillains, and pursue justice at any cost. She is, of course, a reference to Barbara Walters, and arguably one of the most endearing homages to the legendary journalist. She has a knack for standing up for what she knows is right, no matter the circumstance, and has no interest in causing drama for the sake of it.
Voiced by a different actor in each of her appearances (Tress MacNeille, Linda Gary, and Andrea Martin), Webra Walters speaks with an exaggerated, almost Elmer Fudd-esque voice, which is a given for any parody of the famed interviewer. What's lovely, though, is how often Webra Walters would be intrinsically involved in saving the day during episodes of "Darkwing Duck." Unlike parody rooted in cruel mockery, it's very obvious that the folks at Disney wanted to have fun with an easily identifiable celebrity, while also celebrating her career in the process.
Meme Queen Barbara Walters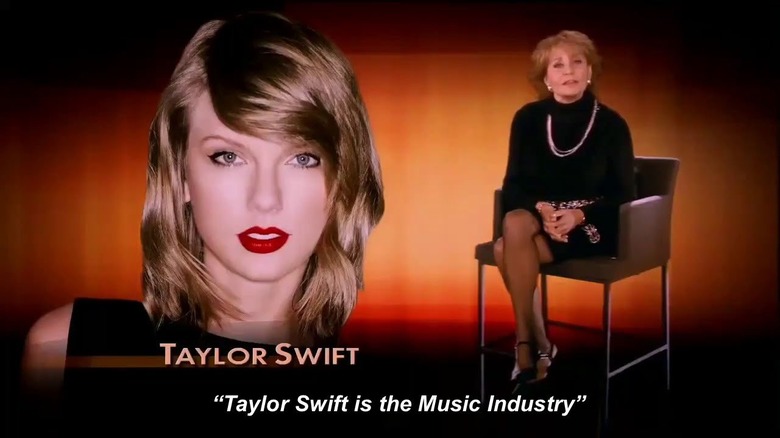 When you've interviewed as many people as Barbara Walters has, it's an inescapable reality that some moments will become part of the pop culture lexicon. After she famously asked Katharine Hepburn the ridiculous question, "what kind of tree would you be," it began popping up as the premiere example of absurd interview questions, including the beauty pageant comedy, "Drop Dead Gorgeous." 
Over the years, Barbara Walters has become a bit of a meme queen with her interview questions and responses circulating as popular reactions. Her interview with Donald Trump from the '80s often made the rounds during his presidency where Trump claimed "people are saying ..." to which she immediately knocked down with, "no they're not."
Her interview with Mariah Carey included her reading the lyrics of Nicki Minaj's "Hell Yeah," and there are few things funnier than watching this kind-spoken, elderly white lady quote "I'm quick to check a b**** if she is out of line," before asking Carey, "are you the b**** she's singing about?" Comedy gold. Hilarious. 10/10. No notes. 
But her late-life legacy will likely be when she interviewed the Kardashians during their "10 Most Fascinating People" interview, in which she read them to filth by saying, "you don't really have any talent." Look, we can argue the legitimacy of the Kardashian empire all day, but it is unquestionably hilarious to watch a family be told, to their face, that they are famous for being famous by the greatest journalist in the game.
Baba Wawa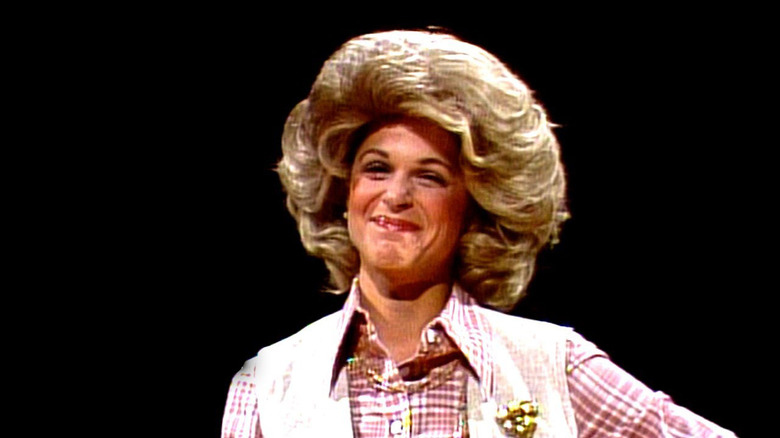 It shouldn't be a shocker to anyone, but the greatest inclusion of Barbara Walters in pop culture is the Baba Wawa character from "Saturday Night Live," as made famous by the late, great Gilda Radner. Walters famously struggled to accept the loving parody. As she told The Television Academy Foundation, "I hated the Gilda Radner 'Baba Wawa' until I walked into my daughter's room one night — she was up watching it ... I said, 'What are you doing up?' and she said 'I'm watching Baba Wawa.'" 
Walters would be parodied by a number of "SNL" actors over the years, but Radner's Baba Wawa is what started it all. Radner would voice an animated character named Barbra Warblers in the animated spoof, "Animalympics," which was essentially her Baba Wawa performance in cartoon form.
The Baba Wawa character became synonymous with Walters' many parodies throughout entertainment, with everyone daring to mock Walters also having to compete with the untouchable bar set by Radner. When Walters announced her retirement from "The View," she made a surprise appearance on "Saturday Night Live," where she had a lot of fun spoofing herself on an edition of Weekend Update with Cecily Strong, a sign that she had come to accept and embrace her connection to the legacy of "Saturday Night Live."
Read this next: The Best Movies Of 2022 So Far
The post The 5 Best Barbara Walters Pop Culture References appeared first on /Film.
---
Share this post
---
---