The 10 Best Arnold Schwarzenegger Roles That Aren't The Terminator
Posted by admin on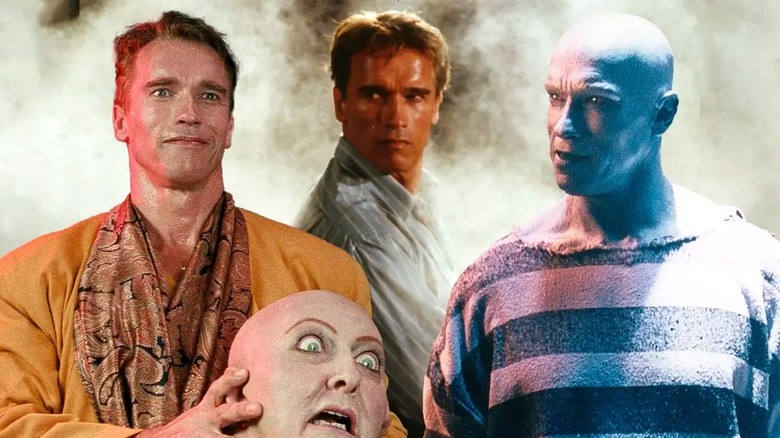 There's much more to Arnold Schwarzenegger than his time portraying T-800. Anyone familiar with his book, "Total Recall: My Unbelievably True Life Story," will realize how brilliantly this title lives up to the remarkable tales he has to tell. Growing up in rural Austria amid the rubble of failed Nazi Germany, Schwarzenegger dominated the body-building world, emerging as Mr. Universe at 20 years old. He won the Mr. Olympia title a staggering seven times.
But he didn't stop there -- in fact, far from it. Moving to America, he set his sights on acting, an unlikely goal considering his size and accent. Despite these challenges, Schwarzenegger stuck at it, taking language lessons to lose his native intonation and eventually bagged film roles, including the lead in 1970's "Hercules in New York." For the film, they dubbed his voice and credited him under the name Arnold Strong. More roles followed as his accent and acting improved, and when filmmaker John Milius fancied him as the brutal hero of his 1982 fantasy "Conan The Barbarian," everything changed.
A few years later, "The Terminator" director James Cameron transformed Schwarzenegger's life again, and the rest is history. A keen businessman throughout it all (and an eventual US Governor), he has proven that there's more to this star's repertoire than killer robots. With that in mind, here are the 10 best Arnold Schwarzenegger roles that aren't "The Terminator."
Dutch - Predator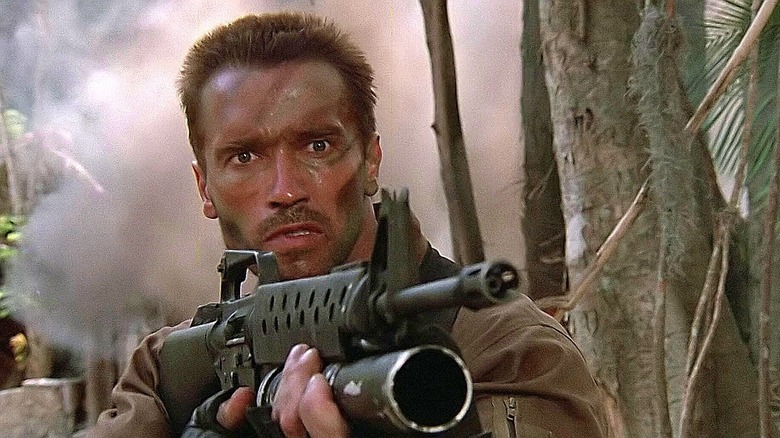 Schwarzenegger has portrayed many roles throughout his career. But none loom as large as his Major Alan "Dutch" Schaefer in director John McTiernan's alien action classic "Predator." Released in 1987, four years after his breakout role in "The Terminator," "Predator" caught Schwarzenegger during his legacy-building prime, nestled between his other action-heavy hits like 1985's "Commando," 1986's "Raw Deal" and 1988's "Red Heat." This run, combined with the films he released up to 1994's "True Lies," cemented Schwarzenegger's status as cinema's go-to action star.
For this sci-fi story, McTiernan stuck Schwarzenegger's character and a team of commandos in a Central American rainforest, charged with rescuing hostages. But before this group of quip-loving muscle heads can get going, they're picked off by a mysterious foe lurking in the canopy. Dutch discovers this new enemy is unlike any he's ever faced and sets out to hunt this space hunter in a tense game of cat-and-mouse. (This role gave fans some of Schwarzenegger's most-quoted lines.)
Despite the audience's love for Dutch, Schwarzenegger has never returned to the role in the "Predator" franchise. While sources cite money issues for his absence in director Stephen Hopkins' city-set sequel, the director later revealed that wasn't the case: The production for "Terminator 2: Judgement Day" happened around the same time. Cameron said to Arnold: 'Do one or the other – don't do both."
John Matrix - Commando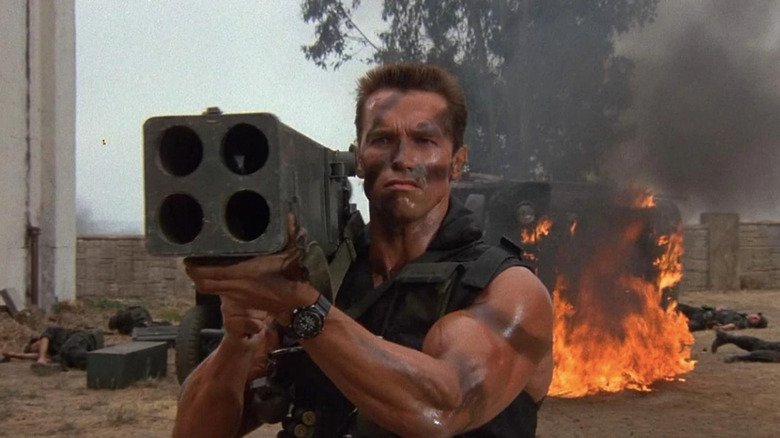 In hindsight, 1985's action-heavy "Commando" laid the blueprint for future gun-toting films. A hero with a comically cool name -- in this case, Schwarzenegger's totally-normal-and-everyday-sounding John Matrix -- has one of his family members kidnapped by a rebel group with nefarious intentions. Soon we discover that our hero has a set of skills (in this case, the ability to kill everyone that crosses his path). When he's pushed to his limit, Matrix decides to take matters into his own hands to save his abducted daughter Jenny (Alyssa Milano) and the day, too.
Hot off the heels of "The Terminator," and produced by Hollywood's go-to action movie guy Joel Silver whose credits include hits like "Lethal Weapon, "Die Hard," and "Predator," "Commando" is far from Schwarzenegger's best role. Still, its gloriously over-the-top nature secured his status as one of the biggest players in the 80s -- a cinema era obsessed with action and excess.
"Commando" didn't take itself too seriously, with a host of cheesy lines like: "Please don't disturb my friend, he's dead tired." Matrix states this cheeky line delivery after killing a guy and making him look like he's asleep. Throughout the film, Schwarzenegger showcases an unexpectedly light side -- something that would come into play later in his career.
Jack Slater - Last Action Hero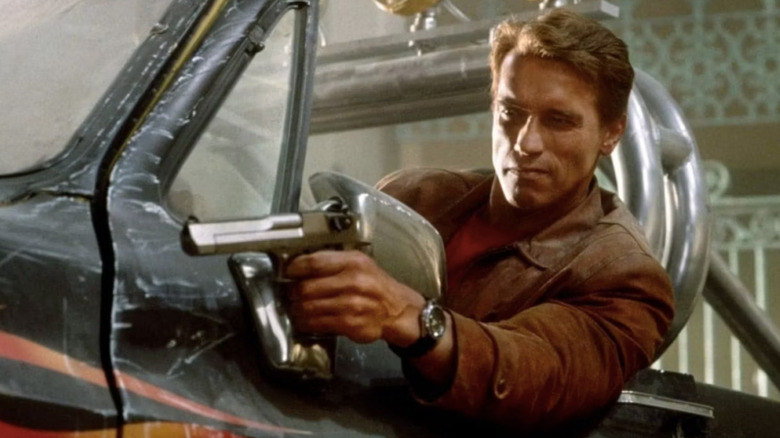 A big dumb action movie of the early 90s rarely arrives ahead of its time -- but that's certainly the case with 1993's meta shoot-em-up "Last Action Hero." Co-written by genre-skewing screenwriter Shane Black ("Iron Man 3") and directed by the man behind decade-defining epics "Die Hard" and "Predator," John McTiernan, the film brilliantly spoofs the genre Schwarzenegger (arguably) helped build.
Arnie stars as Jack Slater, a fictional hero and the on-screen obsession of movie-loving real-world kid Danny (Austin O'Brien). When this young film fanatic comes into the possession of a magic movie ticket from an old theatre manager, he finds himself transported onto the big screen and in the thick of the action, joining LA super cop Slater on a mission to stop a deadly assassin.
Schwarzenegger and McTiernan have fun playing with cheesy action tropes, fan-service cameos (see: Stallone portraying the Terminator), and Slater's seemingly-invincible persona. The film finds equal pleasure mining the reverse when Slater becomes transported to real-world New York where none of his 'it'd only happen in the movies' slickness is quite as effective. "Total Action Hero" is infectious and a real ride. That said, "Last Action Hero" failed as the big follow-up to "Terminator 2: Judgement Day." Regardless, it remains one of the most fun and off-beat films in his repertoire and is definitely worth another look.
Julius - Twins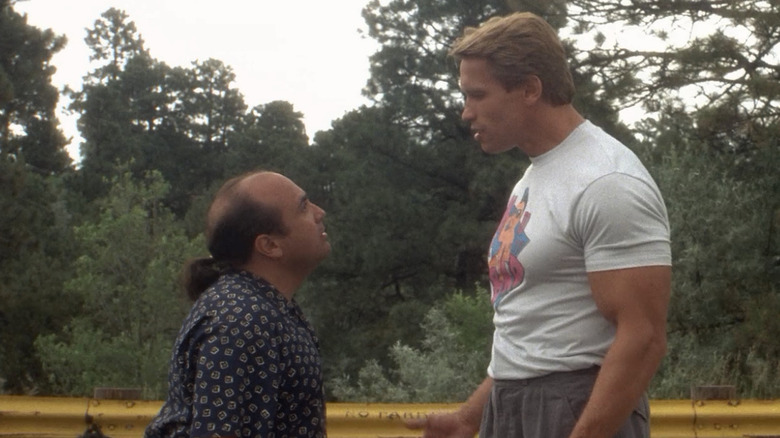 If there's one thing that underpins Schwarzenegger's talent, he can think outside the box when it comes to maximizing success. A keen entrepreneur from a young age (he sold ice creams to lazy punters on hot days as a kid and became a millionaire via property investments before becoming a movie star), when he'd finally conquered movies, he was already eager to shake things up.
1988's "Twins" is the first real example of Schwarzenegger utilizing this success method in his big-screen career. The film paired him with Danny DeVito and "Ghostbusters" director Ivan Reitman to tell the tale of two "identical" twins born as part of a secret experiment to create the perfect baby. After the twins' birth, the scientists separate Julius (Schwarzenegger) and Vincent (DeVito): The former lives a life of science, physical training, and luxury, whereas Vincent grows up in a Los Angeles orphanage. Ultimately, Vincent becomes a sleazy petty crook. When Julius learns about the existence of his long-lost twin, he sets off to find him. Both are surprised when they meet their brother.
In addition to becoming 1988's fifth highest-grossing movie (beating "Die Hard"), "Twins" marked the beginning of a long-running friendship between Schwarzenegger, DeVito, and Reitman. The "Predator" star would make another comedy with them, 1994's "Junior." However, that film didn't capture the same magic as their first outing. Meanwhile, a threequel, "Triplets" is currently in development.
Dt. John Kimble - Kindergarten Cop
After Schwarzenegger proved he could do comedy, he quickly transitioned back to action with 1990's sci-fi "Total Recall." But it wasn't long until he was back in funny territory. Released that same year, "Kindergarten Cop" again pairs Schwarzenegger with director Ivan Reitman for a family-friendly offering that mixes action with the star's comedic chops. In the film, he plays tough police detective John Kimble, forced to go deep undercover as a kindergarten teacher to try and catch a notorious drug dealer that's hellbent on finding his estranged wife and son -- the latter of whom is in Kimble's class.
It's impossible to think of this movie and not immediately yell: "It's not a tumor!" In addition to adding a few new quotes to Schwarzenegger's ever-expanding catalog of memorable line deliveries and developing his comedic abilities, "Kindergarten Cop" allows the "Predator" star to display a warmer side to his personality. Watching strong man Kimble (Schwarzenegger) reading a storybook quietly to a group of sleepy preschoolers is an unexpected but welcomed sight. Since its release, fans have grown to love it for this and its '90s nostalgia factor.
Schwarzenegger likes it a lot too. During a visit to "The Late Late Show With James Corden," he revealed that it was his favorite movie. "For many years, I tried to get into comedy and couldn't," he said. "When I finally met Ivan Reitman, and we made "Twins" and "Kindergarten Cop," I was in heaven."
Mr. Freeze - Batman & Robin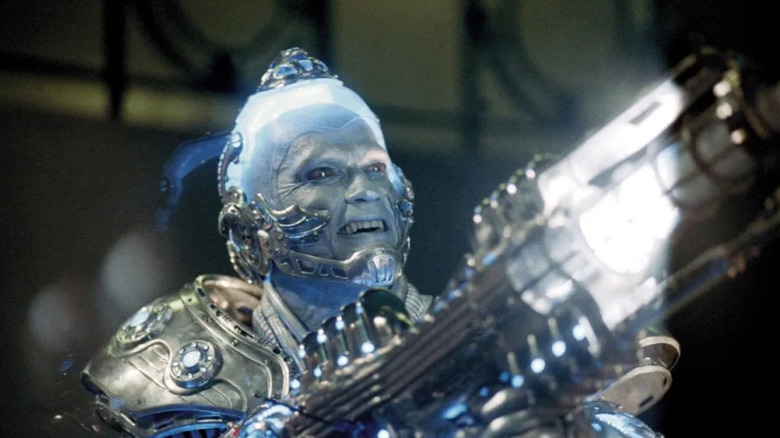 Before Robert Pattinson's emo Batman and Christian Bale's gritty take on the Dark Knight, Bruce Wayne's vengeance-obsessed alter ego went through some very... questionable iterations. Inheriting the role from Val Kilmer, who adopted it from Michael Keaton, George Clooney's take on the Caped Crusader in 1997's "Batman & Robin" has since gone down in history as one of the campiest and worst adaptations of Bob Kane and Bill Finger's beloved DC creation.
However, we're not here to talk about the cringing nature of Batman's credit card or nipple-heavy costume. Let's not forget that "Batman & Robin" also featured Schwarzenegger tackling one of the most popular Bat-villains of all time in a role that marked Mr. Freeze's (so far) only big-screen outing. Directed by Joel Schumacher, the film itself -- and specifically Freeze's look -- has since become synonymous with a 'toyetic' quality. Many creative decisions were influenced directly by toy companies who reportedly even attended production meetings.
Schwarzenegger's Freeze outfit fell victim to this, with his iconic ice guns designed by toy makers. Meanwhile, his elaborate metal ice suit reportedly cost over $1 million to make and took six hours a day to construct alongside Arnie's extensive blue make-up process. He also wore blue LED lights in his mouth for that extra icy look, but these had to be wrapped in balloons after battery acid started leaking down his throat during the shoot. (Not cool!)
Quaid - Total Recall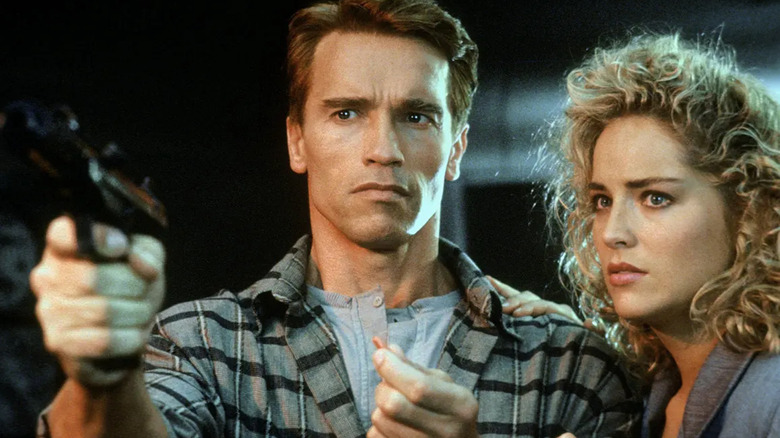 "Total Recall" pulls triple duty, as it's not only an iconic Schwarzenegger movie but also an iconic Paul Verhoeven feature and quintessential '90s movie. Schwarzenegger wanted to make this film for a long time. After acquiring the rights to author Philip K. Dick's novella "We Can Remember It For You Wholesale," Schwarzenegger became determined to adapt this story with himself in the lead role, regardless of whether fans or the powers that be agreed. Many didn't, including former rights-holder Dino De Laurentiis, but when his company folded, the project that'd ultimately be titled "Total Recall" became a Schwarzenegger movie.
In "Total Recall," Arnie stars as Douglas Quaid, a construction worker bored with his life. He opts for an experimental adventure that promises to implant the memories of a great adventure into his brain. Deciding on a mission to Mars, reality quickly blurs. A new narrative paints Quaid as a secret space agent, plunging him into a story filled with mutants, peril, and action.
Featuring the risque European humor synonymous with Verhoeven and Academy Award-winning effects from "RoboCop" designer and "The Thing" creature maker Rob Bottin, "Total Recall" has emerged as one of Schwarzenegger's most fondly remembered roles. It's widely considered one of the best modern science fiction films and one of the better adaptations of Dick's work.
Trench - The Expendables Series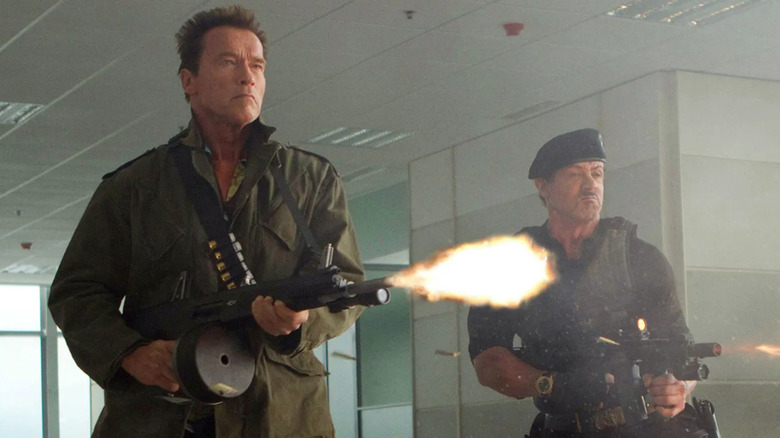 The core concept of "The Expendables" is genius. The over-the-top, cheesy action epics of decades past are coated in nostalgia and still very much beloved. Still, they're rarely in anything other than direct-to-DVD quality. Meanwhile, the stars that fronted these now-cult classics -- people like Dolph Lundgren, Jean-Claude Van Damme, and Wesley Snipes -- feel as though they're seen in movies less frequently while remaining synonymous with the bullet-spewing work of their past.
Lionsgate capitalized on this fan love and distilled it into something new. Enter Sylvester Stallone -- one vital player in '80s excess cinema -- with "The Expendables," a movie that gatherers this invincible ensemble to create something better than the sum of its parts and a franchise that's a lot of fun to watch. Completing the picture is Schwarzenegger, who was drip-fed into the series as Trench, the long-time frenemy of Stallone's mercenary Barney Ross. Part one features him as a glorified cameo (due to his then-work in US politics in real life), but Schwarzenegger plays a bigger part in Ross' future missions.
Any '80s action fanatic will no doubt cream their jeans at many scenes in this franchise, but none elicits more excitement than the climactic battle in "The Expendables 2", which features all of the genre's big names in one non-stop bullet fest. Imagine the airport battle from "Captain America: Civil War" but with more testosterone and joint pain.
Harry Tasker - True Lies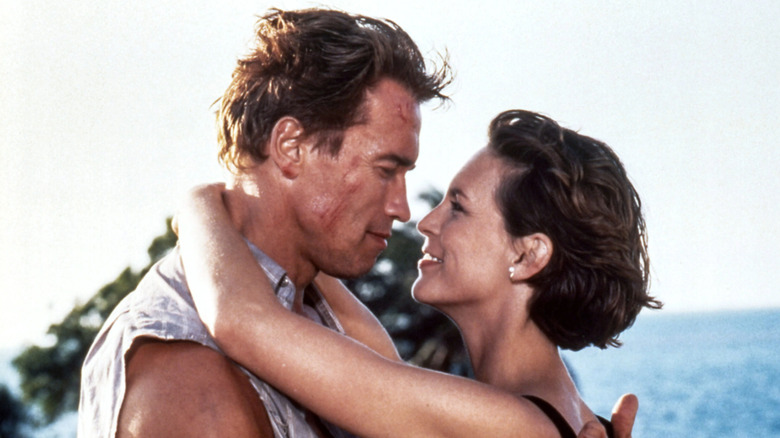 Before he crafted the world of "Avatar," Cameron broke moviemaking records with "True Lies," the first film to officially cost more than $100 million to make. Based on the French comedy "La Totale!," this movie marks Schwarzenegger's third collaboration with Cameron. He stars as Harry Tasker, a suburban husband, and father. Things don't stay quiet for long though as we soon discover Harry is a secret agent for a counter-terrorism agency. His two lives collide, making his wife Helen (Jamie Lee Curtis) his unlikely partner.
Looking back, "True Lies" arguably marks the last of Schwarzenegger's action movies in which he successfully appeared as a leading hero. While other films followed, including 1996's "Eraser," 1999's "End of Days" and a handful of returns to the Terminator, none reached the same prominence as his earlier work. CBS is currently working on a "True Lies" reboot television series. 
Considering the film's Islamic terrorism plot, co-star Art Malik suggested a sequel will never be made in a post-9/11 world. "There was an element of fanaticism brewing and anti-West feeling going on," told The Telegraph. "But I don't think any of us took any of it as seriously as we had to after 9/11... one of the reasons for that is probably the reason 'True Lies 2' was never made."
Conan - Conan The Barbarian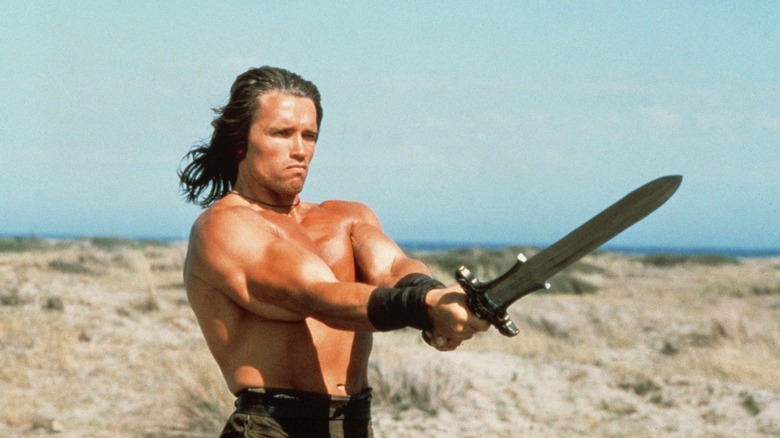 Could there have been a more perfect calling card role for an unusual emerging star like Schwarzenegger than Conan The Barbarian? Based on author Robert E. Howard's fantasy series, directed by John Milius and adapted by filmmaker Oliver Stone, this warrior movie was created by a team that demanded authenticity -- and that's exactly what Schwarzenegger delivered.
Just a few years prior, Schwarzenegger starred in "Pumping Iron," a bodybuilding documentary that became an unlikely cult hit and put Schwarzenegger on Hollywood's radar. When the time came to find the right person to bring Howard's vengeance-bent barbarian to life, there really wasn't anyone better suited than Schwarzenegger.
As if his base level of athleticism wasn't already enough, the future star underwent a rigorous training regime that included rope climbing, horse riding, and losing weight to fully prepare for what would become one of his break-out roles. "I think I was meant to play Conan," he told Entertainment Tonight. "I felt very comfortable playing that character, playing that barbaric role and doing all that sword fighting -- it was a very physical film. Fighting snakes...riding horses, jumping off 40-foot towers, rope climbing...It was very hard work." 
Cut to today, and "Conan The Barbarian" is widely considered the first movie that put Schwarzenegger on the map, setting him up for a remarkable career.
Read this next: The 12 Best Arnold Schwarzenegger Films, Ranked
The post The 10 Best Arnold Schwarzenegger Roles That Aren't The Terminator appeared first on /Film.
---
Share this post
---
---