Spanish Valentine's Day Activities
Posted by admin on
Valentine's Day is one of my favorite holidays to celebrate with Spanish learners. It is a day to focus on love and friendship, and Valentine cards contribute a built-in language component. Below you'll find a new set of printable cards in Spanish and a great selection of Spanish Valentine's Day activities to try in class or at home.
Valentine's Day in Spanish-Speaking Countries
Valentine's day in Spanish is Día del amor y la amistad (The day of love and friendship), Día de San Valentín or Día de los enamorados. Most Spanish-speaking countries celebrate on Feb. 14th, although in Colombia they celebrate on the third Saturday of September. Many countries also celebrate El día del amigo in June or July.
Children love Día del amor y la amistad because it is chance to recognize how important their friends are to them. It is a day for celebrating romantic relationships too, but the appreciation of friendship is a big part of the celebration.
Día de San Valentine 2023
We've added this cute set of 12 cards to our Spanish Valentine's day activities. These Valentines feature simple Spanish phrases and cute drawings on one side. Kids can write a message and add a drawing on the back of the card. This is an easy, low-prep way to celebrate Valentine's Day with Spanish learners. Just print and personalize as you speak Spanish! You can find additional printable Spanish cards below.
Download the free Spanish Valentine Cards here.
Spanish Valentine Day Video
Another low-prep fun activity you can do with Spanish learners is watch this Habla Pamela video about Valentine's Day in Spanish and then make cards. Use this handy printable list of Spanish Valentine Phrases to make your cards and tell your friends and family how much they mean to you!
Spanish Valentine's Day Games
In my years of teaching, I've come to appreciate how even a small event or celebration can break the routine and keep children engaged with the language. Playing games makes class feel like party! Here are a few of the printable games for Valentine's Day I've made to use with students over the years. They are some of my favorite Spanish Valentine's day activities.
The phrases and words on the cards in my printable Spanish Bingo game are based on the phrases that you find on candy conversation hearts. Many of them are high-frequency vocabulary that students know used in a different context. For example, students are familiar with hola, feliz, llámame, buen día, dulce, guapo, vamos and para ti as everyday vocabulary.
Check out these easy Spanish Valentine's Day activities including an active musical hearts game, a heart craft to practice body parts, an easy paper heart chain with phrases and more.
This printable game is available in color or BW. Kids find the matching Spanish sayings on the hearts. You can also use the sheet of hearts with sayings for other games and crafts.
In this collection of activities, you'll find a printable bubble letter poster of phrases, a word search, Valentine lotería and matching games.
Kids love rhyme and rhyme helps learners hear the sounds of the language. I made this Spanish Valentine game where kids complete a two-line rhyme with a silly word and they love it! I do it with picture cards, to be sure students know what the rhymes means.
In this matching game, kids match hearts with questions and answers. I made this Spanish Valentine game to reinforce the common pronoun-verb pattern ¿Me quieres? Te quiero. Players match the two cards that use the same verb.
This printable matching heart game and coloring sheets are by Fun for Spanish Teachers. It is a fun review of colors.
Spanish Valentine's Day Cards
Kids put these Spanish phrases on the cards and other crafts they make. The printable list is a great resource!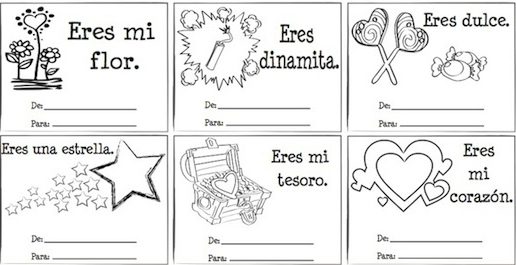 Try these 9 black and white cards for kids to color. The picture on the cards reinforces the cute valentine phrase.
Print these treat boxes in color or in black and white for kids to color themselves. Each one has a Valentine phrase illustrated by a picture.
Each of these cards has an easy counting or matching activity.
Free printable materials include coloring pages, cards, a word search puzzle and a worksheet of Valentine's Day words to alphabetize. All of these activities teach food vocabulary.
Spanish Valentine Songs
Spanish Valentine Song by Mariana Iranzi
This is a cute song that works well with elementary Spanish learners. The video has puppets of vocabulary in the song. I've included a simple printable with figures kids can use to make their own puppets.
Te quiero- A song for Valentine's Day and every day – A song for preschoolers by Spanish Together.
A song to celebrate friends on Día del amor y la amistad Amigo by the group Enanitos Verdes
Spanish Valentine Books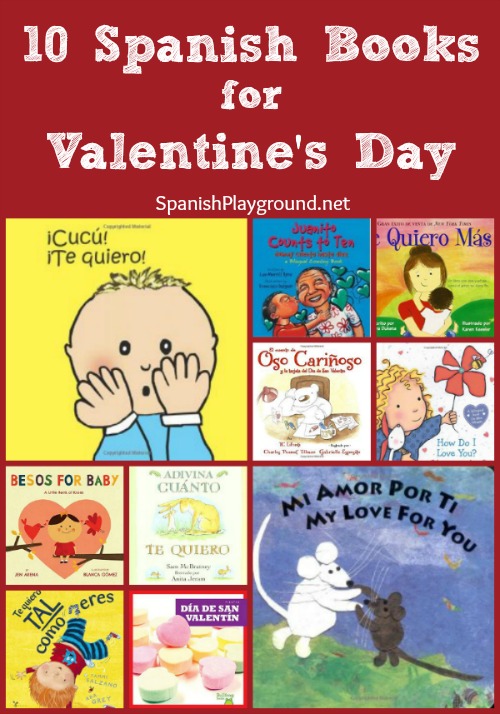 These books about love, family and friends are perfect for Valentine's Day. Several have a repeated sentence structure that kids can use as a model in their own Valentine cards.
El Día del amor y la amistad is an opportunity to help children celebrate their friends and family, and to show them how loved they are by all the people in their lives. It's also a natural way to incorporate Spanish into a culturally relevant holiday. We hope these Spanish Valentine's day activities are useful and that you have a day full of love and friendship on Valentine's Day 2023!
The post Spanish Valentine's Day Activities appeared first on Spanish Playground.
---
Share this post
---
---