Pepper's First Hike + Our Annual Valentine's Day Mission
Posted by admin on
Hey friends! How are you? I didn't mean to disappear and miss sharing my usual Things I'm Loving Friday roundup of favorites on Friday but our internet went out and blogging from my phone is a mess when I try to rely solely on data/roaming so I took it as a sign to let one fall to the wayside. I missed chatting with you guys on Friday and hope you all had a good weekend!
Our weekend began on a great note because Ryan arrived back in town on Friday afternoon! He was gone all last week on a work trip and we missed him! On the first night Ryan was gone, I told him I felt like I was back in the hazy newborn days because I was up with every single kid in the night at one point. It was a restless night for sure but other nights were smoother and we capped off our last night without Ryan with a big kid sleepover in Mom and Dad's bed.
Ryder wanted to make Ryan a big welcome home banner and said he was going to give Dad his "biggest jumping hug" when he walked through the door. He certainly did and we are all glad he's back home!
Saturday
Saturday morning was a lazy one filled with indoor soccer, hide-and-go-seek, waffles and melty beads!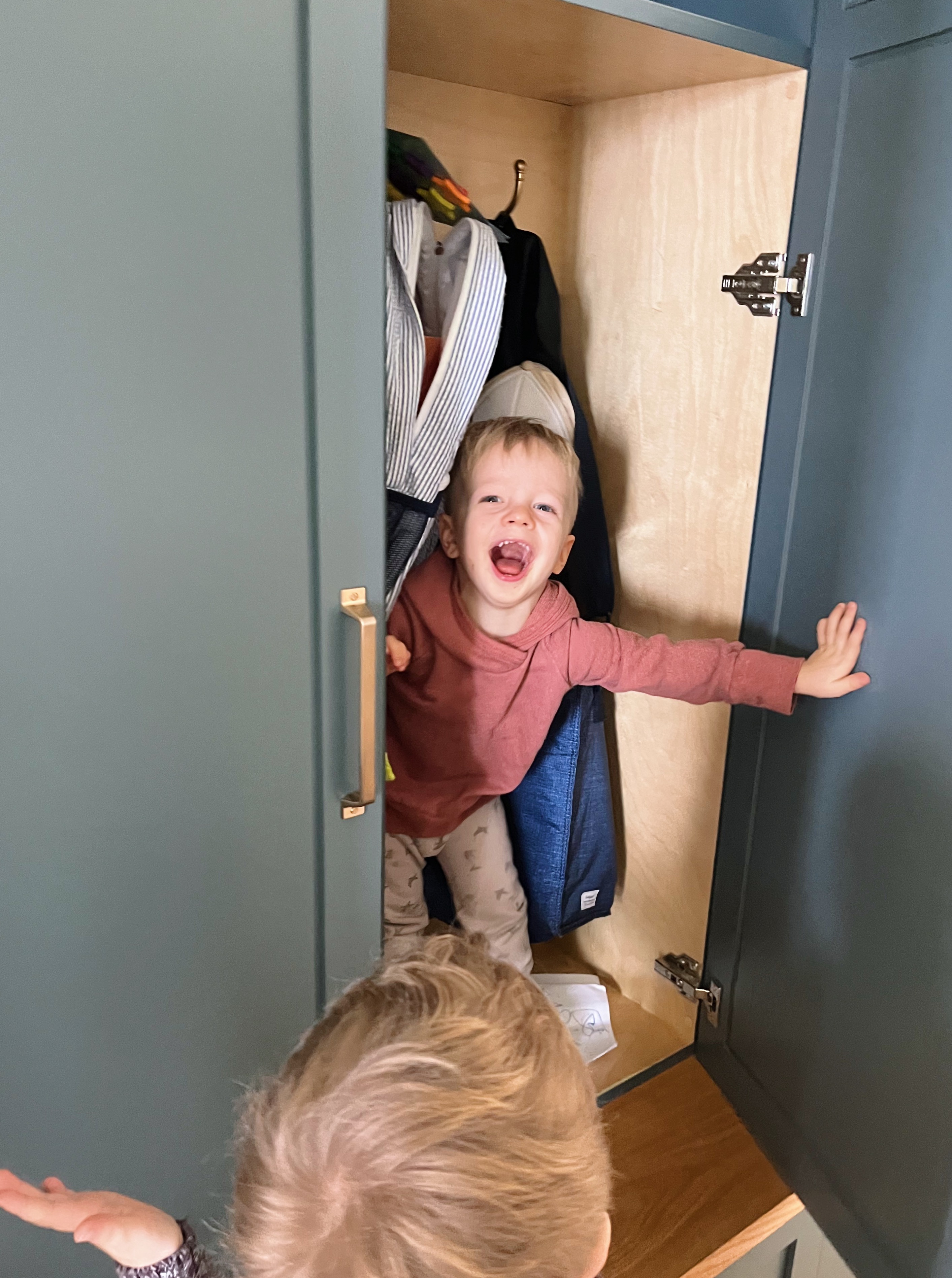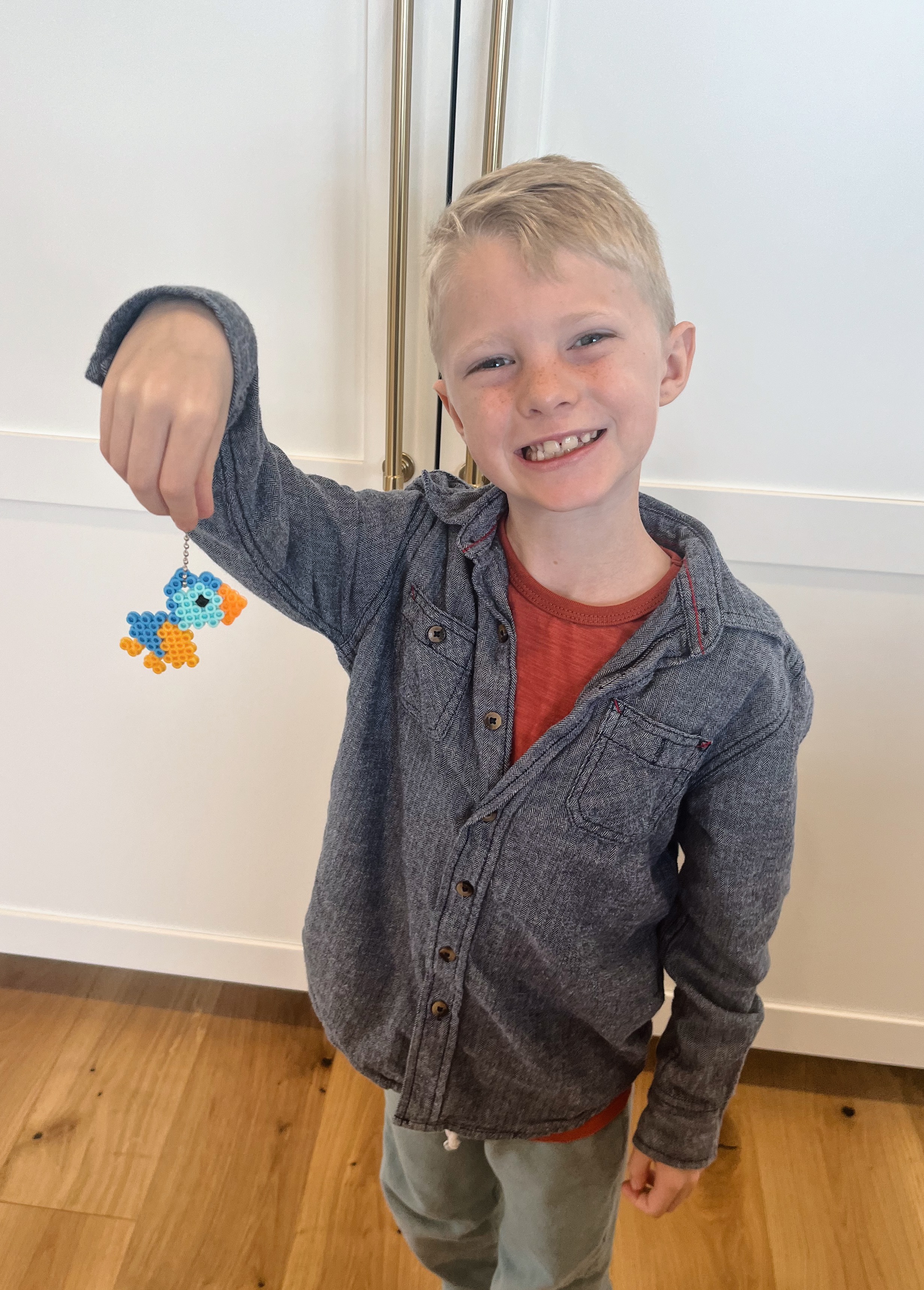 Our boys' Perler Beads obsession is going strong and oh my gosh I owe a huge THANK YOU to Becca for recommending Biggie Beads to us. They've been a slam dunk for Rhett and Ryder who can't do some of the more intricate Perler Beads designs on the smaller boards. The Biggie Beads allow them to make melty bead creations with larger beads using patterns they can slip under their boards. I cannot recommend them enough for toddlers!
The boys took their time making some melty bead creations for family and friends for Valentine's Day and eventually we got everyone outside for a family hike. We took Pepper on her first trail hike and she was all about it!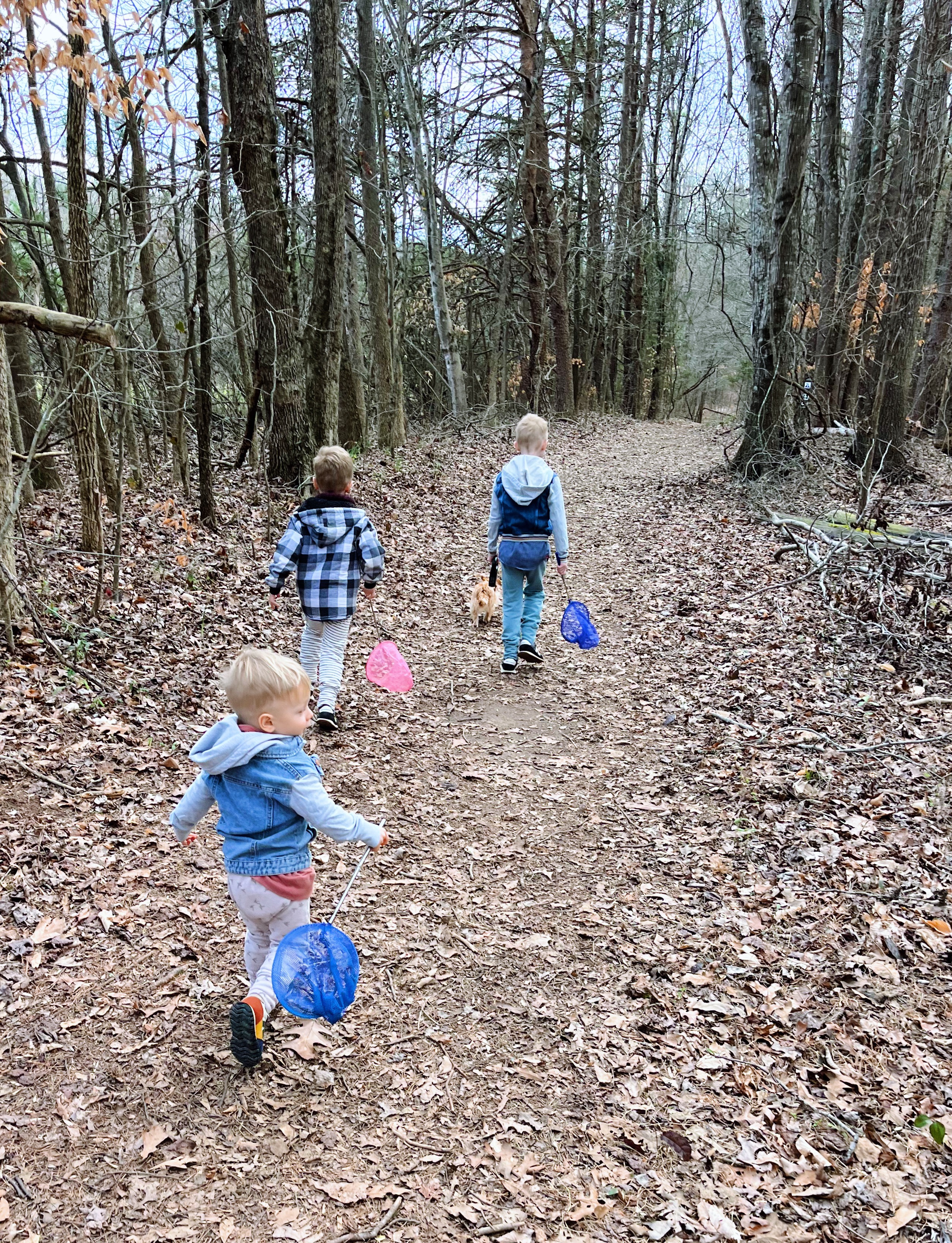 Our little hamster in the wilderness!
Despite Pepper's little dog fancy-schmancy (but also old man) appearance, we think she has some serious hiking blood in her because she was prancing around the trails like a happy little elf. Ryan and I talk about how much we missed having a dog in our lives quite often. I don't think we even realized how much we missed it until Pepper joined our crew. She's just the sweetest little fluff ball.
Of course we couldn't help but talk about Sadie on our hike on Saturday as well because hiking will never not remind me of the countless miles we covered with our crazy girl. Whenever people say things to us like, "I'm sure Sadie is so happy up in heaven to see you guys happy with another dog," Ryan and I are over here like, "Yeahhh probably not." Sadie is likely giving Pepper the stink eye from heaven (Sadie very much loved being the solo princess dog of the house), but I'd like to think Pepper bounding around all over the trails on Saturday would've made Sadie think, "Well, that little one might be okay after all."
Aaand that last paragraph makes me feel like a total dog-obsessed nut job, but you guys know that's how I am by now. We love our dogs an awful lot over here.
Once we made it back home, we dug into sandwiches for lunch and then Rhett went down for his nap. I wanted to do some blog work and some organizing around the house and offered to cover the nap trap while Ryan took Chase and Ryder to the trampoline park near our house. They big kids and Ryan picked up pizza on their way home and we spent the rest of the night hanging out and watching a new animal show for movie night. Once the boys were in bed, Ryan and I watched another episode of Break Point before turning in, too.
Sunday
On Sunday morning, we hung out at home for a bit and worked on valentines for the boys' classes and did more melty beads because their obsession with those things is real.
Our big plans for the day took us to Target for our annual Valentine's Day mission.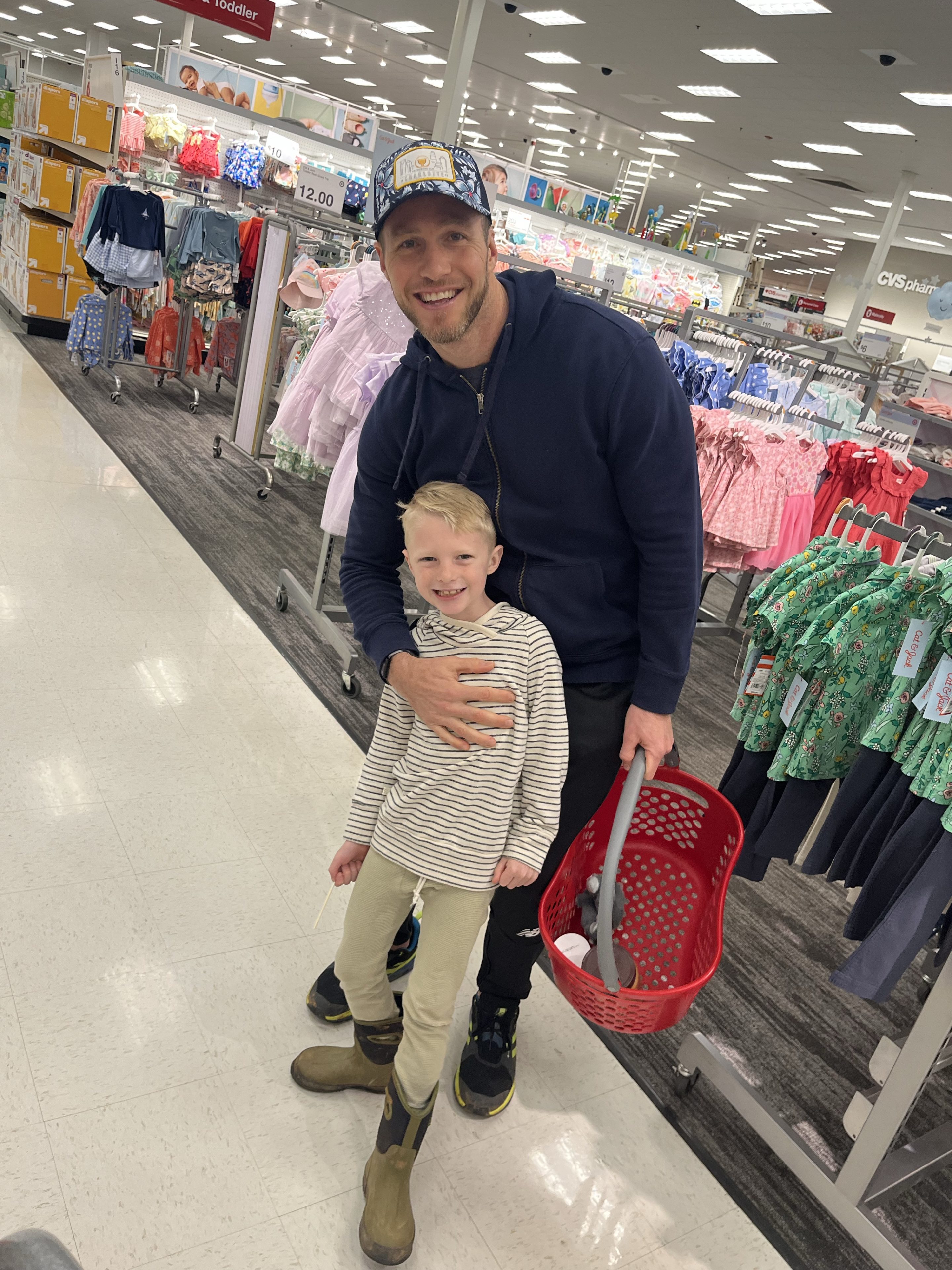 Ryan and I started this tradition when we were dating and its been so fun incorporating the boys into the fun over the past few years.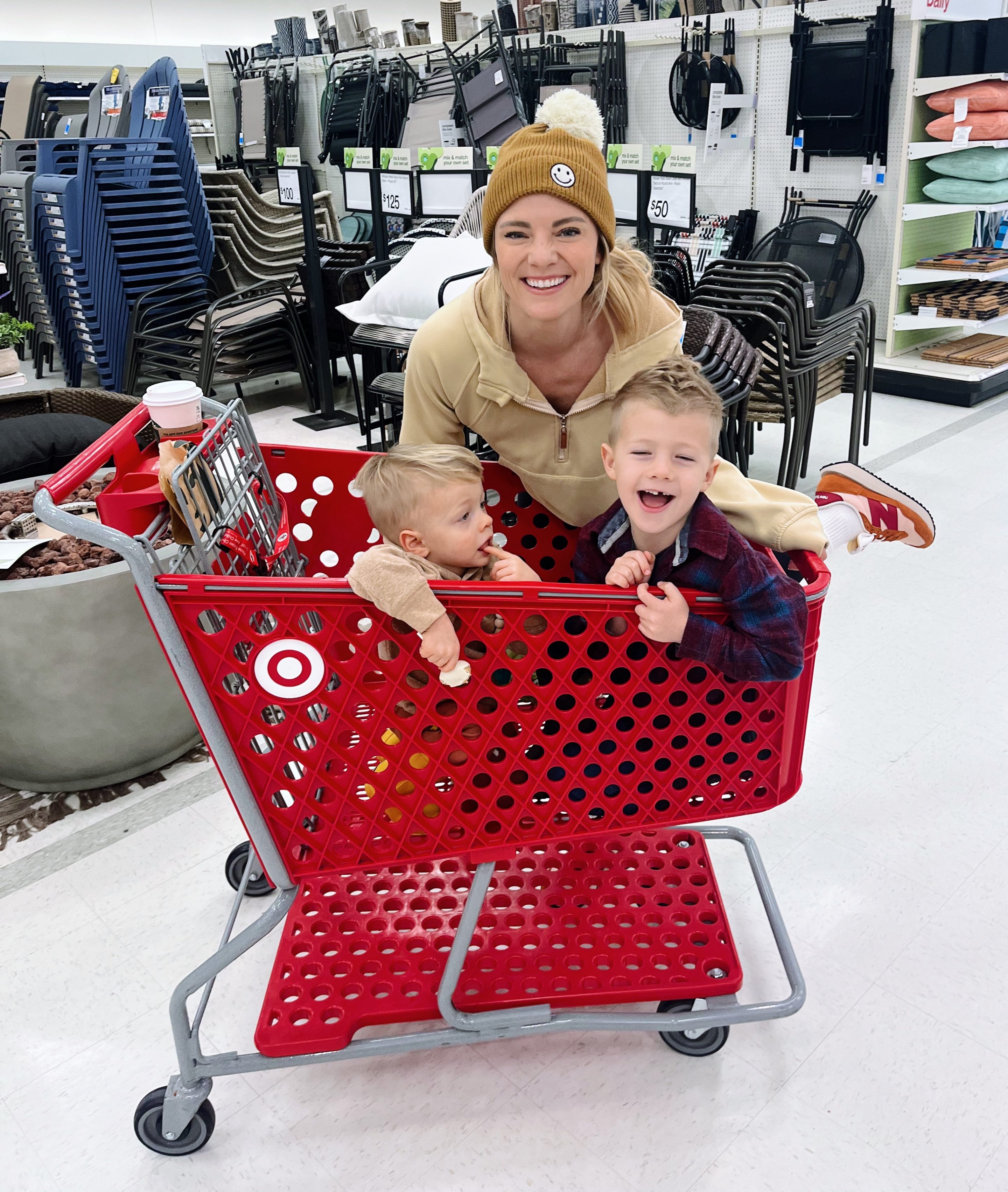 We divided into teams (Ryan and Chase vs. Me, Ryder and Rhett) and tasked the boys with selecting a small gift for the brother(s) on the opposite team within a $15 per person budget. The boys knocked it out of the park and gifted each other a lego kit (for Chase), a monster truck + small N.E.R.F. gun (for Ryder) and Mickey Mouse Clubhouse figurines + a Hot Wheels truck (for Rhett). They get so into this mission and seem to really enjoy it every year which makes Valentine's Day feel a little extra special for all of us!
The rest of the afternoon passed by in a flash thanks to lots of playtime with their new surprises!
While the big kids played and Rhett napped, Ryan and I also went through the house and made notes for our electrician who is coming by this week. We still have some light fixtures that need to be installed and switches that need to be swapped around.
We also spent some more time assembling valentines! Chase's school does something really cool for each different grade level in elementary school and this year he was tasked with creating acrostic poems for every one of his classmates. We thankfully get a heads' up about this a solid month in advance but naturally we still had some to finish up over the weekend.
Sunday evening we got all hyped up for the Super Bowl!! And by hyped up I mean no one in our house passionately cared about the outcome one way or another and we all simply rooted for the Eagles because our boys are in love with bald eagles at the moment. We still tried to make it a little fun by making a big spread of wings, chips and dip and other gameday fare to dig into when the game started but you better believe I was in bed before the game was over.
As for the week ahead, it looks like a relatively normal one over here. Ryan is in town, Valentine's Day is Tuesday, I have a preschool board meeting on the books and a parent/teacher conference this morning and of course all of the usual kid activities and commitments are on the agenda, too. And you better believe I hope to pop in here and chat with you guys a few more times this week as well! Enjoy your Monday, my friends!
The post Pepper's First Hike + Our Annual Valentine's Day Mission appeared first on Peanut Butter Fingers.
---
Share this post
---
---