My Amazon Fashion Favorites: Vol. 9
Posted by admin on
Welcome back to my weekly roundup of Amazon Fashion Favorites!
If you're new here, I do a weekly round-up each Thursday where I highlight a handful of fashion fashion finds from Amazon. I keep the list short, since I know shopping on Amazon is already overwhelming as-is! I hope these weekly collections help you find a few things you really love, and also make your Amazon shopping experience much simpler.
This week I'm highlighting a workout tank I'm obsessed with, a pair of shoes (two, actually) that I ordered, a HIGHLY rated white tee, and a few other quick finds.
Let's get right to it.
My Amazon Fashion Favorites: Vol. 9
HeyNuts Longline Zeal Bra
First things first, this workout top. I can't get over the quality and the fit! The material is thicker than I expected for such a low price point and the fit is flattering – not too tight, but also form fitting. It hits at the perfect spot on my waist and looks good whether I'm wearing mid-rise workout shorts or high waisted leggings.
I'm wearing a small here, which is true to size with my usual my workout top size. I love the cassis red color for the cooler months. It's different that my regular black tops, but not anything too bold or crazy. I prefer darker colors like this to hide sweat, too.
I have the matching leggings, and I cannot recommend them enough. They're about 90% as good as the Lululemon Align leggings, and I'd even venture to say that the Amazon pair is softer!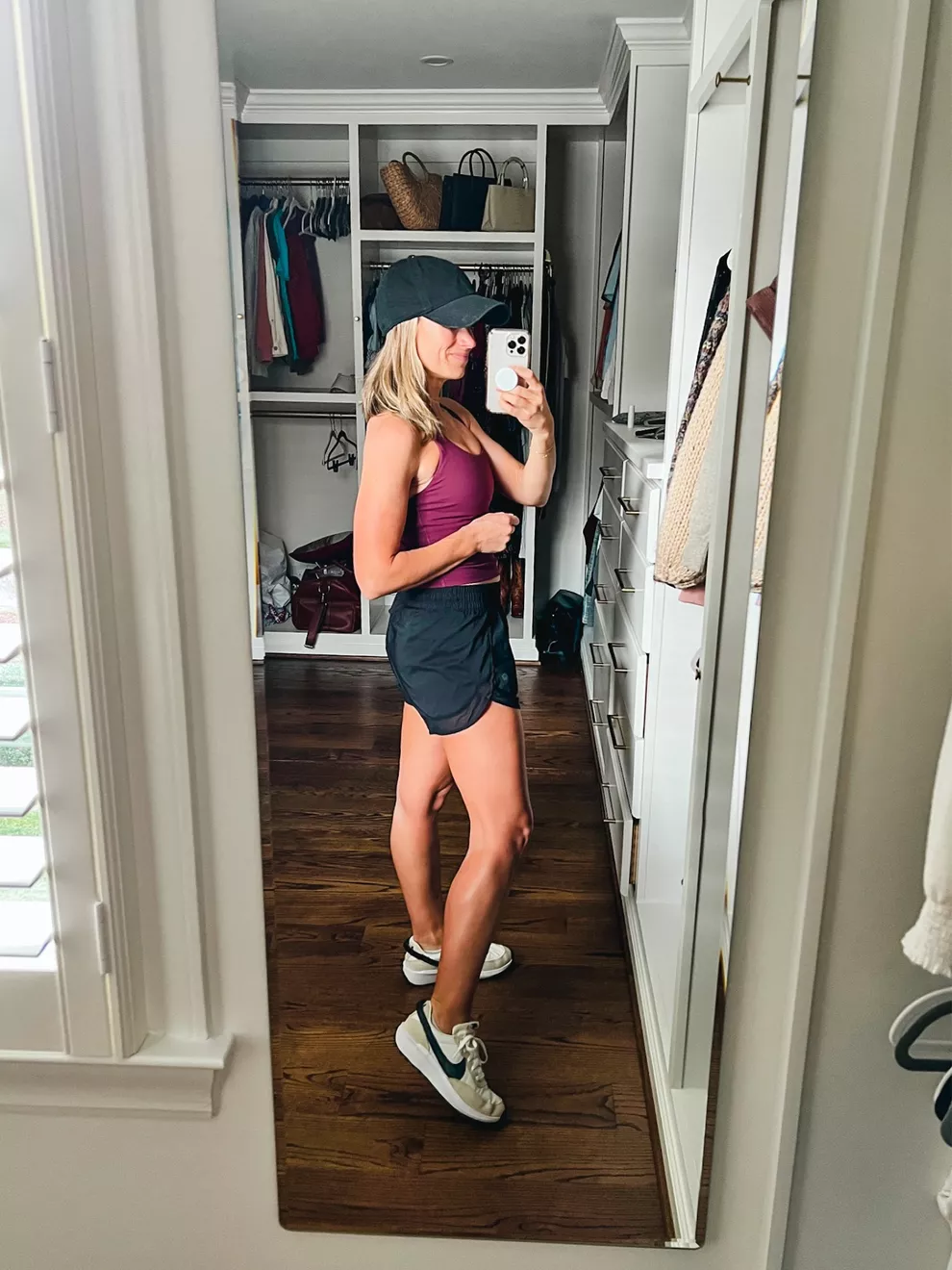 Outfit details here + self tanner 

Leset Classic Margo Tee
I know what you're thinking…"$68 for a white tee shirt?!" I know, it's a little pricier than I'd like too. However, I've learned over the years that where your investment pays off the most is with basics you wear most often. This white tee comes highly rated from a blogger who tried 15 white tees to find her favorite. I have to say, it's worth the price.
The fit is looser than a typical slim fit white tee, but I like the casual "throw-it-on-and-go" feeling. It'll be great with denim shorts and a cute necklace this spring/summer.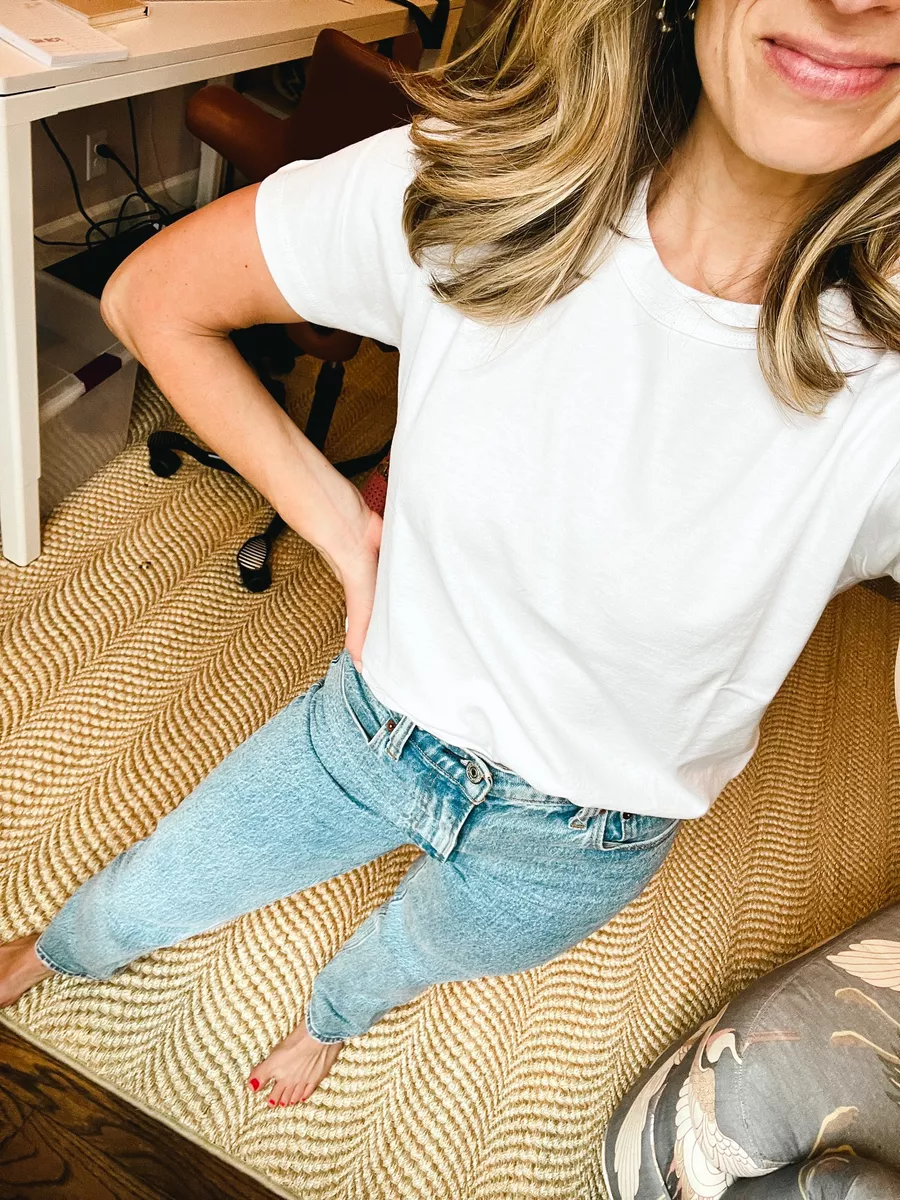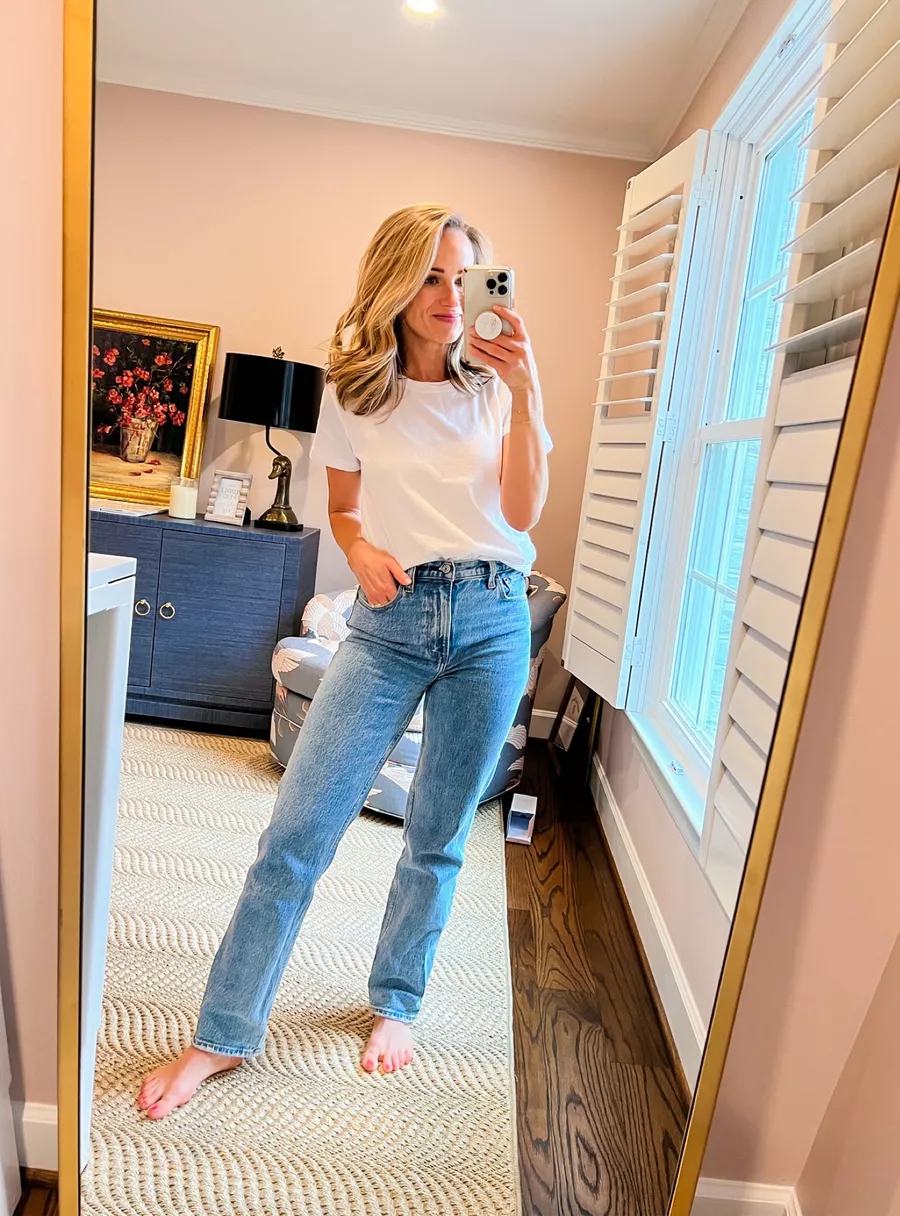 CRZ YOGA Faux Leather Workout Bra
I ordered this faux leather bra and legging set early this week and I'm SO excited about it. I've grown to really love matching sets for my pilates and mega former classes. Since my workout classes are also partly social/friend time, I enjoy feeling cute and excited to go to class. Whatever it takes, right??

Veja Sneakers
I know that Veja sneakers aren't necessarily what you'd think of when I say "Amazon Fashion Round Up", but you can't beat getting Prime shipping on your favorite brands. My old Veja sneakers are VERY worn out (I've had them for almost 3 years), and it's time for a new pair. I actually ordered two different styles to see which I like best.
I love pairing vejas with jeans, shorts and dresses. They are a European brand and I find that European brands fit my feet better than most U.S. brands. They have a slightly wider toe box, which is much more comfortable than cramped toes and I can walk miles in these without any rubbing or aching. It's the pair I always take when I travel!
The first is the Veja Esplar sneaker, which is very similar to the Campos pair I already had. The Esplar is a little slimmer, less chunky, and has just a tad less height than the Campo. I got the matcha color.

The second pair is the Recife Logo Sneaker. These are not everyone's cup of tea, but I  LOVE the velcro straps. However, I have to do some thinking (and need to try them on with a ton of different outfits) to see if they feel cute and chic, or if they look more like a preschooler. It's still up in the air but, as always, I'll update this post (and all Amazon fashion posts) with notes after I try and buy something.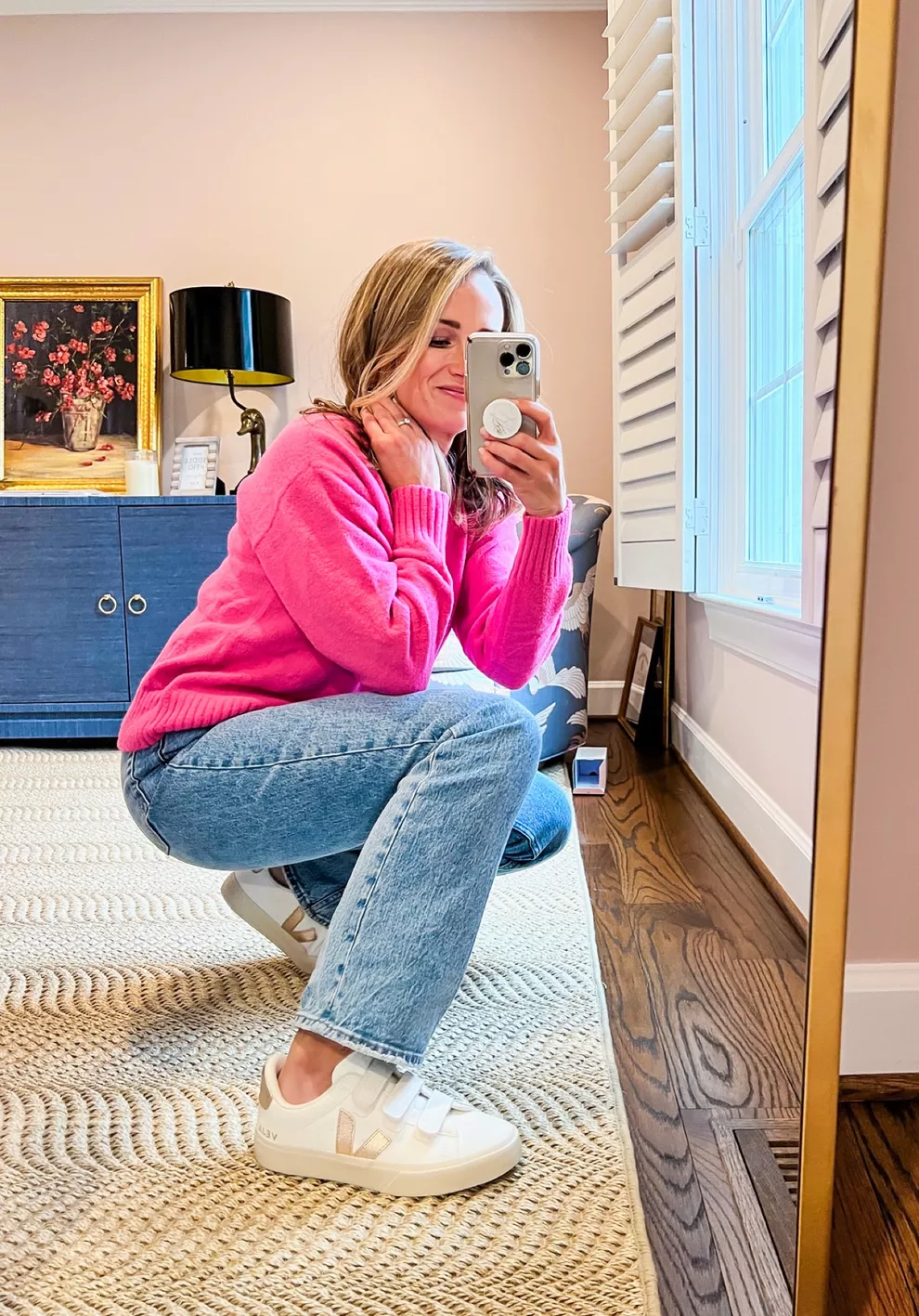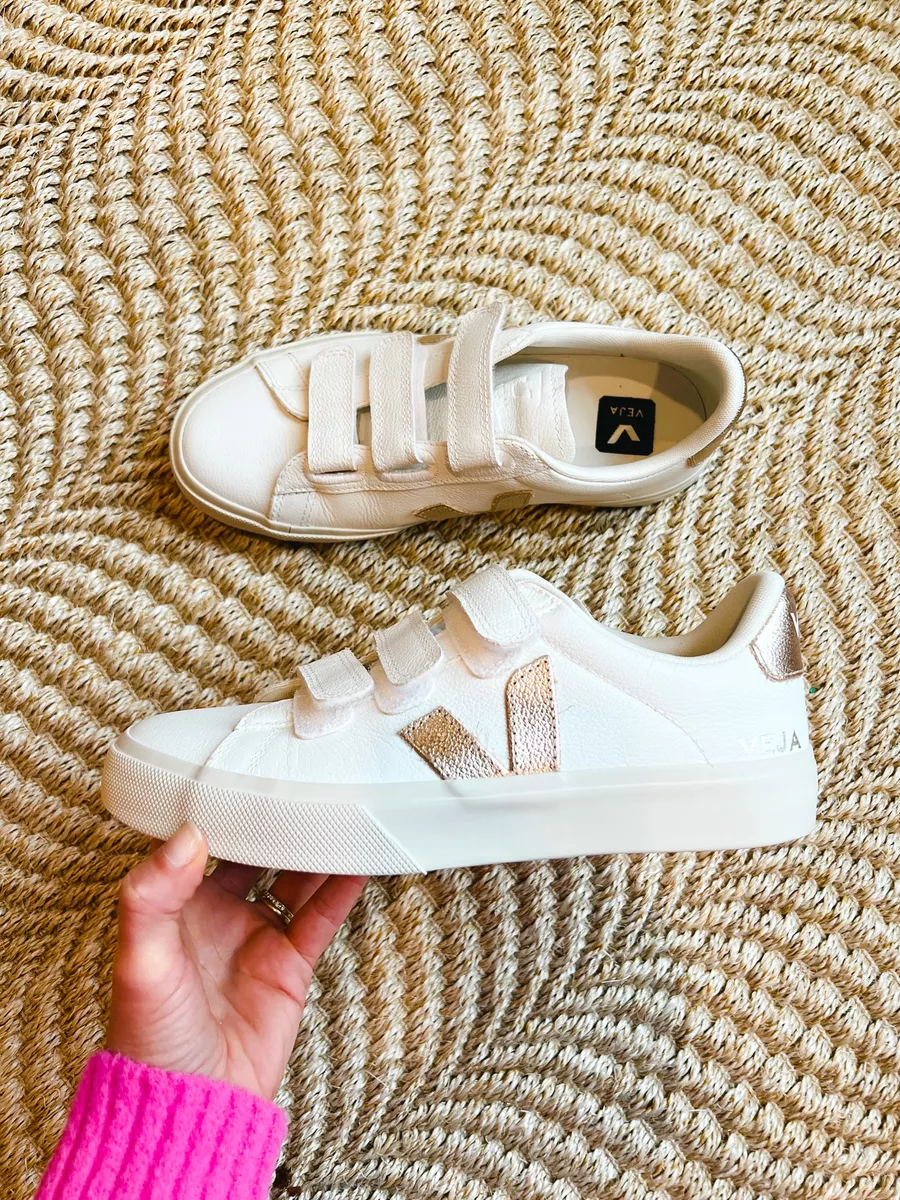 Heysolo Sherpa Fleece Jacket
Do we really need more winter jackets? Heck no. But I can't stop eyeing this one. The green and cream combo feel very classic to me, and I love that it's a cozy, thinner layer which is great for transitioning into spring weather. It's under $30 right now, so if you're bored of your winter coats, just snag this to make your cold days a little happier. No shame here!

The Drop Irina Cozy Crew Neck Sweater
I didn't pay much attention to this sweater when I saw it online, but then I saw a blogger I follow wearing it, and I LOVED IT! That just goes to show you that you can't judge an item just by the listing online. She tucked this into to jeans for a fitted look, and paired it with a pink puffer coat on top. I don't have a pink puffer coat, but I know I'd love this sweater tucked into a pair of mom jeans with loafers or sneakers. For a fitted look, I'd size down 1 size.

Carter Super Soft Essential Crewneck Sweater
I included this sweater in last week's roundup, but I ended up ordering it myself so I'm linking it again! The hot pink is just making me SO happy in this grey winter weather. I got an XS and it fits perfectly.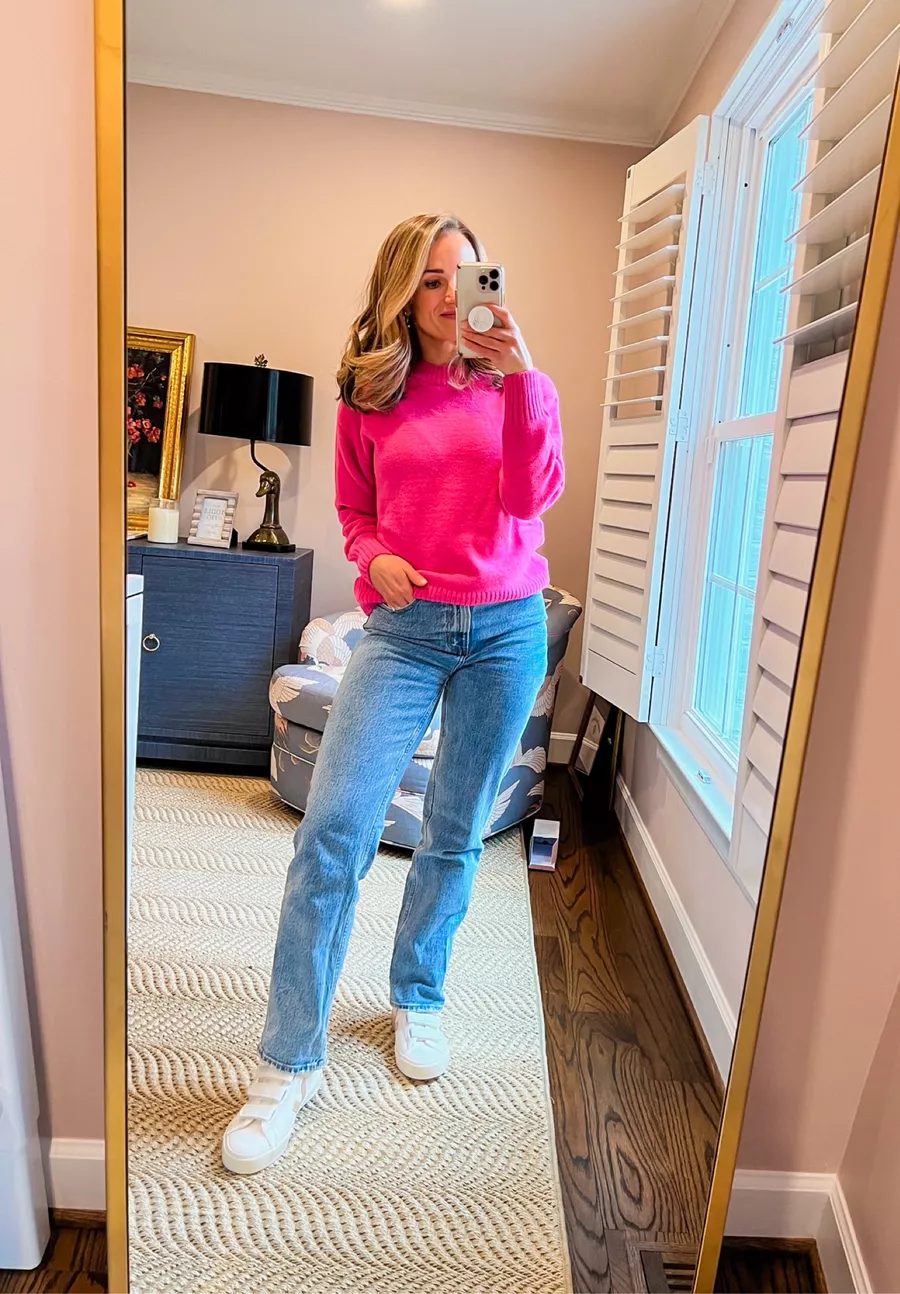 Olietta Glass Non Drip Cruet
Throwing an oil cruet in here is very random, I'm aware. But I needed a new one and absolutely love this! It's drip proof, which is such a game-changer. I always have oily olive oil caps and this makes everything feel clean and pretty. It'd make a wonderful hostess gift, paired with your favorite oil (we love Colavita for everyday use, but if I was gifting oil, I'd give this (find at SoHo in Winston Salem)!

SOJOS Retro Round Double Bridge Polarized Sunglasses
I love this style of sunglasses. They're super chic and cool, and since I already own a few pair of sunglasses, I also love the appeal of a cheap throw-around pair. It also gives me a chance to see if this a style I'd wear a lot or not. The reviews are great, and they're under $20.

Casual Turtleneck With Batwing Sleeve
This style of pullover has been super popular over the last few years, but I never thought much about it until I saw someone where it as athleisure. I always imagined it being paired with skinny jeans (which I'm not wearing often these days), but I'm newly inspired to try it with leggings, sneakers, and a ball cap. (My current favorite ball cap is this one.) It's meant to fit oversized, so there's no need to size up. It's VERY long, so if you're petite like me, you may even be able to wear this as a casual dress!

Okay, those are all of my finds from this week! Let me know if you've found something I need to buy in the comments.
Shop The Post

The post My Amazon Fashion Favorites: Vol. 9 appeared first on A Foodie Stays Fit.
---
Share this post
---
---