15 Best 90s Cartoons, Ranked
Posted by admin on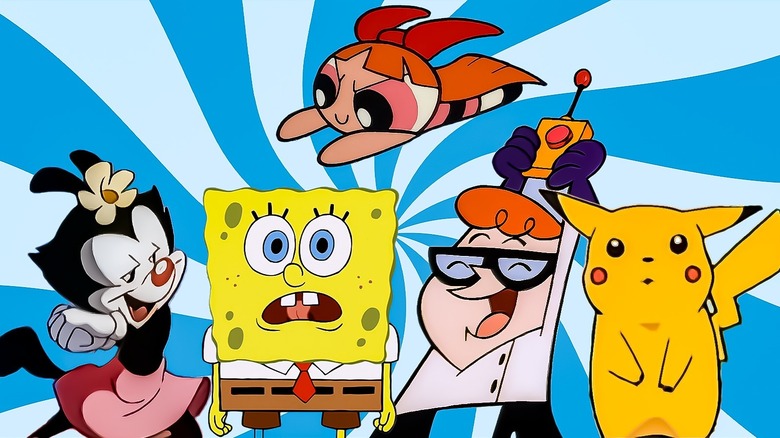 The 1990s: the decade when teal squiggles and purple triangles reigned supreme. Or at least, that's what our collective memory has assigned to the period's romanticized style guide.
The '90s were formative for the medium of animation. On the silver screen, Disney animated musicals dominated the box office and awards seasons, while studios like Pixar and DreamWorks debuted their first feature films. On the small screen, the animation revolution continued in what we can now look back on as a unique convergence of passing generations. The Disney Afternoon programming block crested the wave of its success, oodles of beloved Nicktoons busted onto the scene, Cartoon Network launched, and some of today's longest-running animated series populated airwaves for the very first time.
Attempting to rank the best 90s cartoons is a nearly impossible task. Everyone has their favorites, whether we're talking about precious childhood shows or foundational barrier-breakers in adult animation. Inevitably, any list is bound to have a few upsets. "How dare you not include [insert amazing show you expect to be on this list but it's not]!" Against any logic that says doing so is a good idea and totally won't lead to angry mail, let's do this. Here are the 15 best 90s cartoons, ranked.
(A note on eligibility: For brevity's sake, this list only includes cartoons that premiered in the 1990s. If any given show aired throughout the decade, but didn't debut within it, it's disqualified from our countdown. "The Simpsons" incredibly missed the cut-off by a mere 14 days.)
Darkwing Duck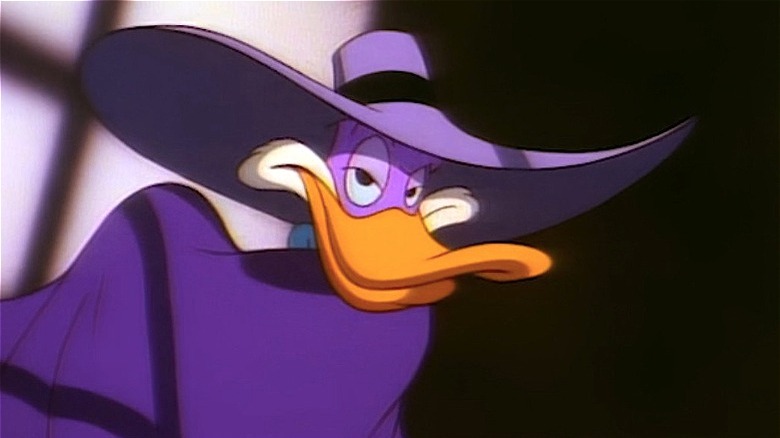 Three words: Let's get dangerous. "Darkwing Duck" aired 91 episodes as part of the highly popular syndicated programming block known as The Disney Afternoon. While the block arguably hit its peak in the late '80s with shows like "DuckTales" and "Chip 'n Dale Rescue Rangers," "Darkwing Duck" and a number of other shows proved The Disney Afternoon had the staying power to carry it into a new decade.
Launchpad McQuack (voiced by Terence McGovern), Scrooge McDuck's bumbling pilot from "DuckTales," returned as part of the main "Darkwing Duck" cast. This time, Launchpad is an aide to Drake Mallard (Jim Cummings), a.k.a. Darkwing Duck, a.k.a. "the terror that flaps in the night." As the show's catchy theme song says, "When there's trouble, you call DW!"
Unlike many other Disney Afternoon shows, "Darkwing Duck" isn't a reinvention of a classic, generations-old Disney character. Darkwing is his own thing, giving his program the freedom to imagine creative storylines and extended-universe characters without any worry of tarnishing an established brand. "Darkwing Duck" is exciting, funny, and just plain cool. Drake Mallard returned for guest appearances on the 2017 "DuckTales" reboot, albeit as an actor playing Darkwing rather than as a real hero.
Dexter's Laboratory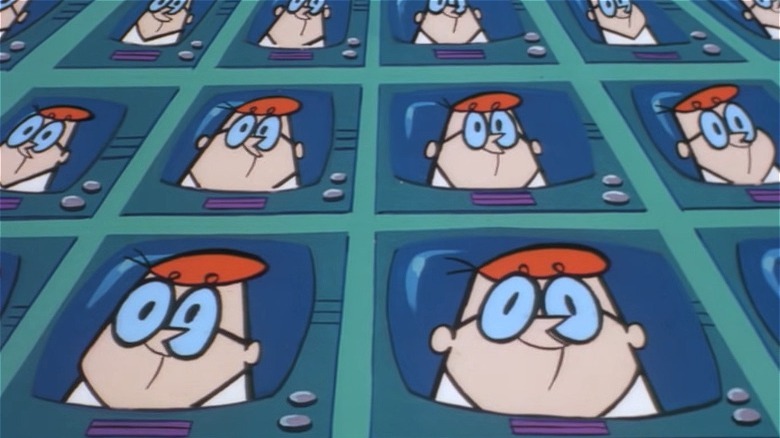 Dexter (Christine Cavanaugh) wants to conduct serious science experiments. His sister Dee Dee (Kat Cressida) just wants to have fun. Their colliding personalities make for one of the decade's most memorable sibling rivalries in "Dexter's Laboratory," the Cartoon Network staple that aired 79 episodes beginning in 1996. The show was created by Genndy Tartakovsky, who would later create "Samurai Jack" and direct the first three "Hotel Transylvania" films.
Anyone with an exuberant sibling can empathize with Dexter's (admittedly hilarious) frustration in dealing with Dee Dee. Some days, he's able to politely articulate these qualms. In one instance, he calmly explains to Dee Dee, "I am a soul who requires peace, quiet, and most importantly, solitude. But every day, that solitude is inevitably broken by you." More frequently, though, Dexter blows his top, leading to his signature phrase screamed at playgrounds 'round the world during school recess in the '90s: "Get out of my la-BOR-a-TORY!"
Spider-Man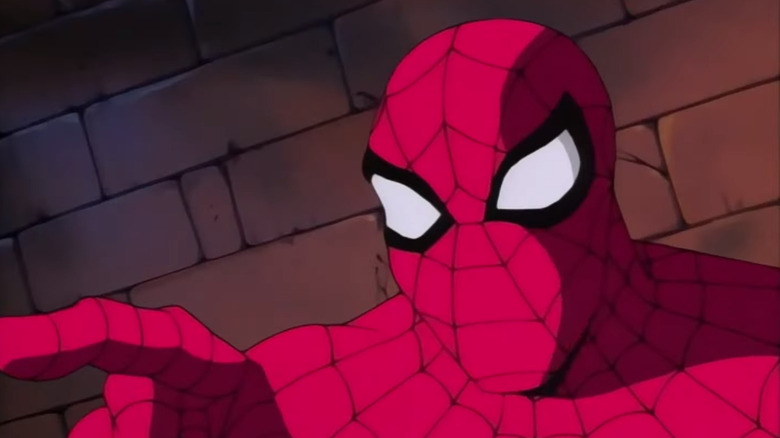 A long list of Spidey TV shows came before and after it, but this one, simply titled "Spider-Man," stands out within the web-slinger's filmography as one of his best projects. It began its 65-episode run in 1994, starring Christopher Daniel Barnes (the voice of Prince Eric in "The Little Mermaid," fun fact!) as the titular hero. The series was part of Fox Kids, a programming block on Fox.
The '90s "Spider-Man" cartoon beautifully adapts the character's comic-book origins with a classic good-guy/bad-guy aesthetic. The series is kitschy in the best way, and yet somehow simultaneously genuinely enthralling. Its portrayal of Peter Parker as an aspiring photographer who just so happens to be your friendly, neighborhood Spider-Man laid a foundation for Sam Raimi's live-action Spider-Man films that would soon follow it.
The show serves up a Who's-Who of iconic adversaries, with everyone from the Green Goblin and Kraven the Hunter to Dr. Octopus and Venom facing off against Spidey. The series also occasionally features appearances by other Marvel heroes, among them Daredevil and Wolverine, upping the excitement of never knowing who might show up. As if that isn't enough, the show rewards loyal viewers by telling a singular, overarching story across each season, unspooling the narrative as the episodes progress.
The Powerpuff Girls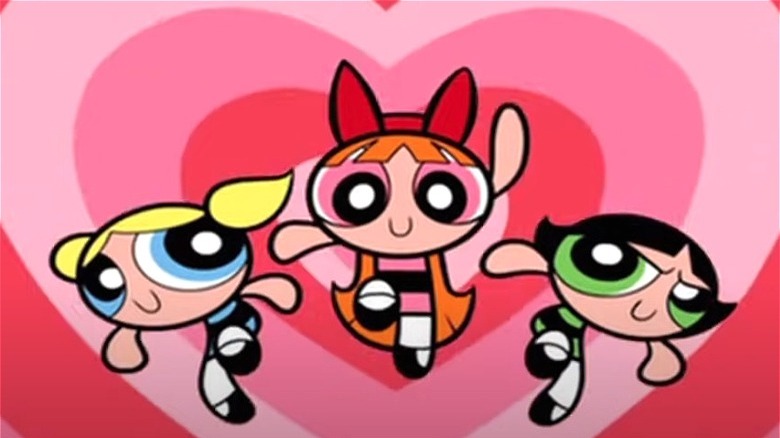 Sugar, spice, everything nice, and Chemical X. These elements create the titular characters of "The Powerpuff Girls" — and are also the qualities that make the show a Cartoon Network mainstay.
With villains such as Mojo Jojo (Roger Jackson) on the rise, Blossom (Cathy Cavadini), Bubbles (Tara Strong), and Buttercup (E.G. Daily) "have dedicated their lives to fighting crime and the forces of evil" with their superpowers, as the show's buoyant narrator (Tom Kenny) proclaims in the intro theme. The girls' clashing styles complement one another in battle and naturally provide every viewer with an opportunity to choose a favorite. With zany, cartoony sound effects and action-packed, heroic storylines, "The Powerpuff Girls" has a little bit of something for everyone. Furthermore, a chic, mid-century art style evokes a vintage quality absent in many other '90s cartoons.
"The Powerpuff Girls" came from the mind of Craig McCracken, who previously directed episodes of "Dexter's Laboratory" and later would create "Foster's Home for Imaginary Friends." Debuting in 1998, "The Powerpuff Girls" ran for 81 episodes and spawned a theatrical film (that disappointed at the box office). In 2016, Cartoon Network rebooted the show with 118 new episodes.
Doug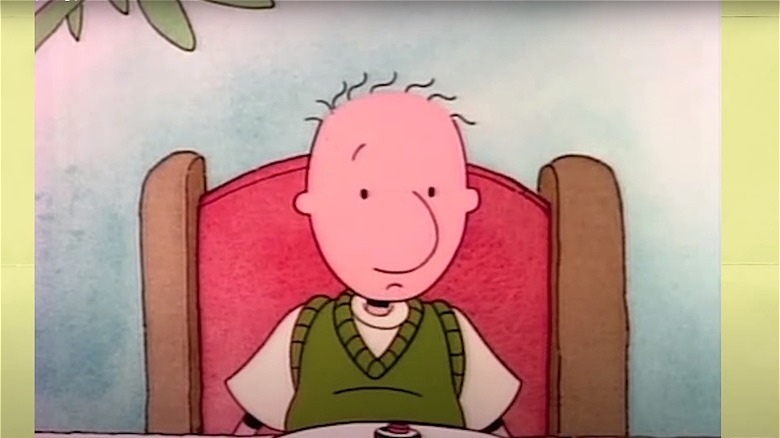 You can't help but root for Doug Funnie (Billy West, Thomas McHugh) as he faces the woes of teenage life — and as he saves the day as Quailman, his superhero alter ego. "Doug" is unique among '90s cartoons for its unconventional broadcast life. It began as a Nickelodeon program in 1991, airing 56 episodes across four seasons. With the onset of the show's fifth season in 1996, the show became "Disney's Brand Spankin' New Doug," airing instead in ABC's One Saturday Morning programming block and lasting three more seasons for a total of 65 new episodes. A 1999 feature film under the Disney banner capped off the series.
"Doug" is inherently appealing because its main character is instantly relatable. In a list of cartoons that lean on fiction, "Doug" feels pretty grounded. The show contains some degree of fantasy, but Doug Funnie's dilemmas are ones that many kids face on a daily basis. He's awkward around his crush, Patti Mayonnaise (Constance Shulman). He loves hanging out with his best friend, Skeeter (Fred Newman). He aims to avoid the school bully, Roger (Billy West, Chris Phillips). He takes care of his dog, Porkchop (Fred Newman). He dreams of escaping the doldrums of his life and being a superhero. "Doug" captures the highs and lows of adolescence with ease and humor.
The Wild Thornberrys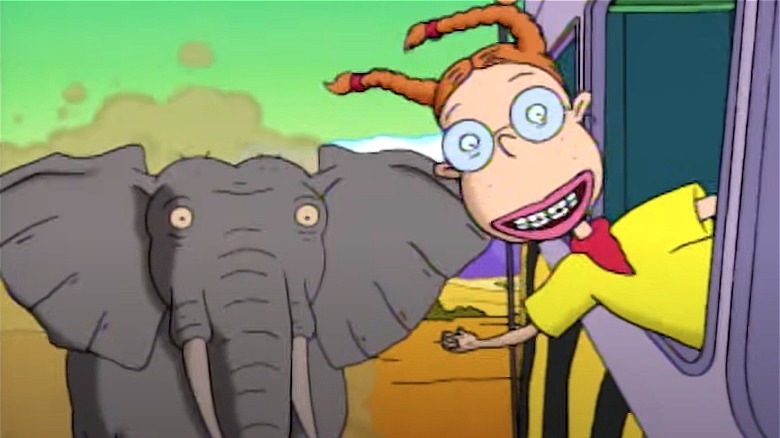 A girl who can talk to animals? A crazy gibberish-shrieking boy? TIM CURRY? "The Wild Thornberrys" has it all. Eliza Thornberry (Lacey Chabert) is a brace-faced teenager with a secret: she can converse with animals. Eliza and her family travel the world as her father, Nigel (Curry), hosts a television program about animals and nature. Comic relief comes in the form of Eliza's angsty sister Debbie (Danielle Harris), her hyperactive brother Donnie (Flea), and her pet monkey, Darwin (Tom Kane). They're nearly all outshined, though, by Nigel, with Curry's voice performance as the eccentric explorer being nothing short of "smashing."
While never heavy-handed with its message, "The Wild Thornberrys" teaches viewers about different animal species and the importance of conservation. The setup of Nigel visiting a new habitat in each episode allows for an expert example of educational entertainment, almost always feeling more like an adventure than a lesson.
The show premiered in 1998 on Nickelodeon, spanning 93 episodes and leading to two theatrical films, one of which crossed over with "Rugrats." The production company Klasky Csupo created both shows.
The Magic School Bus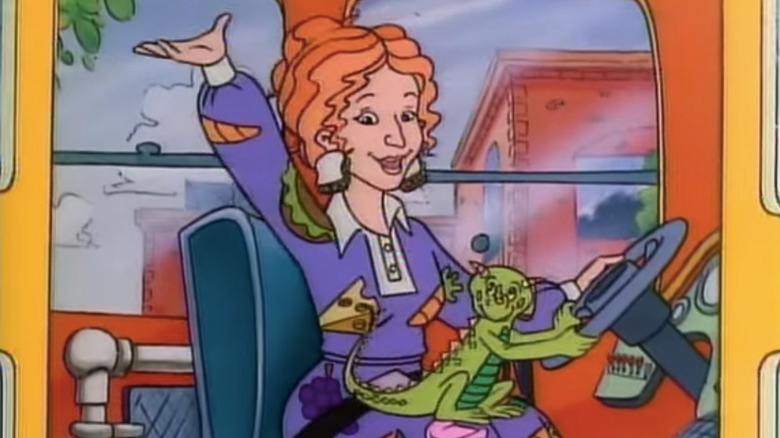 Learning is fun! You never know where Ms. Frizzle (Lily Tomlin) will take her mobile classroom next. And by classroom, I mean her smiling, sentient, flying school bus. As Ms. Frizzle and the students venture to fantastic destinations in "The Magic School Bus," young viewers learn a thing or two along the way without even realizing it. After all, these aren't just random voyages. They're field trips!
While Ms. Frizzle is certainly kooky (Tomlin giving her all in her voice performance), she's also incredibly smart. Even though the locations themselves are places that most kids can only ever dream of visiting, Ms. Frizzle is quick to share actual facts about the day's subject, the same as any teacher would on any educational field trip. It's just that the venue happens to be a tad more wondrous. Why go to a rainforest museum when you could go to an actual rainforest? Why study a pickle jar with a magnifying glass when you can shrink and explore the inside of it for yourself? Etc., etc., etc.
"The Magic School Bus" debuted in 1994 on PBS Kids, eventually airing 52 episodes. A 2017 revival series, "The Magic School Bus Rides Again," stars "Saturday Night Live" alum Kate McKinnon as Ms. Frizzle's younger sister.
South Park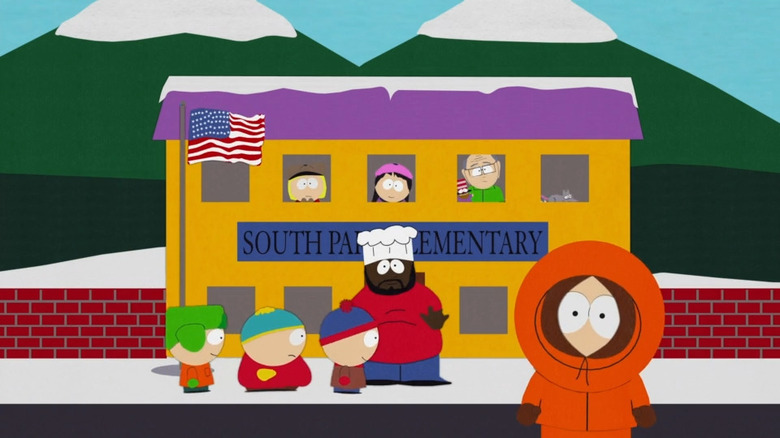 Be honest: you snuck out of bed as a kid to watch "South Park" without your parents' permission, didn't you? This in-your-face animated comedy may feature children as its main characters, but the content is anything but kid-friendly. As Stan (Trey Parker), Kyle (Matt Stone), Cartman (Parker), and the constantly dying Kenny (Stone) trudge through elementary school, their behavior would give Ms. Frizzle a heart attack. "South Park" sets itself apart with its unique animation style, appearing to almost be paper-like figures moving in stop-motion (though it's not) rather than traditionally fluid hand-drawn animation.
Still in production today, it's easy to forget "South Park" premiered in the '90s. It first aired on Comedy Central in 1997 and boasts a staggering 300-plus episodes at the time of this writing. "South Park" writers routinely infuse topical humor about current events to drive their jokes. For a show that's been running as long as "South Park," this comes as a risk. As time progresses and comedy evolves, the show must evolve with it, and the creatives behind "South Park" have proven their mastery at doing precisely that.
Pokémon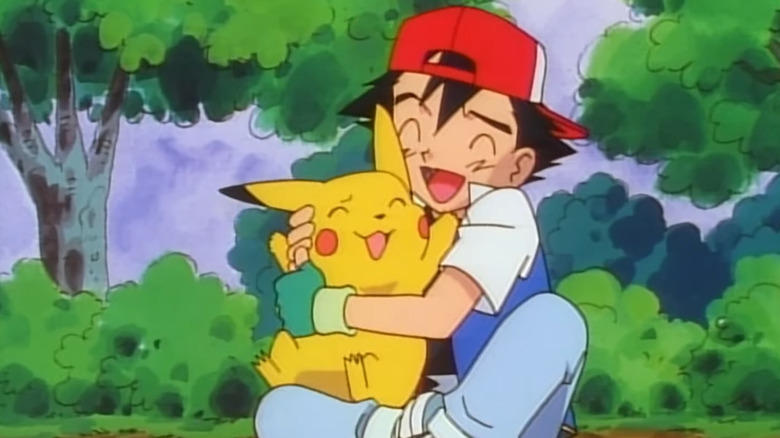 "Gotta catch 'em all!" The international sensation that is "Pokémon" began in the '90s with its first games and early TV seasons, launching a decades-long movement that continues today — with over 1,200 episodes and counting — and set a foundation for others to follow. Ash Ketchum (Rika Matsumoto in Japanese, Veronica Taylor and Sarah Natochenny in English) trains Pokémon, a vast group of amazing creatures with special powers. Ash's most loyal pal, of course, is Pikachu (Ikue Ôtani), now as beloved in the zeitgeist of classic characters as Scooby-Doo or Snoopy.
Part of the intrinsic uniqueness of "Pokémon" is its ability to transcend the television screen. Beginning life as video games and expanding its media presence through the TV series, card games, two dozen movies, and a bottomless well of franchise projects, "Pokémon" is more than a half-hour program. It manifests in many aspects of its fans' lives, extending its legacy and cementing its place in global popular culture. That's not to say that other shows on this list don't leverage synergy. There are plenty of multiplatform tie-ins with any successful animated show, from toys to live events to theme park attractions. "Pokémon" stands out, though, as nothing short of a game-changer — not just for anime, but for animation at large.
Rugrats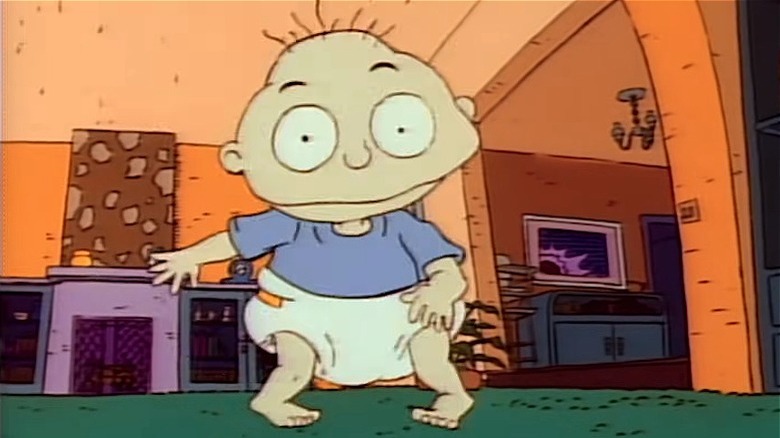 Before a certain sponge lived in a pineapple under the sea, "Rugrats" was Nickelodeon's powerhouse. I mean, come on. What kid didn't want their own Reptar Wagon? Tommy (E.G. Daily), Chuckie (Christine Cavanaugh, Nancy Cartwright), Phil (Kath Soucie), and Lil (Soucie) are ordinary toddlers whose extraordinary imaginations enable them to embark on exciting adventures beyond their playpen. Angelica (Cheryl Chase), Tommy's older cousin, constantly tries to make the "stupid babies" miserable. She's a villain in the style of classic cartoon foils and yet completely different from any adversary before her.
"Rugrats" aims to entertain multiple generations. While definitely not in the category of "adult animation" in the sense of "South Park," "Rugrats" puts just as much effort toward fleshing out the personalities of the adult characters as the babies. Parents can watch "Rugrats" with their kids and chuckle here and there at jokes that go over young viewers' heads (like the name of the family's physician, Dr. Lipschitz).
"Rugrats" took its first steps onto airwaves in 1991, lasting 178 episodes and spawning an impressive three theatrical films. Over time, the characters experience major life events and the cast expands, including the birth of Tommy's brother Dyl (Tara Strong) and the adoption of Chuckie's sister Kimmie (Dionne Quan). A spin-off, "All Grown Up," showing the babies as tweens, enjoyed a reputable life of its own across 55 episodes beginning in 2003. A computer-animated "Rugrats" reboot featuring much of the original voice cast debuted on Paramount+ in 2021.
Batman: The Animated Series
Adam West? Michael Keaton? Christian Bale? Everyone has their favorite portrayal of the Dark Knight. "Batman: The Animated Series" captures the iconography of the classic hero in a new medium that doesn't just recall bygone glory days, but is a definitive tentpole in and of itself.
"Batman: The Animated Series" portrays the signature landscape of Gotham City to a T. Animators present the cityscape as moody and sleek, with an almost noir-like quality. Narratively, writers challenge the audience to accept dramatic stories (that just so happen to be animated) rather than assuming a Batman cartoon must fit a certain mold that might be expected.
Starring the late Kevin Conroy as the voice of Batman (and occasionally featuring Mark Hamill as Joker), "Batman: The Animated Series" debuted in 1992 on the Fox Kids programming block and ran for 85 episodes. Its influence can be traced in many television and film projects that followed it, in animation and live-action alike.
Family Guy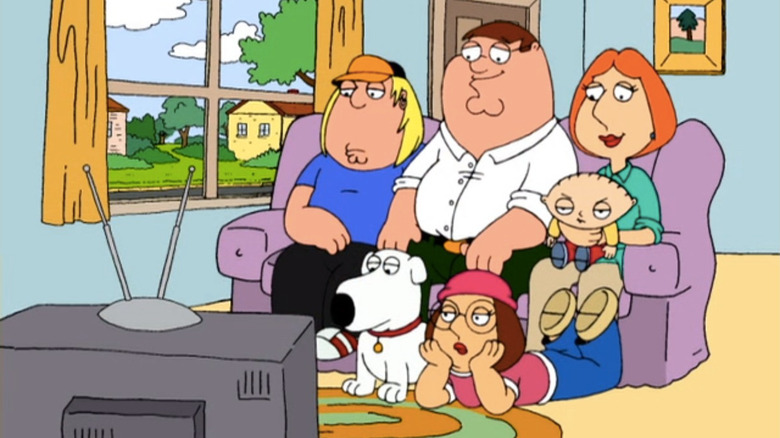 What's your favorite cut-away reference to a movie, TV show, or historical event in "Family Guy"? I'll go first: "Aladdin IV: Jafar May Need Glasses." Seth MacFarlane's brainchild is offbeat, satirical, and anything but subtle. "Family Guy" defies any genre-conforming box with a show that's part suburban family sitcom, part anthropomorphic fantasy, part parody, and part something completely unique and in a category all its own.
MacFarlane is the heartbeat of "Family Guy," serving as its creator, an executive producer, a writer, and the voice of four of its main characters (Peter, Stewie, Brian, and Quagmire). His clear passion for the series and his involvement in nearly every aspect of its production is rare in television animation.
The titan that is "Family Guy" made a cosmic first impression on Fox in 1999 and continues to go strong 400-plus episodes and more than 20 seasons later. "Family Guy" expanded the adult animation landscape and defined a generation's comedy tastes. Whether through Peter's blunders, Stewie's unpredictability, Brian's societal observations, or any given character's quirks, "Family Guy" keeps the laughs coming after all these years.
Arthur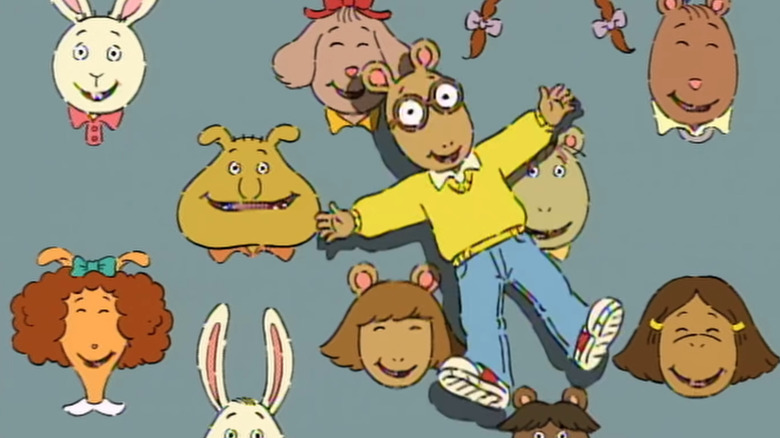 Picture it: you're six years old and getting ready for the school day. It's about 7 a.m. and your parent turns on PBS as background entertainment while you and your younger siblings eat breakfast and brush your teeth. "Arthur" is on, and it's a typically engaging episode involving Buster (Daniel Brochu) inevitably worrying about something, Francine (Jodie Resther) inevitably ruffling feathers, D.W. (initially Michael Caloz, followed by a long list of successors) inevitably causing trouble, and poor Arthur (originally Michael Yarmush, then similarly recast later on) stuck in the middle of it all. You and your siblings giggle, but you need to keep things moving. You know if "Arthur" is over and "Zoboomafoo" has started, you're late for school and you'd better get out the door quickly. Life is good!
Educational and genuinely funny, "Arthur" is the magnum opus of PBS Kids animated programming if there ever were one. The series, based on Marc Brown's picture books, arrived on the Public Broadcasting System in 1996 and concluded with a series finale in 2022, for a total of 259 episodes. The informational aspects of "Arthur" come not in directly addressing the viewer, as other PBS Kids shows do, but in how Arthur, an elementary school-aged aardvark, learns these lessons himself about literature, culture, morality, friendship, and life in general. This extends the appeal of the show beyond just the preschool demographic to be something a wider range of family members can enjoy together. "What a wonderful kind of day" indeed.
Animaniacs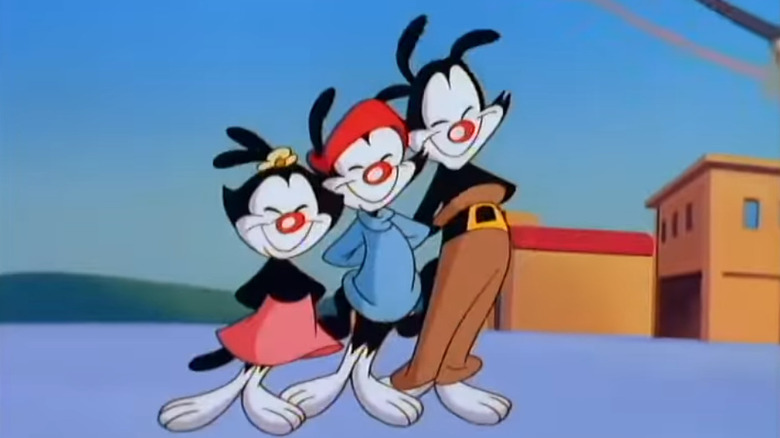 They're the Warner brothers... and the Warner sister! Per their backstory, Yakko (Rob Paulsen), Wakko (Jess Harnell), and Dot Warner (Tress MacNeille) — known collectively as the Animaniacs — were cartoon stars in the early days of animation. In "present day" (the '90s), they wreak havoc in a "totally insaney" way that appeals to kids and adults alike.
Debuting in 1993 on the Fox Kids programming block (and later airing on The WB's WB Kids), "Animaniacs" rates as a product of its time. The theme song features Bill Clinton playing the saxophone. The show's reverence for Warner Bros. and its seemingly shared universe with "Looney Tunes" characters feels akin to "Tiny Toon Adventures," another '90s cartoon. Steven Spielberg executive produced "Animaniacs," lending his talents here the same year he directed "Jurassic Park." The meta premise of "Animaniacs" even recalls "Who Framed Roger Rabbit," the 1988 hit movie that posits cartoon characters as actors (and was also executive produced by Spielberg).
"Animaniacs" epitomizes '90s culture, and yet is simultaneously timeless. Its Chaplin-esque slapstick comedy is as classic as animation can get. These antics along with a supporting cast of memorable characters, from Pinky (Paulsen) and the Brain (Maurice LaMarche) to Slappy the squirrel (Sherri Stoner) make "Animaniacs" a series for the ages. The show lasted 99 episodes in its initial run. Hulu revived it in 2020 with 36 new episodes and the original voice cast, its jokes as topical to a modern audience as its predecessor's jokes were.
SpongeBob SquarePants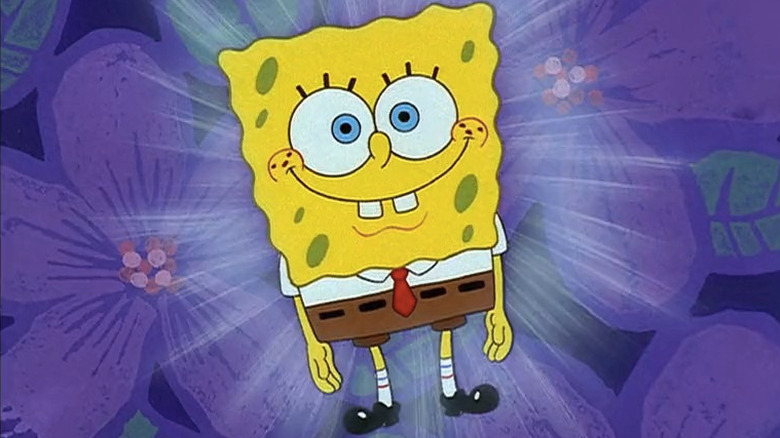 There's no beating the goat. With the premiere of "SpongeBob Squarepants" on Nickelodeon in 1999, the '90s gave the world a parting gift that changed television animation forever. "SpongeBob" fires on all cylinders, from the creative physicality of visual gags, to the encyclopedia's worth of iconic quotes that its viewers can instantly recite decades later. The misadventures of SpongeBob (Tom Kenny) in his oceanic town of Bikini Bottom — complete with his job as a fry cook under the regime of Mr. Krabs (Clancy Brown), his scientific exploits with his squirrel pal Sandy (Carolyn Lawrence), and his hangs with Patrick Star (Bill Fagerbakke) that often annoy their neighbor, Squidward (Roger Bumpass) — are the stuff of animation legend.
While it's true that only one season of "SpongeBob SquarePants" can call the '90s its home decade, that freshman year comes out swinging. The "F.U.N." song. SpongeBob ripping his pants. SpongeBob and Squidward delivering the Krusty Krab Pizza. The first appearance of Mermaid Man and Barnacle Boy. These historic milestones and others provide an abundance of foundational moments for the series.
For a while, it seemed like the original, tried-and-true "SpongeBob SquarePants" series would continue indefinitely, similar to "The Simpsons" or "Family Guy." It wasn't until recently that the show took a more "Scooby-Doo" approach and spun off into various incarnations (including "The Patrick Star Show" and "Kamp Koral: SpongeBob's Under Years," as well as a Broadway musical), while the main show still churns out new episodes — 300-plus and counting.
Read this next: Anime Shows Like Cowboy Bebop That Are Worth Your Time
The post 15 Best 90s Cartoons, Ranked appeared first on /Film.
---
Share this post
---
---