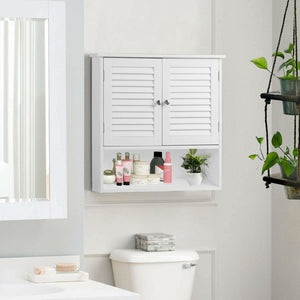 White Wall Mount Bathroom Cabinet with Louver Doors and Metal Knobs
This White Wall Mount Bathroom Cabinet with Louver Doors and Metal Knobs could add the ultimate storage unit to your room. This space saver cabinet features a modern-contemporary design with white finish. The wall mounting design provides extra storage while saving plenty of space. This furniture is ideal for storing towels, toiletries, and other necessities. After you buy it, it would make your bathroom or kitchen more organized, you could classify different types of things in different tiers, and also you could give them various tags to divide the part you want to put. Please recheck the size of item and the size you want to put it in, we hope this item could bring you happiness not trouble. Thank you for your attention to this item, if you keep on look it, why not try to buy it? Don't hesitate to buy it!
White Wall Mount Bathroom Cabinet with Louver Doors and Metal Knobs

Brand new and high quality
Contemporary and unique louvered door, dust proof
Made of heavy duty MDF which ensures stability and durability
Paint white finish, waterproof, mold proof
Features one large cabinet and one shelf, large storage
High toughness, difficult deformation
Ideal for maximizing your bathroom space
Space saving cabinet fits over most standard toilets
Easy to assemble and easy to clean
Material: MDF
Color: White
Package Includes: 1x Wall Cabinet
Weight Capacity of each layer: 5lbs.
SUIT FOR SMALL PLACE
The wall cabinet can be assembled on wall or over the toilet and space-saving, providing extra storage without taking up valuable floor space, so that this is a perfect storage solution for homes
Its design maximizes the space of your room, which enables you to make your place clear
WATER-RESISTANT DESIGN
This bathroom wall cabinet is used a painted process that is waterproof and moisture resistant
That is super suitable for humid environments, such as bathrooms or toilets
It has features of louvered door for air circulation, water-resistant and damp-proof
FIT TO MULTI-DECOR
This simplified white wood wall cabinet really is an excellent choice for present concise beauty decor
Some group would also prefer European Style, and we do believe this cabinet can also suitable for it, which can be a bright feature around it
DURABLE AND STURDY DESIGN
This medicine cabinet is made of high grade solid MDF material, with silver metal handle knobs make it easy to open and close
Comes with pure white finish, this storage cabinet is stable, durable, non-toxic and looks elegant
It is enough to meet your daily needs
Dimensions:
26" L x8.5" W x 25" H

Cabinet size: 23.2"Lx 15.7"H x 7"D
Shelf size: 23.2"L x7.5"W
Weight: 23lbs.