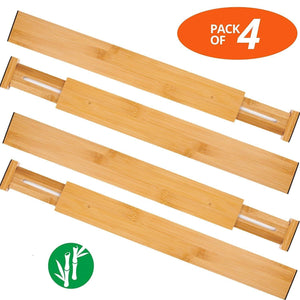 Oberhoffe Adjustable Expandable Dividers Bamboo Drawer Divider Drawer Organizers 100% Natural Bamboo Best for Kitchen, Dresser, Bedroom, Bathroom,Desk- Set of 4
Brand: Oberhoffe
Features:
The perfect solution: Tired of looking for your tools or tools endlessly? Use our expandable drawer storage organization's 4-piece set to meet your needs and save you valuable time
Easy to install and remove: The spring loaded mechanism can be consumed from 17.3" to 21.6". The end with Non-slip mat provides a secure and sturdy fit. Install and remove in seconds without any tools
High quality material: Made of 100% natural, environmentally friendly and sturdy bamboo, it makes it easy to organize all accessories, tools, kitchen utensils, cutlery and even baby clothes. Use food grade mineral oil as the original beauty.
Keep your drawers anytime, anywhere: This pure bamboo-wood drawer divider is perfect for any decor, from hardworking drawers in the kitchen or workshop to bathroom to desk, adjustable drawer partitions for every room in the home or business .
100% Money Back Guarantee - We believe in the quality of our products, but if you are not satisfied with our products for any reason, you can contact us for replacement.
Publisher: Oberhoffe
Details: Have you ever spent a lot of time looking inside the drawer trying to find hidden items? This 100% quality bamboo and wooden drawer organiser provides a great choice for organizing messy and crowded drawers in your home.

Our drawer dividers have utilized a spring-loaded system that will allow you to effortlessly install them in most drawers. Plus, the padded ends will protect your drawers from scratches.

With our extendable (17 ½" to 22") drawer organizers 4-pack that you can install in any drawer in your house and use as:

Utensil, silverware and cutlery drawer organizers

Dresser drawer dividers

Sock and underwear drawer organizers

Baby clothes dividers

Bathroom drawer organizers

Makeup drawer organizers

Desk drawer organizers

Toolbox drawer organizers

No extra effort or tool is required to install these dividers. , simply place them in the right place and you're all done! The easy to install and remove dividers give you the freedom to set up your own extra space where you can work and create.

Our presents you with these premium drawer dividers that have been specially designed to keep your drawers organized at all times!

Material: 100% pure bamboo

Weight: 0.95 kg

Adjustable size range: 17.3" to 21.6"

Can be cleaned: If it is used after a period of time, it can be wiped with a wet towel.


UPC: 787894033450
EAN: 787894033450
Package Dimensions: 22.6 x 3.1 x 2.9 inches